D5109, 5109, 24109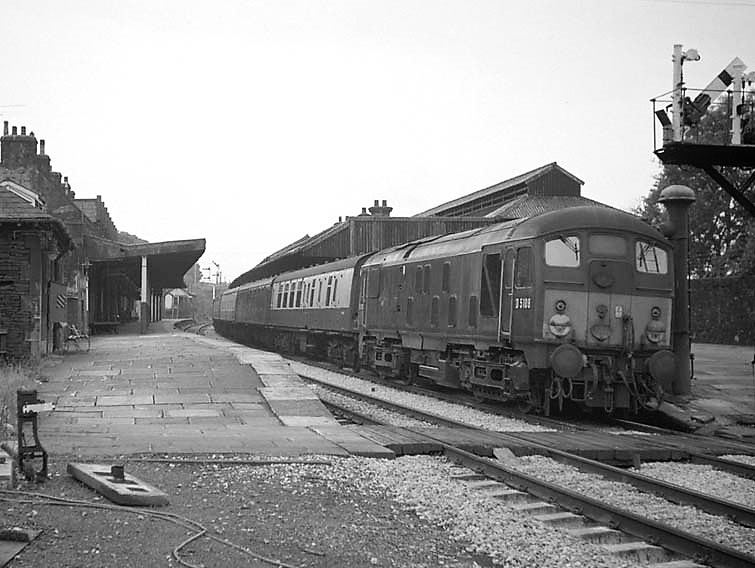 Photograph courtesy RCTS archivist/Kevin Hughes
Oxenholme, July 13th 1968 D5109 is on passenger duty on the WCML, possibly this is the return Blackpool - Newcastle summer dated working.
The fifteen year three month career of D5109/24109 saw allocations to North Eastern Region and Scottish Region depots.
Built BR Darlington Works (batch D5094 - D5113).
Shortened fuel tank & full size water tank.
Four upper and four lower air filters on non-BIS side, three upper and four lower on BIS side.
Tyne Dock - Consett modifications (high level air pipe fitted, water tank removed).
Headcode discs centered on cab front (Glasgow modification).
Time between last Classified repair and withdrawal: ?? months.
Time between withdrawal & scrapping: 24 months.
Allocations
The frames for D5109 were laid down at Darlington Works during August 1960, D5109 was new to Gateshead (52A) on November 5th 1960. Further transfers were:
April 1974 to Haymarket.
April 1974 to Eastfield.
August 1975 to Haymarket.
October 1975 - stored serviceable.
February 2nd 1976 withdrawn.
Renumbered February 1974.
24100 was stored at Millerhill Yard from October 1975 until March 4th 1976 when it moved to Carlisle and remained here until December 29th 1977 when it was forwarded to Doncaster Works and broken up during March 1978.
Movement: 24013, 24105/109/111 07.00 Carlisle - Doncaster 9Z14 December 29th 1977.
Works Visits
Works visits (records incomplete).
Noted Darlington Works March, June, August & September 1962.
Noted Darlington Works January 1964.
Noted Derby Works May 1966.
Noted Derby Works May 1968.
Noted Glasgow Works July & August 1969.
Highlights
1960
D5109 was delivered from Darlington Works to Gateshead during the first week of November 1960.
After delivery its work in the North East covered both passenger & freight workings.
1965
On Sunday April 18th the following were noted:
Gateshead: D5102, D5150, D5106, D5149, D5180, D5103, D5109, D5113
Heaton Carriage Sidings: D5178, D5108, D5147, D5177
Thornaby: D5163, D5162, D5167, D5154, D5152, D5157, D5155, D5156, D5172, D5169, D5153.
1966
During the summer of 1966 the Tyne Dock - Consett iron ore trains transitioned from the BR Standard 9Fs to the dedicated pool of Gateshead allocated Class 24s, which included D5109.
1970
Another familiar landmark fell into disuse effective February 28th when Tyne Dock shed closed, with all crew and engines transferred to Tyne Yard or South Dock. This included the Tyne Dock - Consett iron ore trains regularly powered by Gateshead's small fleet of Class 24s. On a related note trouble befell the 04.15 Tyne Dock - Consett working of April 7th led by 5102 & 5109, whilst standing at Tyne Yard it was run into by 6777. A quantity of iron ore spilled from the wagons, blocking the down slow line. 6777 received considerable nose end damage, necessitating major surgery at Doncaster Works.
1973
The Consett iron ore service suffered two derailments during April, both at Ouston Junction. The resulting shortage of serviceable wagons led to 5109 working just four wagons on April 22nd.
1974
When the 20 year contract ended for the movement of iron ore from Tyne Dock to Consett it was not renewed. British Steel Corporation were looking to ship the imported iron ore through the facilities at Redcar, using more modern wagons powered by Class 37 locomotives. Thus literally at the stroke of a pen a way of life changed, with the air pump equipped Class 24s and the specialised wagons made redundant.
The last Class 24 powered trains ran on March 26th 1974. During April 24109 was transferred to Haymarket, its first move since arriving at Gateshead during November 1960. After a month at Haymarket 24109 moved to Eastfield. Since 24109 han no train heating boiler, it would be confined to freight and parcels workings, though could frequently be found on passenger workings in the summer months.
1975 - 1976
On July 22nd the 20.55 Euston - Stranraer became a failure at Ayr behind 47040, rescue arrived in the shape of 24109, leading to a sixty minute late arrival. On July 31st 24109 was noted at Stranraer with a parcels train.
Condition July: blue/yellow livery, gangway doors sheeted over, headcode discs centered on cabfront, high level airpipe fitted, blanking plates fitted, hand/footholds plated over, three-rung bogie mounted footsteps, some valencing missing from No.1 cab.
The infamous summer of 1975 brought mass withdrawals of the Type 2s both on the London Midland Region and the Scottsh Region. 24109 remained in service, being transferred from Eastfield to Haymarket. However during October 24109 was placed in store, then withdrawn during the first week of February 1976.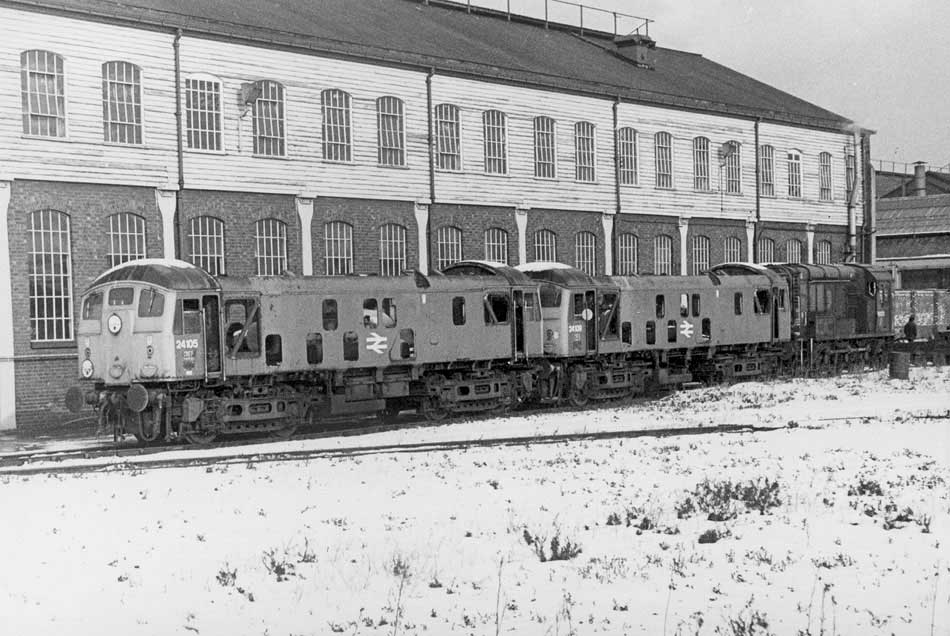 Photographer not known at this time
The end for 24105 & 24109 as their stripped out shells await final movement to the cutting area at Doncaster Works. They were broken up in March 1978 so presumably this photo is during the winter of 1977/78, possibly late in February 1978.
Condition Final: blue/yellow livery, gangway doors sheeted over, headcode discs centered on cabfront, hand/footholds plated over, three-rung bogie mounted footsteps.
flk 0122
Page added September 16th 2016.
Last updated January 19th 2022.
Back to 24108
Forward to 24110