D5137, 5137, 24137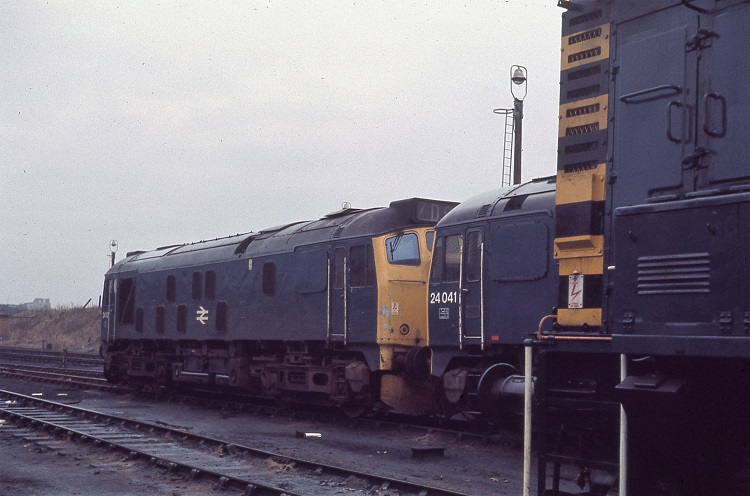 24137, 24041 & 08739 at Cockshute stabling point on January 18th 1976.
The fifteen year eight month career of D5137/24137 was spent allocated only to London Midland Region depots.
Built Derby Locomotive Works.
Shortened fuel & water tanks.
Four upper and four lower air filters on non-BIS side, three upper and four lower on BIS side.
Circular gauge added to fuel and water tanks.
Gangway doors never removed.
Roof modification (above generator/brake cubicle): original style retained until withdrawn (raised panels).
Time between last Classified repair and withdrawal: ?? months
Time between withdrawal & scrapping: 27 months.
Allocations
The frames for D5137 were laid down at Derby Locomotive Works during July 1960, D5137 was new to Longsight (9A) on October 15th 1960. Further transfers were:
June 1968 to Manchester Division (D09)
November 1968 to Stoke Division (D05)
March 1969 to store (at Chester)
April 1969 reinstated to Stoke Division (D05)
May 1973 to Crewe
February 1976 to store
March 1976 reinstated to Crewe
May 2nd 1976 to serviceable store
July 17th 1976 withdrawn
Renumbered April 1974.
After withdrawal 24137 was stored at Bescot from May 1976 until January 6th 1978 when it was moved to Toton for rerailing exercises. On July 27th 1978 24137 was forwarded from Toton to Doncaster Works and broken up there during October 1978.
Movement: 24137 Toton - Doncaster July 27th 1978.
Works Visits
Works visits (records incomplete).
Noted Derby Works April & May 1962.
Noted Derby Works September & November 1963.
Noted Derby Works January 1965.
Noted Derby Works February 1970.
Noted Derby Works April 1972 (green livery, full yellow ends).
Noted Derby Works March 1973.
Highlights
1960
The recent arrival of a number of Type 2s at Longsight saw them working new turns, one such was the 9.35pm Huddersfield Hillhouse – Willesden Class D freight returning north as far as Northampton on the 2.50pm ex Euston, so noted have been D5083, D5134 – D5137 & D5139. By this time just over fifty percent of the passenger trains out of Euston were in the hands of the diesels, the EE Type 4s clearly dominating on the long distance expresses, with the Type 2s a distant second on the local workings.
1966
On January 16th D5137 was noted on the down H&C at Stockport Edgeley.
On May 14th D5137 was noted passing Stalybridge with a train of down vans (1N18).
On the evening of August 13th D5137 was noted passing Stalybridge with the down 'H&C' (3G37). Late on the evening of August 27th D5137 was noted northbound through Stalybridge with the Durham newspapers.
1967
On the evening of March 31st D5137 was noted passing Park (Manchester) with an up freight.
On the evening of July 1st D5137 was noted passing Bolton with a crane. On July 6th D5137 worked the evening Ancoats - Tyne freight (tank wagons?).
On the evening of October 6th D5137 was noted passing Miles Platting with an up freight.
1970
5137 was the Manchester Victoria pilot on March 4th.
5047 & 5137 were noted passing Wedgwood Halt with a mineral train on December 19th.
1971
Condition January: green livery with full yellow ends, gangway doors present, shortened fuel & water tanks - both fitted with circular gauges, no blanking plates, hand/footholds plated over, ridge sided sandboxes, three-rung bogie mounted footsteps, 'D' prefix present, most valencing still present.
On September 2nd 5137 and Class 08 No.3397 visited the Horsehay branch to collect a lengthy & heavy crane section from the Horsehay Company bound for Motherwell.
1974
A day excursion on June 16th was run from Plymouth to Barmouth, with 47110 working through to Shrewsbury where 24137 & 24085 took over for the round trip.
1975
24137 was the Manchester Victoria banker (T42) on June 17th.
On October 24th 24137 & 24089 were noted at Madeley (WCML) with a freight.
At about 9am on December 1st 24137 & 24140 were noted at Chester depot.
1976
24137 was withdrawn on July 17th 1976.
1978
January 6th saw 24137 moved from Bescot to Toton for use in rerailing exercises, the following week it was noted lying on its side!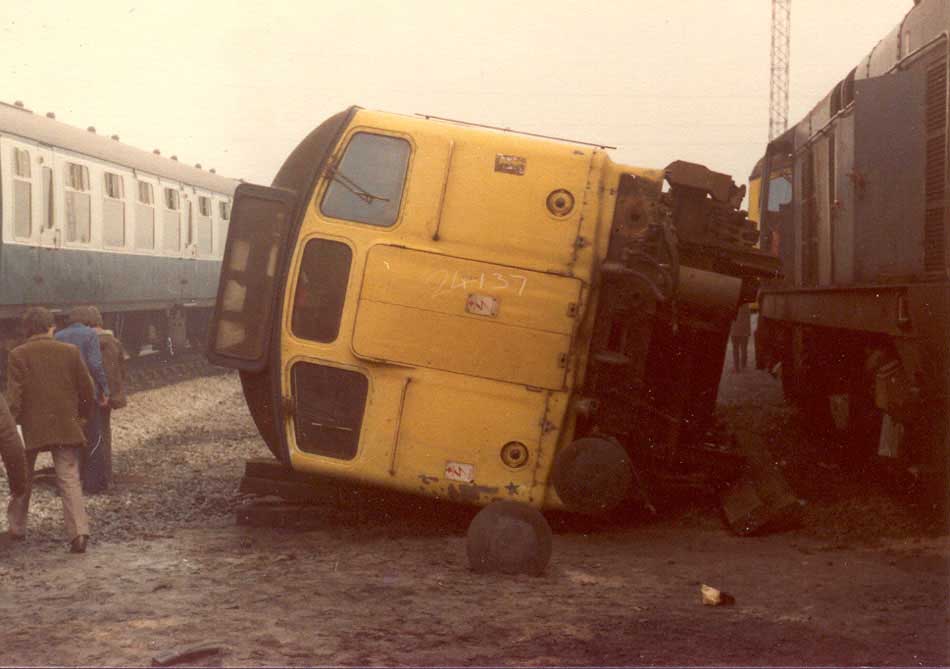 Photograph courtesy Richard Boyd.
24137 on its side at Toton on January 11th 1978. 24137 retained its gangway doors until withdrawn.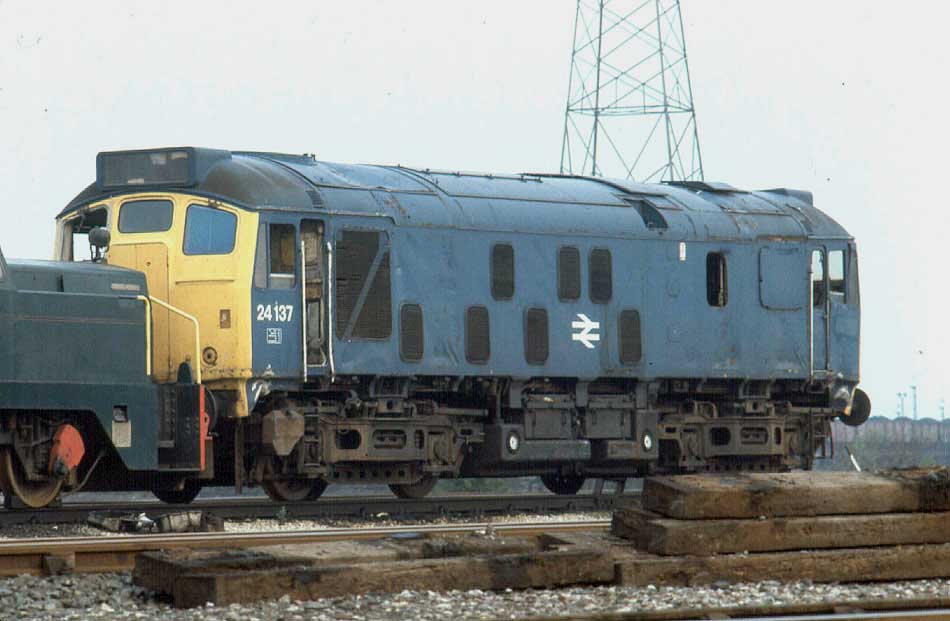 24137 at the north end of Toton depot on May 10th 1978.
Condition Final: blue/yellow livery, gangway doors still present, shortened fuel & water tanks -both fitted with circular gauges, blanking plates fitted, hand/footholds plated over, ridge sided sandboxes, three-rung bogie mounted footsteps.
flk 0322
Page added August 20th 2016.
Last updated March 17th 2022.