D5140, 5140, 24140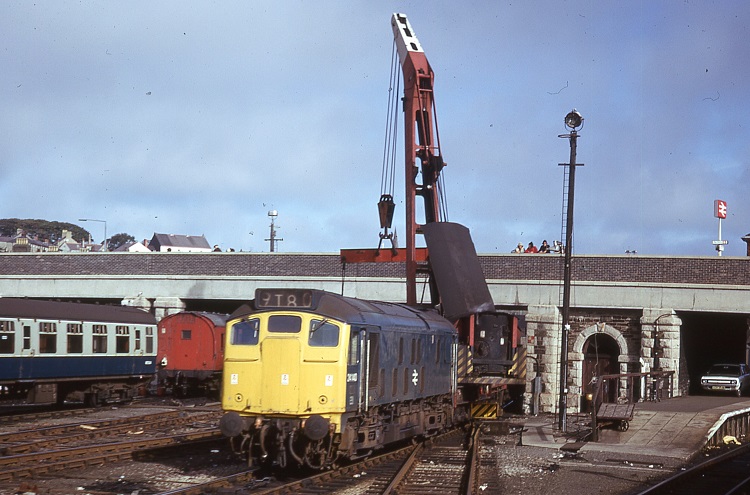 Photograph collection of webmaster.
Its August 24th 1974 and 24140 is in attendance with a breakdown crane at Holyhead station to assist in the rerailing of some coaches.
The fifteen year three month career of D5140/24140 was spent allocated only to London Midland Region depots.
Allocations
Built Derby Locomotive Works.
Shortened fuel & water tanks.
Four upper and four lower air filters on non-BIS side, three upper and four lower on BIS side.
Circular gauge added to fuel tank.
Gangway doors never removed.
Roof modification (above generator/brake cubicle): original style retained until withdrawn (raised panels).
Time between last Classified repair and withdrawal: ?? months
Time between withdrawal & scrapping: 8 months.
The frames for D5140 were laid down at Derby Locomotive Works during August 1960, D5140 was new to Longsight (9A) on November 5th 1960. Further transfers were:
October 1962 to Camden (1B)
December 1965 to Bletchley (1E)
April 1966 to London Division (D01)
September 1966 to Stoke Division (D05)
May 1973 to Crewe
January 4th 1976 to serviceable store
January 31st 1976 withdrawn
Renumbered February 23rd 1974.
After withdrawal 24140 was stored at Crewe from January 1976 until May 11th 1976 when it was forwarded to Swindon Works and broken up by the third week of September 1976.
Movement: 24046 (?), 24140/144/146 Crewe – Swindon May 11th 1976.
Works Visits
Works visits (records incomplete).
Noted Derby Works February & April 1961.
Noted Derby Works June 1962.
Noted Derby Works May - July 1965.
Noted Derby Works September & October 1966.
Noted Derby Works January 1970.
Noted Derby Works February 1972.
Noted Derby Works January 1973.
Highlights
1961
On October 23rd D5141 was noted passing Queens Park with empty coaching stock for Euston.
1963
The large allocation of Type 2s handling the passenger services out of Euston were frequently idle over the weekends. They were often utilised on excursions, typical of this was the visit of D5140/D5146 from Northampton to Margate on June 16th.
1964
On April 24th D5140 & D373 worked the 19.15 Euston - Northampton.
1966
Early December also saw the majority of the steam workings cease on the Shrewsbury - Aberystwyth line with the exception of the up & down Cambrian Coast Expresses, handled usually by Class 5s 75012/29/60. Effective December 5th Chester & Crewe depots became home to a number Class 24s, recently reallocated to Stoke Division (D05), whilst Holyhead depot closed to steam. The Class 24s took over all freight workings along the North Wales coast. Likewise the passenger workings fell into the hands of reallocated EE Type 4s, at a stroke steam became a rarity along the North Wales coast. As the New Year began Shrewsbury diagrammed Class 24s to handle the Cambrian freight workings, on January 2nd 1967 D5073 handled the 04.20 to Aberystwyth, D5140 the 05.00 to Machynlleth and D5144 the 07.25 to Newtown.
1967
On April 22nd a Festiniog Railway Society railtour from London to Minffordd utilised E3049 from Euston to Wolverhampton, D323 from Wolverhampton to Shrewsbury and D5140 & D5145 Shrewsbury - Machynlleth - Minffordd - Machynlleth - Shrewsbury, D323 Shrewsbury - Wolverhampton - Birmingham New Street and unrecorded from New Street forward to Paddington. It appears to have been a very wet day, the coaching stock included at least two sleeping cars.
1969
On August 30th 5079 & 5140 worked the 10.10 Aberystwyth - Euston as far as Shrewsbury.
Condition September: green livery with small yellow warning panels, curved upper corners, bottom of warning panel partially covers the frame level stripe, shortened fuel & water tanks, blanking plate fitted, hand/footholds still present, straight sided sandboxes, three-rung bogie mounted footsteps, some valencing missing, exhaust above engine room.
1970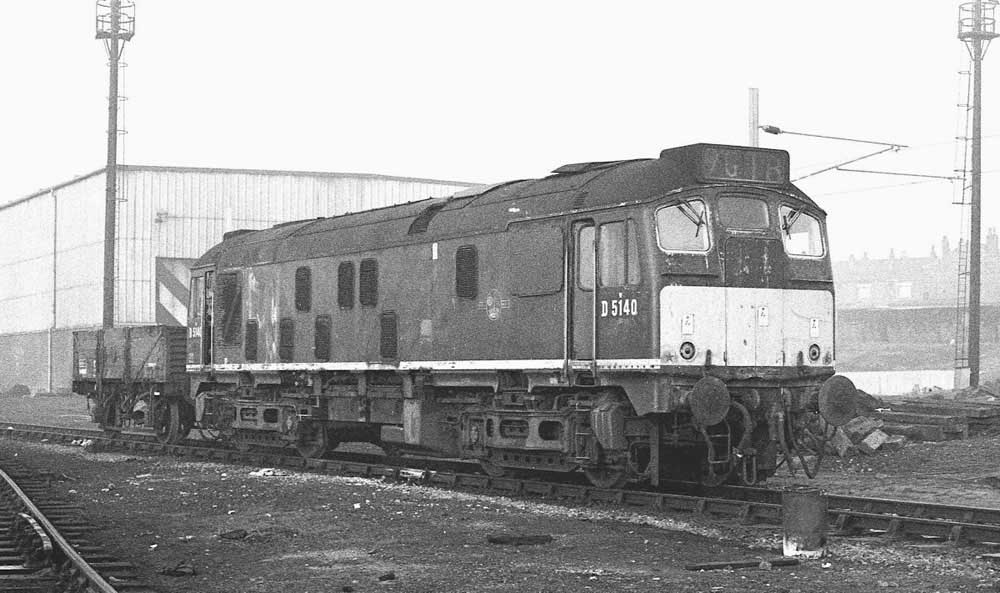 Photograph courtesy Tom Sutch.
Not sure of the date on this one but it is probably about 1970 judging by the condition of the locomotive. The paintwork looks like its little changed since it was outshopped from new apart from the yellow warning panel. It looks like D5140 won't be leaving Springs Branch immediately, it has no fuel tank.
1971
5140 was the Manchester Victoria banker on June 4th.
1972
On February 23rd 5140 made a test run from Derby Works.
The snag sheet for February 23rd recorded:
5140; February 23rd 1972; time not given
| | | | | | |
| --- | --- | --- | --- | --- | --- |
| Load | Speed | Amps | Volts | Notes | Other |
| 1 | 26 | 900 | - | - | - |
All cab doors
Battery switch doors ??
No.3 cylinder cover rocker leak
Oil leaking from exhaust manifold.
1974
On December 7th 24140 was noted at Preston.
1975
On January 31st 24140 was noted at Manchester Victoria.
On March 7th 24140 was noted at Manchester Victoria with the 4A20. On March 8th 24140 was noted at Manchester Victoria.
On June 11th 24140 was noted at Stoke-on-Trent headed for Cockshute with the returning Cheadle trip. On June 22nd Rhyl was graced with 24032 & 24140 on a special from Tamworth.
Condition June 1975: blue/yellow livery, gangway doors in place, shortened fuel & water tanks, blanking plates fitted, hand/footholds sheeted over, straight sided sandboxes, three-rung bogie mounted footsteps.
On September 7th 24140 & 24054 were noted on a permanent way train at Norton Bridge.
At about 9am on December 1st 24137 & 24140 were noted at Chester depot.
On the evening of December 5th 24140 was noted at Basford Hall on a down freight.
On December 16th 24135 & 24140 had brought a load of hoppers from Shotwick to Bidston Dock. The crew were not made aware of a second set of locomotives entering the yard. A collision occurred leading to damage that precipitated the withdrawal of 24135 & 24089. 24140 was not damaged in the collision but lasted only six more weeks before withdrawal.
1976
24140 was withdrawn on January 31st 1976.
flk 0322 (1)
Page added August 25th 2016.
Last updated June 3rd 2022.