D5143, 5143, 24143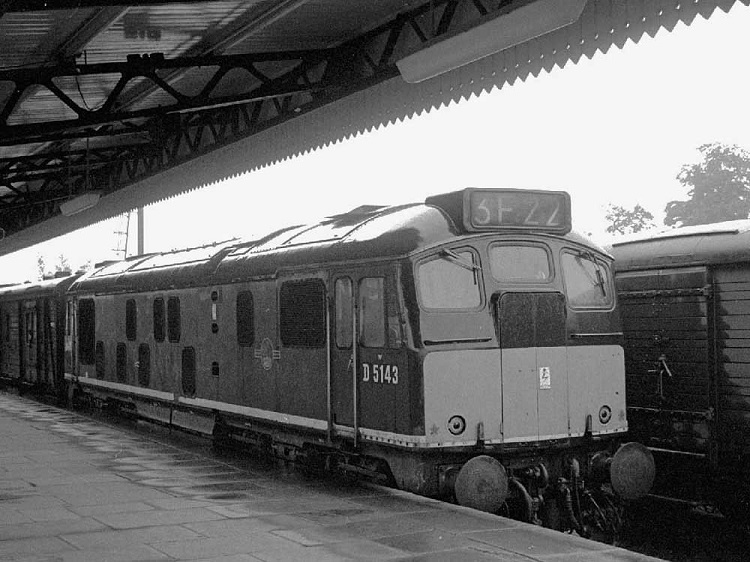 Photograph courtesy Tony Sayer
A heavy downpour at Leamington adds a little shine to the paintwork of D5143 on August 30th 1966. D5143 is only a couple of months out of an overhaul at Derby.
The fifteen year two month career of D5143/24143 was spent allocated only to London Midland Region depots.
Built Derby Locomotive Works.
Shortened fuel & water tanks.
Four upper and four lower air filters on non-BIS side, three upper and four lower on BIS side.
Gangway doors never removed.
Time between last Classified repair and withdrawal: ??
Time between withdrawal & scrapping: 3 months.
Allocations
The frames for D5143 were laid down at Derby Locomotive Works during September 1960, D5143 was new to Willesden (1A) on November 26th 1960. Further transfers were:
July 1965 to Crewe North (5A).
October 1965 to Willesden (1A).
December 1965 to Crewe North (5A).
April 1966 to Stoke Division (D05).
August 1966 to London Division (D01).
September 1966 to Stoke Division (D05).
May 1973 to Crewe.
January 4th 1976 to serviceable store.
January 31st 1976 withdrawn.
Renumbered March 30th 1974.
After withdrawal 24143 was stored at Crewe from January 1973 to February 12th 1976 when it was forwarded to Swindon Works and broken up by the first week of May 1976.
Movement: 24053/75, 24143/145 06.45 9X22 Crewe – Swindon February 12th 1976.
Works Visits
Works visits (records incomplete).
Noted Derby Works May, October & November 1961.
Noted Derby Works November 1963.
Noted Doncaster Works May 1964 (full repaint).
Noted Derby Works March - May 1965.
Noted Derby Works March & April 1966.
Highlights
1960
The second to last block of Class 24s were laid down at Derby Works during the autumn of 1960. When outshopped D5143 - D5146 were allocated to Willesden (1A), the only brand new Class 24s to be delivered to Willesden, most others came on transfer from Eastern Region depots.
1961
On June 16th D5143 worked the 18.12 Euston - Bletchley.
D5143 was a frequent visitor to Derby Works during the early part of its career, it was noted there during May, September & October.
1963
On August 10th D5143 was stabled at March depot (showing headcode 1F08).
Condition August: green livery with yellow warning panels, curved upper corners, possibly the panel does not cover the frame level stripe, shortened fuel & water tanks, ridge sided sandboxes, three-rung bogie mounted footsteps, engine exhaust located above engine room.
November saw Derby Works receive D5143 for attention.
1964
Works visits included D5143 to Doncaster in May and was noted southbound at Newark on June 2nd as light engine ex-works.
1965
D5143 made three moves during the year, to Crewe (5A) in July, south to Willesden (1A) in October and then back to Crewe (5A) in November.
Visitors to Derby Works during the year included D5143 from March to May.
On September 12th D5143 was noted at Stafford with a permanent way train.
1966
Visits to Derby Works included D5143 in March & April.
D5143 returned to Willesden (D01) during August, the following month it was reallocated to the Stoke Division (D05).
On August 20th a Hull - Coventry football special was worked by D6739, with the empty stock taken to Rugby for servicing by D5143, which then returned it to Coventry.
1970
On July 19th an excursion from Bristol to Aberyswyth utilised 5145 & 5143 west of Shrewsbury.
1973
5143 worked the 22.50 Shrewsbury - York (to Crewe?) on February 17th.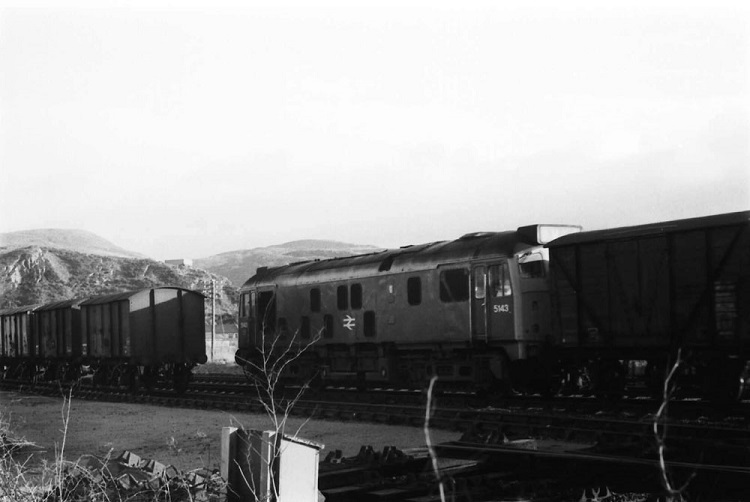 Photograph courtesy Barrie Watkins
An undated view, possibly about 1973 finds 5143 shunting the yard at Penrhyndeudraeth, including to the left some gunpowder wagons.
The diagram circa 1973 for the locomotive above would be:
21.50 York - Aberystwyth mail, arrive 06.54
8J72 07.32 Aberystwyth - Machynlleth goods
7J15 09.00 Tues/Thursday only Machynlleth - Porthmadog goods and Mon/Wed/Fri Machynlleth - Pwllheli goods
7J16 14.47 Penrhyndeudreath to Shrewsbury Coton Hill (Sat excepted), arrive 20.27, with shunting stops at Tywyn & Newton and run round at Machynlleth
in total a 300 mile round trip and a 17 hour day for the locomotive.
Another Class 24 would provide the balancing side of the arrangement by working the:
8J70 06.45 Shrewsbury Coton Hill - Aberystwyth, arrive 12.48 (Sat excepted)
1E24 18.30 Aberystwyth - York, to Shrewsbury or Crewe.
On September 6th 5143 was noted at Tywyn with the 7J16 14.47 Penrhyndeudreath to Shrewsbury Coton Hill.
5143 was noted with a good sized dent to the No.1 cab front, 2nd Man's side.
1974
On February 14th 5143 was stabled at Cockshute, displaying headcode 9T13. The working timetable for 9T13 in 1975 records:
Stoke Station 05.32 conveys parcels vans off 01.50 from Guide Bridge
Cockshute Sdgs. 06.10 RWS locomotive off 03.55 from Crewe.
Stoke Station. pass 06.15
Stoke Jn. pass 06.17
Stone Jn. pass 06.30
Norton Bridge pass 06.38
Stafford 06.52 - 07.30
Stoke Yard 08.12 - 08.19 0Z00
Cockshute Sdgs.08.24 to work Trip 14.
1975
On May 12th 24143 was noted at Manchester Victoria.
August 6th found a Banbury/Leamington – Barmouth special in the hands of 24085 & 24143 working throughout.
24143's No.1 cab sported quite a dent on the secondman's side of the cabfront.
1976
24143 was withdrawn on January 31st 1976.
Condition final: blue/yellow livery, gangway doors not removed, shortened fuel & water tanks - both fitted with circular gauges, straight sided sandboxes, three-rung bogie mounted footsteps, hand/footholds plated over. No.1 ebd cab front, 2nd man's side corner: good sized dent midway between handrail and bottom of cab.
flk 0322
Page added September 8th 2016.
Last updated March 16th 2022.
Back to 24142
Forward to 24144