D5177, 5177, 25027
Photograph courtesy Tom Sutch
25027 at Springs Branch on September 4th 1975
The twenty year three month career of D5177/25027 was spent allocated to depots on the Eastern, Scottish & London Midland Regions. The allocation history for 25027 is similar to that of 25026, but involving less transfers. 25027's time on the Eastern region was continuous and included time spent at Gateshead instead of Thornaby. After transfer to Longsight it did not return to the Scottish Region but spent seven years at Longsight, before transfer to Crewe. 25027's Intermediate repair at Derby during January 1979 allowed for three more years of service, which after the withdrawal of 25026 in November 1980 gave it the honour of being the oldest Class 25 in service for a short while.
Built: BR Darlington Locomotive Works.
Boiler equipped.
D5176 - D5178 as built no circular gauge on boiler water tank.
Time between last Classified repair and withdrawal: 51 months.
Time between withdrawal & scrapping: 53 months.
Allocations
D5177 was new to Holbeck (55A) on February 4th 1963. Further transfers were:
June 1963 to Gateshead (52A).
October 1965 to York (50A).
April 1967 to Holbeck (55A).
July 1971 to Eastfield (65A).
September 1972 to Manchester Division (D09).
May 1973 to Longsight.
August 1980 to Crewe.
Withdrawn May 9th 1983.
Renumbered October 12th 1973.
25027 was the 178th Class 25 withdrawn, one of six retired during May 1983.
After withdrawal 25027 was stored at Saltley until March 25th 1985 when it moved (see details below) to Swindon Works. When Swindon Works closed the clearance of scrap from the site was handled by Vic Berry. A decision was made to break up all remaining shunters on site and have all other locomotives removed to their Leicester facility for disposal. Thus on May 26th 25027/75, 25123/133/144/158, 25228/234, 97202, 40046/63 were tripped from Swindon Works to Cocklebury Yard. A week later the same consist made its final move from Cocklebury Yard to Leicester betwen June 2nd & 11th, between Oxford & Leicester 20019 & 20197 did the honours.
For a brief while sisters 25027 & 25028 were together again, though not under the best of circumstances at Vic Berry's yard, by the first week of October 1987 25027 had been broken up.
25027, 25180, 27275 Tyseley – Swindon Works March 22nd – 25th 1985 (25027 from Saltley) - of these three locomotives only 25275 would be broken up at Swindon.
Works Visits
Works visits (records incomplete).
Noted Derby Works July 1966.
Noted Derby Works November 1969.
Noted Derby Works November 1973 (gangway doors removed, ex-works).
Noted Derby Works August 1974.
Noted Derby Works November 1978 - January 1979 (Intermediate repair).
Noted Derby Works January 1981.
Highlights
1962
The frames for D5177 were laid down at Darlington Works during September.
1963
Darlington outshopped D5177 on February 4th, a month after D5176 had been released from Darlington. D5177 was boiler fitted and was allocated to Leeds Holbeck (55A). For the boiler equipped locomotives based at Holbeck passenger work was the order of the day, both local and longer workings, though the Leeds local services were increasingly now in the hands of diesel multiple units.
The first seven Class 25/1s were allocated to North Eastern Region depots; D5176 - D5178 (boiler equipped) to Holbeck (55A) whilst D5179 - D5182 (non-boilered) were allocated to Gateshead.
On February 19th a very ex-works D5177 was noted at Holbeck, displaying headcode 2E56.
On May 4th D5177 was noted northbound through Skipton with a passenger train (2M71) for Morecambe or Carlisle.
During June Holbeck lost its three passenger Type 2s, with D5177 going to Gateshead (52A).
1965
On Sunday April 18th the following were noted:
Gateshead: D5102, D5150, D5106, D5149, D5180, D5103, D5109, D5113
Heaton Carriage Sidings: D5178, D5108, D5147, D5177
Thornaby: D5163, D5162, D5167, D5154, D5152, D5157, D5155, D5156, D5172, D5169, D5153.
After almost two and a half years at Gateshead D5177 moved south to York (50A) during October.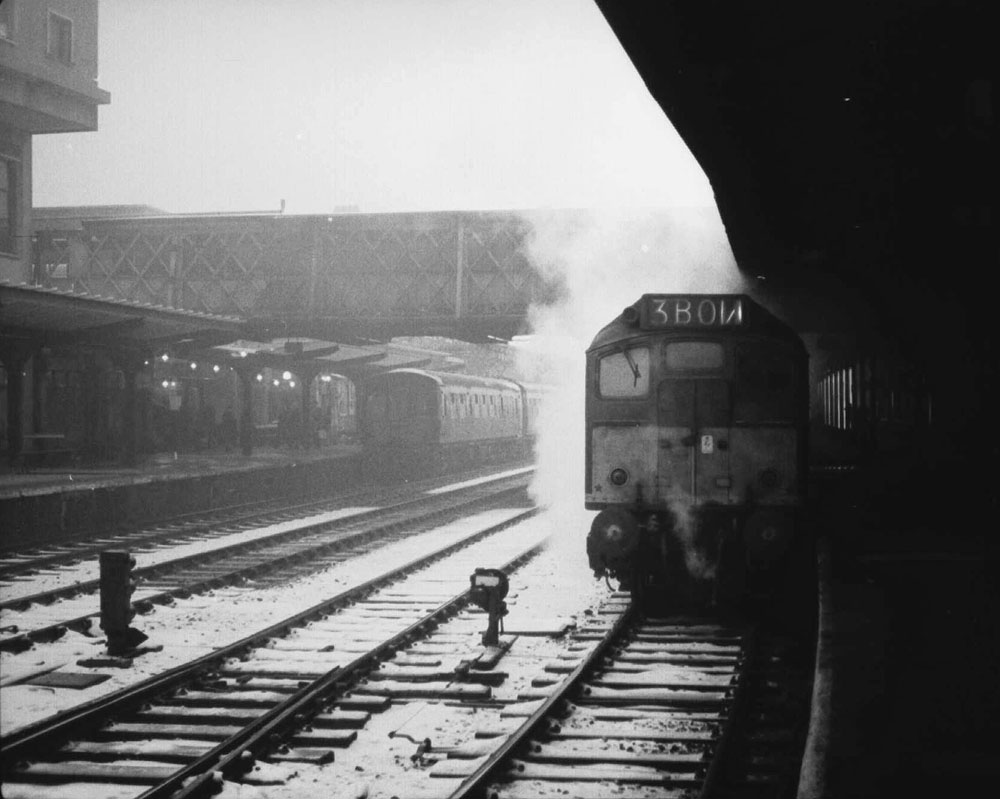 Photograph collection of webmaster.
Atmosphere ouses from Harrogate station in this December 1965 view as station lights reflect off damp platforms, a light covering of snow covers the sleepers, a DMU rattles away awaiting time whilst steam leaks from several places on D5177. The headcode suggests a parcels working, maybe a pre-Christmas working bringing mailbags full of Christmas cards and parcels as part of another season of festivities.
The first recorded passenger working for D5177 took place on August 7th 1965 working the 09.00 Newcastle - Blackpool North between Newcastle & Carlisle.
1966
D5177 visited Derby Works during July.
Condition November: green livery with frame level stripe and small yellow warning panels with square upper corners.
1967
Condition March: green livery with small yellow warning panels, squared upper corners, warning panel covers frame level stripe, gangway doors present, blanking plates fitted, hand/footholds present, three-rung bogie mounted footsteps, straight sided sandboxes.
After eighteen months at York D5177 moved to Leeds Holbeck (55A) during April, joined there in September by D5176/78. D5177 was noted on many passenger workings between Bradford Exchange and Harrogate to Leeds as part of the through services to London. On the Bradford services double heading with steam was common.
On July 5th D5177 and 2-6-4T 42689 worked the Leeds - Bradford (1N03) portion of an express from Kings Cross.
On July 19th D5177 & Class 9F 92227 were noted light engines at Hest Bank, possibly going to work a Heysham - Leeds Neville Hill oil train, the Class 25 was displaying head code 7N54.
On October 6th D5177 worked the 18.30 (FO) Leeds - Blackpool illuminations special.
1968
On the evening of March 1st D5177 was noted at Manchester Exchange with the Wigan - Leeds vans (3N25).
On June 15th D5177 was noted at Manchester Exchange with a ten coach down special (1Z53).
1969
On September 6th 1969 5177 & 5203 worked the roundtrip Nottingham - Llandudno Town.
5177 was noted at Derby Works under repair during November.
1970
On August 21st 1970 5177 worked the 11.50 Hull - York.
1971
5177 was transferred to Eastfield (65A) during July.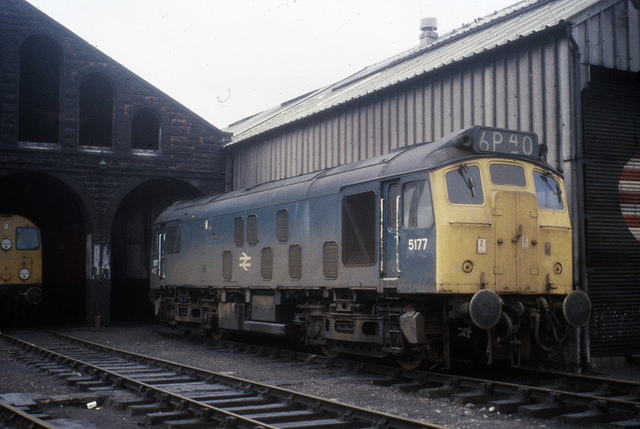 Photograph courtesy Lindsay Young
5177 at Ayr depot, most likely during 1971 whilst allocated to Eastfield.
1972
During September 5177 headed south to join the Manchester Division (D09). On September 8th 5177 was in charge of a late afternoon Manchester - York service.
At about 7am on October 2nd 5177 was noted passing Manchester Victoria on a down freight.
1973
5177 was noted ex-works at Derby during January.
5177 was on empty coaching stock duty at Liverpool Lime Street on March 16th & 19th. 5177 was the Manchester Victoria banker (T43) on March 27th & 28th.
5177 was the Manchester Victoria banker (T43) on April 18th.
When the LMR Division allocations were abandoned 5177 was allocated to Longsight during May.
On May 26th 5177 & 5168 were noted eastbound at Grange Over Sands with nine coach passenger coaches, headcode 2P92. 5177 was in blue/yellow livery with gangway doors.
On June 10th the 20.43 Birmingham New Street - Peterborough was worked by 5177.
On the evening of July 7th 5177 was noted at Northwich. At about 5.30pm on July 31st 5177 was noted at Manchester Exchange waiting to work a down van train (4P05).
5177 was renumbered to 25027 during October.
1974
25027 visited Derby Works during August.
1975
On July 14th 25027 worked the 05.07 Leeds City - Manchester Victoria vans (4M03). On July 26th 1975 the 09.20 Manchester Piccadilly - Yarmouth was worked to Lincoln Central by 25027 & 25047, returning from there with the 09.30 Yarmouth - Manchester Piccadilly.
1976
25027 was the Manchester Victoria banker (T42) on January 2nd.
25027 was the Manchester Victoria banker (T42) on October 24th.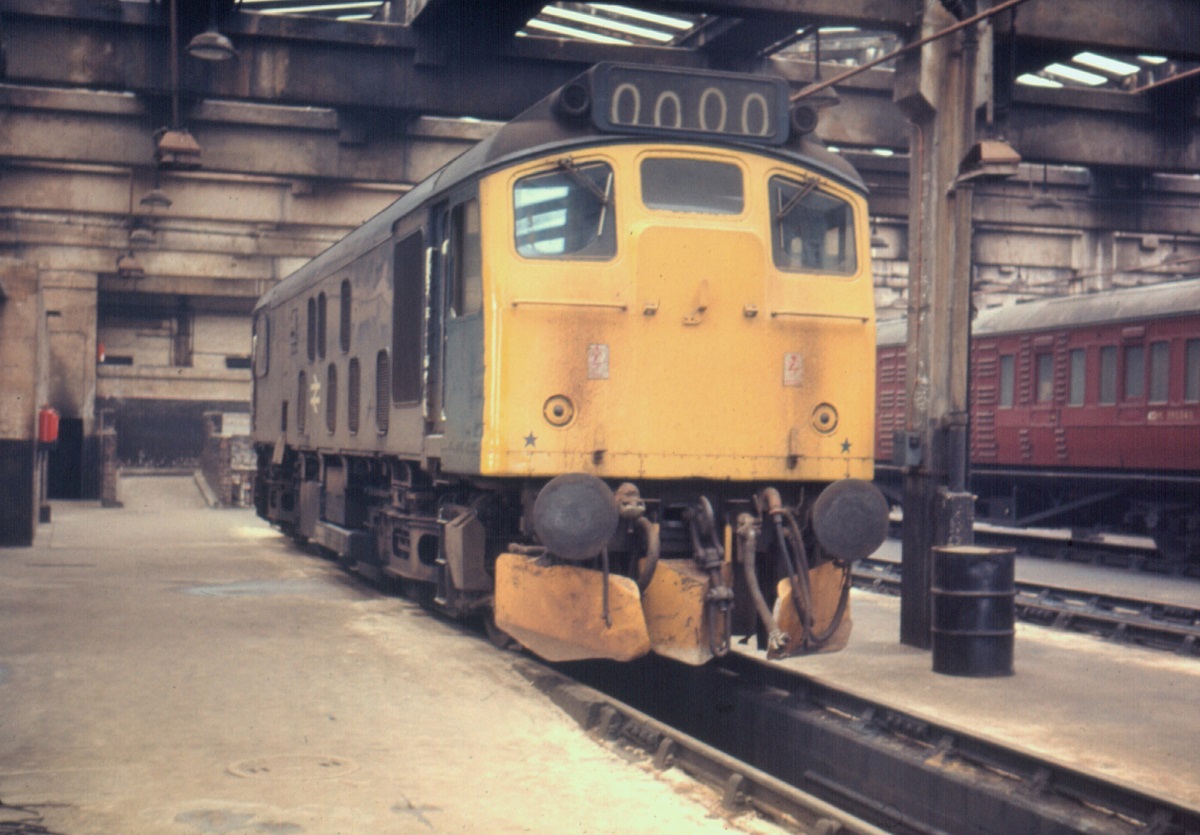 25027 rests inside one of the steam era buildings at Wigan on December 19th 1976.
1978
On January 7th 25027 was stabled at Guide Bridge.
On January 21st 25027 was stabled at Birkenhead Mollington Street.
On April 17th 25027 was noted arriving at Carnforth with ballast hoppers for the DCE sidings.
On April 30th a Shrewsbury - York excursion was worked to Birmingham New Street by 25040 & 25027, here 45003 took over. The next day (May 1st) the same pair worked a Cheltenham Spa - Aberystwyth day excursion roundtrip Wolverhampton - Aberystwyth. Towards the end of the month on May 27th 1978 25027 & 25199 worked the 09.19 Manchester Piccadilly - Yarmouth to Lincoln Central, returning from there with the 09.15 Yarmouth - Manchester Piccadilly.
25167 & 25027 were noted with a trainload of stone from Cauldon Low Quarry to Leekbrook Junction (and beyond) on July 6th, the stone was for use in the construction of the Thames Barrier.
On August 23rd & 24th 1978 25027 was busy on the North Wales mainline, on 23rd working the 07.47 Manchester Victoria - Bangor, the 11.30 Bangor - Manchester Victoria, the 15.32 Manchester Victoria - Bangor (may have been 25194?) and the 19.30 Bangor - Manchester Victoria. On 24th 25027 worked the 07.47 Manchester Victoria - Bangor and the 11.30 Bangor - Manchester Victoria, on arrival 25317 took over the diagram.
At lunchtime on September 4th 25140 became derailed at Prescot (Liverpool). Late in the afternoon 25027 arrived with the Wigan breakdown crane, the unfortunate 25140 was back on the rails by 6pm.
On September 25th 25027 was noted on the Amlwch branch with sulphur wagons and chemical tanks.
Derby Works received 25027 for an intermediate repair between October 1978 and January 1979.
1979
The 22.30 Chester - Manchester Oxford Road on February 26th 1979 was noted with 25027 and hauled stock.
On May 1st 25027 & 25123 were noted at Seacombe Junction on iron ore to Shotton.
On June 19th 25027 was noted eastbound at Chinley with ICI hoppers for Tunstead.
On the late afternoon of August 5th 25027 was at Guide Bridge.
On October 10th the 06.20 Carlisle - Glasgow via Dumfries failed completely near Carron Bridge. Dumfries provided 25006 which pushed the train to Kirkconnel, after running round here proceeded about two hours late. At Kilmarnock the offending locomotive, 45023 was removed before continuing to Glasgow. The return working, the 13.40 Glasgow - Carlisle was powered by 25027 & 25065.
'The Stoneliner' railtour on November 24th 1979 from Paddington to Tytherington was worked by 25027 & 25224 over the route Parson Street, St. Phillips Marsh, Lawrence Hill, Avonmouth, Bristol Parkway, Tytherington and return to Bristol Temple Meads.
25027 & 25037 had adventures beginning December 8th when they worked a roundtrip Birmingham - Nottingham football special. The following day (9th) they handled an Oxley - Marylebone empty coaching stock move before heading back north with the WLS 'The Yorkshire Terrier', a Marylebone - Doncaster enthusiast special - the Class 25's running as far as Coventry, where 25038 failed outside Coventry station and the pair replaced by 85006.
25027 was noted at Northwich depot on December 16th.
On December 20th 25027 was noted eastbound at Northwich with ICI empties for Tunstead.
1980
25027 was stabled at Saltley on January 20th.
25027 was stabled at Guide Bridge on March 1st.
On March 25027 and another Class 25 were northbound at Crewe with a loaded sandtrain.
25027 was stabled at Reddish on April 4th.
Seven years allocated to Longsight ended during August when 25027 received its last transfer, now being allocated to Crewe. With 25027 now allocated to Crewe it would become a frequent performer on the Crewe - Cardiff services.
On July 17th 25027 worked the 11.50 Cardiff - Crewe, whilst on August 13th 25027 worked a Crewe-Cardiff service.
On August 27th the 17.10 Cardiff - Crewe failed at Hereford with 25027 requiring the assistance of 47484, going north almost an hour behind schedule. This ailing Class 25 was one of the locomotives on display at Landore Open Day three days later (August 30th), keeping company with visiting 20042/87, 31293, 40079 & 45017 amongst the locally based machines. 25027 was back on passenger duty on September 5th working the 16.02 Crewe - Cardiff. On September 26th 25027 worked the 12.00 Crewe Cardiff train.
25027 worked the 12.25 Crewe - Cardiff on October 21st.
25027 was noted at Newport with the 15.10 Cardiff - Crewe on December 6th.
1981
25027 was noted at Derby Works during January.
During February 25027 was noted on the Crewe - Cardiff services on at least twelve days, 14th, consecutively on 16th - 19th and on 28th at least two roundtrips were completed.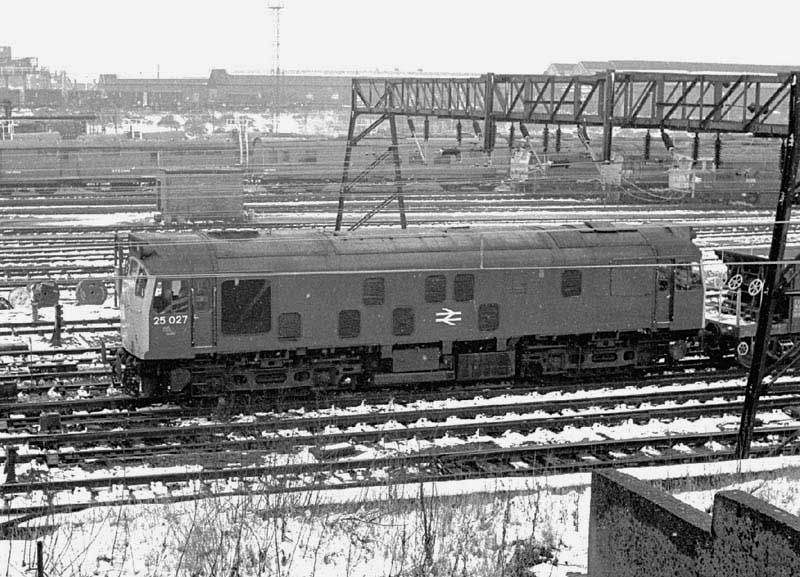 Photograph courtesy Tony Sayer
On a snowy dull February 22nd 1981 25027 is seen at Crewe. During February & March 25027 was very active on the Crewe - Cardiff passenger services.
On March 11th 25162 came to the rescue of 25027 on the 07.50 Cardiff - Crewe, trouble was initially encountered at Craven Arms, the train engine finally becoming a total loss at Shrewsbury, where 25162 took over. On March 22nd the 13.45 Crewe - Cardiff was hauled by 25027 (leading) & 25221.
On April 11th 25027 was noted at Newport on a Crewe - Cardiff service. Three days later (14th) 25027 worked the 11.50 Cardiff - Crewe.
On May 4th 25027 was stabled at Guide Bridge.
On May 28th 25027 was noted on a Glasgow - Carlisle passenger.
Early June saw 25027 north of the border working the 08.40 Carlisle - Glasgow Central on June 2nd & 4th. On June 25th 25027 was at Skipton with an engineers working.
25027's variety of passenger haulage during 1981 continued when it assisted a diesel multiple unit failure on September 1st working a late afternoon Derby - Crewe and the 18.35 Crewe - Derby. On September 2nd 25027 arrived at Holbeck at 04.05am off the E05 turn. It was later noted returning to Holbeck at 17.15 after working the K57 tripper.
The passenger variety continued on October 25th with 25027 working the last couple of miles of the 23.40 Stirling - Kensington Olympia motorail forward from Willesden. This is reported as the last motorail working into Olympia. The following week, on Halloween, 25027 & 25062 were noted in the West Midlands handling a 'Cathedrals Express' Paddington - Bridgnorth charter.
Christmas Eve travellers on the 07.41 Norwich - Birmingham were treated to the gift of 25027 forward from Leicester after the train engine 31243 became a failure. In order to minimise the normal levels of junk to be found at Leicester the Class 31 was dragged to New Street for their disposal.
1982
February 2nd found 25027 & 25195 hauling 507009 from Hall Road to Tyseley.
Passenger workings for 25027 were quite varied, with diagrams on the Crewe - Cardiff services, then a short period in Scotland followed by frequent workings on the North Wales mainline.
On the Crewe - Cardiff line a number of Class 25's filled in for missing/failed Class 33's, 25027 worked three trips on March 4th, remaining on the route until March 6th. 25027 and a brakevan were noted at Newcastle on March 12th with the on 0P11 Tyne - Coxlodge. After the earlier passenger stint on the Welsh borders it was off to Scotland during the latter half of March with 25027 being noted on Carlisle - Glasgow Central route with a single southbound trip on 13th and round trips on 16th, 17th & 24th. Returning to Glasgow on 25th it had reached Edinburgh by 27th to work two round trips to Dundee before retiring for the day on the 18.17 Edinburgh - Dundee. It appears again on 30th working back to Glasgow Queen Street with the 07.39 ex-Dundee.
25027 was noted at Kingmoor on April 7th.
On April 14th a York - Crewe Works 'hospital' train featured 25027 hauling 47404, 47129, 47441 & 40106!
On May 4th 25027 was noted southbound passing Springs Branch with a trainload of scrap. Passenger duties continued on May 7th with a Bangor - Manchester Victoria service and on May 8th working two round trip Manchester Victoria - Bangor turns (400 passenger miles).
On June 1st 31146 & 25027 were noted northbound through Gloucester with a mixed freight.
It was off to the seaside on June 12th when 25027 & 25083 worked the 07.40 Euston - Aberystwyth forward from Wolverhampton, returning later that day with the 14.00 Aberystwyth - Shrewsbury passenger. The following week (19th) 25027 was back with the 09.45 Manchester Victoria - Bangor, though it appears not to have completed this diagram.
On the afternoon of August 2nd 25027 was northbound at York with a tamper for Leeman Road.
On August 4th 25027 was southbound at Warrington Bank Quay with a trip freight for Arpley.
25027 was noted at Severn Tunnel Junction on September 5th. On September 14th/16th - 18th 25027 was busy on the Manchester Victoria - Bangor/Llandudno Junction circuit working at least eleven turns totalling over nine hundred miles of passenger working. On September 19th 25027 was noted parked at Llandudno Junction shed. A less energetic working on 20th found 25027 handling the Blackpool North - Preston leg of an Edinburgh charter, 86237 took the train north. A week later on September 27th came yet another change of scenery, this time in charge of the 1M26 16.05 Leeds - Carlisle, the inbound working had arrived behind no-boilered 47364, presumably the authorities wanted heating available on the northbound leg, or they had better use for the big Type 4.
A short working on October 1st saw 25027 take 40064 & 40136 from Reddish to Crewe for Works attention and was also noted this day northbound at Warrington Bank Quay with a parcels train.
On a damp November 16th 25086 & 25027 were noted light engines at Derby.
December 28th saw 25027 stabled at Warrington Arpley.
1983
Although 25027 would be withdrawn this year it continued on its passenger workings like there was no tomorrow. On January 10th & 17th it worked an early morning turn on the Crewe - Cardiff run. In between these runs on January 12th 1983 25027 worked the 23.59 Sheffield - St. Pancras at least as far as Derby. On February 6th 25027 was noted at Northwich shed.
Another Cardiff - Crewe turn was worked on March 4th. 25027 was stabled at Buxton on March 12th. 25027 was stabled at Newton Heath on March 16th. On St Patrick's Day it was out and about along the North Wales coast on the 07.45 Manchester Victoria - Bangor and 11.49 return, next day working the similar 09.45 out and 13.49 return.
Railtour duty beckoned on April 2nd being one of many locomotives used on 'The Yorkshire Pudden', with 25027 & 25069 used between Derby and Milford Sidings, coming back with the return leg from Wakefield Kirkgate to Derby.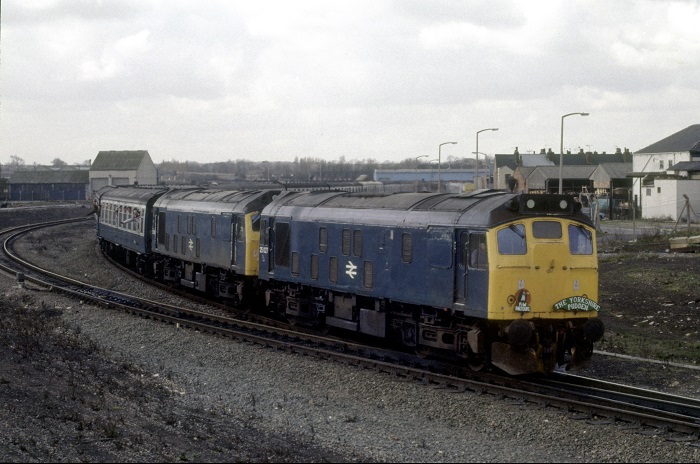 Photograph courtesy Tony Smith.
25027 & 25069 at Doncaster on April 2nd 1983 with the 'Yorkshire Pudden' railtour.
25027's last passenger working occurred on April 23rd when it worked with 25083 between Coventry and Bewdley on a charter from Euston, the pair returned the train to Birmingham New Street. The recorded passenger workings for D5177/25027 has put it in the top ten for passenger miles worked by Class 25s.
Withdrawal for 25027 came on May 9th, being stored initially at Saltley & where it would remain for almost two years, the elder stateman of the class now passed on to 25032.
1984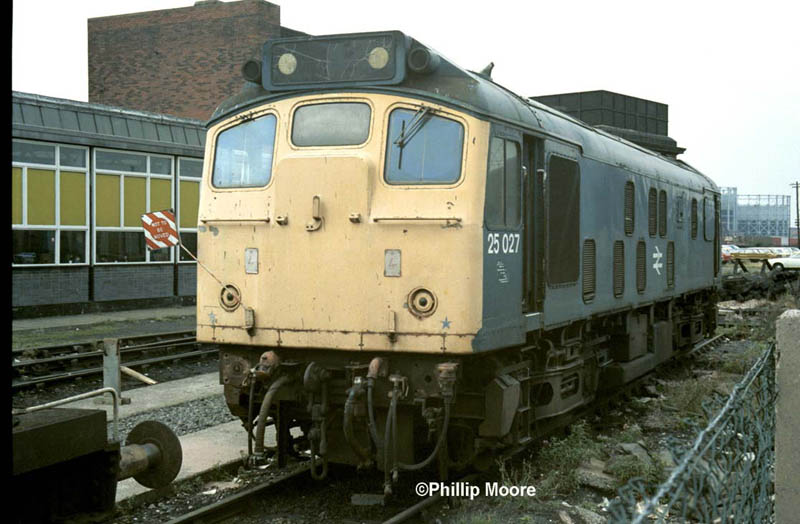 Photograph courtesy Phillip Moore
25027 spent almost two years dumped at Saltley awaiting a tow to the scrappers. Seen here on August 13th 1984 it will eventually be dragged off to Swindon, missing the scrapman's torch there it will then make the journey to Vic Berry's Leicester for final dismantling.
Distinguishing Features
Both cab fronts: lampbracket and other fittings raised to same level as handrails when gangway doors were sheeted over.
No.1 cab: driver's side corner valencing: missing yellow paint: February 1981 until withdrawn.
No.2 cab: driver's side corner: multiple scrapes and missing paint just above handrail height: April 1983 until withdrawn.
Three-piece miniature snowploughs fitted (observed): December 1976, January 1978, January 1980, March 1982, April 1982, May 1982, August 1982, September 1982, October 1982, November 1982, March 1983, April 1983
Not fitted February 1981, May 1981.
125/12675 - top ten for passenger haulage.
flk 0422 (1)
Page added July 19th 2003.
Last updated April 18th 2022.
Back to 25026
Forward to 25028