D5180, 5180, 25030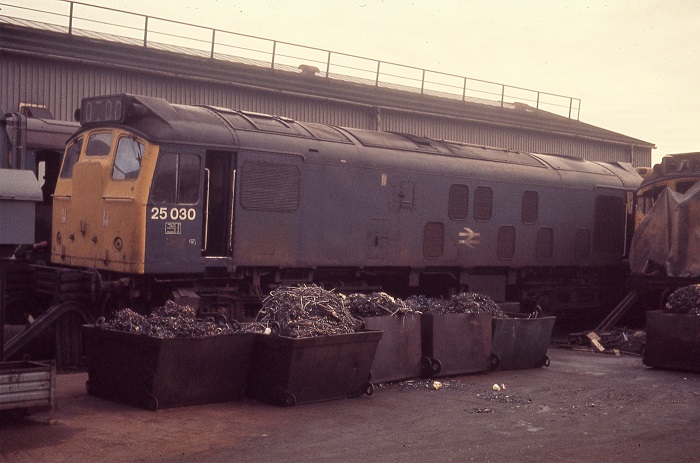 The end of the road for 25030, seen in the deadlines at Derby Works on January 8th 1977.
The thirteen year five month career of D5180/25030 was spent allocated to depots on the Eastern, Western, Scottish & London Midland regions. D5179 - D5182 were ordered without boilers which no doubt affected their allocation history. Like 25026 - 25029, 25030 spent its first seven years on the Eastern Region but then moved to the Western Region for five years service in the Welsh Valleys. Shorter periods then followed for service in Scotland & the London area.
Built: BR Darlington Locomotive Works.
D5179 - D5182 never fitted with train heating boilers.
Time between last Classified repair and withdrawal: 30 months.
Time between withdrawal & scrapping: 44 months.
Allocations
D5180 was new to Gateshead (52A) on February 19th 1963. Further transfers were:
January 1968 to Holbeck (55A).
November 1970 to Ebbw Junction (86B).
October 1971 to Laira (84A).
January 1972 to Ebbw Junction (86B).
May 1974 to Cardiff.
October 1975 to Haymarket.
November 1975 to Inverness.
May 1976 to Eastfield.
May 1976 to Cricklewood.
Withdrawn August 21st 1976.
Renumbered February 8th 1974.
25030 was the eleventh Class 25 to be withdrawn, one of two retired during August 1976.
After brief storage at Cricklewood 25030 was moved to Derby Works early in August 1976 after sustaining accident damage at Aylesbury. After the damage was assessed the repairs were refused and the locomotive withdrawn. It would remain at Derby Works until May 1980 before being scrapped.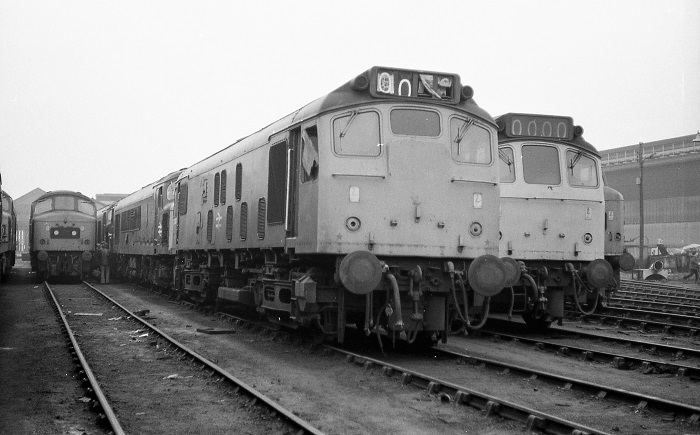 Photograph collection of webmaster
25030 with 45067 behind in the Works yard on January 14th 1978.
Works Visits.
Works visits (records incomplete).
Noted Darlington Works February 1964.
Noted Derby Works September & October 1966.
Noted Derby Works April 1967.
Noted Derby Works February 1974.
Highlights
1963
The frames for D5180 were laid down at Darlington Works during November/December 1962, with the locomotive being released to traffic on February 19th and allocated to Gateshead.
The first seven Class 25/1s were allocated to North Eastern Region depots; D5176 - D5178 (boiler equipped) to Holbeck (55A) whilst D5179 - D5182 (non-boilered) were allocated to Gateshead.
1965
On Sunday April 18th the following were noted:
Gateshead: D5102, D5150, D5106, D5149, D5180, D5103, D5109, D5113
Heaton Carriage Sidings: D5178, D5108, D5147, D5177
Thornaby: D5163, D5162, D5167, D5154, D5152, D5157, D5155, D5156, D5172, D5169, D5153.
1966
Someime during 1966, possibly September/October, D5180 was noted at Derby Locomotive Works with collision damage to the driver's side of the No.2 cab.
1967
On June 16th the 10.30 Leeds - Bradford was worked by D5180 & 4MT 42145, returning with a Kings Cross service (as far as Leeds?), the Class 25 displaying headoce 1E73.
On August 26th D5180 was noted at Bolton with vans for Normanton.
1968
After almost five years working out of Gateshead, D5180 was transferred to Holbeck (55A) during January as part of the effort to clear West Yorkshire of steam traction.
D5180 was present at Derby Works during April.
1969
7605 & 5180 were noted southbound on a freight at Kirkby Stephen around midday on September 11th.
1970
Holiday makers traveling out of Scarborough had the opportunity for Class 25 haulage on the 9.25 Scarborough - Manchester, so noted was 5180 on July 11th.
On August 12th 1970 the 11.50 Hull - York was hauled by 5180. Three days later (15th) the Saturdays only 08.35 Wakefield Kirkgate - Filey Holiday Camp and the 11.00 Filey - Huddersfield were worked by 5180.
During November Holbeck sent six of their Class 25's - 5179-82 & 7624/25, all non boilered to Newport Ebbw Junction (86B). Their duties included the Lydney and Parkend branches, the Pontypool Road shunt and the heavier iron ore workings between Newport Docks and Ebbw Vale or Llanwern steelworks. The Parkend branch saw considerable mineral traffic necessitating as many as three daily trips, usually on Mondays, providing much ballast for the permanent way department.
1971
Having established a presence on the Western Region albeit initially in the Cardiff Valleys it was only a matter of time before the Class 25's penetrated further into hydraulic territory. The end of July saw the Class 25ís make their first appearances in the West Country, to replace the NBL Class 22ís. On July 30th 5180 was noted passing through Exeter with vanfits for Plymouth, then proceeding to St Blazey, followed by 5179 on August 19th, bound for Laira. With these machines, and later 5181 and 7657 (September 3rd) crew training commenced. There still remained thirteen Class 22ís 6308/19/22/26/30/33/34/36-39/43/56 with ten diagrams to cover. The St Blazey turns visited St Dennis Junction and the Retew branch, Tavistock Jcn and Boscarne, Goonbarrow Jcn, Drinnick Mill and Lostwithiel and the Truro area. Laira turns went to Keyham and Liskeard, Plymstock and lastly Devonport. The Newton Abbot locomotive visited Heathfield and Stoneycombe. Exeter turns went out to Barnstaple Junction and Torrington, Tiverton Junction, Hemyock and Chard Junction. The last turn ran out to Okehampton. A number of these turns were not daily.
5180 was transferred to Laira (84A) during October for four months.
On October 5th St Blazey received 7575 & 7676 for taking up further Class 22 duties, unfortunately 7575 was defective and returned to Laira for repair. Its replacement was 5180, these two handling the trips to Dennis Junction, Retew and Goonbarrow Jct.
1972
On January 3rd 5180 had the unfortunate task of removing the last active Class 22s from the south west. 6336 & 6338 left St Blazey in the early hours behind 5180, collecting 6333 & 6339 at Exeter for the run to Bristol Marsh Junction. All had been in revenue earning service up to their final movement towards Swindon. During January 5180 returned to Newport Ebbw Junction.
On August 12th 1972 the 12.31 Leeds - Birmingham New Street was worked by 5180.
1973
At about midday on October 24th 5180 & 7503 were noted near Margam with a freight (8C60).
1974
On February 8th 25030 made a test run from Derby Works. Most likely the locomotive was renumbered whilst at Derby Works.
The snag sheet for February 8th recorded:
No.1 end leading, recordings made from No.2 end.
25030; February 8th 1974; time 9.40
| | | | | | |
| --- | --- | --- | --- | --- | --- |
| Load | Speed | Amps | Volts | Notes | Other |
| 1 | 28 | 925 | - | - | - |
No.1 cab driver's side window water leak
No.1 cab roof, water leak
D/P 2 panel to secure, only two screws
TDR to change, will not adjust to correct delay
No.2 cab driver's side windscreen wiper motor, circlip missing.
25030 was stabled at Margam on April 20th, along with 7506 & 25167.
25030 (Cardiff allocated) was noted passing Manchester Victoria down light engine on May 3rd at about 6pm.
On August 21st 25030 was noted at Exeter stabling point.
1975
After fifteen months at Cardiff, at the end of the summer timetable 25030 was transferred to Haymarket during October, then on to Inverness during November.
1976
During June 25030 was transferred to Eastfield and then to Cricklewood, this was its last transfer.
On the morning of June 7th 25030 was noted on empty coaching stock duties at Glasgow Central.
25030 was noted at Rugby on July 3rd.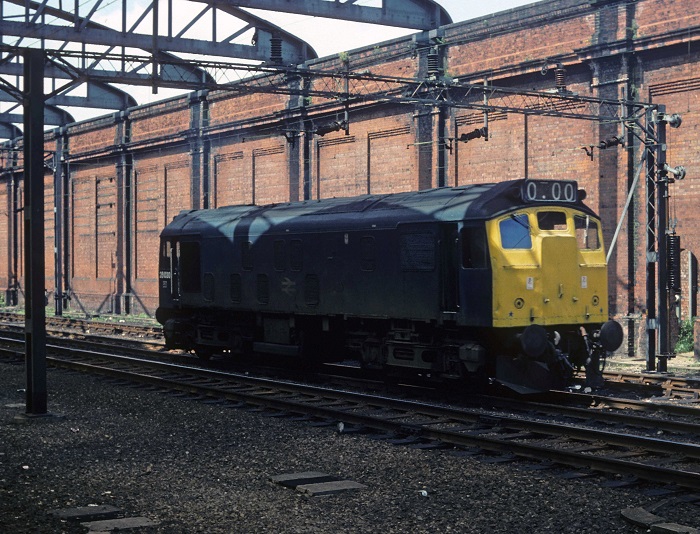 Photograph collection of Roger Geach.
25030 at Rugby during July 1976.
On August 5th 25030 and 25174 were hit by runaway wagons in the Aylesbury area, they were soon moved to Cricklewood en route to Derby Works. Final movement to Derby took place on August 9th. 25174 suffered a crushed cab whilst the damage sustained by 25030 was much less severe, however it was enough to require Works attention. During August the decision was made to retire both machines.
1980
After four years dumped at Derby Works 25030 was cut up during May.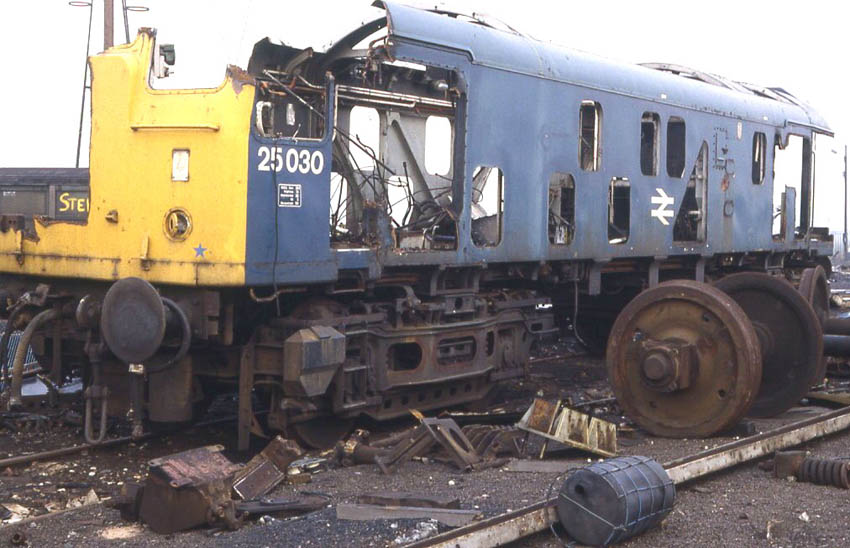 Photograph courtesy Graham Turner.
The gutted shell of 25030 has reached the end of the line in the scrapping area at Derby Works in the spring of 1980.
6/495
flk 0422 (1)
Page added February 6th 2005.
Last updated July 4th 2022.
Back to 25029
Forward to 25031