D5197, 5197, 25047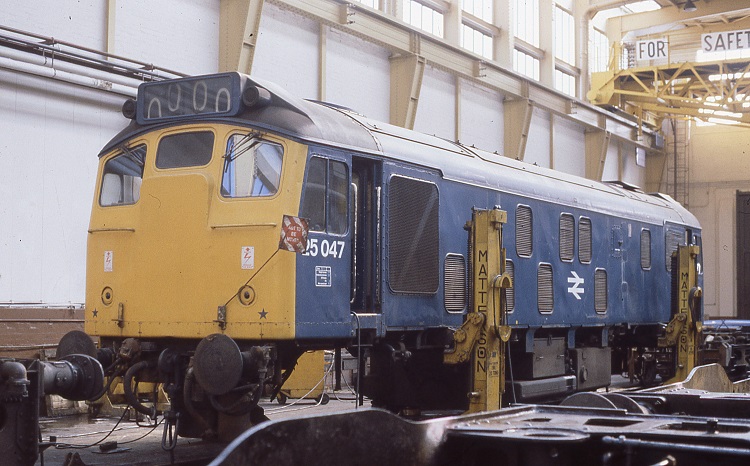 25047 is lifted off its bogies at Reddish on April 11th 1980. Throughout its working life 25047 was always allocated to LMR depots.
The seventeen year and four month career of D5197/25047 was spent allocated only to a variety of London Midland depots.
Built: BR Derby Locomotive Works.
Boiler equipped.
Center lampbracket & other fittings removed.
Time between last Classified repair and withdrawal: 51 months.
Time between withdrawal & scrapping: 4 months.
Allocations
D5197 was new to Toton (18A) on May 11th 1963. Further transfers were:
September 1963 to Nottingham (16A).
January 1964 to Nottingham (16D).
April 1964 to Saltley (2E).
April 1966 to Birmingham Division (D02).
April 1966 to London Midland (Midland) Lines LMML.
March 1968 to Longsight (9A).
June 1968 to Manchester Division (D09).
May 1973 to Longsight.
October 1975 to Toton.
September 1976 to Springs Branch.
Withdrawn September 7th 1980.
Renumbered March 8th 1974.
25047 was the 39th Class 25 withdrawn, one of nine retired during September 1980, the most Class 25 withdrawals in any one month up to this point.
After withdrawal 25047 was stored at Springs Branch until moved to Swindon Works on November 21st 1980 with 25074, 25099 & 25116 and scrapped there by the middle of January 1981.
Works Visits
Works visits (records incomplete).
Noted Derby Works March 1965.
Noted Derby Works September 1966.
Noted Derby Works February 1971.
Noted Derby Works December 1972.
Noted Derby Works April & May 1976 (Classified & full repaint, gangway doors sheeted over).
Highlights
1966
Condition July: green livery with small yellow warning panels, curved upper corners, warning panel covers frame level stripe, ridge sided sandboxes, three rung bogie mounted footsteps, no blanking plates fitted, hand/footholds present.
1968
The first recorded passenger working occurred on July 20th 1968, with 5137 working the 09.35 Sheffield - Llandudno Town and 14.28 return. The next recorded working was four years later on August 12th 1972 with 7587 working the 09.20 Manchester Piccadilly - Yarmouth to Lincoln Central and returning with the 09.28 ex-Yarmouth. Excursions to the Central and Eastern Divisions of the SR were increasingly powered throughout by Class 47's or incoming power was swapped for a 'native' Class 33, however on October 28th 1972 an Ashburys – Brighton was worked throughout by 5176 & 5197.
1973
On April 23rd 1973 5197 & 5210 worked an Oldham - Brighton day excursion as far as Crewe. Two seaside workings were handled during 1974. On June 15th 25047 & 25082 worked the 09.19 Manchester Piccadilly - Yarmouth to Lincoln Central (no return working was recorded). On August 24th 1974 25047 worked the 11.39 Rhyl - Blythe Bridge.
1974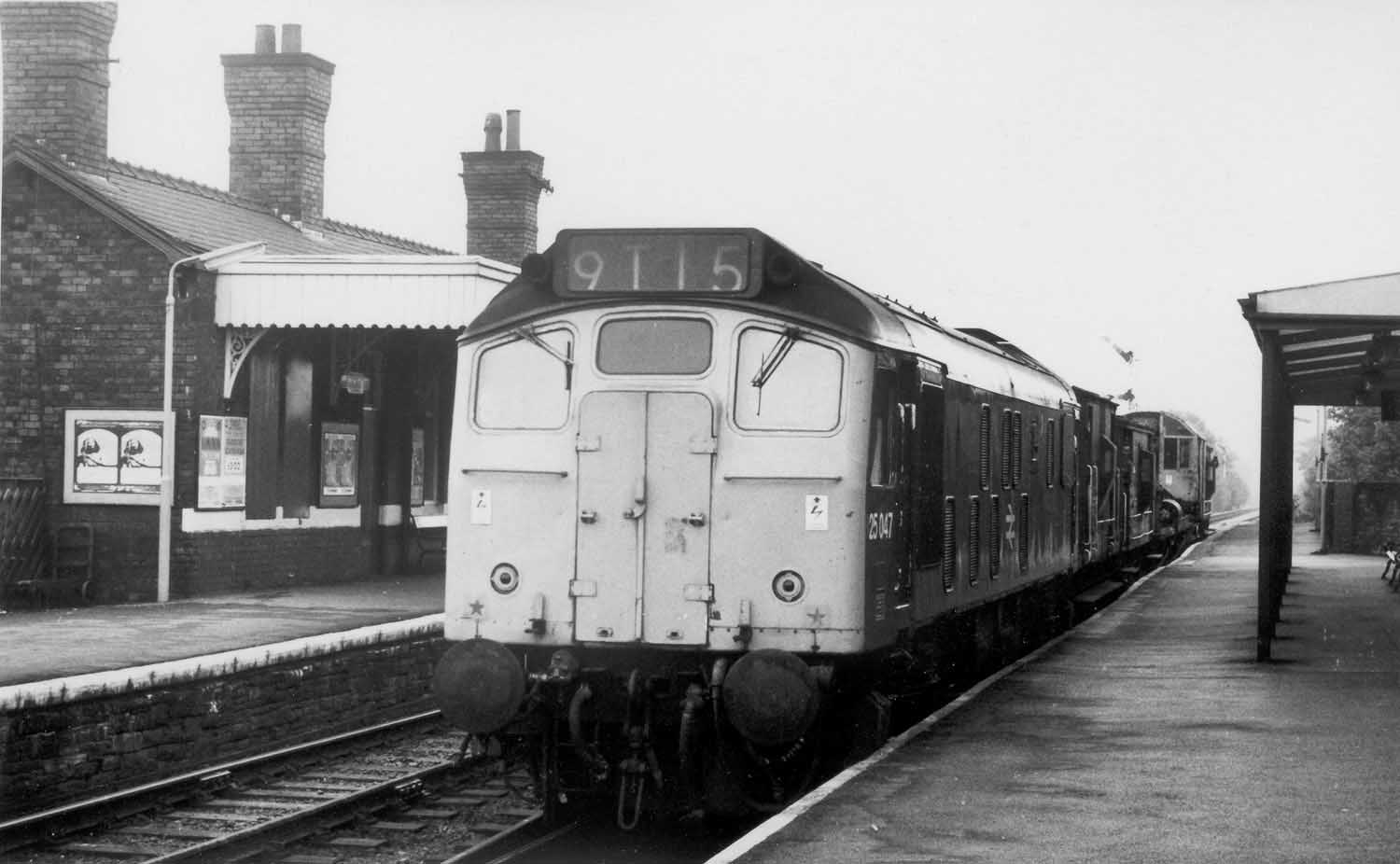 Photograph collection of webmaster
25047 on June 16th 1974 at Romiley with a short engineers train.
1975
1975 produced a small mixed selection of passenger workings. On June 21st 25047 worked the 08.30 Manchester Victoria - Barrow.
On July 7th 25047 worked the 00.35 Manchester Victoria - York. On July 14th 25027 worked the 05.07 Leeds City - Manchester Victoria vans (4M03). on July 26th 25047 & 25027 worked the 09.20 Manchester Piccadilly - Yarmouth to Lincoln Central, returning with the 09.30 ex-Yarmouth.
Deputising for a diesel multiple unit 25047 worked a round trip early evening Derby - Matlock service on October 27th.
1976
Severe gales on the evening of January 2nd affected much of the country with wind speeds consistently above 50mph. There was much disruption to WCML services which were not helped by the derailment of 25242 on an engineers train south of Nuneaton, also on 2nd. This severely impacted the Leicester services, however the arrival of 25047 with the Saltley breakdown crane saw the line cleared by the evening.
25047 was back on the Derby - Matlock service twice during 1976. On February 6th 1976 25047 worked an early morning round trip, whilst on July 6th 1976 an early evening round trip was worked.
On July 8th 25047 worked a Lincoln - Whitemoor freight.
1977
1977 brought some longer distance workings for 25047. On July 1st 1977 25047 worked the 15.35 Norwich - Birmingham New Street.
25047 was noted eastbound through Chinley with empty ICI hoppers for Tunstead on October 13th.
Railtour duty occurred on October 29th 1977 as 25047 & 25057 worked the 'The Hadrian Railtour' from Blackpool North to Newcastle and return, a total of 286 miles. The railtour headed for Carlisle (via the S&C) where an expected locomotive change did not occur. In running round at Carlisle the ability of the Class 25 to stop quickly became apparent when brake applications were made at Brampton & Haltwhistle, resulting in very severe stops. At Haltwhistle considerable effort was required to get the Class 25s to move, incurring a substantial delay. At Newcastle the Type 2s were replaced by 37111 for a circuitous run to York, the Class 37 being reported by its driver as low on power. The Class 25's regained control at York, the local fitters having cured the brake trouble encountered earlier. The Class 25's made good time until speed restrictions, a heavy train and autumn leaves led to a very challenging run over Copy Pit, stalling at Cornholme and reaching the summit at walking pace! Despite everything, including pathing through Blackpool Illuminations traffic, the railtour arrived back at Blackpool less than thirty minutes late.
On December 3rd 1977 25047 worked the 11.30 Cardiff - Crewe. 25047 was back on this route on December 10th 1977 working a Cardiff - Crewe service.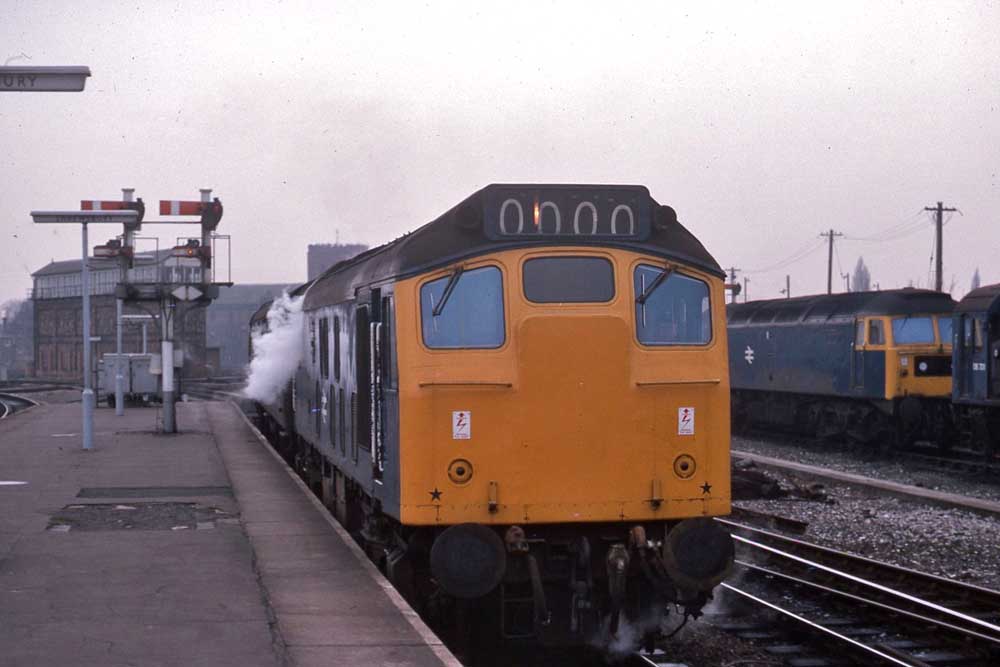 Photograph courtesy Peter Lovell
With the steam heat boiler working 25047 arrives at Shrewsbury with the 11:50 Cardiff – Crewe on December 3rd 1977.
1978
On May 20th 25041 & 25047 were noted on Gresford Bank with a block cement train.
On June 24th 1978 25047 worked the 16.00 Crewe - Cardiff. It was over to East Anglia on July 1st 1978 working the 10.15 Birmingham New Street - Norwich throughout. On July 17th 1978 400 miles was run up working two Manchester Victoria - Bangor roundtrips.
1979
The last recorded passenger workings for 25047 took place during 1979. On May 18th 25047 worked the 15.42 Manchester Victoria - Bangor.
On July 20th 25047 & 25215 moved six ex-works Class 502 coaches from Dee Marsh to Birkenhead North.
On August 29th the 17.10 Manchester Victoria - Blackpool North was worked, followed the next day (30th) on the 10.45 Glasgow Central - Carlisle. A charter train was worked on November 22nd 1979, working the 07.32 Colwyn Bay - Euston to Crewe. The two final workings were on the Marches line, handling the 10.00 Crewe - Cardiff on December 1st & 15th.
1980
25047 was noted at Reddish depot on April 11th & 19th.
On June 16th 25047 was noted passing Clayton, Manchester with a short freight of loaded coal wagons and brakevan.
25047 was withdrawn on September 7th 1980.
25047 most likely carried '0000' headcode display until withdrawn.
Not all known passenger workings are recorded on this page.
37/3482.
flk 0817
Page added May 6th 2013.
Last updated November 14th 2019.