D5207, 5207, 25057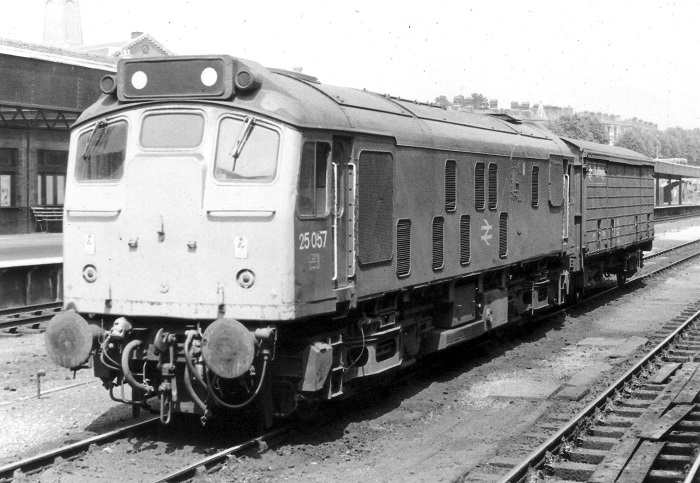 Photograph courtesy Martin Margerrison
25057 with a single Railfreight wagon at Exeter Central on June 18th 1979. This maybe be cider from Whimple or MOD traffic from Newcourt, in either case being tripped to Exeter Riverside.
Built: Derby Locomotive Works.
Boiler equipped.
Dual brake equipped (August 1974).
Royal Train cabling modification (cab front access panel).
Time between last Classified repair and withdrawal: 84 months.
Preserved.
During May 2012 25057 achieved the milestone of have spent more time in preservation than in BR service.
The twenty three year nine month career of D5207/25057 saw allocations to London Midland & Western Region depots.
Allocations
The frames for D5207 were laid down at Derby Works during March 1963 with D5207 delivered new to Toton (18A) on June 22nd 1963. Further transfers were:
July 1963 to Cricklewood (14A).
August 1963 to Toton (18A).
March 1964 to Derby (16C).
January 1965 to the London Midland, Midland Lines (LMML).
December 1967 to Springs Branch (8F).
June 1968 to Liverpool Division (D08).
September 1968 to Preston Division (D10).
November 1968 to Liverpool Division (D08).
January 1972 to Manchester Division (D09).
February 1972 to Liverpool Division (D08).
May 1973 to Springs Branch.
May 1978 to Laira.
November 1980 to Longsight.
May 1985 to Crewe.
March 15th 1987 withdrawn.
Renumbered April 1974.
25057 was present at Basford Hall by March 15th, it remained here until July 14th, moving as the 9L37 Basford Hall - Leicester, Humberstone Road with 25035/109/265, then tripped with 25265/313 as the 9T16 Humberstone Road - Vic Berry's yard on July 24th (also reported September 11th?).
25057 was sold into preservation. It left for the Buckinghamshire Railway Center, Quainton Road, arriving there on August 5th 1988. 25057 was later sold privately and moved to the North Norfolk Railway, Sheringham by road on April 3rd 1991.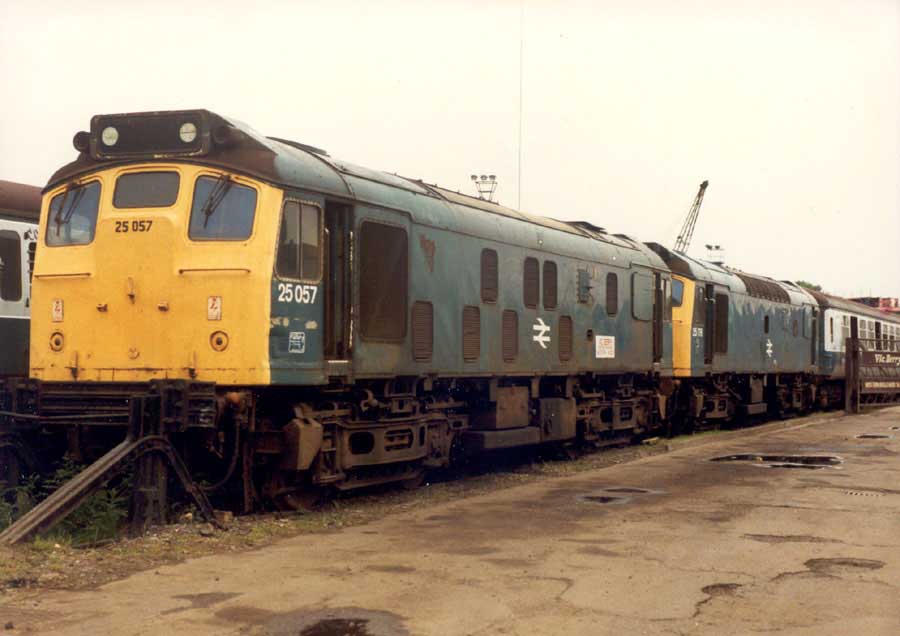 Photograph courtesy Jerry Glover
25057 & 25176 at Vic Berry's Leicester yard on June 5th 1988.
Works Visits
Works visits (records incomplete).
Noted Derby Works October 1966.
Noted Derby Works April 1970.
Noted Derby Works December 1972.
Noted Derby Works August 1974 (dual brake equipment fitted).
Noted Derby Works December 1979 - February 1980 (Intermediate).
Highlights
1963
D5207 was delivered from Derby Works during June, and allocated to Toton (18A) as one of the large fleet of Type 2's involved in the replacement of steam on the Midland Lines north of St Pancras. D5207 made its test trip to Corby on June 13th 1963 with D5206.
During July D5207 was transferred to Cricklewood (14A), but D5207 returned north to Toton (18A) in August. Initially the new Type 2's delivered from Derby would remain only briefly at Toton, to allow any faults that might appear in their running-in to be easily fixed before they were allocated further afield.
Its working life on British Railways followed a pattern, initially used to oust steam on the lines north of St Pancras then would later move to the north west for a similar purpose to oust steam from Cumbria and Lancashire. Several years later it would be part of the transfers used to allow the withdrawal of some of the less successful Modernisation Plan diesel designs from the Western Region. After these transfers it was a case of gradual retrenchment, with most returning to the London Midland Region to work out their final days. Longevity was extended by the fitting of dual braking equipment during Works visits in the 1970s, and being boiler equipped also enhanced their usefulness.
1965
On April 19th D5207 worked the 08.45 Manchester Central - Sheffield and the return 12.45 Sheffield - Chinley.
1966
On December 20th the 12.30 Manchester Central - St. Pancras was worked by D5207.
1968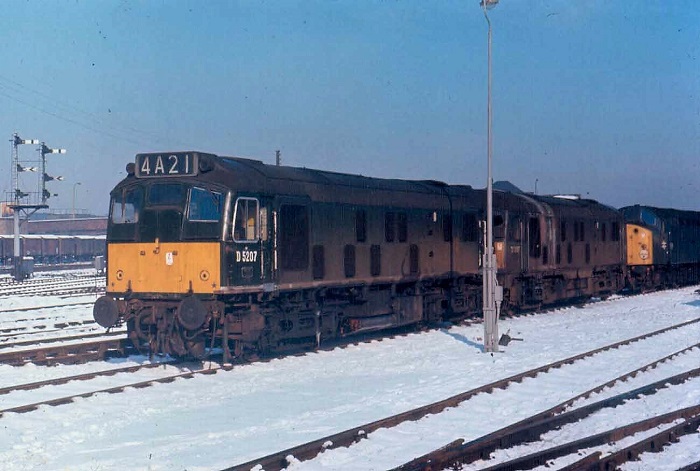 Photograph courtesy John G Ashley
D5207 and two-tone D5037 at Warrington, date unknown.
On the evening of January 22nd D5207 was noted at Miles Platting with an Ancoats (?) - Glasgow freight.
On June 15th D5207 was noted at Manchester Exchange with the 1F30 vans.
On July 27th the 09.35 Blackpool North - Glasgow was worked at least as far as Carlisle by D5259 & D5207, D5259 was later noted working south from Carlisle with D5285.
1969
5207 worked a Burnley - Liverpool Exchange Footex on January 25th.
5207 worked the 1F51 21.30 Preston - Liverpool Exchange on the evening of May 31st.
1970
An Open Day at Wigan Springs Branch on August 22nd received coverage by the BBC and for a small fee visitors could take a cab ride in 5207.
1971
On the evening of February 6th 5207 & 5201 were noted westbound at Totley Tunnel with a Boston - Wigan football special.
5207 noted during June in blue/yellow livery and still retaining gangway doors.
5207 was on empty coaching stock duty at Liverpool Lime Street on November 18th, 22nd, 23rd, 29th & 30th.
On December 12th 5207 came to the rescue of 439 at Edge Hill shortly after the latter failed on an afternoon Liverpool – Euston service, taking the service to Crewe(?)
1972
5207 visited Derby Works during December.
1973
At about 5.30pm on February 19th 5207 was noted at St Helens with an up freight.
5207 was on empty coaching stock duty at Liverpool Lime Street on April 2nd & 25th.
5207 was on empty coaching stock duty at Liverpool Lime Street on September 12th & 13th. At about 7.30am on September 14th a Liverpool - Glasgow service was noted awaiting departure with 5207+426+421.
1974
A pre-season holiday excursion from Leamington Spa to Paignton on April 15th was hauled roundtrip by 25057 & 25074.
On August 31st 25057 & 25102 worked the Derby - Norwich - Yarmouth - Norwich - Walsall diagram.
25057 was noted at Derby during August for a classified repair including the fitting of dual brake equipment.
1975
25057 was on empty coaching stock duty at Liverpool Lime Street on July 8th.
25057 was on empty coaching stock duty at Liverpool Lime Street on August 13th.
1976
At about 1pm on February 11th 25057 + 25278 were noted at Preston on a permanent way train.
On May 29th a Euston - Tywyn charter was worked roundtrip Wolverhampton - Tywyn by 25057 & 25131.
The 22.40 Shrewsbury - York was worked to Crewe by 25057 on September 3rd. The next day (4th) the 10.07 Aberystwyth - Euston was worked to Shrewsbury by 25057 & 25161.
1977
RPPR's Pennine Venturer No.4 railtour ran on January 22nd with five coaches and a very clean 25057 (ex-royal duty?), from Liverpool to Wigan, Blackburn (Calder Valley route), Leeds, Selby, Doncaster, Sheffield Victoria, Penistone, Huddersfield and reverse of the outward route back to Liverpool Lime Street.
The Liverpool area was certainly no stranger to Class 25s on passenger workings, they were frequently to be found working the non-electrified portion of Liverpool - Glasgow/Edinburgh services, often loaded to eleven coaches. So noted was 25057 on the 09.41 to Glasgow and 25060 on the 18.05 ex-Edinburgh, both on April 8th. The next day (9th) an Irlam - Skegness mystery excursion was noted at Skegness with 25057 & 25075, presumably working out & back. 25057 & 25075 worked a Liverpool - Bangor Easter excursion on April 11th.
Having somehow reached Devon 25057 worked the 11.10 Paignton - Exeter St. Davids and the 21.15 Paignton - Newton Abbot on August 29th.
Blackpool North was the starting point of an LCGB enthusiast special 'The Hadrian Rail Tour' on October 29th, taken out by 25047 & 25057 to Newcastle and return, a total of 286 miles. The railtour headed for Carlisle (via the S&C) where an expected locomotive change did not occur. In running round at Carlisle the ability of the Class 25 to stop quickly became apparent when brake applications were made at Brampton & Haltwhistle, resulting in very severe stops. At Haltwhistle considerable effort was required to get the Class 25s to move, incurring a substantial delay. At Newcastle the Type 2s were replaced by 37111 for a circuitous run to York, the Class 37 being reported by its driver as low on power. The Class 25s regained control at York, the local fitters having cured the brake trouble encountered earlier. The Class 25s made good time until speed restrictions, a heavy train and autumn leaves led to a very challenging run over Copy Pit, stalling at Cornholme and reaching the summit at walking pace! Despite everything, including pathing through Blackpool Illuminations traffic, the railtour arrived back at Blackpool less than thirty minutes late.
1978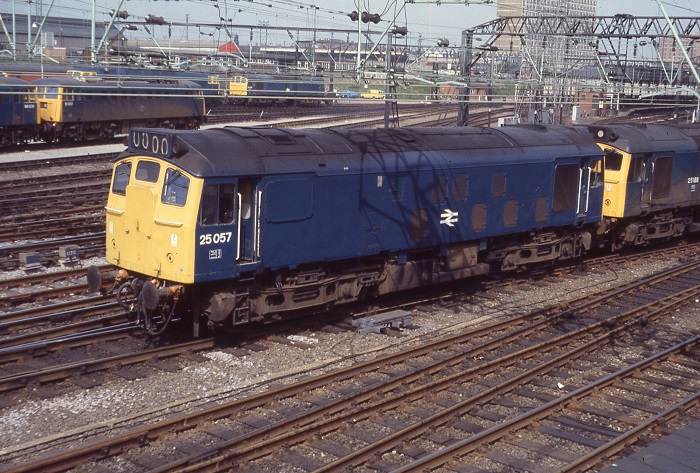 A pair of Class 25s, with 25057 trailing navigates the maze of trackwork at the south end of Crewe station on June 11th 1978.
From May 1978 25057 would spend thirty months allocated to Laira, it would see much activity on the local passenger trains in Devon.
On June 15th 25057 was on the North Wales mainline with an inspection saloon.
At 9am on August 1st 25057 was noted westbound light engine at Totnes, whilst later in the day it worked the 19.35 Exeter St Davids - Paignton. On the morning of August 5th 25057 was stabled at Exeter.
Typical of the worked performed by the Laira Class 25s was that of 25057 on August 30th & 31st, working the 30th's 20.40 Newton Abbot - Paignton and the 31st's 11.10 Paignton - Exeter St. Davids, the 14.10 Exeter St. Davids - Paignton, the 17.30 Paignton - Exeter St. Davids and the 18.45 Exeter St. Davids - Paignton.
On September 2nd the 12.35 Penzance - Swansea (or possibly the 14.02 Paignton - Swansea) with 47194 failed west of Exeter, the following service with 47497 pushed the failure to Exeter St. Davids where 25057 took over as far as Bristol Temple Meads. At lunchtime on September 9th 25057 & 25155 were noted on Exeter stabling point. Later this day 25057 & 25225 would work the 21.00 Exeter - Newton Abbot and the next day's (10th's) roundtrip Bideford - Kingswear day excursion. During the early evening of September 13th 25057 & 25223 were noted at Exeter stabling point, 25057 would later work the 19.30 Exeter St. Davids - Paignton and on September 24th the 18.02 Exeter St. Davids - Newton Abbot.
Shortly after midnight on September 16th 25057 was stabled at Exeter. The next day (17th) 25057 & 25058 worked the 11.10 Exeter - Barnstaple, at Barnstaple 25057 was detached and sent forward to Torrington to handle the milk traffic.
1979
On January 8th 25057 worked the 17.45 Barnstaple - Exeter St. Davids and the 19.45 Exeter St. Davids - Paignton.
On February 10th 25057 & 25058 worked the 17.45 Barnstaple - Exeter St.Davids. On February 16th 25057 worked the 19.30 Exeter St. Davids - Paignton. On February 23rd 25057 worked the 16.08 Exeter St. Davids - Barnstaple.
The summer season of 1979 would being many local south Devon passenger workings for 25057. One of the more oddball workings took place on May 7th with 25057 & 25053 working the 13.30 Paddington - Penzance from Exeter St. Davids to Plymouth.
Between June 13th & June 18th 25057 was noted on passenger workings each day.
The diagram worked on July 7th was typical of what could occur, with 25057 working the 09.50 Exeter St. Davids - Barnstaple, the 11.57 Barnstaple - Exeter St. Davids, the 13.40 Exeter St. Davids - Barnstaple and the 15.52 Barnstaple - Exeter St. Davids, a total of 156 passenger miles.
Another partial diagram recorded was that from September 13th with 25057 working the 09.50 Exeter St. Davids - Paignton, the 11.08 Paignton - Exeter St. Davids and the 14.10 Exeter St. Davids - Paignton. On September 15th 25052, 25057 & 25058 were noted at Exeter St. Davids. On September 18th 46046 arrived at Exeter with a late afternoon Cardiff - Paignton charter. 25057 & 25058 worked the train forward jointly as the charter and also the 20.45 Exeter - Paignton (also recorded as Barnstaple).
On November 10th 25057 & 25058 worked the F&W 'Yorkie' Plymouth – York railtour throughout, for a total of 722 passenger miles.
Derby Works received 25057 for intermediate repairs from December 1979 to February 1980.
1980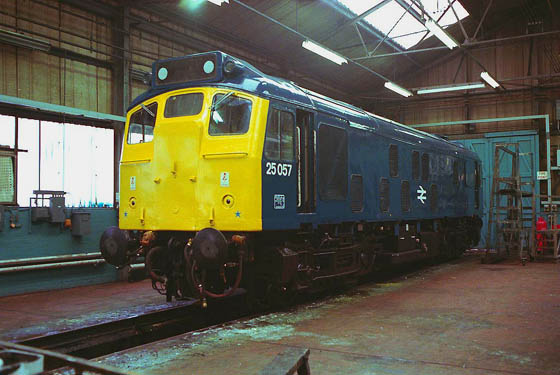 Photograph courtesy Martin Bray/Phil Trotter
Its February 23rd 1980 at Derby Works and 25057 receives its last coat of fresh blue & yellow paint whilst in BR service.
The summer of 1980 saw passenger workings similar to that of 1979.
On May 26th 25057 worked the 16.40 Paignton - Exeter St. Davids. On May 28th 25057 worked the 19.35 Exeter St. Davids - Paignton.
Typical of a diagram worked by 25057 was that on May 31st and June 7th handling the 07.15 Exeter St. Davids - Barnstaple, the 10.00 Barnstaple - Exeter St. Davids, the 09.48 Paddington - Barnstaple from Exeter St. Davids to Barnstaple, the 14.45 Barnstaple - Paddington to Exeter and the 16.42 Exeter St. Davids - Barnstaple. On June 19th 25057 worked the 19.55 Exeter St.Davids - Paignton. On June 20th 25057 worked the 20.50 Paignton - Newton Abbot.
On August 15th & 19th 25057 worked the 11.04 Paignton - Exeter St. Davids, the 14.16 Exeter St. Davids - Paignton and the 16.40 Paignton - Exeter St. Davids. On August 18th 25057 worked the 11.04 Paignton - Exeter St Davids and the 18.58 Exeter St. Davids - Paignton.
On September 13th 25057 worked the 08.23 Barnstaple - Waterloo as far as Exeter St. Davids, the 09.50 Exeter St. Davids - Barnstaple and the 12.00 Barnstaple - Exeter St. Davids. On September 26th 25057 worked the 18.58 Exeter St. Davids - Paignton.
25057's time in the West Country came to an end during November when it was transferred to Longsight. The duties of the West Country Class 25s were taken over by the Class 37s.
A glimpse at the TOPS report at midday on November 25th revealed 25057 was arriving at Springs Branch.
1981
A look at the TOPS information for late afternoon on January 15th found 25057 on the 6T44 to Ashburys.
On March 3rd 25057 was noted at Preston on a passenger working. On March 7th 25057 worked a roundtrip Carstairs - Haymarket rugby special.
The 'Easter Tommy' railtour from Liverpool to Lincoln via the Woodhead route utilised 25057 & 25083 for the out and back Liverpool - Guide Bridge legs on April 21st. The railtour started out about forty five minutes late, the driver having been advised the locomotives were at Lime Street when in fact they were at Edge Hill, the driver then being sent to Edge Hill by taxi to collect the locomotives. The next day (22nd) the 07.47 Manchester Victoria - Bangor and the 11.30 Bangor - Manchester Victoria were worked by 25057.
On May 3rd 25057 hauled a Bolton - Birmingham International day excursion throughout.
On June 1st 25057 worked the 08.40 Carlisle - Glasgow Central and 12.40 return and on June 16th it powered the 17.42 Manchester Victoria - Bangor. On the late afternoon of June 27th 25057 was stabled at Perth.
On July 6th & 7th 25057 worked the 17.12 Perth - Arbroath and the 18.33 Arbroath - Dundee. Longsight's 25057 saw further use on the Scottish Region when on July 17th it worked the 08.35 Glasgow Central - Stranraer Harbour forward from Ayr and on July 20th worked an afternoon Kilmarnock - Stranraer Harbour passenger service.
On the Cambrian passenger workings 25057 & 25240 were noted on September 5th hauling the 10.10 Euston - Aberystwyth forward from Wolverhampton, returning with the 18.00 Aberystwyth - Wolverhampton.
25057 was stabled at Warrington Arpley on October 4th.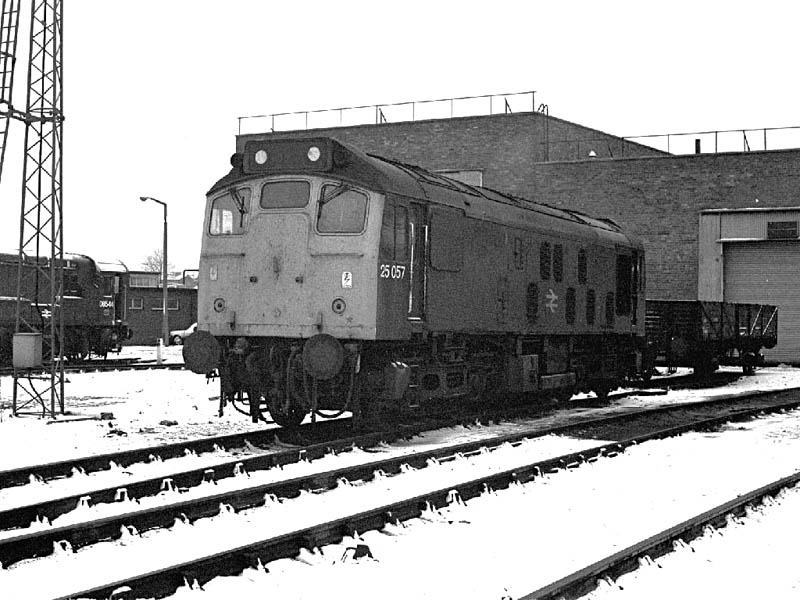 Photograph courtesy Tony Sayer
Although the Eastern Region grew increasingly unhappy about Class 25s running over their metals there was little they could do about it when received on inter-regional workings. Here 25057 lays over at Thornaby on December 13th 1981.
25057 was stabled at Thornaby on a snowy December 13th.
1982
Class 25s could still be seen at Glasgow Central on passenger workings, principally the 8.40 from Carlisle (via GSW) and 12.40 return. Noted in March were 25057 (6th), 25219 (9th, 11th, 18th) and 25062 (15th), 25027 (24th & 25th) although 25219 was declared a failure on two of the days! April saw 25218 used on 2nd, whilst Classes 26/27 were well represented.
On June 1st with the Pope at Bellahouston Park, Glasgow many specials ran including 25057 handling an eight coach special from Cumbernauld to Corkerhill, other specials used almost every class the Scottish Region had available. June 24th found the same locomotive on a morning Ayr - Glasgow passenger, whilst on 30th perhaps because of the NUR action 25057 worked the 21.05 Edinburgh – Kings Cross as far as Newcastle, replaced by 40025 with the Class 25 returning north on a parcels working.
By July 3rd 25057 had reached Leeds, allowing it to be used on the 16.05 to Carlisle. 25106 & 25057 were noted southbound? passing Shipton, York on July 19th with eleven loaded bogie wagons.
On August 13th 25057 worked the four van 18.10 Manchester Piccadilly - St Pancras mail as far as Derby. On August 16th 25057 was noted westbound through Chester with mineral wagons.
A short working for 25057 occurred on September 15th when it dragged a morning Derby - Crewe service forward from Blythe Bridge after the diesel multiple unit failed.
The Settle & Carlisle was traversed by 25057 on September 28th whilst working the 16.05 Leeds - Carlisle, being used the next day to work the 10.00 Carlisle - Leeds & 16.05 return, the southbound working was generally a Class 47 turn but Holbeck seemed to send back a Class 25 on many occasions. The 28th's southbound service had been hauled to Leeds by 47459, no doubt Holbeck could better utilise it elsewhere rather than send it back to Carlisle on an undemanding secondary passenger working.
25057's last passenger workings for 1982 occurred during the first week of October, on the 4th hauling the 15.13 Manchester Victoria - Barrow, coming back with the 18.30 Barrow - Liverpool, whilst on the 6th 25057 worked the 15.40 Manchester Victoria - Bangor and the 19.25 Bangor - Manchester Victoria.
1983
On March 16th 25057 & 25175 were noted at Carlisle on an oil working from Dalston. The third week of March found 25057 busy with passenger workings in the Preston area, covering a couple of Manchester - Blackpool turns on 18th and the 22.47 Crewe - Blackpool forward from Preston on 19th, 21st & 22nd.
The short journeys in March contrasted with the use of 25057 & 25083 on April 2nd's roundtrip day excursion from Manchester Victoria to Aberystwyth. Three days later (5th) it was off to Llandudno Junction on the 17.45 ex Manchester Victoria. One more passenger working during April for 25057 was 18th's 18.18 Birmingham New Street - Norwich as far as March.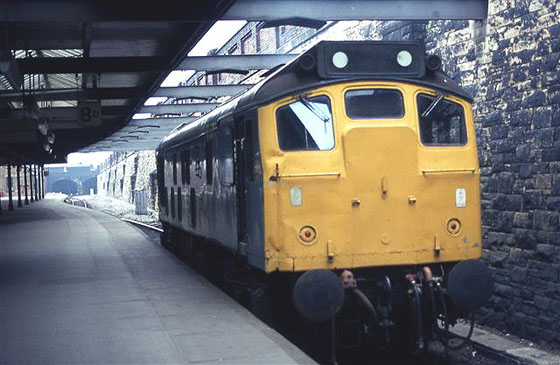 Photograph courtesy Andy Key
25057 at Sheffield Midland on July 19th 1983, the photographer has captured how platform 8 has some curves to it. Many an evening was spent at Sheffield Midland in your webmaster's early spotting days as we made frequent trips to Doncaster to watch the comings and goings of the ECML traffic. The return trip home meant the usual bog into Sheffield and then the wait for a westbound NE/SW service behind the inevitable Peak or Brush Type 4. On one occasion a Class 40 showed up, a brief word with the crew indicated they were getting used to this somewhat unusual power, when we left the train at Derby the Class 40 was still on, whistling merrily as it headed out to New Street.
Class 25s filled in on a couple of turns on the Birmingham – Norwich services early in July including July 6th's 16.14 to Norwich behind 25057 after the failure of booked 31421 at New Street, the Class 25 worked through to Norwich. On July 11th 25057 and another Class 25 were noted southbound passing Bescot with a freight.
25057 was noted at Derby on August 25th with a short parcels train at 6.45 am or pm?
1984
25084 was noted light engine at Shrewsbury on January 14th. Passenger workings for 25057 began early in the year, on January 27th it worked the 06.10 Carlisle - Glasgow Central and 15.50 return. A month later on February 26th it worked the 12.40 Carlisle - Glasgow.
March 18th & 24th(?) saw 25057 working the 02.35 Euston - Bletchley passenger/staff train.
The first two weekends in April had seen a number of Class 25s busy in the Euston area, shepherding electrics around engineering works between Euston/Camden & Willesden. On April 1st 25209/213/218/256 were in action whilst 8th saw 25057, 25209/218/236 used.
RESL's 'Easter Highlander', a twelve hundred mile enthusiast railtour over the weekend of April 20th - 22nd provided typical Class 25 haulage though of a mediocre nature. Diagrammed to handle the St Pancras - Derby portion the trip commenced behind 25042 & 25057, only for the latter to lose power almost immediately, becoming a total loss at St Albans. Heroic efforts by 25042 took the train to Bedford where 31118 was added for the run to Derby. All three were replaced at Derby by 40028. On the return leg 25057 & 25202 were waiting at Derby to relieve 40028 for the run upto St. Pancras. All was not well with 25202 which expired at St Albans. Here the train was cancelled and the hapless excursionists transferred to a following service from Sheffield hauled by 45131.
25057 was noted at Bletchley depot on May 4th.
On June 30th 25057 & 25237 worked the 07.44 Shrewsbury - Aberystwyth & 10.10 Aberystwyth - Euston as far as Shrewsbury.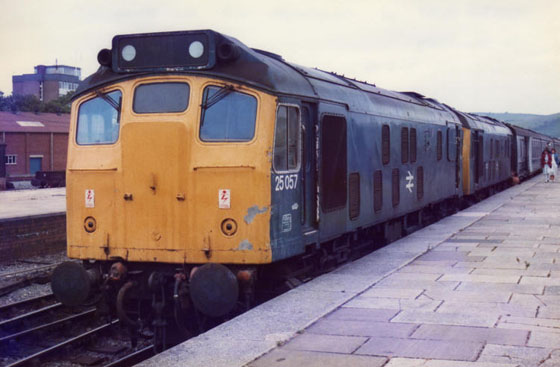 Photograph courtesy Mark Bennett
As mentioned in the text above 25057 & 25237 made a visit to Aberystwyth on June 30th 1984. Here the locomotives and train are seen at Aberystwyth on a dull looking day.
25057 and some hauled stock covered for a failed diesel multiple unit on an evening Manchester Victoria - Southport round trip on August 24th. Two days later (26th) the 10.30 Manchester Piccadilly - Sheffield received the delights of 25057 after the booked junk in the shape of 31296 was declared a failure before starting.
25057 was stabled at Nuneaton on September 15th. The 6S78 18.10 Severn Tunnel - Mossend was worked by 25200 & 25057 on September 26th to ?? 25057 was noted at Crewe depot on September 27th coupled to 25226.
On the rainy evening of October 24th 25057 was noted at Derby with a MkIII coach and a brakevan.
It was railtour duty for 25034 & 25057 on November 16, kicking off the weekend's RESL 'The Grampian Highlander', covering the first leg from St Pancras to Derby, here 46026 took over for the run to Newcastle, the Class 46 was deputising for D200/40122, and this run would be the last train ever worked by 46026! More passenger duty occurred for 25057 when it rescued 47119 at Bolton on November 30th's 15.20 Glasgow - Nottingham, both locomotives were replaced at Manchester Victoria.
December 21st 25057 worked the 12.28 Birmingham - Peterborough service. This had been a reasonable year for haulage behind 25057, covering seventeen recorded passenger/excursion workings with a total of 1,105 miles.
1985
The failure of a diesel multiple unit on January 17th found 25057 covering the 06.00 Crewe - Derby.
25057 was stabled at Severn Tunnel Junction on February 16th, the only Class 25 amongst twenty five locomotives. 25057 & 25078 worked the 12.55 Severn Tunnel Junction - Mossend freight on a snowy February 18th.
On March 21st 25057 worked the morning Baglan Bay service, returning in the afternoon with a freight from Margam.
25057 was noted passing Wolverhampton (southbound?) light engine on April 17th.
Short passengers duties for 25057 in May included May 9th's 16.45 Norwich - Birmingham New Street which expired at Leicester behind 31413, a week later (16th) 25057 rescued the 12.02 Great Malvern - Birmingham New Street diesel multiple unit at Stourbridge Jct, in both cases 25057 completed the journies into Birmingham.
Transfers in May, the first for quite a while involving the Class 25s saw Longsight's allocation of four machines (25057/316/321/324) moved to Crewe, joining them in July was 25058.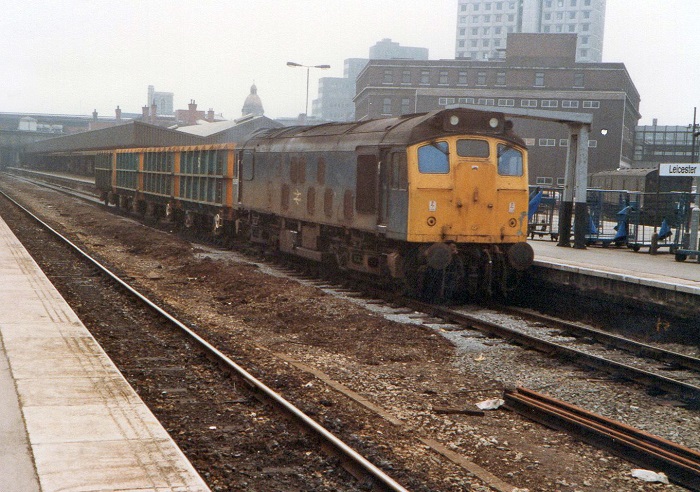 Photograph courtesy Roger Geach
May 8th 1985 finds 25057 and four Metalbox wagons northbound through Leicester. The Metalbox wagons most likely contain scrap metal from Berry's or Piggott's yard, destined for Aldwarke.
During June 25057 received power unit from the recently retired 25119.
The failure of 86205 on July 22nd's 01.15 Holyhead – Euston at Kings Langley saw 25057 coming to assist, but when the Class 25 attempted to return north light engine it too failed!
25057, 25076 & 31255 were stabled at Nothampton Castle yard on August 17th. With the power off south of Bletchley 25057 dragged a Stirling - Euston service to the capital on the afternoon of August 30th. Continuing its wanderings 25057 worked September 8th's 09.08 Llandudno - Scarborough as far as Manchester Victoria.
25057 was noted at Crewe station on September 14th with a short train of track panels. 25057 & 25058 worked a Blackpool - Edinburgh day excursion forward from Carstairs to Edinburgh on September 16th. 25057 was noted eastbound at Chester on the late afternoon of September 30th with an engineers train, possibly headed for Crewe Gresty Lane.
The 25057 & 25058 combination re-surfaced on October 9th taking an afternoon Liverpool - Scarborough forward from York, despite the Eastern Regions's known aversion to these fine machines. Remarkably they returned with the 17.55 Scarborough - Liverpool working through out despite a lack of heat, arrival being thirteen minutes late at Lime Street. By the time the train reached Leeds word had reached the rail enthusiast community of this fine working, with BR gaining additional revenue as admirers joined the train for the slog across the Pennines. On October 12th 25057 was noted at Llandudno Junction shed.
25057 was noted on December 18th at Hereford working a Severn Tunnel Junction - Mossend Speedlink.
1986
In January 25057 rescued two passenger services, firstly assisting an HST between Stone & Stafford on January 7th and then a diesel multiple unit between Stourbridge Junction & Langley Green on 10th. By late January 25057 was noted in the Exeter area, working early morning Cartics from Severn Tunnel Jct on 23rd & 29th.
25057 was stabled at Severn Tunnel Junction on February 8th.
25057 was stabled at Bescot on March 15th and Saltley on March 31st.
It was obvious that the Class 25s had a very bleak future, which automatically made them a popular choice for the enthusiast railtour market. May 5th saw F & W Railtours 'Valley Explorer' (1Z26) run from Crewe to Barry Island - Cardiff Penarth Curve - Leckwith Jct - Bridgend - Margam, then Margam - Bridgend - Aberthaw - Barry - Cardiff, including a number of valley freight lines. The 450 mile round trip was handled successfully by 25109 & 25057 being noted on time at New Street on the return leg. 25057 was noted at Manchester Victoria on May 11th with passenger stock. The next day (12th) 25057 was noted at Crewe depot. When a Newcastle - Llandudno Town service arrived at Manchester Victoria on May 23rd with 37216 leading a failed 45124 both were replaced by 25057 for the remainder of the journey. It returned with the 15.16 to York, replaced at Chester by 47458. 25057 was noted shunting at Cauldon Low on May 29th.
25057 was noted at Chester depot on June 2nd.
On July 1st 25057 worked a Northampton - Birmingham parcels, the next day it was noted at Manchester Victoria. Two more passenger trains in trouble were assisted by 25057 in July. On 12th a St Pancras bound HST hit cows near Kibworth, 25057 was used to drag the HST back to Leicester, whilst three days later (15th) a similar working expired at Glendon Junction, 25057 dragged the HST to Bedford where the service was terminated. By 26th 25057 was back in the Preston area, taking an ex-Euston service forward to Blackpool and returning to Preston with a Dundee bound train.
On August 25th 25057 handled the trip working from Wednesbury to Norton scrapyard, Bradley. 25057's last recorded passenger working occurred on August 29th and again was rescuing a failure, this time dragging electric multiple unit 304 045 from Kidsgrove to Stafford.
The Bescot - Handsworth Cement Terminal trip working was worked by 25057 with two cement tanks on September 19th.
1987
This would be the last year of service for the few remaining members of the Class 25 fleet. That three consecutively numbered machines (25057/58/59) had reached this point was quite remarkable, especially in the light of the woes that had befallen 25058 over the last couple of years. All had received classified repairs towards the end of such repairs to the Class 25s and all were dual braked, providing them with some advantages over other members of the dwindling Class 25 fleet.
25057 was at Carlisle on Christmas Eve 1986, on January 2nd it made a round trip to Ayr, then a trip to Penrith on January 4th, noted at Stoke on January 8th, by 11th it was attached to 25035. It visited Etches Park on January 17th for attention to the brake blocks, and was back at Carlisle by January 24/25th, it moved south to Newton Heath by January 27th, remaining in the area at least until January 30th.
On February 11th it was at Machynlleth, by 12th it was back at Shrewsbury, 15th at Crewe, 17th at Longsight, where it worked to Nuneaton Hartshill, then the 7H56 to Guide Bridge. An 'A' exam was carried out at Crewe on February 18th, noted at Toton on February 21st, then remaining in the Crewe/Stoke/Chester area until March 3rd. 25057 & 25191 were noted together on February 27th in charge of a Ravenhead Junction – Oakamole sand empties.
After March 3rd it worked to Stanlow, then to Aberystwyth, arriving back at Stanlow by 4th. It was noted at Warrington Arpley on the evening of March 10th. 25057 was noted eastbound at Penmaenmawr with ferry vans on March 13th. 25057 was called to Basford Hall on March 14th, being withdrawn on March 15th.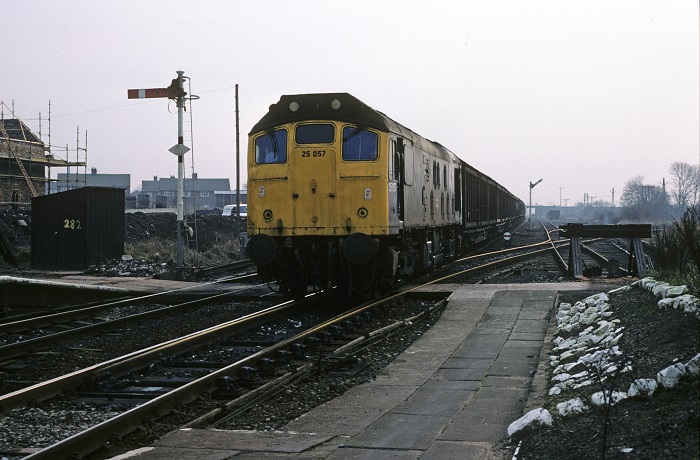 Photograph courtesy Roger Geach
Possibly a Llandudno Junction - Warrington Arply freight passes Helsby with 25057 on March 13th 1987. 25057 was called to Basford Hall the next day, was this Ferryvan working the last train for 25057?
Distinguishing Features
No.1 cab driver's side: minor faint scrape marks from corner on lower cabside panel: October 1981 until withdrawn.
No.1 cab driver's side window frame: unpainted from at least October 1981 until withdrawn.
Cab front numbers: not present No.1 end May 9th 1985, not present No.2 end September 14th 1985. Present on No.1 end by May 29th 1986.
Substantial dent on No.2 end 2nd man's side, present at least by July 19th 1983, maybe as early as June 1982.
(With thanks to Neil Cannon for making available the TOPS reports for 1987 & to Alan Baylis for his books on the 1984/85 Class 25 passenger workings and other resources).
155/10991
flk 25057 1019 incomplete, D5207 OK (2)
Page added October 25th 2004.
Last updated February 15th 2020.