D5231, 5231, 25081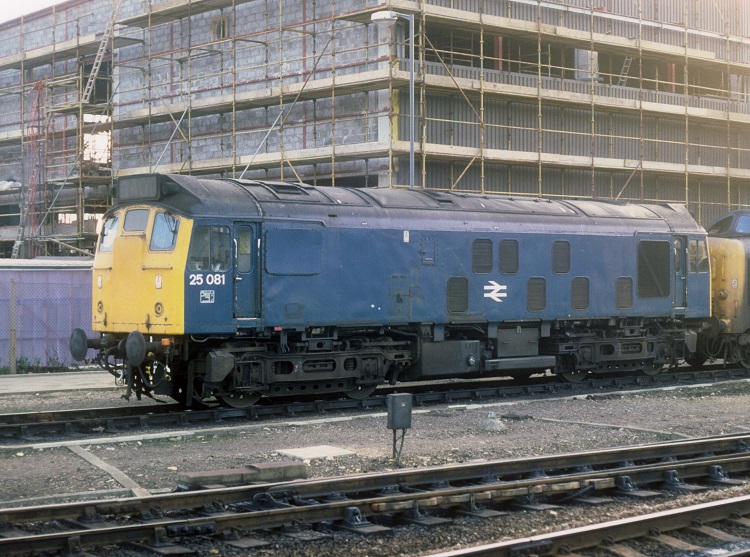 Photograph courtesy Roger Geach
25081 & 55017 at Peterborough station on January 24th 1981. At this time 25081 sports the two-rung bogie mounted footsteps.
The eighteen year career of D5231/25081 was spent entirely allocated to LMR depots.
Built: BR Darlington Works.
Boiler equipped.
Center lampbracket & other fittings removed.
Gangway doors sheeted over 1976.
March 26th 1975 - what a day out!
Never carried 'Domino' headcode display.
Time between last Classified repair and withdrawal: 65 months.
Time between withdrawal & scrapping: 5 months.
Allocations
D5231 was new to Toton (16A) on December 14th 1963. Further transfers were:
March 1964 to Nottingham (16D).
January 1965 to London Midland (Midland) Lines (LMML).
February 1968 to Nottingham Division (D16).
May 1968 to London Midland (Midland) Lines (LMML).
June 1968 to Nottingham Division (D16).
May 1973 to Toton.
May 1976 to Crewe.
December 1976 to Cricklewood.
Withdrawn February 7th 1982.
Renumbered February 23rd 1974.
25081 was the 123rd Class 25 to be withdrawn, one of two retired during February 1982.
After withdrawal 25081 was stored at Carlisle (KD), then moved to Swindon Works by February 25th 1982. By the first week of July 1982 25081 had been scrapped.
Works Visits
Works visits (records incomplete).
Noted Derby Works August 1967.
Noted Derby Works July - September 1971 (with gangway doors and green livery when entering works).
Noted Derby Works February 1974.
Noted Derby Works June - August 1976 (Classified).
Noted Derby Works (not sure of month) 1981.
Highlights
1965
With considerable time spent allocated to Midland area depots, 5231/25081 was able to acquire a reasonable amount of passenger mileage, including visits to many of the seaside resorts during the summer season. An early recorded passenger working and typical of many that D5231 would have handled occurred on April 24th working the 06.13 Nottingham - Sheffield.
1966
On May 23rd the 16.35 Sheffield - Bristol Temple Meads was noted arriving at Worcester Shrub Hill behind D5231, possibly having taken over at Derby from a failed steam locomotive. D5231 was replaced at Worcester by Peak No. D73.
1968
On May 25th 5231 & 7518 worked the Nottingham - Llandudno Town and return.
1969
5231 was noted working the 15.28 Birmingham New Street - Norwich on November 15th.
1970
5231 was noted with another Class 25 at Southend on April 26th with a return excursion (1Z23) to ? A photograph of D5231 late in June revealed a locomotive seriously in need of shopping. It was in a very distressed green livery, light grey roof with full yellow ends and frame level white band. The typical water streaks at the No.1 end were very much in evidence. A blue Classification panel was adjacent to the number, still showing D5231.
1971
An evening Leicester - Peterborough roundtrip was made on March 24th.
A lengthy trip was made on September 11th working a roundtrip Leicester - Ipswich football special with 7557, possibly worked at least as far as Norwich.
1972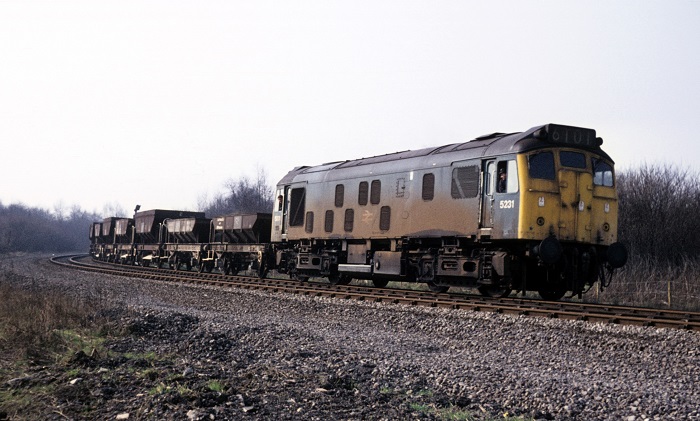 Photograph courtesy Tony Smith
5231 passes Selby on March 20th 1972.
Another inter-regional working took place on July 21st with 5231 working a Birmingham New Street - York relief.
1973
Pairs of Class 25s substituted for Class 45s on coal trains destined for the Kent area. May 14th found 5231 & 5246 on a Brent - Southfleet service and the return Betteshanger - Toton, 7557 & 5187 were used on 17th and 5272 & 5284 were used on 18th.
On June 24th a Burton on Trent - Yarmouth day excursion roundtrip (assumed) was worked by 5231 & 5269.
On September 8th the 07.10 Glasgow Queen Street - Dundee was worked by 5231. The next day (9th) found 5231 & 7568 on railtour duty working from Glasgow Queen Street to Crewe via Beattock, the Settle & Carlisle and Chester with the Wirral Railway Circle's 'King of Oban'.
On October 27th & 31st 5231 (Toton allocated) was noted at Exeter stabling point, possibly off a sugar beet extra.
1974
The 20.43 Birmingham New Street - Peterborough was workedjune 22nd by 25081 on March 3rd.
25081 & 25127 worked a Leicester - Skegness roundtrip on June 22nd.
25081 & 25132 worked a Derby - Skegness roundtrip on August 3rd. Three weeks later on August 24th the 09.19 Manchester Piccadilly - Yarmouth to Lincoln Central and the return 09.15 Yarmouth - Manchester Piccadilly from Lincoln Central were worked by 25081 & 25111.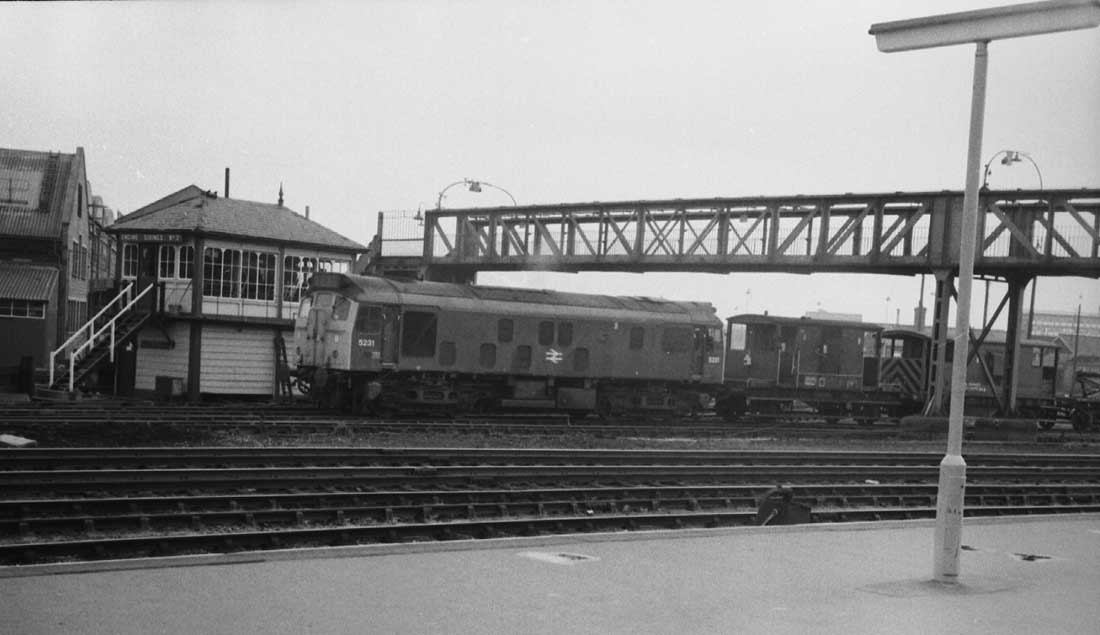 Photograph collection of webmaster
A Classified repair at Derby Works during the summer of 1971 saw the locomotive gain blue livery, but retain its gangway doors. With the locomotive being renumbered in February 1974, the general condition of the locomotive in this view would suggest the photograph was taken in late 1973 or early 1974.
1975
The evening Huddersfield - Wakefield parcels was worked by 25081 on February 17th.
Wednesday March 26th proved to be quite an adventure for 25081 & 25065. For whatever reason Control had allocated them to the 07.04 Derby - Plymouth, which must have surprised the early morning enthusiasts at Derby watching the traffic passing through the station. Perhaps the thought was that at one of the major stations en-route there might be something more suitable to take over. But Birmingham came and went, as did Bristol, leaving this pair of Type 2s to then deal with the Devon banks. But Derby & Darlington's finest kept on rolling, safely arriving at Plymouth and the sanctity of Laira depot. Would they return north on a lowly freight or perhaps as a light engine movement? It was not to be on this day! They were to go back north on the 15.10 Plymouth - Leeds, again to tackle the Devon banks, no doubt presenting a fine sight as they travelled along the sea wall sections at Teignmouth & Dawlish. Who would now know the thoughts of any enthusiasts at Bristol Temple Meads noting the arrival of this inter-regional express from the west with two LMR Type 2s on the front. But they continued on, tackling Stapleton Bank, turning off the ex-GWR mainline at Yate hopefully for some fast running northwards along the easily graded ex-Midland route. And of course did they get a good approach to Lickey Incline, to let anyone nearby know that these far ranging adventurers were not done yet? Sadly after 479 miles of passenger running the Type 2s were removed at Birmingham New Street. What a day out!
The remainder of 25081's passenger workings for 1975 were not quite so glamourous, visiting Norwich or Yarmouth on four separate dates and rescuing an East Coast express on August 19th when 47177 failed near Peterborough with the 13.30 Newcastle - Kings Cross, 25081 worked the train forward to Kings Cross.
At about 2pm on December 13th 25081, 25122, 25169 & 25224 were noted at Exeter stabling point.
1976
On March 26th 25081 was noted at Bromsgrove with a northbound freight banked by 37138 & 372xx.
The passenger workings in 1976 were confined to a week in September when two trips were made to Norwich from Walsall/Derby.
1977
A Birmingham New Street - Barmouth roundtrip day excursion on August 14th was worked by 25081 & 25157.
On October 22nd the BLS 'The Dukeries Limited' railtour was worked between Euston & Wembley Central by 25081 & 25069.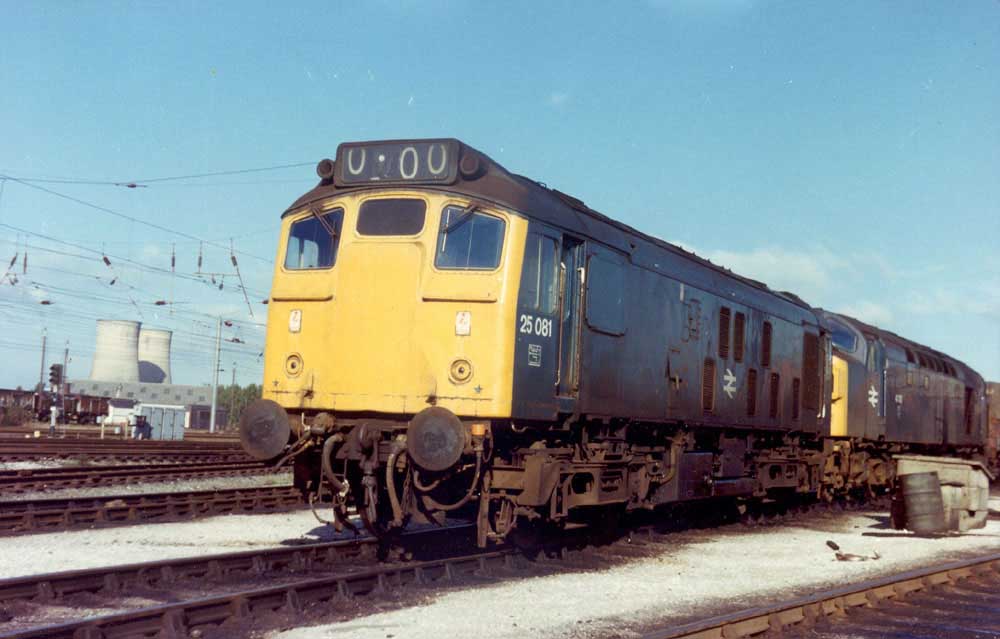 Photograph collection of webmaster
A Classified repair at Derby Works during the summer of 1976 saw the gangway doors sheeted over and the clutter on the cabfront greatly simplified. 25081 has gained bogies carrying the two rung footsteps. Most likely this is at Springs Branch but the date is??
1978
On Wednesday June 28th 25081 worked (presumably) the 09.55 Willesden - Norwood and the return 12.10 Norwood to Willesden.
On Thursday July 6th 25081 worked the 09.55 Willesden to Norwood and the return 12.10 Norwood to Willesden. On Friday July 14th 25081 worked (presumably) the 12.25 Willesden - Norwood and the 14.12 Norwood to Willesden. The northbound working passed Clapham Junction at 4.02pm, possibly having been held on the West London Extension for a while due to Latchmere Junction signalbox having been closed out between 2pm & 4pm.
On Tuesday August 1st 25081 worked the 09.55 Willesden to Norwood and (presumably), the 12.10 Norwood - Willesden. On Monday August 14th 25081 worked the 09.55 Willesden to Norwood and the return 12.00 Norwood to Willesden.
1979
On Friday March 30th 25081 worked the 09.55 Willesden to Norwood and (presumably) the 12.10 Norwood - Willesden.
On April 15th & 16th (??) 25081 & 25236 worked a 12.20 Bristol Temple Meads - Birmingham New Street relief.
1980
25081 was noted at Kensington (Olympia) on February 20th with a train of car flats that had been receiving attention at Wolverton Works.
Two trips were made over the Cambrian lines during the middle of June on scheduled passenger diagrams. On June 14th the 07.40 Euston - Aberystwyth from Wolverhampton and the 17.55 Aberystwyth - Wolverhampton were worked by 25081 & 25114. The next weekend (21st) the same workings were handled by 25081 & 25125.
On the morning of July 8th the up Rugby pilot was 25081.
1981
1981 provided the final passenger workings for 25081, starting out on January 27th with the 10.15 Birmingham New Street - Norwich.
On February 21st 25081 was noted light engine at Derby. On February 28th 25081 was back on the Northeast/Southwest route with the 12.23 Manchester Piccadilly - Bristol Temple Meads forward from Birmingham New Street.
There was more variety on April 11th with 25081 working 07.42 Manchester Victoria - Bangor. 25081 was the Manchester Victoria banker (T42) on April 15th. On April 20th 25081 & 25066 worked a Melton Mowbray - Southport mystery excursion, presumably throughout. Four days later on a very wet April 24th 25081 was in charge of a class 6 mixed freight between Gloucester & Severn Tunnel Junction. The locomotive still retained a working headcode, at least at the No.1 end.
25081 was stabled at Springs Branch on May 2nd & 8th.
On the late morning of June 8th 25081 was noted at Preston with a down rail train.
25081 was noted at Guide Bridge on July 2nd. Two round trips were made from Leicester to Skegness, with 25150 on July 25th and with 25069 on August 1st.
25081 was stabled at Springs Branch on October 4th. A day excursion from Bolton to Stratford on October 10th proved to be the last passenger working for 25081 (with 25286), quite how much of the trip was handled by the Type 2's is uncertain.
25081 was noted at Hellifield on December 5th 1981.
1982
25081 was withdrawn on February 7th 1982.
56/6653
flk 0817
Not all known passenger workings are recorded on this page.
Page added February 3rd 2013.
Last updated April 17th 2021.
Back to 25080
Forward to 25082