D5298, 5298, 25148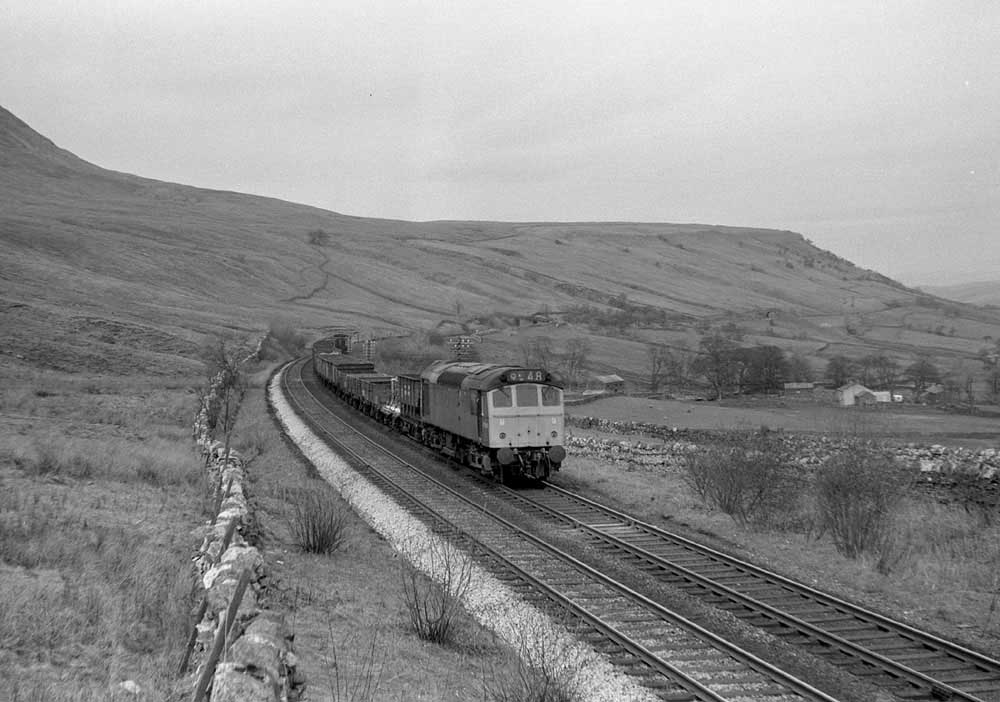 Photograph courtesy Kevin Hughes
For a locomotive that spent its entire life allocated to LMR depots the splendour of the Settle & Carlisle would have been routine for 5298. Seen here, on April 30th 1969 approaching Ais Gill with a southbound freight.
D5298/25148 was three weeks short of its seventeen year anniversary when it was withdrawn, it was always allocated to London Midland Region depots.
Built: BR Derby Locomotive Works.
Boiler room grilles sheeted over (1977).
Time between last Classified repair and withdrawal: 50 months.
Time between withdrawal and scrapping: 8 months.
Allocations
D5298 was new to Toton (16A) on September 28th 1964. Further transfers were:
October 1964 to Nottingham (16D).
January 1965 to Nottingham Division (D16).
March 1965 to Saltley (2E).
April 1966 to Birmingham Division (D02).
April 1966 to London Midland (Midland) Lines.
June 1968 to Nottingham Division (D16).
July 1969 to Preston Division (D10).
May 1973 to Kingmoor.
June 1974 to Longsight.
October 1976 to Crewe.
March 1980 to Kingmoor.
February 1981 to Crewe.
March 1981 to Cricklewood.
Withdrawn September 7th 1981 (collision damage).
Renumbered February 16th 1974.
25148 was the 110th Class 25 withdrawn, one of three retired during September 1981.
After withdrawal 25148 was moved to Derby Works by late August 1981 and remained here until March 18th 1982 when it was moved with 25280 (from Toton) to Swindon Works. It was scrapped here by the second week of May 1982. (Did it move to Toton during February 1982 or did the movement of 25280 to Swindon see 25148 added at Derby?)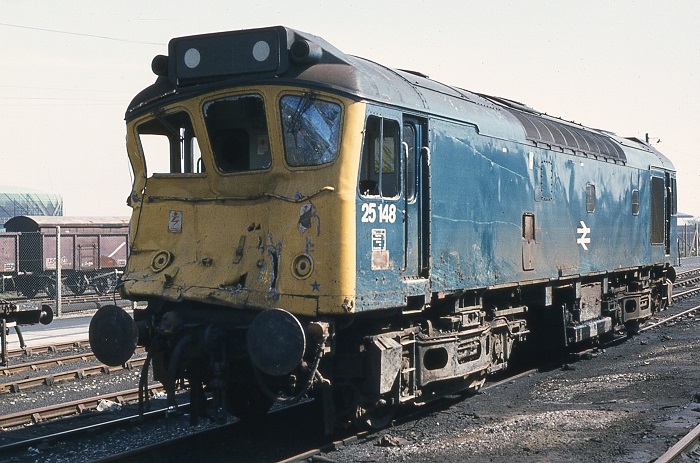 Photograph courtesy Adrian Healey
Its August 27th 1981 and a new arrival at Derby Works is 25148 - another casualty that has run its last mile, although it would be dragged to Swindon Works for final scrapping.
Works Visits
Works visits (records incomplete).
Noted Derby Works November 1965.
Noted Derby Works April 1967.
Noted Derby Works June 1977 (Classified).
Noted Derby Works December 1979 (N6 repairs).
Highlights
1966
On the Scottish Region the Clayton's reputation was none too good, even operating in pairs their reliability was inconsistent. Typical of their troubles was the failure of a pair on August 20th working the 05.00 Millerhill - Carlisle freight, rescue came from Kingmoor in the shape of D5298, the unfortunate Claytons being left at Riccarton.
1967
Condition June: two-tone green livery with small yellow warning panels, no blanking plates, hand/footholds present, straight sided sandboxes, three rung bogie mounted footsteps.
1968
Condition July: two-tone green livery with full yellow cab fronts, no blanking plates, hand/footholds present.
1969
The first recorded passenger working for D5298/25148 took place on June 7th 1969 with the familar 07.35 Nottingham - Llandudno Town and 13.52 Llandudno Town - Nottingham worked with sister 5299.
1970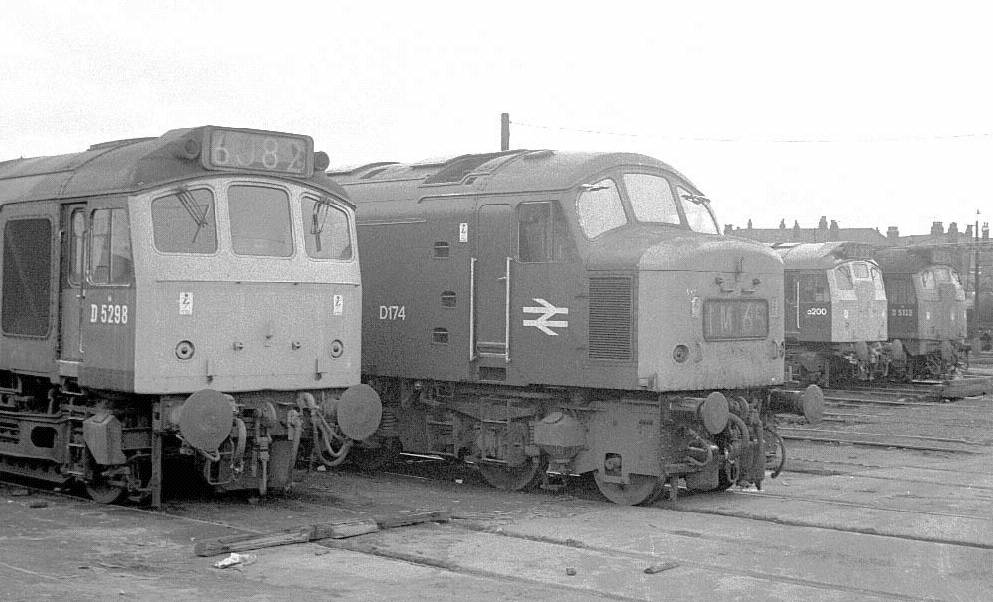 Photograph courtesy Tony Sayer
A splendid Sulzer line up, this time at Newton Heath on August 15th 1970, with (left to right) 5298, 174, 5200 & 5133 on display.
1975
On June 7th 1975 25148 & 25195 worked the 09.20 Manchester Piccadilly - Yarmouth to Lincoln Central, returning with the 09.30 Yarmouth - Manchester Piccadilly from Lincoln Central.
25148 was the Manchester Victoria banker (T42) on August 12th, 13th & 14th.
1976
On July 27th 1976 25148 worked the 12.42 Manchester Victoria - Llandudno Town forward from Llandudno Junction when 25058 failed. 25148 worked the following 18.42 Llandudno Town - Manchester Victoria.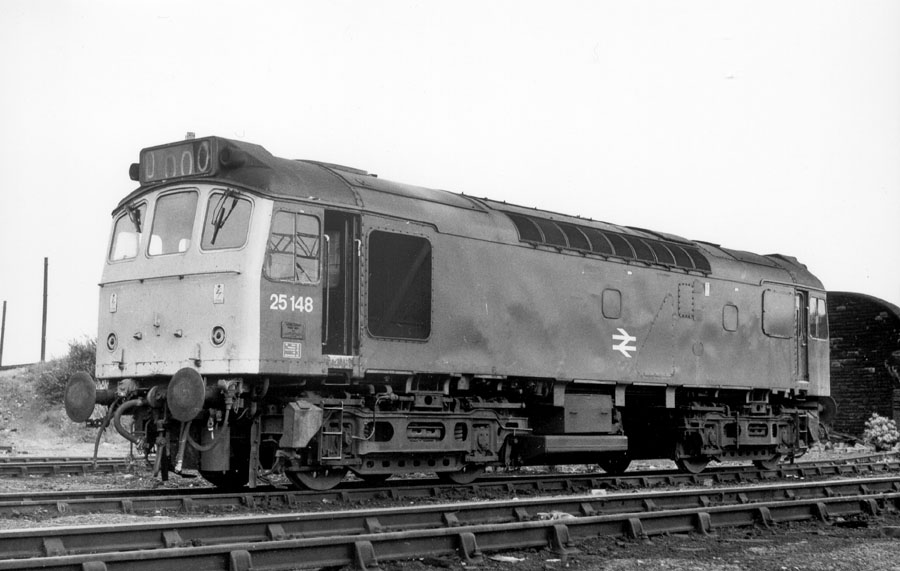 Photograph collection of webmaster
25148 strikes a nice portrait somewhere, sometime. This was another well travelled machine which was only allocated to LMR depots, from Cricklewood all the way up to Kingmoor and many in between.
1977
A New Mills - Llandudno Town roundtrip day excursion was worked by 25148 & 25192 on August 17th 1977.
1978
25148 & 25163 arrived in Reading on an engineer's ballast train on March 16th, surprisingly having brought the train from Bristol, quickly returning from whence they came, light engines.
25148 & 25118 worked the 08.00 Walsall - Yarmouth to Norwich and the return 14.15 Yarmouth - Derby from Norwich on June 24th 1978. The next day (25th) the same pair worked a Leicester - Porthmadog day excursion from/to Birmingham New Street for a total of 295 miles.
A familiar daily North Wales diagram covered the 09.42 Llandudno Town - Manchester Victoria, the return 13.30 Manchester Victoria - Llandudno Town, the 16.42 Llandudno Town - Crewe, the return 2030 Crewe - Bangor and the 22.45 Bangor - Llandudno Junction. This diagram was worked by 25148 on August 10th, 15th, 16th & 17th. On August 18th 25148 was noted on the 20.30 Crewe - Bangor (did it work the other legs?).
1979
On April 12th 25092 & 25148 were noted at Apedale Junction (North Staffordshire) headed to Holditch Colliery with empty coal wagons. The train would later traverse the remaining section of the former Market Drayton branch to reach the former Madeley Road Station and the WCML.
On the morning of May 26th 25148 was noted at Chester with an up van train (4H07).
On July 17th 1979 25148 & 25134 worked the 18.50 Skegness - Leicester, having replaced 25136 & 25164.
The first week of September 1979 was a busy one for 25148 & 25039; on September 1st they worked the 08.00 Walsall - Yarmouth to Norwich, returning from Norwich with the 14.15 Yarmouth - Derby. Two days later (3rd) they worked the 08.46 Burton on Trent - Skegness and 18.39 return, whilst the next day they handled the 09.28 Derby - Skegness and 18.39 Skegness - Derby.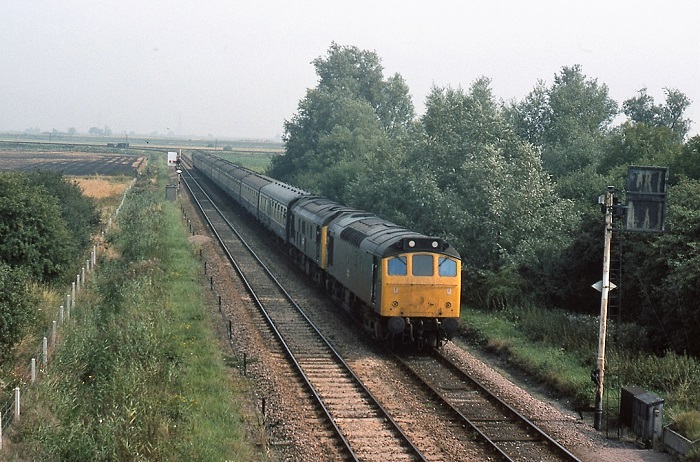 Photograph courtesy Peter Lovell
25148 & 25039 at Queen Adelaide with the 08.00 Walsall - Yarmouth on September 1st 1979.
1981
On February 26th 25148 worked the 1M25 18.08 Manchester Piccadilly - St Pancras parcels as far as Derby (?).
25148 was stabled at Nuneaton station on June 1st.
The last recorded passenger working for 25148 took place on August 22nd 1981 working the 07.35 Nottingham - Llandudno Town to Derby where 47189 took over. Within three weeks of this working 25148 had been withdrawn with collision damage.
25148 was withdrawn on September 7th 1981.
At least one cabside panel with number and TOPS panel escaped scrapping.
Not all known passenger workings are recorded on this page.
40/3691
flk 0317
Page added August 17th 2013.
Last updated February 26th 2020.