D7501, 7501, 25151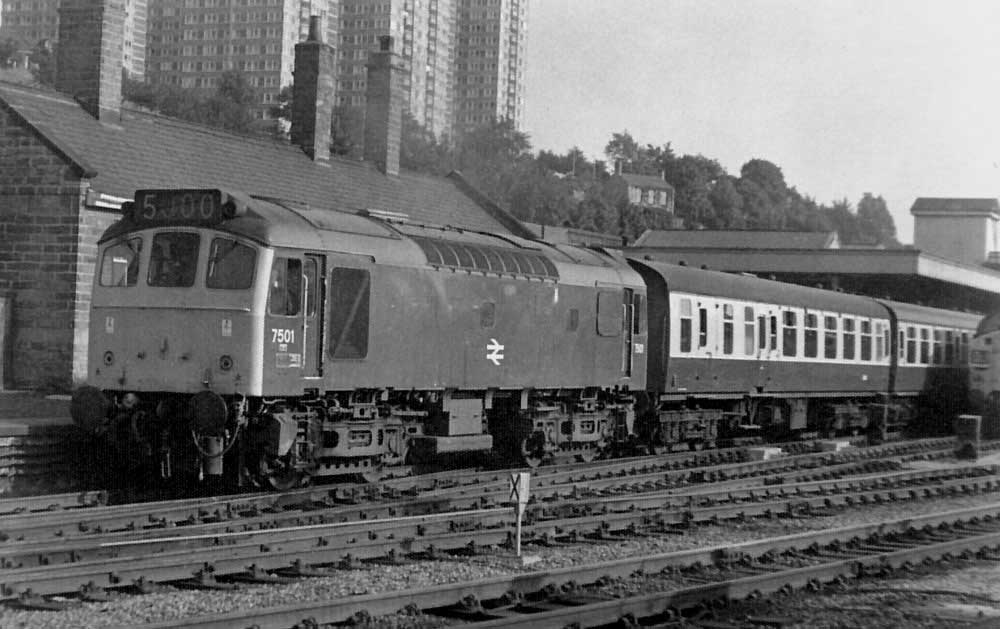 Photograph courtesy Ian Hammond.
For Class 25s allocated to Tinsley there would have been a variety of duties. These would have included local empty coaching stock movements such as this one here on August 18th 1973 with 7501 at Sheffield Midland.
The seventeen year eleven month career of D7501/25151 included allocations to London Midland, Eastern & Scottish Region depots. The allocation histories of 25150 & 25151 were both the same, both ended their careers in collisions, separated by three months.
Built: BR Derby Locomotive Works.
Time between last Classified repair and withdrawal: ?? months.
Time between withdrawal & scrapping: 64 months.
Allocations
D7501 was new to the Toton (16A) on October 6th 1964. Further transfers were:
December 1964 to Burton (16F).
January 1965 to Nottingham Division (D16).
February 1968 to London Midland (Midland) Lines.
June 1968 to Nottingham Division (D16).
October 1972 to Haymarket (64B).
May 1973 to Tinsley.
July 1975 to Eastfield.
August 1975 to Longsight.
October 1976 to Crewe.
July 1977 to Bescot.
January 1980 to Longsight.
Withdrawn September 12th 1982.
Renumbered February 1974.
On September 3rd 1982 25151 suffered collision damage at Hillhouse Yard, Huddersfield during a runaway. On September 6th 1982 it was moved to Healey Mills, remaining here until January 1983. It was taken to Toton and stored, although during the first half of 1987 it was used in rerailing exercises. After sale to Vic Berry it was broken up in-situ at Coton Hill by the third week of January 1988.
Works Visits
Works visits (records incomplete).
Noted Crewe Works December 1969.
Noted Derby Works July 1971.
Noted Derby Works October 1972.
Noted Derby Works October 1977.
Noted Swindon Works May 1980 (N4 repairs).
Noted Derby Works September 1980 (N4 repairs).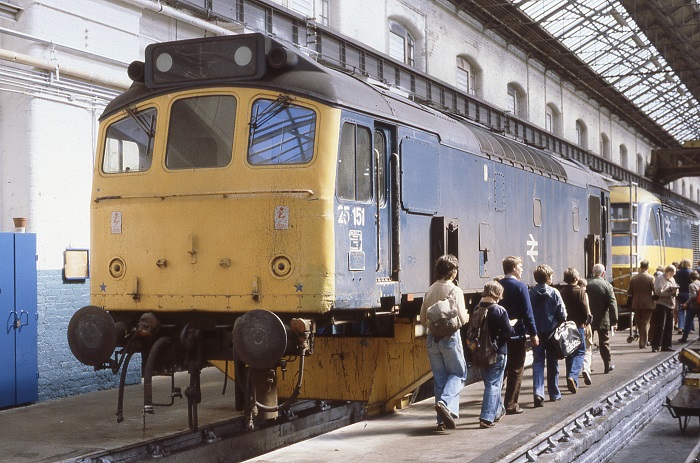 25151 at Derby Works on September 6th 1980, the Locomotive Works Open Day.
Highlights
1964
D7501 was delivered from Derby Works to Toton during the first week of October.
1970
On August 29th 5242 & 7501 were noted at Blackpool North with a service to Leicester.
1973
During May 7501 transferred to Tinsley and would stay here for two years.
On June 23rd 7501 & 5268 worked the Derby - Norwich - Yarmouth - Norwich - Walsall diagram.
1974
On July 27th 25151 & 25091 were noted assisting a Paignton - Selby service after a Class 31 had failed. A week later on August 3rd 25151 worked the 07.18 Sheffield - Skegness and the return 10.55 Skegness - Sheffield. On August 9th 25151 was noted at Cambridge on an unidentified freight working (headcode 9L01). On August 17th the 08.45 Manchester Victoria - Scarborough and the return Scarborough - Manchester Victoria were worked by 25151 & 25013.
The 12.00 Hereford - Worcester Shrub Hill was worked by 25151 on October 5th following the failure of a diesel multiple unit. Slippery rail conditions on November 11th saw 25151 assisting a Class 31 on the 07.00 Worcester Shrub Hill - Paddington between Evesham & Moreton-in-Marsh.
1975
The 05.07 Leeds - Manchester Victoria vans was worked by 25151 on September 4th.
1976
On September 15th the 11.05 Cardiff - Taunton was worked by 25151. On September 22nd 25151 as a light engine was noted through Lincoln Central en-route to Whitemoor.
1977
A relief Hinckley - Yarmouth on July 9th was worked to Norwich by 25151 & 25305. In the following days the same pair made roundtrips to Skegness from Leicester (10th) and Nottingham, but return to Leicester (11th & 13th). The 08.00 Walsall - Yarmouth to Norwich and the 14.15 Yarmouth - Walsall from Norwich were worked by 25151 & 25158 on July 30th and by 25151 & 25130 on August 13th.
1978
On June 24th 10.40 Euston - Aberystwyth to Wolverhampton and the 16.10 Aberystwyth - Shrewsbury were worked by 25151 & 25147.
1979
A weekend on Cambrian metals started on June 2nd with the 04.15 Shrewsbury - Aberystwyth and the 10.09 Aberystwyth - Euston to Wolverhampton worked by 25151 & 25264. The next day (3rd) the same pair worked the 08.45 Birmingham New Street - Barmouth and the 17.45 Barmouth - Euston to Wolverhampton.
The last week of August proved busy. On August 25th the 08.00 Walsall - Yarmouth to Norwich and the return 14.15 Yarmouth - Derby from Norwich were worked by 25151 & 25263. The next day (26th) the same pair worked a roundtrip Leicester - Skegness. On 27th both locomotive were noted at Derby, possibly intended for a relief Skegness that did not run. On 28th they did work a roundtrip Leicester - Skegness.
The 10.09 Aberystwyth - Euston on September 15th was worked between Shrewsbury & Wolverhampton by 25151 & 25143. They then worked the return leg of a Sheffield - Euston railtour from Shrewsbury - Wolverhampton. A month later on October 15th the 01.07 Holyhead - Euston failed at Holyhead (?) behind 47040, 25151 worked the train to Crewe.
1980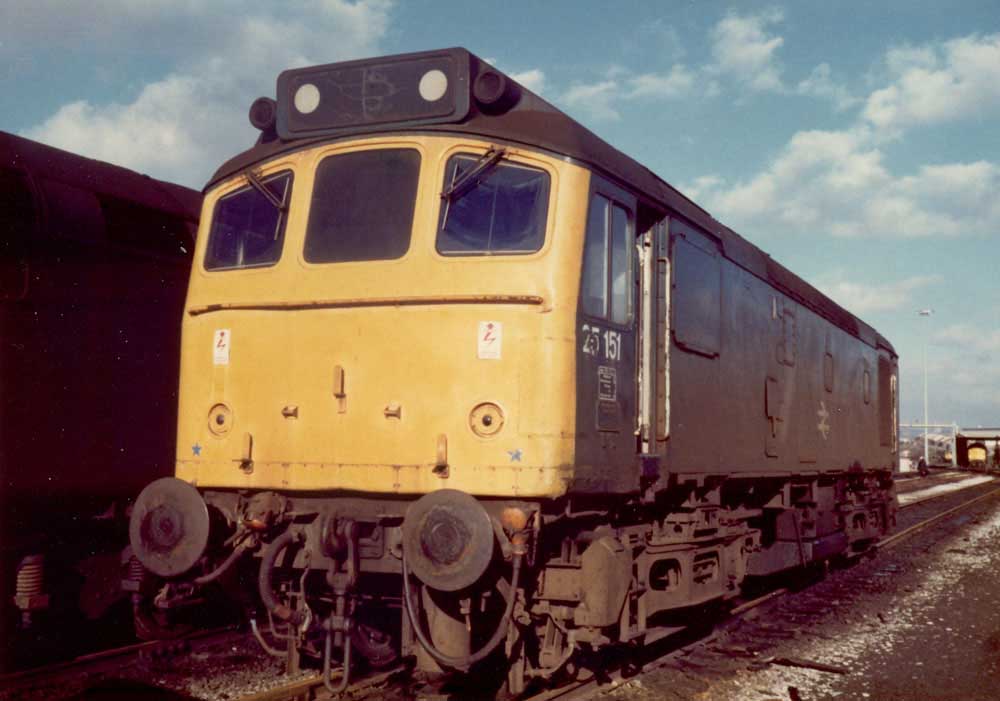 Photograph courtesy Jerry Glover.
25151 at Newton Heath on sunny February 17th 1980.
On June 14th the 09.28 Leeds - Morecambe and the return 11.45 Morecambe - Leeds was worked by 25151. On July 26th the 07.52 Leeds - Llandudno Town was worked forward from Llandudno Junction by 25151 after 40192 failed.
25151 was stabled at Reddish on August 26th, in the deadlines with the 76s, maybe 25151 was waiting movement to Derby Works.
1981
The 18.17 Llandudno Town - Manchester Victoria was worked by 25151 on May 20th & 23rd . On July 15th 25151 was noted working a Norwich - Birmingham New Street service. About a month later on August 17th 25151 worked the 13.15 Birmingham New Street - Norwich.
1982
25151 was stabled at Buxton depot on May 15th (no headcode dominos or anything in the No.1 headcode panel).
25151 & 25058 were noted passing Water Orton light engines on June 1st. On June 22nd 25151 worked the 12.50 Carlisle - Glasgow Central. On June 29th 25151 was stabled at Ayr depot during the two day NUR strike.
On August 3rd 25151 was stabled at Springs Branch. On August 7th the 12.24 Preston - Blackpool North was worked by 25151 following the failure of a diesel multiple unit. On August 11th 25151 & 25139 worked a southbound stone train through Wellingborough. A week later on August 18th 25151 worked the 17.22 Carlisle - Glasgow Central. Two days later (20th), it worked the 07.00 Ayr - Glasgow Central, followed by the 11.55 Glasgow Central - Carlisle.
25151 was stabled at Northwich on September 1st. Two days later (3rd) 25151 was working the loaded 8E08 TFO Oakleigh - Barnby Dun soda ash train which was being delivered from the ICI plant to Rockware Glass. The fully fitted train was operating under a Class 6 designation with disc brake fitted covhops, known as 'Girlings' after the brake manufacturer. A hopper wagon was provided next to the brakevan, this allowed the guard to observe the operation of the brake blocks during the brake test, something not easily checked on the disc braked vehicles. The train was normally diagrammed for a Type 4 locomotive, but on September 3rd the load was within the limits for a Type 2.
On the east side of the Pennines somewhere in the vicinity of Slaithwaite control of the train was lost. The signalman at Hillhouse took action to remove the train from the main running lines by diverting it into Hillhouse Yard (Huddersfield). Much damage was caused when the locomotive struck a ferry van, the crew having leapt to safety prior to the impact.
With the train reported as running away near Slaithwaite perhaps one of the major issues facing the driver would have been the navigation through Huddersfield station, at that time the routes available included the lines through platform 4 & 8 or alternatively using the through slow or the goods line. Access to both platform 8 and the goods line involved 15mph speed restrictions, presumably the driver had been popping the horn - a distress signal which hopefully the Huddersfield signalman would have heard. Platform 4 or the through road would be the prefered choices, providing they were not already occupied. The soda ash train was able to navigate safely through the station and it was left for the Hillhouse signalman to take the train off the mainline by diverting it into Hillhouses yard, perhaps to the relief of the driver. Otherwise the downhill journey could have continued to Heckmondwyke Junction/ Bradley Wood, then the line begins to climb again. Depending on the speed of the train, it might have reached Mirfield if given the chance.
The accident was reported in the Huddersfield Daily Examiner dated September 4th 1982, and October 2005 issue of Back Track magazine (issue 174) which features on the cover possibly a view of 25151's last working as it passes Diggle.
Two views of 25151 shortly after its arrival at Healey Mills yard.
Photographs courtesy Steve Harrison.
This was not the first dramatic event to occur at Hillhouse yard - on November 17th 1967 a lengthy goods train derailed near Hillhouses No. 2 signalbox causing considerable damage to the slow lines. Two of the wagons derailed contained liquid ammonia, presenting challenges to the attending emergency crews.
25151 was moved to Healey Mills on September 6th 1982 and then withdrawn on September 12th 1982. It remained stored at Healey Mills until January 1983 when it was moved to Toton. Here it used for rerailing exercises until at least June 1987. It would eventually be broken up at Toton by Vic Berry staff between Dec 15th 1987 and Jan 20th 1988.
25151 in transit at Tinsley. The telephoto lens clearly shows the damage sustained to the cab in the collision in Hillhouse Yard.
Photograph courtesy Michael Kaye
Three views of 25151 languishing at Toton.
Photographs courtesy Ian Hammond (left/center), Mark Cook (right)
Distinguishing features
No.1 cab headcode: no blinds or dominoes displayed August 1982 until withdrawn.
52/4828
flk 0117 (1)
Not all known passenger workings are recorded on this page.
Page added December 6th 2008.
Last updated November 11th 2019.