D7536, 7536, 25186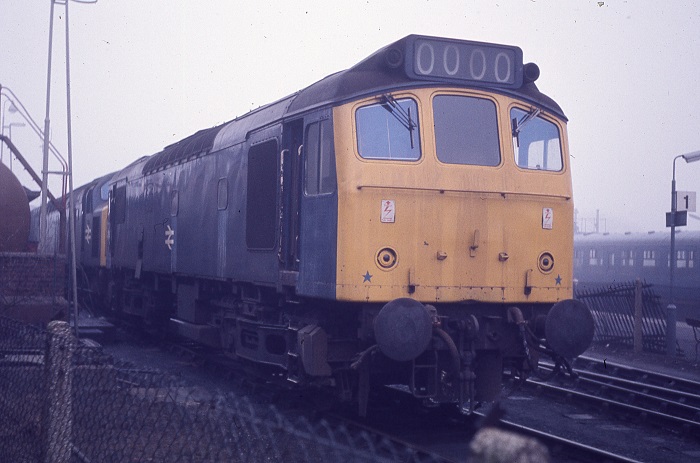 25186 & 40105 at Buxton depot on a misty, damp March 13th 1976. The locomotive still carries its boiler room grilles, these would be sheeted over on its next visit to Derby Locomotive Works during April & May 1977.
The entire seventeen year ten month career of D7536/25186 was spent allocated to a variety of London Midland Region depots.
Built: BR Derby Locomotive Works.
Boiler room grilles sheeted over (1977).
Time between last Classified repair and withdrawal: 66 months.
Time between withdrawal & scrapping: 50 months.
Allocations
D7536 was new to the Nottingham Division (D16) on March 13th 1965. Further transfers were:
September 1965 to Leicester Division (D15).
August 1967 to Nottingham Division (D16).
July 1969 to London Division (D01).
July 1971 to Manchester Division (D09).
August 1971 to Liverpool Division (D08).
January 1972 to London Division (D01).
February 1972 to Manchester Division (D09).
March 1972 to Birmingham Division (D02).
May 1973 to Bescot.
March 1974 to Willesden.
October 1974 to Springs Branch.
July 1975 to Longsight.
October 1977 to Crewe.
January 1978 to Kingmoor.
January 1979 to Crewe.
May 1980 to Kingmoor.
November 1980 to Toton.
Withdrawn November 28th 1982.
Renumbered April 1974.
After withdrawal 25186 was stored at Crewe from December 1982 to February 10th 1984 when it was moved (see details below) to Swindon Works and broken up there by the third week of January 1987.
25097 (Bescot), 25186/25308 (Crewe), 08153 Chester – Swindon Works on February 10th 1984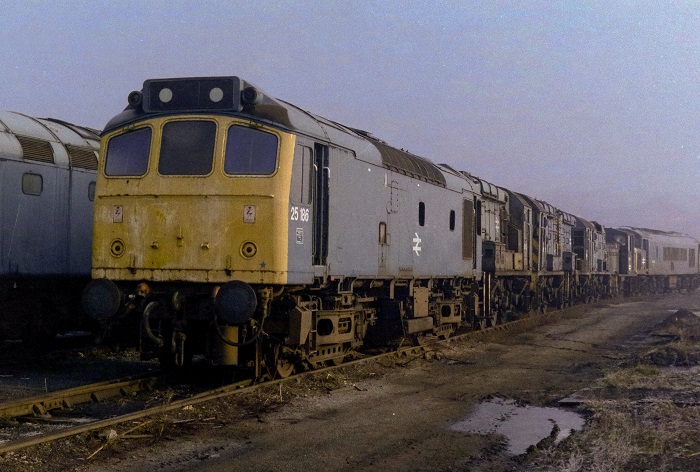 Photograph courtesy Roger Geach.
Its December 11th 1984 and a frosty day at Swindon Works, which marks the end of the road for 25186, which like several others withdrawn during this period would spend a long time withdrawn, for 25186 it was just over four years, endings its days there during January 1987.
Works Visits
Works visits (records incomplete).
Noted Derby Works June 1972.
Noted Derby Works April & May 1977.
Noted Glasgow Works April? & June 1978.
Noted Derby Works January 1981.
Highlights
1966
The first recorded passenger working for D7536/25186 took place on September 3rd working the summer dated roundtrip Nottingham - Llandudno Town with 5212.
1967
The New Year began with the continued removal of withdrawn steam locomotives from various locations. Dispatched from Colwick depot to Draper's at Hull during January were D7536 with 44811, 48144/635 (13th).
1971
During March 1971 7536 was noted in a very work-worn two tone green livery, still carrying the 'D' prefix. It appears that the exhaust port had only recently been moved to its new position in the roof panels above the engine room. The three foot/handholds for access to the upper level water filler had been plated over.
On July 20th 7536 was the Manchester Victoria banker (being a recent transfer to the Manchester Division).
1973
A rescue job took place on December 28th when the 10.25 Birmingham New Street - Paddington failed near milepost 76 behind D1025, 7536 dragged the train to Oxford.
1975
On May 1st 25186 worked the 05.07 Leeds City - Manchester Victoria vans (4M03).
25186 was on empty coaching stock duty at Liverpool Lime Street on July 18th & 25th.
1976
On August 14th 25186 & 25102 worked the 08.48 Manchester Piccadilly - Skegness and 12.30 return. No passenger workings have so far been reported for 1977, 1978 or 1979.
1979
On May 22nd 25093 & 25186 were noted at Seacombe Junction with an iron ore train.
On the morning of June 1st 25186 was noted at Bristol Bath Road.
1980
Due to a shortage of diesel multiple units the 01.23 Stafford - Liverpool on July 23rd was worked by 25186. The same combination then worked the 06.30 Liverpool Lime Street - Manchester Victoria. On August 16th 25186 worked the 08.30 Glasgow Central - Blackpool North from Preston returning with the 15.05 Blackpool North - Glasgow Central to Preston.
On the morning of September 21st 25186 was noted on a wiring train at Liverpool Lime Street.
1981
On July 3rd 25186 was noted southbound at Wolverhampton with a lengthy train of parcels vans.
A rescue job occurred on August 9th when the 07.14 Wellingborough - Scarborough failed behind 46045, being noted arriving at Nottingham behind 25186.
1982
Although 1982 was the last year in service for 25186, it produced a considerable number of recorded passenger workings. On May 16th the 23.55 Glasgow Central - Bristol Temple Meads was hauled by 25186 & 47447 between Stafford & Birmingham New Street (diverted via Cannock).
On June 1st 25186 was noted on the York, Foss Island branch with vans for the Rowntree factory. Further passenger workings took place between June 19th & 26th. On June 19th 25186 & 25079 worked the Euston - Aberystwyth forward from Birmingham New Street returning with the 16.05 Aberystwyth - Shrewsbury. The next day (20th), and now with 25202 the 08.45 Birmingham New Street - Aberystwyth was worked from Shrewsbury, then the 16.40 Aberystwyth - Machynlleth, 17.25 return and then heading east with the 18.15 Aberystwyth - Euston to Wolverhampton. The last passenger workings took place on June 26th when the 07.45 Manchester Victoria - Bangor failed at Chester behind 40004. The service was dragged to Bangor by 25186, with 25186 & 25133 returning on the 11.30 Bangor - Manchester Victoria.
On July 10th 25186 was stabled at Springs Branch. On July 23rd & 24th 25186 was noted on the Tunstead - Northwich ICI limestone bogie hoppers diagram.
25186 was noted at Warrington Arpley on August 18th.
25186 was noted at Manchester Victoria on banking duties September 4th.
25186 was withdrawn on November 28th 1982.
Not all known passenger workings are recorded on this page.
flk 0917 (1)
20/1309
Page added June 9th 2013.
Last updated October 19th 2020.
Back to 25185
Forward to 25187