D7558, 7558, 25208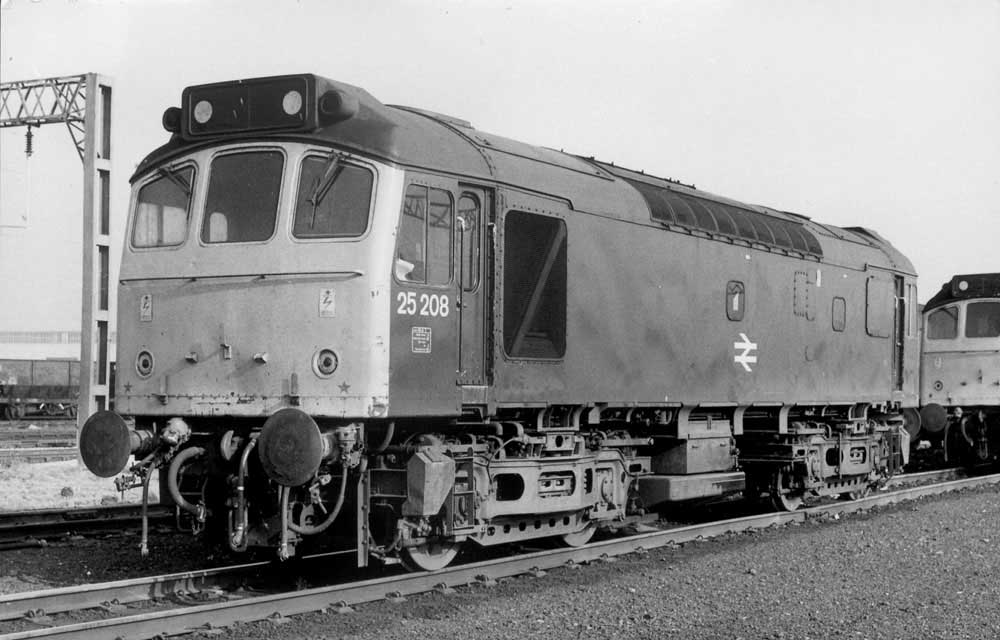 Photograph courtesy Danny Preston, collection of Neil Johnson.
A fine portrait of 25208 at Speke Junction on February 18th 1983.
The eighteen year nine month career of D7558/25208 included allocations to London Midland Region depots.
Built: BR Derby Locomotive Works.
Dual brake fitted (September 1978).
Time between last Classified repair and withdrawal: 67 months.
Time between withdrawal & scrapping: 38 months.
Allocations
D7558 was new to the Nottingham Division on August 14th 1965. Further transfers were:
May 1967 to Birmingham Division (D02).
January 1968 to Longsight (9A).
June 1968 to Manchester Division (D09).
October 1968 to Preston Division (D10).
May 1970 to Birmingham Division (D02).
November 1970 to Nottingham Division (D16).
May 1973 to Toton.
August 1974 to Longsight.
January 1980 to Bescot.
January 1983 to Longsight.
Withdrawn May 4th 1984.
Renumbered September 1st 1973.
25208 was the 217th Class 25 to be withdrawn, one of three retired during May 1984.
After withdrawal 25208 was briefly stored at Newton Heath until moved (see details below) to Swindon Works on June 25th 1984. However the Works closed before 25208 could be scrapped. It was moved to Cocklebury Yard on June 3rd 1987, Leicester Humberstone Road on June 4th and into Vic Berry's, Leicester yard on June 5th 1987. By the third week of July 1987 25208 had been scrapped, although the cabs lingered until September 1987.
25126/134/158, 25208 Newton Heath – Swindon Works June 25th 1984 (none of this batch would be scrapped at Swindon).
25093, 25126/134/161/164/180/193, 25207/208/260, 25306/327 Swindon Works – Cocklebury Yard, June 3rd 1987.
25161, 25207/208, 25327 Cocklebury Yard – Vic Berry, Leicester June 4th - 5th, 1987
Works Visits
Works visits (records incomplete).
Noted Derby Works August 1973.
Noted Derby Works August - September 1978 (dual brake equipment fitted).
Noted Derby Works October & November 1983 (N1 repairs).
Highlights
1968
Shortly after midnight on March 14th D7558 was noted at Guide Bridge with an up freight.
1971
On February 6th 1971 a Derby (Nottingham?) - Brighton day excursion was worked roundtrip (?) to Cricklewood by 7558 & 5226, 6594 handled the Cricklewood - Brighton portion.
1972
On the morning of April 16th 7558, in two-tone green livery with full yellow cabfronts, was stabled at Nottingham.
1973
The TOPS renumbering scheme had in practice been applied very slowly to the locomotive fleet, principally to locomotives going through the major workshops. During September the first Class 24 was renumbered, 24041 after visiting Derby Works for an overhaul, as were the first Class 25's 25208(7558) & 25282(7632).
1975
At about 6pm on March 6th 25208 was noted at Warrington Central on an up freight (6T75).
On December 19th 25208 worked a Tinsley - Tyne freight.
1976
25208 worked a Tyne - Healey Mills freight on August 13th.
1978
On the late evening of May 30th 25103 & 25208 were noted at Seacombe Junction with iron ore empties.
For the Derby Locomotive Works Open Day 25208 was freshly painted and parked by the defuelling shed.
On September 14th 25208 worked the 17.10 Cardiff - Crewe, whilst on September 23rd 25208 was noted at Skipton with an engineers train.
On October 21st the 'Lindisfarne' railtour was worked from St. Pancras to Derby by 25208 & 25218, taking over at Derby were 40013 & 40015.
1979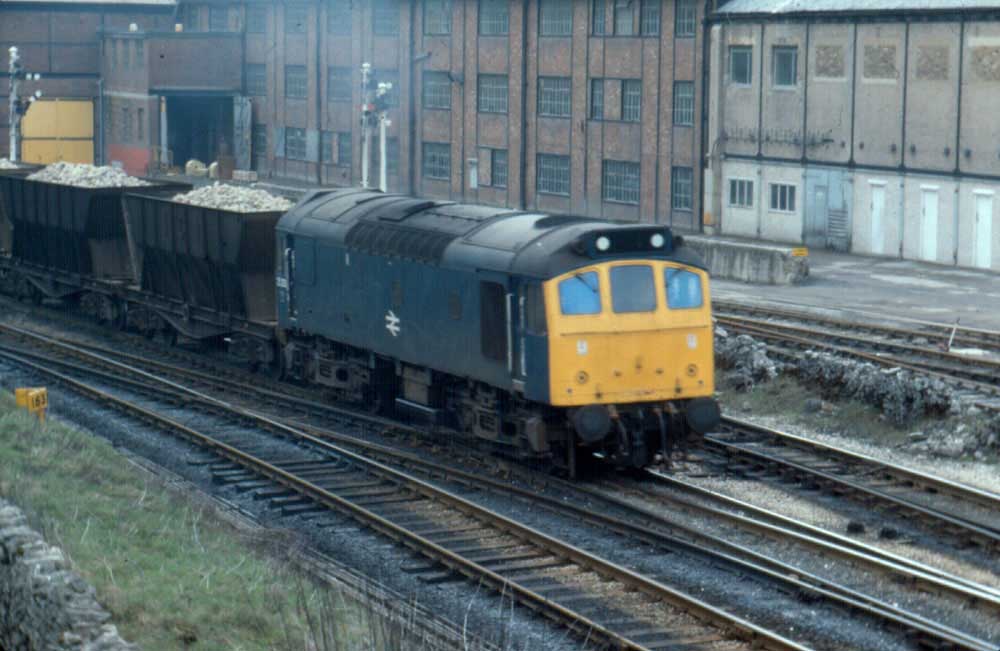 Despite the presence of a typical Derbyshire misty morning, very little can mask the sound of a pair of Sulzer six cylinder engines getting to grips with another Winnington bound train of limestone. Here, on April 24th 1979 Longsight allocated 25208 echoes around the limestone cliffs that surround Great Rocks Junction, soon to be followed by another Type 2 pushing hard on the rear. Behind 25208 lies the ICI 'South' shops.
On May 29th 25208 was noted eastbound at Manchester Victoria with a lengthy mixed freight.
The 11.05 Manchester Victoria - Holyhead was worked by 25208 on June 9th 1979. It was a busy weekend for 25208 on August 11th/12th 1979. On 11th 25208 & 25305 worked the 04.15 Shrewsbury - Aberystwyth and the 10.09 Aberystwyth - Euston to Wolverhampton. The next day (12th) the same pair worked the 08.45 Birmingham New Street - Barmouth and the 17.45 Barmouth - Euston to Wolverhampton. The 09.55 Derby – Newquay on October 20th 1979 was worked by 25208 & 25209 to Birmingham New Street being replaced here by 47003.
On November 6th 25104 & 25208 worked the 01.36 Whitemoor - Temple Mills freight, via Broxbourne, the return working being the 06.00 Temple Mills - Whitemoor.
On December 8th 1979 passengers on the 07.04 Leicester – Parkeston Quay diesel multiple unit (51289 & 56131) received haulage from 25140 after the diesel multiple unit failed. This machine was replaced at March by 25208 after the reporting of a defective horn on 25140. At Cambridge passengers transferred to a replacement diesel multiple unit!
1980
On April 22nd 25208 was noted with a train of bogie oil tankers on the WCML at ??
25208 was stabled at March depot on May 5th.
The summer of 1980 produced a number of Cambrian line workings for 25208. On June 21st 1980 25208 & 25313 worked the 04.10 Shrewsbury - Aberystwyth and the 10.07 Aberystwyth - Euston to Wolverhampton. The next day (22nd) the same pair worked the 08.45 Birmingham New Street - Aberystwyth and the 18.10 Aberystwyth - Euston to Wolverhampton. The same diagram as June 22nd was worked on July 13th 1980 by 25208 & 25215. On August 23rd 1980 25208 & 25154 worked the 10.10 Euston - Aberystwyth from Birmingham New Street, returning with the 16.10 Aberystwyth - Shrewsbury.
1981
Although 25208 was allocated to Bescot during 1980 & 1981, the passenger turns worked in 1981 did not feature the Cambrian line. On May 3rd 1981 Willesden put 25208 to use on the 23.40 Stirling - Kensington Olympia motorail forward from Willesden.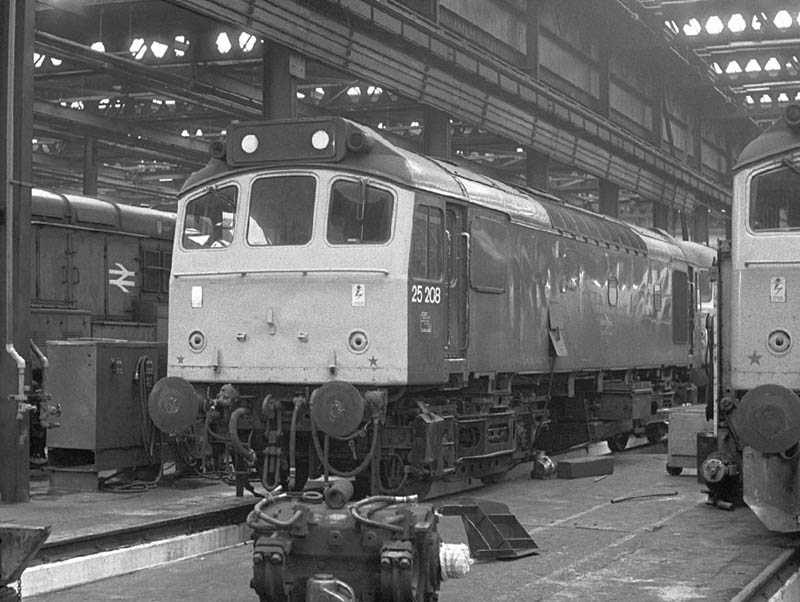 Photograph courtesy Tony Sayer.
25208 at Toton on May 9th 1981.
On the weekend of June 13th/14th 25209 & 25208 were back together again working the 13th's 08.35 Derby - Yarmouth to Norwich, returning with the 14.20 Yarmouth - Derby from Norwich. The next day (14th) they worked a roundtrip Leicester - Skegness. 25208 & 25034 were noted with a lengthy mineral train at Northampton on June 23rd.
On August 9th a Northampton - Morecambe roundtrip mystery excursion was worked by 25208 & 25213.
On October 19th 25208 was noted southbound at Sileby with a lengthy train of loaded ballast wagons from Mountsorrel.
1982
During 1982 25208 was still allocated to Bescot, producing quite a mix of passenger workings. On April 7th 1982 the 17.05 Poole - Derby was worked forward from Birmingham New Street by 25208. On May 21st 1982 25208 was north of the border working the 06.10 Carlisle - Glasgow Central.
On June 5th 25208 was stabled at Motherwell. June 13th saw 25208 & 25209 working the 08.19 Leicester - Skegness but being failed at Nottingham and replaced by 20016 & 20147.
For some period during the ASLEF strike (July 4th - 18th) 25208 was stabled at Severn Tunnel Junction.
25208 was noted southbound at Skipton with empty coal wagons on August 4th.
Two weekends in September saw 25208 very active, on September 4th 1982 25208 & 25242 worked the 07.38 Shrewsbury - Aberystwyth and the 10.07 Aberystwyth - Euston to Wolverhampton. The next weekend (11th) 25208 & 25181 worked the relief 07.43 Derby - Weston-super-Mare and the return relief 11.35 Weston-super-Mare - Derby. The 07.32 Stranraer Harbour - Glasgow Central on October 22nd 1982 was worked to Ayr by 25208 & 26026.
25208 was stabled at Carlisle Kingmoor on Christmas Eve 1982.
1983
With 25208 transferred to Longsight during January 1983 the passenger workings took on a north-west flavour. The 22.47 Crewe - Blackpool North was worked forward from Preston by 25208 on January 4th, 5th, 6th, 7th & 8th, additionally on 5th the 18.05 Euston - Blackpool North was worked from Preston after 47489 failed.
On the early afternoon of March 7th 25208 & 25206 were noted at Heaton Norris with cement tankers headed for Guide Bridge. On March 9th 25206 & 25208 were in charge of an early morning Trafford Park – Newcastle Freightliner working.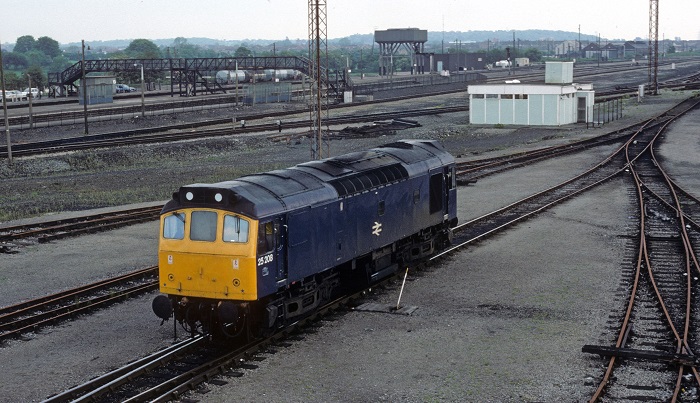 Photograph courtesy Roger Geach.
25208 at Severn Tunnel Junction on May 25th 1983.
On June 11th 1983 the 10.10 Euston - Shrewsbury was worked forward from Birmingham New Street by 25208 & 25205, the same working was handled on June 25th 1983 by 25208 & 25196.
25208 was noted light engine at Guide Bridge on November 30th.
1984
25208 was noted at Ashburys on February 14th with a short freight.
25208 was withdrawn on May 4th 1984.
Not all known passenger workings are recorded on this page.
44/3790
flk 0117
Page added September 2nd 2013.
Last updated October 20th 2020.
Back to 25207
Forward to 25209