D7564, 7564, 25214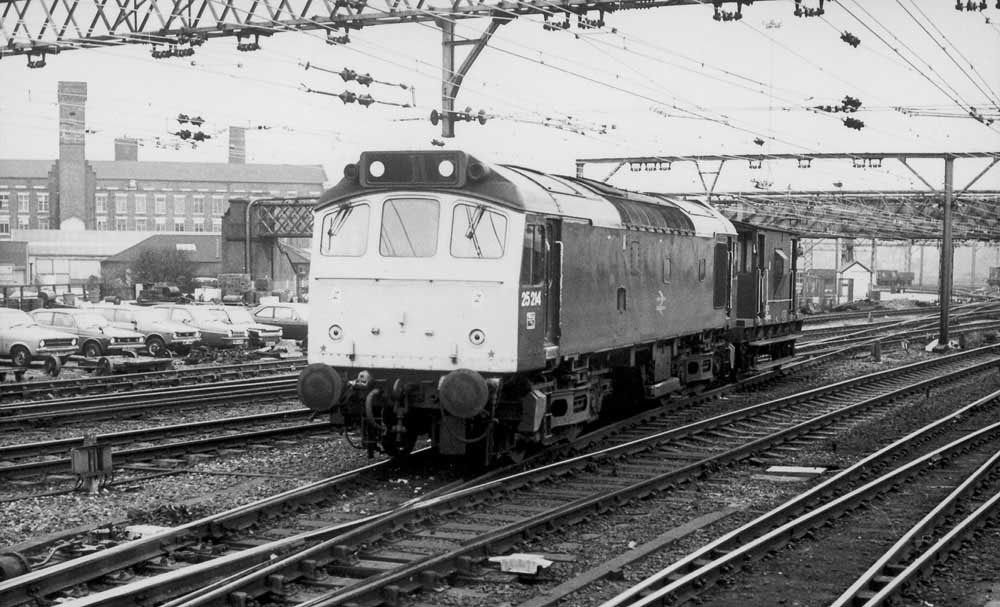 Photograph collection of webmaster.
25214 spent its entire working life allocated to LMR depots. 25214 surprisingly ended its days on the Eastern Region, visiting Stratford, Healey Mills and Doncaster before eventually being dragged south to Swindon. It would spend almost four years withdrawn prior to cutting up in September 1986. However in this undated view at Guide Bridge 25214 looks fit for many more years of service.
D7564/25214 was only allocated to London Midland Region depots for its entire sixteen year eleven month career.
Built: BR Derby Locomotive Works.
Boiler room grilles sheeted over (April 1979).
Time between last Classified repair and withdrawal: 43 months.
Allocations
D7564 was new to Toton (16A) on December 18th 1965. Further transfers were:
April 1967 to London Division (D01).
July 1968 to Preston Division (D10).
October 1969 to Birmingham Division (D02).
May 1971 to Nottingham Division (D16).
May 1973 to Toton.
May 1973 to Willesden.
May 1974 to Cricklewood.
May 1974 to Toton.
April 1976 to Cricklewood.
October 1976 to Toton.
May 1981 to Springs Branch.
October 1982 to Crewe.
Withdrawn November 28th 1982.
Renumbered to May 28th 1974.
25214 was the 152nd Class 25 withdrawn, one of thirteen withdrawn during November 1982.
After withdrawal 25214 was stored at Stratford from December 1982 until February 19th 1983 when it began its journey to Healey Mills, arriving on February 21st 1983. 25214 remained at Healey Mills until May 14th 1985 when it was sent to Doncaster Works. 25214 & 25256 moved to Swindon Works between March 20th - 24th 1986. It was broken up by the end of September 1986, with the cabs being sent to Vic Berry, Leicester for processing.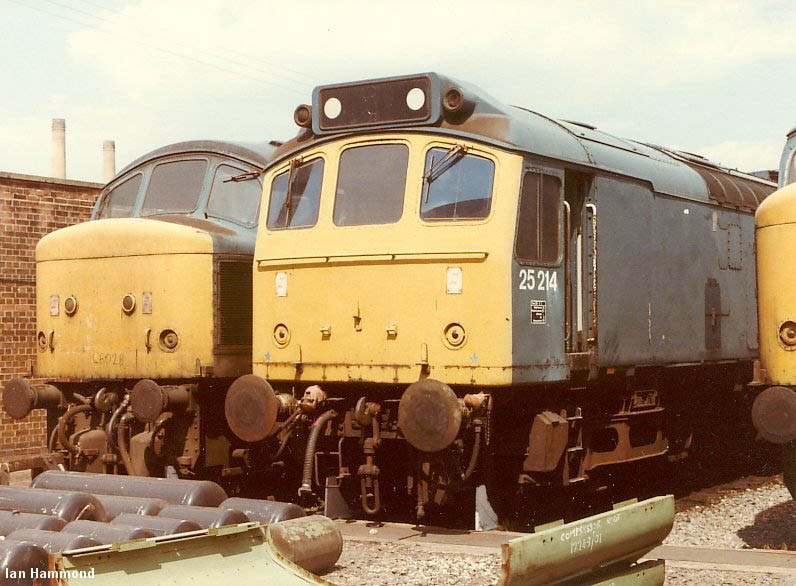 Photograph collection of Ian Hammond.
A familiar site at Derby Works would be Class 25/46s alongside each other under repair. More troubling was when they came side by side at Doncaster, as with 25214 & 46028 seen here on July 7th 1985 - no repairs now, just component removal and scrapping, although for 25214 it would be sent down to Swindon for scrapping.
Works Visits
Works visits (records incomplete).
Noted Derby Works August 1973.
Noted Derby Works February - April 1979 (General repair).
Highlights
1969
The first recorded passenger working for 7564 took place on July 18th with 7555 working the 23.45 Newcastle - Stranraer Harbour, returning with the next day's 13.50 Stranraer Harbour - Newcastle.
1971
Condition July: two-tone green livery with full yellow cabfronts.
On July 10th 7564 & 5234 worked the summer dated Nottingham - Llandudno.
The seaside workings to Yarmouth feature in several workings being noted with 7607 on September 4th (assumed) with a Norwich - (ex-Yarmouth) - Derby.
1972
On February 7th 7564 worked the 2B84 20.10 Exeter St David - Newton Abbot passenger.
The full Derby - Norwich - Yarmouth - Norwich - Walsall diagram was worked on July 1st with 5279 and on September 2nd with 5266.
1973
On the evening of May 25th 7564 in two-tone green livery with full yellow cab fronts was noted at Stonebridge Park.
On July 28th 7564 & 7563 were noted on the 08.00 Walsall - Yarmouth to Norwich. 7564 was in two-tone green livery with full yellow ends, the green livery had considerable areas of the lighter green fresh paint.
1974
On May 25th (three days before renumbering) 7564 worked the 13.00 Llandudno Town - Nottingham forward from Derby. Almost a month later on June 22nd 25214 & 25293 worked a Derby - Skegness roundtrip.
On September 26th 25214 worked the 6B09 18.40 Swindon - Exeter Riverside freight (locomotive obtained from Gloucester as there was no power at Swindon).
On September 27th 25214 was noted at Exeter stabling point.
On September 28th 25214 was noted at Exeter stabling point. At about midday it would bank 45121 and 32 ballast wagons up to Exeter Central nd then return to the stabling point.
1975
On June 10th 25214 worked an afternoon Whitemoor - Kings Lynn freight.
It was a run down the NE/SW mainline for 25214 & 25120 July 19th with the relief 1V13 12.40 Birmingham New Street - Paignton. This summer saw serious problems in the South-West, heavy passenger loads, with a shortage of power and crews led to many delays. On July 30th 25214 and ballast train was noted in the sidings at Horton in Ribblesdale.
On August 8th 25214 & 25202 worked a Stoke-on-Trent - Ipswich troop special. The next day (9th) the same pair worked the full Derby - Norwich - Yarmouth - Norwich - Walsall diagram. No passenger workings have so far been recorded for 1976.
1976
25214 was noted with a weedkilling train at Calvert on May 27th.
1977
On June 11th the full Derby - Norwich - Yarmouth - Norwich - Walsall diagram was worked by 25214 & 25213. The next day (12th) the same pair worked the 08.40 Leicester - Skegness and 18.30 return.
On the evening of November 18th 25214 was noted with two full brakes at Sheffield.
1978
The 09.38 Grantham - Nottingham was worked by 25214 on May 30th. Two months later on July 30th 25214 & 25106 worked the 08.40 Leicester - Skegness and 18.30 return.
1979
On May 31st the 17.45 Manchester Victoria - Blackpool North was worked by 25214.
A month later on June 30th the 08.52 Leicester - Skegness and 12.32 return were worked by 25214 & 25177.
25214 was noted with a northbound coal train at Leicester on the morning of August 17th.
On September 24th 25214 handled the 20.07 York - Sheffield, the next day (25th) 25214 was stabled at Gateshead.
On November 2nd 25214 worked the 7B29 11.15 Gloucester - Swindon freight.
On December 7th 25214 worked the 08.10 Whitemoor - Temple Mills freight, returning north with a special Liverpool Street - York parcels/van train. On the night of December 9th 25214 was noted running through Birmingham New Street with a short engineers train.
1980
On June 29th 25214 was noted northbound at Newark towing 40050 to Doncaster, later returning light southbond.
25210 & 25214 were noted running light engines through Nottingham on July 25th.
The recorded passenger workings for 1980 all took place during August. On August 2nd 25214 worked the 07.35 Nottingham - Llandudno Town from Derby, returning with the 13.00 Llandudno Town - Nottingham throughout. On August 6th the 07.20 Leeds - Penzance with 47479 was failed at Derby with low coolant. 25214 was offered as a replacement but was refused by the driver. The Class 47 was temporarily removed to have the coolant topped up. Three days later (9th) the full Derby - Norwich - Yarmouth - Norwich - Walsall diagram was worked with 25270. The 10.55 Weymouth - Leeds was taken forward from Derby by 25214 & 25115 on August 16th, replacing 25253 & 25290 which had worked from Birmingham New Street. A Hinckley - Rhyl day excursion on August 24th was worked by 25214 & 25136. A Nottingham - Llandudno Town roundtrip was worked on August 30th.
1981
25214 was noted at Saltley depot on the night of January 24th.
On March 21st 25214 was stabled at Edge Hill. On March 22nd 25214 was noted on the Liverpool - Ormskirk line with an engineering train.
On April 4th 25214 was stabled at Saltley.
On May 2nd 25058 & 25214 were noted on the Birmingham New Street - Bridgnorth leg of a charter from Worthing, which had arrived at New Streeet behind 33056. A little off the beaten track on May 14th found 25214 at Wakefield with a weed killing train. On the morning of May 21st 25214 was noted at Springs Branch on an up freight.
25214 was the Manchester Victoria pilot on October 14th.
1982
25214 was stabled at Carlisle New Yard on February 13th.
On March 27th 25123 & 25214 were stabled at Blackpool North.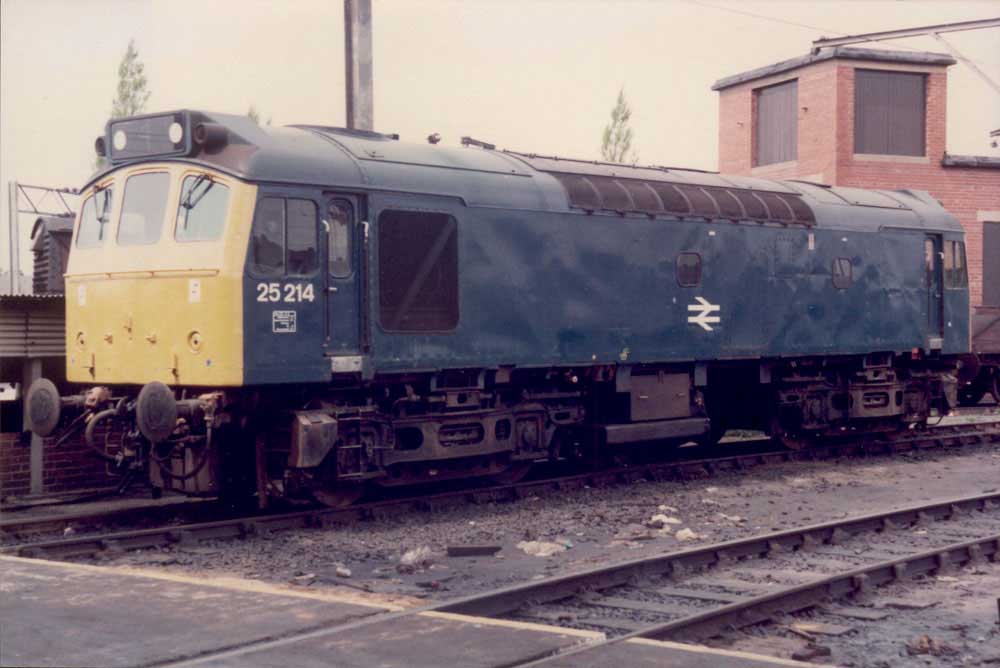 Photograph courtesy P Ryan.
25214 stands on the north side of Reddish depot on April 25th 1982. This locomotive has about six months left in service prior to withdrawal from Crewe during November 1982.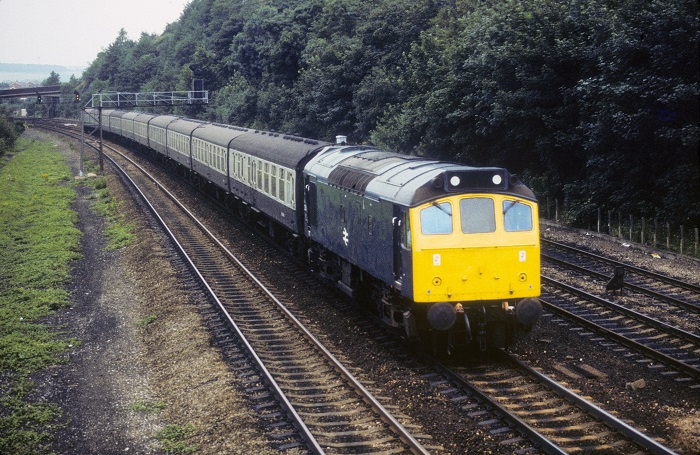 Photograph courtesy Tony Smith.
25214 works a train of empty coaching stock southbound through Chesterfield on July 19th 1982.
25214 was noted hauling a two-car diesel multiple unit at Northwich on September 1st. On the night of September 28th 25214 was noted eastbound at Manchester Victoria with a departmental train.
On November 3rd 25214 was noted light engine at Preston. November 23rd, five days before withdrawal 25214 was noted at Hellifield on a permanent way working.
25214 was withdrawn on November 28th 1982.
At year end 25177 & 25214 were at Stratford, keeping company with condemned eth vehicle 24142.
1985
May would see Doncaster Works add its hand to breaking up the Class 25ís following the arrival of 25214 from Healey Mills, a class not seen here since 25015 in 1975. However 25214 would be later sent down to Swindon Works for scrapping.
1986
On March 20th saw the movement of 25214 & 25256 from Doncaster to Swindon, even though Doncaster would continue to receive scrap Class 25ís into early April. A week later came the official closure of Swindon Works.
Not all known passenger workings are recorded on this page.
44/4354
flk 0921
Page added July 11th 2013.
Last updated September 6th 2021.
Back to 25213
Forward to 25215