D7576, 7576, 25226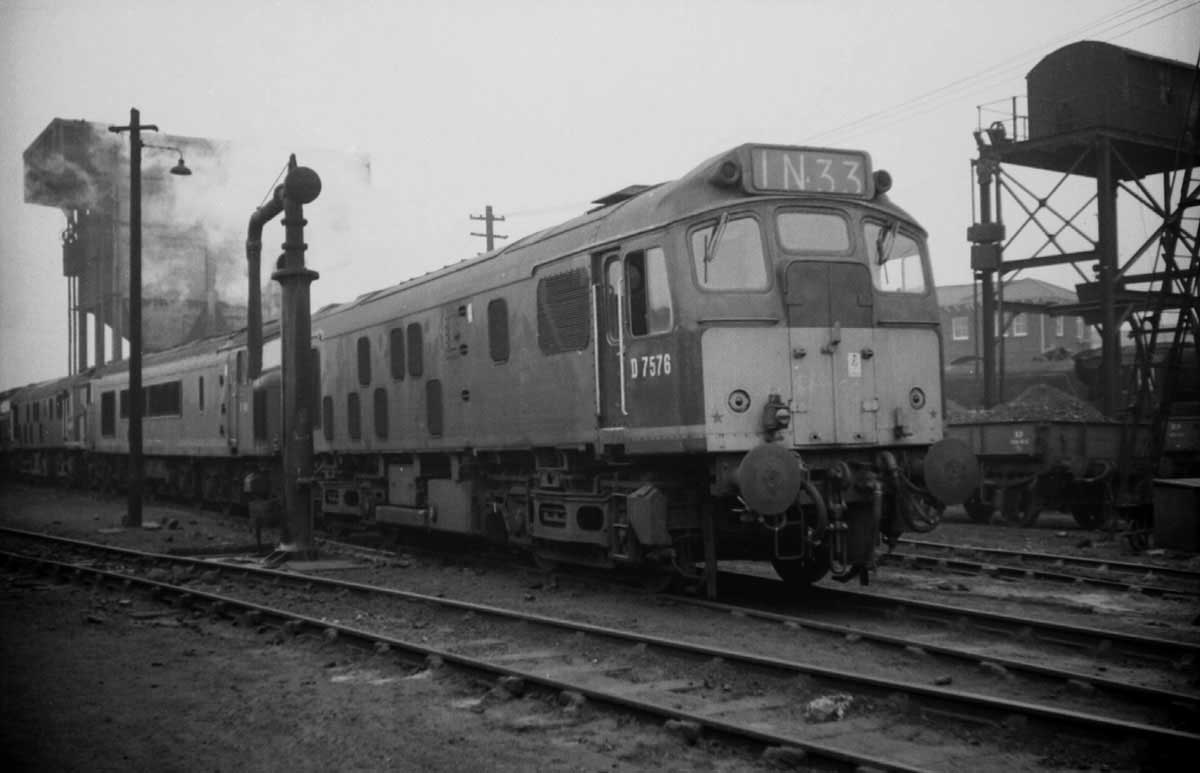 Photograph collection of webmaster

Not sure of the date on this view, but is believed to be about 1965. D7576 heads a lineup of mixed Type 2 & 4 locomotives, but still with plenty of evidence of the infrastructure required to look after the diminishing steam locomotive fleet. D7576 was never allocated to Holbeck so the locomotive has probably arrived on a working from the London Midland Region.


The twenty one year seven month career of D7576/25226 included fifteen continuous years allocated to Scottish depots, the remaining time being at London Midland depots.

Built: BR Derby Locomotive Works.
Boiler equipped.
Dual brake equipped.
Center lampbracket & other fittings removed.
Time between last Classified repair and withdrawal: 71 months.
Time between withdrawal and scrapping: 14 months.

Allocations

D7586 was new to Nottingham (16A) on November 9th 1963. Further transfers were:

November 1963 to Cricklewood West (14B).
October 1964 to Derby (16C).
January 1965 to London Midland (Midland) Lines.
September 1967 to Eastfield (65A).
June 1969 to Haymarket (64B).
February 1970 to Eastfield (65A).
September 1973 to Haymarket.
May 1977 to Inverness.
May 1978 to Eastfield.
February 1981 to Haymarket.
August 1981 to Eastfield.
September 1982 to Haymarket.
October 1982 to Crewe.
Withdrawn June 10th 1985.

Renumbered to September 1974.

25226 was the 245th Class 25 withdrawn, one of six withdrawn during 1985, including shedmates 25237 & 25245.

After withdrawal 25226 was stored at Basford Hall, Crewe until moved (see detail below) to Doncaster Works on April 16th 1986 and scrapped there by the third week of August 1986.

25044, 25119, 25226/245 9Z34 Crewe – Warrington - Doncaster Works, April 16th 1986.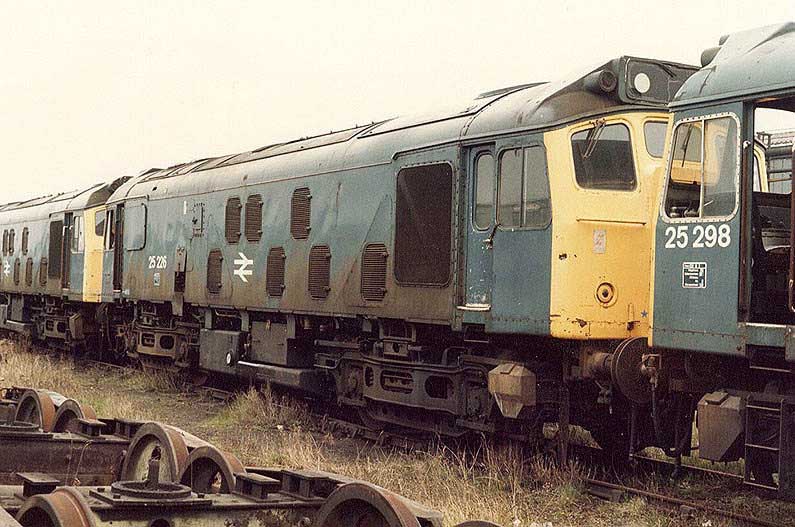 Photograph courtesy Paul Bettany
25226 at Doncaster Works on April 27th 1986.
Works Visits
Works visits (records incomplete).
Noted Derby Works November 1964.
Noted Derby Works February 1967.
Noted Derby Works January 1970.
Noted Glasgow Works June 1979 & September 1979 (Intermediate repair).
Noted Glasgow Works May 1980 (N4 repairs).
Highlights
1964
The Whitworth branch saw the use of D7576 bringing in a breakdown train to assist a derailed Class 2 2-6-0 at Shawclough on November 9th. This same Type 2 also had charge of the first Southport - Rochdale residential to be diesel hauled over the Central Lancashire line.
1965
On April 22nd D7576 worked the ten coach 12.30 Morecambe - Leeds. D7576 was noted on similar workings during September & October but with the exact dates uncertain. During September 1967 D7576 was transferred to Eastfield beginning a lengthy spell in Scotland.
1966
On December 2nd D7576 was noted on loaded ICI limestone wagons passing through Hale.
1967
October - the Scottish Region swapped D7598 - 7601/11/12 for D7576 - 79/81/83/84, the latter being boiler equipped, allowing them to replace the ailing NBL types on the Glasgow - Dundee run, D7576 being so noted on September 7th's Glasgow Queen Street - Dundee.
1968
On May 23rd D7576 worked the a Glasgow Central - Liverpool service forward from Preston.
1969
Overnight travellers on September 25th 1969 on the 01.00 Manchester Victoria - Edinburgh had 7576 from Carstairs. 7576 was the Cowlairs banker to the 06.00 Glasgow Queen Street - Mallaig on August 24th 1970. 7576 worked a late afternoon Dundee - Glasgow Queen Street service on August 24th 1973. On December 28th 1974 25226 was selected by Haymarket to take the 23.15 ex Kings Cross on from Edinburgh to Aberdeen, a storm force wind and the heavy train led to a twenty minute late arrival despite the best efforts of the train crew.
1974
The 23.15 Kings Cross - Aberdeen was worked forward from Edinburgh by 25226 on December 28th, arrival at Aberdeen was twenty minutes late, not made any easier by strong winds.
1976
On May 20th 25226 & 25228 worked the Leith - Theale pipe train.
The 17.10 Edinburgh - Berwick on June 28th was worked by 25226 with three coaches.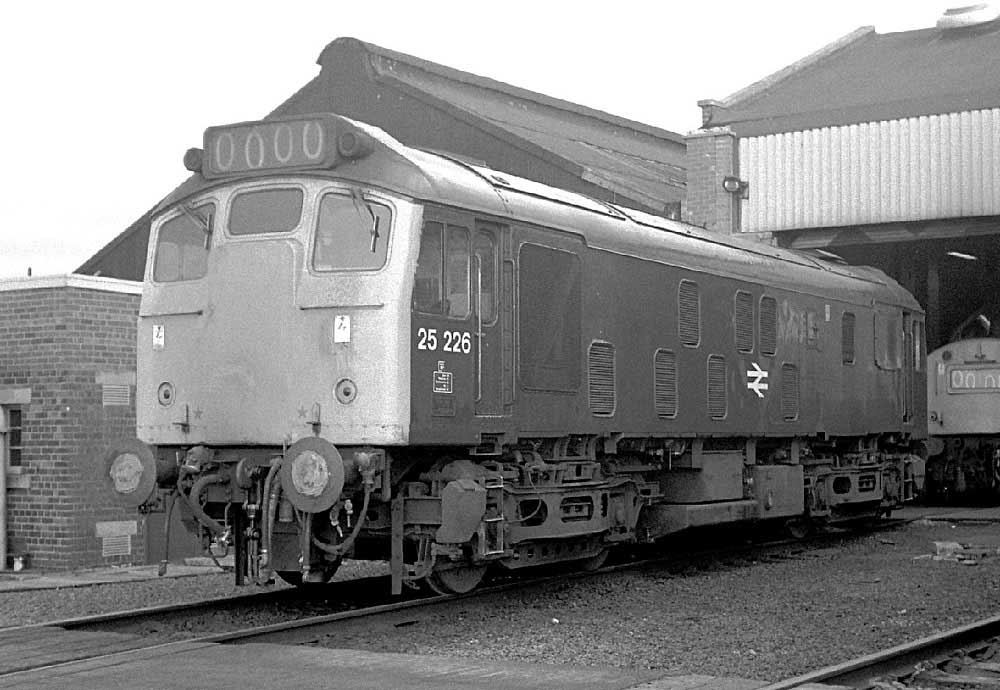 Photograph courtesy Tony Sayer

25226 at Haymarket on June 11th 1976. With exactly nine years left in service from the date of this view 25226 will end its days dumped at Crewe.


1977
The 21.40 Edinburgh - Carstairs was worked on April 19th 1977.



Photograph courtesy Malcolm Roughley

A few miles west from Elgin at Alves Junction is the short ex-Highland Railway branch to Burghead, which was visited on July 27th 1977 by 25226 and its train as the 11.15 goods from Elgin. On this day the journey was made right to the end of the line at Hopeman with grain wagons in tow. Although this part of the line was not normally used it had been left in place with the possibility of it being used to store grain wagons.
1978
On March 4th the 08.33 Edinburgh - Blackpool North mystery excursion was worked by 25241 & 25226 to Carstairs. The locomotives were then used on the Crewe - Kincardine LCGB 'Caledonian No.3' railtour. This tour had arrived from Crewe behind 85008, giving way to the Class 25s at Glasgow Central. The train headed south to Rutherglen, then heading off to Carmyle, Langloan (where the train was stoned by the locals), Coatbridge, Cumbernauld, Larbert & Stirling. The freight only line was taken to Alloa, a slow ride due to the gated crossings, then to Kincardine Junction and alongside the Firth of Forth, through Culross, Valleyfield, Charlestown Junction and to Dunfermline Lower. Then on to Townhill, Cowdenbeath station, Thornton, at Thornton West the spur to the Aberdeen - Edinburgh line was taken for Inverkeithing and the Forth Bridge, Falkirk and rejoining the outward route at Carmuirs. A window was broken by the locals in this area, which was boarded up at Glasgow Central.

A more mundane duty saw 25226 as the Cowlairs banker to the 08.36 Glasgow Queen Street - Mallaig on July 27th.

An All Blacks Rugby international at Murrayfield on December 9th saw four specials worked from Glasgow Queen Street to Edinburgh, hauled by 25226, 27005, 27011 & 27020.

1979
The recorded passenger workings for 1979 generally feature the Glasgow - Dundee route, with the exception on January 20th when 25226 worked the 12.50 Edinburgh - Perth. The Glasgow - Dundee route was worked on April 14th & September 19th 1979 (with 27022).

1980
A variety of passenger workings were handled during 1980, being first recorded on the 21.40 Edinburgh - Carstairs on February 19th. 25226 worked the 17.12 Perth - Arbroath and the 18.33 Arbroath - Dundee on July 10th 1980. During December 1980 the 10.14 Perth - Motherwell was worked on 1st with 25241, followed on December 6th by the 13.00 Perth - Dundee.

1981
1981 produced the most recorded passenger workings for 25226, no doubt these barely scratched the surface of the actual passenger workings handled. On February 9th 25226 worked the 17.40 Edinburgh - Inverness as far as Perth. On March 6th 25226 was noted between Leuchars Junction and Dundee on a passenger service. On the last day of March 1981 the 14.00 Glasgow Central - Carlisle was worked.

July 2nd was a busy day with 25226 handling the 11.05 Perth - Edinburgh and 12.51 return, then the 17.12 Perth - Arbroath and the 18.33 Arbroath - Dundee. On July 22nd it was the turn of the 04.35 Edinburgh - Glasgow Queen Street for 25226. On August 4th & 5th 25226 was noted on the Glasgow - Dundee services. There was a change of scenery on August 26th with 25226 & 25229 working the 17.55 Oban - Glasgow Queen Street.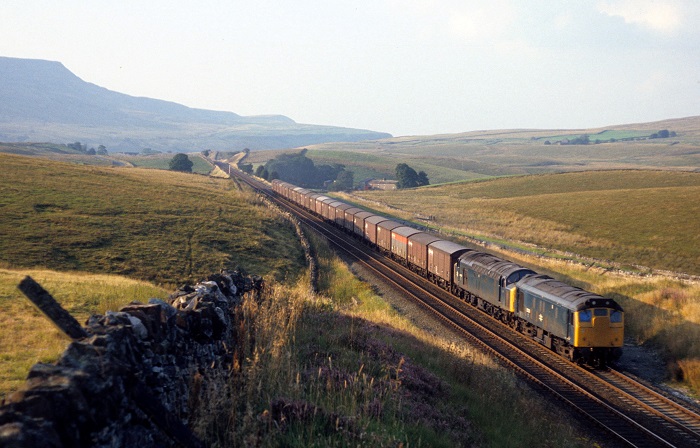 Photograph courtesy Bernard Mills

25226 & 40080 southbound with a lengthy train of 23 wagons at Shotlock Hill on September 2nd 1981.


On September 25th 25226 worked the 8K71 14.00 Perth Yard - Millerhill Speedlink, including empty auto carriers, chocolate and cement products.

On October 1st 25226 handled the 10.35 Stranraer Harbour - Kilmarnock and the 13.43 return. All was not well on October 24th 1981 on the 05.55 Stirling - Edinburgh when 25226 required the assistance of 08718 for the last few yards into Waverley station. A week later (31st) 25226 was back in action on the Dundee - Edinburgh route.

Post-Christmas workings included the 06.40 Glasgow Queen Street - Dundee and the 09.39 Dundee - Glasgow Queen Street on December 28th 1981.

1982
The 11.05 Perth - Edinburgh was worked on April 10th & May 8th 1982, on the latter date the return 12.51 Edinburgh - Perth was worked. On May 9th 1982 25226 worked the 01.05 Perth - Aberdeen, and on August 3rd 1982 the 19.03 Dundee - Glasgow Queen Street. The end of the summer timetable saw 25226 transferred away from the Scottish Region to Crewe. A diesel multiple unit failure on November 27th 1982 saw 25226 assisting a Birkenhead - Kidderminster charter forward from Wrexham.

25226 was noted at Llandudno Junction on December 29th.

1983
On March 25th 25226 was notted at Stockport, possibly working the return empty cement tanks from the Blue Circle depot at Northernden.

25226 was receiving attention at Reddish on April 1st.

The recorded workings for 1983 fall in the last half of the year. On September 30th an Edinburgh - Blackpool North day excursion was worked forward from Preston, the next day (Oct 1st) a Blackpool North - Birmingham New Street excursion was worked to Preston by 25226, which was back at Preston on October 2nd having worked a Blackpool North - Euston. Overhead line damage at Hemel Hempstead on December 20th 1983 saw all sorts of unusual activity including 25226 assisting the 09.20 (or 08.25?) Bletchley - Euston dragging a Class 310 unit, and the 15.10 Glasgow Central - Euston from Bletchley dragging 87033.

During August the Lincoln - Derby - Crewe service saw more issues with its aging diesel multiple units. On August 9th 25226 worked the 18.45 Lincoln St. Marks - Derby, whilst on August 13th it was the turn of the 16.33 Derby - Crewe and 18.30 Crewe - Derby to require help from 25226. On this day it was also noted with a BG and a bullion coach (?) at Finddern. Engineering work near Wigan on October 28th 1984 saw 25226 & 25109 assisting three passenger trains between Wigan North Western & Lostock Junction.

On August 12th 25226 worked the Dean Lane to Appley Bridge GMC waste terminal rubbish train.

25226 was noted at Stoney Bridge / Skelton Junction running rounds its train of empty cement tanks from the Blue Circle cement depot at Northernden on September 29th.

25226 was noted at Preston on October 1st.

25226 was the Manchester Victoria pilot on November 5th. On November 13th 25226 & 25231 worked the 6H41 07.54 Oakleigh - Great Rocks ICI limestone empties, presumably both locomotives worked throughout.

  1984
1984: Class 25s noted on the Wednesday/Friday's only early morning Gartson – Forders brickliner during May included 25226 (25th), which failed at Ditton with traction motor troubles and being replaced by 25266.

On June 18th 25226 was noted at Bedford station with a southbound parcels train.

25226 was noted eastbound on July 22nd with a train of recovered rail passing Abergele and Pensarn station en-route to Rhyl where the wagons would be stabled for later onward movement.

During the early afternoon of July 25th 25226 was noted hauling 45135 & 45127 southbound at Beighton Junction.

On August 13th 25226 was noted westbound at Stenson Junction with a BG and a TPO. On August 9th 25226 assisted the diesel multiple unit working the 2M58 18.45 Lincoln St Marks - Derby.

25226 was stabled at Springs Branch on October 26th.

1985
25226 was stabled at Birkenhead Mollington Street on a snowy overcast January 17th.

On February 6th 25226 & 25191 worked the 6V32 Ellesmere Port - Severn Tunnel Junction bitumen tanks.

25226 was stabled at Tyseley on March 32st.

May 16th 1985 noted southbound through Hereford with bogie tankers with barrier wagons. On May 17th 25226 worked the 6S75 12.55 Severn Tunnel Junction - Mossend, being noted passing Pontypool, with a lengthy train including ten loaded Cartics.

25226 was withdrawn on June 10th 1985.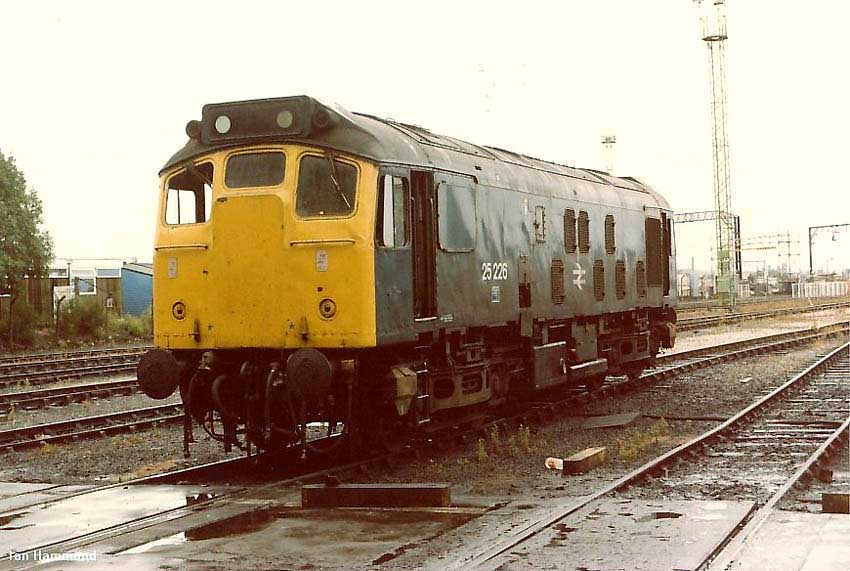 Photograph courtesy Ian Hammond

Its been many years since 25226 was outshopped new from Darlington, now standing forlorn at Crewe Depot on a damp August 4th 1985. It has a very pronounced droop to the cab, presumably this was the reason for its withdrawl two months earlier.


Distinguishing Features
No.2 cab front: driver's side: rust spot just above marker light: April 1983 until withdrawn.
No.2 cab corner: 2nd man's side: dent/rust spot on corner at same height as bottom of electrication flash: June 1985 until withdrawn.
No.2 cab corner: 2nd man's side corner valencing: dent/rust spot: July 1984 - until withdrawn.
No.1 cab corner: 2nd man's side: dent/rust spot about halfway up corner: September 1983 until withdrawn.

Not all known passenger workings are recorded on this page.

60/3069
flk 0317

Page added June 3rd 2013.
Last updated October 21st 2020.

Back to 25225
Forward to 25227