D7597, 7597, 25247
The Last Locomotive Built at Darlington Works.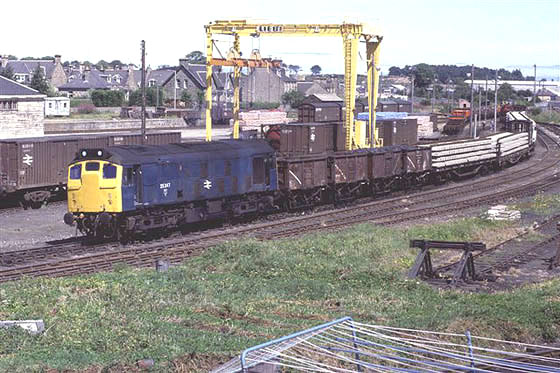 Photograph from the Norman Smart archive.
A fine view of 25247 at Elgin probably in the early 1980's.
The eighteen year eleven month career of D7597/25247 saw allocations to London Midland Region & Scottish Region depots.
Built: BR Darlington Locomotive Works.
Boiler equipped.
Dual brake fitted.
BIS side top row of ventilators - middle one sheeted over.
Center lampbracket & other fittings removed.
Time between last Classified repair and withdrawal: ?? months.
Time between last Classified repair and withdrawal: 4 months.
Allocations
D7597 was new to Toton (16A) on August 12th 1964. Further transfers were:
August 1964 to Nottingham (16D).
January 1965 to London Midland (Midland) Lines (LMML).
June 1968 to Longsight (9A).
June 1968 to Manchester Division (D09).
May 1973 to Longsight.
September 1973 to Springs Branch.
October 1976 to Eastfield.
September 1982 to Kingmoor.
Withdrawn July 24th 1983.
Renumbered March 6th 1974.
25247 was the 186th Class 25 to be withdrawn.
After withdrawal 25247 was stored at Crewe until moved to Swindon Works on August 27th 1983 and scrapped there by the end of November 1983. It is believed one cab from 25247 was sold privately and was in use as a garden shed.
Works Visits
Works visits (records incomplete).
Noted Crewe Works September 1968.
Noted Derby Works June 1973.
Noted Glasgow Works June 1977.
Noted Glasgow Works April 1982 (N1 repairs).
Noted Derby Works September 1982 - January 1983 (N4 repairs).
Highlights
1964
During September 1962 a report issued on the future plans for the British Railways network of workshops spelt doom for Darlington Works. Although still engaged in the heavy repair of steam and diesel locomotives and with orders to complete for Class 08 and Class 25 locomotives, the Works was still a busy place. Construction had just begun on the first of the Class 25/1's (D5176), with further orders in the pipeline. The frames for the last of Darlington's new locomotives were laid down during April, with D7547 being delivered to Toton (16A) during August, D7597 quickly moving to Nottingham (16D) in August.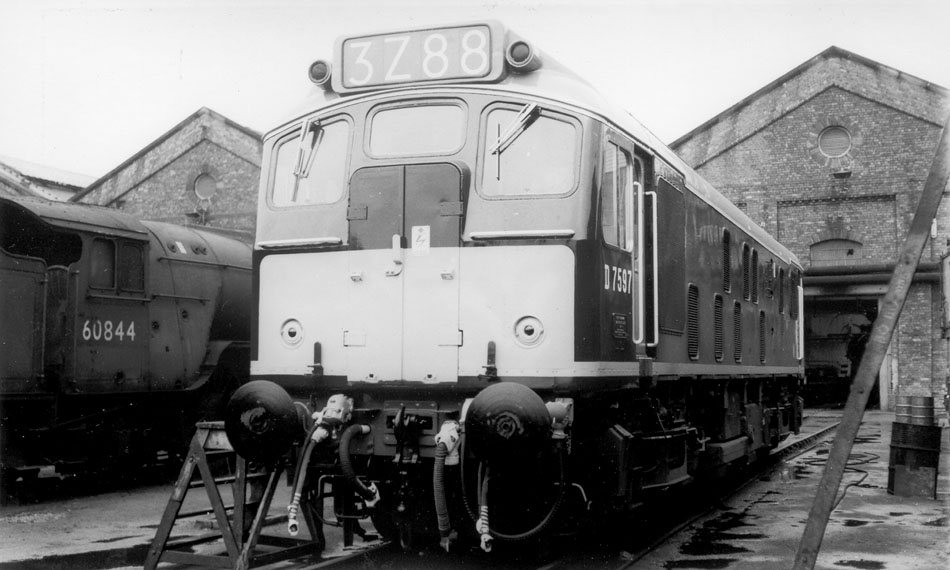 Photograph courtesy E Skinner.
The new and the not so new at Darlington Works on August 9th 1964. The last locomotive built at Darlington Works, D7597 glistens under grey skies, shortly to go south to begin service at Toton. D7597 was the last of 2,775 steam & diesel locomotives built at Darlington Works between 1863 & 1966.
D7597 was noted on the 12.35 Morecambe - Leeds on September 25th and an unidentified Leeds - Morecambe passenger services on October 12th.
1965
An unusual working for D7597 on March 17th was the hauling of three preserved steam locomotives from Derby to Hellifield for further storage. This former steam shed was now in the hands of the Curator of Historical Relics, Museum of British Transport and was a temporary repository for a number of venerable machines, both steam and electric. The steam locomotives were MR 4-2-2 No.118, LTS 4-4-2T No.80 'Thundersley' & MR 2-4-0 No.158A.
Condition September: green livery with small yellow warning panels, curved upper corners, bottom of warning panel partially covers frame level stripe, no blanking plates, hand/footholds fitted, straight sided sandboxes, three rung bogie mounted footsteps.
1966
On December 9th D7597 was noted towing 76089 from Colwick to Drapers (?), Hull.
1968
During June D7597 moved to Longsight. 7597 was noted under repair at Crewe during September.
Not sure where this view came from, but a transitional view of 7597 with full yellow ends and the dark green livery with stripe.
1970
On March 14th a Manchester Piccadilly - Wadsley Bridge football special was worked out & back by 7597 & 7595.
On April 11th the Waterloo - Dinting 'Midlands Enterprise' railtour was worked roundtrip Stockport - Dinting by 7597 & 7585. Both locomotives retained green livery with frame level white stripe and full yellow ends.
1972
At about 6pm on March 29th 7597 was noted passing Park (Manchester) with a down freight.
At about 6am on April 4th 7597 was noted passing Manchester Victoria with an up van train (4M10). On April 8th a Manchester Piccadilly - Leicester football special was worked roundtrip (?) by 7597 & 5198. At about 6pm on April 11th 7597 was noted passing Manchester Exchange with a down van train.
At about 6pm on May 24th 7597 was noted passing Park (Manchester) with a down freight.
At about 5.30pm on October 4th 7597 was noted at Manchester Exchange waiting to work a down van train.
1973
7597 was on empty coaching stock duty at Liverpool Lime Street on January 29th, 30th & 31st.
7597 was on empty coaching stock duty at Liverpool Lime Street on February 1st & 2nd. 7597 was the Manchester Victoria banker (T43) on February 12th, 15th, 16th & 19th.
7597 was the Manchester Victoria banker (T43) on March 1st. 7597 was on empty coaching stock duty at Liverpool Lime Street on March 20th, 21st & 22nd.
7597 was the Manchester Victoria banker (T43) on April 12th.
7597 was noted in Derby Works during June. After five years allocated to Longsight (or the Manchester Division) 25247 moved to Springs Branch during September.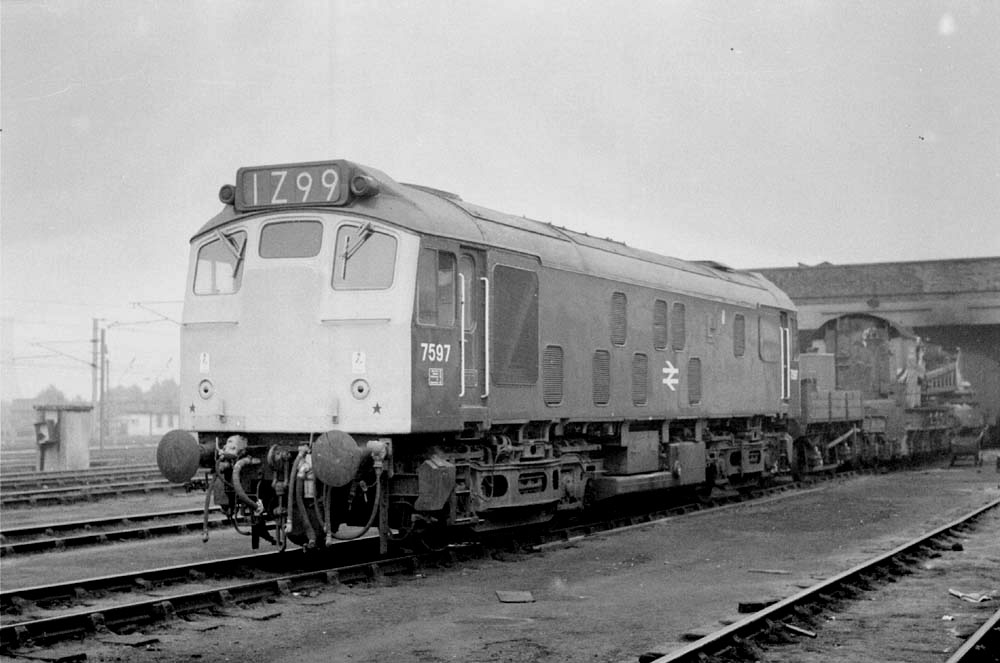 Photograph courtesy David Rogers.
7597 and crane sit in the sun at Wigan Springs Branch on October 13th 1973.
1975
25247 was on empty coaching stock duty at Liverpool Lime Street on February 6th.
On June 20th 25247 worked the 18.06 Manchester Victoria - Heysham vans (4P05). 25247 was on empty coaching stock duty at Liverpool Lime Street on June 24th.
A summer dated eastbound working out of Manchester Piccadilly that frequently saw pairs of Class 25's was the Saturdays only 09.20 to Yarmouth, usually the locomotives were exchanged at Lincoln, with the Class 25s returning with the 09.15 ex-Yarmouth service, on August 9th 25247 & 25282 were exchanged for 37109.
1976
During October 25247 moved north to Eastfield.
1977
25247 was under repair at Glasgow Works during June.
On July 30th 25247 was noted on a Dundee - Edinburgh service.
40122 & 25247 were noted at Carlisle on December 29th with a terminating (?) passenger service.
1978
On March 21st 25247 was noted on a Newcastle - Heaton with empty coaching stock move.
Local services in the Edinburgh area continued to see the diesel multiple unit services supplanted by hauled stock. On May 6th 25247 was noted in charge of the 17.10 Edinburgh - Newcastle, a working which seemed capable of being hauled by anything Haymarket could turn out, including multiple units. On May 20th 25247 worked an unidentified Dundee - Glasgow Queen Street service.
On August 27th 25247 was noted at Fort William. On August 30th 25247 working the 06.22 Thornton Yard - Craiginches hit a GPO van stuck on a minor crossing at Barrowfield (Montrose). Fortunately no injuries occurred and the line was cleared within 1½ hours.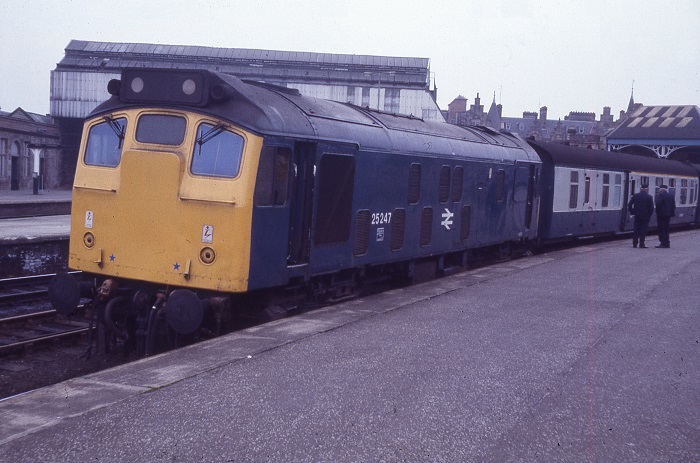 An overnight excursion from Derby has dragged yours truly to Aberdeen. A swift move was made south to capture some haulage between Dundee - Perth - Stirling. Here 25247 waits time, the next leg of an afternoon of classic Scottish haulage, on May 20th 1978.
1979
25247 was noted passing through Thornaby station on August 6th with a freight train. On August 11th the 10.15 Scarborough - Birmingham New Street was worked by 25247 & 25200.
The morning Prestwick - Teesport tanks was worked by 25247 on August 4th.
The seemingly ongoing shortage of Type 2 power in the London area found locomotives borrowed from distant depots with Eastfield's 25235 & 25247 noted on local workings towards the end of August/beginning of September.
On October 4th the 13.40 Glasgow Central - Carlisle was worked by 25247.
1980
The failure of 27003 on July 28th at Nairn working the 14.46 Inverness - Aberdeen saw 25247 assist to Aberdeen.
'The Grouser' railtour over the weekend of October 10th - 12th Plymouth - Ardrossan Harbour saw 25247 & 25064 put in an impressive 396 miles on a circuitous route between Edinburgh & Ardrossan Harbour. The Class 25s replaced 47210 at Edinburgh Waverley departing at 07.23 (close to right time) for a roundtrip to Berwick North. From Edinburgh Waverley the routing was believed to be Haymarket West Junction - Dalmeny - Inverkeithing - Burntisland - Kirkaldy - Ladybank - Dundee (reverse), then Dundee - Leuchars - Ladybank - Thornton North Junction - Thornton West Junction - Cowdenbeath - Townhill Junction - Charlestown Junction - Longannet - Kinkardine Junction - Alloa - Stirling - Larbert Junction - Carmuirs East Junction - Grangemouth Junction - Grangemouth (reverse). Then on to Grangemouth Junction - Carmuirs West Junction - Greenhill Upper Junction - Lenzie - Cowlairs Signalbox. Two Class 20s were supposed to take over here but the Class 25s continued with the train to Sighthill Junction - Bellgrove - High Street Junction - Sheilds Junction - Paisley Canal - Elderslie - Dalry - Kilwinning - Ardrossan South Beach - Ardrossan Harbour. The return to Ardrossan South Beach saw 08433 lead the train with the Class 25s on the rear. The route continued to West Kilbride - Largs (reverse) - West Kilbride - Ardrossan South Beach - Dubbs Junction - Irvine - Prestwick - Ayr (reverse) Prestwick - Irvine - Kilwinning - Dalry - Elderslie - Paisley Gilmour Street - Shields Junction - Terminus Junction - Larkfield Junction - Polmadie - Rutherglen Junction - Carmyle Junction - Langloan Junction - Gartsherrie South Junction - Gartcosh Junction - Sighthill Junction - Cowlairs Signalbox where the Class 25s were taken off and 47220 took over at 20.11, 11 minutes late according to the working timetable. On the return to Plymouth the train was about 2½ hours late at Birmingham New Street.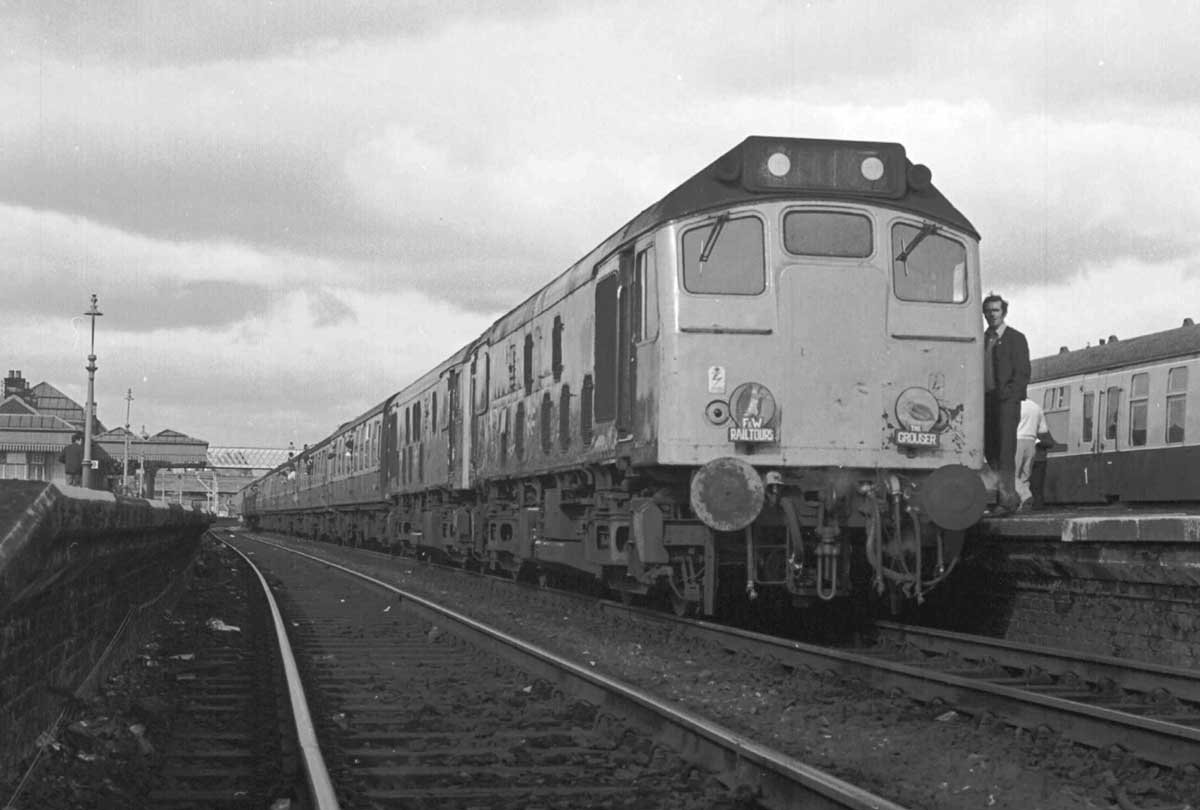 Photograph collection of webmaster.
25247 (leading) and 25064 wait for time at Stirling on October 11th 1980. At this point the train was on time (WTT arrival 13.01, actual 13.02).
1981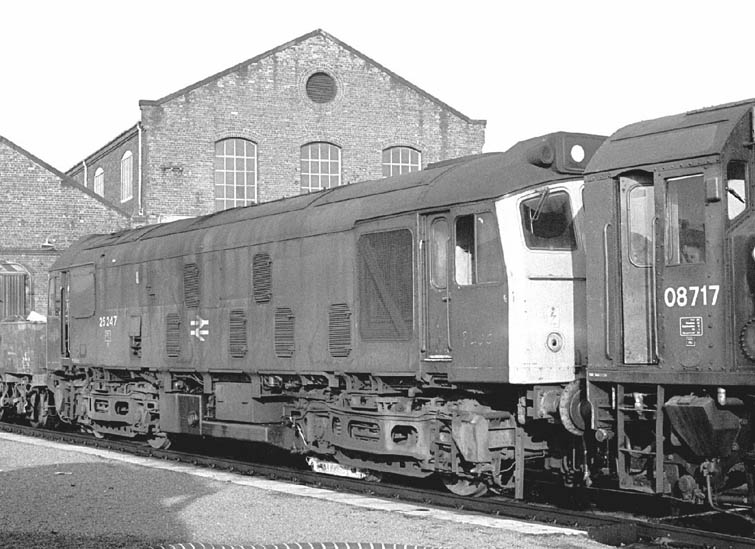 Photograph courtesy Tony Sayer.
Valentine's Day 1981 finds 25247 dumped at Polmadie, with a wheel skate under the rear axle of the front bogie.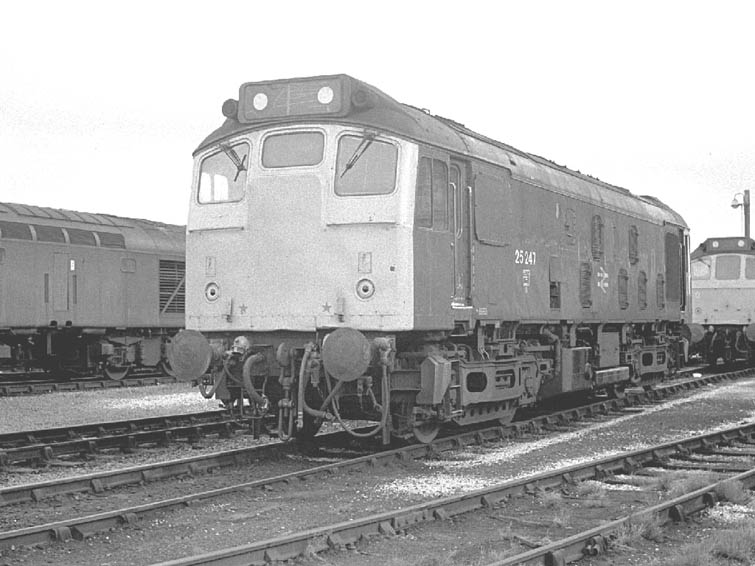 Photograph courtesy Tony Sayer.
Warrington is host to 25247 on July 26th 1981. Somewhere down the road one of its upper ventilators has been plated over, now sporting two instead of the more normal three.
On March 21st a Birmingham New Street - Kyle of Lochalsh railtour utlised 25247 & 27021 roundtrip Mossend Yard - Perth, 27021 would fail on the return leg. Two days later (23rd) 25247 worked the 11.05 Perth - Edinburgh, on March 25th it worked the 04.35 Carstairs - Edinburgh (portion off the 1S19 Bristol - Glasgow Central) and the 17.24 Edinburgh - Dundee. The next day (26th) it worked the 07.05 Perth - Edinburgh and the 17.24 Edinburgh - Dundee.
On the evening of June 23rd 25247 was noted at the east end of Edinburgh Waverley as station pilot.
On July 18th 25247 worked the 11.12 Bangor - Manchester Victoria.
25247 was stabled at Inverness depot on November 26th.
1982
Late April saw the brief return of Class 25s to Glasgow Works for minor repairs, so noted were 25059 & 25237 (N4) and 25247 (N1 - engine repairs). However by late May operational Class 25s would be gone for good from Glasgow Works.
On June 19th 25247 was stabled at Inverness depot.
On August 10th the 23.05 Edinburgh - Perth was worked by 25247 & 25229 (portion for 1N05 23.30 Glasgow - Inverness).
25247 was at Derby Works for N4 repairs September 1982 to January 1983, whilst here it was reallocated to Kingmoor after six years allocated to Eastfield.
1983
On January 22nd 25247 was noted light engine at Clapham Junction, using the station to effect a reverse engine movement due to the crossovers not being available at Latchmere. On January 23rd the 02.35 Euston - Bletchley was worked by 25247.
On March 4th 25247 was noted propelling Saloon TODM999501 between Lostock Hall Junction and Farington junction.
On a sunny April 1st 25247 was noted towing 08919 through Coventry. 25247 was noted at Lawley Street on April 24th.
25247 was withdrawn on July 24th 1983.
Distinguishing Features
No.1 cab front: considerable paint loss/rust around drivers side marker light; August 1979 to??.
No.2 end headcode: missing one of the dots on the headcode panel; March 1983.
BIS side: number height scrape from boiler room blanking plate to middle of locomotive side.
26/2172
flk 0217
Not all known passenger workings are recorded on this page.
Page added July 21st 2002.
Page updated October 22nd 2020.
Back to 25246
Forward to 25248