D7600, 7600, 25250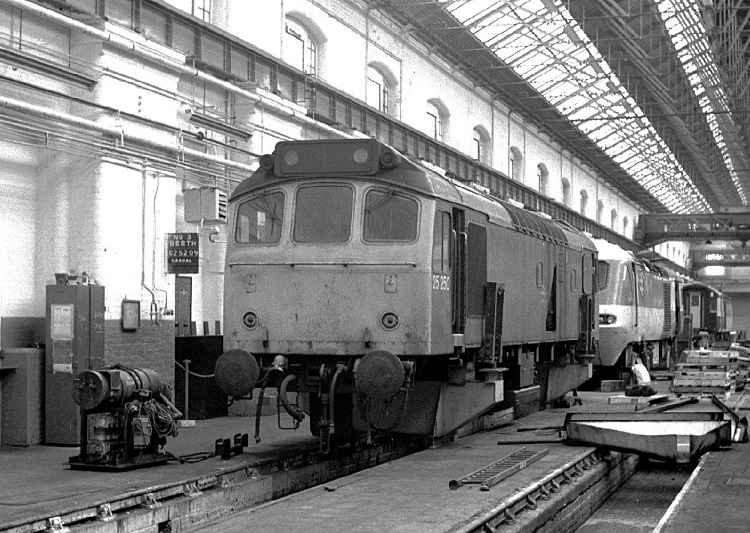 Photograph courtesy Tony Sayer
25250 at Derby Works on May 9th 1981 receiving attention to its generator.
The eighteen year career of D7600/25250 included time at Eastern, Scottish & London Midland depots, with over a decade spent in the London area.
Built BR Derby Locomotive Works.
Center lampbracket & other fittings removed (No.1 cab only).
Dual brake equipped.
Time between last Classified repair and withdrawal: 67 months.
Time between withdrawal & scrapping: 10 months.
Allocations
D7600 was new to Tinsley (41A) on February 15th 1966. Further transfers were:
June 1966 to Barrow Hill (41E).
August 1966 to Finsbury Park (34G).
October 1966 to Eastfield (65A) on loan.
September 1967 to the London Midland Midland Lines (LMML).
June 1968 to the Nottingham Division (D16).
December 1969 to the Birmingham Division (D02).
May 1970 to the Liverpool Division (D08).
October 1971 to Manchester Division (D09).
March 1973 to the London (WL) Division (D01).
May 1973 to Willesden.
June 1975 to Cricklewood.
January 1984 to Crewe.
Withdrawn May 13th 1984.
Renumbered February 28th 1974.
25250 was the 219th Class 25 withdrawn, one of three retired during May 1984.
After its withdrawal 25250 was briefly stored at Crewe before moving with 25242 to Swindon Cocklebury Yard between June 29th & July 7th 1984, and into Swindon Works on July 23rd 1984. By the first week of February 1985 25250 had been broken up.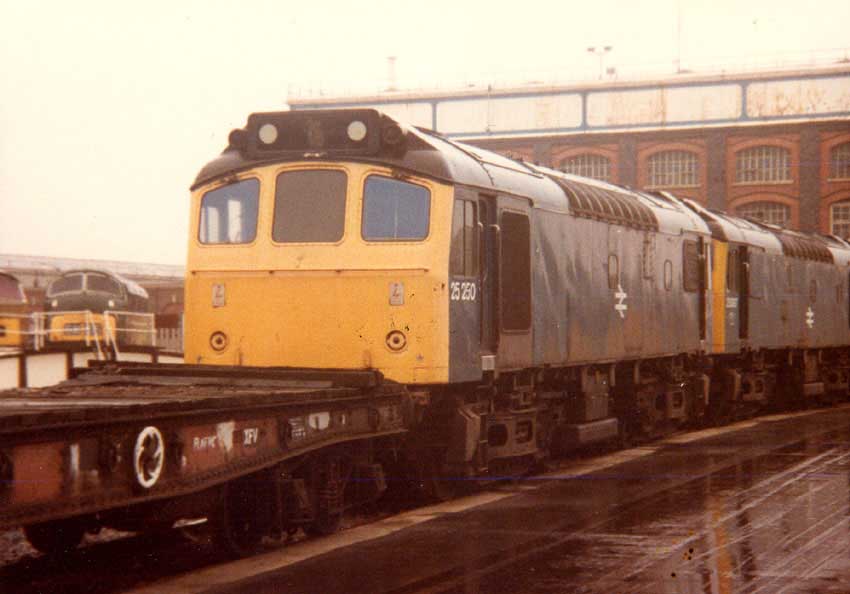 Photograph collection of webmaster
25250 at Swindon Works, date unknown.
Works Visits
Works visits (records incomplete).
Noted Derby Works November 1969.
Noted Crewe Works February 1974.
Noted Derby Works November 1975.
Noted Derby Works August - October 1978 (Classified).
Noted Derby Works June 1981 (N4 repairs).
Highlights
1966
On October 2nd seven locomotives departed Finsbury Park on transfer to Edinburgh Haymarket, the locomotives heading northbound light engines: D5051 & D5052, D5050 & D5055 and D5053, D5056 & D7600.
1974
When called to Crewe Works in January 1974 25250 still carried two tone green livery with small yellow ends. Its call to Works narrowly missed it from receiving TOPS numbers with the small yellow ends.
1976
On July 22nd 25250 & 25266 worked a roundtrip St. Pancras - Skegness day excursion throught, a passenger mileage of 401 miles. A very short passenger haulage took place on October 17th when the 08.00 Wolverhampton - Brighton day excursion used 25250 between Harrow & Wealdstone and Mitre Bridge Junction.
1977
Another lengthy trip found 25250 & 25284 working the 12.20 Birmingham New Street - Newquay to Plymouth on July 23rd, a distance of 218 miles.
1979
A short trip on May 7th saw 25250 & 25245 working an unidentified motorail between Kensington Olympia & Willesden.
1981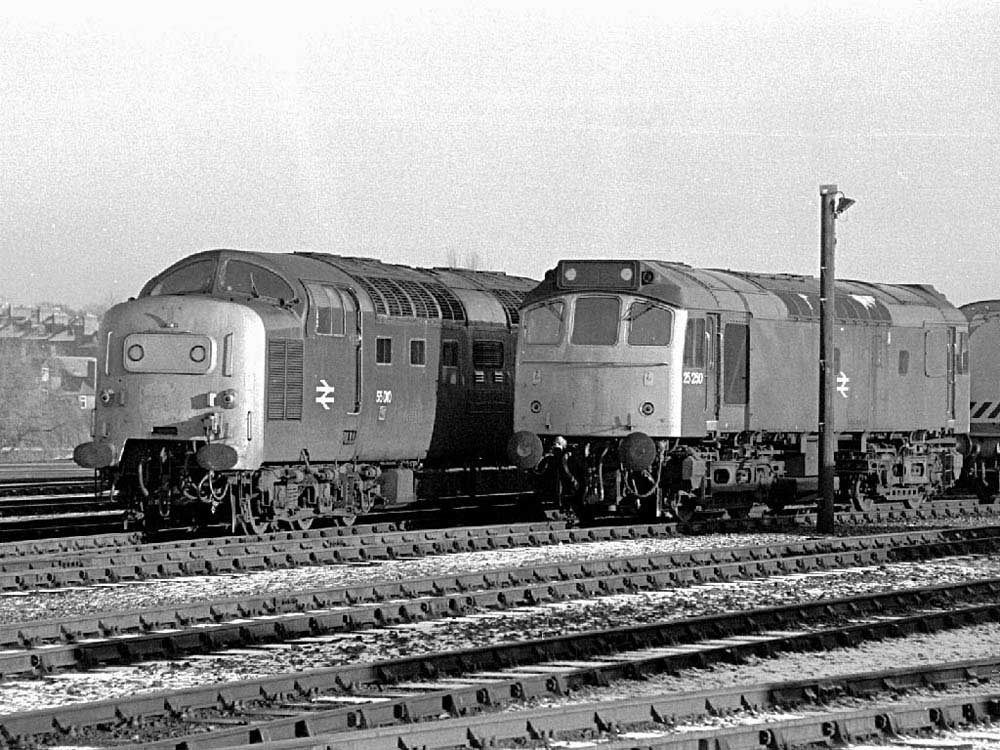 Photograph courtesy Tony Sayer
25250 at York on December 12th 1981. Three days earlier (9th) 25250 rescued the 16.10 Euston - Birmingham New Street at Canley after 85032 failed. And on a foggy & snowy December 14th 25250 paired with 31164 at York Holgate heading south with reclaimed track panels.
The failure of 85032 on December 9th at Canley working the 16.10 Euston - Birmingham New Street saw 25250 drag the service to New Street.
1982
On January 22nd the 11.30 Ditton – Corby BOC special was hauled by 25250 & 40127, a combination more normally associated with the Sheffield BOC working.
25250 recieved an 'E' examination at Cricklewood during April.
25250 worked the 13.15 Tunstead - Northwich ICI limestone train on July 3rd, comprised of 18 loaded bogie wagons.
On August 7th 25250 worked the 07.45 Liverpool - Preston and the 19.26 Barrow - Preston.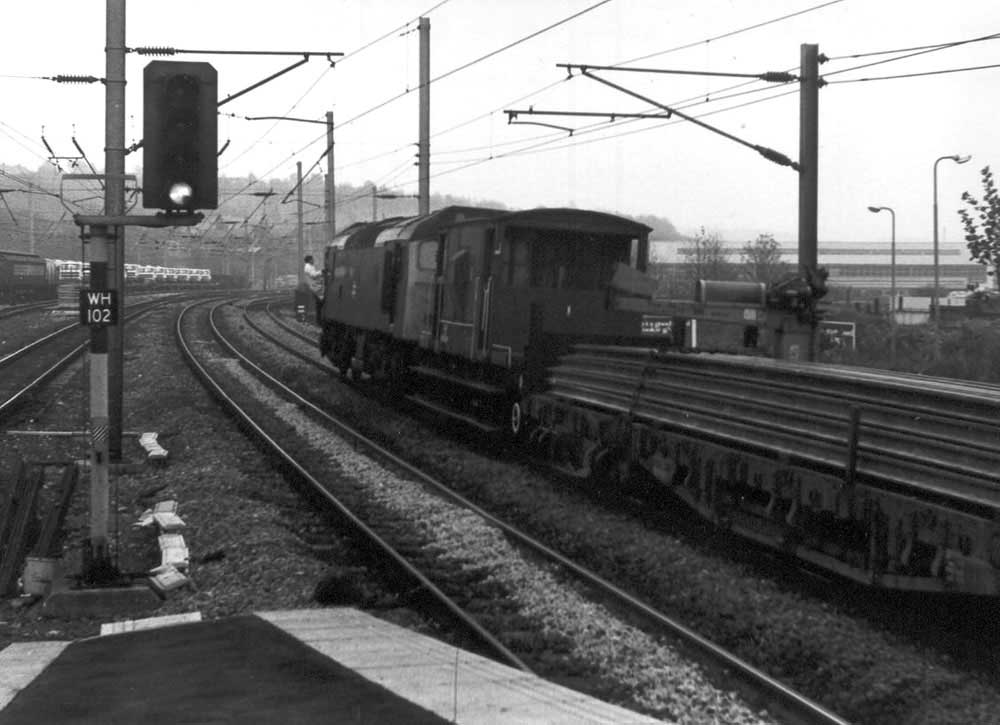 Photograph courtesy Mark Cook
25250 at Luton on December 31st 1982.
1983
The summer of 1983 produced a fine selection of passenger workings, commencing on June 12th with 25250 & 25243 taking a Northampton - Clacton day excursion as far as Bletchley. On July 7th the 07.40 Norwich - Birmingham New Street was noted arriving at New Street behind 25250, later that day the 18.18 Birmingham New Street - Norwich was worked to March by 25250 after 31423 failed. Two weeks later on July 23rd the 07.35 Euston - Aberystwyth from Shrewsbury and the 14.00 Aberystwyth - Shrewsbury were worked by 25250 & 25296.
August 14th saw 25250 & 25277 assisting three electric services between Rugby & Bletchley due to the power being off for engineering work. The next day (15th) the 06.25 Poole - Liverpool failed behind 47448 at Kenilworth, 25250 & 25277 dragged the service to Coventry. On August 27th the 07.44 Shrewsbury - Aberystwyth and the 10.10 Aberystwyth - Euston to Nuneaton were worked by 25250 & 25287. The 10.10 Euston - Shrewsbury on September 10th was worked from Birmingham New Street by 25250 & 25257.
1984
On January 25th the 18.05 Euston - Blackpool North was worked forward from Preston by 25250.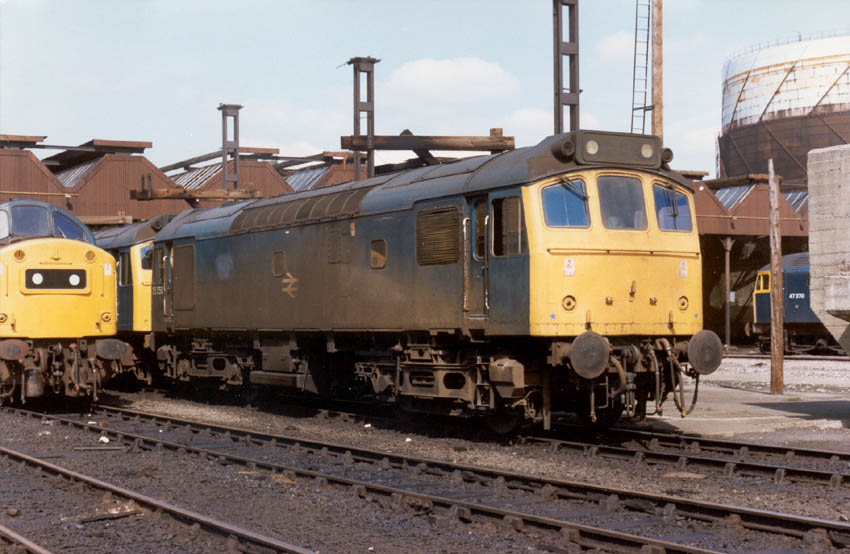 Photograph collection of webmaster
Its a sunny day at Birkenhead as 25250 poses for its portrait, date unknown.
25250 was withdrawn on May 13th 1984.
20/1430
flk 0915
Information also provided by Steve Jordan.
Page added November 30th 2012.
Last updated July 20th 2019.