| | | | | | |
| --- | --- | --- | --- | --- | --- |
| Load | Speed | Amps | Volts | Notes | Other |
| 1 | 30 | 920 | - | - | - |
AWS horn noisy
Ballast cover screws
CB4 cover screws
AWS to seal
Comp governor to set
No.2 compressor very noisy (nearest No.2 cab)
Speedometer fluctuating badly 40mph+
No.2 speedometer reading low below 54mph
Knecht filter bypass leak
No.4 fuel pump leak
B cubicle air pipe to clip
No.1 rocker cover leaking
Various items to paint
Check probe for damage.
On the morning of November 7th 25250 was stabled at York.
On November 8th, 9th & 10th 25250 worked the 09.55 Willesden to Norwood and the return 12.00 Norwood to Willesden, although the return working on 10th was not observed and may have been running later than usual.
1979
Noted at Bletchley on February 24th were 25120, 25250, 25256, 25269, 25282, 25314 & 25325.
A short trip on May 7th saw 25250 & 25245 working an unidentified motorail between Kensington Olympia & Willesden.
On the afternoon of November 2nd 25250 was noted at York depot before heading south light engine.
1980
On June 5th 25278 & 25250 were noted northbound through Crewe with the Stewartby - Garston 'Fletliner' brick train.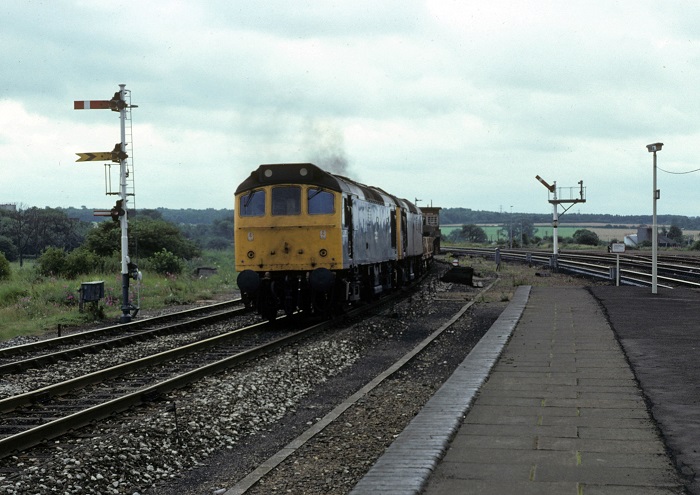 Photograph courtesy Roger Geach.
25250 & 25324 are northbound at Wellingborough on August 4th 1980 with the loaded Stewartby - Garston brickliner.
25250 was noted light engine at Roade on November 4th.
1981
On July 30th 25250 & 25302 were noted passing Crewe on the freight avoiding lines with empty mineral wagons.
On the early afternoon of November 24th 25250 was noted southbound at York with a lengthy freight bound for Dringhouses.
The failure of 85032 on December 9th at Canley working the 16.10 Euston - Birmingham New Street saw 25250 drag the service to New Street.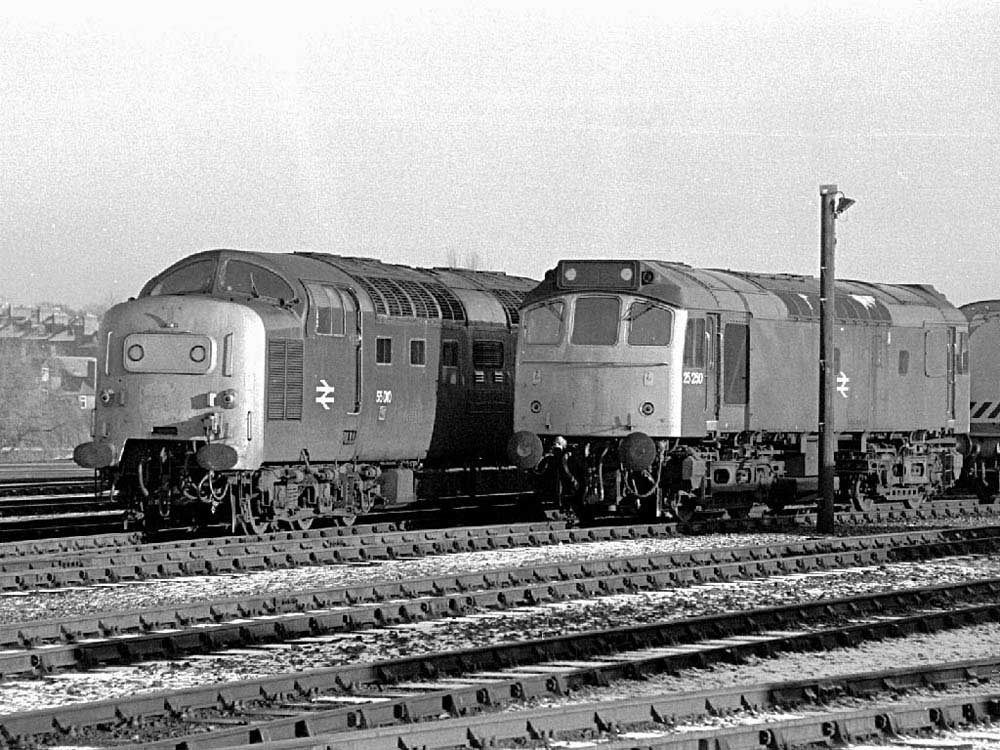 Photograph courtesy Tony Sayer.
25250 at York on December 12th 1981.
On a foggy & snowy December 14th 25250 paired with 31164 at York Holgate heading south with reclaimed track panels.
On the morning of December 15th 25250 was stabled at York.
1982
On January 22nd the 11.30 Ditton – Corby BOC special was hauled by 25250 & 40127, a combination more normally associated with the Sheffield BOC working.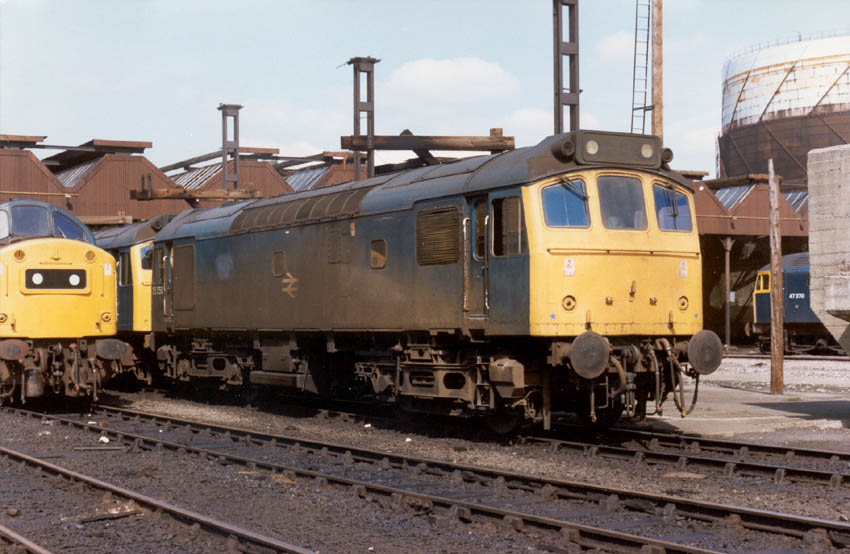 Photograph collection of webmaster
Its a sunny April 17th 1982 at Birkenhead Mollington Street as 25250 poses for its portrait.
25250 recieved an 'E' examination at Cricklewood during April. On April 30th 25250 was noted at St Pancras at the buffer stops with coaching stock.
On June 1st Class 25s stabled at Saltley were 25250, 25251 25265 & 25285. On June 20th 25250 was noted with ICI hoppers passing Manchester London Road.
25250 worked the 13.15 Tunstead - Northwich ICI limestone train on July 3rd, comprised of 18 loaded bogie wagons and was later noted stabled at Northwich shed. 25250 was noted at Northwich shed on July 17th.
On a wet August 5th 25250 was noted at Nuneaton with an electrification train. On August 7th 25250 worked the 07.45 Liverpool - Preston and the 19.26 Barrow - Preston.
On September 30th 25250 was noted on the parcels side at Euston.
On November 27th 25250 was receiving attention at Willesden depot.
On the morning of December 6th 25250 & 25251 were shunting at Kings Cross goods yard.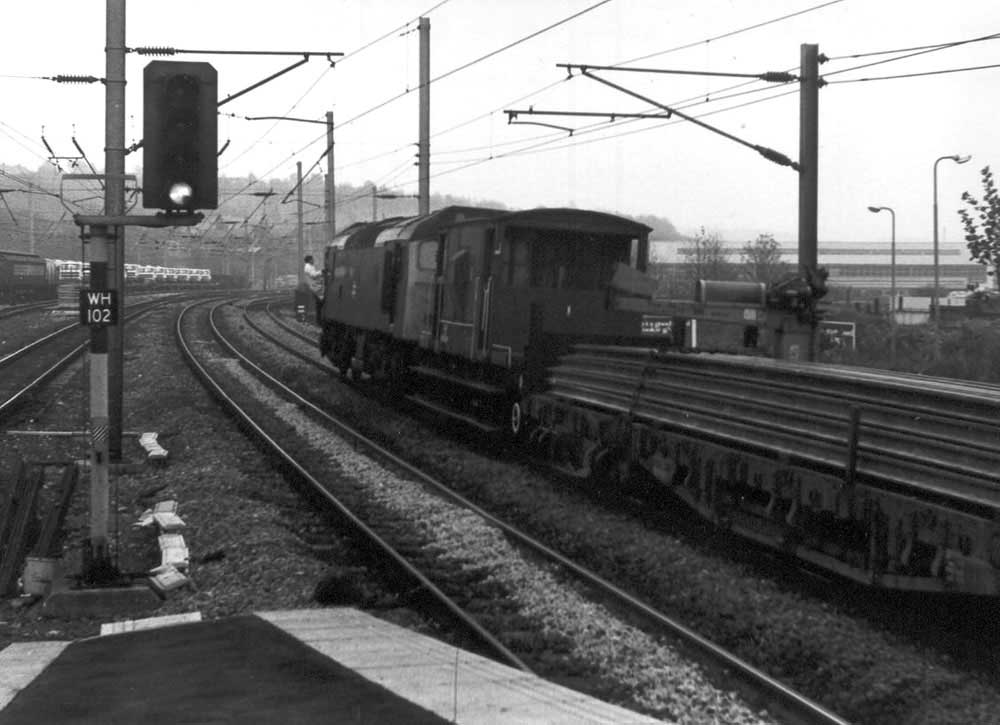 Photograph courtesy Mark Cook
25250 at Luton on December 31st 1982.
1983
On January 17th 25250 was noted southbound at Bescot with bogie bolsters.
On a very wet February 3rd 25250 was stabled at Peterborough fuelling point.
Late in the morning of March 30th 25309 & 25250 were noted at Watford Junction with northbound empty freightliner flats.
25250 was noted at Northwich shed on April 16th.
On May 20th 25297 & 25250 were noted at Leighton Buzzard with the Kings Cross Goods - Tring Cutting cement tanks.
The summer of 1983 produced a fine selection of passenger workings, commencing on June 12th with 25250 & 25243 taking a Northampton - Clacton day excursion as far as Bletchley. On July 7th the 07.40 Norwich - Birmingham New Street was noted arriving at New Street behind 25250, later that day the 18.18 Birmingham New Street - Norwich was worked to March by 25250 after 31423 failed. On July 10th 25250 was stabled at March. Two weeks later on July 23rd the 07.35 Euston - Aberystwyth from Shrewsbury and the 14.00 Aberystwyth - Shrewsbury were worked by 25250 & 25296.
August 14th saw 25250 & 25277 assisting three electric services between Rugby & Bletchley due to the power being off for engineering work. The next day (15th) the 06.25 Poole - Liverpool failed behind 47448 at Kenilworth, 25250 & 25277 dragged the service to Coventry. 25250 was noted at Nuneaton on August 16th. On August 27th the 07.44 Shrewsbury - Aberystwyth and the 10.10 Aberystwyth - Euston to Nuneaton were worked by 25250 & 25287.
The 10.10 Euston - Shrewsbury on September 10th was worked from Birmingham New Street by 25250 & 25257.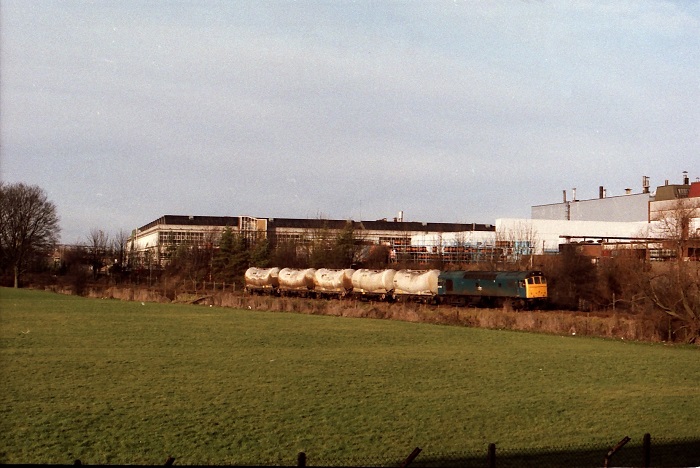 Photograph courtesy Tony Ewer.
25250 with the 'small cements' at Dunstable Kingsway headed for Swanscombe on December 21st 1983.
1984
On a snowy January 25th the 18.05 Euston - Blackpool North was worked forward from Preston by 25250, with 25250 stabled at Ladywell sidings earlier in the day.
On February 27th 25250 was noted light engine at Guide Bridge.
25250 was noted at Manchester Victoria (banker/pilot?) on April 21st & 23rd.
25250 was withdrawn on May 13th 1984.
Distinguishing marks
No.1 end cab front: no lamp brackets on cab front; at least 11/81 until withdrawn (brackets present July 1978).
20/1430
flk 0121
Information also provided by Steve Jordan.
Page added November 30th 2012.
Last updated May 11th 2023.
Back to 25249
Forward to 25251