D7628, 7628, 25278
The Last Class 25 to receive a Classified Repair
at Derby Locomotive Works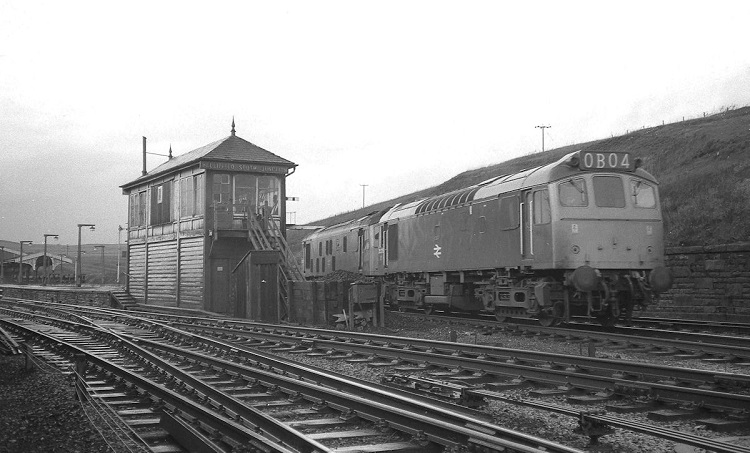 Photograph courtesy Tom Sutch
Sometime during 1974 on what looks to be a very damp day, 25278 & 25060 are set to take the route to Blackburn, passing Hellifield South Junction signalbox. The shiny paintwork on 25278 suggests this view was taken after it was outshopped from Derby during November 1974.
The twenty one year seven month career of D7628/25278 included allocations to Eastern Region & London Midland Region depots with almost twenty years spent continuously allocated to a great variety of LMR depots.
Built: Beyer Peacock Gorton Ltd, Works No.8038.
Dual brake equipped (1974).
Royal Train cabling modification (cab front access panel).
Carried two-tone green livery with TOPS numbering.
Final exhaust roof panel: raised, square.
Time between last Classified repair and withdrawal: 74 months.
Preserved.
Allocations
D7628 was new to Tinsley on August 12th 1965. Further transfers were:
April 1966 to Wath (41C).
August 1967 to London Midland (Midland) Lines.
June 1968 to Nottingham Division (D16).
January 1969 to Birmingham Division (D02).
May 1973 to Bescot.
May 1974 to Longsight
December 1974 to Springs Branch
May 1976 to Cricklewood.
July 1983 to Crewe.
January 1984 to Kingmoor.
March 1986 to Crewe.
Withdrawn March 17th 1987.
Renumbered January 29th 1974.
25278 was the 317th Class 25 to be withdrawn.
After withdrawal 25278 was stored at Basford Hall before moving to Leicester Humberstone Road on July 8th 1987 and into Vic Berrys yard on July 9th 1987. On January 25th 1988 25278 & 25191 were moved to Leicester Humberstone Road then Toton, Tinsley & York on January 26th, Tees Yard on January 27th and to Grossmont on January 29th 1988 and into preservation.
Works Visits
Works visits (records incomplete).
Noted Crewe Works June - August 1969 (General repair?).
Noted Derby Works October - November 1974 (dual brake equipment fitted).
Noted Derby Works October 1980 - January 1981 (General repair).
Highlights
1965
The frames were laid down for D7628 at Beyer Peacock, Gorton during the spring of 1965. When completed during August it would be delivered to Tinsley (41A) as part of D7624 - D7649.
On August 14th, if the reporting is correct D7628 was noted at York with the 13.50 Scarborough - Bristol Temple Meads, was this D7628's first passenger working, it is not known how far the locomotive worked. On August 31st D7628 worked the 2M92 07.03am Sheffield Midland - Manchester via Chinley stopping service.
1966
On February 20th stabled at Tinsley were 73 diesels including D5207, D7598, D7599, D7624 - D7626, D7628 - D7630, D7632, D7641 & D7643.
1968
On August 4th D7628 was stabled at Manchester Victoria showing headcode 1P97. As it slumbered here, Manchester Victoria witnessed a number of steam specials commemorating the last week of standard gauge steam on British Railways, with a special headed by 48773 & 44781 passing by eastbound.
Condition August: two-tone green livery, small yellow warning panels, significant staining around radiator panels from cooling water leaks from roof.
On the afternoon of September 12th 7628 was northbound at Water Orton with a freight.
1970
Stabled at Bescot at mid-day on April 12th were 7523, 7603, 7609, 7623 & 7628.
1971
At about 3pm on June 11th 7622 & 7628 were noted Crewe on a down passenger service (1Dxx).
June: Two-tone green with full yellow ends.
1972
On July 28th an extra 6Z40 Earles Siding, Hope - Exeter Central cement (23 Presflos) was worked by 7628 & 7566. At Exeter St Davids 1740 assisted in banking the train up to Central. The locomotives would retire to the stabling point and later in the day work a 6Z40 Exeter Central - Earles Sidings, Hope cement empties. The previous day this working had arrived with 1851 with 818 as the banker.
Condition July: two-tone green with full yellow ends.
1974
On June 15th 25278 was stabled at Guide Bridge, the locomotive still carrying a very faded two-tone green with full yellow ends and TOPS renumbering.
On July 13th 25278 worked the 9.00am Llandudno Town – York.
On July 22nd 25278 was noted light engine at Liverpool Lime Street, with headcode 5E16.
During the evening of August 7th 25278 was noted at Heaton Norris Junction on an up freight.
On August 24th 25278 worked the 9.00am Llandudno Town – York.
25278 was present at Derby Works during October & November, this repair included the fitting of dual braking equipment. Shortly after outshopping 25278 was transferred to Springs Branch in December.
On November 1st the 13.45 Derby - St Pancras was worked to Leicester by Class 45 No.68 and 25278, was this the Works running-in turn for 25278?
1975
June 21st proved to be a banner day for Class 25 haulage on the North Wales main line, the 09.00 Llandudno – York had 25056, 09.23 Manchester – Llandudno with 25082, the following 10.33 service had 25278 whilst 25095 & 25090 hauled a Blythe Bridge – Llandudno relief. The 07.35 Nottingham – Llandudno arrived behind 25102. Although all the Type 2's performed well this day problems with other locomotives and a suicide near Colwyn Bay, involving 40150 required quick thinking by operating authorities to keep the traffic flowing on this busy Saturday.
25278 was on empty coaching stock duty at Liverpool Lime Street on July 24th.
1976
At about 1pm on February 11th 25057 + 25278 were noted at Preston on a permanent way train.
On March 28th 25282 & 25278 were southbound over the Settle & Carlisle with a Polmadie - Widnes BOC sidings tank train.
On July 6th the 15.10 Cardiff - Crewe was worked by 25278
On a wet September 22nd 25278 was at Luton with a 22 wagon Dunstable - Hither Green cement tanks.
1977
On May 6th 25278 was stabled at York.
1978
On March 5th 25278 was westbound light engine through Attenborough.
July 22nd found 25278 finally making its escape from Tyne Yard after having been laid up there since May 26th with a bad wheelset. The Gateshead crane was used to install the new wheelset during mid-July. On the morning of July 25th 25278 was stabled at York.
On August 2nd the 23.40 Stirling - Kensington Olympia motorail used 25278 forward from Mitre Bridge Junction.
1979
On the morning of April 24th 25278 was stabled at York.
Midland based 25270 & 25278 headed north from Haverton Hill on April 26th with the 6S41 bound for Grangemouth!
On May 12th 25278 was seen at Sheffield running thirty minutes late with the 1E87 15.15 Manchester - Harwich Parkestone Quay, 47162 took over at Sheffield.
1980
25278 & 25213 worked the Willesden - Norwood Junction leg of a Liverpool - Crystal Palace football special on April 26th.
On June 5th 25278 & 25250 were northbound at Crewe with possibly a loaded brickliner for Garston.
On September 3rd 25278 was noted at Lenton South Junction with the Toton breakdown train.
It was off to the seaside with 25303 on September 13th working the 08.02 Walsall - Yarmouth as far as Norwich and coming back with the return 14.30 Yarmouth - Walsall from Norwich. The next day this same pair were in use between Dorridge & Bewdley working the 'John Mynors Memorial' charter both ways - steam locomotives 5051 and 2857 worked the Didcot - Dorridge portions of the railtour.
25278 was back at Derby Works during October for a General repair, it would not be released until January 1981.
Photograph courtesy Bernard Mills
Its October 1980 at Derby Locomotive Works as 25278 undergoes its final Classified repair.
1981
Maintenance for the Class 25's like all other locomotives had been controlled by the TOPS system as follows:
A exams were at 55 hours,
B exams at 275 hours,
C exams at 825 hours,
D exams at 1,650 hours,
E exams at 4,950 hours.
When the second E exam was due the locomotive would visit Derby or Glasgow for a classified repair. In laymans terms assuming a locomotive worked nine hours a day, for six days a week, it would reach its second E exam after about three and a half years having undergone 179 examinations. TOPS hours are potentially misleading as many locomotives were left idling between duties causing a discrepancy between the hours run as logged by the TOPS computer and actual engine hours run up, be it under load or simply idling. For the Class 25's these classified repairs (general or intermediate) would end in 1980, with a total of twenty seven completed in that final year, Derby outshopped seventeen, Glasgow handled ten.
The last from Glasgow were 25234 Intermediate October 1980 & 25062 General June 1980.
The last from Derby were 25080 Intermediate August 1980, 25278 General, released on January 23, 1981.
Whilst 25278 had been in Derby undergoing its final classified repair, thirty five of her sisters were taken out of service. It is also ironic that 25278 was outshopped at the same time as 46011, the last Class 46 to receive a classified repair. Visits would still be made to these workshops but only for repairs of a lesser nature. Eventually only exams upto a 'C' were given with a repair limit not to exceed GBP 1,000. Of those last twenty seven Class 25's overhauled only four would be in service at the end, six years later: 25057/265/276 (as 25903) and 25278.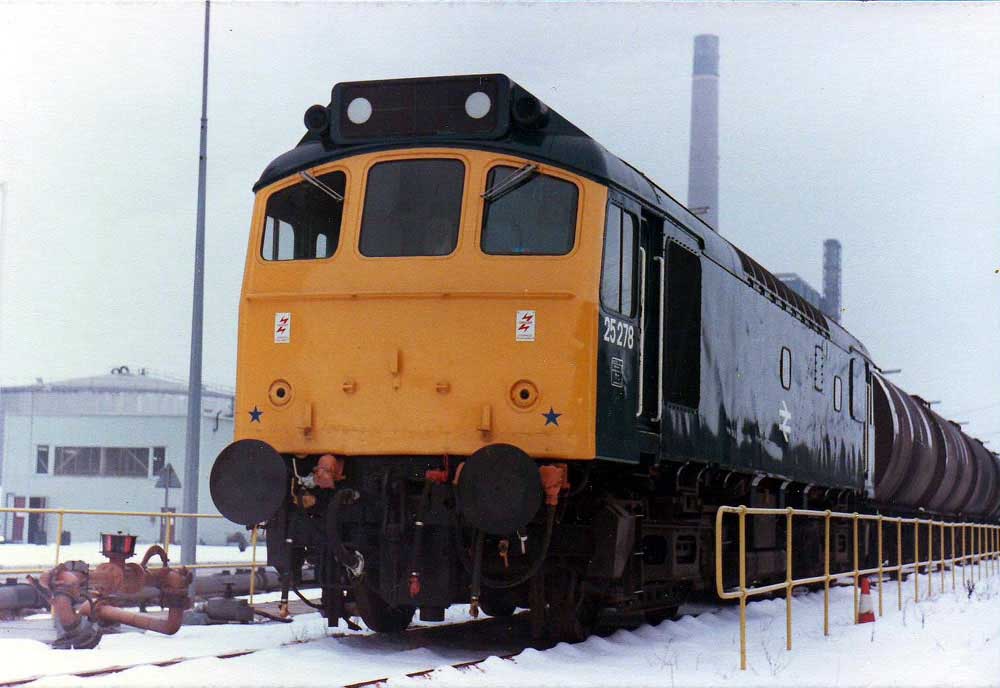 Photograph courtesy David Smith.
25278 at Rugeley February 1981.
In the March area the Mountsorrel – Kennett stone trains were frequently double headed, so noted were 25283 & 25298 (Jan 29th), 25301 & 25278 (Feb 10th & 12th), pairs of Class 31's were also noted on this train.
On the morning of April 10th 25278 was southbound light engine at Harpenden.
25278 came to the rescue of 45115 on May 11th when the Class 45 expired at Luton working the 12.04 St. Pancras - Derby. 25278 took the train on to Derby.
On the afternoon of May 22nd 25278 was stabled at York.
On June 2nd 25278 & 25321 were northbound at Hereford with the Cranmore - Ellesmere Port empty bitumen tanks.
On July 24th 25278 was noted at Washwood Heath.
25278 & 25254 were active on July 25th/26th on Cambrian metals. On July 25th they worked the 10.10 Euston - Aberystwyth forward from Birmingham New Street coming back with the 18.00 Aberystwyth - Wolverhampton. The next day they worked an excursion from Gloucester forward from Wolverhampton to Aberystwyth and return.
25278 was stabled at Machynlleth on August 20th.
Engineering work on September 13th found 25278 & 25326 dragging the 00.25 Manchester Piccadilly - Euston between Bletchley & Willesden. On the morning of September 16th 25057, 25196, 25207, 25213, 25278, 25311 & 25326 were noted at Willesden. On the morning of September 17th 25088 (withdrawn the previous day), 25251, 25278, 25311 & 25327 were stabled at Willseden. On September 27th more engineering work, this time between Coventry and Rugby found 25278 & 25324 assisting four services over the de-energised section between lunch time & early afternoon.
On November 8th 25278 was stabled at March, the next day (9th) 25278 worked the 05.15 ballast empties to Croft.
1982
On February 13th 25278 was stabled at Kingmoor.
On March 13th 25278 was stabled at Perth.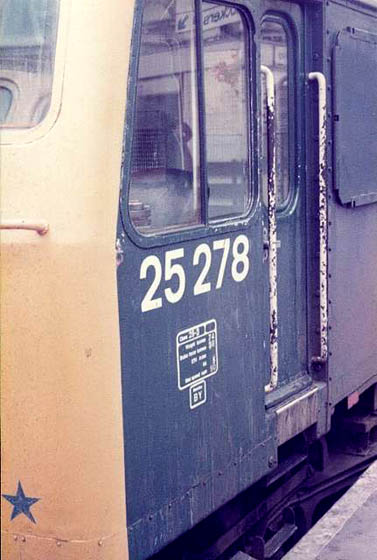 7628/25278 had quite a varied allocation history, at one time or another being allocated to Tinsley, Wath, Midland Lines, Nottingham Division, Birmingham Division, Bescot, Longsight, Cricklewood, Crewe, Carlisle Kingmoor & Crewe.

This view shows 25278 with an allocation sticker for Bletchley depot, a location to which no Class 25 was ever allocated but a depot which would have a long association with the Class, particularly those machines allocated to Cricklewood or Willesden.

Photograph courtesy Nick Ross
During 1982/83 Bletchley depot maintained a special pool of locomotives to work the heavy brick trains between Fletton sidings and Wembley. Where possible these locomotives were kept on local trip workings in between their use on the brick trains and also the Tring cement trains. Class 25's that went through this pool included 25266/276/278, 25301/312/314. 25266 was probably the worst of these locomotives, failing numerous times with 'low power', particularly on the cement trains. Bletchley allocation stickers were applied to these locomotives during A & B examinations but were constantly being removed.
On July 27th two trains of bitumen tanks were run from Ellesmere Port to Cranmore, powered by 25315 & 25286 and 25278 & 25297.
August 6th & 7th were busy days for 25278 & 25134. On 6th they took over the 12.46 Portsmouth - Leeds at Birmingham New Street working through to Leeds, returning to New Street with the 21.56 Leeds - Portsmouth. The next day (7th) the same pair were on the Derby - Norwich (for Yarmouth) - Derby, working forward from Norwich to Yarmouth on the 07.10 Chesterfield - Yarmouth service and returning to Norwich with the 13.46 Yarmouth - Leeds before taking the train to Derby.
On August 18th 25278 was stabled at Northwich.
On August 26th 25278 was northbound at Sharnbrook with a loaded brickliner.
On September 5th 25278 was stabled at Birkenhead.
On November 25th the Prince & Princess of Wales traveled from Euston to Central Wales by Royal Train. From Shrewsbury to Aberdovey/Towyn 25259 & 25278 were in charge, with 25044 on standby. An overnight stop was made at Rossett prior to the Royal party visiting Wrexham & Hawarden on 26th.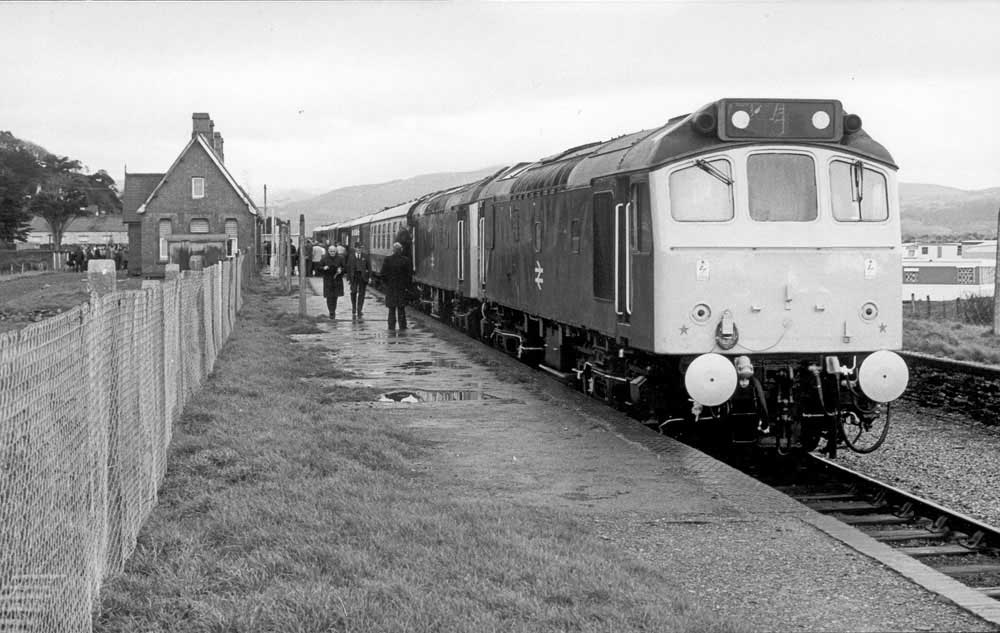 Photograph courtesy Geoffrey Bannister.
25259 & 25278 stand at Aberdovey on a damp November 25th 1982 having conveyed the Prince & Princess of Wales for a visit to the area. Clearly visible on the cabfront & lamp iron is the cable carried by the locomotive to support the radio telephone communication equipment. This is believed to be the last time that Class 25s were called upon to work the Royal Train.
On December 29th 25278 was stabled at Cricklewood.
1983
A very damp May 1st found 25278 in charge of the LTE 'Metroland' railtour between Amersham & Rugby.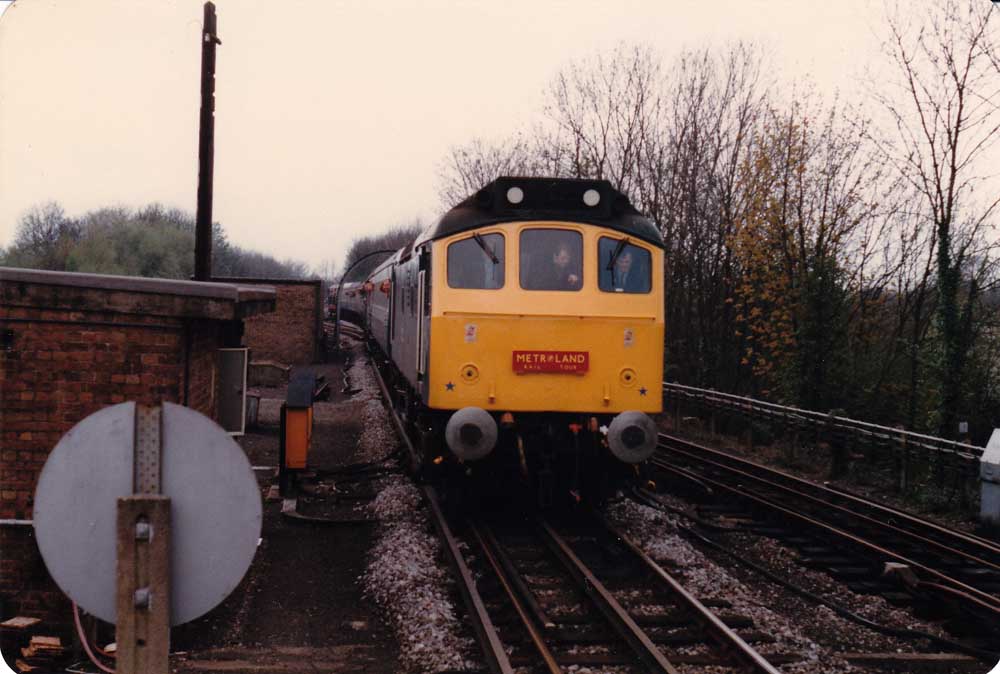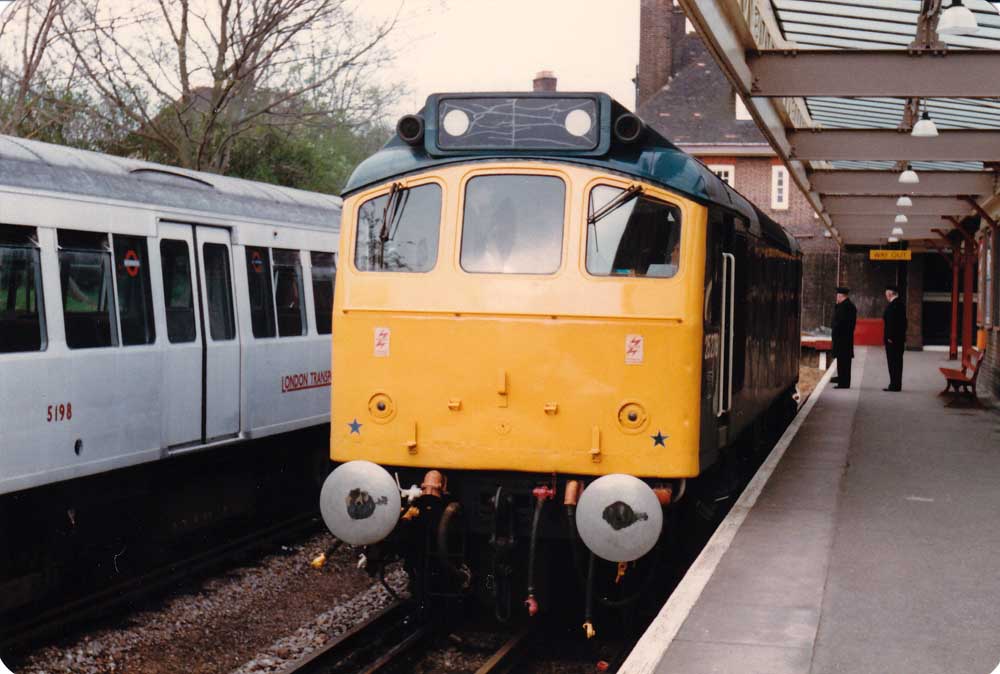 Photographs courtesy Ed Kilby.
Two views of 25278 at Watford on the Metroland railtour. Silver buffers and a cleaned up cab front aid the appearance of the locomotive on this otherwise overcast day. The excellent condition of the locomotive was made possible by the hard work of Bletchley apprentice Jerry Roberts.
The choice of 25278 for the above mentioned railtour was made by Bletchley rolling stock inspector Jimmy Brown & TME Keith Jackson. The excellent external condition was created by Bletchley apprentice Jerry Roberts. It took three evenings to clean the locomotive by hand using meths to clean and polish the bodywork. The cab fronts received a fresh coat of yellow paint. The silver paint applied to 25278 for its Royal Train working during the previous November still lingered on the buffers, these were cleaned and repainted. Even the control desk in the cabs were given a thorough cleaning.
On May 26th worked eighteen empty ICI hoppers from Northwich to Tunstead.
After seven years allocated to Cricklewood 25278 was transferred north to Crewe during June.
On June 17th 25278 was eastbound at Llandudno Junction with a short freight.
On July 1st 25278 was noted at Kearsley with the Greater Manchester binliner.
On July 6th at Northwich station the 15.28 diesel multiple unit ex-Chester failed, 25278 was brought off shed but was not able to couple up to the unit, eventually replaced by 25191.
On July 17th 25190 & 25278 were noted at Rugby with ballast wagons.
On July 29th 25278 was northbound at Glendon North junction with a loaded brick train.
On September 7th 25278 worked the 8T62 Garston - Arpley Yard via Latchford sidings with eleven wagons filled with scrap.
On October 8th 25278 & 25259 worked the Broughton Lane to Ditton British Oxygen tanks, this was frequently a Class 25/40 combination.
1984
25278 was transferred to Carlisle Kingmoor during January.
On January 13th 25278 was noted arriving at Glasgow Central dragging a failed 47108 with a service from Carlisle. The next day (14th) 25284 & 25278 were noted at Carlisle station with a short parcels train. On January 18th 25284 & 25278 were stabled at Carlisle station with at least one snowplough.
A late night working for 25278 on February 21st was the 22.58 Crewe - Preston via Chester.
On February 23rd 25278 was southbound at Golbourne with empty flat wagons.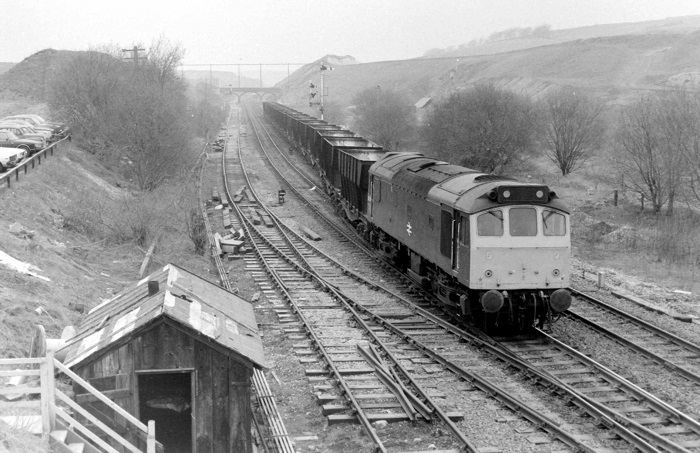 Photograph courtesy Steve Rickett.
25278 arrives with another train of ICI empties, March 23rd 1984.
On April 11th 25278 was southbound at Lancaster with a nuclear flask train.
When 86216 failed at Lichfield City on May 10th working the 15.50 Liverpool - Euston 25278 was on hand to drag the train to Nuneaton, where 25194 & 31201 took over!
25278 was noted at Chester on June 4th. Diesel multiple unit troubles in the Carlisle/Newcastle area on June 13th led to 25278 handling four diesel multiple unit workings starting with the 08.55 Carlisle - Newcastle. The Class 25 returned to Carlisle in time to take up the 15.40 Carlisle - Newcastle followed by the 17.25 Newcastle - Durham and the return 17.54 working to Newcastle.
June 21st's Tyne Yard – Carlisle Speedlink featured 27059 & 25278, the Class 27 having arrived on the Stranraer Speedlink.
On June 26th 25278 was northbound light engine at Carlisle.
On July 25th 25325 & 25278 were northbound at Crewe with a loaded sand train.
At 3pm on July 27th 25278 was noted at Derby with a Research train comprised of three coaches.
Cambrian metals were traversed on September 8th with 25278 & 25287 working the 07.44 Shrewsbury - Aberystwyth. The train hit a car on a crossing just outside Aberystwyth. Despite this incident the locomotives were able to work 10.10 Aberystwyth - Euston as far as Wolverhampton.
On September 18th 25278 was southbound at Penrith with a ballast train.
1985
On February 1st 25278 worked a Spekeland Road - Leeds parcels.
The 6S75 12.55 Severn Tunnel Junction - Mossend freight on February 5th was worked by 25278 hauling a lengthy train of Railfreight liveried short wheelbase wagons.
On March 16th 25278 & 25309 worked the early morning Ditton – North Wembley BOC tanks, presumably due to a shortage of electric locomotives.
On March 19th 25278 & 25286 were noted on the Crewe avoiding lines with a BOC bogie tank train.
On a dull March 21st 25278 was light engine at Willaston.
On March 30th 25278 was noted at Birmingham New Street and Northampton with a parcels coach.
On April 3rd 25278 was southbound at Nuneaton with a parcels train.
On June 8th the 05.30 Wolverhampton - Harwich utilised 25278 as far as Leicester. Two days later (10th) 25278 worked the 16.40 Norwich - Birmingham New Street forward from Leicester after 25089 had been failed.
25278 made a brief appearance on June 22nd dragging a Milton Keynes - Manchester Piccadilly service from Macclesfield to Manchester Piccadilly due to the power being switched off for engineering works.
It was off to Blackpool for 25278 on July 5th working the 16.45 Euston - Blackpool forward from Preston. It returned south the next day with the 06.30 Blackpool - Euston as far as Preston. 25278's next passenger working, one week later on July 12th was a little more adventurous, working the 1V46 12.55 York - Cardiff relief service throughout! Presumably Control at York did not have many spare locomotives to handle this Friday afternoon relief and the use of 25278 would provide an easy way to remove this Class 25 from their operating area. For any enthusiasts out there on this Friday afternoon it must have made a fine sight as it drew up at the stations along the route. As a native of Derby I can just imagine sitting on a barrow at the south end of Platform 4 pondering what might be in charge of this York - Cardiff relief as its imminent arrival would be hailed by the station announcer.
Once identified it would also be of interest in that 25278 was alone in handling this train and remarkable that at each major station the potential was out there for this little locomotive to be replaced. But it never was. In this day and age (2008) of instant global information/communications, the happenings of 25278 on this day a generation ago must have brought a smile to the enthusiasts witnessing this little scene play out along the route. Its been many years since I was spotting at the south end of Derby station, but I can just imagine 25278 ticking over near the end of Platform 4 awaiting departure. There would be a low hum from the point motors as the route was set for the Birmingham direction. The red signal would change to green, the 'W' would appear in the indicator box. The driver would look back down the platform, the last carriage doors would slam solidly shut, the guard would roll out the green flag and give a firm blow on his whistle. The 'Right Away' would appear, the cab door would then slam shut, the urgency of the engine exhaust would change, the brakes would release and for any Class 25 enthusiasts present this was a little bit of heaven here on earth. That unmistakeable sound would echo across the station as 25278 drew its train out of Platform 4, across the pointwork for the London lines and under London Road bridge and on towards Peartree & Normanton. Pretty soon all vestiges of this event would be gone and the station would return to its slumbers until the next arrival brought everything to life.
Would 25278 make it all the way to Cardiff? I suspect most would have said no, it'll surely get replaced at Birmingham New Street, or fail en-route. But the little locomotive held together for the 232 miles and Control left it alone - happy days!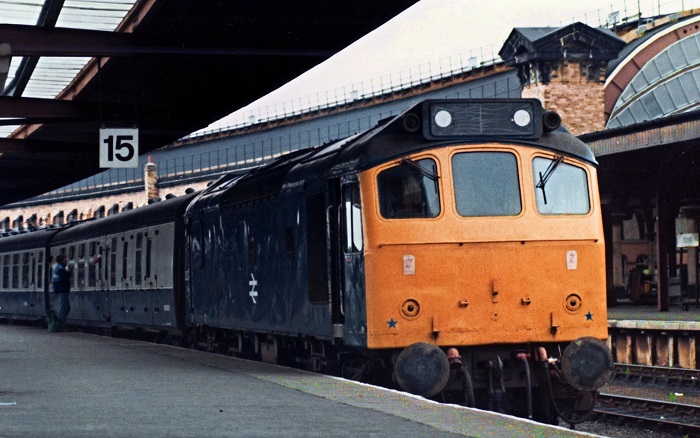 Photograph courtesy Graham Termorsche
July 12th 1985, 25278 waits at York for departure of the 12.55 York - Cardiff relief, which 25278 would work throughout.
On July 13th (assumed) 25278 worked the six coach 15.18 Cardiff - Manchester Piccadilly.
On August 10th 25278 worked 11 loaded bogie ballast wagons from Mountsorrel to??
On August 31st 25278 was noted at Hereford with the seven bogie vehicles of the 3V20 Manchester - Bristol parcels.
25278 was noted at Derby on September 10th and at Leicester on September 12th.
On September 17th 25278 was at Chester with oil tanks.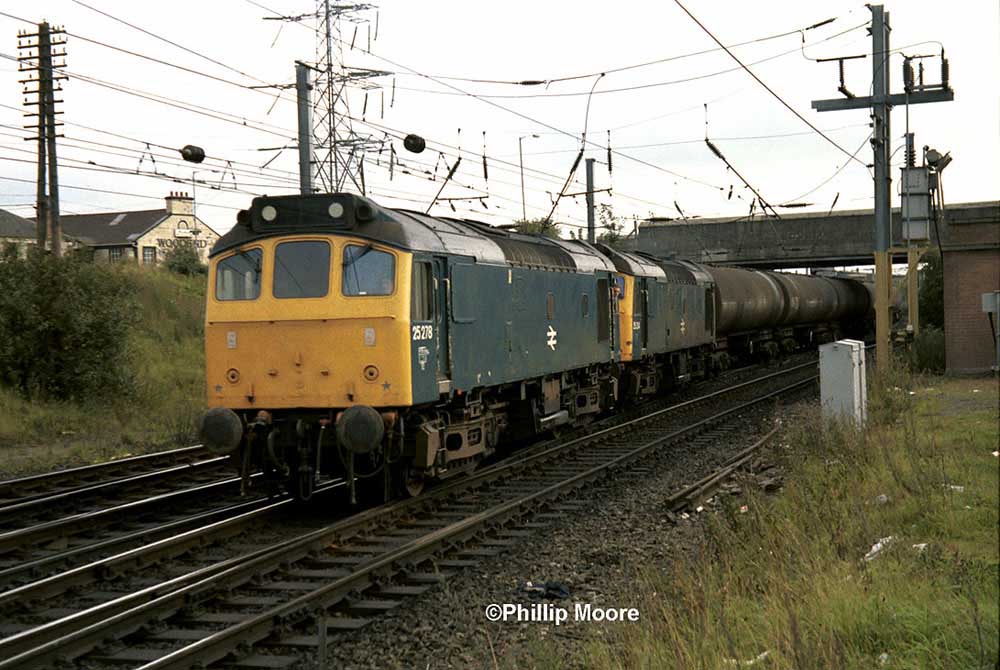 Photograph courtesy Phillip Moore.
25278 & 25324 Mossend September 27th 1985.
On October 19th 25278 was stabled at Nuneaton.
On November 19th 25278 was noted at Hooton on the 'Target 10' turn, on November 21st it was noted at March depot with 25268, whilst on November 23rd the same pair worked the roundtrip Stanlow - Neville Hill bogie oil tanks.
On November 23rd 25278 & 25268 worked a round trip Stanlow - Hunslet bogie oil train.
On November 23rd Birkenhead Mollington Street held 25057, 25268, 25278 & 47247, the depot would close effective Nobvember 25th.
1986
A couple of failures at the end of January required the help of 25278. On January 29th the 09.28 Carlisle - Euston needed assistance from Carnforth to Preston following the failure of the Class 87. The next day the 09.02 Morecambe - Leeds diesel multiple unit required assistance from Carnforth to Leeds.
When two Class 31s (31259 & 31271) were transferred to Carlisle during, this allowed 25176 & 25278 to be transferred down to Crewe, 25278's last transfer.
On April 21st 25278 worked the ten wagon 6S81 Tyne Yard - Mossend Speedlink. On April 29th 31218 & 25278 were noted hauling an HST set southbound through Belper.
May 3rd saw 25278 & 25266 at Carlisle with a twelve coach Euston - Stranraer parcels train (having been diverted over the S&C), the Class 25s came off at Carlisle. The next day (Sunday 4th) the same pair were noted at Blea Moor, possibly for use in the event of failures of diverted services over the Settle & Carlisle.
On May 18th 25278 was westbound at Mold Junction with an empty train of spoil wagons.
On June 17th 25278 was noted southbound at Litchfield Trent Valley with ballast empties comprised of catfish, dogfish, sealion, mermaids and turbots. On June 19th 25278 was noted at Ryecroft with a well loaded 6V93 Mossend - Severn Tunnel Junction Speedlink. On June 22nd 25278 was at Worcester depot with 37224.
On July 5th 25278 & 25265 were light engines at Carlisle station.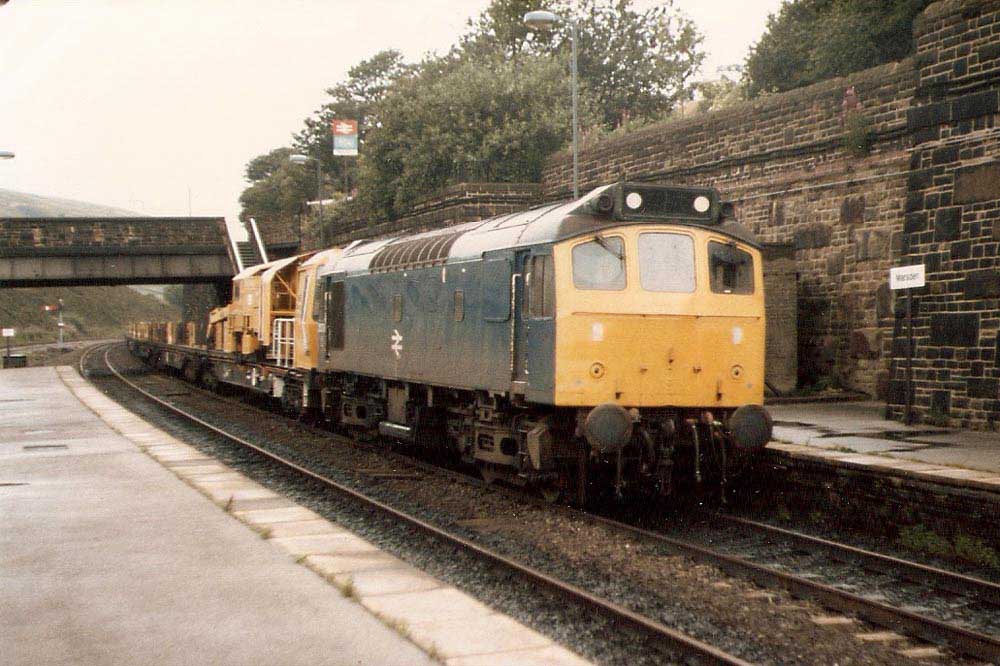 Photograph courtesy Mike Jones.
25278 eastbound with an engineers train at Marsden on July 31st 1986.
25278 was noted at Manchester Victoria on August 13th.
On August 21st the 13.00 Carlisle - Leeds was not a happy service having suffered the failure of the diesel multiple unit and its would-be rescuer, 31174. At Hellifield 25278 was added to drag everything to Leeds.
On September 3rd the 6E96 Stranraer - Tyne Yard Speedlink was worked by 25278 and loaded to at least 32 wagons, one wonders how the locomotive sounded as it handled the rising grade from Corby Gates to Brampton Fell? The load included a block of sixteen cement tanks.
25278 was in front line service over Shap on September 6th when overhead line damage required the 13.10 Glasgow Central - Euston to be dragged between Carlisle & Lancaster. Presumably this was an urgent request on this Saturday afternoon and 25278 was the nearest available locomotive. The remaining Class 25's were still very active over the WCML on a variety of freight workings but by this time their use on passenger duties over Shap were virtually non-existant. So it must have come as a bit of a surprise to find the Class 87 and its train being coupled on to by 25278 at Carlisle. Were any last minute tickets purchased to capture this potential last ride behind a Class 25 over Shap? Who knows, but 25278 did its job in getting the train to Lancaster.
On September 11th 25278 was eastbound at Rhyl with a lengthy spoil train.
On October 19th 25278 was at Crewe Diesel depot receiving attention.
The southbound Gulf Oil tanks were still bringing Class 25s into Hereford, where they were exchanged for Class 37s, so noted on October 28th was 25059 and November 4th with 25278, the latter with 11 bogie oil tanks. On November 6th 25278 was noted northbound light engine at Hereford to assist a Waterston - Weaste oil tank train which had slipped to a stand at Craven Arms, the Class 25 assisting through to Shrewsbury.
On November 11th 25278 was noted at Hereford with possibly the Albion - Waterston 'Gulf' oil tanks.
On December 7th 25278 hauled the 18.20 Glasgow Central - Manchester Victoria forward from Preston.
On December 18th 25278 was at Aberystwyth with the fuel tank train from Stanlow.
Sometime during 1986 the locomotive acquired the painted name 'Castell Powys/Powis Castle'.
1987
The New Year opened with 25278 in the Shrewsbury area on January 1st. By January 6th it was at Crewe awaiting attention to its traction motors. 25278 was noted at Crewe station on January 11th with an electrification train. On the evening of January 13th it was noted at Curzon Street parcels and allocated to work the 3E16 to Peterborough. By the 16th it was at Saltley allocated to BM57 and was noted light engine at Saltley on January 17th.
Leicester was the location for 25278 at midday on 22nd having arrived on the 7T91. In the early hours of 25th 25278 reached Bedford having worked in on the 9X17. By the evening of the 27th it was back at Leicester and allocated to work the 1E77 to Peterborough and then return light to Leicester. It was then a trip north, arriving on the evening of 29th on 9L18 and then running on to Carnforth stabling point.
On January 27th (or 26th) 37430 failed at Caersws on the 07.22 Aberystwyth - Euston. 25278 was on hand to take the train to Shrewsbury where it too failed and 20163 took the train forward, still with the Class 37 & 25 attached.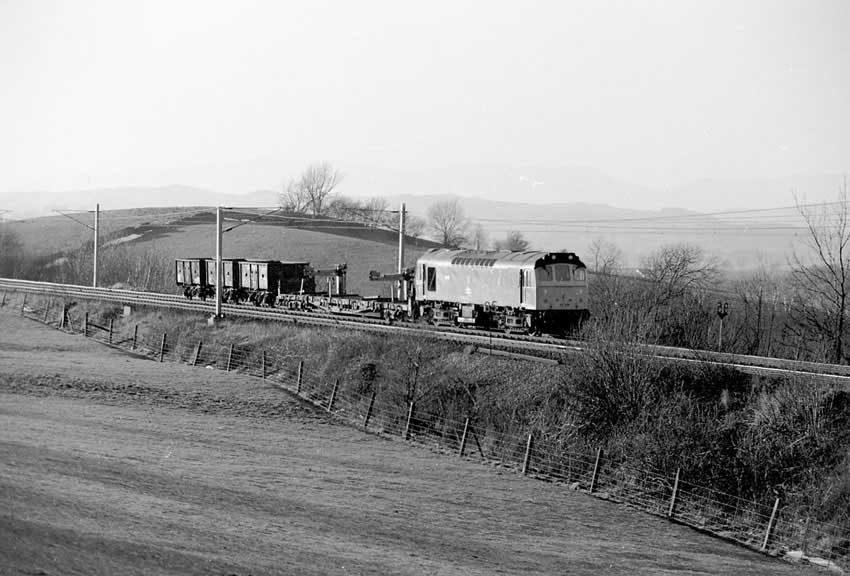 Photograph courtesy K Hughes RCTS HUO 1743.
25278 drifts up Shap at Hayfell on January 30th. By February 1st it was at Nottingham arriving on the 1M65 22.37 ex Glasgow, diagrammed north with the 1E94 to Sheffield (did it work it?).
On the morning of January 31st 25278 arrived at Nottingham PCD having worked the 1M65 22.37 ex Glasgow Central from ?? It was then allocated to the 1E94 to Sheffield.
The last recorded passenger working for 25278 was on February 1st when it hauled the 17.52 Liverpool - Cleethorpes from Sheffield to Doncaster.
25278 spent about a week in the Carlisle area, much of it attached to 25173. Late on February 10th it was booked to work the 6S56 to Dumfries with 25173 and returning with the 6M80 to Carlisle. These turns were also worked on February 11th & 12th. By midday on 14th 25278 was at Ayr. On the 18th it was noted arriving at Carlisle with the 6E95, and then being allocated on the 6S56 to Dumfries and 6M80 return. It was then allocated to the 19th's 3S07 02.50 Carlisle - Ayr.
By the evening of February 20th 25278 was at Carnforth and allocated to 21st's 9L42 to Preston. By teatime on 23rd 25278 was at Polmadie. It was diagrammed for 24th's 1M65 22.37 Glasgow Central - Nottingham as far as Carlisle where it was allocated to the 8X55 to Sellafield with 25173. During the night of February 27th 25278 arrived at Tyne Yard with seven wagons, presumably from Carlisle.
In the early hours of March 1st 25278 was at Oxenholme on the 8L65. Late on the 3rd 25278 was noted at Falkland Junction on the 6E95 Stranraer Town - Tees freight (to Carlisle?). Following this it was allocated to the 6S56 06.39 Carlisle - Dumfries. On the evening of the 6th it covered the 6E95 turn from Falkland Junction to Carlisle again. By lunchtime on 7th it was at Carnforth, it was also noted this day ar Carlisle station with 40122 & 47211.
On March 10th 25278 worked a Sellafield – Bridgwater nuclear flask train, taking up the return working on 11th (the last Class 25 to work on Western Region metals?). On March 12th 25278 was noted working an engineer's train on the Chester - Crewe line. During March 14th 25278 was noted with loaded stone tipplers at Stafford whilst later the same day 25278 was noted at Stafford working an eight coach engineers overhead line equipment train. It was next noted at Crewe on March 16th having come from the Longport Pinnox branch. It was diagrammed for jobs CE94 to Crewe & 8L76 Bescot - Crewe Basford Hall freight. On the afternoon of 17th 25278 was sent to Chester and was back at Crewe by early evening. A short while later 25278 was taken out of service.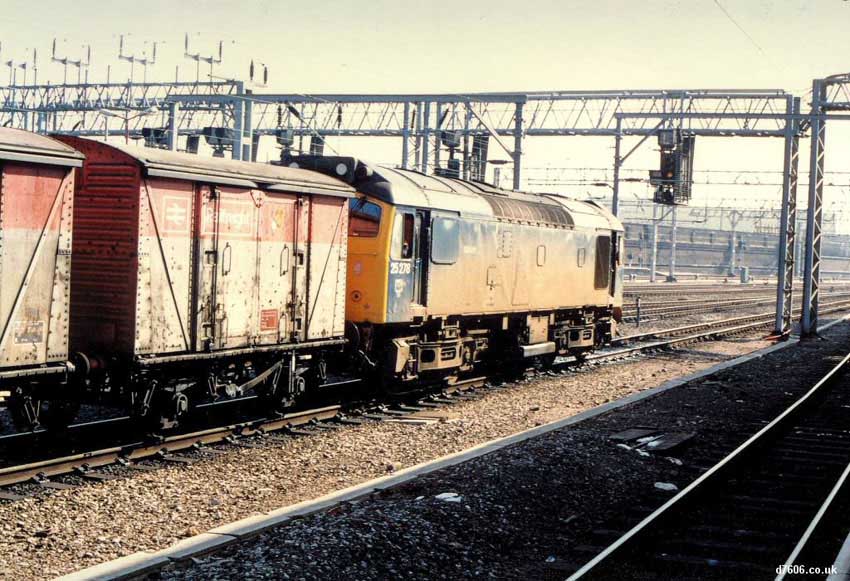 Photograph courtesy Ian Hammond.
Its 12.25pm on March 11th as 25278 drifts through Crewe station with a train for Stoke. Possibly the last working for 25278 was on the afternoon of March 17th working a roundtrip Basford Hall - Chester job (8L76). Upon its return to Crewe Depot that evening it was retired.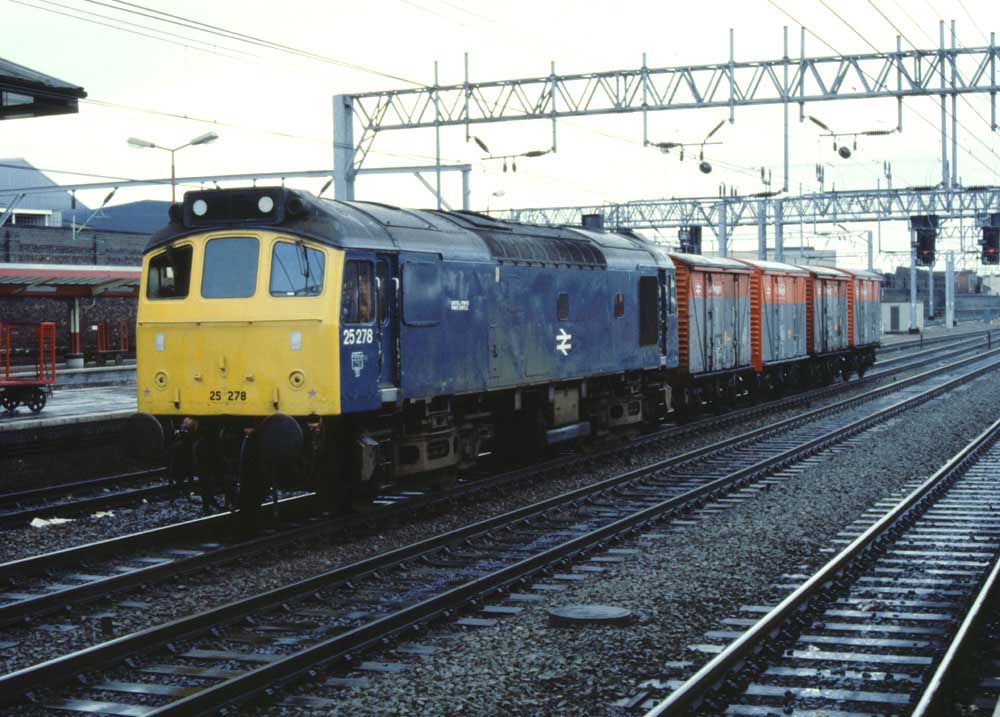 Photograph courtesy Jim Nisbet.
25278 at Crewe on its last day - March 17th 1987. 25278 also made a trip to Chester on this day, by the evening 25278 had been withdrawn.
Retirement & Preservation
By at least April 29th 25278 had moved to Basford Hall for storage. The last movement for 25278 came when it travelled with 25191, 25212 & 25313 as the Crewe – Vic Berry, Leicester on July 8/9th, 1987. The locomotive remained intact until at least late into January 1988. On January 25th 1988 25278 was removed from Vic Berry's yard beginning its journey into preservation at the North Yorkshire Moors Railway, arriving at Grosmont on January 29th. This trip from Vic Berry's was in company with also preserved 25191.
During 1997 D7628 worked 1,492 miles on the NYMR.
The NYMR eventually were allowed to operate steam services over BR metals to Whitby & Battersby. Whilst steam locomotives were primarily used on these services a contingency plan was drawn up to provide for a diesel locomotive in the event of a failure or non-availability of a certified steam locomotive. 7628 / 25278 was selected to be the back-up locomotive. Thus during the last quarter of 1999 the locomotive was certified by Railtrack for running upto 60mph.
During 2007 its certification for main line running was for a maximum speed of 45mph with Train Protection & Warning System (TPWS) equipment fitted. A test run was completed on June 15th 2007, running from Grosmont to Whitby, Battersby, then back to Grosmont. On a limited basis during July & August it top & tailed a number of steam services to Whitby. Its first scheduled run alone occurred on October 6th 2007 working the 'Rat Resurrection' railtour to Whitby, followed by occasional outings to Whitby & Battersby. From 2008 the Class 25 became a regular performer on the Whitby services with at least one daily diagram being diagrammed for the Class 25. During 2015 the Class 25 was in use for more than 160 days, running over 7,100 miles.
With thanks to Alan Baylis for the passenger workings and to Neil Cannon for the TOPS details. And to the photographers who have made available the views on this page.
52/3502
flk 1123 (not 7628)
Page added April 9th 2008.
Last updated November 24th 2023.
Back to 25277
Forward to 25279