D7665, 7665, 25315
and 25910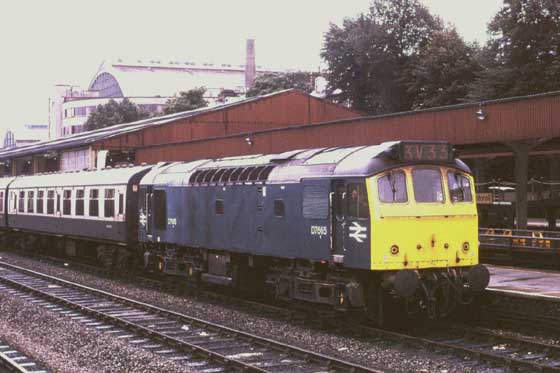 Photograph courtesy Tom Sutch.
D7665 at Kensington Olympia sometime during 1968.
The twenty year three month career of D7665/25315/25910 was spent allocated to a few London Midland Region depots.
Built Derby Locomotive Works.
Dual brake equipped from new.
Time between last Classified repair and withdrawal: 120 months.
Time between withdrawal & scrapping: 6 months.
Allocations
D7665 was new to the London Division (D01) on December 7th 1966. Further transfers were:
December 1968 to Birmingham Division (D02).
July 1971 to London Division (D01).
May 1973 to Cricklewood.
January 1974 to Willesden.
March 1974 to Cricklewood.
May 1974 to Willesden.
June 1975 to Cricklewood.
November 1981 to Toton.
June 1982 to Springs Branch.
July 1983 to Crewe.
November 1985 to Kingmoor.
Withdrawn March 18th 1987.
Renumbered into TOPS March 30th 1974.
Renumbered to 25910 December 4th 1985.
After withdrawal 25910 was stored at Crewe diesel depot, then to Basford Hall. It was moved to Humberstone Road Yard, Leicester on June 16th 1987 and into Vic Berry's yard on July 24th 1987. 25910 was broken up during the third week of September.
Works Visits
Works visits (records incomplete).
Noted Derby Works June 1970.
Noted Derby Works January & February 1977 (Classified & repaint).
Noted Derby Works August & September 1979 (N1 repairs).
Noted Derby Works November 1981 (N6 repairs).
Highlights
1966
Laid down in the summer of 1966 at Derby Works as part of order No. 11001 D7665 was part of the order transferred from Beyer Peacock. D7665 was delivered from Derby during December to the London Division (D01). D7665 delivered in blue livery with full yellow ends.
Twelve new Type 2s (D7660 - D7671) were allocated to Willesden to take over the empty coaching stock, parcels and local freight duties in the London area. With the arrival of these locomotives it was possible to release the remaining Class 24s to the Stoke Division, as part of the eradication of steam in the North West. Of this batch of Class 25s D7660 - D7669 were dual braked from new, whilst D7670 & D7671 were not, however these latter two were quickly transferred to the Nottingham Division (D16).
1968
Visitors to Southend during June were D5223 (3rd) on an excursion from Bedford and D7665 (16th) with an excursion from Northampton.
1973
It was a trip to the seaside (well almost) on August 4th when 5272 & 7665 worked the 08.30 Walsall - Yarmouth as far as Norwich, returning from there with the 14.30 return leg.
1974
In January 7665 moved to Willesden, then to Cricklewood in March and then back to Willesden in May.
Renumbered to 25315 during March.
1977
25315 was noted at Derby Works during January & February, This was the last classified repairs for 25315.
During the first week of June Cricklewood based 25315 was having adventures in the West Country leading the empty coaching stock of the 15.45 Lympstone Commando - Birmingham down the Exmouth branch, train locomotive 46004 was attached to the rear.
On June 2nd & 3rd 25315 was noted at Exeter stabling point. It was noted later that day at Exeter St Davids with 47031 working the 6O42 18.40 THO Burngullow - Sittingbourne freight.
On June 4th a 'Queen's Silver Jubilee Special' day excursion from Bideford to Paddington was worked as far as Exeter St Davids by 25223 & 25052. For the return leg 25223 & 25315 worked the train from Exeter St Davids to Bideford.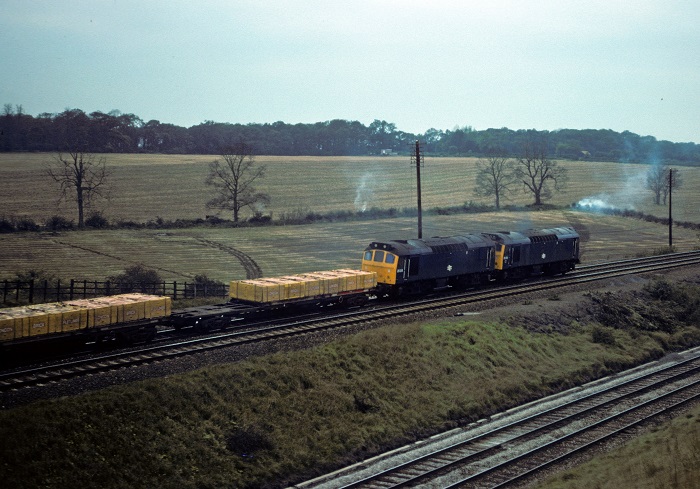 Photograph courtesy Roger Geach.
25315 & 25312 with the northbound loaded brick train on the fast lines at Sharnbrook on October 26th 1977.
1978
25315 & 25270 had a couple of busy days in the middle of August, on 19th working the 09.19 Manchester Piccadiily - Yarmouth as far as Lincoln, and coming back with the 09.19 ex Yarmouth. Two days later the same pair worked a round trip Leicester - Skegness.
1979
25315 was noted at Margam on February 6th.
On Thursday March 15th 25315 worked the 09.55 Willesden to Norwood and the return 12.00 Norwood to Willesden.
On the evening of April 6th 25315 & 25092 were noted at Crewe on a down coal.
25315 was back at Derby Works during August & September with power unit (N1) repairs.
1980
25315 & 25324 were noted passing Rugeley with the down Forders siding - Garston Fletliner on March 21st.
Noted shortly after midday on April 3rd (Maundy Thursday) were 25315 & 25316 working a Redlands Mountsorrell - Radlet stone train.
On June 2nd 25315 was noted at Cricklewood depot.
25327, 25315 & 45120 were noted running light engines passing Cudworth on June 3rd.
25315 & 25326 were noted at Forders Siding on August 1st.
On September 2nd 25315 was noted at Wolverton with a wiring train.
1981
January 19th found 25315 in trouble on the northbound Fletliner, suffering a seized traction motor at Wellingborough. Assistance arrived in the shape of 47149, replacing the defective Class 25 and sister 25326.
On July 28th 25266 & 25315 were noted at Bedford with a lengthy freight, possibly wagons loaded with bricks.
During the first week of August 25315 was active in the Exeter area, on 3rd being noted on a Barnstaple service.
25315 was transferred to Toton during November, the same month it was noted at Derby Works for N6 repairs. On December 13th it was noted on the 02.25 Euston - Bletchley forward from Watford Junction.
1982
On January 4th 25315 worked the empty Fletliners from Kings Cross goods to Forders siding.
25144 was noted stabled at Nuneaton on the morning of March 2nd, along with 25262 & 25315, whilst two other pairs of Class 25s passed through the station. A scene that would not be repeated for much longer as the infestation of Class 31s into former Class 25 territory continued.
25315 was noted southbound at Preston with the 5J42 Carlisle - Red Bank parcels empties on April 12th.
On June 22nd 25315 was noted on a Tunstead to Oakleigh ICI limestone working.
On July 27th 25315 & 25286 worked the Ellesmere Port - Cranmore bitumen tanks and the return empty tanks.
25315 & 25286 were stabled at Birkenhead Mollington Street on August 1st, then later the same day noted southbound at Crewe with a train of UKF fertiliser PWA vans.
On August 19th 25315 was noted at Euston on the parcels side. 25315 assisted three services between Watford Junction & Willesden on August 22nd due to engineering work requiring the power to be turned off.
On September 3rd 25315 made very heavy weather of the eleven coach 07.36 Northampton – Euston, the slow line was taken at Ledburn to allow the Class 86 powered 07.46 ex Northampton to pass!!
On November 3rd a diverted freightliner service was noted northbound through Hereford with 25315 & 25303. 25253 & 25315 were noted passing Stoke on Trent with a train of sand from Oakamoor on November 16th.
On December 2nd 25315 worked the 6X84, 1 vehicle, 218 tons, 60mph maximum Burn Naze - Preston N U Yard, having arrived earlier with 6T84 from Walton Old Junction.
1983
The 13.15 Stranraer Harbour - Glasgow Central featured 25315 & 26040 for the first leg of the journey to Ayr on January 19th.
25315 was noted at Reddish depot on March 12th & 13th receiving attention. 25315 was noted with a loaded coal train at Cwmbran on March 30th.
On May 3rd 25315 handled an extra Holyhead – Pengam freightliner.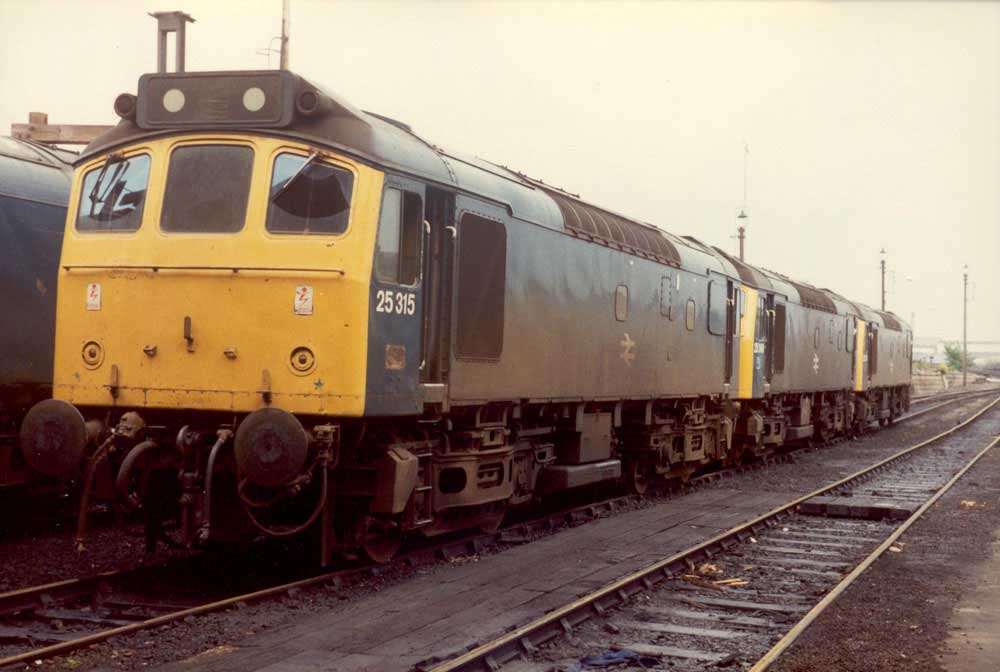 Photograph courtesy Jerry Glover.
25315 keeps company with 25249 & 25210 at Birkenhead on May 30th 1983.
25315 & 25249 were noted eastbound at Chester with oil tankers on June 3rd. The 10.10 Euston - Shrewsbury utilised 25315 & 25259 forward from Birmingham New Street on June 18th.
During July 25315 was transferred to Crewe. On July 7th 25315 was noted at York depot. At month end it was noted assisting an electric service between Bletchley & Rugby, the power was off for engineering work.
On August 9th the 07.34 Manchester Victoria - Liverpool was hauled by 25315.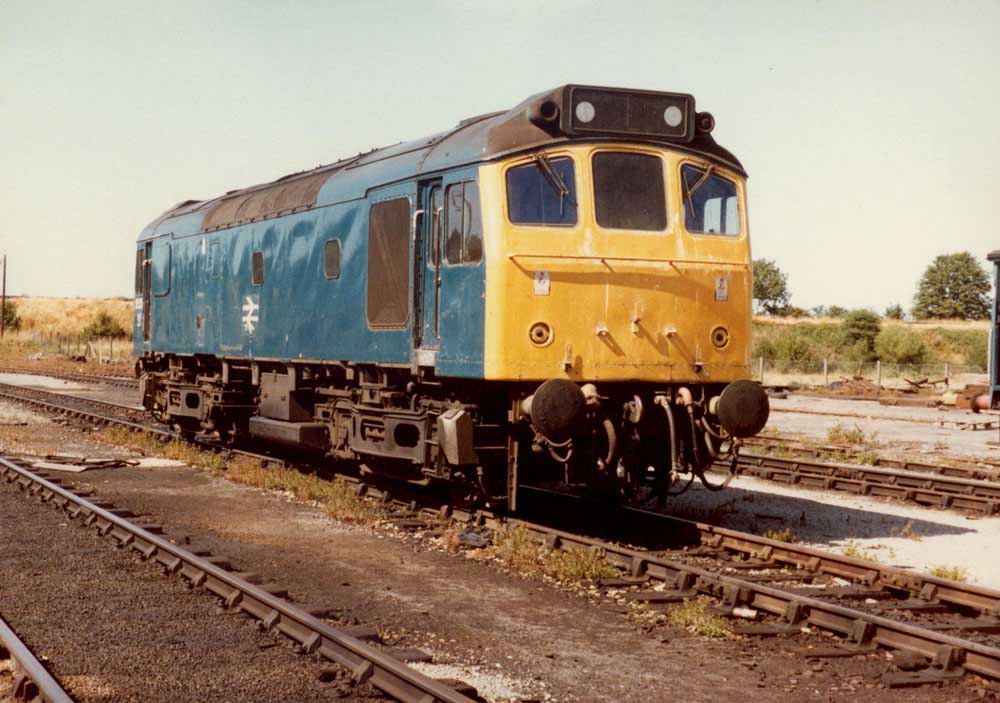 Photograph courtesy Jerry Glover.
A gloriously fine and sunny August 13th 1983 finds 25315 basking in the sun at Chester.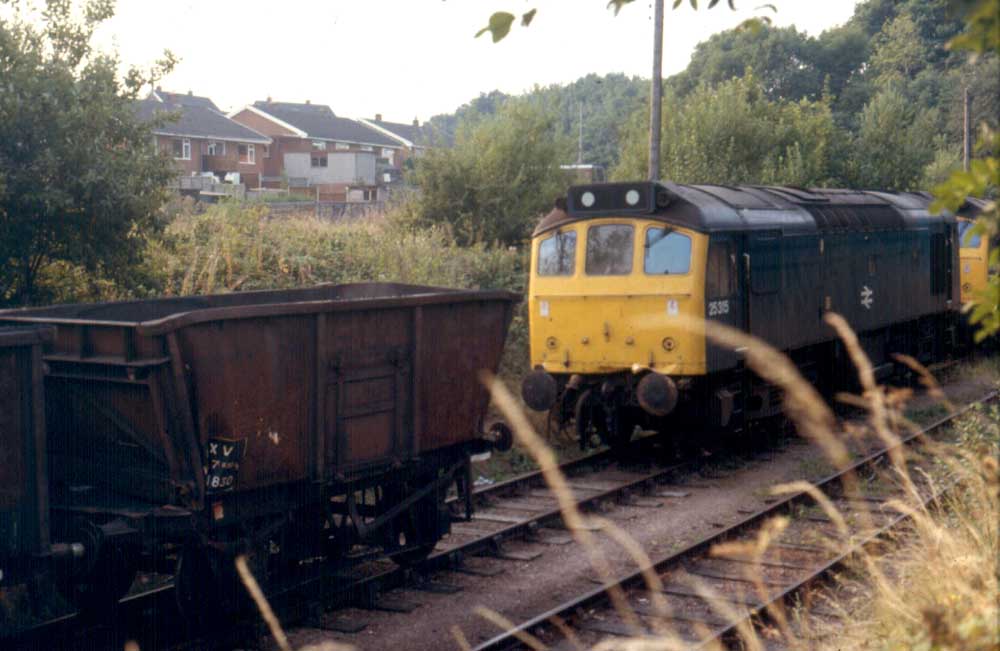 Photograph collection of webmaster.
25315 at Gatewen Colliery on August 19th 1983 under interesting cicumstances. The coal wagon has sustained some bodywork damage and the Class 25 has minor damage to the cab front at the bufferbeam level. The damage was quickly repaired and repainted, at least by September 22nd 1983.
On September 22nd 25315 was noted passing Plumley West signalbox with the 6E36 from Northwich.
25315 was stabled at Rugby on the morning of October 29th.
During the week before Christmas 25315 was noted on December 20th hauling an unadvertised Euston - Hemel Hempstead service, again power was off due to overhead line damage.
1984
25315 was noted at Birmingham Moor Street on ballast duties on a sunny January 29th.
On March 30th 25262 & 25315 were noted northbound at Crewe with a loaded sand train.
A phenomenon involving the Class 25s was their popularity with a dedicated enthusiast following, one such group, the Midlands based 'Rat Roadshow' were usually found in various states of dereliction on many Class 25 hauled excursions and scheduled service trains. As evidence of their dedication to the cause an un-official headboard was frequently carried by the locomotive, one occasion being May 26th, when 25315 & 25037 worked the 07.44 Shrewsbury - Aberystwyth and coming back with the 10.10 to Euston as far as Wolverhampton. 25315 would appear twice more this year on the Cambrian services - the following week (June 2nd) with 25265 and on June 9th with 25288, in both cases covering the same diagram as operated on May 26th.
July 19th's 14.00 Scarborough - Liverpool became a failure at Patricroft, here 25315 was added to 47567 for the run to Liverpool. Three days later on July 22nd 25315 was on the Viaduct Inspection Train at Whalley viaduct. On July 31st 25315 & 25254 worked the 6V32 14.56 Ellesmere Port - Severn Tunnel Junction freight.
On August 27th 25315 was the Manchester Victoria pilot. On August 28th 25315 was noted at Winwick Junction with nine loaded bogie ballast wagons.
Christmas Eve travellers in North Wales had the delights of 25315 on an afternoon Llandudno Town - Scarborough service, the Type 2 replaced at Manchester Victoria by a Class 47.
1985
25284 & 25315 worked the 7M50 Bishopbriggs - Stanlow oil tank empties on January 9th.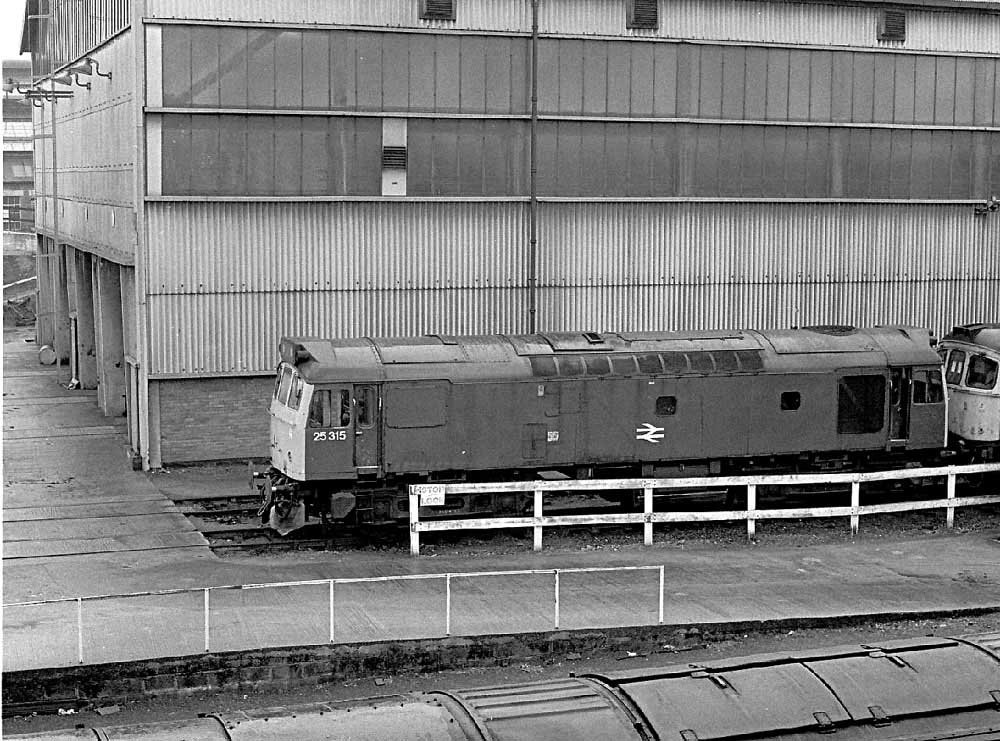 Photograph courtesy Tony Sayer.
25315 at Cardiff on February 3rd 1985.
On February 2nd the 07.45 Cardiff - Manchester was worked by 25315 to Crewe, possibly the result of the failure of 33014. 25315 returned to Cardiff with the 12.30 ex Manchester Piccadilly. February 18th's 17.25 Liverpool - Euston utilised 25315 & 25287 to Crewe via Chester, with a Class 86/2 taking over the train at Crewe.
25315 & 25322 were noted on the Stanlow - Neville Hill oil tanks on March 6th, presumably they worked the eastbound empties. A charter from Stranraer Harbour to Dover on March 7th was worked by 25315 & 27206 to Ayr where 20048 & 20137 took over. 25315 worked the 7L69 Willesden - Bletchley on March 18th.
25315 was noted northbound at Derby on June 13th with a freight train.
25315 (leading) & 26015 were noted on the 6B68 15.10 Inverness - Millerhill freight on July 10th, reportedly the last occasion that a Class 25 visited Inverness. The freight was to be placed in the Up loop at Greenloaning to allow the 1B36 Inverness - Edinburgh to pass, however the freight was too long so was shunted over to the Down line to allow the passenger train to pass.
25315 & 25286 covered the last leg of a relief Exeter - Edinburgh from Carstairs on August 5th. 25315 was stabled at March on August 10th. 25315 was stabled at Manchester Victoria East stabling point on August 30th and was also noted this day hauling a Class 304 unit at Cheadle Hume.
A diesel multiple unit failure on September 10th found 25315 covering the 07.47 Carlisle - Newcastle throughout. On September 21st 25315 was noted at Chester depot. On September 29th?? 25315 worked the 06.16 Barrow - Manchester Victoria service.
On October 2nd 25315 worked three passenger services between Preston & Liverpool. On October 5th 25315 was noted at York with the night mail to Shrewsbury.
25315 was noted passing Healey Mills with a freightliner on November 9th. 25315 was stabled at Crewe on November 30th.
25315 was transferred to Kingmoor in November and renumbered 25910.
1986
25902 & 25910 were noted dragging 47236 & 97405 at Chester on April 29th.
On May 4th 25910 was noted passing Clitheroe with an electrification train.
25910 & 25902 were noted southbound at Warrington on July 10th with a freight train.
On August 14th 25903 & 25910 were stabled at Carlisle depot.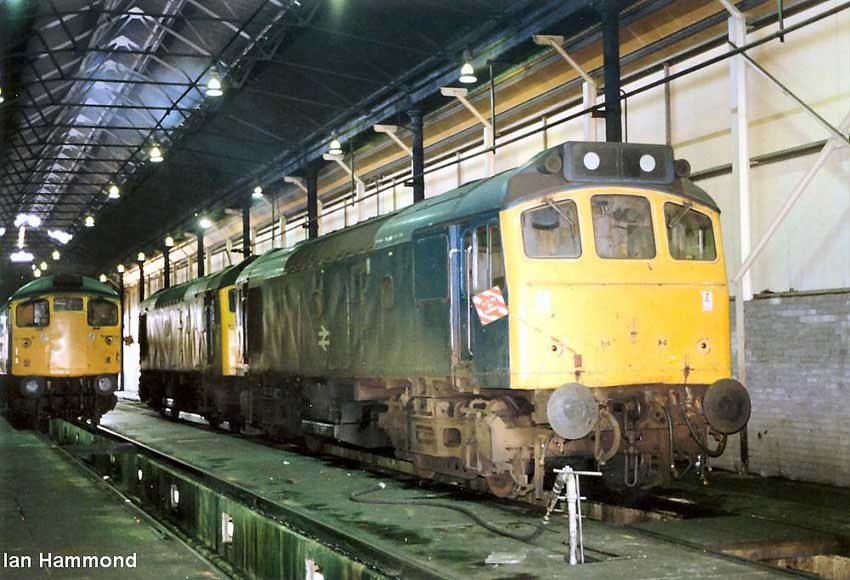 Photograph courtesy Ian Hammond.
Although in the final years the Type 2s were all allocated to the LMR they remained very active in the Scottish Region, made possible by the use of Carlisle drivers with their route knowledge north of the border. Here 25910 & 25903 keep company with 26015 at Motherwell on August 16th 1986.
On September 3rd 25904 & 25910 were noted eastbound at Chester with a Speedlink (?) freight. On September 28th 25910 & 25904 hauled 'The Mersey Ratcatcher' railtour from Liverpool to Crewe via Chester.
25901 & 25910 were noted at Warrington Arpley on October 3rd. 25910 & 25903 were noted passing Frodsham on October 13th with an empty log train.
On November 18th 25902 & 25910 worked the 6M54 10.18 Leeds - Stanlow bogie oil tankers.
1987
25910 (ex 25315) became one of the last remaining Class 25s in service, the following notes are mostly from the TOPS reports for 25910 during its last three months.
The final days of 1986 and the first days of 1987 were spent in the Warrington area. On January 2nd 25910 was noted at Chester for inspection and repair having been involved in a fatality, no other details of this are recorded. On January 8th & 11th it was noted in the Llandudno Junction area. On the afternoon of 11th 25910 joined up with 25902 to work a job to Ellesmere Port. This pair would remain together at least until January 19th, working jobs in the Llandudno Jct, Crewe & Warrington areas, including on January 19th being noted southbound at Warrington Bank Quay with the rubbish (?) train.
By January 23rd 25910 had been joined to 25912 working jobs to Deanside, Winsford, Over & Wharton and Garston to name but a few - how long this pair remained together is not known. By month end 25910 was running up the miles in the Warrington area.
For much of February 25910 was recorded working in the Llandudno Jct area, though by 24th it was stopped at Crewe with a compressor fault, repairs were expected to be completed by February 25th. 25910 came to the rescue of 47540 at Colwyn Bay on February 17th after the latter failed on a Holyhead – Stratford freightliner, both were replaced at Rhyl by 47140.
By March 3rd 25910 had reached Carlisle, with an 'A' & 'B' exam being carried out here. By March 6th 25910 was noted on the 6S81 Tyne Yard - Mossend. The next day it was back at Carlisle and then on to Warrington on the 9L63, it was noted at Warrington Arpley on the evening of March 10th. At lunchtime on March 12th 25910 was at Hall Royd Junction on a local trip freight.
By lunchtime on March 18th 25910 had completed a local trip job in the Crewe area and returned to Crewe depot, it was taken out of service partly because an examination was due. On the morning on June 24th it was moved down to Basford Hall for storage. On July 16th 1987 25042, 25058, 25285 & 25910 moved as the 9L37 10.50 Basford Hall - Leicester Humberstone Road, this batch of locomotives were tripped to Berry's Yard on July 24th as the 9T16. By the third week of September 1987 25910 had been disposed of.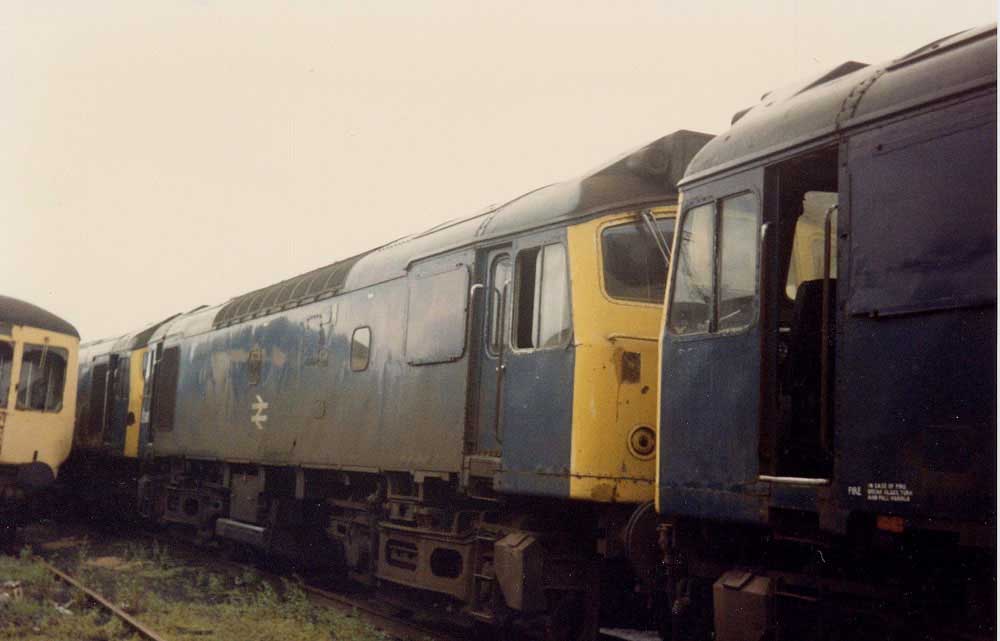 Photograph courtesy ??
Basford Hall July 11th 1987 - 25910 awaits its final movement to the scrapper.
Distinguishing Features
No.1 cab: driver's cabside: missing builders plate on cabside sheeting, green paint revealed: July 1982 - August 1984 (touched up by August 1985).
No.2 cabfront: 2nd man's side: small piece of missing paint at bottom right of electrification flash: April 1982 until withdrawn.
Three-piece miniature snowploughs fitted: February 1985 - July 1985 (not present October 1985).
A flamecut panel from 25910 showing the number sold at Stafford Auctions for £200 during January 2011.
With thanks to Neil Cannon for making available the TOPS reports for 1987.
00/00
flk 0317 (1)
Page added August 5th 2006.
Last updated April 18th 2021.
Back to 25314
Forward to 25316