D106, 106, 45106
Photograph courtesy John Griffiths

Spanning two decades of Class 45 workings, the Settle & Carlisle saw the Class 45's when they were brand new on long distance 'named' passenger workings. Here is 45106 in the pouring rain at Appleby late in its career, but still with a solid load behind the drawbar. The rhythmic beat of the jointed rail, the rain coursing across the windows and the steady output from the locomotive can easily send one off to sleep, as some of the grandest scenery in England that is visible from a train rolls on by.

1961
Crewe Works would build a large batch of the Class 45's, from D50 to D137, which included the transfer of some orders from Derby. Hence they were not delivered in order in the case of D106 for instance, it would be delivered before the numerically lower D50 - D67!

Crewe laid the frames for D106 sometime in the spring of 1961, with completion early in the summer, delivery being made to Derby on June 17th 1961.

1962
D106 was transferred to the North Eastern Region during June.

1964
During February D106 returned to the LMR, now allocated to Toton (16A). Its stay here was brief, during April D104 - D107 moved to Leicester (15B). Then two months later this same batch of Peaks moved to Cricklewood (14B).

1967
The big reorganisation on the LMR in the latter half of 1967 and early 1968 found D106 caught up in these moves, becoming part of the Nottingham Division (D16) during November.

1970
Race workings for Ascot found 162 in charge of an Ascot - Manchester service on June 16tth & 17th with 106 covering this working on June 20th - all other extras were in the hands of Class 47ís.

1979
General repair Derby about September 1979.

1981
On April 7th 45106 was working the 1E55 16.50 St Pancras - Leeds. By the 21st it was on the 1E58 18.15 St Pancras - Sheffield, returning south with the 1M27 22.11 Sheffield - Derby. On 24th it was noted on the 1M64 18.03 Sheffield - St Pancras. By the 28th it was noted on the 1E58 18.15 Sheffield - St Pancras.

On May 27th 45106 was on the 1M24 13.00 Sheffield - St Pancras.

June saw 45106 spending time between working the St Pancras - Sheffield/Leeds route and over the Bristol/Cardiff - Newcastle route. Between June 3rd & 15th it was consistently working the NE/SW route whilst for 28/29/30th it was on the Midland Mainline, including working the down Master Cutler on 30th.

July 7th & 17th saw 45106 on Midland Mainline services, whilst during the last half of August 45106 saw a great deal of activity between St Pancras & Sheffield/Leeds.

October found 45106 spending frequent time working between St Pancras & Sheffield, on October 20th it worked the down Master Cutler, then worked an unrecorded trip to Manchester, coming back early on 21st with the 3E01 Manchester Mayfield - Peterborough parcels.

Early in November 45106 was on the NE/SW route, but at least by the middle of the month it was back working over the Midland Mainline to the end of the month.

The latter half of December found 45106 as a solid performer on the St Pancras - Sheffield route, on 17th & 18th it was in charge of the down 'Master Cutler'.

1982
The first half of January continued to see 45106 on Midland Mainline workings, by the third week of January it had transitioned to the NE/SW route (19th & 22nd).

From February 10th to at least February 19th 45106 was on the NE/SW route, during the early hours of February 13th it was noted heading north on the 4S88 Pengam - Edinburgh freightliner, returning south with the 10.08 Newcastle - Cardiff.

On March 6th it was noted on the 10.21 Penzance - Bradford 'Cornishman', by March 14th it was pounding the St Pancras - Sheffield circuit.

April Fools Day found 45106 still on the Midland Mainline, but by April 6th it was back on the NE/SW runs, on April 6/7/8th it was recorded on the 16.06 Bristol - Newcastle. It worked the northbound Cornishman on April 15th, but had migrated to the Midland Mainline services after April 20th, that day included its use on the down 'Master Cutler'.

The first half of May found 45106 working the Midland Mainline services, the 13th including the down 'Master Cutler'. Midland Mainline service continued into the first three weeks of June, working the down 'Master Cutler' on 10th & 16th, on 10th it was later noted on the 3E01 Manchester Piccadilly - Peterborough parcels.

The third week of July saw 45106 operating over the NE/SW route, noted working the 17.37 Cardiff - Leeds on 20th & 21st. 45106 was noted on Midland mainline workings at least on August 12th & 31st. The first three weeks of September saw consistent service on Midland mainline services, being noted on the down Master Cutler on 8th, 15th, 21st & 23rd, with the latter two being later recorded on the 3E01 Manchester Picadilly - Peterborough parcels.

November 4th found 45106 in charge of the 1E10 over the NE/SW route, arriving Leeds on time at 11.30am with a load of nine coaches, 314 tons.

1983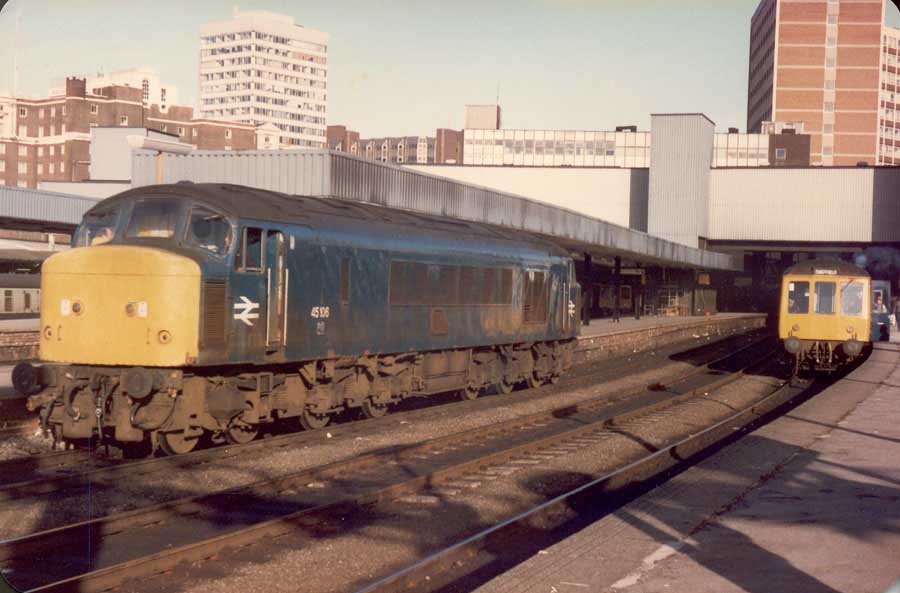 Photograph collection of webmaster.
45106 runs through Leeds City station sometime during May 1983.
May 26th 45106 on 07.20 Bedford - St Pancras and then 17.35 St Pancras - Nottingham
45106 on railtour in Newark area November 12th. WCML wires down at Garstang on November 17th 23.15 Glasgow - Euston arrived Newcastle behind 46026 went forward with 45106.
1984
Photograph collection of webmaster.
July 18th 1984 finds 45106 in charge of the 09.18 Penzance - Leeds at Truro.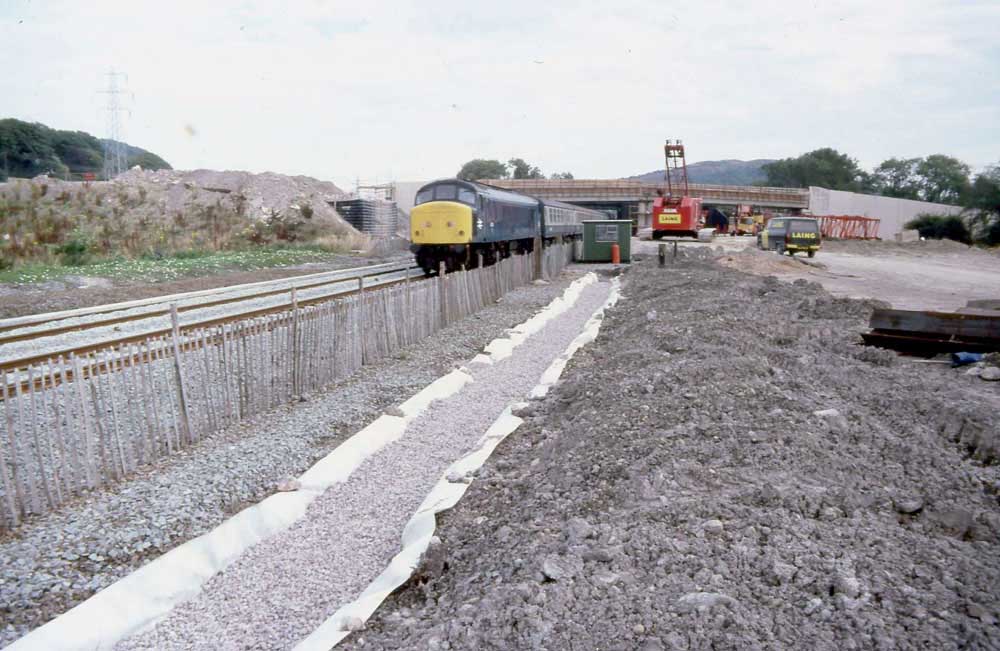 Photograph courtesy John Powell.
45106 on the North Wales mainline at Mochdre (Colwyn Bay) on August 18th 1984, watching its competition receive untold millions to improve the A55 trunk road.
1985
The last classified repair for 45106 was completed at Derby late in October 1985.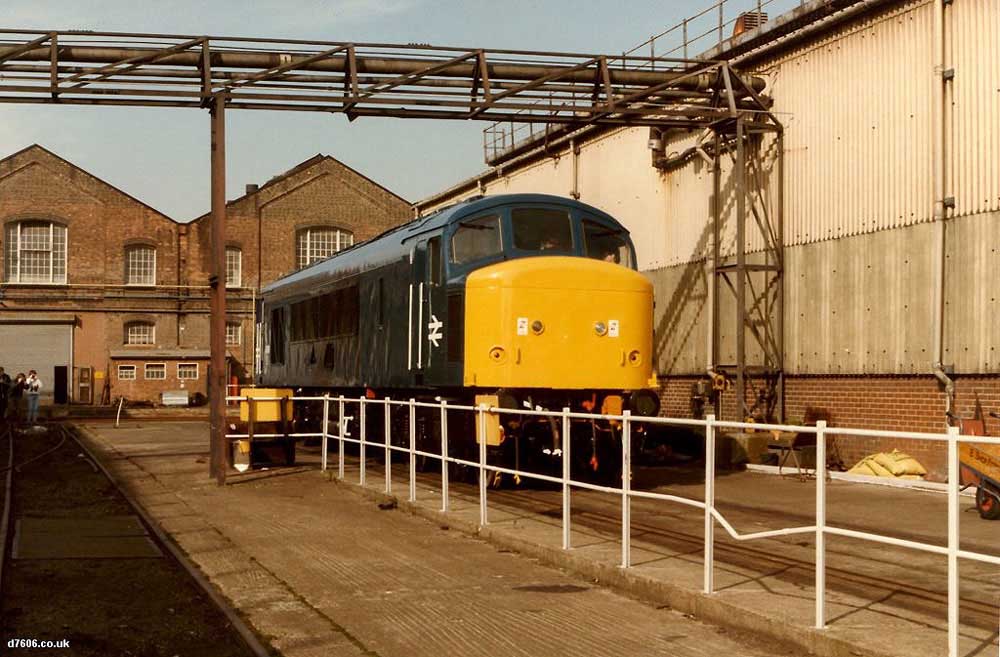 Photograph courtesy Ian Hammond.
Derby Works on October 12th 1983, BR's blue and yellow could certainly sparkle in the sunshine.
1986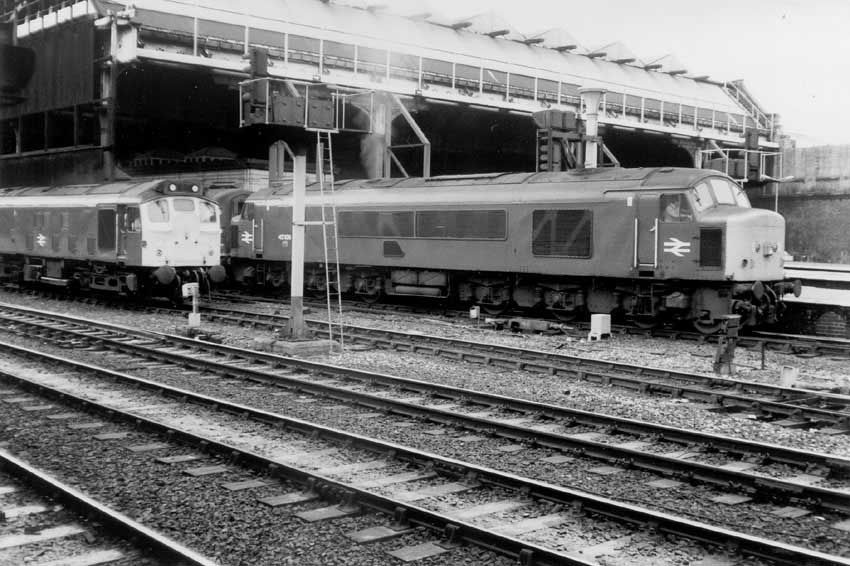 Photograph collection of webmaster.
Not sure of the date on this one taken at Manchester Victoria but 45106 has acquired a headlight, and the Class 25 is present, so possibly its sometime during 1986. Additionally '45106' has not yet been added to the nose panel.
1987
The end of the 1986/87 winter timetable saw the loss of the Class 45 passenger turns on the Trans-Pennine and Midland mainline routes. However the summer did bring a number of turns that frequently featured Class 45's filling in for Class 47/4's and a number of summer dated diagrams that returned the Class 45's to passenger haulage, in between their regular diet of newspaper, mail and van trains. The workings below detail some of the variety experienced by 45106 during the summer of 1987.
June 24th found 45106 working the 1P13 17.30 St Pancras - Derby. On June 27th 45106 handled the 1E56 11.00 Paignton - Newcastle (SO).
On July 8th 45106 handled the 1O45 7.45 Newcastle - Poole to Birmingham and returned with the 1E63 10.38 Paignton - Newcastle. On July 10th 45106 handled the 1O05 7.45 Newcastle - Poole as far as Birmingham returning with the 1E56 11.00 Paignton - Newcastle (SO). On July 11th it worked the 1O05 8.03 Newcastle - Weymouth to Birmingham returning with the 1E63 9.55 Weymouth - Newcastle.
The 1V67 10.10 Scarborough - Paignton was hauled by 45106 to Bristol on July 18th.
45106 was in charge of the 1V27 22.33 Bradford - Paignton on on July 24th, working as far as Bristol. It returned north the next day with the 1E65 09.25 Newquay - Newcastle.
During July Tinsley started to apply painted names to the remaining Class 45's. On August 18th 45106 was noted named 'Vulcan'.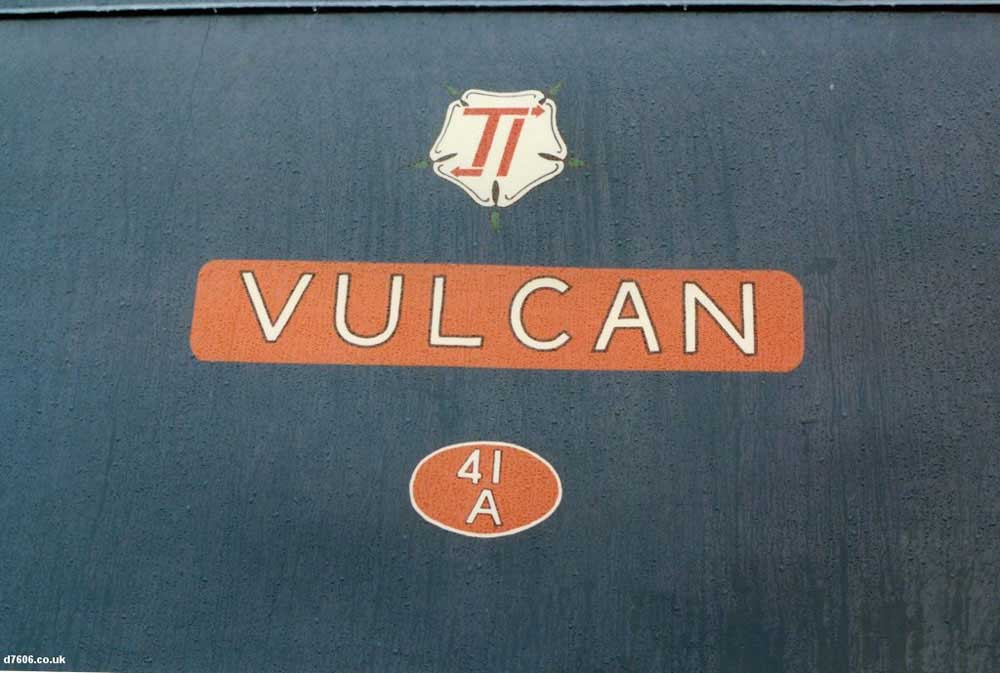 Photograph courtesy Ian Hammond.
The rain streams down the side of 45106, its 'nameplate' and crest tastefully painted on the side, October 10th 1987.
The 1V67 10.10 Scarborough - Paignton was hauled by 45106 to Bristol on August 22nd. It returned north with the 1M79 16.28 Newquay - Wolverhampton.
On August 24/25/27/28 45106 worked the 1E45 08.32 Birmingham - York and 1M86 18.09 return.
The 1M37 8.15 Paignton - Manchester Piccadilly was taken over at Bristol by 45106 on September 5th.
On September 19th 45106 worked the 1E56 11.00 Paignton - Newcastle.
September 27th found 45106 working the 1E02 10.52 Skegness - Sheffield, then running light engine to Manchester Piccadilly to work the 1E66 01.35 Manchester Piccadilly Cleethorpes newspaper train as far as Sheffield. It then ran to Tinsley for refuelling before returning to Sheffield to take over the 1M74 07.20 Harwich Parkestone Quay - Manchester Piccadilly service, and the return 1E87 15.25 as far as Sheffield.
Photograph courtesy John Griffiths.
Glorious Pennine weather greets 45106 on a southbound working at Appleby. With twelve coaches on and damp rail 45106 will probably not find this particular run up to Ais Gill a breeze.
Photograph courtesy John Griffiths.
With only four coaches on and an exhaust showing like this one, it must be presumed that 45106 has need to be out of Langley Mill very quickly on this Nottingham - Sheffield 'local' working.
The dwindling fleet of Class 45's had an uncertain future with the end of the summer 1987 timetable. Assuming the worst two railtours were arranged for the last two weekends of the timetable, just in case, like the Class 25's six months earlier, the authorities decided to pull the plug on the remaining fleet after the current timetable ended.
The tour on October 3rd was Pathfinder Tours 'The 45 Finale' and was handled throughout by Peaks, running as the 1Z46 06.30 Bristol - Scarborough, but it was certainly not quite their finale. 45106 started the tour from Bristol Temple Meads taking the NE/SW route via Worcester to Birmingham New Street, here 45007 joined the train, apparently all had not been well with 45106 since Hinckley. At Leicester 45107 was waiting to replace the ailing 45106 for the straightforward run to Scarborough via Sheffield & Ferrybridge. From there it was south to Hull, west to Goole and Doncaster, down the ECML to Peterborough, then cross country to Leicester and Birmingham New Street. Here 45007 was removed and 45107 returned to Bristol per the outward route.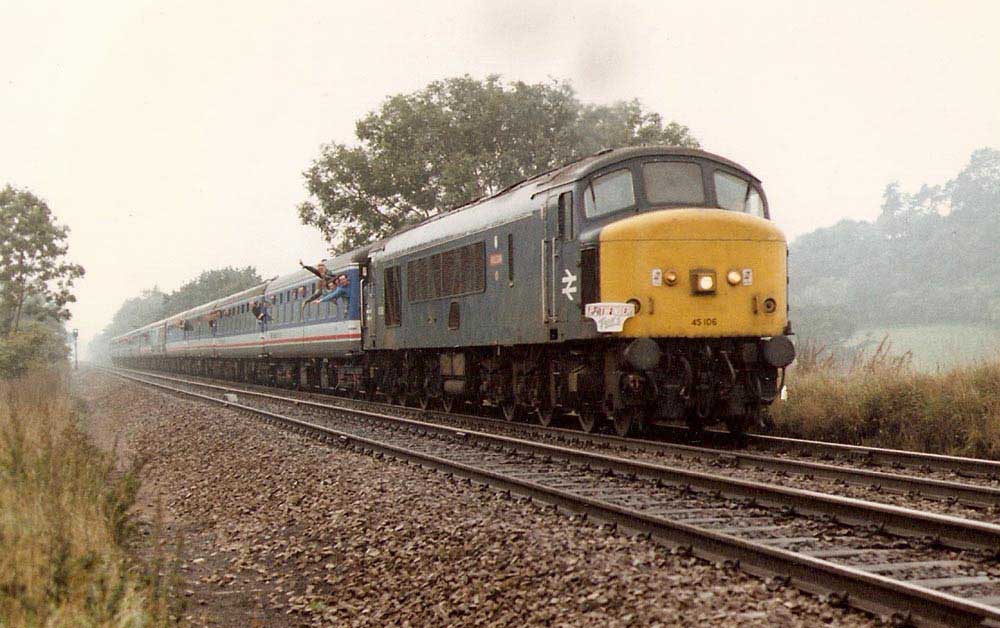 Photograph courtesy Mike Jones.
45106 attacks Lickey on the damp morning of October 3rd 1987. The locomotive exhaust is going straight up into the air, who knows quite what the enthusiastic railfans are up to!
Photograph courtesy Rob Wosley.
It looks like the weather has improved by the time the railtour reached Leicester, where 45007 and 45106 pause before the journey northwards continues. For 45106 the day is done, it will shortly be removed from the train and placed here by 45107.
Photograph courtesy Ian Hammond.
A week after the above view 45106 & 45128 are captured at Tinsley waiting for their next duties, October 10th 1987.
1988

Photograph courtesy Jerry Glover.
45106 keeps company with big sister 47598 at Tinsley on June 5th 1988. That's some pretty wonky looking rail under 47598.
45106 was withdrawn on July 27, 1988 but was later reinstated August 4, 1988.
Pathfinder Tours 'The Pathfinder Scot' on August 20th 1988 utilised 50030 from Reading to Birmingham via Bristol. At Birmingham 45106 took the train north via bescot to Wolverhampton and then on up the WCML to Mossend, Shotts and Edinburgh Waverley. The return was via Midcalder, Carstairs and the WCML to Birmingham, where 50030 was waiting to complete the return journey as outwards.
November 5th 1988 found 45106 in charge of Pathfinder Tours 'The Wessex Adventurer', starting at Manchester Piccadilly and off to Fawley via Birmingham New Street, Coventry, Banbury, Basingstoke, Southampton & Marchwood. On the return to Southampton a pair of Class 33's assisted 45106 on the rear, from Southampton 45106 took the train on to Bournemouth. For the journey to Weymouth Class 33's were in charge, with 45106 only rejoining the train at Weymouth Jct, returning north via Westbury, Swindon, Cheltenham, Birmingham and Crewe to Manchester Piccadilly.
On November 19th 1988 45106 worked portions of Pathfinder Tours 'The Lincolnshire Rambler'. It took over from a Class 47 at Sleaford (?) working on to Skegness, then back to Lincoln Central, Barnetby Immingham, Ulceby, Doncaster, Worksop, Sheffield, Toton, Sheet Stores Jct, Stenson Jct and onto Birmingham where another locomtive took the train on to Swindon.
Photograph courtesy Rob Wosley.
Bad behaviour by Class 50 enthusiasts on a railtour earlier in the year led to a ban on the use of Class 50s for the remainder of the year. November 19th's Lincolnshire Rambler had been diagrammed for a Class 50, but as a result of the ban a far superior machine worked much of the tour. Here 45106 waits at Skegness for the summer to arrive, for the photographer it was a quick trip down to the chippie for sustenance, then back to the coach for some kip before departure.
1989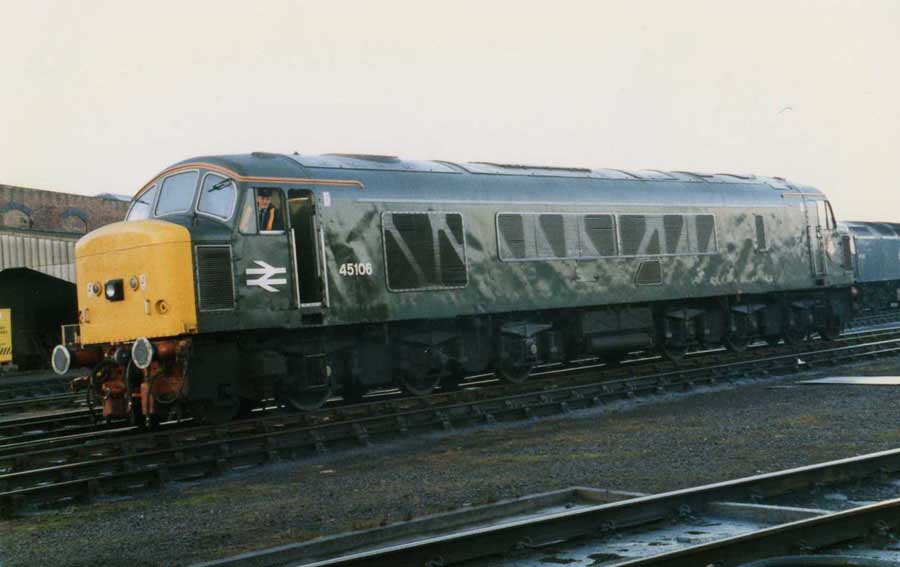 Photograph courtesy Michael Kaye.
Leeds Holbeck January 21st 1989.
On February 3rd 45106 failed whilst working the 07:12 Derby - St. Pancras at Wellingborough, it was rescued by 97472, but then caught fire near Hendon. Withdrawal, not unexpected with the damage sustained came on February 20th 1989.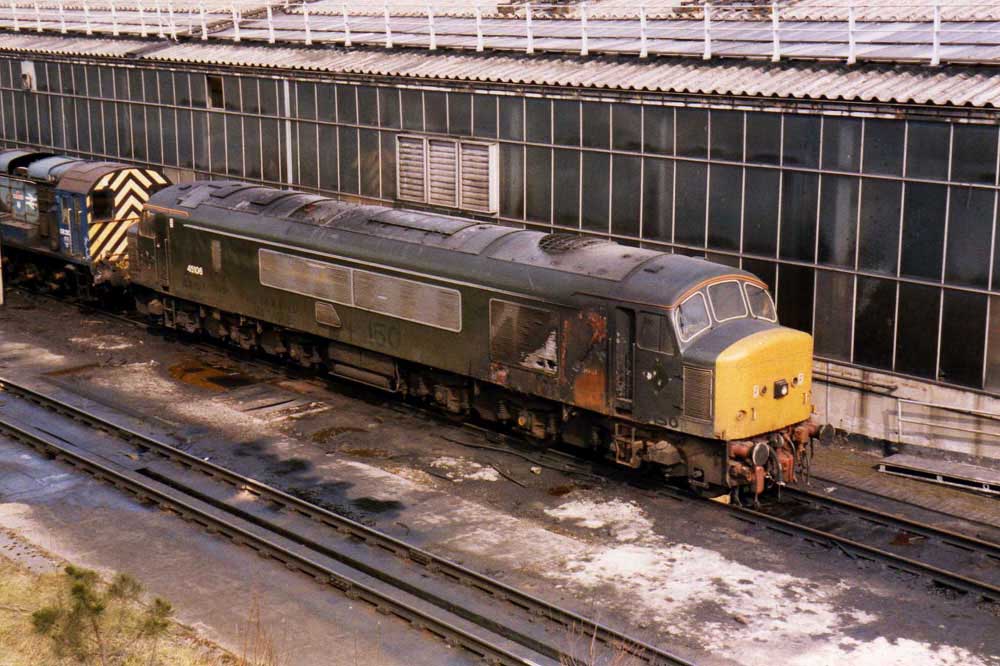 Photograph courtesy Michael Kaye.
Tinsley, August 21st 1989.
Photograph courtesy Michael Kaye.
Tinsley, August 21st 1989, a close up of the burned 45106 and sister 45128, a candidate to replace 45106 on her duties, but testing of 45128 showed expensive repairs would be necessary, and that was the end of that.
The withdrawn 45106 eventually returned north to Tinsley, lingering at the depot until shipped off to Booth's Rotherham and broken up there during April 1992.
Page added December 16th 2006.
Last updated February 2nd 2010.