D11/12/13, 11/12/13, 45122/45011/45001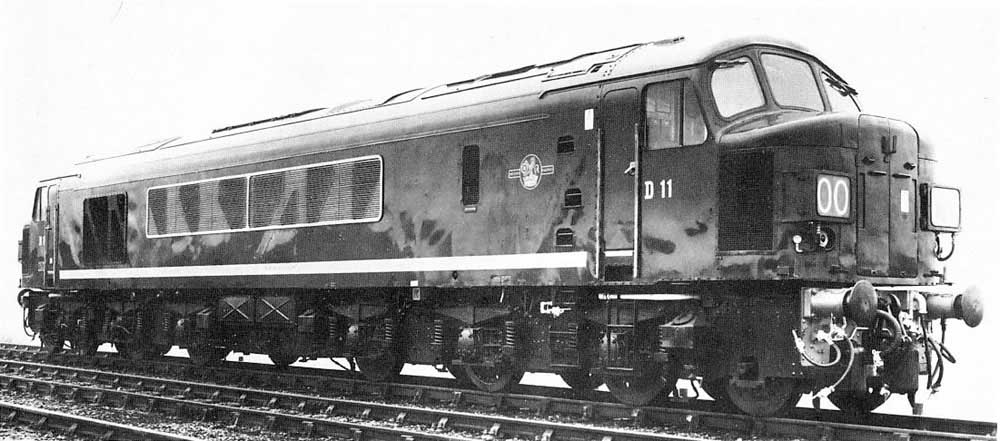 A Works portrait view of brand new D11.
1960
During the last quarter of 1960 the first of the uprated BR/Sulzer Type 4's were released from Derby, D11 in September, D12 in October & D13 in November, all allocated to Derby (17A). These early Class 45's continued the use of having nose-end gangway doors similar to the Class 44's. This feature was quickly discontinued at Derby (and never featured in Crewe's production). These doors were removed as this early batch made Works visits for Classsified repairs.
D11 was noted on a number of nocturnal test train workings south of Derby during November.
During December D11 moved to Leeds Holbeck (55A) but used by Neville Hill for crew training. Along with D14 & D302 it was used on a turn to Appleby West - reporting number N580, leaving Neville Hill at 9.31am, arriving Appleby West at 11.43am, departing there at 12.55pm. They were also used regularly on a short Stourton - Lancaster van train, leaving Stourton at 9.30am, returning from Lancaster at 2.15pm. Future plans were for the big Type 4's to take over the 'Thames-Clyde' north of Leeds, currently in the hands of Britannias, Royal Scots & A3's. After these sessions the Peaks would normally be found working south of Leeds.
The heart and soul of the Class 45 was its uprated 12LDA28B engine and Crompton Parkinson generator. When introduced into the Class 45's the 12 cylinder Sulzer engine was the most powerful rail traction diesel engine in Western Europe.

1961
D12 moved to Holbeck (55A) during February 2/61, then on to Neville Hill (55H) during February with D11.

During January D13 was loaned to the Darnall (41A), to be followed in February by D12/15/16. During the first week of February D13 was used in a series of tests to establish load classification for freight train working for the new diesels. Tests included working from New England with a dynamometer car and brake tender, next day a working to Highdyke, then a Class F from there to Frodingham via Boston with twenty nine 27ton tipplers. Brake tests were conducted at Grantham South, Rauceby, Old Leake, Elsham & Appleby. The locomotive then returned light to Darnall via Doncaster, to be used the next day on a Class F 1,000 ton Woodhouse Yard - Brocklesby & return freight. The next day, Thursday it was another Highdyke - Frodingham trip, this time via Doncaster. The last day of testing involved a Woodhouse - Brocklesby Class C freight. Prior to the use of D13 EE Type 4 209 had been used on these tests and a Brush Type 2 would follow.

On February 5th D14 was sent north on a Neville Hill - Tyneside test train of fourteen bogies. D13 13's stay at Darnall was brief in February it joined its sisters at Neville Hill, all the Holbeck allocated Peaks would be transferred to Neville Hill in February.

The first few days of May were not pleasant for the Peaks, on May 1st D12 expired on the 4.10pm St Pancras - Sheffield at Westhouses, replaced by Class 4 76053.

In the middle of May D12 was awaiting works attention at Darlington, possibly the first Peak to receive attention here?

Beginning the week of June 12th the Up Thames-Clyde was diesel hauled as much as possible, the first week saw D20 & D26 (twice) in use alongside Royal Scots & Britannias whilst the sleeper services had more Peaks diagrammed, D12 on 16th.

In July a couple of arriving services at St Enoch had steam/diesel combinations, the 13th's 9.25 ex St Pancras had D11 & 46109 and the 10.27am ex Leeds had D18 & 70044.

In mid December Darlington Works was host to D11/12/15/16/26/28 for attention - not a pretty sight.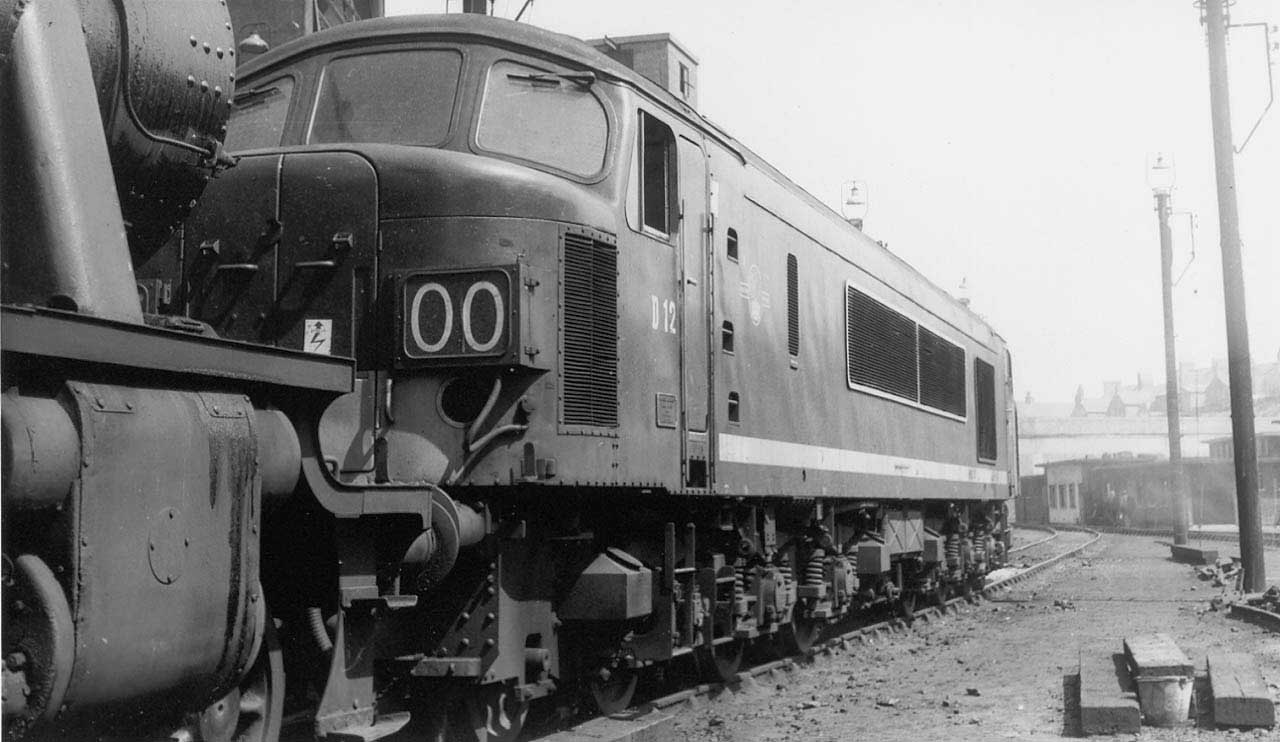 Photograph collection of webmaster.
An interesting view of D12 early in its career, date unknown, but most likely at Saltley.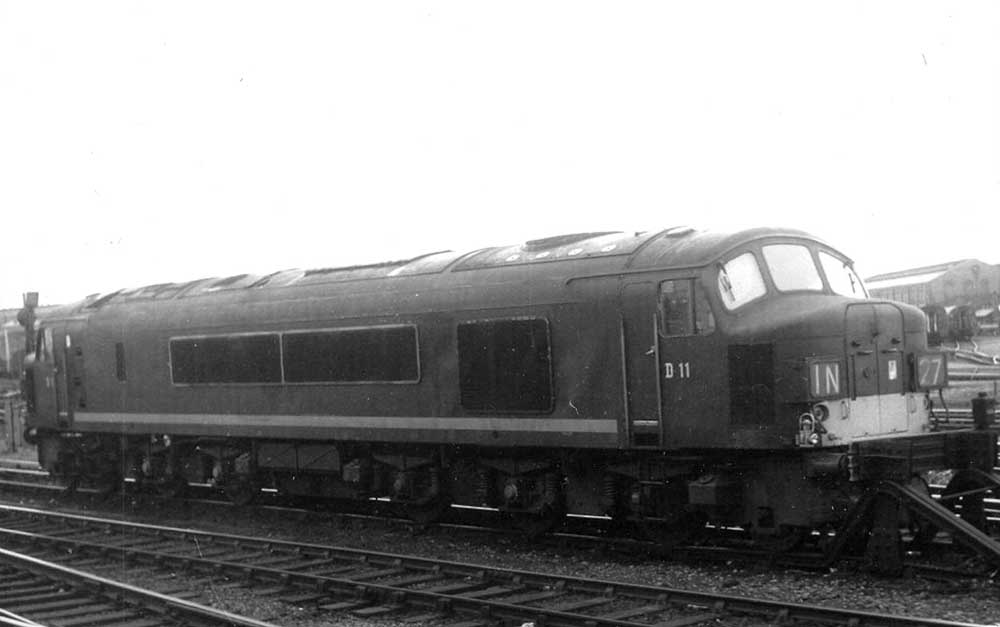 Photograph collection of webmaster.
No date on this view of D11, but presumably reasonably early in its career, belived to be seen here at the north end of Doncaster station.
1962
D11 - 13 were transferred to Derby (17A) during July, then on to Cricklewood (14A) in September.
1963
It was back to Derby (17A) for all three locomotives during March.
1964
In November D11 moved to (16D) and D13 to (16A).
1965
May 1st's FA cup final found at least twenty five specials from Liverpool coming down the WCML, electrically hauled to Rugby where diesels took over, with at least five reaching Wembley Hill via the Great Central, including two hauled by D16 & D18. A month earlier on April 3rd four specials from the East Midlands had also reached Wembley via much running over the GC lines, D11 being noted on one of the specials.
The NER retained its two blocks of Peaks during the Class 46 refurbishments at Brush, Loughborough, Gateshead having D166 - 193 and Holbeck with D11 - 32, though D33 was at this time transferred to the NER, the first inter-regional transfer for a Peak in eighteen months. Because of the presence of LMR Peaks at both Holbeck & Gateshead their use on Trans-Pennine or ECML services was a relatively common occurrence.
1967
D11 moved to the Midland lines during October, then briefly to the Eastern Region in November, then straight back to the LMR.
1968
D13 moved to the Nottingham Division (D16) during January.
1971
In July 12 was loaned from Holbeck to Immingham (40B) for four months, being joined at Holbeck by 13 in October.
1972
11: June 24th 1V93 09.40 Edinburgh - Plymouth.
12: July 24th 4B19 17.30 Plymouth - Bristol parcels.
11: August 2nd light engine at Swindon (about noon).
11: August 8th 1V76 09.15 Liverpool - Penzance (10+BG).
11: August 8th 4B19 17.30 Plymouth - Bristol parcels.
11: October 17th 1E73 13.05 Penzance - Leeds.
13: October 17th 1M74 16.15 Plymouth - Birmingham
11: October 19th 1E73 13.05 Penzance - Leeds.
11: October 21st (pm) on Exeter stabling point, for later use on the 4B05.
12: November 3rd 1V76 09.15 Liverpool - Penzance.
11: December 23rd 1V72 07.35 Leeds - Penzance.
11: December 23rd 1M74 16.15 Plymouth - Birmingham.
11: December 27th 1E21 10.25 Penzance - Leeds.
During September 11 moved to Holbeck (55A).
1973
12: January 6th 1V72 07.35 Leeds - Penzance.
12: January 13th 1V76 Liverpool - Penzance.
11 moved south to Toton during May.
1974
In the TOPS renumbering 11 became 45122, 12 became 45011 & 13 became 45001.
1976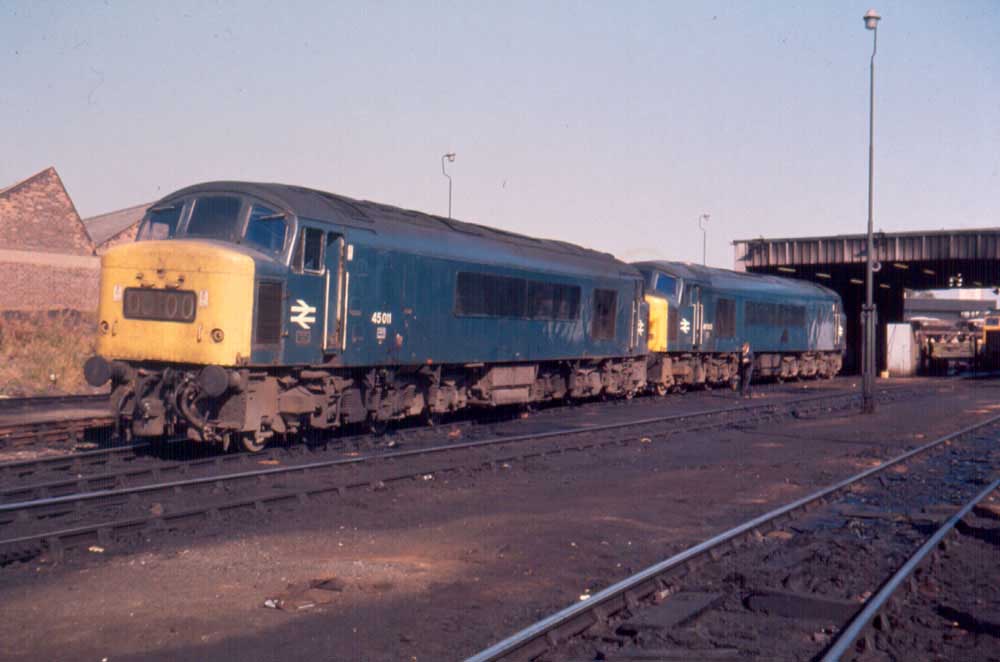 A glorious summers day finds two of the NE/SW workhorses basking in the sun at Saltley on August 22nd 1976. 45011 is nearest the camera whilst 46043 is just clear of the fuelling shed.
1977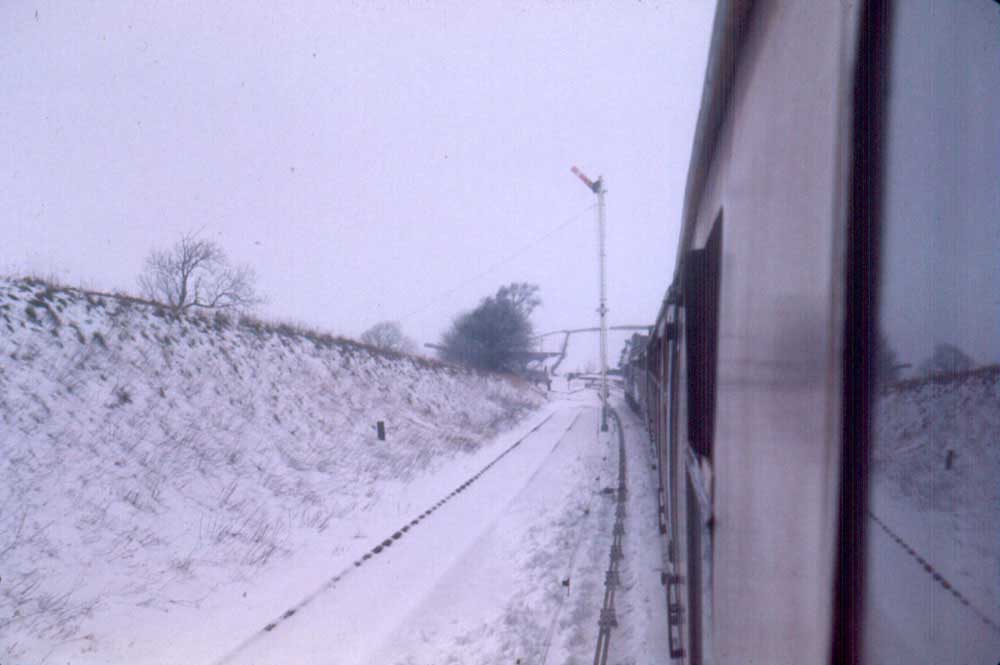 A snowy January 15th 1977 finds 45001 in charge of a service over the Settle & Carlisle line, seen here heading north through Kirby Stephen.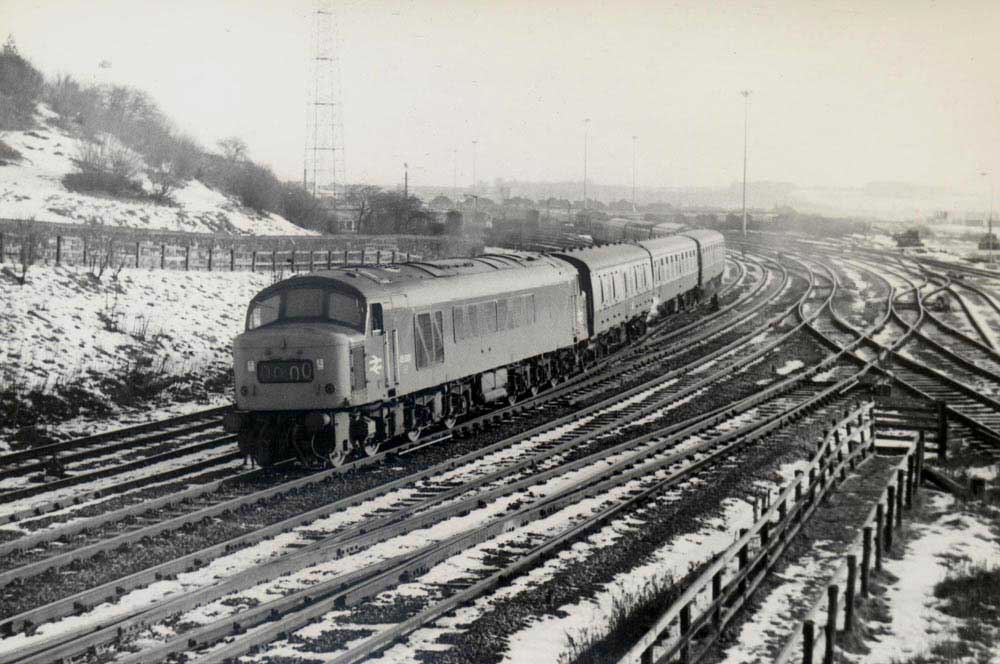 Photograph courtesy Peter Ryan.
Its now January 16th 1977 as 45001 draws out of Neville Hill bound for Leeds station. Whisps of steam show the train heating boiler is working, what working was 45001 handling this day?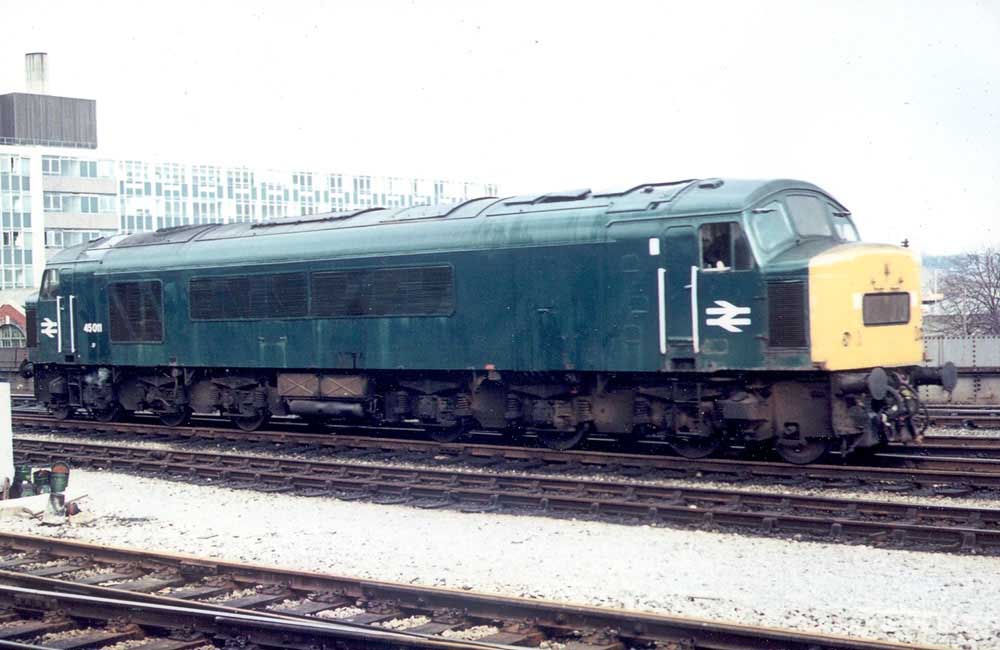 Photograph courtesy Peter Wilmott.
45011 is photographed at Bristol during March 1977.
1978
45001 & 45011 moved to York during May along with many others.
1979
During January 1979 45011 was under repair at Derby Works. 45001 would receive its last classified repair during April.
45001 & 45011 moved south to Tinsley during May along with many others.
1980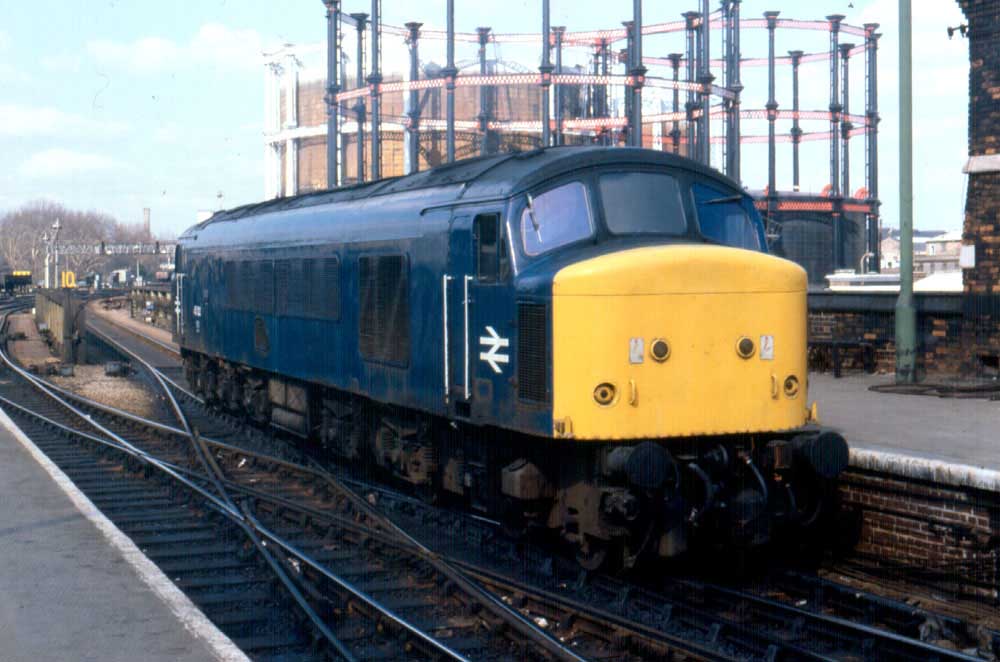 There is no mistaking this location, the gasholders in the background can only mean this is St Pancras and 45122 is heading to Cambridge Road on March 22nd 1980.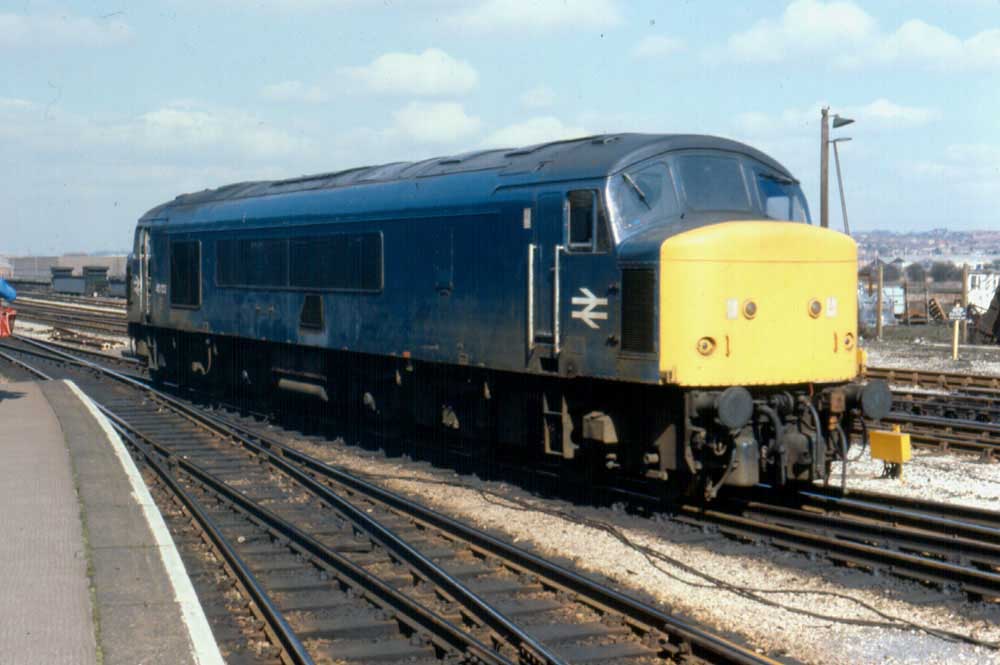 45122 has just arrived at Derby with a terminating service from St Pancras and is in the process of running round the train, April 5th 1980.
1981
45011 was withdrawn during May from Tinsley. The locomotive was moved to Derby Works for spares removal and stripping, by September 1981 it had been broken up.
1982
45001 moved to Toton in January.
On March 6th 1982 the Lea Valley Railway Club ran the 'The Peak Forest Peak' railtour (1Z70) from St Pancras to Liverpool Lime Street, via the Midland Mainline, the Hope Valley and Skelton Junction & Hunts Cross with 45122. 25056 & 25086 took over for a circuitous route to Dee Marsh Junction where 45122 was waiting to return to St Pancras via Wrexham General, Shrewsbury, Wolverhampton, Birmingham New Street, Nuneaton, Wigston South Junction and the Midland Mainline southwards. On the outward journey booked time was pretty much kept all the way with a nine minute early arrival at Lime Street. For some reason departure here was about forty five minutes late, the lateness being maintained when the Class 25's handed over to 45122 at Dee Marsh. 45122 was not able to make up the time on the way up to St Pancras, infact several more minutes were added to the lateness by the time the railtour ended.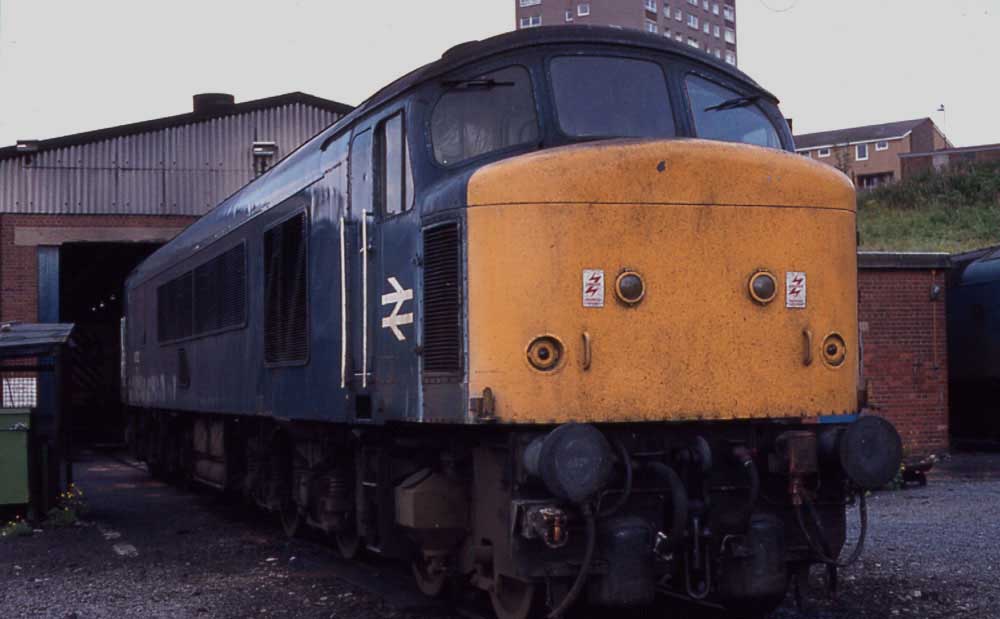 Photograph courtesy Andy Key.
45122 at Leicester depot on July 18th 1982.
1984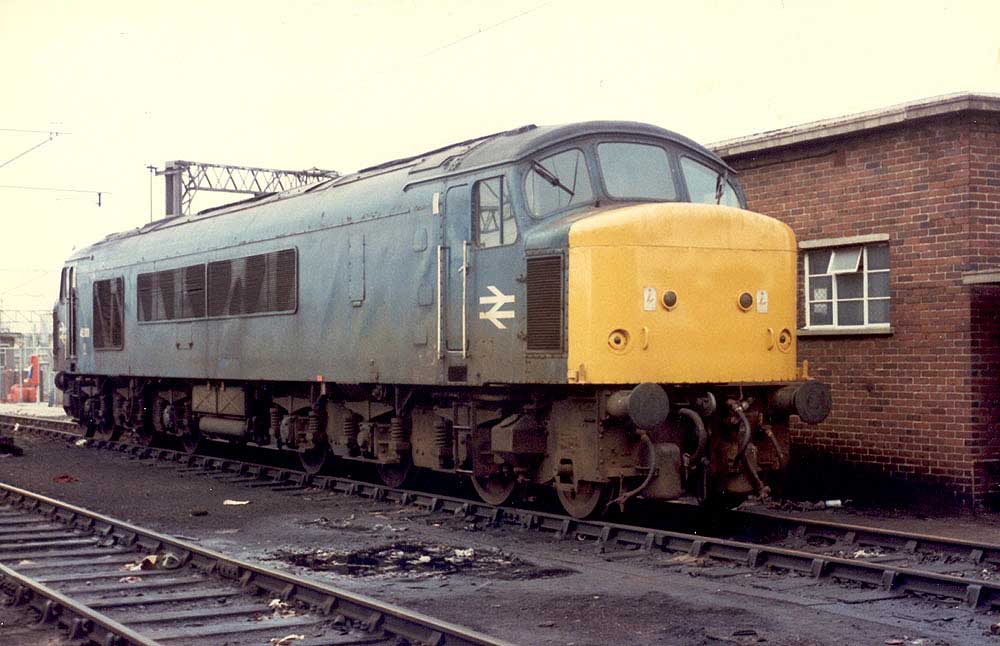 Photograph courtesy Jerry Glover.
45001 Allerton February 12th 1984.
1985
Hertfordshire Railtours ran 'The Ollerton Ogdoad' (1Z26) on March 2nd 1985, using a number of locomotives from St Pancras to the Lincolnshire area. 45122 was provided to return the railtour from Toton via the Midland Mainline to St Pancras.
45122 received its last classified repair during September 1985.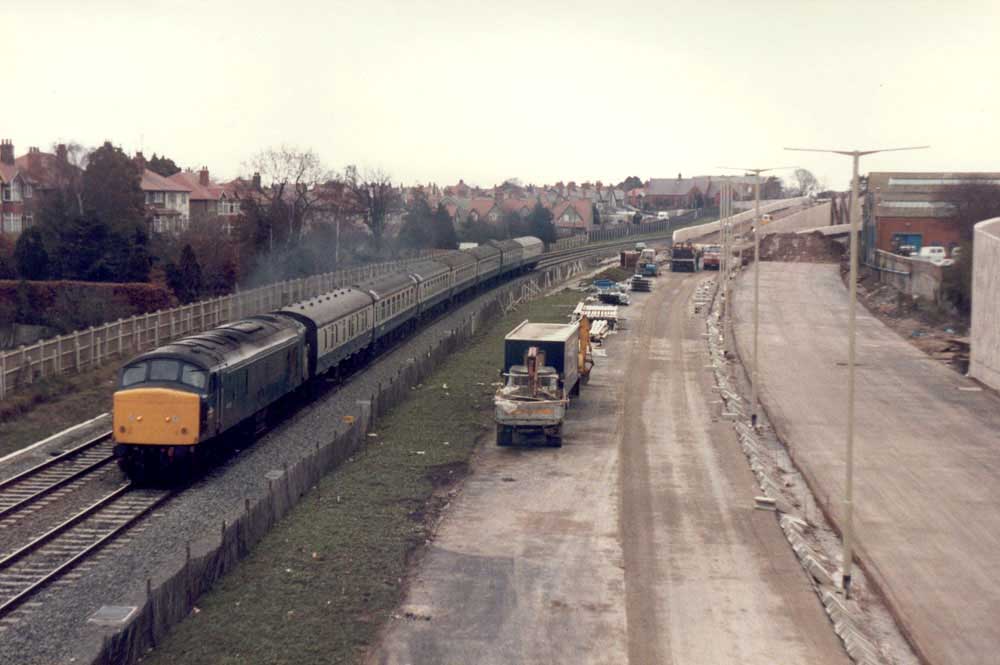 Photograph courtesy John Powell.
Colwyn Bay on January 26th 1985 with the 07.42 Manchester Victoria - Bangor.
1986
45001 was withdrawn in January, whilst 45122 moved to Tinsley in November.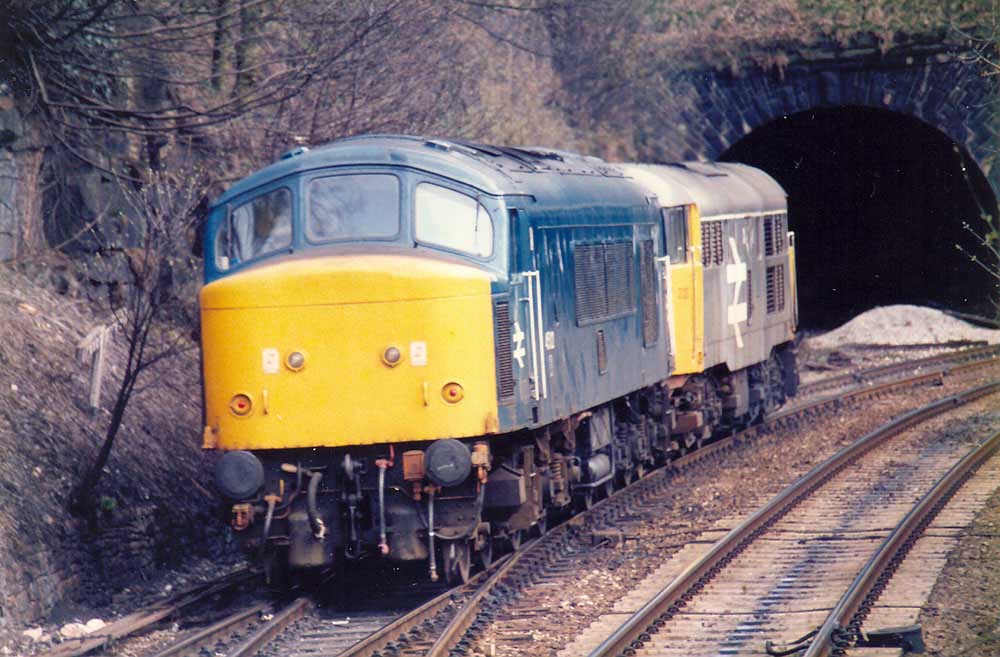 Photograph courtesy Stephen Houlker.
A colourful combination heads east at New Mills on April 26th 1986 as Railfreight grey liveried 31120 tows failed, but freshly painted 45122 towards Toton.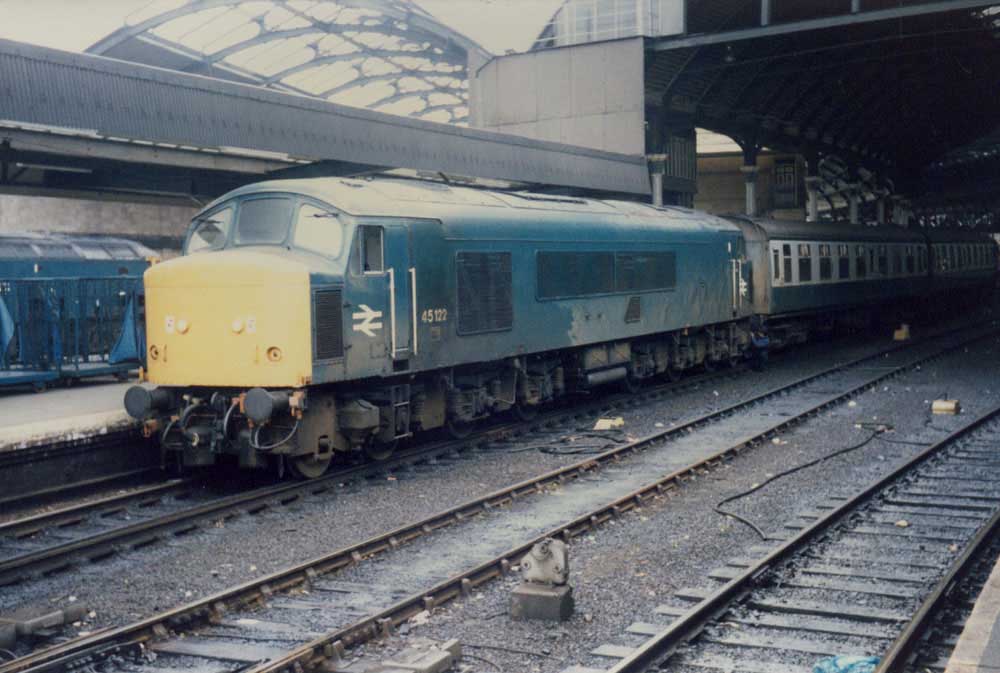 Photograph courtesy John Powell.
Newcastle at 45122 on May 17th 1986.
1987
45122 was withdrawn during April.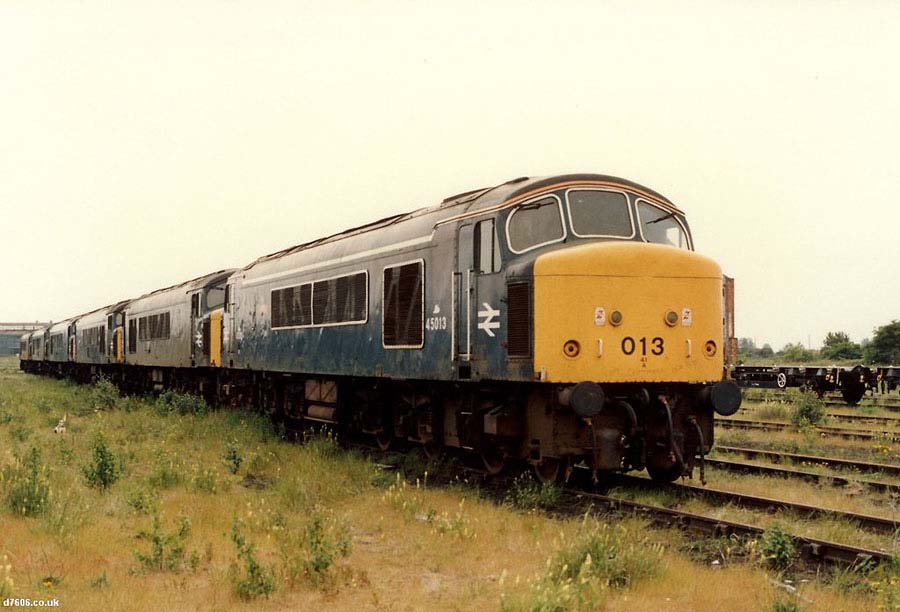 Photograph courtesy Ian Hammond.
After withdrawal from service 45122 like many other Class 45's was moved to March depot for storage. It is the third locomotive in the line up, which comprises 45013, 45126, 45122, 45148, 45114 & 45146, seen here on June 14th 1987.
1988
45001 was finally broken up at MC Metals, Glasgow during December 1988.
1989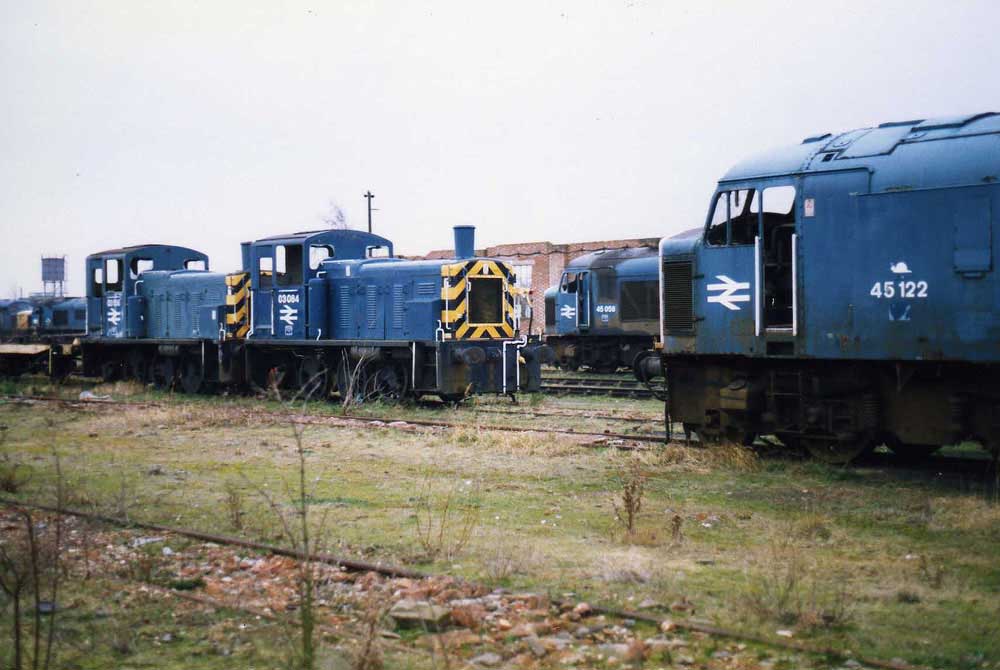 Photograph courtesy John Powell.
Christmas 1989 will bring no joy to 45122, seen here with a pair of Class 03s at March on December 15th 1989. How many Christmas travellers did 45122 assist in getting to their destinations through fog, rain, wind & snow throughout the years? For most travellers no thought would be given to the means by which their journeys were made possible, bringing families & friends together for this most joyous of times. No matter - 45122 will see out three more Christmases, dumped at March like a discarded & fading Christmas Tree.
1994
45122 was finally broken up at MC Metals, Glasgow during February 1994, some seven years after withdrawal and thirty three years after being rolled out of Derby Works!
Undated views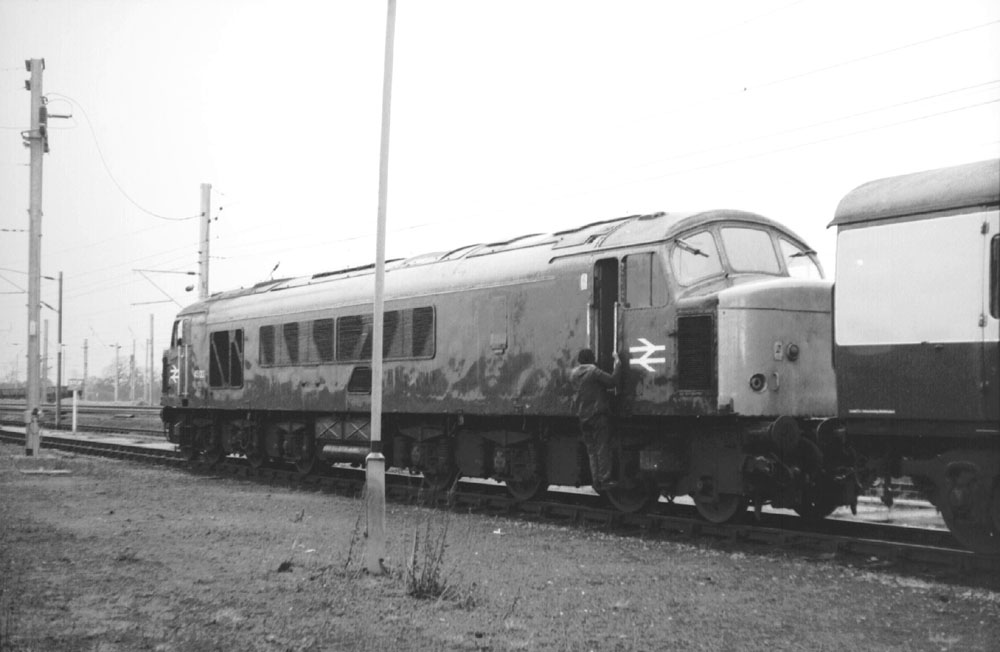 Photograph courtesy Ian Hammond.
An overcast day at Carlisle finds 45122 awaiting its next turn of duty, the shiny paintwork suggests it may have just taken its train through the carriage washer. Another view from this roll of film shows 45122 with its train at Carlisle station, may be this is on of the daily Carlisle - Leeds workings?
Page added June 3rd 2006.
Last updated February 5th 2010.