On July 26th D173 was loaned from Gateshead to Edge Hill for crew training, it was added to the 9.42am Newcastle - Liverpool, piloting D243. D170 would follow on September 8th, this time piloting D290 on the 3.16pm Newcastle - Liverpool, the Peaks were to take over on some of the Trans-Pennine workings from the start of the winter timetable. During September D173 was also loaned to Thornaby for crew training.
On the Liverpool - Newcastle services D166/170/173/174 were active on four diagrams, they frequently took ten minutes off the Leeds - Manchester section timings, other members of the Gateshead allocation would join them and timekeeping was of the highest order, despite a one day rail strike on October 4th.
A shortage of Deltics on November 15th found the 7.50am & 9.40am Newcastle - Kings Cross being handled by D173 & D177 respectively.
On July 27th D172 on a Peterborough - Edinburgh passenger failed at Aycliffe, assistance arrived in the shape of D5103 & 5150, complete with brake tender! D264 was waiting at Newcastle to replace all three machines.
During September the 1.47pm Doncaster - Kings Cross had seen some steam haulage, usually the Doncaster pilot filling in, however on the 20th it was in the hands of D172, which at some point became a failure, with D5095 being added to bring the service into Kings Cross.
A stranger on the Edinburgh - Prestwick oil train was D173 on August 23rd (normally a pair of Claytons would suffice), a runround was needed at Falkland Jct to access the Glenburn colliery branch, site of the Prestwick Airport fuel depot.
On the GN two Class 46 & Class 31/4 combinations were noted on the Up Yorkshire Pullman, 46036 & 31417 on June 1st and a similar pair on June 7th.
1977
The last major repair for 46037 was during July.
Another snapshot, this time of 46035 at Wath on April 8th 1977. Oh for a time machine to be able to go back and re-frame/re-compose this shot!
td>Another snapshot, this time of 46035 at Wath on April 8th 1977.
On October 10th 46035 was severely damaged by fire at Charfield.
1979
March 1st started like many other days, just routine, the humdrum of daily life caught up in the details, with many things swiftly forgotten as time rolled on by. For three railwaymen assigned to Cardiff depot it was just routine, for the guard it was that of booking on at 6.00am to prepare the stock for the 07.40 Cardiff - Newcastle, a total of ten coaches including a restaurant vehicle and a BG. This day the train locomotive, 46036 arrived about 6.45am and a brake continuity test was carried out. This tested satisfactory and the guard joined the two railmen in the locomotive cab for the short run up to Cardiff General station.
The train departed on time at 7.40am, with the guard having taken up his regular duties in the train. The train remained on time at Newport and was routed along the north bank of the Severn Estuary towards Chepstow and Gloucester. Approaching Chepstow the guard moved to the front of the train to begin collecting tickets and had worked back as far as the third vehicle, the buffet car when the normality of this day came to a sudden and dramatic halt.
A sudden and violent impact threw the guard to the floor, briefly disorientating him and requesting a passenger to look out of the window of the now stationary train to see what might be amiss. In the second coach were two railmen riding 'on the cushions' to Gloucester, once the train had stopped they ran forward to the locomotive. All was quiet, the engine had shut down, no doubt a result of the severe damage sustained to the leading cab of 46036, tragically it was obvious to the two railmen that they could be of no assistance to the crew of 46036. From the rear cab protection equipment was obtained to isolate the track circuit on the down line whilst the locomotive's battery was isolated.
Calls were made from the signal telephone to notify Newport powerbox of the disabled train, which itself was not derailed, but whatever it had hit at Naas Crossing was now fouling the down line. Other rail staff also travelling on the train provided protection to the rear and assistance to the guard.
What had appeared to be just another routine run ended when the train hit an eight-wheel Scammell Routeman lorry equipped with a specially designed body used for hauling waste in either 30 cubic yard or 40 cubic yard skips. In this case it was the smaller but fully loaded skip, with a combined weight of about 12.50 tons. It was this part of the lorry that caused so much damage to the locomotive, during the collision the skip parted company from the lorry cab & chassis, the latter were tossed clear of the tracks about thirty yards down from the crossing, the skip ended up on the down line about one hundred yards from the crossing, beyond this point the train coasted for a further third of a mile before stopping. Regretably the lorry driver also perished in the collision.
The Department of Transport accident report placed the cause of the accident to be the failure of the lorry driver driver to follow the operating procedures for the use of Naas crossing.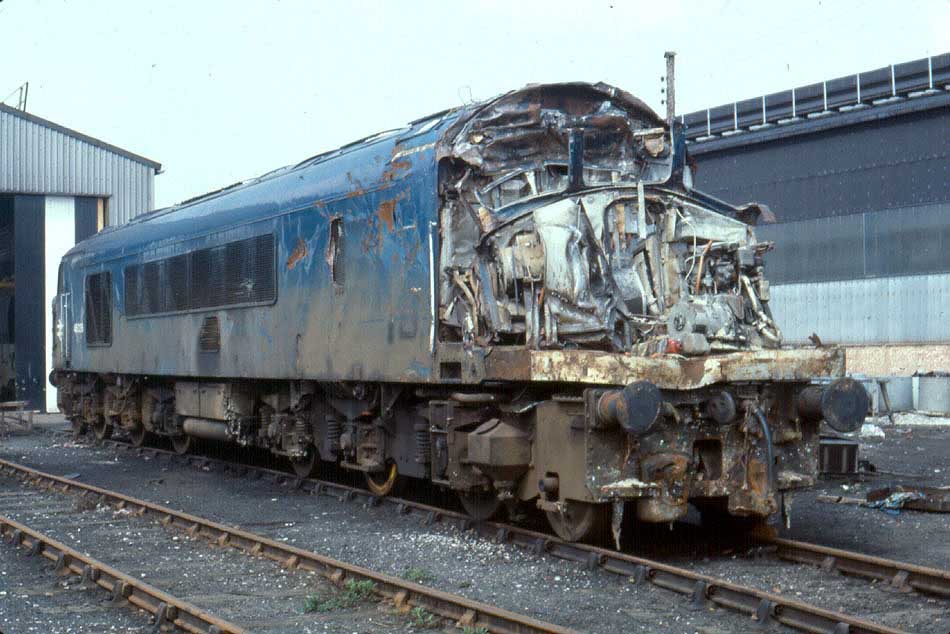 Following its collision 46036 gradually made its way north to Derby Works for evaluation & repair. It is seen here during April before anything has been done.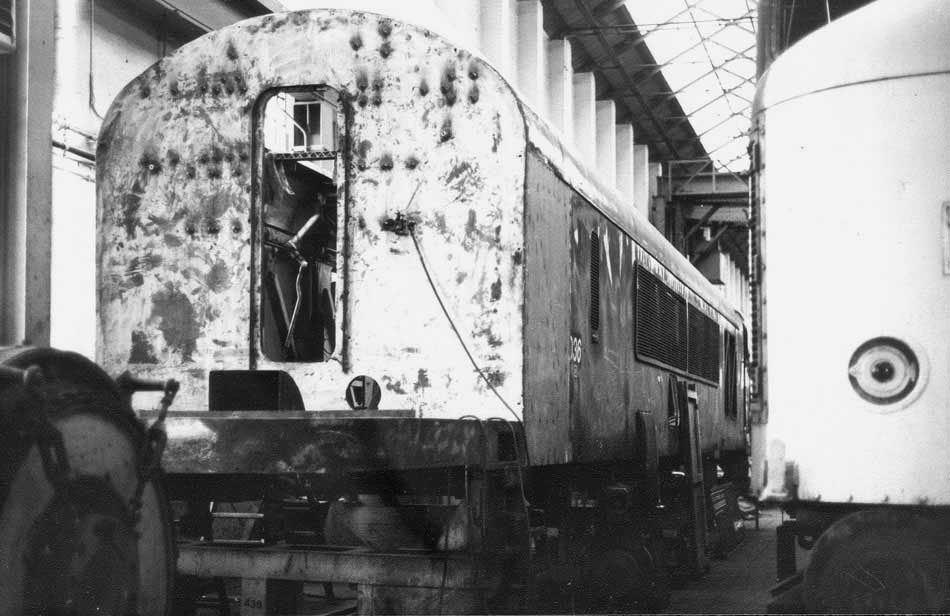 Photograph courtesy Graham Turner.
Presumably the lorry owners insurance company picked up the cost of repairs for 46036. Here on October 7th 1979 repairs are clearly underway. The engine room would have no doubt afforded the train crew considerable protection in the collision - unfortunately by the time a conflict was recognised by the train crew less than 220 yards remained for action to be taken.
1980
46035 received its last major repair during February 1980 at Derby Works.
During November 46037 was stored serviceable at Gateshead, later moving to Swindon Works and being withdrawn during December.
1981
After a year out of service 46037 was reinstated during December to Gateshead. It was removed from Swindon on December 7th and sent to Bristol for an 'A' exam.
1982
25135 came to the rescue of a Walsall - Chesterfield football special after 46035 failed at Derby on February 6th.
46036 was seriously damaged by fire at Rotherham whilst working April 23rd's Newcastle - Poole service. By month end the locomotive had reached Stratford DRS, the locomotive was condemned on May 2nd. It surrendered its power unit to 46025 and its bogies to 46018. On November 9th 46036 & 46038 were moved from Stratford to Swindon Works.
1983
46036 was finally broken up at Swindon during January.
1984
46037 was noted out of service between March 3rd - 14th with main generator problems, it was also held at Doncaster depot from April 18th to May 1st awaiting a new speedometer. Once back in service it performed with little trouble during May being noted in the Leicester - Peterborough - Hitchin area between 10th - 21st and Devon & Cornwall by month end.
46035 was stopped on March 21st with brake difficulties and requiring a new governor. During April and May the locomotive kept out of trouble and remained well travelled. During May it visited South Wales on 3rd, 11th & 12th, Scotland on 15th & 16th and Exeter on 30th. It suffered a hot axlebox on the Western Region, being noted at Laira from June 14th - 25th. It was noted at Swindon on 27th with a loss of power but this was quickly rectified.
Whilst working the 10.35 Penzance - Leeds on June 16th 46037 sustained fire damage at Kings Norton, it was stopped at Holbeck later that day. By June 19th it was at Gateshead requiring many repairs including extensive traction motor work. These repairs were denied and the locomotive was condemned. This was the last Class 46 in service to have operational headcodes.
46035 was again stopped at Laira at the beginning of July with power unit problems, getting back into traffic by July 5th. It again suffered loss of power on July 16th, this time at Margam - it was sent to Gateshead for rectification and released on 24th. Three days later its engine shut down at Gloucester, repairs being effected by August 2nd. The remainder of August was spent in service in the Midlands, South Wales and Manchester areas. From September 5th - 10th 46035 was stopped at Neville Hill with brake faults. By month end it was back there this time with power faults, being released on October 2nd. Two days later it was stopped at Bristol with load regulator problems, by month end it was operating in the Derby/Sheffield area.
46037 moved to Doncaster Works with 46028 & 46046 on September 18th.
By November 46035 was active in Scotland, then South Wales by 16th, Buxton on 19th - 21st, leaving there for the north-east. It was finally turned off at Gateshead on November 25th having arrived there under its own power. It was used to take 46010/26/52 as the 19.15 to Doncaster on November 29th with 46035 going forward to Derby. Although withdrawn by BR in November it was quickly reinstated and renumbered 97403 for use by the Research Center.
Photograph collection of webmaster.
46037 at Doncaster depot, believed to be late in 1984.
1985
46037 was broken up at Doncaster Works during February.
During May 97403 visited Toton for modifications for testing wheelslip and a repaint, including being named 'Ixion'.
1986
On January 31st 97201 & 97403 handled a test train from Derby to Bristol.
1987
During September a number of departures from Vic Berry's yard reflected a brighter future for the chosen machines. First to leave was 25244 on September 23rd, destined for the Swanage Railway. Its journey was notable, being hauled by 97201 (with 97403 & D4) en route to the Basingstoke Railshow (26th & 27th).
1995
British Rail's policy toward the running of preserved diesel locomotives on its network was essentially that it was not going to happen. However the privatisation of the network swept away many long standing norms. With privatisation came the opportunity for heritage traction to run on the railway network, either in a familiar railtour type role, or as an 'on-hire' operation to one of the train operating companies. There still remained challenges, dealing with the paperwork side of the mainline certification and then the needed safety equipment and paintwork. s
Although it was envisaged that a twin-engined locomotive (Class 52/55) would make the first run, it was in fact Pete Waterman's D172 (46035) that became the first preserved diesel to run on 'British Rail' on October 1st, as the 1Z64 Derby - St Pancras. About one hundred passengers travelled on the full length train, which was in reality a positioning move for October 2nd's 'Thames-Clyde Express' railtour, worked roundtrip by D172 between St Pancras & Sheffield.
Photograph courtesy John Griffiths.
Time seems to have stood still for D172/46035, seen here with a livery from bygone days, but running as a mainline certified locomotive during the 1990's, running southbound on the Settle & Carlisle approaching Settle Junction.
Photograph courtesy Steve Morris.
46035 at Paddington on February 23rd 2002, just five more months and it will celebrate its fortieth birthday! Although looking magnificent in its corporate BR blue & yellow livery I think I prefer the green livery.
And just who was 'Ixion'?
Two explanations from the realms of Greek mythology
Ixion was the son of Phlegyas, descendent of Ares, and king of the Lapiths in Thessaly. He is chiefly known as the first human to shed kindred blood which occurred when Ixion invited his father-in-law, Deioneus, to come and collect the price that Ixion owed him for his bride. Upon his arrival, Deioneus fell into a pit filled with burning coals that Ixion had camouflaged.
Because this was a crime new to the human race, nobody could purify Ixion and he wandered in exile. Zeus took pity on him and decided not only to purify Ixion, but to invite him to Olympus as a guest. Once in Olympus though, Ixion became so enamored of Hera (Zeus' wife) that he desired to sleep with her. Zeus did not believe that Ixion would be so disrespectful as to have designs upon the wife of his host. To see if the rumors were true, Zeus made an image of Hera out of a cloud, and impregnated it. The cloud bore Ixion the monster Centaurus, who was unloved by the Graces and had no honor among men or the gods. Centaurus then mated with the mares of Mt. Pelion in Magnesia, and so from Ixion the race of centaurs was born.
To punish him, Zeus bound Ixion to a winged (sometimes flaming) wheel, which revolved in the air in all directions. Also, by order of the gods, Ixion was forced to continuously call out: "You should show gratitude to your benefactor." Ixion became one of the more famous sinners on display on Tartarus, and most writers mention him when describing the place.
And a second rendition of the fable:
King of the Lapiths in Thessaly. Ixion was the son of Antion, the son of Periphas, and of Perimela, the daughter of Amythaon and sister of Melampus.
When Ixion married Dia, the daughter of Eioneus, Ixion refused to pay his father-in-law the bride price in full. So Eioneus took the mares from Ixion as a security. Under the guise of paying Eioneus the bride price, Ixion had Eioneus tossed into a fire pit.
It was said that Ixion had committed the first murder of kin. For such deed, no one was willing to purify Ixion. Zeus decided to purify him. Zeus did so in order to seduce Ixion's wife, Dia. For this reason, some say that PeirithoŘs (Peirithous) was the son of Zeus, not of Ixion.
Ixion tried to take revenge upon Zeus, by seducing Hera. When Zeus learned of Ixion's plan, Zeus fashioned a cloud to look like his wife and consort. When the unsuspecting Ixion boasted of having slept with Hera, Zeus sent him to Tartarus where he was to suffer from eternal punishment. Ixion was changed to a fiery wheel, which revolved from ceaseless wind.
As for the phantom-like cloud that looked like Hera? Well, it gave birth to a son, named Centaurus. Centaurus had coupled with the Magnesian mares, which produced offspring of part-men and part-horses. These creatures became known as the Centaurs.
May 5th 1979 & beyond
The above are exciting mythological tales from long ago but for me it was an overcast day at Derby during May 1979 that began a journey which is still not yet completed. After many recent weekends of travelling on day excursions to many points of the country May 5th proved to be a lot simpler, time spent at Derby station prior to a late morning visit to Derby Locomotive Works.
The Locomotive Works was its usual self, meeting up with the tour organiser, names called off, a head count and then through the gate to follow the well heeled route taken many times. The usual variety of locomotives was recorded in many a notebook, of Classes 08/20/25/45/46. One of the locomotives that drew considerable attention was 46036. It had arrived recently with its damaged cab tarpaulined over, but on this visit the tarpaulin was gone and the full extent of the damage was there for all to see. Not that such a scene was unusual, Derby (and the other BREL Workshops) always seemed to have locomotives on hand that had met with unfortunate circumstances.
But this day was a little different, I was at the back of the party, which had stopped close by 46036 and as one of my cameras was out of film I chose this brief stop to change out the film. With the new film in the camera I ran off a couple of shots to make sure the film had taken up properly on the spool.
Something however provoked a thought, the object before me was where two railwaymen going about their normal duties had perished. An odd thought, after all the carnage on our roads with the frequent graphic photographs splashed across our newspapers and TV footage featuring all too frequently on our news programs was nothing new. And as a frequent visitor to a variety of locomotive workshops the sight of collision damaged rolling stock was something that one came to expect. But my conscience was troubled...........perhaps it was a realisation of my own mortality, not something which I'd given much thought up to this point.
And after the question of mortality comes the question of life itself, what am I doing here, is life meaningless, without apparent purpose or is their a plan? At that point in time I couldn't have honestly answered any of those questions, but what I know now is that God was knocking at my door. It would take another ten years or so to find the truth, to realise the all of this is not an accident, that God does exist and that Jesus Christ, His only Son came to earth to provide the means for Salvation for us.
I make no apology for using this page to profess the truth that is Jesus Christ, it has to be this page because God used something I loved, my interest in railways to bring me to Him.
We don't all get dramatic visitations from God such as happened to Paul on the road to Damascus, God will use whatever He can do draw us near.
If you hear Him knocking, please open the door!!
Page added October 28th 2005.