D5000, 5000, 24005
The first BR/Sulzer Type 2
1958
During January production commenced on the first components for D5000/1 with the setting up of various jigs under order D658. By the middle of May D5000 was almost complete, alongside were D5001 - D5006 in various stages of production. Ian Mellor, the Progressman for the Planning Office at Derby Works advised that the power unit for D5000 was delivered to Derby's GNR Friargate station, in a rather substantial wooden crate. After making a trip across Derby to investigate this unusual delivery the wagon was redirected to the Stone Pit sidings at Derby Locomotive Works. The first ten Class 24's were powered by engines built by Sulzer Brothers at Winterthur, Switzerland.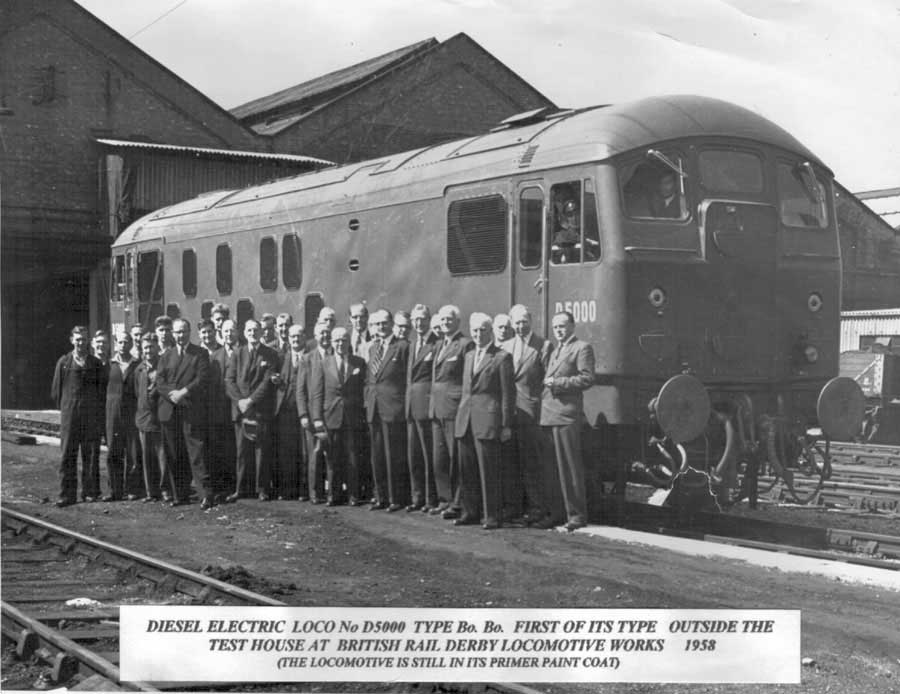 D5000 stands in undercoat by the Test House at Derby Works during the Spring of 1958 - its first time out of the Workshops? A full complement of those involved with the design & construction of the Type 2 stands in front of and inside D5000. At this time the locomotive lacks the fifth ventilator in the top row.
Photograph courtesy Ian Mellor (who is one of those in the photograph) from an official BR(LMR) print.
As Derby Locomotive Works closed for its annual summer holidays on July 11th, D5000 was in the paint shop. After release from Derby a trip was made on July 24th with D5000 running to Marylebone for inspection by the British Transport Commission, then under the leadership of Chairman Sir Brian Robertson. During August D5000 was officially allocated to Crewe South (5B). Also coming onto the roster of the London Midland Region at this time was the second of the MetroVicks, D5701, allocated to Derby (17A); NBL shunters D2907 & 2908, Crewe Built Class 08's D3575 - 3577. The Western Region received new shunters D3594 - 3596 and Crewe built Class 9F's 92233 - 92235. The Eastern Region accepted Type 4's D208 & 209, Type 2's D5516 & 5517, D5301, Type 1's D8405 - 8409 and shunters D2025 - 2027, D3619 - 3624 & D3684 - 3686 and Swindon built 9F 92197. The Scottish Region received shunters D3538 - 3545 & D2728.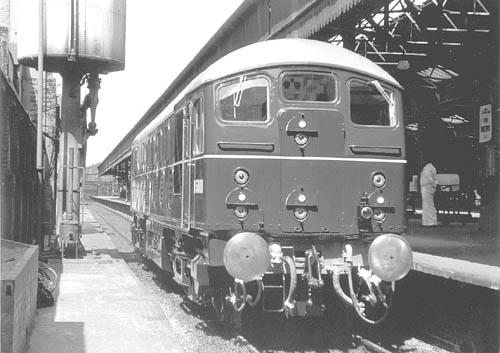 Photograph courtesy Alec Swain/Transport Treasures.
After release from Derby Works and with the paintwork shining, burnished buffers to boot, D5000 was sent to Marylebone for an official lookover by those at the BRB. The thin stripe did not appear to be liked by those in power, D5000 was the only Class 24 so liveried. Seen here on July 24th 1958.
On September 15th test trains were initiated for the Type 2's being released from Derby Locomotive Works. An afternoon round trip Derby - Millers Dale with one coach was the easier of the two diagrams. The second, a morning departure from Chaddesden carriage sidings used a rake of fifteen coaches (460 tons), outward via Cheadle Jct & Allerton Jct to Liverpool Downhill sidings, returning after lunch, over the same route to Chaddesden. Additionally on September 15th D5000 started working the 9.38 Derby - Manchester, 12.30pm Manchester - Liverpool Central, returning with the 2.30 Liverpool Central - Derby, requiring a run round at Manchester.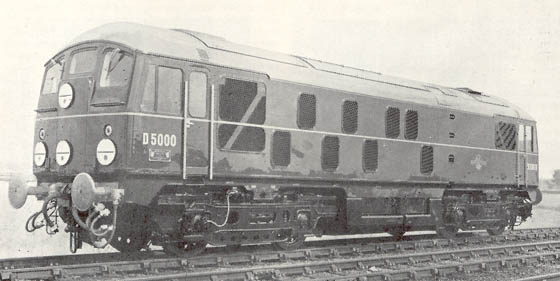 An official portrait of D5000 shortly after delivery. Unique to this one locomotive was the thin eggshell blue strip at waist level. This did not find favour with the authorities, leading to a change from D5001 onwards. Also of interest is the unique builders plate on the cabside, a little more ornate than those carried by all other Class 24's. The locomotive sports four ventilators in the top row, a fifth would be added later (to this side only), close to the boiler room grille.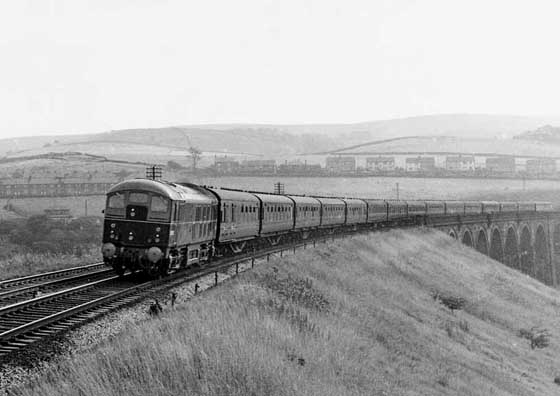 Photograph courtesy collection of Railphotoprints - the late Alan H. Bryant

D5000 heads a 15 coach test train over Newtown Viaduct at New Mills sometime during September 1958.

1959
During January D5000 - D5006 were moved to Hither Green (73C) to cover various workings in the London and North Kent area prior to the completion of the Kent Coast electrification and the arrival of the first BRCW Type 3's (Class 33's). Upon arrival on the Southern Region D5000/01 were used for crew training in the Ashford - Ramsgate - Dover - Faversham area between February 5th & 13th.

An unforseen problem, that of the Type 2s being about five tons overweight led to certain restrictions for D5002 - D5006 (boilers & water tanks temporarily removed), and D5000/01/07-14 (left in original condition). On the Eastern section all were banned between Tonbridge and Bo Peep Junction, Middle Junction to Sheerness on Sea and from the Tilmanstone & Tenderten branches. The heavier machines were also banned from the Allhallows, Grain, Hawkhurst and Westerham branches. Oddly all were allowed down the steeply graded Folkestone Harbour branch. On the Central section the only restrictions applied to the heavier machines, banned between Three Bridges and East Grinstead and onto Ashurst Junction and the Heathfield line. The Cranleigh, Kemp Town, Lavant & Steyning branches were also off limits. On the Western Section all were banned from the Bodmin North, Barnstaple & Ilfracombe, Callington, Halwill, Hayling Island, Lyme Regis and Torrington branches. Double heading of these machines, with themselves or other locomotives was not permitted except on short trips.

On March 2nd D5000 was noted in Ashford Works yard.

Freight workings using the Type 2s included the 3.05pm Hoo Junction - Hither Green freight, noted in April were D5005 (6th), D5009 (7th), D5010 (8th), D5000 (9th) and D5005 (10th).

At about 2.45am on November 10th whilst hauling a coal train from Snowdon Colliery D5000 lost control of its train at Faversham. The train ran through a sand drag, demolished the buffer stops, with the locomotive completely derailed and fouling the main line. The impact severely damaged a short length of the up main line, causing single line working to accommodate the morning rush hour. The engineers then obtained complete possession, having D5000 rerailed by late afternoon, with all lines open by late in the evening. Locomotives in attendance were Class N 2-6-0 No.31874 & 31583 with two cranes.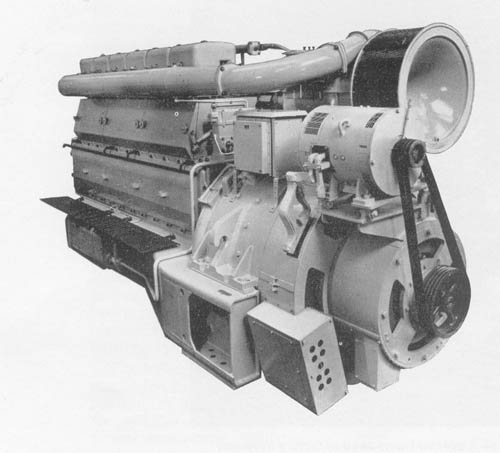 The above view features one of the 6LDA28 power units that were fitted to the first fifty one Class 24s, including D5000. These differed from D5051 onwards in that excitation was provided by a separate four-pole machine with separate, self & differential series excitation windings. It is belt driven from a shaft extension on the main generator.
December 17th saw delivery of the first of the BRCW Type 3's, D6500 to Hither Green. The fifteen LMR Type 2's (D5000-003/005-24/17) on loan to the SR had averaged about 39,250 miles annually.
1960
On October 2nd D5000 came to grief at New Cross Gate whilst working the 9.05pm London Bridge - Deal passenger, the train sustaining an hours delay awaiting a replacement locomotive.
The evening mail trains on the South Eastern Division were regularly hauled by Type 2s, during December they featured in an unusual 'push-pull' maneuver in the Redhill area. Amongst trains affected were the 11.50pm London Bridge - Deal and the 9.28pm Margate - Cannon Street, both running via Redhill. Engineering works required use of the Quarry Line, necessitating the use of a steam locomotive on the Earlswood - Redhill section to draw the train backwards. On December 9th this move featured D5000 on the Deal and D5002 on the Margate.
1961
A somewhat strange innovation implemented by Eastleigh Works was the use of ex-works diesels on the Southampton - Waterloo boat trains, a risky venture as the out shopped locomotives ran alone. D5000 worked the 10.05am Venus boat train on October 27th, but on reaching Brookwood an electrical fault failed the locomotive, necessitating the use of Class N15 4-6-0 No.30765 'Sir Gareth' for the remainder of the journey to Waterloo. D5000 spent several days enjoying the delights of Brookwood yard before being towed back to Eastleigh. The overhaul at Eastleigh took place between September & November.
D5000 worked the 12.35 Rugby - Euston on December 23rd.
1962
During July D5000 was transferred away from the Southern Region, being allocated to Willesden (1A). A brief visit was made to Derby Locomotive Works in August.
1963
During January D5000 was noted at Derby Locomotive Works, a victim of the severe winter perhaps.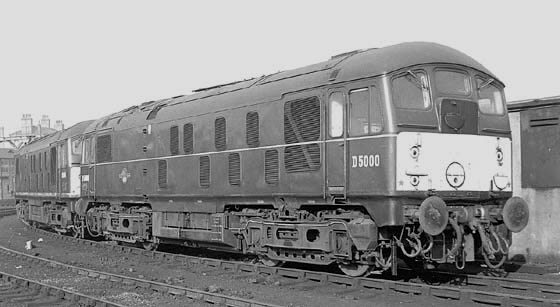 Photograph courtesy Alec Swain/Transport Treasures

A fine pictorial study of D5000 on the London Road curve at Derby on February 13th 1963. Despite the thin stripe being un-popular with the BRB it remained on the locomotive until 1969. A yellow warning panel has been added. The position of the number for D5000 was also different from other members of the class.

During August D5000 moved north to Crewe (5B), but stayed only briefly, returning to Willesden (1A) in September. During its time at Crewe (5B) a visit was made to Derby Locomotive Works.

At the end of December 1963 D5000 was noted at Willesden with collision damage to one cab, believed to be the No.1 end cab, with much damage to the driver's side of the cab.

1964

January & February were spent at Doncaster Works in order to have repairs carried out to the collision damage sustained late in 1963. Between April 1964 and May 1965 a vast amount of time was spent in Derby Works.

On June 7th D5000 was noted on a local passenger service at Rugby.

1965
A short transfer was made to Camden (1B) during January, then back to Willesden in February.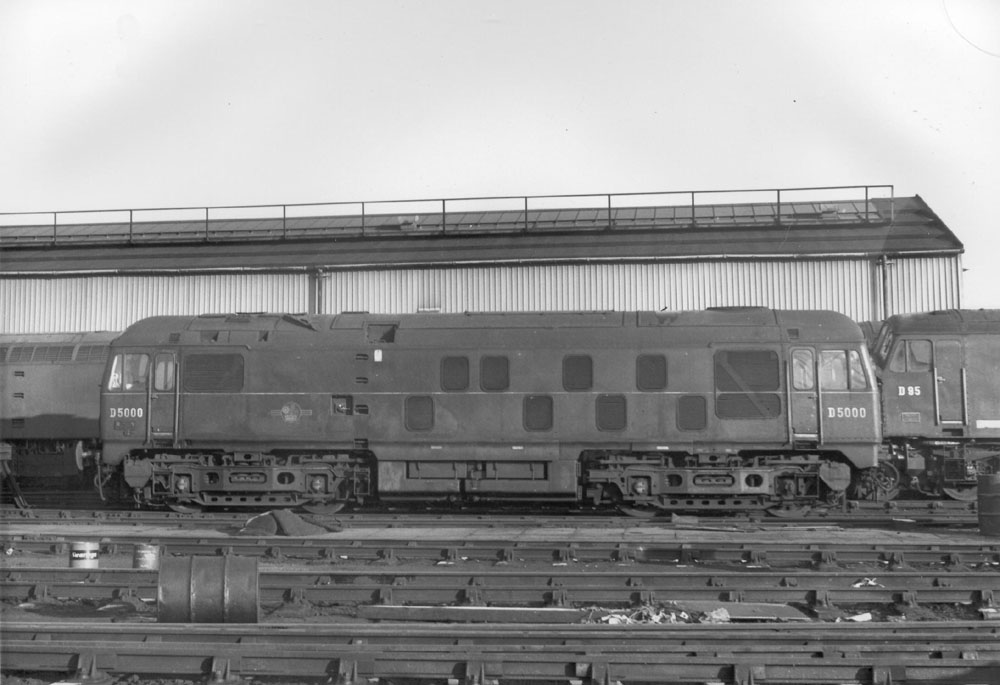 Photograph courtesy John Hancock.
D5000 at Derby Locomotive Works on January 3rd 1965. The well lit side view shows off the unique lining carried by D5000 which it would carry until overhaul during 1969. The locomotive has also gained a steam style shed plate, located beneath the builder's plate.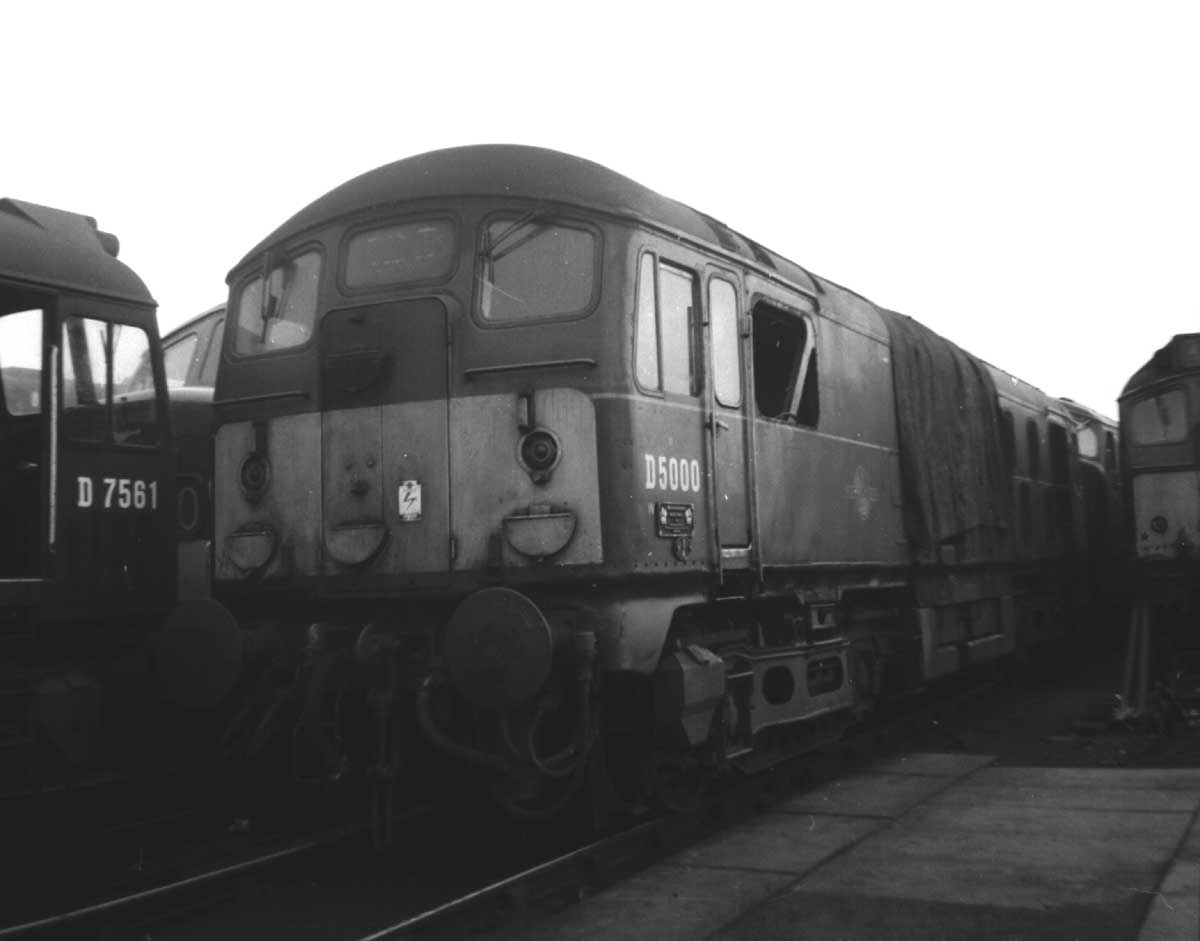 Photograph collection of webmaster.

D5000 awaits attention in Derby Locomotive Works yard, believed to be sometime during 1965. Visible are the extra headcode brackets for use on the Southern Region, the unique builders plate and the two-rung step mounted on the bogie.

At a currently unknown date, but most likely during 1965 the original full-size underframe boiler water tank was removed and replaced with a shorter tank, noticeable in photographs due to the larger gap between the water tank & fuel tank.

D5000 was transferred to Bletchley (1E) during September.

1966
During April D5000 became part of the London Division (D01) allocation.

September 3rd was the final day for the Marylebone - Nottingham Victoria through services. Whilst working the 08.15 Nottingham - Marylebone 44872 (16B) failed at Aylesbury, rescue came in the form of D5089, with the return working, the 14.38 to Nottingham being handled by D5000. A brief visit was made to Derby Locomotive Works in October.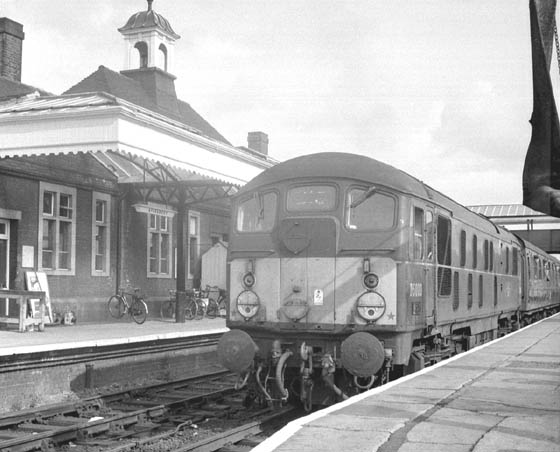 Photograph courtesy the RCTS Archives

Although this view is not officially dated, this could well be the working refered to in the above text, that of the 14.38 Marylebone - Nottingham. The location is Aylesbury and when compared with other views of that 'historic' working, the condition of the locomotive and rolling stock, as well as the weather, provide a very good match. When compared to the first view on this page, the locomotive has gained an extra ventilator, on the top row close to the boiler room grille.

1967
As part of the mass movement northwards for the London based Class 24s, D5000 was transferred to the Stoke Division (D05) in April 1967, though sometime was spent at Derby Works during March & April.

1968
A visit was made to Crewe Works during July.

1969
The first twenty of the class, all then allocated to the Stoke Division (D05), were slated for early retirement. Many were due for heavy shopping and lacked certain improvements fitted to later members of the class, with the first withdrawn being 5000/01/05/10/19 whilst stored were 5002/07/11/12/17, with 5000 being withdrawn on January 4th 1969 and stored at Shrewsbury until September 1969.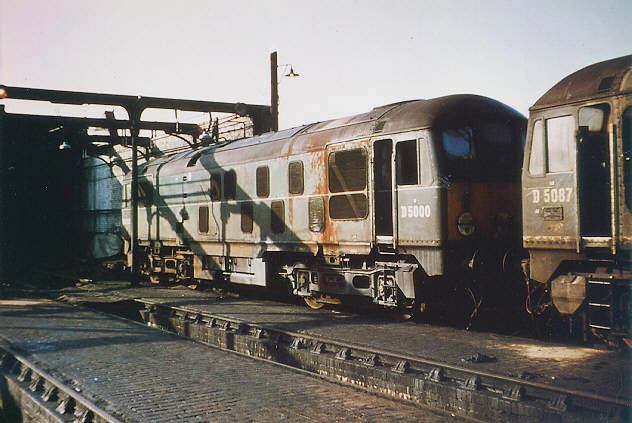 Photographer not known at this time

As mentioned above the authorities recognised a continuing excess in the smaller power range, thus during January 1969 D5000 was taken out of service, along with a number of others. The above picture shows D5000 in store at Shrewsbury, April 6, 1969 looking quite the worse for wear but still in its original livery with the eggshell blue waist level stripe in place. Its original condition is reflected in the frame level valencing still being in place. When compared to the January 1965 view at Derby shed (see above), the Shrewsbury view shows three step footsteps to the cab, instead of two and a shortened boiler water tank.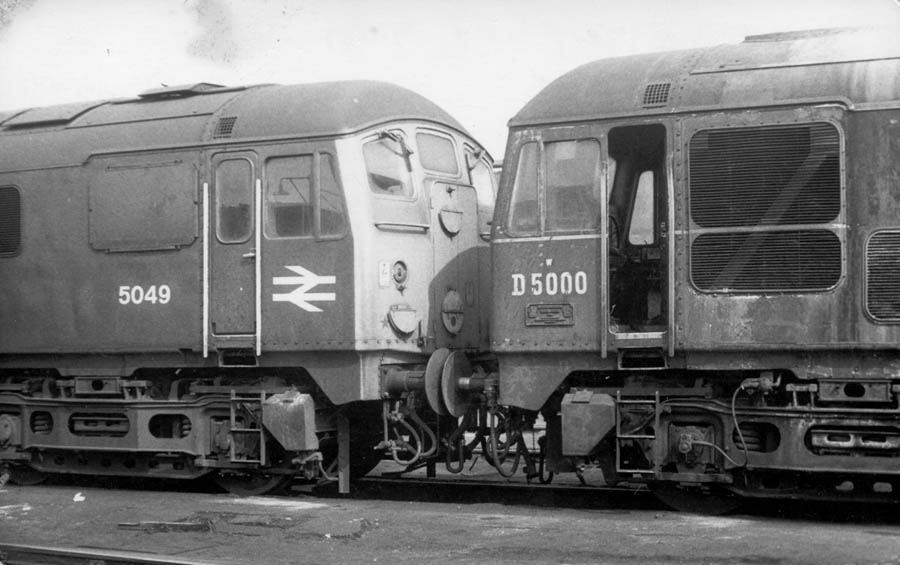 Photograph collection of Barry Edwards.

Another view of D5000 in store at Shrewsbury on April 7th 1969, still carrying its unique builders plate. However there is no steam depot style plate mounted under the builders plate, as could be found on the other cab.

During October the Eastern Region experienced an upswing in traffic volumes, so much so that their diesel allocation could not handle the extra traffic. In looking to other regions for help the LMR had available a number of stored Type 2s. Most of these machines had been in store for at least nine months, clearly reflected in their external appearance. Thus in October 5000/01/13/18 and November 5090 were reinstated to Leeds Holbeck, though most visited Derby Locomotive Works prior to being handed over to the Eastern Region. In outshopping these machines Derby chose to repaint 5000 into blue but left 5090 in green! In addition it was fitted with bogies equipped with Athermos axleboxes, which were carried until withdrawn.

1970
5000 was noted at Derby Locomotive Works during January & February.

On Easter Monday (April 30th) a Sheffield - Bridlington excursion (1G11) had 5000 with ten coaches. Other holiday makers travelling out of Scarborough had the opportunity for Type 2 haulage with the 9.25 Scarborough - Manchester, so noted was 5172 (July 4th) and 5180 (July 11th) and 5000 (August 22nd).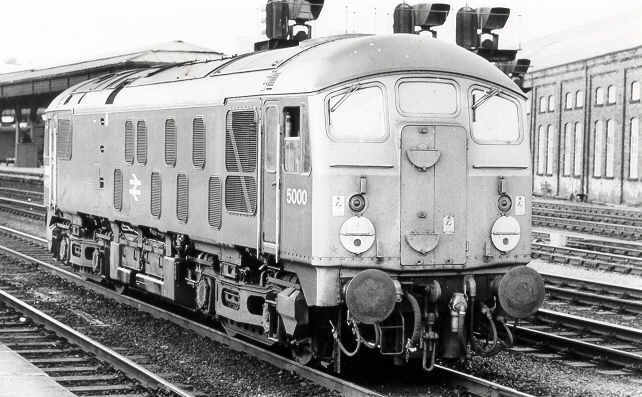 Photographer not known at this time

Here is 5000 at York probably during 1970. Clearly visible in this view is the 'split' radiator frost screen, with the removal of the majority of the valencing being evident. In addition the axleboxes are now of the 'Athermos' type, this being highlighted by the unusual axle box covers, whilst the footsteps on the bogie are now two rung instead of three rung - suggesting a bogie swap has occurred whilst at Derby Locomotive Works. From the views taken at Reddish in 1975/76 it seems 5000/24005 ran with these bogies until withdrawn. At this point the gangway doors had not yet been sheeted over. The unique builders plates have also been removed.

1971
5000 was noted on a local Bescot trip working (T43) on February 4th.

5000's next move came in October with a transfer to Polmadie (66A) to assist the Scottish Region in removing its final North British and Clayton machines from service.

1972
Following the closure of Polmadie 5000 moved cross town to Eastfield.

1973
A visit to Glasgow Works in October & November 1973 was possibly its last for a major repair, which seemed to include the plating over of the gangway doors. Other changes done at this time (?) include the plating over of the hand/footholds to the roof level boiler water filler and the fitting of a solid blanking plate over the boiler room grille. Whilst under repair its identity changed to 24005, taking the place of long retired D5005 in the new renumbering scheme. The TOPS computer would not accept '000' as the number of the first machine in its class.

1974
24005 was noted at Polmadie late in January with damage to one cab.

1975 - 1977
In January 1975 24005, (accompanying 24001/004) headed south to its last shed, Longsight. It remained in service for a further six months, being caught up in the major storage/withdrawals of the summer of 1975, 24005 went into store on July 6th 1975 at Reddish with final condemnation coming on January 31, 1976.

24005 was the Manchester Victoria banker (T42) on February 6th & 7th.

24005 was the Manchester Victoria banker (T42) on March 10th, 25th & 26th.

24005 was the Manchester Victoria banker (T42) on June 26th.

At about 7am on July 3rd 24005 was noted at Manchester Victoria with a down van train.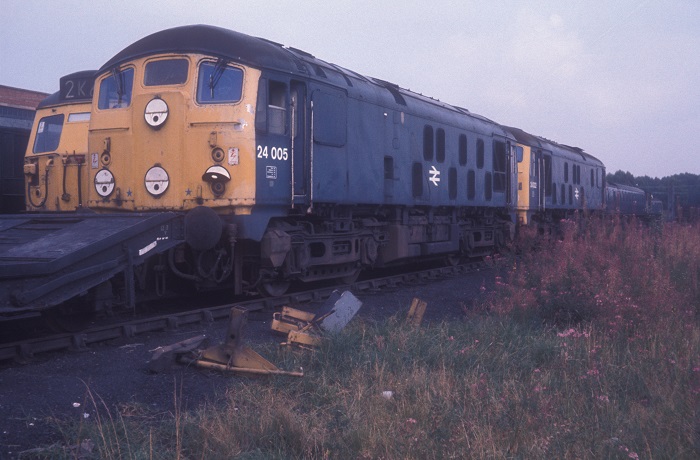 From September 1975 24005, 24020/21/22/24 were stored at Reddish, 24005 seen here on ???? out of service at Reddish. During its last repair at Glasgow the gangway doors were sheeted over, and, in true Glasgow fashion the centre discs were centred on the cab front. The boiler room grille has been replaced by a solid blanking plate. These locomotives remained at Reddish until February 15th 1977, when all except 24022 were towed down to Swindon Works.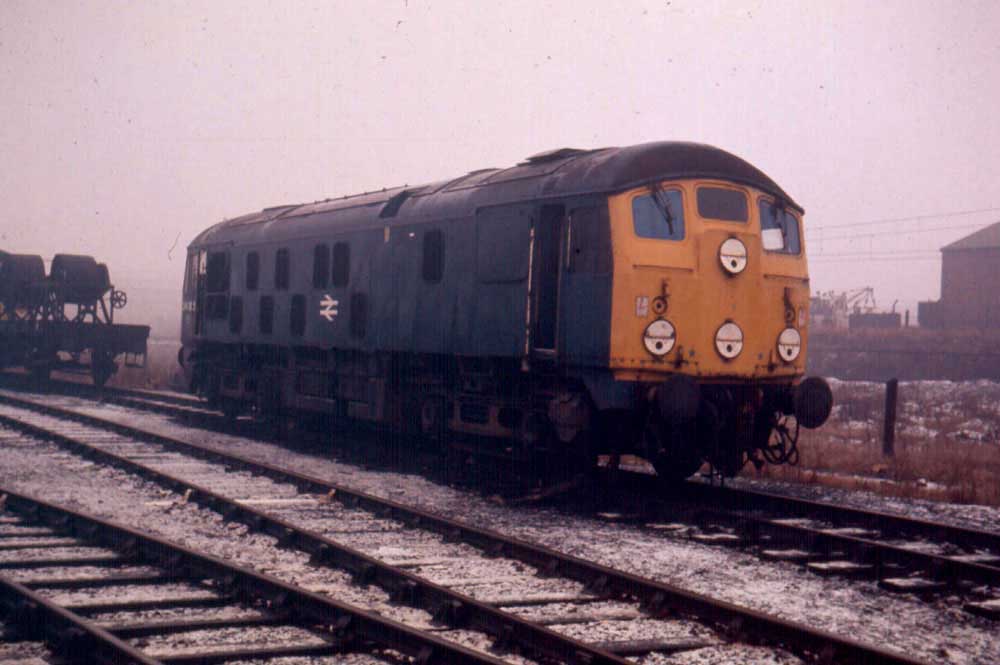 A grainy shot of 24005 at Reddish on December 12th 1976, which started out as a foggy, frosty day as can be seen in this view.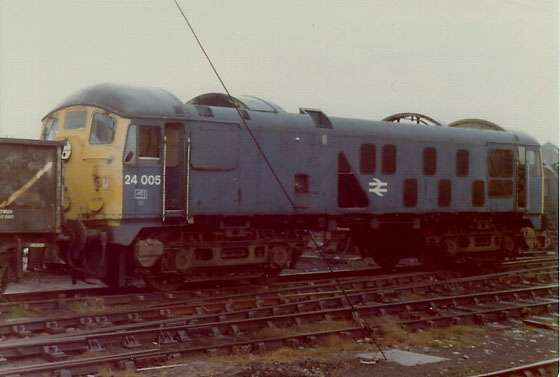 Photograph courtesy Neil Phillips

24005 stands in the rain whilst in the yard at Swindon on March 27th 1977. After the locomotive had been taking into the Workshops for the removal of any items for reuse or of significant scrap value the stripped bodyshell & bogies were taken out into the yard to the scrapping area. When the locomotive was next in line for scrapping it was lifted of its bogies and dumped on the ground, similar to the view below. Then it was just a matter of cutting up the body and bogies, putting the scrap into nearby wagons, then onto the next item to be scrapped.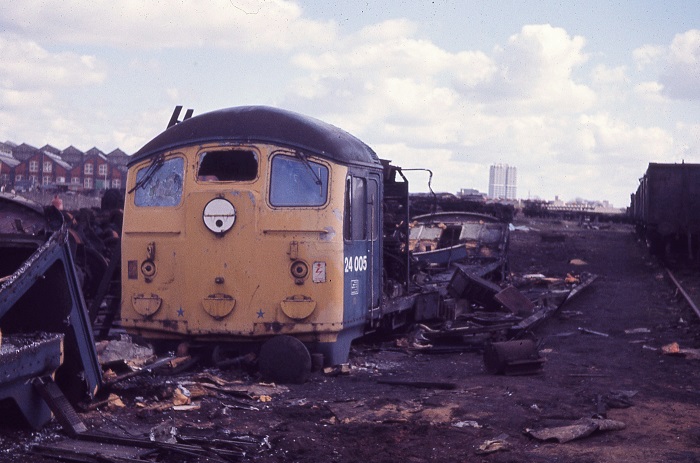 In recognition of its historical nature the National Railway Museum was notified of the impending fate of the first Class 24. The request was not taken up, the NRM apparently prefering the products of a private locomotive builder, in this case that of D5500, a machine which no longer contained its original power plant. And so it was that in April 1977, like many others, 24005 was reduced to just so much scrap.
Cost of Modernisation Plan Locomotives
Class 44 D1 - D10: £144,422
Class 40 D200 - D209: £106,807
Class 41 D600 - D604: £102,526
Class 42 D800 - D802: £143,645
Class 26 D5300 - D5319: £71,704
Class 31 D5500 - D5519: £78,043
Class 28 D5700 - D5719: £78,488
Class 23 D5900 - D5909: £79,110
Class 21 D6100 - D6109: £69,853
Class 22 D6300 - D6305: £63,593
Class 20 D8000 - D8009: £58,955
Class 20 D8010 - D8019: £59,136
Class 15 D8200 - D8209: £56,485
Class 16 D8400 - D8409: £58,133
In contrast to the cost of the new diesels shown above, below are the prices for the last built of the BR Standard Classes (between 1952 & 1960)
4-6-2 70054: £24,837
4-6-2 71000: £36,153
4-6-2 72009: £20,426
4-6-0 73171: £25,056
4-6-0 75079: £18,452
2-6-0 76114: £22,140
2-6-0 77019: £16,054
2-6-0 78064: £16,871
2-6-4T 80154: £21,944
2-6-2T 82044: £14,627
2-6-2T 84029: £17,924
2-10-0 92220: £33,497
External changes summary
The following external changes occurred to D5000 / 24005 during its lifetime (items indicated with ** were typically applied to most if not all Class 24s):
Ventilators As originally built only four ventilators were fitted on the top row on the side NOT containing the battery isolating switch module, but prior to delivery from new to traffic a fifth ventilator was added close to the boiler room grille.
Additional headcode disc brackets fitted (for use with SR six disc headcodes). Added to both cabfronts above the marker lights after transfer to the Southern Region, these brackets were never removed.
Cab front gangway doors** Sheeted over at Glasgow Works during October 1973 repair.
Headcode discs When the cab front gangway doors were sheeted over at Glasgow Works during October 1973, the two discs carried on one of the doors were repositioned to the vertical centerline of the cabfront.
Boiler Water Tank** Sometime during 1965 at Derby Locomotive Works the original full size water tank was replaced with a shortened version.
Engine exhaust** Moved from original position above the boiler room to the engine room, exhaust port changed from circular to rectangular style.
Hand & Footholds to cantrail water tank filler** Plated over at Glasgow Works during October 1973 repair, the two rung bogie mounted footstep to access the water filler were also removed.
Builders Plates Unique style fitted to D5000, removed at Derby during 1969 repair, never replaced.
Bogies Delivered from new with SKF axleboxes and two rung bogie mounted footsteps, (view at Shrewsbury in April 1969 shows three rung footsteps!), after repair at Derby during 1969 bogies fitted had Athermos axleboxes and two rung bogie footsteps - these bogies remained with the locomotive until withdrawn.
Boiler Room Grilles** Solid blanking plate added during repair at Glasgow in October 1973.
Cantrail water filler cover** Removed at some point (at least by May 1963).
Frame level valencing** Mostly removed during repair at Derby Works during 1969, remainder removed by time of Glasgow repair October 1973.
Livery changes summary
Body Paint Carried green livery from new until repainted blue at Derby Locomotive Works during 1969.
Warning panels Yellow half panel applied by February 1963 with curved upper corners, full yellow ends applied during repair at Derby during 1969.
Pin striping Unique to D5000, retained until painted blue at Derby during 1969.
Numbers Non standard position from new, centered on cabside panel making them lower than from D5001 onwards. After 1969 repaint at Derby numbers were carried in normal position until withdrawal.
Allocation History
Delivered new to Crewe South (5B) on September 5th 1958.
September 1958 to Derby (17A) on loan
January 1959 to Hither Green (73C) on loan
June 1962 to Willesden (1A)
June 1962 to Hither Green (73C) on loan
July 1962 to Willesden (1A)
August 1963 to Crewe North (5A)
September 1963 to Willesden (1A)
January 1965 to Camden (1B)
February 1965 to Willesden (1A)
September 1965 to Bletchley (1E)
April 1966 to London Division (D01)
April 1967 to Stoke Division (D05)
January 4th 1969 withdrawn
October 1969 reinstated to Leeds Holbeck (55A)
October 1971 to Polmadie (66A)
March 1972 to Eastfield
January 1975 to Longsight
July 1975 to store
Withdrawn January 31st 1976.
Renumbered November 1973.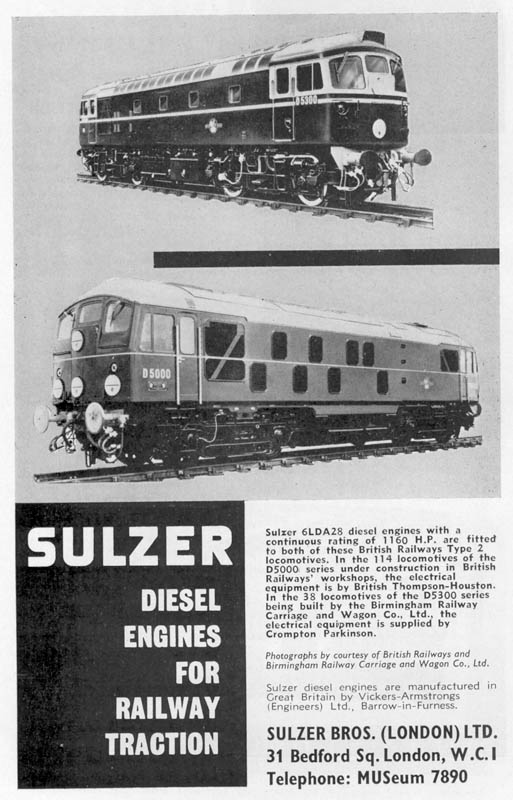 Two of the recipients of the Sulzer 6LDA28 engine feature in an advert from 1958/59.
flk 0416 (3)
Page added May 2000.
Page updated February 15th 2020.