D5005, 5005

The ten year career of D5005 saw allocations to London Midland Region and Southern Region depots.

Built Derby Locomotive Works.
Full size fuel & water tanks (shortened water tank added later).
Split radiator screens.
Five upper and four lower air filters on non-BIS side.
Additional headcode disc brackets fitted (for use with SR six disc headcodes).
Boiler water tank removed whilst on Southern Region.
Time between last Classified repair and withdrawal: 41 months.
Time between withdrawal & scrapping: 11 months (assumes scrapped locomotive is actually 5025 carrying 5005's number).

Allocations

The frames for D5005 were laid down at Derby Works during the late summer of 1958, with D5005 delivered new to Crewe South (5B) on January 3rd 1959, but then immediately loaned to Derby (17A). Further transfers were:

January 25th 1959 to Hither Green (73C) on loan
June 1960 to Crewe South (5B)
August 1960 to Hither Green (73C) on loan
May 1962 to Crewe South (5B)
May 1962 to Crewe North (5A)
June 1962 to Crewe South (5B)
June 1962 to Rugby (2A) - later 1F
June 1965 to Bletchley (1E)
April 1966 to London Division (D01)
April 1967 to Stoke Division (D05)
January 25th 1969 withdrawn.

After withdrawal 24005 was moved to Derby Works and reportedly broken up there by December 1969. However in reviewing the available photographic evidence it appears the identities of 5005 & 5025 were swapped whilst both were at Derby Works. Thus the locomotive broken up at the end of 1969 is that of 5025.

Works Visits

Works visits (records incomplete).

Noted Derby Works June 1960.
Noted Eastleigh Works March 1962.
Noted Derby Works October 1962.
Noted Derby Works March & August 1963.
Noted Derby Works October 1965.
Noted Derby Works December 1966.

Highlights

The condition reports assume that throughout the life of D5005 the bodysides had four upper/four lower ventilators on BIS side, five upper/four lower ventilators on non-BIS side, a split radiator screen on the non-BIS side and a standard screen on the BIS side and headcode disc brackets fitted (for use with SR six disc headcodes) on both cabs until withdrawal.

1958 - 1959
It was during the latter half of 1958 that the frames were laid down for D5005, part of a batch of twenty machines (D5000 - D5019), which were part of the original order of locomotives for the Modernisation Plan.

D5005 was delivered during January 1959, on paper to Crewe South (5B), then immediately transferred to Derby (17A). D5005 was noted at Derby shed on January 12th 1959 in ex-works condition and without the underslung boiler water tank. The same month the Southern Region borrowed a number of these new arrivals including D5005, the move being made by D5005 with D5003 on January 24th 1959 and both noted at Hither Green on February 3rd. The loan was made pending the arrival of the BRCW Type 3s and the delayed start-up of parts of the Kent electrification scheme.

The use of D5000 - D5014/17 on the Southern Region was not without problems. Like a number of the early classes the Derby built Type 2s were found to be overweight, in this case almost five tons overweight. This heavier than expected axle loading was a major concern for the SR Civil Engineer, leading to D5004 & D5005 visiting Eastleigh Works in February to see what could be done to reduce the axle loadings. **It should be noted D5005 was noted brand new at Derby with no boiler water tank fitted**. The easiest solution was to remove the train heating boiler and boiler water tanks, this being done on locomotives D5002 - D5006, which made them a little more versatile in regard to their route availability, though the boilers were sorely missed during the winter.

During the afternoon of March 10th D5003, D5004 & D5005 were noted on Ashford shed.

Freight workings using the Type 2s included the 3.05pm Hoo Junction - Hither Green freight, noted in April were D5005 (6th), D5009 (7th), D5010 (8th), D5000 (9th) and D5005 (10th). The next day (11th) D5005 worked the 1.32am Dartford - Hoo freight returning with the 3.10am to Hither Green.

Condition May: green livery with frame level stripe, full size fuel tank, water tank removed, engine exhaust in original position, ridge sided sandboxes, two-rung bogie mounted footsteps, SR headboard/disc brackets not yet fitted.

The summer Margate - Birkenhead had been in the hands of the Type 2s from June 15th, working as far as Redhill, noted on the first four days were D5001/02/05/04. On the heavier Saturday working double heading was frequent.

On November 1st SR EMU 7111 derailed at Dover, the lead coach hitting the tunnel brickwork. D5005 was used to bring a crane to the site to assist with the clean up.

1960
The SR Civil Engineer eased the restrictions affecting the overweight Type 2s, most returned to the LMR to have the boilers and water tanks refitted. D5005 was briefly re-allocated to Crewe South (5B) during June for this purpose and was noted in Derby Works during June. By the end of July the water tank had been refitted and the SR headboard/disc brackets were added.

On March 26th D5005 worked the 16.40 Hoo Junction - Hither Green freight (boiler water tank missing, extra disc brackets fitted).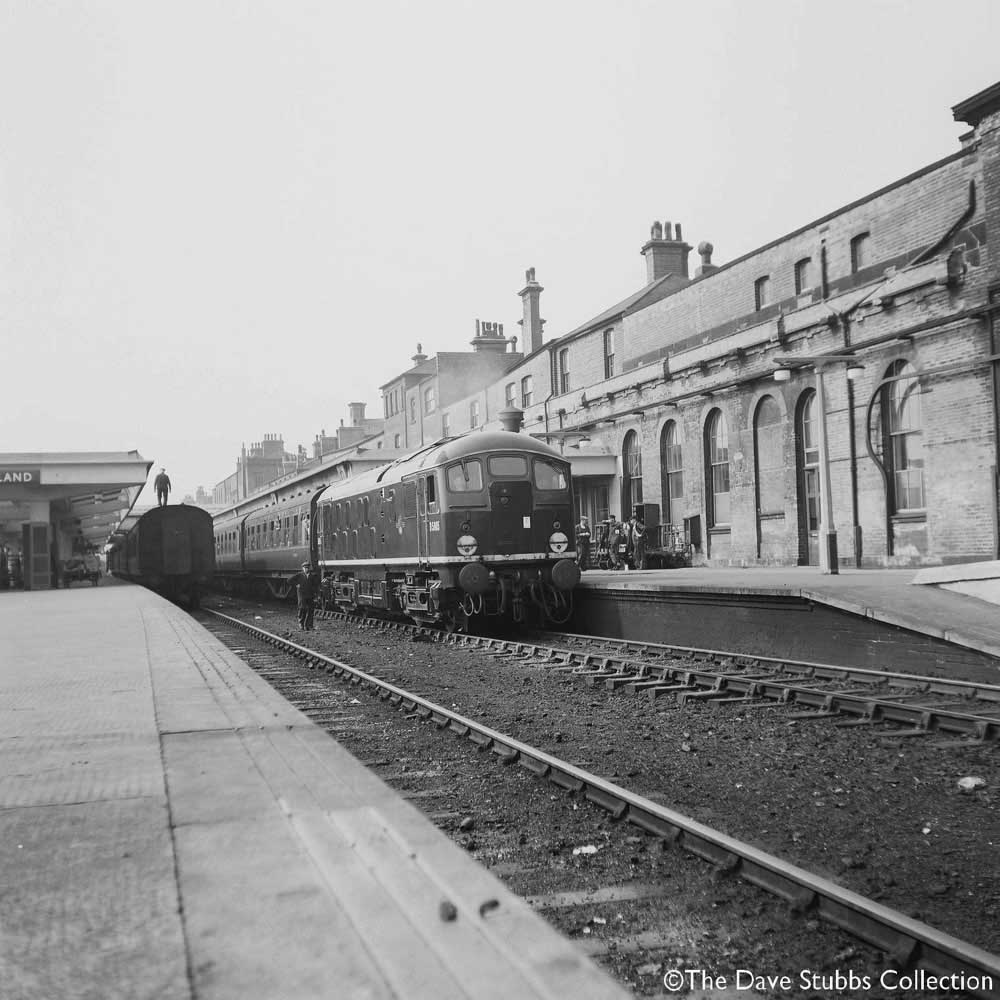 Photograph courtesy Dave Stubbs collection.
A wonderful view from the north end of the station with eighteen month old D5005 awaiting departure with an unidentified working on July 25th 1960. It is possibly the diagram which covered the 9.38 Derby - Manchester, 12.30pm Manchester - Liverpool Central, returning with the 2.30 Liverpool Central - Derby, requiring a run round at Manchester. This view would have been taken whilst D5005 had briefly returned to the LMR between May & September 1960.
1961
On May 31st D5005 was noted at Ramsgate with a service for Charing Cross.
D5005 worked the 10.50 Wolverhampton Low Level - Margate on October 28th, at least forward from Redhill.
1962
With the arrival of the BRCW Type 3s and the successful start up of the Kent electrification plan the Type 2s were slowly returned to the LMR, D5005 headed north in May to Crewe South (5B), then Rugby (2A) during June.
Repairs during 1962 included D5005 at Eastleigh in March and at Derby during October.
On the late morning of July 24th D5005 was noted light engine at Leamington, at this time it was quite rare to see a BR/Sulzer Type 2 on this route.
1963
During February D5005 made a number of trips to Southam / Long Itchington (cement works) on the trip freight. Possibly this was for crew training or to test the possible dieselisation of these turns. In any event the 8Fs normally found on this turn continued to work this job.
February 5th: D5005
February 8th: D5071 - probably mis-identified, by this time D5071 was allocated to Haymarket.
February 12th: D5005 & 48122
February 14th: D5005
February 15th: D5xxx & 48287
February 20th: D5005 & 48507?
February 21st: D5005? & 48601.
D5005 visited Derby Works during March & August.
On July 28th a Coventry – Skegness excursion utilised D5005 to Peterborough, replaced here by B1 4-6-0 No.61174.
1964
At mid-day on January 18th D5005 was at Rugby with a three coach service for Peterborough. Later that afternoon D5005 was at Seaton with a seven coach Harwich - Rugby service.
On the morning of April 28th D5005 was light engine at Rugby.
Condition May: green livery with frame level stripe, small yellow warning panels, curved upper corners; full size fuel and water tanks, ridge sided sandboxes, two-rung bogie mounted footsteps, SR disc brackets fitted, steam style shed plate fitted on cab front (1A).
1965
As the LMR electrification advanced the passenger workings out of Euston diminished for the Type 2s although they remained in great demand to handle the extra engineering trains required to complete the electrification works.
On June 5th D5005 was noted on the 07.00 Lowestoft - Birmingham New Street (via Market Harborough & Rugby), the external condition of the locomotive was poor, however a visit to Derby Works was imminent.
After three years at Rugby shed (2A & 1F) D5005 moved to Bletchley (1E) during June and spent some time at Derby Works during October. It is most likely that D5005 gained its two-tone green livery (similar to the Class 25 & 47s) on the occasion of this visit Derby.
Photographer unknown.
During the summer of 1965 several Class 24s received the two-tone paint scheme being applied to the new Class 25s. One such example was D5005, here freshly outshopped. The locomotive has gained the shortened water tank, one of the measures used to ease the axle loading on these early machines.
Condition October: two-tone green livery with small yellow warning panels, full size fuel tank, shortened water tank, ridge sided sandboxes, two-rung bogie mounted footsteps, blanking plates fitted, hand/footholds present, all valencing in place, engine exhaust located above engine room.
On November 18th D5005 worked a morning rush hour Bletchley - Euston service.
1966
On April 23rd D5005 was at Birmingham New Street with passenger stock.
D5005 was back at Derby Works during December.
1967
On March 23rd D5009 & D5005 were noted at Olney station with a demolition train, with the wagons containing much of the demolished station.
After almost five years generally spent at the southern end of the WCML D5005 was transferred to the Stoke Division (D05) in April, with Crewe depot its new home. Between April & August the entire batch of D5000 - D5049 would migrate to the Stoke Division, more would follow in 1968.
Noted at Stoke on Trent on the afternoon of November 13th were D5005 (light engine), D5025 (up parcels), D5035 (down freight) with 75046, 75047 & 75052 lying condemned at Stoke shed.
1968
On September 28th 5005 was stabled at Crewe.
1969
By 1969 many members of the less successful diesel types (from NBL, Metropolitan Vickers, Claytons) had already gone to the scrapman, but there still existed within the diesel fleet a surplus in the Type 1 & 2 categories. Because the original batch of Type 2s from Derby Works lacked certain refinements carried by the later machines, they were selected for withdrawal during 1969. Ten were stored or withdrawn, being held at Shrewsbury, Chester, Crewe & Derby.
One of these early casualties was 5005 which was withdrawn in January and eventually reached Derby Works for scrapping. However a shortage of power on the Eastern Region and the loss of four Class 24s in a runaway accident at Chester, saw all but 5005 returned to service. 5005 would be scrapped at Derby at the end of 1969, the only Class 24 broken up at Derby Works and the only Class 24 to be broken up at its birthplace. It was also the only Class 24 from the original Modernisation Plan order to carry the two tone green livery........ Well, that is what the official records would say, but it is known that 5005 & 5025 swapped identities at Derby Works during 1969. The body and cabs of 5005 became 5025 whilst what was 5025 is the locomotive presumed scrapped at Derby and identified as the withdrawn '5005'.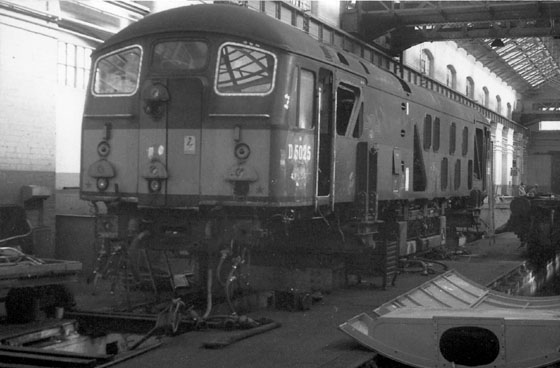 Photograph courtesy Brian Lockwood / Collection of Transport Topics, Martin High.
D5025/D5005 in the main erecting shop at Derby Works sometime during 1969.
With thanks to Martin High of Transport Topics for allowing use of the D5025 view at Derby Works during 1969, Thank You!!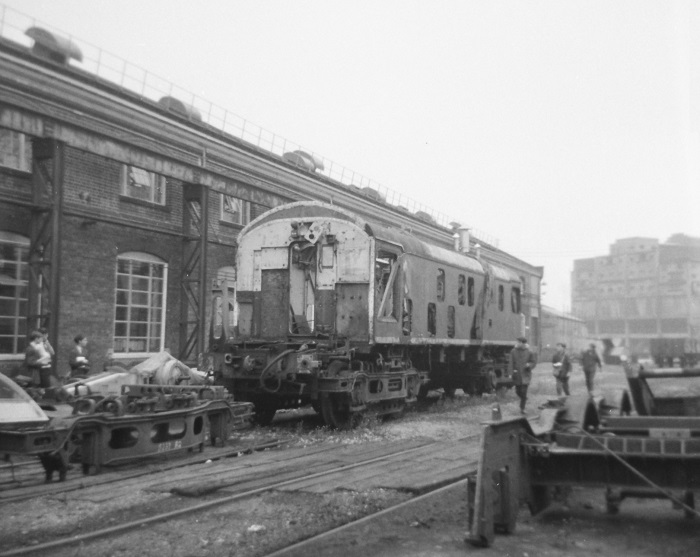 Photograph courtesy Ian Osborne.
A bodyshell and bogies, presumably from 5025 awaits scrapping and is seen here at the 1969 Derby Locomotive Works Open Day. The locomotive appears to be heavily stripped, presumably sitting on a set of scrap bogies, the bogie at the far end has Athermos axle boxes. In the right foreground appears to be a partially dismembered Class 44/45/46 bogie frame.
flk 0322
Page added September 6th 2016.
Last updated September 5th 2022.
Back to 24004
Forward to 24006