D5062, 5062, 24062
Photograph courtesy GW Sharpe.
An interesting view side by side of Crewe built D5062 and BRCW built D5305 on September 23rd 1966 at St Margarets shed, Edinburgh (64A). D5062 displays another variation on the yellow warning panel, here the panel reaches upto the handrails and with a gap between the bottom of the panel and the frame level stripe.
The fifteen year eight month career of 5062/24062 saw allocations to Eastern Region, London Midland Region & Scottish Region depots.
Built Crewe Locomotive Works.
Shortened fuel tank & full size water tank (retained until withdrawn).
Four upper and four lower air filters on non-BIS side, three upper and four lower on BIS side.
Numbers on all cabside panels and emblems on each cab door (circa 1967 ex-Inverurie).
Gangway doors never removed.
Roof modification (above generator/brake cubicle): no raised panels (circa 1967).
Time between last Classified repair and withdrawal: ?? months.
Time between withdrawal & scrapping: 12 months.
Allocations
The frames for D5062 were laid down at Crewe Works during November 1959, D5062 was new to March (31B) on January 18th 1960. Further transfers were:
December 1960 to Stratford (30A).
March 1961 to Finsbury Park (34G).
August 1966 to Haymarket (64B) on loan, made permanent September 1966.
January 1968 to Longsight (9A) on loan.
June 1968 to Manchester Division (D09).
September 1968 to Stoke Division (D05).
May 1973 to Crewe.
October 4th 1975 - withdrawn.
Renumbered February 9th 1974.
After withdrawal 24062 was stored at Crewe from October 1975 until August 4th 1976 when it was towed to Swindown Works and scrapped there by the last week of October 1976.
Movement: August 4th 1976, when 24049/58/62/92 were hauled by 25188 over the Crewe - Banbury - Swindon route.
Works Visits
Works visits (records incomplete).
Noted Stratford Works March 1962.
Noted Derby Works April 1966.
??Inverurie Works circa 1967 (blue/yellow repaint??)
Noted Derby Works April 1968.
Noted Derby Works April 1974.
Highlights
1960
The frames for D5062 were laid down at Crewe in the autumn of 1959, with D5062 ready for traffic in January, being allocated to March (31B) as part of the East Anglian dieselisation program. During December D5062 moved south to Stratford (30A).
1961
During March D5062 was transferred to Finsbury Park (34G), where it worked numerous duties over the Great Northern lines, no doubt to cover the loss of the North British & BRCW Type 2's recently moved Scotland.
1962
D5062 visited Stratford Works during March, possibly to have stop-cock equipment fitted for working over the Metropolitan Widened lines.
On July 4th D5062 worked the 17.24 Broad Street - Hertford North.
1965
On April 15th the down 'Heart of Midlothian' with D9001 in charge became a complete failure near Welwyn Garden City, rescue came in the shape of D5062 taking the train northwards to ?
1966
On June 8th D5062 worked the 17.35 Broad Street - Hertford North.
After five years working in the London area D5062 headed north to Haymarket (64B) during August, being used on the empty coaching stock duties around Edinburgh and on locals to Carlisle, Hawick & Carstairs. This move allowed the Claytons to transfer across the Firth of Forth to assist in replacing steam in the Thornton/Dunfermline/Dundee area.
1967
Circa 1967, presumed overhaul at Inverurie Workshops, emblems applied to each cab door and numbers with 'D' prefix to each cab side panel.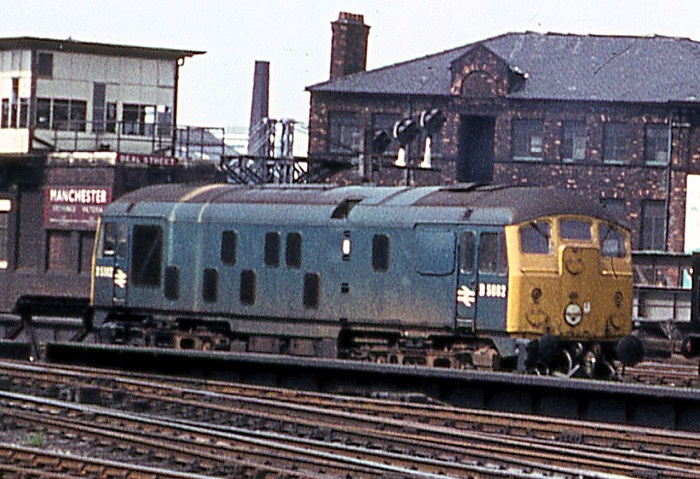 Photograph courtesy Alistair Holt / KDH Archive.
D5062 at Manchester Victoria believed to be sometime in 1968, shortly after its transfer from Haymarket to Longsight. D5062 displays features from a 1967 overhaul at Inverurie, having been painted from green livery into the corporate blue/yellow livery. These first examples into blue/yellow carried a variety of positions for the numbers & emblems. The use of two numbers and emblems per side is correct for this period, but the locations as seen here was not followed for long, the emblems would be placed on the cabside panels and the numbers on the bodysides. The simplification of the roof panels above the generator / brake gear cubicle following the repositioning of the engine exhaust has occurred, however there are several variations to this modification. Apologies to the original photographer in trimming the image to cature only D5062.
1968
After some eighteen months working the Scottish lines D5062 returned south during January as part of the final campaign to finish steam working in the north west.
During the latter part of the year 5062 moved to the Stoke Division (D05) joining a large fleet of Class 24s recently arrived from the southern end of the LMR.
1972
On April 8th a Crewe - Pwllheli enthusiast special started out behind 5056 & 5062. At Welshpool 5080 replaced an ailing 5056, which quickly headed back towards Shrewsbury, complete with the Welshpool - Newton "staff" still onboard! The locomotive was finally stopped at Westbury and promptly reversed course back to Welshpool, where the special finally got away over an hour late.
1973
5062 was allocated to Crewe when the LMR Divisional allocations were discontinued during May.
At about 11am on August 3rd 5062 was noted at Llandudno with an up freight.
1975
Along with a great many others 24062 fell victim to the mass withdrawals of the Class 24 fleet during the summer/autumn of 1975, 24062 was withdrawn on October 4th 1975.
Condition Final: blue/yellow livery, gangway doors still in place, full size water tank, shortened fuel tank, three rung bogie mounted footsteps, straightsided sandboxes, blanking plates in place, hand/footholds plated over.
A builders plate (Crewe 1959) for 24062 sold on Ebay for £412 during November 2017.
Resources:
Vic Smith - location details.
flk 0222
Page added April 17th 2000.
Last updated February 12th 2022.
Back to 24061
Forward to 24063