D5133, 5133, 24133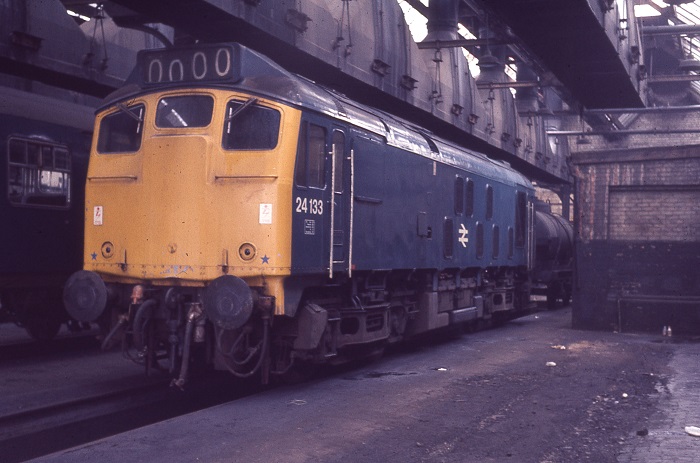 24133 at Birkenhead, December 19th 1976. A somewhat grainy shot for sure, but the steam sheds could be a challenge for photographers at the best of times, especially with colour. The view also reveals the modified headcode/roof panel which was carried by a number of Class 24/1 & Class 25/0s, the angular headcode box has added fairings to each side, the later Class 25s had their air horns fitted here. This modification, for 24133 was only carried at one end.
The seventeen year six month career of D5133/24133 was spent allocated only to London Midland Region depots.
Allocations
The frames for D5133 were laid down at Derby Locomotive Works during June 1960, D5133 was new to Longsight (9A) on September 24th 1960. Further transfers were:
December 1960 to Willesden (1A) on loan, made permanent January 1961.
May 1962 to Carlisle Canal (12C).
July 1962 to Willesden (1A).
July 1962 to Longsight (9A).
September 1962 to Crewe North (5A).
March 1966 to Bletchley (1E).
April 1966 to London Division (D01).
September 1966 to Stoke Division (D05).
May 1973 to Crewe.
March 21st 1978 withdrawn.
Renumbered February 23rd 1974.
After withdrawal 24133 was stored at Crewe from February 1978 to July 24th/26th 1978 when it was forwarded to Doncaster Works and broken up by October 1978.
Movement: 24087 & 24133 06.30 Crewe - Doncaster July 24th/26th 1978.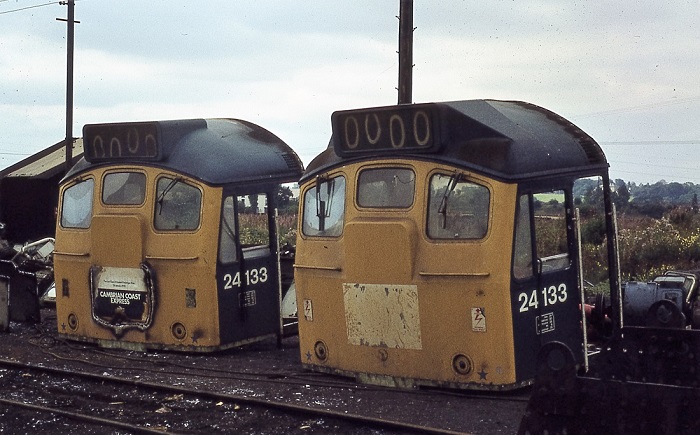 Photograph collection of webmaster.
A grainy view of the cabs of 24133 at the back of Doncaster Works sometime in 1978. With the cabs side by side a comparison can be made of the differing roof styles.
Works Visits
Works visits (records incomplete).
Noted Derby Works March 1961.
Noted Derby Works March & April 1962.
Noted Derby Works June, August & September 1963.
Noted Derby Works February & March 1966 (repainted).
Noted Derby Works November 1969 & January 1970.
Noted Derby Works October 1970.
Noted Derby Works May 1975.
Highlights
1960
After completing nineteen Class 24s (D5114 - D5132) for the Scottish Region, Derby Locomotive Works continued the order with ten Class 24s (D5133 - D5142) for Longsight (9A).
1961
Condition January: green livery with frame level stripe, shortened fuel & water tanks, ridge sided sandboxes, three-rung bogie mounted footsteps.
On July 12th D5133 worked the 18.06 Euston - Northampton.
1962
Between May & July D5133 was loaned to Carlisle Canal (12C) shed for crew training, frequently working the Silloth branch alongside Canal's LMS 2-6-4Ts. Its stay was brief, returning to Longsight (9A) by July month end.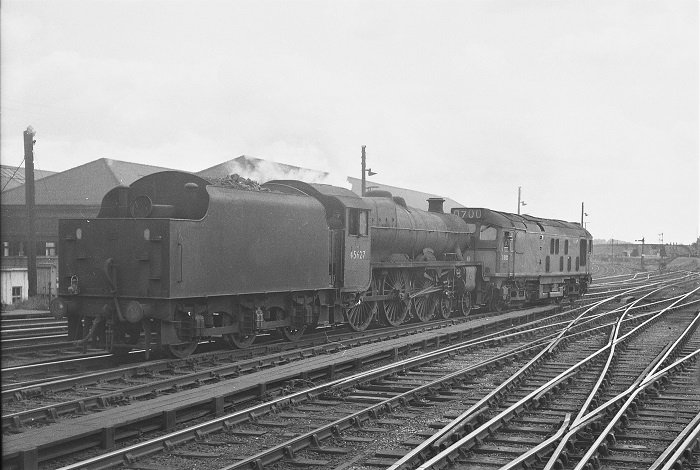 Photograph collection of webmaster.
45627 'Sierra Leone' and D5133 at Carlisle, date unknown, but believed to be sometime between May & July 1962 when D5133 was on loan to Carlisle Canal for crew training.
1963
D5010 & D5133 were noted at Polmadie shed on February 17th.
1964
On June 13th D5024 & D5133 were stabled at Polmadie.
On June 16th the 08.20 Liverpool - Birmingham New Street was worked forward from Stafford by D5017 & D5133 as diagrammed.
On September 8th 08.20 Liverpool - Birmingham New Street was worked forward from Stafford by D5133.
D5133 & D5146 were noted at Euston on October 18th.
1966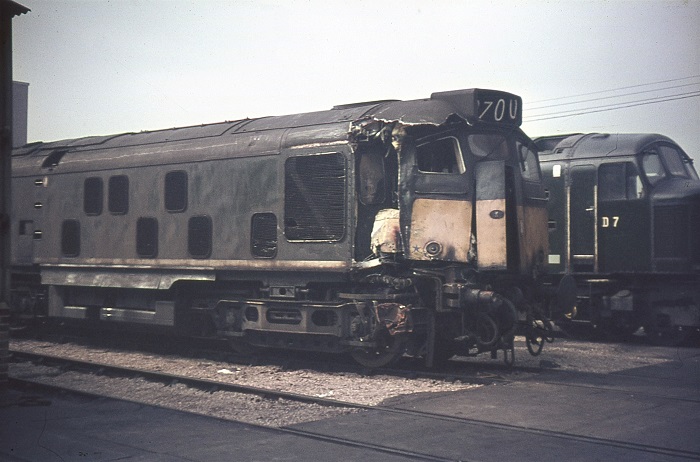 Photograph collection of webmaster.
Not sure of the date for this view but D5133 awaits attention at Derby Locomotive Works.
Condition March: green livery with small yellow warning panels, squared upper corners, warning panel covers frame level stripe, gangway doors not removed, shortened fuel & water tanks, no blanking plates, hand/footholds present, ridge sided sandboxes, three-rung bogie mounted footsteps, all valencing still present. The locomotive is ex-works out of Derby.
1967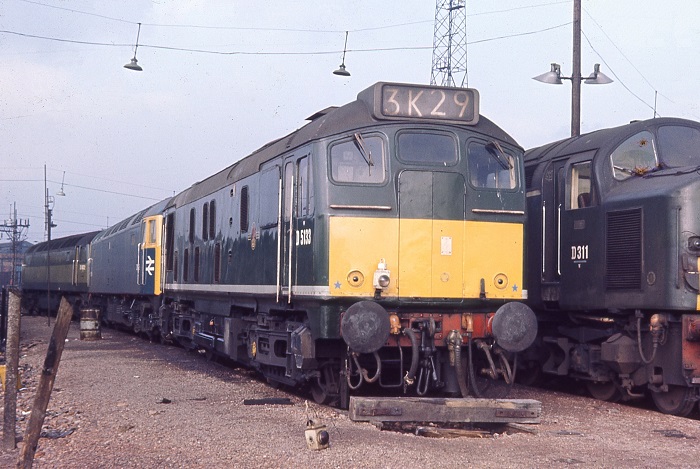 Photograph collection of A Healey.
D5133 at Crewe North during March 1967.
On the evening of August 11th D5133 was noted passing Stockport Edgeley with a down van train.
1968
On the evening of June 14th D5133 was northbound light engine at Crewe.
1969
Condition May: green livery with small yellow warning panel, square upper corners, bottom of warning panel covers white stripe, blanking plates fitted, hand/footholds present, shortened fuel & water tank, three rung bogie mounted footsteps, ridge sided sandboxes, engine exhaust above engine room, 'D' prefixes present, blue TOPS sticker present, all valencing present.
1970
On the evening of June 11th 5033 & 5133 were at Basford Hall with a down freight.
The running of scheduled services over the Cambrian Lines on Sundays, made possible by a Ministry of Transport grant, was handled by diesel multiple unit sets, two of the services being extended to/from Birmingham. With the line open other excursions could be expected, July 12th brought 5133 & 5145 to Welshpool on a excursion from London. Their return was hampered by the failure of 5145, with no relief available 5133 worked through to Wolverhampton unaided.
5133 was a regular visitor to the Cambrian Lines. On February 24th 24133 was noted shunting wagons at Aberystwyth, whilst two days later (26th) 24133 was at Aberystwyth to work the York mail, two coaches (one a half brake) and three parcels vans.
1973
On May 11th 5133 was noted at Aberystwyth with a mixed passenger/freight service.
1974
On September 17th 24133 was noted at Aberystwyth with a mixed passenger/parcels working.
1975
On January 21st 25133 was noted at Manchester Victoria with the 8M14.
Condition February: blue/yellow livery, gangway doors in place, shortened fuel & water tanks, blanking plates fitted, hand/footholds sheeted over, ridge sided sandboxes, three-rung bogie mounted footsteps, circular plate on cab front for radio communication wiring for Royal working (No.1 & No.2 cabs).
On May 30th 24133 made a test run from Derby Works.
The snag sheet for May 30th recorded:
24133; May 30th 1975; 3C48 Nottingham
| | | | | | |
| --- | --- | --- | --- | --- | --- |
| Load | Speed | Amps | Volts | Notes | Other |
| 1 | 25 | 940 | - | - | - |
At about 7am on July 1st 24133 was noted at Manchester Victoria on a down freight. On July 16th 24133 was noted in service in very ex-works condition. The gangway doors had been sheeted over and the circular plate on each cab front for radio communication wiring for Royal working had been retained, now centered low down on the cab front.
On August 29th 24133 worked a late afternoon Aberystwyth - Shrewsbury passenger service.
1976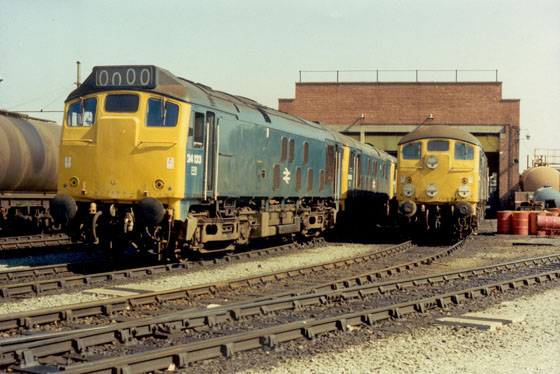 Photograph courtesy Robert Riley
A sunny afternoon at Chester depot finds quite a selection of Class 24s between duties. Prominent in the scene is 24133 the last of the box headcode equipped Class 24's to remain in service, and one of only two Derby built machines to make it to 1977.
On March 20th the Wirral Railway Circle's 'Cambrian Coast Express' operated from Crewe to Pwllheli via Chester & Shrewsbury.
On April 3rd 24133 & 24079 were noted at Shrewsbury with a mystery excursion from Manchester to Swansea, the 24s were replaced at Shrewsbury by 37181.
The week prior to Easter saw the re-instatement of service between Aberystwyth and Dovey Junction following the severe flooding in January. Only one excursion ran during the Easter period, a mystery excursion from Lichfield with 24087 & 24133 on April 19th.
24085 & 24133 worked a Crewe – Holyhead railtour on April 24th, whilst a week later on May 1st 24054 & 24133 handled the Crewe – Llandudno leg of an excursion from Euston.
An Ideal Home Exhibition at the NEC opened on October 16th with many visitors arriving by train. A number of specials ran that day including 24087 & 24133 from Aberystwyth.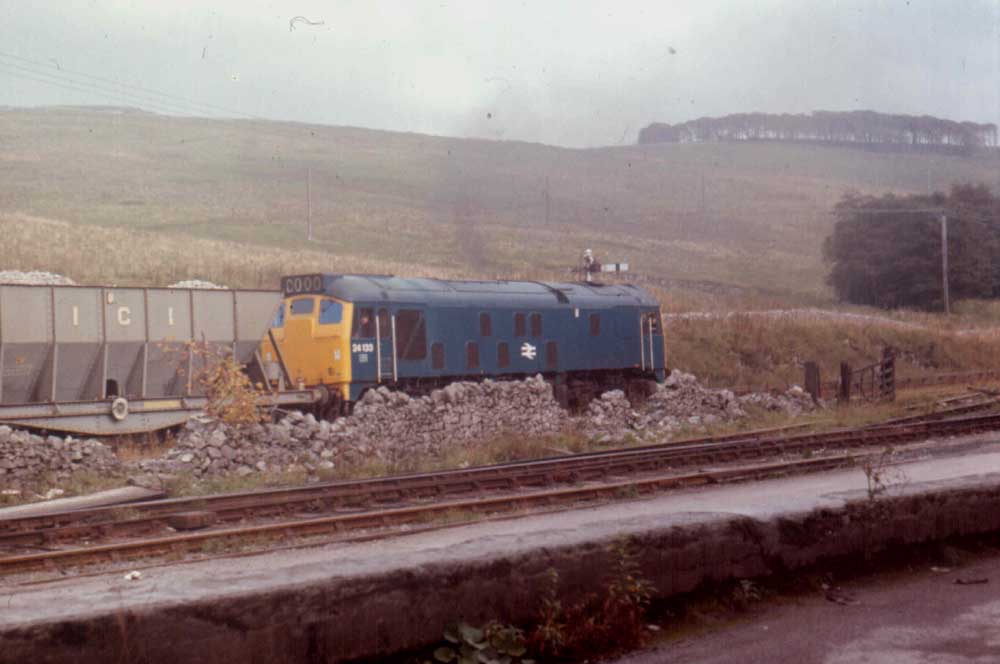 Photograph collection of webmaster.
An undated view of 24133 as it assists a trainload of Derbyshire limestone out of Great Rocks. Having reached Buxton at some point 24133 was used briefly on the banking duties out of Great Rocks.
1977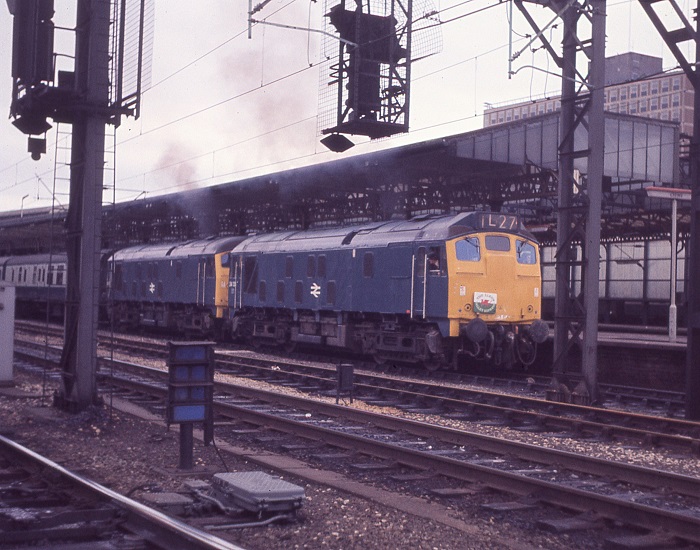 24087 & 24133 were the chosen machines on February 19th 1977 when called upon to work the NSPCC/Western Tours 'Lledr Valley Express' from Crewe to Blaenau Ffestiniog and return. In the view above the train is seen departing from Crewe, whilst in the view below the locomotives are noted at Holyhead.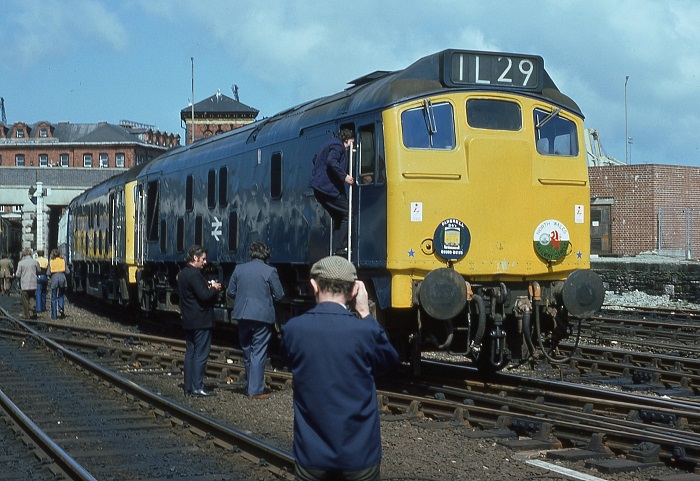 Photograph courtesy P Slagel.
It was not all bad new for the Class 24s. Several railtours utilised pairs of them, on February 19th 1977 24133 & 24087 took a railtour along the North Wales main line, which included a run down to Blaneau Ffestiniog. In this sunny view 24133 & 24087 await time at Holyhead.
On March 19th 24133 was stabled at Shrewsbury station.
24133 worked a Wellington - Bescot freight on May 5th. 24133 was noted around Manchester Victoria on May 25th.
The remaining boiler equipped Crewe based Class 24s were now popular on railtours, on June 5th 24082 & 24133 took twelve coaches on a roundtrip Crewe - Barmouth.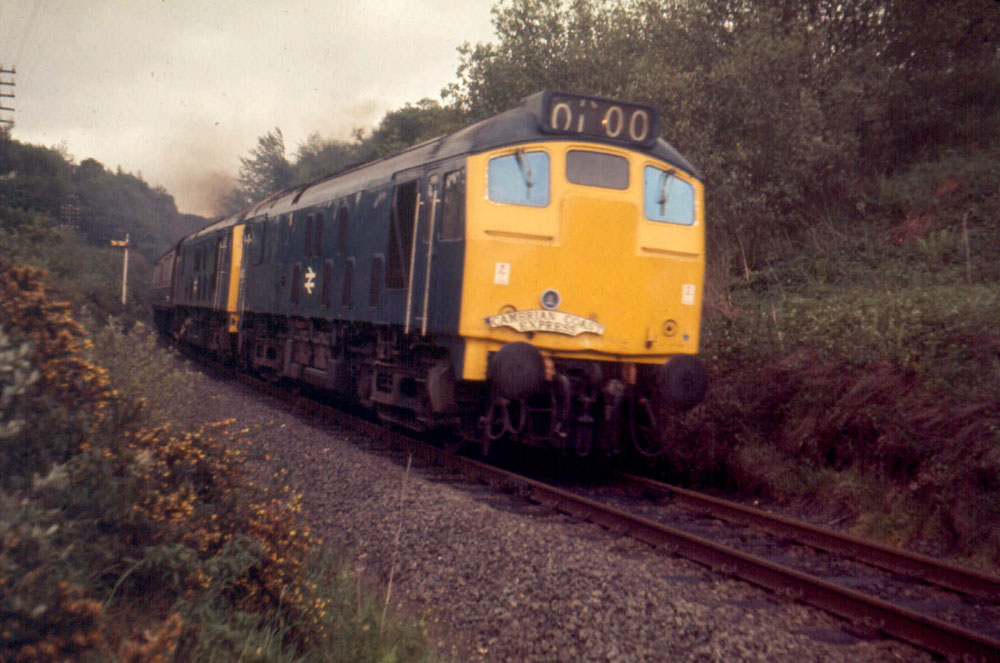 Westbound at Talerdigg June 5th 1977.
On July 10th 24087 & 24133 worked a Crewe - Manchester - Preston - Carnforth railtour.
Cockshute was host to four Class 24s on August 20th, being 24035, 24081, 24082 & 24133. On August 23rd 24133 was noted at Chester with a freight for the North Wales line.
A pair of Class 24s, 24133 & 24082 paid a visit to York on October 1st whilst in charge of the RCTS 'Roses No.2 Rail Tour'. Originating from Crewe and picking up at Stockport, the special traversed the Pennines via the Woodhead route. The former Great Central route was used to Treeton Junction, north to Rotherham, Mexborough & Doncaster then onto York via Knottingley. The journey time was just over three and a half hours, with arrival in York being about ten minutes late. The return was via Normanton, Wakefield Westgate, Mirfield, Sowerby Bridge and Hebden Bridge for the run across Copy Pit, then Accrington, Blackburn, Bolton and Manchester Victoria. The Type 2s made a fine run up Miles Platting bank before turning at Ashton Moss N & S junctions to reach the outbound route at Denton. Throughout the railtour the timetable was maintained very closely, the return leg took slightly longer than the outward leg, but arrived at Crewe only two minutes late.
The next day, October 2nd, a number of their sisters (24023/35/36/47/63/81/91) were put to store, but promptly returned to service on October 3rd!
Visitors to Cockshute stabling point On November 27th included 24133 and 44005.
On December 1st 24133 was at Llandudno Junction, two days later on December 3rd 24082 & 24133 handled a charter from Crewe to Aberystwyth via Chester.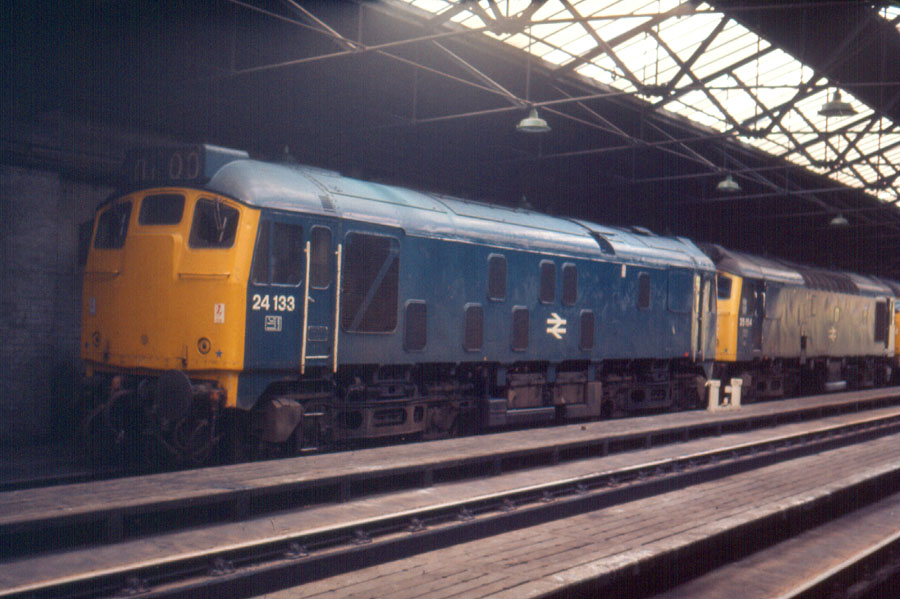 Towards the end of the Class 24s it was a very common sight to find them at Cockshute laying over between duties. Here is 24133 & 25154 on August 27th 1977.
1978
24133 was noted at Chester station on January 21st.
Better times were still with 24082 & 24133, they worked a ten coach St Pancras - Liverpool charter on January 14th, outwards from London St Pancras – Bedford Station – (via MML) – Wigston South – Nuneaton – Water Orton – (via Sutton Park line) – Walsall – Portobello Junction – Wolverhampton – Wellington – Shrewsbury – Wrexham – Chester – Helsby – Halton Junction – Runcorn & Liverpool Lime Street. On the return the route was Liverpool Lime Street – Runcorn – Weaver Junction – Crewe - Alsager - Stoke-on-Trent – Uttoxeter – Stenson Junction – Sheet Stores Junction – Loughborough – Leicester – (via MML) & London St Pancras.
The above mentioned railtour most likely led to the last Class 24s to visit St Pancras and perhaps the last to visit any London terminii.
On a rainy overcast January 21st 24133 had an unusual duty being used on the last advertised passenger working of the Class 44s, working the Crewe - Chester leg behind 44008 to provide heating following the non-appearance of the heater van. After removal at Chester 24133 worked the 14.49 Chester - Camden empty parcels to Crewe.
On January 27th 24087 & 24133 ran from Crewe to Bescot in preparation for the next day's railtour. The Mercia Railtours 'Cambrian Coast Express' on January 28th was advertised as the last chance to ride behind Class 24s on an advertised passenger service. The thirteen coach railtour started at Euston behind 86224, with 24087 & 24133 taking over at Birmingham New Street. The late running of the train at this point saw it routed via Tipton to Wolverhampton rather than the advertised route via Bescot. it is reported that due to a fault with the jumper cables, both locomotives were manned after Wolverhampton.
At Machynlleth the railtour split in two, 24133 and six coaches made a roundtrip to Barmouth whilst 24087 & 25165 made a roundtrip to Aberystwyth. 25165 assisted 24087 as the latter was reported as suffering a traction motor fire and/or not being able to restart. When the portions combined at Machynlleth for the return leg 24087 was left behind, with 25165 & 24133 taking the train as far as Birmingham New Street.
On February 2nd 24023 & 24133 worked the morning Cockshute - Oakamoor sand empties.
24133 was withdrawn on March 21st 1978.
Class 31 No.31211 was noted passing through Derby on July 26th hauling withdrawn 24087 & 24133 to Doncaster.
flk 0421 (2)
Page added August 5th 2016.
Last updated January 20th 2023.
Back to 24132
Forward to 24134