The 'ETHELS'
97250/97251/97252

June 8th 1985 finds an overcast Fort William hosting an un-identified Class 37 and ex Class 25 No. 97250, aka 'ETHEL 1', complete with the reason for its existance, the fully air-conditioned, electrically heated stock which, as yet, the Class 37's could not supply electrically.

New Number
Original Number
Withdrawn
Last Depot
Date converted
97250
25310
Oct 1982
Cricklewood
June 1983
97251
25305
Jul 1983
Bescot
August 1983
97252
25314
Mar 1983
Cricklewood
October 1983

When the LMR started using Mk3 sleepers on their services, it included those inter-regional workings that crossed into the Scottish Region, which was not a problem until the trains conveying the sleepers used routes that were not electrified and could not accomodate ETH equipped Class 47s due to their route availability. Principally this involved the sleeper service to Fort William, which in the early 1980's was in the hands of Eastfield's steam heat equipped Class 37's.

One remote option was to use the recently displaced Edinburgh - Glasgow Class 27/2's. However these locomotives were mechanically challenged after their years of gruelling service on the high speed Edinburgh - Glasgow shuttle. A number had already suffered serious fires and the separate Deutz engine/generator set used to power the coaches electrical needs would be inadequate for the heavier demands of the Mk3 sleepers. The option finally chosen was to equip a batch of Class 37's with electric train heating equipment. This however could not be accomplished overnight so a short term solution was taken in the conversion of a number of withdrawn Class 25's to operate as mobile ETH sources, relatively intact as a locomotive but unable to move under its own power.

Crewe began releasing the first ETH equipped Class 37/4's for the Scottish Region, with 37401 (ex-37268) going to Eastfield in late June 1985. By the summer of 1986 enough Class 37/4's had reached the Scottish Region to allow authorities to discontinue the use of the ETHELs.

However the growing proliferation of steam specials on and run by BR brought further use for the ETHELs, with their ability to provide power/heating for rolling stock, none of the steam locomotives being able to supply such to the coaches. Thus in the autumn of 1986 they headed south for further use. Complaints from rail enthusiasts about the aesthetic appeal of using the ETHELs or Class 47s tucked in behind the steam locomotive to provide heating led to Mk. 1 BSK No.35469 being converted to an ETH generator vehicle. On conversion the coach was not renumbered.

Late in 1991 consideration was given to using the ETHELS by InterCity on overnight sleeper services with no-heat Class 37s. The final decision was to use heater vans, leaving the ETHELS out of service at Millburn Yard, Inverness.

By 1992 the continued existance of the ETHELs was in doubt, all had returned to Inverness for storage, with little hope of further use. They were removed to MC Metals in August 1994 and quickly broken up by the end of the month. As with several other long condemned locomotives that were found unfit to travel by rail the road haulage industry now added intact scrap locomotives to their manifests. At least 97250 reached Glasgow in this embarrassing fashion.

97250 (25310)
The withdrawal on October 11th 1982 of 25310 (CW) at Tyseley with bogie damage should have been recorded as just one more casualty, especially as it had run for eight years since its last classified repair. However late in December it journeyed to Aberdeen Ferryhill where the local staff would adapt the first of three Class 25's to permit the operation of electrically heated/air conditioned rolling stock. It gained the acronym 'ETHEL 1'. 97250 was still at Aberdeen as 1982 closed.
During February 1983 25318 moved from Toton to Glasgow Works though initially setting off in the wrong direction, towards Swindon! Whether it was being considered as a candidate for a second ETHEL unit or simply as a Christmas Tree for Glasgow Works is not known. By the beginning of June 97250 was in use at Inverness, duties including pre-heating the Royal Train stock. July also possibly saw the first mobile outings for 97250 when it was attached to the 09.05 (Sunday only) Edinburgh - Oban and 15.30 return. The first working was on July 3rd using an E&G push/pull set of coaches powered by 37051 with the former Type 2 marshaled behind the Class 37.
June 1984 saw 97250 make the long trip south to Swindon Works for replacement of its main generator and bogies. With Swindon working on several Class 27's, including recently arrived 27040 and collision damaged Class 37's the variety seen here was remarkable for a Works under threat of closure. Also arriving at Swindon in late June/early July were over twenty Class 25's for stripping and scrapping. 97250 remained at Swindon until October
April 13th 1985 a Railfair held at Perth proved very popular, amongst the more glamorous exhibits was 97250. The well attended RailFair at Haymarket on August 24/25th included 97250 powering a rake of MkIII vehicles.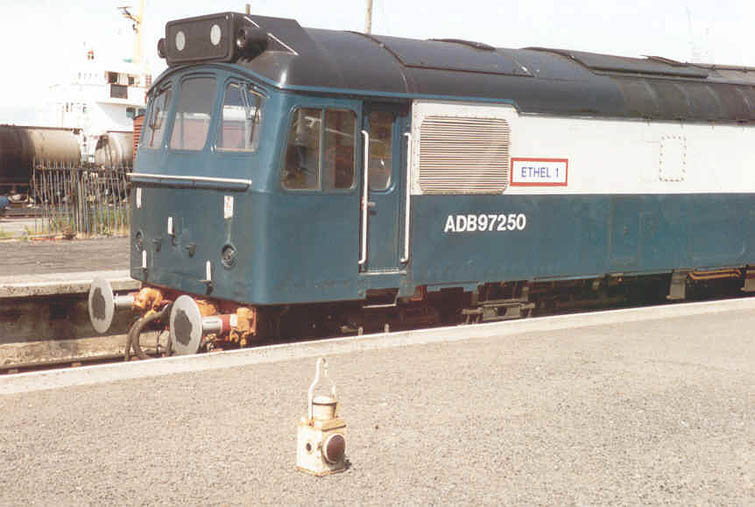 Photograph courtesy Gary Thornton.
97250 probably had its first outing to Oban on July 3rd 1983 working with a Class 37 on a charter from Edinburgh. Seen here is a close up of the cab as the Class 25 waits time at Oban.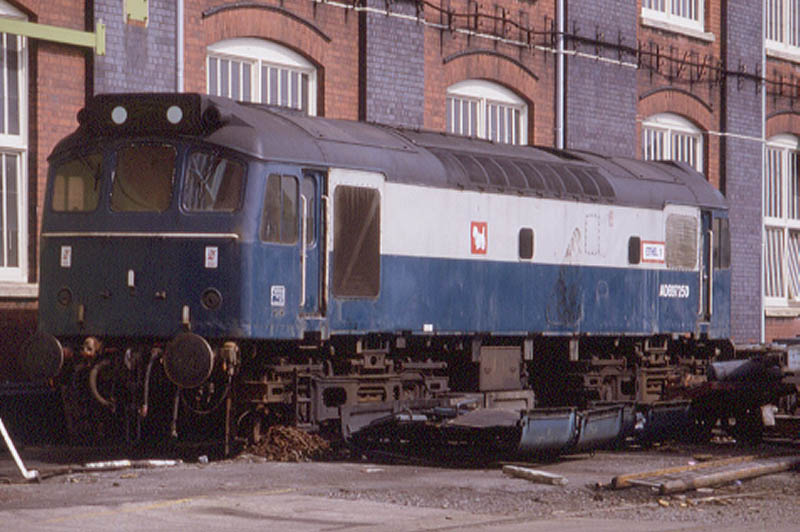 Photograph courtesy Keith Barber, collection of G. Wareham.
Not too many Class 25's left Swindon in one piece, 97250 was one of the few, seen here in January 1984 and recieved for minor repairs prior to its long trek back to Scotland.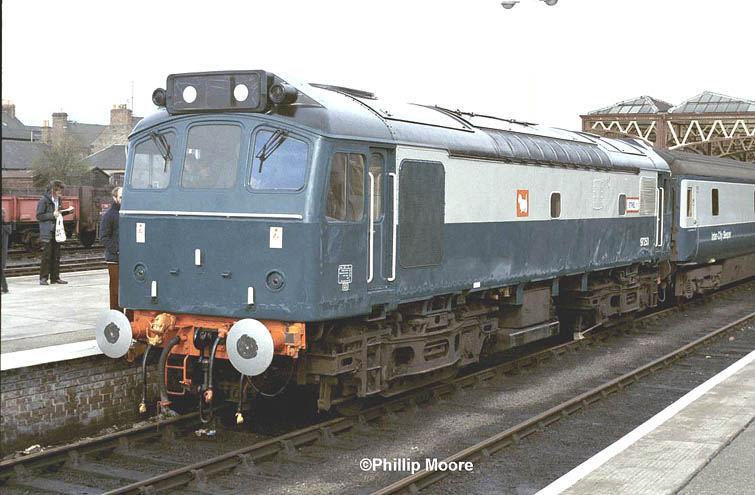 Photograph courtesy Phillip Moore.
The Scottish Region took advantage of their 'celebrity' machines by frequently featuring them at Open Day's and Rail Fairs. Seen here at just such an event at Perth on April 13th 1985, attached is one of the sleeper coaches that had brought their reason for being.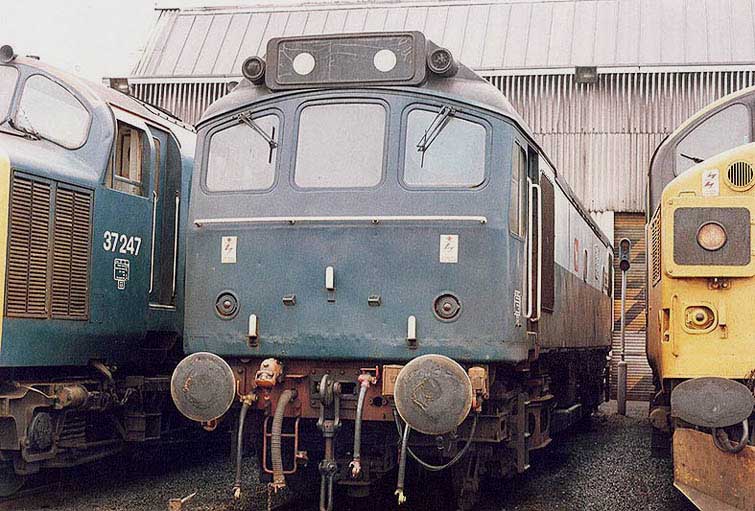 Photograph courtesy Paul Bettany.
Its September 6th 1986 and 97250 sits outside Eastfield sandwiched between a pair of Class 37's. By this time there were enough Class 37/4's available to sideline the ETHEL's.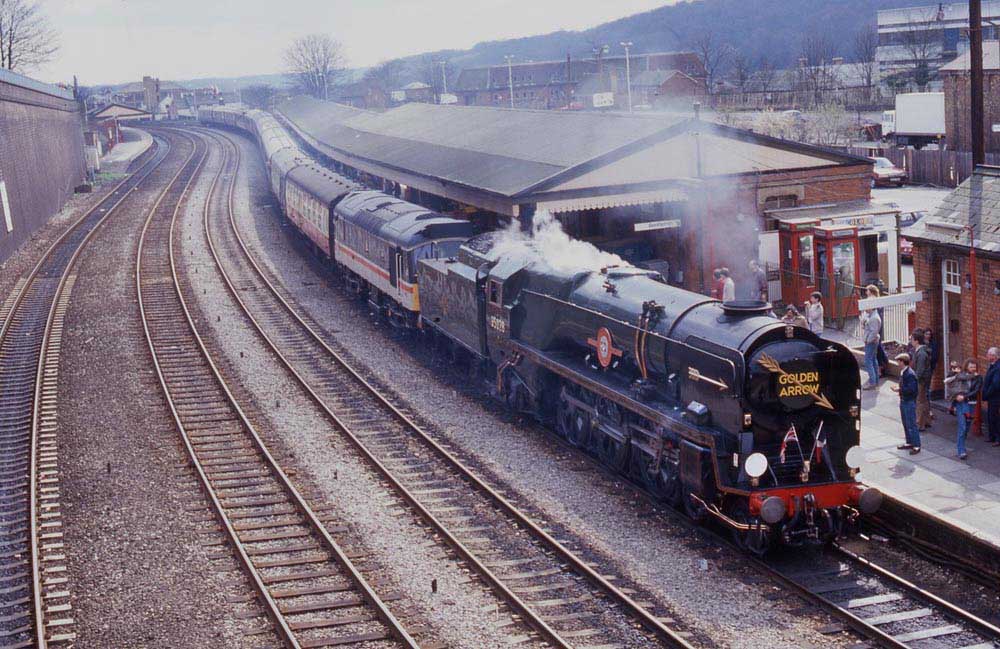 Photograph courtesy Peter Lovell.
Merchant Navy Pacific 35028 'Clan Line' stands at High Wycombe on April 12th 1987 with a lengthy train, which includes ETHEL 97250 to provide heat & light. The hazy spring sunshine is joined by a light veil of coal smoke.
One cabside number panel from 97250 was saved from scrapping.

97251 (25305)
April 1981 had seen 25305 withdrawn for the first time, along with 25246 they were taken to Swindon Works and remarkably were placed in serviceable storage status, in Swindon's North Yard. It is possible that an enquiry from London Transport for three Class 25's may have explained this, although nothing materialised from this enquiry. 25305 was given a second lease on life in the summer of 1982 when it was revived at Swindon using parts from sister machine 25246, finally leaving the Works on September 15th, 1982, its new home being Bescot.
This second lease on life was brief, during July 1983 it was again withdrawn from service. However it quickly headed north to Aberdeen having been selected as the second 'Ethel' The initial choice had been 25319, which had spent three months withdrawn at Crewe, along with 25314, prior to both moving to Derby Works for generator & bogie work. However as with many Class 25s reaching Derby Works for minor repairs, other more serious repairs were revealed, the stringent costs limits set on repairs to this Class usually led to their withdrawal as the only option, as happened to 25319.
On June 25th 1986 97251 was stabled in a bay platform at Perth.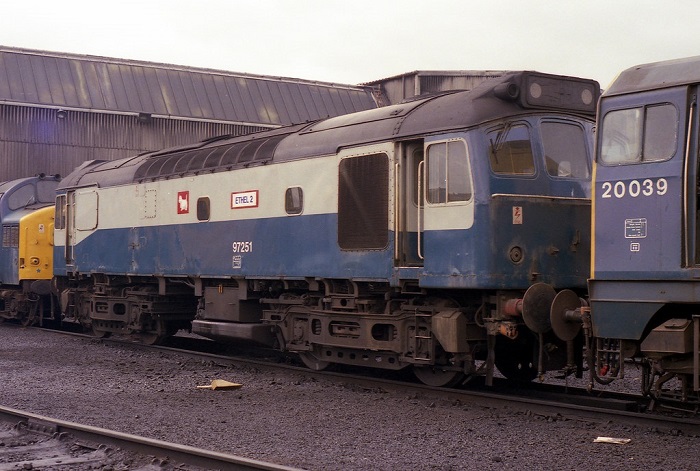 Photograph courtesy Paul Bettany.
The second of the 'Ethels', 97251 stands at Eastfield on June 27th 1984, wearing a slightly modified livery from that of 97250.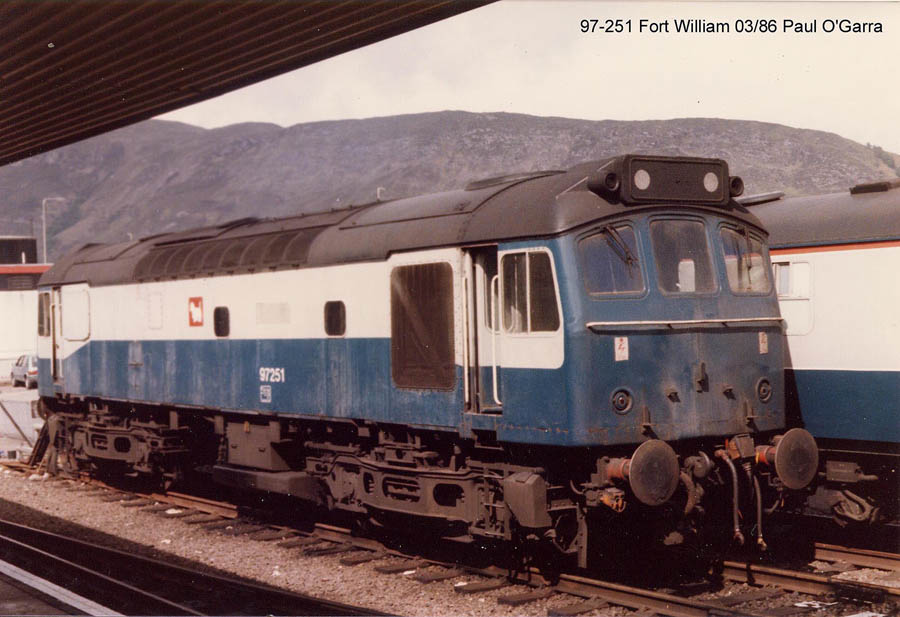 Photograph courtesy P O'Garra.
A nice study of 97251 at Fort William during March 1986.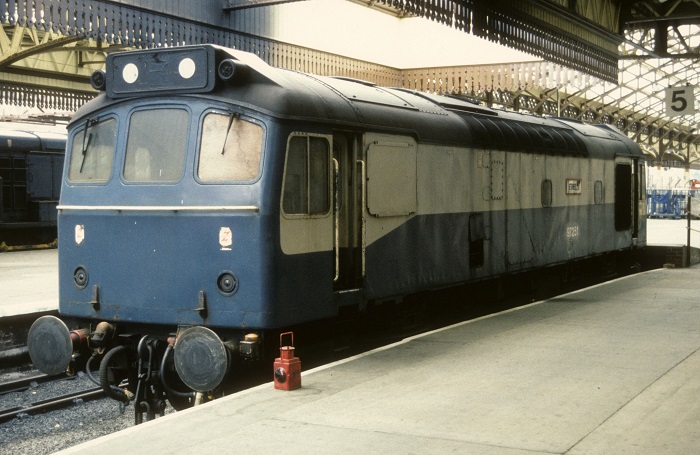 Photograph courtesy Tony Smith.
97251 at Perth on June 25th 1986.
1987
On March 14th 1987 97251 supported 6201 over the Settle & Carlisle, heavy work being made of the run to Leeds. Although this was routine work for the ETHEL, Class 25 history was being made elsewhere this day, 25035 handled the last passenger working of a Class 25, rescuing a recently outshopped but ailing 47424 on the 1V05 07.09 Holyhead - Cardiff at Chester. 25035 took the service to Crewe where both machines were replaced. And during this week 25157 became the last main line locomotive broken up at Swindon Works.
Carlisle was host to 97251 on April 19th, whilst on May 12th D200/40122 worked an officer's special from Carlisle to Skipton and return with 97251 attached for heating purposes.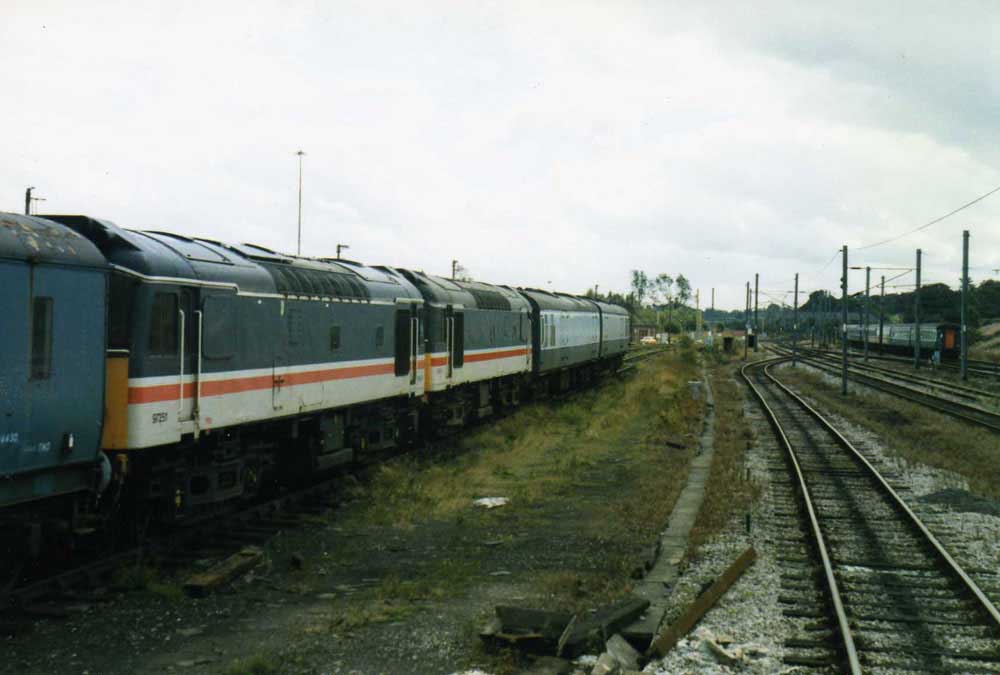 Photograph courtesy Michael Kaye.
August 14th 1989, an interesting view from the cab of a route learning multiple unit, including some vintage rolling stock and two ETHEL's, with 97251 being the nearest to the camera. The route learning special had been instructed to traverse the triangle south of Carlisle station.
In the December 2003 Sheffield Railwayana Auctions a builders plate for 25305 sold for GBP750.00. One cab of ETHEL 2 was resued from MC Metals, Glasgow, initially finding a new home in the garden of the purchaser.

97252 (25314)
On June 23rd 1983 Crewe depot sent withdrawn 25314/319 to Derby Works. They had been out of service for about three months and were received at Derby for generator and bogie work prior to their moving to Aberdeen to join ADB 97250 as generator vehicles. 25314 would become ADB 97252 but 25319 would not leave Derby as intended, eventually being scrapped at Swindon in December 1985. It would be replaced by 25305.
By the end of September 1983 25314 had reached Aberdeen Ferryhill, with work already underway on its conversion to ETHEL III.
With its days in Scotland numbered, 97252 made the long trek south for pastures new, travelling from Eastfield on September 25th to Carlisle, then on October 22nd in a Carlisle - Dover freight, being detached at Willesden for transfer to Marylebone, arriving there on 24th.
On March 9th 1987 25051 was moved from Carlisle, via Crewe & Bescot to Vic Berry's Leicester for scrapping, however its bogies were to be returned to BR for reuse under Marylebone based 97252. New bogies were not the only attention that 97252 received in March. By 21st 97252 had received a new coat of paint, now in InterCity livery supporting 4472 on a Marylebone - Sheffield and return excursion.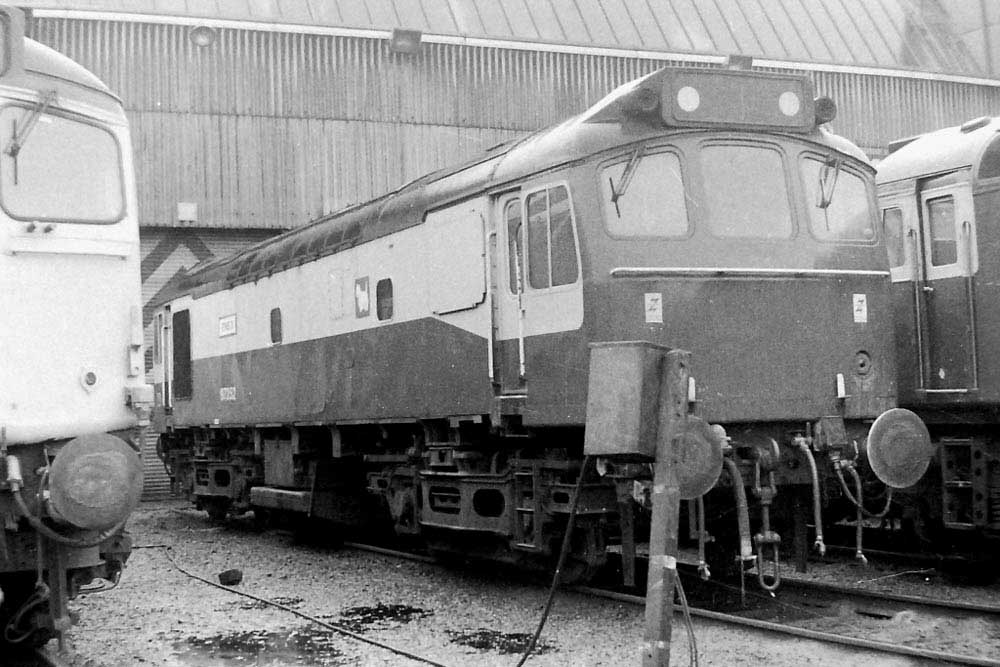 Photograph courtesy Mark Goadby.
Surrounded by Class 27's ETHEL locomotive 97252 at Eastfield on November 3rd 1984.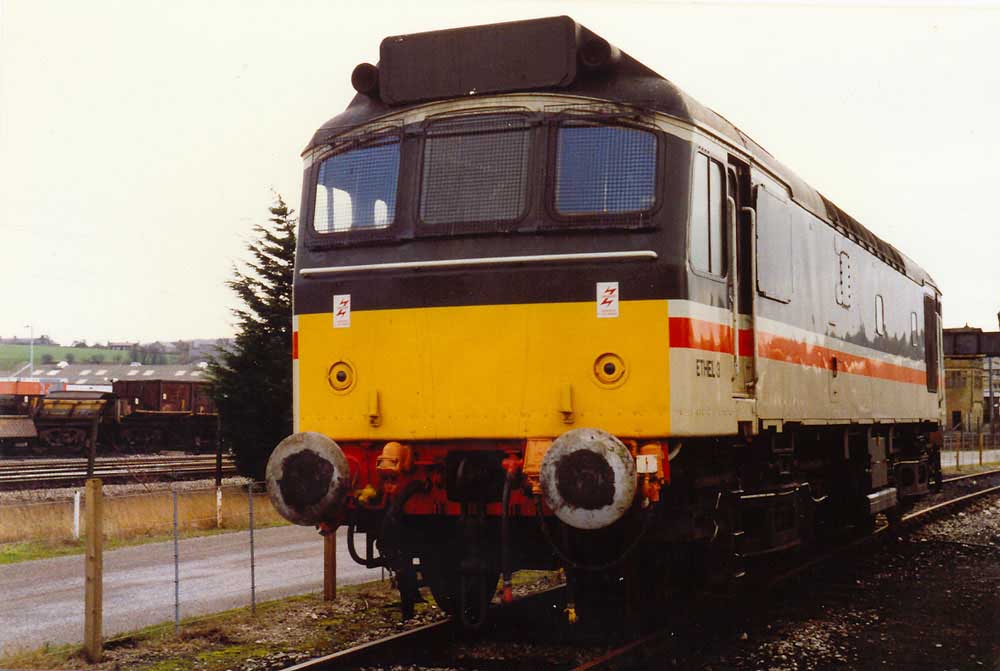 Photograph courtesy Steve Houlker.
Ethel 3 (97252) stands at Carnforth sometime in the early 1990's. The InterCity livery fits well on the Class 25, although the cab front could perhaps do with some rethinking.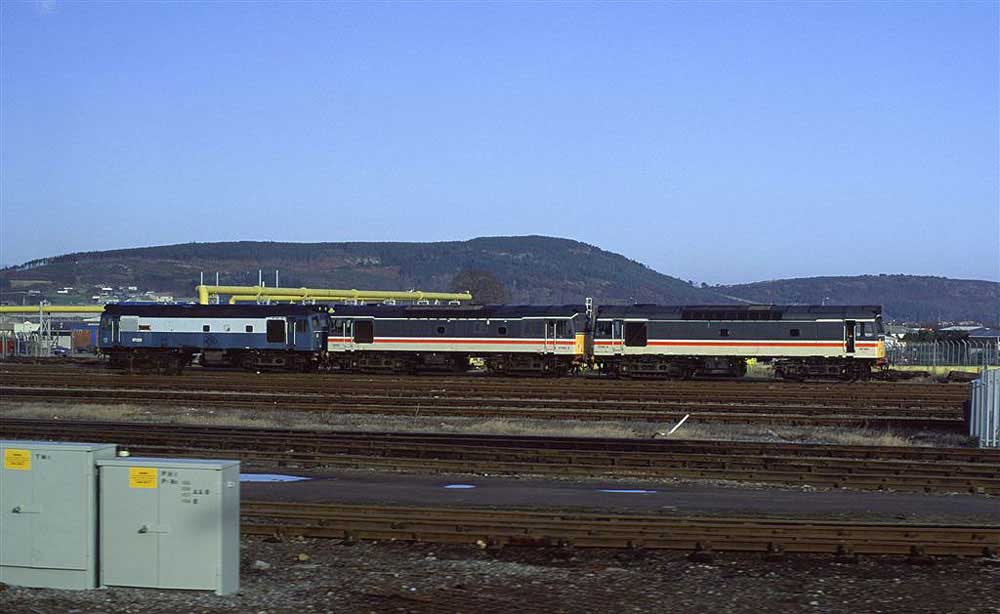 Photograph courtesy Mike Cooper.
After their work disappeared all three ETHELs returned to Inverness for storage. Seen here on February 25th 1992, the three machines would stay here for the next eighteen months, before one last visit to Glasgow for breaking up.
Page updated February 27th 2021.