A Day Trip To Australia

August 2006

After my rather unusual trip to Bolivia in the autumn of 2002 followed by a trip back to England in the spring of 2004, the time was now ripe for another adventure somewhere in the world. Only two conditions applied to this trip, obviously Sulzer powered locomotives needed to be featured somewhere in the itinerary and a trip to an English speaking nation was felt desirable. These two conditions left a number of options available, but after much consideration the most serious contender was Australia, home to fourteen Sulzer powered narrow gauge diesels, which by chance had recently celebrated fifty years of existence.

After a little groundwork a two week trip was planned for August 2006, taking me away from the summer California heat to the more mellow Australian winter season. Australia also had some interesting points for my son, who came along not only for the adventure, but also to capture a little of that world renowned surf.

Although the fourteen NSU diesels only served on the narrow gauge line that ran between Port Augusta & Alice Springs and Darwin & Birdum, this still represented a huge chunk of land to cover, not made any easier by the solitary NSU unit plinthed at Adelaide River, some seventy five miles south of Darwin. (This locomotive was some 1,300 kilometres from its nearest sister). Thrown into the equation was an offer by Qantas of three internal flights for US$200, which certainly took care of some of the logistics.

Friday August 11th 2006 - Los Angeles to Sydney

Because Sydney has a curfew on night time landings, a number of flights from Los Angeles are timed to arrive at Sydney around breakfast time, requiring a late evening departure out of Los Angeles. Thus we were due out of Los Angeles just before midnight on Friday, with a fourteen hour flight ahead of us. However the day before our departure British authorities arrested a number of persons accused of planning to blow up trans-Atlantic flights, which resulted in the well reported chaos at Heathrow, with the knock-on effect to air services through-out the world. The US authorities did not impose the severe sanctions established by British authorities, but their increased security did cause major delays at many US airports on the Thursday and into Friday.

So in the interests of making sure we didn't get caught in some Friday night snafu at LAX it was a case of getting off work, grabbing the luggage and heading off to the airport to await our fate. A record was broken as it took about twenty five minutes from curbside, throught ticketing, baggage drop-off, security and all the other bits to reach our departure gate with the greatest of ease! A case of hurry up and wait. One bonus point for our eagerness to get things right was that the ticketing agent gave us two seats next to the emergency exit over the wings. These seats are next to the galley and have the crew jump seats opposite so leg room and access was wonderful. What was not so wonderful was that our inbound flight, from New York had suffered delays due to the heightened security and we eventually left LAX some one hundred and fifty minutes behind schedule. Our Qantas Boeing 747-400 was able to make up some of the lost time, with an arrival in Sydney about 9am on Sunday August 13th.

Most of Saturday August 12th was lost in the time changes and crossing the International Dateline.

Sunday August 13th 2006 - Thursday August 17th 2006 - Sydney area

The first portion of the holiday was spent in the Sydney area, actually at Thirroul Beach, just north of Wollongong. Places not known to me, but well known to the surfing community, and a place a great interest for my son. But Thirroul Beach had a station and a frequent electric train service, both north to Sydney and south to Wollongong & Port Kembla. This line also carried freight traffic - I always managed to see these trains when I was nowhere near the line and my one attempt to try and capture one of these freights on film failed despite giving our small rental car a stiff workout.

A visit to Sydney for the obligatory tourist stuff was made by this electric service, with quite spectacular views, tight curves and tunnels as the line climbed over the Illawarra escarpment towards suburban Sydney.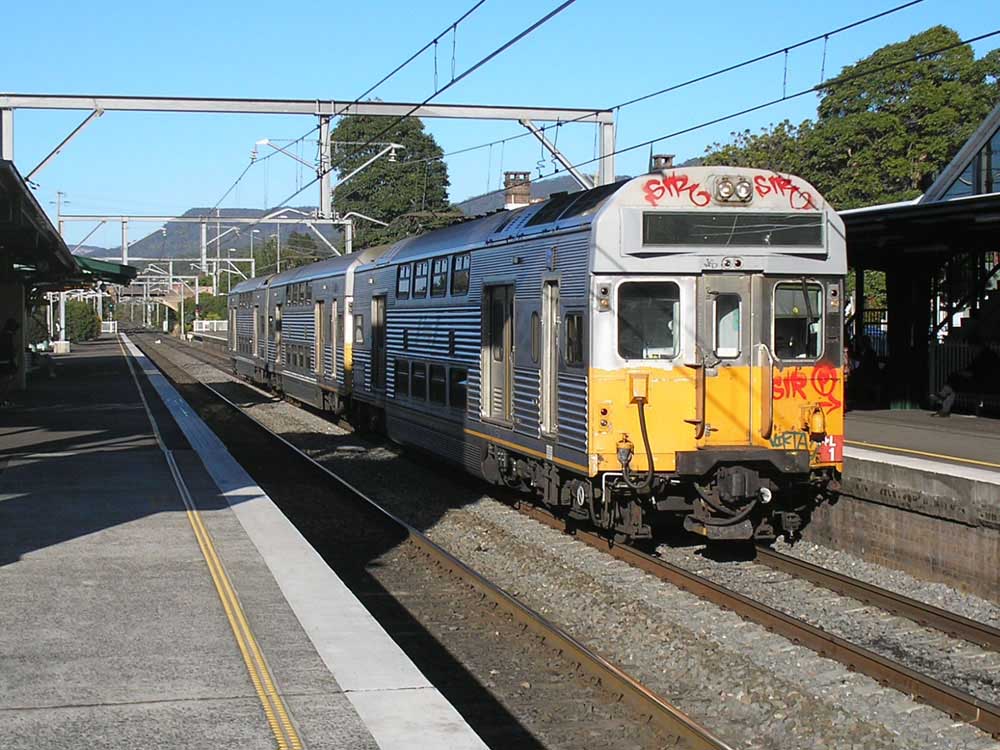 Thirroul station on a bright August morning. Thirroul is one of the many stations on the outer suburban service between Wollongong and Sydney. It also is the starting point for a local stopping service south to Wollongong. Seen here is one of the several types of electric units that work this route. Passenger loadings appeared good with frequently all seats being taken, particularly during the rush hours when the trains were well used by the school kids.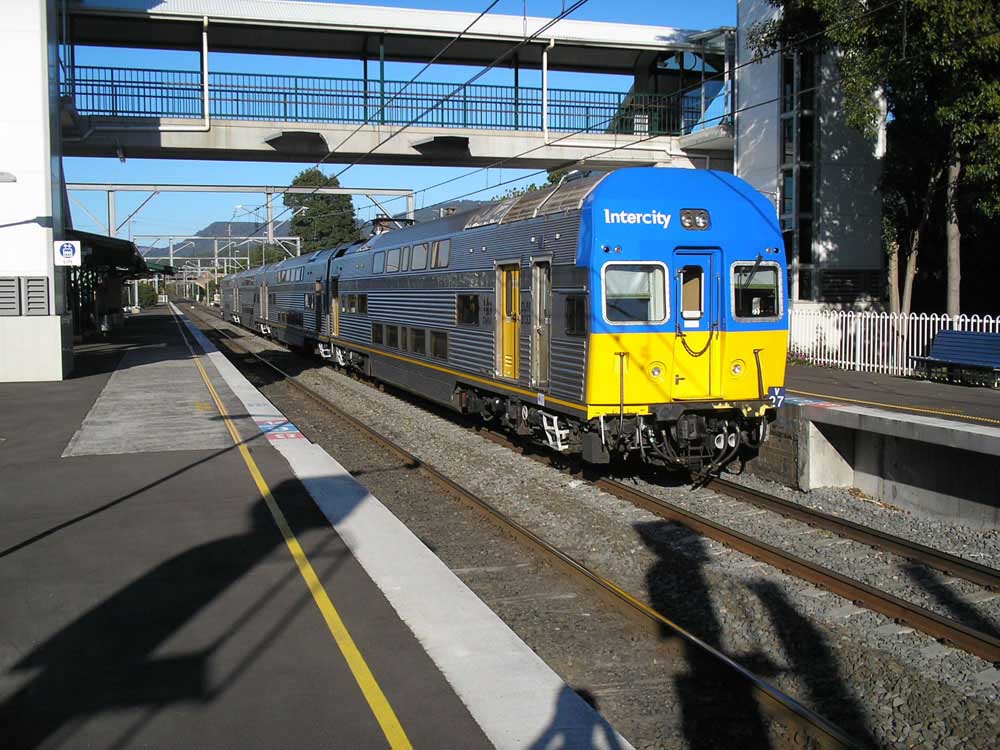 Another morning shot at Thirroul station of a northbound service. In the background is the Illawarra escarpment, a prominent geographical feature which causes some dramatic railway operation further north. In order to climb over the escarpment the line has many miles of steep grade, reverse curves, tunnels and one section of single line track. Thirroul Beach station was generally manned by two/three station staff.
Next to Thirroul station, on the west side, is a small park dedicated to the Veterans lost in the major conflicts of the 20th Century. Amongst all the expected stone memorials and plaques is a 40mm Bofors anti-aircraft gun, in remarkable condition, I just forgot to photograph it!
And whilst at Thirroul a trip was made to the nearby NSW Rail Transport Museum at Thirlmere. This is a large facility with a vast amount of rolling stock and is well worth a visit.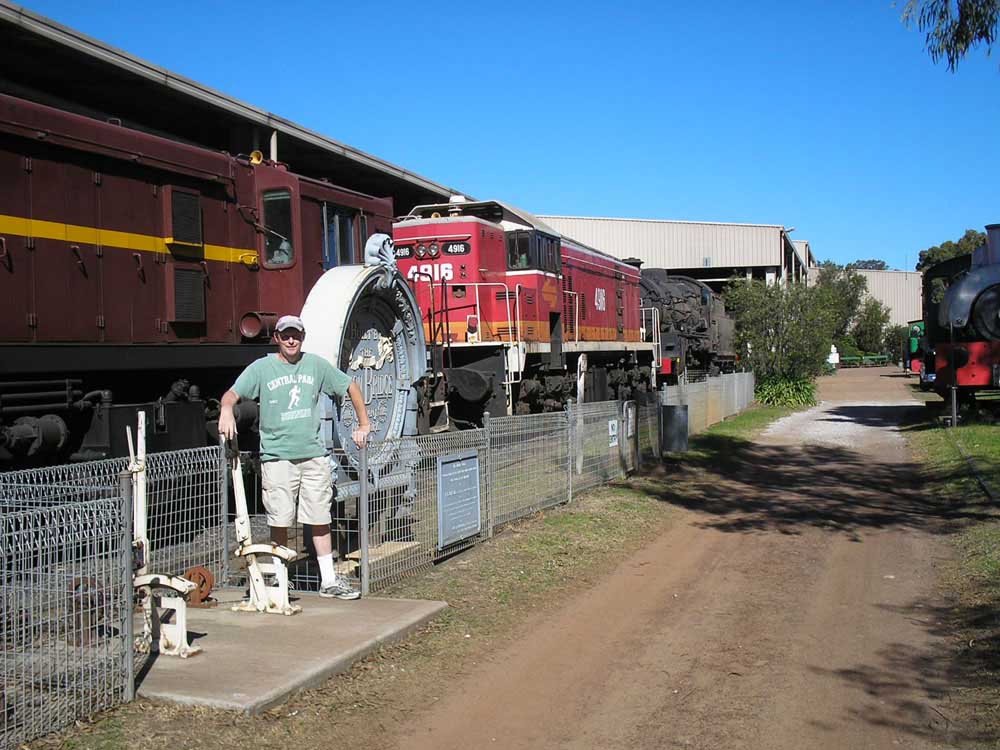 Your scribe captured on film at the NSW Railway Museum, Thirlmere in some glorious late winter sunshine.
Friday August 18th - Monday August 21st - Sydney to Alice Springs
An early morning wake up call was needed on Friday to get us to Sydney airport in time for our mid-morning flight to Alice Springs. The pilot gave us a fine view of Sydney as we swung round after take-off to head to the middle of nowhere - or so it seemed from my window as we crossed mile after mile of red desert and scrub. Our descent into Alice Springs confirmed its remote location from the rest of Australia. The small airport facilities required that our Boeing 737 do a U-turn on the runway after landing in order to make its way to the airport terminal.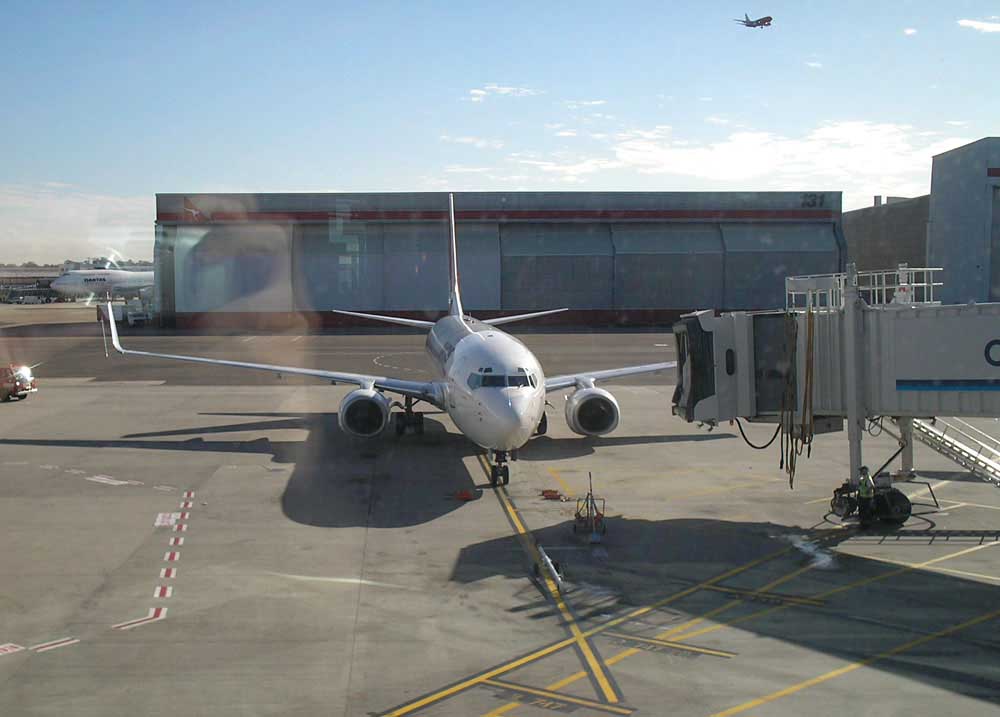 A ghostly self portrait reflects in the glass as our Qantas Boeing 737 taxis to the gate. After about a forty minute turn round we were all aboard and off to Alice Springs, half way across the continent, barely three hours by plane but a world away for the early settlers of Australia. And from my window seat it was very obvious that as you travelled west so the marks of civilisation slowly disappeared until your view out the window was the view below.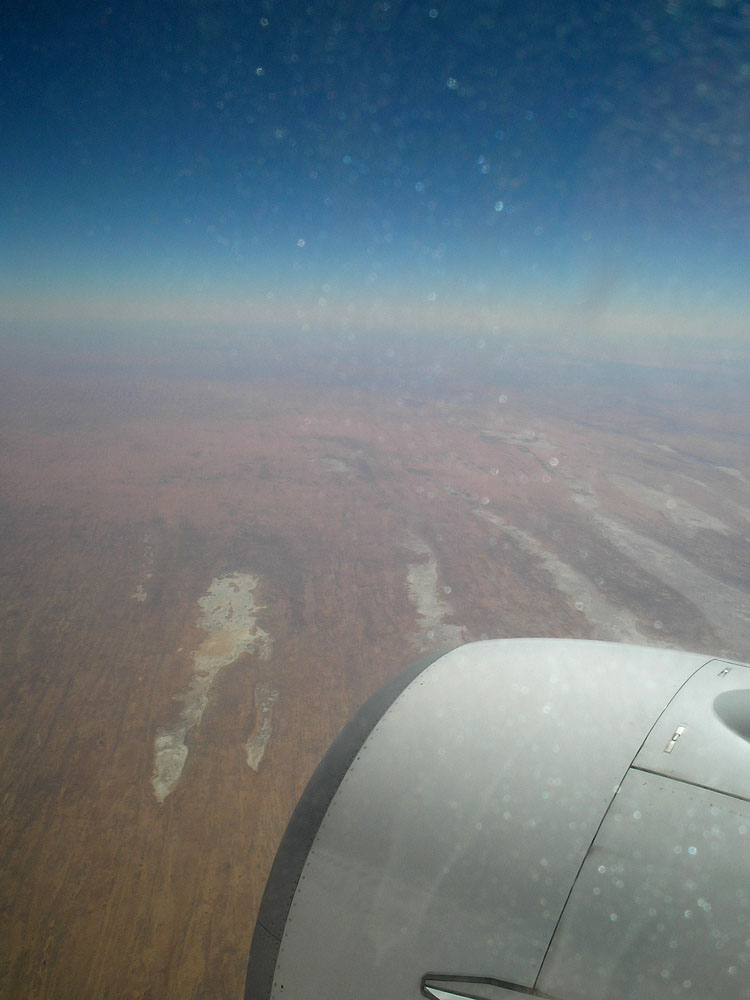 Once clear of Sydney and across the Blue Mountains the coastal greenery slowly gave way to a more arid climate. In this view there is little to see but rock and dried salt pans, the rocks showing a red tint which is common across much of the Australian desert areas. I'm guessing this is part of the Simpson Desert. And as with most days in this central region there was not a cloud in the sky!
After arrival at Alice Springs the baggage was soon collected, the rental car, a bright red Hyundai Getz was located and we were off. My son would have been much happier in one of the large Toyota 4-wheel drive Land Cruisers, maybe next time!
And so it was that on the journey from the airport I came across the first of the NSU units that I'd come so far to see. It was located adjacent to Stuart Highway, being used as a 'billboard' for the Ghan Preservation Society museum and facilities. It was parked in a field, basically a stripped shell, but nevertheless still easily identifiable as one of the narrow gauge locomotives that were so familiar to Alice Springs for some twenty five years.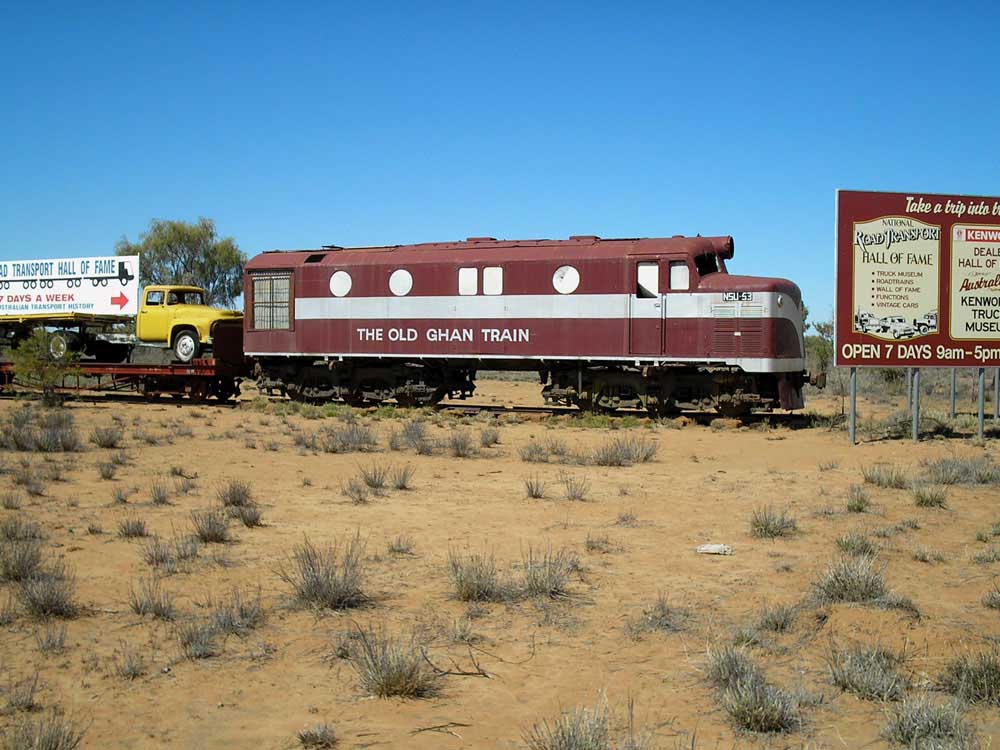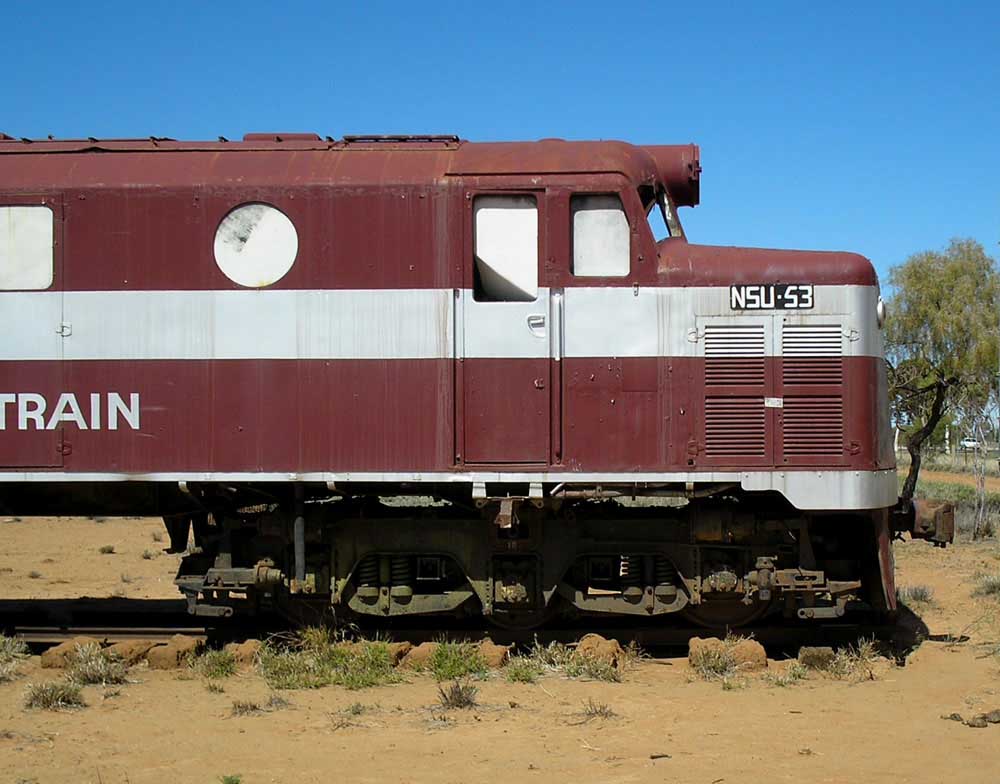 Two views of NSU 53 parked in the dirt as an eye catching advertisement for the Ghan Preservation Group's museum situated just off the Stuart Highway several kilometres south of Alice Springs. The locomotive is but a shell, with such things as the traction motors, fuel tank and many other parts removed. The very dry climate in Alice Springs will ensure that rust will not be a worry. BRCW and its Smethwick factory may long ago have been consigned to the pages of history, but clearly some of its products will get to fly the flag for a while longer!

NSU 53 was one of the Class to work over the Darwin - Birdum line, being moved north during November 1967 to cover a disabled NSU 63 which had sustained fire damage. NSU 53 would return south during November 1971. During April 1980 NSU 53 moved to Peterborough to handle local workings which would include the last Government trains to Quorn in August 1980. By mid-October 1981 NSU 53 was out of use at Peterborough, being removed to Alice Springs the following month, to be used by Roberts Construction to salvage materials from the former CR narrow gauge line. This task was completed by September 1982, during September 1985 much of the power and auxiliary equipment in NSU 53 was shipped to the 'East Coast'.

As can be seen above NSU 53 never left Alice Springs!

With a stay of several days planned for Alice Springs, there was no urgency to visit the Ghan site, rather it would be included along with a number of other tourist events. Thus it was that after visiting the Desert Springs Wildlife Park on Saturday morning the short trip was made through Heavitree Gap to the preservation site. Central to the site are the station buildings which house much historical information and other memorabilia related to the narrow gauge line, including much information on the NSU diesels. It also became apparent very quickly that the area containing the locomotives and rolling stock was not open to the public, although the one operational NSU diesel was parked close to the fenceline.
There were few volunteers working at the shed area that day, but one fortunately made a trip to the station house to get some keys. After words were exchanged, explaining the purpose of my visit, the volunteer, Trevor a turner by trade graciously escorted me around the facility, allowing plenty of time for photography and filling in the time with some interesting details about the four NSU diesels there!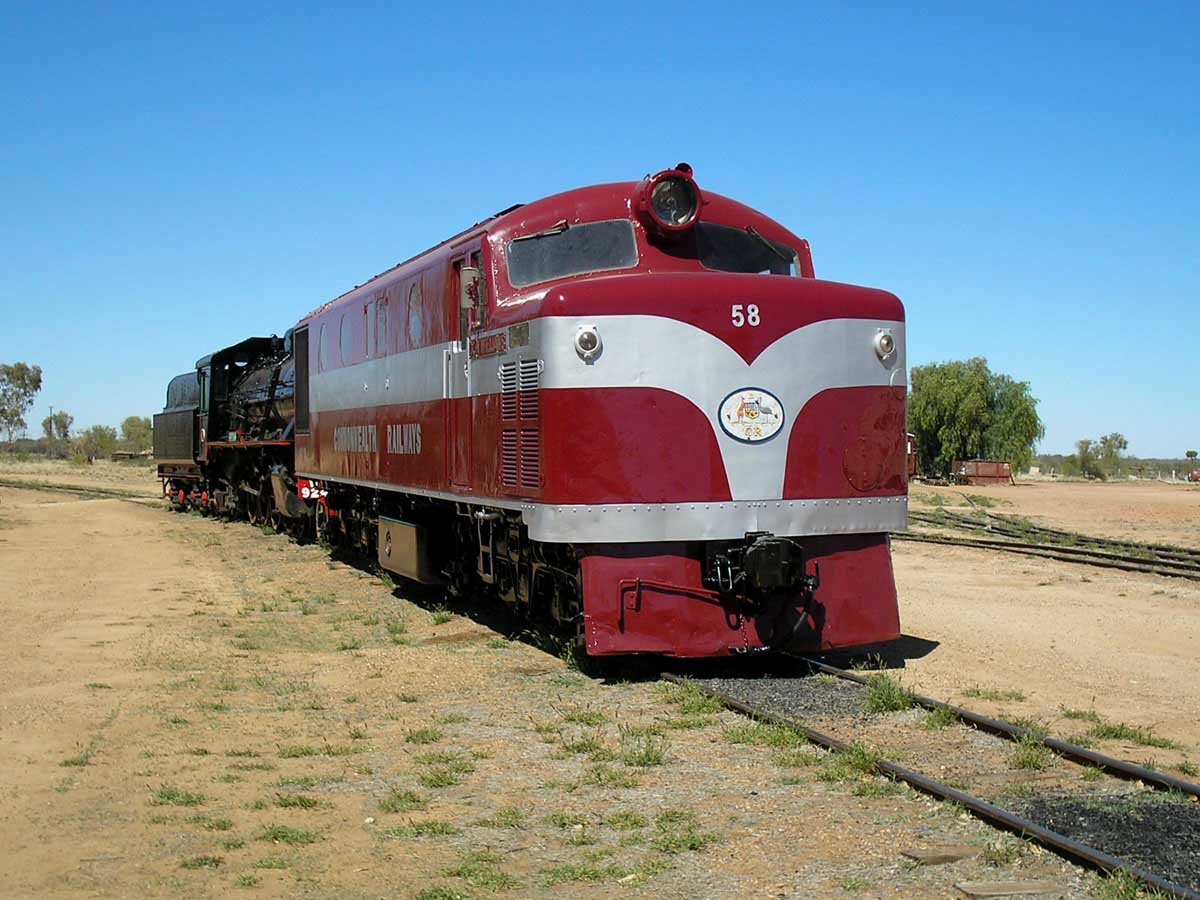 NSU 58 very recently repainted at Alice Springs and in full working order.
When the narrow-gauge route to Alice Springs was run down the NSU's were moved south to Peterborough & Gladstone, NSU 58 was one of the first to move to Gladstone during February 1980 for use on the Wilmington line. By April it had moved to Peterborough and worked the last Government train to Carrieton during July 1981. By early March 1982 NSU 58 had been taken out of service, but remarkably by April 1984 was back in service operating from the Peterborough depot. In early July 1987 NSU 58 was transferred to the Gladstone depot, though her time here was brief, the last working being made on August 24th 1987 with a Booleroo - Gladstone job. After a year dumped at Gladstone NSU 58 was acquired by the Ghan Preservation Society and moved to Alice Springs.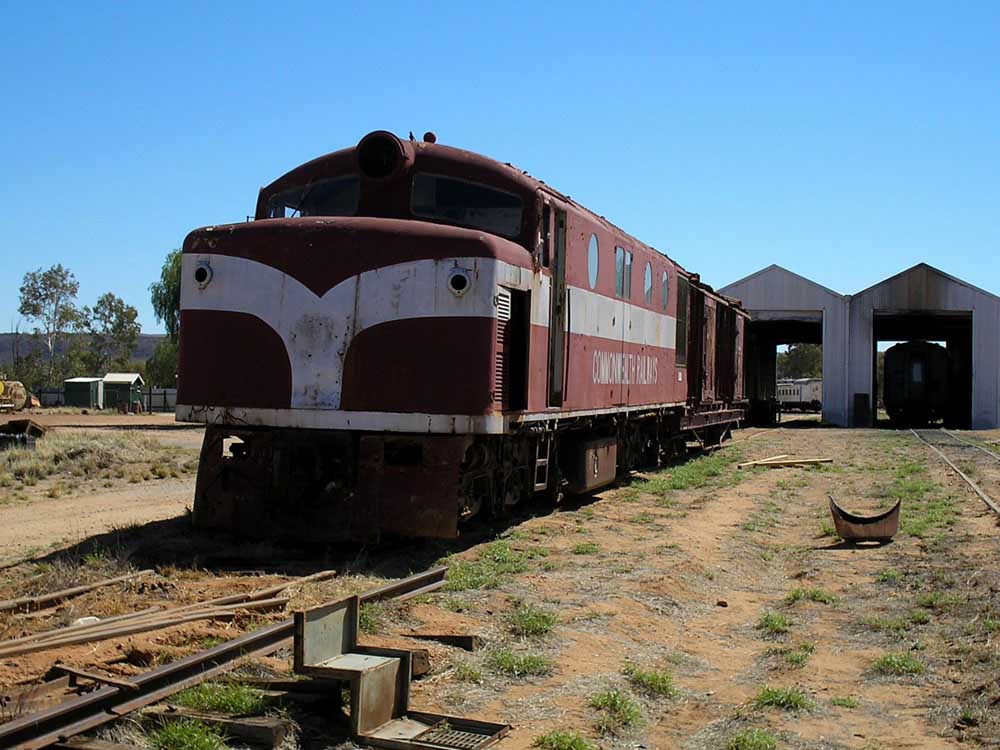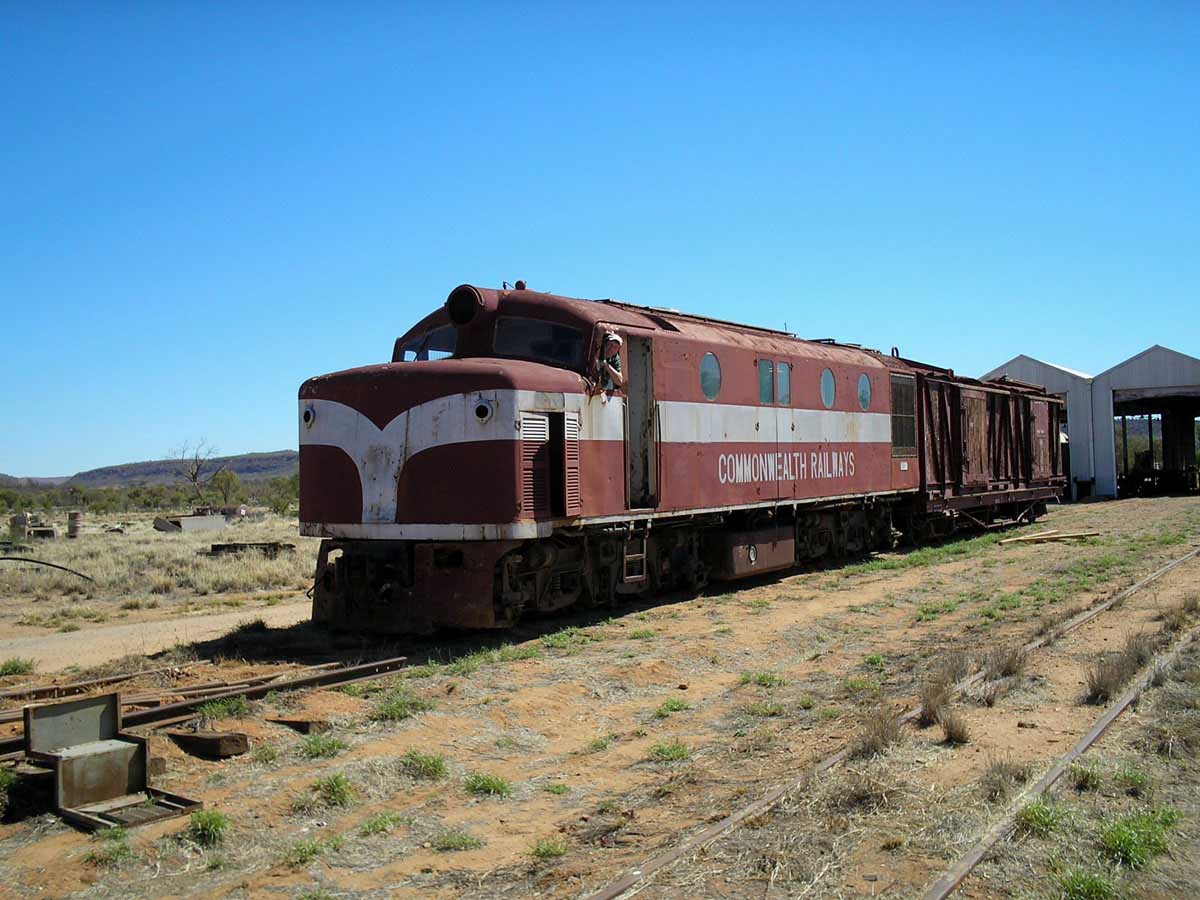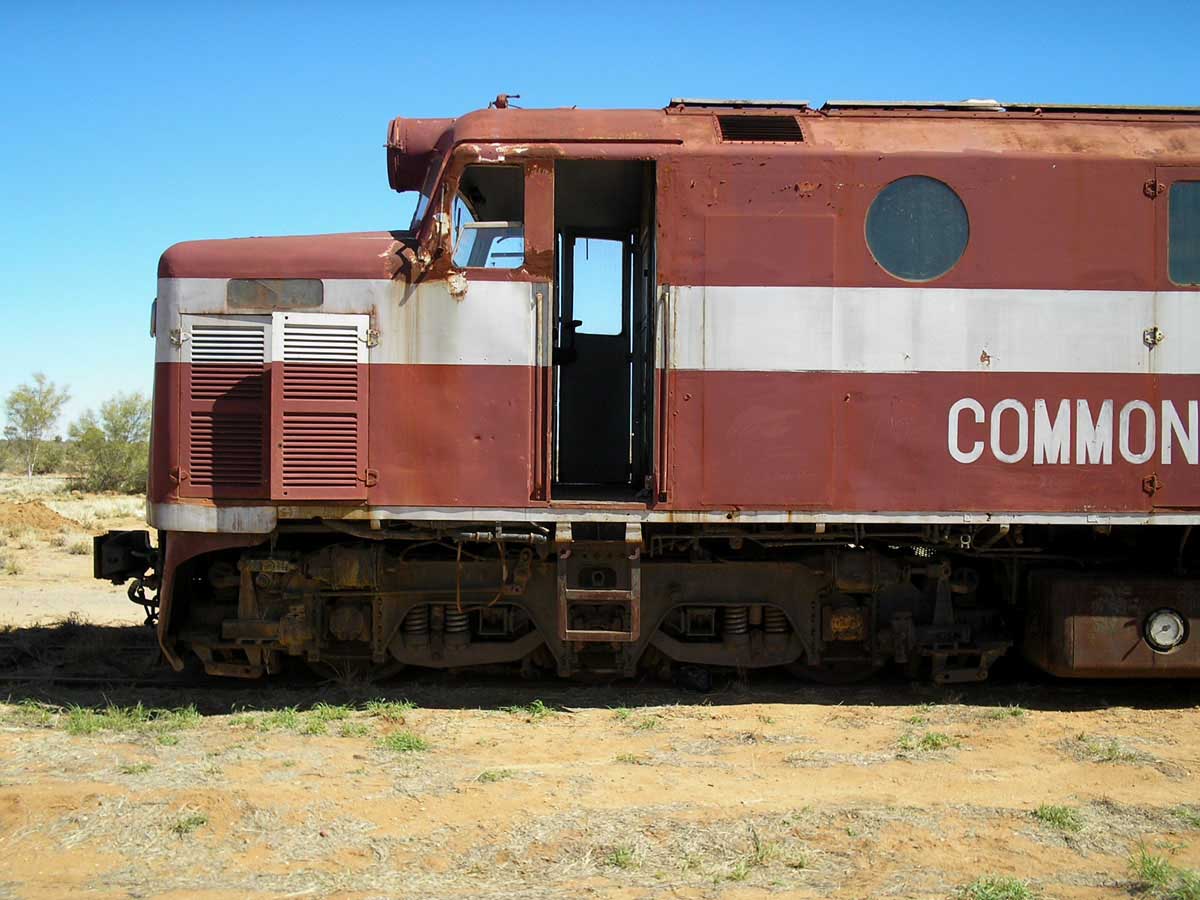 Three views of NSU 64 at Alice Springs, with yours truly just visible in the center view. Of the three unserviceable NSU's at Alice Springs, this machine would be the strong favourite to become the second operable NSU here if resources and manpower were available.

Shortly after delivery NSU 64 was moved overland (?) from Port Augusta to Darwin to work the northern line, remaining on this route until 1966. At least by late 1971 NSU 64 was at the southern end of the system. During June 1981 NSU 64 was one of four machines to move to Oodnadatta for use in the rail recovery operations managed by Roberts Construction. NSU 64 with two others would be the first withdrawals of the Class during October 1981. NSU 64 would later be acquired by the Ghan Preservation Society and moved to Alice Springs.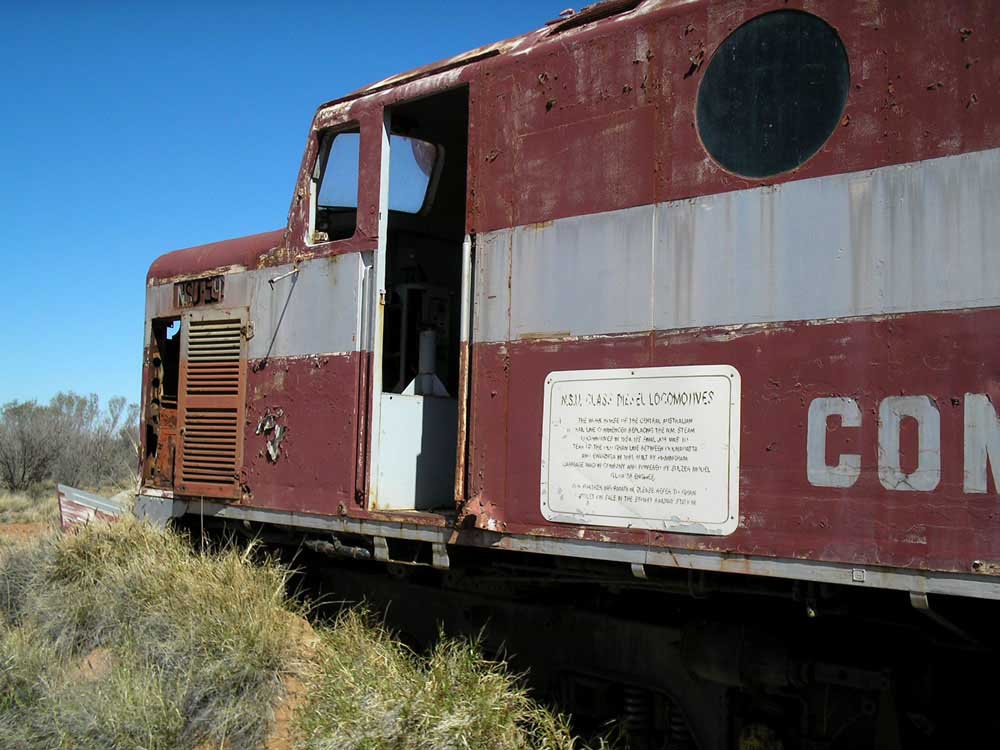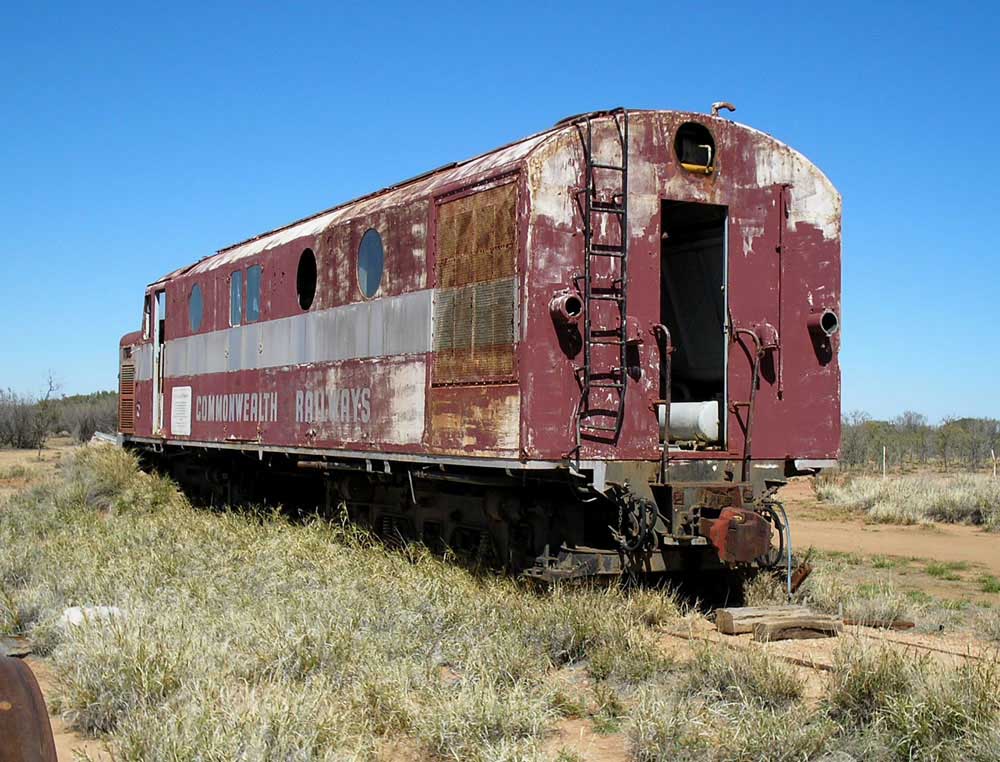 Perhaps the least serviceable unit on the grounds of the museum is this unit - NSU 59.
Similar to NSU 64 above NSU 59 was used for rail recovery and moved to Oodnadatta during 1981 for use by Roberts Construction, after this task was done NSU 59 was retired during October 1981 after sustaining power unit problems. The Ghan Preservation Society would eventually acquire NSU 59, primarily as a parts source.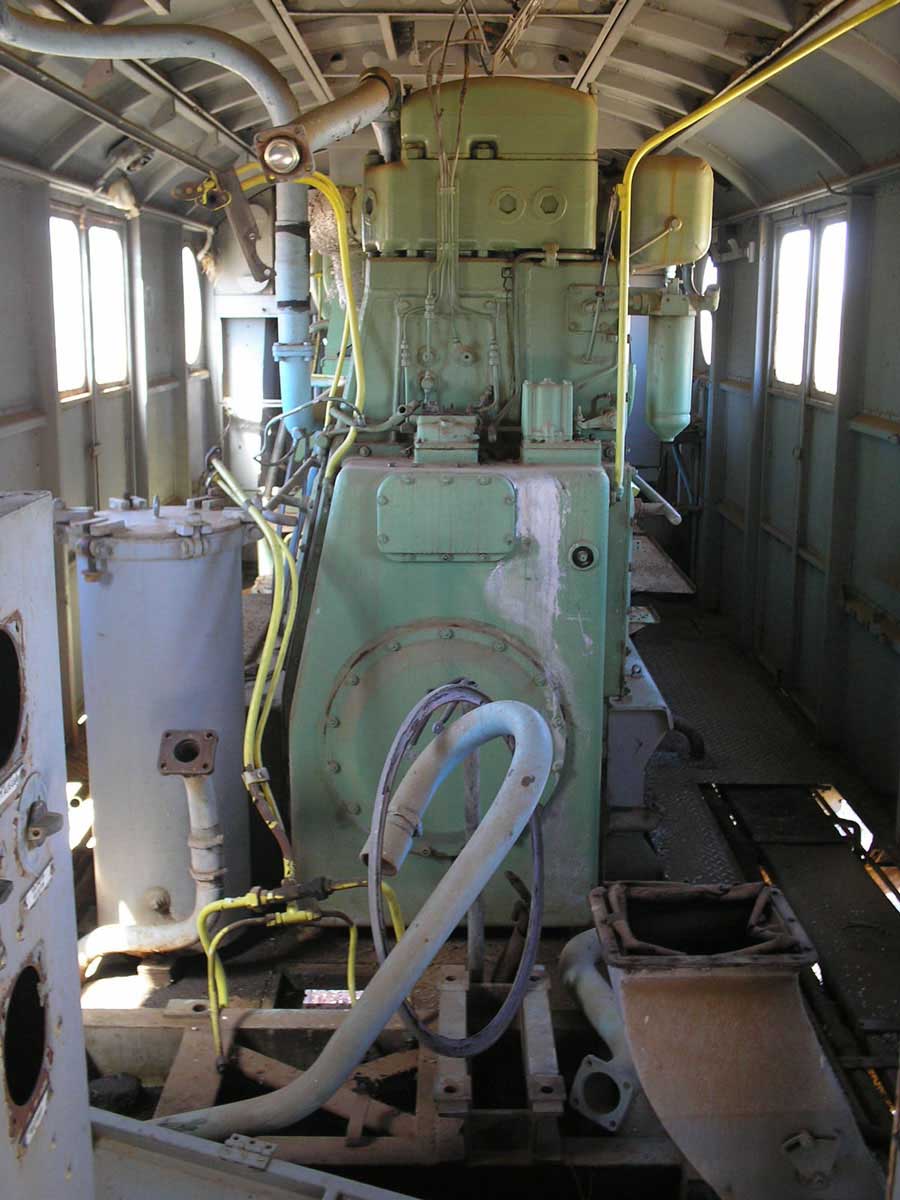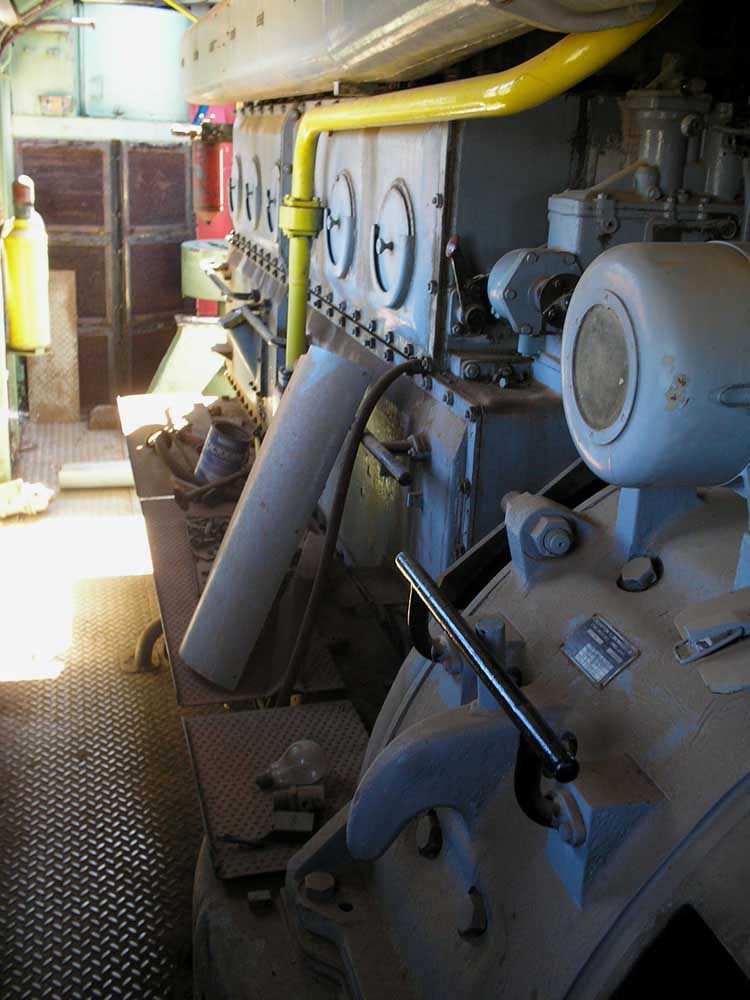 Three views of two of the power units from NSU 59 (top & center) and NSU 64 (bottom).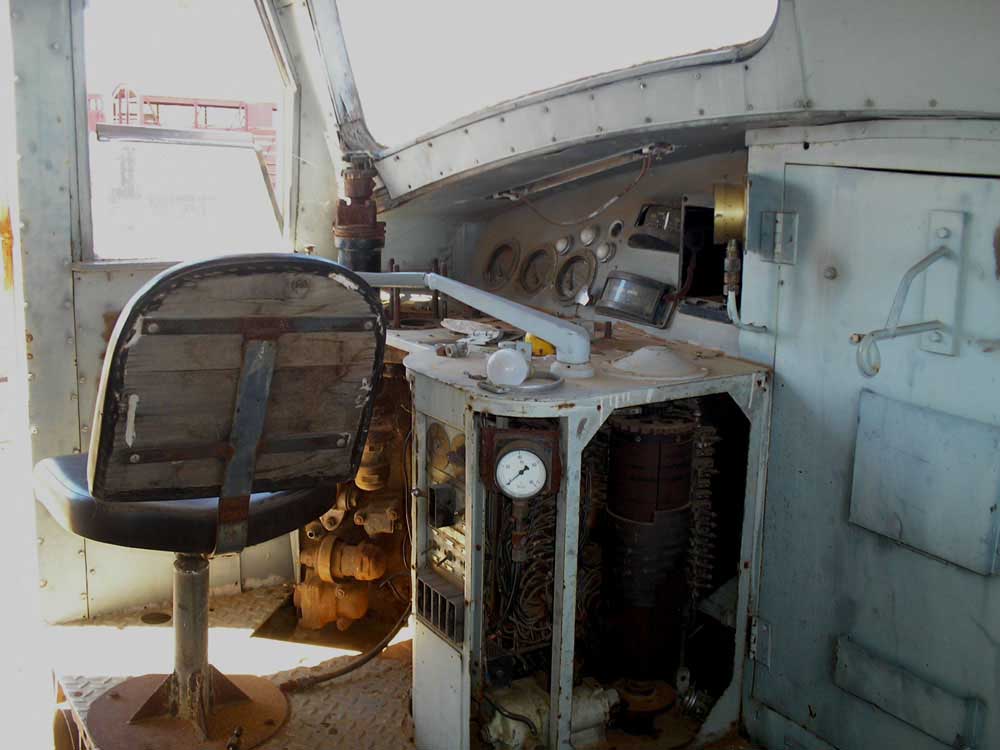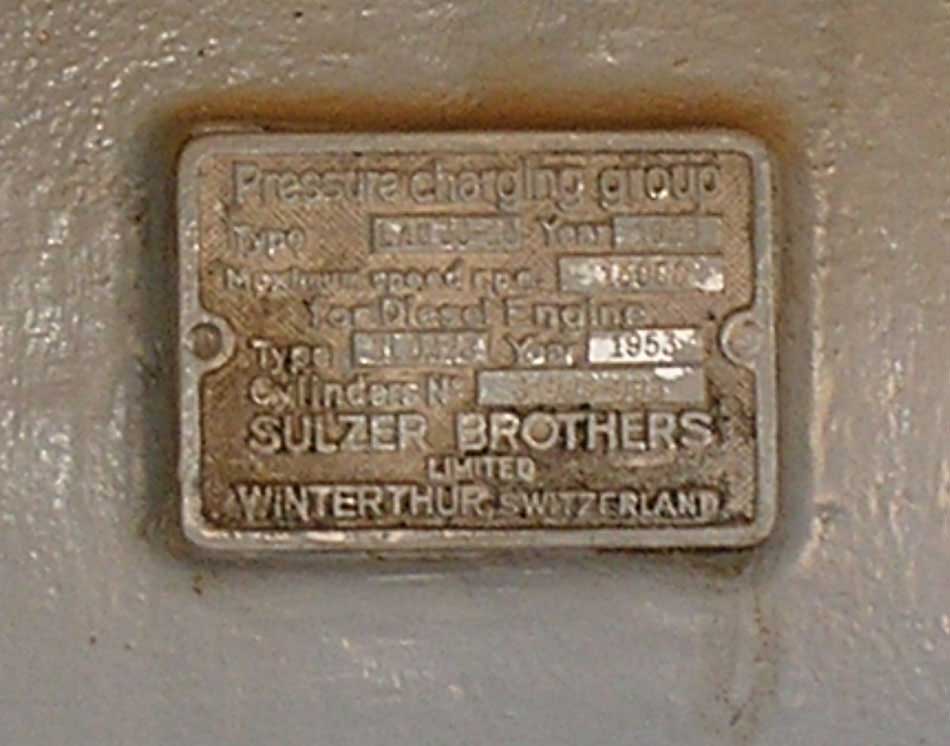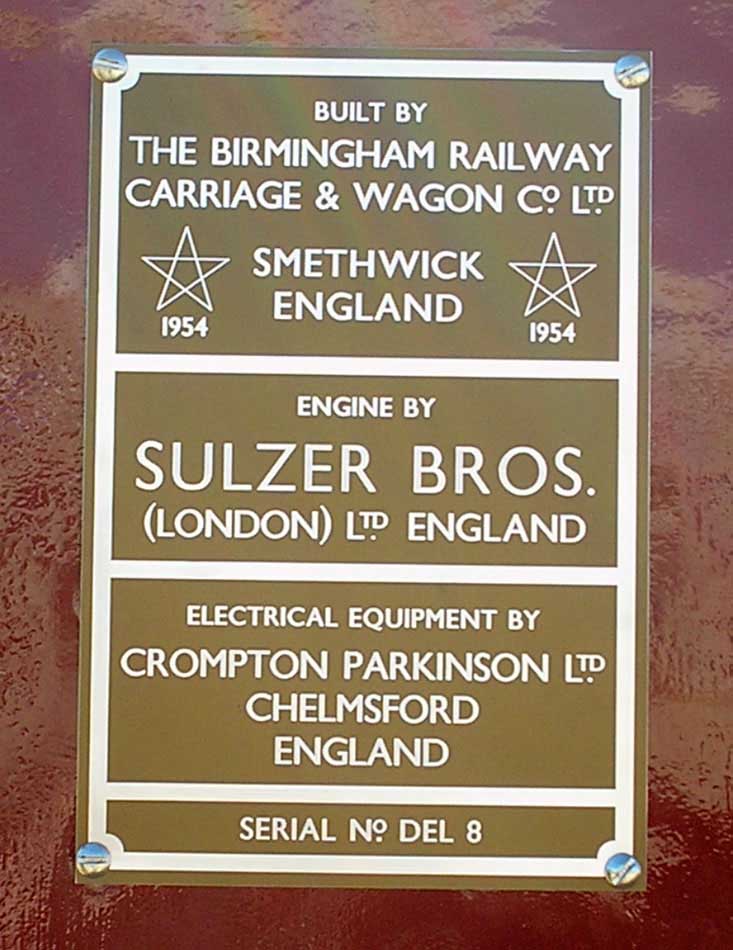 Three miscellaneous views from the locomotives, firstly the cab of NSU 64, secondly the plate attached to the turbo charger, also from NSU 64 and lastly a copy of the builders plate attached to recently repainted NSU 58. The museum did have an original builders plate on display.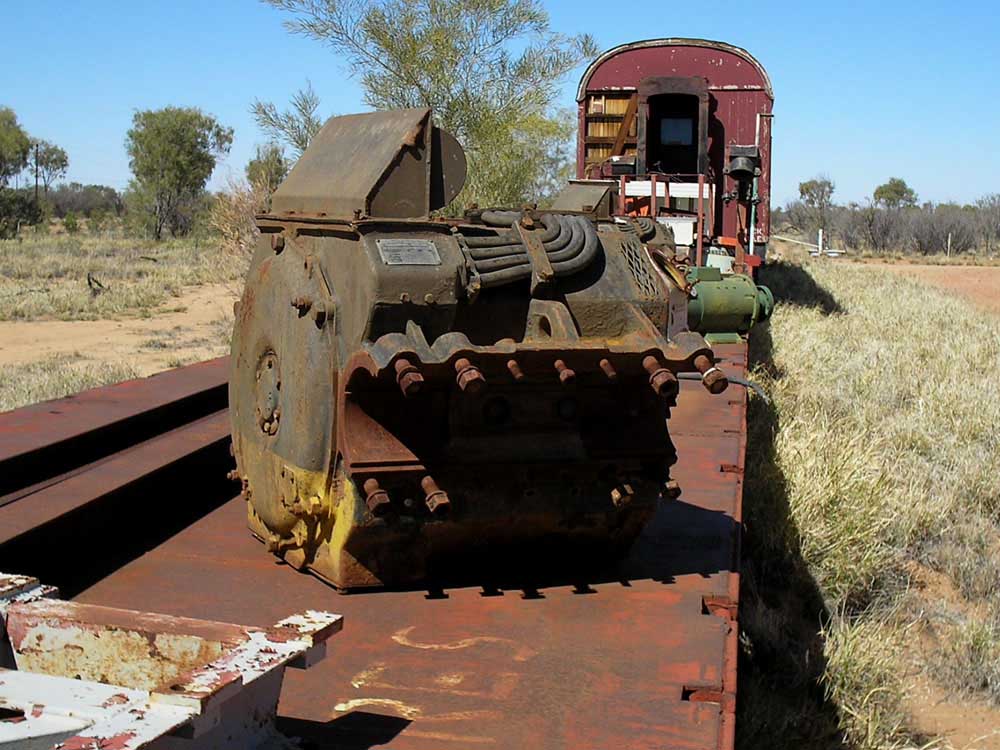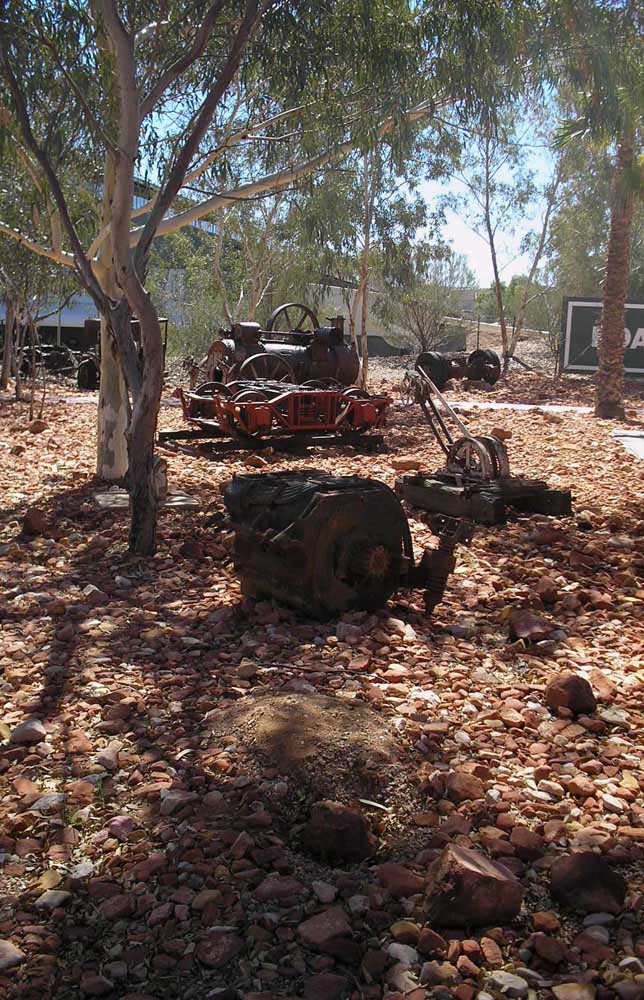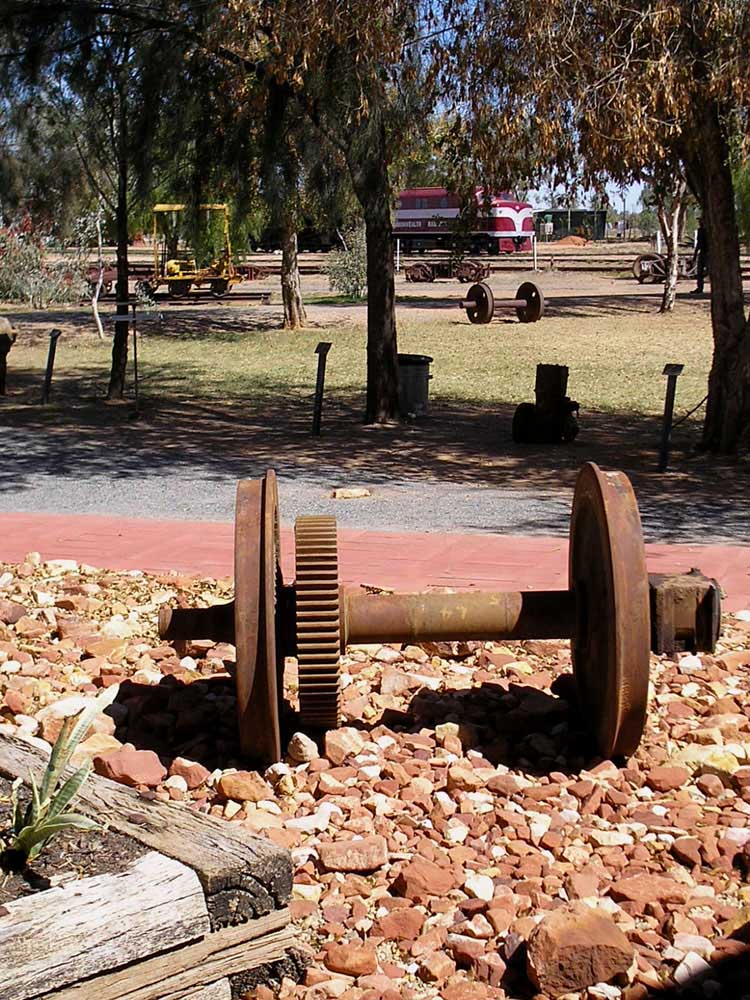 The museum grounds are filled with a variety of parts, from locomotives and road vehicles. In the first view is an example of one of the Crompton Parkinson traction motors fitted to the NSU's. The second view shows another CP traction motor, surrounded by a variety of other components. In the background is the truck museum, well worth a visit if you ever get to Alice Springs. The third view is from in front of the station (museum) building, possibly of a geared wheelset from an NSU (?). In the background are further parts and the complete NSU 58.

Your scribe was a very happy person on leaving the site, with a big thankyou to Trevor for his kindness!
One visit to the active rail facilities at Alice Springs did not produce much, with just one yard locomotive being present.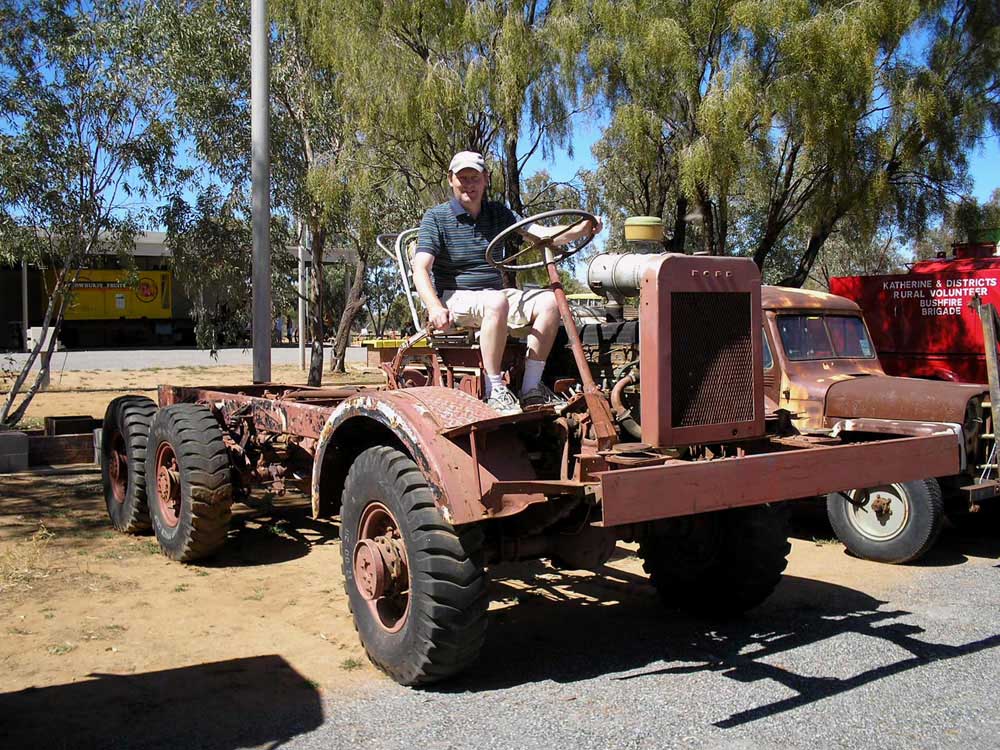 The Road Transport Hall of Fame Museum next to the Ghan facility is well worth a visit, with the large facility full of road vehicles, but with an emphasis on trucks/lorries. Here yours truly enjoys the delights of a well stripped down Ford.
Our departure from Alice Springs at lunch time on the Monday saw us cross the northbound Ghan passenger train as it rolled into Alice Springs. Unfortunately our appointment with a Qantas 737 required us to remain steadfastly heading for the airport! We flew off into the afternoon for the short hop to Adelaide, still in search of further NSU's.
Tuesday August 22nd 2006 - Friday August 25th 2006 - Adelaide area.
Now in the Adelaide area, there was the potential for more surfing activities for my son, however the weather did not cooperate, with minimal swells to attract the surfers.
So it was off to seek out other attractions and two were found in Port Adelaide. Firstly was the South Australia Railway museum - a fine facility with a well organised collection of locomotives and rolling stock. Included was another NSU diesel, in pristine condition and kept undercover. Not far from the railway museum was the Nautical museum, another facility well worth visiting.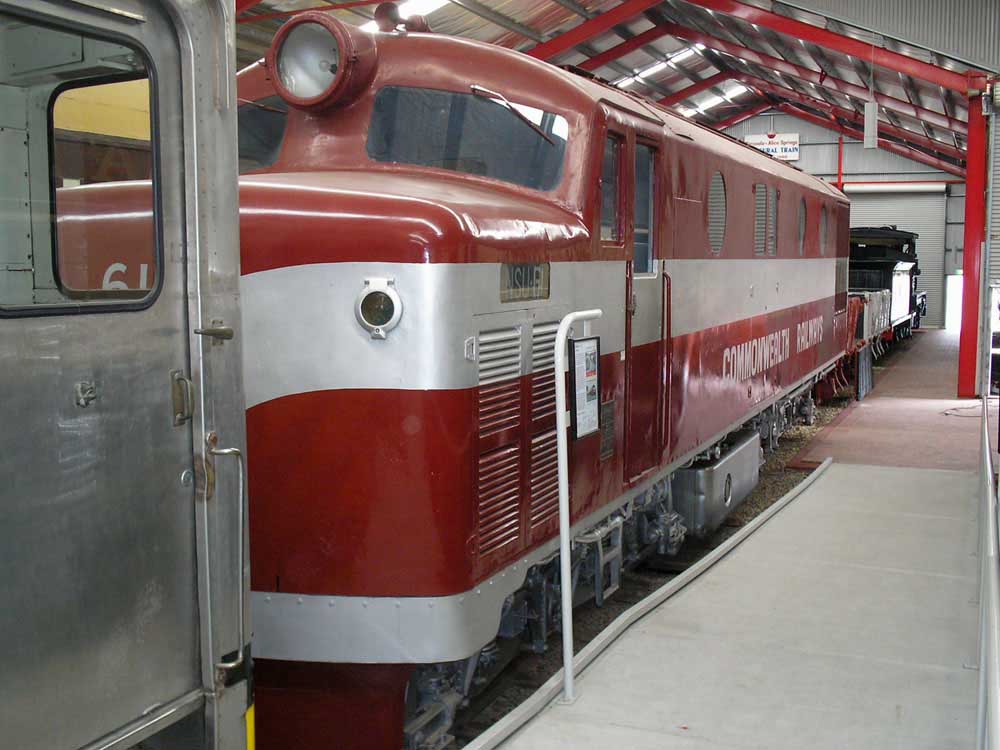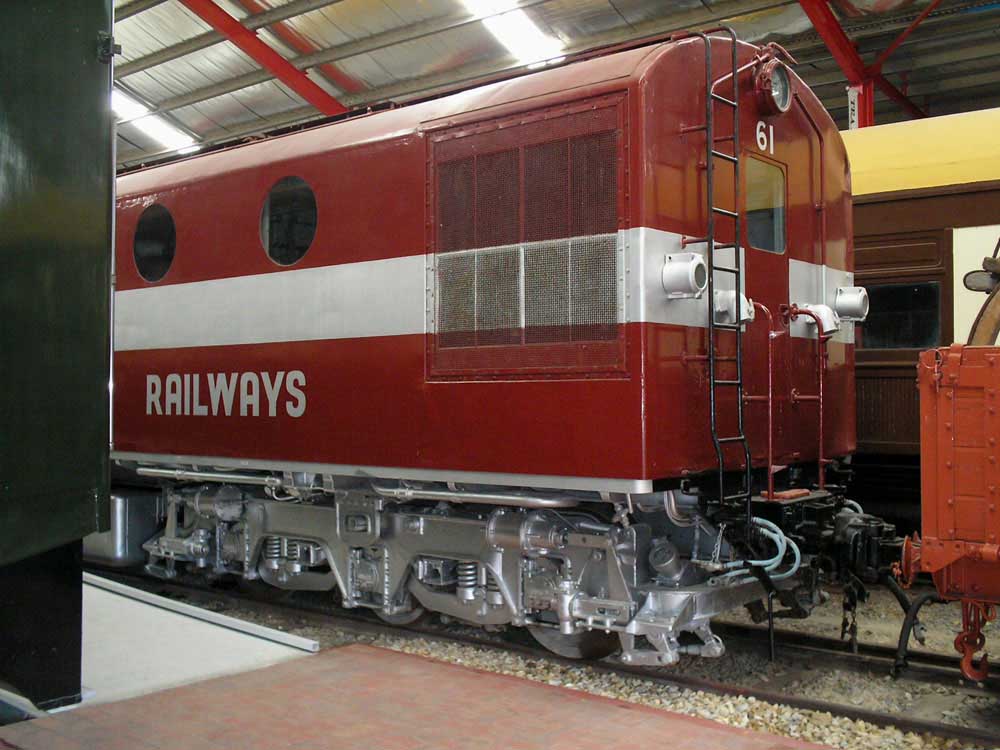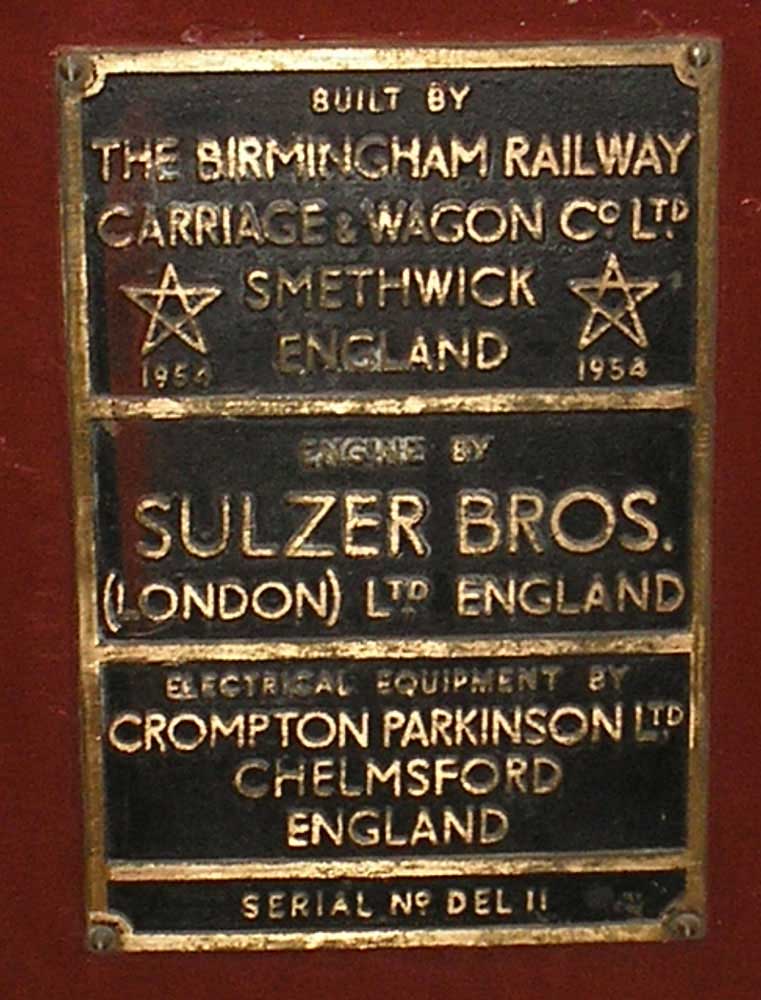 NSU 61 at the South Australia Railway museum.
During early 1984 Australian National made NSU 61 available for preservation, with her first home being at the Mile End Museum, leaving Port Augusta during February 1984. The locomotive was transferred to its current location during 1988.
The museum has on display one of the NSU builders plates, I think from NSU 51, BRCW plate DEL 1.

Several hours drive away from Adelaide was the Pichi Richi preservation site at Quorn. A visit was made here but due to a lack of volunteers (not surprising on a winters weekday) we were not able to visit the facilities, which contained several NSU's and the solitary preserved NT. However all was not lost as on the return to Adelaide we called in at the railway center at Peterborough, present here was one NSU along with a number of other steam & diesel locomotives and rolling stock.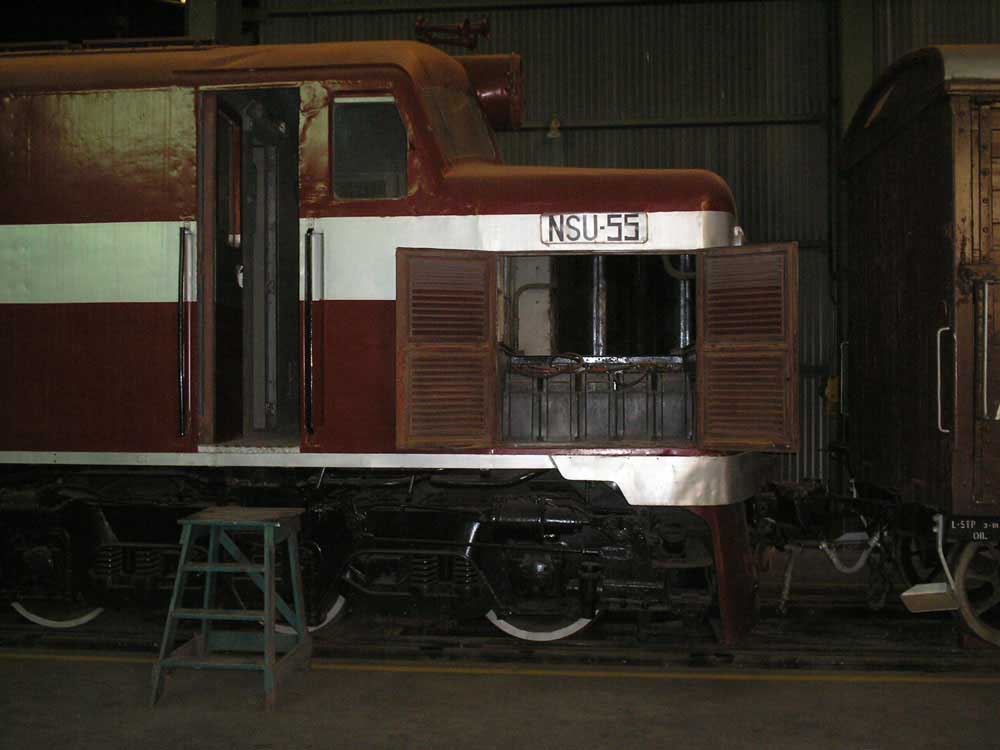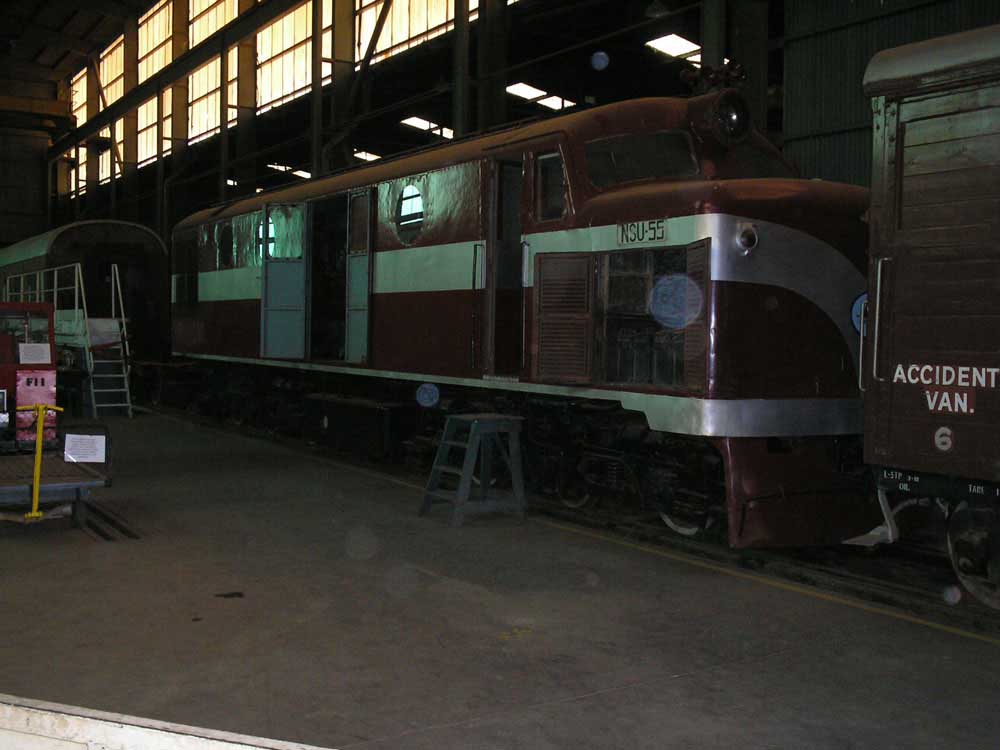 NSU 55 at Peterborough. NSU 62 was not seen on my visit to Peterborough, although not all the railway building were visited, some were considered unsafe!

The rail removal at the southern end of the line was handled by Goss Brothers, the contract being completed by July 1983, NSU 55 had been used for this purpose, ending her days dumped at Marree. NSU 55 would eventually join the Steamtown Peterborough collection, being moved south by road during January 1994. Also moved at the same time was NSU 62, the plan being to concentrate on making NSU 55 serviceable. Late in 1998 NSU 55 became operational and was used on excursions to Black Rock & Euralia, though the extremely poor state of the track precluded the continued running of the excursions.

The remainder of the holiday was spent away from railway activities, although from time to time diesel multiple units were noted on the local Adelaide workings and the horse drawn tram was noted at Victor Harbour.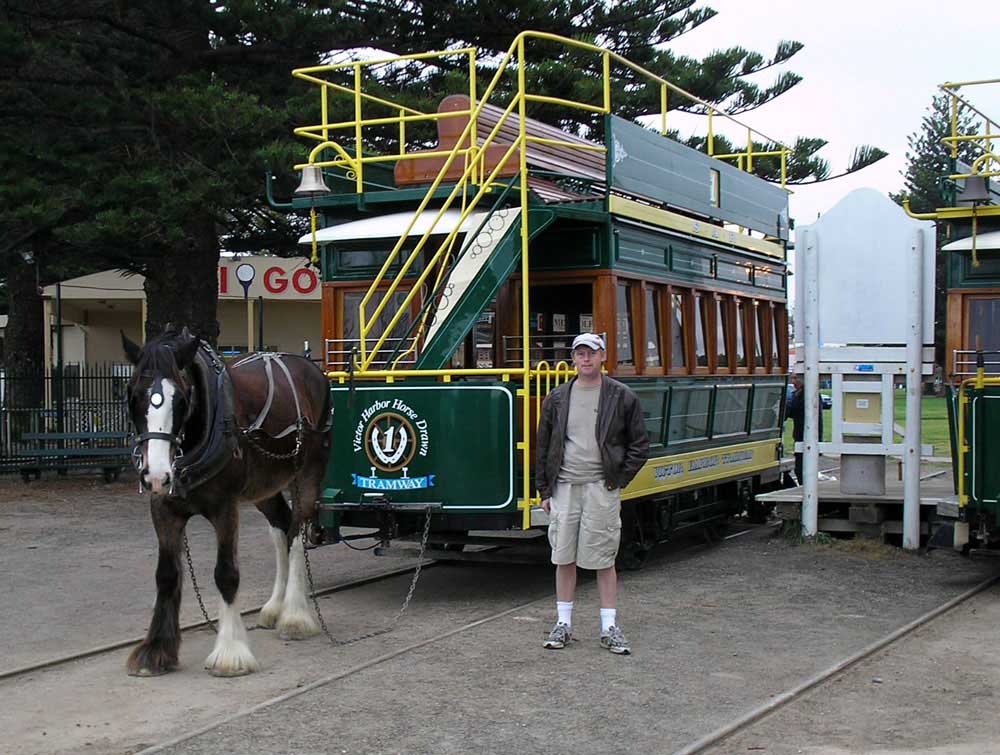 Now this is more like it, just a one horsepower tram for the short journey at Victor Harbour across the causeway.
Saturday August 26th 2006 - Sydney to Los Angeles
We departed Adelaide on Friday August 25th with an evening flight to Sydney, here we roughed it overnight in a transit lounge in the International Terminal prior to our morning departure back to Los Angeles on a Qantas Boeing 747-400. Security was heightened for our return to the USA but the Australian authorities had everything in hand and delays were kept to a bare minimum. Our flight was only moderately well loaded so we had three seats for the two of us, as did many of the economy class passengers on this flight. The flight was smooth and on time, our local departure time at Sydney was 9.45am, our local arrival time at Los Angeles was 6.30am, so we got to enjoy Saturday twice!

With thanks to:
Qantas Airlines - for reliable and smooth service. I thought 12 to 14 hours on the trans-Pacific flights would drive me nuts, but it didn't, the flights were smooth and the inflight entertainment helped while away the hours.
Hertz, Avis, Best Western & Comfort Inns - all the reservations were as booked, no problems were encountered, staff were courteous, helpful & friendly.
Thirroul Beach Motel - thanks for the great, friendly service - recommended.
Trevor of the Ghan Preservation Society - thanks for accomodating two tourists in their search for the NSU's.
Nic Doncaster - for the historical NSU information attached to photographs on this webpage.
The Angels - caught one of your songs on the radio, picked up your LiveLine CD and slowly drove my son nuts playing it to death in the rental cars - love the music, something good did come out of the 1980's
Joshua - thanks for coming along for the ride, hopefully there will be more surf next time!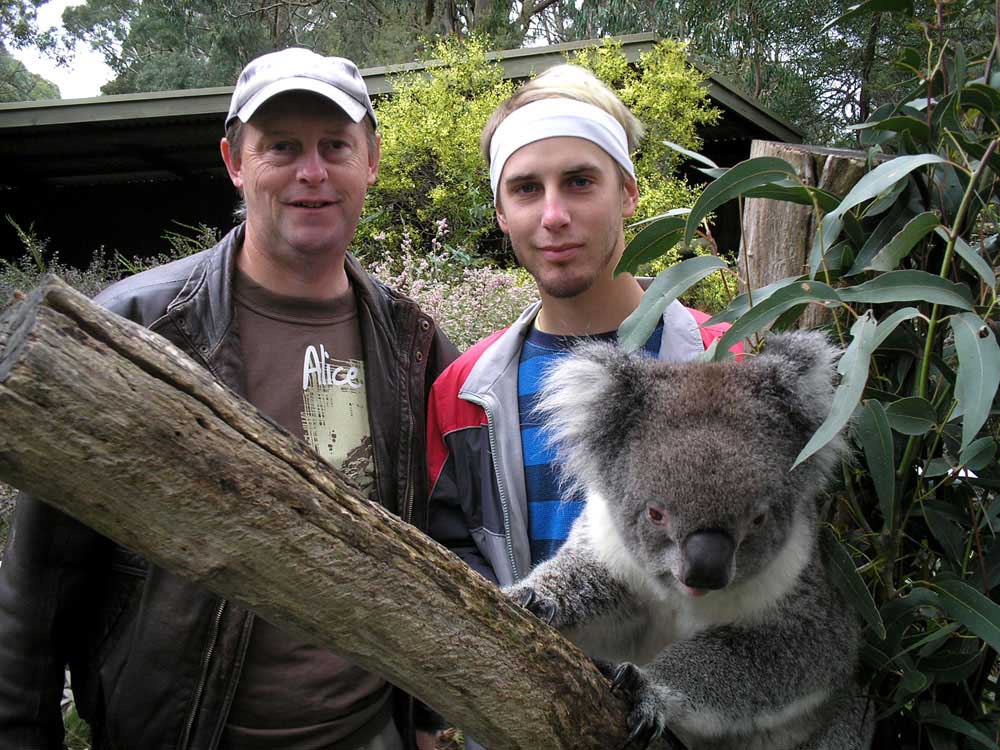 Tourists (your scribe and son Joshua) and a local resident at the Cleland Wildlife Park, Mount Lofty, Adelaide, well worth a visit for a real close-up look at Australian wildlife - recommended.
Of the fourteen possible NSU's that could have been visited, six were observed, the remainder were as follows:
Peterborough - two are believed to be here but I only saw one
Quorn - four are here but I never had the opportunity to visit the Workshops
Marree - I believe two are dumped here
Adelaide River NT - one is here as astatic exhibit.
Page added September 2nd 2006 - walking the dog this morning the sound of a big jet overhead caused me to search it out, it had come in from the south-west, making a large turn to line up with the LAX runways, as the sun lit-up the tail the big red Qantas kangaroo became visible - one week before this had been my returning flight!
Details on the NSU Class
Details on the NT Class
Return to Picture menu