Damaged Class 25s

The unfortunate wanderings of the Class 25s

From the time since they were constructed there was always the risk of any locomotive getting into a contretemps with others, or for those machines with a glint of wanderlust in their cab windows to choose to beat their own path, often with dramatic results. This is not to make light of those railway workers that were injured or lost their lives in service to the railways, rather a look at the results of the unexpected happenings.

1963
On July 27th on the Northallerton - Eaglescliffe line a rear end collision involving two freight trains led to the death of a guard, minor injuries to other railwaymen and damage to D5160. A Tees Yard - Washwood Heath freight led by a Class 37 was rear-ended by a Tees Yard - Northallerton local freight led by D5160 propelling a brake tender. The brake van of the Washwood Heath train was demolished, eventually catching fire, the guard was rescued from this wreckage but died after reaching the hospital. The next vehicle, a 40ton bogie bolster wagon derailed across all lines, the next two vehicles also sustained damage. The brake tender being propelled by D5160 having caused severe damage to the brake van was derailed towards the cess and over-ridden by D5160. The locomotive was derailed all wheels and sustained major cab damage as it demolished the brake tender, impact speed was about 30mph and some wagons in the local freight train sustained minor damage. Primary responsibility for the accident lay with the driver of the local freight, though there were other circumstances which required that the other train crew bear some of the responsibility.

On October 17th D5155 on the returning St John's Chapel freight hit a dumper truck on Broadwood level crossing. Rescue came in the shape of Cl 5 76045 off the Stanhope freight, taking the damaged diesel and its train as far as Stanhope, from there Q6 63343 took the entourage onto to Bishop Auckland.

1964
Trouble befell D5195 on April 24th whilst working the final leg of the 'Devonian' from Leeds City South to Bradford, a regular working for these machines. In a conflicting move at Leeds City Junction a collision ensued with the 17.36 Leeds City North - Knottingley dmu, derailing a number of vehicles, leaving D5195 with a very battered cab. This locomotive was later removed to Derby Works for repair.

1965
An unfortunate arrival at Derby late in November was newly built D7634, received for repairs to minor collision damage.

1966
February 10th brought chaos and destruction to the Midland lines. At Flitwick twelve loaded wagons hauled by D5218 ran into a stationary D5383 immediately north of the station. Most of the train was derailed, necessitating the attendance of D7503 and the Cricklewood crane. The lines was cleared by midnight, hindered additionally by a snowfall. The damaged locomotives were removed to Bedford, prior to heading north to Derby Works.

Sometime during 1966, possibly September/October, D5180 was noted at Derby Locomotive Works with collision damage to the driver's side of the No.2 cab.

At an unknown date, possibly duing 1966/1967 D5166 was noted with collision damage to the No.2 cab on the second man's side, with scrape damge as far as the boiler room grill. The locomotive was in green livery, frame level stripe with small cab front yellow warning panels.

1967
Whilst working a Muirkirk - Ayr coal train on or about January 30th, D7623 ran away with its train and left the track near Auchinleck. The locomotive became derailed all wheels and ended up resting against the shallow cutting side, with many of the loaded coal wagons also derailed. The locomotive escaped serious damage and by March had reached Derby locomotive Works for repairs.

August: D5153 derailed at Hesleden whilst working a coal train, locomotive fell down bank, ending up resting on its side, works attention needed.

November brought bad news for the BR Sulzer Type 2 fleet with the withdrawal of the first of the class, Eastfield based D5051. It had been working coal empties to Waterside when fire broke out. It was eventually removed to Inverurie for spares recovery with the remains being broken up by August 1968. This would be the only member of the class broken up here.

1968
April 1968: 5159 noted at Derby Works with collision damage to No.1 cab, 2nd man's side, including large radiator grill.

During October 1968 both 5155 & 5204 were at Derby Works with collision damage.

1969
On June 18th 7500 was noted at Derby Works with collision damage to the No.2 cab front. The bufferbeam had been beent downwards with the bottom half of the cabfront pushed inwards. The locomotive still retained the original location for the engine exhaust. The repair estimate for the damage was £14,000. The damaged locomotive was previously noted at Kirby shed.

1970
7543 was noted at Crewe Works during February with collision damage to the 2nd man's side of the No.2 cab, repair costs were estimated at £3,750.

A notice put out by the LMR authorities advised that in a recent six month period 702 locomotives were damaged in collisions and derailments, just on the LMR alone. Photographs accompanying this notice featured Peaks & Class 25's!

1970 no month: 5170 noted Derby Works with collision to the No.2 cab bufferbeam, buffers missing, damage to valencing, drivers side sandbox missing.

1971
May 1971 saw the first withdrawal of a Class 25, retired from the Manchester Division was green liveried 5278, having suffered considerable damage in a head on collision in the Great Rocks area. This had been one of the original batch of Class 25's (5274 - 5279) allocated since August 1964 to handle the ICI company limestone trains. The damage sustained to 5278 made it unfit to travel, being broken up at Peak Forest by G Cohen's of Kettering during Oct 1971.

July 23rd 1971: 7654 sustained minor damage to the No.2 cab in a coal train derailment near Padiham power station.

On November 27th two engineers trains collided on the Up fast line north of Sharnbrook station. The two locomotives, 1623 & 5250 received serious damage being surrounded by a large heap of debris from all the derailed ballast wagons. The cause of the accident was an inadequate braking force on the Class 47 causing the overloaded spoil train to run away, both locomotives were removed to Bedford, and were still there at Christmas. Three cranes were in use to clear the wreckage, 78 having brought in the Toton crane.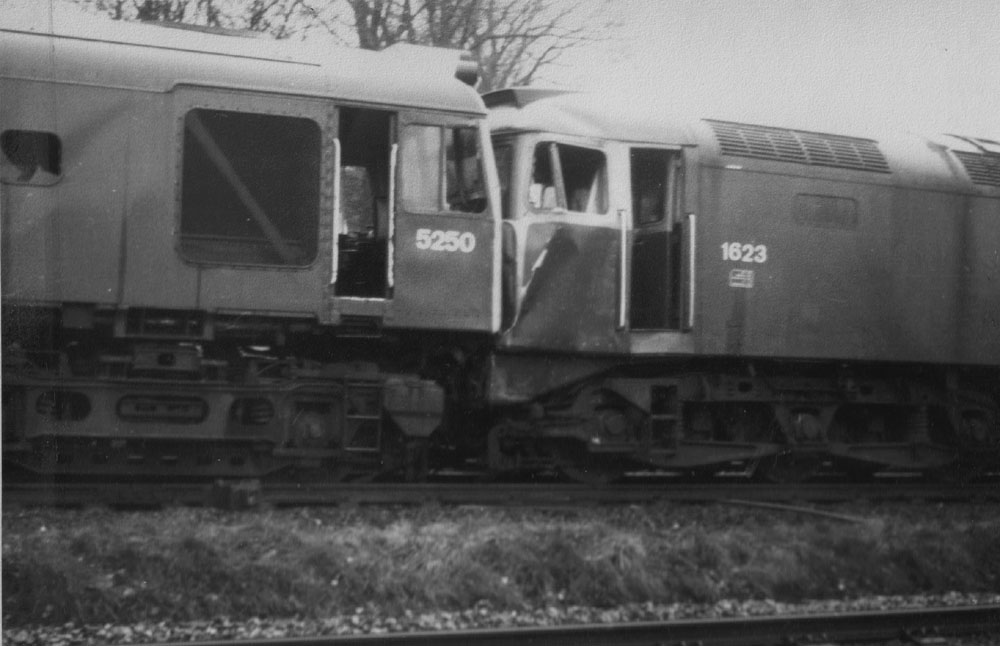 Photograph collection of webmaster.
A dramatic view of 5250 & 1623 after their collision at Sharnbrook.
The second Class 25 to be withdrawn was green liveried accident damaged 7605. At 06.15 on December 16 in a violent collision at Lenton South Junction (Nottingham) ladder crossover, the 01.30 Liverpool - Nottingham parcels train, hauled by 7605, collided head on with a southbound coal train led by 8115 & 8142. Regrettably both drivers and the guard of the parcels train were killed. The severely damaged 7605 was initially moved to Beeston Freightliner terminal, then onto Derby Works where it was withdrawn in March 1972 and broken up the following month. This was the shortest lived of any Class 24/25, with a working life of six years and three months. The inquiry established to investigate the incident failed to positively identify the cause, but believed the driver of the parcels train had cancelled a number of AWS warnings without heeding the signal aspects displayed.
1972
7646 was noted during March at Derby Works with collision damage.
7635 & 7636 were noted during September at Derby Works with collision damage.
September 1972 - 5157 noted at Eastfield depot with considerable damage to the No.1 cab and bufferbeam.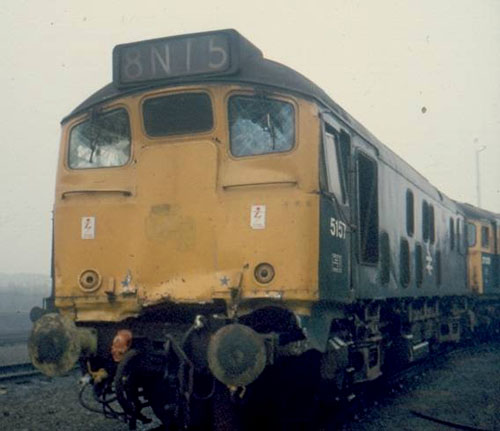 Photograph courtesy Lindsay Knight
A misty September 16th 1972 finds 5157 waiting movement to Glasgow Works for repairs to its damaged cab.
1973
April?? One damaged cab of 5157 removed at Grangemouth, presumably after collision locally. By May 5157 was at Glasgow Works for repair.
1974
May 11th: 25276 noted awaiting entry into Derby Works with considerable collision damage to at least one cab.
On May 5th 5225 & 25276 were both dumped at Saltley with serious collision damage, it is presumed they had collided with each other somewhere in the Birmingham area. 5225 had damage to both cabs with the No.1 cab being the worst, including a bent buffer beam and missing buffers, the fuel and water tanks were missing and the No.1 bogie also sustained damage. For 25276 the No.2 cab bore the brunt of the damage, including the loss of the buffer beam. Both were quickly removed to Derby. Despite the damage to both cabs 5225 would be repaired.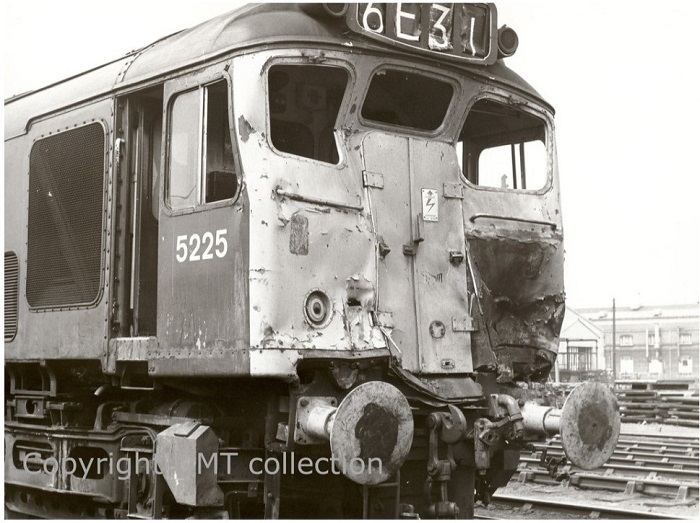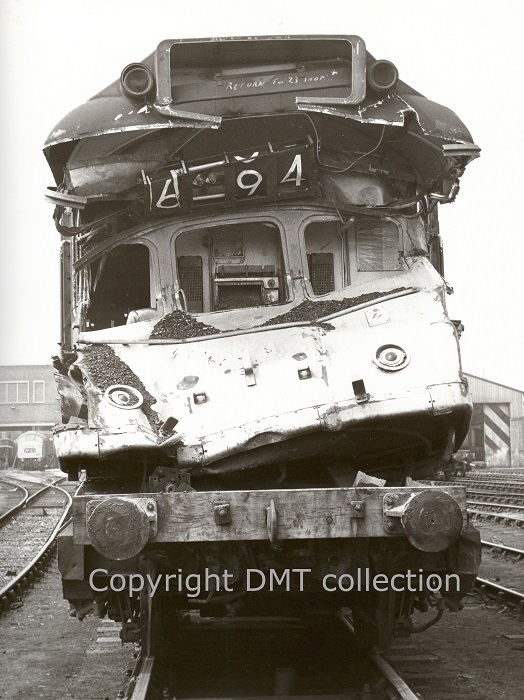 Both photographs courtesy DMT Collection / Steve Thorpe.
5225 & 25276 at Derby both possibly on May 11th 1974, and awaiting entry into the Works.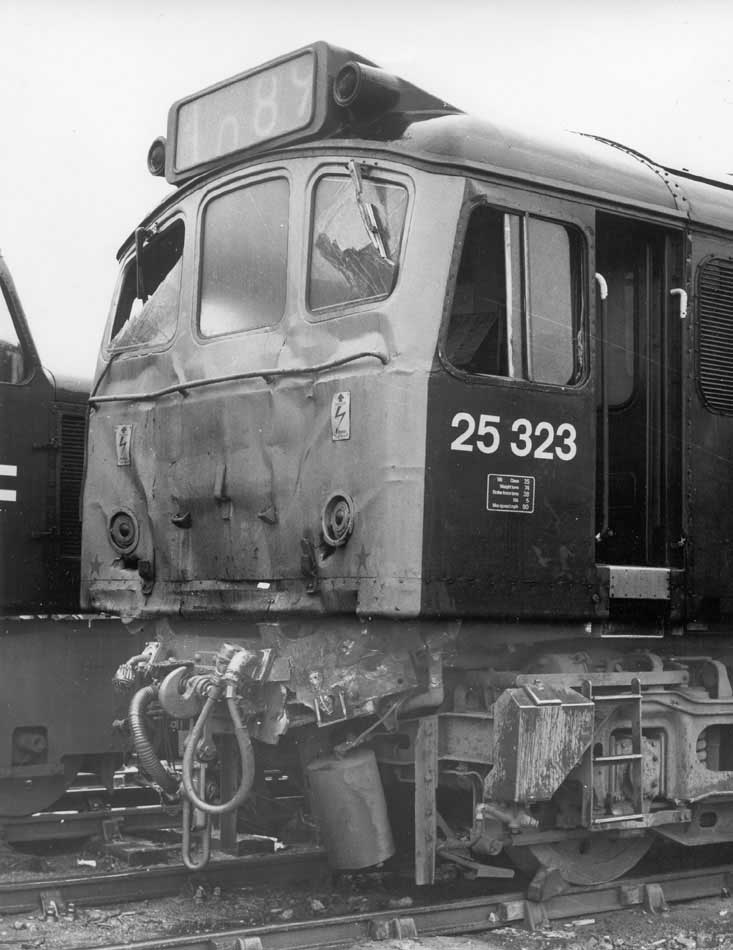 Photograph collection of webmaster
A BR photo of 25323 at Derby Works during September 1974 with a crunched cab. Presumably the photographer has deliberately lightened the lower half of the photo to highlight the damage.
1975
25290 was at Crewe Works for repair from January to April 1975 having sustained moderate damage to the No.1 cab.
25274 damaged in a collision at St Blazey was towed to Bristol on January 2nd behind 50018, later heading north attached to 46053 & 08668/937.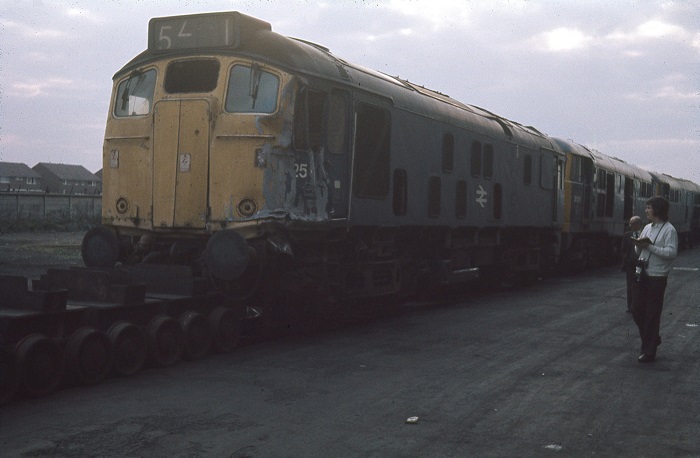 A slightly bent 25015 stands at the rear of Doncaster Works on Halloween Oct 31, 1976. Behind stand 31011 & 31117. 25015 had spent some time stored at Derby Works before being towed off to Doncaster Works for scrapping. Apologies for the poor quality picture, sometimes that was all you could get! All the other views I have of this locomotive after withdrawal show the undamaged side.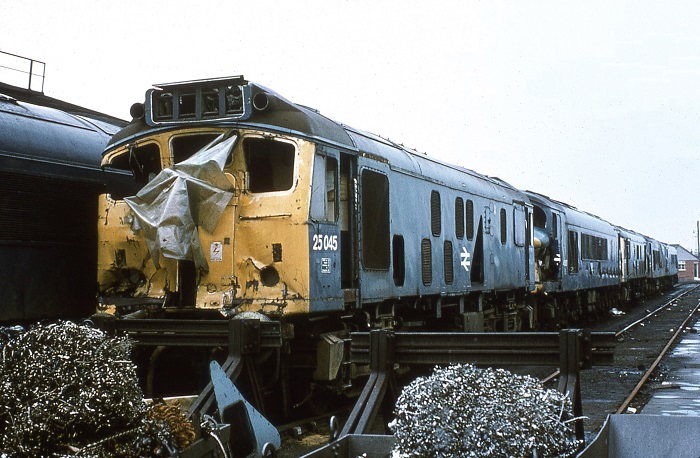 Photograph courtesy Adrian Healey
25045 had been withdrawn from Springs Branch during October 1975. The locomotive was sent off to Derby Works and is seen here on April 26th 1978 displaying the cab damage which caused its demise. Next in line behind 25045 is withdrawn 45067.
October 1975 - 25045 withdrawn from Springs Branch, noted Derby Works with cab damage.
December 1975 - 25015 noted with collision damage to No.1 cab, driver's side, led to withdrawal.
1976
April 1976 - 25222 at Derby Works with a damaged cab.
Late July/ early August 1976: 25003 received collision damage to the No.1 cab, 2nd mans side, this leads to its withdrawal.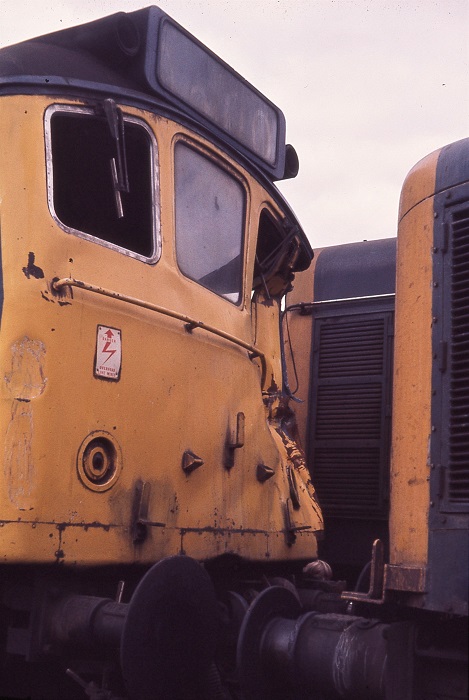 25312 with damaged cab at Derby Works September 4, 1976.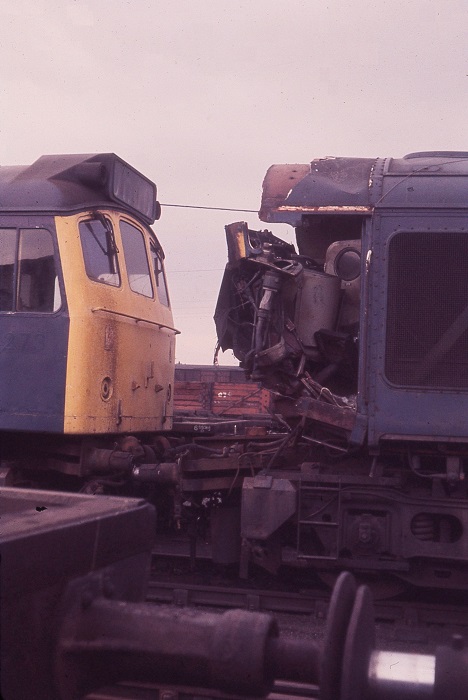 A close up of the damaged cab of 25174 on January 8th 1977. In better times repairs might have been sanctioned for this locomotive but with a downturn in business and an excess of the lower powered locomotives, there was little incentive to authorise repairs. 25030 & 25174 had been involved in a runaway accident at Aylesbury during August 1976 both locomotives sustaining damage and both being retired.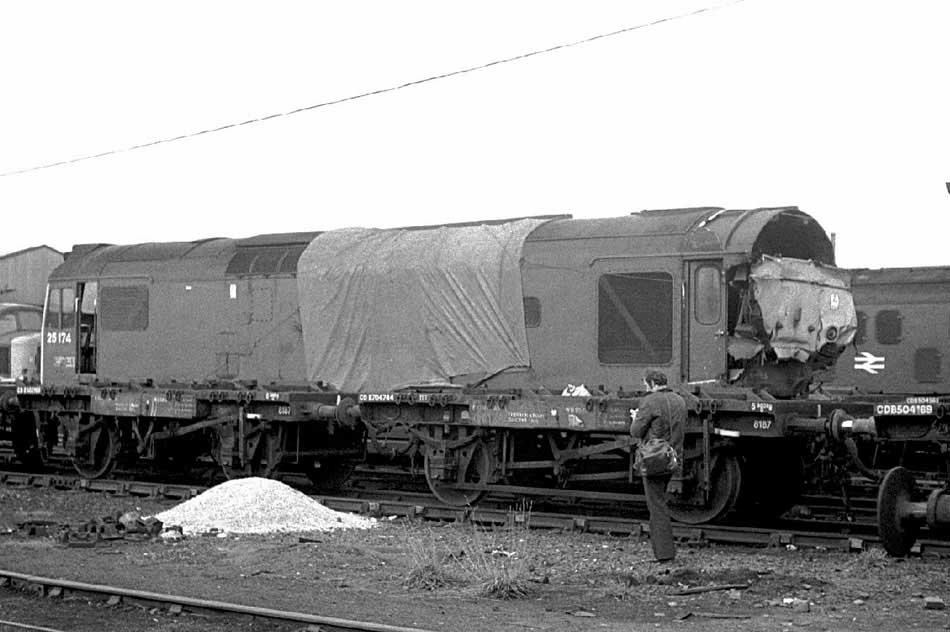 Photograph courtesy Tony Sayer.
25174 had been withdrawn from Cricklewood during September 1976 after a collision in the Aylesbury area. The locomotive was moved to Derby Works, ironically at the time of the 1976 Derby Locomotive Works Open Day it was visible to the visitors as it sat in the arrival sidings awaiting entry into the Works. In this view dated November 27th 1976 the locomotive sits in the Works yard.
On November 8th the 7S64 20.10 Carlisle - Falkland Jct freight, five wagons and a brake van ran through a red signal opposite Ayr depot, derailing at the catch points. 25018 rolled over onto its side, becoming wedged against 20125 which was leaving the depot. Damage to the Type 2 was GBP26,000 enough to see it withdrawn during November.
The accident that befell 25018 occurred at a location which appears to have suffered more than its fair share of derailments/runaways. On February 14th 1963 Class 5MT 45481 ran away with a mineral train on the Dalmellington branch. Not expecting to 'survive' joining the mainline at Dalrymple Jct (because of catch points) the crew jumped off the locomotive. However the route had been set so the train continued to head north, still coasting downhill towards Ayr. At Ayr No2 some wagons became derailed but the locomotive and one wagon collided with an empty three car DMU underneath a bridge in Ayr station. Cranes from Polmadie and Hurlford were required to extricate 45481 and Sc51042 from each other under the bridge.
And on October 22nd 1963 Clayton D8545 ran away with a brake van, eventually coming to rest after having crashed through a headshunt. The locomotive leant precariously towards the running lines, again the Polmadie & Hurlford cranes were brought into to clean up the mess.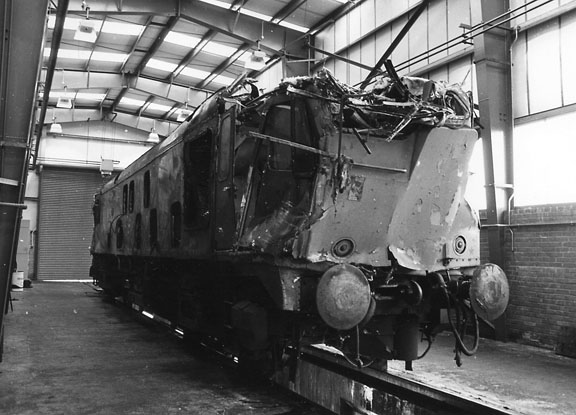 Photograph courtesy Steve Morris collection.
25018 waits at Ayr depot to be made fit for its final journey, a trip to Glasgow Works for scrapping.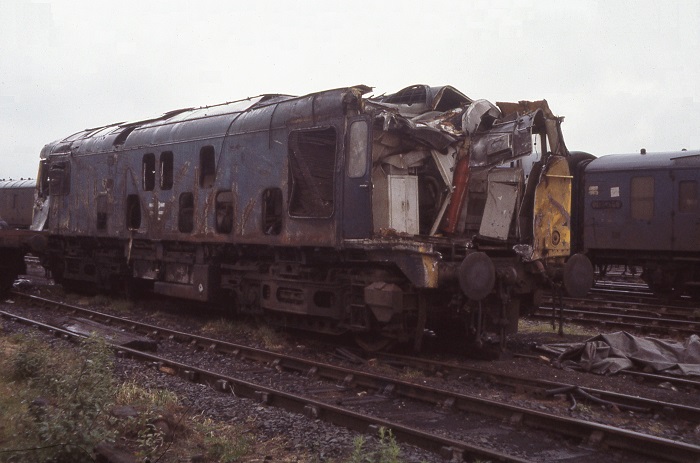 The No.1 end of 25018 at Glasgow Works on a damp June 29th 1978.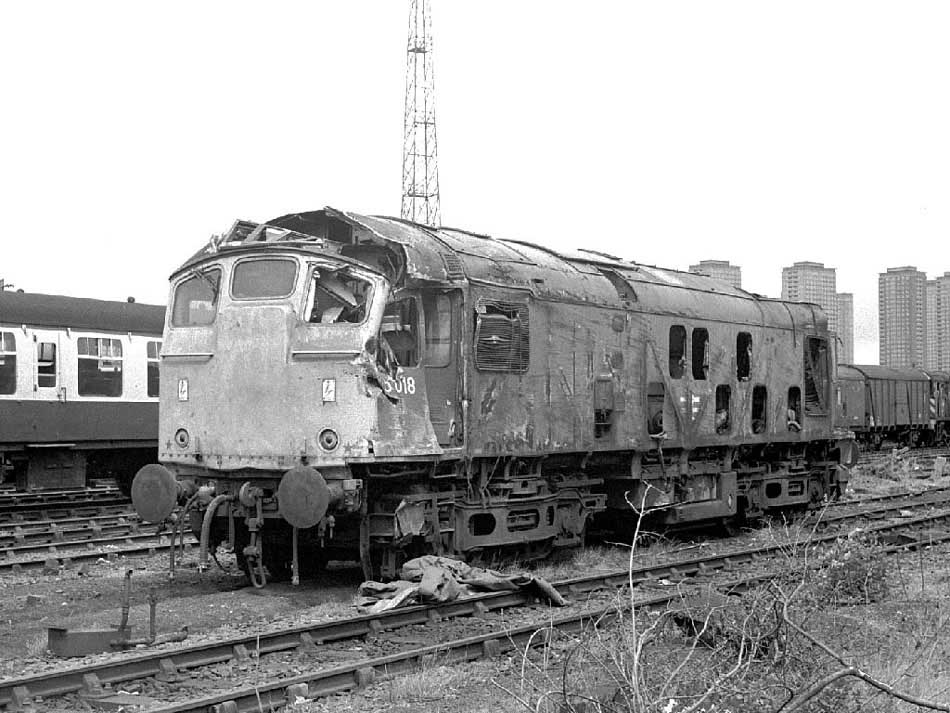 Photograph courtesy Tony Sayer.
July 8th, 1978 and another view of the battered 25018, this time showing the damage from the No. 2 end.
1977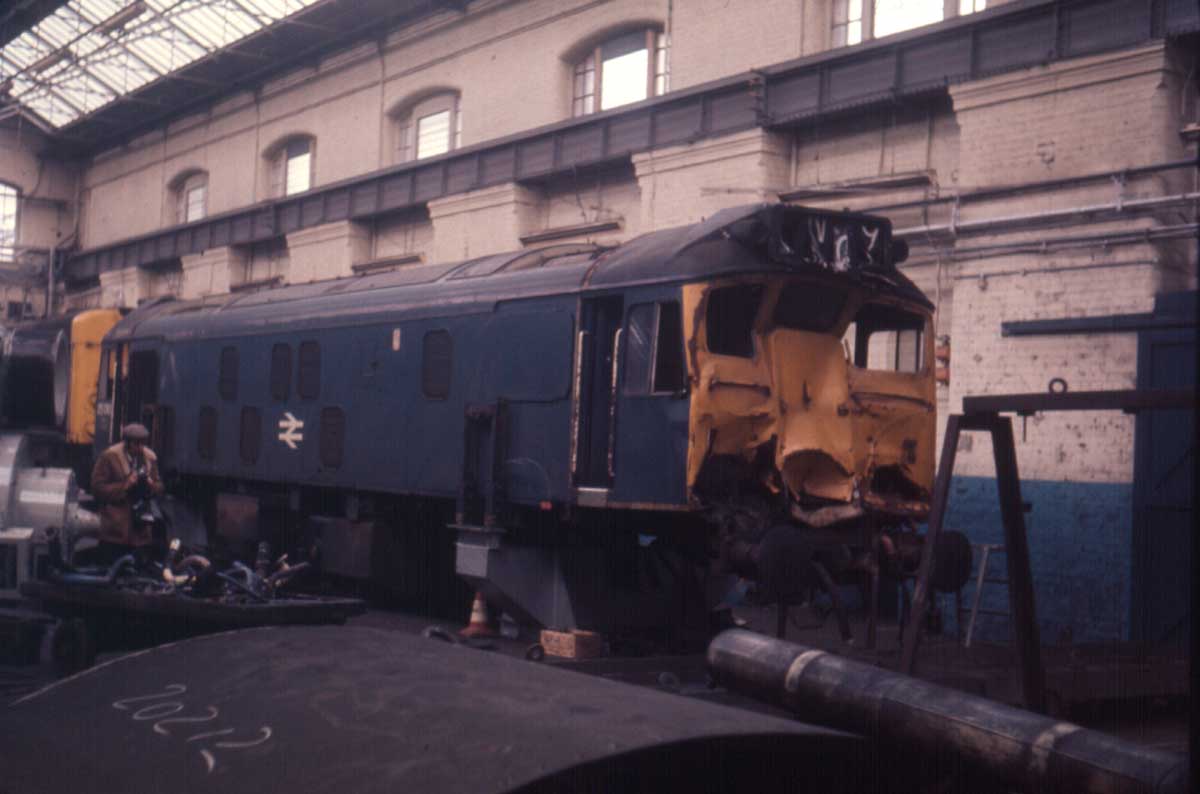 A rather battered 25061 undergoes repair at Derby Works on January 8th, 1977.
Late on the evening of July 7th the Euston carriage pilot, 25203, over-ran a signal derailing itself and three vans. As well as suffering cab damage it severed signal cables and electrical lines causing a blackout at Euston station. Principal delays were caused to the sleeper services, next morning six platforms were useable, by midday normal working had resumed.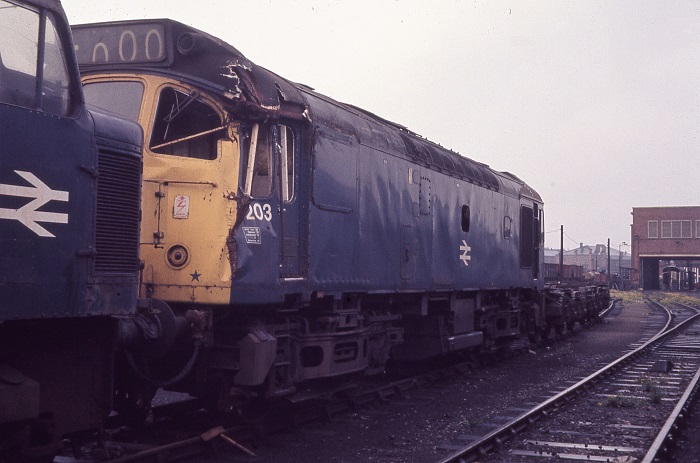 25203 awaits in the Derby Works deadlines east of the Test House, September 10th, 1977 with minor cab damage sustained at Euston on July 7th 1977.
1978
April 1978 - 25077 noted April at Polmadie & Glasgow Works with severe fire damage in the vicinity of the electrical cabinet.
June 1978 - 25295 at Derby Works with cab and side damage.
September 22nd turned out to be the final day for 25171. Whilst hauling a ten wagon ballast train southbound at Arbroath the train ran out of control and was diverted into the goods yard since both main lines were occupied. It demolished the buffer stops and impacted the retaining wall causing major structural damage to the locomotive, not helped by two of the now derailed ballast wagons demolishing the rear of 25171. The guard and driver's assistant jumped to safety, the driver taking refuge in the engine room.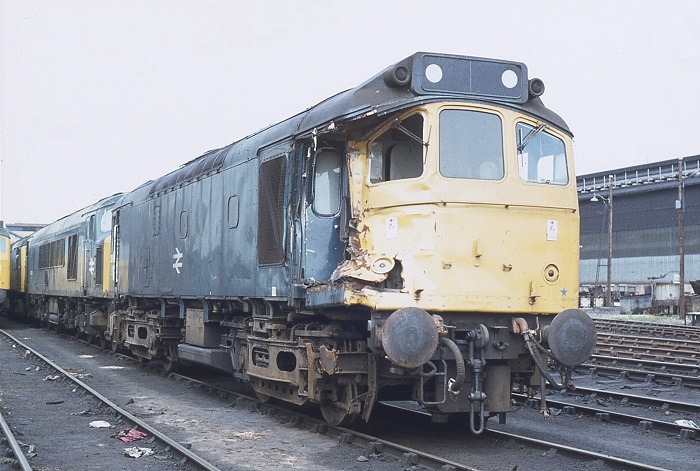 June 1978 finds 25164 arrived at Derby for repairs to a crumpled cab.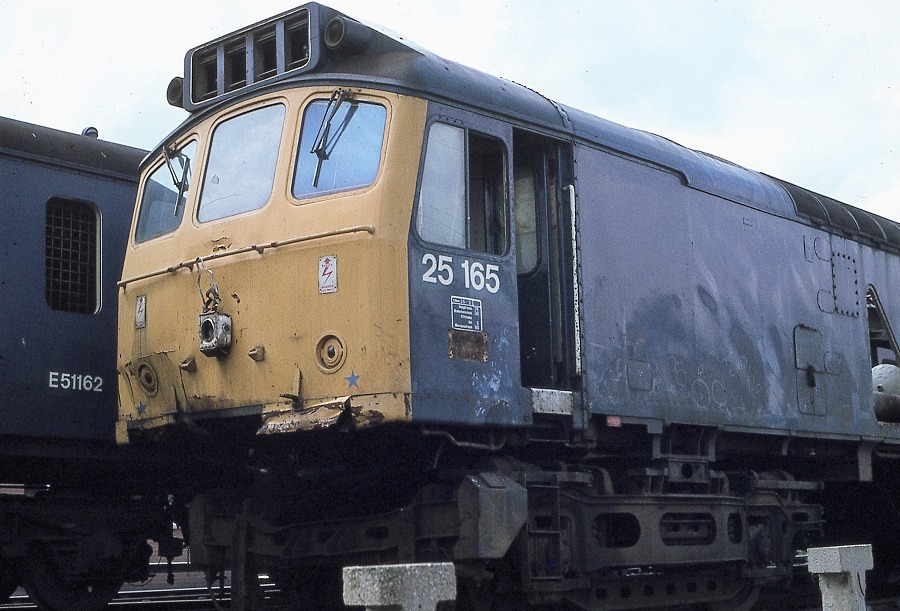 Waiting down by Deadman's Lane is 25165 (date unknown) having suffered damage to the cab involving the loss of its buffer beam, amongst other things. Since 25165 was withdrawn in November 1978 and broken up at Derby by September 1979 it must be safe to date this view sometime in that time period!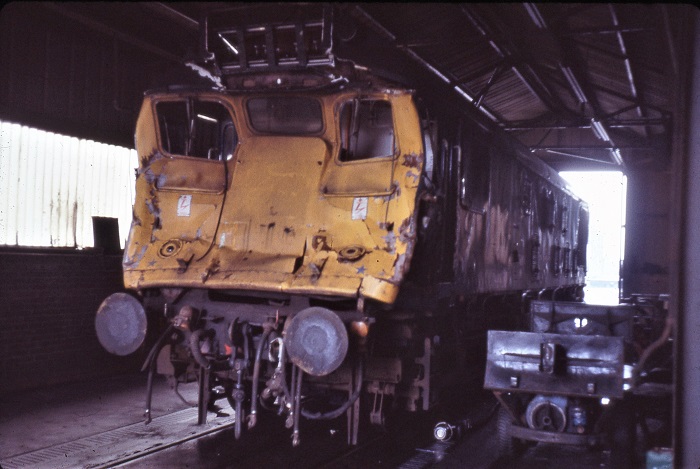 Photograph courtesy John Glynn
25236 in the defuelling shed at Derby Works during August 1978, having just arrived with considerable cab damage.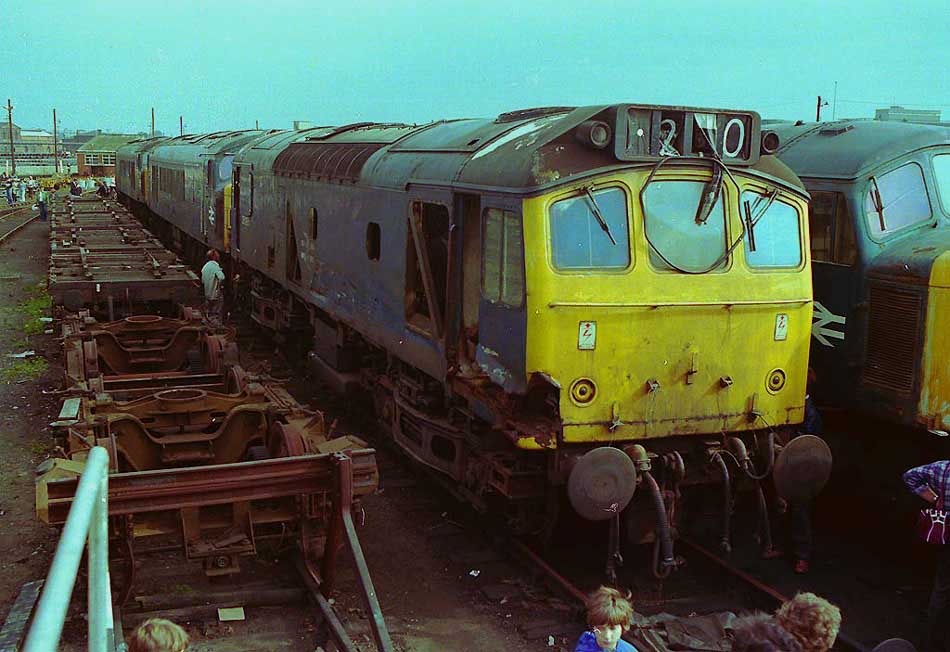 Photograph courtesy Martin Bray.
Derby Works Open Day September 1st 1979 and 25295 is visible to all, and definately looking a bit the worse for wear.
1979
25043 arrived at Derby Works late in February with collision damage on the driver's side of the cab at No.1 end.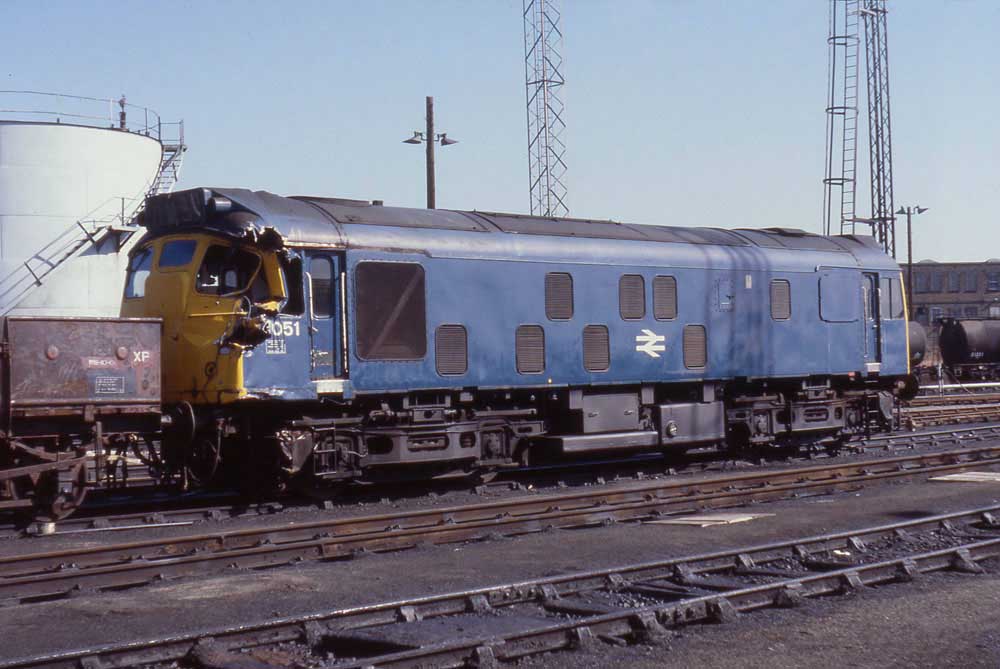 Photograph courtesy Brian Daniels.
25051 waits at Old Oak Common on March 23rd 1979 for a tow to Derby for repairs. It is presumed the collision damage occurred whilst 25051 was working a train to Acton Yard.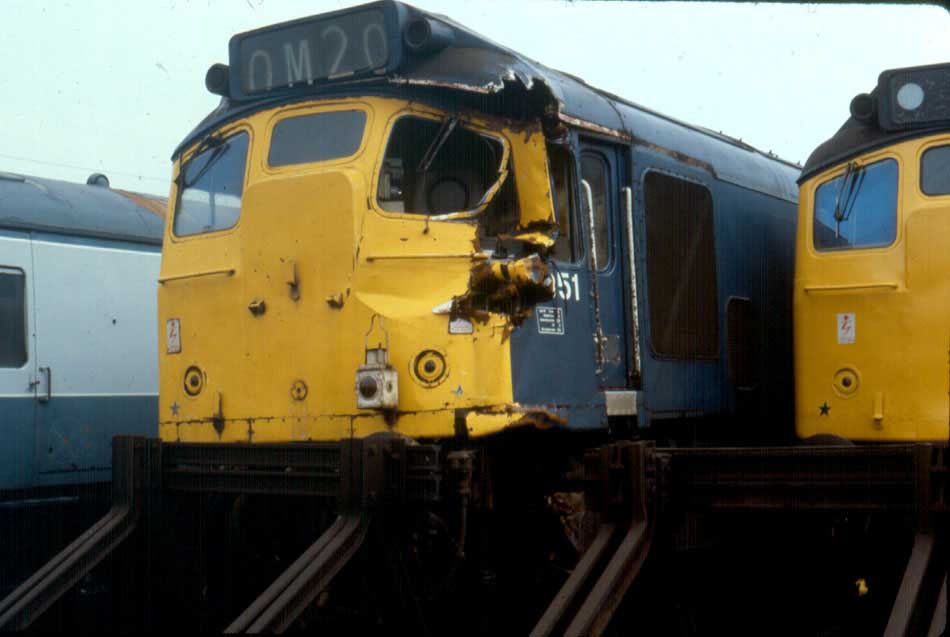 25051 sits at Deadmans Lane awaiting entry into Derby Works for some very obvious repairs. The damage had occurred somewhere in the London area and had been noted at Old Oak Common on April 8th with the damage.
1980
25218 received a crushed cab in a shunting incident at Stonebridge Park on March 19th. It would be shipped to Swindon for repairs to the damaged cab.
During April 25147 was noted at Toton with minor scrape damage to the No.1 end driver's cab side and radiator screen area, resulting in its withdrawal.
25008 was noted at Haymarmet depot during June 1980 with minor collsion damage to the driver's side of the No.1 cab.
Another Cricklewood machine, 25204 with collision damage had spent some time stored at Willesden depot, it was removed to Crewe for spares removal before making its last trip to Swindon on August 12th.
Late July: 25019 & 25021 noted at Irvine with damage consistent with a side scrape, minor damage to 25019, more serious side damage to 25021. On arrival at Swindon Works 25019 was noted with minor collision damage to the No.1 cab 2nd man's side and the radiator screen, presumably this was reason for 25019's withdrawal. Likewise 25021 was rteceived at Swindon Works with collision damage to the non-BIS side, with a scrape along most of the upper bodyside, including minor damage to both No.1 & No.2 cabs sides.
1981
On May 12th 85022, running light at Speke Jct, collided with 25316 & 25313 working the 00.19 Garston – Forders brickliner. 25316 sustained damage and moved to Derby Works two days later.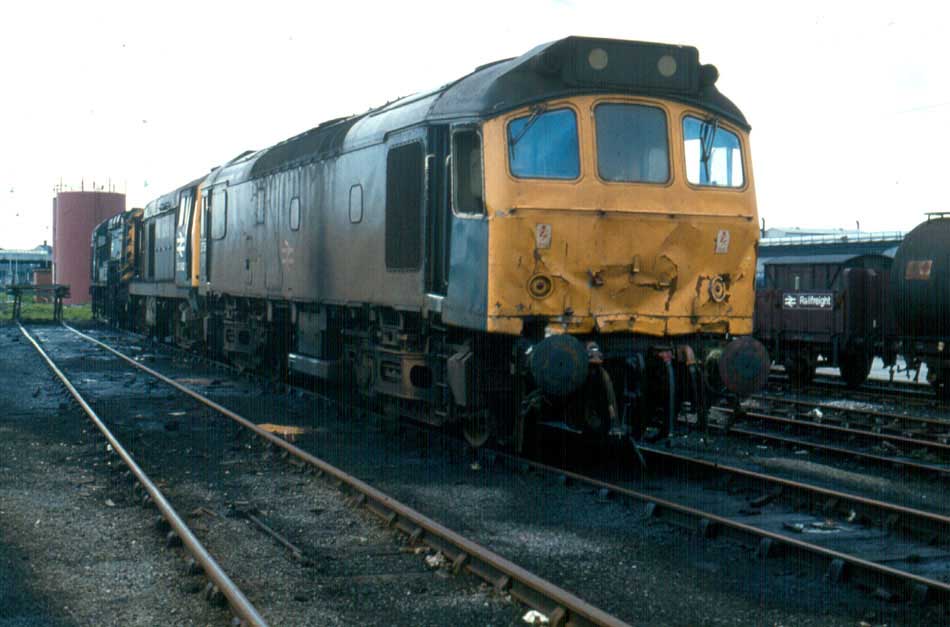 Photograph courtesy A Healey.
25316 at Derby Works May 27th 1981, having just arrived with considerable cab damage. This machine would receive a new cab and live to fight another day, eventually becoming 25911.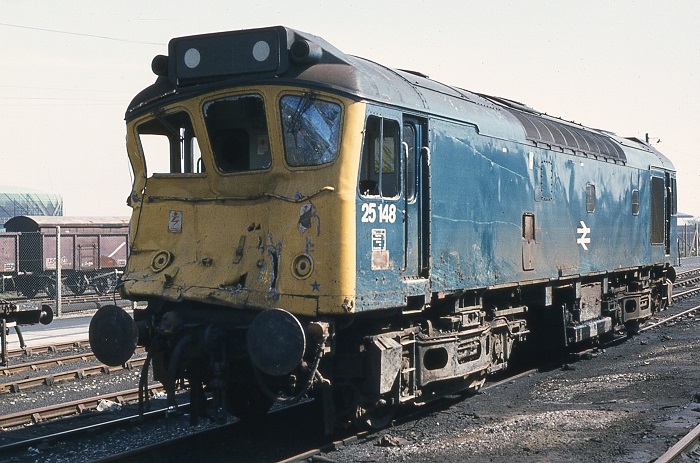 Photograph courtesy A Healey.
Its August 27th 1981 and a new arrival at Derby Works is 25148 - another casualty that has run its last mile, although it would be dragged to Swindon Works for final scrapping.
1982
On June 6th 25150 had been part of a permanent way job working on the Midland mainline at Kilby Bridge, south of Leicester, during the operations the Class 25 ran into one of the track machines, with the Class 25 seemingly coming off the worst. The locomotive was removed to Leicester depot and then forwarded on to Derby Locomotive Works.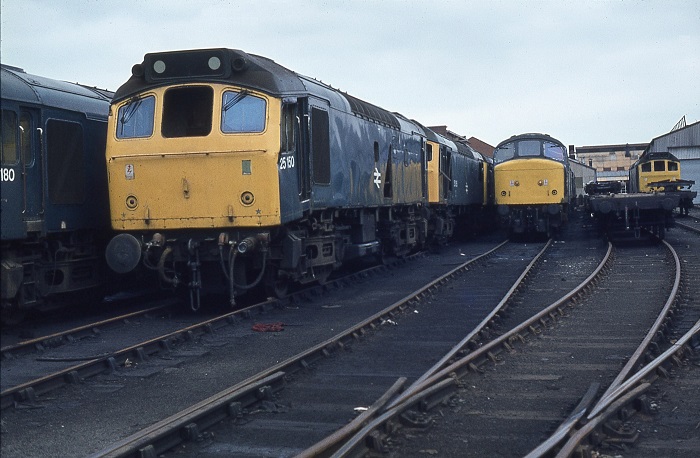 Photograph courtesy A Healey / J Glynn.
July 21st 1982 finds 25150 standing at the head of a line of locomotives awaiting attention at Derby Works. The accident damage had been received following a collision with track machine DX73270 at Kilby Bridge, south of Leicester on June 6th 1982.
On September 3rd the operational career of 25151 came to a violent end at Hillhouse Yard (Huddersfield). Whilst working the Oakley – Healey Mills sand train, control of the train was lost at Slaithwaite, prompt action by the signalman diverted the runaway into Hillhouse yard, much damage being caused when the locomotive struck a ferry van, the crew having leapt to safety prior to the impact. Not surprisingly the locomotive was quickly withdrawn. In October 1982 Toton obtained 25151 for use in rerailing exercises, such machines were normally kept for a short while before scrapping but remarkably this loco remained at Toton until August 1988.
Photograph courtesy Mark Cook.
A twisted 25151 awaits the call to the scrapyard, seen here at Toton. On September 3rd 1982 whilst working the Oakley - Healey Mills sand train, control of the train was lost at Slaithwaite, prompt action by the signalman diverted the runaway into Hillhouse yard (Huddersfield), much damage being caused when the locomotive struck a ferry van, the crew having leapt to safety prior to the impact.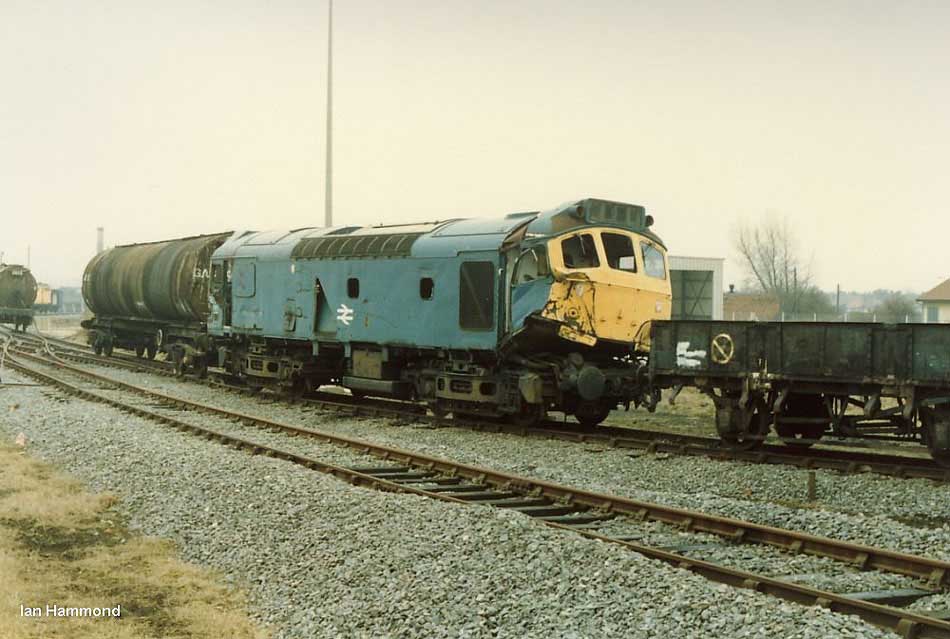 Photograph courtesy Ian Hammond.
A second view of 25151 at Toton on March 7th 1987, making an interesting contrast between the engineers wagon to the right and the 100 ton bogie tank wagon behind 25151.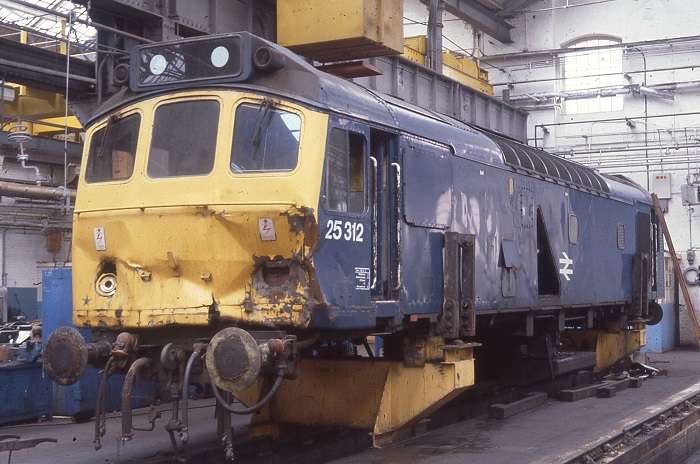 Photograph courtesy John Glynn.
This view shows 25312 at Derby Works in June 1982, being stripped of all useable components.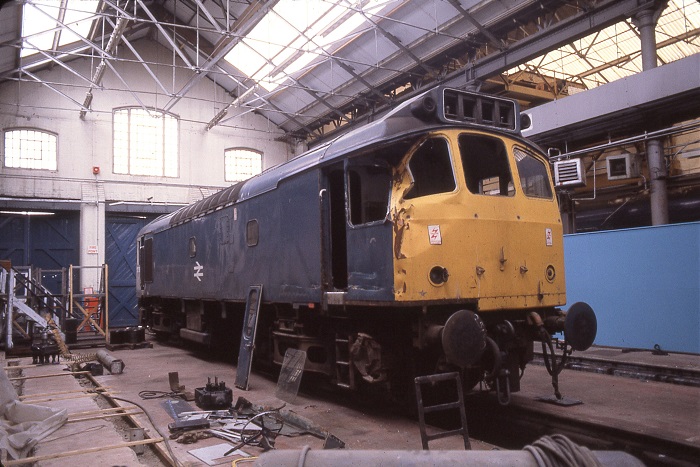 Photograph courtesy John Glynn.
25180 stands in Derby Works on July 22nd 1982 with minor collision damage to the No.2 cab, surprisingly repairs will be carried out, but 25180 will be withdrawn during November 1982.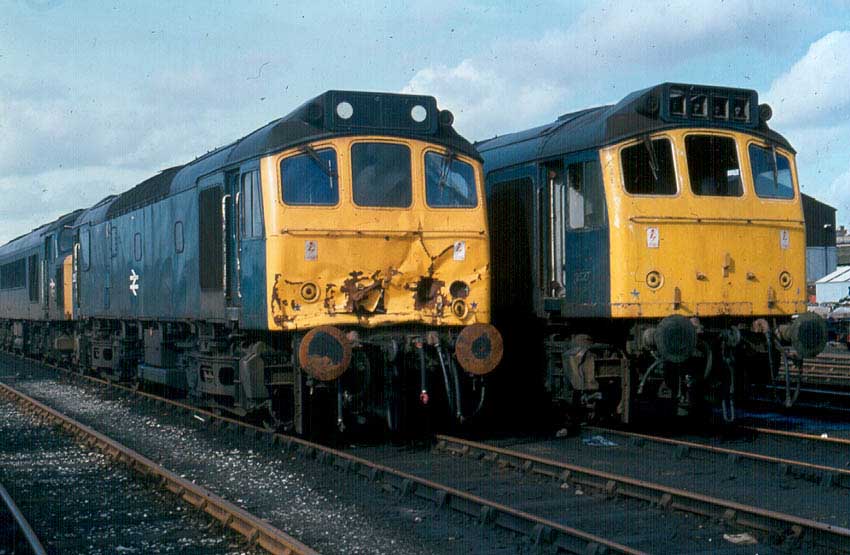 Photograph courtesy A Healey.
Another collision damaged locomotive to survive a visit to Derby was 25325, seen here on March 2nd, 1982. Repairs were forthcoming with a cab taken from one of the many withdrawn examples to be found littering Derby at this time.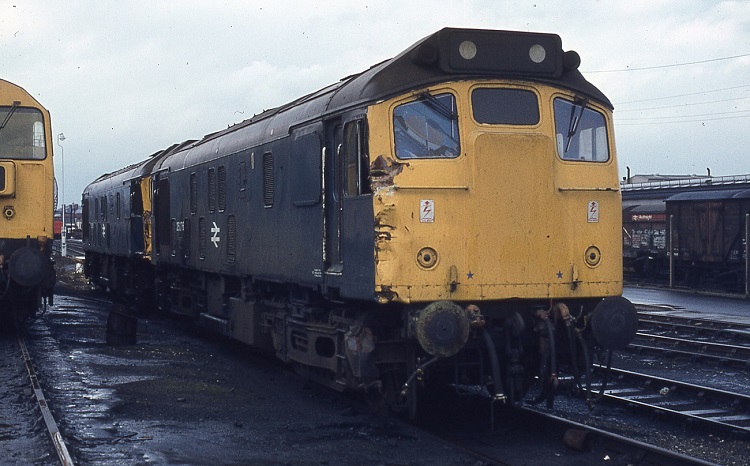 Photograph courtesy A Healey.
A pair of Class 25s, led by 25076 and both with collision damage await entry into Derby Works November 8th, 1982.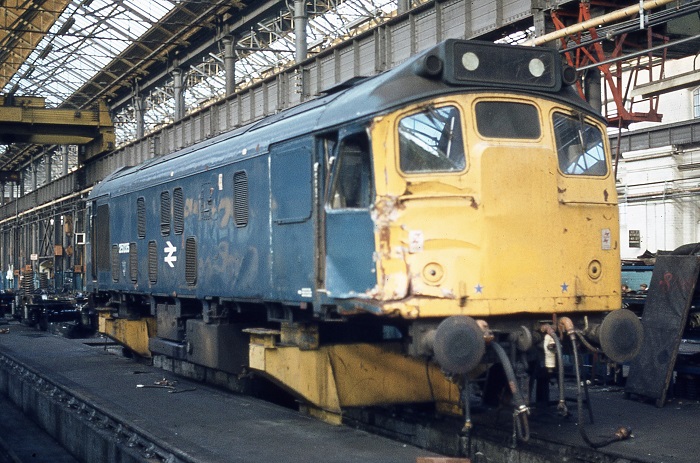 Photograph courtesy A Healey / J Glynn
25035 awaits attention at Derby Works, December 6th 1982. Classified repairs for the Type 2s had long since ceased so it was remarkable that 25035 should receive a repair. Bescot allocated 25036 had only just been withdrawn, so it donated one of its cabs to the lucky 25035. This gave 25035 an identity crisis as for a while at Derby it displayed two numbers, before visiting the paint shop.
1983
On April 22nd 25033 and 25050 collided with each other at Birkenhead, resulting in the withdrawal of both machines.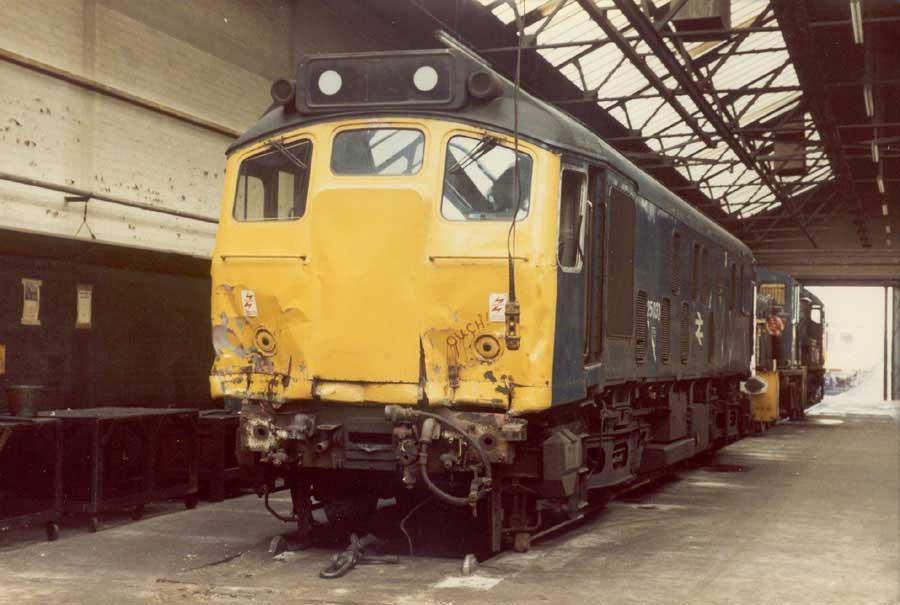 Photograph courtesy Jerry Glover
Its the end of the line for 25033, seen here at Birkenhead on May 30th 1983.
On August 17th 25243 caught fire near Bletchley whilst working the Kings Cross – Tring cement empties, the fire brigade taking seventy minutes to deal with the fire. Rescue came in the shape of 25089, though for 25243 the damage proved fatal with retirement taking place during September.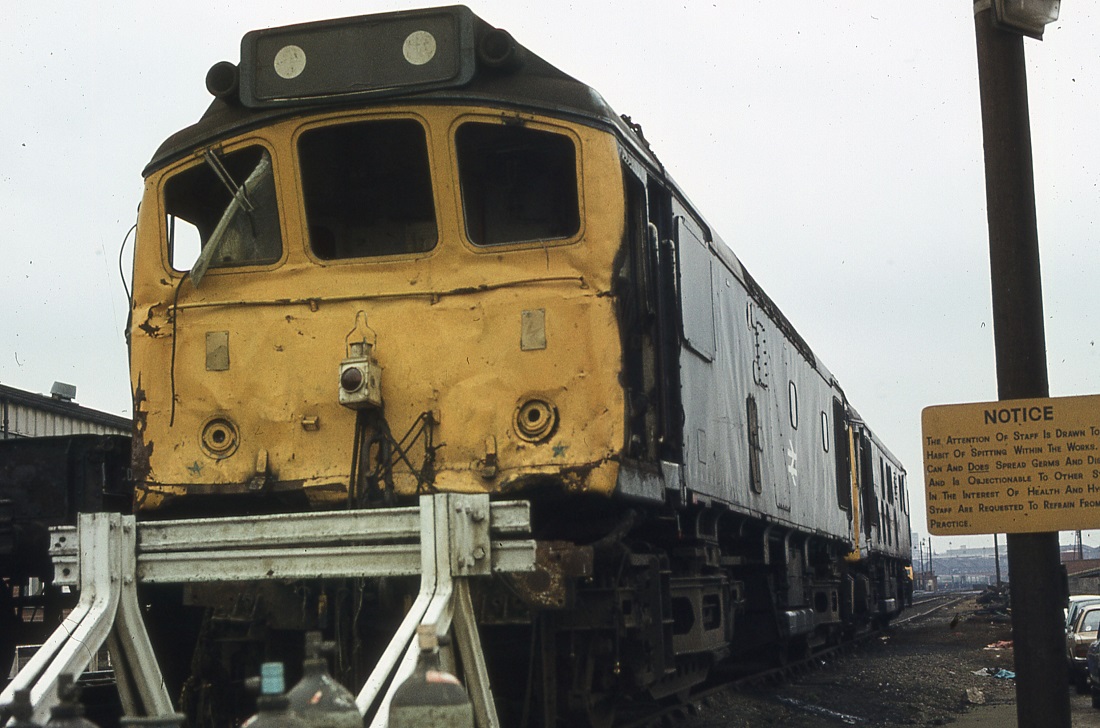 Photograph courtesy A. Healey.
On August 30th 1983 25088 collided with 86220 at Willesden, causing damage that would lead to 25088's withdrawal. It is seen at Etches Park, November 16th 1983.
November 25th found 25277 on duty at Euston handling the evening's ecs movements. After drawing forward from the stock for the 22.10 sleeper, the stock rolled forward hitting the locomotive, derailing the Class 25 and two sleepers. Rerailing was completed by 8am the next morning, though some outbound overnight services were inconvenienced. Although the damage suffered by 25277 was minor it was enough to bring about withdrawal following a trip to Derby Works.
1984
25289 was withdrawn after a shunting accident at Preston station on January 14th 1984. The No.1 end cab suffered minor damage to the lower half of the cab front. In days gone by this would have been very repairable, but it was the deathknell for 25289.
1985
October 1985 25058, with 25213 nearly ends up in a Stoke on Trent street.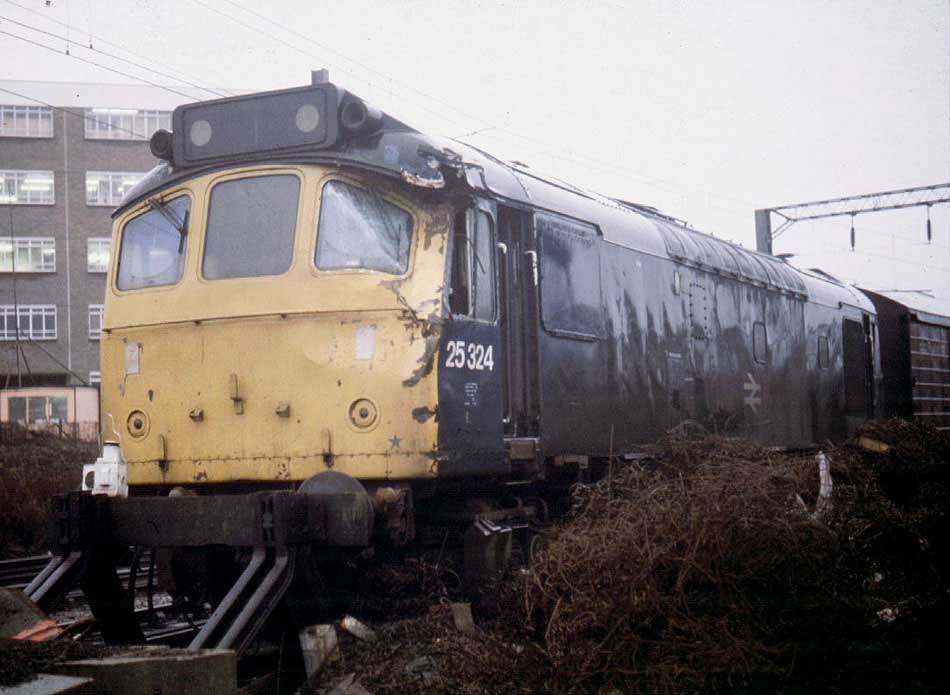 Photograph courtesy Neil Middleton.
A rainy day at Willesden on January 10th 1986 finds 25324 a little the worse for wear. It was withdrawn on Christmas Eve 1985, later towed to Crewe for spares removal then off to Vic Berry's for scrapping.
1986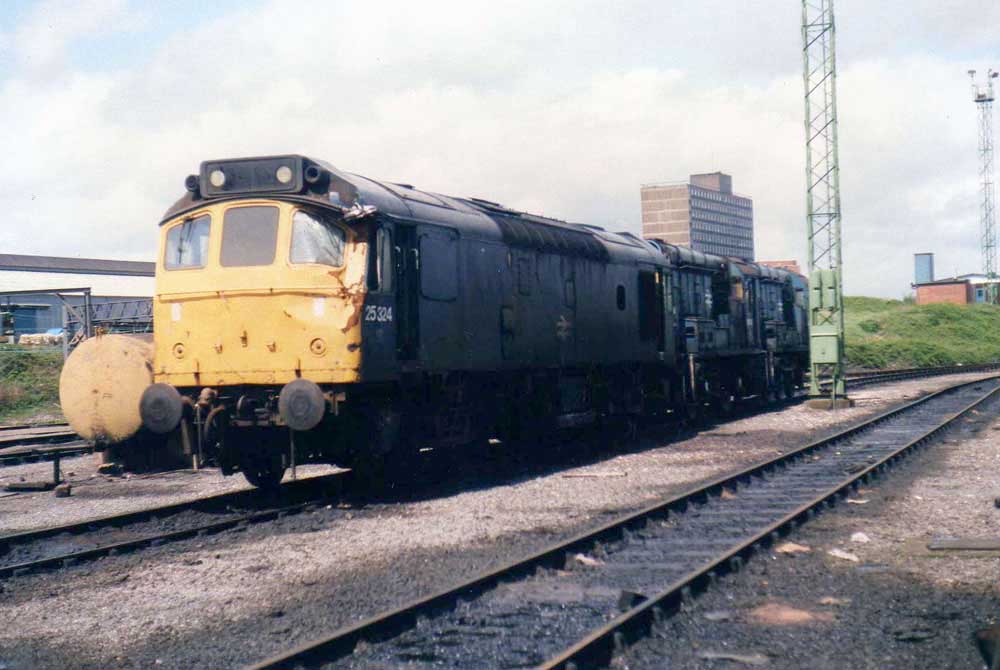 Photograph courtesy Paul Wraithmell.
For many withdrawn Class 25s a trip to Crewe depot was the order of the day to allow for the removal of spares to keep other Class 25s running. 25324 would be sent north from Willesden to Crewe for this purpose. 25324 is seen here on the north side of the depot, sometime during 1986.
Undated - pending research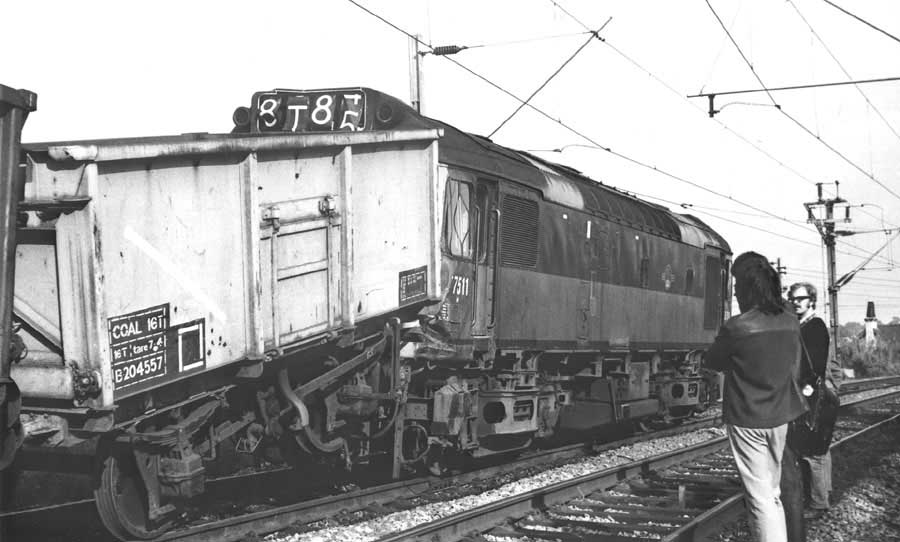 Photograph collection of webmaster.
7511 (later 25161) is seen after a minor collision, date & location unknown, though it is possibly at Nuneaton.
Page created February 10th 2001.
Last updated January 15th 2023.