BRCW Type 2s
Class 26 & 27
Part 3: 1980 - 1987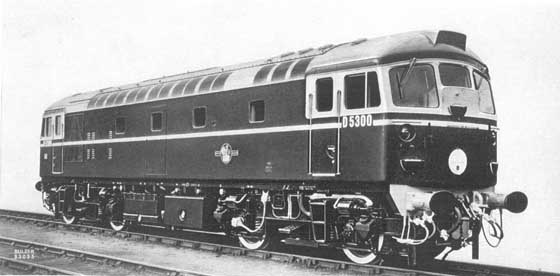 1980
During January all of Haymarket's allocation of Class 27s were transferred to Edinburgh, with the exception of 27207. The following month 27108/09/10 were transferred from Eastfield to Inverness. The transfer of the Class 27/1s to Inverness was in advance of using hauled stock on the Inverness - Aberdeen service. 27003/05/07/08 would also move to Inverness during March, this was the first moves for all but 27003.
It was anticipated that the last of the Class 27 push-pull services would be run at the end of March, being diagrammed for the peak hour services. At least one set was noted in use at the beginning of April, but it was soon replaced with a normal locomotive hauled set, leaving the push-pull services now entirely in the hands of the Class 47/7s. Possibly the last Class 27 hauled push-pull service took place on the morning of April 3rd.
The continued problems of locomotives being out of service for extended periods continued into 1980. For the Class 26/27s the following had been out of service for over 90 days:
26013 since July 31st 1979 at Polmadie for power unit repairs
26030 since July 12th 1979 at Polmadie for N4 repairs
27036 since November 20th 1979 at Glasgow Works for N4 repairs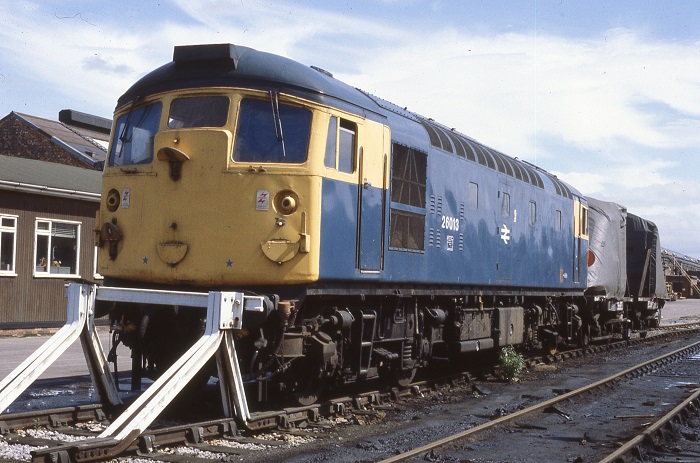 With reference to the above list, 26013 was later noted at Crewe Works during early April and officially place in store. It had received an Intermediate repair at Glasgow Works as recently as February 1979. It had been sent to Crewe in order for the C.M.E.E. to survey the locomotive for a future refurbishment of members of the Class and is seen here at Crewe Works on August 17th 1980.
Classes 26 & 27 continued to see use on the Glasgow - Dundee services during March, though the new timetable in May suggested these services might revert to diesel multiple units. During April the Aberdeen - Inverness service, which had used diesel multiple units since 1960, transitioned to Class 27s and hauled coaching stock, usually train length was six coaches.
During April 27043 was withdrawn due to fire damage (last Classified repair completed November 1978), whilst 27021 was transferred from Eastfield to Inverness in exchange for 27110.
Present at Glasgow Works during the middle of May, all with fire damage were 26003, 27004, 27043 and with collision damage 27202 & 27210.
The last Crianlarich - Fort William timber train ran on the morning of June 9th, hauled by 27111. The traffic was lost when the Corpach mill was run down and closed during October 1980.
On June 17th 27044 suffered severe fire damage to the No.2 end of the locomotive on the bank between Tyndrum & Dalmally, whilst working the early morning Cadder - Oban freight. It was withdrawn during July, as was 27009.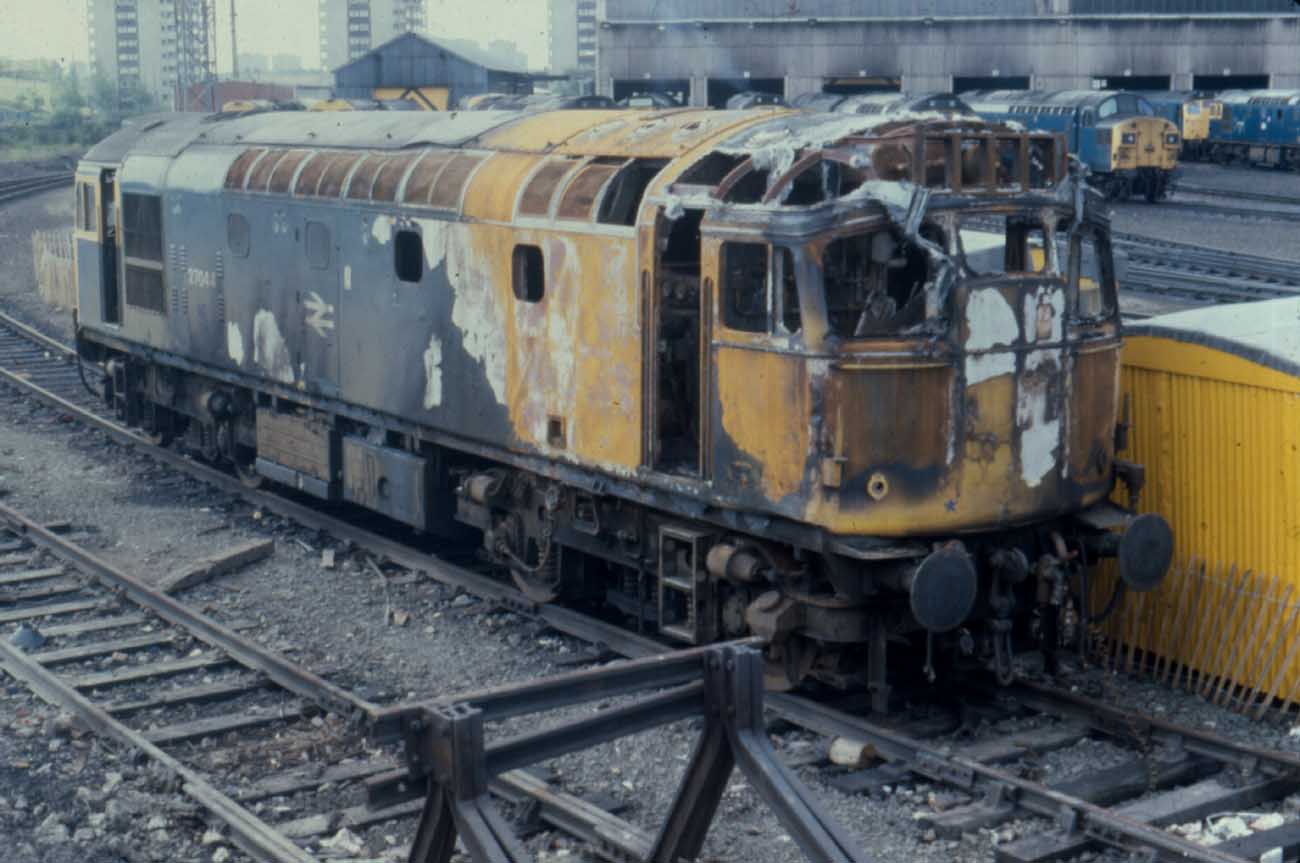 Photograph courtesy A Healey.
27044 at Eastfield on June 29th 1980.
Withdrawn during August was 27202 with fire damage, its last Classified repair was completed during October 1977.
Classes 26/27 out of service for over 90 days included:
26013 since July 31st 1979 at Crewe Works in store
27211 since March 29th 1980 at Glasgow undergoing a General
27004 since May 5th 1980 At Glasgow with fire damage
During October 26013/14/18 were transferred from Inverness to Haymarket, 26019 followed in November.
Changes over the West Highland lines impacted the use of Eastfield's Class 27 fleet. The pulp mill at Corpach closed during November, leading to a reduction in freight traffic including the early morning freight from Fort William to Cadder Yard. The loss of the 01.00 Glasgow Queen Street - Oban at the start of the New Year was the last overnight service to traverse any of the West Highland routes. For the time being some of the glens and moors of the Grampians would no longer echo to the sound of trains in the wee hours.
A steam hauled special. 'The Northumbrian' required the assistance of 26034 on December 13th when Black Five 4767 failed at Blenkinsop. A Class 47 assisted the train to Low Row, where 26043 took over for the run to Carlisle.
Outshopped from Glasgow Works during 1980 (Intermediate/General Repair)
January: 26024 G; 26042 G; 27041 G
February: 26019 G; 27038 I
March: 26008 G; 27021 G
April: 27016 G; 27029 I
May: 27030 I
June: 27207 G; 27208 G
July: 26002 I; 26034 G; 27020 G
September: 26031 I; 27017 G
October: 27211 G
November: 26036 I; 26043 I; 27018 G
December: 26032 I; 27002 G; 27033 I
27009 last classified Glasgow Sept 1977
Allocations as of year end:
Eastfield (ED): 27001/02/04/10-12/14/16-20/22-30/32-34/36/37/38/40-42, 27101-07/10-12, 27203-06/08-/12
Haymarket (HA): 26001-08/10-14/18/19, 27207
Inverness (IS): 26015/21-46, 27003/05/07/08/21, 27108/09
(The allocations reflect the changes wrought by the Class 47/7s taking over the push-pull services, with some Class 27s sent to Inverness).

1981
On January 15th 26013 departed Crewe Works for Glasgow Works behind 40106.
26022 was withdrawn during February and cut up during the same month at Glasgow Works, whilst 27109 was transferred from Inverness to Eastfield. Other locomotive transfers during January & February saw Eastfield receive a quantity of boiler equipped Class 37s, to be used as replacements for the Class 27s on the West Highland & Oban line services. The 'surplus' Class 27s then allowed for withdrawal of a number of Class 25s.
On February 10th 27033 became derailed at Springfield Yard (Grahamston), the locomotive was rerailed later that day.
A returning Edinburgh - Treherbert rugby special on February 8th (?) was worked from Edinburgh via Carstairs, Carlisle & the Settle & Carlisle to Preston by 26024 & 26010. The pair of Class 26s quickly returned northbound. On February 9th the same pair worked the 09.50 Aberdeen - Glasgow returning with the 17.35 to Aberdeen.
During ? the only Class 27 allocated to Haymarket, 27207 was transferred to Eastfield.
On March 2nd the early morning Carlisle - Bescot freight departed Carlisle behind 40018 & 27029. The Class 27 was removed at Ais Gill and returned to Carlisle.
During March 27203 was sent to Crewe Works for testing, whilst 27011 was withdrawn.
With the summer timetable came the conversion of the West Highland & Oban services to Class 37 haulage, eleven were required to maintain the service with over half the locomotives stabling overning at either Fort William, Mallaig & Oban. Some of the displaced Class 27s had maintained these services for nineteen years, alongside the Class 20s and the ill-fated NBL Type 2s. But the Class 37s were no spring chickens either and prone to failures. For example on May 7th 37012 expired north of Rannoch on the 18.20 Fort William - Glasgow Queen Street. Fortunately the 1635 Glasgow Queen Street - Fort William was waiting at Rannoch with 27042 to cross the southbound service. The Class 27 was sent out to bring the failed Class 37 and its train into Rannoch. Here the Class 37 was removed and the southbound train continued behind 27042! The fate of the northbound train is not recorded.
At the beginning of June 26001 & 26004 were at Glasgow Works for a General repair and refurbishing, the first to be so treated. External changes included the removal of the headcode discs and central indicator lights. Also present were 26046 & 27023 with collision damage.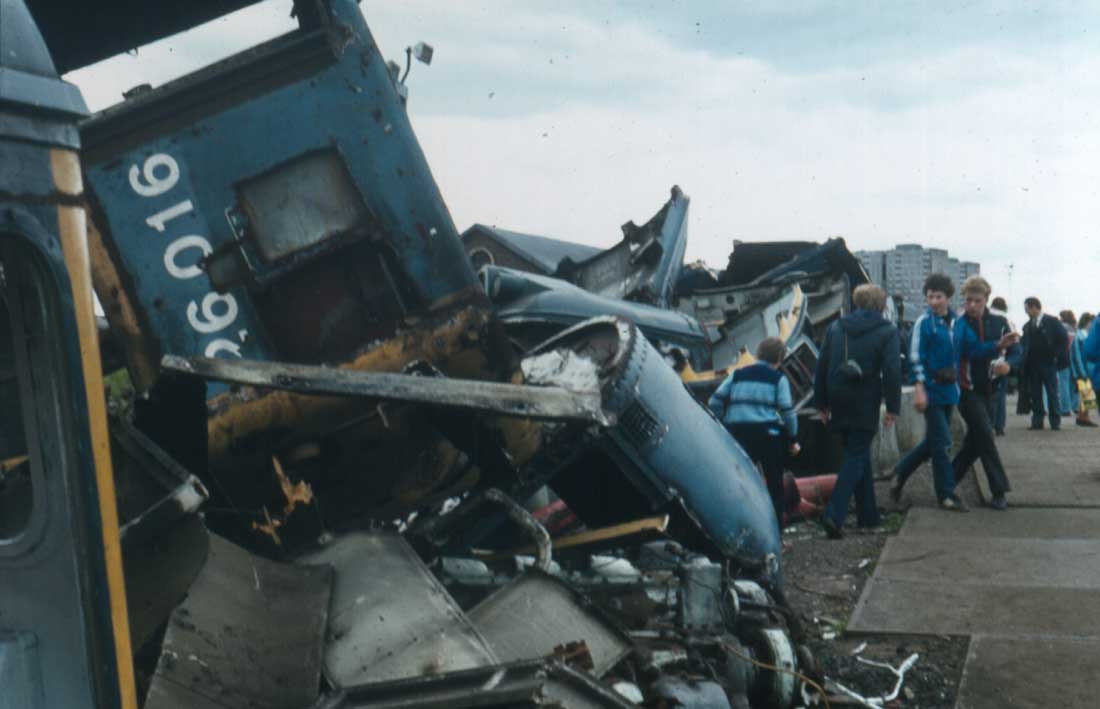 Photograph collection of webmaster
A visit to Glasgow Works on June 27th found 26022 being broken up whilst nearby was the usual assortment of locomotive parts from Classes 25 & 26, including part of the cab of 26016 and Class 25 cab roofs.
On June 30th two morning departures from Inverness featured pairs of Class 27s, with 27205 & 27042 to Edinburgh and 27005 & 27108 to Aberdeen.
During August 27027 was placed in store and initially stored at Dundee. During October 1982 it was reinstated to Inverness.
Another example of paired Class 27s on a passenger service took place on September 1st when 27105 & 27110 substituted for an HST set on the 08.36 Aberdeen - Kings Cross service, which was terminated at Newcastle with the locomotives and stock returning north.
The end of the summer timetable at the beginning of October saw the Edinburgh - Dundee services worked by Mk1 stock hauled by Class 26s, although Class 27s were used from time to time. This transition created overcrowding due to replacing six car diesel multiple unit sets with four locomotive hauled coaches.
On October 9th 26026 & 27105 were noted at Thornaby depot for tyre turning.
During October 26023/25/26 were transferred from Inverness to Haymarket whilst 27002, 27106/09 were sent to Inverness from Eastfield.
The first of the refurbished Class 26s, 26004 was released to traffic during November after five months at Works, 26005 replaced 26004 to commence refurbishing.
Outshopped from Glasgow Works during 1981 (Intermediate/General Repair)
February: 27027 G; 26033 I
March: 27010 I; 27036 I
April: 27032 I
May: 27019 I
June: 27210 G
July: 27023 G; 26035 I
August: 27206 G; 26030 I
September: 27203 G: 27037 I
November: 26004 G & Refurbish; 26041 G; 27204 G
December: 26026 G; 26040 G; 27022 G; 27101 I

1982
The heavy snows and exceptional cold temperatures during the second week of January caused many operating headaches on the Scottish Region. On the Oban services a number of Class 27s came to the assistance of the Class 37s. On January 16th diesel multiple unit sets assisted by locomotives were splitting the service in two and turning around at Arrochar & Tarbet and after exchanging their passengers they returned to their starting points (Oban or Glasgow Queen Street). On the first southbound service 27017 assisted 37112 and the multiple unit. Later the 18.23 Glasgow Queen Street - 0ban was worked throughout by 27017 & 27032.
On January 22nd whilst working a late evening Aberdeen - Inverness service, 27041 caught fire in the Huntly area, requiring its removal from the service and subjecting the passengers to significant delays. It is also reported that 27041 had sustained superfical damage at Eastfield on January 5th whilst fire broke out at the fuelling point.
The period of extremely low temperatures took its toll on the Scottish locomotive fleet, with many taken out of service due to freeze damage. In an attempt to assist Glasgow Works with the backlog, Doncaster Works assisted with Class 37 frost damage repairs whilst Derby Works received some Class 27s, including 27003/21 & 27203 by the first week of February and withdrawn 27011 late in March, it was noted on March 22nd heading south from Carlisle with 27041 behind 47320.
During January 26012 & 26018 were withdrawn.
26028 was transferred from Inverness to Haymarket during February.
On April 14th 47477 was noted at Sheffield hauling 27003 northbound from Derby Works to Scotland.
During May a reshuffle of Scottish Region Type 2s included seven Class 26s transferred from Inverness to Haymarket and seven Class 27s transferred from Eastfield to Haymarket. A rumour circulating suggested the use of Class 27s and coaching stock as a stop-gap on the Glasgow - Ayr route pending electrification of the route. On the Glasgow - Stranraer service the southbound 08.35, 11.35 & 22.00 and the northbound 07.32 transitioned to locomotive haulage, primarily Classes 27 & 47. (During October the northbound 14.25 & 18.35 would also become locomotive hauled). The start of the summer timetable also saw the introduction of the Scotrail branding.
Another Class 27 to reach Derby Works was a rundown 27041 with fire damage. Meanwhile the activity at Glasgow Works saw the four Class 20s arrive from store at Swindon for repair whilst the heavy general repair programme was being extended to the Class 27s with 27106/112, 27209/212 being the first examples. Upon release these locomotives lost their 27/1 & 27/2 numbering, being placed in the 27/0 series. By mid-July many of the 27/1 & 27/2 numbered locomotives had received their new 27/0 numbers. Also present were 27014 & 27104 with uncertain futures. By August these two locomotives had been moved to Derby for repair, joining 27041 which was receiving power unit repairs.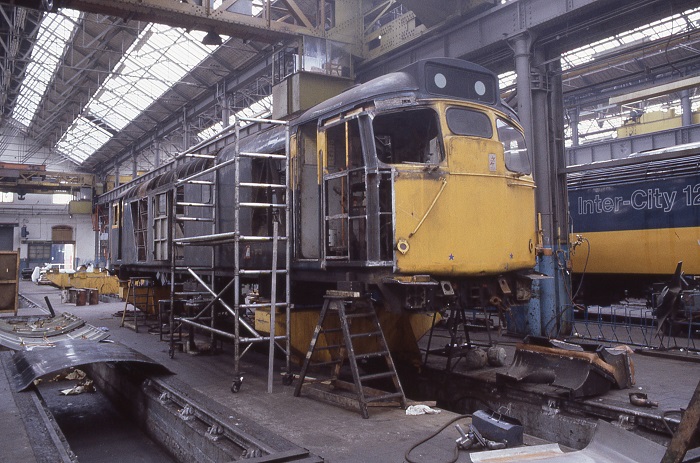 Photograph courtesy J Glynn.
27041 under repair at Derby Works on May 20th 1982.
The June 1st Papal visit to Bellahouston Park saw many specials arriving at Corkerhill with a fine selection of motive power. These included 26032 from Edinburgh, 27023 (Elgin) & 27029 (Fauldhouse).
During June 26028 was placed in store.
The Dundee - Edinburgh services became the forte of Class 27s during July. The end of the summer timetable would see increased use of other classes, particularly Class 47s.
On August 6th 27016 worked the 21.05 Edinburgh - Kings Cross as far as Newcastle, returning north the next day with the 19.01 (6th's) Kings Cross - Aberdeen parcels.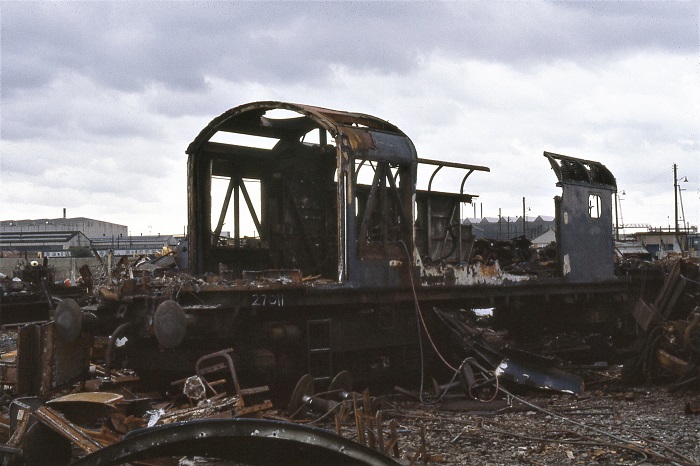 Photograph courtesy J Glynn.
27011 being scrapped at Derby Locomotive Works on August 19th 1982.
During September 26013/14/45 & 27001 were stored unserviceable at Dundee. Present at Derby Works during September were 27014/41/42 & 27104. 27011 had been cut up recently.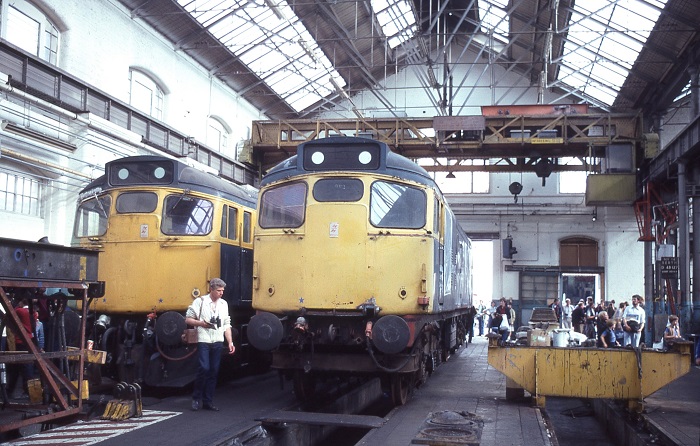 Photograph collection of webmaster.
27014 & 27041 under repair at Derby Works on September 4th 1982.
On September 14th the 14.27 Dalmuir - Motherwell with 303017 was truck in the rear by 27203 hauling an oil train. Injuries were of a minor to the passengers and train crew, however 27203 suffered considerable cab damage, leading it being stored unserviceable.
During October Sunday morning diversions saw Anglo-Scottish expresses diverted over the Newcastle - Carlisle line, on October 17th the 21.40 Glasgow - Nottingham arrived at Newcastle behind 27004, which was replaced here and promptly returned to Carlisle.
During October 26033 was stored unserviceable whilst five Class 27s were transferred from Eastfield to Haymarket. September and October had seen a large number of locomotive transfers resulting in a large reduction of the Scottish Region's Class 25 allocation. On October 28th the 'Sea Fish Express' exhibition train was hauled from Edinburgh to Heaton by 27034.
26027 was stored unserviceable during November, whilst 26021 was transferred to Haymarket. After release from Derby Works during early November, 27042 was stopped in transit at Gateshead on 9th with flat batteries, it should be noted that 27042 carried large numbers on one side and small numbers on the other. 27014 & 27104 were still under repair at Derby, whilst collision damaged 27203 was to be forwarded to Derby for evaluation.
On December 11th ex-works 27041 was noted at York making its way northwards from Derby Works to the Scottish Region, at Newcastle on December 14th? it was diagrammed for the 19.01 Kings Cross - Aberdeen parcels from Newcastle.
On the morning of December 17th 37188 was noted hauling 27203 between Skipton and Holbeck Junction as 9X69, whilst on the afternoon of December 21st 27203 was noted southbound through Rotherham en-route to Derby Works, being hauled by a Class 37.
The abandonment of steam heating saw the equipment associated with this either isolated, disconnected or removed. Class 26s which had their boilers removed were 26010/011/014/015/023/025. As the heavy general repair programme for Class 26s got underway in 1983 those still equipped with boilers would have them removed.
Outshopped from Glasgow Works during 1982 (Intermediate/General Repair)
January: 27012 I
February: 26001 HGR; 26026 G; 27103 G
April: 26029 G
May: 26005 HGR; 26029 G; 26037 G; 27028 I
June: 27040 I
July: 27004 I
August: 27056 HGR (was 27112)
September: 26044 G; 27063 HGR (was 27209)
October: 26003 HGR
November: 26038 G
December: 26007 HGR; 26025 G; 27050 HGR (was 27106); 27051 HGR (was 27107); 27059 HGR (27205); 27066 HGR (was 27212)

1983
Rugby fans travelling between Edinburgh & Glasgow on January 15th for the International game at Murrayfield, had the choice of using three extras, all three received Class 27 haulage - 27012/22/33.
Storms on January 31st saw a late evening Glasgow - Bristol diverted over the Settle & Carlisle, being hauled by 27032 between Carlisle & Crewe.
Tragedy befell the 13.50 Aberdeen - Inverness near Elgin on February 3rd when three coaches derailed, the last coach fell on its side, leading to one fatality and some serious injuries. Two coaches and 27007 remained on the rails, these would later take the uninjured passenger to Elgin. The line would reopen on February 6th. On February 12th 26008 & 26021 worked the 07.00 Edinburgh - Newcastle special, deputising for an HST, the locomotive and coaches returned north shortly after.
26019 was stored unserviceable during February.
During March 26028, 27001/41 were taken from store and returned to service, although 26028 & 27001 were admitted to Glasgow Works for dual braking and heavy general repair. For the Class 26s in this programme the original 6LDA28 power unit was replaced with a series 'B' from other withdrawn Type 2s (class 25 or 27?). During the same month 27028 was stored unserviceable.
On March 22nd 27056 was noted arriving at Tyne Yard with the ex-12.02 Stranraer Speedlink. On March 28th 27021 caught fire at Keith whilst working a morning Inverness - Aberdeen service.
After a lengthy repair at Derby Works, 27041 was returned to service during April and reinstated to Eastfield. At the same time 27016 was stored unserviceable.
On April 7th 26015 & 26043 worked a Leith - Derby pipe special as far as Newcastle, 37093 took the train forward. The train ran again the next day with the same two Class 26s, they returned north from Newcastle on a Hartlepool - Aberdeen car train.
After evaluation at Derby Works for collision damage repairs, which were denied, 27203 was withdrawn during May. Other transfers included 26027 being reinstated to Inverness (although it would be outshopped by Glasgow first) and 26040 transferred from Haymarket to Inverness. The current order of refurbishing and dualbraking of Class 20s at Glasgow was completed during June, allowing Glasgow to concentrate on similar repairs to the Class 26/0 & Class 27/0.
To improve efficiency in the handling of empty coaching stock arriving at Edinburgh Waverley from the WCML a locomotive is attached to the rear of the stock so the stock can be turned on the Abbeyhill - Easter Road - Lochend triangle prior to servicing at Craigentinny. 26001 - 26007 were frequently used on this manouevre.
The middle of June saw a number of Class 27s venturing as far south as Tyne Yard. On June 14th the afternoon Speedlink from Stranraer arrived behind 27051, whilst the evening Mossend - Parkeston Speedlink arrived with 27054, both returned north the next day with a Parkeston - Mossend freight. Also on 15th the Stranraer Speedlink arrived behind 27042.
Withdrawn during June was 27027, whilst 27019 was stored unserviceable at Polmadie and 26045 was stored unserviceable and then withdrawn during July. 27014 was on display at the Coalville Open Day on June 5th.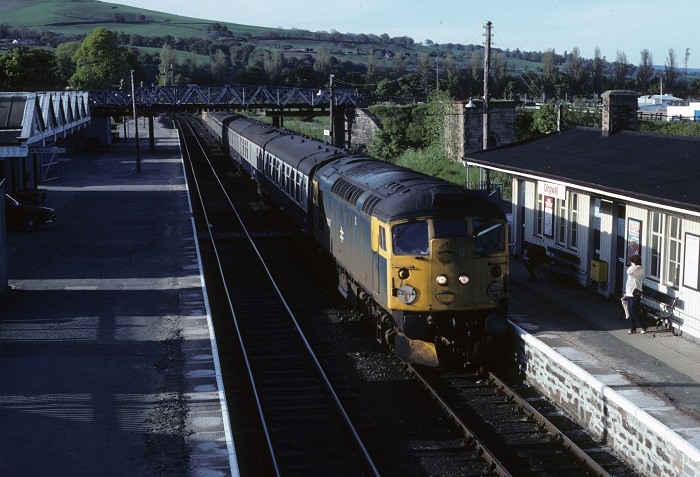 Photograph courtesy Roger Geach.
26042 at Dingwall sometime during June 1983.
After a year spent at Derby Works the Intermediate repair for 27014 was completed during August. Still under repair with fire damage was 27104 whilst 27203 awaited scrapping. 27104 would be released during September and renumbered 27048.
The last two weeks of August brought a number of Class 26s to the Newcastle area. In particular the afternoon Leith - Derby pipe train was handled by pairs or occasionally singly, with a Kings Cross - Aberdeen parcels often the means to return the Class 26s north of the border. 26021 & 26031 handled the pipe trains on August 19th, 22nd & 23rd. On August 25th the 14.43 Carlisle - Newcastle diesel multiple unit was noted behind 26025.
26028 was the first vacuum braked example to be refurbished in September, receiving a heavy general repair, dual braking and boiler removal.
During October 26030 was stored unserviceable, whilst during November 27019 was returned to service and 27036 placed into unserviceable store.
Outshopped from Glasgow Works during 1983 (Intermediate/General Repair)
March: 27054 HGR (was 27110)
April: 27046 HGR (was 27102)
May: 27055 HGR (was 27111)
June: 27053 HGR (was 27109)
August: 27049 HGR (was 27105)
September: 26028 HGR
October: 26027 HGR
The location of stored/withdrawn Class 26/27s at year's end was:
Derby Works: 27203
Dunfermline: 26013/14
Glasgow Works: 27016/36
Haymarket: 26019
Eastfield: 27043
Polmadie: 26030/33/45, 27028

1984
Withdrawn during January was 26044, reportedly after sustaining major fire damage whilst on snow clearing duties between Blair Athol & Dalwhinnie.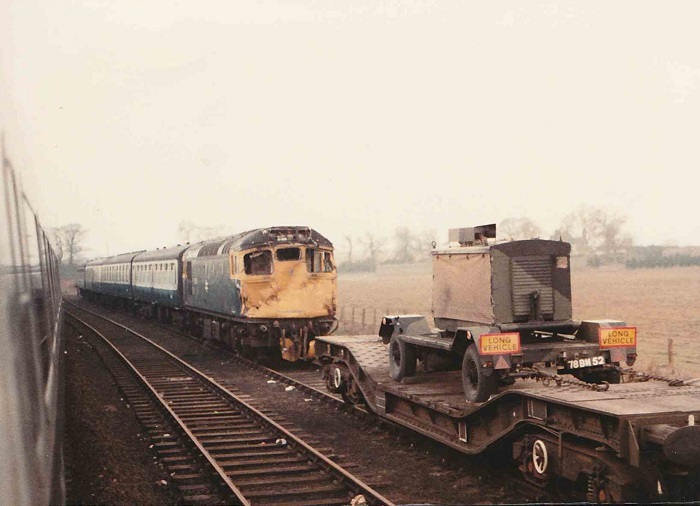 Photograph courtesy C Dunbar.
Not sure of all the details but this is believed to be 27002 at Leuchars in January 1984 with damage sustained after hitting a tree.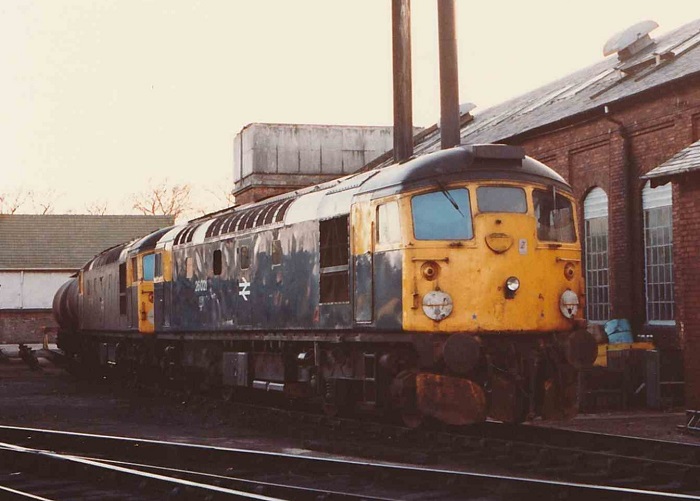 Photograph courtesy C Dunbar.
26021 at Aberdeen Ferryhill sometime in 1984 and fitted with a single headlight.
A further round of bad weather during January and a continued locomotive shortage on the Scottish Region saw Swindon Works taking on added responsibilities in receiving four Class 27s (27002/16/19/36) and making two good locomotives from them. 27016/36 were already stored, 27002/19 were officially placed in store during February.
During April 27016 was withdrawn with fire damage and moved to Glasgow Works, whilst 26027 & 26039 were placed in unserviceable store. With 27016 unfit to move, only three Class 27s travelled to Swindon Works on March (or April) 24th-27th (27002/19/36 & 08570, noted behind 26028 Millerhill - Tyne Yard and noted southbound at Ouston Junction behind 47321 and at Gloucester behind 25176). Whilst at Swindon Works 27002 was reinstated to Inverness during May and repairs were also approved for 27036 being reinstated to Haymarket, with 27019 withdrawn during May to become a spare parts source.
On the weekend of April 20th - 22nd the 'Easter Highlander' railtour provided some mileage for four Class 26s. The Edinburgh Waverley - Burntisland - Dundee - Aberdeen - Huntly - Elgin - Inverness section (238 miles) was handled by 26008 & 26021. This pair were not in the best of health, for the run from Inverness to Perth 26035 & 26040 were substituted.
Although Class 27s were still active on the Edinburgh - Dundee services, by April the Class 47s had a strong hold on the services. Issues with outshopped Class 27s from Glasgow Works continued to delay the return of these locomotives to service. However by the end of May the Class 27s were back in command of these services.
On May 25th 26010 worked a late afternoon Perth - York empty coaching stock as far as Newcastle.
Reinstated to Haymarket during June was 26014. During the first week of June Glasgow Works had a very strong English Electric feel with sixteen Class 20s undergoing various types of overhaul, mostly Heavy General repairs including the fitting of dual brakes and slow speed control equipment. Four Class 26s were receiving repair and the last of the Class 27s to receive Heavy General repairs, 27025/26 were almost ready for release.
On June 15th the 16.47 Carlisle - Newcastle diesel multiple unit was assisted by 27032. The next day (16th) 27032 headed north from Newcastle with a Kings Cross - Aberdeen parcels.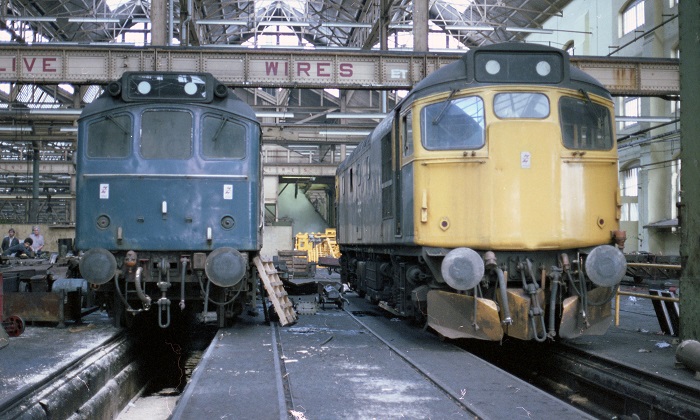 Photograph courtesy Roger Geach.
ETHEL 1 and 27002 at Swindon Works on June 21st 1984. 27002 was recieved for repairs to the No.2 cab.
By the end of June 27040 had reached Swindon Works to have its power unit exchanged with the one from withdrawn 27019.
27034 was withdrawn during July, whilst 27028 was reinstated to Eastfield, however it would be withdrawn during August.
Class 26/27s continued to be regular visitors to the Newcastle area, either via the East Coast mainline or from the Carlisle direction. On July 17th 26005/06 were sent light to Newcastle to take over an early afternoon Kings Cross - Dundee parcels. 26005 failed en-route, leaving 26006 to handle the service alone. Three days later (20th) 26015 arrived at Newcastle assisting a failed diesel multiple unit ex-Carlisle.
On August 22nd the 11.00 Kings Cross - Dundee was worked forward from Newcastle by 27001 instead of the more normal Class 47.
Several double headed passenger workings involving Class 27s took place during September. The 14.20 Inverness - Edinburgh utilised 27048 & 47269 on 18th and 27022 & 47017 on 24th. Also on September 18th the 20.40 Inverness - Aberdeen was hauled by 27103 & 27050. On September 21st the 13.03 Edinburgh - Inverness with 47702 propelling was noted passing Aviemore with 27058 (formerly 27204) assisting at the front.
Withdrawn 27028 & 27034 were moved to Swindon between September 20th - 27th to provide spares, travelling via the Cumbrian coastal line. A week later on October 5th 37058 was noted passing Bescot en-route to Derby with 27040, 08570 & 08808 in tow, presumably following completion of repairs at Swindon Works.
During October four Class 26s were transferred from Inverness to Haymarket, in replacement Eastfield sent five Class 27s to Inverness, whilst Haymarket sent three. Included in these moves were 27004/14, which were transferred for the first time. A shortage of Class 27s at Haymarket at the end of October and into November saw many Class 47s deputising on the Edinburgh - Dundee services.
27017 was noted at Swindon Works by October 18th for unclassified repairs, which included touch-up paint work to the No.2 cab. By December 1st 27017 had returned to the Scottish Region for further service.
The last two months of the year saw four Class 26s swapped between Haymarket & Inverness and a couple of Class 27 transfers.
Enthusiast's on the weekend Grampian Highlander railtour enjoyed considerable Class 26/27 mileage including 26003 & 26007 between Edinburgh & Inverness (17th) and 26026 & 27004 between Inverness - Edinburgh - Glasgow & Gourock - Edinburgh (18th). At Edinburgh the driver mercifully failed the waiting pair of Class 31s, allowing the far superior 47009 to takeover to Newcastle, then 45042 to Derby, then regretably the abomination of a pair of Class 31s to St Pancras, what a sacrilege.
Outshopped from Glasgow Works during 1984 (Intermediate/General Repair)
March: 26039 HGR; 27001 HGR
April: 26023 HGR; 26029 HGR; 26046 HGR; 27005 HGR; 27008 HGR; 27024 HGR
May: 26015 HGR; 27003 HGR
June: 27025 HGR; 27026 HGR
September: 26042 HGR
October: 26014 HGR
November: 26021 HGR
December: 26011 HGR; 26024 HGR; 26036 HGR; 27052 HGR (was 27108)

1985
Withdrawn during January were 27007 & 27030, with 26008/31 moved from Haymarket to Inverness. More ominous was the transfer of fifteen Class 37s from the Western Region to Scottish depots.
27007 had sustained minor fire damage with the repair cost exceeding the maintenance limits for this Class. After withdrawal the locomotive was stored at Motherwell depot. 27007 would become the first Class 27 to be preserved, being acquired by the Mid-Hants Railway.
Placed in unserviceable store during March were 26013/19/30/33 and transferred to Inverness during February were 26037 & 27065. Transferred to Haymarket during March was 27023.
The release of 27038 & 27042 from Glasgow Works during April after Heavy General Classified marked the end of Classified repairs for the Class 27s. Equally as gloomy for the BRCW Type 2s, as referenced above, was the withdrawal of 26030/33 after the refusal of Classified repairs, at this time 26010/26/31/43 were at Glasgow to receive Heavy General repair and the fitting of dual brakes. 27036 remained at Swindon Works for completion of unclassified repairs.
27023 received its first transfer during March, moving to Haymarket.
Withdrawn during May were 27021 & 27032, at the same time 26024/25/36 were transferred to Inverness, with 26043 moved to Haymarket & 27008 to Eastfield.
On May 5th 27036 was on display at Westbury depot Open Day, keeping company with about twenty locomotives including 25322.
On May 11th a special 'Tyne-Tay Explorer' ran from Alnmouth - Bedlington - Newcastle - Carlisle - Dumfries - Gourock - Perth - Dundee - Edinburgh, comprised of four coaches including saloons 45028 & 45030. The train ran as empty coaching stock from Craigentinny to Alnmouth, hauled by 27046, which worked the train to Newcastle where 45013 took over.
On May 31st the 17.42 Carlisle - Newcastle was worked by 27033, the locomotive went north early the next morning with the 31st's 19.01 Kings Cross - Aberdeen parcels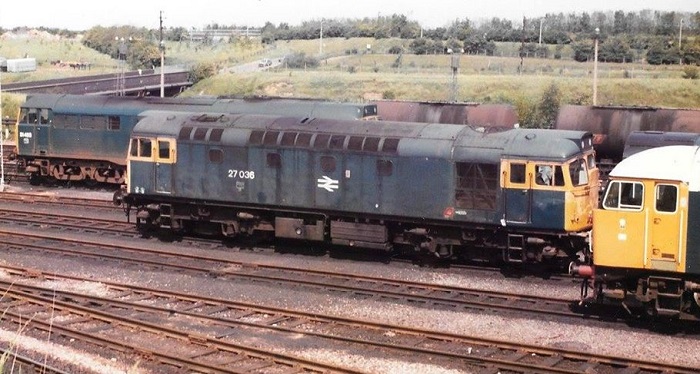 Photograph courtesy Barrie Jone
After completion of repairs to its No.1 cab at Swindon Works, 27036 is noted during May at Tinsley depot en-route to the Scottish Region. The locomotive had reached Gloucester on May 5th but was still there two weeks later awaiting movement northward.
Transfers during June & July saw 26043 transferred to Inverness and twelve Class 27s reshuffled between Eastfield, Haymarket & Inverness.
During July 26026 became the first Class 26 to carry Railfreight livery.
An Open Day at Haymarket on August 24th & 25th included recently outshopped 26010 following completion of its Heavy General Repair.
26024 was transferred to Haymarket during September whilst five Class 27s were reshuffled.
Between October 24th & 30th 27007 moved from Motherwell to Swindon via Crewe, Bescot & Gloucester, en route to preservation on the Mid Hants Railway. 27007 would leave Swindon with 25067 on November 26th for Alton.
On October 30th 27053 & 27064 worked an afternoon Hardendale - Redcar limestone special into Tyne Yard, returning later on a Mossend bound Speedlink. Classes 26 & 27 continued to be regular visitors to Newcastle and Tyne Yard, either via the ECML or on freights from the Carlisle direction. On occasion they would handle passengers, as on November 12th when an evening passenger service failed at Hexham. 27024 was taken off a Stranraer - Tyne freight to take the multiple unit on to Newcastle.
During November four Class 26s & two Class 27s were transferred to Inverness.
On December 11th a Carlisle - Kirkham tip train was worked by 27002.
Outshopped from Glasgow Works during 1985 (Intermediate/General Repair)
March: 26036 HGR
April: 27038 HGR; 27042 HGR
May: 26043 HGR
July: 26026 HGR
August: 26010 HGR; 26031 HGR
October: 26034 HGR: 26035 HGR
December: 26006 HGR

1986
During January 27002, 27029 & 27040 were withdrawn. The 1985 Scotrail plan envisaged a reduction in the Scottish locomotive fleet of 50 through 1987, the Class 27s would play a major part in that reduction. Additionally Glasgow Works would become part of the BR Maintenance Group from April 1986. For the remaining Class 27s, only unclassified repairs would be carried out.
The 11.45 Stranraer - Tyne and the 23.05 Tyne - Mossend were frequently Scottish Region Type 2 hauled, 27045 noted on February 3rd and 26011 on February 14th. Similarly on February 28th 27051 worked the 19.23 Mossend - Parkeston to Tyne Yard, returning the next day with the 13.45 Parkestone - Mossend.
Withdrawn during February were 27033 & 27208, at the same time two Class 27s were transferred to Eastfield.
Withdrawn during March were 27037 & 27206.
From the beginning of March the Edinburgh - Dundee services were very much in the hands of Class 47s, although the Class 27s still worked the occasional service. In the light of this change it came as no surprise that during April & May twelve Class 27s were withdrawn, whilst twelve Class 26/27s were reshuffled between Inverness, Eastfield & Haymarket. The loss of the Class 27 hauled Dundee - Edinburgh services saw the end of regularly scheduled passenger haulage by Sulzer powered Type 2 locomotives. In retrospect it is fortunate that where the Class 26/27s had left their lengthy imprint on passenger workings, the West Highland, Oban, Kyle, Far North and Highland mainline services, they were replaced by machines of equally good repute, the Class 37/40/47s. Mercifully they were not replaced, as many south of the border Class 25s were by wrecks of machines which needed re-engining early in their working lives.
On March 23rd the eleven mile Bathgate reopened to passenger traffic after an absence of thirty years. In celebration two steam locomotives, five diesels, including a Ralifreight liveried Class 26 and a Pacer unit were on display. Large crowds turned out despite the appalling weather conditions.
The 100th anniversary of the Mersey Railway was celebrated in early April. Part of the festivities included an Open Day at Birkenhead North depot on Sunday April 6th. Amongst the twelve diesel locomotives featured was 25907, 26027 & 33026.
On May 24th an SRPS excursion which included much preserved coaching stock ran from Falkirk to York behind 27001 & 27046. On the return leg 27046 suffered a major oil leak and 27001 suffered a traction motor fault (precipitated by the oil leak from 27046?). At Newcastle both were replaced by 47521.
Hearking back to earlier times an early morning Edinburgh - Inverness passenger service on June 10th was hauled by 26021 & 26035. On June 28th 27001 & 27056 were noted passing Achalladen with a charter train.
At the end of July the position of the withdrawn BRCW Type 2s was:
Derby Works: 27203
Eastfield: 27022/23/37, 27206/07
Falkland Junction: 27004/10/12/27/47/65?
Glasgow Works: 26030/33, 27016/27/29/32/40
Grangemouth: 27058/64?
Haymarket: 27020/33/36/41/45
Millerhill depot: 27048?
Millerhill Yard: 26019, 27002
Motherwell: 27030
Polmadie: 26045, 27208
This sad state of affairs marked the ending of locomotive scrapping by the former BREL Workshops and its transfer to the private sector. By October the emergence of Vic Berry as a scrapper, either at the Leicester location, or in situ throughout the country would play a major part in the disposal of BR's withdrawn rolling stock.
The release of 08938 & 26025 during June marked the end of Classified repairs at Glasgow Works.
On July 18th 26041 arrived at Preston from the north with a parcels train and retreated to the holding sidings.
On August 9th/10th the Fair Maid of Perth railtour from Kings Cross to Perth utilised 27042 & 27059 from/to Carstairs and involving much mileage, approx 260 miles, as the Types 2s wandered across central Scotland during the afternoon and into the night, reaching the 'destination' of Perth shortly after 10.30pm!
Late summer saw a number of Haymarket Class 27s being utilised on the Edinburgh - Dundee services alongside the Class 47s, whilst a number of Class 26s substituted for diesel multiple units on the Edinburgh - Kirkcaldy services during mid August. The use of diesel hauled stock on these services continued into September.
27014 was withdrawn during September, whilst four Class 26s moved from Inverness to Haymarket and seven Class 27s from Haymarket to Eastfield. The introduction of the Glasgow - Ayr electrified service on September 29th saw the displaced diesel multiple units end the locomotive hauled services between Edinburgh - Dundee and other Fife services. Reportedly working the Dundee services on the last day (September 28th) were 27054 & 27055. Another nail in the coffin for the Class 27s.
Whilst the use of the Class 27s over the West Highland line was now very much diminished, the recent Class 37/4 replacements encountered severe tyre wear due to a small pool of dedicated locomotives working day in, day out over the severely curved route. No answer was immediately available for the solving of this issue.
During October the remains of 27203 were scrapped at Derby Works by Vic Berry.
26006 was noted at Glasgow Works during November receiving collision damage repairs.
A surprise for passengers on the seven coach 17.17 Glasgow - Edinburgh stopping service was the use of 27053 on December 5th. This was normally a Class 47 turn, however this seven coach train without any assistance laboured up Cowlairs bank, losing eight minutes to this point, but then maintaining time through to Edinburgh.
During December 27207 was renumbered ADB968025 and was noted at Eastfeld, initially it received ADB68025 but this was soon corrected.
Outshopped from Glasgow Works during 1986 (Unclassified/Intermediate/General Repair)
January: 26008 HGR; 27045 U Wheels
February: 26040 HGR; 26024 U collision
March: 26038 HGR
April: 26002 HGR
June: 26025 HGR; 26027 U (main generator); 26040 U (bogies)

1987
On January 5th problems with a power car (43154 or 43179) on the 07.30 Inverness - Kings Cross saw it arriving at Edinburgh with assistance from 27042.
27003 was withdrawn during January and 27038 & 27056 in February.
In an attempt to clear many of the withdrawn Class 26/27s a collection point was established at Thornton Junction, with condemned locomotives being moved from Glasgow Works, Haymarket, Perth & Polmadie during the latter part of January. Vic Berry proceeded quickly to cut up the locomotives, including 26044, 27020/33/36.
Late in September 1986 the North Notts Locomotive Group had purchased D8 (44008) from its then current owner, the Class 44 languishing on the Strathspey Railway. On January 28th 27024 arrived at Aviemore to take the Class 44 south, getting as far as Perth before brake troubles stopped the journey. Repairs were effected by February 2nd when 27050 took D8 as far as Mossend. On February 10th 20201 took D8 to Carlisle, 25901 to Crewe (11th), 25288 to Bescot (12th) and 31449 to Toton (13th). On February 16th 20100 & 20045 took D8 from Toton to Matlock.
On March 14th the S.R.P.S. Railtours 'Tyne Valley Express' brought diesel and steam together. 27046 + 27049 worked from Falkirk Grahamston to Newcastle, however 27046 failed at ECML milepost 11, 27049 dragged everything to Newcastle. Here Black Five 5305 worked the Newcastle - Carlisle - Annan - Barrhead - Eastfield leg, with 40122 piloting between Carlisle & Annan and 47109 piloting between Barrhead & Eastfield. 47109 worked the Eastfield - Edinburgh Waverley (?) leg. The Class 27s returned light engines to Edinburgh.
On March 24th an evening Carlisle - Sunderland diesel multiple unit required the assistance of 26024 as far as Newcastle, where a fresh multiple unit was provided.
Allocations as of March 31st:
Eastfield (ED): 27001/05/08/24/25/26/42/46/49-55/59/63/66
Haymarket (HA): 26001-08/10/11/14/15/21/23-29//31/32/34-43/46
Inverness (IS): None
The Stranraer - Tyne Speedlink continued to bring Class 26 & 27 to Tyne Yard.
26024 was south of the border again, this time on April 2nd bringing a train of condemned stock into Newcastle from Scotland, 45040 took the train forward.
Further movements of locomotives to Thornton Junction for scrapping took place, with movements from Millerhill & Glasgow Works. By the middle of April 26030/33, 27021/32/40 had been recently broken up.
Withdrawn during April was 27049.
During May the entire Class 26 fleet was moved from Haymarket to Eastfield whilst 27053 was stored unserviceable (and later withdrawn) at Polmadie and the remaining operable Class 27s were restricted to a maximum of 45mph.
One lingering duty for the Class 27s was the handling of the empty stock for the 08.20 Glasgow Queen Street - Oban service, noted were 27055 (June 9th & 10th) and 27059 (June 19th).
27025 was withdrawn during June. The discovery of asbestos in some of the locomotives being scrapped at Thornton Junction saw the operation stopped and the remaining locomotives moved to Leicester. Between June 3rd & 9th 25028, 25318 & 26013 made the long move to Leicester via Mossend, Carlisle & Crewe. Thus opened the floodgates for the movement of condemned Class 26/27s to Leicester - the moves are listed at the end of the 1987 year notes.
On June 23rd 26002 was sent to Heaton to collect an electrification train, but before picking up the train, the Class 26 suffered a seized wheelset. A wheelskate was placed under the seized axle and on July 2nd it was towed to Thornaby for repair. After repair it departed light, being noted en-route from Gateshead to Millerhill on July 15th.
The final duties of the Class 27s were of a very menial nature. However on July 3rd 37033 & 27005 worked a heavy tanker train from Glasgow to Fort William. 27001 was noted in early July on engineers trains in the Cadder area.
During July 27001/05/24/26/42/46/50/51/52/54/55/59/63/66 were withdrawn, leaving just 27008 in service which was withdrawn during August. The movement of the withdrawn locomotives to Vic Berry, Leicester was a speedy process (see movement notes below). Most of the moves took place via Carlisle and Basford Hall due to the majority of the Class 27s being dumped in the Glasgow area or Falkland Junction. One movement did traverse the East Coast mainline, starting at Haymarket, and completing the journey to Leicester in just 24 hours. In a move on July 9th very recently withdrawn 27026/52/55 were dragged by 27063 from Mossend to Carlisle.
On July 14th 27008 & 27066 were noted running at Ayr depot.
On July 27th a Millerhill - March special comprised of condemned multiple units arrived at Newcastle with 26007, 37051 took the train forward.
On August 10th a Inverness - Heaton weedkilling train was noted passing Berwick with 26036.
On August 18th 27005 was reported as working a permanent way train between Barassie and Kilmarnock.
A visitor to the Basingstoke Rail Fair on September 26th/27th was 27059.
Stored unserviceable were 26025 (September) & 26003/10/14/27/39/ (October). On September 18th 26025 was noted in the 14.40 Mossend - Ripple Lane freight, destined for Tinsley. It was removed from the train at Ferryhill due to brake problems, being noted the next day headed south behind 20031 & 20100.
On November 13th 26027 worked a Basford Hall sidings - Carlisle engineers special freight. 26027 had just been released from Crewe Works following asbestos removal. On the very wet evening of November 18th 26038 was noted at Preston with three parcels coaches.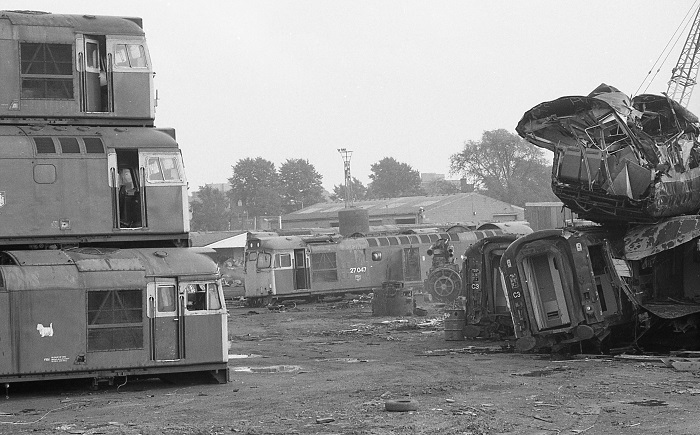 Photograph collection of webmaster
Vic Berry's Lecicester yard on September 21st 1987. 27047 is in the background, whilst from top to bottom on the stack are 27049, 27053 & 27037.
Movements:
27016: June 10th Thornton Yard - Mossend (with 25046 & 25160), June 13th Mossend - Carlisle (alone), June 22nd Carlisle - Basford Hall (with 25046 & 25160), June 23rd Basford Hall - Humberstone Road and into Vic Berry's yard on June 30th.
27004/10/12: July 3rd Falkland Jct - Carlisle, July 6th Carlisle - Basford Hall, July 7th Basford Hall - Humberstone Road (overnighted at Nuneaton), then into Vic Berry's yard on July 8th.
26045, 27002, 27208: July 1st Polmadie - Carlisle, then Carlisle - Basford Hall, but terminated at Workington on July 3rd, then to Basford Hall on July 9th, then to Humberstone Road (with 25279) on July 10th and into Vic Berry's yard on 21st.
27026/52/55/63: July 9th as Motherwell - Carlisle, then July 10th Carlisle - Crewe Basford Hall, July 14th Basford Hall - Bescot, July 14th Bescot - Toton for defuelling, July 15th Toton - Humberstone Road (27026/52/63 attached to Bescot turn and 27055 alone), August 5th all into Vic Berry's yard.
27017/47/65: July 27th as Falkland Jct - Carlisle, July 29th Carlisle - Basford Hall, July 30th Basford Hall - Humberstone Road and into Vic Berry's yard on August 3rd
27041/42/45: July 27th/28th as Haymarket - Humberstone Road via the ECML (37261 to Tyne Yard, 45058 forward); entering Vic Berrys yard July 30th (27045), August 3rd (27041) and August 17th (27042 with 25173, 25201/288).
27058/64: August 5th as Mossend - Carlisle, August 7th Carlisle - Basford Hall, August 12th Basford Hall - Humberstone Road and into Vic Berrys yard on August 17th.
27023/37: August 12th as Polmadie - Carlisle.
27025/48: August 13th as Polmadie - Carlisle, August 14th Carlisle - Basford Hall with 27023/37, August 19th Basford Hall - Humberstone Road (with five dmu vehicles) and into Vic Berrys yard on August 20th.
27038/53: August 20th as Mossend - Carlisle, then August 21st Carlisle - Crewe Basford Hall with 27059 (preserved) hauled by 47188, then August 27th 27038/53 to Humberstone Road and into Vic Berry's yard on 28th.
27049/56/66: same movements as above (but starting at Motherwell) between September 2nd & 7th when they entered Vic Berry's yard.
27014/22 & 27206: same movements as above ( but starting at Polmadie) between September 4th & 21st when they entered Vic Berry's yard.
27051: September 14th part of Stranraer - Tyne freight between Falkland Junction & Carlisle, then September 16th Carlisle - Workington, then Workington - Dover to Warrington.
27030: September 24th as Mossend - Carlisle, then September 25th Carlisle - Crewe Basford Hall, attaching 27051 at Warrington, then September 28th to Humberstone Road and into Vic Berry's yard on 30th.

Page added January 2nd 2015.
Last updated May 13th 2022.
Part 1: 1959 - 1969
Part 2: 1970 - 1979
Part 4: 1988 - 1995