Derby Locomotive Works 1945 - 1963

An Apprentice's Story

The following is a series of memories of time served at Derby Works based on a compilation of numerous emails and written transcripts. I hope I have been faithful to the original texts and that any errors or omissions are all mine.

With thanks to Ian Mellor for putting his memories on paper.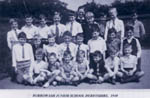 Borrowash Junior School 1940. Ian is on the top row, fourth from left. Third from left is Dennis Waters - Ian & Dennis would later commute together to Derby as railway apprentices, Ian to the Loco Works & Dennis to No. 4 Shed, Motive Power Dept, where he would later become Superintendant.

The beginning - Easter 1944
Easter 1944 was a milestone - it marked the end of my school days. A part time job at the local baker soon turned into a full time one, but it soon became apparent that filling jam tarts did not have the same appeal as making mechanical things - something I much preferred.

Of things mechanical much was possible in Derby, but it would require an apprenticeship and these were obtained at the Rolls Royce Aero Division, the LMS Locomotive Works or the LMS Carriage & Wagon Works. With the help of my parents an interview was arranged for an apprenticeship at the 'Loco', requiring a trip down to Derby Midland station during October 1945. The interview took place in a room above the station, answering questions on my schooling followed by a set of simple puzzles requiring various irregular shaped plywood pieces to be fitted into triangular, diamond and square forms. This was successfully completed, a basic medical examination was given, soon followed by notification of my acceptance to an apprenticeship at Derby Loco.

I suppose it was inevitable that I would finally work on the railway, my father worked at Chaddesden Sidings, my mother had worked in the Loco Works canteen during the 1914 - 1918 war and my elder brother was a signalman at Toton sidings.

October 15th 1945 - March 3rd 1946
Following the receipt of the acceptance letter I was told to report on October 15th 1945 to Derby Locomotive Works - I remember being in a room with ten other lads, from here we would be allocated to one of the various workshops depending on our chosen vocation, be it Plater, Tin Smith, Blacksmith, Pattern Maker etc, or in my case Fitter/Turner. We were also reminded of our working hours:
Monday to Friday - 07.40am to 05.40 pm (one hour for lunch & two ten minutes breaks, one each in the morning and afternoon)
Saturday - 08.00am to 12.00 noon
As a concession for those attending night school at the local Technical College, one could leave work at 5.00pm on the evenings when attending college.

Days taken off for sickness would generally be unpaid, if out for three days consecutively a doctors certificate stating the nature of the illness would be required, this would allow payment for this sicktime. Of course taking too many sick days would result in a visit to the shop Foreman, who would inquire if you considered yourself fit enough to work at Derby Locomotive Works.

I was taken to No.8 Shop, the Erecting Shop where I would start on the first rung of my career ladder serving as an Office Boy doing basic clerical tasks and running messages to various supervisors in the works. The works at that time covered fifty acres, these messenger duties would soon give one a good grounding in the layout of the Works.

March 4th 1946 - September 5th 1948
After about five months in No.8 Shop a move was made on March 4th 1946 to the No.9 Shop - the Fitting & Turning Shop. My apprentice turning was carried out in what was known as 'Grease Corner', one of the less popular jobs given to the new arrivals was using a horrible machine which put threads into large nuts, in the process the machine spewed out an oily cutting compound which soon covered our new 'boiler suits'. By the end of the day you smelled of stale grease, by the end of the week your shoes/boots oozed this oily stuff, but I loved it for I was working in a railway workshop and was now actually making something! The Chargehand overseeing this section was Tom Forman, whilst the Foreman in charge of the Apprentice Turning was Gus Wildgoose, a well known local stand-up comic when outside of the work environment.
It was your responsibility to obtain protective clothing whilst employed at Derby Loco - General Industrial Cleaners, Borrowash & Allied Industrial Services, Bradford hired out boiler suits, bib & brace sets and slops to many industrial concerns. You received three sets of clothing, one to wear, one in cleaning and one spare, each carried your unique number (mine was 1214), it was expected to last you the work week. Dirty overalls were collected on a Monday and returned clean each Thursday. This service cost 1 shilling 4 pence, which was stopped out of your wages. The boiler suits were a one piece overall, usually navy blue and preferred by those in the dirtiest of jobs. The bib & braces were of two parts - a navy blue shirt & trousers, the latter held up by braces. The slops were long brown coats, usually worn by the Chargehand or men from the Machine Shop toolroom. One particular Foreman I remember well would wear a pin-striped suit and bowler hat, more akin to a bank manager perhaps.
After about three weeks doing this job I was moved to another section where approximately twenty apprentices worked on lathes, making small components from steel bar. Instruction on how to operate the lathe came from the Setter/Chargehand, this instruction included how to remove a tool from the machine that required resharpening. The tool would then be sent to the Tool Room for regrinding, upon its return the lathe would require resetting, a task carried out by the Setter/Chargehand until the apprentices were considered proficient at this task. From this point on all the work I produced would be calculated towards a bonus payment, which at Derby Loco was done on a block system, each section being responsible for how hard they worked & how much bonus percentage it earned. The bonus was paid weekly in your wage packet.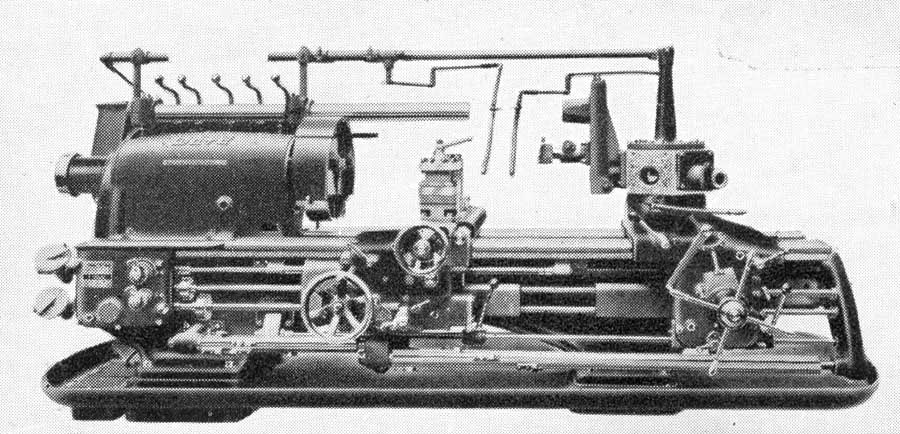 A No.10 combination turret lathe from H W Ward & Co, Selly Oak, Birmingham. Such lathes could be found in the Brass Turning section and in the General Turning section. During my apprenticeship various components for steam & diesel shunters were completed on machines like this.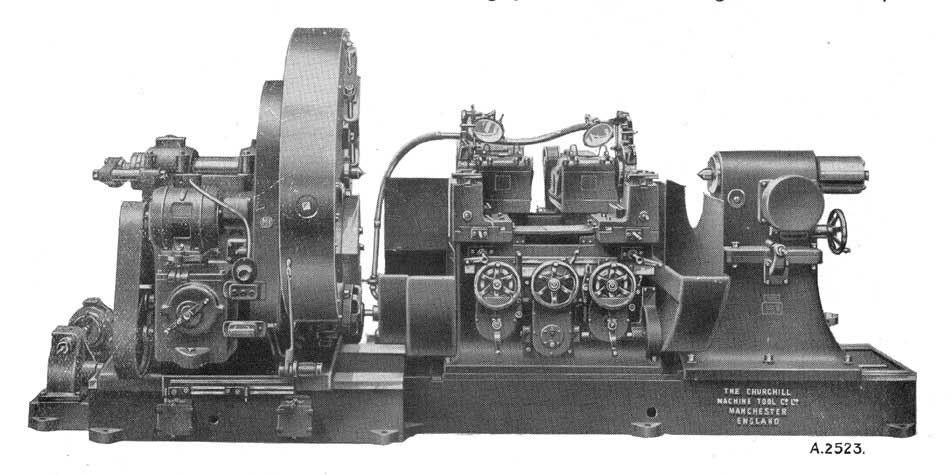 A model 'AJB' loco axle journal grinder from The Churchill Machine Tool Co, Broadheath, Manchester. Such machines could be found in No. 16 shop (Wheel Shop).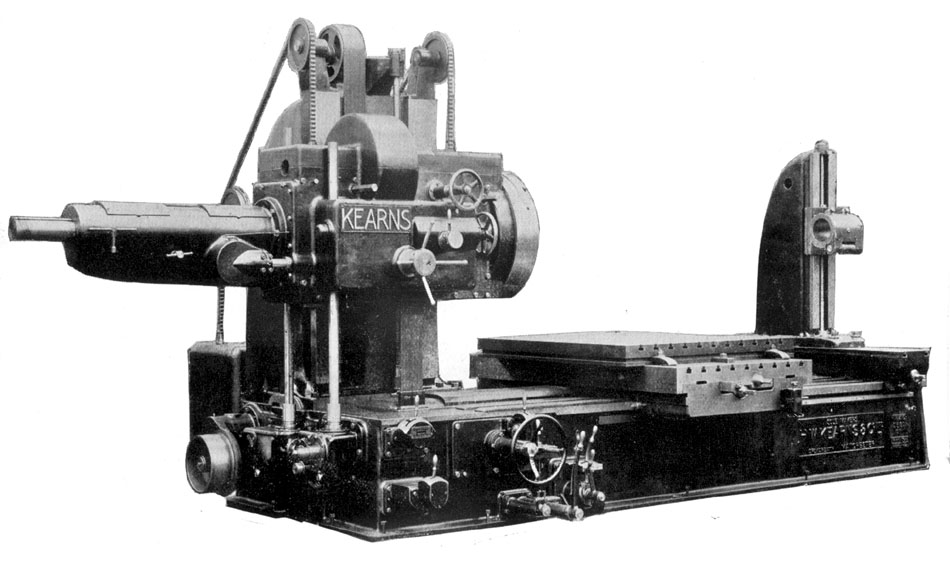 A locomotive cylinder borer from H W Kearns & Co, Broadheath, Manchester. These could be found in No. 9 shop handling a variety of jobs.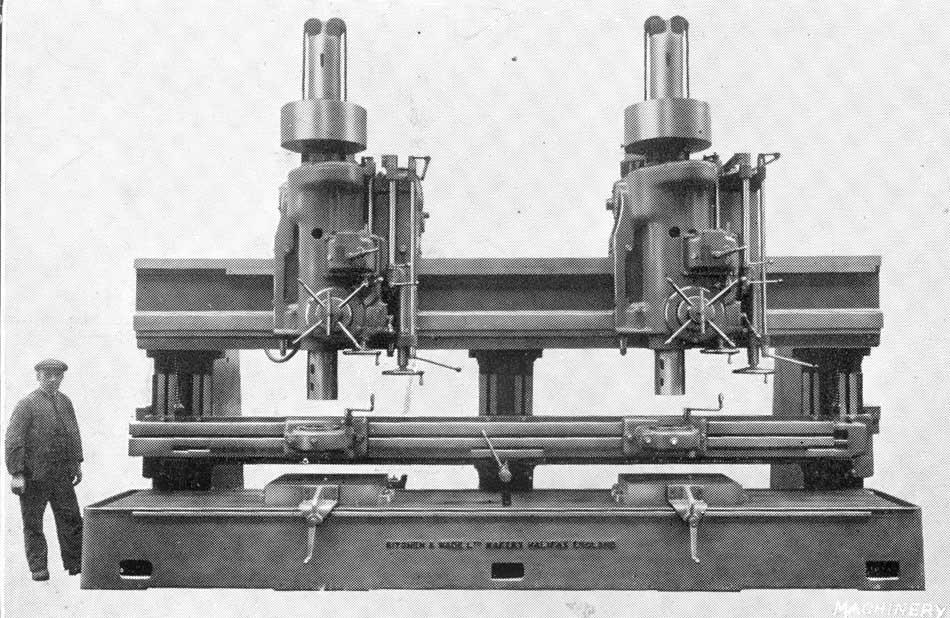 A large rod machine with 8.5" spindles from Kitchen & Wade Ltd, Halifax.
After eight weeks in this section I was transferred to the Brass Turning section, where the system was similiar, though the chargehand was now Ted Hunt, I remained in this section for about eight weeks. By now I was becoming familiar with the gritty langauage and humour of the workshops, including the nicknames that were given to various people, some of which they carried throughout their time at Derby Loco, some of the names were amusing, others definately less flattering.
By now I was some twelve months into my time and had graduated to the fitting benches, in No.9 Shop I was working alongside skilled fitters and was given the simpler jobs of fitting together brass valves used on locomotives. I enjoyed the work, it was certainly cleaner than 'Grease Corner', other apprentices were being sent to other parts of the shop, such as the Milling, Drilling or Tool Room sections. Many of us were also thinking about 'night school' which meant taking the Ordinairy National Certificate (O.N.C.)
Move number four was to the No.9 Shop's General Turning Section, here one could find every size of machine tool from a small two metre bed center lathe to huge milling/boring machines, used to machine the main steam cylinders of a locomotive. I had now just turned eighteen and my first job in this section was working a small Horizontal Boring machine turning piston rings, eventually moving to a centre lathe, among the many items made was the turning of 'big end bolts' used on the crossheads of 'Stephenson Valve Gear'. This valve gear was used on most locomotives with an 0-6-0 wheel arrangement. The Skilled man on the lathe next to me turned the 'two start' square thread that formed the major part of the drivers reversing gear, I was often impressed with his expertise, wondering if I would ever attain his skill. I was now considered proficient enough to set up my own machine and re-grind my own cutting tools.
Another peculiar system at the Works concerned the replacement of engineers files. If yours was worn out it was taken to the Foreman so that he might inspect the file. If it had no further life left in it, you received a signed slip of paper with 'New File' on it. This was taken to the Stores man, handing him your piece of paper and the old file and then receiving a new one. This system was also used for other tools such as the hammers & chisels.
Friendships had now formed amongst the apprentices, taking a lunch hour walk, or a game of football, or a snowball fight if there were snow on the ground. The latter activity was strictly forbidden, if caught it was a one day suspension without pay. Supervision was very strict, any infringement of railway rules was viewed in a severe light. It was forbidden to take photographs within the Works, this was only allowed on Open Days and then only in certain areas.
My last move with No.9 Shop was to the 'Copper Cage', which was situated next to No.16 Shop (the Wheel Shop), surprisingly this location was about 500 yards from No.9 Shop. The 'Copper Cage' was a self contained workshop, it only had one entranceway, you could not see directly into the shop since the windows were placed high up. The apprentice grapevine rumoured that this shop was a definate 'no-go' area. However on Monday morning myself and fellow sacrifice Bill made our way to the 'Copper Cage' as instructed. We were most surprised to find when entering the shop that it was staffed by ladies operating lathes turning copper stays used on locomotive boilers. The shop had eight staff, two men: the Chargehand and a labourer, the latter kept the six ladies supplied with two metre long copper bars.
Bill & I were the first of many to follow, replacements for these ladies who had been recruited during the war. By now it was 1948, the incoming apprentices slowly transitioned the ladies out of the 'Copper Cage'. One advantage of this shop was its relative quietness compared with noisy No.9 Shop.
Whilst working in No.9 Shop I well remember watching a man form on a slotting machine the square in one of the aluminium drivers brake wheels destined for LMS 10000.

September 6th 1948 - February 5th 1951
No.8 Shop was divided into three bays and numbered sequentially Bays 1, 2 & 3, as seen from the Foreman's Office located at the north end of No.8 Shop. Bays 1&2 were used for the repair of locomotives, Bay 3 was for new locomotive & tender building. All movement of locomotives and tenders into & out of No.8 Shop was from the south end. There were approximately two hundred erectors in No.8 Shop, supervised by a Head Foreman, Assistant Senior Foreman and a Bay Foreman for each bay.
The erectors were divided into groups under the control of a Chargehand, who was solely responsible for the repair of a particular part of a locomotive, there were eleven Chargehands, the sections were as follows:
Stripping (locomotive dis-assemby) - Les Brown
Brake Gear - Charles Longden
Tender Repairs - Arthur Ault
Motion (slide bars, crossheads) - Charles Marple
Injector Gear - Nathanial Consterdine
Valving ( fitting pistons & valves) - Frank Wilson
Cylinder drain valves, piston & valve packings - Jack Wild
Fitting Side Tanks & water pick-up gear - George Palmer
Fitting Boiler, Smokeboxes, main steam pipes & chimneys - Jack Daly
Repair of loco frames, fitting buffer beams etc - George Holmes
New Steam locomotive build - Harry Barraclough
I first went into the Frames section, which involved working with an erector re-assembling items previously stripped off the locomotive. These items had needed repair and were removed from the locomotive after its arrival at the Stripping section. They were sent to the Boiler Plating Shop for evaluation and repair, sometimes fractures were found in the locomotive frame around the horn guides, particularly the driving wheel horns (the part where the axleboxes fit). This area of the frame took a lot of stress, on these occasions a whole section of the frame would be cut out using acetylene cutting gear, a new piece of frame inserted and welded up using electric welding techniques, after which the welds would be x-rayed and the horn guides refitted.
After some six weeks I was moved onto another section and so progressed around No.8 Shop learning all about the various technicalities of locomotive repair.
From time to time I was occasionally asked to work the night shift whilst in No.8 Shop, this would usually be for a period of fourteen days. Since there was no suitable train from Borrowash it was a case of catching a bus at about 8.15pm. This would drop us off in Derby, requiring a walk through Bass's Rec, bringing us out near the Works Siddalls Road entrance. It was not uncommon whilst making this walk to be propositioned by 'ladies of the night', which of course were always politely declined!
When working nights it was a case of two weeks on nights and then two weeks on days, for me this was only possible during the summer when Derby Tech night school was closed for the summer break. In No.8 Shop there was only one foreman supervisor on nights, there were two section chargehands, one was the Wheeling chargehand gang leader, the other was Stripping section chargehand. Not every section in No.8 Shop worked nights, normally it would only be Wheeling, Motion (fitting driver's reversing gear), Valving, Injectors, Brakework & Frames and Stripping. At night normally a maximum of four fitters were in each section, normally there would be no labourers or apprentices, with perhaps the valving section being the only exception. The work to be done by the nightshift was left in the 'Night book' by the day section charge hand. Should the nightshift complete the work early it was not uncommon for the staff to put their feet up, including the night foreman who kept to his office most of the time. Many parts of the Works did not operate a nightshift so parts of the Works were definately very quiet, almost eerie, in comparison to the great activity during the daytime.
Another section visited was that of tender repair, here I was surprised to find that the inside of the tender water tank was quite dry and in summer quite warm. They were also reasonably quiet, sometimes fitters would put their feet up and nod off inside the tank. Perhaps the reason for for the tanks being so dry and clean was that before the locomotive & tender reached No.8 Shop they went into a shed just outside the shop called Stone Pit, here the tender was uncoupled from the locomotive and cleaned out, the various firemans shovels, rakes etc were removed. The cab received a similar treatment, with the cab floor and other surfaces cleared of coal and other loose objects.
Perhaps the two most well remembered teachers were found in the Brakework & Valving sections. The Brakework section handled the fitting of all copper pipework, brake rods and brake shoes associated with the steam locomotive's braking system. This section included one very popular two/three week spell which involved visiting the back of 4 Shed (the 17A Motive Power Shed). Outside 4 Shed was a line where all the newly repaired locomotives from No.8 Shop were steamed-up. The job of the apprentices was to assist erector Jack Chambers in the repair of any leaking pipe joints and malfunctioning brake gear.
Jack had a second part to his job which required him to begin work at 6am in order to go with repaired engines on a test run to Toton & back. This early start led to Jack's day ending at 4.30pm, allowing the apprentices to have time to themselves until clocking off time at 5.40pm - frequently spending the time in a warm locomotive cab. This task allowed visits to the 4 Shed canteen, well known for its perfect bacon sandwiches and good quality tea & coffee. This location was normally out of bounds to any other workers, although men from the Works would occasionally sneak across to 4 Shed canteen at break times to buy a can of tea and sandwiches. If caught by a Foreman it meant a day's suspension without pay.
The Works had the potential to be a very dangerous place to work if the rules were not followed to the letter. For minor cuts & burns use could be made of the First Aid boxes strategically placed about the Workshops. These required the use of a 'First Aider', persons who were authorised to dress your wounds or send you on to the Ambulance Room for further treatment. I well remember the result of a man whose clothing had got caught in part of a crane's machinery. His arm had been cut off, it was only the assistance from 'First Aider' Charles Fox that saved the man from bleeding to death.
During 1949 a fitter friend persuaded me to take a First Aid course. The instruction was given in the Works canteen after work to about ten of us - we were taught how to give artificial respiration, dress wounds and make up triangular bandages to support injured arms/wrists etc. Doctors in attendance also provided lectures on basic treatment for injuries. I did not join the First Aid team, failing to make the grade and none too happy about spending three nights a week practicing. For those First Aiders that did make it the LMS would grant an extra day's paid holiday after one year's service..
The Valving section was probably the heaviest job in No.8 Shop, the work consisted of assisting an Erector in the fitting of pistons and valves to the cylinders, connecting up the piston sleeves to the crossheads and the valve rods to the eccentric rods, and in the case of Stephenson Valve Gear thence to the big ends. Fitting the piston rods to the crossheads on an 0-6-0 locomotive was not an easy job because the crossheads were inside the locomotive frames. This meant the apprentice would kneel on the locomotive side platform holding a steel bar on top of the crosspin, whilst a second apprentice hit this bar with a 14lb sledge hammer to drive this flat tapered pin home. Meanwhile the Erector who was inside the frame amongst the driving motion guided the operations until the pin was finally driven home and he was able to secure it with a split cotter.
The next part was also a hard task for the apprentice - with the valve gear now coupled up it was then time to 'valve' the locomotive. To do this only the driving wheels were fitted, the locomotive was put on jacks with the wheels clear of the rails. It was then necessary to make the driving wheels revolve, causing the pistons and valves to operate, thereby the Erector could measure the movement and see if the inlet and exhaust steam operation would work in 'normal' steam working. It was left for the apprentice with a long wooden pole wedged through the spokes, against the frame, to turn the driving wheels. It was hard work and required several attempts before the Erector could properly measure the movement of the pistons & valves.
From these measurements it would be then known if the connecting rods or valve rods needed to be taken down and lengthened or shortened (known as drawing or jumping). The rods would then be taken down, marked 'draw' or 'jump' with the amount required. It was then off to the Blacksmiths Shop where the middle part of the rod would be heated in a furnace, put under the steam hammer and with the skill of the blacksmith 'jumped' or 'drawn' accordingly. Then the rods were taken back and re-assembled on the locomotive and tested again as previously described.
It was during my time in No.8 Shop that the Loco Stores caught fire on Wednesday April 19th 1950. This was adjacent to the very familiar Works office and clock tower. The fire started about lunchtime, spreading quickly through the Main Stores & CME Accounts Section offices and seriously damaging the Loco Work's Superintendent's offices. The whole of the two storey building was soon well alight. The Works Fire Brigade were unable to contain the fire, it was only the arrival of the Derby Borough Fire Brigade that prevented the fire spreading to the office buildings - a total of sixty firemen, thirteen pumps and one firetrain were eventually used to fight the blaze. The stores building was reduced to a shell, with racks of collapsed shelving and their incinerated contents spread out on the ground. At least four rail vehicles adjacent to the building (stores vans) were also destroyed. I seem to remember they closed the Works early that day.
From time to time Senior Apprentices would be called upon to escort visitors around the Locomotive Works. Visitors would be given a typed guide of the places seen on the tour, at the bottom of this page is a summary of one dated October 16th 1945.
One unusual use of No.8 Shop was for the presentation of the annual Christmas concert. The performers were generally the foreman from Nos 8 & 9 Shops, this gave the chance for the workers to boo and cheer and in general have a good laugh. Because many of the attendees were female office staff who would not normally visit the Shops area, the men had been cautioned about the use of questionable jokes and bad language. There was of course no alcohol, discipline was strict but because of the concert the working day ended early!
Another move took me to the Cab Shop, adjacent to No.8 Shop - here cabs from steam and diesel locomotives were fabricated & repaired. This shop was not as hectic as No.8 Shop. The following move was a little unusual. I was selected to assist an Erector, Bill Winterton, who was responsible for progressing repaired items back into No.8 Shop. We were based in a small office at the south end of No.8 Shop, our job was to coordinate repair schedules with the main Works production planners. The Works also supplied locomotive parts to 'Out Stations' (steam sheds), in order that the local shed fitters could effect minor running repairs without having to send the locomotive to the main Works. This new job required going around No.8 Shop and checking what repaired items had been refitted to the locomotives. This information would be relayed to Bill Winterton, who held a daily progress meeting with the production planners.
This task was critical in getting the locomotives back out on the road as soon as possible. When received for a Classified Repair, either General, Heavy or Light, there was a specified time frame by which the home depot would know when their locomotive would be outshopped from the Works. When the repair was complete a group of Inspectors, equipped with carbide lamps and small hammers would inspect the repaired locomotives. The carbide lamps would allow for seeing into the dark recesses of the underside of a locomotive, the hammer would be used to tap the many nuts and bolts, the sound produced would tell if they had been properly tightened. The carbide lamps were something of an anachronism, something left over from a bygone era, though at this time they were probably cheaper and more readily available than battery operated ones.
Having started work during the latter part of World War II one had become accustomed to the rationing of many things. The Works made an effort to look after its apprentices, including the issue of 'Namco'. This was delivered during the morning & afternoon break times by a group of ladies from the canteen. They made their rounds with urns of tea & coffee, available for two old pence (2d) and small packets of biscuits for three old pence (3d). For the apprentices however there was an urn of 'Namco', similar to Horlicks - it was supplied by the Ministry of Food specifically for young persons in the workforce. It was not available to the general public.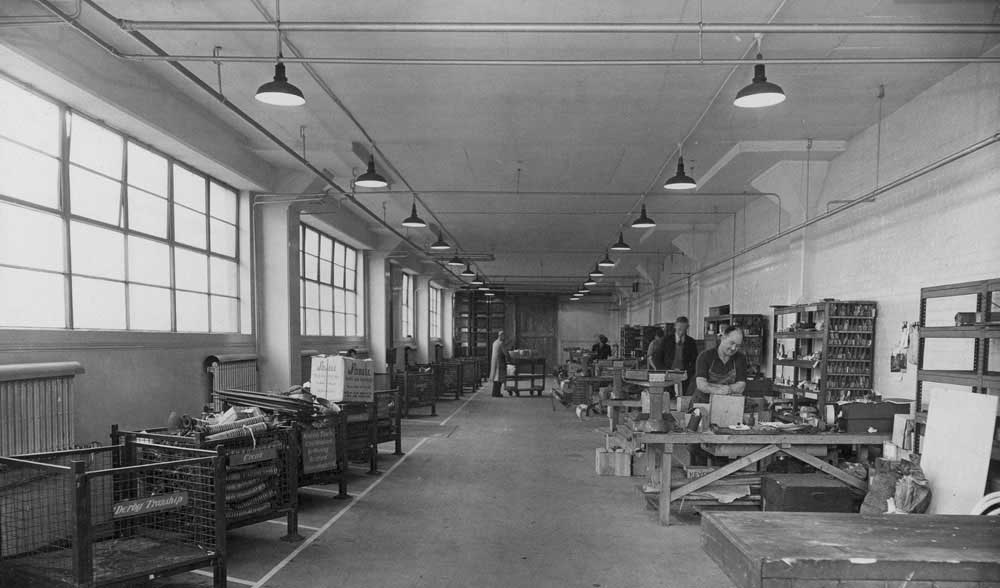 An undated view inside one of the stores buildings. The metal bins on the left are labelled for various parts of the railway network, including Derby Tranship, Crewe, Kentish Town, Cricklewood, Kettering, Bedford - the last name on the third bin is not quite readable.

National Service - Three years in the RAF - February 1951 - January 1954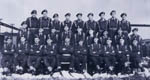 RAF Recruit Training, RAF West Kirby. Ian is on the back row, second from right.

In February 1951 I was 'invited' to attend the recruiting center in Irongate, Derby in order that I might begin the process for completing my National Service. I passed the medical and signed up for three years, this would ensure my preference for time in the Royal Air Force and for the choice of trades, including more pay! There were no vacancies in the engineering sector, but I was offered the choices or lorry driver, cook or fireman. These were swiftly declined but were countered with a clerk personnel position, to which I agreed. It was then off to RAF Cardington for kitting out and innoculations, then to RAF West Kirby for square bashing (marching, rifle drill & bull - see photo above).

After two months of this I was posted in May 1951 to Wellesbourne Mountford, about five miles from Stratford upon Avon. Here I did my time, initially as a trainee Clerk Personnel working with a sergeant and five others. Wellesbourne, once a bomber station was now home to about 400 people, and had become the No1 School of Photography, new entrants learning the skills of static and aerial photography. Trips home to Derby were taken most weekends using the 36 or 48 hour passes, because of my prior status at Derby Works I was able to use the LMS quarter fare priviledge for these rail journeys.

Others were not as fortunate as myself with this cheap travel, but ingenuity manifested itself in others ways regarding travel. A couple of airman had arranged to hire a double decker bus each weekend from Hutfield Coaches of Warwick. The bus left for Birmingham at lunchtime on Saturday and returned on Sunday night at 11pm from the Hall of Memory, Birmingham, in time to meet the midnight expiry of the weekend passes at the camp gate. Recognising a good thing here, myself and a close friend, Alan Bearman took over this enterprise during 1953 when the two original entrepreneurs were demobbed.

With Alan working pretty much on his own in an office we were able to better organise the 'business'. A booking system was established with tickets issued on Thursdays (payday!). Later that night Hutfield's proprietor would collect the funds, it was a fixed charge for the bus. The fare to Birmingham was 3/6d return, 10% of which was our 'commission' - the seventy seat bus always ran full! Business was so good that buses were also laid on to Cardiff & London.

Unfortunately others saw our prosperity in a different light. Hutfield's were served with a writ, initiated by The Midland Red Omnibus Company & British Railways, alledging that business was being diverted from them through our activities! Midland Red operated certain routes in the Birmingham area through a license obtained from the Transport Commission. We appeared at the Traffic Commssioners court in Birmingham assisted by a Q.C. hired by Hutfields. The case was made that if a considerable quantity of off-duty airmen on weekend leave descended on the local bus stop or railway station, the existing services would not be able to handle the sudden influx of intending travellers. After further discussion with the Transport Commissioner we were permitted to continue our 'business' provided we made no changes to our existing services, that was to Birmingham, Cardiff & London, picking up and setting down at locations agreed to by the Commissioner.

Early in 1953 the RAF station was reconfigured, now becoming the No9 Advanced Flying Training School. It became home to 1,400 rookie Pilot Officers learning how to fly twin-engined Dakota aircraft. I had by now been promoted to Corporal, with pay of 15 shillings per day, and was now responsible for arranging the posting of airman within the UK and also overseas. Shortly prior to demobbing I sold my interest in the coach hire scheme. My discharge from the RAF came in February 1954, receiving a favourable citation from my superior officer, a 25 year old female Pilot officer.

Return from National Service - back to the Loco Works
February 1st 1954 - May 20th 1956
With my National Service in the RAF completed in February 1954 I applied to be taken back into my previous employ at the Derby Locomotive Works. This decision was made with a certain amount of trepidation, during my time in the RAF I'd not been able to use many of the skills learned at Derby Works. This was not helped by knowing that two old workmates after their National Service had returned to the Loco Works but both had since left, unable to settle back into the routine. So on a gloomy Monday morning in February 1954 I found myself at the main office of No.8 Shop being reminded that my salary was to be 78 shillings wage plus 90 shillings war wage per week (GBP8.40). To this could be added a work bonus on the first part of my wage, which could give a maximum of GBP10.50 per week before taxes.
My working hours were 07.40am to 5.40pm Monday to Friday, an hour for lunch and a ten minute break mid morning. Some would sneak an un-official ten minute break in the afternoon, if caught disciplinary action might follow. I was also entitled to three free passes each year for travel on British Railways and one foreign travel pass for use within Europe. There were of course unlimited 'quarter fare' passes - during my time with the RAF these had proved most useful for coming home on the frequent 48 hour leave - as a registered Derby Loco employee I was still entitled to these whilst on National Service.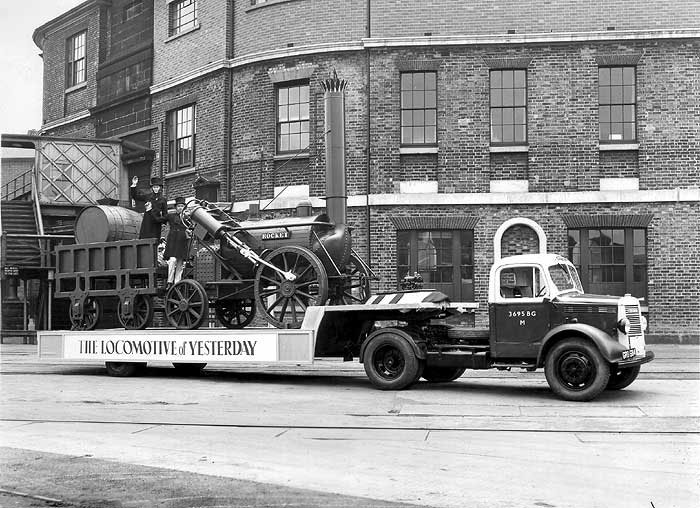 The railway's contribution to the above Parade is seen in front of the Works offices. Photograph courtesy collection of Nick Wheat.
It was then off to work on the Smokebox section under the supervision of Mr Jack Daly, the Chargehand (Supervisor) of that section. There were about eight other erectors in this section working on different parts of the locomotive smokebox & boiler - this included the fitting of the boiler ashpan prior to the boiler being fitted onto the locomotive frames, after which the smokebox was fitted.
As a 'new starter' I obtained a requisition from one of the bay Foremen to go to the Stores, here I was given a hessian sack to carry the tools I would be issued with. These included one hammer, a cold chisel, a 12inch engineers flat file, a 12inch round file and two Whitworth gauge spanners. Additionally each Monday morning we were issued with a hand towel and a piece of soap for lunch time hand washing. We also recieved a 'wiper', basically a dish cloth to wipe the grease and grime from our hands.
The washbasins were situated down the centre aisle of No.8 Shop, little more than a metal trough with hot & cold water delivered from a set of overhead taps. Eight men could be accommodated at any one time, I thought these things would be more suitable for a 'Victorian Workhouse', the impending modernisation plans for the locomotive fleet seemed far removed from some of the conditions found in the Works.
On the smokebox section I was given the reasonably easy job of fitting the chimney until I was more familiar with No.8 Shop work practices, as the days went by I was given more important jobs, including the fitting of the main steam pipes inside the smokebox, and fitting the blast pipe, so gradually getting back into the swing of things. Unfortunately the volume of work in the Smokebox section dropped off, in line with the policy of 'last in - first out' I was then transferred over to the Cab Shop.
This was a small shop where cabs for steam & diesel locomotives were built and repaired. Only those locomotives received for a classified General repair, or those with accident damage would have their cabs removed and brought over to the Cab Shop. The cabs would be removed in the Stripping section in No.8 Shop. Generally the Cab Shop was quieter than No.8 Shop, whilst here I was given the task of making & repairing cab toolboxes and general repair work on the cabs. As before this work also suffered a drop in volume and so I went back to No.8 Shop - a frequent event in the life of new starters, this could go on for many months and across many sections of No.8 Shop. Money drove this process, specifically the bonus system. The system was driven by 'piece work'- each job had a price, the variables in the equation being the amount of items to be worked upon versus the number of men available to do the job. It was a challenge to ensure the bonus received in the paypacket was acceptable, if not grumbling would occurr with the chargehand being on the receiving end. Matters would then be relayed to the deputy shop foreman, who would then arrange for a re-allocation of men to match the work available.
Move number three was to the Valving section, the heaviest job in No.8 Shop - perhaps not the worst, that honour belonged to the Stripping section - it was certainly the dirtiest. Cylinder re-bore was my first task here, using a portable boring machine to re-bore valve and piston cylinders that had worn oval. After the re-bores new liners were fitted to bring the cylinders back to standard size. Later I was given the job of valving a locomotive, consisting of fitting the pistons, valves & valve rods, then adjusting them to have the valves correctly inject & eject steam to the cylinders. The fitting of liners to the cylinders was another job, requiring the use of a hand operated hydraulic pump which required the effort of three or more men to work the pump to get the liner into the cylinder. Because a tight fit was required alot of sweat went into completing this task.

Change is in the air
Progressman May 21st 1956 - April 24th 1960
After quite a few weeks working in the valving section an opportunity arose that would lead to a significant change in my career path at Derby Locomotive Works.
When a steam locomotive came into the Works for a major repair, most everything that could be removed would be, these parts would be tagged with the locomotive number, placed in crates and sent to a caustic soda degreasing plant for cleaning. From here parts went to the various shops for repair. Once items had been repaired they were returned to an area known as the 'Dump', a large concreted area at one end of No.8 Shop. The parts would be stacked in piles according to their use; brake gear in one pile, driving motion in another, and so on. Using the tags as identification the parts would be returned to the locomotive for fitting. Part of my new job involved the searching out of components that had not made it back to the 'Dump' and were now urgently needed by the fitters in No.8 shop. I would be notified by the chargehand of parts that were missing. Frequently the repaired parts had fallen from the lorry making the trip from No.9 Shop to No.8 Shop. It was my job to search out these missing items, not always an easy task. One perk from this job was that I was allowed to roam the whole Works in search of these missing items! A number of the larger items including buffer beams, steel angles, cab steps and gussets that had been damaged in service were taken down to the Boiler Shop for straightening or repair. A labourer assisted me with this part of the job. Once at the Boiler shop these items were heated in a furnace, then straightened using a press and sent back to the 'Dump'. All copper pipes removed went to an annealing furnace, given the heat treatment to make them malleable again, then off to the Coppersmith's shop for repair.
Speaking of parts, it was not uncommon to find quite a number of the small popular fasteners (including many B.S.W. bolts & pipeclips) dropped on the shop floor during the day. When the labourers swept the floor at the day's end, these miscellaneous items were collected up and taken to a cabin outside No.8 Shop, sorted by size and quality and put into racks for reuse. This stock of small frequently used clips and fasteners would provide an alternative source to the main locomotives stores, with its need for a requisition and then waiting to be served.
Early in 1956 a request came through the Assistant Chief Foreman of No.8 Shop advising that the Planning Department in the Staff Offices had a vacancy. They were looking for a Progress Chaser, with a preference for someone who had worked in No.8 Shop. I was sent for and quickly found myself moving to a new position! This was a promotion, I'd now be working in an office environment, my boiler suit replaced by something more suitable for the office. Although this was a promotion to Professional & Technical Assistant (P&TA, grade 2), the loss of the workshop bonus was definately felt each payday! The Progress Chasing I was responsible for involved manufactured components required for special modifications to certain locomotives, including driver to guard telephone equipment, speedometer gear trials and a new type of water pick up gear.
My hours remained unchanged, in one section of the office were nine Planning Engineers creating schedules of parts for new locomotive builds. In the Production Progress section, my new home, were three colleagues doing similar work to myself. One progressed the manufacture of items for the new build steam locomotives in No.8 Shop, one for new diesel shunting locomotives in No.7 Shop and another responsible for items received from outside depots for repair in the Millwrights Shop. The last step of my transition from the steam to diesel environment occurred about a year later when I filled the position made vacant by the promotion of the Progress Chaser responsible for new diesel shunters - he had moved on to a technical position in the nearby Nelson Street offices. With responsibility now for the shunter build at Derby it was neccessary to visit Crewe Works once a fortnight for a planning meeting. This trip was made by train with a 2nd Class 'all regions' travel permit.
Derby's Modernisation Plan Diesels
I was very happy in my new job progress chasing on diesels and got actively involved at all levels, including checking on the delivery of items from English Electric Company & BTH Limited and components such as fuel tanks made by Dalzel Engineering of Scotland. During this time I was occasionally asked to escort visitors to the Works who wished to obtain a locomotive smokebox numberplate from a withdrawn steam locomotive. I would take the visitors down to Spike Island, the scrapping area, for them to take off a designated number plate. It was my job to see that the visitors did not get hurt or wander off into some other area. The small fee charged for the purchase of the numberplates was sent on to those managing the Railway Orphanage funds.
One day I was notified by the Assistant Works Manager if I would be interested in interviewing for a job with a multi-national oil company that was seeking to fill two positions as depot superintendents at their large locomotive repair shops in Southern Rhodesia. Myself and another lad from Derby Works made the trip to London for the interview - we were young, single, with a great opportunity perhaps ahead of us. Unfortunately a short while later the job offers were cancelled as the political situation between the United Kingdom and Southern Rhodesia deteriorated.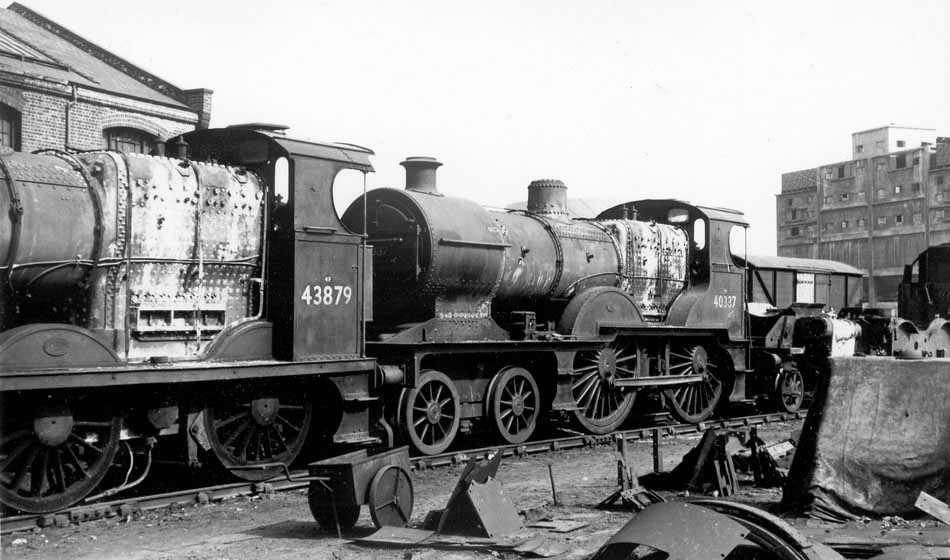 Photograph collection of webmaster.
More partially dismantled locomotives including 40337 & 43879.
As 1957 rolled along there was more and more talk about the new mainline diesel locomotives (the Derby Type 4's & the Derby Type 2's) that were coming off the drawing board. I was very interested to see a drawing in the Chief Planning Engineers office showing the general arrangement view of Type 4 D1, I was told the jigs were now being made for the fabrication of the frame and panels for D1 and Type 2 D5000. I was also advised that the fuel and water tanks for D1 were being made by a specialist firm in Southport. Although the fabrication of the new diesel locomotives would soon be the most visible sign of change, there was much in the background changing. A new work bay had already been set out with all the jigs necessary to allow the build process to begin. The Works stores were extended to over four times its original size to accomodate all the new components related to the diesel construction.
Provision had already been made at Derby Works for another aspect of the modernisation plan - that of providing facilities for the overhaul of railcar engines. These Rolls Royce & Leyland engines came over from the Carriage Works and were repaired in 'The Blue Room', a very clean room where all benches & equipment was painted deep blue, whilst the walls were cream. One had to apply or 'be in the know' to work in this Shop.
Ironically the No.9 Machine Shop had not kept pace with the new locomotives being built at Derby. The shop's newer equipment, lathes and milling machines had been supplied by the Ministry of Defence during World War II, the shop also operated much older machinery as well. Likewise No.8 Shop was unable to store all the new electrical and mechanical items required by the new diesels. Work on the new erecting shop stores did not begin until early 1958. I well remember working a Saturday early in 1958 - I was to supervise the unloading of three or four wagons containing various sized drums of electrical cable. The stores at No.4 Electrical shop were not large enough to handle this shipment - space was found in the former Midland Railway 'Round Shed', amongst many wooden patterns used by the foundry. Deliveries of incoming supplies generally followed a set schedule. English Electric of Preston made deliveries every Wednesday by lorry of heavy gear such as traction motors, cubicles etc. The lighter items came by rail parcels vans. BTH had similar delivery schedules, whilst Vickers Armstrong never delivered more than two power units at a time.
Late in 1957 I was asked to take over the progress work for all components on D1 & D5000. My boss realised that it was too much work to progress chase both these Types so I was given responsibility for D5000 alone - it was the Type 2's that would emerge from Derby first. A colleague and good friend Douglas Stutely took over the progress chasing for D1.
No.1 Shop (Millwrights) were asked to construct the lifting equipment required for the various components that would require the use of the shop crane.
In early 1958 the jigs for the diesels were laid down in No.8 Shop, the first fabrications from the plating shop to enter the new work bay in No.8 Shop was the basic underframe for D1, swiftly followed by the underframe for D5000. With construction now seriously underway I became more involved in the processes, daily contact was made with Mr W Harper, the foreman supervising the build of these locomotives and with the section chargehand, Mr H Barraclough. For some reason the pace of construction on D5000 was quicker than that of D1. Some of this was perhaps initially due to the erectors of No.8 Shop being unfamiliar with the new engineering practices involved with constructing the larger diesels. I well remember the difficulties first experienced with the fitting of the cab windscreens to the D5000 series Type 2's. The fitting of the glass into the rubber seals proved to be difficult to master. The process required a special tool to fit the glass neatly into the channel formed in the seal. It took a little practice to get it right.
Eventually the construction of D1 picked up a little, with it beginning to look more like a locomotive. D5000 was near the wheeling stage, although still without a power unit. This was expected from Winterthur, Switzerland, the first ten would be built there. One day I received a message from the Assistant Works Manager's Office that a wagon had been left at Friargate Station goods depot and it was addressed to Mr FTB Simpson, Derby Loco Works Manager. This shipment was holding up the movement of goods in the yard and the loading of delivery lorries. I was dispatched to investigate, on arrival at Friargate Goods yard I was shown the wagon, it was a long low loader type. It carried a wooden crate with a pitched roof covered in roofing felt, resembling a small garage. The label on the crate did say it was for a Mr Simpson and that it was from Winterthur - this must be the first Sulzer power unit & intended for D5000. I had it redirected to Stonepit Sidings at the Locomotive Works, ready for movement into the new work bay in No.8 Shop.
By the early summer of 1958 D5000 was well on its way to completion, not too much remained after visits to the paint shop and test house. More would follow, as the diesel numbers grew, so steam bowed gracefully out, perhaps taking with it some of the glamour of a now fast disappearing era. During July D5000 had been out for trials and would soon be presented to the British Railways Board at Marylebone. At times it seemed that the rate of production was painfully slow, no doubt caused by the build teams becoming familiar with what was required for diesel locomotive construction.
The first batch of Type 2's carried an accessory designed to fit in the locker in the driver's cab, a blue painted wooden board approx 14" x 14" x 1/2" thick with painted black outlines of various sized spanners and an engine starter key. The spanners were top quality chrome jobs and fitted into clips on the board along with the key. I was responsible to take these tool boards to 4 Shed stores so they didn't get lost - I often wondered if they were in fact ever fitted into the locomotives.
The first ten Type 2 engines were built at Sulzer's factory in Winterthur, the remainder would be built by Vickers Armstrong, Barrow. One day a call came through to the Works requesting that a voltage transformer be sent to Vickers to allow them to test their newly built power units. Due to the urgency of the request it was decided that I should courier the transformer to Barrow the next morning. The joiners made a smart looking wooden crate to hold the transformer, the Works lorry was made available to take the crated transformer from No.8 Shop to Derby Midland station to connect with the train bound for Barrow in Furness. I had received a Rail Travel Pass permitting the bearer to travel over all lines of British Railways. Upon boarding the train, with the crate safely placed in the luggage space next to the Guard's area I warned the guard that "this crate is very important and you are to see it is kept safe and not damaged, I will be sitting in a compartment in the carriage next to your van!" The guard replied in the affirmative, not surprisingly, I was 6ft 2in tall and weighed some sixteen stone. At Barrow I was met by a car with two Vickers Armstrong engineers, who took me and the crate to their Works. Unfortunately due to the sensitivity of much of the work being carried out at Vickers I was only allowed to see a little of their work.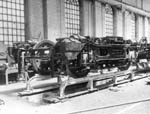 A close-up on an unmounted Class 24 bogie in the bogie shop at Derby Works sometime during 1959.
Photograph collection of Andy Stubbs.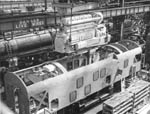 Bo-Bo No. 10 under construction at Derby Works, presumably this would turn out to be D5009 (later 24009). And if the power units had been fitted in order this would be the last of the Winterthur built units. The New Work Chargehand (Harry Barraclough) was initially responsible for the lowering of the power unit into the body. Early in 1958 Mr Barraclough had been sent to Sulzer, Winterthur to become familiar with the power units.
Photograph collection of Andy Stubbs.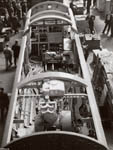 Bo-Bo No. 10 from an overhead position showing the partially filled engine room, still awaiting the main components of the engine-generator set.
Photograph collection of Ian Hammond.

During 1958 another opportunity arose for advancement - the Assistant Works Manager asked if I would be interested in a technical job related to the electrification of the West Coast main line. These were new positions as Supervisory Technicians, initially involved on the Crewe - Manchester electrification project and involved overhead line gear, trackside distribution and maintenance. If successful in this application a major promotion would be forthcoming. I was one of only six people selected for interview, which took place at the Nelson Street offices before a panel of three Technical Managers. One of the questions asked was to describe the workings of an internal combustion engine, a strange question I thought for an electrical job. A week later I was notified that I had been successful and was to report to Crewe Works the next Monday morning for training & familiarisation. Unfortunately due to events beyond my control I was not able to attend the training programme, and I remained at Derby Loco - this opportunity did not arise again.

I carried on as Progress Chaser on the mainline diesels until 1960, when I was asked to go into the Jig & Tool Drawing Office as a draughtsman working on the design of jigs for future diesels. The Chief Draughtsman, Jim Burnage, was given the task of making up a souvenir booklet for VIP visitors (such as Railway Board members, or the Mayor of Derby). These booklets were carefully inscribed with the visitors name and visit date, written in old English style. The booklet was postcard size, containing a brief history of the Works and contained upto date photographs of the various shops. The VIP visitors would also receive a small model steam or diesel locomotive, about four inches long & mounted on a wooden base.

I remained at Derby Locomotive Works until 1963 when I moved to Manchester to work at Hawker Siddeley Aircraft Co as a planning engineer.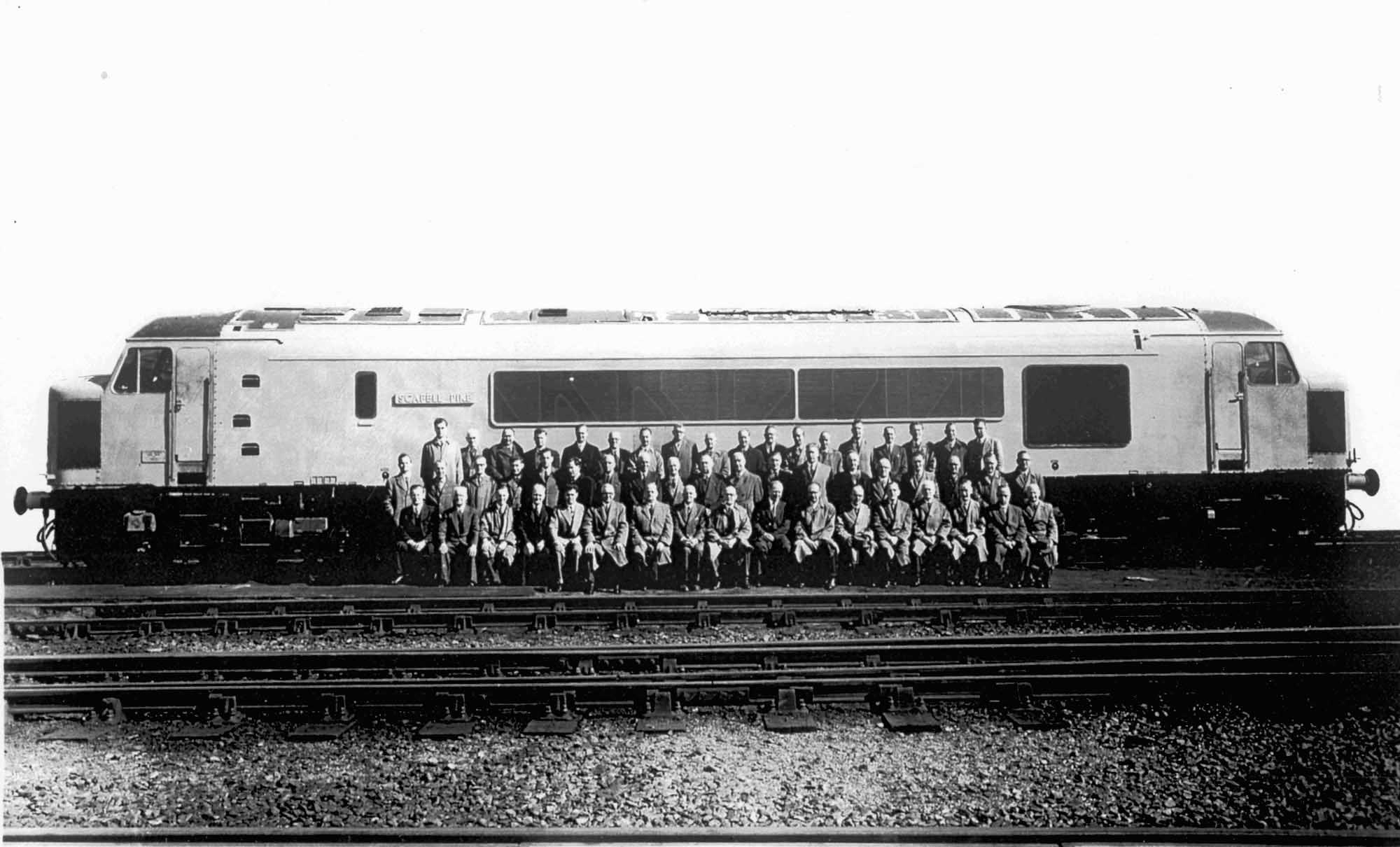 Photograph collection of Geoff McEwen.
Its April 8th 1959 and the first Class 44, D1 'Scafell Pike' stands in its undercoat as a group of men, presumably all significant in the design & construction of D1, pose for a portrait. Does anyone recognise any faces in the group.

Two people so far identified are both in the front row, the second man from the right is Herbert Mears, Assistant Superintendant and fifth from right is TFB Simpson, Work Superintendant.

Also now identified are Ernest Hickinbottom (seated 8th from right in the dark suit), one of Freddy Simpson's assistants with responsibility for much of the mechanical engineering on the new build. And seated 7th from right is Tommy Luckett responsible for the electrical side of things on the new build.
Photograph courtesy collection of Geoff McEwen.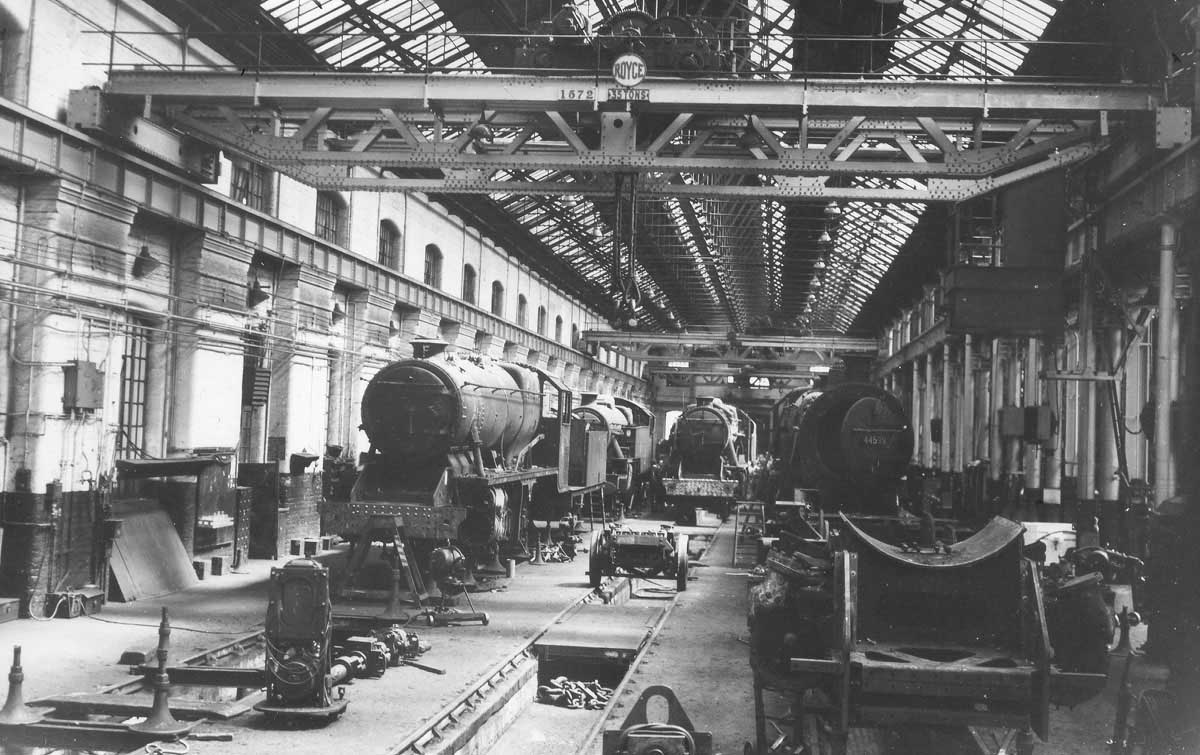 Photograph collection of webmaster.

Its June 24th 1962 and steam repairs are still ongoing at Derby. Seen here in No.8 Shop are a number of steam locomotives undergoing repair. The locomotive with the smokebox door slightly ajar is 44599, the rest remain un-identified.

Ian writes that in the left foreground is an electric motor on a stand, next to it is equipment previously mentioned that was required by the Valving section for boring out cylinders.

Despite this all-steam view, Derby was heavily into new diesel manufacture and repair. Peaks D171 - D185 were in various states of construction, whilst thirty nine other diesels were scattered about the workshops. Included in these were withdrawn pioneers 10201/03, English Electric interloper D310, and shunters D2911, ED1 & ED3, 12000 amongst others. The bulk of the remaining diesels were the familiar BR/Sulzer Type 2's & 4's and the Class 08 shunters.

Steam was represented by twenty three locomotives, although four of these were little more than frames on Foundry Row. Preserved MR1000 was also present, as were BR Standards 75010 & 75057. The remainder of the steam locomotives were remnants of the ever diminishing LMSR/LMR fleet.

Derby was perhaps unique amongst the railway workshops - since the mid 1930's it had been solely responsible for repair and maintenance of the LMSR/LMR diesel shunter fleet, carried out alongside the regular steam repairs. It would not be until the mid 1950's that the other workshops would be in a similar situation.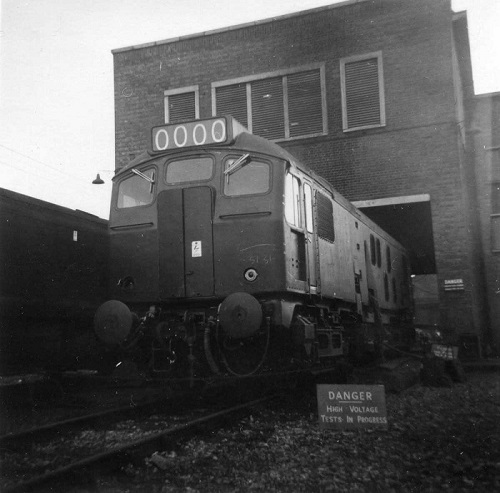 Photograph collection of webmaster.
A snapshot of yet to be numbered D5131 at the Test House on August 27th 1960, presumably the Work's Annual Open Day and Horticultural Show. D5131 is one of a batch destined for Inverness and has the cabside recess to accomodate the tablet catcher equipment. It will spend just over eleven years allocated to Inverness, being withdrawn after colliding with 6855 at Inverness depot on July 22nd 1971. It was withdrawn during September 1971 and was broken up at Glasgow Works two months later.
The Derby Locomotive Works Horticultural Show was normally held in August, when I was in Jig & Tool Drawing Office myself and a colleague made all the "direction" signs for the show, approximately twenty five in total, which we placed in situ on the morning of the show. The signs were very high tech! that is made from what was called cartridge paper (matt cardboard type of paper) glued onto hardboard, then sent to the Pattern Shop to be cut up into the different sized pieces we had specified. After which we drew the wording on first in pencil and then we filled in the letters with red drawing ink, we then sealed our handiwork with Isinglass (a type of gelatine) over the letters to seal them. Then they were sent to the Paint Shop for varnishing, very labour intensive but a "cushy" job for a few days.

Works Guide dated October 16th 1945
London Midland & Scottish Railway Company
C.M. & E.E. Department
Loco Works Superintendents Office
DERBY
16th October 1945
Brief description of the L.M. & S.R. Locomotive Works, Derby.
Spring Shop & Smithy: Manufacture & repair of carbon and silica manganese springs.
19 Shop: Hand forgings of loco parts and details cut from steel slabs by oxy-coal gas cutting machine.
Wheel Shop: Turning wheel centres and tyres. Press for pressing axles into wheel centres, 600ton pressure, wheel balancing machine.
16 Shop: Crank pin & journal grinding machine. Lapping machine for journals. Solid and built up crank axles. High speed turning of straight & crank axles. High speed horizontal tyre boring mills. Shrinking and securing tyres using gas fired jets.
Boiler Shop: Hydraulic flanging processes using 250 & 500 ton capacity oil fired furnaces.
18 shop: Fabrication of tenders, side tanks, smokeboxes and saddles using electric welding processes. Vertical bending rolls and presses for firebox & boiler barrel plates etc. Boiler repairs, oxy-coal gas cutting machines. Electric rivet heaters. Stay drilling and tapping. Copper welding.
Boiler Mounting Shop: Fitting boiler mountings and flue tubes. Steam & hydraulic test pits/
Forge & Hot Brass Pressing Plant: Small forgings and drop stampings. Hot brass pressing of components for railway carriages.
Iron & Chair Foundries: Sand & Loam core making. Moulding and casting of locomotive cylinders, brake blocks, chimneys etc. Normal output approx 15,000 rail chairs per week of five different types.
Brass Foundry: Osborn moulding machine. Oil fired furnaces. Castings to the Derby Loco & Carriage & Wagon works, annual output 1,000 tons.
Erecting Shop - 8 Shop: Locomotive & Tender Repairs on progressive system in three bays. Repairing locomotive frames with electric welding. Fitting of axleboxes to wheels prior to wheeling locomotives. Reboring of engine piston and valve cylinders by portable boring machine. New locomotive build. Two 50 ton cranes in each bay.
Machine & Fitting Shop - 9 Shop: Milling, Boring & General Purpose Lathes. Jig & Tool manufacture. Repair of coupling rods, piston rods, axleboxes and all motion details. Burning out machines for small details, straightening and slotting of locomotive frame plates. General turning section for details in steel and brass. Brass fitting section for valves and cab details. Toolroom with jig boring and universal thread grinding machines, heat treatment for tooling. Heavy milling section for coupling rods & connecting rods. Steam pressure test house for testing of loco brake, injector & steam valves. Apprentice turning section, instruction in the use of lathes, milling & drilling machines.
Paint Shop - 10 Shop: Painting of new and repaired locos & tenders and miscellaneous railway equipment.
Diesel Erecting Shop - 7 Shop: Building new & repair of Diesel Shunting Locos.
Pattern Shop - 14 Shop: Pattern making facilities for foundries and general wood working activities.
General Information:
Works occupy 50 acres with 13 coververed by workshops
Works canteen accomodates 950, with 3 more Mess rooms where 600 employees can eat their own food.
Ambulance room with full facilities and motor ambulance.
Total number of machine tools - 1,200
Total locomotives maintained - 2,600
Total number of classified repairs (as separate from collision repairs) - 1,650 per annum
New loco build - 50 per annum
Total number of employees - 4,344 of which 4,064 are Works personnel and 280 office staff.
Fuel & Power Used:
Coal - 3,200 tons per annum
Coke - 4,680 tons per annum
Gas - 55,250,000 cu.ft per annum
Electricity - 7,500,000 units per annum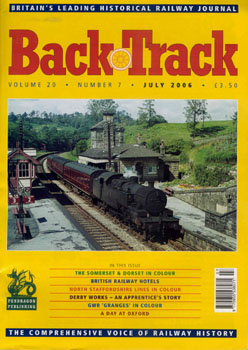 The story featured on this page was published in Back Track magazine, in two parts in the July 2006 & September 2006 issues.

With regret I advise that Ian, our storyteller, passed away on May 10th 2007, after a long bout with cancer.
A short while after being notified of Ian's passing, the negative of the picture below came up for bid on Ebay. Without hesitation I thought 'that would be a great view to send to Ian', it took a little while to remember that this was no longer possible. So perhaps the view below is a closing tribute to this page of Ian's memories.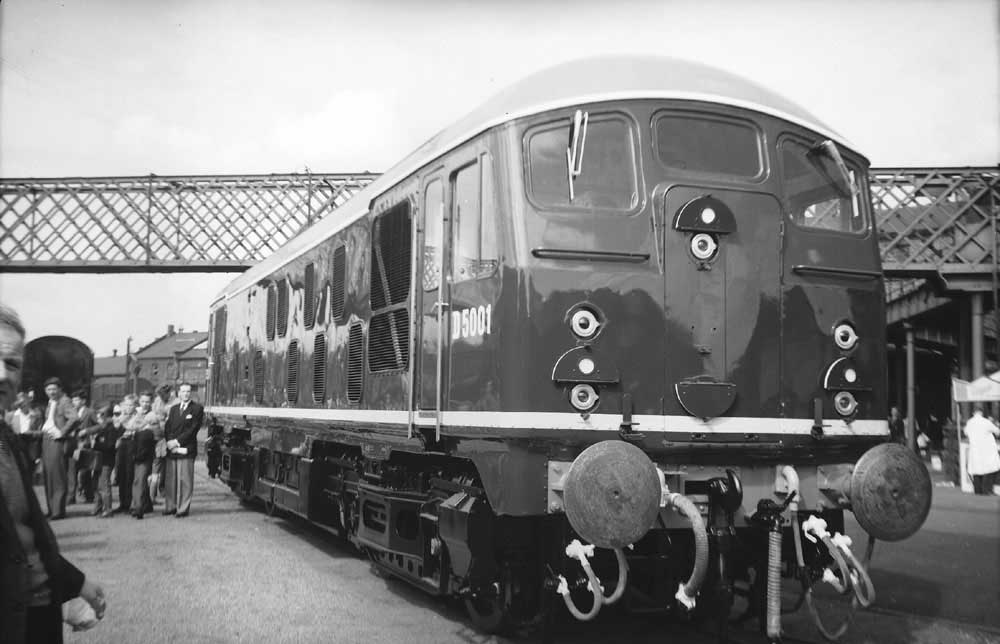 Photograph collection of webmaster.
The August 1958 Open Day at Derby Works found brand new D5001 on view to visitors to the Works. The early diesels at Derby were painted by hand. You can almost see your reflection in that shining paintwork!

Page added April 29th 2005.
Page updated June 14th 2008.