The Demise of the Peaks in the West of England

As witnessed by Peter Lovell

Note from webmaster:
All text and photographs (unless otherwise stated) have been graciously provided by Peter Lovell. This is only the first cut for this page, more photographs will be added shortly.

The end of the 1980 summer timetable saw the beginning of the demise of both the Class 45/46 'Peaks' and Class 25s in the West of England. The contrast between the demise of the two types could not have been greater. The Class 25s went in a period of about eight weeks while for the Peaks it was a process that took eight years.

As the summer of 1980 marched towards autumn and the reign of the aformentioned Classes in the West Country approached the beginning of the end, there was little to suggest this on September 2nd 1980. Observations at Dawlish Warren on this day revealed the inter-regionals and local hauled services were continuing much as they had for the previous ten years.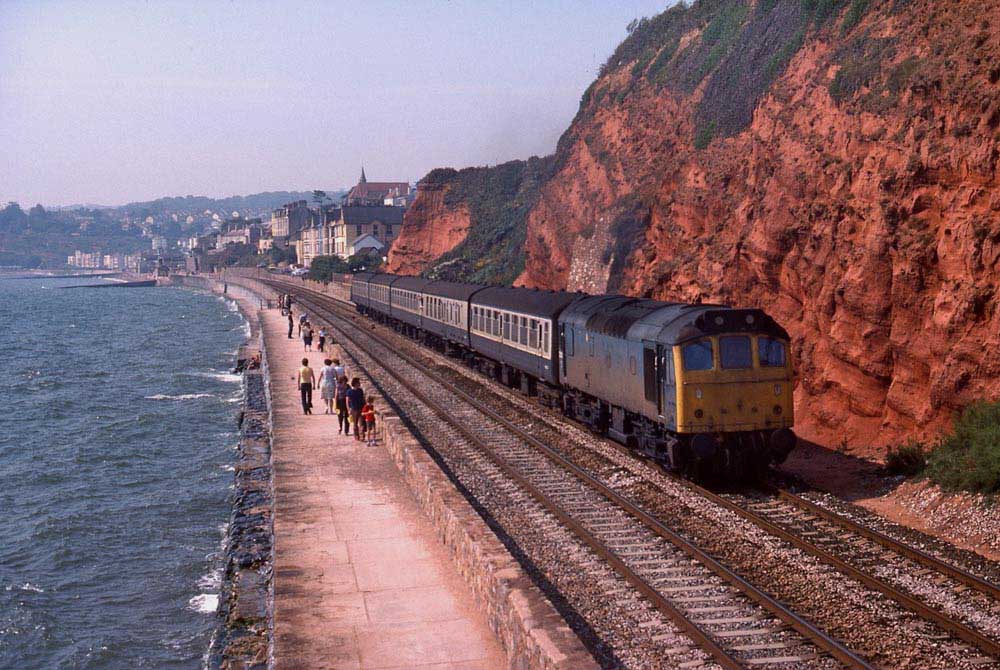 Photograph courtesy Peter Lovell.
Having worked from Exeter to Paignton earlier on the morning of September 2nd 1980, 25206 returns to Exeter with the 11.04 from Paignton. 25206 was allocated to Laira from March 1978 to October 1980, after transfer off the Western Region its next home would be Springs Branch.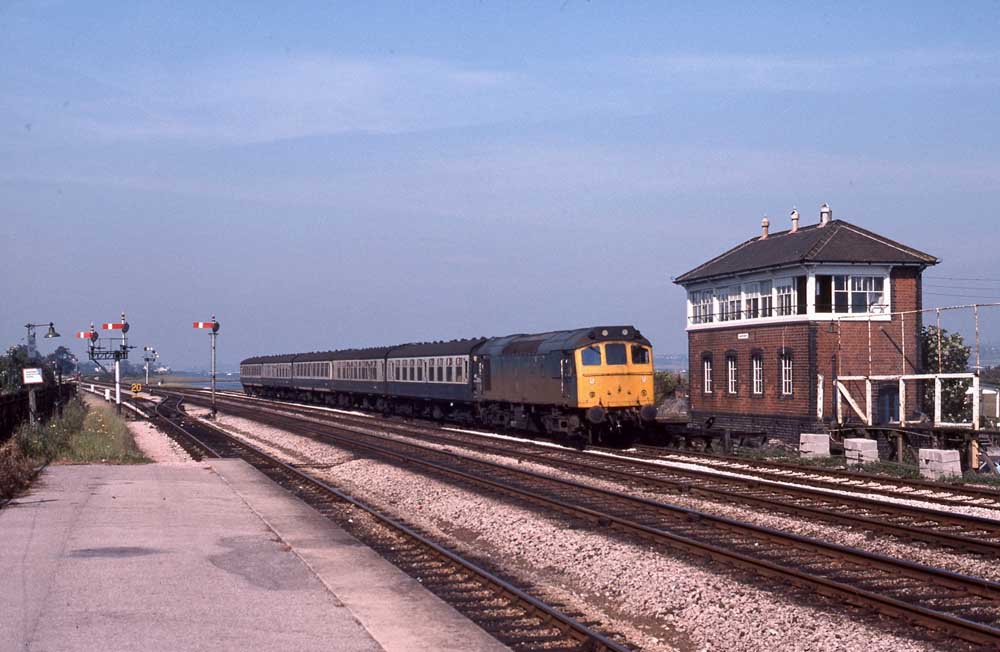 Photograph courtesy Peter Lovell.
The summer stopping trains are almost over for both the 1980 season and for the Class 25s. 25206 eases into the loop at Dawlish Warren on September 2nd 1980 with the 14.20 Exeter - Paignton, a couple of MkII coaches have managed to creep into the set. The layout is little changed, although the semaphores and signalbox disappeared following the Exeter MAS scheme of the mid 1980s.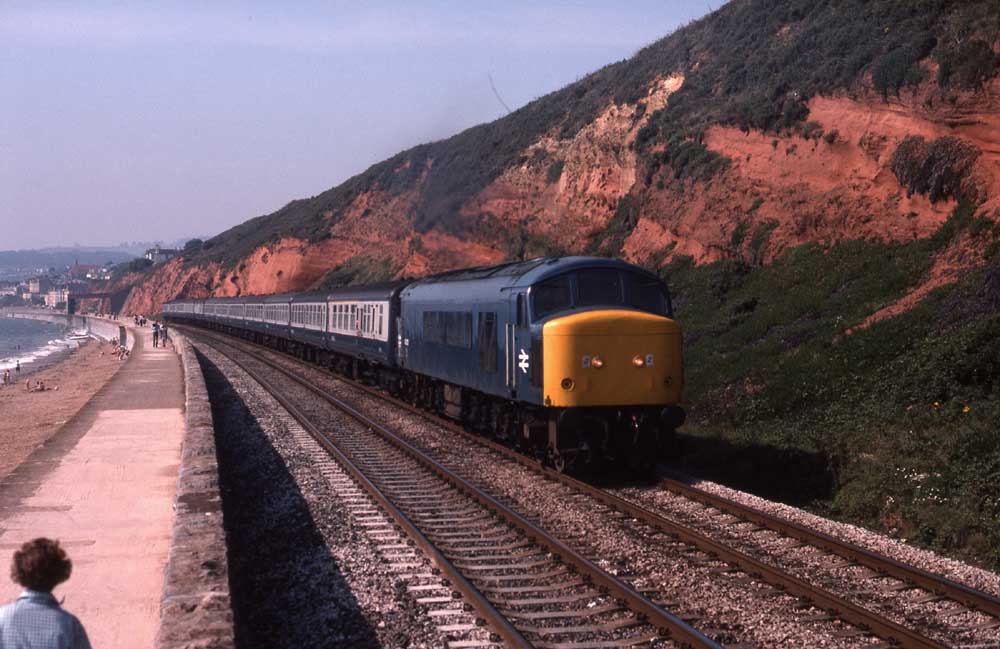 Photograph courtesy Peter Lovell.
The twelve coach 10:52 Paignton – Leeds approaches behind 45013, perhaps with many holidaymakers making their trip home after a week or two enjoying the sun, sand & sea. 45013 would become the last Class 45/0 to receive attention at Derby Works, in March 1986, and like 25206 above would end its days at MC Metals Glasgow, after almost seven years withdrawn (1987 - 1994).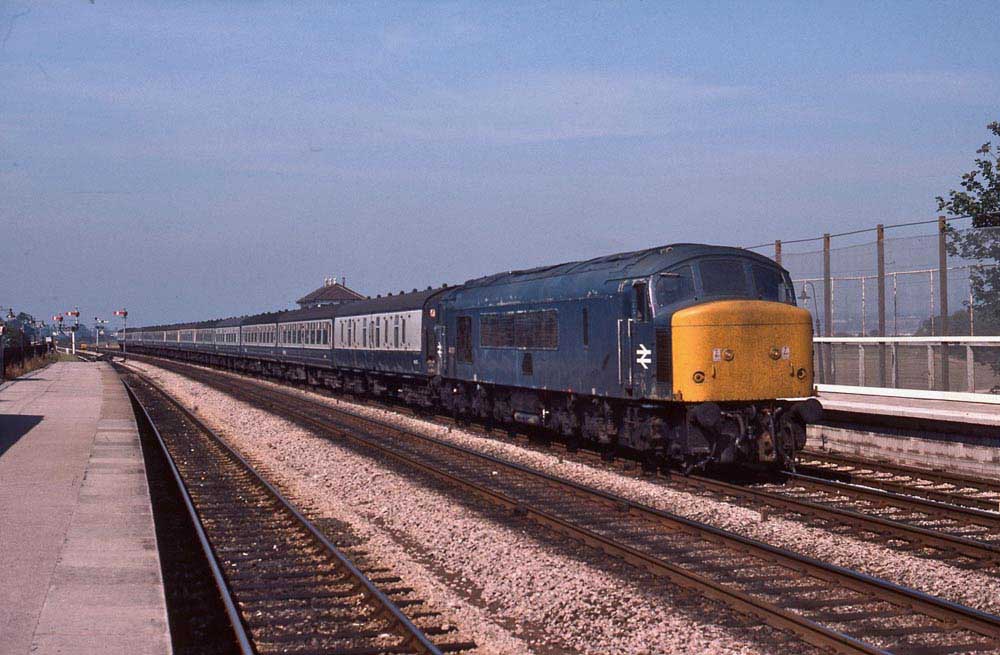 Photograph courtesy Peter Lovell.
A few minutes later a rather shabby looking 46001 follows with the twelve coach 09:20 Liverpool – Penzance.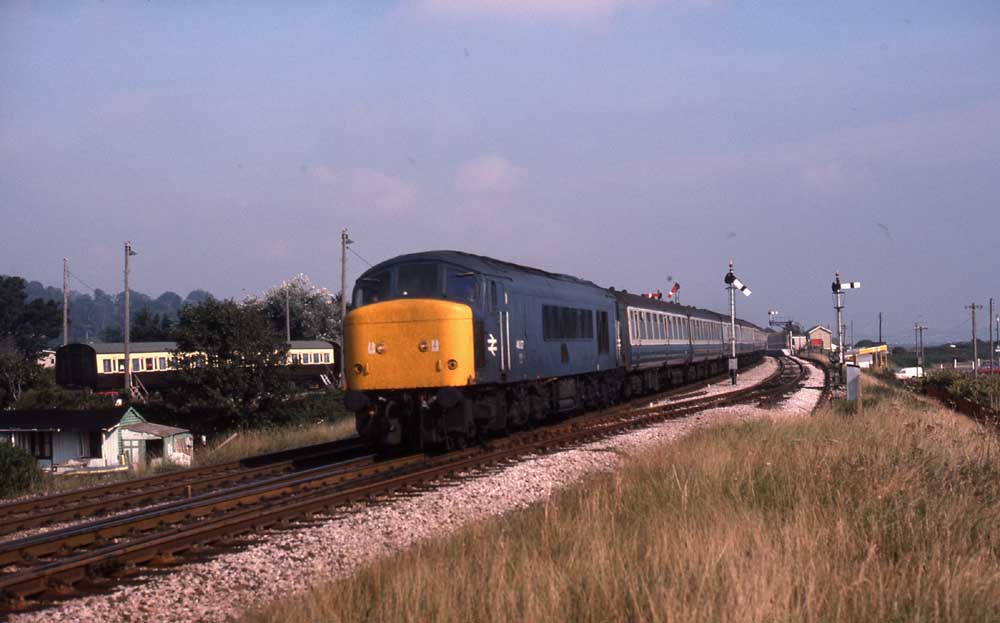 Photograph courtesy Peter Lovell.
The 07:56 Cardiff – Plymouth heads west with 46027 in charge.
As the 1970s drew to a close the writing was on the wall for both classes (assuming the 45s and 46s can be treated as a single class). During the winter of 1977/78 Class 37s 37142 & 37207 had been transferred to Laira for use on local workings around St Blazey, 37279 would join them in 1979. At Exeter the Class 25s used on the local passenger and freight turns had for some years been supplemented by Class 31s and the occasional Class 33. With the transfer of three more Class 37s to Laira for use at St Blazey and by diagramming the Exeter turns for Bristol Bath Road Class 31s, the Class 25s found themselves redundant and were either withdrawn or transferred away during October and November 1980.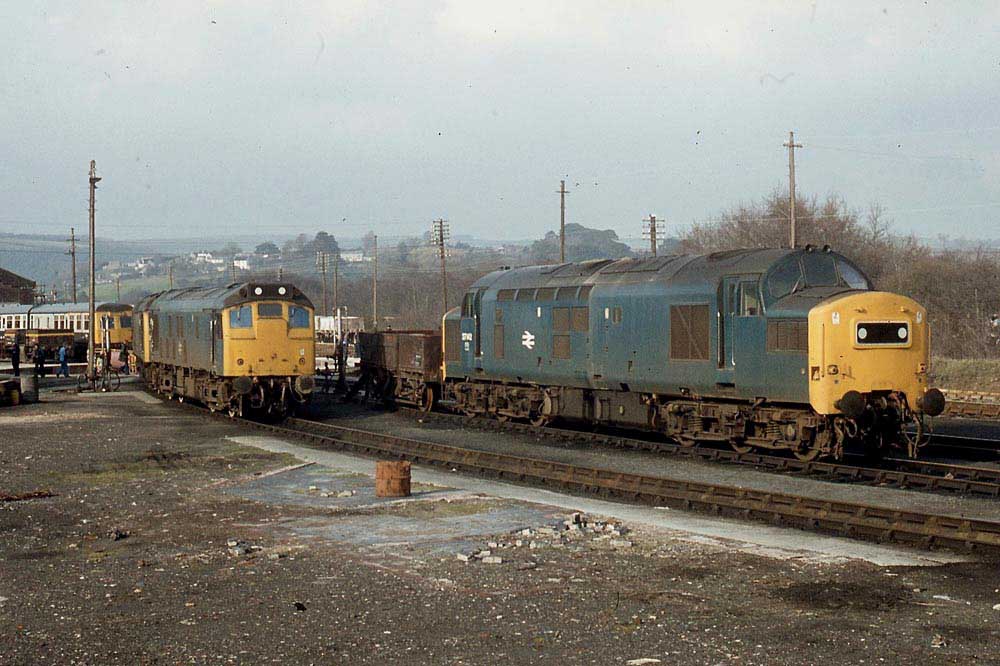 On March 5th 1978 St Blazey hosts 37142, 25052 and 25216. (The arrival of the fill-in leg of the Deltic Ranger re-run railtour from Paddington with 46003 resulted in an impromptu shed visit by most participants on the tour).
Since the Class 25s had first arrived in 1971 their freight work had gradually fallen off. By 1980 levels of general freight traffic at yards in Cornwall such as Hayle, St Austell, Drump Lane and Penzance were greatly reduced, with closure being a real threat to these yards. Around Exeter the final milk trains had run in 1980 so the former Class 25 trips from Chard Junction, Hemyock, Torrington and Lapford no longer ran. In the early 1970s the milk, clay, fertilizer, MOD and general traffic on the Barnstaple line had required two locomotive diagrams, by the time the milk traffic finished it was down to one.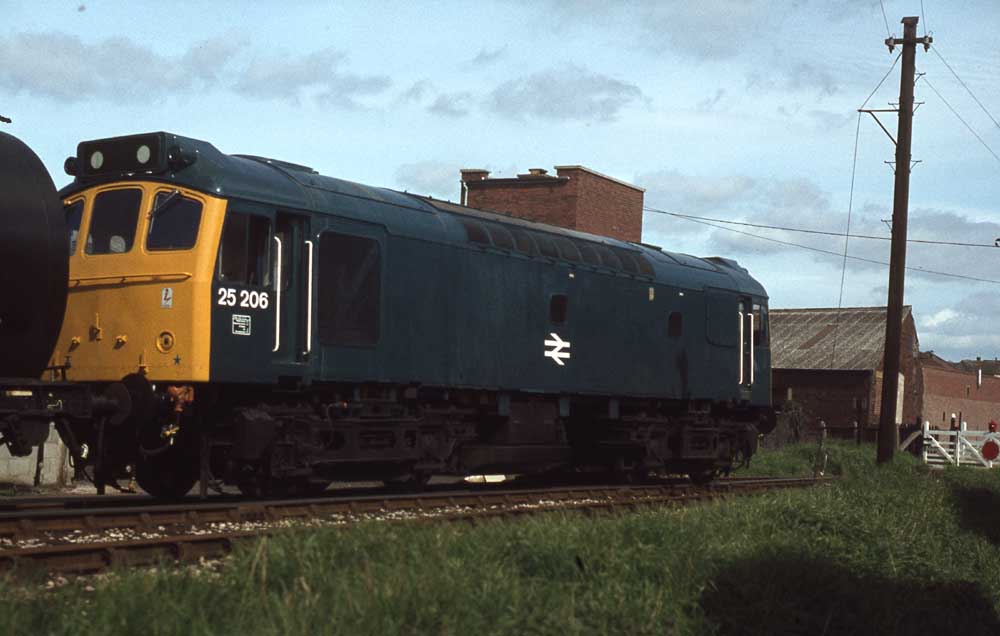 Photograph courtesy Peter Lovell.
The paintwork glistens on recently outshopped 25206 as it shunts bitumen tanks at Exeter City Basin on May 7th 1979, a duty shared with Class 08 shunters. Over the years bitumen, petrol and coal for the gasworks would have come into the complex at city Basin.
Following the completion of the WCML electrification, the ongoing introduction of HST's and the reduction in freight traffic the traction required by BR to operate its services was changing. It was determined that generally only one class of Type 2 diesel was required (except in Scotland) - the Class 31s would recieve the life extending heavy overhauls to keep them in service, whilst the Class 25s would be withdrawn as they became surplus to requirements. In May 1980 HSTs had taken over some of the Paddington – West of England services releasing Class 50s for the Exeter – Waterloo services. This in turn released Class 33s for the Portsmouth - Bristol/Cardiffs, which in turn released Class 31/4s. The latter were equipped with electric train heating which helped in the move to eliminate steam heating and enable single manning.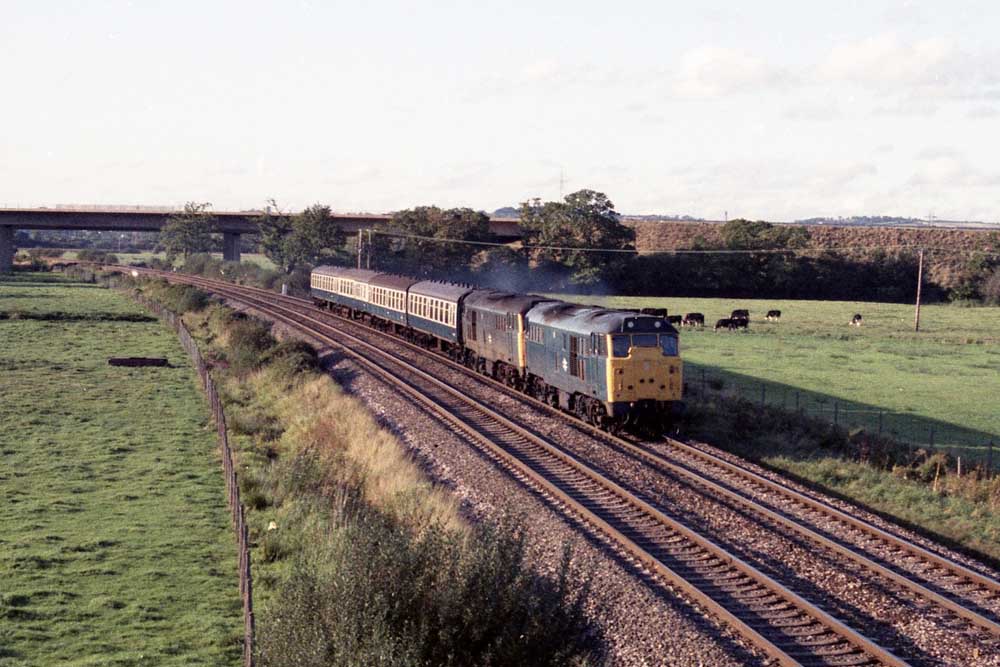 The 'new' order on the Exeter – Paignton stoppers. With both locomotives working 31131/31294 approach Exminster on September 24th 1982 with the 17:20 Exeter – Paignton. Once the Class 31's had taken over examples from all over the system would appear.
By the late 1970s 46001-28 were all allocated to Laira, the remainder of the class being at Gateshead. Following a period in store 46005 was the first of the class withdrawn, being retired in January 1978 followed by fire damaged 46003 and collision damaged 46024. In better times all three locomotives would most likely have been repaired. In September 1980 Laira placed four of its Class 46 allocation into store at Swindon with the remainder going into store in October and November. A number were withdrawn while some of the stored locomotives were re-instated to Gateshead.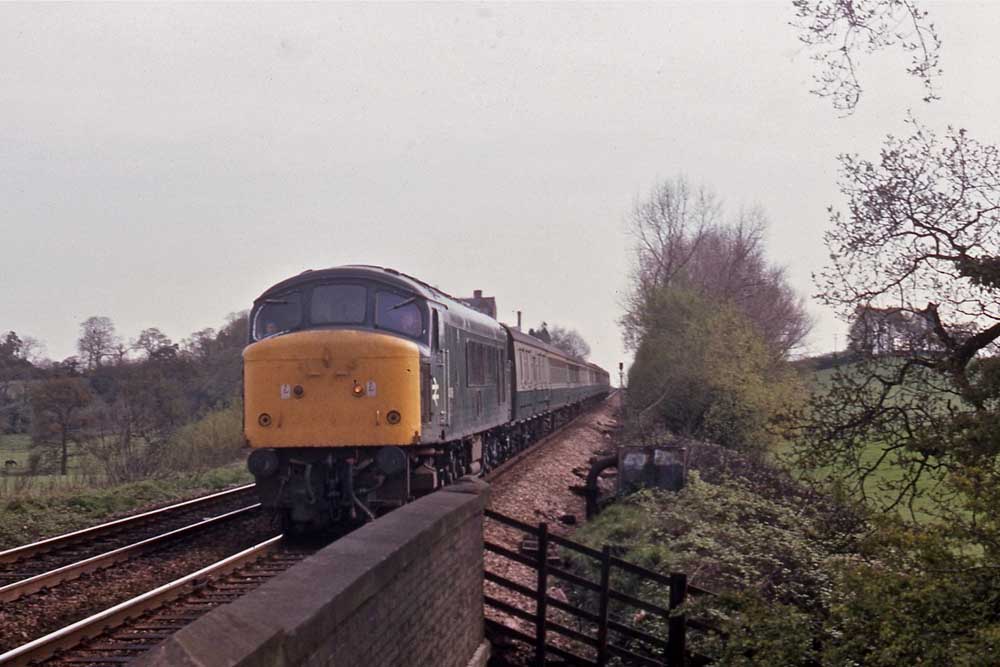 Having been stored at Swindon in October 1980, 46016 was soon re-instated and transferred to Gateshead. On May 2nd 1981 it was noted on it's old stamping grounds on the NE/SW route as it descended the Lickey Incline with the 06:32 Leeds – Paignton.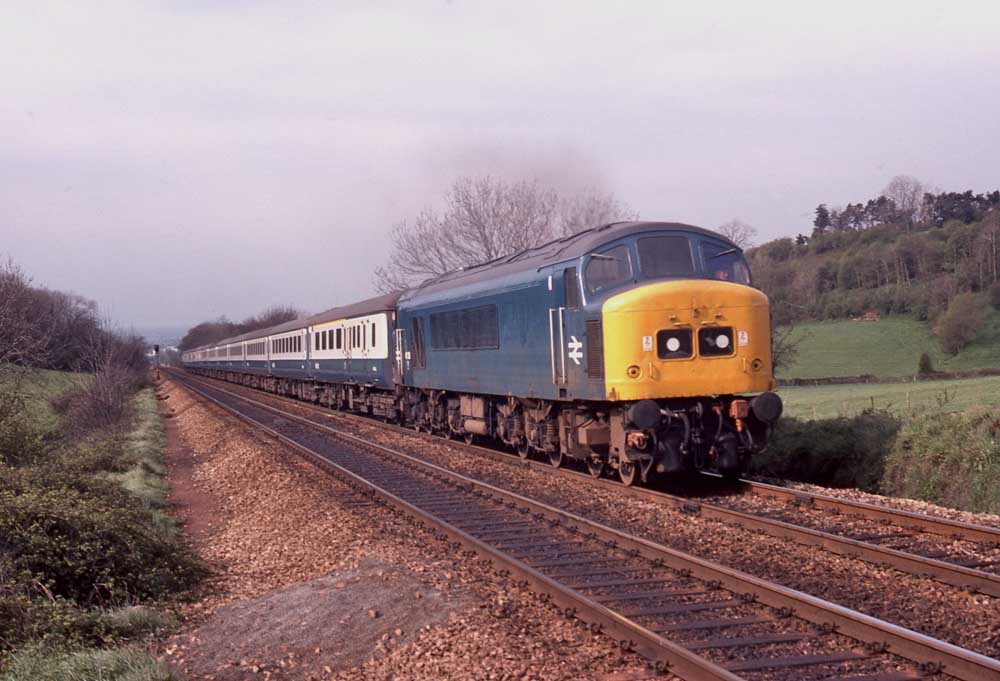 A few minutes later and with barely any exhaust visible, 45128 makes a fine sight as it climbs steadily up the Lickey Incline with the 08:13 Bristol – Glasgow on May 2nd 1981.
In 1981 an upturn in freight traffic produced a demand for locomotives resulting in many of the Class 46's stored at Swindon being re-instated over the next couple of years. Once withdrawn for a second time these locomotives would be cannibalized to keep other classmates going. Re-instated locomotives were generally given an A exam at Bristol Bath Road before being re-allocated to Gateshead.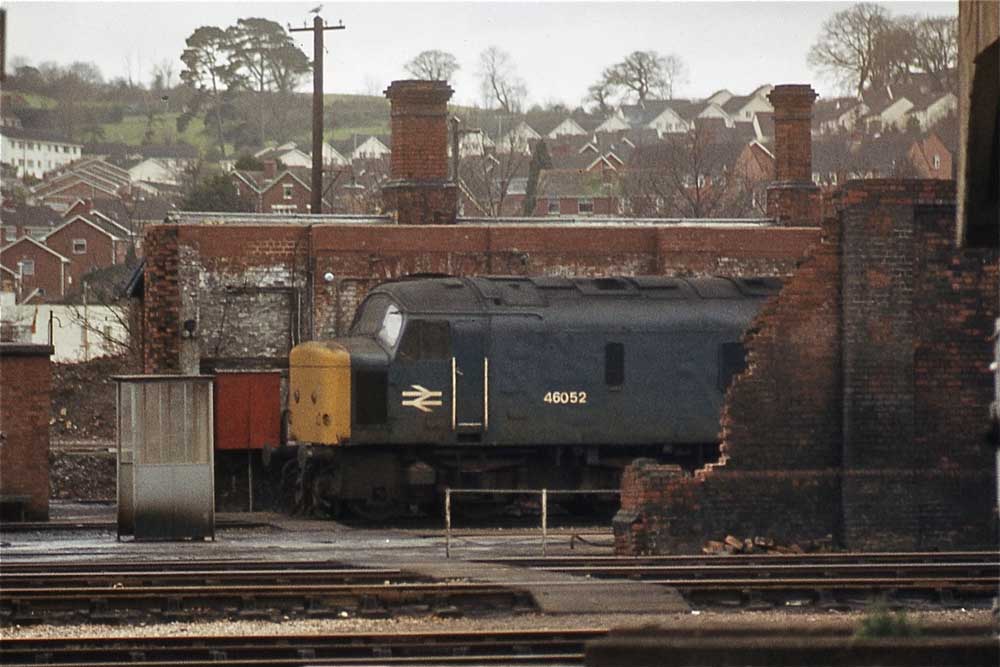 On December 23rd 1983 46052 looks forward to an uncertain future as it awaits its next turn of duty in what remains of Exeter St Davids depot. It would continue in service almost until the end of the Class 46s, being withdrawn in September 1984.
During 1981 the remaining Gateshead Class 46s along with many Class 45s still continued to appear on the dual heat passenger and freight turns in the South West and South Wales, although there was a significant amount of change on a number of fronts that would contribute to their eventual decline.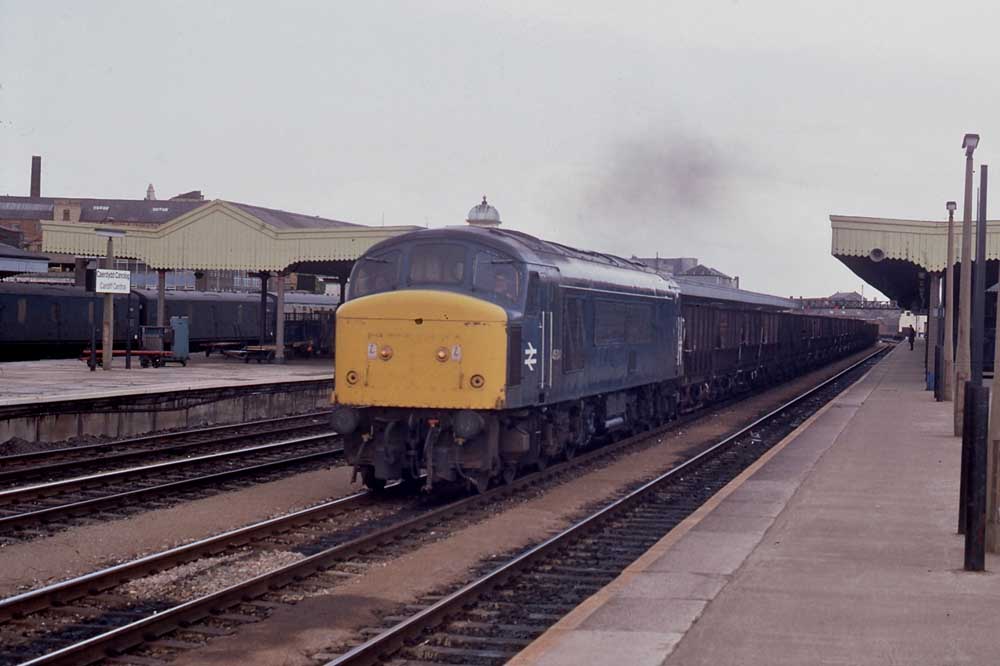 Its May 8th 1981 and whilst on holiday in Hereford a day trip was made to Cardiff. The journey down from Hereford had been behind 25224 on the 07.54 Crewe, later returning northwards on the 15.10 Cardiff behind 25060. Whilst in Cardiff 45041 was noted heading west through Cardiff Central with a train of vacuum braked coal hoppers.
By the time the final Class 52 Western's were withdrawn in February 1977 Laira had a number of steam heat Class 47/0s on its allocation, mainly for the sleepers, over-night passenger and newspaper traffic to and from Paddington. This totaled 19 as at October 1977 for the start of the winter timetable. From September 1980 most of these services were now either dual-heat or ETH and Laira was down to three steam 47/0s with six 47/4 eth examples.
By January 1981 the allocation had increased to seven 47/0s and ten 47/4s and by October 1981 it was up to twelve 47/0s and eleven 47/4s. During this period the reliability of the Class 50s was poor and they were in the process of being re-furbished at Doncaster, which would have placed demands on the 47/4s. The programme to equip Class 47s with eth had ceased with the release of 47555 in September 1974. In February 1981 this programme re-commenced with the release of 47556, and finally concluded with 47665 in December 1986.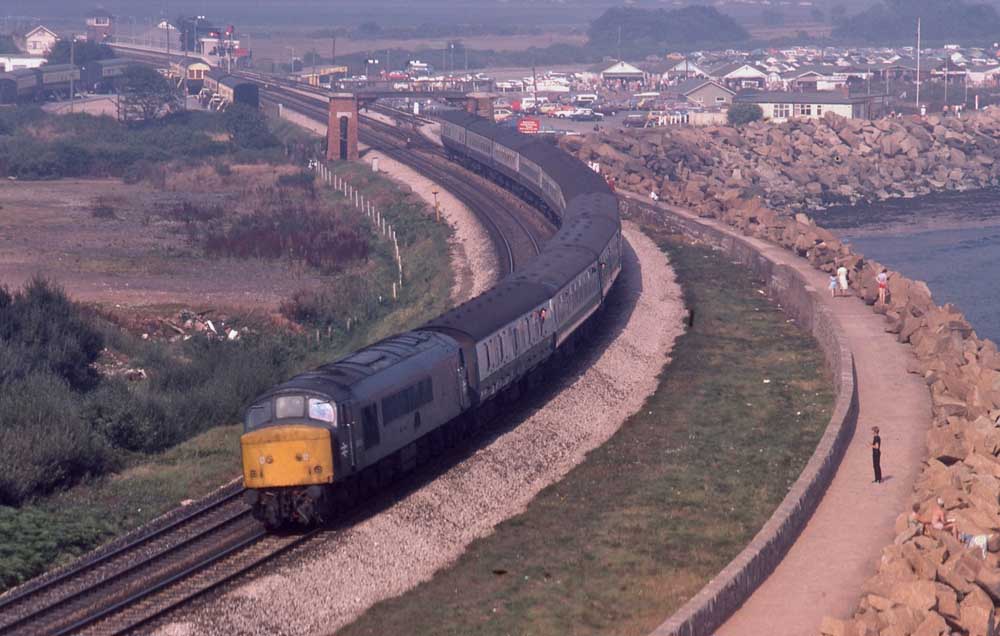 45026 passes through Dawlish Warren and rounds the curve at Langstone Rock with the 09:40 Liverpool – Penzance on May 5th 1981.
Following the introduction of HSTs on the Paddington – West of England route in 1980, BR added more routes on which to operate more HST's with the addition of inter-regionals or cross country diagrams, mainly to the North East/Scotland. Eighteen sets were ordered, entering service in late 1981. However, as part of the move to sectorisation the Inter-City Sector was looking at available resources from a national rather than a regional perspective, and decided to transfer ten HST sets to improve services on the Midland mainline. From October 1982 HSTs started to run from St Pancras. This was achieved by reducing the Western Region fleet by five sets, the Cross Country sets by three, with locomotive hauled stock on some north east trains, and two sets off the ECML.
One of the side effects of introducing HSTs on the Midland main-line was that it released Class 45/1s for other duties. These had never been common in the West Country, occasionally turning up on summer Saturday trains from the East Midlands. Although now diagrammed for other duties on Trans-Pennine and North Wales services they also started to appear more on air-conditioned workings.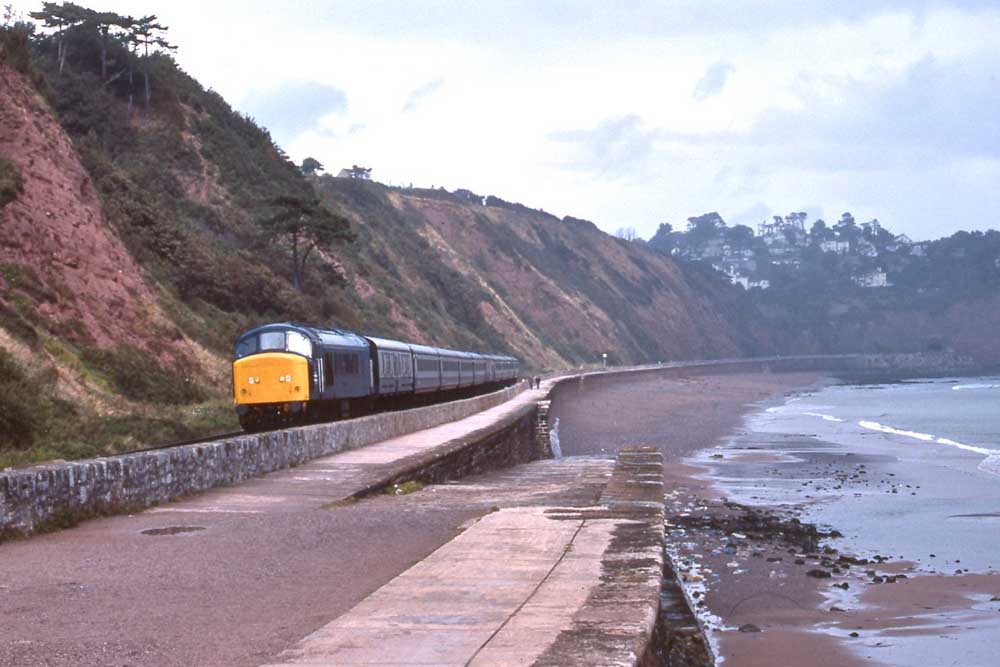 Photograph courtesy Peter Lovell.
45139 runs along the seawall at Teignmouth with the 09:20 Liverpool – Penzance on September 10th 1983.
The other impact of the introduction of HSTs was the cascade of air-conditioned stock. During 1981 many of the regular long-distance inter-regionals transferred over to this type of stock, with the remainder going over in 1982. This precluded the scheduled use by the remaining Class 45/0s and 46s. On weekdays this left the handful of Bristol – Plymouth/Penzance trains and the various local services formed of Mk1 stock.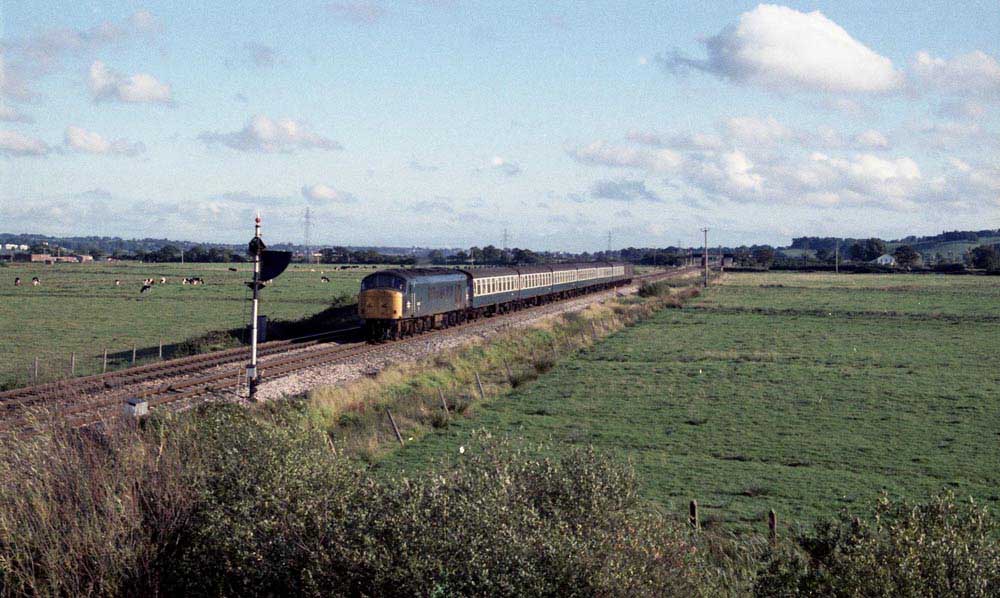 Photograph courtesy Peter Lovell.
On September 24th 1982 45002 speeds past Exminster with the 13:45 Penzance – Bristol. As 29, 45002 had been sent to Laira during 1969 for crew training on the Class.
During this period the locomotive-hauled stock on the Exeter – Barnstaple, Exeter – Paignton and the Bristol – Plymouth/Penzance services were re-organised. Newton Abbot depot closed with the stock now maintained at Bristol (Malago Vale) and Laira with trains formed of five or six coach Mk1 sets. Services such as the 07:00 Exeter – Plymouth and 08:40 Plymouth – Penzance that had formally been worked as part of Paddington diagrams were now covered by these sets. Class 33s also started to appear on these services, especially around Exeter and for a while regularly worked the 07:50 Bristol – Penzance as far as Plymouth. However, the return working of this set, the 13:45 Penzance – Bristol remained a regular Class 45 turn well into 1984.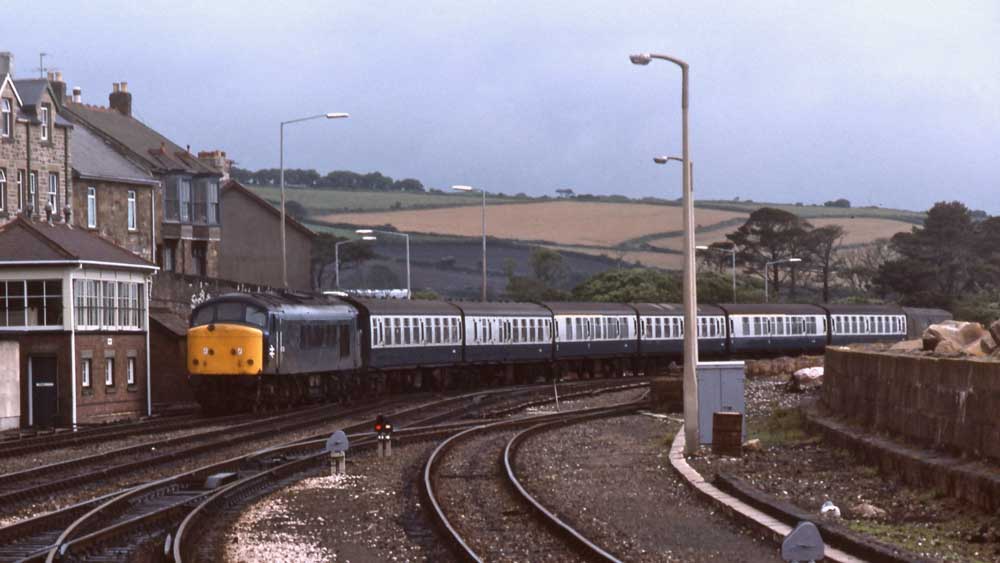 Photograph courtesy Peter Lovell.
On June 30th 1983 45124 arrives at Penzance with the 07:00 from Exeter. The stock then formed the 11:55 to Plymouth, whilst 45124 worked the 12:10 Penzance – Glasgow vans to Plymouth. At Plymouth 45124 was removed and returned west with the 09:20 Liverpool – Penzance.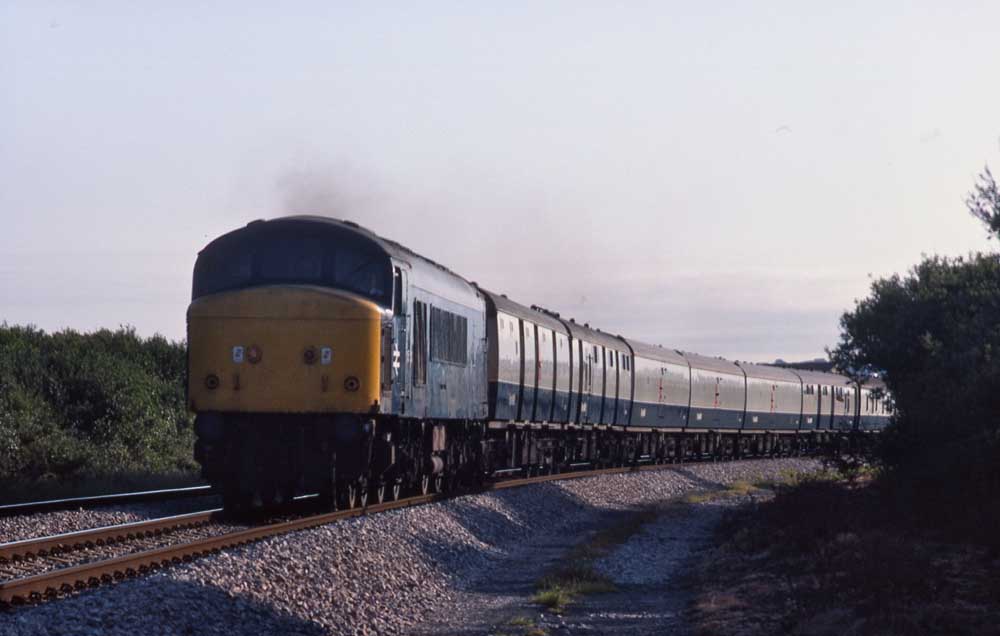 Photograph courtesy Peter Lovell.
After returning with the 09:20 Liverpool – Penzance on June 30th 1983, 45124's next duty was the 19:27 Penzance – Paddington TPO which is seen here between Marazion and St Erth.
To meet the reduction in HST sets a number of day-time HST services were turned around at Plymouth, with only northbound early morning and westbound evening services operating through to Penzance. Connections were provided between Plymouth and Penzance using locomotive hauled stock. In addition to the five and six coach sets mentioned above, Laira would use a set of three or four spare coaches made up of any MK1 or Mk 11 stock available, normally with a Class 47 or 50. This would result in the local Cornish train having better acceleration than the HST it connected with!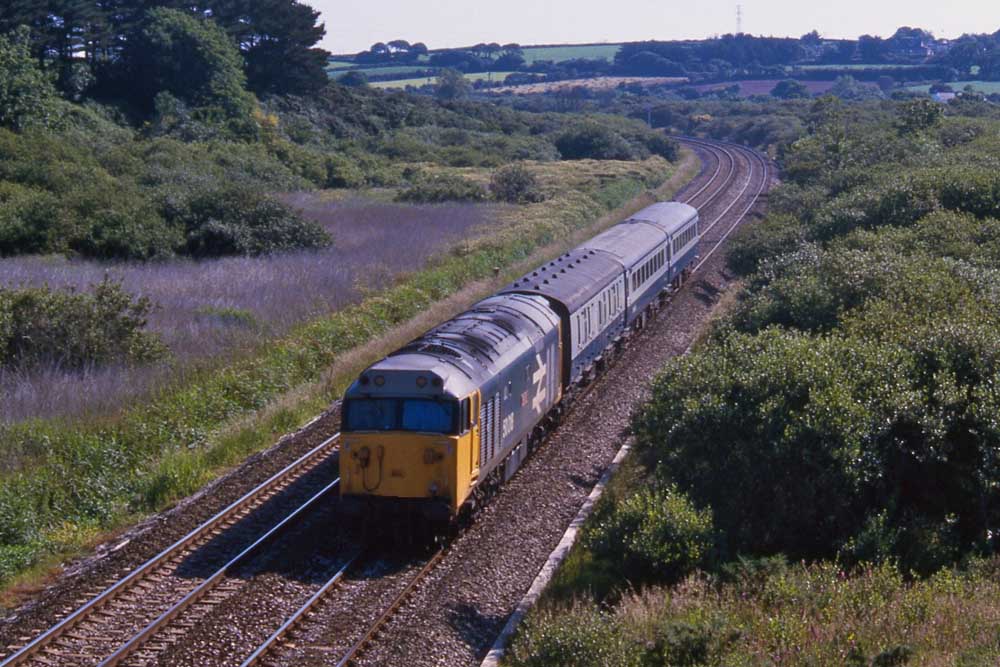 Photograph courtesy Peter Lovell.
On July 1st 1985 the 07:20 Plymouth – Penzance with 50018 on two air-conditioned SO's and a BG ambles down from St Erth towards Marazion.
This period saw a great variety of rolling stock ranging from ropey old MkIs with B1 bogies to brand new HSTs, and the full range of Mk II stock. In 1983 I traveled on one of the Penzance – Paddington trains that had reverted to locomotive hauled stock. It was a mix of 1950s de-classified Mk1 FOs with varnished wood interior and well upholstered seats, pressure ventilated Mk II b and relatively new air conditioned Mk II f coaches.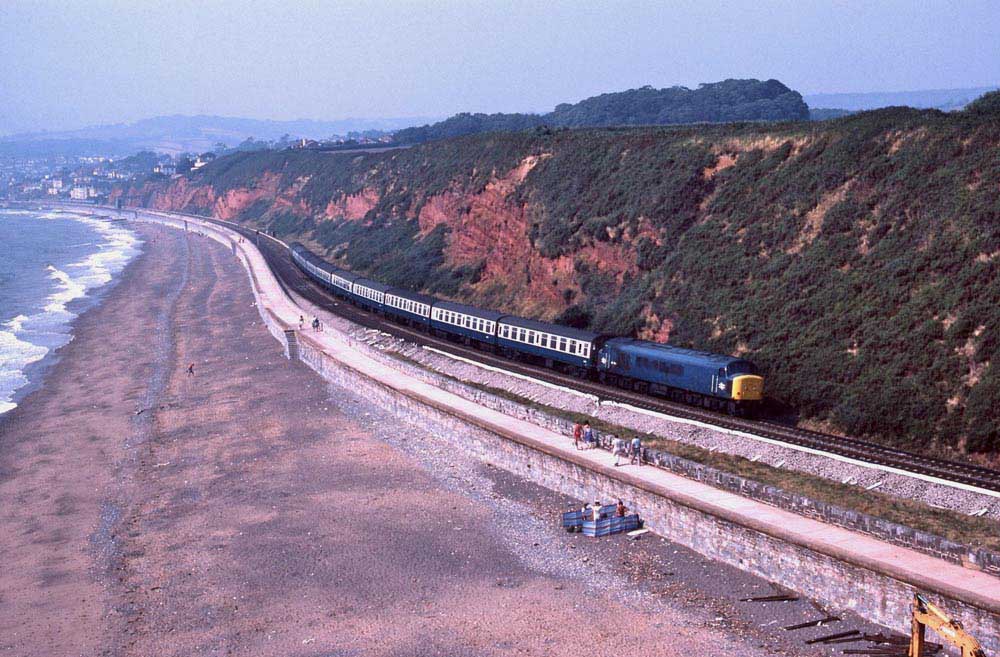 Photograph courtesy Peter Lovell.
45054 approaches Dawlish Warren with the summer Saturday 09:50 Plymouth – Crewe on August 19th 1983.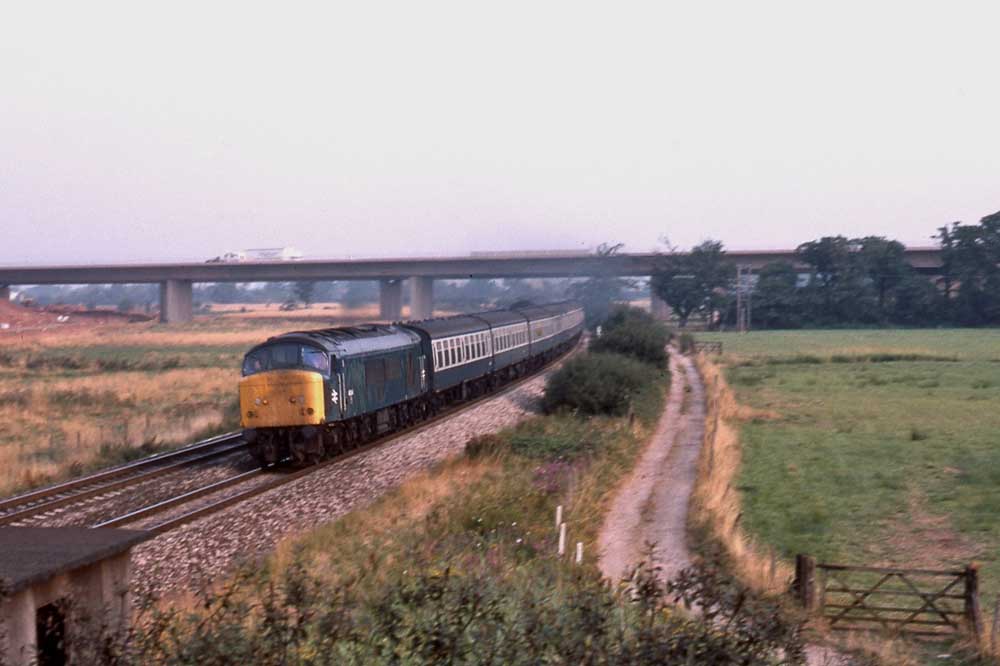 Photograph courtesy Peter Lovell.
46044 passes under the M5 motorway and heads towards Exminster with the ECS for the 09:13 Paignton – Leeds on August 19th 1983.
At the same time considerable changes were also taking place with freight traffic. Until the early 1980s freight services had been based on mainly mixed trains of vacuum braked wagons. The move in the 1980s was towards air braked stock. Wagonload traffic was managed by Railfreight Distribution with the establishment of the Speedlink network in 1983. During 1982 there was an element of dual running. Vacuum braked wagonload freight traveled on the Plymouth Friary – Barry Island and air braked wagons on St Blazey – Severn Tunnel Junction services.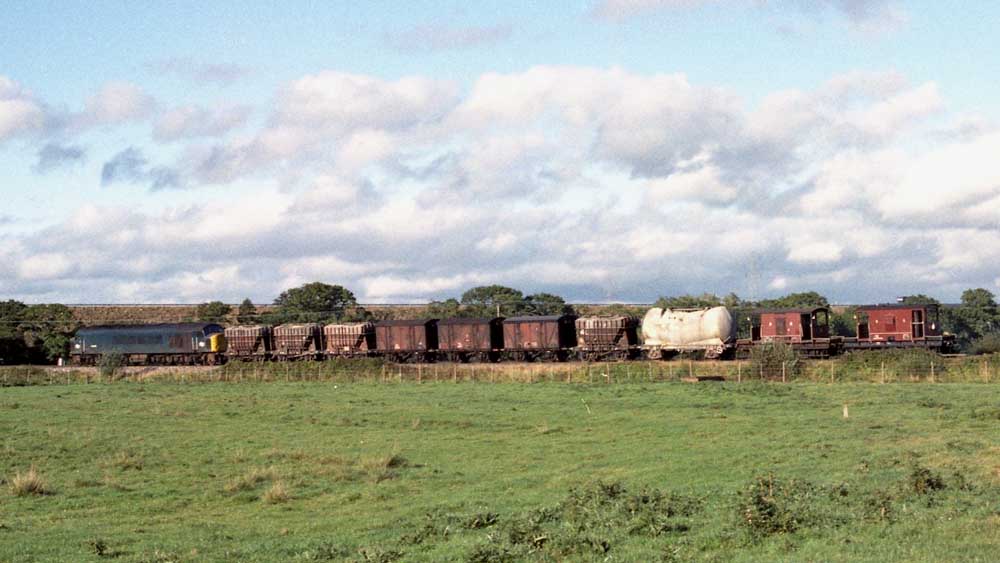 Photograph courtesy Peter Lovell.
45003 trundles towards Exeter on September 24th 1982 with the 14:15 Plymouth Friary – Barry Island vacuum braked service, comprised of an interesting mix of short wheelbase wagons.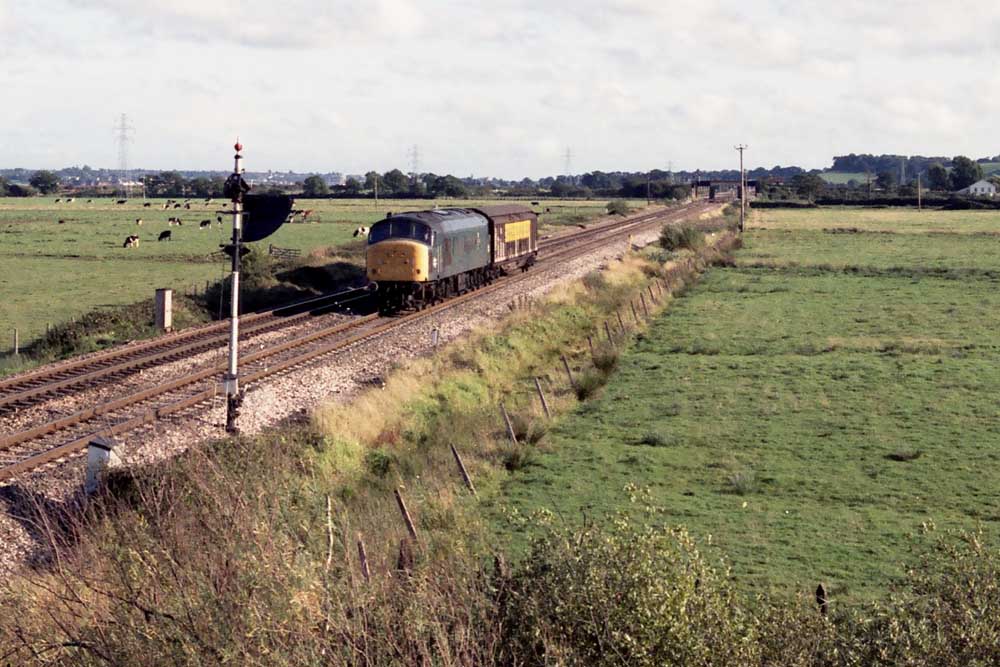 Photograph courtesy Peter Lovell.
A few minutes later an unidentified Class 45 follows with a single wagon air braked service on September 24th 1982.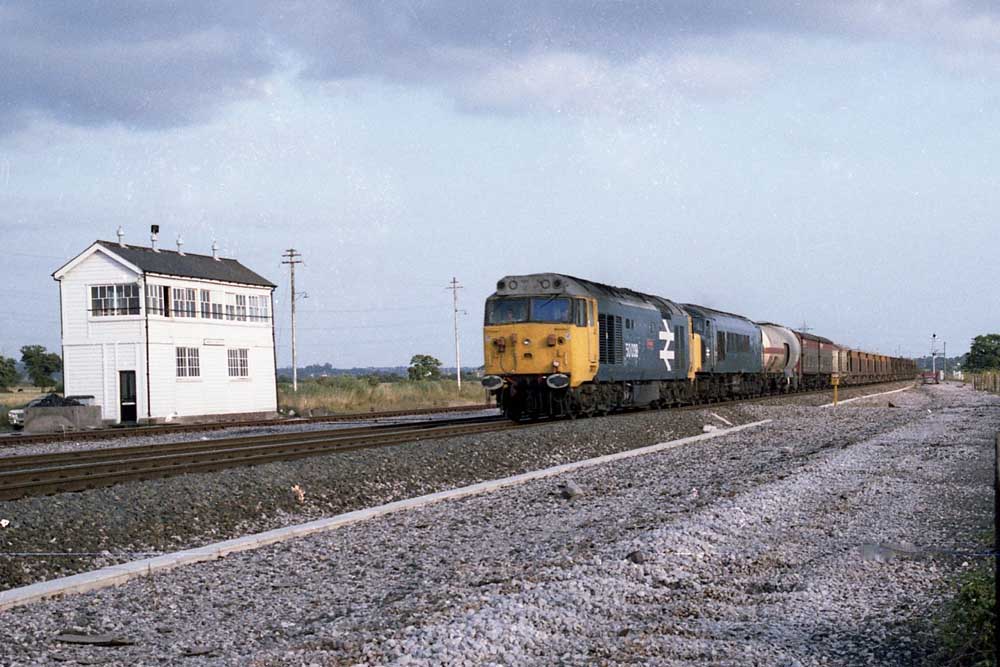 Photograph courtesy Peter Lovell.
On the August 15th 1983 50038 pilots 45065 past Exminster signalbox with the 15:15 St Blazey – Severn Tunnel Junction Speedlink service.
The introduction of the Speedlink Network in 1983 saw three daily wagonload trains each way, two between St Blazey – Severn Tunnel Junction, the other to Bescot for the Midlands. Intermediate calls included Exeter Riverside and Tavistock Junction (Plymouth). Initially Class 45/46s were regular performers, but as their numbers reduced from 1984 Class 47s, and in the late 1980s pairs of Class 37s and the sole 50149 took over. The early 1980s saw considerable ballast traffic from Meldon Quarry, for both the Southern and Western Regions and Class 45/46s were regular performers on trains for Bristol East Depot and Newport.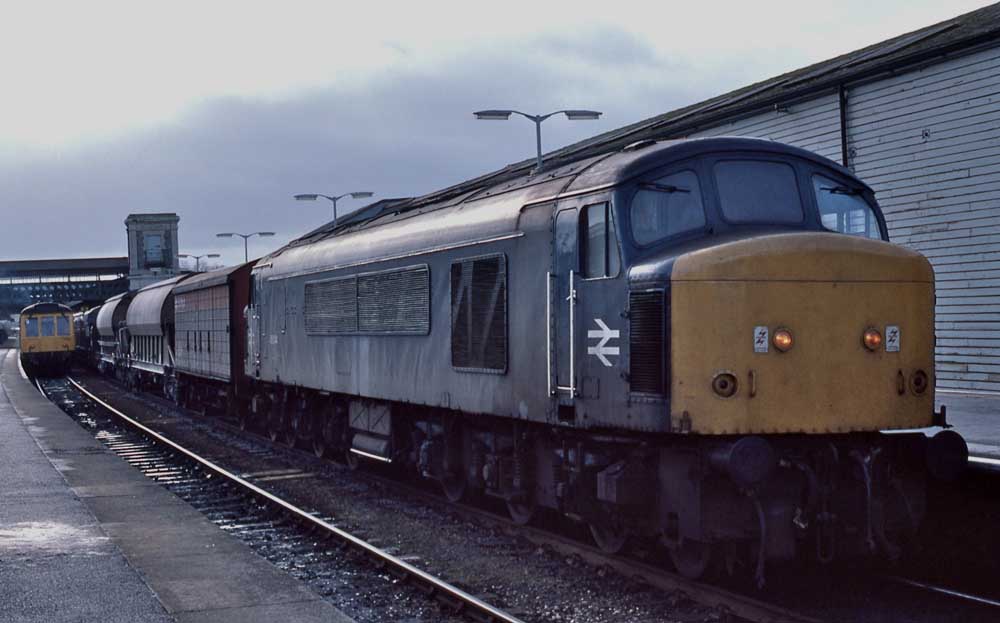 45044 waits for the road at Exeter St Davids on December 23rd 1983 with the 09:05 St Blazey - Severn Tunnel Junction.
The morning of September 25th 1984 provided plenty of freight work for Peaks around Exeter.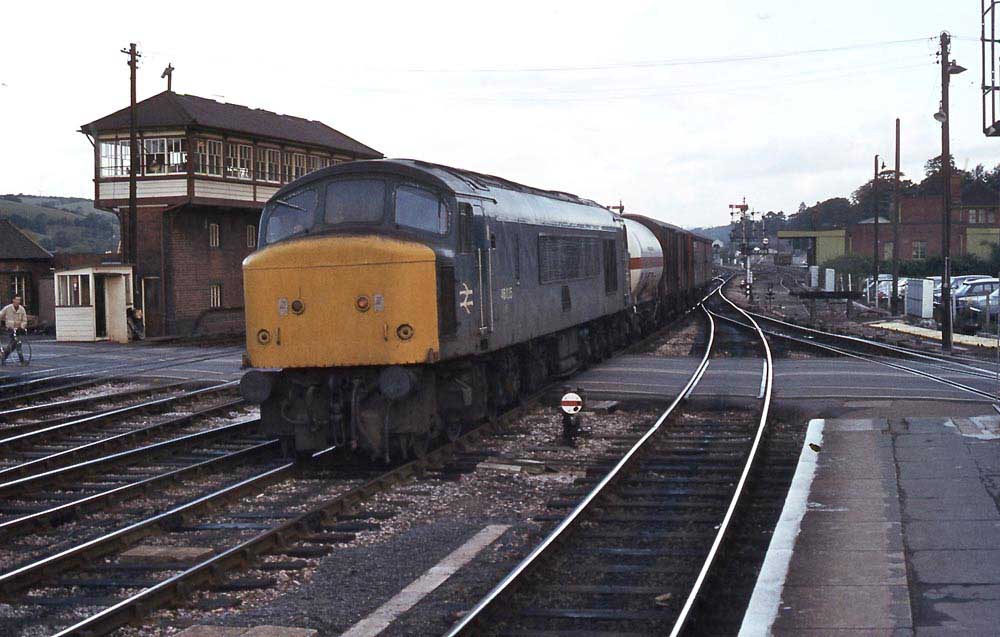 Photograph courtesy Peter Lovell.
The days of the Class 46s were almost over on September 25th 1984 when 46035 trundles over Red Cow Crossing at Exeter St Davids with the morning Severn Tunnel Junction – St Blazey Speedlink. 46035 who become the third last Class 46 in service, after withdrawal it would continue in service with the Research Dept. It would later be preserved and become the first preserved diesel to operate on the former BR network during October 1995.
After photographing the Speedlink service from Severn Tunnel Junction I moved up to Cowley Bridge. Here 45072 heads out of Exeter Riverside Yard with a short track-laying train. A few minutes later 45005 followed with a heavy ballast train from Meldon Quarry (illustrated elsewhere on this site).
Parcels traffic had also been re-organised and rationalized by the early 1980s. Northbound there was a mid-day Penzance – Glasgow that reached Exeter at just after 17:00. This was a heavy train that loaded to between 11-14 vehicles, and was normally a Class 50 or 47/4. At Bristol it would split, with part of the train going to Paddington. The other train was the afternoon 14:25 Plymouth – Leeds formed of about 5-6 vans. Until 1985 this was a regular Class 45 turn although 31/4s and 47s could also appear.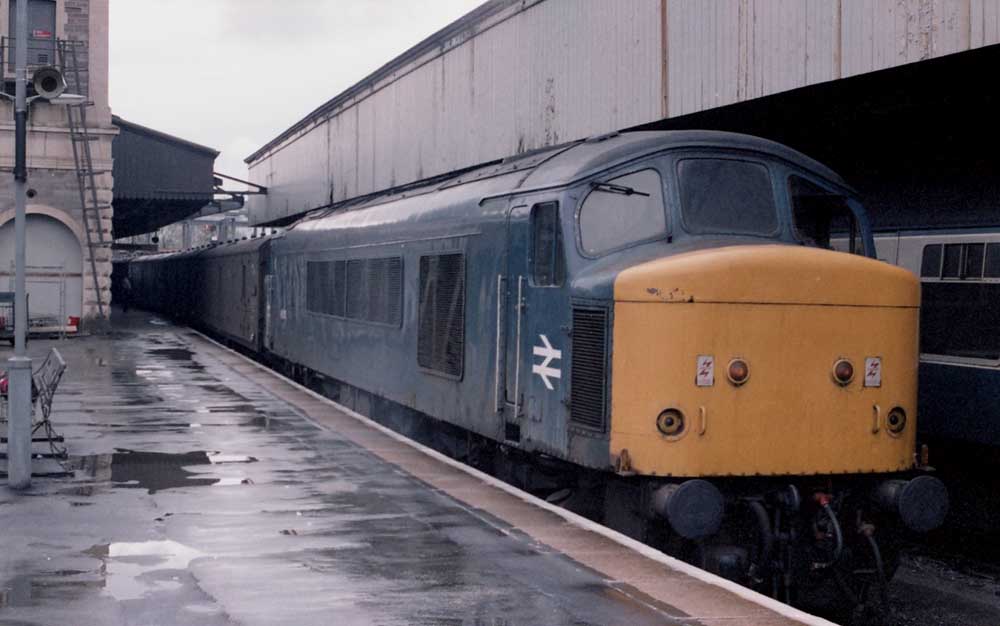 Photograph courtesy Peter Lovell.
45016 waits at Exeter St Davids with the 14:25 Plymouth – Leeds parcels train on April 23rd 1983.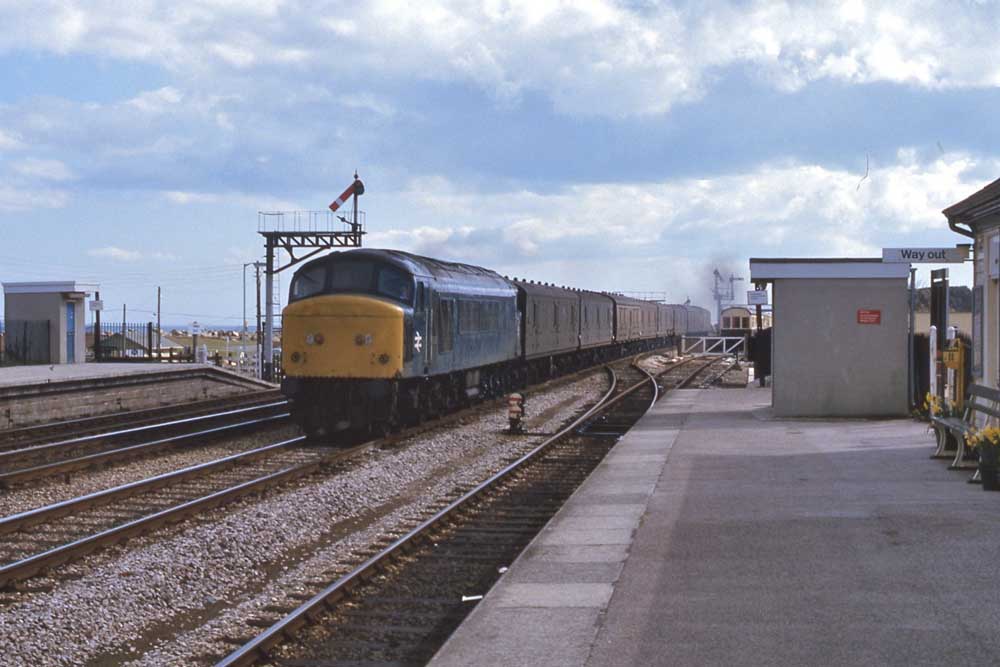 Photograph courtesy Peter Lovell.
45130 races through Dawlish Warren with the 14:15 Plymouth – Leeds on April 10th 1985.
Although by this time there were limited passenger workings on weekdays for the remaining Peaks, summer Saturday extras from the north continued to offer plenty of opportunities. Despite being in decline the Peaks were still long-legged, regularly working from Leeds and Newcastle to the South West. Fridays and Bank Holidays were similar when Mk1 stock would be used on relief trains.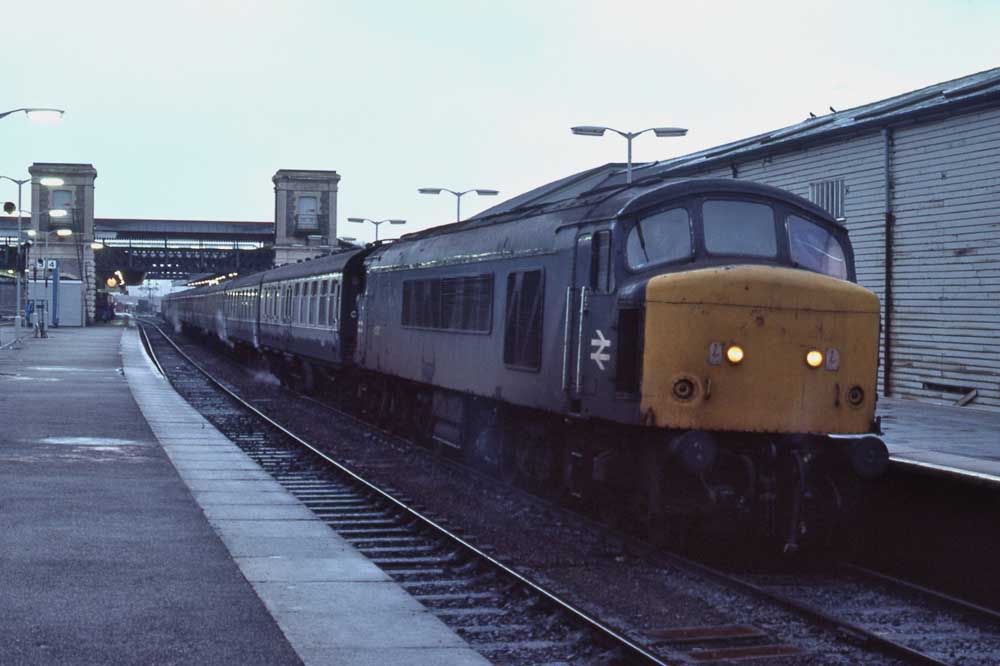 On Christmas Eve 1983 45001 steams gently at Exeter St Davids with the 09:13 Paignton – Leeds relief.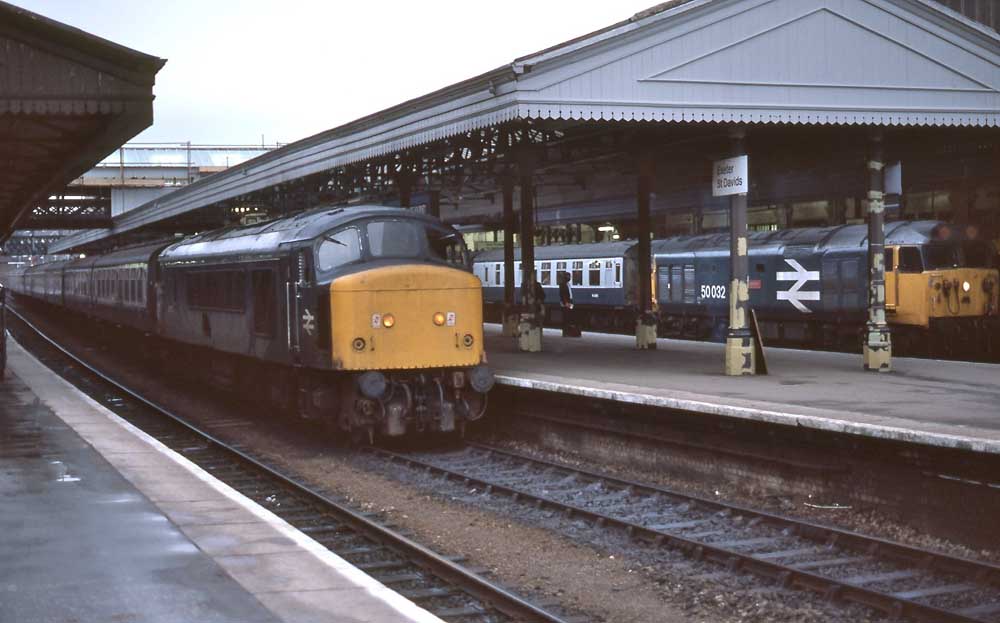 45103 has just backed onto the 11:20 Brighton – Penzance, at Exeter St Davids, while 50032 has arrived with the 12:35 Paddington – Plymouth on December 23rd 1983.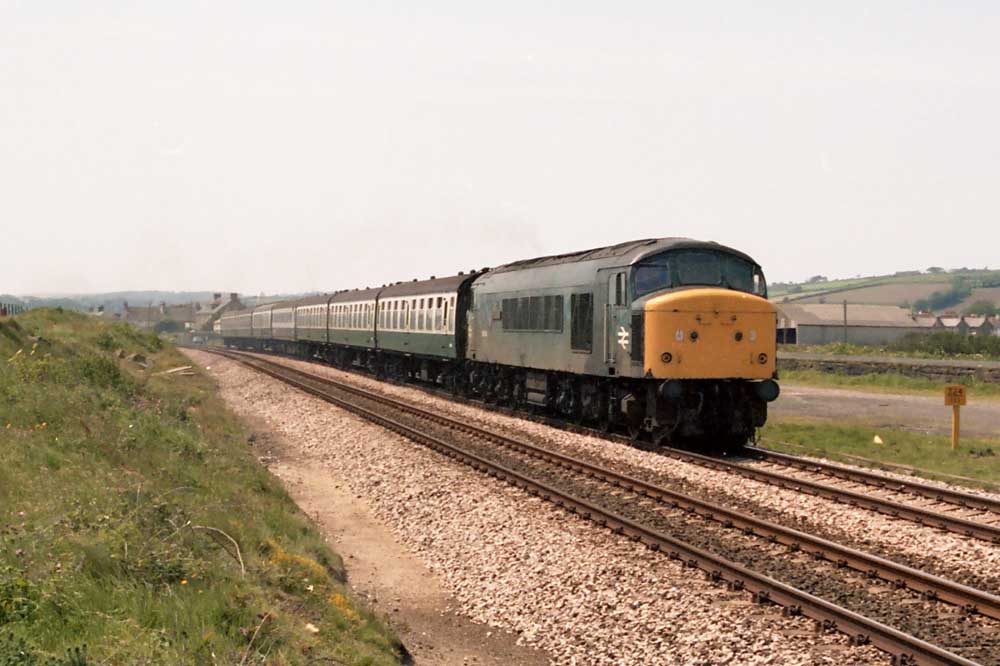 The Sundays 14:15 Penzance – Waterloo passes Marazion behind 45043 on June 19th 1983. The train was normally made up of Oxted commuter stock. Somehow an air-conditioned coach has managed to get into the middle of the set.
One of the more interesting weekend workings from May 1983 was the Saturday Brighton – Penzance. This would arrive at Exeter St Davids behind a pair of Class 33s, and would then often be taken over by a Class 45. The stock would return as a Sunday Penzance – Waterloo service leaving Penzance at about 14:00.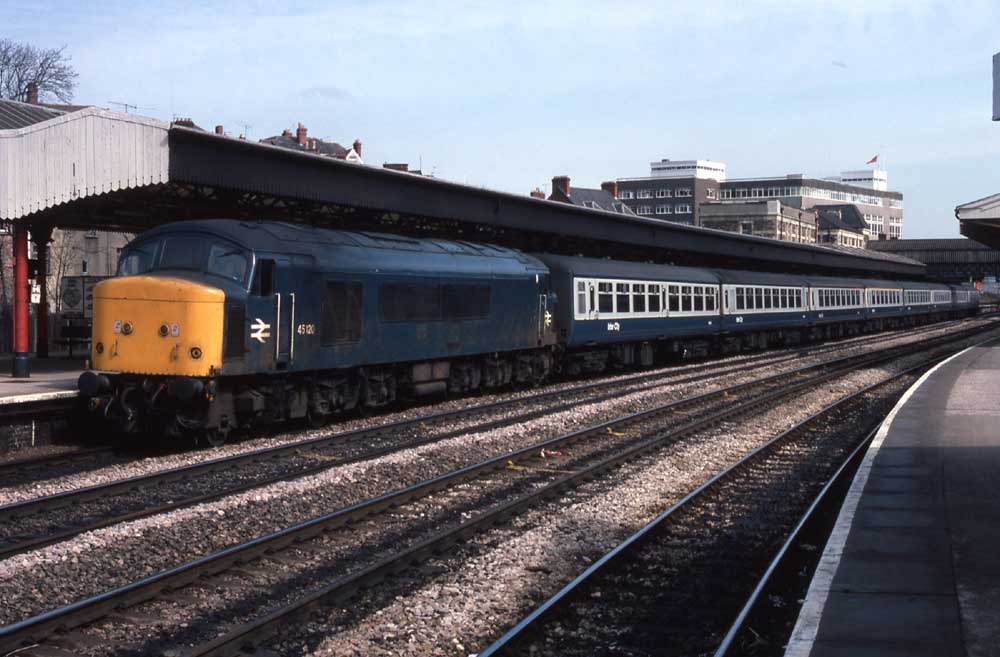 45120 arrives at Newport on April 3rd 1984 with the 08:25 Manchester - Cardiff.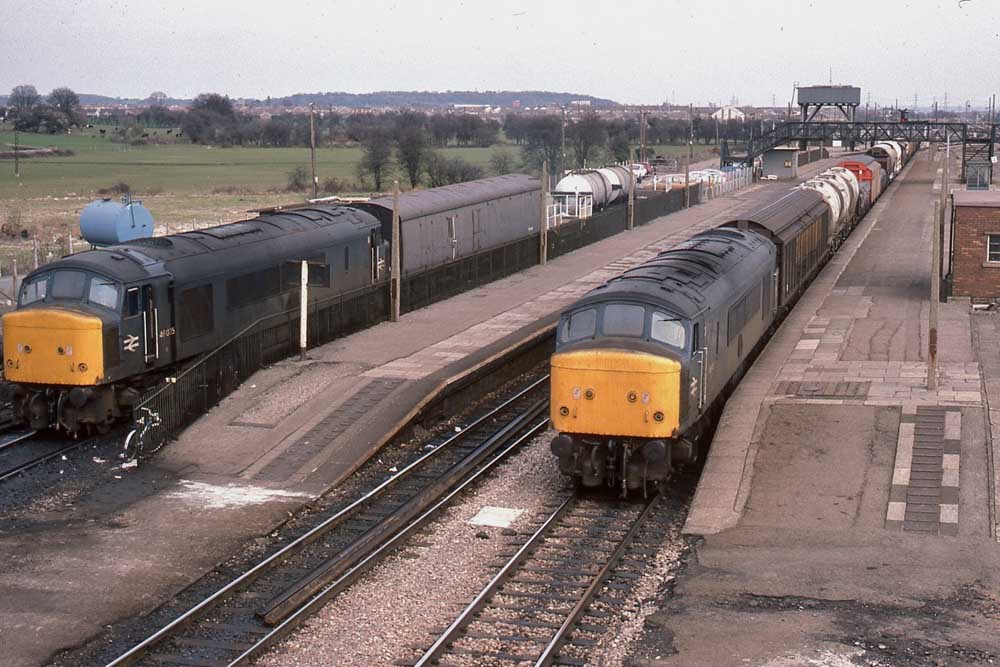 46046 passes through Severn Tunnel Junction Station with the 09:05 St Blazey – Severn Tunnel Junction on April 3rd 1984. In the adjoining siding 46035 looks distinctly unwell with oil/coolant on the roof. 46046 has about a month left in service whilst 46035 will last to the end - November 1984.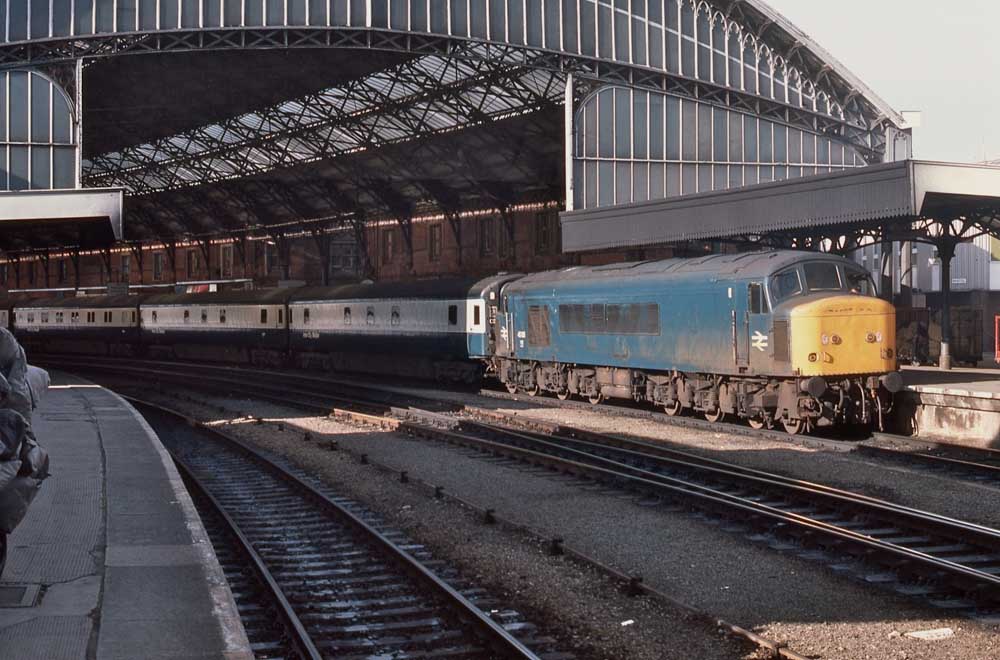 Photograph courtesy Peter Lovell.
45125 waits to take the ECS of the 23:55 Glasgow – Bristol sleeper to Malago Vale sidings on April 3rd 1984. Leaving the station from this direction presumably is to allow for the turning of the stock for its evening working.
Photograph courtesy Peter Lovell.
A smartly turned out, ex-works 45013 stops at Severn Tunnel Junction Station on April 3rd 1984 with a mixed air-braked freight.
During 1983-84 workings to and from Bristol and South Wales were providing regular work for Class 45/46s. Speedlink services to Severn Tunnel Junction provided regular opportunities along with the remaining locomotive hauled trains to the North. Around Bristol the morning locomotive hauled train to Paddington was a regular turn for a Class 45/1 which then worked to Birmingham. A regular turn for the last remaining boilered Class 46s was the 19:30 Bristol – Newcastle TPO.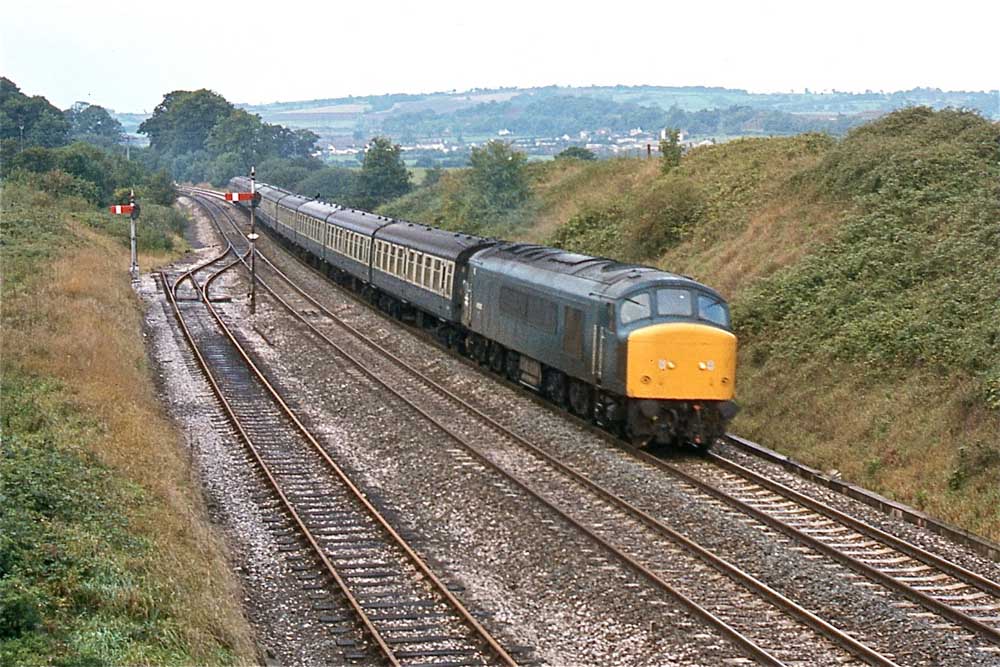 Photograph courtesy Peter Lovell.
After climbing for 20 miles from Exeter 45062 has Whiteball Summit in sight as it passes the down loop with the 09:10 Paignton – Newcastle on September 22nd 1984.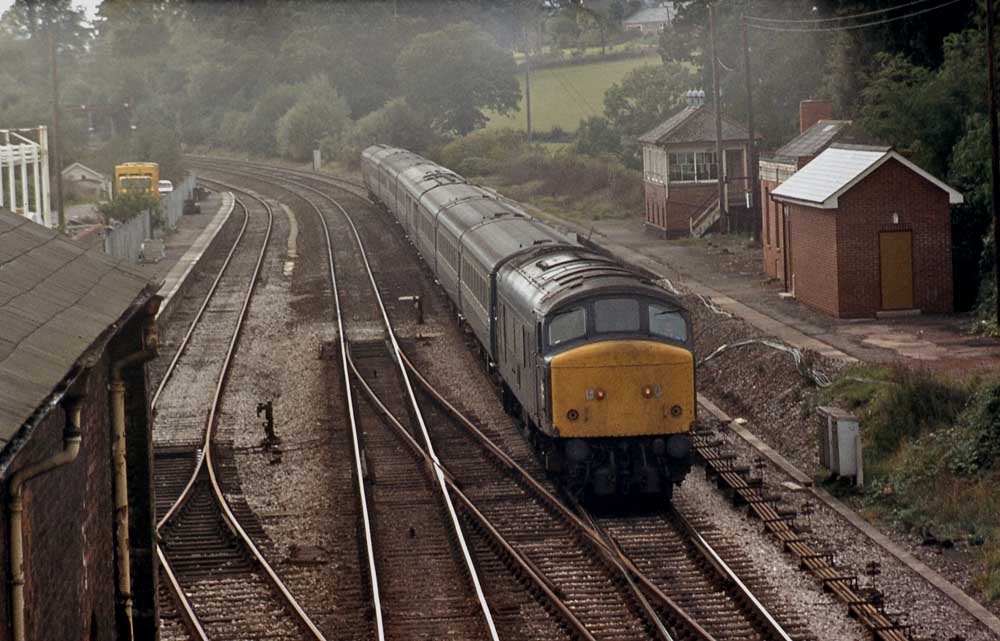 With the hard work over for a while, 45106 races downhill through Wellington with the 08:53 Penzance – Newcastle on September 22nd 1984.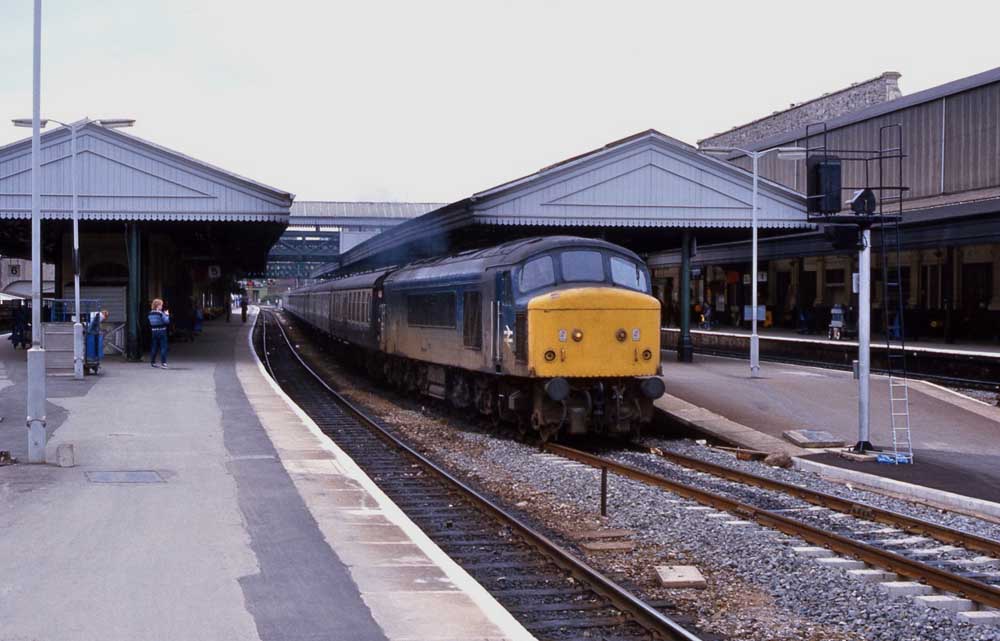 Following the re-modelling and re-signalling of Exeter St Davids the down trains used the platform formerly used for arrivals from Salisbury and Waterloo. 45077 waits to leave with the summer Saturday Newcastle – Newquay on June 20th 1985.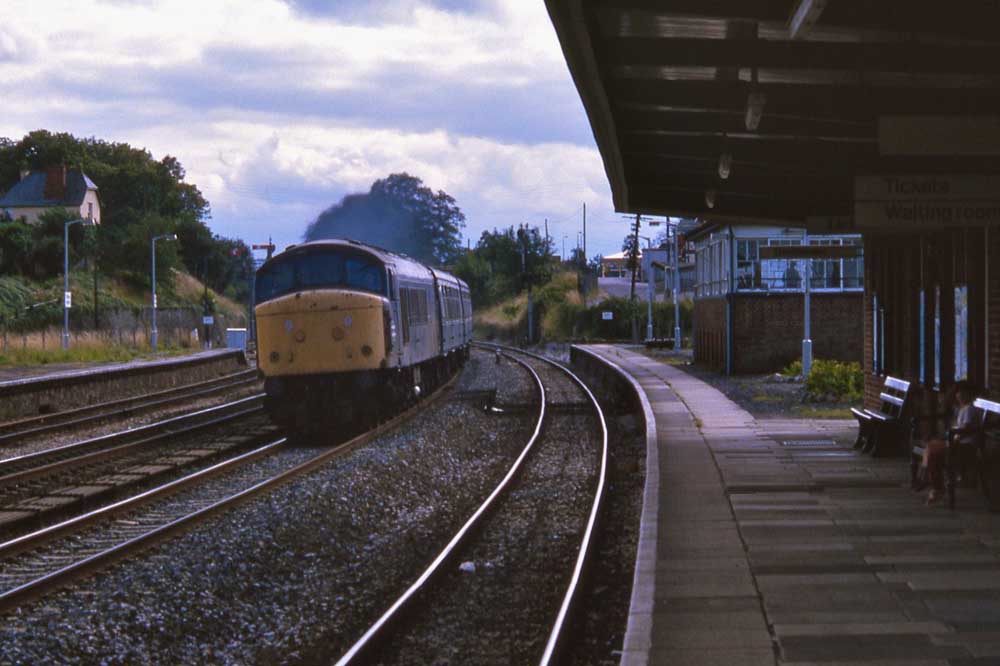 On August 26th 1985 45020 heads through Tiverton Junction with the 15:08 Plymouth – Newcastle.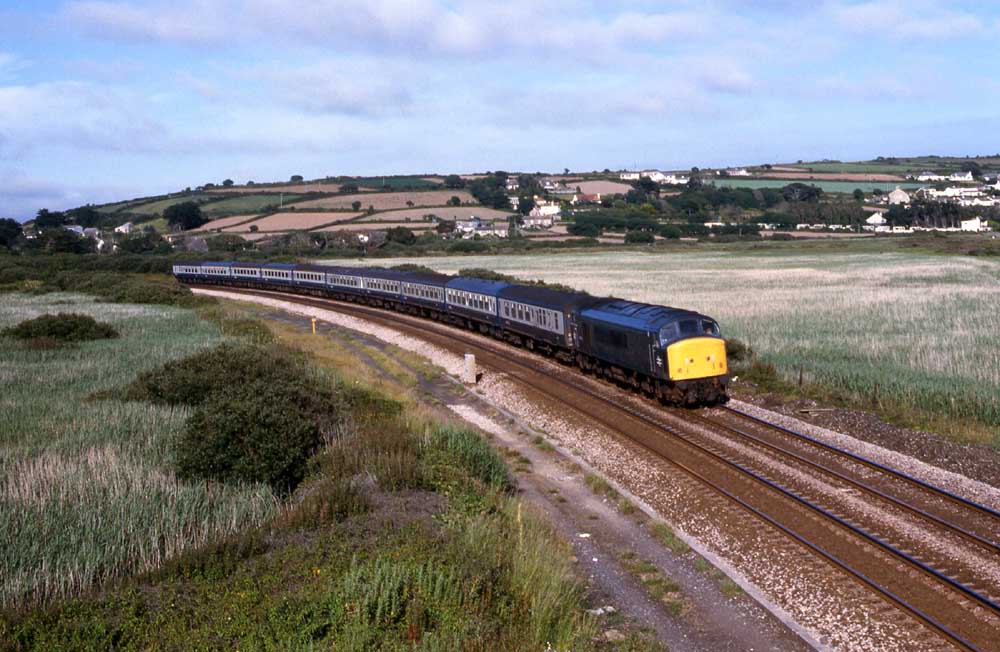 Journey's End. 45120 cruises around the curve on the approach to Marazion, with the 09:17 from Leeds on July 1st 1985.
The summer of 1985 saw Class 45s still reaching Penzance on a daily basis. The weekdays 09:17 Leeds – Penzance was a reliable Class 45/1 turn with the locomotive and stock returning north on the following day's 09:18 Penzance – Leeds. Occasionally they would work the 10:24 Penzance – Liverpool while on Saturdays summer extras such as the 10:05 Newquay – Manchester were regular Class 45/1 turns in addition to Plymouth and Paignton workings.
From 1986 there was a marked decline. With sectorisation the Class 37s and 50s were appearing on freight and departmental trains. The number of Mk1 sets used for relief trains was reduced. Some of the remaining sets were split into five or six coach sets, with Class 31/4s being used. During July 1985 whilst on a two week holiday at Marazion, near Penzance no Class 45/0s or 45/1s were observed. This was the first year since the 1970s that I had not photographed a Peak in Cornwall. Noticeable was the increase in newly converted Class 47/4s, in the 47600 series, while the Brighton – Penzance was producing Class 47/0s. Class 45/1s were still reaching Devon on workings to Paignton, but many of the summer Saturday extras now including air-conditioned stock which excluded operation by the Class 45/0s.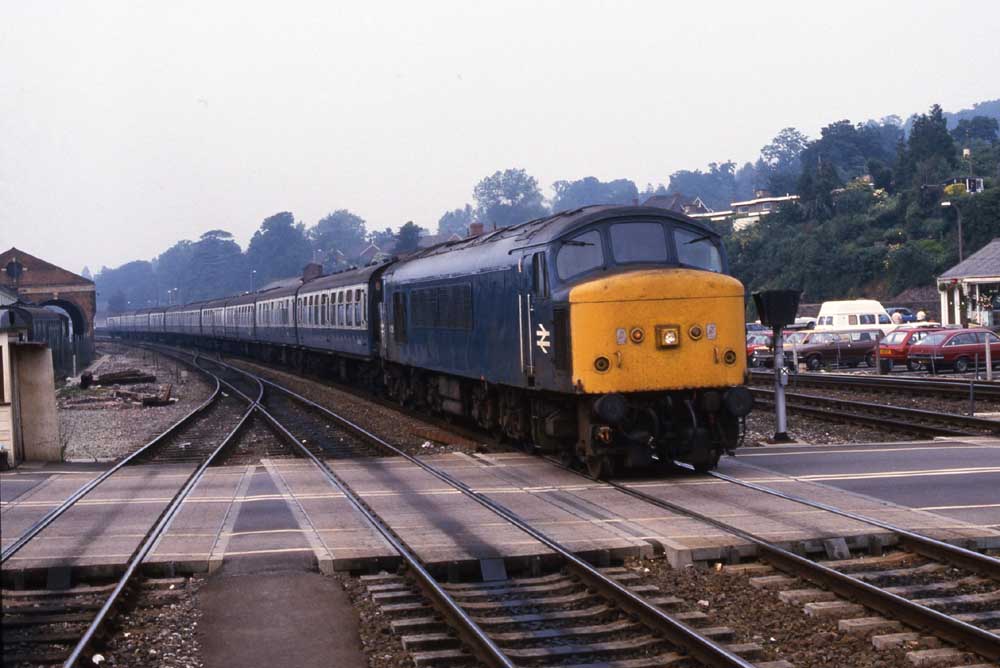 On June 28th 1986 45126 rolls into Exeter St Davids with the 11:07 Congleton – Paignton relief. By this date a full set of Mk1 stock was becoming increasingly rare.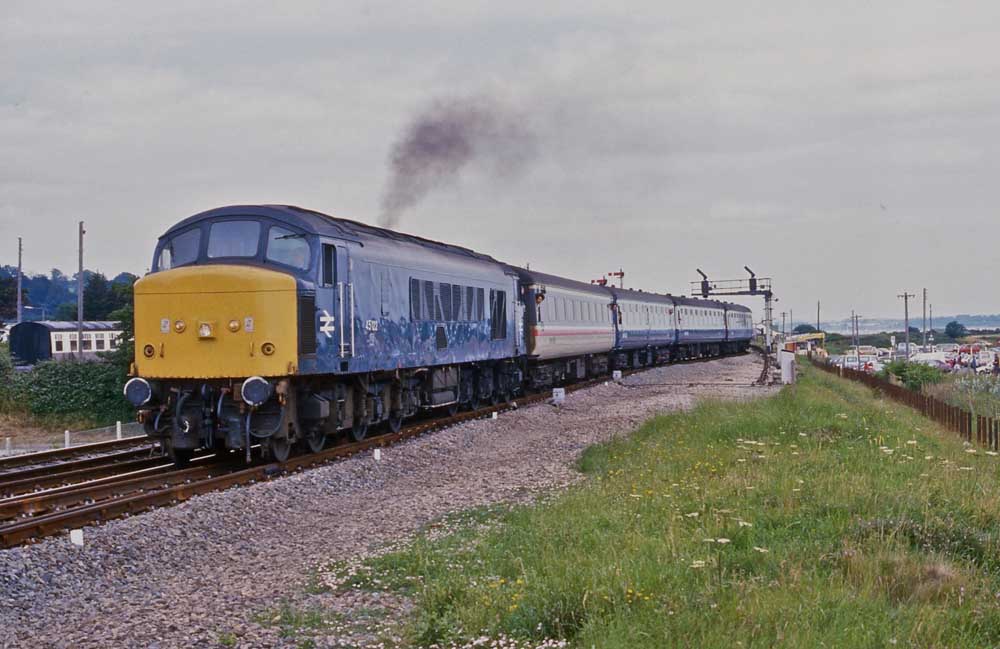 45122 pulls out of the loop at Dawlish Warren after its scheduled stop with the Saturdays Nottingham – Paignton on July 19th 1986.
By 1986 the withdrawal of the Peaks was causing a shortage of motive-power for summer Saturday trains. The solution was to utilize pairs of Class 31/4s on workings from Birmingham to Paignton and return. Most Saturdays two pairs would appear, although I have recorded up to four pairs. A typical turn was the 08:20 Liverpool – Paignton returning on the 16:25 Paignton – Liverpool, although workings from Stockport and Rose Grove also featured.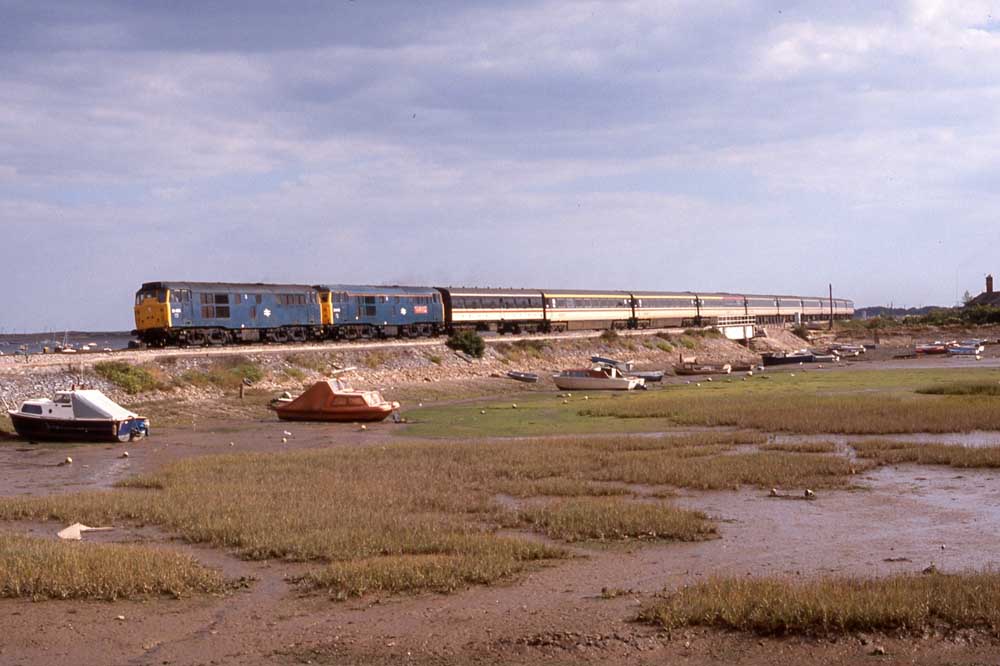 On September 2nd 1989 31466/31444 pass Cockwood Harbour with the 15:37 Paignton – Liverpool, the return of the 09:18 Manchester - Paignton. This was one of three pairs of 31/4s to reach Paignton that day.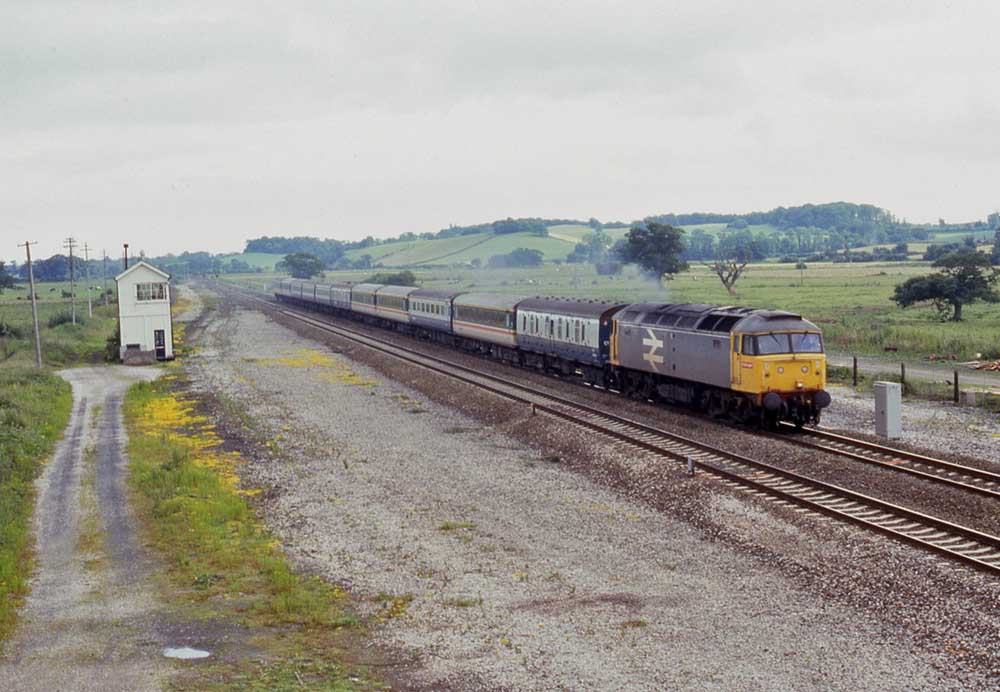 On June 27th 1987 the Class 31/4s have called it a day and a replacement in the shape of 47236 in Railfreight livery proudly heads its air-conditioned set through Exminster with the 15:50 Paignton – Liverpool. Hopefully the non-ETH equipped locomotive did not cause too much discomfort in the fully airconditioned coaches. As part of the Exeter re-signalling project the loops have been lifted and the former signal-box is now the property of the RSPB.
By this time most of the Class 31/4s were over 25 years old. Allocated to the Infrastructure Sector they spent most of the week pottering around the Midlands on engineers trains. On Saturdays they would head west with prolonged spells of running at their maximum design speed, often with rakes of MkIII stock normally used on Euston trains. Inevitably this was beyond some members of the class, with failures and substitutions taking place. With no alternative locomotives available they continued to appear until 1989. From 1990 Sectorisation and the greater availability of HST sets proved to be the death knell for the paired ETH equipped Class 31/4's.
From 1986 the Class 45/1s were appearing with a central headlight between the two marker lights, while from 1987 they had been allocated to Tinsley and were carrying orange stripes along the body-sides and cab windows. Many of them also carried unofficial names painted on the body side.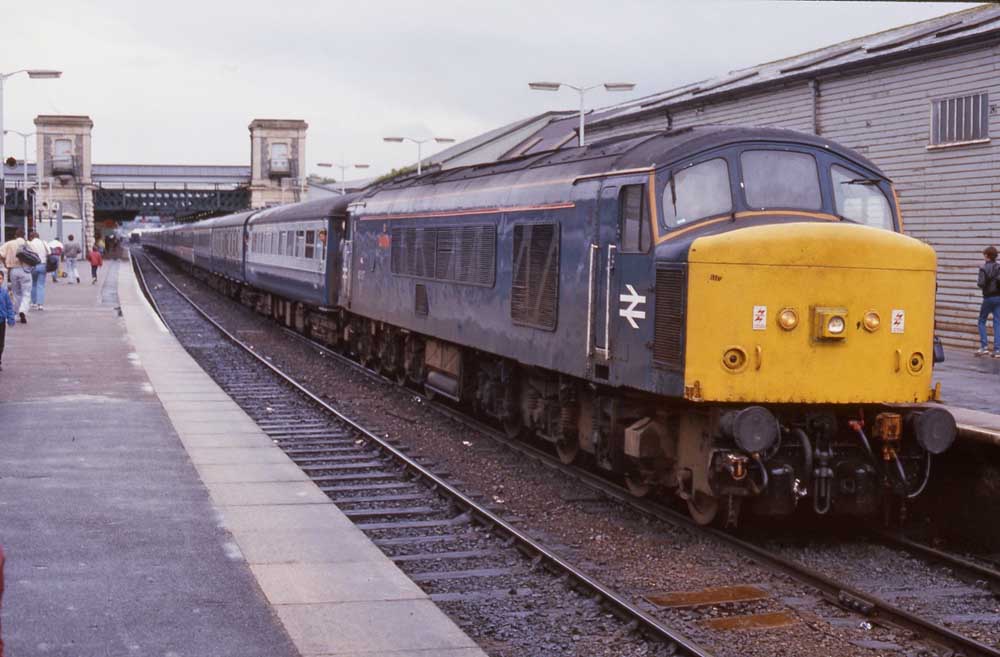 Displaying its orange stripes 45107 waits to leave Exeter St Davids with the 15:50 Paignton – Liverpool on May 30th 1987. Ironically this was by now a regular Class 31/4 turn, where they were on this day is not recorded, at least the passengers on this service would be hauled by a locomotive up to the task and worthy of handling the service.
By 1987 Class 45 workings were largely restricted to summer saturday workings to Paignton. During the mid 1980s the Class 33s had become very active working Portsmouth – Cardiff services then onward to Plymouth, Crewe and even Holyhead. By 1987 they had fallen back to mainly working the Portsmouth – Bristol leg of the Cardiff workings. The Bristol – Cardiff section and the hauled stopping trains between Bristol and Taunton could produce anything including Class 45/1s.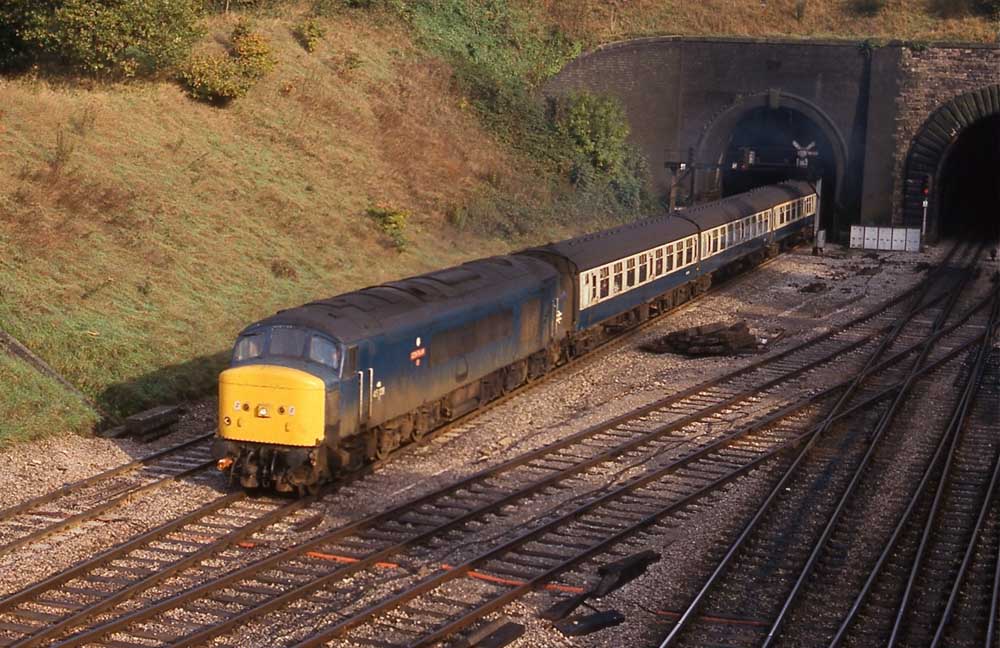 45128 appears out of Hillfield Tunnel, Newport with the 05:50 Portsmouth – Cardiff on October 29th 1987.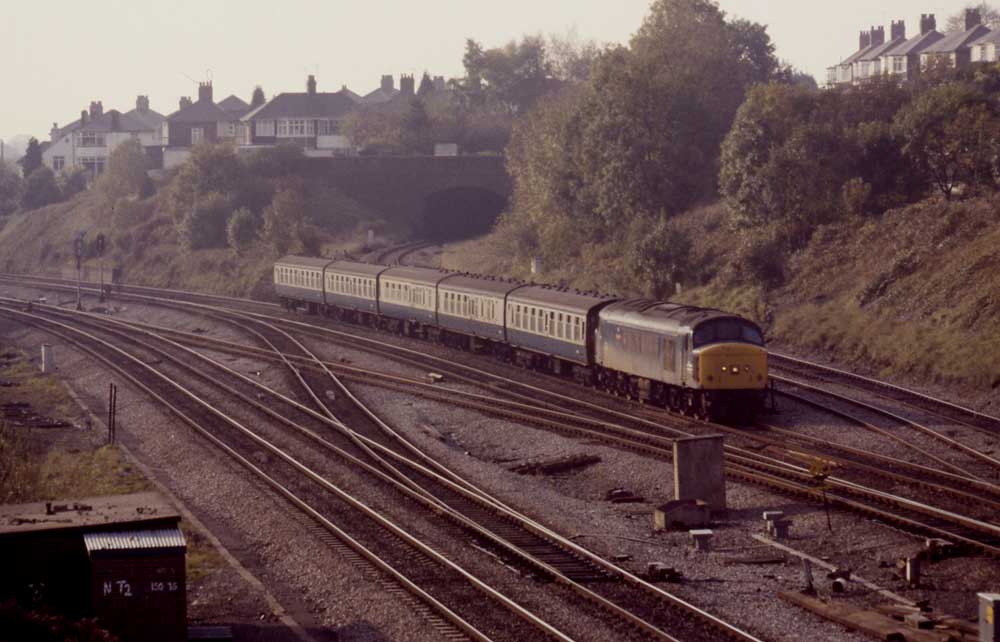 Looking the other way at the same location a couple of hours later, 45128 returns and passes Gaer Junction with the 10:10 Cardiff- Portsmouth on October 29th 1987.
With the introduction of the 1988 summer timetable the remaining examples continued to appear on summer Saturday trains until August 1988 when the last examples were withdrawn, bringing to an end 20 years of working in the South West.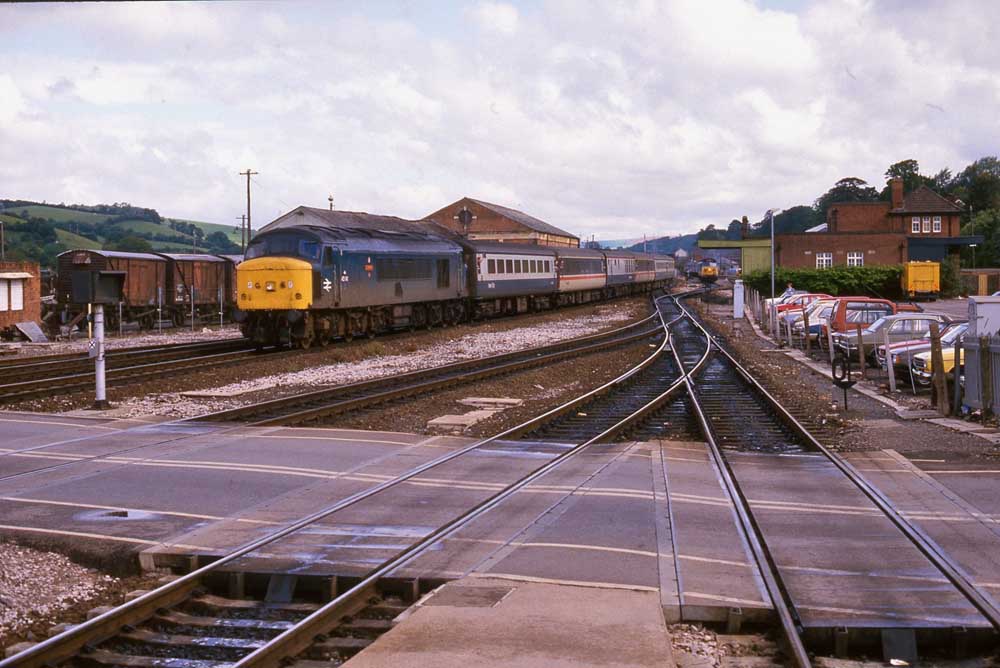 My last photograph of a Class 45. On the June 4th 1988 45141 arrives at Exeter St Davids with the 05:55 Derby - Paignton. 45141 still had two months of service left, continuing to be a well travelled machine until withdrawn on August 4th 1988, finally being stopped with bogie fractures.