Leeds Holbeck
A Day in the Life of Holbeck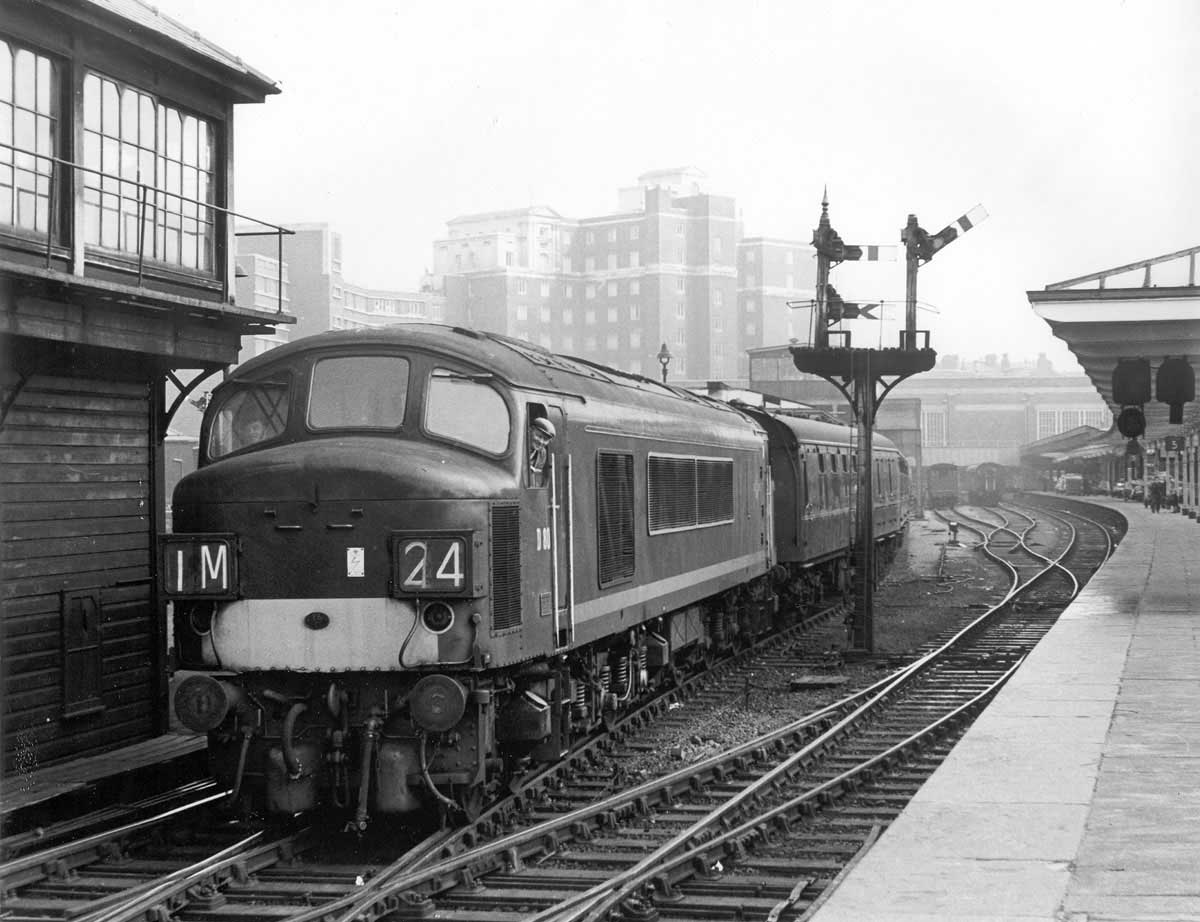 Although this page is mostly about Holbeck in the 1980's, the above view from an earlier time shows D80 at Leeds, date unknown to head up the page. The Peaks would be a familiar sight in the Leeds area through three decades and the Class 47s for awhile longer.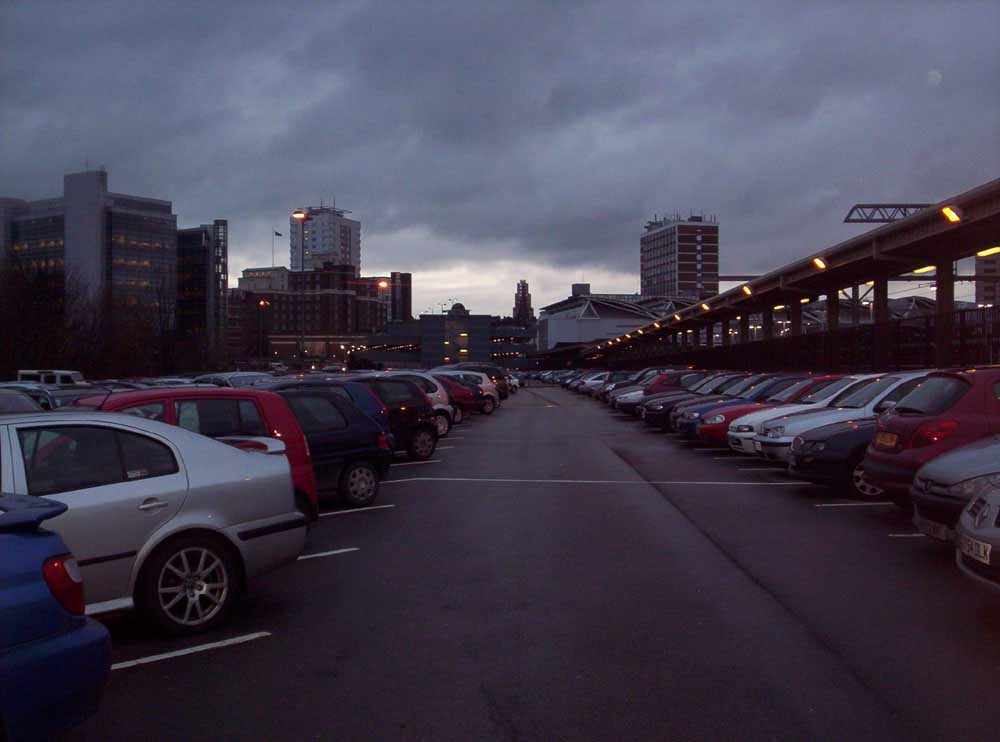 Photograph courtesy Michael Kaye.
In contrast to the early 1960s view above, this January 2007 view is taken almost from the same spot, how times have changed in forty years. The building above the Peak is clearly visible center left in the 2007 view.

This page is intended to provide a look at the happenings of Leeds Holbeck, the depot, its locomotives and the workings they covered as remembered by a driver who started his railway career at Holbeck in the mid 1970's. It contains a lot of information, but it is not meant to be a complete record of such workings (though over time, for the period covered it might well become this!). I'm no doubt sure that there are errors in these details, hopefully these will not detract from the overall picture that is trying to be conveyed here. And I'm sure the errors or typos are all mine. Since this is definately a work-in-progress I expect this page to be updated on a very regular basis as Michael, our storyteller has barely touched on the information he has available.

Holbeck - the depot in the 1980s
Holbeck at this time had seventeen roads, which although numbered 1 - 17 were divided into 'sides'. Roads 1 - 5 were classed as 'two side' and 6 - 17 as 'one side'. Roads 1 - 5 were next to the runnings lines, then the by-pass road next to the washer, the washer road, two fuel roads then 6 - 12 including 10 middle, 13 road 'scratching shed' (see below), 14 & 15 were maintenance roads, 16 was a short dead-end & 17 a maintenance road. Movement of the locomotives about the shed area was generally handled by the 'Shed' turns - drivers on these diagrams were not allowed out of the shed area, these light duties were for those with known medical conditions (high blood pressure, hearing loss, etc) or for those waiting completion of medical exams. On a normal day there were be four crews (eight men) working on these duties, which mostly entailed moving the locomotives from the fuelling point to one of the seventeen roads in accordance of where the locomotive would be needed next. These duties would be where 'secondmen' probably received there first experience at handling a locomotive.
Whilst on the Holbeck shed duties we would handle any locomotive that came onto shed. On occasion we would venture just a little outside of the confines of the depot, normally when the foreman was short of drivers. I remember taking a Class 25 up to Leeds City station (I wasn't passed to drive these at the time), on another occasion it was to use a Class 25 on the shunt at Stourton freightliner - if anything happened a fitter from Holbeck would be out there within a couple of minutes to assist.
The 'Relief' turns were intended to cover crews who were off sick and assist with the 'Shed' turns when necessary.
Holbeck's 'Shed' & 'Relief' turns were timed as follows:
'Shed': 06.00, 12.00, 14.00, 15.00, 20.00, 22.00.
'Relief': 00.05, 01.00, 02.30, 04.00, 05.15, 10.00, 13.30, 15.00, 16.55, 20.00, 21.45, 23.00, 23.55.
A locomotive arriving at Holbeck would generally follow a set course through the depot. Arriving locomotives would usually have their next turn already established by 'Control' who would have called this information in to the depot foreman. It would go through the washing plant, then drop down to the fuel/water & maintenance shed. If for some reason it required a pretty big job it would be moved to the maintenance shop on 14 - 17 Roads. Once all this had been done the running foreman would ensure the locomotive was positioned in a suitable road for its next working. He would also work with the staff to ensure that the jobs had crews allocated to them. Also on staff was the time keeper, a 'docket clerk' - responsible for organising the following week's work, administration staff upto and including the shed master.
Should an incoming locomotive be failed for whatever reason its next duty would be covered by a spare locomotive that was nearly always available - from time to time this would lead to 'unsuitable' locomotives covering a diagram for which they were perhaps underpowered or were unable to heat the train.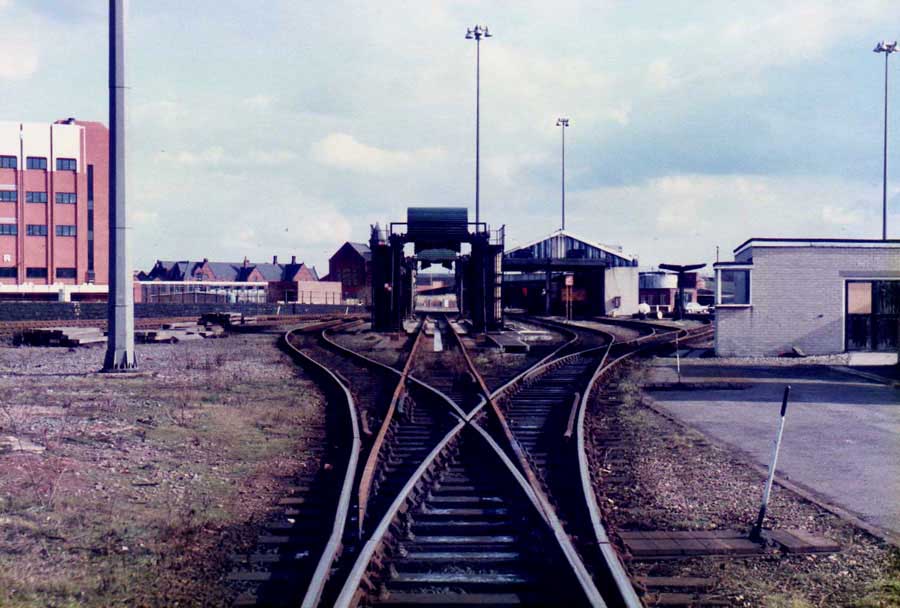 Photograph courtesy Michael Kaye
March 13th 1985 - looking eastwards towards the washing plant, whichs appears not to have seen much recent use.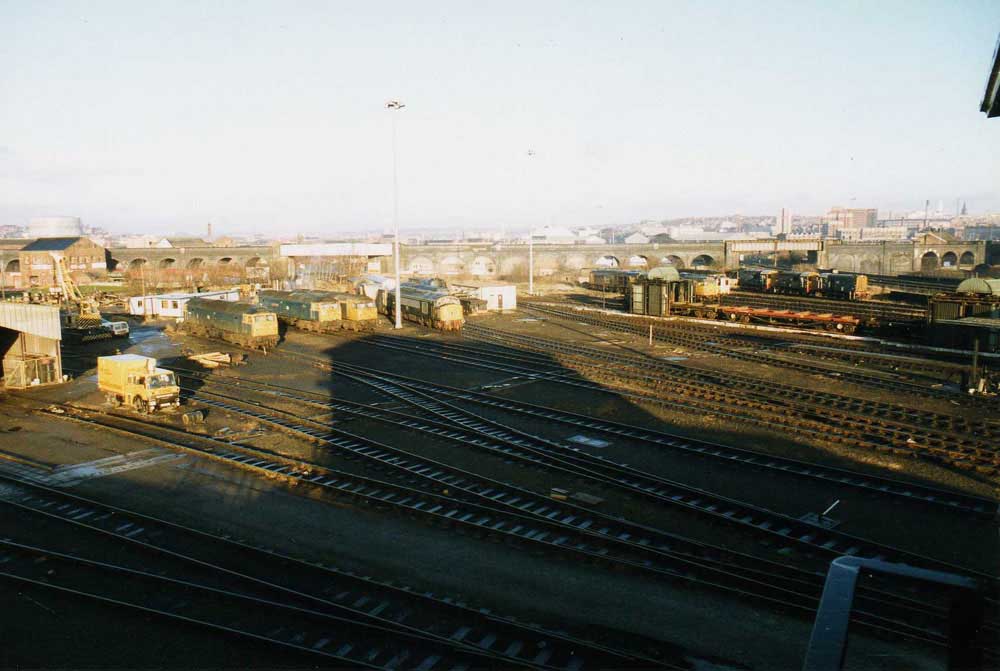 Photograph courtesy Michael Kaye
Its January 21st 1989 as yet another day dawns over Holbeck, with this view taken from the lodging block outdoor fire escape. About a dozen locomotives are scattered across the yard including 45106.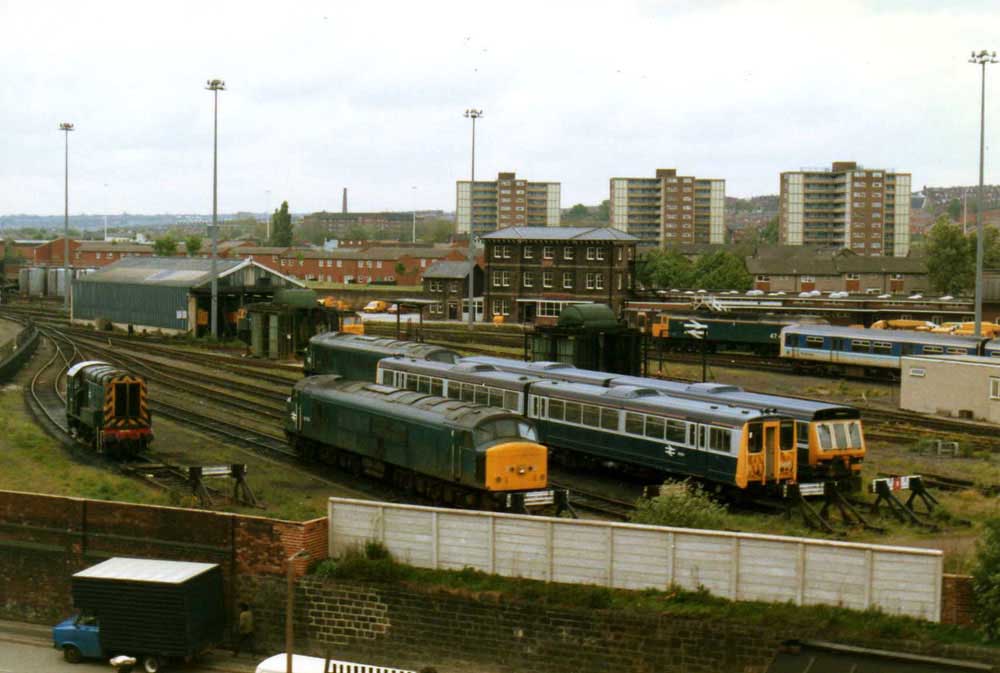 Photograph courtesy Michael Kaye
From the opposite direct, taken from the viaduct is this view of Holbeck Yard with the three storey lodging building clearly visible.
During one Christmas season, with the possibility of a cold frosty spell the Holbeck foreman had all the locomotives started up on Christmas Eve to prevent possible frost damage until they went back into service on Boxing Day. For anyone driving up the motorway from Wakefield, the location of Holbeck was easily located because of the large plume of bluish smoke over the depot.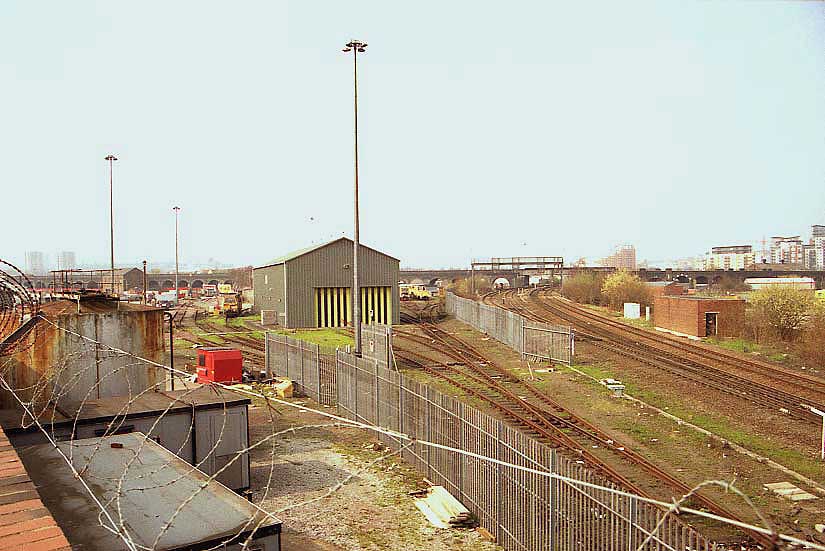 Photograph courtesy Michael Kaye.
The entrance to the depot, 2005.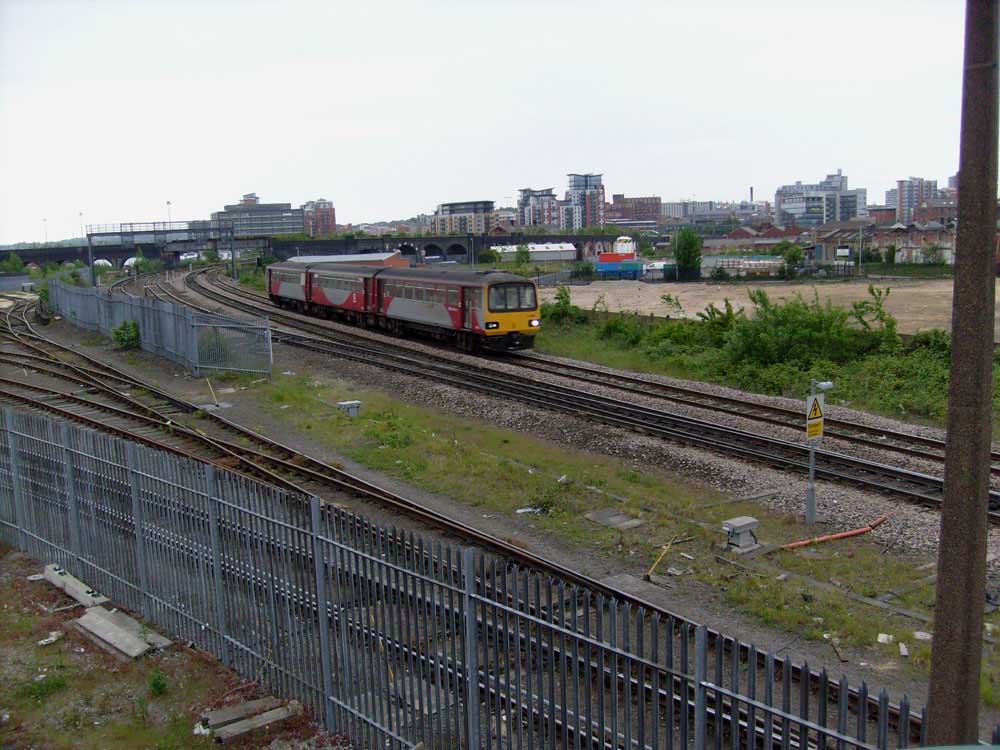 Photograph courtesy Michael Kaye.
In contrast to the view above, here is a view from the evening of May 13th 2009 showing the same location with three car Class 144 021 working the 19.00 (2F29) Leeds - Castleford. Probably not the best use of resources especially with the small number of passengers on this service. Much development has taken place beyond the viaduct.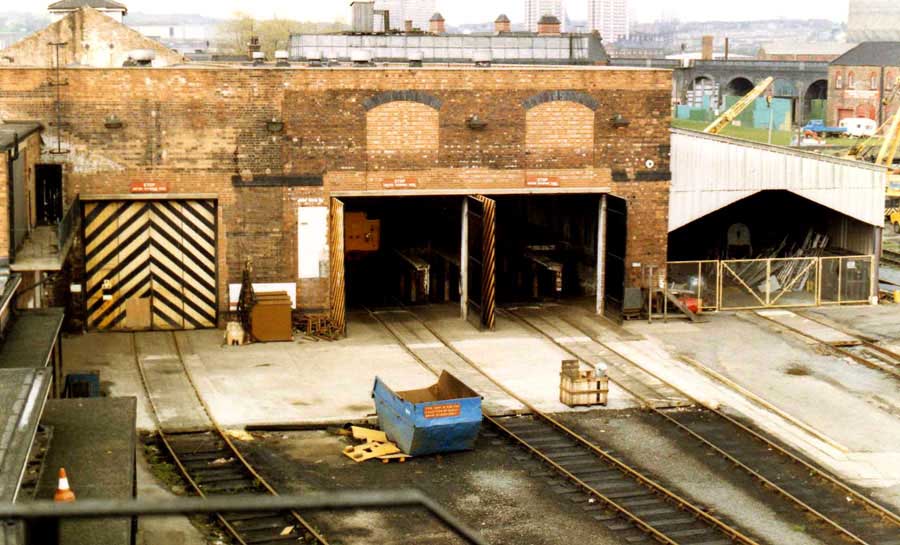 Photograph courtesy Michael Kaye.
March 13th 1985 - part of the older building and a newer shed like structure over number 13 Road. The brick building accomodated 14-17 Roads which were used for A-Exams, cleaning & repaints and major repairs on the power units.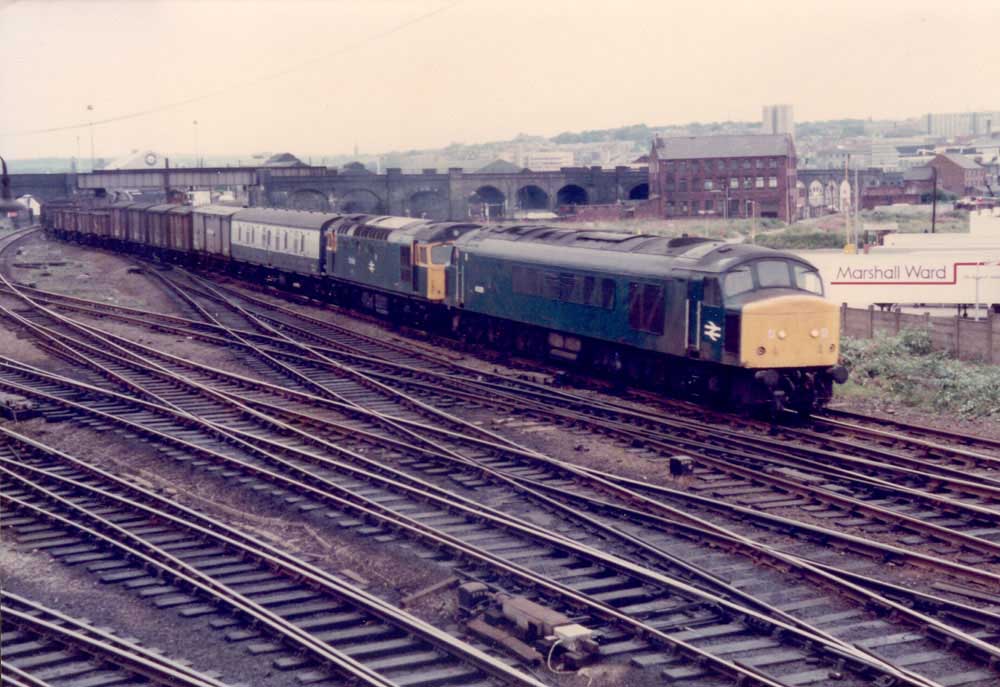 Photograph courtesy Peter Ryan.
In contrast to the above view here is a Carlisle - Healey Mills freight headed by 45051 passing Holbeck on July 28th 1982. In the consist is 27042 en-route to Derby Works for overhaul. The trackwork in this view is far more complex than in the 2005 view above. 3/5
The above view features a mixture of the old and new at Holbeck. The newer structure on the right, provided modest covered accomodation for 13 Road, nicknamed the scratching shed. This shed provided an area for the de-greasing of locomotive bogies. It contained a large industrial steam cleaning machine which was operated by two men suited up in rubber overalls. On one particular morning after a locomotive had been cleaned one of the driver's thought this would be a great way to give his car a good cleaning, particularly the wheels and the less accessible parts. Having got the machine up to operating pressure he gave the unfortunate car a couple of sweeps with the lance! The muck and grime was easily removed, closely followed by much of the car's paint!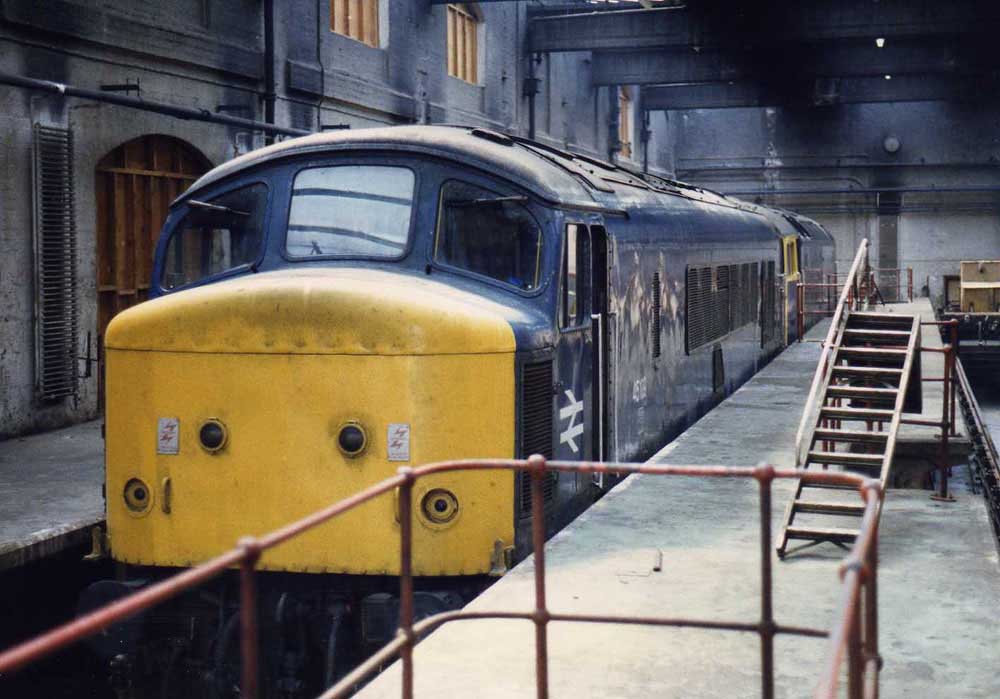 Photograph courtesy Michael Kaye.
17 Road inside the maintenance shed - two locomotives, Class 45 No. 45109 and Class 47 No. 47598 wait attention, March 7th 1985.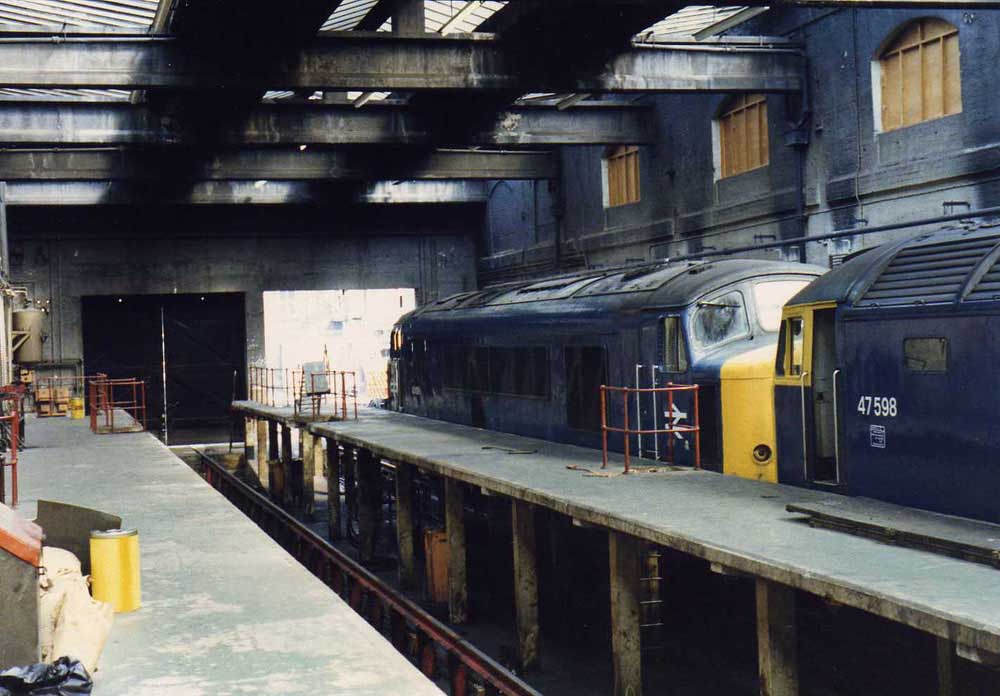 Photograph courtesy Michael Kaye.
17 Road from the other direction, March 17th 1985.
When leaving Holbeck depot one generally propelled the locomotive from the rear cab, with the secondman waving you through the yard. Changing ends at the outlet signal was just too much trouble so this unofficial way was very common. Shortly after I became a passed driver I was doing this move with the secondman walking & waving me through the yard. Suddenly a voice shouted 'Woooow', the brakes were applied and across the yard comes our union rep Tommy Wood, who'd worked on the railways since the fifties. 'By Christ, Kaye, what do you think you are doing?' before I could answer more came 'I thought you were better than that, propelling off the shed and showing this young lad the wrong idea. You young-uns should be showing an example'.
Asking the rep whether he was serious or just grandstanding in front of the young secondman was completely the wrong response, leading to another bucketful of experience coming at me. When he had finished I asked 'Do you want it in future doing correctly?' 'By Christ, Kaye you've got there at last!' Tommy responded. But youth of course always seems to have the last word, as I responded 'Where is your yellow vest, then?' He'd forgotten to put it on after seeing my incorrect yard movement, it was a matter of too much haste in his reprimand to me. But of course Tommy was right, the rules are there for a reason.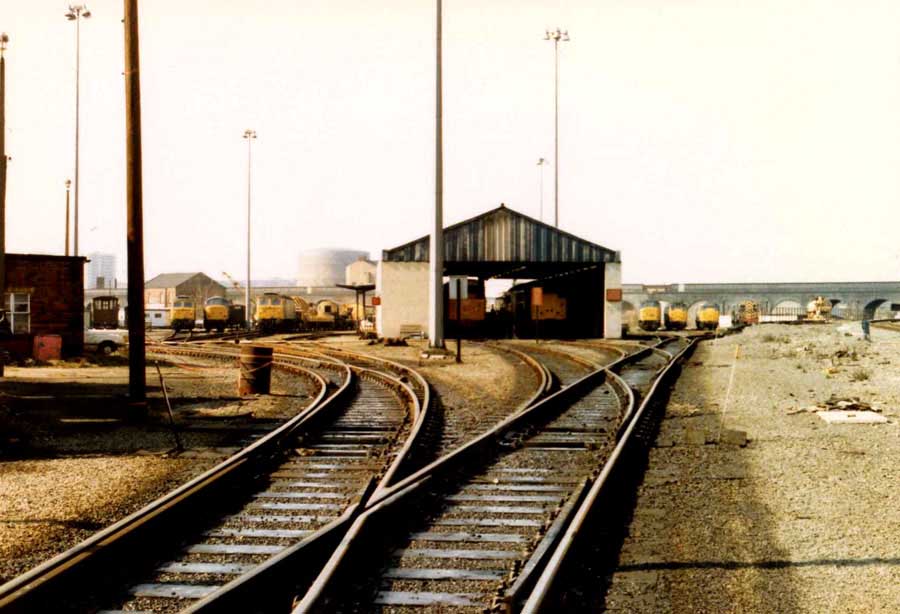 Photograph courtesy Michael Kaye.
April 13th 1986 - looking in a westerly direction towards the fuelling shed, with a reasonable selection of locomotives being visible.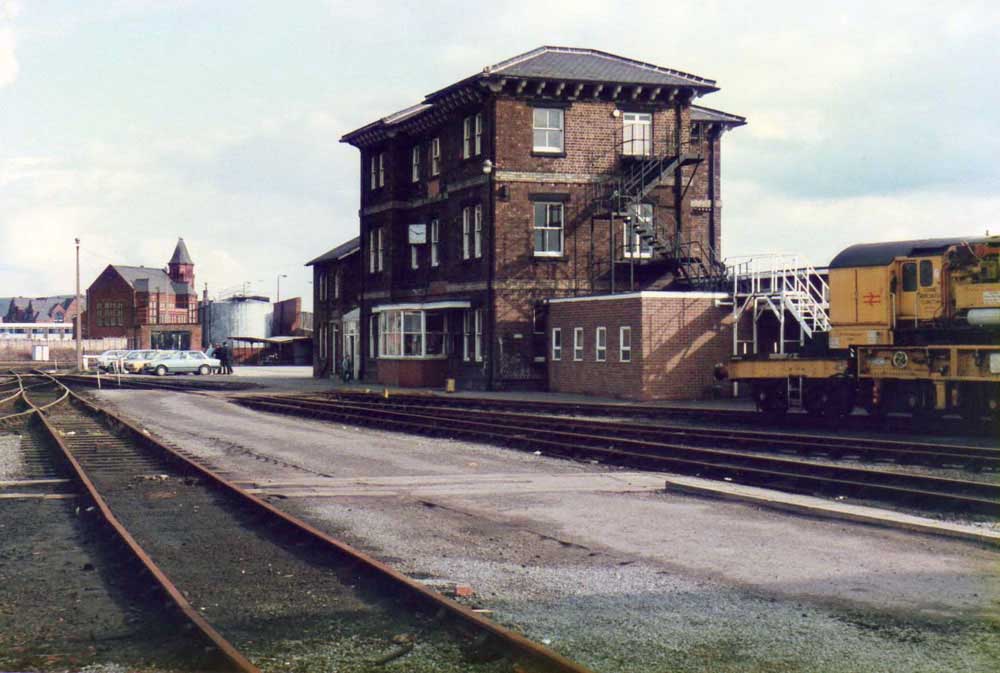 Photograph courtesy Michael Kaye.
The lodging facilities at Holbeck, March 7th 1985.
The messroom was frequently the scene of some amusing occurrences. Driver K came into the messroom one day armed with a can of soup, putting it on the messroom kitchen's cooker to warm it up. A couple of minutes later the can and its contents were whizzing round the messroom like a rocket out of control, emptying most of its contents across the room as if to suggest some macabre event had taken place. The unfortunate would-be chef was promptly reminded that putting a hole in the can would produce much better results next time.
One afternoon in the Holbeck messroom the older drivers were putting the country into its correct position, talking about politics, sex, drugs, rock & roll and more important subjects such as holidays and day outings, the latter bringing up mention of Blackpool Tower Circus, the driver advising how good it was and giving a description of what went on there. One of the secondmen asked 'How do they get the elephants up into the tower to perform?' - thinking here that the circus was performed at the top of the tower. A dry remark comes back 'They take them up in a lift when they are little and train them up there as they grow up'. The secondman then responds ' Well what happens when they die?' One of the driver's responds "When they die, they cut them up and bring them down in chunks!'
When Holbeck was being run down the position of 'running foreman' was eliminated, with a tannoy installed in the messroom so the foreman could relay messages to the traincrews - an action which the older train crews thought was degrading. One afternoon one of the drivers turned the tannoy upwards and poured milk into it. On another occasion the shed cat was placed in it, which was fine until the next message came over, the cat jumping out like a rocket!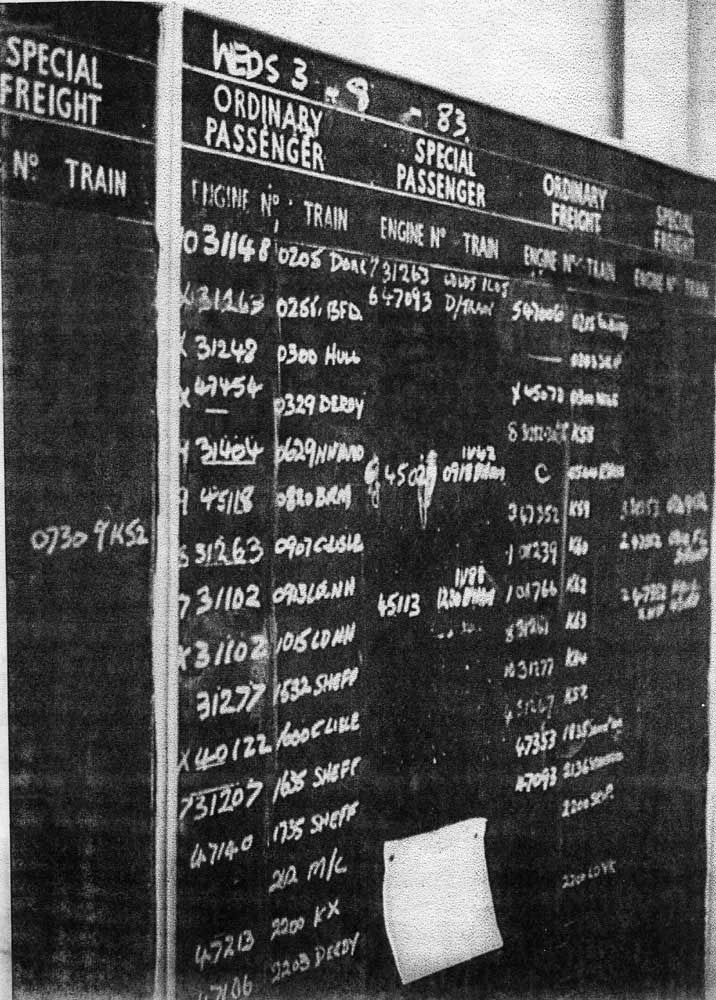 Photograph courtesy Michael Kaye.
After booking on at the window at Holbeck Depot one could locate the position of the locomotive you were scheduled to work by consulting the Engine Board, which was directly opposite the booking on window. This view was taken on August 3rd 1983 and shows quite a variety of locomotive classes designated for particular jobs and the road they are stabled in. This day there appear to be no Class 25's on the board, but celebrity 40122 was scheduled to work the 10.00 to Carlisle.

A record of all arriving locomotives at Holbeck was kept, in a document known as the Pit Book. This information included the time of arrival at the shed, the train reporting number that it had just worked, the locomotive involved and if the locomotive required repairs. It is assumed that Holbeck men are working the locomotives unless otherwise noted.
Unfortunately the Pit Book does not state the nature of the repairs required when this condition was noted in the book.
Listed below is one sample day, hopefully it will be of interest. Please note that in most cases where the train reporting number is shown the book omits the first digit (0-9) normally associated with this. This has made identifying these workings just that little bit more fun since Holbeck received locomotives coming off passenger, parcels, freightliner, trip and other goods workings. All the information in the Pit Book was hand written by a variety of staff so errors are possible.
Tuesday August 11th 1981
Midnight - 03.00
6M30 12.25 with Neville Hill men 31188 & 31409. Rylestone - Hull Tilcon block train (6M30)
L52 01.20 31263 - tripper diagram
6Z59 02.05 40185
02.15 08226 light from Hammerton Street with crew from that location
03.01 - 06.00
L62 03.05 47311 - repairs required. Tilbury - Stourton freightliner (4L62)
4L08 03.10 47428 -01.43 York - Leeds PCD
04.45 31218 light from Bradford
4E05 04.50 31275 - Bradford Forster Square - Leeds PCD parcels.
05.55 40007 light from Hunslet (M13)
06.01 - 09.00
L00 06.25 31183 with Doncaster men. 01.10 Kings Cross - Leeds(1L00)
K58 06.45 40015. Trip working - see below.
L65 07.45 47314. Tilbury - Stourton freightliner (4L65)
09.01 - 12.00
L01 09.55 45051 with Sheffield men. Sheffield - Leeds parcels (3L01 or 4L01)
E76 10.25 47166 with Masboro' men. Southampton - Stourton freightliner (4E76)
K60 11.45 08226. Trip working - see below.
K64 12.00 31324. Trip working - see below.
12.01 - 15.00
K59 12.15 31218. Trip working - see below.
K62 12.25 08224 - repairs required. Trip working - see below.
E10 12.25 31216. 07.00 Bristol Temple Meads - Leeds (1E10)
12.45 47166 light from Hammerton Street
15.01 - 18.00
K63 15.55 40006. Trip working - see below.
16.35 31216 light from Hunslet
16.45 45077 light from Carlisle with Healey Mills men - repairs required
E30 16.55 47311. 08.20 Plymouth - Leeds (1E30).
E27 17.45 45019. 09.58 Weymouth - Leeds (1E27).
K57 17.50 31183. Trip working - see below.
18.01 - 21.00
L07 18.15 31213. 11.50 Kings Cross - Bradford (1L07).
18.30 47267 light from Healey Mills with Healey Mills men - repairs required
19.00 31188 & 31409 (M30) light from Hunslet with Neville Hill men - repairs required
19.30 25279 light from Healey Mills
21.01 - Midnight
K58 21.05 31324 - repairs required. Trip working - see below.
E55 21.55 45120 16.50 St Pancras - Leeds (1E55)
5L91 21.55 40025. Scarborough - Wakefield (1L91), stock to Neville Hill, locomotive to Holbeck
E70 22.05 45065. 12.25 Newcastle - Leeds (1E70).
5D57 22.15 31190 - repairs required
23.15 31190 arriving from somewhere in the Leeds area
23.50 31141 & 31171 light diesel from Leeds parcels depot.
This was a run of the mill day for Holbeck depot, in terms of movements onto the shed Sunday and Monday were the quietest with the summer Saturdays being the most active.

In the early 1960's Holbeck represented a typical Midland shed with its crews working as far a field as Bristol, Carlisle/Glasgow and London St Pancras. Changes in the 1960's saw their work cutback to Birmingham and the loss of the Glasgow and St Pancras routes. However new routes were learned as other sheds in the area closed - when Copley Hill closed in 1964 most of the work came to Holbeck, including the route to Kings Cross and many former Great Northern branch lines in the Leeds area. The closure of Farnley shed took Holbeck men west to Manchester, Liverpool & Stockport and some former LNW branch lines. Stourton closed in 1968 giving Holbeck men more freight work and trips to Morecambe and surroundings. The former North Eastern lines were generally covered by Neville Hill men, although Holbeck men were familiar with the routes to Cleethorpes and Scunthorpe.
Michael was passed out to operate Classes 08, 31, 37, 45, 47 and the first generation diesel multiple units. The tripper workings detailed below along with the shed/relief turns exemplified a day of not quite knowing what was going to happen next! It may be that much time was spent idling, never quite knowing when Control would find your next job for you. When a secondman booked on he might be requested to visit the stores for supplies. These might include a dustpan and brush to sweep out the cab, white cloths for cleaning windows and other surfaces and hooking on/off clothes, to name but a few items.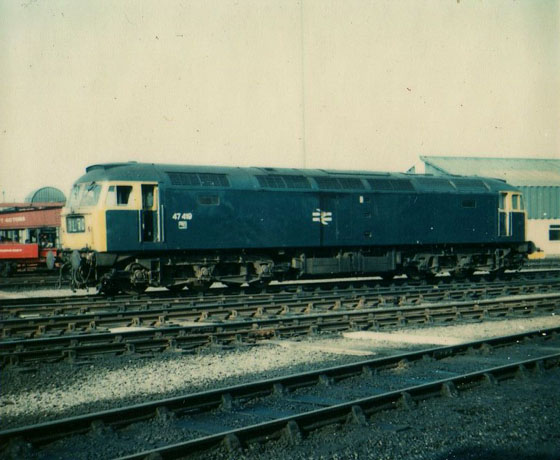 Photograph courtesy Michael Kaye
A memory moment - 47419 at Holbeck July 1st 1976 on the middle (10) road. This day was also your webmaster's nineteenth birthday, seems a long time ago now, and the likes of 47419 at this time were remembered as steady performers on the ECML alongside the Class 55 Deltics.
Explanation of the workings
The information below provides more detail about the workings listed above. The information provided is in two parts, the first part records what the diagram was supposed to cover, whilst the second part (actual working) details notes from Michael's notebooks of what actually happened when he ended up on these jobs, including times, dates, locomotives and other happenings!
K51 - K55 diagrams
These were 'tripper' jobs - signing on at Holbeck before heading out to several collieries in the area, (Waterhaigh, Saville, Newmarket, Glasshoughton, Dearne, Grimethorpe, Houghton, etc) then taking the coal to Healey Mills. I can remember asking a driver 'why are we going so fast and rushing to get the coal wagons to Healey Mills?' The driver replied 'We're on a bonus kid', actually not knowing this but the more wagons you moved with coal in them, the more bonus you got !!
We used to do about 3-4 trips between the collieries and Healey Mills, at some hair raising speed !!
On one occasion we had a Class 25 on the tripper job, we were 'up & down' racing about with the coal wagons, getting the bonus in. On our last trip back to Healey Mills yard the driver commented about the Class 25's pulling power, it being too low. When you coupled up to the freight train at a yard the guard would give you a slip of paper which hopefully would confirm that the train weight was within the capabilities (tonnage, brake force, speed etc) of the locomotive provided. On the tripper jobs however this information was somewhat academic, it was a case of hooking onto the train, and if it went, it went, if it didn't, well it burst into flames!
On this day the Class 25 had been chugging about all day and the brakes were a bit warm, after stopping at Healey Mills the locomotive was smoking from the brakes, the guard hooked us off as I changed ends. 'Alright Dan' said the guard, winking 'we've made a bob or two today'. 'Why?' I asked, 'Well you know we are on a bonus, well I've been adding a few extra wagons on each trip, and that driver won't know!' So we're chugging about in this overloaded Class 25 all day to make about GBP1.20 in bonus's.
K56 an actual working Monday 25th April 1977. Diagram No; 805. Book on at Holbeck at 01.45 leaving here at 02.50 as the 0K56 with 31 253. Arrival at Healey Mills is at 04.00 where 25 wagons are attached for Hunslet Down Yard, departing Healey Mills as the 6K56. Arrival at Hunslet Down Yard is at 06.30 where the wagons are detached, then attach 7 wagons for Bradford Valley Yard departing 06.40 as the 6K56, arriving Bradford Valley at 07.20. The locomotive is left in the Yard and then home passenger from Bradford Interchange - Leeds City and walk back to Holbeck.
K57 the diagram - a trip freight - starting from Holbeck running to Hunslet to collect empties, then to Waterloo pit to collect more empties, on to Newmarket pit, near Wakefield the empties would be left and loaded wagons would be collected, either for delivery to the main yard at Healey Mills or to one of the local power stations. This type of duty would be repeated throughout the day.
K57 an actual working Friday April 22nd 1977. Diagram No; 806. Book on 13.00 at Holbeck, depart as the 0K57 at 13.20 with 31111, arriving Hunslet up yard 13.30, here 30 wagons are attached for Healey Mills, now running as the 9K57 departing at 13.40, arriving Healey Mills at 14.20. Here the wagons are detached, then another 12 are collected, departing at 14.35 as the 6K57 to Hunslet Down Yard. Arrival at Hunslet Down Yard is at 15.30, we sit in the yard but no further orders come through so its 0L50 Light Engine back to Holbeck arriving at 16.00 to await further orders, but again there are none so its home time!
This was typically a Class 31 working - so noted on this working in August 1981 were 31107/108/177/183 31206/225/297 31322 31404/408/409.
Apparently there were one or two comedians at Hunslet Yard - one day our arrival here found our train still in the process of being put together. The driver asked me to make a can of tea which involved a brief walk to the yard messroom. This was occupied by the Yard Foreman and a couple of shunters, on inquiring about a can of tea the Yard Foreman volunteered one of the shunters to 'put the kettle on'. The messroom contained an electric kettle and a small electric 'Belling' stove with two electric rings and an oven. Well the shunter filled the kettle with water and rather than plugging it into the wall socket, proceeded to put it on one of the 'Belling' rings and turned it on. This didn't quite seem right, and shortly afterwards the Yard Foreman came back into the messroom, saw what was going on and asked the shunter 'what the hell are you doing?' The shunter replied 'boiling the kettle for this lad' by which time the kettle was in meltdown. As the Yard Foreman removed the severely injured kettle from the ring he advised 'its an electric kettle', 'I know' said the shunter 'that's why I put it on the stove!' The last word was left with the Yard Foreman who asked what was therefore the purpose of the electric cord for the kettle?
The K57 would also include the Armley shunt. Armley Road was entered via a ground frame and had two roads, when you came past with the engine and brake the guard dropped off at the ground frame. He would contact the signalman to release the ground frame to the guard, we would propel or reverse the brake and engine up into the yard with the two sidings. Once inside the guard would 'lock us in' and give the groundframe back to the signalman. The two sidings where basically on the brow of a hill, you would attach the brake to the wagons in the yard, then leave the brake and the wagons just on the brow of the hill, apply the brakes on the brake van, hook off the engine and put it into the next road, so the engine and the brake were stood side by side.
The next move was to take the brakes off the brake van and allow gravity to roll the brake and the wagons down the gradient towards the ground frame. The engine would come down to the wagons and attach, operate the ground frame and then back or propel the lot onto the mainline with the guard closing the ground frame and off you went, job done! On this particular day we had a Class 31 on the K57 tripper job and my driver was Arthur Morris, the guard was Albert Bedford and he had a trainee guard Geoff Williams, so we got to the point of putting the brake onto the wagons on the brow of the hill. Arthur took the Class 31 to the points which I pulled and Arthur took the Class 31 onto the next road at the side of the brake van. Geoff asked Albert if he could take the brakes off the brake van and do the shunt by gravity. Albert acknowledged and Geoff got on the brake van and took the brakes off, but there was no movement, so whilst Arthur, Albert and I watched, Geoff got the brake stick, this was like a square baseball bat, he put it under the wheel of the brake van and 'pulled' it, eventually the brake van with the help of gravity started to move along with the wagons. Geoff jumped onto the brake van and off he went down the hill. To our amazement he came out of the brake van and stood waving to us from the veranda, the brake and wagons disappeared over the brow of the hill with Geoff still waving at us from the veranda. Just before you got to the ground frame there were a pair of trap points, Albert along with Arthur started to run down the yard, I got onto the Class 31. Albert began shouting to Geoff to apply the ******* brakes on the van, Geoff eventually got the message, he was just able to stop the wagons and the brake van on the point ends. I eventually came down to attach the Class 31 onto the train, the language was disgusting, poor Geoff he didn't learn.
K58 the diagram - a trip freight - this would run light engine to Bradford Valley Yard to pick up empty and loaded wagons, then on to Hunslet to leave the empties, pick up more loads and take them to either Healey Mills or Tinsley.
K58 an actual working Monday November 14th 1977 Diagram No 809. Book on 16.17 at Holbeck, depart as the 0K58 at 16.37 with 31324, arriving Bradford Valley yard at 17.02, here 15 wagons are attached for Hunslet Up Yard, departing at 17.24. Hunslet is reached at 18.25 where 15 wagons are detached, and 26 wagons collected departing at 18.25 to Healey Mills, arriving here at 20.00 all the wagons are detached, 11 more are added. Departure from Healey Mills is at 21.00 to Hunslet Down Yard arriving here at 21.50. Then its 0L50 Light Engine to Holbeck arriving 22.20.
This was typically a Class 31 working - so noted on this working during August 1981 were 31120/124/134/162/170/183, 31207/234, 31322/324. Class 40's were also occasional visitors for this job, including 40015/034/085.
K58 an actual working where the locomotive caught fire!
Sometime during November 1975 we were working K58 and arrived at Hunslet with 25275 to pick up a 'right train load' of wagons for delivery to Tinsley. After sorting out the wagons and having received the 'drivers slip' from the guard we were away southward via Cudworth, Aldwarke Junction, Rotherham Central and onto Shepcote Lane, the entrance to Tinsley Yard. Shepcote Lane signalbox was at the top of a steep incline, whilst being stood for about two minutes my driver asked me to go to the telephone and contact the signalman. On opening the cab door and looking back down the locomotive I saw we were on fire!
Reporting the fire to my driver I grabbed the portable fire extinguisher whilst the driver activated the fire bottles on the locomotive. We managed to put the fire out but the locomotive was now no good. I notified the signalman of our condition and that we needed assistance, by this time the guard had appeared, no need to tell him what had happened. After quite a while the phone rang on the signal post, the signalman advising that he was going to send down one of the Class 76 electrics and drag us up to Tinsley. A fine plan of action except we had broken down just short of the electrified section! Some two hours later a Class 20 appeared at the top of the bank, my suggestion to the signalman that we'd need something a little bigger was countered with the answer 'it's all we've got, and its coming to get you'. The Class 20 was coupled up and with much noise eventually got us into Tinsley Yard proper.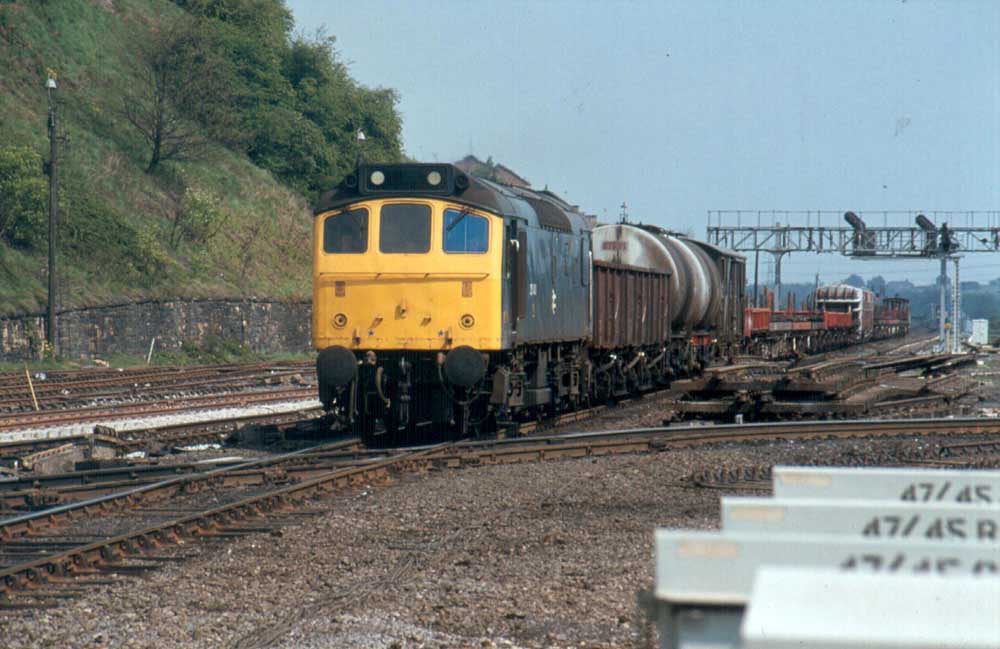 Photograph collection of webmaster.
A fine view of 25140 on April 28th 1982 as it heads west through Wakefield with possibly a K58 trip job. If so the train has come from Hunslet Up Yard and is headed to Healey Mills Yard. The train would be manned by a Holbeck crew, with possibly driver George Neil in charge. The make-up of grain and steel wagons and the position of the shadows suggests this is a morning view indicating the wagons will eventually be forwarded on to Tinsley.
The above view shows 25140 on the Up line heading towards Wakefield Kirkgate (the photograph being taken from the platform end). Just out of view to the right was Wakefield Kirkgate East signalbox which would soon be closed and replaced by a new box, which itself in 2007 would be replaced by another box situated to the left in the above view. The diamond in front of the locomotive was the original junction, it has been removed and is now located further west at a point behind the photographer.
The rusty sidings to the left led to the parcels depot which we used to work into on the 02.16 Derby diagram. The brakevan is at the location of Turners Lane Junction with the up goods loop to the right of the train. There is work in progress on the signals, a new gantry is already set up to replace the existing signals. Partly masked by the existing signal post is a locomotive which has just come round from Calder Bridge on the triangle and is stopped at Turners Lane Junction. This is the triangle where we sometimes went round with the car train.
K59 - very similar duties to K58.
These workings would require booking on to Holbeck at 03.30, running light engine to Healey Mills to pick up a freight train. The K57 left at 03.55, the K58 at 04.00 and the K59 at 04.05, all three trains would go to Hunslet. Here the wagons would either be despatched to local destinations or consolidated into a working to Carlisle. From Hunslet the locomotives might return to Holbeck or make further trips between Hunslet and Healey Mills or possibly an afternoon/evening trip to Tinsley.
Locomotives for this job seem to be pretty varied including 25097, 25181/185, 25201/279, 31218/255, 31408, 45007, 47360, 47530.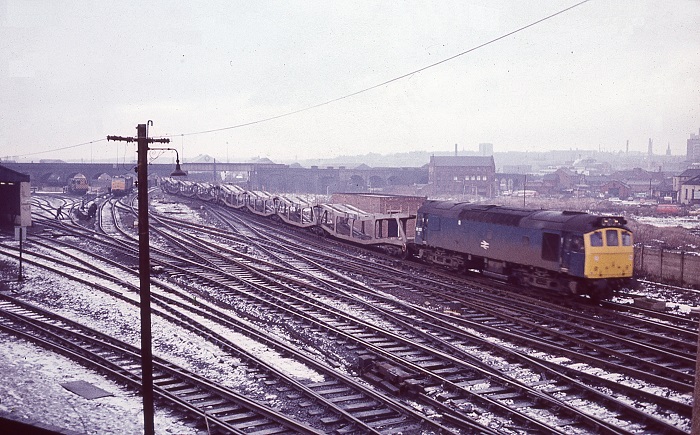 Photograph collection of webmaster.
A cloudy, wintry shot of 25317 passing Holbeck with empty Cartics sometime during 1978. The train is just passing Holbeck Engine Shed Junction and is being routed onto the Up Slow heading towards Hunslet. See the notes immediately below for more information about this photograph.
Although there were a number of Cartic jobs worked at Holbeck none were booked this way around (southbound past Holbeck), chances are it is one of the 'tripper' jobs, most likely the K59 (810 Holbeck diagram). Possibly the return booked working of the Cartic train (4V28 Wakefield - Morris Cowley) has been cancelled and the tripper job would move the empties from Wakefield Balne Lane Sidings next to Wakefield Westgate Station via Ardsley, Whitehall Junction past Holbeck and into Hunslet Up, to be 'tripped' or returned the next day. The 4V28 was a Saturday Only 17.29 departure from Wakefield Balne Lane, but usually went into Wrenthorpe Sidings where the engine would run round and then head out via Wakefield Kirkgate, Calder Bridge and up onto the Midland via Cudworth and onto Morris Cowley. Less likely might have seen it routed via Ardsley, Whitehall Junction, Holbeck, and onto the Midland that way via Cudworth (to save the train being run round at Wrenthorpe), but on a winter's day such as this one it would already have been dark by the time of the photograph.
To the left of the train in the distance is a Class 31 engine with a brake van attached to it, this is tripper job K64 and is either leaving Holbeck or arriving. K64 was the only 'tripper' to have a brake van attached to it on Holbeck Shed, the brake van was stabled on Holbeck, the brake belonged to a guard who was perminately assigned to that job (K64) Harry Barrow...
Around 12 o'clock at dinner time you would get a few of the morning 'tripper' jobs arriving together, usually K51, K57, K60 & K62, what fun that was if you were on the 'pit' (fuel shed).
K60, K61 & K62 the diagram - these were short trip workings between Holbeck and Whitehall, Leeds Parcels area, Hunslet, Stourton, Farnley (for the Dunlop factory) - usually trips were within a ten mile radius, these were normally Class 08 shunter workings.
K60 an actual working Friday December 29th 1978, Diagram 813 Book on 11.12 at Holbeck departing at 11.42 as the 0K60 with 08 497 to Whitehall Yard to collect 3 wagons then running as the 6K60 to Leeds M.P.A. arriving 12.04 and detaching the 3 wagons, departing 12.29 back to Whitehall Yard. Arrival here was at 12.32 to collect 10 wagons running as the 6K60 13.00 departure to Hunslet Up Yard arriving at 13.05. The 10 wagons were detached, whilst 5 wagons were collected departing at 13.15 to Stourton Carriage & Wagon Shops where the wagons were left for repair. Here 5 wagons were collected, departing at 14.04 for Hunslet Down Yard, arriving at 14.22. From here it was back to Holbeck Shed at 14.35.
This was a working that frequently used the Class 08s - 08224/226, 08369, 08432 & 08500. Type 2's were also used including 25146/179/190, 25274 & 31297.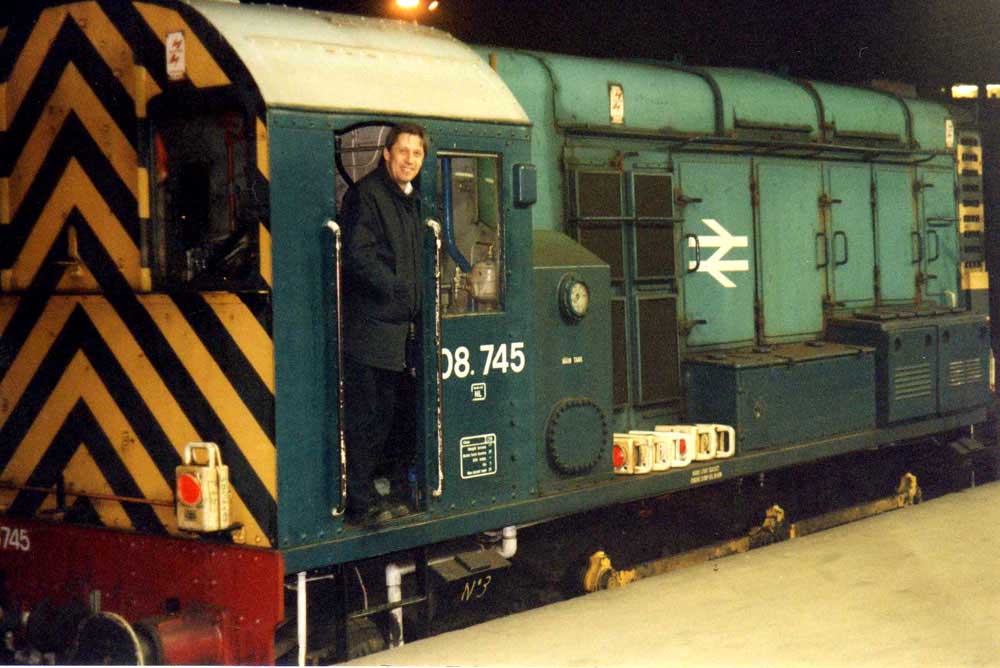 Photograph courtesy Michael Kaye
Its November 23rd 1993 as 08745 slumbers at Leeds City. Michael, our storyteller, stands in the cab doorway awaiting a ride home.
On one trip to Whitehall Yard we had a Class 08 and were busy shunting on a particularly frosty morning. There is a steep down gradient into the yard and on this morning the train got hold of the Class 08 and started to drag us down into the yard. My mate said 'Hang on we're off down into the yard!' Which, for whatever reason, was my cue to rapidly exit the Class 08, which fortunately was only doing about 5mph at the time!
On another occasion we were at Leeds Parcels (PCD) with the movements controlled from a console by means of hand signals. We were shunting with a Class 45 trying to get some parcels wagons from Platform 2 into Platform 3 - we were given the signal to come to the end of the road and stop. One of the PCD pilots was also shunting in the yard which I watched whilst we waited for our next signal. This we received and began the next shunting movement, but became somewhat alarmed as the PCD pilot kept coming and coming towards us. I shouted to the driver to stop, then launched out of my seat to jump off the locomotive, closely followed by my driver. There was a tremendous bang when the two trains collided. The PCD pilot driver was unhurt but received some choice words from the foreman afterwards!
How we learnt - when I was 17:
I signed on one evening with Jack Hirst at Holbeck, we were light engine up to Neville Hill, on our way I got the boiler cracking for the steam heat for the coaches, on arrival I coupled up the coaches and after getting the steam heating on through the train, I asked Jack 'if he wanted a tea', Jack said 'later', so off we goes down to Leeds. On arrival at Leeds Jack turned around and said 'right Dan' I've heard you are seeing a lass, so get over to her house and have a good time, and behave'. I said what about the boiler', Jack replies, 'we used to have to look after a boiler that was 300ft long and put coal in it!' So you behave or I will give you a crack!
A few months later I signed on duty one afternoon with Jack Hirst, we signed on for the afternoon PCD pilot, I had made my way from Holbeck to Leeds PCD to find the loco ticking over but no sign of Jack. I decided to go to the shunters cabin where the shunters were, they were waiting for the next job to arrive (actually they were involved in a heavy game of cards), eventually the job arrives and one of the shunters was asking where Jack is and asked if I was OK shunting the vans? I walked down to the Class 08 and sat in the cab, five minutes later along comes Jack walking down the platform, I couldnt believe my eyes. At the loco he said 'you OK Dan', my reply was, by gum Jack (in a Yorkshire accent) where the hell are you going? He was well suited and booted, 'well Dan, not only you young-uns can date them, us elderly can also, I'm going out on a date!'. So I said, who's doing the shunting (I can see him now with that cigar smoking and him glaring at me), Dan, he said 'one day we aren't going to be here, and you lad will have to learn, so I'm off, Ok', I told Jack, 'you behave yourself'.
K61 an actual working Monday January 16th 1978, Diagram No; 814, Book on 06.40 at Holbeck, departing as the 0K61 at 07.25 with 08432 arriving at Hunslet Down Yard at 07.40. Here 40 minutes was spent before departing at 08.20 as the 0K61 to Hunslet Lane, arriving at 08.25, collecting one wagon before departing at 08.40 for Hunslet Up Yard, arriving here at 08.50. Here the one wagon was detached and another picked up, departing at 11.15 as the 6K61 to Waterloo Colliery, arriving midday, detaching the solitary wagon and departing at 12.40 light engine back to Hunslet Up Yard arriving at 12.55. No further work was to be done here so it was 13.05 0L50 Light Engine to Holbeck 13.05 arriving there at 13.25.
On one particularly cold Saturday night we were going off shed to do a ballast working initially with one light engine and two brake vans from Holbeck to Hunslet. To ease the manouevres at Hunslet the two brakes were being propelled for the short ten minute journey. Because it was very cold the guard set to with one brake van to get the stove alight, asking me to assist with the stove in the second brake. Putting some coal, two fire lighters and a rag in the little stove did little to get it going. My failure to succeed at this task was met by disparaging comments from the guard on the other brake, but included the suggestion to use a bit of paraffin from the brake van lamps. Perhaps rather more than necessary was added to the stove, because when the lighted match was thrown in a pair of singed eyebrows was one of the results. And yes the fire did take hold in the stove that very chilly night.
K62 an actual working Tuesday January 17th 1978, Diagram 816, Book on 06.20 at Holbeck, depart 07.10 as the 0K62 with 08 503 arriving Hunslet Down Yard at 07.25, collect 9 wagons & departing at 08.00 to Dunlop & Ranken. The 9 wagons were detached and 10 others collected departing at 10.05 to Hunslet Down Yard arriving at 10.40. Here the 10 wagons were detached, 3 were collected departing 11.00 back to Dunlop & Rankens arriving at 11.35. The 3 wagons were detach 3 wagons, 4 empties were collected departing 11.55 to Hunslet Up Yard arriving 12.15. From here it was 0L50 Light Engine at 12.25 back to Holbeck arriving 12.45.
This working is almost solid Class 08 traction - 08224/226, 08369, 08432 and two Type 2's - 31196, 31324. 08224 was most prolific during the month of August.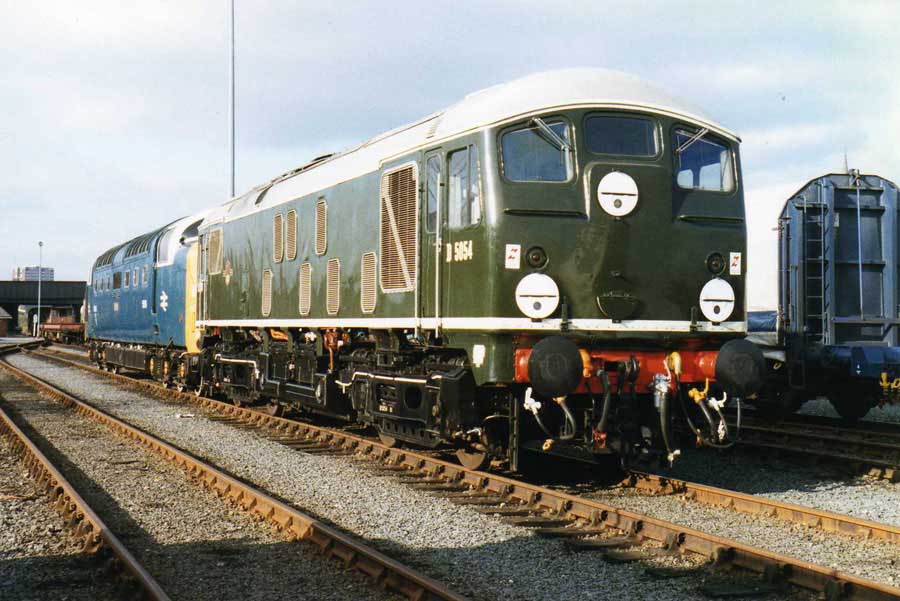 Photograph courtesy Michael Kaye
This was not the normal glamourous contents of Hunslet Yard, seen here on November 1st 1988 is D5054 and a Class 55 in transit.
K63 Possibly these were used for special/extra trip workings.
K64 an actual working Monday May 9th 1977, Diagram no 820. Book on to Holbeck at 06.30 departing there at 06.50 as the 0K64 with 45 006, arriving Engine Shed Junction sidings at 06.55, collecting 4 fuel tanks and departing 07.20 to Hunslet Up Yard. Arriving here at 07.28 another 2 fuel tanks are collected, departure is at 07.40 for Neville Hill arriving there at 08.10. Further orders were awaited until 11.45 when it was back to Holbeck as 0L50 arriving there at 12.10.
This working seems to have a predominace of Type 4 power. Noted were 40015/020/085, 47010, 47118, 47311 whilst Type 2's were 31120, 31206, 31324, 31406 .
K64 an actual working Friday May 6th 1977. Diagram N0; 821. Book on 11.55 at Holbeck departing 12.30 as the 0K64 with 45 002 & Brake Van to Healey Mills arriving 13.22, collecting 10 wagons for Crofton Yard as the 9K64 departing 13.40 and arriving at Crofton 14.05. Crofton Yard was left at 16.15 (45 002 + Brake Van) to Hunslet Down Yard arriving 16.47 to collect 2 wagons (Fuel Tanks) as the 8K64 to Engine Shed Sidings at Holbeck arr 17.05, departing as the 0L50 to Holbeck at 17.10 and arrivinng on Holbeck Shed at 17.15.

Class 1 Passenger Workings
A number of locomotive hauled passenger workings started/ended at Leeds City throughout the day. The Pit Book has preserved a record of the locomotives coming off the terminating services. Presumably the locomotives took the stock to Neville Hill for servicing with the locomotive then dispatched to Holbeck for fuel and water to await its next duty.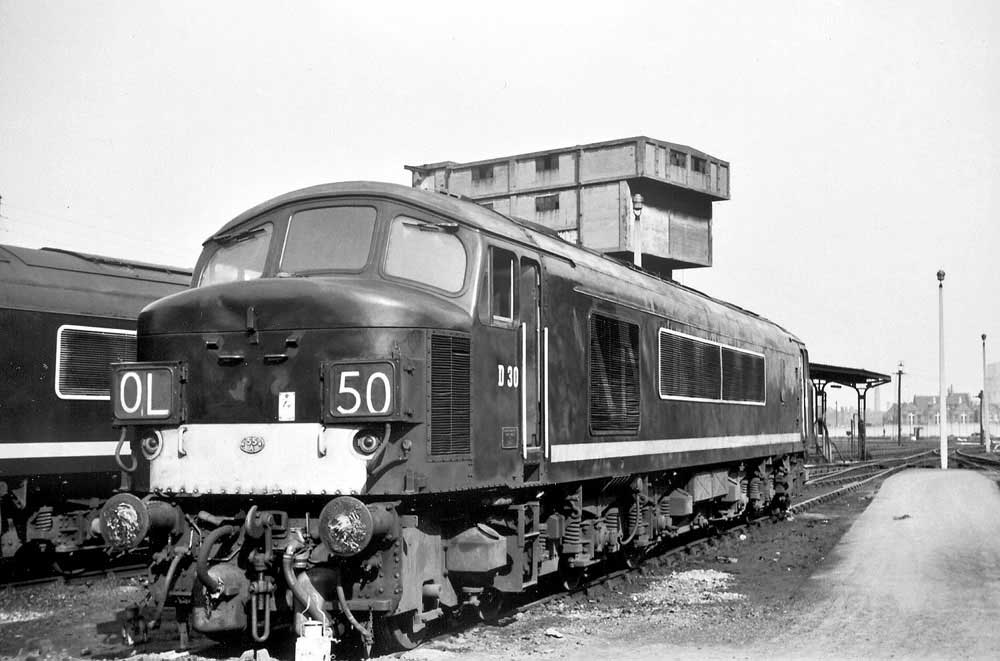 Photograph courtesy John Griffiths.
A relatively clean looking D30 stands in the sun at Holbeck on April 30th 1966. The 0L50 headcode would represent that of a light engine movement to Holbeck depot. D30 would eventually be renumbered 45029 and have quite a varied career, particularly in its later years.
1E10 07.00 Bristol Temple Meads - Leeds
This working was a part of Diagram 22 which on October 6th 1982 required booking on at Holbeck at 04.05, making our way to Leeds City to take over the 1V62 Leeds - Cardiff, departing at 05.00 behind 45112 & eight coaches, running via Cudworth to Birmingham New Street, arriving here at 07.40. Here it was a case of waiting for the 1E10 which this day arrived behind 47482 and eight coaches. Departure was at 08.50, taking the same route back to Leeds arriving here at 11.30 to book off.
1E27 Mon-Sat 09.55/09.58 Weymouth
This long distance service was definately a Type 4 working, most often a Class 45/0 or Class 46. Infrequently this would be a Class 47. The locomotive would work forward from Birmingham New Street. During August 1981 locomotives included 45015 (twice)/016/019/046/055/076, 45134, 46026/036 (twice)/052, 47117, 47410. The locomotive could normally be expected to arrive at Holbeck between 17.30 & 18.20.
On September 10th 1982 booking on was at 10.49 under Diagram 49 picking up 47439 at 11.19 for the run to Neville Hill to collect nine coaches, leaving at 12.19 as the 5V92 to Leeds City, departing here at 12.37 as the 1V92 to Cardiff. Arriving at Derby at 14.21 crews were changed as we awaited the northbound 1E27. This arrived at Derby with 47427 and seven coaches, departing at 15.44, arriving Leeds at 17.38. At 18.00 it was off to Neville Hill with the stock and then back to Holbeck light engine arriving 18.33.
1E28 Sat Only 07.57 Weymouth - Bradford
This locomotive would work forward from Bimingham New Street, diagrammed for a Class 46. For August 1981 it only appears on one of the Saturday's at Holbeck, on August 22nd with 45033. Quite why the Pit Book doesn't record the other Saturday arrivals for this working is uncertain.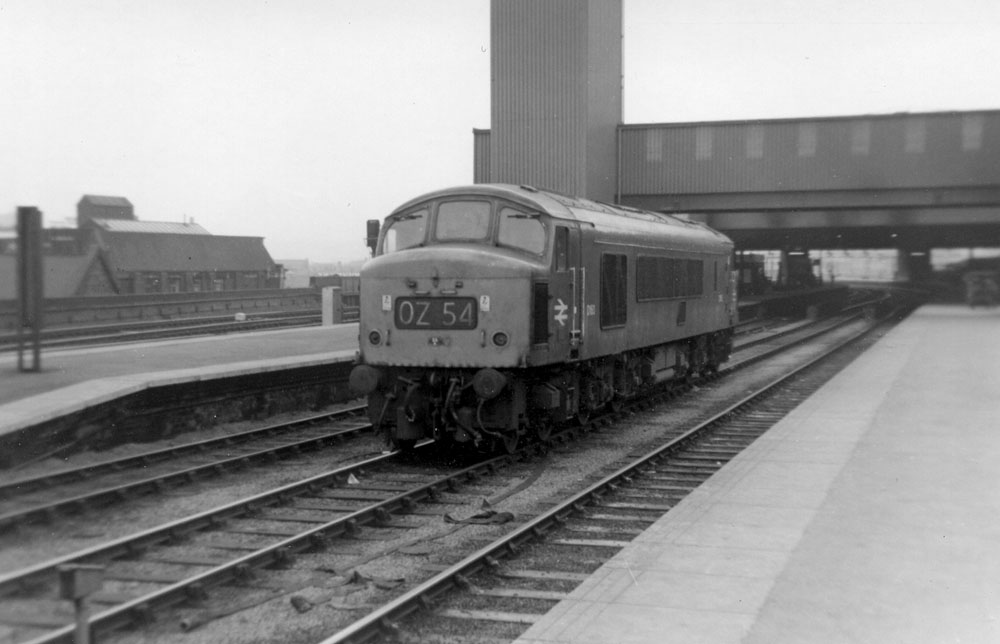 Photograph collection of webmaster.
Leeds City station presents little activity on April 15th 1968 apart from Class 46 D160, which according to the information available has itself failed.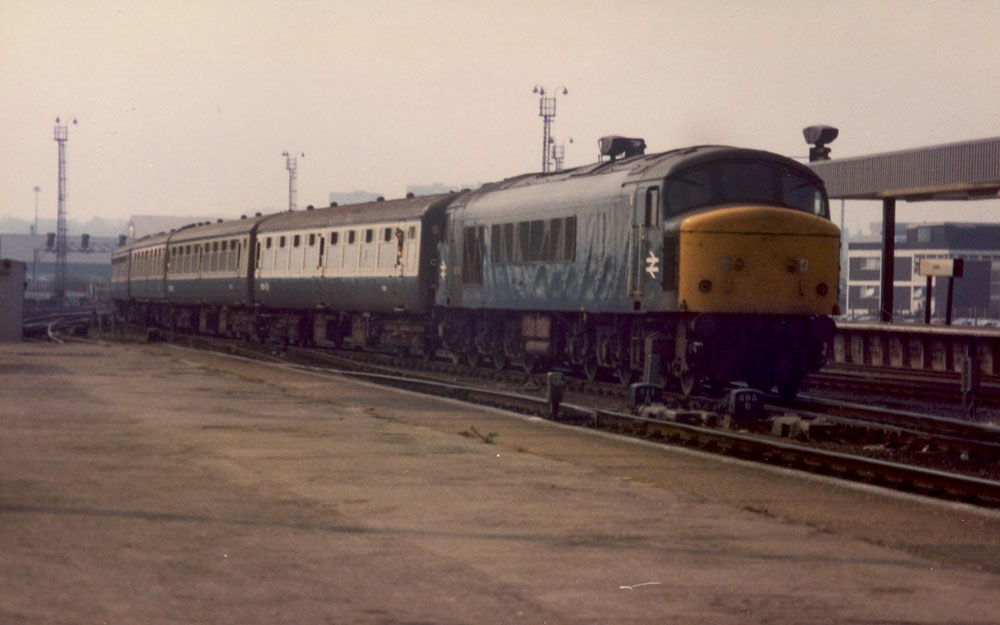 Photograph courtesy Jerry Glover.
45142 approaches Leeds on August 21 1984, presumably on a NE/SW or Trans-Pennine working.
1E30 08.20 Plymouth - Leeds
On the day featured in the listing above this working is presumed to have been brought in by a Derby or Sheffield crew, with a Holbeck driver taking over at Leeds City to work the empty stock to Neville Hill and then light locomotive back to Holbeck.
1M51 Sat Only 08.30 Leeds - Blackpool & 1E84 Sat 12.40 Blackpool - Leeds.
A simple out & back summer Saturday turn with two notations in the Pit Book, 40025 on August 15th and 40086 on August 29th.
1V78 Sat Only 08.37 Leeds - Paignton & 1E37 M-S 10.52 Paignton - Leeds
The westbound working was of five coaches combining with another portion, from Newcastle(?) at Sheffield, with the ex-Newcastle locomotive going forward. This was most often a Class 31 working. On August 22nd 47404 was recorded with the E05 at ??, then the L65 at ??, then 1V78 at ?? then the 1D57 at ??. Presumably this eth Class 47 was too a valuable locomotive to leave hanging around Sheffield on a busy summer Saturday. Unlike on August 29th when 31225 worked out on the 1V78 and came back from Sheffield on the 1E37. Other locomotives reported on the 1E37 include 45007 (15th) and 45113 (22nd)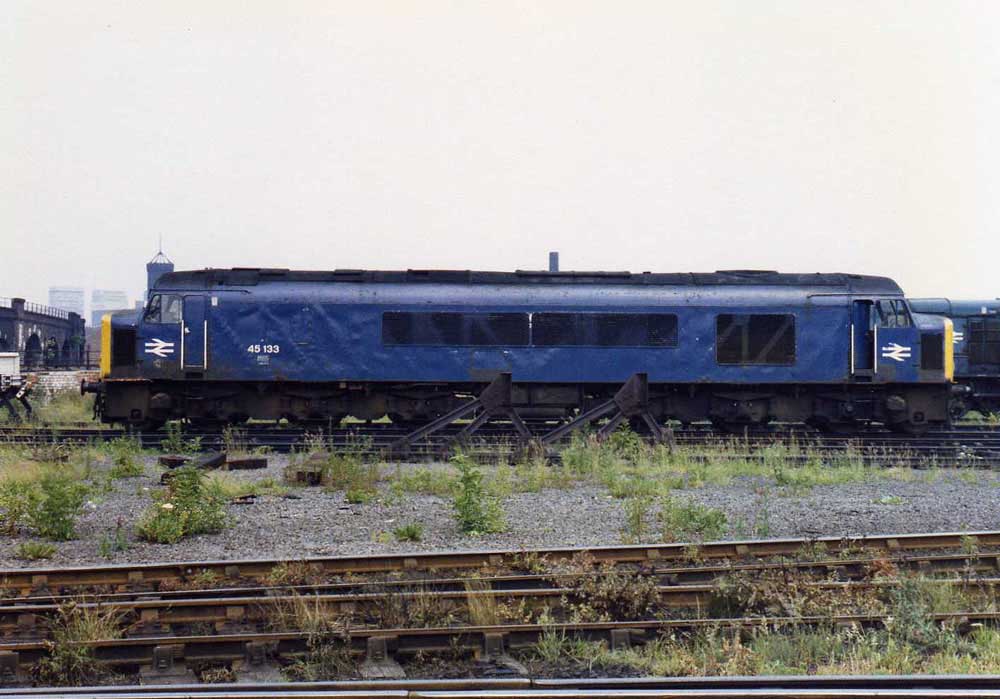 Photograph courtesy Michael Kaye
An interesting side view profile as 45133 as it sits in No.5 Road at Holbeck on July 15th 1988.
1D20 Sat Only 09.21 Leeds - Skegness & 1L19 13.37 Skegness - Leeds
Another out & back summer Saturday turn, normally rating a Class 31, but on August 15th 47163 was turned out whilst the following Saturday (22nd) 40148 made the trip.
1M02 Sat Only 09.28 Leeds - Morecambe & 2E71 11:45 Morecambe - Leeds
This seems to have been a mixed bag of a turn, with both Class 31's & 40's featuring prominently. Typical was 31225 on August 22nd and more interesting was 25093 on August 29th. This locomotive had arrived at Holbeck earlier in the day off the 4E05 at (parcels working?)
1E55 Mon-Fri 16.50 ex St Pancras, 1E45 Sun 17.00 ex St Pancras, 1E58 Sat 18.01 ex St Pancras
At one time Leeds had a considerable passenger service to/from St Pancras. By the time of this look at these services the majority of the London services were directed to Kings Cross with only a token service through to St Pancras. As one might expect these services were solidly in the hands of Class 45/1's, only the occasional Class 47 getting on to the roster, such as 47445 on August 8th and 47454 on August 27th. The northbound workings were brought in by Sheffield or Derby crews with a Leeds man taking over at Leeds City to work the stock to Neville Hill and then the locomotive light back to Holbeck.
1L01 Kings Cross - Leeds (or Bradford)
This appears to bee an early morning departure from Kings Cross which features as part of Diagram 167. On an unrecorded date it was a case of booking on at Holbeck at 01.40 picking up 31309 at 02.26 for the short run to Leeds station to attach one parcels van and run as the 4D22 to Doncaster, departing Leeds at 02.35 & arriving Doncaster at 03.38. Departure from Doncaster was at 08.06 with 40018 and three coaches as the 1L01 to Leeds arriving at 08.51. It was then a walk back to Holbeck.
1L07 Sun Only 12.50 Kings Cross - Harrogate
1L07 Mon-Sat 11.50 Kings Cross - Bradford Exchange
On January 7th 1979 booking on at Holbeck was at 09.40 under Diagram 429. 47426 was picked up at 10.40 to go to Neville Hill to pick up eight coaches (5A05) down to Leeds City arriving 11.25. Departure was at 11.50 with the 1A05 to Kings Cross via Knottingley. Arriving at Doncaster at 13.10 it would be a two hour wait for the arrival of the 1L07 Kings Cross - Harrogate. This arrived with 55018 in charge of ten coaches, departure being at 15.13 and routed via Knottingley to Leeds, arriving at 16.15, here the locomotive was swiftly removed and we were at Holbeck by 16.26.
Because of the reversal at Leeds the last portion of the trip to Bradford/Harrogate was frequently made by a locomotive other than that which had worked up from Kings Cross, most frequently a Class 31 or 25.
On one of my first trips to Harrogate we had a Class 47, these locomotives having an electric cooker below the window on the secondman's side of the cab. The cookers had a hotplate & cooker/oven where you could cook the world's best roast onion, or boil soup! At Harrogate the coaching stock was left in the center road whilst the locomotive was placed in the small bay platform prior to coupling on to the stock. The driver went to get a newspaper whilst I went to the buffet to pick up a steak & kidney pie. Returning to the Class 47 the pie went into the cooker, then it was off to the messroom for a quick visit before joining up with the driver to return to the locomotive. Approaching the locomotive the driver commented 'how come your windows are so black?' Hurriedly entering into the cab it became all to obvious that the steak & kidney pie was well and truly done and the cab windows needed some elbow grease to remove some petrified pie. The driver to put it mildly was none too pleased.
Leeds - Kings Cross 1A08 08.30 & 1A06 10.30
On Wednesday January 18th 1978 it was a case of booking on to Holbeck at 06.32 under Diagram 199. Departure was at 07.12 with 47541 to Neville Hill to pick up nine coaches, departing at 08.02 down to Leeds station to form the 08.30 1A08 departure to Kings Cross. It was then back to Holbeck to pick up 47552, leaving at 08.55 for Leeds station to take the three coaches off the 1L01 to Neville Hill, arriving 09.10. Here the three coaches were detached and eight coaches were picked up and worked as the 5A06 to Leeds station, arriving at 10.12 which will form the 10.30 1A06 service to Kings Cross. For us it was another walk back to Holbeck to take a locomotive up to Leeds for use on the 1S56 (?), then another walk back to Holbeck.
1E70 12.25 Newquay - Leeds
During August 1981 this working would bring in pretty much any non-eth equipped Class 45/46/47, examples during this period include 45017/051/065/076, 46004/031/046, 47008/059, 47134/171/195.
1L91 Daily 07.54(Sat)/08.24(Mon-Fri)/08.38(Sun) Wakefield Westgate - Scarborough & 19.25/19.35 Scarborough - Wakefield Westgate
During the 1980/1981 timetable (and perhaps others too), this was the only scheduled locomotive hauled passenger train to start from Wakefield Westgate! The stock was provided by Neville Hill and the locomotive by Holbeck. From the Pit Book records for August 1981 this was most definately a solid Class 40 turn.
The Pit Book records indicate that 40025 worked this train five days in a row August 10th - 14th. 47530 covered the diagram on Sunday 16th, then it was back to Class 40's the following week, 40020 (twice), 40056 (twice) and 40130. 40152 worked on August 24 & 25th and 40197 on 28th - Happy Days!! The return working cannot have been well photographed due to its late departure from Scarborough. The crew off the evening working would generally be back at Holbeck with the Class 40 between 21.30 & 22.00.
1D57 21.50(Sat)/22.05(Sun) Bradford Exchange - Doncaster
This appears to be a short haul job between Bradford Exchange and Leeds City, in the actual working (1977) recorded below it must be presumed a locomotive change took place at Leeds City but by the time of the Pit Book records (1981) the locomotive may have run round and gone on to Doncaster.
During August 1981 this was very much a Type 4 working, including 46027, 47001, 47404/427/477/478, 47520/563.
On October 22 1977 it was a case of booking on at Holbeck at 17.07, picking up 47430 at 17.47 and working it up to Leeds in order for another crew to use it on the 1A31. It was then a walk back to Holbeck, with a short break before picking up 31268 at 20.10 and heading out to Bradford Exchange arriving there at 20.33. Departure was at 21.50 with four coaches on the 1D57, arriving Leeds at 22.12, then light engine back to Holbeck at 22.30. Presumably a fresh locomotive worked the 1D57 on to Doncaster?

Parcels Workings
3L01 Sheffield - Leeds
This was a straight-forward parcels working which ran via Cudworth. It was normally worked by Sheffield men who rarely worked the locomotive onto Holbeck. It was then a case of a Holbeck driver going up to Leeds station to bring the locomotive back to Holbeck. It normally left Sheffield about 08.15 - 08.30, sometimes running as the 4L01 depending on its speed.
Although predominantly a Type 4 working this could produce quite a mixed bag of locomotives. During August 1981 locomotives included: 31107/124/162, 31322, 37187, 45006/014/019/037/051/075, 46016/035/036, 47138.
If the locomotive on this working didn't require fuel, water or attention at Holbeck it would occasionally go forward light engine to York.
4L08 01.43 York - Leeds PCD
This was an early morning parcels working from York to Leeds, some shunting of the train was required at Leeds. The locomotive would then go forward to Holbeck, frequently with a Holbeck crew having relieved the York (?) men. Update - a Neville Hill driver remembers this started out as an evening working from Liverpool to York, departing Leeds about 20.15 with Neville Hill men taking the train to York, here the stock was taken to Clifton then on to York shed with the locomotive. Departure from here was at 00.45 to York station to couple on to some vans with an 01.43 depature to Leeds as the 4L08. The vans had arrived from the north and were split into portions at York.
1M41/1E24 Leeds - Stockport
This diagram was worked by Michael several times. It was Stockport diagram 60 - details of several workings follow.
Tuesday December 27th 1977
Book on 21.44 at Holbeck and take a taxi to Leeds station.
Depart Leeds at 22.50 as secondman with 45011 and four vans (145 tons). At Stalybridge two vans were uncoupled, now with a load of 70 tons.
Arrive Stockport at 00.30, uncouple the locomotive and then almost immediately couple on to the 1E24 at Stockport with four vans (150 tons), leaving Stockport at 00.50, arriving Leeds at 02.16.
Depart Leeds at 02.55 1L39 with 55007 and three coaches (103 tons) to Bradford Interchange, arrive here 03.15.
Run round train and depart 03.30 as 5L39 to Leeds, arriving 03.50, then light engine back to Holbeck.
Monday June 4th 1984
Book on at Leeds at 22.22 as driver.
Depart Leeds at 22.50 with 45116 and eight vans (298 tons), arrive Stockport 00.10 and uncouple from train.
Depart Stockport 00.30 with 45116 and nine vans (301 tons), arrive Leeds 02.19.
The last part of the diagram had changed from the 1977 one, now it required working an HST out of Neville Hill depot at 05.00.
Thursday December 20th 1984
Book on at Leeds at 22.22 as driver.
Depart Leeds at 22.50 with 47624 and eight vans (292 tons), arrive Stockport 00.08
Depart Stockport at 00.40 with 47459 and eight vans (290 tons), arriuve Leeds 02.20
By this time the last part of the diagram had changed again, so it was home time!

Freightliner Workings
4C62 Stourton - Tibury & 4L62 Tibury - Stourton
This working was Holbeck diagram 301. On Monday December 7th 1981 booking on occurred at 20.24, departure from Holbeck was at 21.04 with 47114 to Stourton Freightliner depot, arriving at 21.14. Twenty Freightliner wagons were collected departing at 21.36 as the 4C62 to Doncaster via Normanton and Hare Park, arriving 22.48. At Doncaster another crew would take over the train for the next part of its journey south to Tilbury. On this day the northbound working (4L62) arrived at Doncaster at 02.10 with 47087 and fifteen Freightliner vehicles. Departure was at 02.15, arriving Stourton at 03.14, departing here at 03.42 as light engine back to Holbeck, arriving 03.52.
This working was definately a Class 47 diagram, with a predominance of Stratford allocated Class 47's being noted.
4C60 Stourton - Tilbury FLT & 4L65 Tilbury FLT - Stourton
This was another Holbeck - Stourton - Doncaster round trip under Holbeck Diagram 622.
On Wednesday June 21st 1978 it was a case of booking on at Holbeck at 01.03, leaving at 01.43 with 47204 to Stourton to pick up twenty freightliner wagons then departing at 02.17 for Doncaster as the 4C60. Arrival here was at 03.17, another crew taking this train on to ? At 06.22 we joined the 4L65 with twenty freightliner wagons behind 47160. Arrival back at Stourton was at 07.32, departing here for Holbeck light engine at 07.58.
These freightliner turns reveal something well known to the crews, that frequently much time was spent away from the cab, waiting in messrooms for arrival of their next diagrammed turn. In both cases above over three hours was spent waiting at Doncaster. The 4L65 had a bit of a reputation for being a late runner, which allowed for the opportunity of getting some sleep in the wee hours awaiting its arrival. After a week of the 4L65 running particularly late with the consequent later booking off at Holbeck I was reaching home but not taking the expect sleep time. After several days of this my father grew concerned that I was going to seriously harm myself without getting some solid sleep, unaware of the extended rest being taken at Doncaster. When I explained the situation in between the turns at Doncaster with the opportunity for some solid sleep he promptly asked if he could get a job like that!
4E76 Southampton - Stourton FLT
This was a Feightliner working which was invariably worked into Stourton by Masborough men, after dropping off the wagons the locomotive would run light to Holbeck. This was also very much a solid Class 47 turn, turning out quite a variety of machines. Locomotives noted August 10th - 15th were 47377, 47166, 47134, 47575, 47482 & 47486.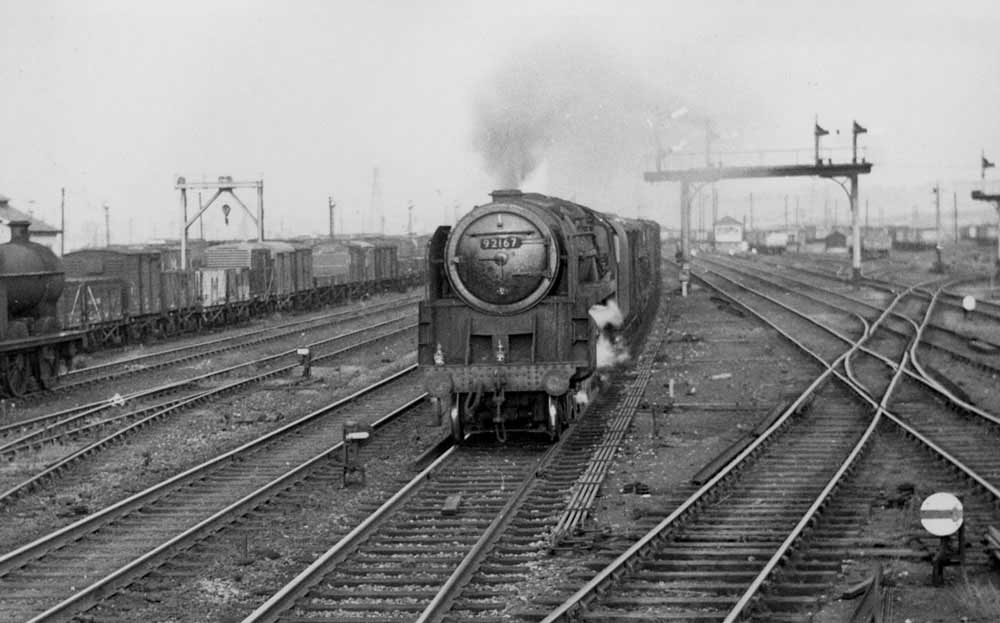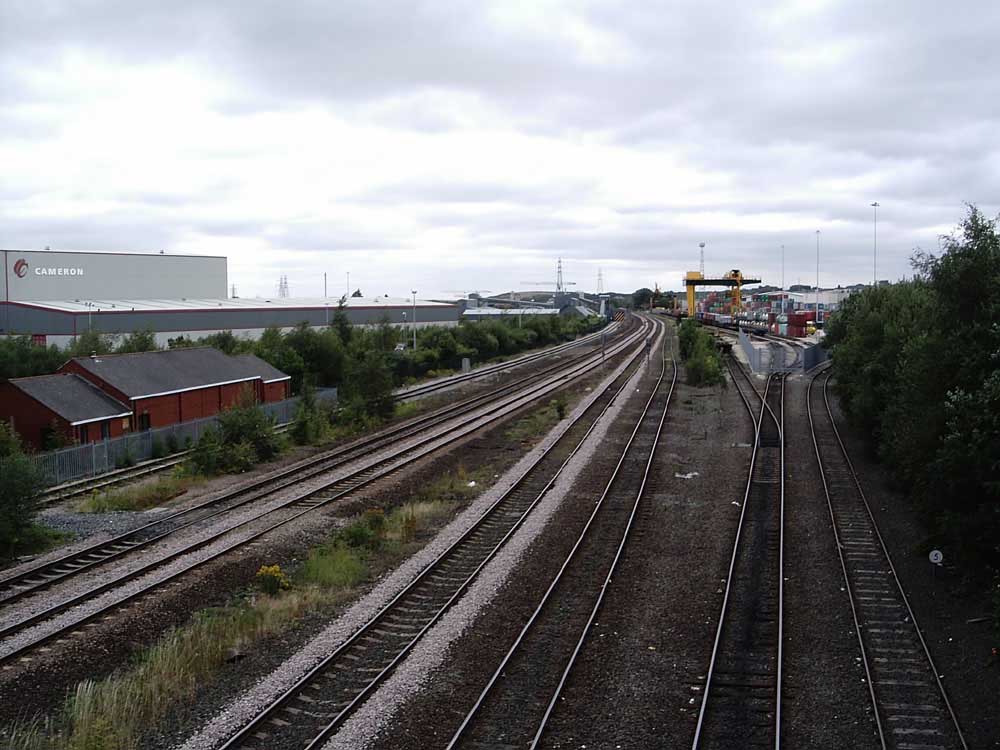 Photographs collection of webmaster (top) and Michael Kaye (bottom)

Here are two views of Stourton, the upper one taken about 1966/67 and the lower one during the summer of 2006. The top view features 9F 92167 on the 'down fast' at Stourton heading towards Leeds. To the extreme right are the tracks leading to Stourton locomotive depot, and on the left is the Stourton Carriage & Wagon repair shops. The signalbox is called Stourton, with the picture possibly taken from Wakefield Road signalbox. At the present day (2006) the sidings on the extreme right go into a steel coil works and Stourton Freightliner yard occupies the location of Stourton signalbox.

Company Trains
6M36 Hull Dairycoates - Rylestone & 6E40 Rylestone - Hull Dairycoates.
This was a Tilcon company train - westbound empties, eastbound loaded. Neville Hill men would bring the train from Hull to either Hunslet Down or Marsh Lane, depending on its routing. The locomotives would be detached and sent to Holbeck for refuelling. This was Holbeck Diagram 725 and on March 31st 1977 two Class 25's were handling the working, 25300 & 25297! After refuelling they booked off Holbeck at 02.10, reaching Hunslet Down Yard at 02.20, and leaving at 02.40 with thirty wagons for Skipton where the train was run round, this would take about ten minutes with arrival at Rylestone at 04.20. Departure from here was at 07.20 with thirty loaded wagons. An hour was taken to reach Skipton, after running round it was down to Leeds where signal 871 was reached for the crew exchange at 09.35. Signal 871 was outside Holbeck shed, where the relieving Neville Hill crew was waiting. On this particular trip 25300 was reported as having a bad engine oil leak.
This was generally diagrammed for a pair of Class 31's, with the same machines frequently staying on the diagram for several days.
On one particular Saturday an extra working had been scheduled and as usual we took over the train at signal 871, by Holbeck depot, this day two Class 25's were the motive power. Driver P (Slim) was in charge of the train and after leaving the mainline at Skipton the speed was kept at 25mph where possible, for this heavy train on the Rylestone branch. The slow but steady pace was interrupted by a serious brake application as the driver attempted to avoid running into a large flock of sheep scattered across the railway line. Sounding the horn did little to ease the situation apart from make the sheep run down the four foot in front of us. However when Slim starting shouting 'mint sauce' 'mint sauce' out of the cab window the sheep wonderously ran off!
6M30 Hull Dairycoates ?? - Rylestone .
This appears to be a similar working to the 6M36 (above) though this ran mid-afternoon rather than early morning. On January 12th 1978 Diagram 726 required booking on to Holbeck at 14.20, picking up 31327 & 31268 and departing at 16.10 to Hunslet Down Yard, arriving here at 16.30 to pick up twenty seven empty wagons for delivery to Skipton. Arrival at Skipton was at 17.30, some thirty five minutes late due to snow, it was left for a Skipton crew to take the train forward to Rylestone whilst we came basck 'on the cushions'.
A similar working on November 16th 1978 (now under Diagram 657) utilised 31272 & 31181 with twenty seven wagons. Again Skipton men took the job forward from Skipton to Rylestone, they also returned the train to Marsh Lane or Hunslet Up Yard. They were relieved here by Neville Hill men who took the locomotives to Holbeck for fuelling.
And speaking of Class 31's which have been the subject of much colourful language from Michael, suffice to say they couldn't pull the skin off a rice pudding! Recorded below is another journey involving these pseudo Type 2's.
We had a job where you signed on at 23.55, it was the empties Rylestone or Swindon Tilcon train, where you made your way towards Skipton, ran round the train here and plodded up the single line to the quarry at Rylestone. On getting there an original Class 08 took over and you had your breakfast and feet up time whilst the Class 08 filled the train up by going through the hopper.
This particular morning the Class 08 was half way through the hopper when it broke down, after an hour or so, we were asked to drag it off and then carry on with the train filling it through the hopper. It had been raining for some of the night, this had made the rails somewhat greasy, my mate Derek Walsh commenting on how we would have some fun getting the loaded train out of Rylestone. Departure time approached and like I said before about class 31's, we had two and they were crap, slip slip slip, so it was decided to split the train in half and take one half to Skipton and then come back for the second half and then join the complete train at Skipton.
Time was now getting on being about 11.00am, my mate said to me, it looks as if we are going to get a day for nothing, this meaning if you go over the 12 hours, like we did, and finished in the afternoon, the railway had to pay you for the day that you couldn't work, because you can't book on for duty twice in a day, so in other words, we couldn't book on again at 23.55 that afternoon, because we didn't have the 12 hours rest!!!!! After departure from Skipton, we got as far as Bingley, when I got on the phone (Bingley turned out to be a bad place that week) notifying the signalman what train we were, signalman's reply was 'signal failure', so back to the locomotives and got our feet, another hour passed and again we were on way, only to reach Kirkstall, we were 'put inside', this time for two reasons, first to give priority to the passenger trains, and secondly because we were so late the relieving crew (I think they were Neville Hill men) had gone back to there depot, so control was having to get another crew out to us.
Instead after an hour or so in the 'loop' we set off again, eventually arriving outside Holbeck Shed approx 15.00 hours, so the next day we came back in 12 hours, booking on at 03.00, booking off at 11.00, finally getting back to our regular duty at 23.55 the following day. So two days later Derek and I were on the same job, everything was going perfectly until the return leg, we arrived at Bingley, (it's funny, I can remember this as clear as day) we were stopped at Bingley's No 3 signal and it was on the July 7th 1977, yes 7th of the 7th, 1977..... to be told by the signalman that a suicide had occurred in Bingley station, so we stood there for approximately three hours. Once clear of Bingley we only got as far as Kirstall where, again we were put 'inside', letting all the passenger trains go by and again waiting for relief at Holbeck, after all this we'd ended up with a fourteen hour day.
On arrival at Holbeck, we booked off, to come back again in 12 hours, so the following day we book on at 02.00 and at 9 o'clock my mate had to go and see the Shed Master, because the railway had to pay us for two days for not being there, the Shed Master thought we were doing it on purpose for the days off! After Derek had explained everything to him, he was ok......

What the heck is this? 5L00!
Depending on the work required the 5L00 is the last portion of an early morning diagram which visited several locations in the Leeds area. Of the information received perhaps the most interesting record for this working is from Saturday November 26th 1978 under Diagram 186. Booking on at Holbeck at 01.40 the locomotive for the duty was 25212. Departure was at 02.20 to Leeds station (02.26) to pick up seven wagons for movement to Leeds Parcels Depot (4L20) arriving at 03.05. It was then light engine (0L20) to Wakefield Kirkgate arriving 03.40 to pick up four newspaper vans. Departure was at 04.15 as the 5L20 to Halifax, arriving 05.05, detaching all the vans then running light engine to Bradford Exchange arriving 05.55. Apparently there was no work carried out here as 25212 left at 07.40 to Leeds station. Here three sleepers were picked up (5L00), believed off the 23.00 sleeper ex Kings Cross, the coaches remaining at Leeds until the overnight passengers had departed. Departure was at 08.30 with the short journey to Neville Hill, then it was light engine back to Holbeck arriving 08.50, six and a half hours with a Class 25!
On Friday July 7th 1978 (now Diagram 179) booking on was at 02.50, eventually departing Holbeck with 47543 at 05.10 to Neville Hill. Here eight coaches were picked up (5L06) leaving at 05.50 for the short trip to Leeds station. Back at Holbeck 45117 was picked up at 07.35 to Leeds station, arriving 07.41 to pick up four sleepers for the journey to Neville Hill (5L00), arriving 08.05. Here seven coaches were attached (5M15), departing 08.50 to Leeds station, this would form the 1M15.
On Wednesday January 31st 1979 (still Diagram 179) booking on was at 04.08, taking the minibus to Neville Hill to pick up an HST set powered by 43104 & 43108. Departure was delayed by thirty minutes due to flat batteries on the buffet car, leaving at 06.00 instead of 05.30 as the 5A06, to become the 1A06 at Leeds station. It was then back down to Holbeck (on foot?) to pick up 45109 departing Holbeck at 07.33 to Leeds station to pick up the four sleepers for delivery to Neville Hill, again the sleepers were dropped off and eight coaches were picked up to form the 1M15 depature from Leeds.
The 1M15 was part of Holbeck diagram 117, which on November 12th 1977 required booking on at 08.30, we were to take 45012 up from Holbeck to Leeds station but 45012 was failed so it was a walk up to the station to relieve a Holbeck crew bringing the 5M15 down from Neville Hille, which was late arriving for reasons unknown. Details:
1M15 Leeds depart 09.40 with nine coaches (304 tons), arrive Derby 11.05.
1E30 Derby depart 13.41 also with nine coaches (304 tons), arrive Leeds 15.32, and then walk back to Holbeck!
On February 13th 1978 heavy snow caused a late departure from Leeds on the above diagram, this time with 45136 in charge of twelve coaches (409 tons). The northbound working was also late leaving Derby due to snow, for this leg 45001 was in charge of ten coaches (350 tons).
The Parcels area at Leeds is now a carpark, but it used to comprise four platforms, four arrival roads and several sidings, the yard being about half a mile long and a quarter mile wide. Five shunting locomotives used to work this yard back in 1974, in addition to the arriving/departing parcels trains and the trip jobs.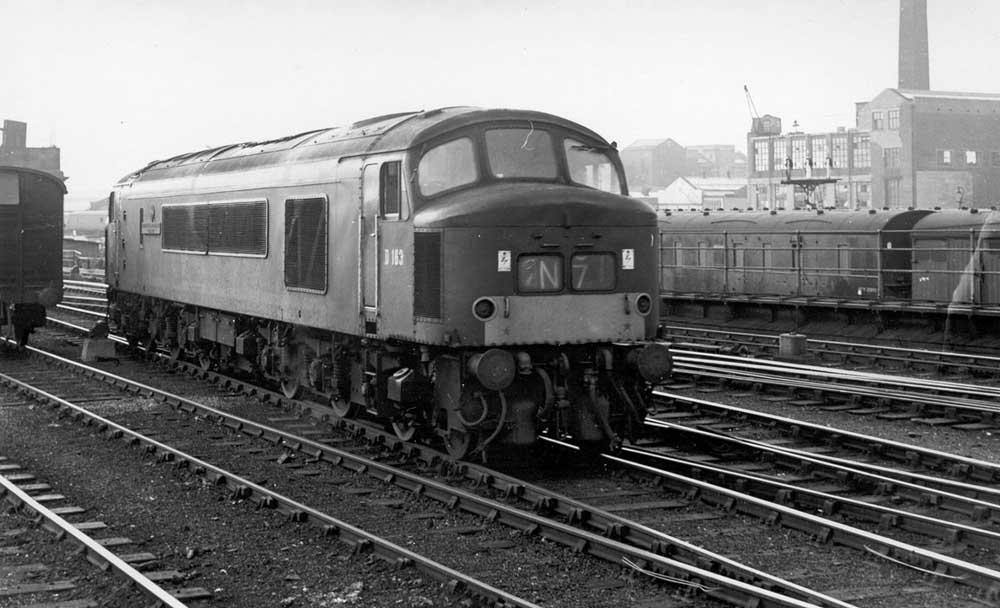 Photograph collection of webmaster.
An undated view of the only named Class 46, D163 at Leeds with the considerable parcels siding in the background. And once its usefulness was over this space became as many do, a carpark, and if not a carpark then a supermarket.
Michael did not sign the Class 46's since they were being phased out at the time that Michael was gaining his traction knowledge. However from time to time trips were made under supervision to gain that traction experience. One dinnertime I was offered the chance to bring back a Class 46 from Leeds City to Holbeck. The short trip was made up to Leeds to collect the locomotive and bring it back to Holbeck for refuelling. The locomotive entered the depot tracks, went through the washer and into the 'dead end'. Here the cabs were changed over prior to dropping down onto the fuel shed. The points were pulled and given a good kick to ensure they had gone over correctly, then up into the cab, put the key in and move gently forward. Except the pony wheels rose up and derailed on the points. Meanwhile the fitters down at the fuel shed were waving wondering why I'd stopped. I was waving back indicating to them to get down here quickly.
Eventually they came over, equipped with some packing material which enabled the locomotive to get its errant wheels back on the rails with no damage done. The foreman then wants to know what all the fuss was about, I mention that a circuit breaker had tripped, good says the foreman because the Class 46 is needed for an early afternoon working to Bristol. All things were smoothed over but being in charge of a locomotive that one wasn't passed out on could have resulted in a form one which would have then gone on my record. A re-occurrence of this type of event would have more than likely have resulted in very serious results.

Leeds City arrivals - Locomotive hauled circa 1980/1981
1E26 M-S 16.30 Aberdeen
1E75 Sun 08.10 BNS
1E08 Sun 16.15 BNS
1E84 Sat 12.40 Blackpool
1E10 M-S 07.00 Bristol
1E41 Sun 07.20/07.40/08.05 Bristol
1L52 M-S 20.39 Hull
1L52 Sun 22.10 Hull
1L00 M-S 01.10 KX
1L01 Sat 04.05 KX
1E59 M-S 18.05 Liverpool Lime St
1E22 Sun 19.10 Liverpool Lime St
2E71 Sat 11.45 Morecambe
1E02 Fri 11.51 Newquay
1E70 Sat 12.14 Newquay
1E60 Sat 10.35 Paignton
1E37 M-S 10.52 Paignton
1E70 M-S 14.35/14.45 Paignton
1E91 Sat 15.05 Paignton
1E21 M-F 10.23 Penzance - to Bradford on Sat, same reporting number
1E21 Sun 12.15 Penzance
1E61 Fri 18.08 Penzance
1E30 M-S 08.15 Plymouth
1E63 M-S 11.35/11.40 Poole - portion to Newcastle from Sheffield
1E20 Sun 12.38 Poole - portion to Newcastle from Sheffield
1E55 M-F 16.50 St Pancras
1E45 Sun 17.00 St Pancras
1E58 Sat 18.01 St Pancras
1L19 Sat 12.20 Skegness
1E54 M-S 07.30 Swansea
1E00 Sat 12.50 Weston super Mare
1E27 M-S 09.55/09.58 Weymouth
1E69 Sat 10.55 Weymouth
1L27 Sat 13.43 Yarmouth
Leeds City - possible locomotive changes
1M70 M-S 07.05 Glasgow - Nottingham
1M86 M-S 11.50/15.15 Glasgow - Nottingham
1M87 M-S 16.10 Glasgow - Nottingham
1L22 Sun-Fri 23.00/23.15 KX _Bradford
1S49 M-S 07.15 Nottingham - Glasgow
1S68 M-F 10.31 Nottingham - Glasgow
1S85 M-S 15.51/16.05 Nottingham - Glasgow
1S85 Sun 16.36 Nottingham - Glasgow
1E21 Sat 10.23/10.26 Penzance - Bradford
1L91 Dly 19.25/19.35 Scarborough - Wakefield - loco back to HO?
1E28 Sat 07.57 Weymouth - Bradford

Miscellaneous
I did a lot of my first driving turns through Whitley Bridge, we used to go three times in a day, 08.07, 12.03, 15.03 LDs - Goole Trains, (once did this continuous for a month)! Today Whitley Bridge only gets one passenger train a day and couple of freight make their way to Drax, sad really, the station is really basic.
While being a route learning instructor at Leeds I took a lad around Preston, now I'm going to learn you Preston, looking North, you need an 'S' (for slow line to Blackpool) for seaside (as we said), 'S' from seaside, looking south, to get to Leeds, you need any indication with a letter 'L' (L for Leeds) or SL (SL slow line Leeds), to do any shunting at Preston there is a North signal gantry and a South signal gantry, go behind those, and the signalman can put you anywhere across the 'ladders' to do your shunting movement, easy isn't it, so, S for seaside, L for Leeds or any letter and a L. Two weeks later I'm summoned to the office, the driver who I've just taken around Preston previously is stood there, asking what is wrong, the boss asked the driver 'tell Dan what you've done', he followed on saying 'on leaving Preston to go to Leeds, I took 'F'! (which puts you onto the fast line and you can't get across at Farrington to get to Leeds, so the lad went over the ladder, behind a subsidiary signal and returned via Lostock !

Class 40s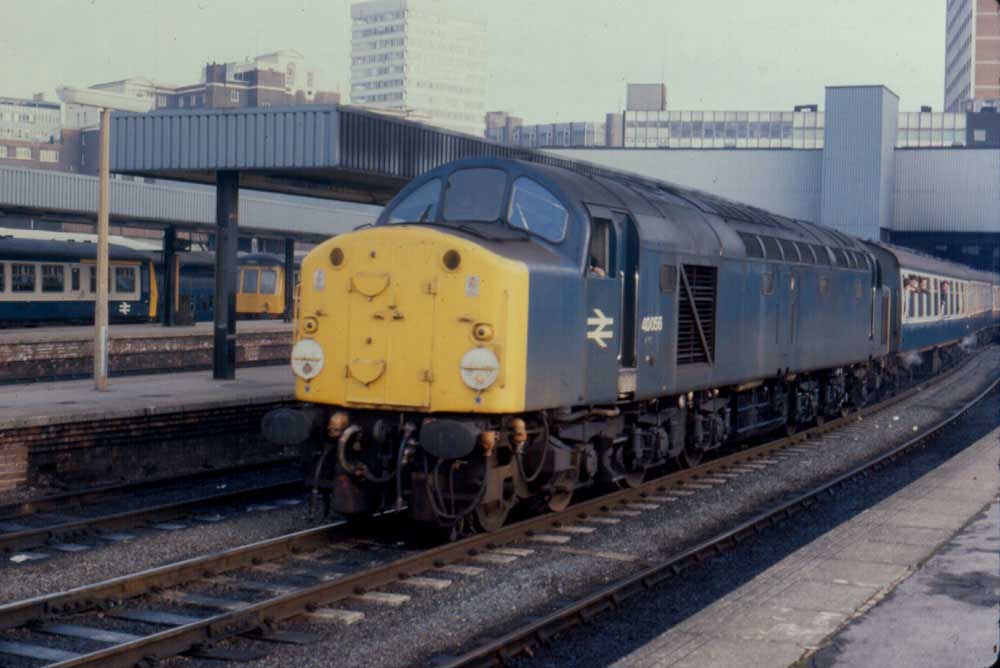 40056 at Leeds City on December 5th 1981.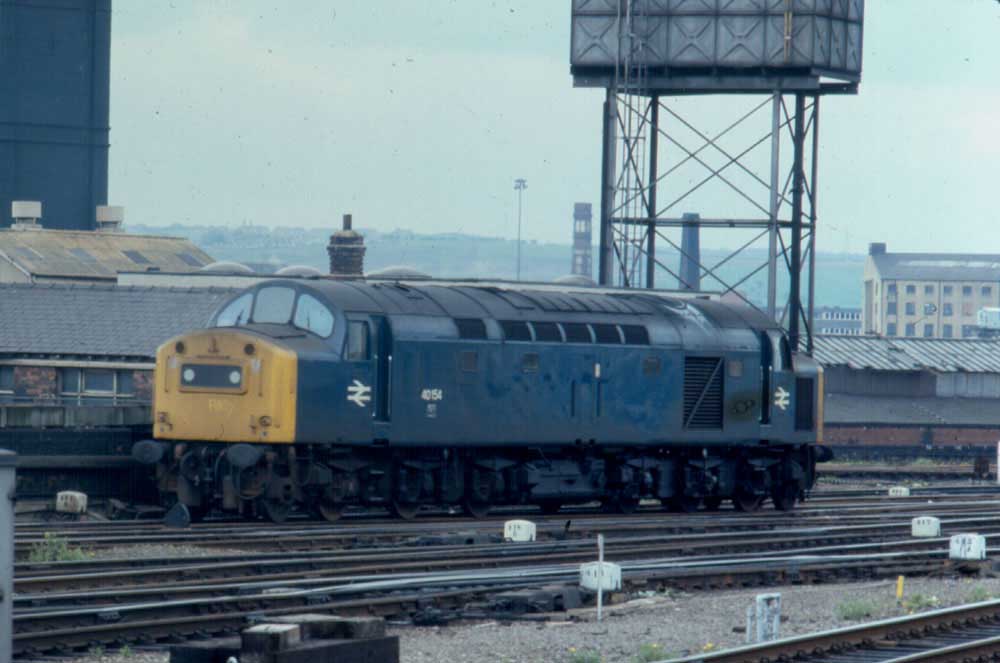 40154 at Leeds City on May 13th 1978.
Michael has worked quite a few specials in his time, he remembers one in August 1977 with a class 40, we went passenger to Blackpool, on arrival here we were told by the foremen that our train was in Talbot Road Sidings. So Driver Donald Hodgeson, Guard David Quinn and yours truly went over to Talbot Road to get out the stock. We had to drive the whole train forward, out of the sidings and then propel (reverse) the whole lot back into the platform, with Dave watching from the brake van and stopping us as we drew near to the buffers at Blackpool station. Eventually departure came and at Maudlands, just outside Preston Station, trouble had brewed on the train, someone had a go at the Guard (bad move), so whilst we were stood at Maudlands, Dave put the brake on from the guards van and came up to the locomotive, stating he needed the police at Preston.
His request was passed on to the signalman. We didn't know this at the time but there were two 'working mens clubs' on the train and they had started fighting between themselves. On arrival at Preston I jumped off the locomotive and began my journey down the platform, on approaching the scene, a man was on his back on the platform whilst Dave had another guy seriously immobilised, suggesting that he now behave himself. Needless to say the police took these two away and Dave gave me a bit of stick, saying I was taking my time walking down the platform. Today when we get talking about it in the messroom, I tell the lads that I saved his life at Preston and Dave still gives me some stick over the incident.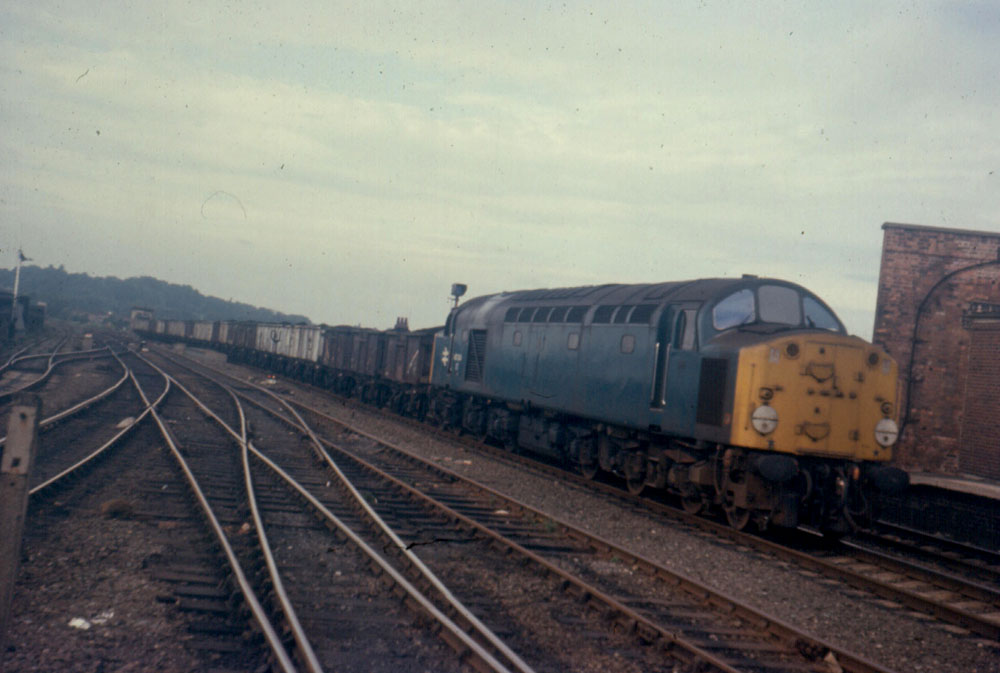 40124 & coal train, August 31st 1977. The location is Wakefield Kirkgate, the train is entering Kirkgate from the West, at the end of the train is Wakefield Kirkgate West Signalbox, the train is on the Down Through Road, Platform No 1 is to the right of the train, the photograph is taken from Platform 2. The line to the left of the train, has been taken out. The locomotive has the wrong disc codes, showing for an Express Passenger. The line on the left is from Platform 3 and further across left is the goods line. Possibly the train could be a Healey Mills to Hunslet/Carlisle job.

1975
The year 1975 was memorable for Michael as it was the first time he was faced with a strike situation, and despite all the years that have gone by the details are remembered like it was yesterday. As Michael says being young back then you just came to work and got on with the job. However on this particular morning when signing on there seemed a definate air about the place. We left Holbeck for Neville Hill, attached the coaches and headed back to Leeds City station, the station was well filled with coaches and ours were intended to be the 09.16 to Derby. After stopping at the platform we were greeted by one of the local A.S.L.E.F. reps who had a few words with my driver. The driver climbed back into the cab and shut the diesel down, then telling me we were on strike and that I should go home.
The cause of the strike was an idea by management to have a Sheffield crew come to Leeds at 05.00 to work a train back to Sheffield. This resulted in the Leeds union and the Sheffield union arguing with management, as a result the strike occurred with the result that no one was happy. After all no one was going to give up a diagram without a very good reason.
Other one day strikes followed from time to time but it was regrettably the big strike of 1982 which brought very hard feelings. The issue was flexible rostering and doing away with the eight hour day, this led to a two week strike. The unions went crazy and the vast majority of the men walked out. A few men did come in and work leading to challenging situations long after the strike was over. Even today one of my friends who ignored the strike is well remembered for his decision, some twenty plus years after the strike was over.
March & April 1986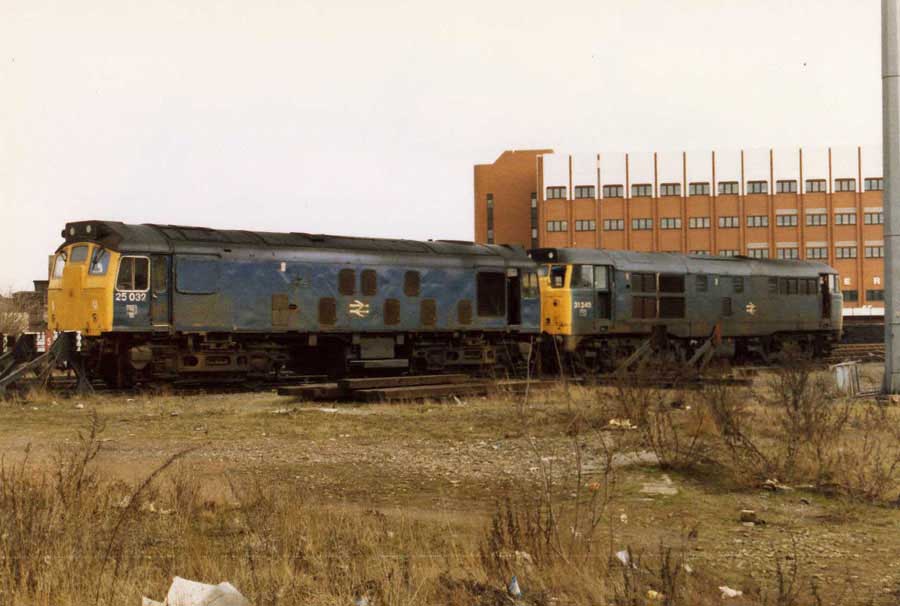 Photograph courtesy Michael Kaye
Its March 7th 1986 and its the end of the line for 25032, having just been taken out of service for ever. Parked next to 25032 is 31245. 25032 would eventually be removed to Toton where it would remain for two years prior to scrapping at Vic Berry's, Leicester during December 1988.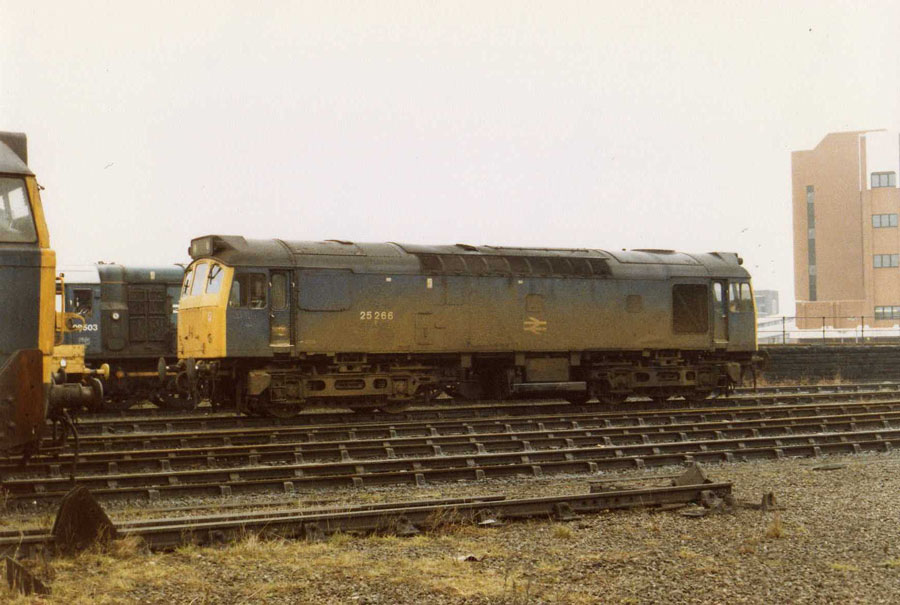 Photograph courtesy Michael Kaye
25266 Holbeck April 14th 1986. 25266 has another five months left in service, but would remain intact until January 1989 when it was finally broken up at Vic Berry's Leicester.
The above view of 25266 represents just another typical day at Holbeck, for the locomotives at least. For the train crew things would change at this time when their signing-on point was transferred to Leeds station. In celebration of this on April 15th a ceremony was held at Holbeck Depot in the naming of 47425 Holbeck, the unveiling of the nameplates carried out by a retired Holbeck driver, Mr Fred Watmough.
Holbeck at this time had no allocation of locomotives, the newly named 47425 was allocated to Gateshead and the Class 08 shunters that laid over at Holbeck were all allocated to Neville Hill.
The idea of closing Holbeck from one point of view is definately connected with the arrival of the HST's around 1979 for the Leeds - Kings Cross service. With servicing of the HST's to be carried out at Neville Hill it was envisaged that the crews would be based at Leeds, with some men working the HST's down to Leeds and replaced here possibly by reassigned Holbeck crews, with a decreasing need for locomotives to be kept at Holbeck. The unions said it wouldn't work and arrangements remained unchanged until April 1986 when crews were transferred to Leeds station and Holbeck lost its depot status, to become a stabling/fuelling point.
Two days prior to the closure of the fuelling point I was booked on at 22.00 Saturday night for station movements and trips to & from Holbeck for fuelling purposes. By 22.30 I was back at Holbeck for a cup of tea and some chin wagging with the fitters, which of course led to the discussion of almost every subject under the sun. Eventually the phone rings, its the foreman over at Leeds wanting to know where is Kaye, and more importantly where is the unit he's supposed to be in charge of? The answer goes back that they're still being refuelled. After several more phone calls, each with an increasing note of urgency due to the unit being required shortly, we decide to make a move and get the unit back to the station. We drop down to the outlet signal and inform the signalman of what train we are and our intended movement. 'Your joking' comes back the reply, 'we thought you'd left the depot two hours ago, your movement is no longer possible tonight as the line round the corner is now dug up!' I put the unit back in No. 6 road, contact the foreman and offer to stay with the unit (because I was now on double time!). As expected the foreman's use of colourful language filled the telephone line for a short while, but I was able to comprehend that he wanted to see me, urgently! I think he was alittle upset.
1987
The story of 25912 is told elsewhere in these pages. Suffice to say here that it was acquired by Holbeck for the purposes of becoming a training tool, after delivery from the LMR it was dumped on No.15 road and over time, with the approval of the 'powers-that-be' it was brought back to mainline running condition which included its repaint into two-tone green with full yellow ends (see below).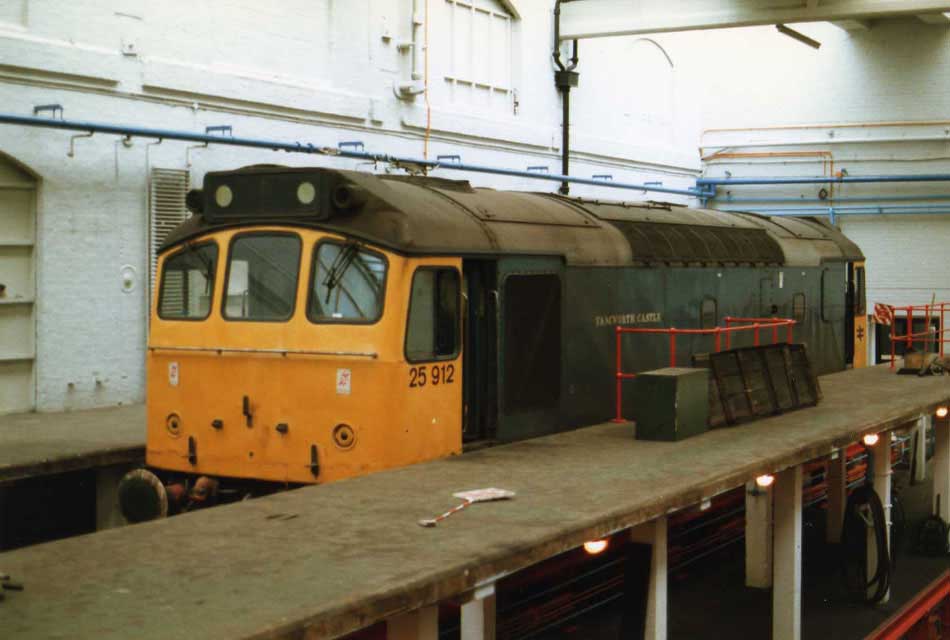 Photograph courtesy Michael Kaye.
25912 at Holbeck during 1987. 25912 is in the unique paint job carried by it at withdrawal.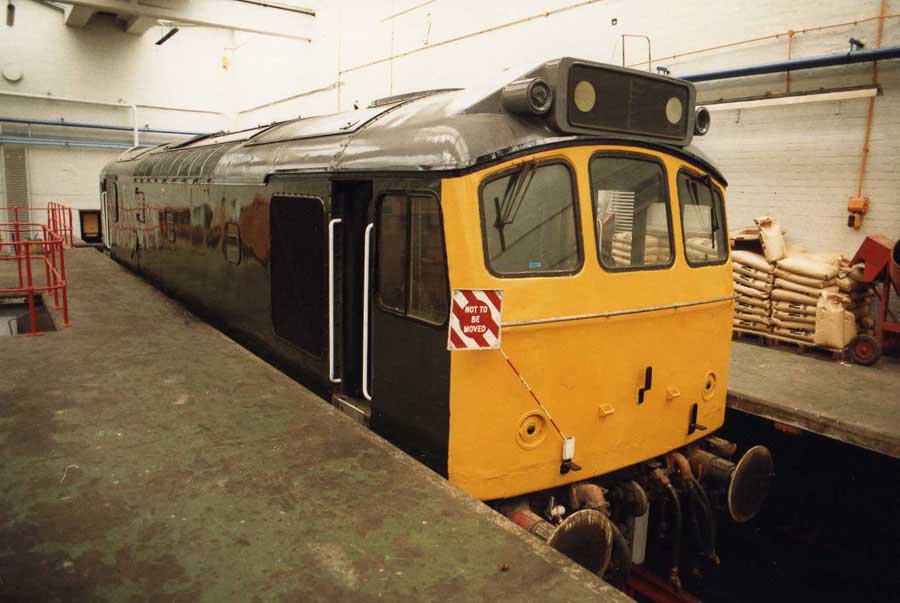 Photograph courtesy Michael Kaye.
25912/7672 at Holbeck during October 1987. The locomotive is in the middle of its repaint into a livery it never actually carried during its regular working life on BR.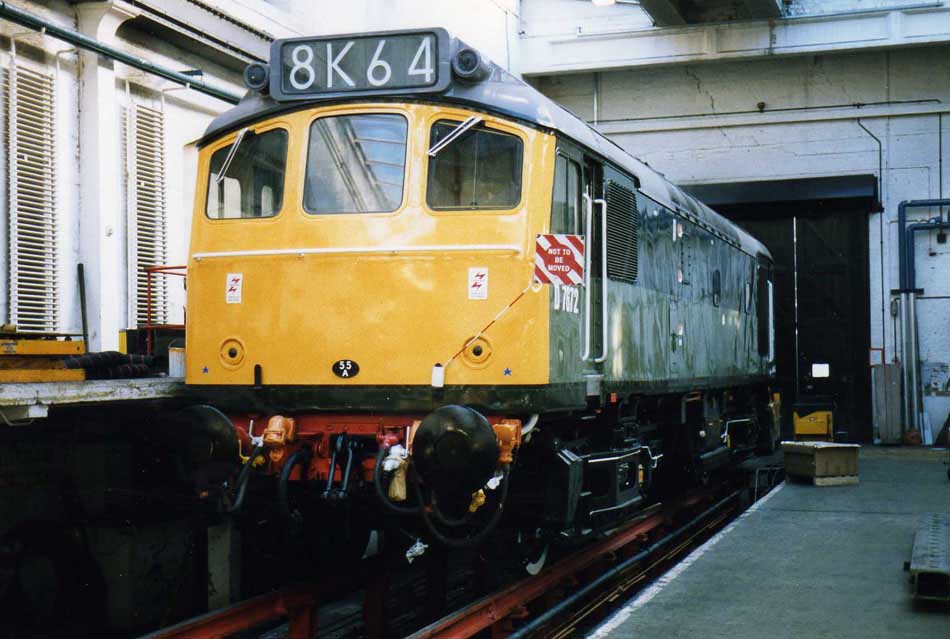 Photograph courtesy Michael Kaye.
7672 at Holbeck during October 1987. Its now in the familiar and rather pleasing two-tone green livery, last carried by a Class 25 in the spring of 1976.
January 1989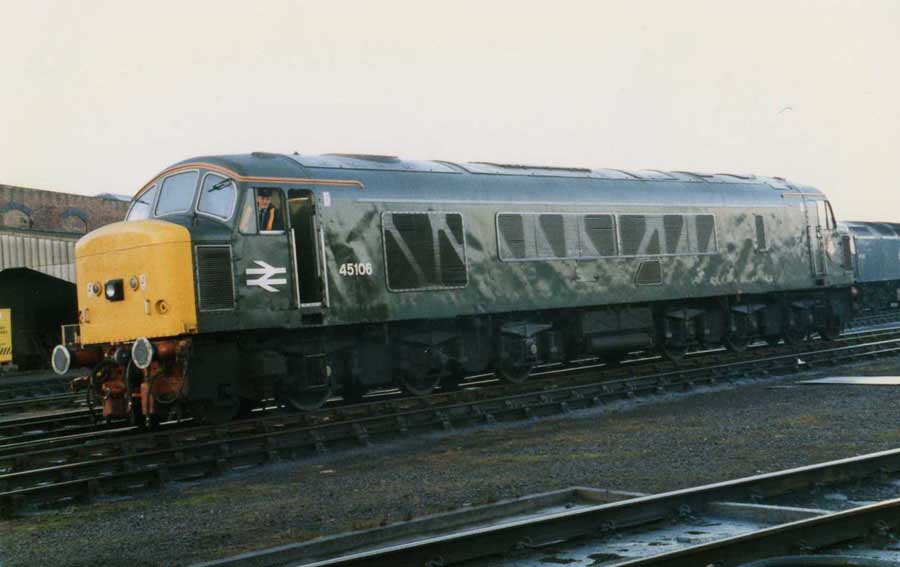 Photograph courtesy Michael Kaye.
45106 at Holbeck on January 21st 1989, believed to be the last time a Peak visited Holbeck in revenue earning service.
On January 20th Mike signed onto the 23.55 Relief shift, and learned that the last remaining active Peak, 45106 would be at Holbeck sometime the following morning to take up a duty. As luck would have it Mike had his camera with him so after his shift finished he remained at Holbeck hoping to catch 45106 on film. The above view shows 45106 being got ready for the special duty with driver Trevor Brogden at the controls. Trevor was at this time restricted to shed duty only. With about half a dozen pictures taken Mike advised Trevor he would let him have copies once they had been developed.
A couple of days later after the pictures were developed Mike asked for the whereabouts of Trevor to give him the copies. Unfortunately Trevor had died the previous day.
Time was also very short for 45106, just over a week later on February 3rd 1989 45106 working the 07.12 Derby - St Pancras required assistance forward from Wellingborough. 97472 arrived to assist the Peak, but near Hendon fire broke out on the Class 45, ending a career of almost twenty eight years.
February 1990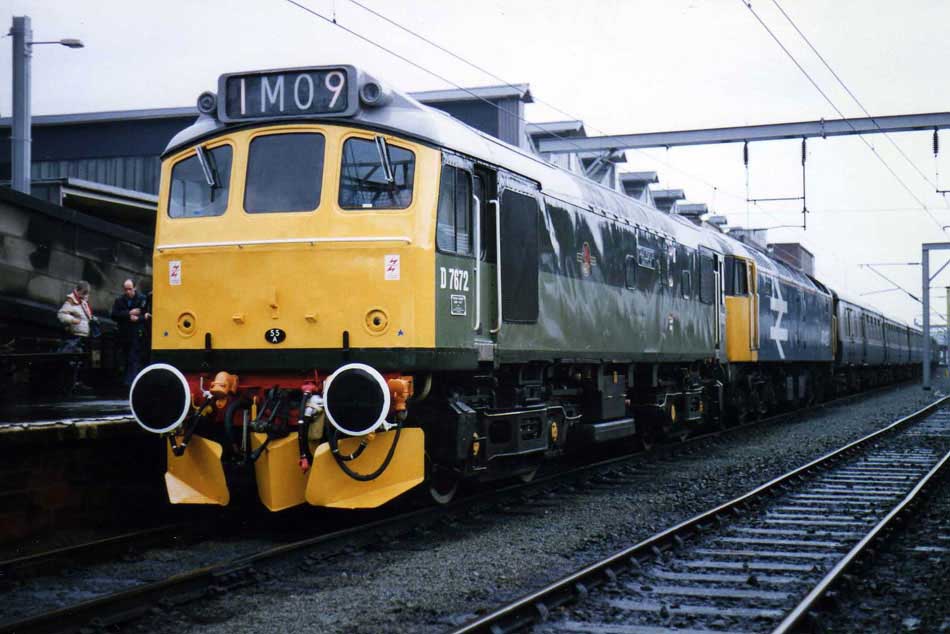 Photograph courtesy Michael Kaye.
February 24th 1990, a damp day at Carlisle finds history in the making with 7672 leading a Class 47 on the 08.20 Leeds - Carlisle.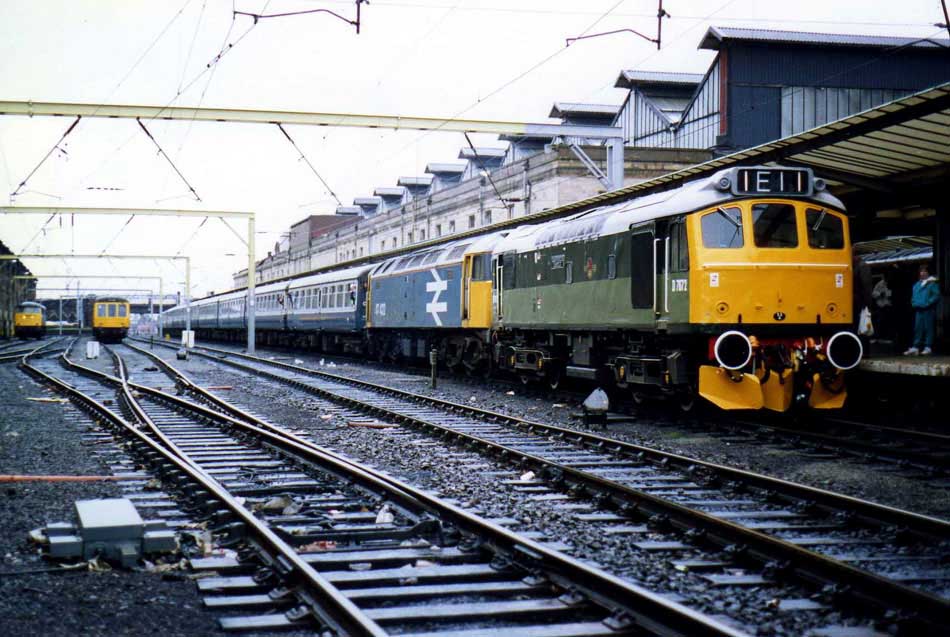 Photograph courtesy Michael Kaye.
February 24th 1990, 7672 waits at Carlisle for its return south over the S&C.
February 24th 1990 was definately a special day for those travelling over the Settle & Carlisle route. This day the regular 08.20 Leeds - Carlisle had the assistance of D7672, now just a little bit more than your average training locomotive. The regular train locomotive was still diagrammed, both as back-up and to supply power for the electrically heated stock. Michael was the conductor on the Class 25 for this round trip. The story goes that enthusiasts on board the service asked for the Class 25 to 'go it alone' on the ascent to the summit, in order to tape record the Type 2 in all its glory. This request was granted but because the Class 25 was restricted to 60mph twenty minutes were lost by the time Ais Gill was reached. Although the Class 25 had performed well the Class 47 was brought online to make up some time, leading to a very swift descent of the Eden Valley and on into Carlisle. "A bit like Alton Towers" was how the Class 25 driver described it, obviously somewhat hair-raising to say the least!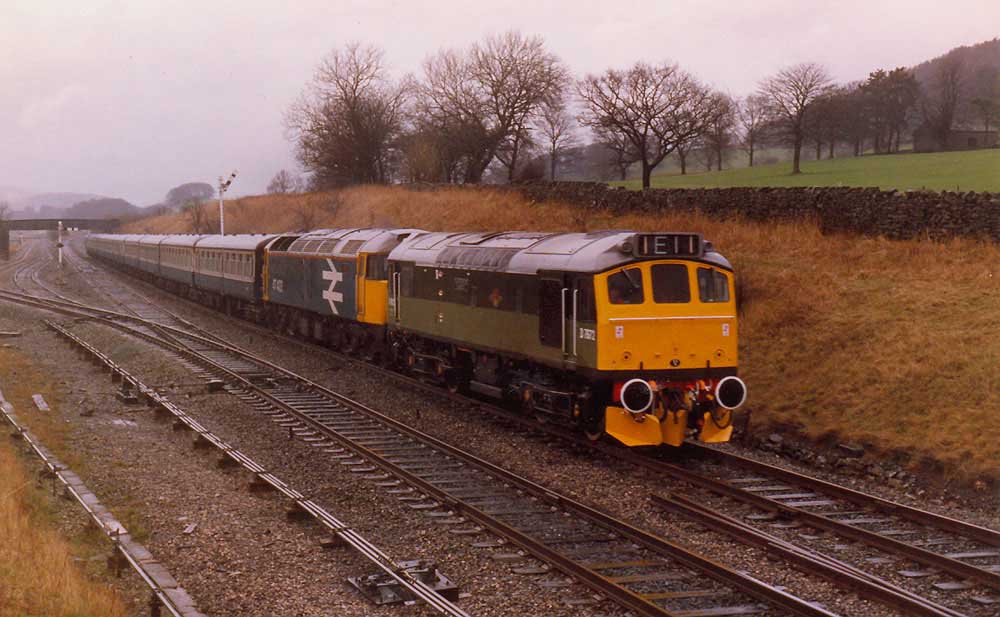 Photograph courtesy Steve Houlker.
D7672 and 47422 cruise by Settle Junction signalbox in what appears to be some fine Yorkshire rain. In the Drivers seat of the Class 25 is Ken Stafford, Michael (Dan) Kaye is in the secondman's seat and there is also a fitter in the cab. The Class 47 was being driven by Steve Cannon, and another fitter accompanied the Class 47.
1991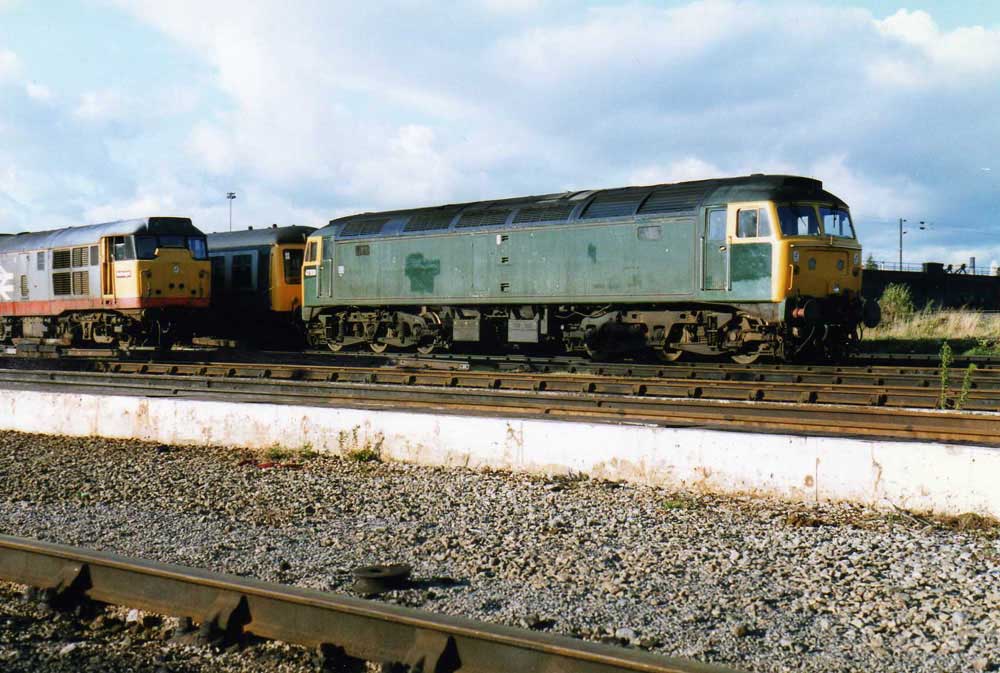 Photograph courtesy Steve Houlker.
A tatty 47500 occupies No. 4 Road at Holbeck on April 21st 1991. To the right of the Class 47 in the background is the point where the electrification ends, used once a day for the stabling of an InterCity Class 91.
Photograph courtesy Michael Kaye.
47703 & 47628 stand in No. 5 Road on April 23rd 1991. In the background is the Kays catalogue factory.
1992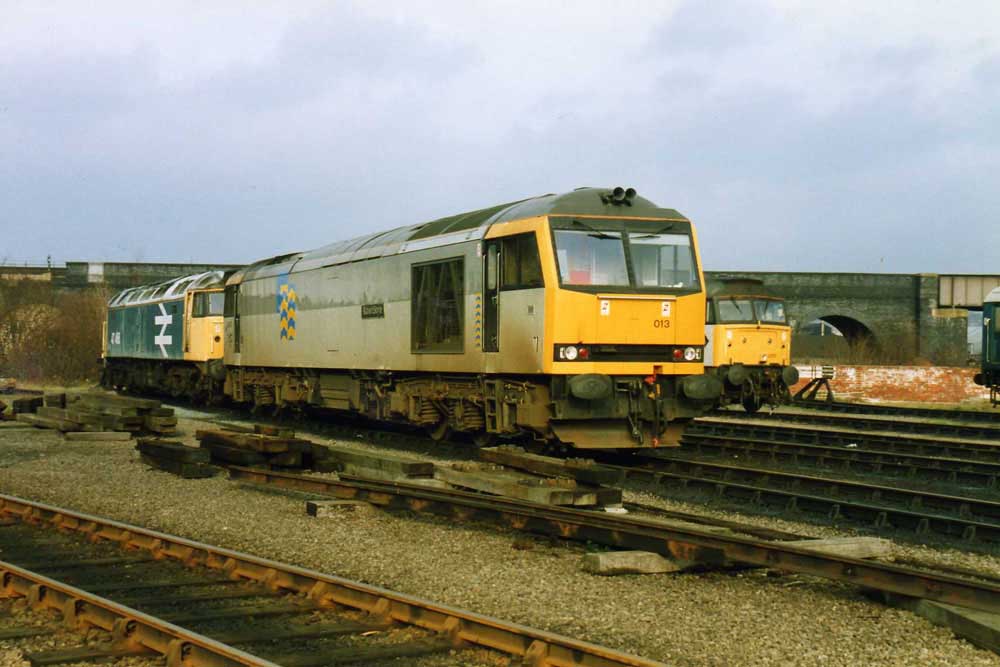 Photograph courtesy Steve Houlker.
The old and the new on No. 5 Road at Holbeck on April 24th 1992. The Class 60's were rare visitors to Holbeck.
2006
The privatisation of British Rail would eventually lead to the re-opening of Holbeck on September 17th for the primary purpose of refuelling a variety of units and track machines. Long delays in trying to access Neville Hill for refuelling by Virgin, Midland Mainline, GNER & Metro/Arriva became a headache, leading to Virgin creating a new depot at Crofton near Wakefield whilst Metro/Arriva utilised the reopened Holbeck for fuelling needs.
Page added May 6th 2006.
Last updated April 8th 2020.