| | | | | | |
| --- | --- | --- | --- | --- | --- |
| Owner | Engine Model | Builder/Wheel Arrangement/Gauge | Electrical Equipment | Total | Running Numbers |
| Japan National Rlys | 8LDA25 1,000hp | Mitsubishi Heavy Ind. 1953-1955, Bo-Bo, 3ft 6in | Mitsubishi Electric | 6 | DD501 - DD506(1) |
| Japan National Rlys | 6LDA22 750hp | Mitsubishi Heavy Ind. 1954, Bo-Bo, 3ft 6in | hydraulic | 1 | # ?? |
Notes
(1)Single ended BoBo, diesel electric - 900hp at 800rpm/1,000hp at 850rpm, length 11,900mm, weight 57.9/61.1 tons (empty/operating), speed 90km/h, gear ratio 73:16.
(2)'D'= diesel; 'F'= six driving axles; Double ended BoBoBo, 1,060hp at 800rpm/1,200 at 850rpm, length 16,400mm, weight 78.2/84.2 tons; '5'= max speed greater than 90km/hr, gear ratio 72:17. Built for narrow gauge 3'6" lines. All withdrawn by August 1983, three preserved.
Sulzer engines built under license by Mitsubishi.

The 1953 Bo-Bo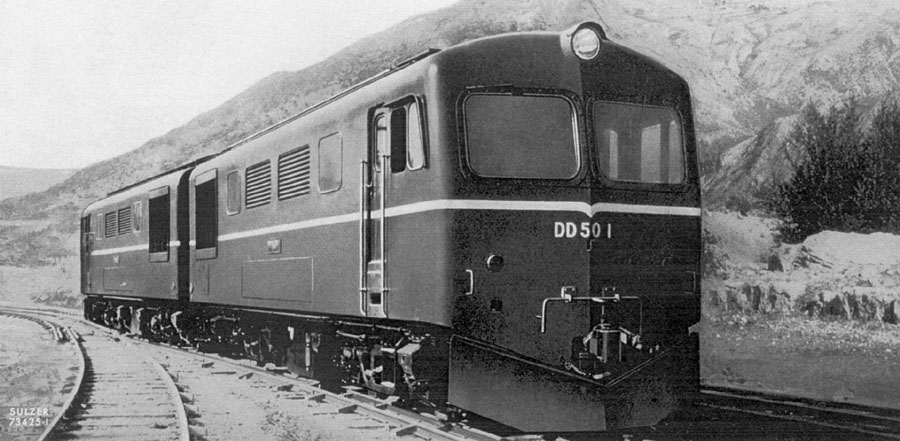 The 1954 Bo-Bo

The 1957 Bo-Bo-Bo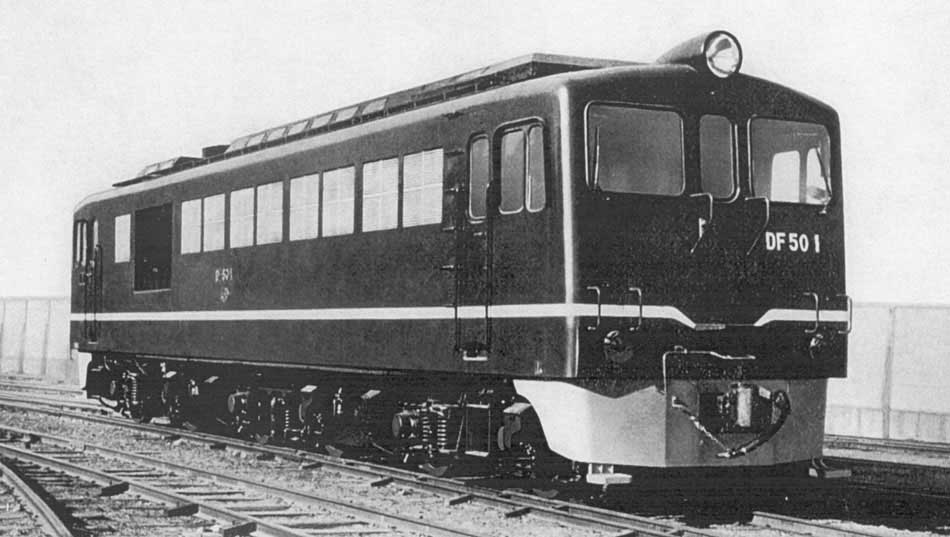 Japanese National Railways (JNR) certainly adopted a different approach to the development of its diesel fleet, working with the industry to develop standard designs that could be built by several manufacturers. This process had been followed since the later 1920s with electric locomotives, but it was probably a more difficult exercise in the diesel case.

Some of the early Japanese prototype diesels, such as the Hitachi DF90, were evidently company designs, built to meet perceived JNR requirements. The DD50, built in a small series, may also have been more Mitsubishi than JNR. The DF50 was evidently a co-operative design, probably with fairly major input from JNR. Mitsubishi may have provided the most significant industry input, with Hitachi contributing primarily in respect of the MAN-engined variant. But that is unknown, as is wherefrom came the idea for the single-frame tribo layout. That was hardly new; Alsthom had been the first to use it for a diesel-electric locomotive, and before that GE had used it for a DC electric locomotive, with several examples and variants of the type to be found worldwide, including one (by GE) with an unpowered centre bogie. But JNR was the first large-scale user, and effectively 'made it its own', subsequently using it widely for electric as well as diesel locomotives. One could say that JNR used Bo-Bo-Bo where many others would use Co-Co, and Bo-2-Bo where many others would use A1A-A1A. It is believed the DF50 was the only single-frame tribo to have asymmetrical bogie spacing.

A 'T-link' was system used to allow significant free lateral motion for the DF50 centre bogie. The outer bogies were of the outside swing hanger type, with it is believed, the bolster arching up from under the bogie frame to load the coil secondary springs that loaded directly on the swing hangers, although there appears to have been a normal spring plank. At a later JNR moved to roller platforms to provide centre bogie lateral movement in its tribo locomotives, at least those with powered centre bogies, and this was also found in export tribo models, such as the NZR Dj class and the ENFE Bolivia 900 class. The roller platform seems to be been originated by Baldwin-Westinghouse for the Pennsylvania E3b class AC electric locomotive prototypes.

The DF 50 followed on from the DD 50, but was equipped with a three bogie B-B-B axle arrangement to allow use not only on the mainline but also on branch lines, in both passenger & freight service. For the former type of service a steam generator was fitted. The locomotives were powered by engines built by two manufacturers, the Sulzer powered machines were built by Mitsubishi, the MAN powered machines by Kawasaki & Hitachi. The engines were interchangeable although their rated horsepower were different, 1,200 hp for Sulzer & 1,400hp for MAN. In order to accommodate multiple unit working the locomotives were equipped with multiple control system and end doors to allow crew movement between locomotives.

The body was of the box type using pressed steel to reduce weight. Four openings in the roof allowed for removal of all the major compenents. The front and rear bogies were of the ordinairy 2-axle swing bolster type. The middle bogie was equipped with a T shaped link mechanism, the equivalent length of which is made infinite, allowing the bolster to move laterally from the body center to within 150mm on either side, permitting the locomotive to negotiate curves of 100m radius. All the trucks were equipped with coil spring of small spring constant to provide riding quality similar to that of a passenger car. The B-B-B axle arrangement gave less thrust to the rail, allowing for operation on lower standard track. The axle journals were of the cylindrical roller bearing type, with single-row angular contact type ball bearings and oil resisting rubber blocks to handle the bearing thrust at the axle ends. Each wheel was provided with a brake cylinder.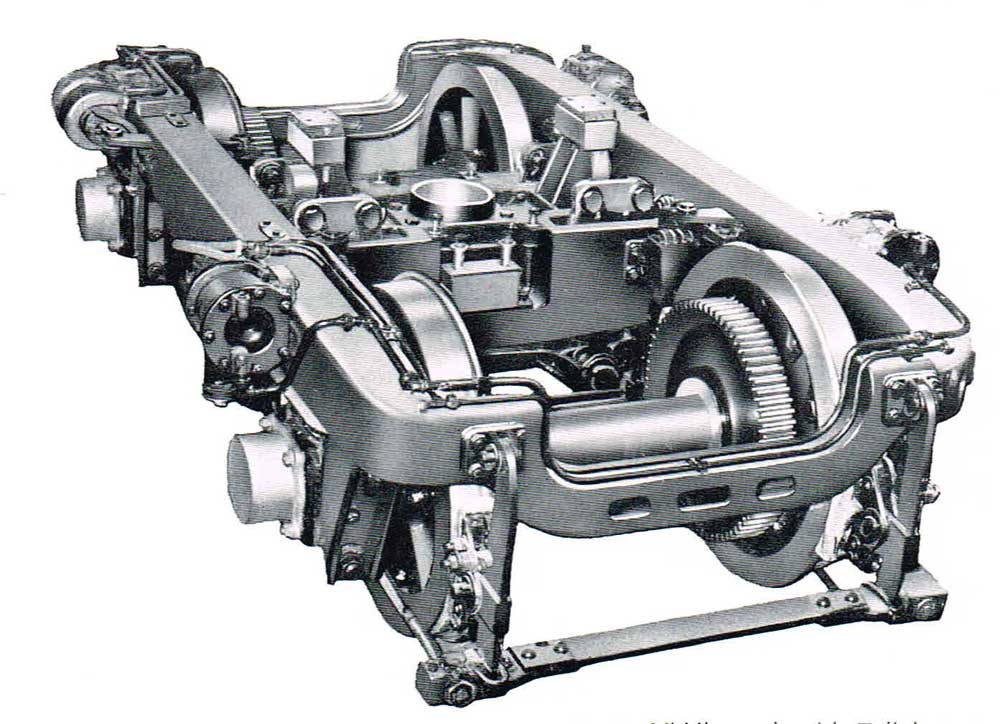 A publicity view of a middle truck from the DF50 Sulzer powered locomotive.
A Sulzer 8LDA25 engine had performed well in the DD 50 type, it would be applied to the DF 50, but uprated from 1,000hp to 1,200hp (8LDA25A) by altering the supercharging ratio through redesign of the piston and its cooling system. The main & auxiliary generators were arranged in tandem, with the auxiliary generator having an exciter for the main generator driven by V-belts. The larger electrical components were not interchangeable between the two engine types but many of the smaller electrical parts were. The six traction motors were electrically connected in such a way that that three sets of circuits, in which two traction motors were joined in series, were joined in parallel. The control equipment was located in a cabinet behind the No.1 end cab. The radiator fan, water pump, traction motor blowers, the steam generator and cab heaters were all powered by separate motors.
The Sulzer 8LDA25A engine was a water cooled, four cycle, vertical in line, direct injection with an exhaust gas supercharger. The cylinder bore was 250mm, the stroke 320mm, with a displacement of 126 litres, producing a continuous rating of 1,060hp at 800rpm and a one hour rating of 1,200hp at 850rpm. They were built by Mitsubishi Heavy Industries.
The main generator was separately excited, semi-closed, 9 poles with interpoles. The continuous rating was 700kw/225V/520amp/410rpm.
The six traction motors were closed, series winding, separately ventilated, 6 poles with interpoles. The continuous rating was 100kw/225V/520amp/410rpm. The traction motors were nose suspended with a gear ratio of 72:17.
The brake system was of the EL 14A type air brake & hand brake with C 3000 type motor driven air compressor.
The characteristics of the locomotive allowed haulage of a 500 ton train at 90 km/h on level track or a 300 ton train in excess of 17.5 km/h on hilly grades.
The selected statistics below are for the 1956 built DF50, those in red are for the earlier 1953 built DD50:
Gauge: 1,067mm
Axle arrangement: B-B-B; (DD50): B-B.
Length, width, height: 16,400mm, 2,932mm, 3987mm; (DD50): 11,900mm, 2,925mm, 4,014mm
Wheel base - total: 12,300mm; (DD50): 7,850mm.
Wheel base - truck: 2,300mm; (DD50): 2,300mm.
Distance between bogie centers: 4,700mm between No.1 & No.2 & 5,300mm between No.2 & No.3; (DD50): 5,550mm.
Driving wheel diameter, new/minimum: 1000mm / 920mm; (DD50): 1,000/920.
Weight in working order empty: 84.2 tons (winter), 78.2 tons (summer); (DD50): 61.1 tons(winter), 57.9 tons (summer).
Axle load in working order: 14 tons; (DD50): 15.3 tons.
Maximum operating speed: 90 km/h; (DD50): 90 km/h.
Continuous rating speed: 17.5 km/h; (DD50): 29 km/h.
Continuous rating tractive effort: 12.5 tons; (DD50): 6.5tons.
Fuel tank capacity: 1,500 litres (engine), 500 litres (steam generator); (DD50): 2,000 litres.
Water tank capacity: 3,000 litres (steam generator); (DD50): none.
Steam generator: SG 4 type, mono tube, forced circulating boiler-evaporating capacity 800 kg/hr, 8-12 kg cm2; (DD50): none.
Manufacturers of the mechanical parts for the DF50 were Hitachi, Kawaski Rolling Stock, Kisha Seizo, Mitsubishi Heavy-Industries, Nippon Sharyo & Tokyo Shibaura Electric.
Manufacturers of the electrical parts for the DF50 were Fuji Electric, Hitachi, Kawasaki Heavy-Industries, Mitsubishi Electric, Tokyo Shibaura Electric & Tokyo Electric.
From the above statistics an interesting feature of this B-B-B or 'tribo' design is the asymmetric disposition of the middle bogie; it is displaced 300 mm towards the 'A' (?) end. This is most unlikely unusual; other tribo locomotives have the middle bogie positioned dead centre.
Notwithstanding that there were both MAN and Sulzer engined variants of the DF50, the control system for both is definitely of Sulzer origin, possibly reflecting the fact that the latter had very definite views on the subject.
The MAN-engined DF50 was the progenitor of MAN-engined exports built by Hitachi (and some by Mitsubishi) for Thailand, Sudan, Bolivia, Congo and Nigeria. These form a diverse group, the tribo design for Bolivia apparently being closest to the Japan National Railways DF50.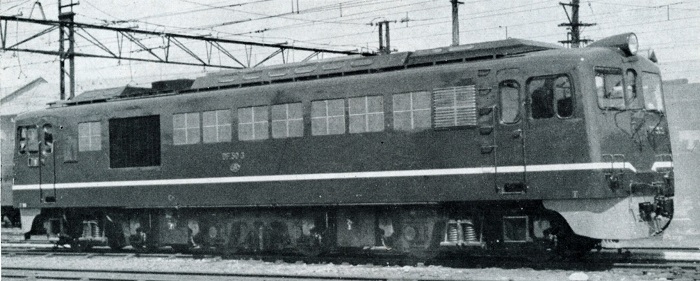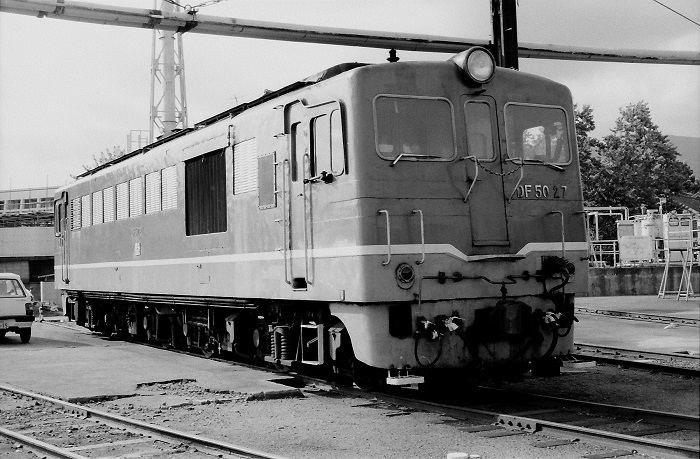 With permission via Wikimedia Commons, user Gohachiyasu1214, original picture link
DF50_27 at Kochi depot during August 1981.
Sources: Article dated July 1957: Diesel Locomotives & Diesel Railcars in JNR by Atsuo Kinugasa.
Steve Palmano contributor.
Page added April 30th 2005.
Page update November 1st 2020.
Return to Sulzer page
Return to Picture menu