The Class 45/46's on the North East / South West Route
Part 2 - Birmingham to Penzance
Part 1 - Edinburgh to Birmingham
Birmingham New Street
By the time Birmingham was reached an Edinburgh - Penzance service would be now just over half way through its journey. Again the traveller would be greeted by increasingly industrial scene particularly after passing Hams Hall power station. As with the approach to Sheffield the approach from the north east presented one of the more built up, gritty sides of the city. The final entry into New Street was one of viaducts, cuttings and noisy tunnels and of a modern station leaving much to be desired. No longer a cathedral to Victorian engineering, now a developers plan for the maximisation of office and retail space with a station in the basement.
Possibly one of the first Peaks to visit the Birmingham area was Derby's 700th diesel, D21 delivered to traffic during March 1961 and being noted at Saltley for crew training on 12th. D91 soon followed for crew training, two turns left Saltley at 9.40am & 11.20am running via Castle Bromwich and Aldridge. Other Peaks noted in the Birmingham area were arriving on 5.20pm passenger Derby - Birmingham, returning north next morning on the 8.05am Birmingham - Newcastle as far as York where the locomotive returns on the 2.24pm (12.43pm ex Newcastle) to Bristol, this latter turn being for the training of York crews.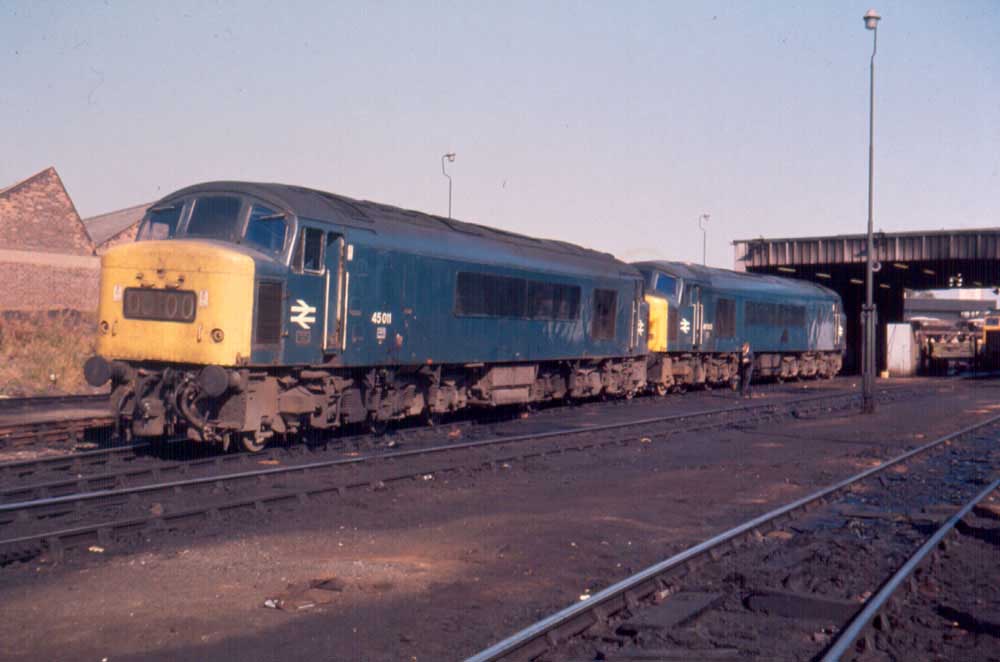 Photograph collection of webmaster.
January 22nd 1976 finds 45011 & 46043 sitting in the sun at Saltley. Although not too many NE/SW services started/ended at Birmingham, many changed locomotives here, particularly those from Liverpool/Manchester and those to the Southern Region via Reading. Saltley would generally service such locomotives.
Peak transfers during 1965 were pretty much limited to the shuffling of a small number of locomotives between the LMR depots throughout the year. However during March four Peaks were transferred to Saltley (2E), they returned to the Midland Lines (ML) during May.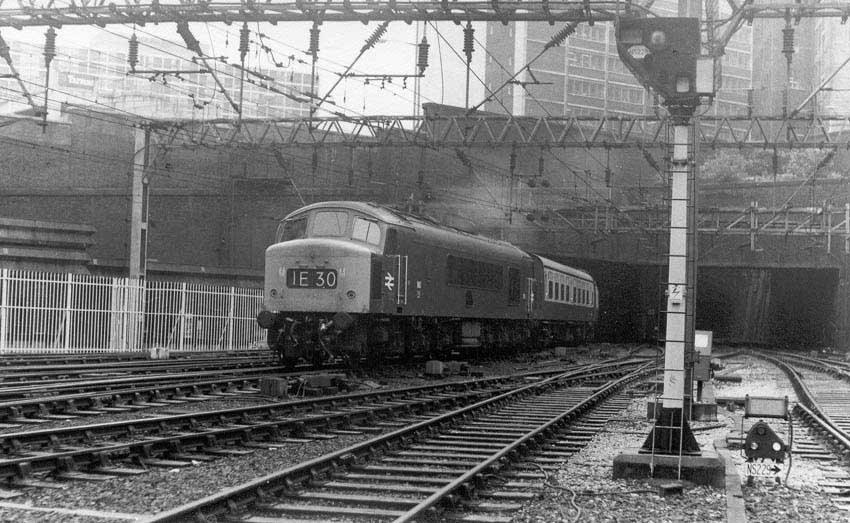 Photograph collection of webmaster.
Entering New Street from the south-west is 160 on May 31st 1973. It is about half way through its working life, ending its days at the Research Department as a back-up to 46045 (97404).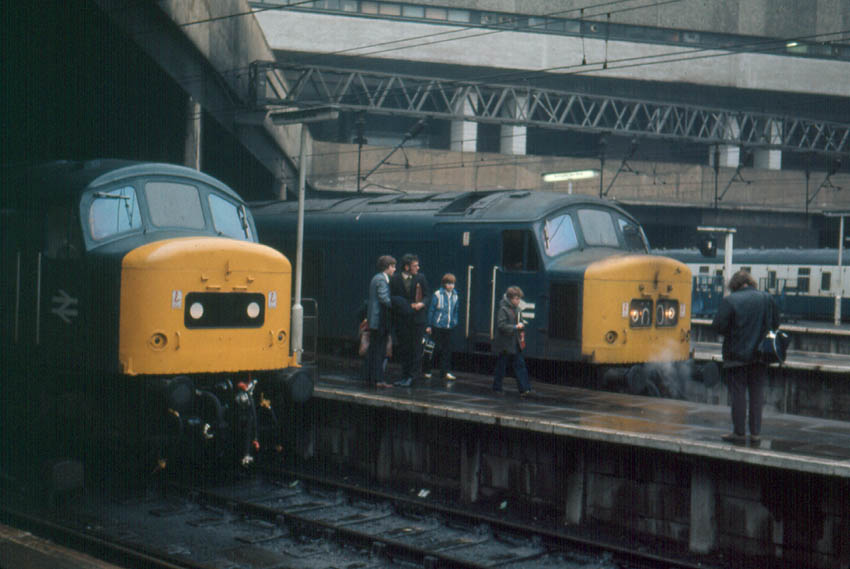 A rainy Saturday lunch time on March 26th 1977 finds two Peaks on adjacent platforms.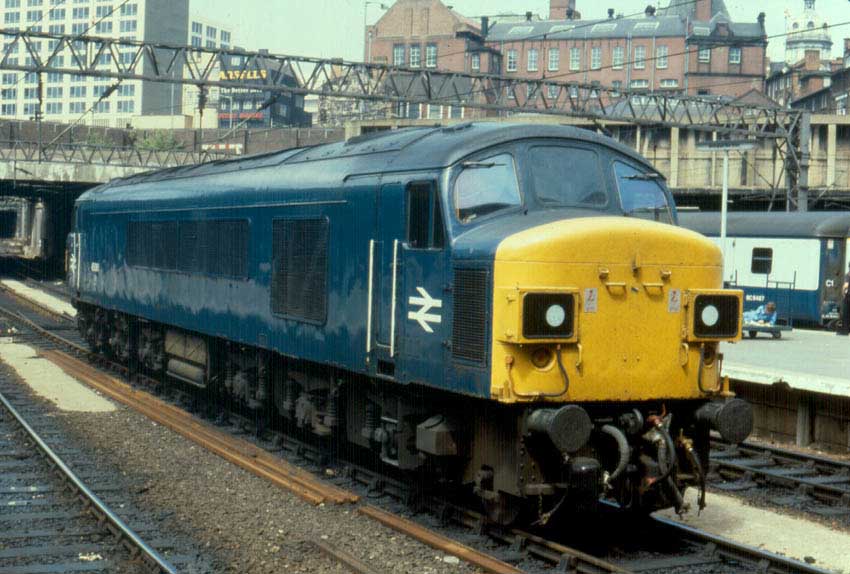 Locomotives awaiting their next turn of duty were always a regular feature at New Street, particular with the services to/from the Manchester/Liverpool area, being brought in by electric traction & leaving behind diesels. Here is 45061 on June 16th 1979.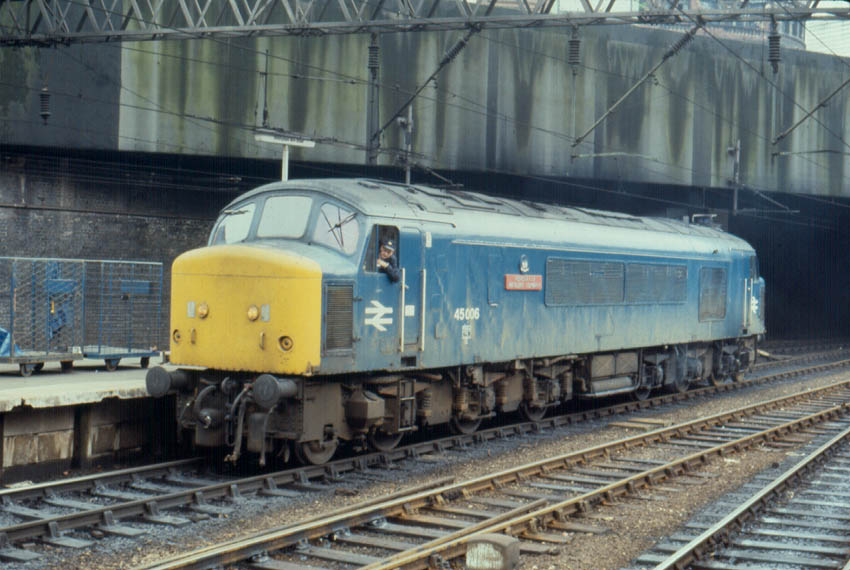 45006 'Honourable Artillery Company' drops down on to a working just arrived from Liverpool/Manchester on August 1st 1978. The locomotive received its name at a station not known for its diesel activity, that of Broad Street on June 9th 1965. It was retired at Toton in September 1986 due to its poor condition & general unreliability - it was worn out!
The only way in and out of New Street was through one of its tunnels, for those travelling south west it was a long curving tunnel before breaking out into surburbia.
Longbridge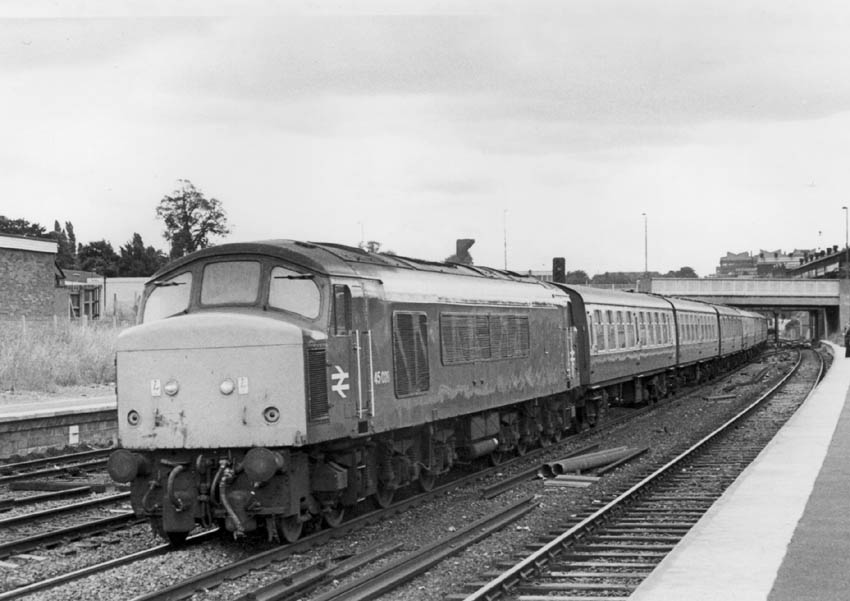 Photograph courtesy J Davenport.
45028 passes through Longbridge on the 10.35 Paignton - Leeds on July 21st 1979.
Lickey Incline
It was not long before the suburbs would fall away and more of England's 'green & pleasant land' would appear through the carriage window. Not so pleasant for the railway was the presence of the Lickey Incline, two miles of a 1 in 37 grade, downhill for the Bristol bound trains but a challenge for Birmingham bound trains.
Trials during April 1962 using D40 and D0280 on the Lickey incline led to the ending of banking duties for a number of passenger and freight trains, including passengers trains of up to twelve coaches in length.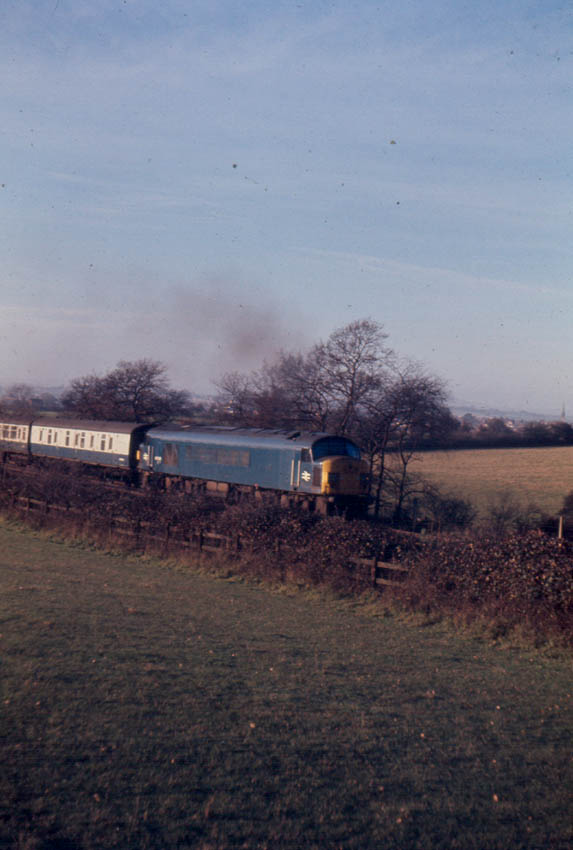 The Peaks working south-west from Birmingham had the delights of the Lickey Incline to deal with - some two miles of 1 in 37 for northbound workings. Seen here on a sunny November 27th 1976 is 45029 taking an express up Lickey, filling the surrounding fields with the sound of its engine, generators and traction motors giving all they've got to lift the train through the Worcestershire countryside.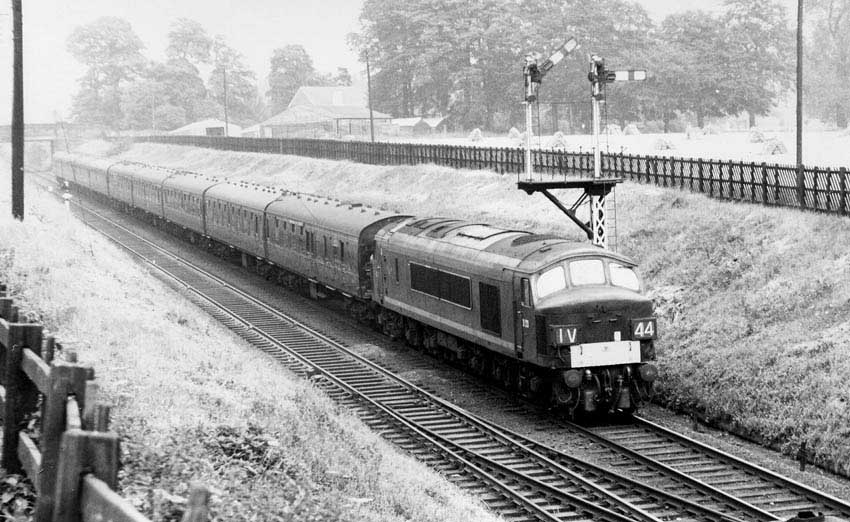 Photograph collection of webmaster.
D23 and train at the bottom of Lickey Incline, probably not very long after the Peaks had started to work this route. The locomotive carries a 55H shedplate and is still fitted with the water filler cover for the roof location.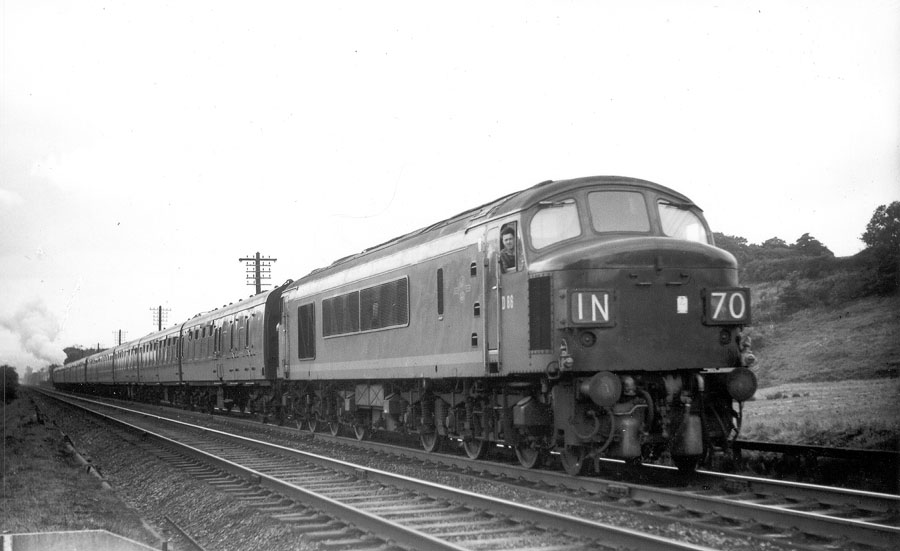 Photograph collection of webmaster.
An almost new D86, still with shiny paint on the nose, seems to be letting the steam banker do all the work, whilst the second-man has spotted the photographer. D86 would become 45105, with a working life of just over 26 years, succumbing to a fire on the 16.45 Derby - Nuneaton on May 7th 1987. After six years in store at March preservation eventually beckoned.
Once clear of Bromsgrove the route lay through undulating countryside, of closed stations and abandoned goods yards, many of which would become occupied by one man businesses, of car repairs, storage lockups & lumber yards.
Gloucester
Gloucester always seemed to have some activity of interest, was it the two strangely connected stations, or the junction of the line to Cardiff via Chepstow, or that it maintained a small shed? Or perhaps it was one of the extremities of the old 'Midland Railtourer' ticket, which in my day meant the good possibility of seeing a WR diesel hydraulic locomotive of somekind.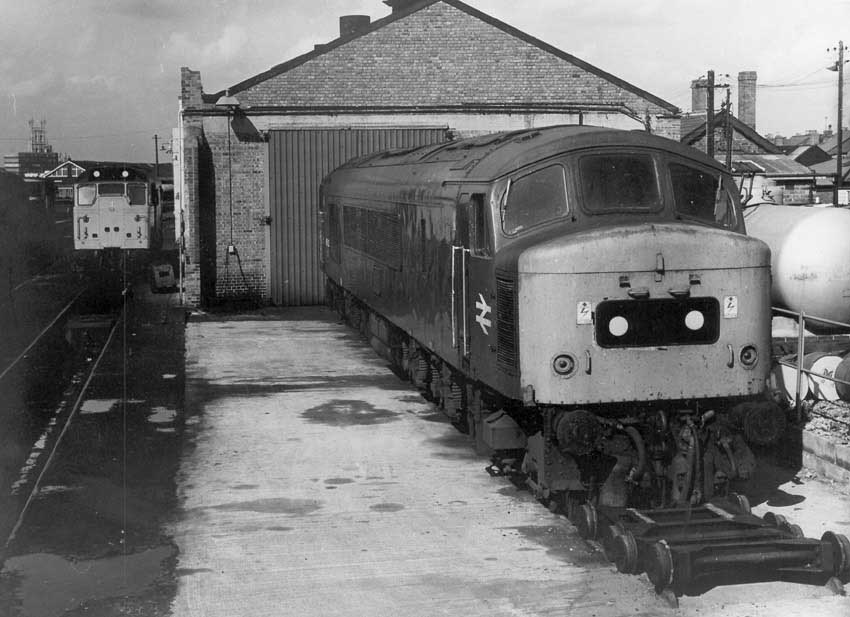 Photograph collection of webmaster.
Occupying the back of the shed on March 30th 1978 is NE/SW stalwart 46021. When the smaller diesel hydraulics left the roster their replacements included the Class 31s, an example also seen in this view.
Bristol
South of Gloucester the Peaks once again had the opportunity to stretch their legs and provide train recorders with a stretch of line known for its ability to produce quality high performance workings, particularly in the northbound direction. The early Peaks used the old Midland route into Bristol, rationalisation led to the NE/SW services utilising the GWR mainline via Filton.
During May 1961 D93 was loaned to the Western Region (82B - St Phillips Marsh but worked out of Barrow Road), being noted westbound through Barnt Green light engine on April 10th. It would be used for crew training and running-in between Bristol & Gloucester. On June 12th 1961 a number of NE/SW services became Peak hauled, included were the 6.30pm Bristol - Birmingham New Street, returning south-west at 11.30pm on a parcels and heading back north on the next morning's 8.40am Bristol - Sheffield. Another working taken over by diesels was a 5.00pm Bristol - Derby. By July 1961 seven passenger services into Bristol were Peak hauled, five returned north as passenger & two as parcels, further Peaks were loaned to Barrow Road as they became available, though the borrowed Crewe built Peaks were exchanged for recently built Derby variants!
Barrow Road reached its allocated number of Peaks with D33 - D42 officially transferred there during October 1961, though servicing was carried out at the recently opened Bath Road diesel depot - this allocation of Peaks caused Barrow Road to loose its Jubilees. Four diagrams were now available over the NE/SW route, the 10.30am Bristol - Newcastle & 8.15am Newcastle - Cardiff, the 8.30am Cardiff - Newcastle & 7.5pm Newcastle - Bristol, the 8.5am Birmingham - Newcastle & 3.30pm Newcastle - Birmingham and the 6.55am York - Edinburgh (to Newcastle) & 12.43 Newcastle - Bristol. As more Peaks came off the production lines they were used to take over the majority of the freights between Birmingham & Bristol.
The early Class 46s were loaned to many parts of the country, including D149 to Barrow Road (82A) in February 1962. With the NE/SW route sharing a couple of depots that sent the Peaks all over the place (particularly Holbeck & Gateshead) it was not long before a Barrow Road (82A) allocated Peak would find its way into Kings Cross as did D35 on January 9th 1962 working the 5.29pm Leeds - Kings Cross.
An Open Day held at Bristol Bath Road on April 30th 1966 featured several steam locomotives, although since March 6th there had been no steam operation on the Western Region diagrams. Also present was D15 amongst the regular diet of hydraulics. Off the beaten track on May 11th 1966 was D27 turned out by Bristol for the 10.30am Bristol East Depot - Weymouth freight, the Peak came off at Eastleigh returning to Bristol with another freight.
The routing of trains between Gloucester & Bristol during June 1969 found trains working over both the old route - via Mangotsfield and the new route via Stoke Gifford. The routing via Stoke Gifford added about five minutes to the journey time - there were no stations remaining open on the Mangotsfield route.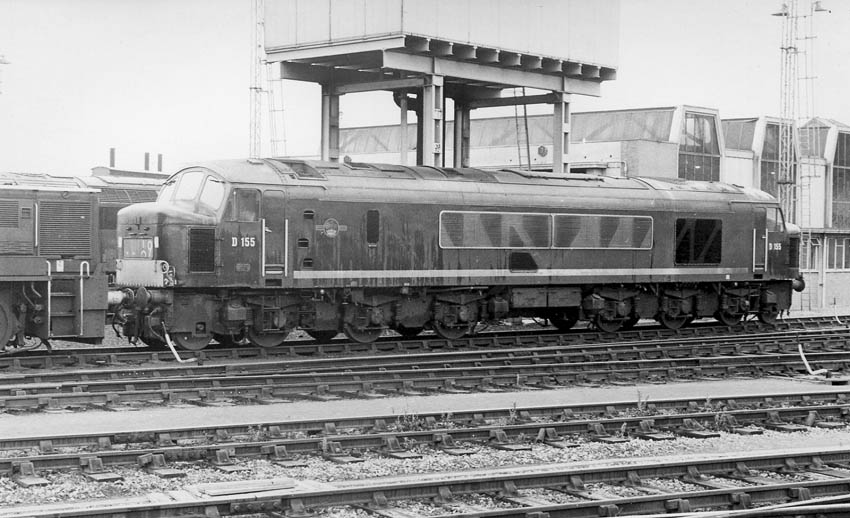 Photograph collection of webmaster.
With Bath Road depot situated next to the west end of Temple Meads platforms it was not too difficult to observe the movements at the depot. Here is D155, date unknown, in as delivered condition, though with a good coat of grime. In the early days the Peaks would not normally venture west of Bristol.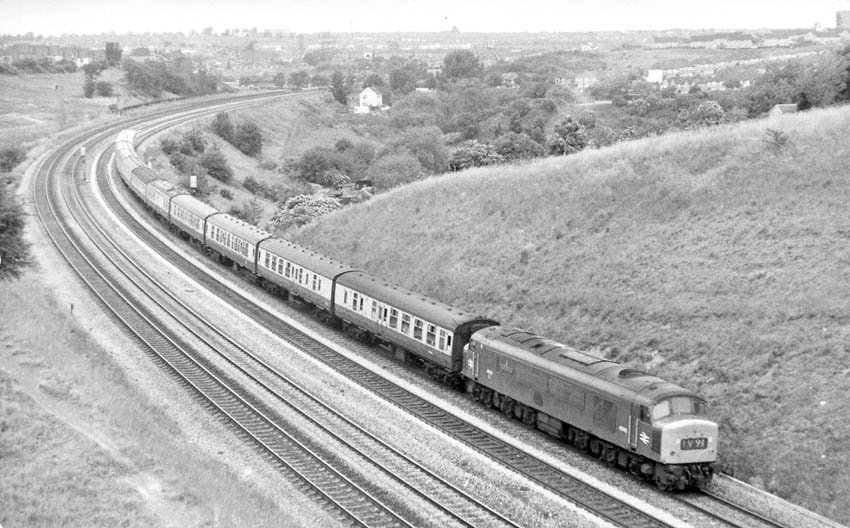 Photograph collection of webmaster.
45002 brings its eleven coach train into the outskirts of Bristol on June 20th 1975.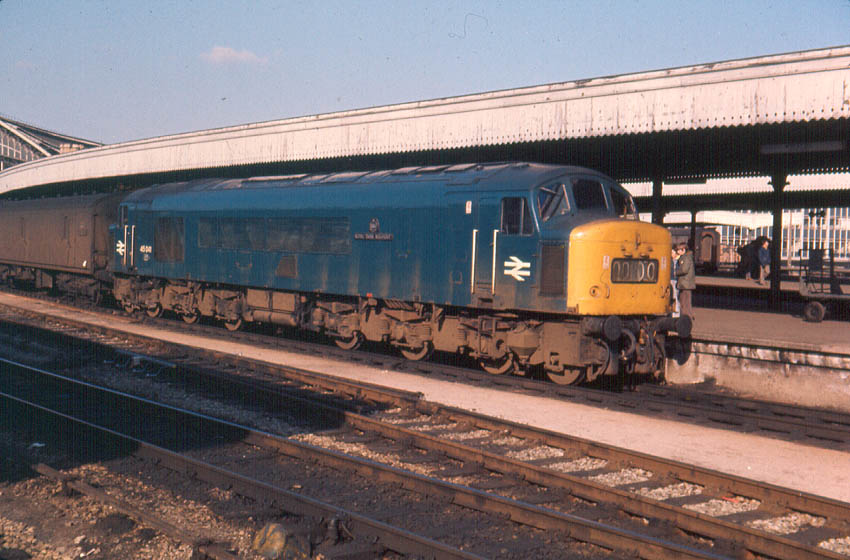 Photograph collection of webmaster.
The afternoon sun catches 45041 'Royal Tank Regiment' as it waits at Bristol on February 26th 1977. This was the last Class 45/0 to receive any kind of repair at Derby Works, receiving attention to its main generator during July 1986. It ended its days at Thornaby and survived into preservation.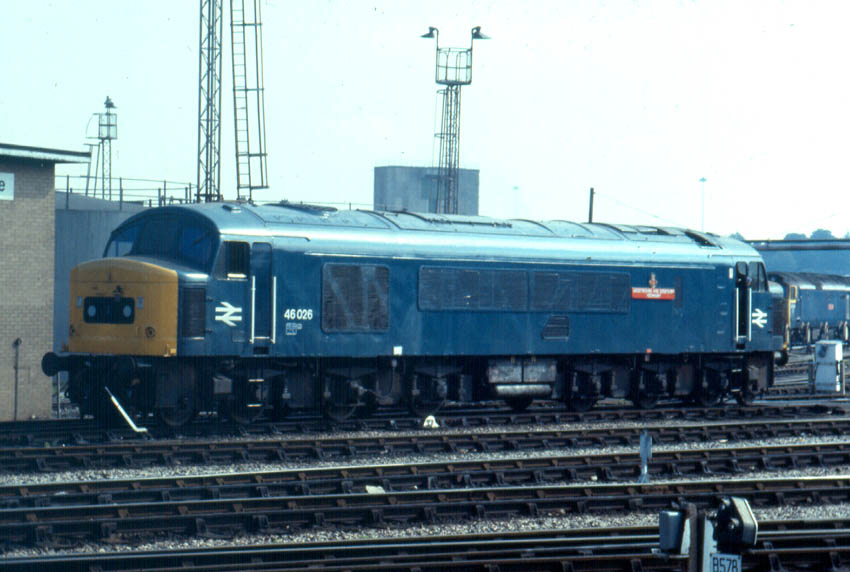 Photograph collection of webmaster.
The unmistakeable 46026, the only named Class 46, moves around Bath Road depot on September 23rd 1978. 46026 proved to be something of a celebrity machine working the last passenger train over the Consett branch on March 17th 1984.
Tiverton Junction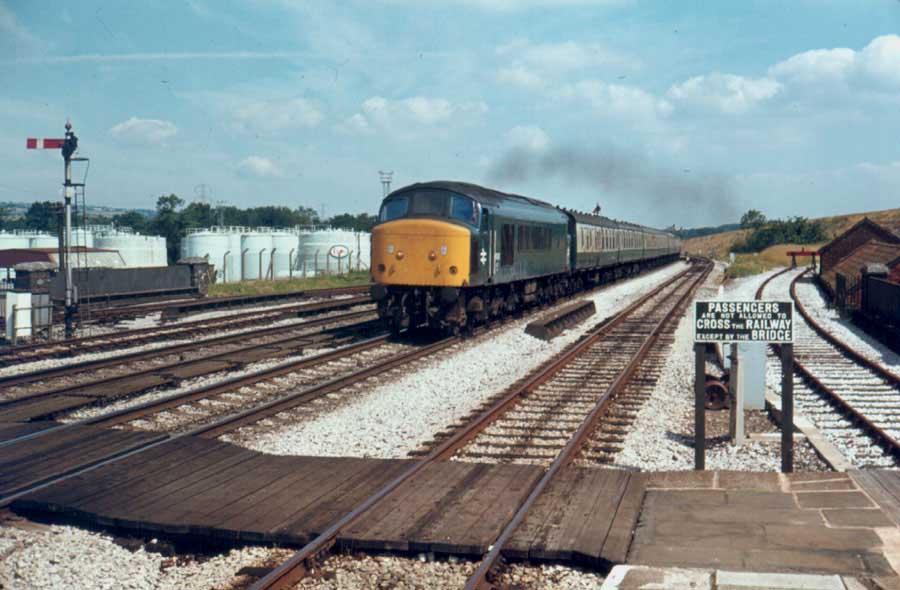 Photograph courtesy K Barber.
A fine view of 45063 as it heads through Tiverton Junction on July 30th 1977.
Exeter
The initial allocation of Peaks to Bristol was with the intention to keep them on services north of Bristol, for services working beyond Bristol a locomotive change was standard practice, either to steam or diesel hydraulic power. The occasional Peak of course did slip through and make it further west, largely dependent on a trained Bristol crew being available, but these were rare events in those early days of the Peaks.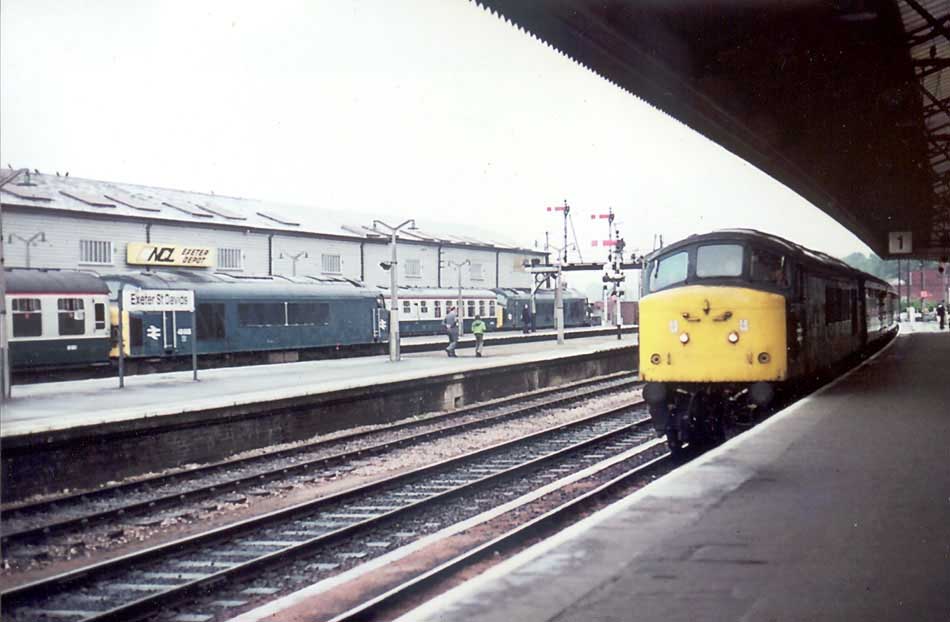 Photograph courtesy Peter Wilmott.
Its the summer of 1976 and Exeter is host to three Peaks on a variety of services. This is the last summer of service for the Class 52 Westerns, this day however the few remaining working examples seem to be elsewhere. Possibly the nearest Peak is 46003.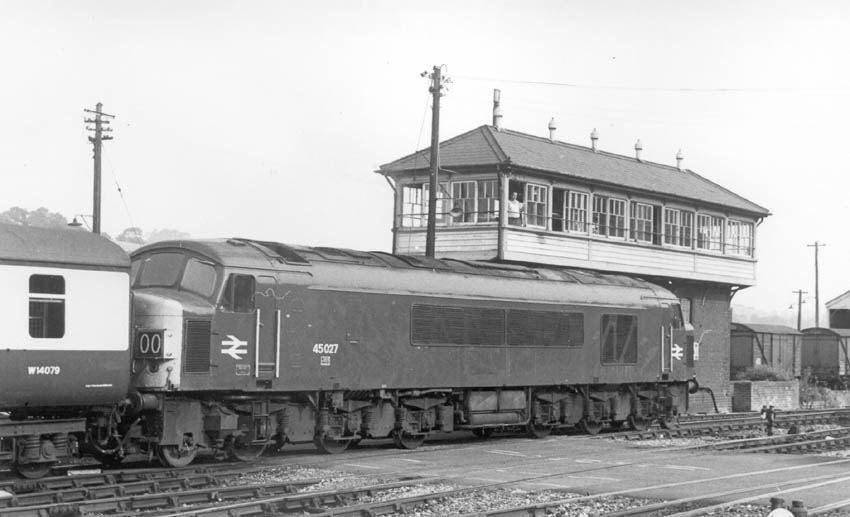 Photograph courtesy J Davenport.
45027 departs from Exeter on July 1st 1976 with the 07.05 Plymouth - Leeds.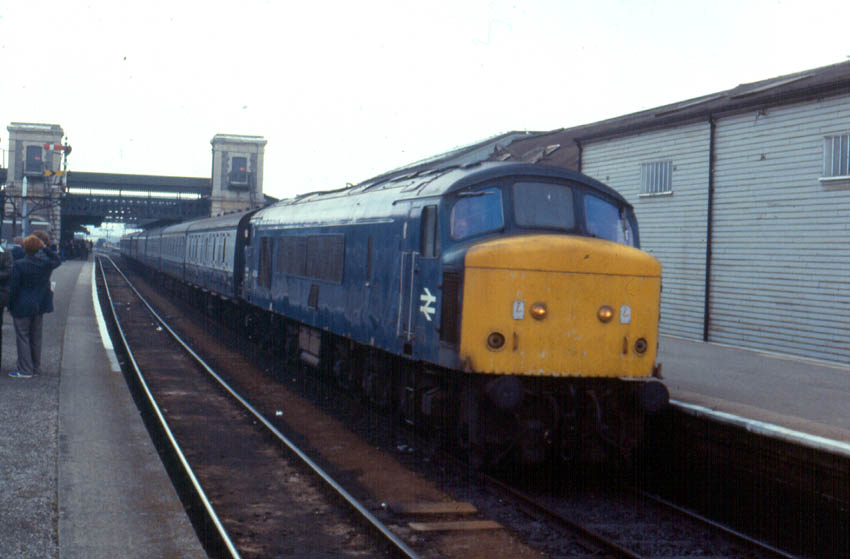 A train load of holidaymakers head for home on August 26th 1978 behind 46011. D148 was new to Derby at the end of 1961, it ended its days at Margam during November 1984 with a power fault.
Dawlish/Dawlish Warren
Although I travelled west of Exeter a number of times, on only one occasion did we get off at Dawlish and spend an afternoon taking in the delights of the combination of sun, sea, sand & trains. Fortunately the weather was fine, the tide was out and the trains were frequent, we should have stayed longer!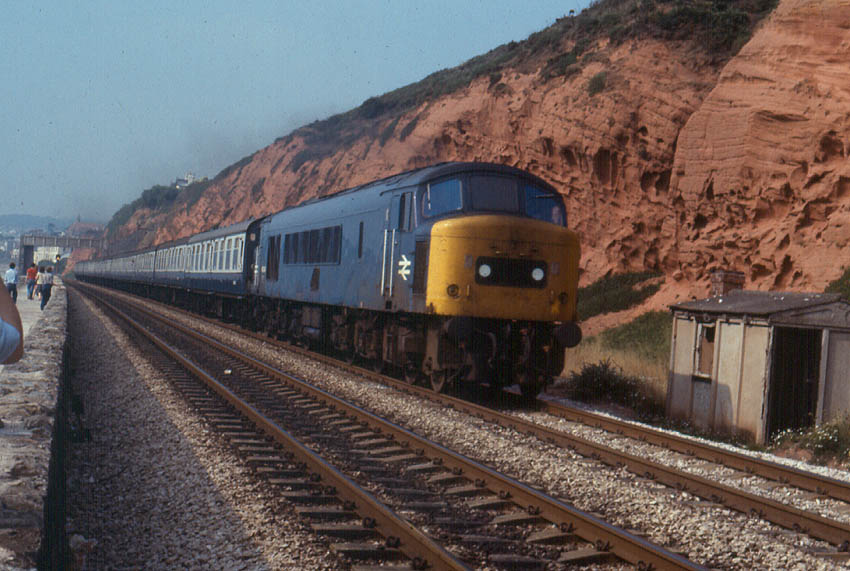 Its high summer, August 28th 1978 and a north bound express headed by an unidentified Class 46 runs along the sea wall at Dawlish before turning to follow the Exe estuary.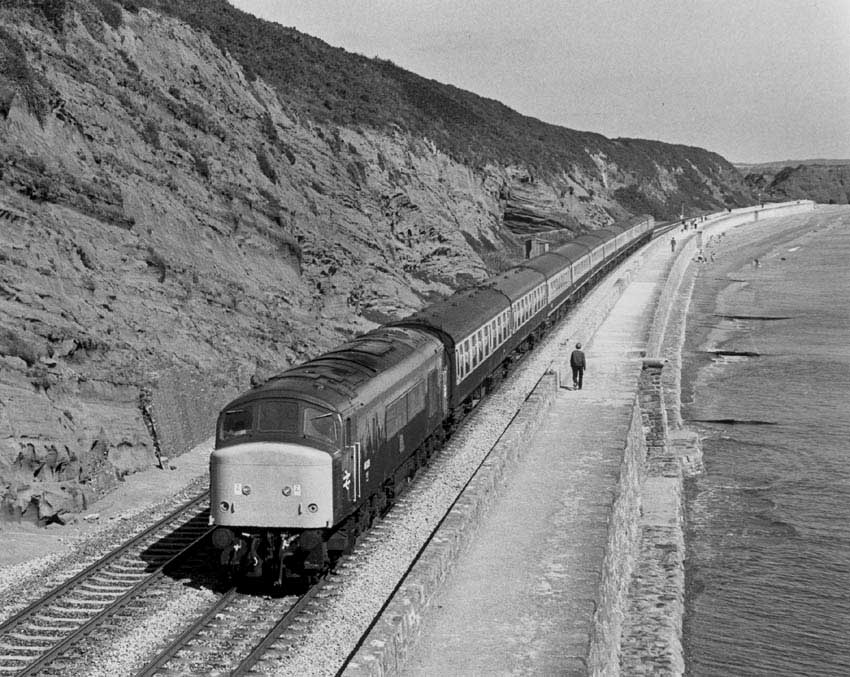 Photograph courtesy J Davenport.
The summer season is almost over as 46039 cruises along the seawall with the 07.35 Leeds - Penzance on September 13th 1979.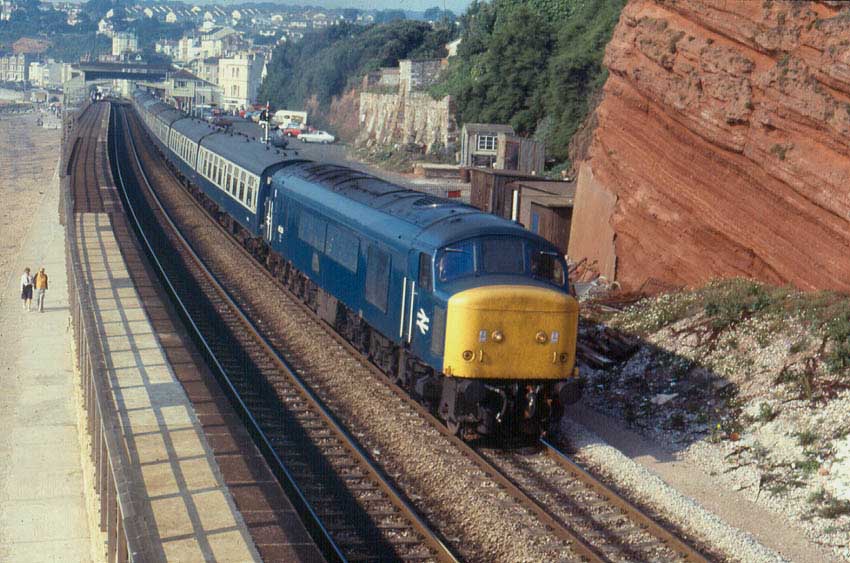 Photograph courtesy J Davenport.
A favourite shot, of 46034 working northwards with a NE/SW Saturday working August 28th 1978.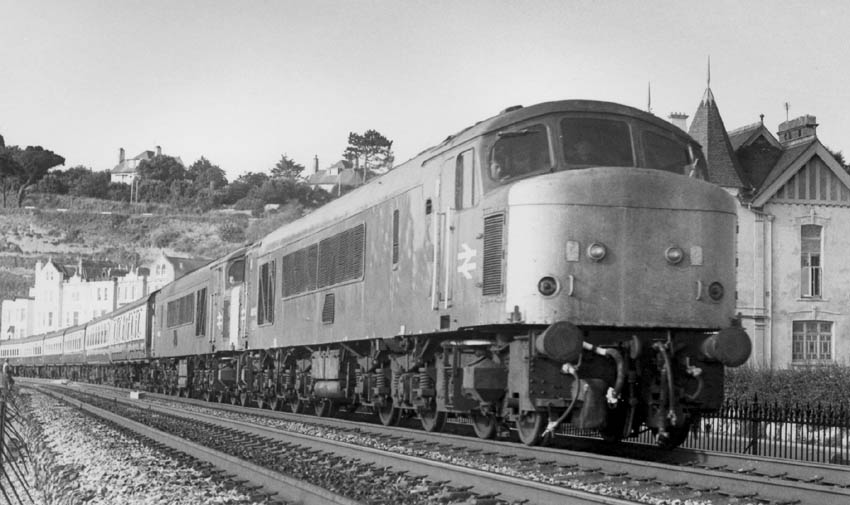 Photograph courtesy J Davenport.
Superpower for the 08.15 Plymouth - Leeds on September 11th 1979 with 46014 & 46016 in charge - both locomotives appear to be manned. 46016 is one of the few recorded Peaks to reach Inverness & working 'The Royal Highlander' at that!!
Paignton
South of Newton Abbot the Paignton bound trains left the mainline for a brief journey down the branch to the seaside resort of Paignton. Despite its branch status the line was accessible to the big Type 4's, bringing much activity to the resort, not only for the regular passenger trains but for the many dated summer Saturday extras and the occasional mystery excursion.
For the start of the new timetable in 1971 the 07.20 Paignton - Newcastle & 16.20 return were extended to/from Edinburgh, a journey of 521 miles - the longest passenger working in the UK not passing through London. Likewise at this time the 07.00 Weston super Mare - Newcastle and 16.20 return were also extended to/from Newcastle.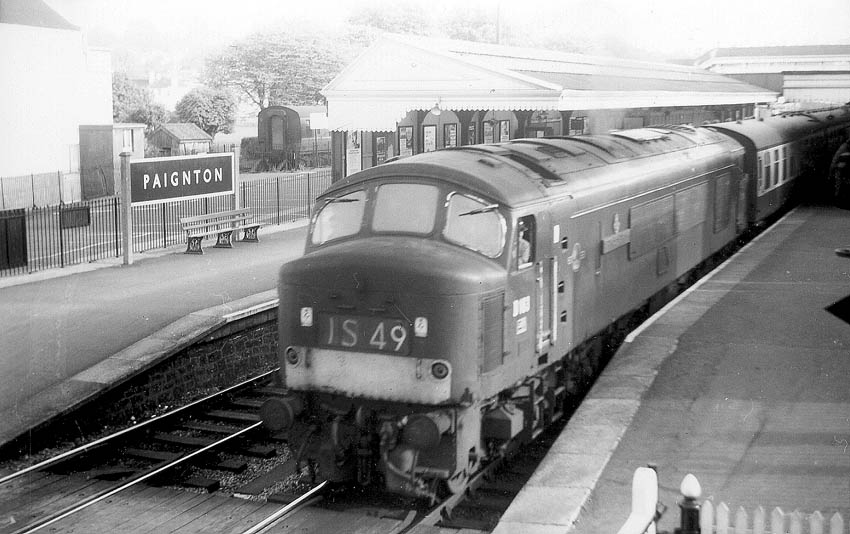 Photograph courtesy DK Jones collection.
D163 begins its long journey northwards from Paignton, date unknown.
Plymouth
Between Newton Abbot and Plymouth the GWR main line provides a roller coaster ride up and own the banks at Dainton, Rattery & Hemerden, with gradients between 1 in 40 & 1 in 50 they would prove a challenge for those locomotives operating over them, particularly for a fresh engine starting out on its northbound journey from Plymouth.
Although Plymouth Laira was not the most westerly depot in the United Kindom it was the most westerly home for the Peaks with a number of Class 46's allocated there following the retirement of the Warships.
Another unusual event was the visit of D34 to Newton Abbott on October 4th 1963 to test a new washing plant.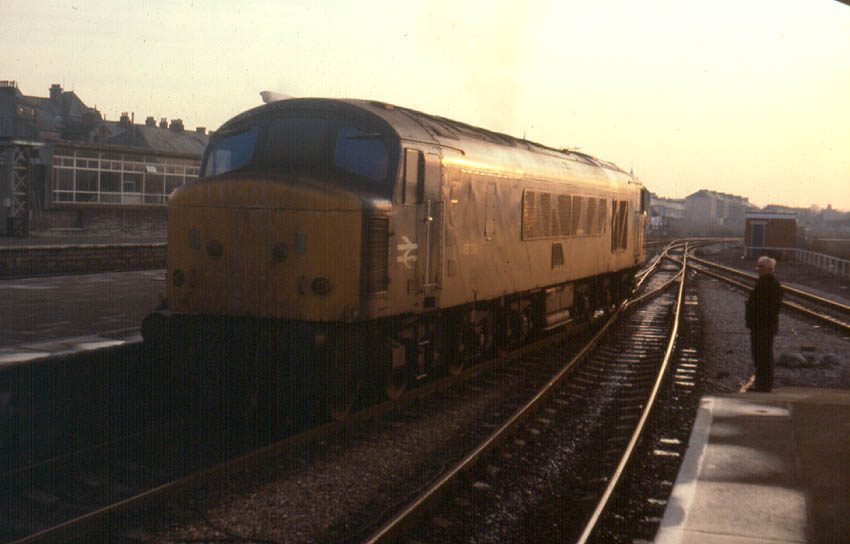 With its train terminating at Plymouth 46031 pulls forward into the fading afternoon sun before setting back to reach Laira, St Patrick's Day 1979.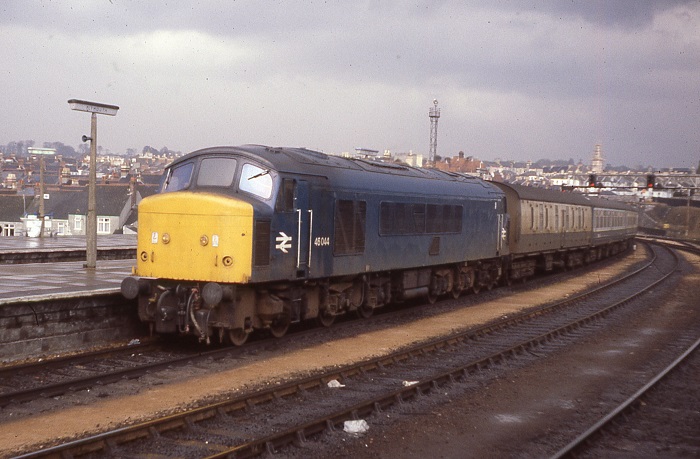 Also on St Patrick's Day 1979 46044 arrives at Plymouth with a working from the north. The partly cloudy skies with a hint of sun don't reveal the heavy rain that fell earlier in the day, whilst visiting Laira!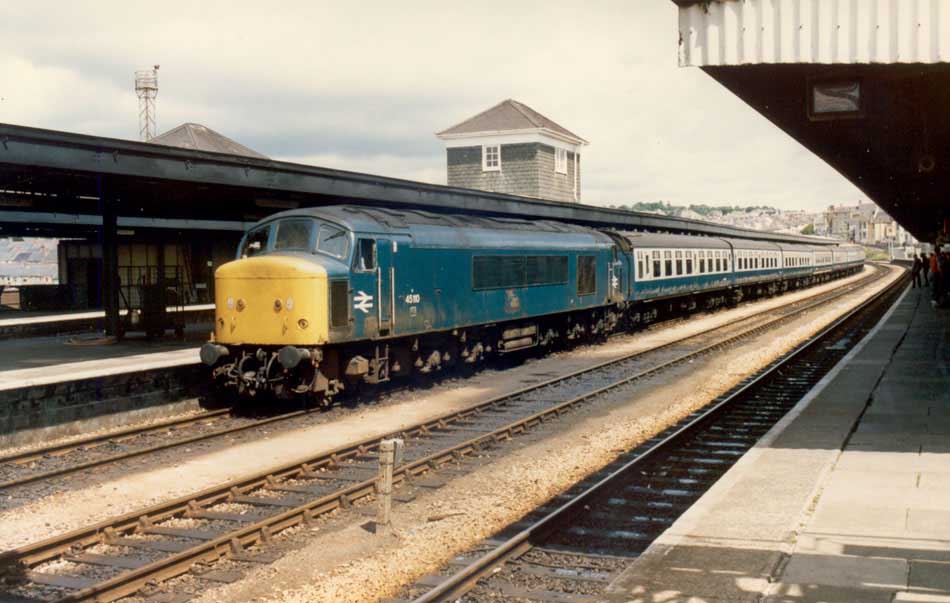 Photograph collection of webmaster.
45110 stands at Plymouth, date unknown.
Beyond Plymouth the GWR mainline continued its westerly progress to Penzance, with a number of branches spinning off to service the coastal towns and the china clay industry. Despite their somewhat rigid four axle bogies most of these lines were accessible to the Peaks.
The Newquay Branch
Photograph collection of webmaster.
A hazy August 11th 1984 finds an unidentided Class 45/0 in charge of the 12.20 Newquay - Leeds at Gossmoor (Fraddon).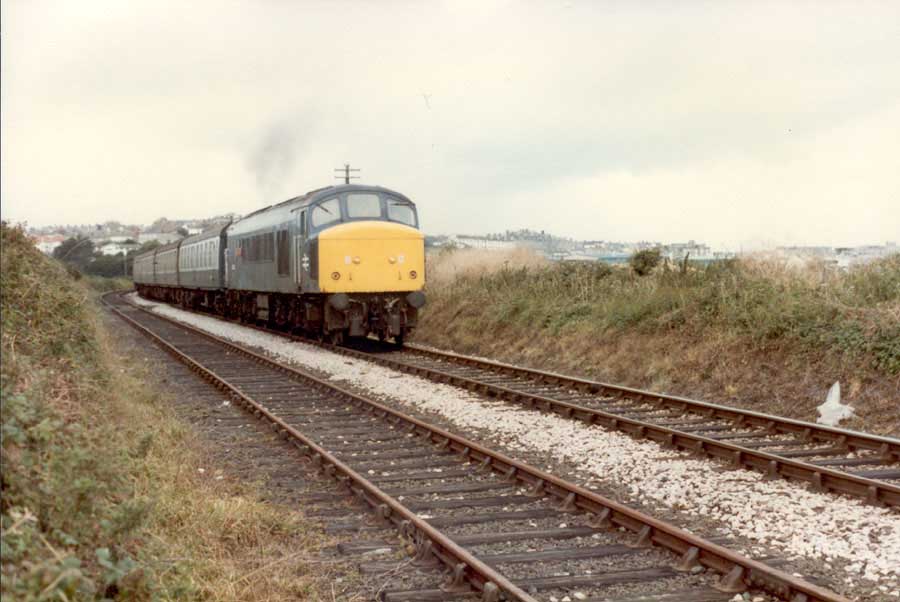 Photograph collection of webmaster.
With the town of Newquay just visible in the background 45006 accelerates away with another train load of returning holidaymakers on September 8th 1984 with the 08.55 Newquay - Manchester Piccadilly.
St Austell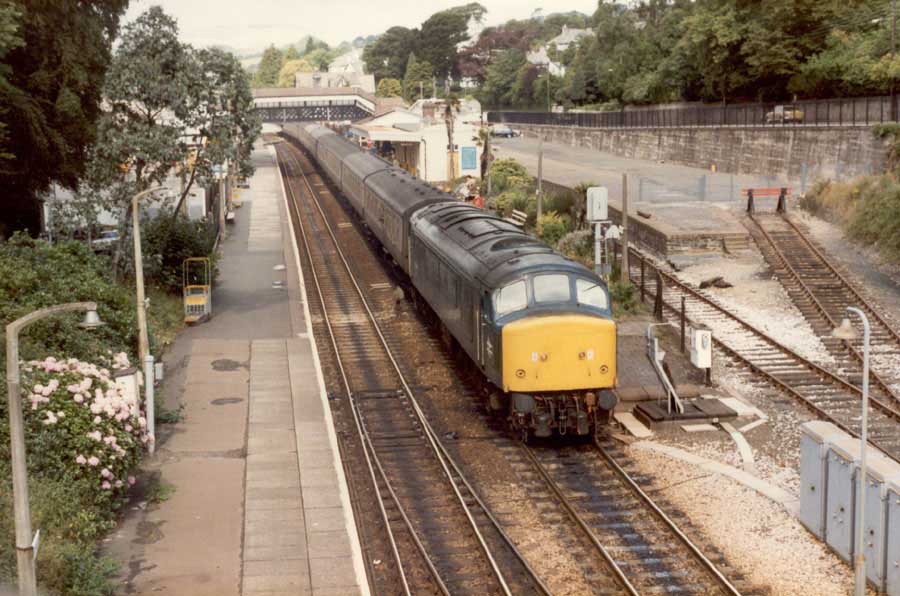 Photograph collection of webmaster.
With the former Motorail terminal to the right 45142 stands at St Austell with the 9.32 Penzance - Paddington on August 7th 1984. 45142 was one of a number of Class 45's to recieve an overhaul at Crewe, 45142 was noted there during February 1984. This no doubt allowed it to soldier until June 1987, when it was finally withdrawn.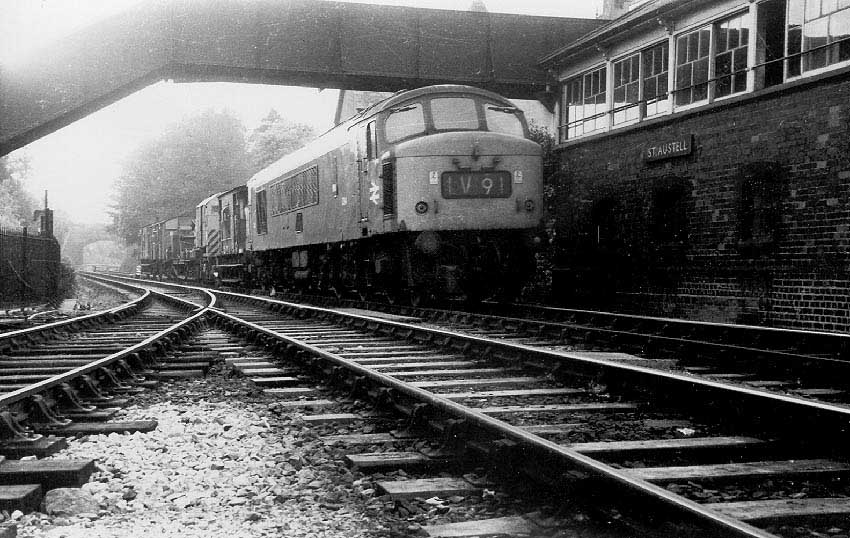 Photograph collection of webmaster.
An un-identified Class 45 heads a short engineers train past St Austell signal box, probably early in the 1970's.
Truro
Photograph collection of webmaster.
The 11.15 Birmingham - Penzance arrives at Truro on July 26th 1983 behind 45135.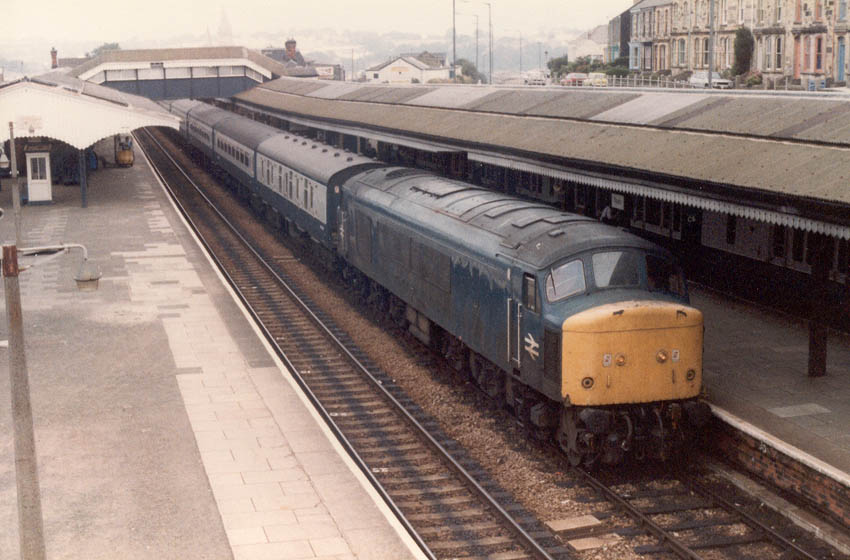 Photograph collection of webmaster.
The 11.15 Birmingham - Penzance arrives at Truro on July 26th 1983 behind 45135.
Carn Brae (Redruth)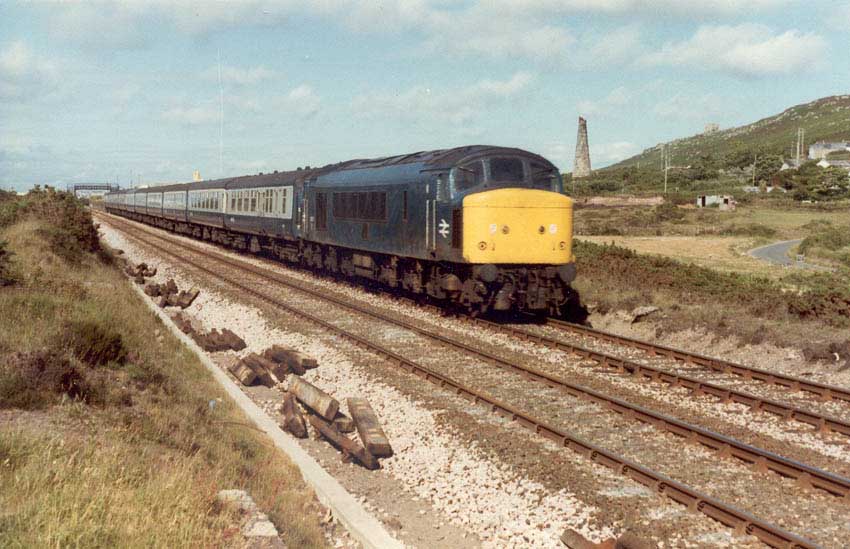 Photograph collection of webmaster.
45107 leads the 9.21 Leeds - Penzance deep into typical Cornwall scenery on June 29th 1984, not too far from its destination. A wonderful memory & at a location far removed from the original routes traversed by the Peaks. 45107 would end its days in Cowburn Tunnel on July 26th 1988 after suffering a traction motor fire.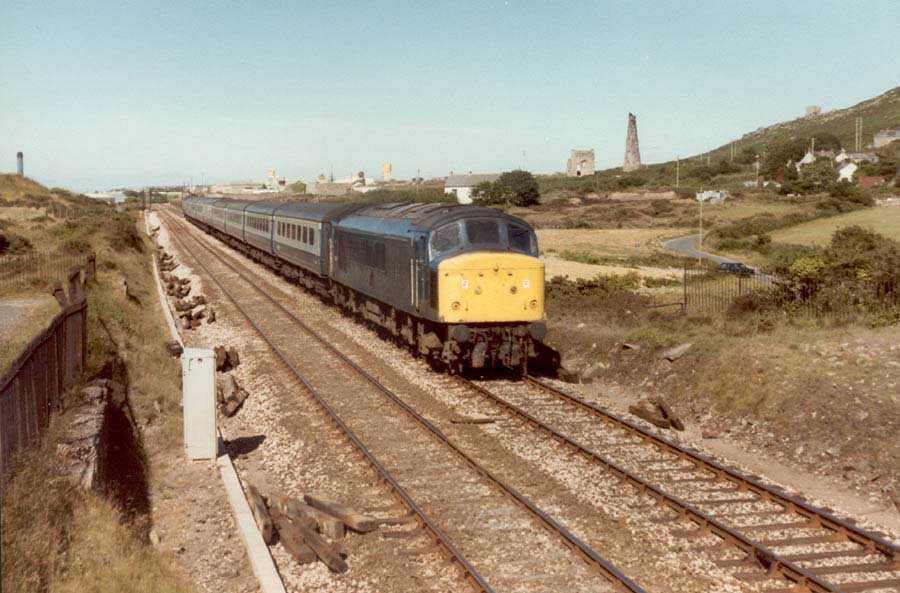 Photograph collection of webmaster.
Another sunny day, July 2nd 1984 finds 45134 with its train of fully air-conditioned stock on the 09.36 Liverpool - Penzance. The locomotive has just over another three years to run, though it'll be 1994 when it is finally broken up at MC Metals, Glasgow.
Penzance was the end of the line, its approach signalled by the panoramic view of St Michael's Mount with the sea again coming right up to the seawall that carried the tracks alongside Mount's Bay. The small facilities at Long Rock provided basic servicing for locomotives and rolling stock, Laira was eighty miles away should a locomotive fail here.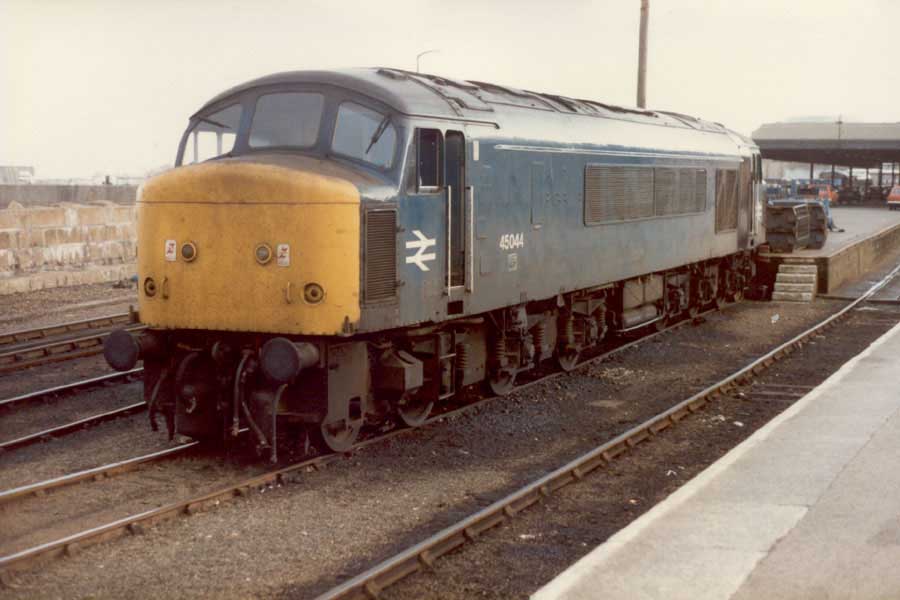 Photograph collection of webmaster.
On a dull August 3rd 1984 a nameless 45044 waits for its next turn of duty alongside Penzance station. Just visible in the background under the awning lurks an unidentified Class 50.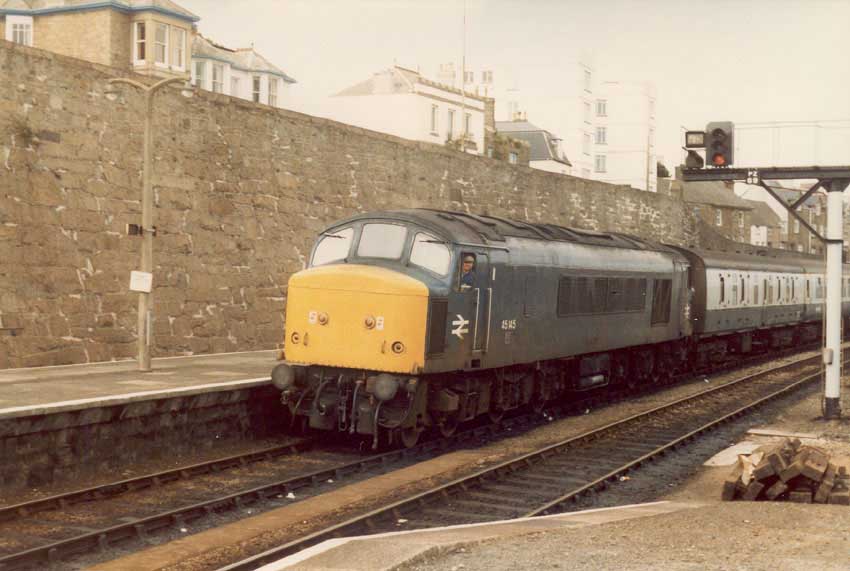 Photograph collection of webmaster.
The driver of 45145 catches sight of the photographer as yet another Peak hauled journey ends at Penzance. 45145 would be withdrawn twice, once in September 1987 at Tinsley with traction motor defects. It was reinstated the following month only be finally withdrawn after suffering a traction motor flashover in February 1988.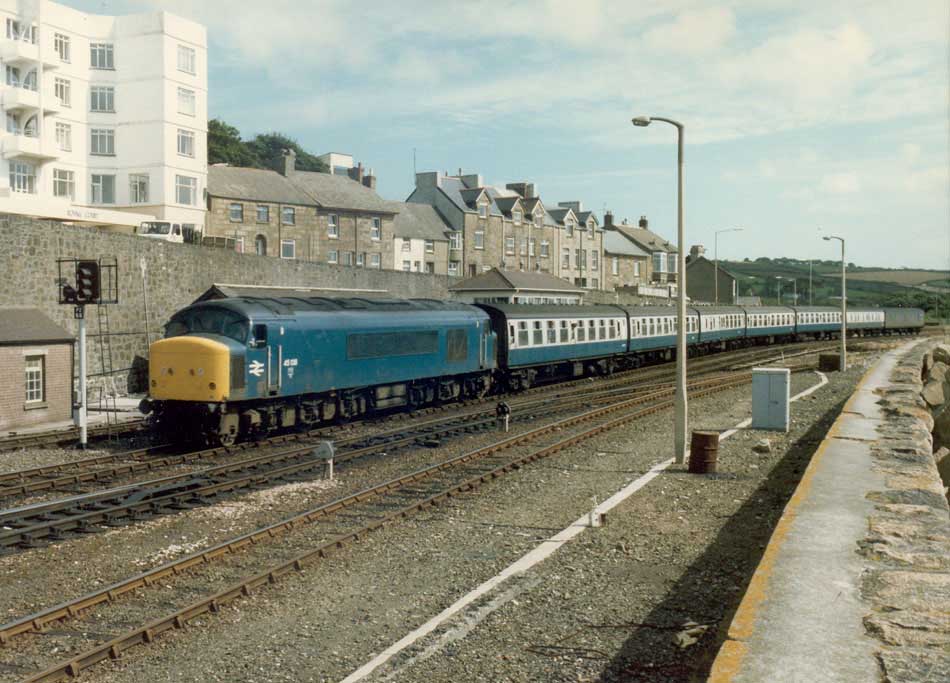 Photograph collection of webmaster.
A sunny day in 1984/85 finds 45138 arriving at Penzance hauling a motley collection of MK1 stock - a load which would not be much of a challenge to 45138 over the Devon banks.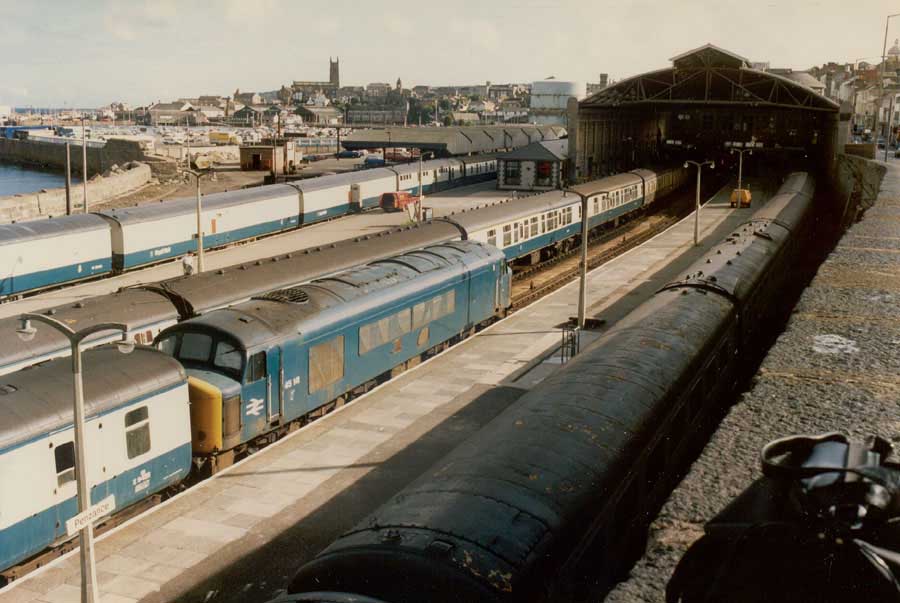 Photograph collection of webmaster.
From the other side of the station and looking in the opposite direction 45141 arrives with another service from the Eastern Region, arriving at a very busy time. 45141 lasted to the very end of normal service for the Peaks - August 1988 - its last working being a Sheffield - Barnsley - Leeds local. A far cry from the day shown here.
Page added October 16th 2004.
Page last updated January 1st 2006.
Part 1 - Edinburgh to Birmingham
Return to Picture menu