Peak's on and off the beaten track

Introduction
The principal routes worked by the newly delivered Peaks formed a giant 'X' across the country, one diagonal featuring the St Pancras - Leeds - Glasgow route, the other the Newcastle - Birmingham - Bristol route.

Over time the 'X' became lopsided, the NE/SW route became extended, with services eventually reaching from Edinburgh to Penzance on a consistent basis. On the other diagonal the opposite happened, the closure of the Waverley route and the reduction of services over the GSWR route north of Gretna Junction found the Peak operated services north west of Leeds becoming greatly reduced.

Although these routes dominated Peak useage two other routes from these early years were also guaranteed to see Peak haulage whilst a miriad of other routes, some quite surprising, would see the Peaks regularly scheduled for a number of years.

These other routes where possible are described by region - unfortunately some of these early services were not well photographed, which is a great pity in light of their rarity.

Southern Region
Although no Peaks were allocated to Southern Region depots they were frequent scheduled visitors to the region at least until the winter of 1969 when most of these inter-regional passenger workings disappeared from the timetable or were diagrammed for the ubiquitous Class 47's.

Glasgow - Eastbourne Car-Sleeper
One of the most remarkable services taken over by the Peaks was the Glasgow - Eastbourne car sleeper service. This summer dated service was introduced in 1958, with its starting point varying between Glasgow, Newcastle & Stirling. In 1964 it was redirected to Newhaven to connect with the cross channel car ferry to Dieppe. Prior to the arrival of the diesels this was a Black 5 or BR Standard Class 5 working. To test the diesels over this route D76 was borrowed on February 21st 1965 from Cricklewood to test its use over the junctions at Gloucester Road whilst on May 16th D67 (?) was noted at Newhaven for testing in the area prior to approval being given for the Peaks and English Electric Type 4ís to handle this service. They were restricted to working between Latchmere Junction and Newhaven/Eastbourne dependent on severe speed restrictions at certain junctions. Redhill depot and its sub-sheds Eastbourne, Tunbridge Wells & Three Bridges would close to steam in June, hence the need for the use of the diesels.

Although the big Type 4's were banned from the diversionary route between Herne Hill & Tulse Hill, D181 did use this route on July 8th 1965 following blockage of the proper route through Clapham, however on 10th when the diversionary route was again required D5023 & D5080 were diagrammed for the train. If the Type 4's needed refuelling whilst at Newhaven they had to make a side trip to Brighton, at this time Newhaven had no facilities for the diesels. This also meant that if the Type 4's needed any type of serious attention it would invariably mean the sending down of a replacement locomotive from Cricklewood.

During 1966 this was a thrice weekly service, diagrammed for Holbeck Peaks.

On July 28th 1967 Clapham Jct witnessed the failure of D117 whilst working the Stirling - Newhaven car-sleeper. It stalled across the main lines, a station pilot dragged the train back into the station, the Peak being replaced by E6004, a delay of two hours having been created. The return working used an electric locomotive to Three Bridges where an LMR diesel was waiting to take over. From time to time the Peaks laying over at Newhaven would be used on local trip workings, with D60 so noted on August 18th working a trip to Norwood. On September 1st D64 failed at Newhaven waiting to take out the 19.19 to Stirling, E6042 substituted to Clapham Jct, where D192 took over.

On May 25th D136 off the Stirling car sleeper train was used by the SR for a morning freight up the Brighton mainline, being noted passing Haywards Heath. D36 was a non-starter on July 26th 1968ís Newhaven - Stirling, D6568 was fortunately on hand to take over with the minimum of delay.

On July 13th 1969 5214 was sent from Cricklewood to Lewes to recover 41 which had failed on the previous dayís 19.19 northbound service. In fact the Peak had only reached Southease before expiring, E6031 pushed the train into Lewes, sidelining the Peak, then taking the train to Clapham Jcn where 18 had arrived to take over.

A personal note - our family summer holidays invariably took us down to the West Country resorts, however when a close family member moved to the south coast at Saltdean, near Brighton an invitation went out that we would be welcome to visit as part of our summer holiday trip. The first year we made this trip was in the summer of 1969, highlights of the trip included glimpses of the Midland mainline alongside the M1 and the chance of seeing anything Southern once the Thames had been crossed. These journeys were made at a time when the M23 & M25 were but pipe dreams on a far distant horizon. The A23 Brighton road always seemed to be a bit of a roller coaster ride, it was always with great excitement to drop down onto the seafront at Brighton, the A23 ending opposite Brighton pier, just afew miles were left as we journeyed eastward on the A259.

Although Brighton held many attractions for us Derbyites it was a journey east along the A259 to Newhaven and Seaford that I perhaps enjoyed the most. In Seaford the road ran alongside the station, it was normally the case to find several emus present, their numbers remembered until I could check out my 'Combine'.

Newhaven however with its harbour alongside the railway proved to be my favourite. At this time the A259 crossed right in front of Newhaven Town station, a veritable bottleneck if trains were present, even more so if the swingbridge across the river was also in use. At this time Newhaven was still home to a Brighton allocated shunter, if I was lucky a Class 33 or 73 might be observed, frequently used on the spoil workings coming into Newhaven. I would have been in awe to have seen a Peak here, it was the last summer they would work this route and for us day trippers these nocturnal workings would easily be missed. Of course I presume the Peak would lay over at Newhaven with the stock - all fading memories now, if anyone can fill in the gaps please contact me.

Newcastle - Eastbourne Senior Citizens
Another service to take Peaks to Eastbourne during 1967 was the Tuesdays only Newcastle - Eastbourne Senior Citizens working. On May 2nd D45 was diagrammed for this, although the intention had been to use a pair of Type 2ís south of Cricklewood, but the big Type 4 was produced, much to the chagrin of the Southern conductor-driver who refused it over its booked route, Peaks and EE Type 4ís being banned between Herne Hill & Tulse Hill. The train was eventually diverted from Clapham Jct (Windsor line) to Kensington, here D45 ran round and worked back to Clapham Jct (Central), thence direct to Eastbourne, smart work in handling the route changes kept the delay to thirty minutes. The Peak and the ecs returned whence it came that evening.

Nottingham - Ramsgate/Margate
Another summer dated service to bring LMR diesels to the south coast was the Nottingham - Ramsgate service. On July 3rd 1965 D7532 was noted through Faversham with the ten coach 13.44 Ramsgate - Nottingham Midland passenger.

On July 2nd 1966 D105 & D122 were noted on Nottingham - Ramsgate services.

During July 1967 Peaks remained solidly in command of the Ramsgate - Nottingham (SO) service.

During 1968 the 01.05 (SO) Nottingham - Margate continued to bring Peaks to the east Kent resort, a work to rule saw the first service operating on July 13th behind D40, the following week D104 was in charge and running about twenty minutes early.

From the start of the 1970 summer timetable the Nottingham - Ramsgate service was diagrammed for Class 47ís, either throughout or utilising Class 33ís from Brent.

Sheffield - Portsmouth
During 1967 another SR working was added to the Peaks adventures, now being diagrammed to work the 23.16 (FO) Sheffield - Portsmouth Harbour returning with the 10.12 to Sheffield.

During 1970 Class 45ís were again diagrammed to cover the summer dated Sheffield - Portsmouth Harbour and return, with 81 noted on this working on June 25th.

Southern Region Inter-Regional Workings
The Southern Regional also received Peaks on other workings, principally from two directions.

Reading was the normal locomotive changeover point for services transitioning from Poole & Bournemouth to the Midlands and points north. However from time to time locomotives, including the Peaks were exchanged at Basingstoke, not a huge incursion onto Southern metals, but nevertheless an interesting one.

The only other significant use of Peaks onto the Southern was from the Bristol direction and this was mostly with their use on regular parcels workings into the Southampton area.

In the early 1980's an inter-regional LMR/WR/SR passenger working through Reading returned to the timetables with a service between Wolverhampton & Brighton, diagrammed for Mk2 stock and Class 47/4's. It was only a matter of time before a Class 47 was not available, on December 7th 1983 the 07.48 Wolverhampton - Brighton and 13.48 return to Manchester were worked throughout by 45130 with the help of a Saltley driver making an unexpected trip to the seaside!

It is doubtful if the Peaks had every ventured into a Waterloo on a regularly scheduled service until June 11th 1985 when 45143 was present to celebrate the 300th anniversary of the 5th Royal Inniskilling Dragoon Guards 1685-1985. It had been specially cleaned up by Toton and arrived at Waterloo on the 05.48 ex Exeter. Present was the regimental band entertaining the crowds as well as the Duchess of Westminster who renamed the locomotive with the addition of '1685-1985' to the nameplate. It left on the 13.10 to Exeter, some twenty minutes late due to an incoming service having a problem with motive power.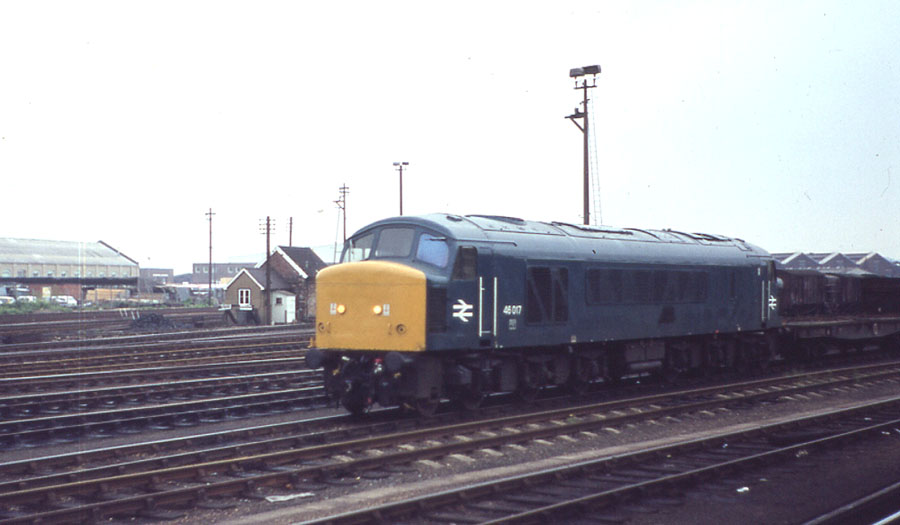 Photograph courtesy Andy Key.
46017 eases through Eastleigh with a Severn Tunnel Junction bound freight on June 11th 1979.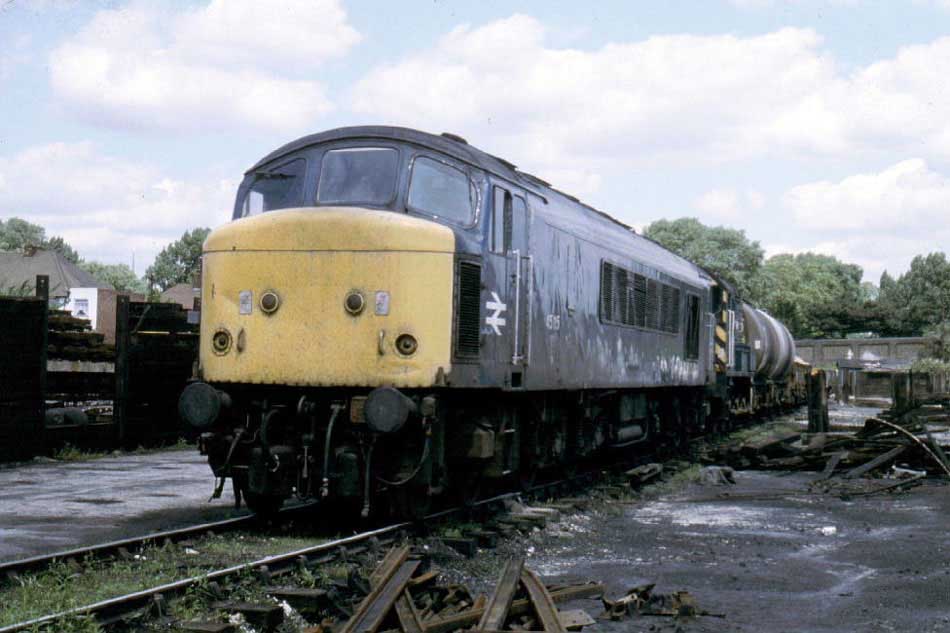 Photograph courtesy Neil Middleton.
45115 lays over at Norwood Yard on June 6th 1985.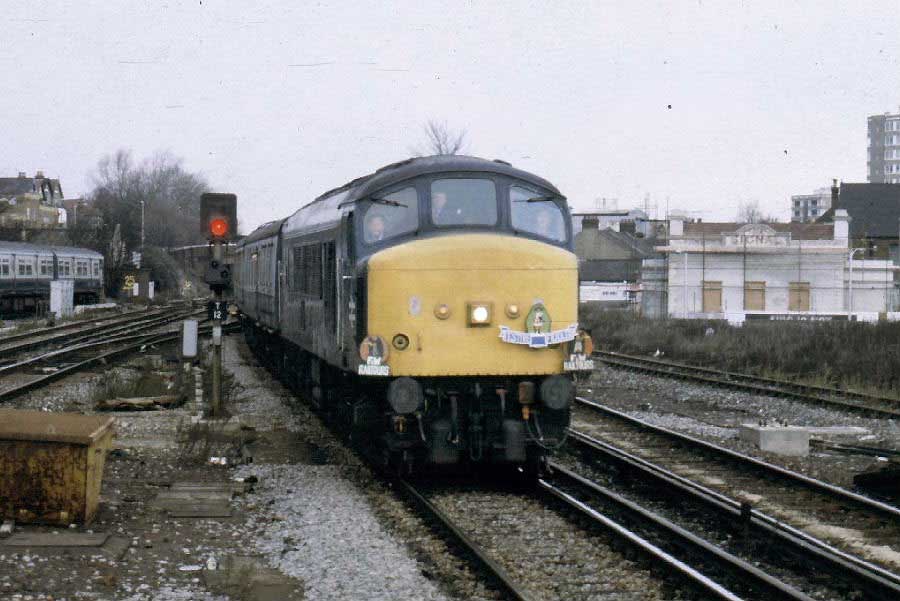 Photograph courtesy Neil Middleton.
Its railtour duty for 45104 on December 27th 1986, seen here at Norwood Junction.
Western Region
The NE/SW services over the Western Region have been previously documentated on another page. Because of their allocation to Bristol, Cardiff & Laira their use over most of the WR metals should come as no surprise, particularly as the diesel hydraulic fleet was gradually withdrawn.
However once removed from the NE/SW route and the cross country route through Reading, their use tended to be erratic, covering for locomotive shortages and failures rather than solid diagramming on particular turns.
Typical of this observation is their use into Paddington, they were infrequent visitors there, usually deputising for failures or on relief workings either from the south west or from Birmingham. Likewise their forays in South Wales away from the NE/SW route services were always filling in for failed locomotives or covering for locomotive shortages.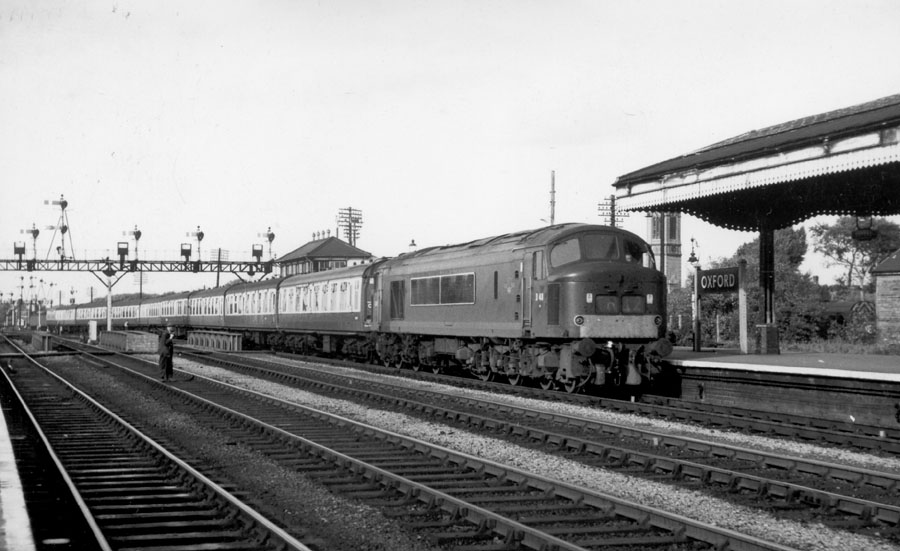 Photograph collection of webmaster.
D48 pulls into Oxford with an express bound for the Southern Region, date unknown.
Scottish Region
The Peaks were no strangers to Glasgow St Enoch and the GSWR route, being the backbone of the long distance diesel hauled services to/from Leeds & St Pancras. What Corkerhill and Polmadie did with them is quite surprising as they were heavily used on local turns whilst laying over between their Anglo-Scottish long distance workings.
They were frequently used on freights to Ayr and passenger services to Dundee, Lockerbie, Wemyss Bay and Perth. Since these were regular services and the diagramming of the Peaks on these services was somewhat consistent, one might consider these workings to be a valid part of the Peaks scheduled passenger working history.
In the Edinburgh area the Peaks were early visitors, both over the Waverley route and from Newcastle. In a similar vein to Glasgow's use of these machines they frequently wound up on a variety of local passenger workings, particularly to Perth & Glasgow, whilst D153 was even tested over the Highland mainline to Inverness.
During the reign of the Peaks the northernmost reach of the NE/SW route was Edinburgh. However on a frequent basis Haymarket would turn out spare Class 46's and occasional Class 45's on the Edinburgh - Aberdeen route. The views below from the camera of Mike Cooper capture some of these workings. Unfortunately for Mike he'd gone out lineside in the hope that these services would be Deltic hauled, as many still were at this time. Fortunately even when a Deltic didn't show Mike kept his camera out and captured these views, showing a small part of the twilight years of the Class 46's.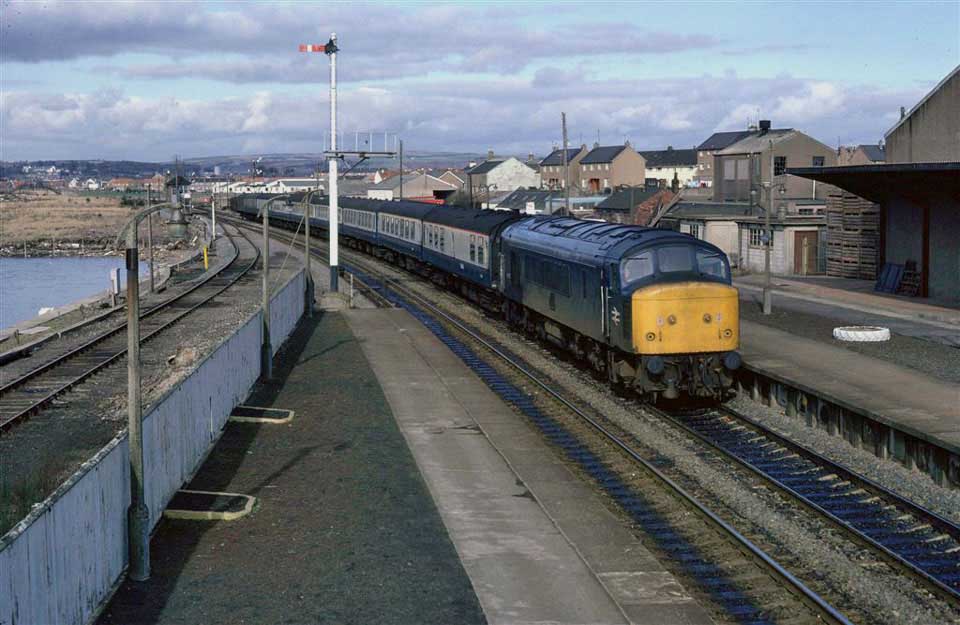 Photograph courtesy Mike Cooper.
46033 approaches Montrose with the 12.40 Aberdeen - Edinburgh on March 5th 1981.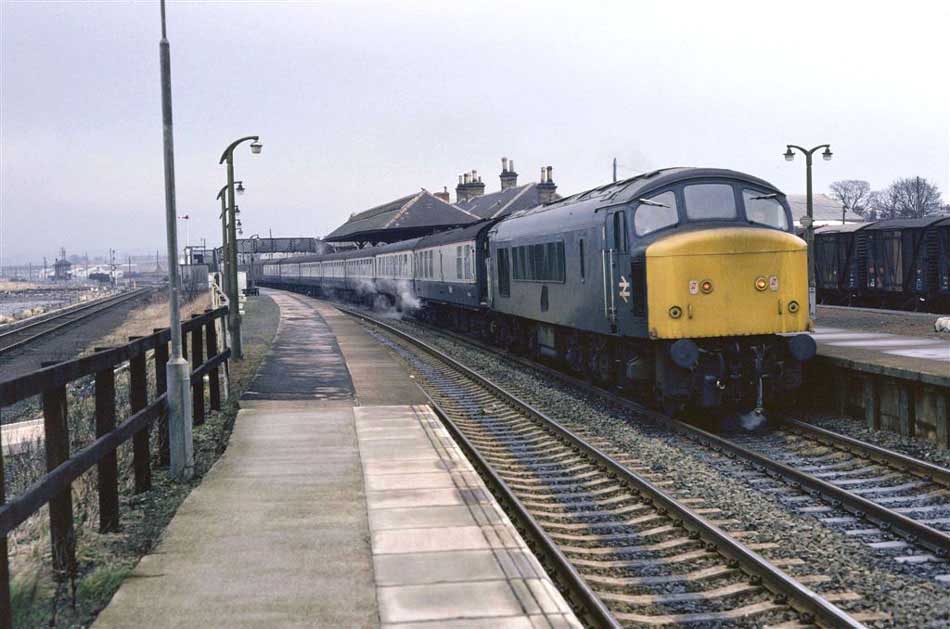 Photograph courtesy Mike Cooper.
Take your pick - sun, sea, steam, showers, sand, semaphores and 46035 with the 12.40 Aberdeen - Edinburgh at Montrose on February 12th 1981.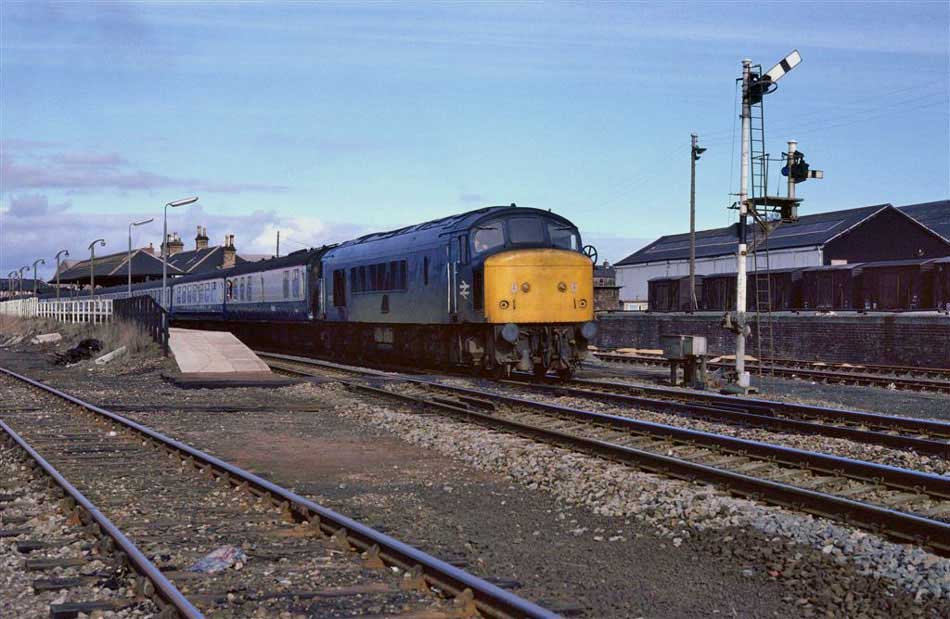 Photograph courtesy Mike Cooper.
46033 awaits departure from Montrose with the same working shown in the first view in this selection.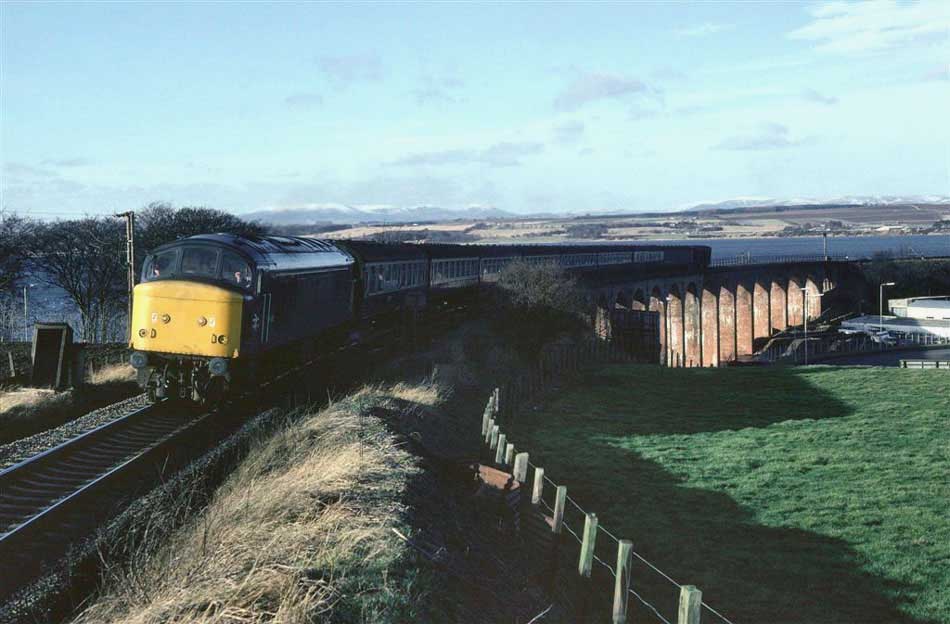 Photograph courtesy Mike Cooper.
46046 heading south with the 12.40 Aberdeen - Edinburgh at Ferryden on February 3rd 1981. In the background the snow-capped Grampians loom large over the landscape.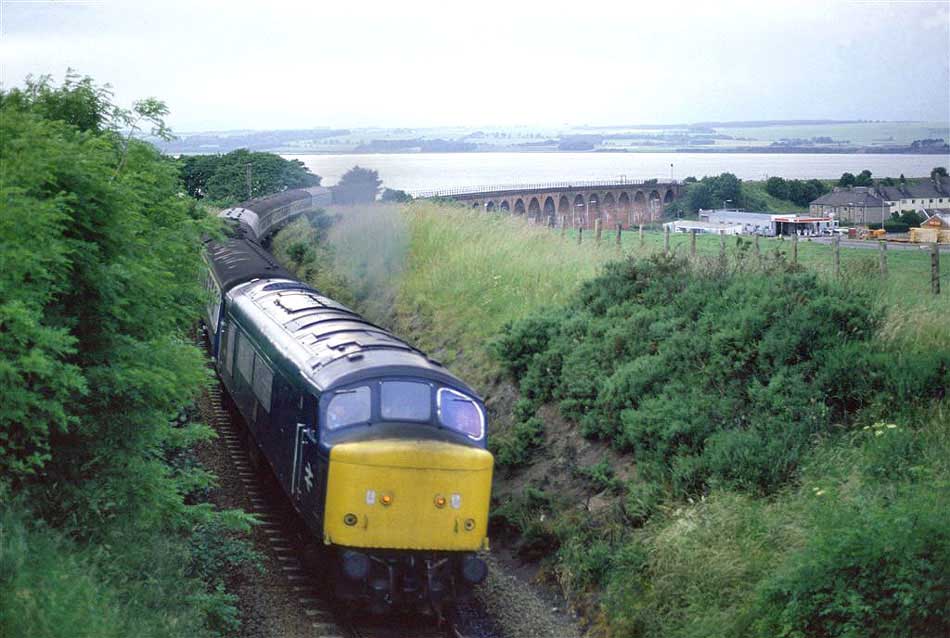 Photograph courtesy Mike Cooper.
46056 with the 18.23 Aberdeen - Edinburgh at Ferryden on July 7th 1981.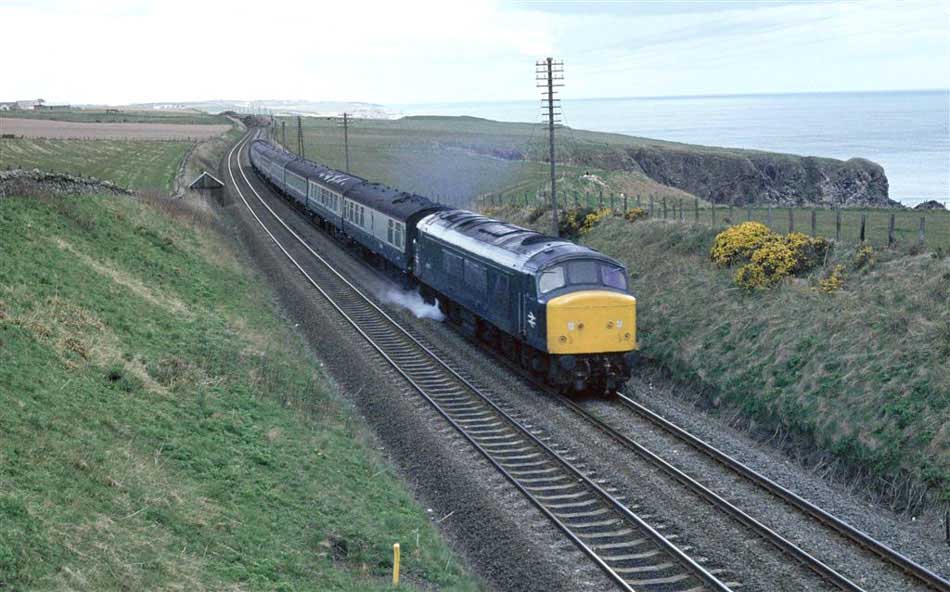 Photograph courtesy Mike Cooper.
An unidentified Class 46 on an afternoon Aberdeen - Edinburgh working sometime during 1981.
Eastern Region
The Eastern Region played a major role in the use of the Peaks away from their two prinicipal routes.
1961 On 15th November D25 took part in some high speed dynamometer car trials between Newcastle & Kings Cross. The load was ten coaches plus dynamometer car - 385 tons - allowed four hours seven minutes, Newark was passed three and a half minutes early. The next day a northbound trip was made leaving Kings Cross at 9.50am but to a slightly slower schedule.
ECML Newcastle - Kings Cross
The first role, entirely within the Eastern Region was that of the Gateshead Peaks (principally the Class 46s) on duties over the ECML between Kings Cross & Newcastle (and to a lesser extant to Edinburgh). Although this small group of locomotives were overshadowed by the more numerous Class 47's and the more publicised Deltics, they were always there plying the ECML on a variety of passenger workings. They were considered the equivalent of the Class 47/55's whilst the steam based timetables were in existance. Once these were recast to take advantage of the diesels greater capabilities the Peaks generally were found on the secondary passenger services. This was further emphasised with the introduction of fully air-conditioned, air-braked, electrically heated coaching stock.
The Peaks were often used on the Deltic turns, a shortage of Deltics on November 15th 1962 found the 7.50am & 9.40am Newcastle - Kings Cross being handled by D173 & D177 respectively.
The Great Northern outer London workings were not normally the preserve of the Type 4s, but from time to time they did drop in on these workings. The 07.34 Kings Cross - Hitchin was worked by D173 on July 3rd 1964 & D193 three days later.
Kings Cross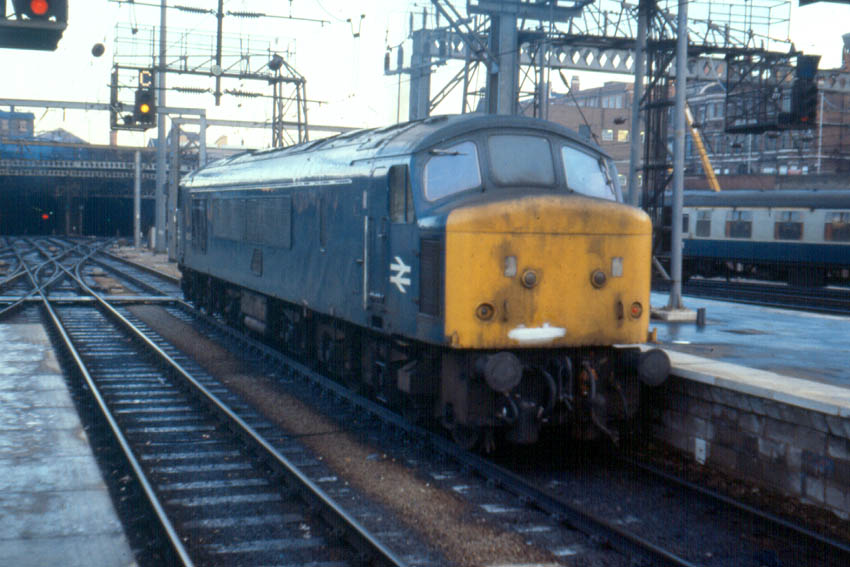 Having brought in an overnight service from the north 46052 is released from its platform on a chilly January 11th 1979. It was during 1979 that 46052 received its last major repair, by April 1984 it was stopped with power unit problems, but recieved a reprieve when the engine from 46017 was fitted. However by September it was withdrawn, ending its days at Doncaster.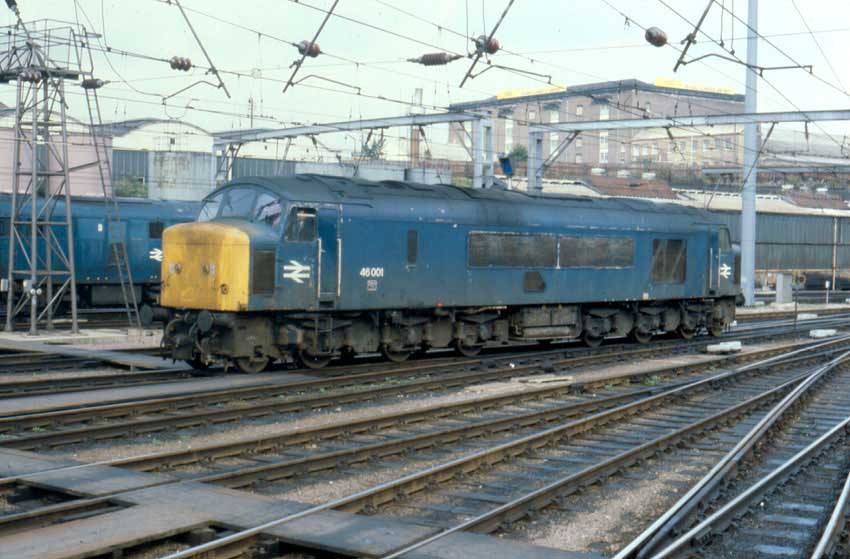 46001 drops down onto its coaching stock at Kings Cross on September 27th 1980. 46001 has another fifteen months in service, a seized engine in December 1981 will bring about its withdrawal.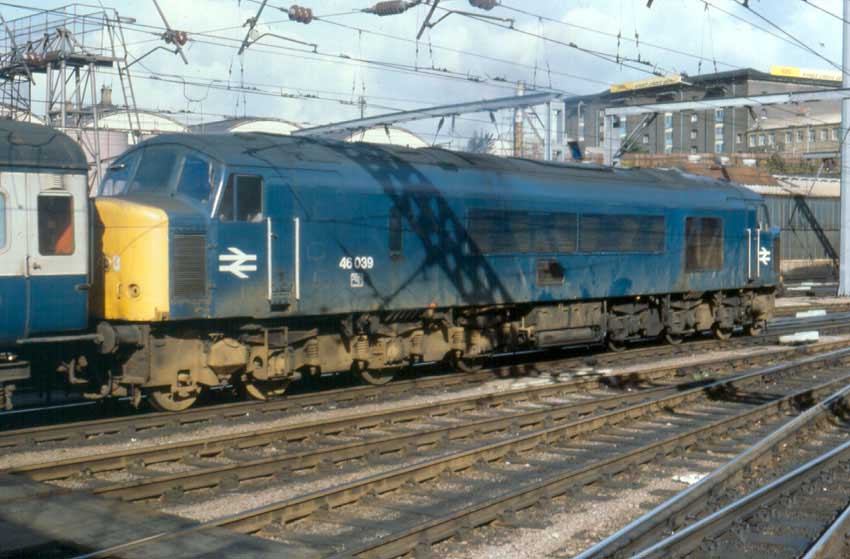 46039 catches the morning sun as it heads north from Kings Cross on September 13th 1980.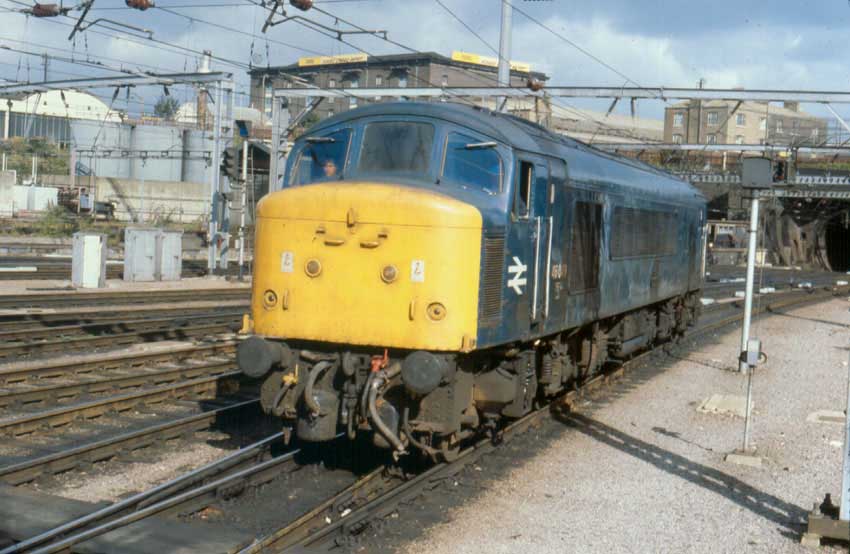 Another view from Kings Cross on September 13th 1980 as 46049 manoevres around the east side platforms.
Grantham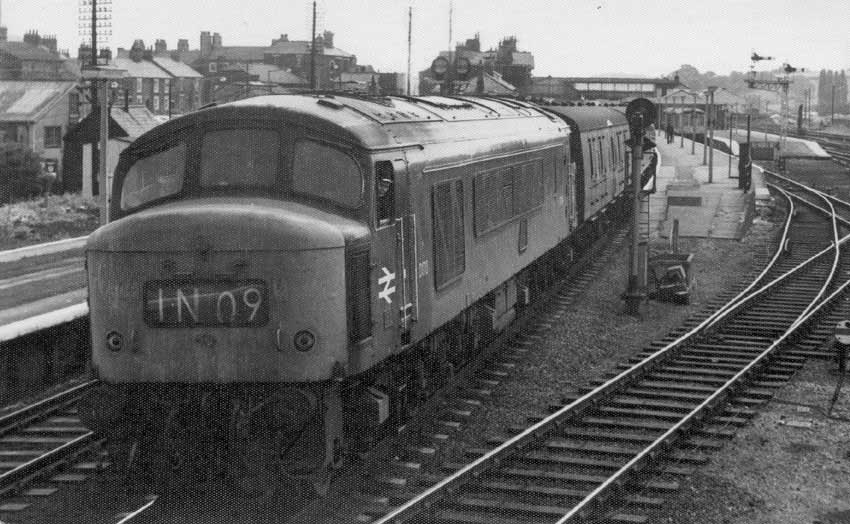 Photograph collection of webmaster.
A northbound service departs from Grantham behind D170, date unknown.
Doncaster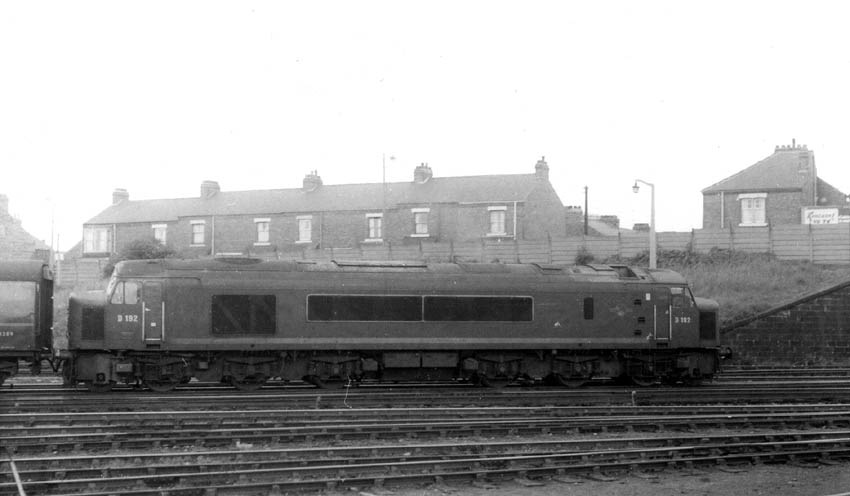 Photograph collection of webmaster.
No date for this one, though D192 still carries its multiple unit working jumpers, so it must be early in its career, location believed to be Doncaster.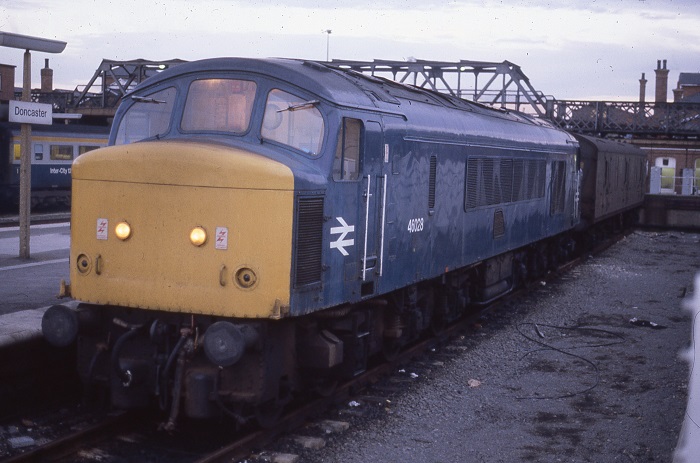 Photograph collection of webmaster.
The afternoon light is rapidly fading as 46028 awaits in the south bay platform at Doncaster on November 23rd 1980. 46028 would end its days on May 1st 1984, catching fire whilst assisting a Newcastle - Plymouth HST on the Western Region.
Newcastle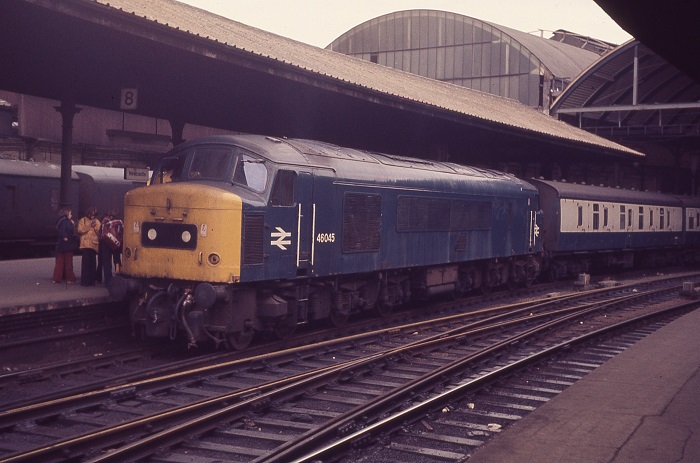 July 1st 1977 finds 46045 at Newcastle. Revenue earning service for 46045 ended on November 24th 1984 when it expired at Taunton on a Bristol - Penzance service. It was later re-activated and placed into Department service becoming 97404, eventually reaching preservation.
Trans-Pennine Newcastle - Liverpool
The second service operated by the Peaks and shared with the LMR was over the Newcastle - Leeds - Liverpool Trans-Pennine route. During the summer of 1962 moves were made to prepare for the intoduction of diesel working over the Trans-Pennine route, using English Electric Type 4's and Gateshead's Class 46's.
On July 26th 1962 D173 was loaned by Gateshead to Edge Hill, it was added to the 9.42am Newcastle - Liverpool, piloting D243. D170 would follow on September 8th, this time piloting D290 on the 3.16pm Newcastle - Liverpool, the Peaks were to take over on some of the Trans-Pennine workings from the start of the winter timetable.
After introduction on the Liverpool - Newcastle services D166/170/173/174 were active on four diagrams, frequently taking ten minutes off the Leeds - Manchester section timings, other members of the Gateshead allocation would join them and timekeeping was of the highest order, despite a one day rail strike on October 4th 1962.
By the summer of 1963 steam operation on the Trans-Pennine passenger services was in serious decline. Failures of Gatesheadís Peaks on this route were usually covered by English Electric Type 4ís.
Double heading of these services was a frequent occurrence particularly for the services starting out of Liverpool - during 1965 the 9.00am & 11am to Newcastle were frequently doubleheaded, examples include February 13th saw D186 & D272 on the 9am with D277 & D346 on the 11am, on February 24th the 11am ran with D177 & D277.
Although the core services were those operating between Liverpool & Newcastle, the route had a number of variations which from time to time took the Peaks further afield. On the east coast Scarborough was a favourite destination for the Peaks, they were used on this line for crew training shortly early on in their careers. Hull was another location that occasionally received Peaks, though these tended to be on the Kings Cross services.
West of Liverpool the 11.25 Newcastle - Llandudno was a favourite for odd workings, on August 5th 1967 D123 was in charge of this working, on August 12th 1967 it was the turn of D7677.
Liverpool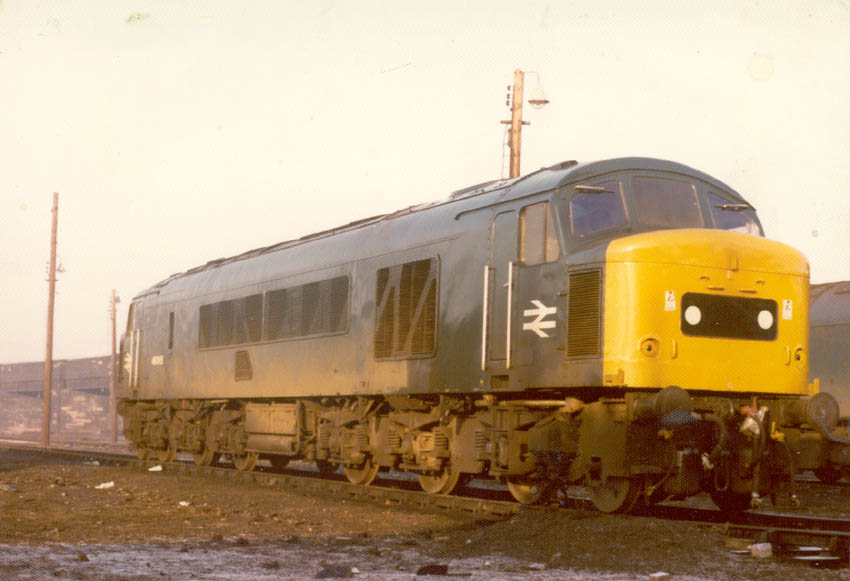 Photograph courtesy R Greaves.
46045 at Edge Hill depot on March 1st 1977. After being renumbered 97404 in November 1984 it saw use in Departmental service until suffering a generator flashover during 1986. It was stored but eventually reached preservation.
St Helens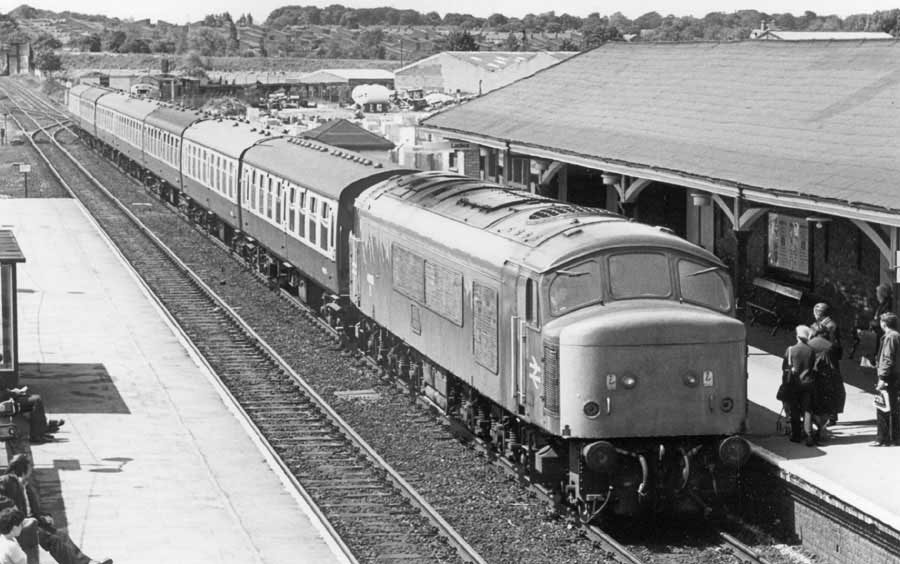 Photograph courtesy J Davenport.
With a Class 40 waiting in the background, 46056 approaches St Helens Junction on May 30th 1980 with the 12.05 Liverpool Lime Street - York.
Manchester Victoria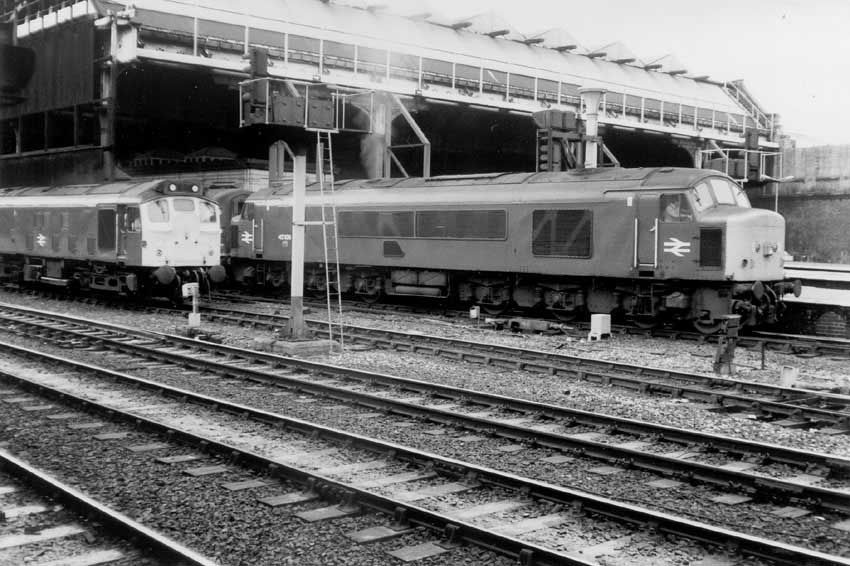 Photograph collection of webmaster.
Sulzers big & small at Manchester Victoria as 45106 pulls away with another eastbound service. 25058 waits alongside, possibly for its next chance to shove a train up Miles Platting bank.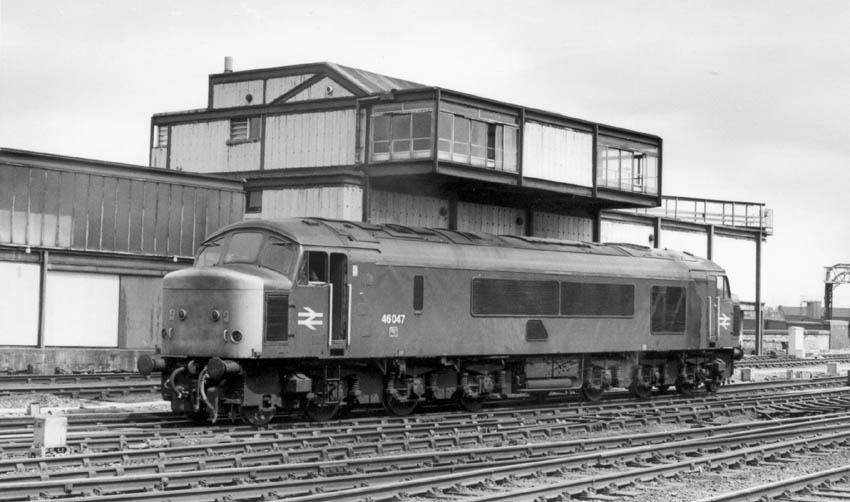 Photograph courtesy J Davenport.
46047 runs past the power box at Manchester Victoria on June 12th 1981.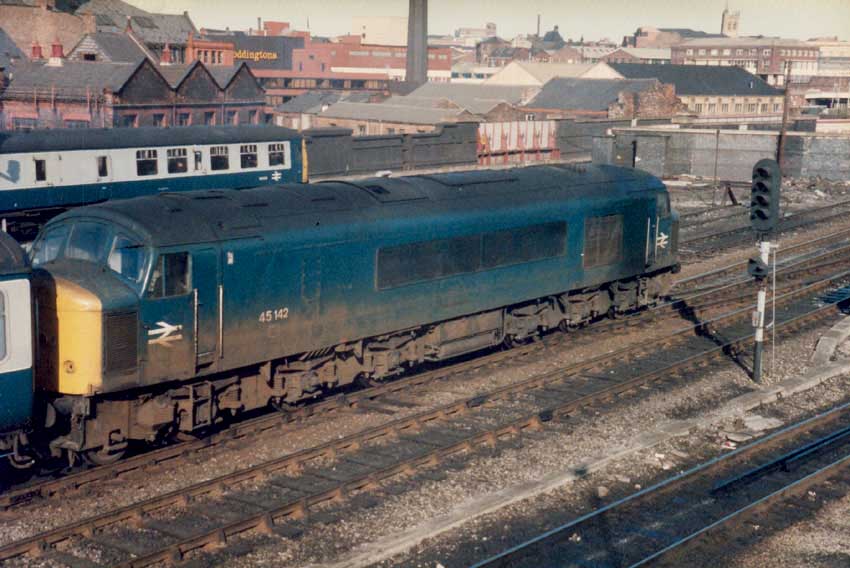 Photograph collection of webmaster.
On an unknown date a work stained 45142 pulls away from Manchester Victoria for another run across the Pennines to Leeds & beyond. 45142 recieved its last general repair at Crewe during February 1984. Its end came on the Trans Pennine route at Slaithwaite on June 18th 1987 when it caught fire whilst working a parcels train.
Eastwards towards the Pennines
The principal route for the Liverpool - Newcastle passenger services was that which ran through Stalybridge, Diggle, under the Pennines through Standedge tunnel and down into Huddersfield.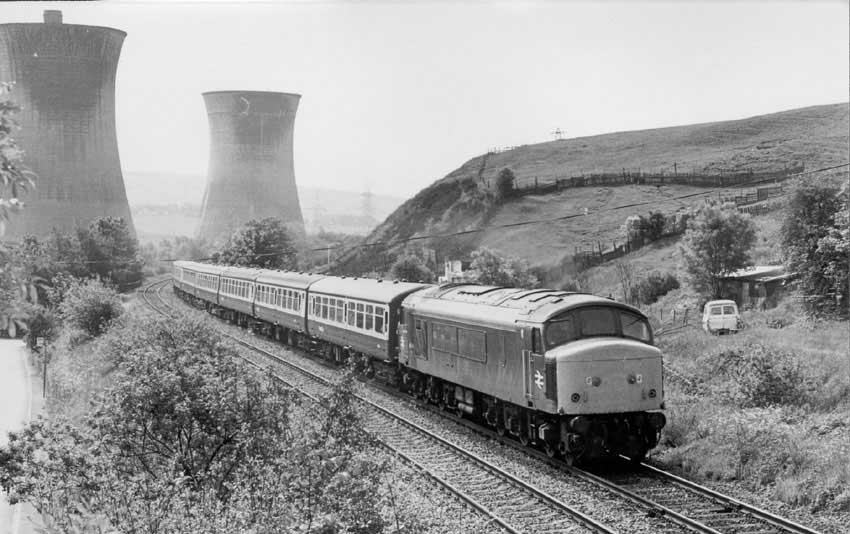 Photograph collection of webmaster.
An unidentified service cruises past Black Rock, near Stalybridge on June 17th 1983 with 45145 in charge. This Peak would run until February 1988, finally being stopped with traction motor flashovers. Four more years passed until MC Metals broke upthe locomotive.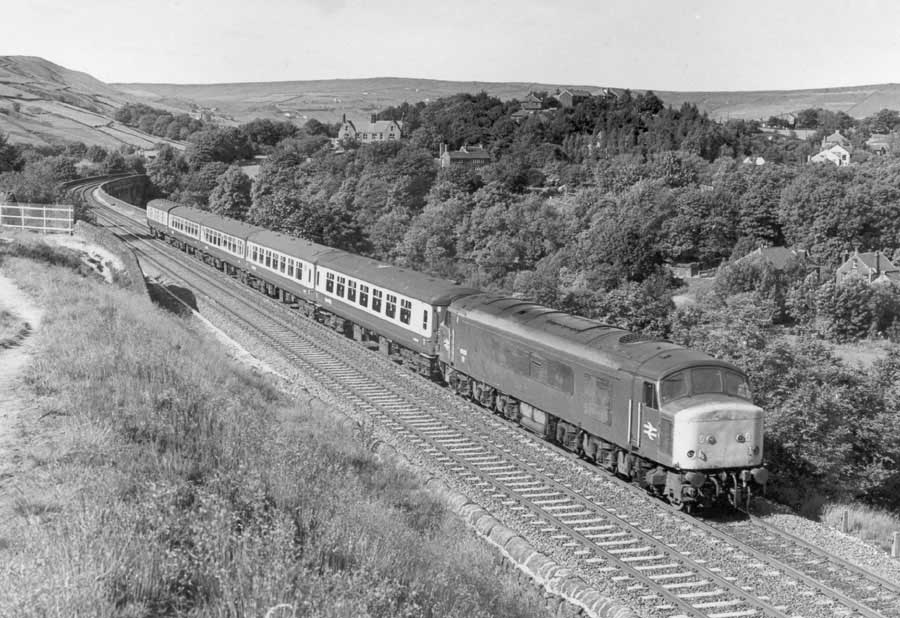 Photograph courtesy J Davenport.
The 15.00 Scarborough - Liverpool Lime Street has just crossed Saddleworth Viaduct on July 4th 1983 with 45125 in charge.
Around Diggle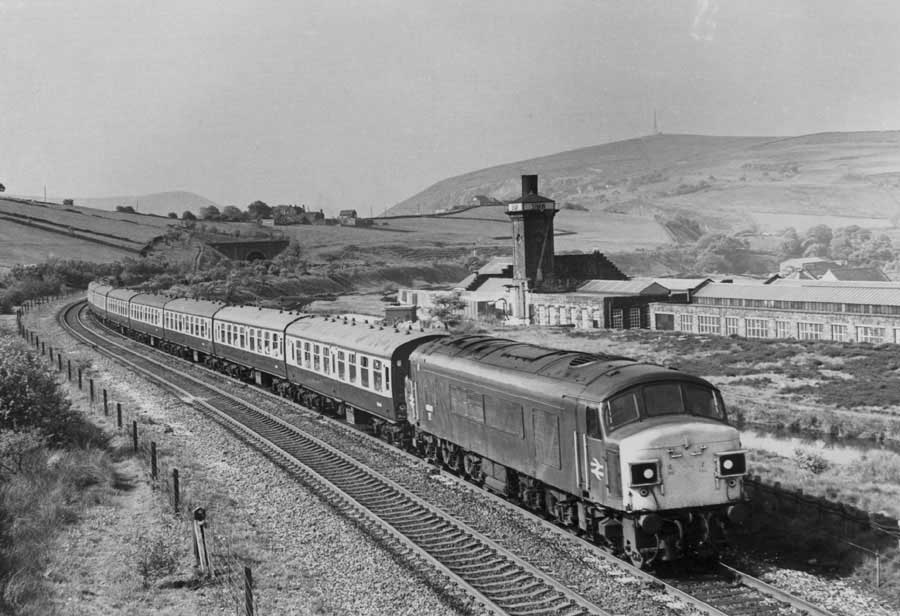 Photograph courtesy J Davenport.
Its a glorious day across the Pennines as 45047 leads the 08.10 Liverpool Lime Street - Newcastle express towards Diggle on May 29th 1978.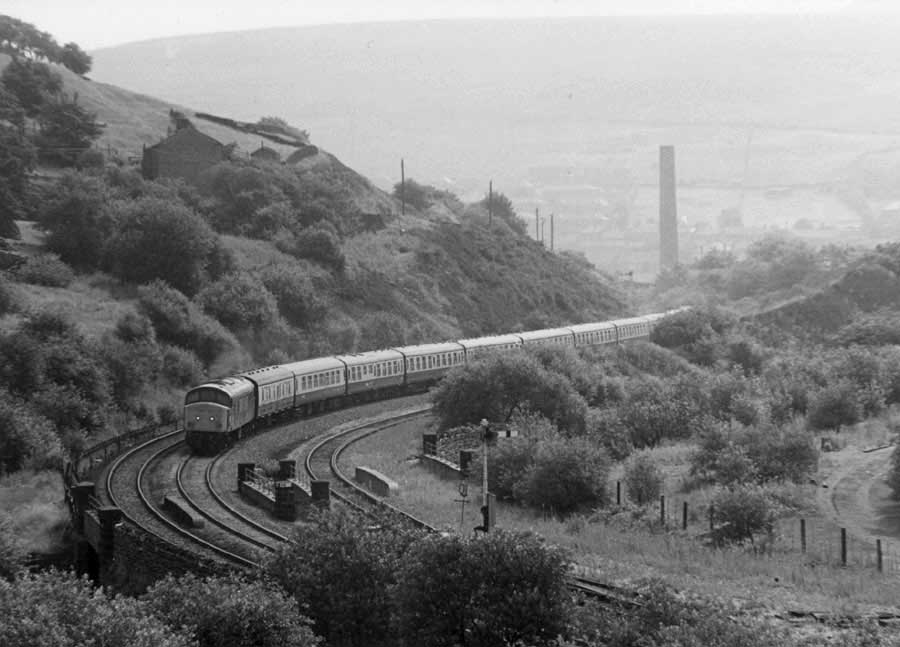 Photograph courtesy L Goddard.
46044 accelerates west from Marsden towards Standedge Tunnel on July 30th 1977 with the 09.51 Leeds - Liverpool.
Hebden Bridge
The more northerly Trans Pennine route which saw occasional Class 45/46 traffic was that which ran through Rochdale, Summit Tunnel, Hebden Bridge, Sowerby Bridge and on towards Leeds.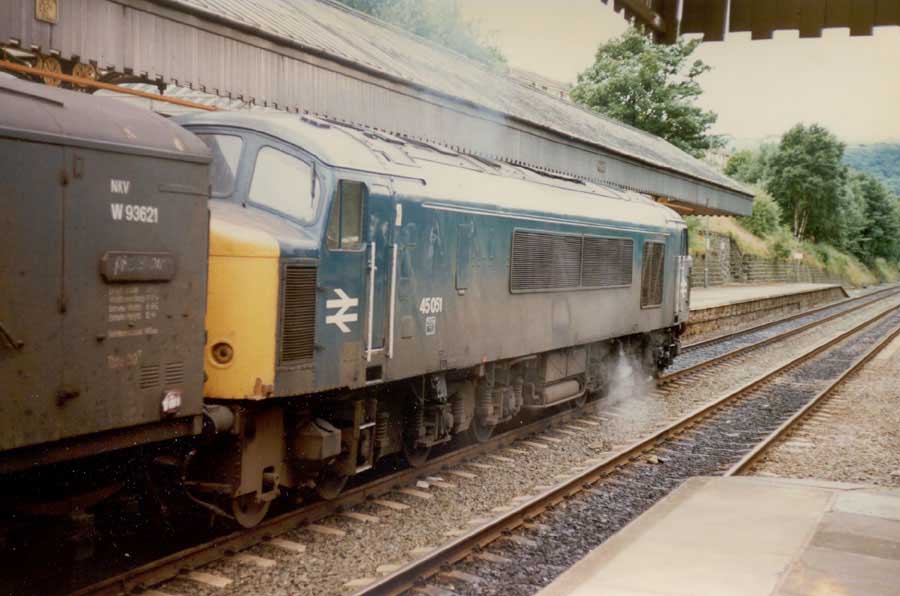 Photograph collection of webmaster.
45051 waits for the station work to be done at Hebden Bridge, date unknown.
A glimpse of the North Wales mainline.......
At this time the Class 45/46's saw occasional use on several services that ran to/from Llandudno. It was generally very rare for the Peaks to work west of here at this time.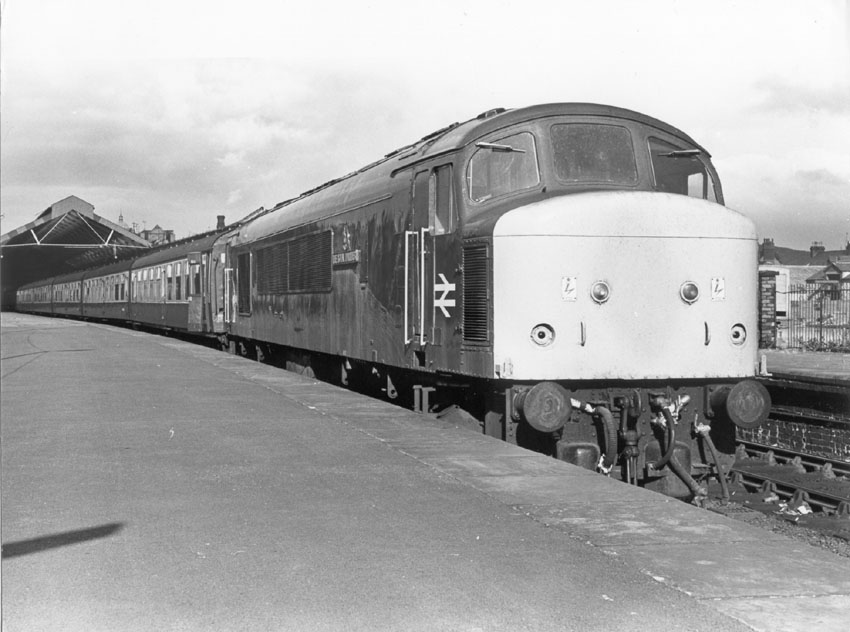 Photograph courtesy Larry Goddard.
45048 awaits time at Llandudno Town on September 8th 1979 with the 17.20 to Manchester Victoria.
Page added January 10th 2005.
Last update January 28th 2006.