Sulzers in North Wales

From the camera of John Powell

This is the second series of photographs on this website to feature BR's Sulzer powered locomotives on the North Wales mainline. When John made his views available my first thought was to combine them with the existing page. However these fine views clearly demanded a page of their own, and because there is a predominance of views on the Prestatyn - Colwyn Bay section there would be no serious overlap with the contents of the original page.

I have tried to portray an east to west journey over this section of line - hopefully I have it right!

All photographs are courtesy of John unless otherwise stated.

Talacre

Our first view is at Talacre. From Chester the line has been running in a north-westerly direction following the Dee estuary. At Talacre the line turns to follow a more westerly route. Talacre lost its passenger service in February 1966.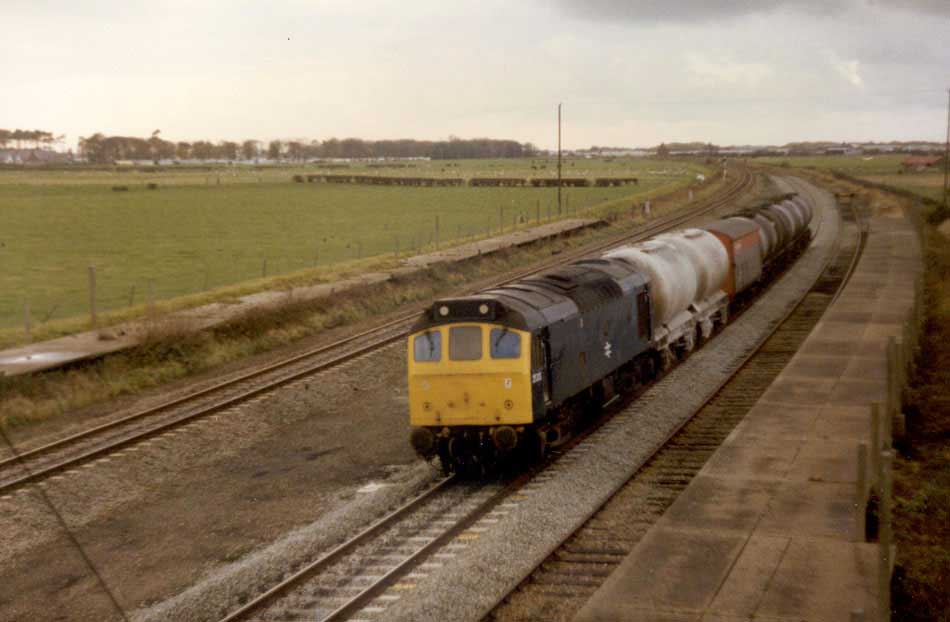 Eastbound 25213 passes through Talacre on an overcast November 11th 1986. 25213 would be one of the small group of Class 25's to remain in service until the end, March 1987.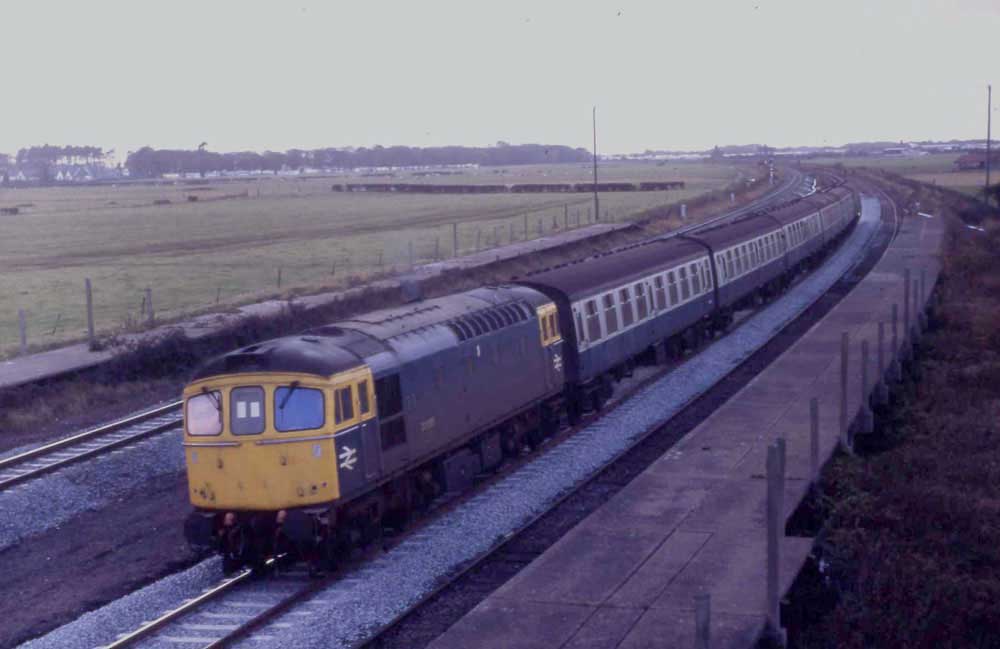 Its an overcast November 15th 1985 as 33019 heads east over some freshly ballast trackwork.
Prestatyn
After making a westerly turn at Talacre it is not long before Prestatyn is reached, the first of the resorts on this line with their famous north facing beaches. As with most stations on this route the size of them hearkens back to more prolific times, with a four track main line and at least an equivalent number of platforms, in these views serious reductions have already taken place.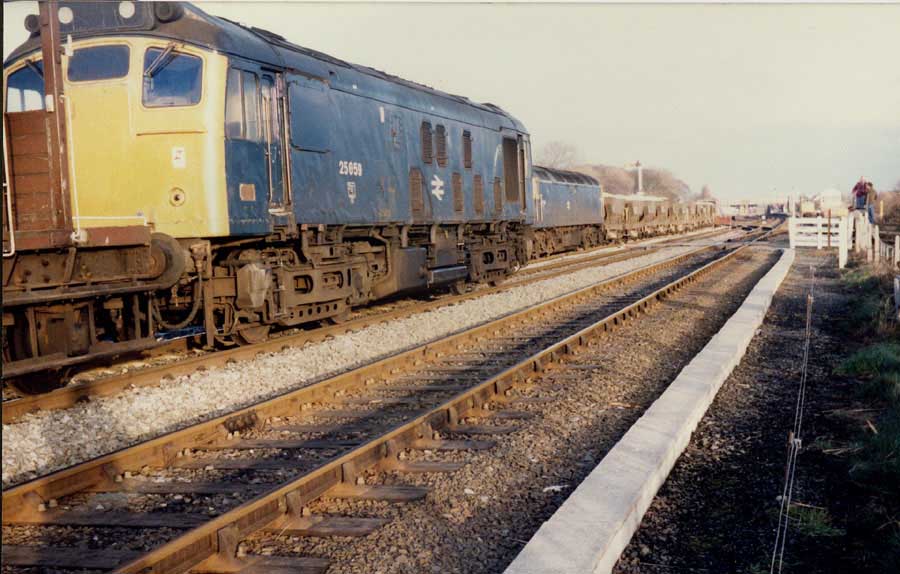 Engineering work is the order of the day at Prestatyn on January 6th 1985. Nearest the camera are 25059 and 47201, in the distance is 25078.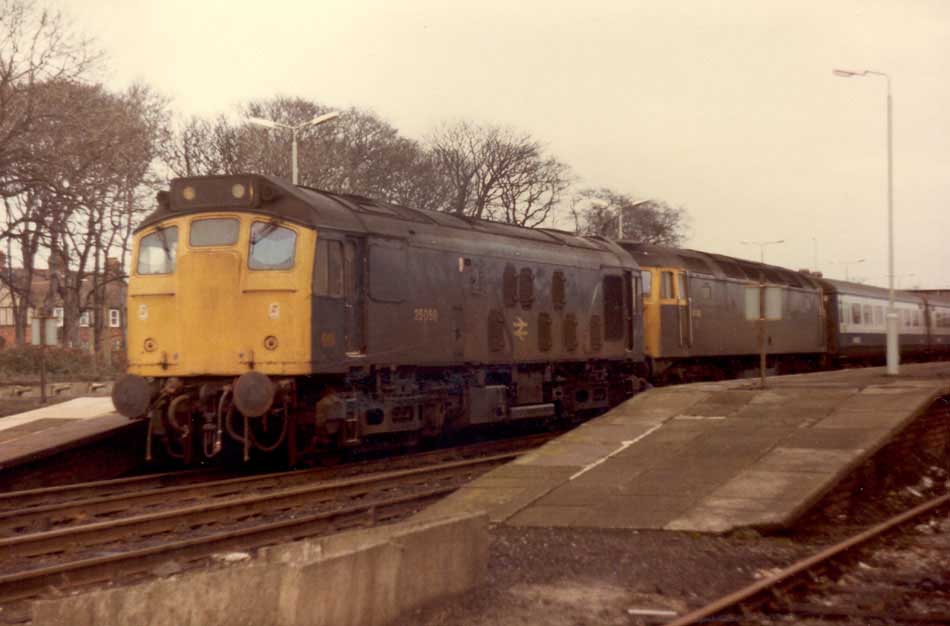 A dull and overcast January 17th 1986 finds 25059 coming to the rescue of 47481 and its Holyhead bound train. Just visible between the locomotives is the railman making the connections between the Class 25 & 47. 25059 was one of the Class 25s remaining in service until March 1987.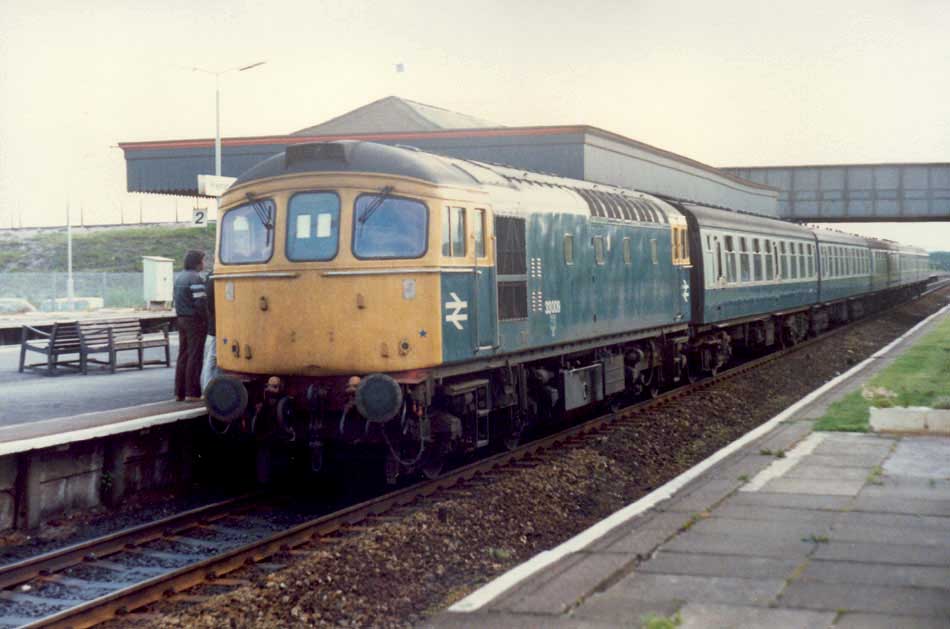 33009 waits time at Prestatyn on June 12th 1986 with the 1V06 14.17 Bangor - Cardiff.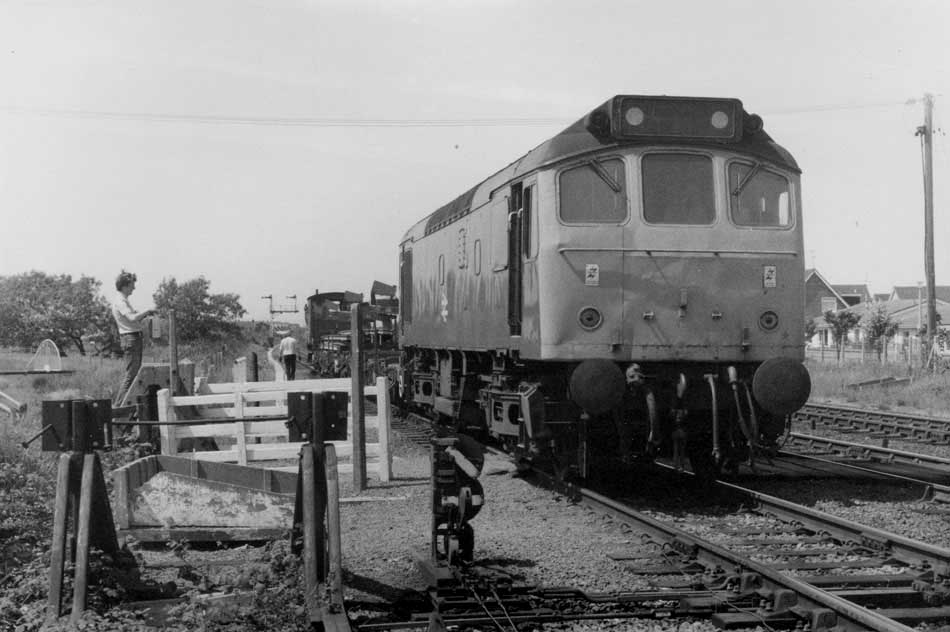 With the ground signal 'off' 25190 manouevres its short train at Prestatyn on a glorious June 19th 1983. It is coming off the now removed down slow line, crossing to the up fast.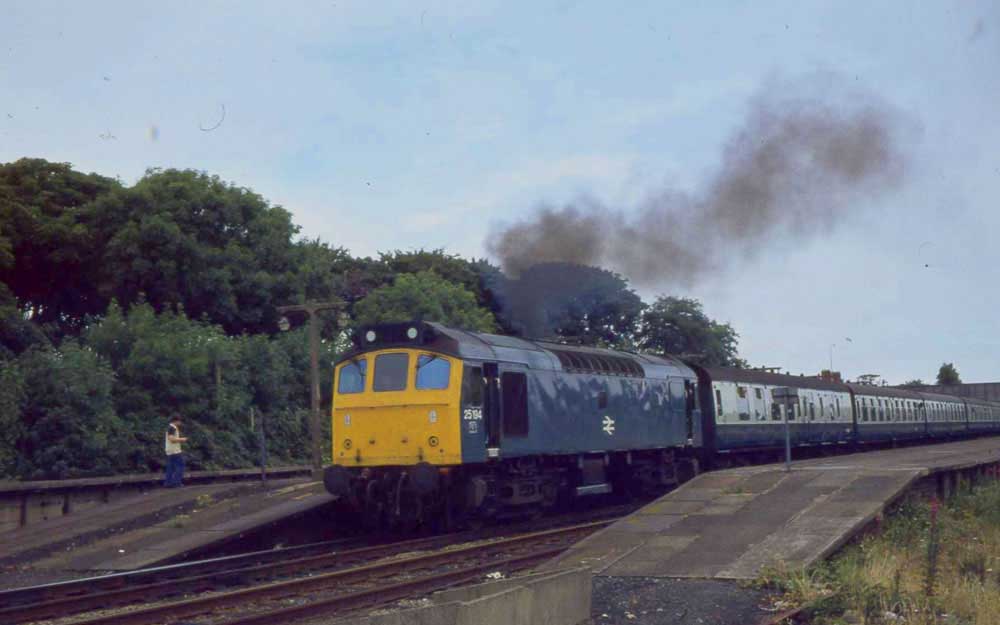 A lone enthusiast watches on as the pale blue sky over Prestatyn station turns a little grey as 25194 is cranked up to get the train on its way to the next station, August 11th 1979. No doubt that familiar Sulzer sound echoed across the station for quite awhile as 25194 motored onward.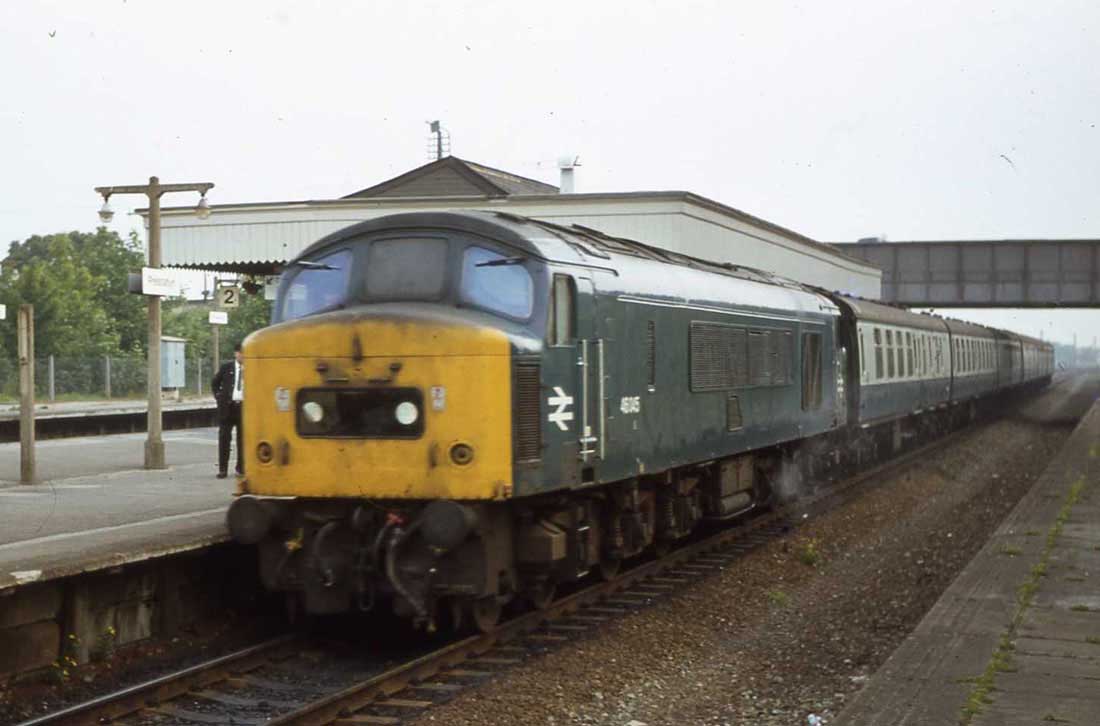 One of Gateshead's wide ranging Class 46's stands at Prestatyn during June 1979. In this case its 46045, and at this time the Peaks were only infrequent visitors as far as Llandudno.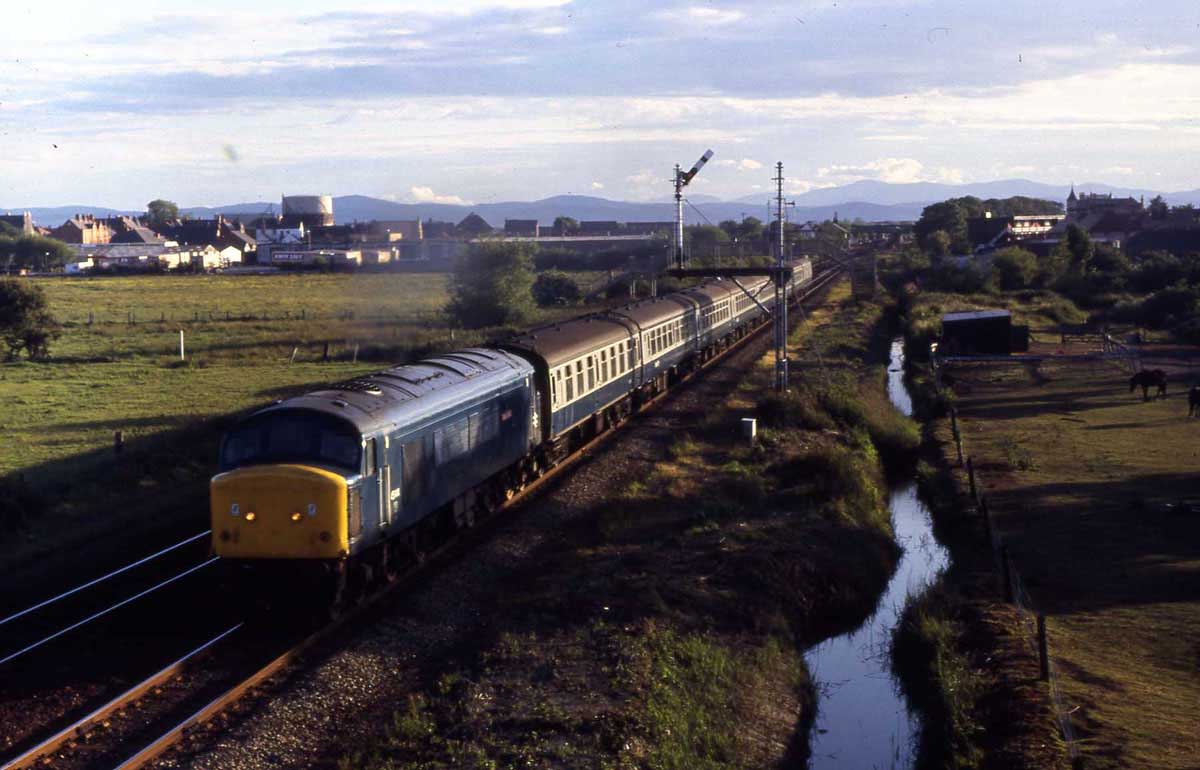 The evening shadows are growing longer as 45144 makes its way eastwards on June 25th 1985. In the right background is another named peak - Snowdon!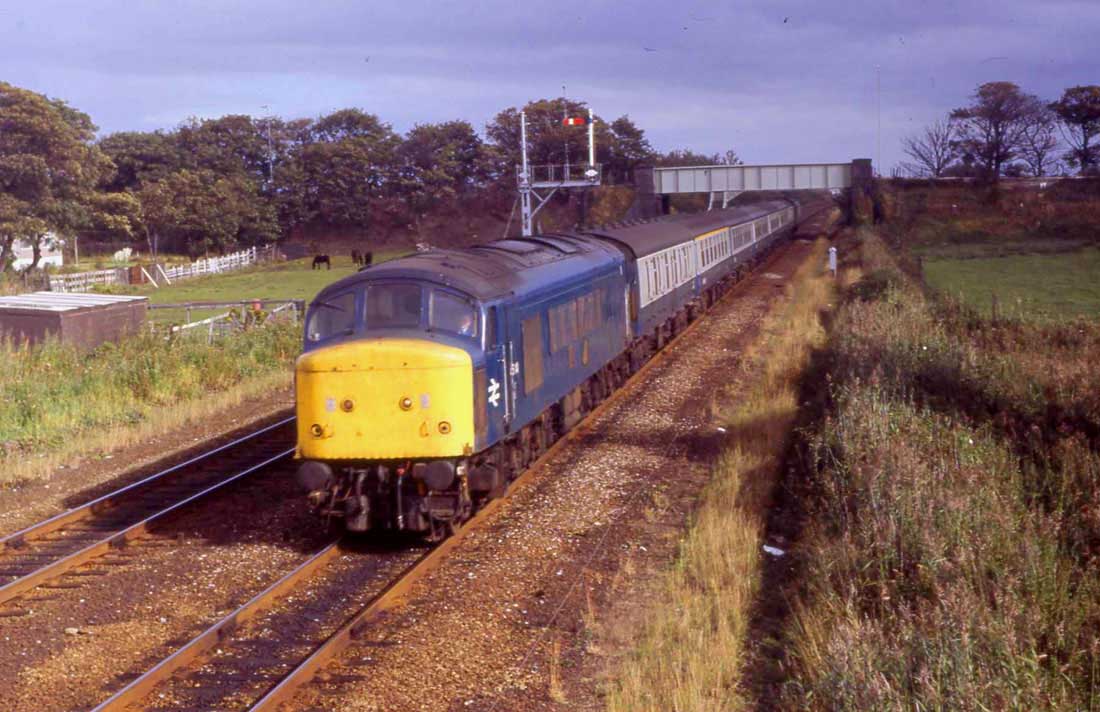 A pleasant October 10th 1985 in the vicinity of Prestatyn is graced by the passage of 45141 on a passenger service.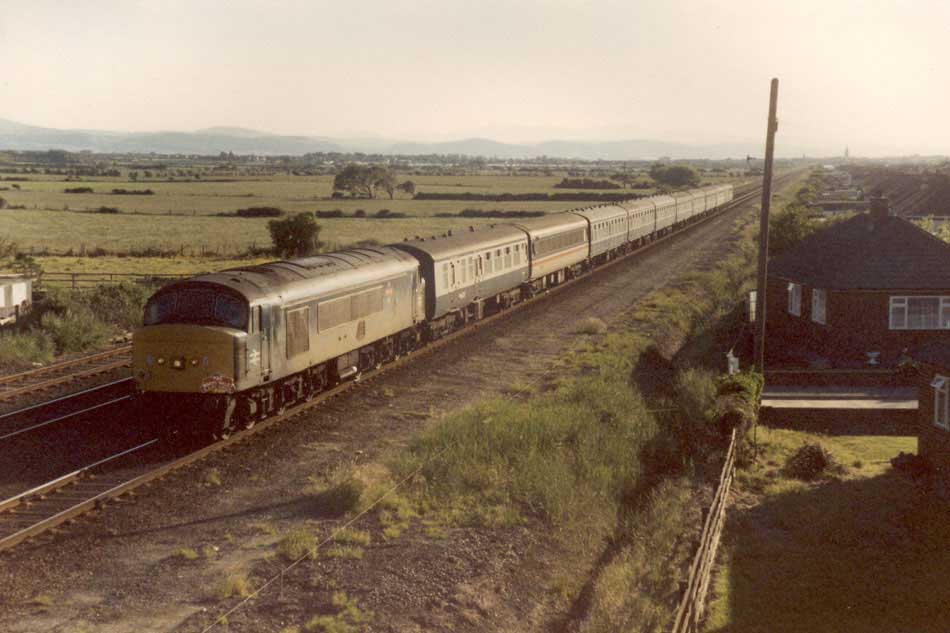 A ten coach return Chesterfield - Llandudno day excursion hurries homeward behind 45107 on June 12th 1988, seen here near Prestatyn.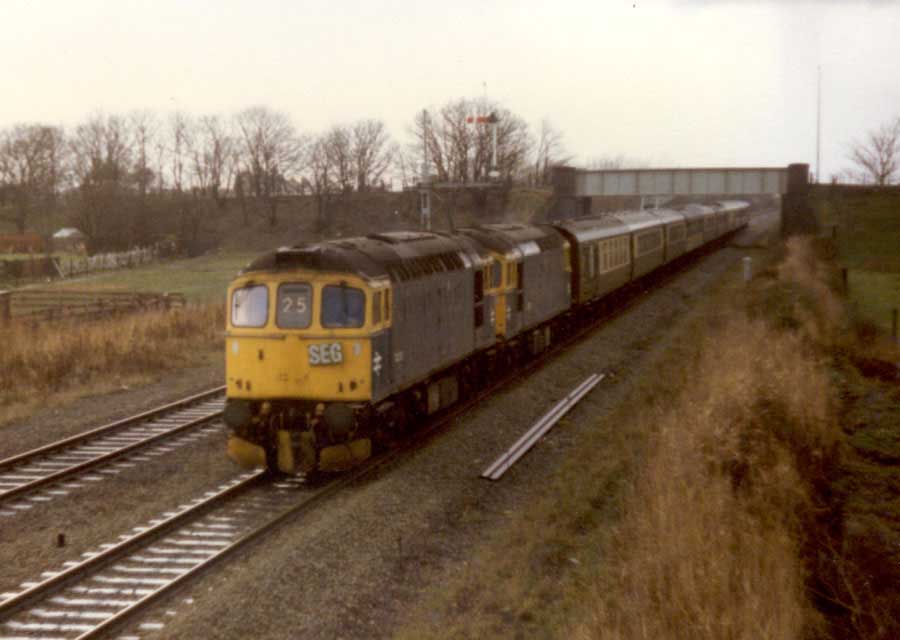 On December 13th 1986 an SEG railtour passes through Prestatyn on the outbound leg to Blaneau Ffestiniog from Victoria behind 33202 & 33209. At this point in the journey the train was running about an hour late, which is probably an hour more than the photographer wanted to linger on this damp and miserable afternoon!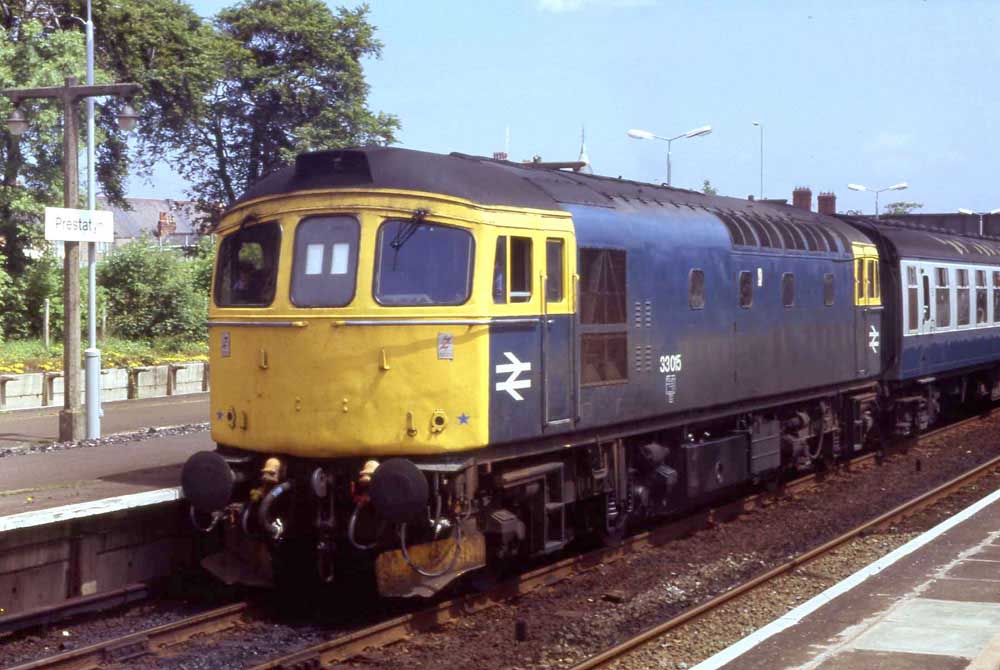 A fine portrait of 33015 at Prestatyn on June 20th 1985, as it waits time for the station work to be done. Your scribe spent many happy hours chasing these machines using several Southern Railrovers during the mid 1970's. To imagine back then that one day the Class 33's would be regularly diagrammed over the North Wales main line would have seemed far fetched perhaps, but here we are........
Rhyl
A short way beyond Prestatyn is Rhyl, which in these views clearly had a substantial railway presence at one time, and was no doubt needed during those busy summer months.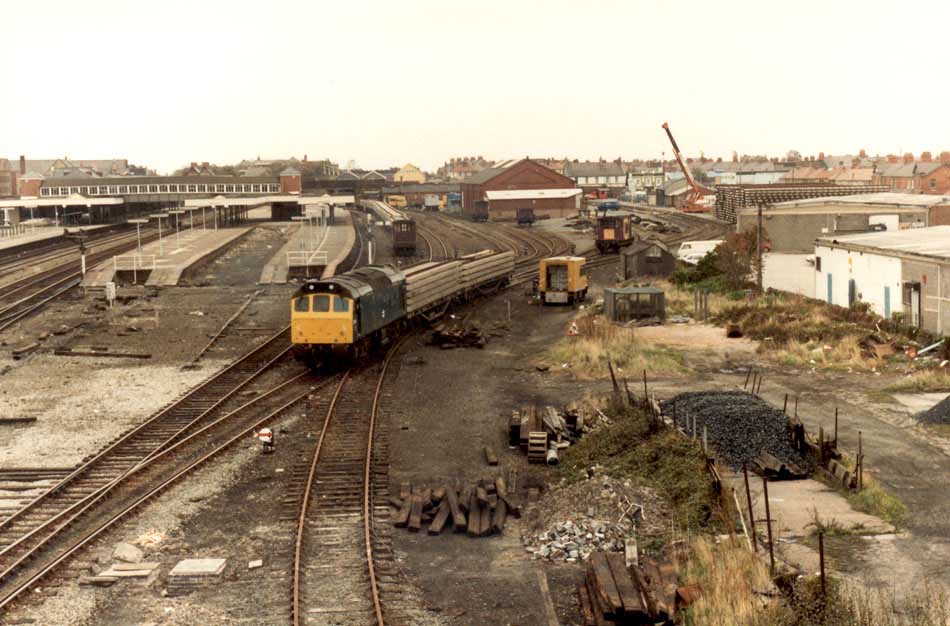 25161 negotiates the yard tracks at Rhyl with a track panel track panel train on October 6th 1983. An underused yard, lifted tracks to the bay platforms, semaphore signalling - clearly an indication of declining fortunes for the railways. Yet the preponderance of the track panels suggests renewal is continung for part of the local railway scene. It would not last however, supermarkets and other retail outlets now occupy much of the former railway land.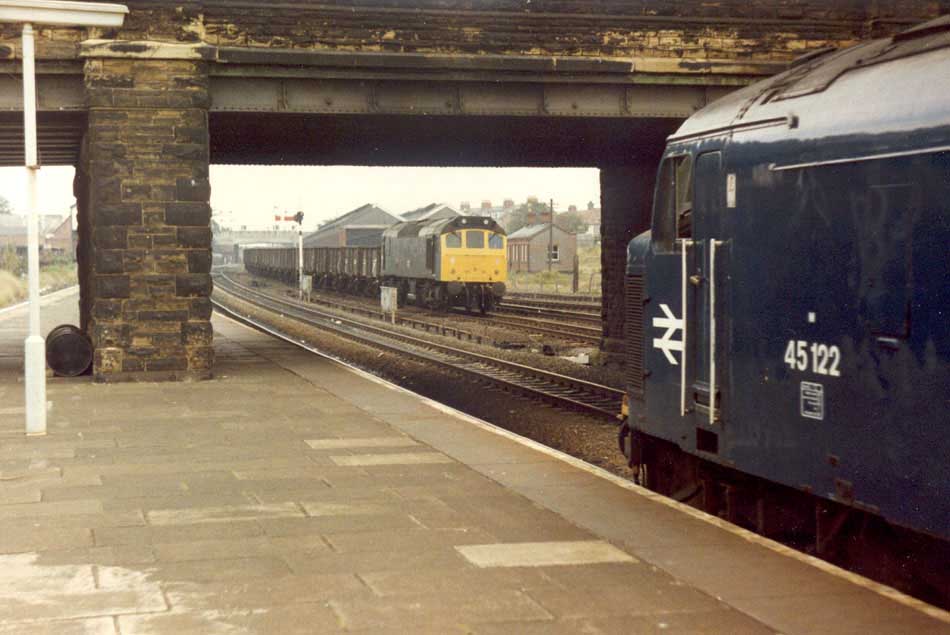 A combination which was routine on the Midland Mainline for many years would eventually become commonplace for a short while on the North Wales main line. On September 23rd 1986 45122 waits at Rhyl with a service bound for Newcastle whilst 25902 heads west with a lengthy rake of wagons - behind this train are the former carriage sheds.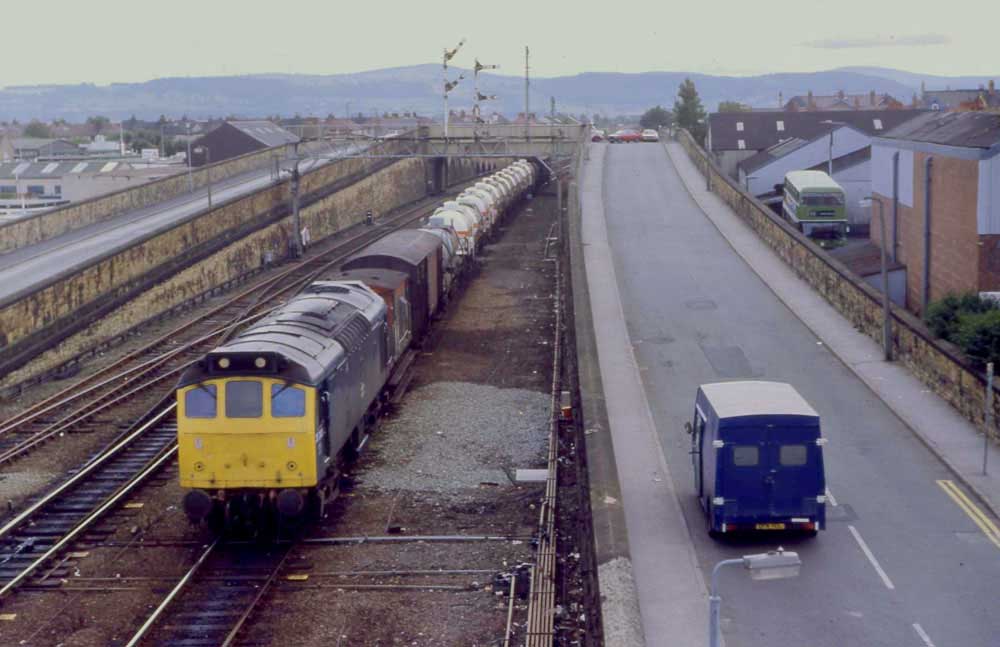 Photograph courtesy John Powell
25265 and the Octel tanks pass through Rhyl on an overcast September 7th 1985.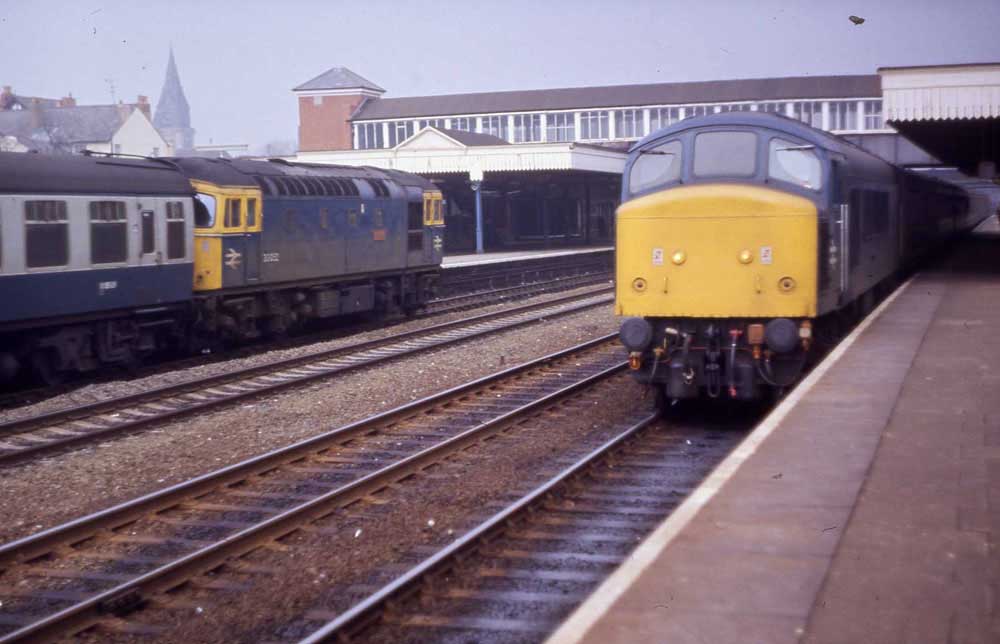 Photograph courtesy John Powell
33052 & 45115 cross paths at Rhyl on February 15th 1986. The original Modernisation Plan allocations made it a rare occurrence for Classes 33 & 45 to appear side by side in everyday service - Clapham Junction and Reading spring to mind, but who would have guessed that twenty years later the North Wales coast would see that is an everyday event!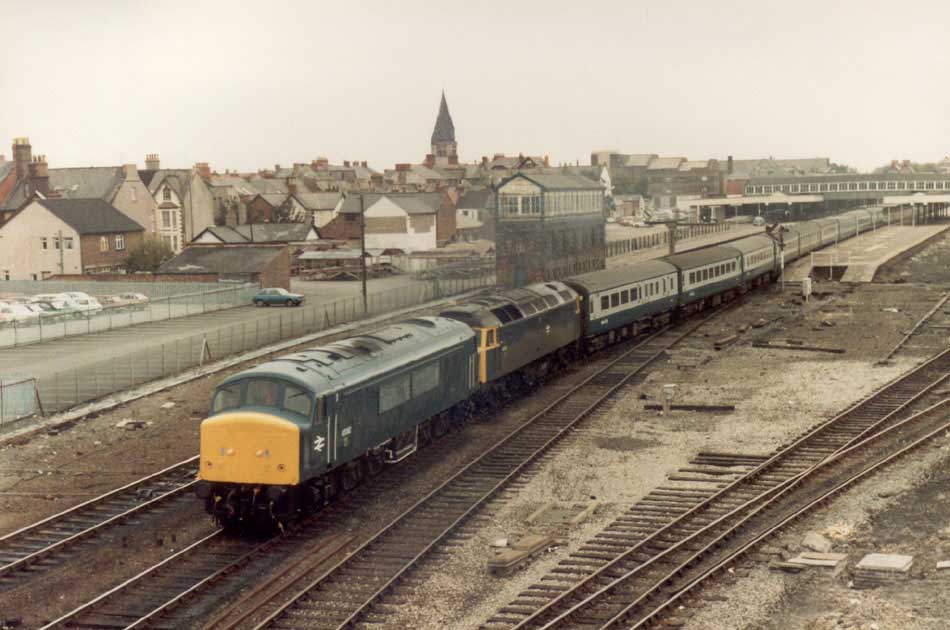 Photograph courtesy John Powell
Crewe Works would utilise the North Wales mainline for testing out-shopped locomotives. Here ex-works 45062 assists 47430 on October 6th 1983 with the 08.05 Euston - Holyhead. The empty bay platforms to the right of the express once served the local services to Denbigh. And the carpark on the left once was home to Rhyl (6K) steam shed and yard.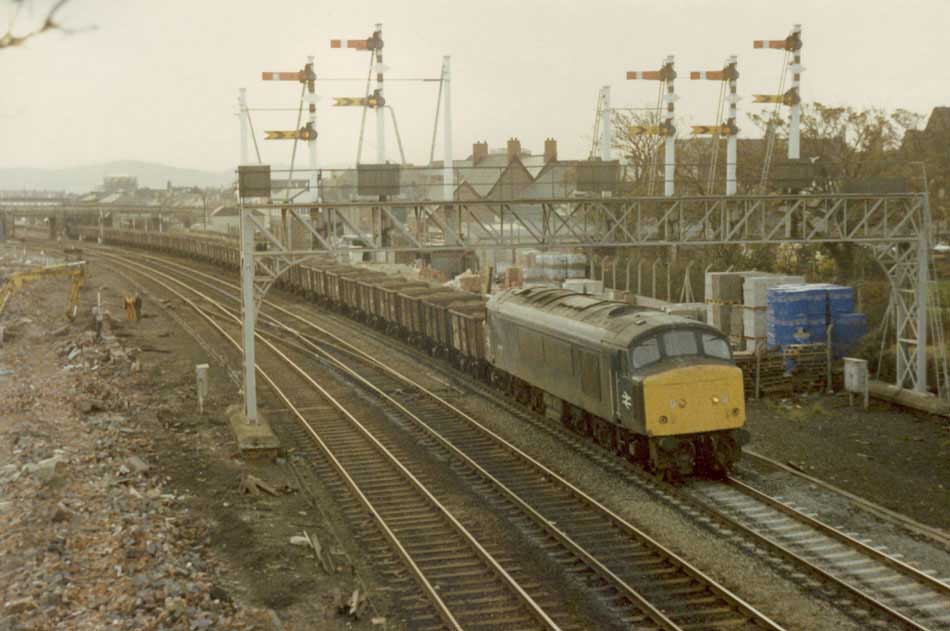 Another lengthy train, this time containing spoil heads east through Ryhl behind 45007 on October 29th 1986.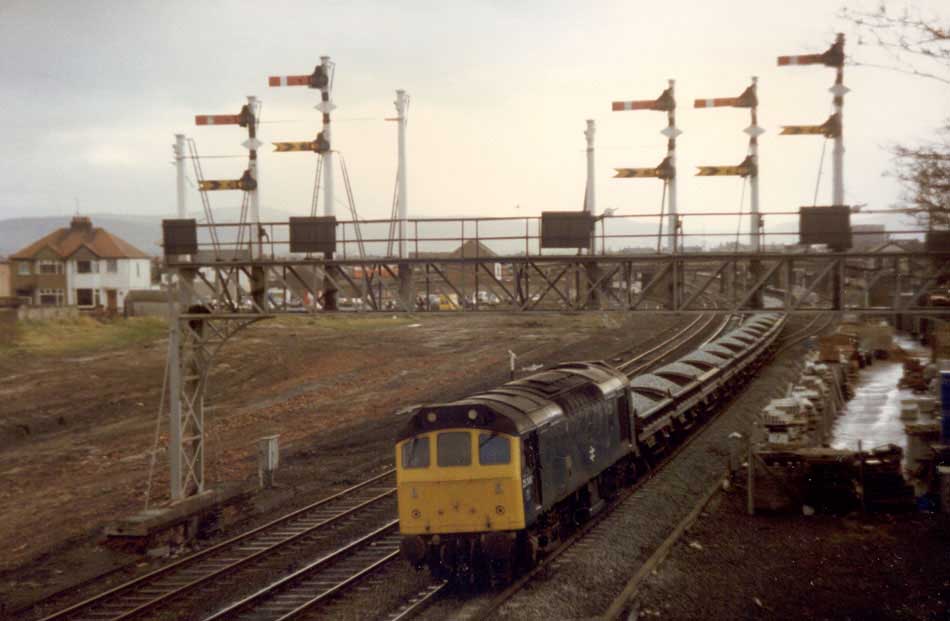 25249 heads eastwards through Rhyl station on December 1st 1986 with a load of stone from Penmaenmawr. The view above of 45122/25902 showed the former carriage sheds still in place, two months later, in this view all that remains in a rubble filled empty space - bring on another supermarket.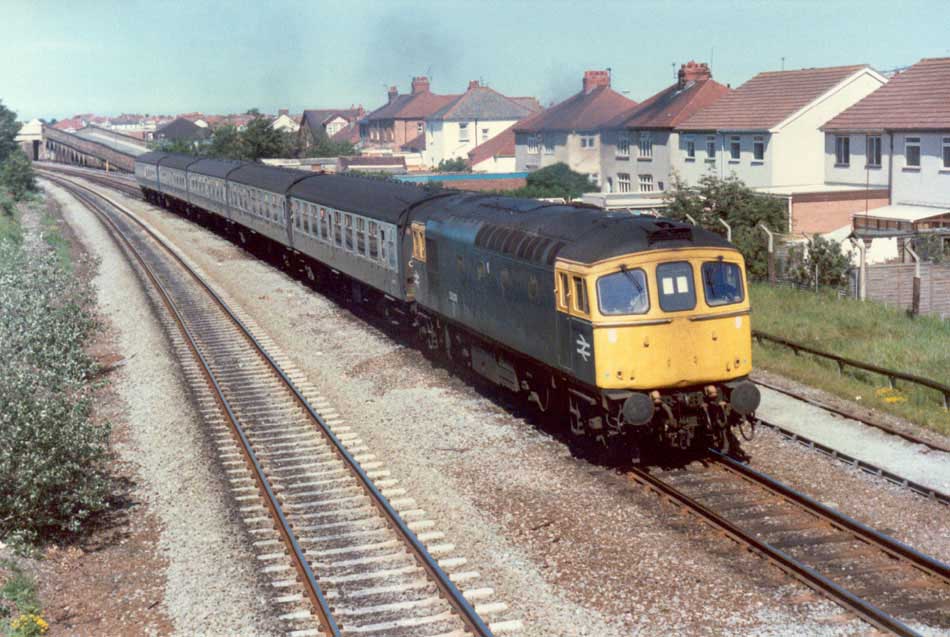 The 11.15 Crewe - Bangor of June 18th 1986 heads west through Rhyl behind 33026.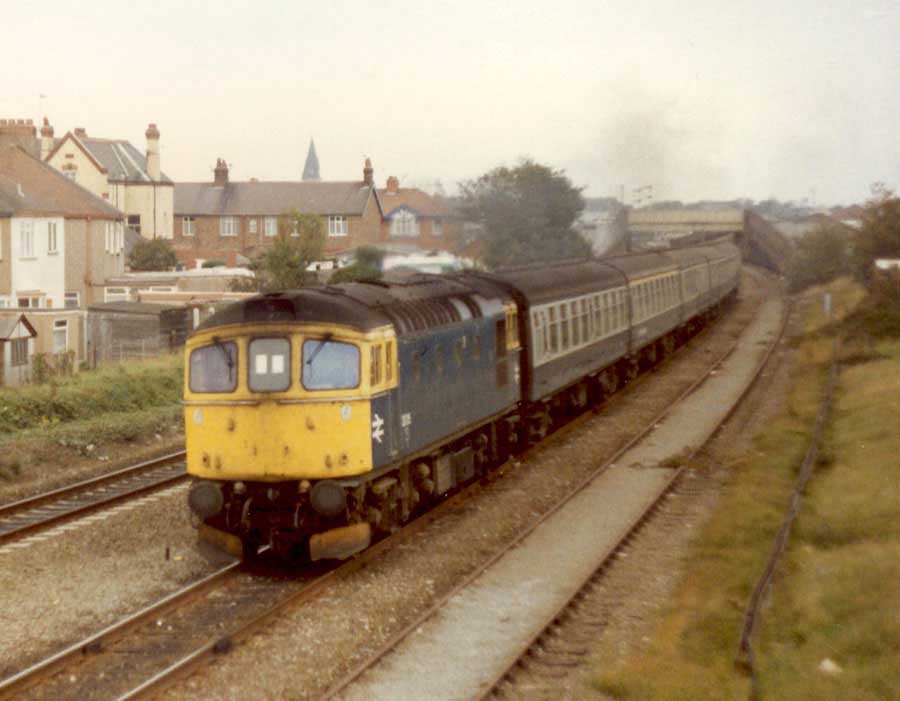 33015 is in charge of the 1D27 Cardiff - Bangor on September 23rd 1986 at Rhyl.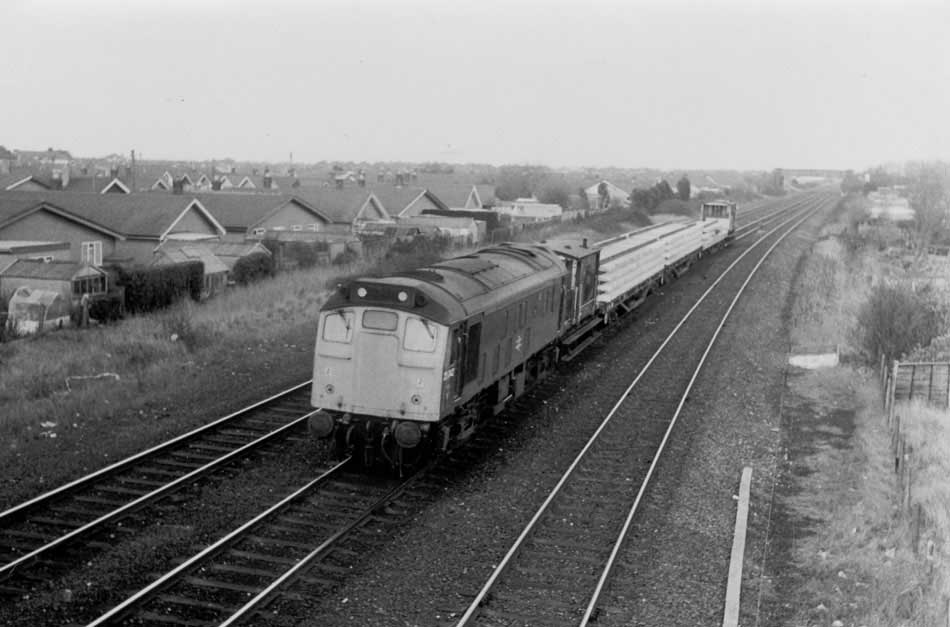 A short track train for Colwyn Bay hauled by 25042 heads west through Rhyl on March 15th 1986. 25042 has two months of active service left. It would be the last vacuum braked only Class 25 in service, being withdrawn surplus to requirements. Its last classified repair had been an Intermediate at Derby completed in April 1980.
Interlude at Rhyl on September 4th 1985.
An interlude at Rhyl - on visiting the station on September 4th 1985 John found one of the bay platforms occupied by two failed Sulzer powered machines, 45146 & 25206, which proved of interest in anchoring a variety pictures as other Sulzer powered trains ran through the station on a variety of workings.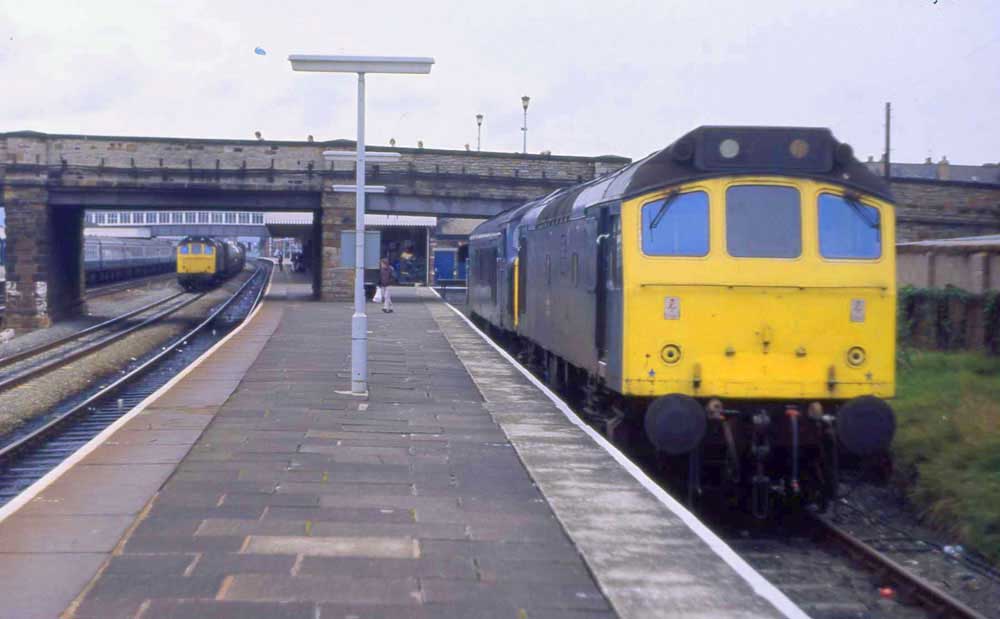 25206 & 45146 are dumped in the bay platform as 25089 approaches with the eastbound Octel tanks. To the left is 33013 heading a passenger service presumably to Bangor.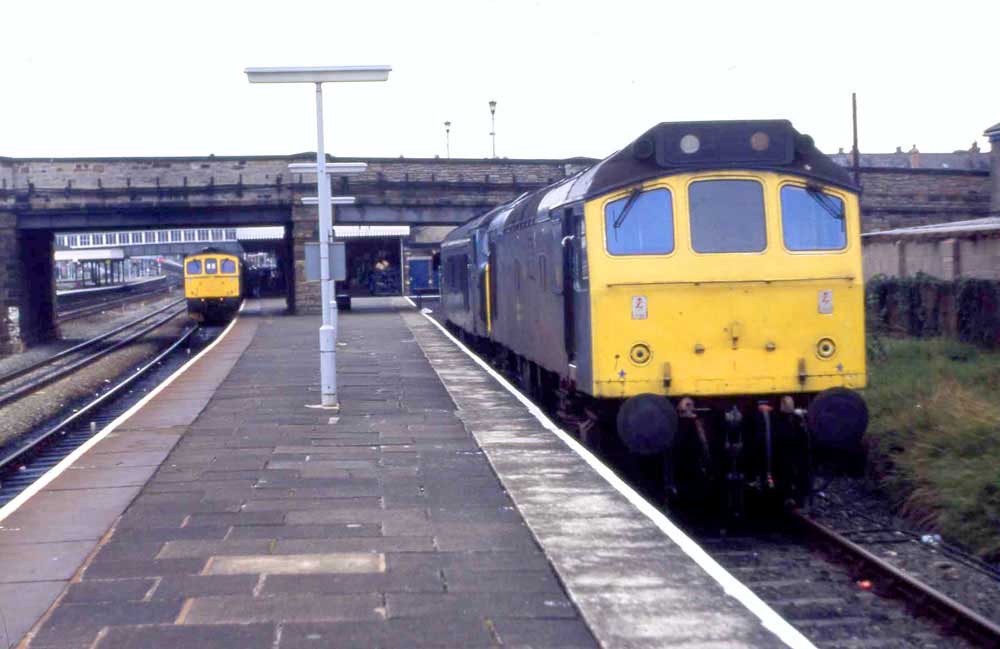 Time has moved on a little and now 33013 waits for the station work to be done whilst in charge of the 1V06 Bangor - Cardiff, 25206 & 45146 await a tow to somewhere to be fixed.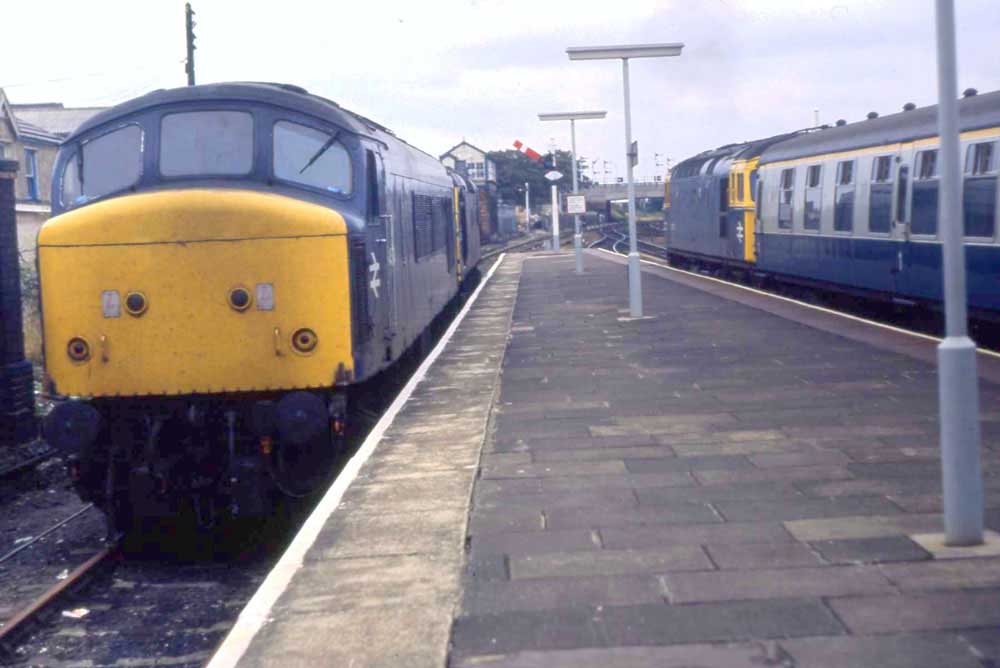 As the saying goes a bird in the hand is worth two in the bush, hopefully the passengers behind 33013 will have more success in completing their journey than whatever trains 45146 & 25206 were hauling.
Abergele
Another station literally on the seafront is Abergele, regrettably not located perhaps as close to the town center as the residents of Abergele would have liked. At Abergele the A55 trunk road reaches the coast to parallel the railway almost to Bangor, and it will feature in many of these views especially when it was heavily upgraded.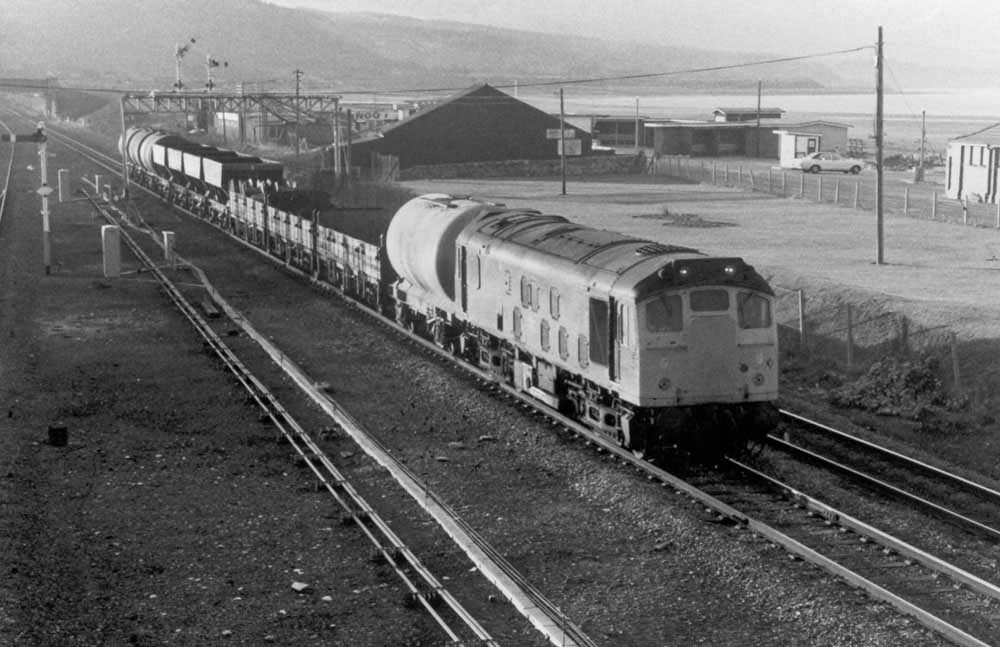 25034 is eastbound through Abergele with a short freight during the afternoon of December 8th 1985. For 25034 there is one more year left in service, withdrawal coming during December 1986.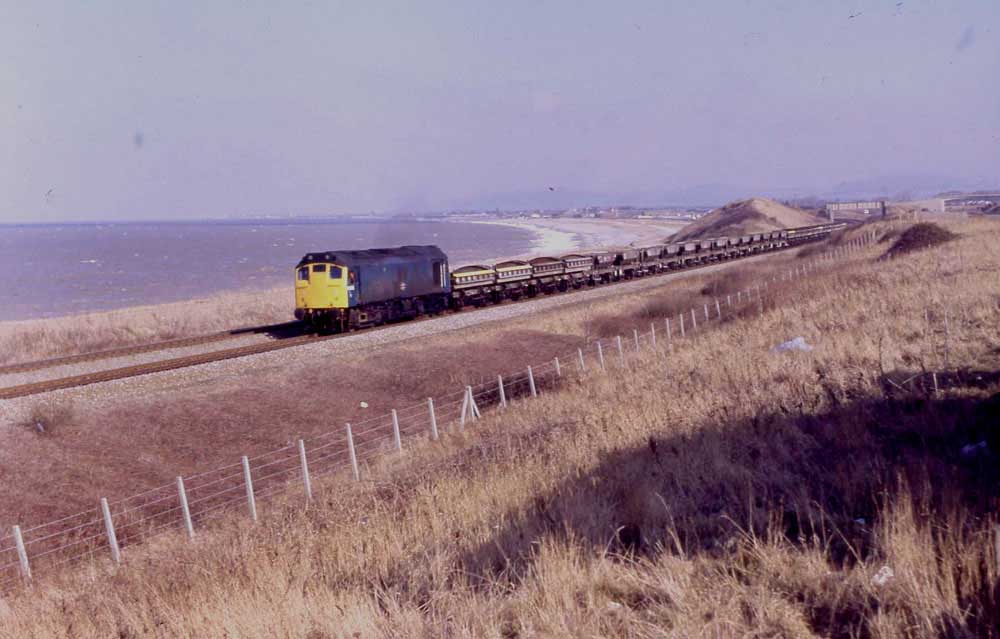 The sea looks a little choppy, and perhaps a little chilly on this bright March 12th 1986 as 25058 heads west with empty ballast wagons (to Penmaenmawr?). 25058 has a year left in service.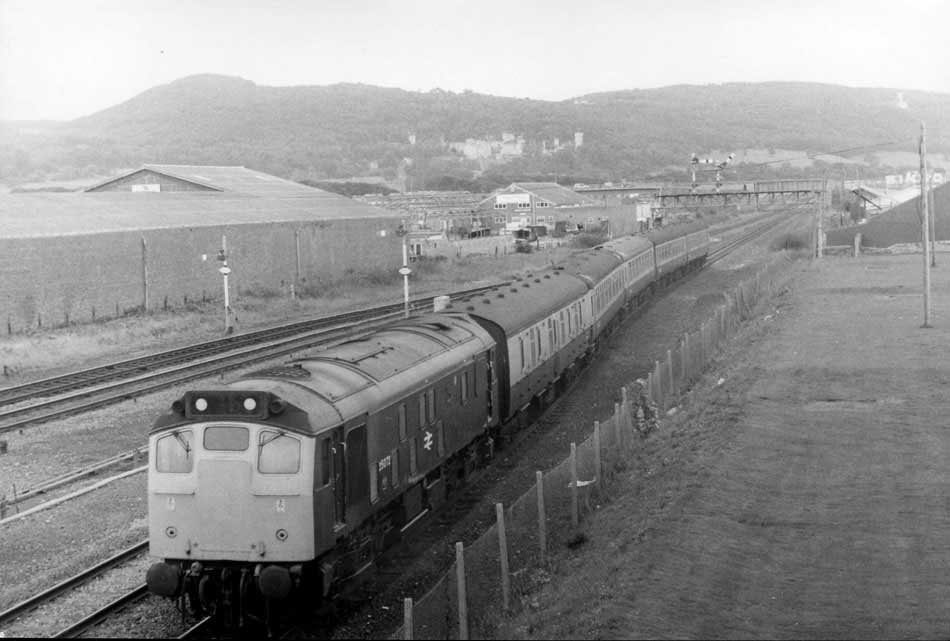 A Bangor - Scarborough service arrives at Abergele on September 14th 1983 behind 25072. Slightly older than everything in the foreground is Gwrch castle in the middle distance.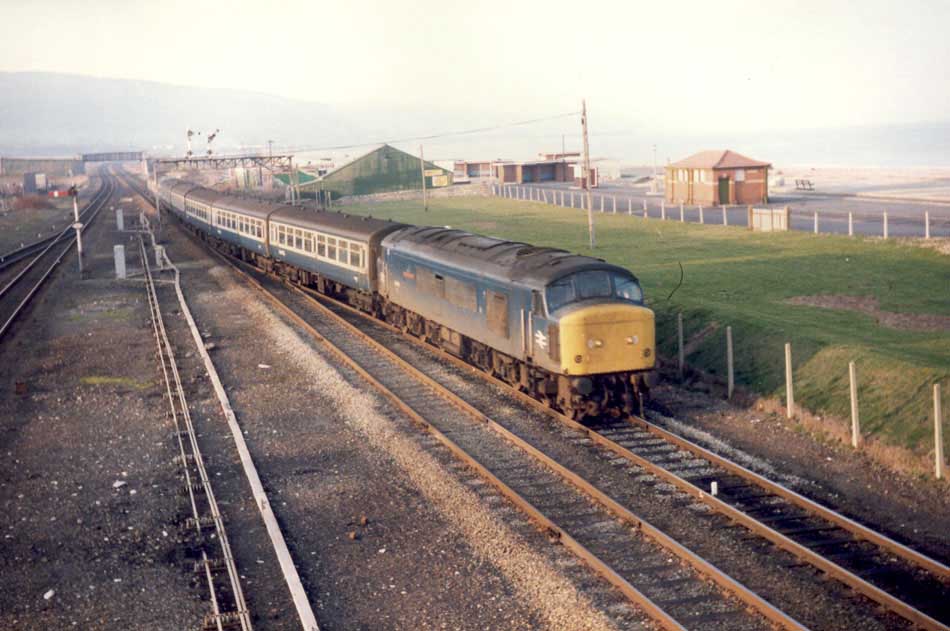 45123 arrives at Abergele on January 5th 1985 with a Holyhead - York service.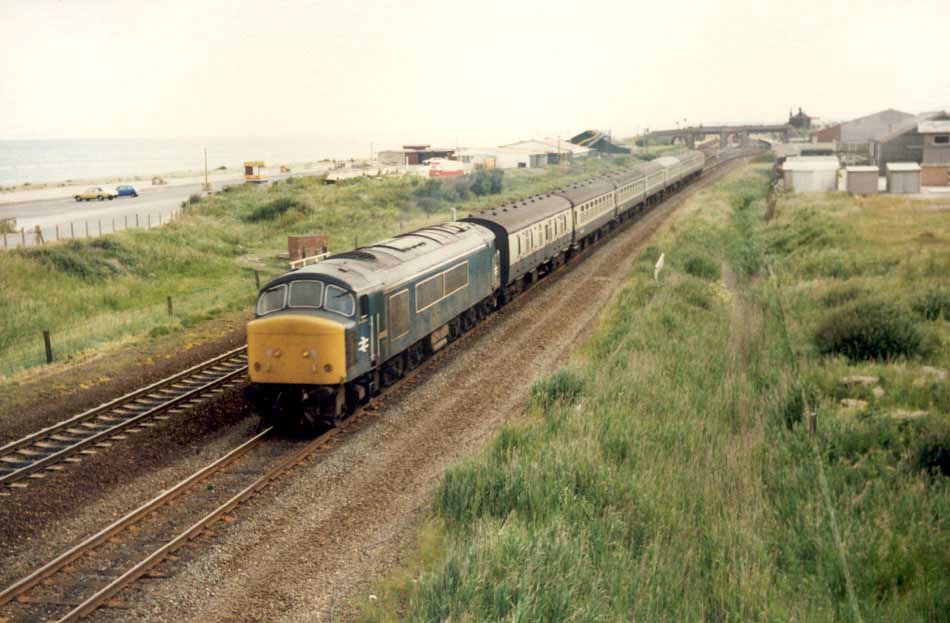 With only seven coaches hopefully 45013 can provide some lively running for the passengers on the 07.42 Manchester Victoria - Bangor on July 1st 1985.
Llysfaen
Nearing Colwyn Bay the coastline became more dramatic with the cliffs cutting off the wide beaches found further east.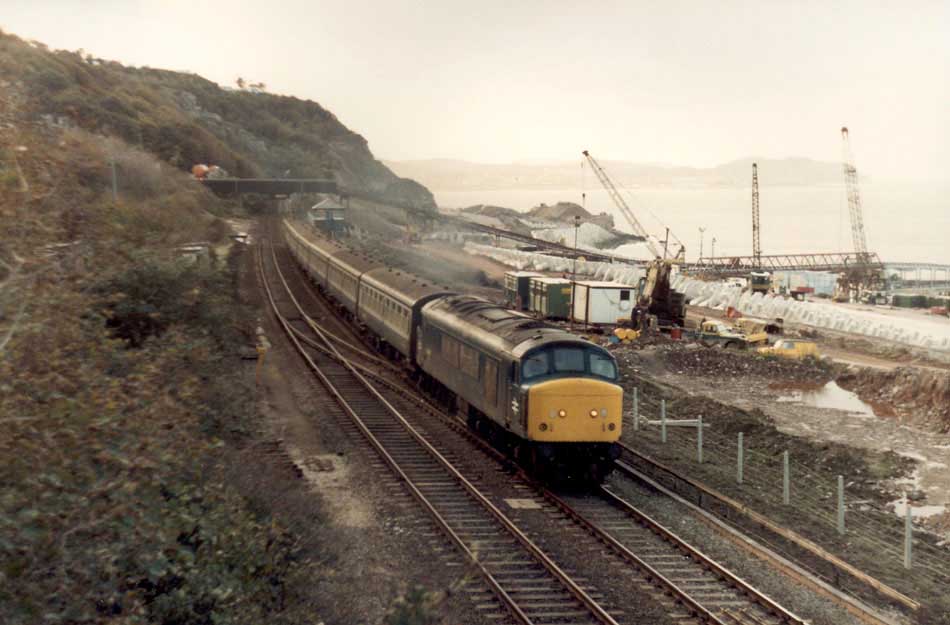 On October 10th 1983 a Bangor - York service passes through Llysfaen behind 45010. To the right of the tracks is evidence of the considerable effort required to upgrade the A55 road whilst in the background is the small peninsula culminating at Great Orme Head.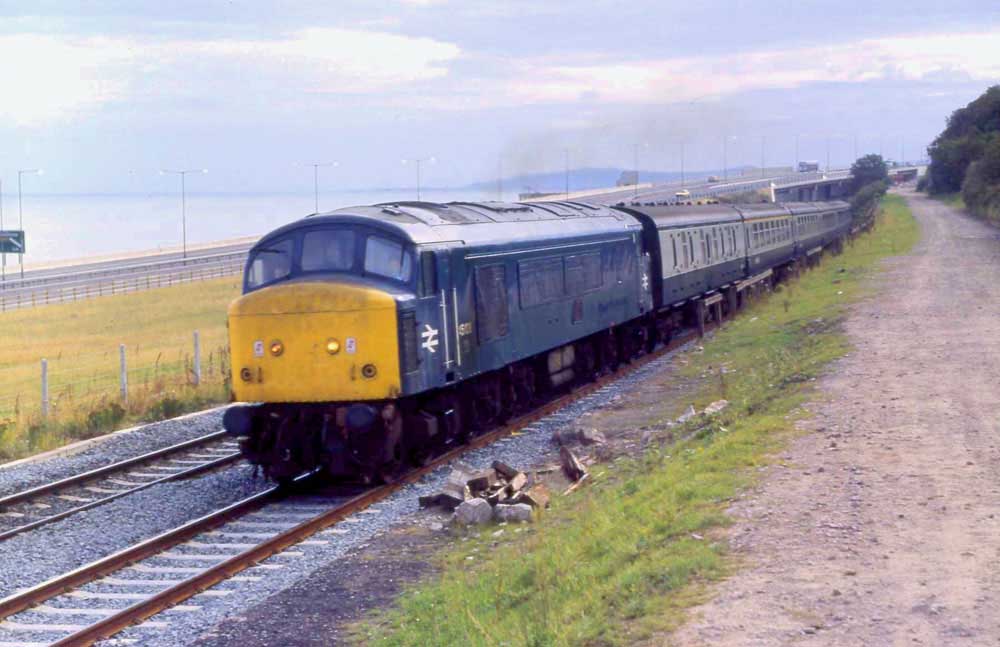 Under broken skies 45108 cruises westwards on September 7th 1985. In contrast to the view above, all construction has been completed on this section of the A55.
Colwyn Bay
The gradual curve of the route following the coastline ended at Colwyn Bay as the route headed briefly inland to reach the Conwy river, after crossing this the coastal route returned. After passing through Conwy the surrounding hills come right down to the sea at many points.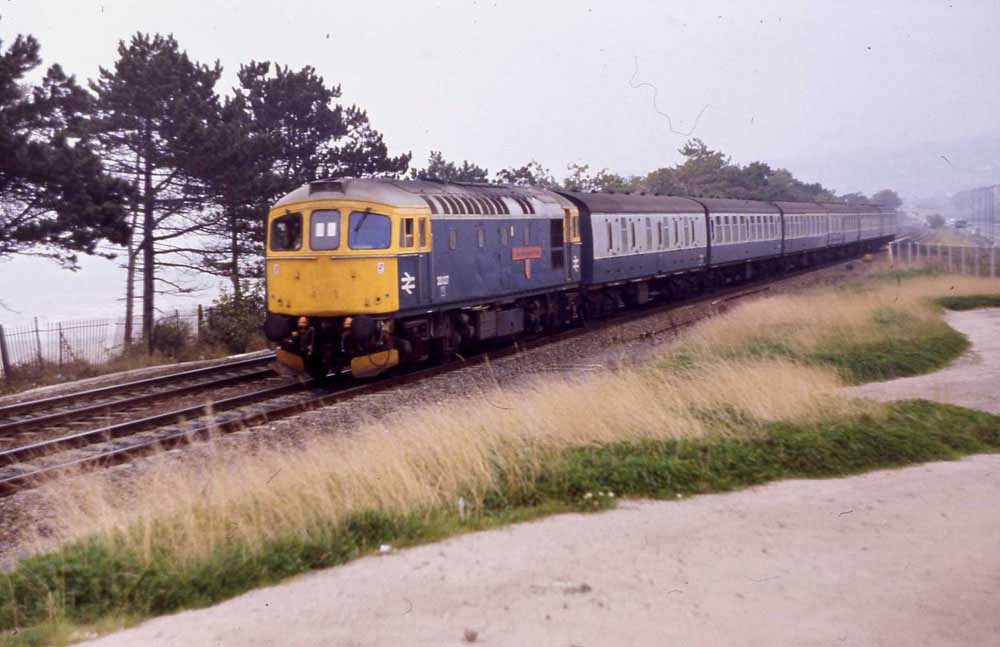 On an overcast October 23rd 1985 33027 cruises through Colwyn Bay, the Class 33 unmistakeable with its large nameplate and crest.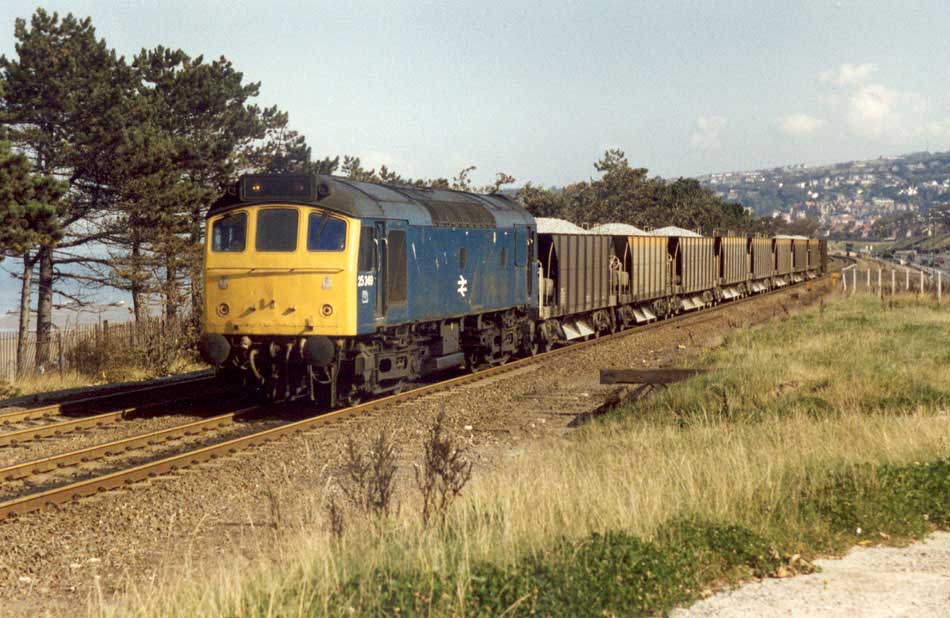 Sometimes you just get it right, great lighting, nice subject........ as with 25249 seen here at Colwyn Bay on Septemer 18th 1986.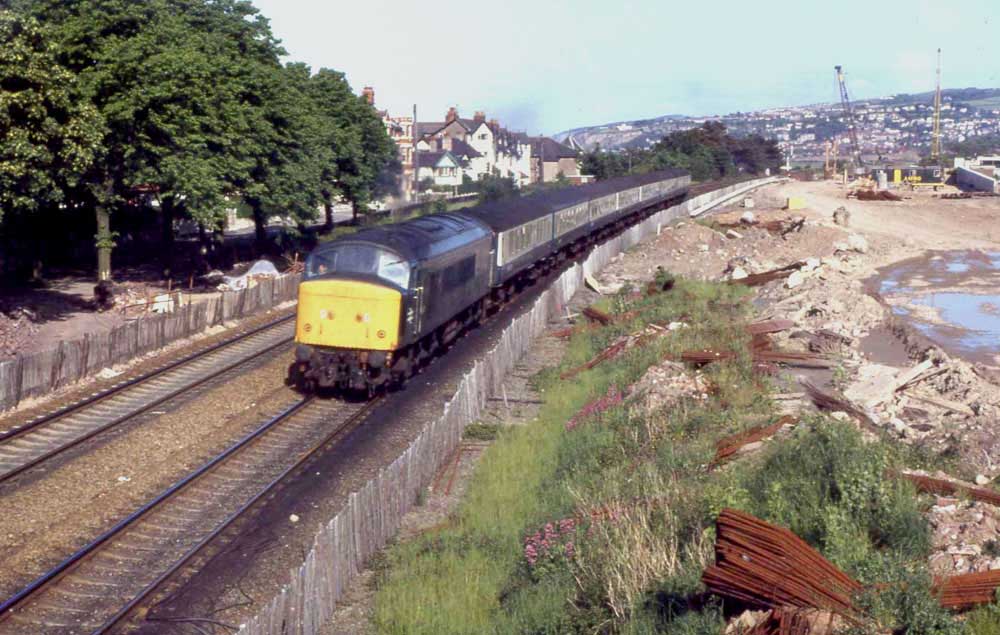 In this view near Colwyn Bay, taken on August 15th 1983 the road construction crews have already made progress on clearing the route and starting the concrete formations. In the meantime 45120 passes by.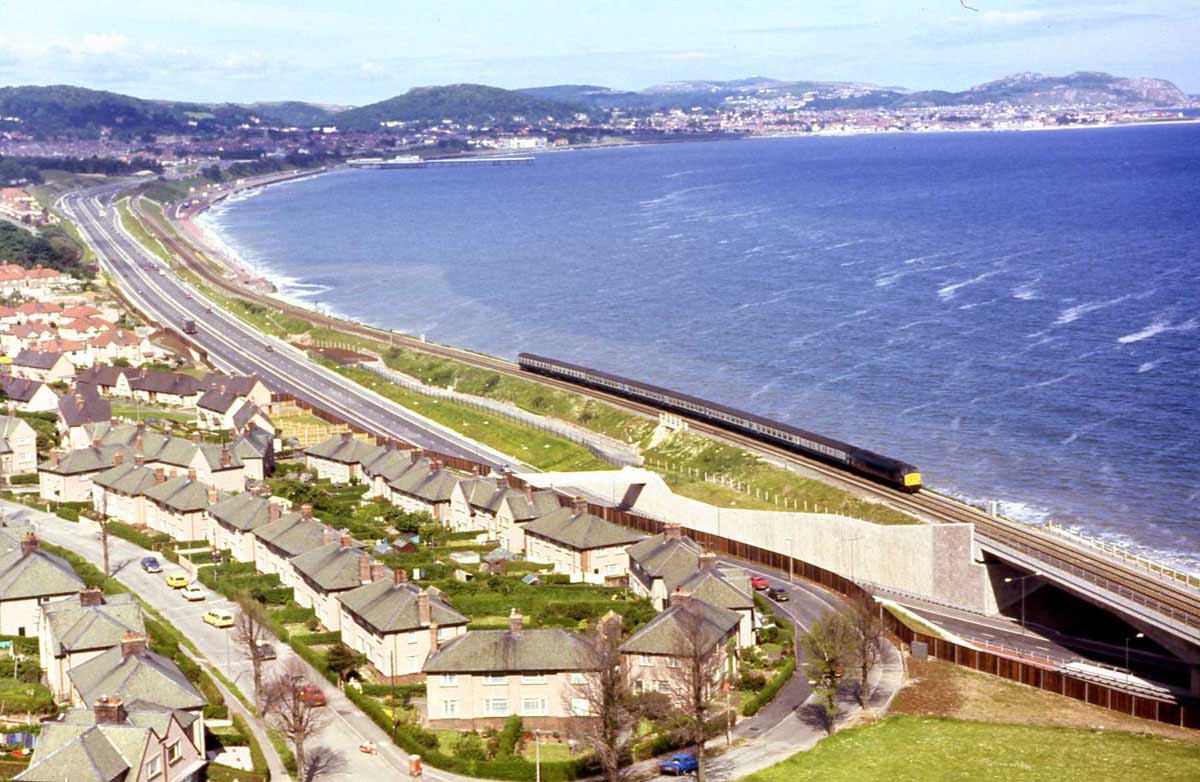 A glorious view of Colwyn Bay with 45131 and six coaches heading eastwards on June 15th 1985.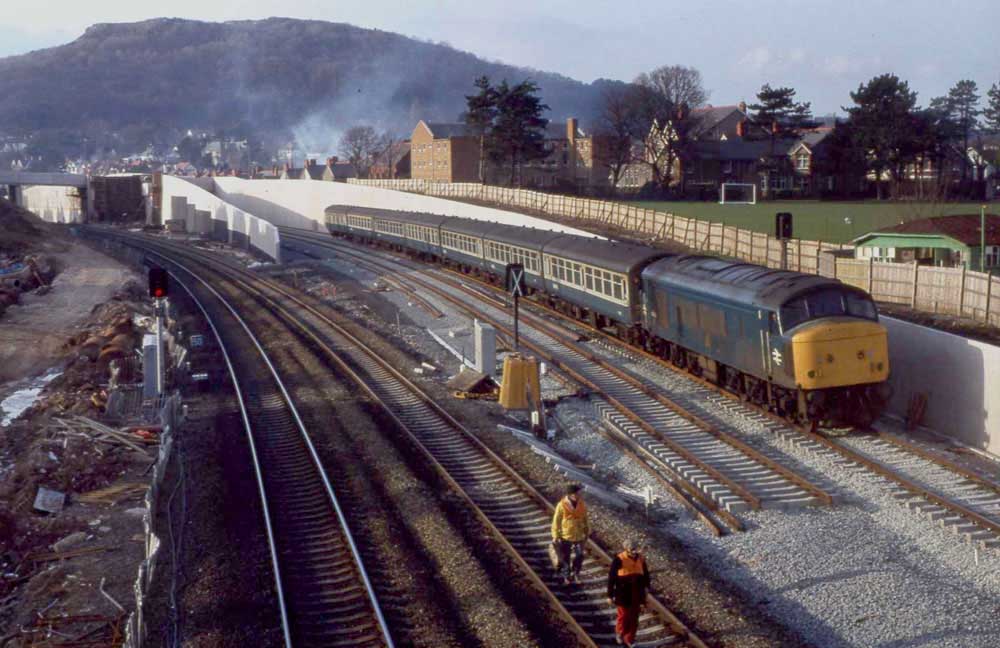 Its January 20th 1984 and there is much evidence of the upheaval caused to the railway by the major road construction for the A55. 45102 treads lightly over new trackwork, on the left the original alignment will soon be removed.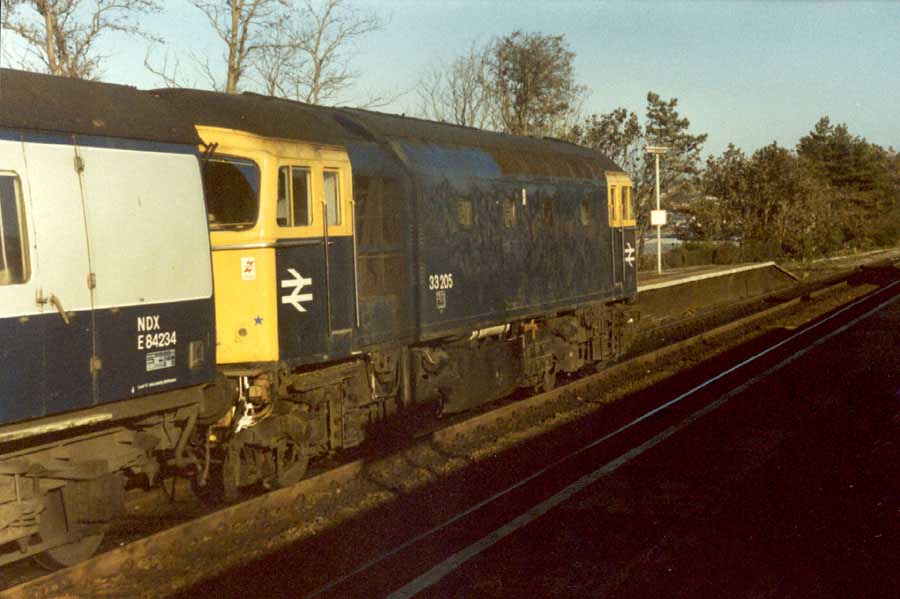 Narrow-bodied 33205 waits for time at Colwyn Bay on September 18th 1986 with a relief Llandudno - Crewe working.
Mochdre
Beyond Colwyn Bay the railway left the coast fort a short way, cutting across the neck of land that leads up to Great Ormes Head. The views below capture some of the changes made in the vicinity of Mochdre as the greatly improved A55 trunk road marched westwards towards Llandudno Junction & Conwy.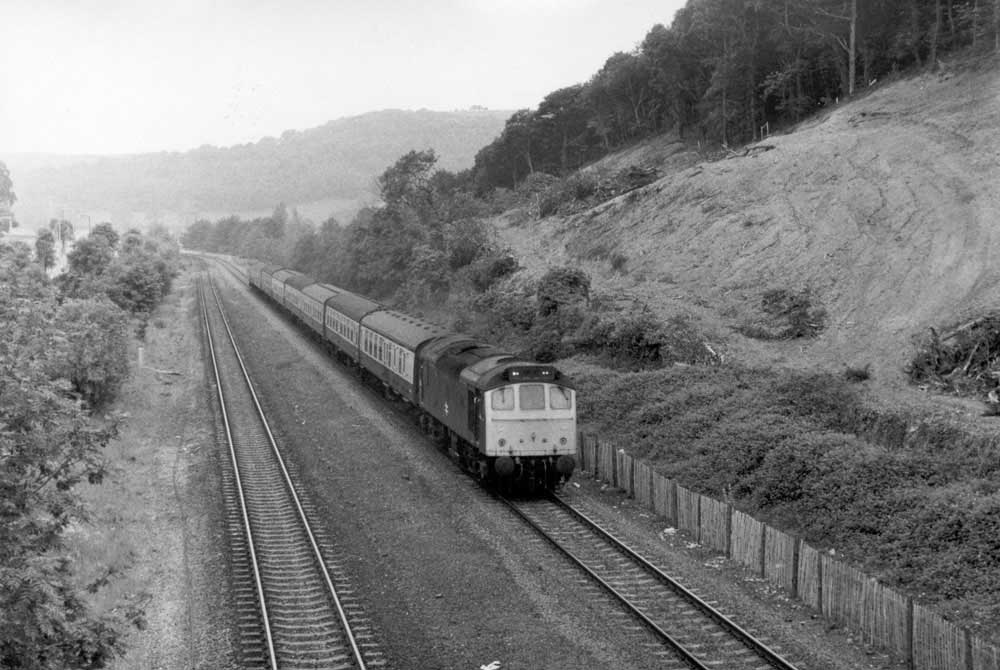 How it used to be - 25320 heads a Bangor - Manchester Victoria service on September 6th 1982, the A55 is just off-picture to the left, whilst the rough track cut into the cutting on the right suggests that clearing of the hillside for the major road improvements has just commenced.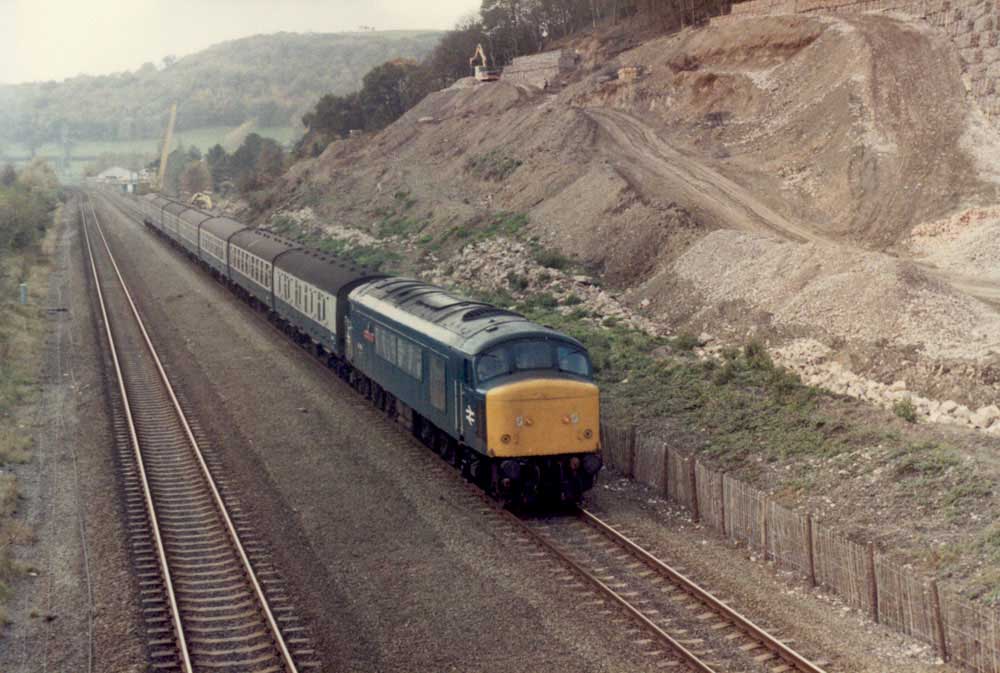 Its now October 26th 1982 and the construction crews are clawing away at the hillside, the railway will be realigned to the right once the dirt has been taken away and the retaining walls built. A Bangor - Manchester Victoria service passes by with 45143 in charge.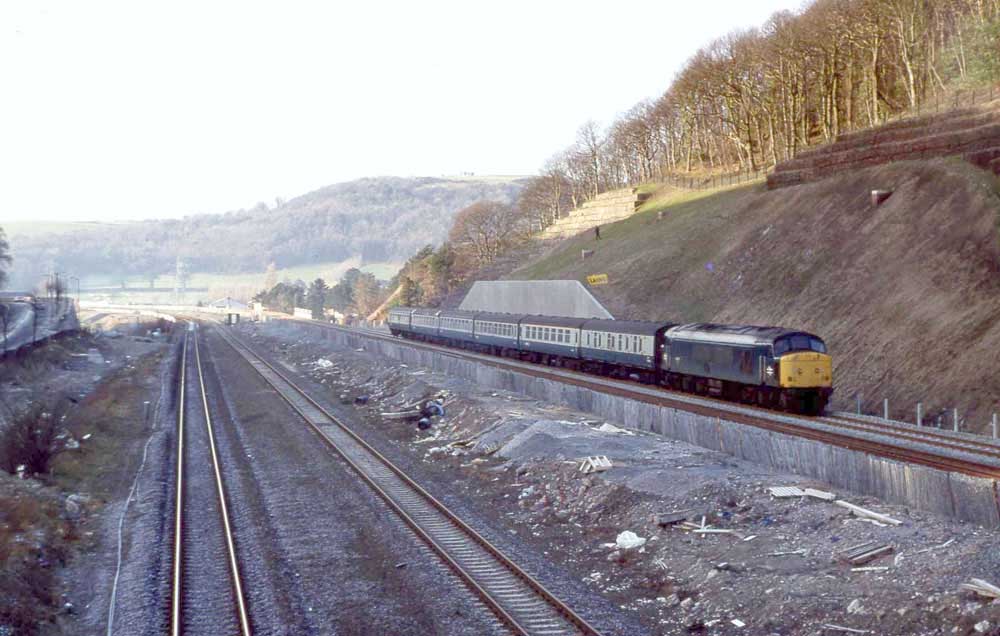 The way it should be, more rails than roads!! However it won't belong before the original rail formation is removed and then graded and paved over to form the dual carriageway A55, 45109 and train on January 21st 1984.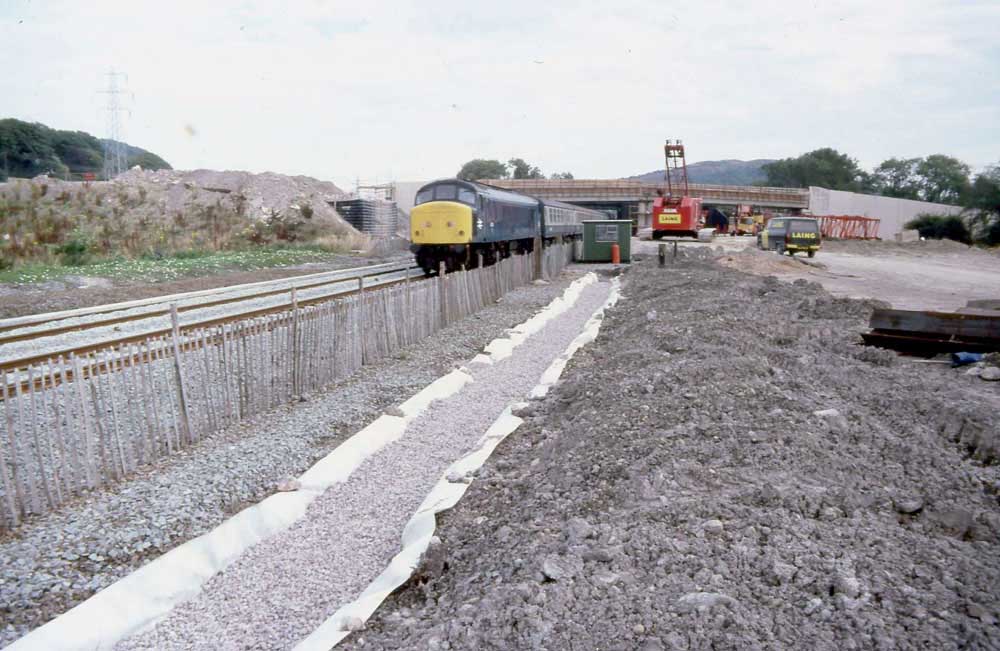 45106 and its train amidst a lot of ongoing construction, August 18th 1984.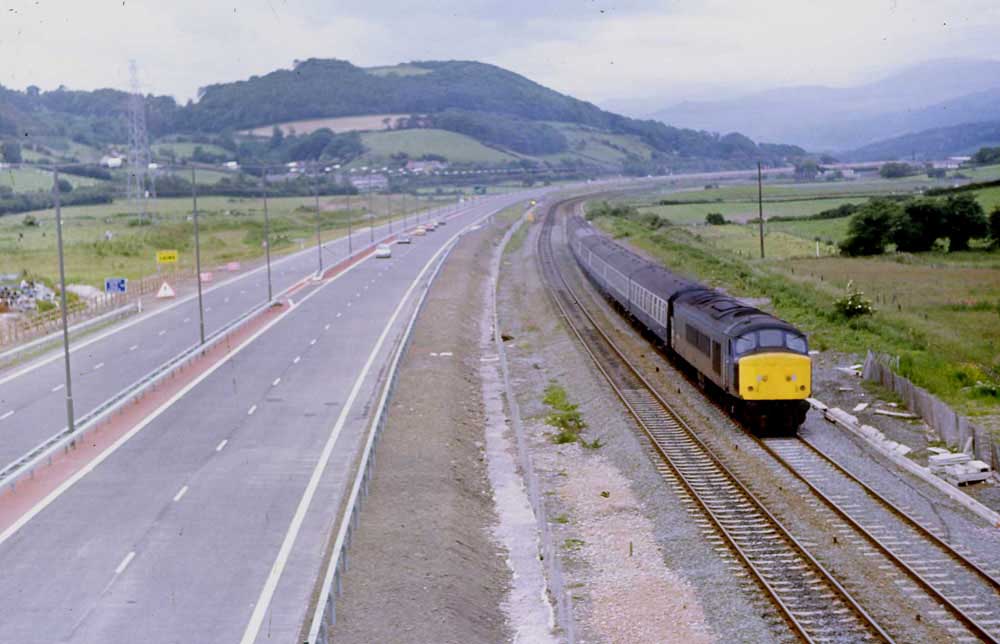 June 29th 1985, 45033 and train.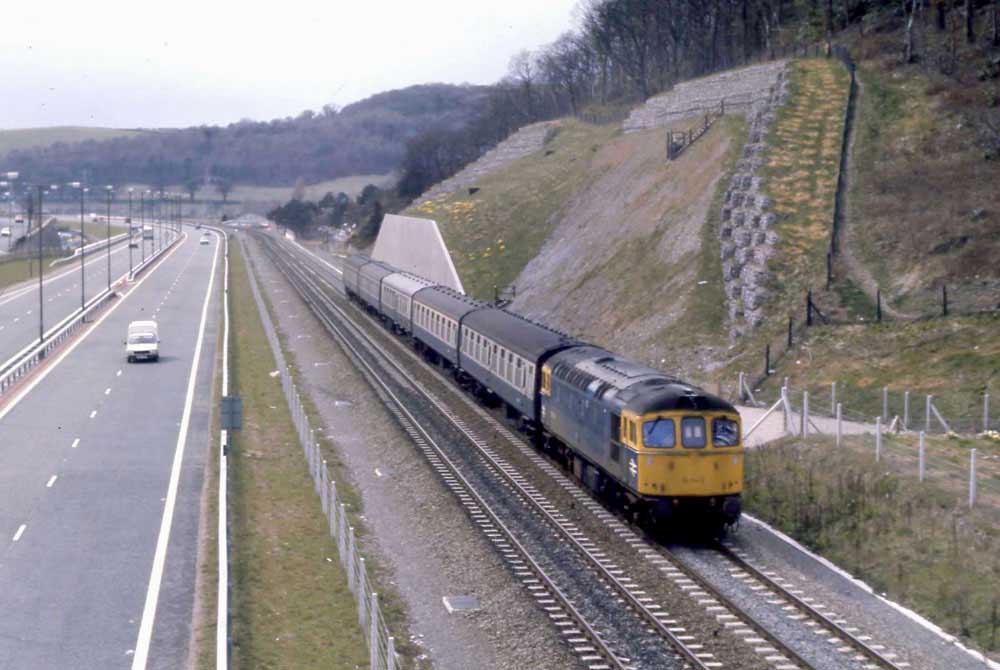 April 14th 1986, 33063 and the 1V06 Bangor - Cardiff.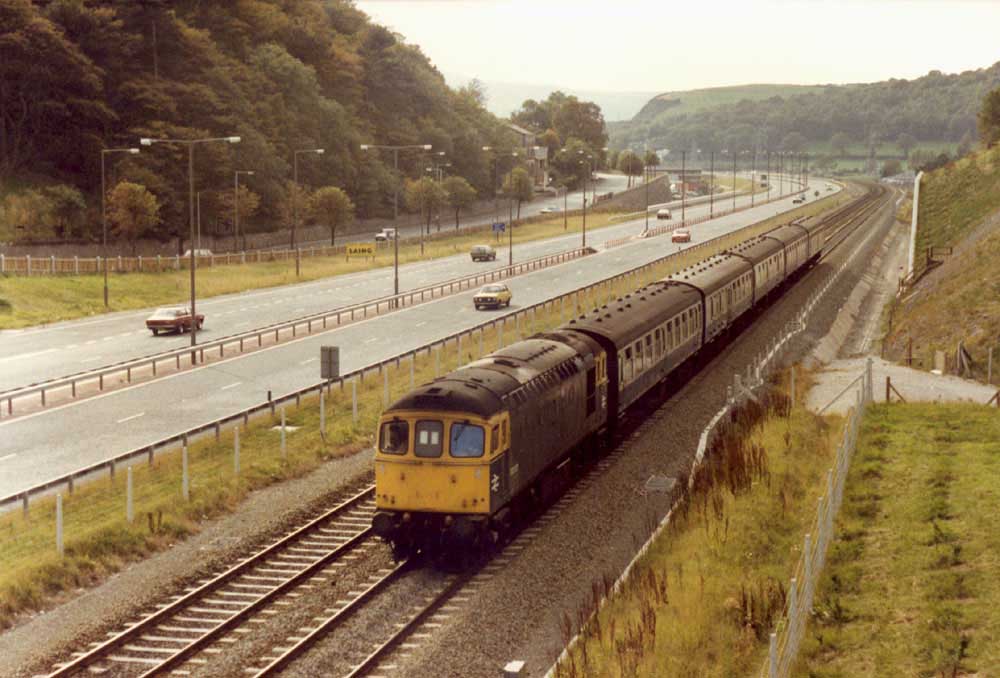 Its September 26th 1986 and 33207 is in charge of the last 1V06 Bangor - Cardiff to have regular haulage behind a Class 33, and a formers Hasting line narrow bodied diesel at that!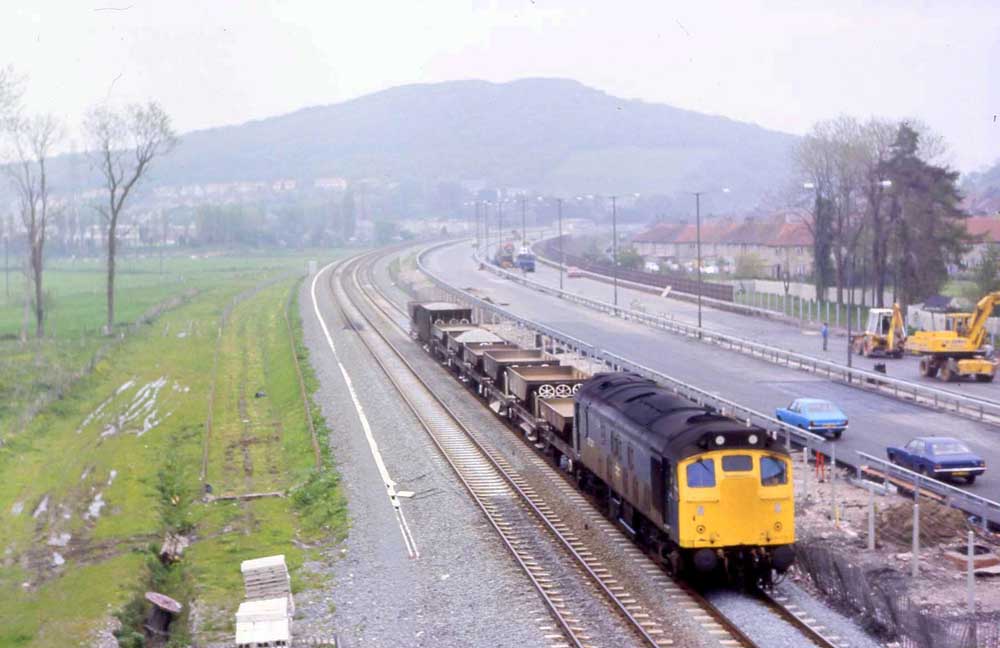 Photograph courtesy John Powell.
25231 with a ballast train on May 22nd 1985.
Llandudno/Llandudno Junction
Probably the most well known resort on the North Wales coast is Llandudno, access to which requires the use of the three mile branch from Llandudno Junction. Class 25's on passenger duties were early visitors to this seaside resort, during 1965 they were noted on dated summer Saturday services from Nottingham & Sheffield. The East Midland also sent some Class 25's out on day excursions to the North Wales resorts. The Nottingham day trippers had the delights of Midland based Type 2's provided by Toton, whilst from Sheffield Tinsley provided examples from its allocation of D7598 - D7610 and D7624 - D7649.
For the following years the Nottingham services continued to be doubled headed on a consistent basis until 1969 when several services were handled by single Class 25's. The Sheffield services were not so consistent, by 1968 the variety was quite noticeable. Two services included Class 24's - July 6th had 7570 & 5149 and July 20th featured 5137 & 5197. The previous week had seen the use of a Class 47, D1732 whilst during August/September Tinsley pulled out Class 40's 204 (August 17th), 375 (August 24th) and 234 (September 7th). Perhaps the most unusual was the deployment of four Class 37's on August 23rd, used in pairs on Sheffield - Rhyl excursions (6806, 6807, 6809 & 6811).
During 1969 Sheffield turned out a couple of Class 25/0's to spice things up a little, 5152 on August 2nd & 5155 on August 16th. 1969 also saw the diagramming of Class 45/46's on Newcastle - Llandudno workings, previously worked by Class 40/47's.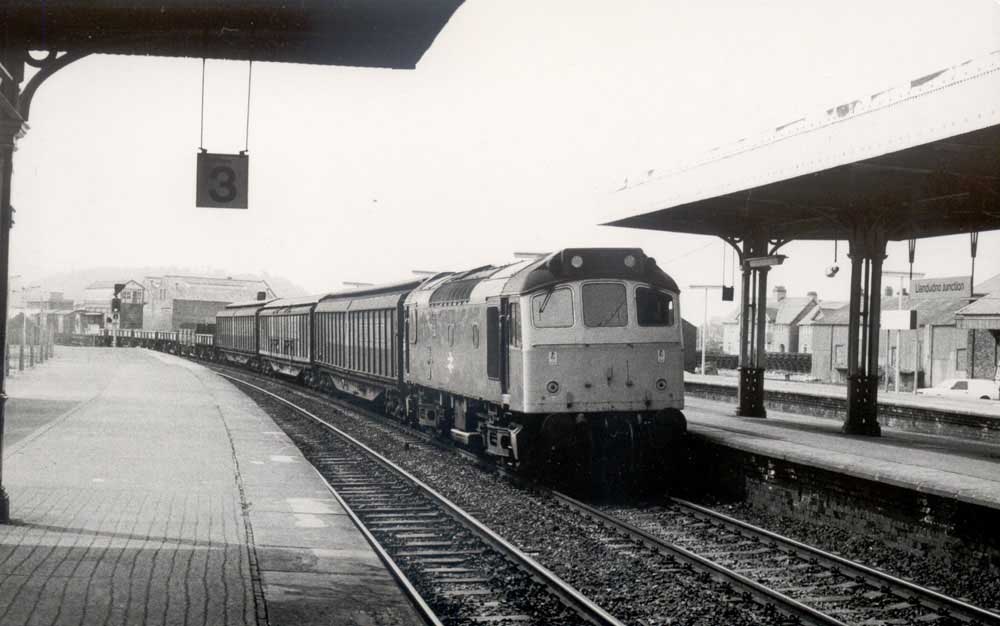 Photograph collection of webmaster.
25284 speeds through Llandudno Junction station with a Speedlink freight on May 20th 1983. 25284 has another two and a half years left in service, being withdrawn from Crewe during January 1985.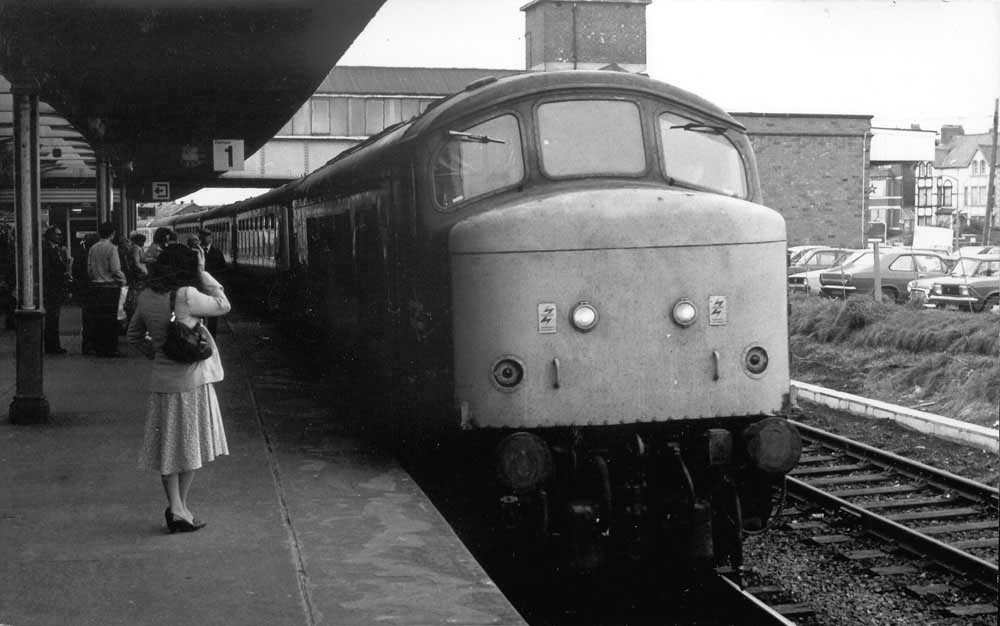 Photograph collection of webmaster.
45132 draws into Llandudno Jct on May 25th 1983 with the 9.31 to Scarborough. The destination of the train is well known but one wonders about the passengers waiting on the platform, in particular the young lady nearest the photographer. Did the photographer intend to capture the human interest, or was it just fortuitous.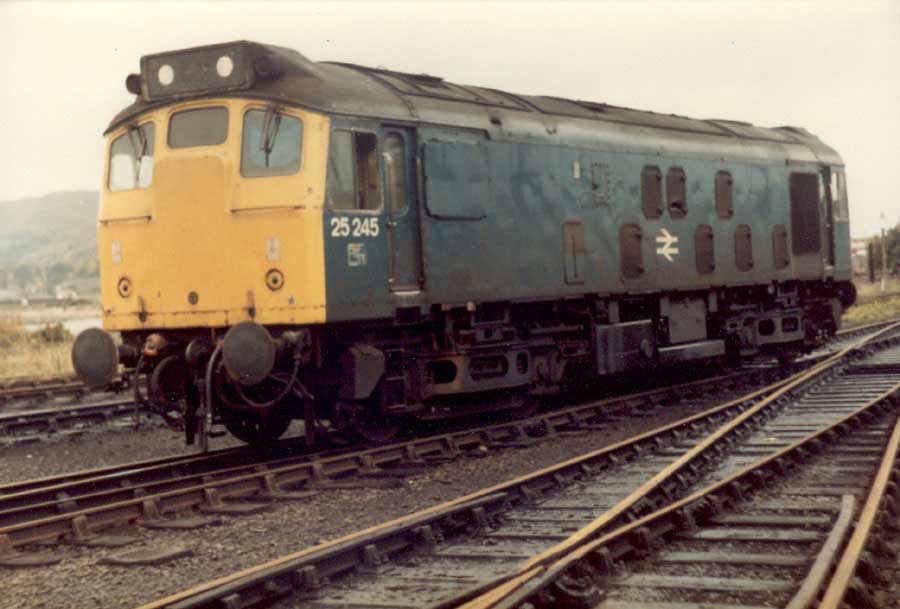 25245 at Llandudno Junction depot on October 24th 1984.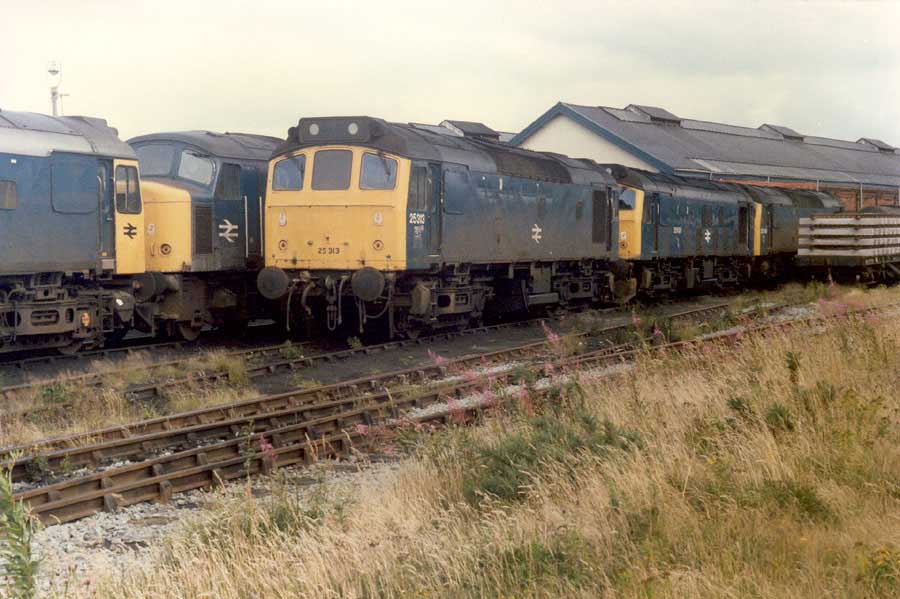 Its a full house at Llandudno Junction depot on August 2nd 1986 with 25912, 45022, 25313, 25035 & 25249 on view.
Morfa Conwy
West of Conwy the coastline became more dramatic with frequently little room available for the road and railway.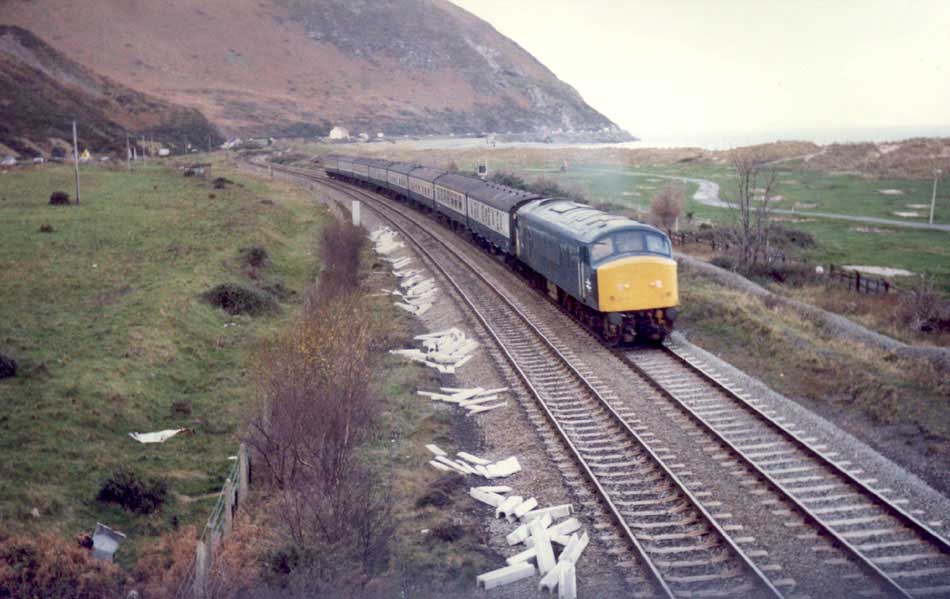 Photograph collection of webmaster.
There's nobody on the pitch & putt course today as 45103 passes Morfa Conwy with a Bangor - Scarborough service on December 10th 1984.
Penmaenmawr
Along this stretch of coast the railway line remained close to the coast. At Penmaenmawr a nearby quarry provide ballast for use on the railways, a number of siding accomodated the coming & going of the ballast trains.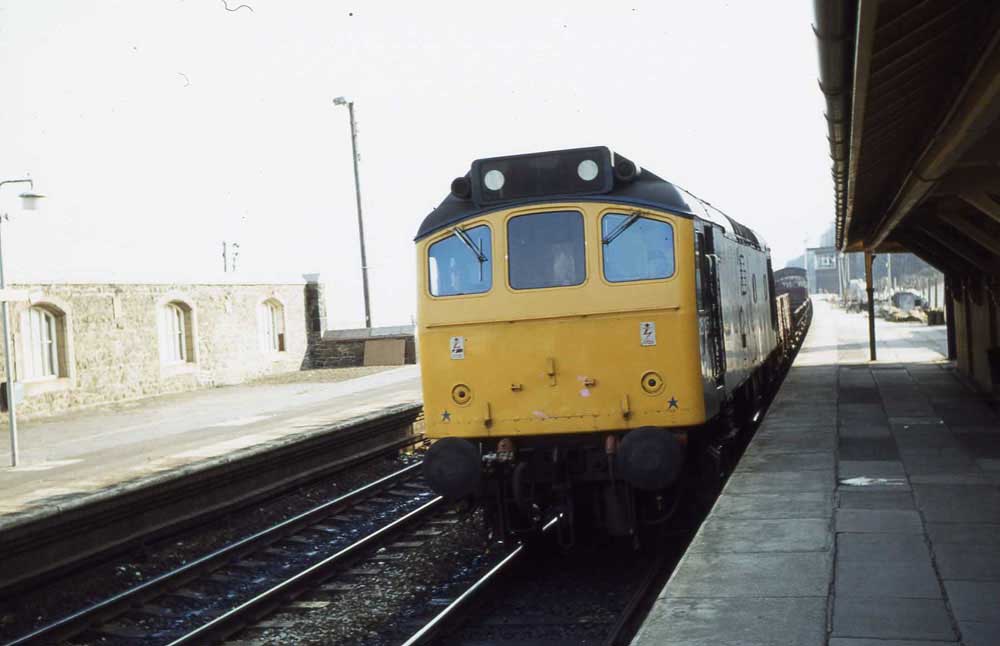 25195 fills the scene as it heads west through the station with a mixed freight on May 18th 1979.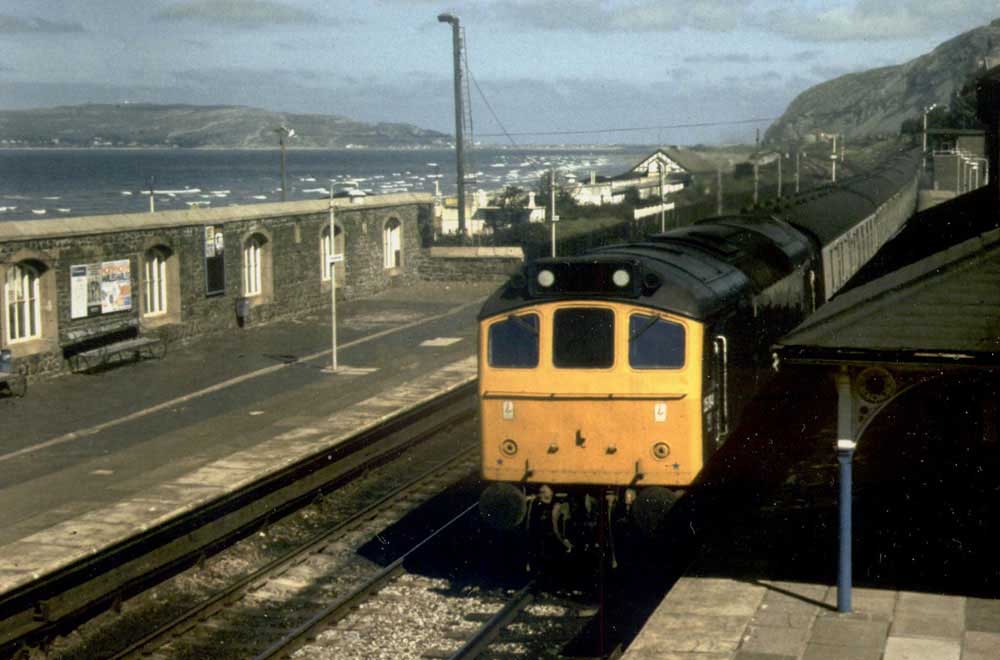 Photograph courtesy Dave Homer.
It looks like a brisk early afternoon at Penmaenmawr as 25194 arrives with the 1D31 11.11 Manchester Victoria - Holyhead on August 25th 1978. With maybe six or seven coaches in tow this working will not tax the Class 25. 25194 had been dual braked the previous summer, increasing its usefullness, though no doubt it'll have no problem with this rake of vacuum braked Mk 1's.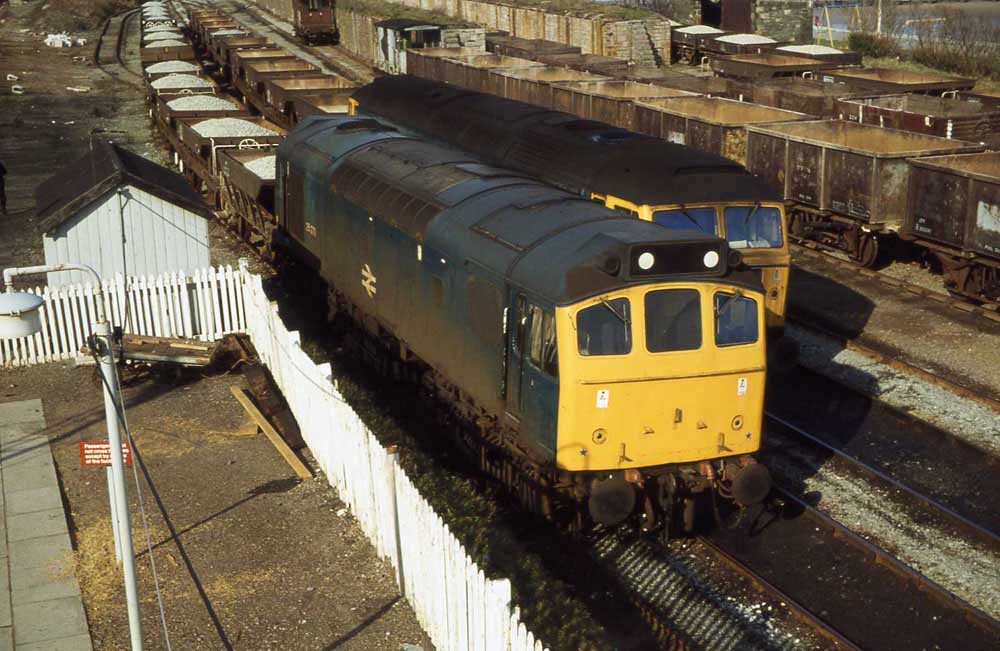 A sunny May 18th 1979 catches 25273 & 47534 in the busy yard at Penmaenmawr.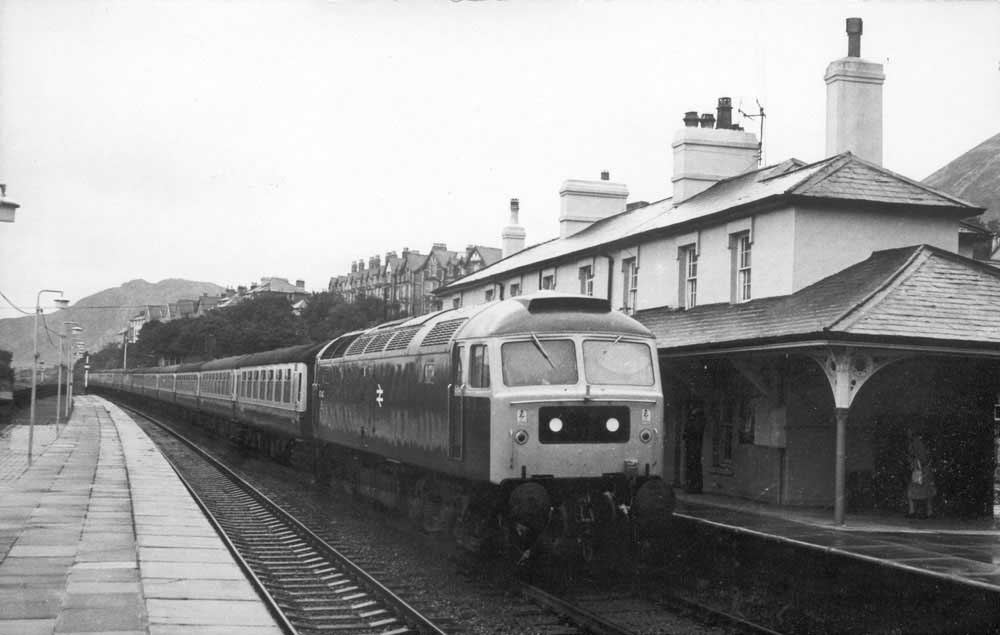 Photograph collection of webmaster.
The windscreen wipers are working hard on 47447 on this gloriously wet August 7th 1977 as the 13.00 ex-Euston rolls into the down platform at Penmaenmawr. Local time is just after 5pm, the down platform shows only a couple of travellers waiting for this service.
Pen-Y-Clip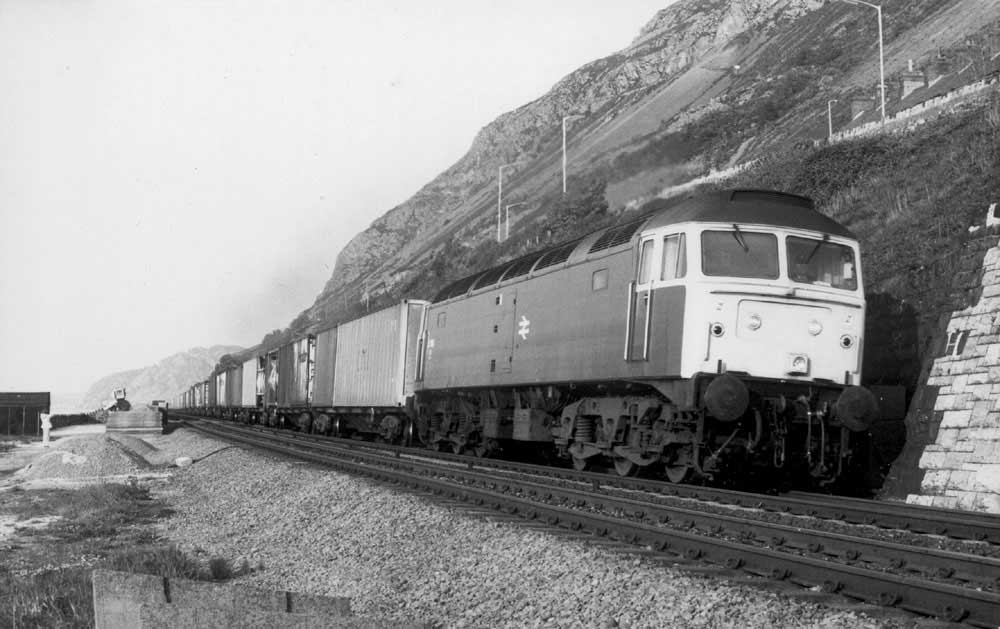 Photograph collection of webmaster.
A mighty fine looking shot of 47188 on May 22nd 1984 as it heads west with a well loaded Freightliner train. The location is west of Pen-y-clip between Penmaenmawr and Llanfairfechan where the cliffs challenge the rail and road routes to make their way through the landscape.
Llanfairfechan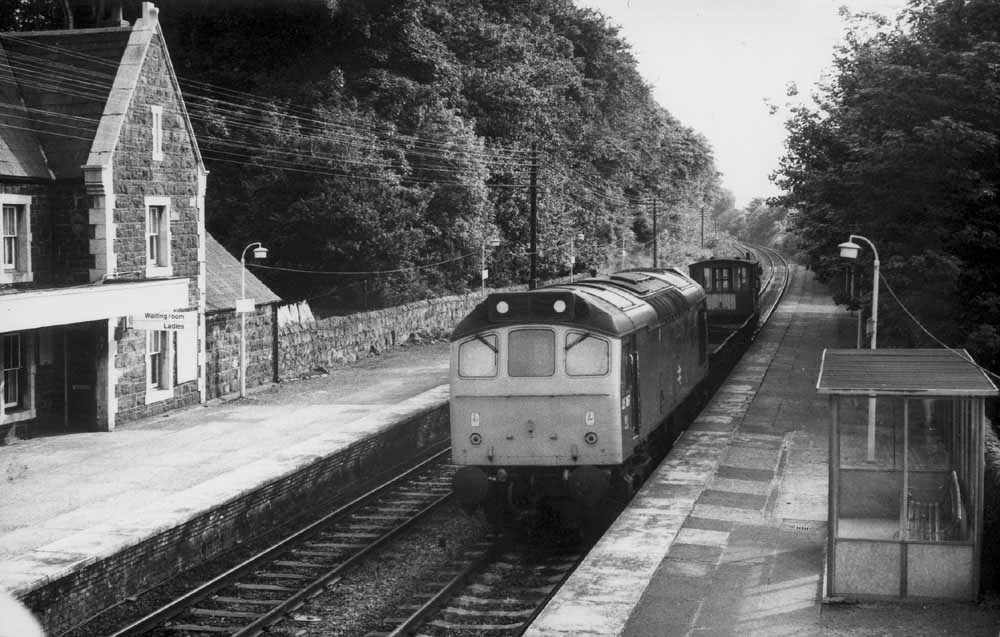 Photograph collection of webmaster.
25167 eastbound at Llanfairfechan on July 3rd 1981. A picture of contrasts, the modern bus shelter style waiting area contrasts with the solid stone station building, yet the bus shelter contains a bench seat from a different era. The Class 25 and its short train looks at home with the telegraph poles supporting a multitude of wires, whilst in the garden of the station house someone's washing blows in the breeze!
Llanfairpwllgwyngyllgogerychwryndrobwllllantysiliogogogoch
After crossing the Menai Strait this was the first station to be reached on Anglesey. It had closed to passenger traffic in February 1966, was temporarily reopened in 1970 after the Menai Bridge fire, then more permanently during May 1973.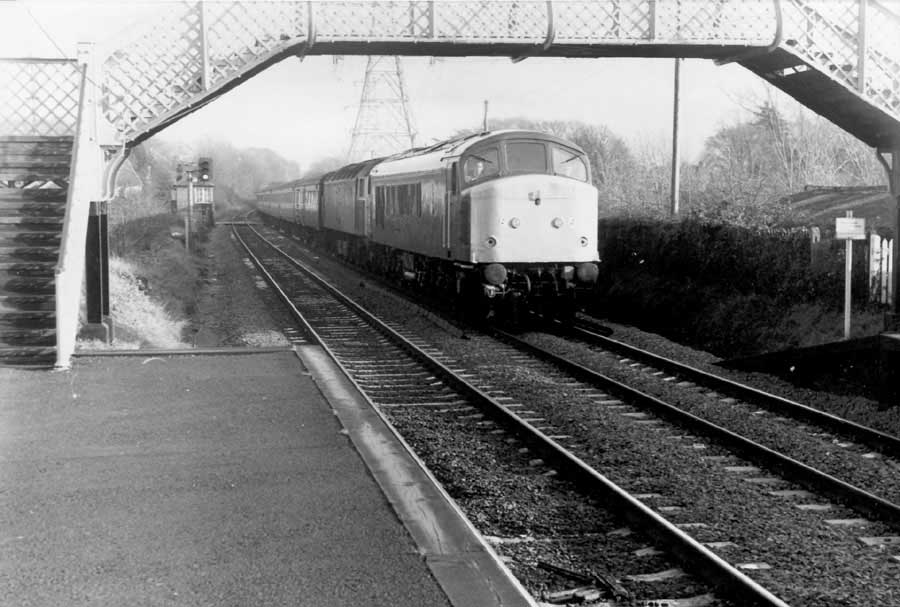 Photograph collection of webmaster.
Happier times for an ex-works 45147 as it cruises through LlanfairPG on working with 47423 on the 12.30 Crewe - Holyhead on January 19th 1983. Apparently Crewe gave their ex-works machine a good workout. Derby would stretch them out over the thirty miles to Leicester, Crewe sent them over the 105 miles to Holyhead!
Holyhead
The end of the line.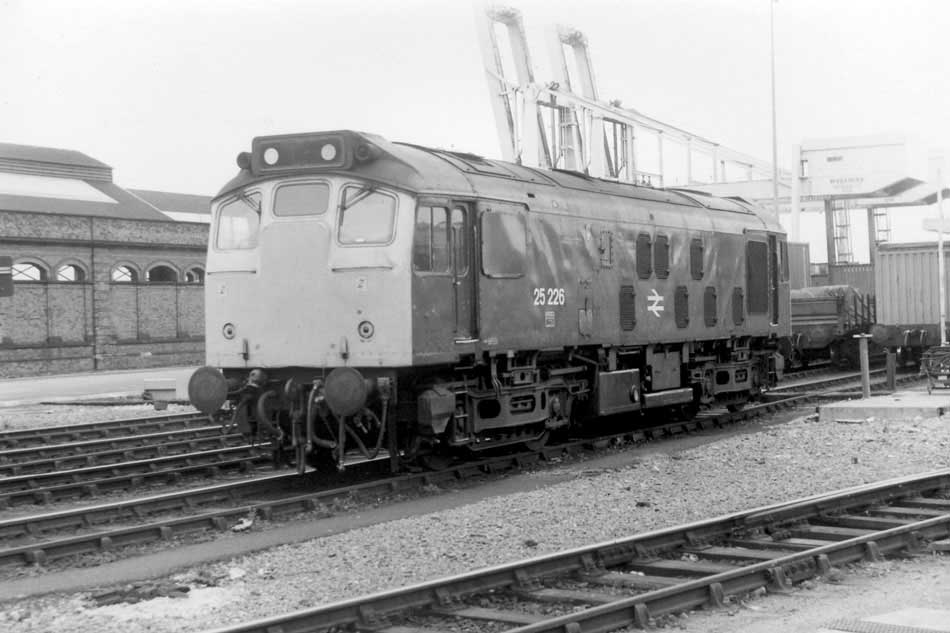 Photograph courtesy John Powell.
Its May 6th 1983 and 25226 is busy working the traffic at the freightliner terminal alongside Holyhead station. This is all now swept away, modern buildings now standing here.
Page added March 11th 2006.
Last updated June 29th 2008