Scrapyard Views

I don't know what it is about the attraction that scrapyards provide to many of us. Perhaps it is the unexpected chaos of such places, contrasted against the well oiled machine that the railways normally presented (well most of the time!). Or perhaps it was around the scrapyards that many long forgotten memories were/are invoked, of favourite locomotives remembered from much better times (those rose tinted glasses again!). Or it simply could be that its much more fun to take something apart, especially if cutting torches and sledge hammers are involved.

Hopefully you won't mind the inclusion of views depicting locomotives other than the Class 24/25's. The initial idea was just to include the Sulzer powered locomotives that ended their days at the various Railway Workshops, but in wandering through my own photohraphs and of those acquired from others over the years it seemed a pity not to include the other classes that were scrapped alongside the Sulzer powered locomotives.

Derby Works
Any photographs that were originally included on these pages at Derby Works have since been transferred to the pages that take a close look at Derby Works.

Swindon Works
Since most of the organised visits to Swindon Works took place on a Sunday this was not the easiest place to get to by rail from Derby when having to take into account the challenges of Sunday timetabling and the ever present engineering works. It was not until a driver's license and a car were available that Swindon Works became more easily visited. I've probably forgotten how many times we ran up and down the A38, A452, A46, A429 & A361 on these trips, and probably a few other routes when we got lost or diverted!
My first recorded visit to Swindon appears to have been on a cloudy November 6th 1976 when the Works contained many Class 52 Westerns and some Class 24's. Like most trips to the Works it started out by going through a gateway, under the mainlines and then up alongside one of the main shop buildings before entering the main erecting shop area. Swindon's workload at this time focused on diesel multiple units, refurbishing of Southern Region electric multiple units, Class 03 & 08 overhauls and repairs to hauled stock. After passing through the erecting shops it would be out into the yards where much stock and locomotives could be found, usually awaiting scrapping. Then it was back through the areas that looked after the diesel multiple unit repairs/refurbishings
November 7th 1976
Although mostly an overcast day the sun did shine whilst we were in the erecting shops, giving a little extra light to the view below. Also present in the erecting shop and probably ignored by most was Vale of Rheidol No.9 Prince of Wales, probably the oldest piece of active rolling stock in Works at that time.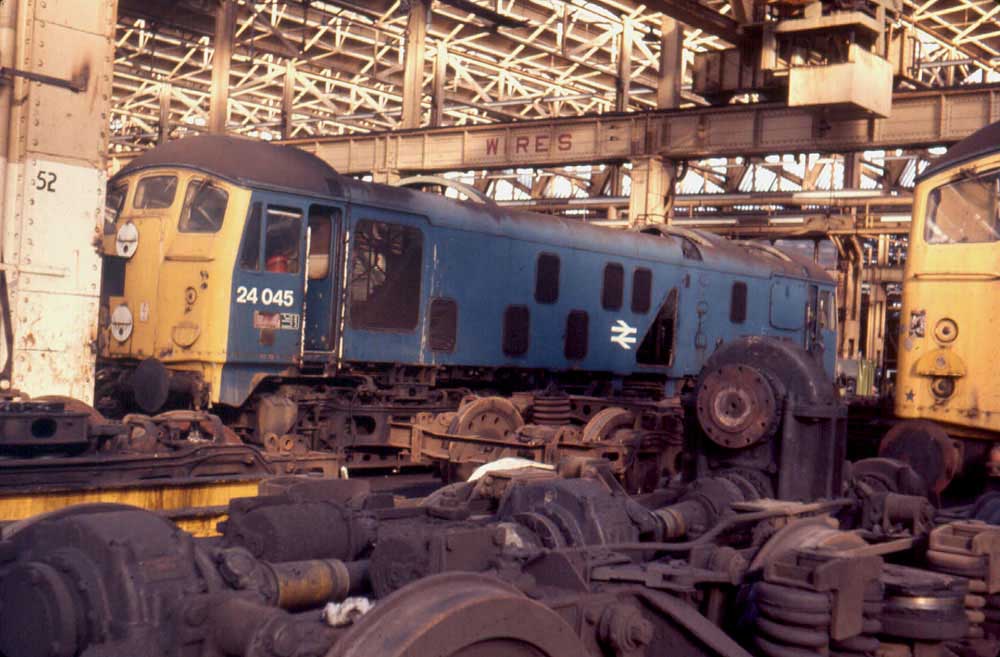 Sunlight illuminates the main erecting shop at Swindon Works on November 7th 1976 as 24045 awaits attention from those charged with stripping out anything of value. In the foreground is the bogie and transmission from a Class 52, whilst also visible are a pair of Class 24 bogies.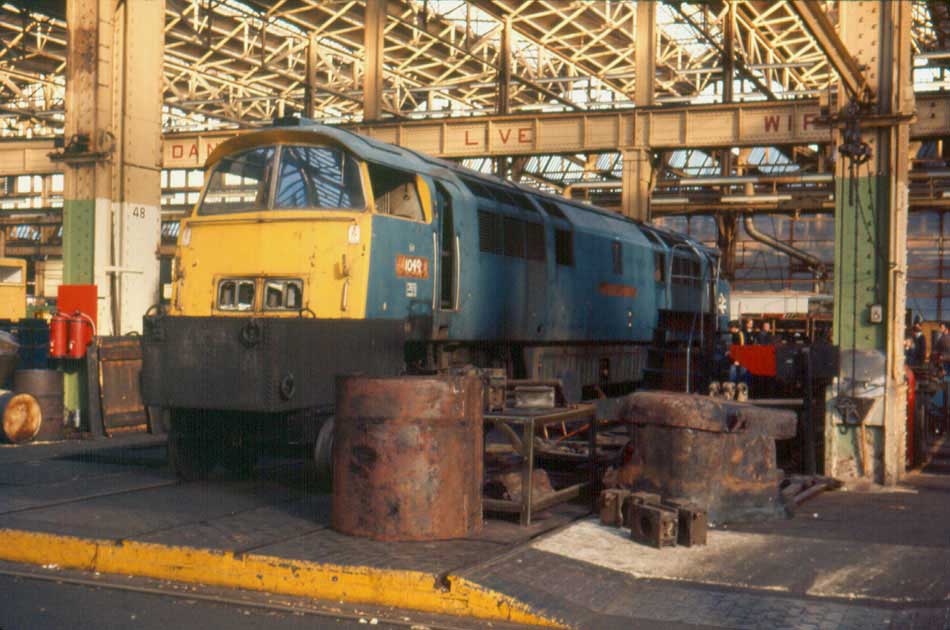 Retired during April 1976 1049 is seen here undergoing removal of parts in Swindon's workshops on November 7th 1976. From here it would be out to the scrapping area, where the end came for 1049 during February 1977.
Out in the yards the sun did break through the clouds to provide a little extra light every now & then.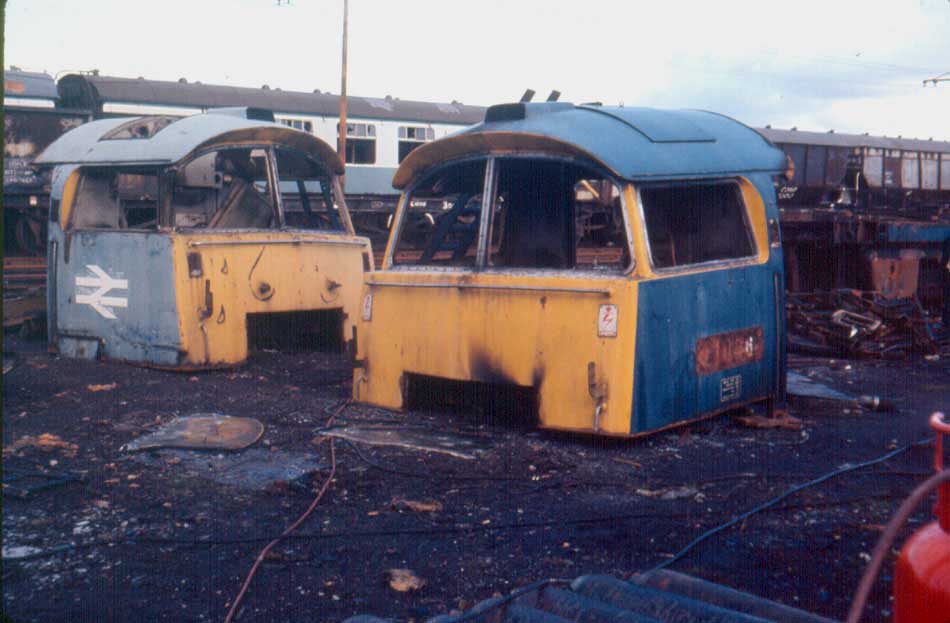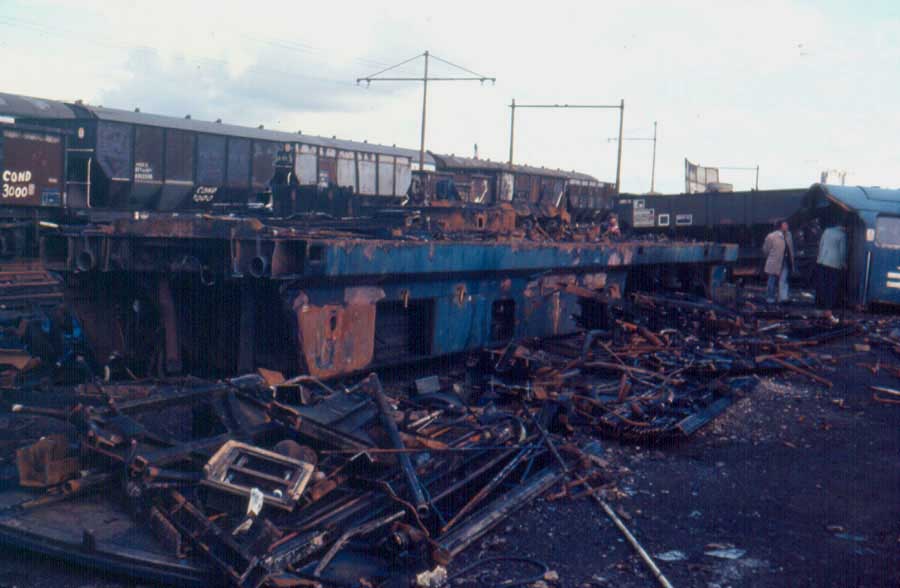 Withdrawn from Laira in December 1975 1046 was sent to Swindon for scrapping. Seen here on November 7th 1976 there is little time now left for 1046. The cabs have been removed from the frame and the bodysides cut into pieces and dumped on the ground little remains now apart from the frame and fuel tanks.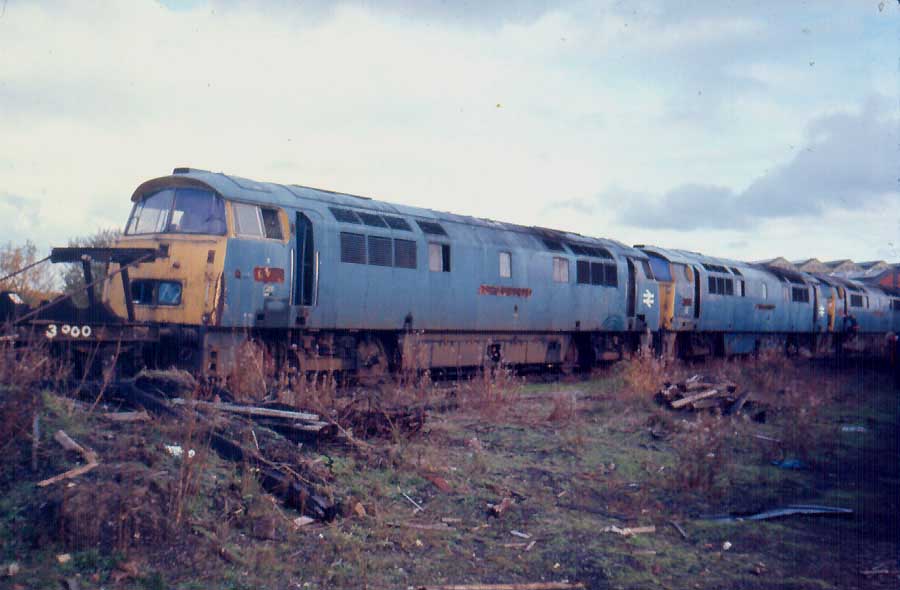 1012 Western Firebrand heads a line-up of withdrawn Westerns at Swindon Works on November 7th 1976. 1012 had been withdrawn for almost one year (withdrawal date November 4th 1975) and would linger at Swindon until April 1979. One must wonder just how much film was expended on all the line ups of locomotives in the yards at Swindon.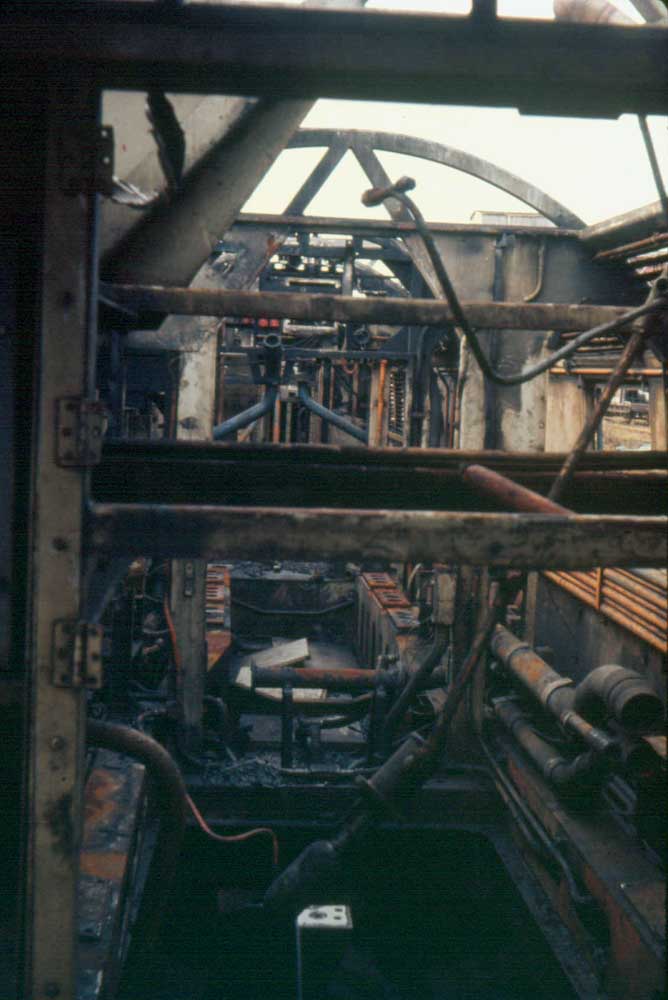 It's a dull Sunday afternoon, November 7th 1976, how about a game of golf? a movie perhaps? or a walk down the beachfront with the girlfriend? No, none of this is acceptable, lets drive a hundred miles to slog round a scrapyard full of oil, grease, rusted metal, broken glass and who knows what else. And fill a book full of numbers from places no one has heard of, eat cold sandwiches & pop and photograph things like this, the remnants of the inside of a Class 52. And tomorrow I put on my shirt & tie and become a banker for the next five days............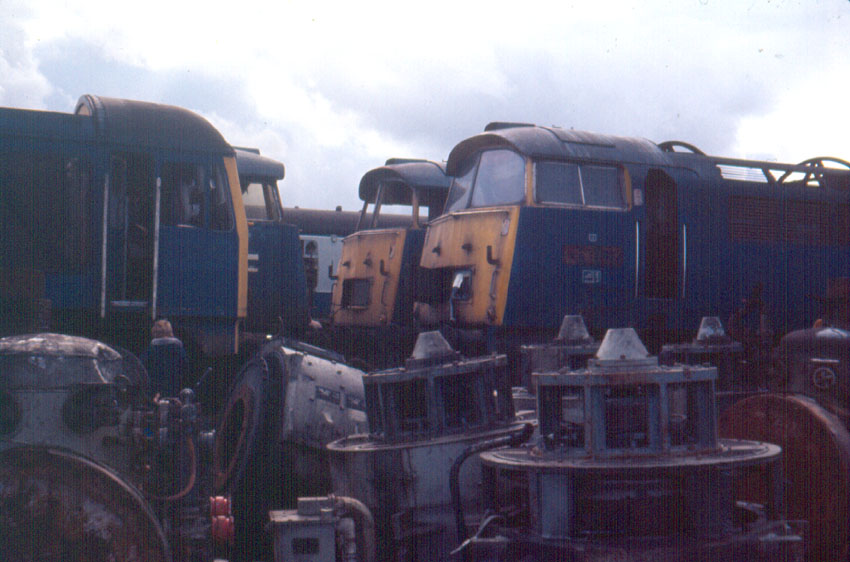 Pointing the camera at the sun is not recommended, but then the sun was such a rarity at Swindon on Sunday afternoons we probably didn't know what it was. Hence the inclusion of this technically abominable shot of soon to be scrapped Class 24 & 52's surrounded by generators, presumably from the Class 24s, November 7th 1976.
In the above view the indicator blind on the front of the locomotive shows '72' which some (including your webmaster) may have taken to indicate that this locomotive was 1072 Western Glory. More learned enthusiasts would know that the locomotive in the photograph could not be 1072 because the photograph shows one of only five Westerns equipped with the experimental square ventilator grille on the cab front. These were 1012, 1028, 1039, 1056 & 1071. Additionally 1072 was only withdrawn on November 2nd 1976, five days before the photograph of 1012 was taken. Withdrawal for 1072 came at Bristol Bath Road and the locomotive was utilised at the end of November in the making of a safety film concerning rerailing. It would be towed away from Bristol on February 24th 1977 on its last journey - to Swindon Works.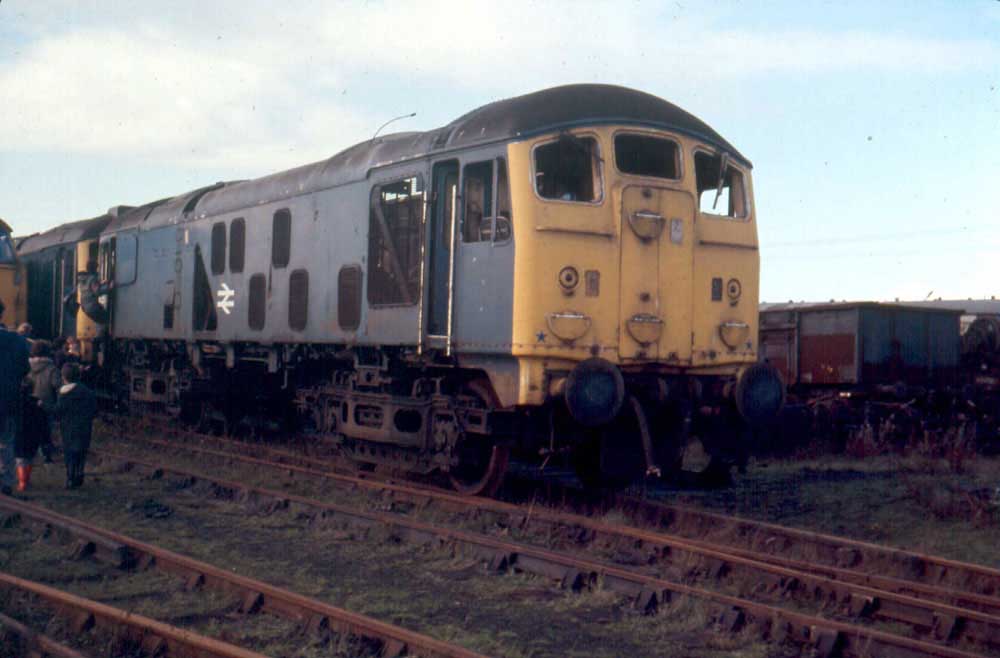 All that remains now for 24056 is to be parted from its bogies to allow the cutters to do their job. Seen here in Swindon Works Yard on November 7th 1976, 24056 has already been stripped of all re-usable components or those with significant scrap value. The locomotive still retains its nose end gangway doors and is a fine example of Derby's standard blue livery application with the BR emblem centred on the side.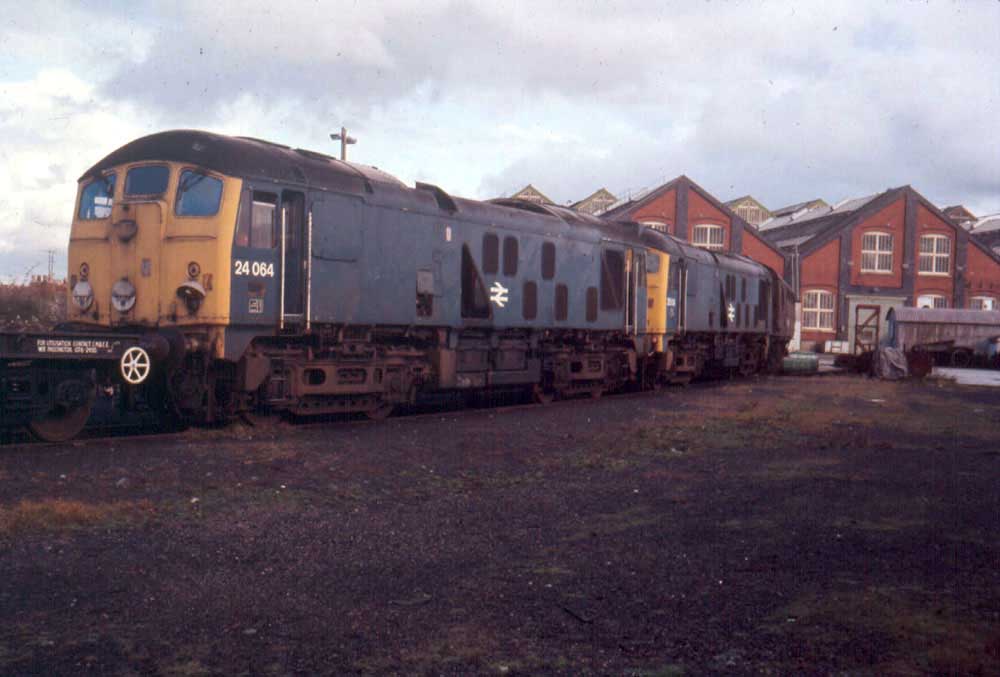 24064 & 25016 await the final movement from here to the scrapping area. Seen here towards the end of 1976, 24064 had been withdrawn that January from Crewe, and wouldn't see the year out, dispatched by Swindon's cutters in December. Interestingly the scrap from 24064 and a number of Class 52s was later reported in RA King's Snailwell scrapyard.
In the above view is 25016, the last of the three ex-Tinsley allocation that had been stored at Barrow Hill for a while before being towed down to Swindon for scrapping. 25017 & 25020 had already been broken up, 25016 would be gone by year's end. Apart from the Class 25 the locomotives awaiting scrapping were all of Classes 24 & 52. Tucked away in the lines in the yard were the last two LMR examples of green liveried Class 24's: 24092 & 24136. On this day they were not parked in positions conducive to decent photographs, especially to highlight their faded green livery!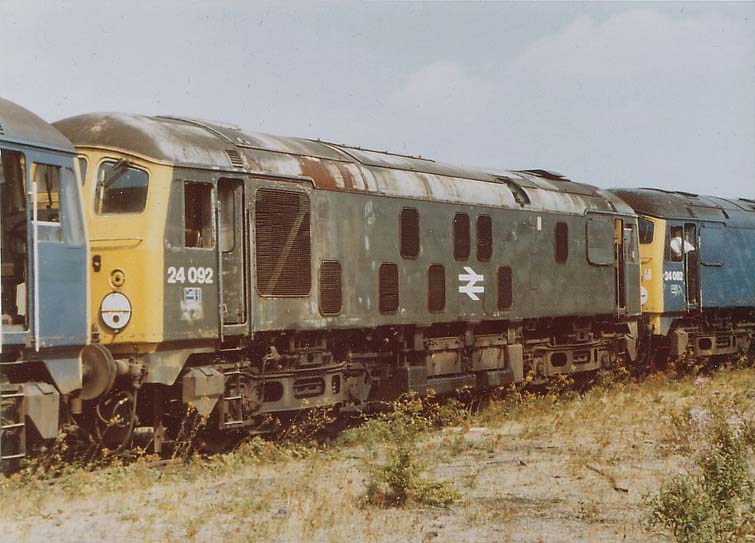 Photograph courtesy Neil Phillips.
A sunny view of 24092 on August 18th 1976, having recently arrived with 24049/58/62 from Basford Hall. By Christmas 1976 all four would be gone, with 24092 cut up in December. Swindon also dealt with green liveried 24136 whilst Doncaster despatched ex Scottish green liveried 24090.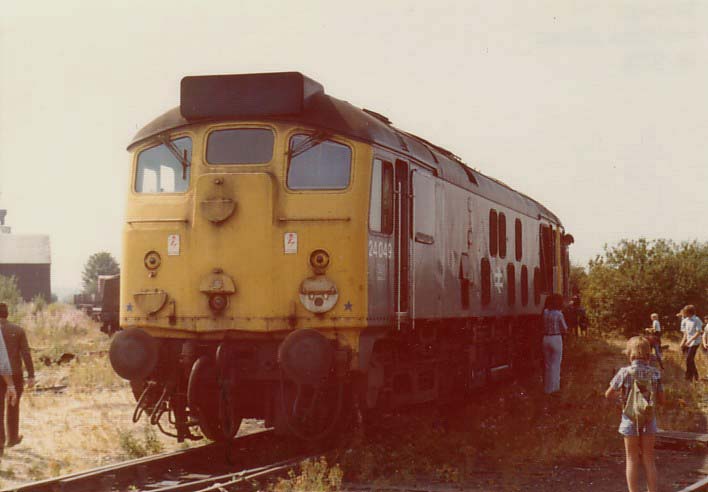 Photograph courtesy Neil Phillips
Another view from August 18th 1976 - for two years Swindon Works was graced by numerous Class 24's sent for scrapping. Here is newly arrived 24049 being logged into the books of visiting spotters. One cab has gained the roof from a Class 24/1, 24049 spent much time in 1974 in and out of Derby Works, possibly the roof was fitted during one of those visits. As D5049 this was one of the few Class 24's ever to be allocated to Tinsley (41A), for the month of June 1965.
January 23rd 1977
The next trip to Swindon was on a truly overcast day, January 23rd 1977. The locomotives in the Works were still dominated by the withdrawn Class 24's & 52's. Vale of Rheidol No.9 was still present and PWM 652 had been recieved for repair.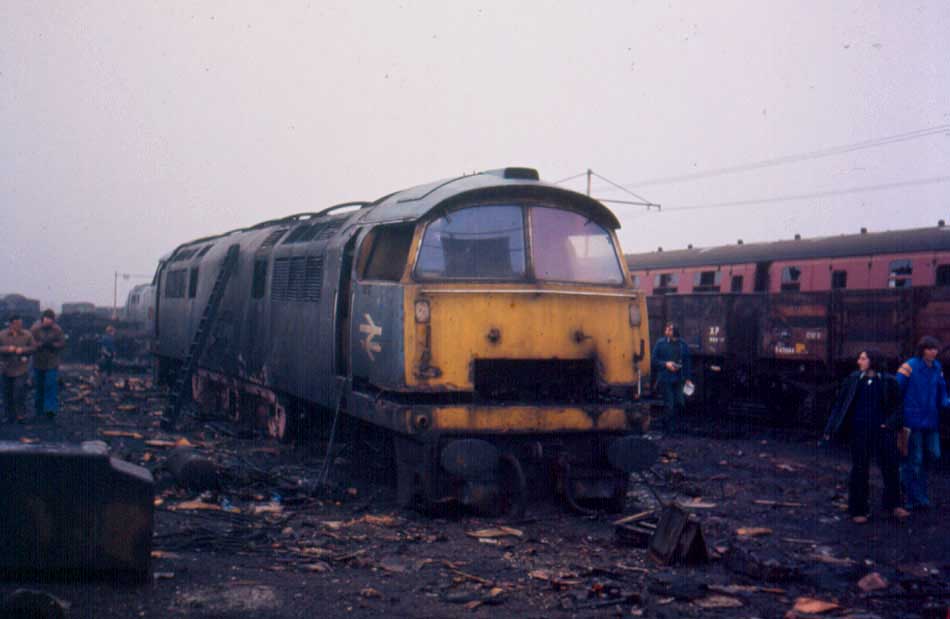 Little time remains for 1043 as the grounded body begins to receive the attention of the cutters. Seen here on an overcast Sunday January 23rd 1977 by the beginning of February the locomotive will be no more.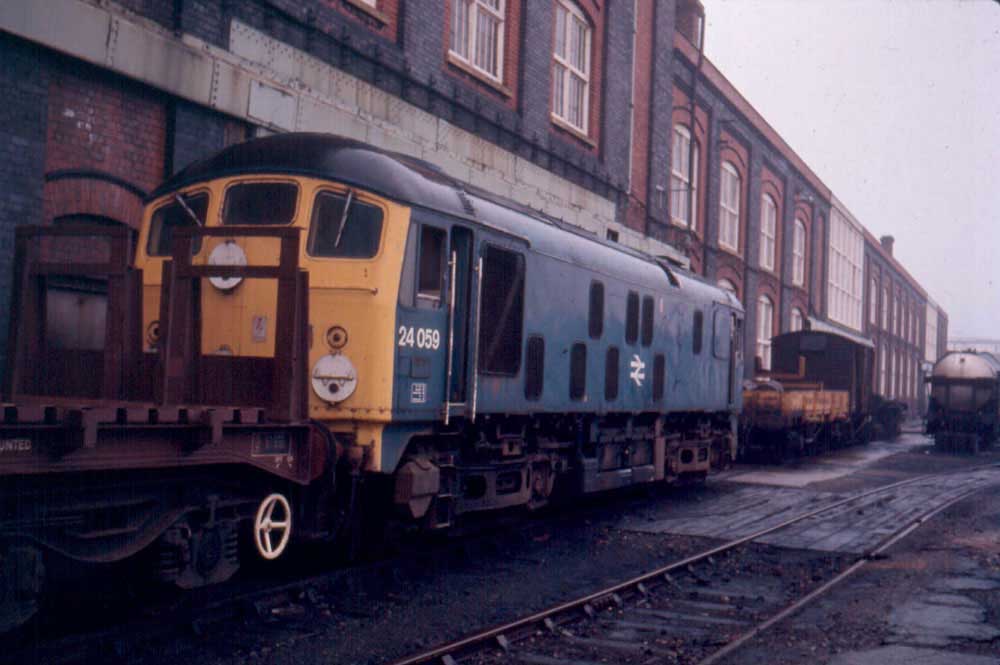 24059 on January 23rd 1977, still with at least one builders plate attached. Regretably this seemed to be typical weather for many of our visits around the Workshops.
April 3rd 1977
A springtime visit to Swindon was made on April 3rd 1977. Again the withdrawn Class 24's & 52's predominated but now the Works was receiving Class 08's for scrapping. Also recently arrived were 08111/117/119, all withdrawn from Gloucester depot during February 1977. They would be converted for Departmental use and renumbered ADB968012/010/011 respectively. These might not be considered a great success since they were broken up at Doncaster Works during 1979 & 1980.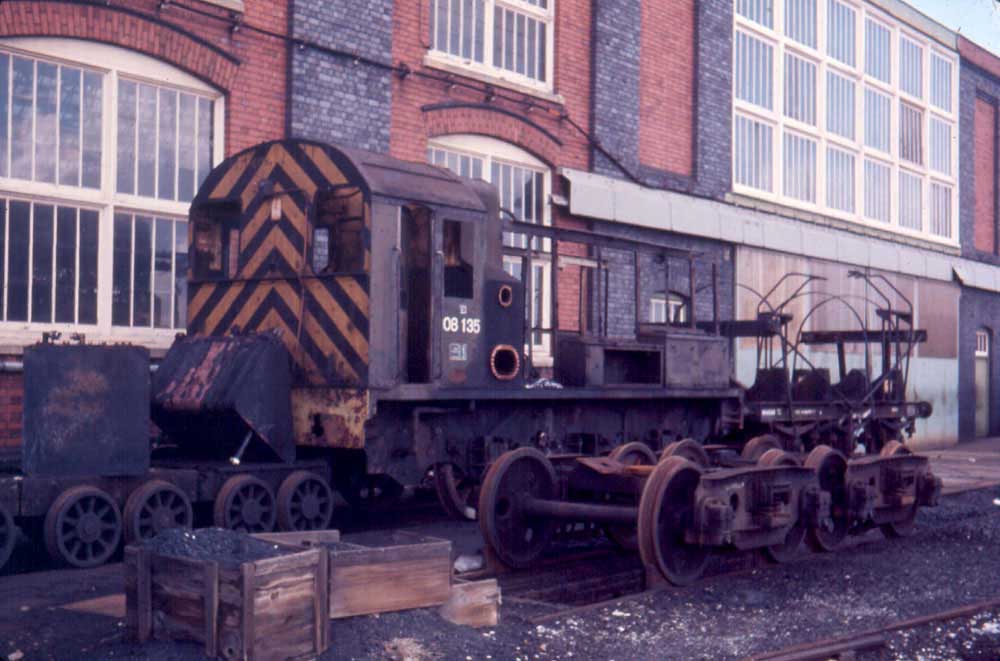 The stay of 08135 at Swindon was brief. It was withdrawn from Gloucester in February 1977, still in green livery, and by the date of this view April 3rd 1977 - the locomotive has been reduced to the cab and frames and awaits movement to the scrapping area for the final coup-de-grace.
The dismantlers at Swindon had been busily working through their supply of scrap locomotives, meanwhile the likes of Laira & Crewe had been sending more locomotives for disposal. So it appeared the total number of locomotives on Works for each visit seemed reasonably constant, just the individual locomotives were changing!
Of great interest on this visit was noting the demise of four of the locomotives that had been stored at Reddish for a while before being brought down to Swindon for scrapping: 24005/20/21/24. Unfortunately this batch of four locomotives contained the first built Class 24, D5000 (24005).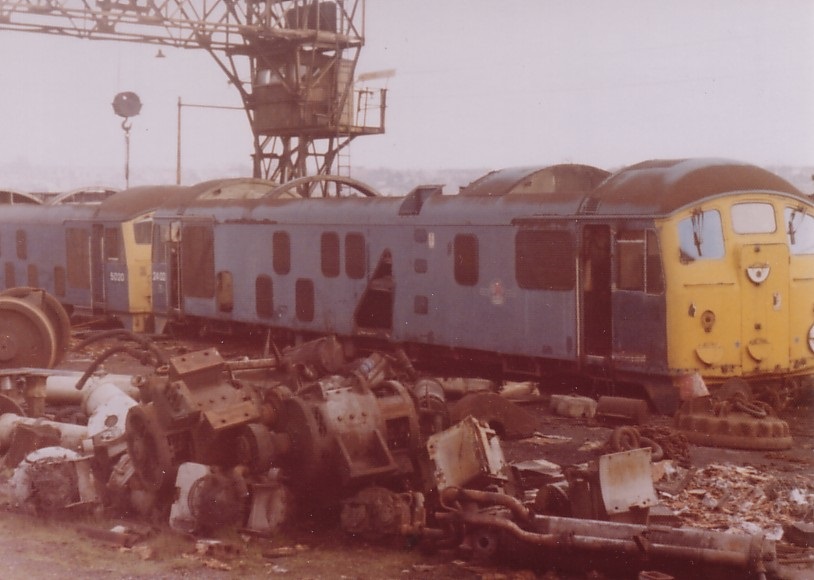 Photograph courtesy Neil Phillips.
Long time Reddish residents 24020 & 24021 await scrapping at Swindon on March 23rd 1977. 24020 has revealed its pre-TOPS number, 5020 on one cab, whilst 24021 still retains its nose end gangway doors, a lion & wheel emblem can still be seen on the bodyside. Delivered together from Derby in July 1959 so they would go out together at Swindon during April 1977.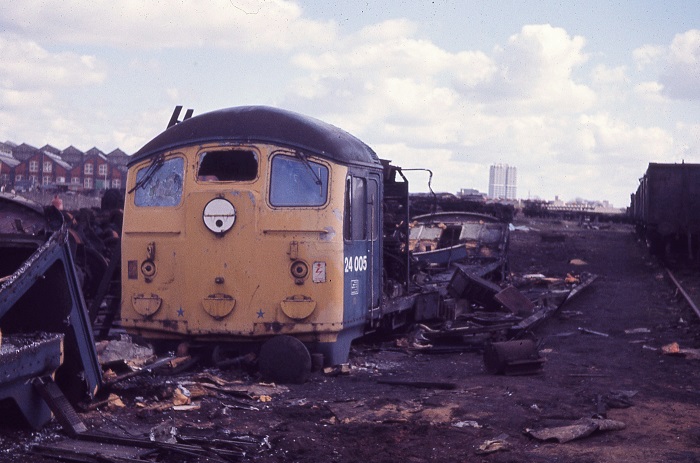 24033 & 24005 are little more than a day or so away from ceasing to exist.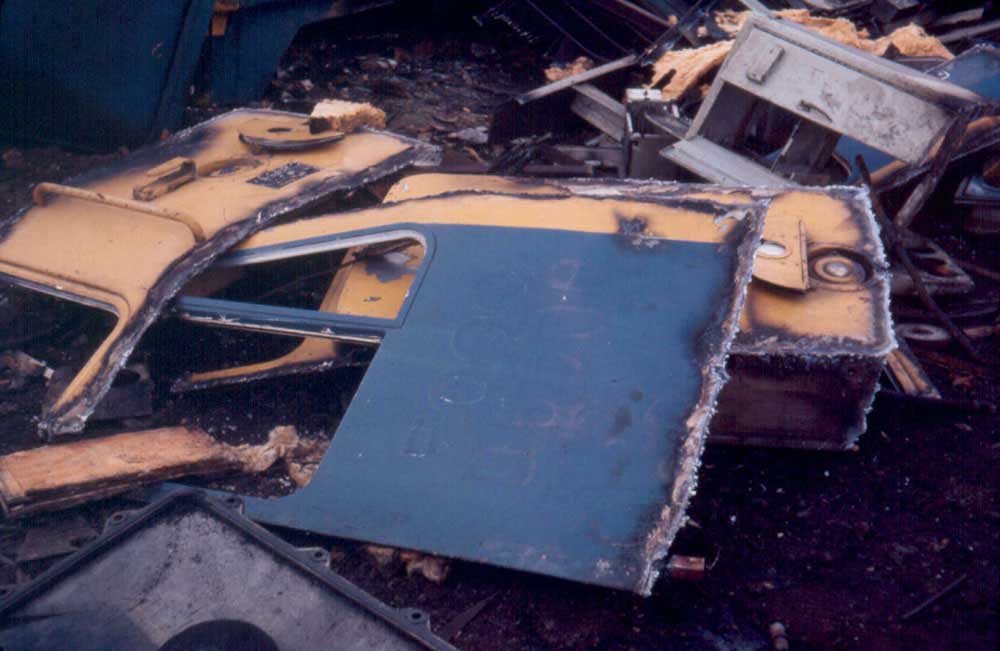 Rejected by the National Railway Museum in favour of a re-engined Class 31, the pioneer BR/Sulzer Type 2 No.24005 succumbed to Swindon's cutters during March/April 1977. A pile of scrap, seen here on April 3rd represents the remains of one of the cabs. Still just visible under the blue paint are the numbers D5000 & 5000.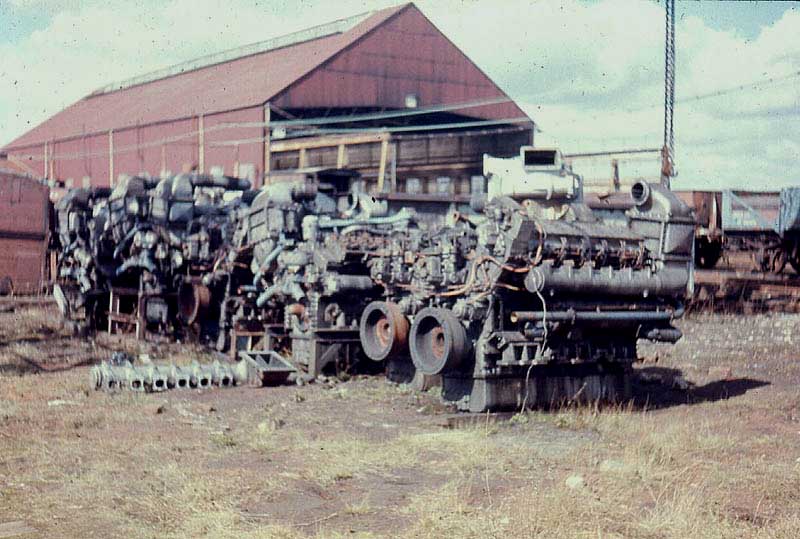 April 1977 somewhere in the scrapyard area at Swindon, a line-up of engines retrieved from the Class 52s.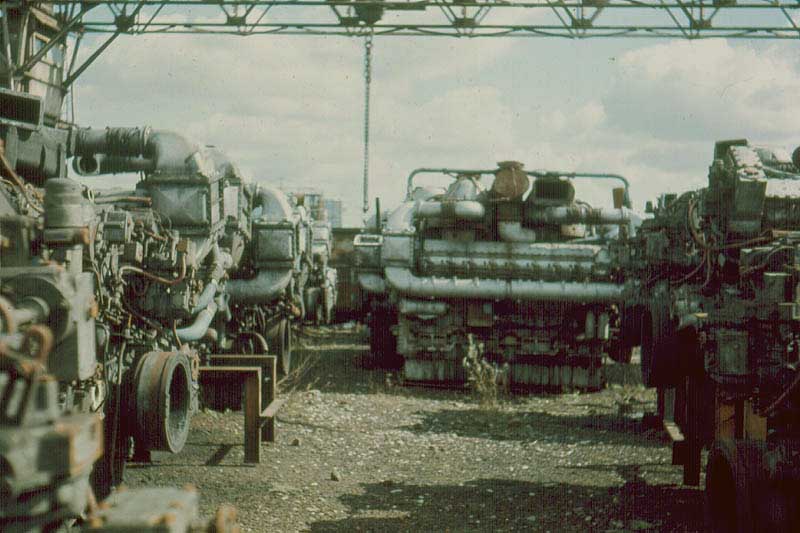 Another view from April 1977 of now silent power units from the Western Region's former diesel-hydraulic fleet.
June 12th 1977
The next trip down to Swindon was on June 12th 1977, another hazy day with patches of weak sunshine. The mix of withdrawn locomotives was still dominated by the Class 24's & 52's. However the good news for Swindon was the arrival of Class 08's for overhaul, also on this visit there were two former BR shunters receiving repairs (2267 & 2333).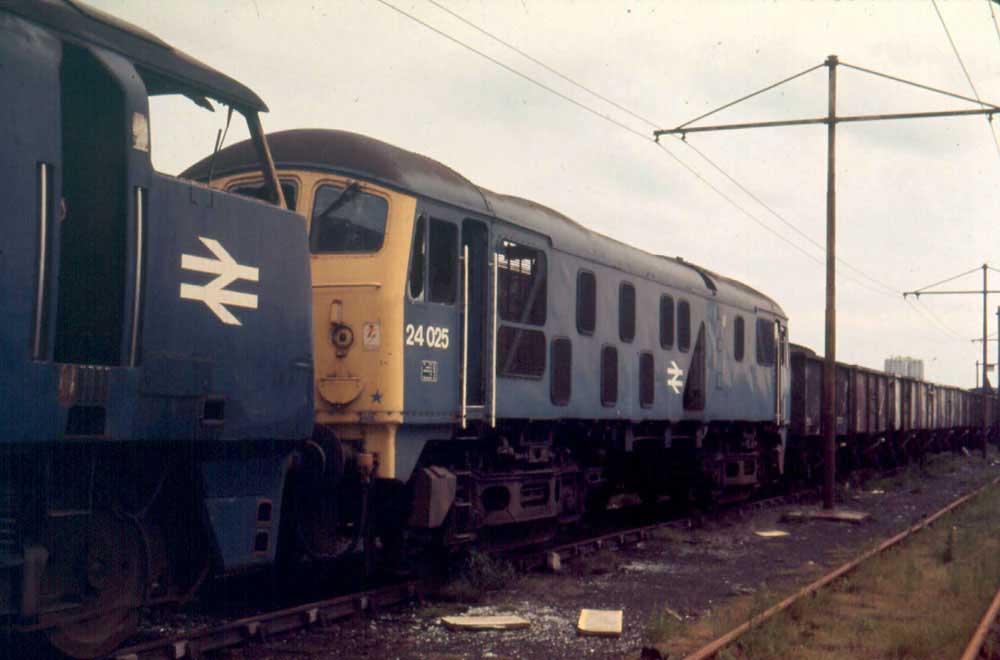 24025 missed the initial round of major withdrawals in the summer of 1975, being withdrawn in Jan 1976. Seen here at Swindon on June 12th 1977 24025 presents some interesting features. It carries one frost screen from an early built Class 24, it carries the extra grille on the upper row and just visible are the headboard brackets mounted on the cab front, only carried by the early 24s. The cab roof also lacks the air vent above the doorway.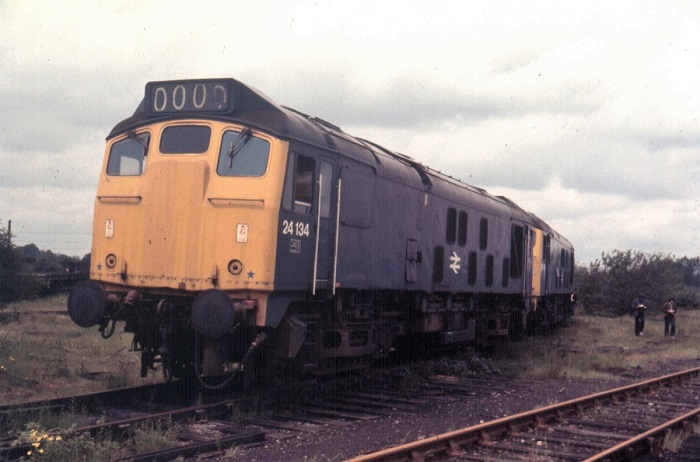 One of the most interesting Class 24's to reach Swindon was 24134 and is seen here on June 12th 1977. In particular the style of the cab roof, in this view the locomotive reveals it carries a modified 25/1 roof, with the 'wings' but not the air horn housings. It was also one of the few to operate in service with the boiler water tank removed.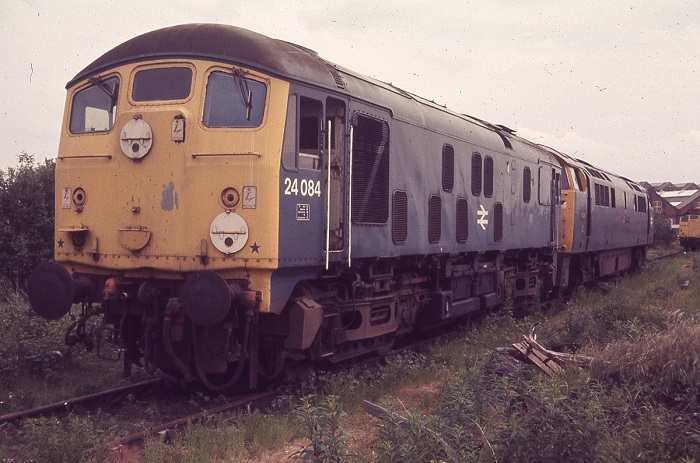 Class 24 No.24084 and Class 52 No.1009 at Swindon Works on June 12th 1977. 24084 has only recently arrived at Swindon Works and is in ex-traffic condition.
March 7th 1978
Two views from Bryan Johnson from March 7th 1978 - it looks like Bryan had some good weather on this visit!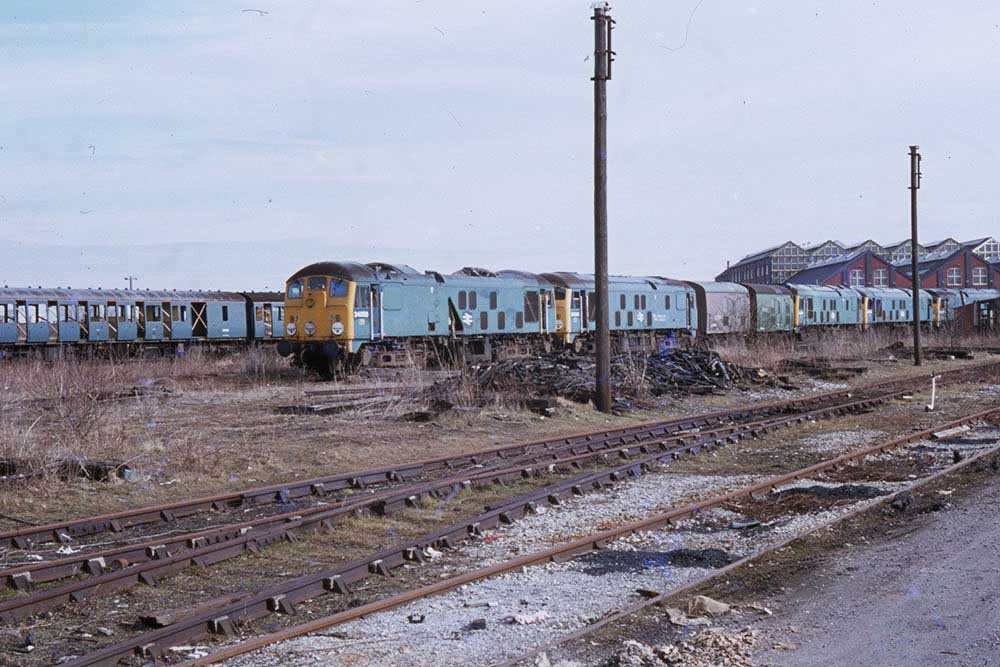 Photograph courtesy Bryan Johnson.
A typical view of the Works yards showing a line up of locomotives in the foreground and scrap diesel multiple units in the background.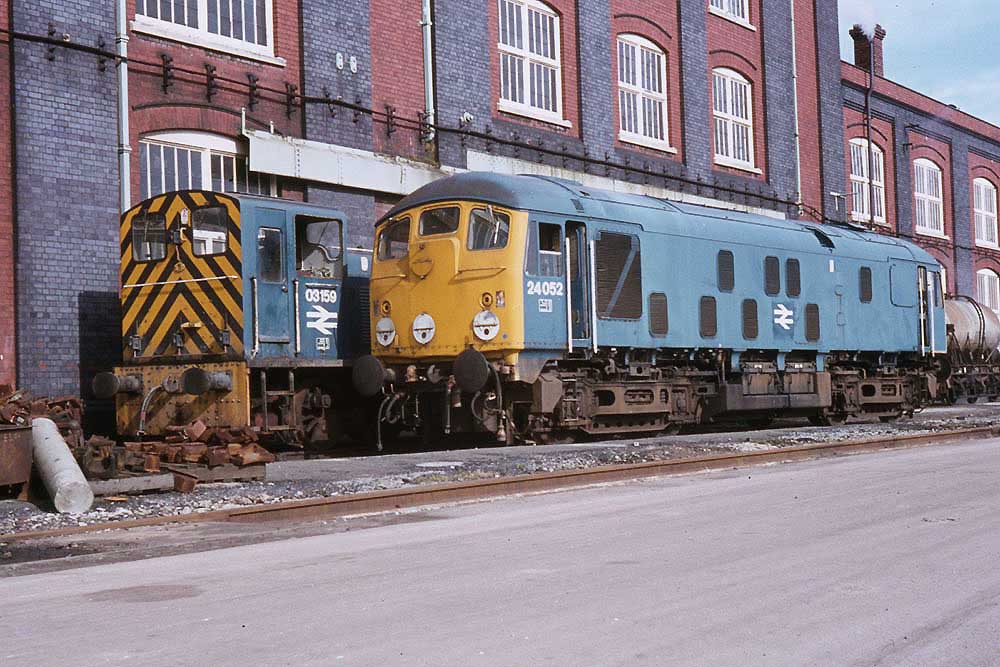 Photograph courtesy Bryan Johnson.
03159 & 24052 alongside the Works awaiting scrap. It looks like 24052 has only just arrived.
April 30th 1978
There was a long break until the next trip to Swindon on April 30th 1978 - since this trip also visited Eastleigh and Reading this may have been a coach tour with one of the enthusiast groups. The locomotive classes at the Works remained constant, Class 08's for repair and Class 08's, 24's & 52's for scrapping. The DMU repair shops were not visited on this trip. It looks like this was another visit when the weather was mostly wet!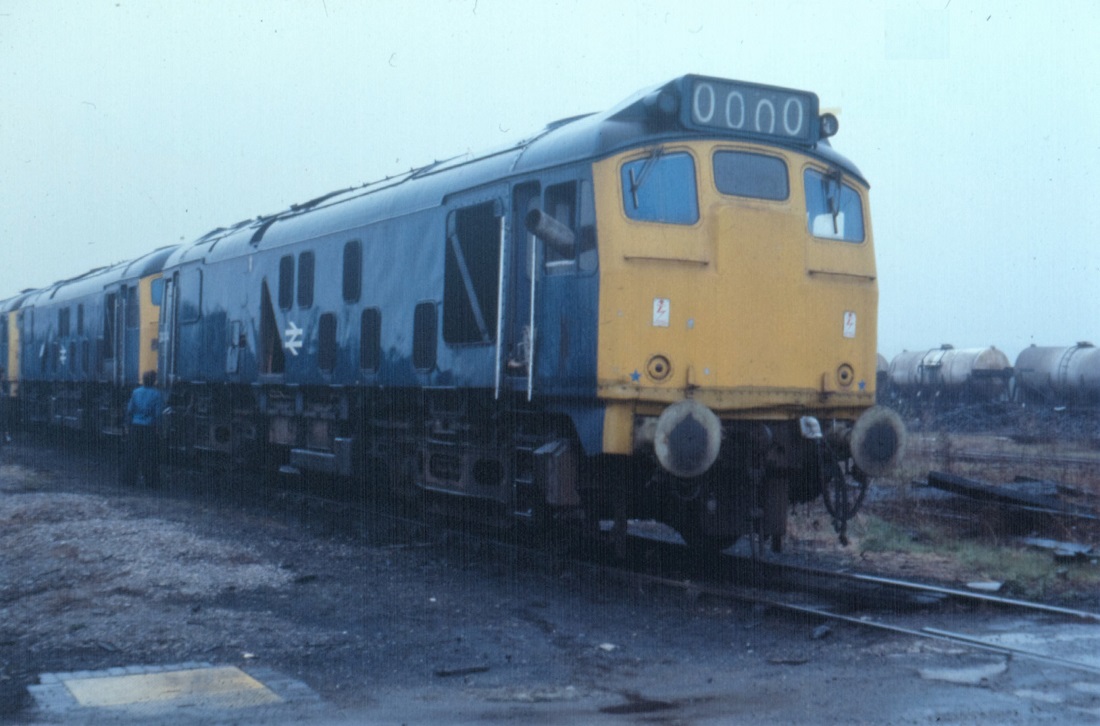 A view from the other end of 24134 on April 30th 1978, this end has the full blown Class 25/1 cab roof, complete with air horn receptacles. The main radiator grille on the other side of the locomotive was from one of the original batch (D5000 - D5006), with the split frost screen grille! Clearly 24134 had quite a selection of non-original parts added at various overhauls.
Swindon Works Open Day - May 19th 1979
The Open Day on May 19th 1979 was my first visit to this type of event at Swindon Works. However the content of the Works had changed somewhat since my previous visit. The familiar lines of withdrawn Class 24's & 52's were now gone, the only withdrawn locomotives on the Works were Class 08's. The Workshops were filled however with repairs to Class 08's, diesel multiple units and Kent coast Southern Region electric multiple units in for refurbishing.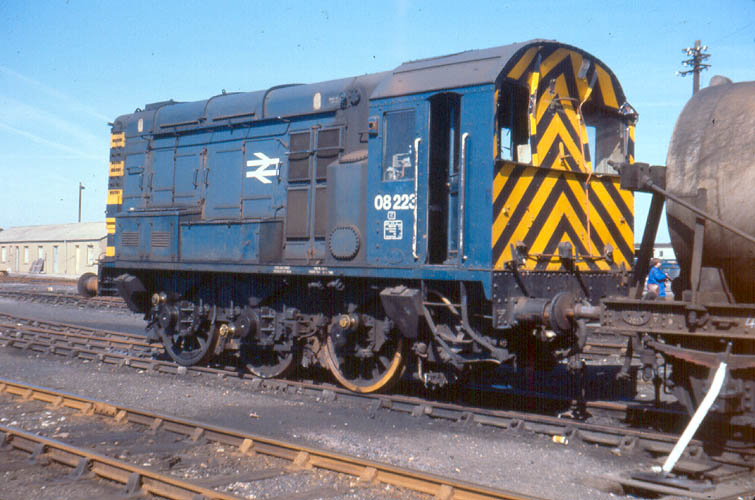 In a valiant attempt to escape from Tinsley on April 21st 1979 08223 and two other shunters tried to leave the premises by accessing the nearby Tinsley Parkway. Without rails to follow their flight was brief, 08223 ending up with minor damage and an inevitable trip to Swindon (seen here May 5th 1979). Here the cutters gave 08223 the freedom it wanted, leaving the Works as scrap to become fodder steel for tin cans, motor cars & paper clips.
January 13th 1980
The visit on January 13th 1980 found the Works with a similar content to the previous visit during May 1979, except the Works weren't quite as full. One challenge for the number collectors was the renumbering of the refurbished SR Kent coast EMU's from the 71xx series into the 411xxx series.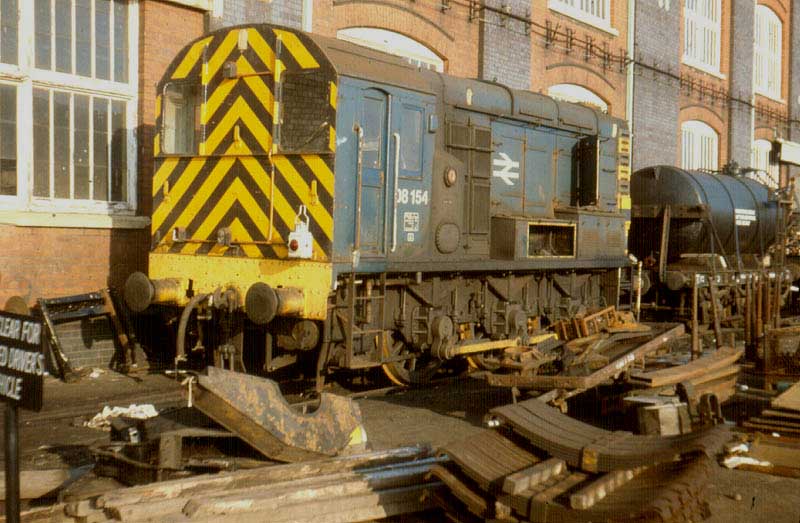 The wintry afternoon sun on January 13th 1980 catches withdrawn 08154 awaiting entry into the workshops for removal of components. Withdrawn from Selhurst in October 1979, by March 1980 08154 would be no more.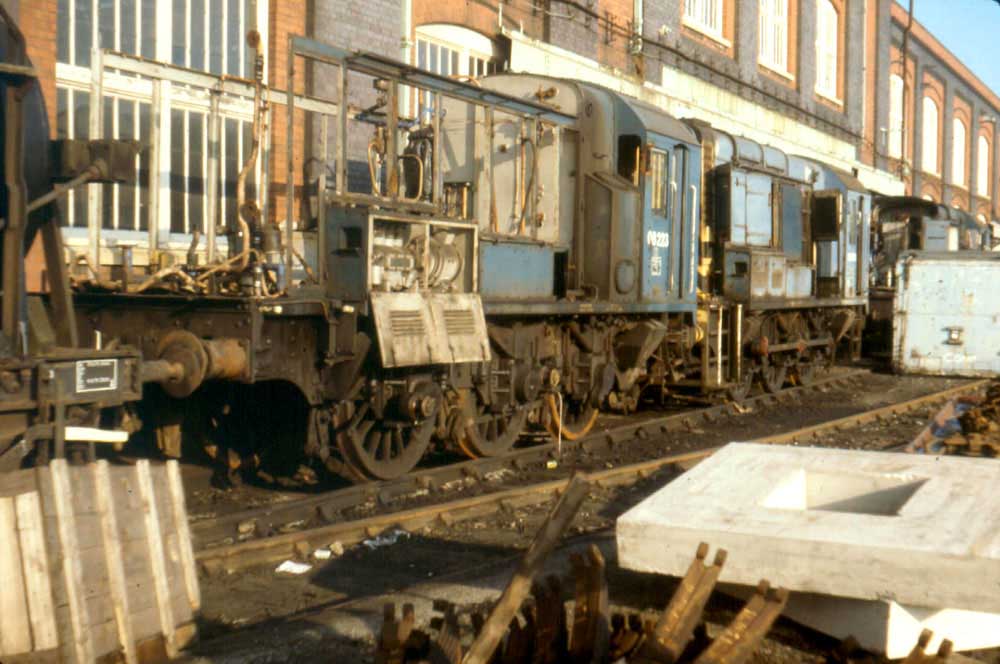 Elsewhere in the works on January 13th 1980 were 08223 with 08155 & 08156 in the background - all withdrawn. 08223 had made a break for freedom from Tinsley, choosing to use the Catcliffe motorway as its route of escape. The adventure did not succeed, 08223 sustained minor damage, was withdrawn in June 1979 and scrapped finally in February 1980.
March 1st 1980
The visit on March 1st 1980 was quite an eyeopener with the Works responding to a need to put back into service a great many of BR's diesel fleet that had been sidelined awaiting repairs. As well as the Class 08's under repair, there were two Class 25's receiving attention, soon to be joined by other classes that would never have previously been repaired at Swindon historically.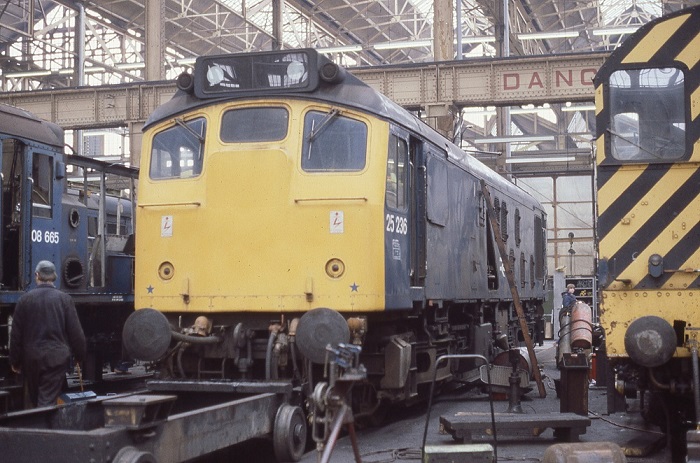 Although most Class 25s making the trip to Swindon were for scrapping, during 1980 a number received unclassified repairs here to ease the workload at Derby & Glasgow. Seen here is one of those to pass through Swindon in one piece, 25236 on March 1st 1980.
March 30th 1980
Not sure why, but two trips were made to Swindon during this month! The position was relatively unchanged from the March 1st visit, but two Class 31's had been received for repairs. And the erecting shop seemed chock full with Class 08s.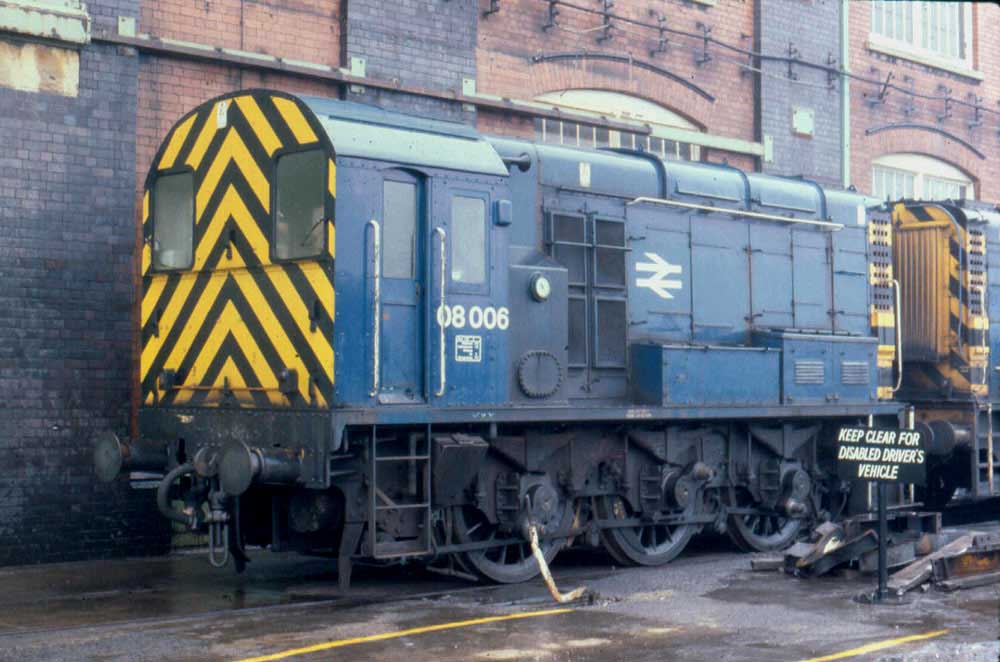 Recently withdrawn from Darlington (February 1980) 08006 stands in the rain alongside the Works awaiting component recovery & dismantling. Within a month of this view 08006 will be no more. 08006 was the former D3010.
August 10th 1980
The summer of 1980 opened up a new chapter in the events at Swindon Works and this visit on August 10th 1980 gave a clue as to what the future held. The Works was still busy with Class 08 and diesel multiple unit repairs. Unclassified repairs were still taking place to visiting Classes, at this time 25218, 45023 & 45053 were received for repairs. However elsewhere in the Works were three withdrawn Class 25's and at least one Class 46 that would herald the reawakening of Swindon as a location for the storage and disposal of retired locomotives.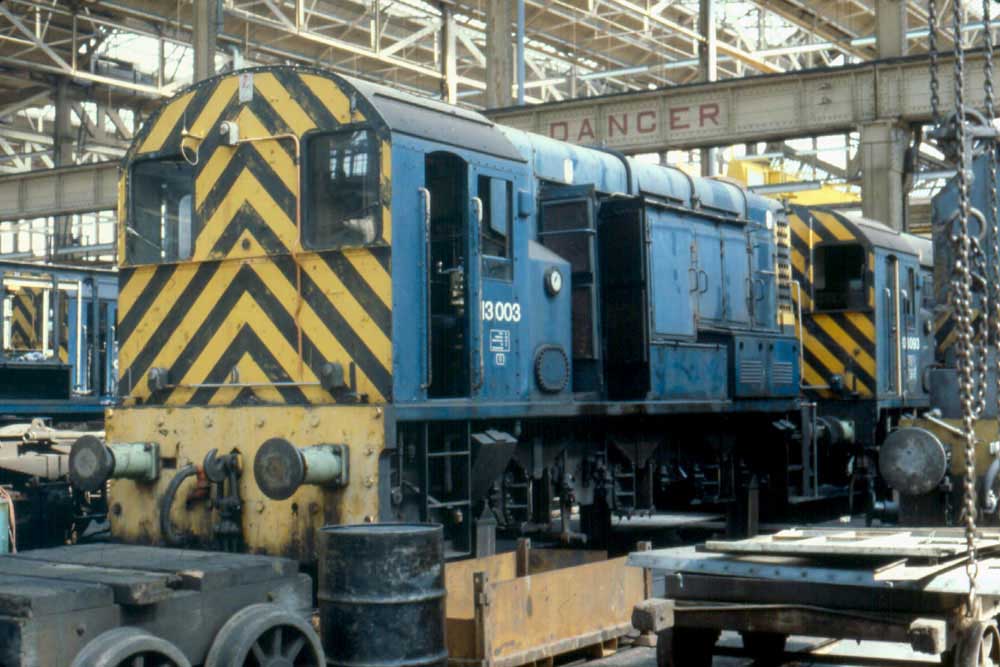 This locomotive was not withdrawn in a withdrawn state, but was under repair and did become the only Class 13 not broken up at Swindon. So here is one half of 13003 at Swindon on August 10th 1980.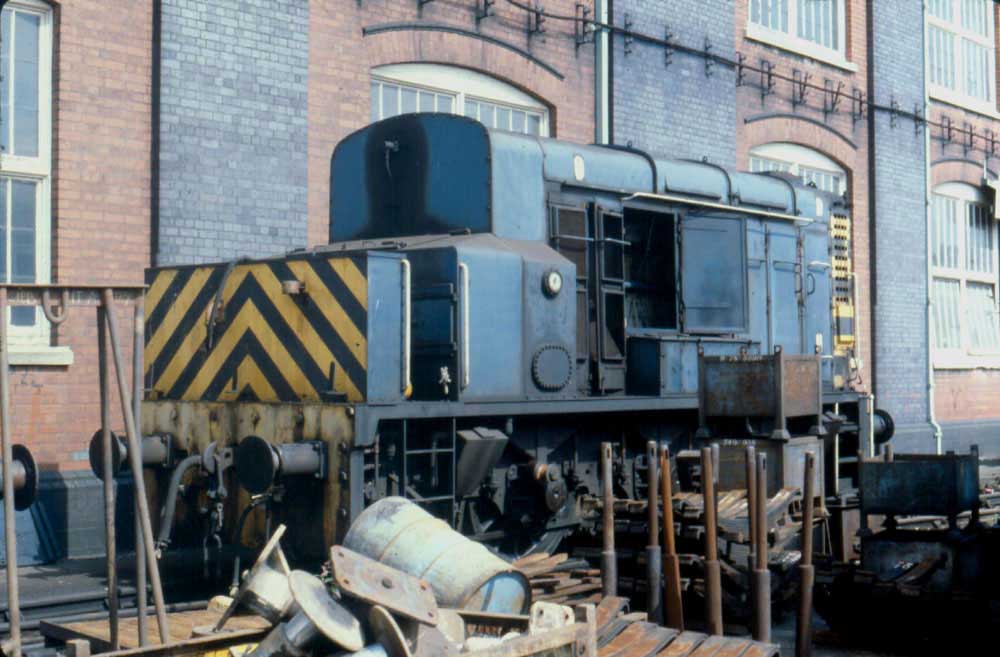 Here is the other half of 13003 at Swindon on August 10th 1980.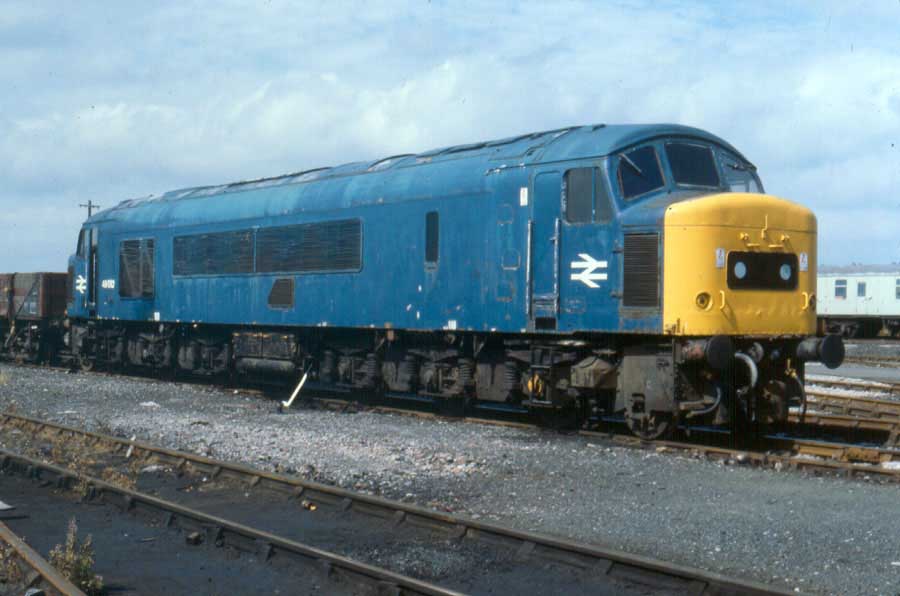 46012 was an early casualty in the run down of the Class 46's. A cracked frame led to withdrawal from Laira in July 1980. The locomotive was quickly moved to Swindon, seen here on August 10th 1980, by October 1980 46012 had been scrapped.
October 26th 1980
If the visit on August 10th 1980 had provided a very brief glimpse of future events, then this visit on October 26th 1980 suggested the floodgates had been opened and the arrival of condemned locomotives from many parts of the country was well underway. Scattered about the Works were stored and withdrawn examples of Classes 08/25/31/40/45/46. Some had travelled a long way, such as the Class 25/0's from the Scottish Region, whilst examples of some of the other classses would leave the Works and be reinstated.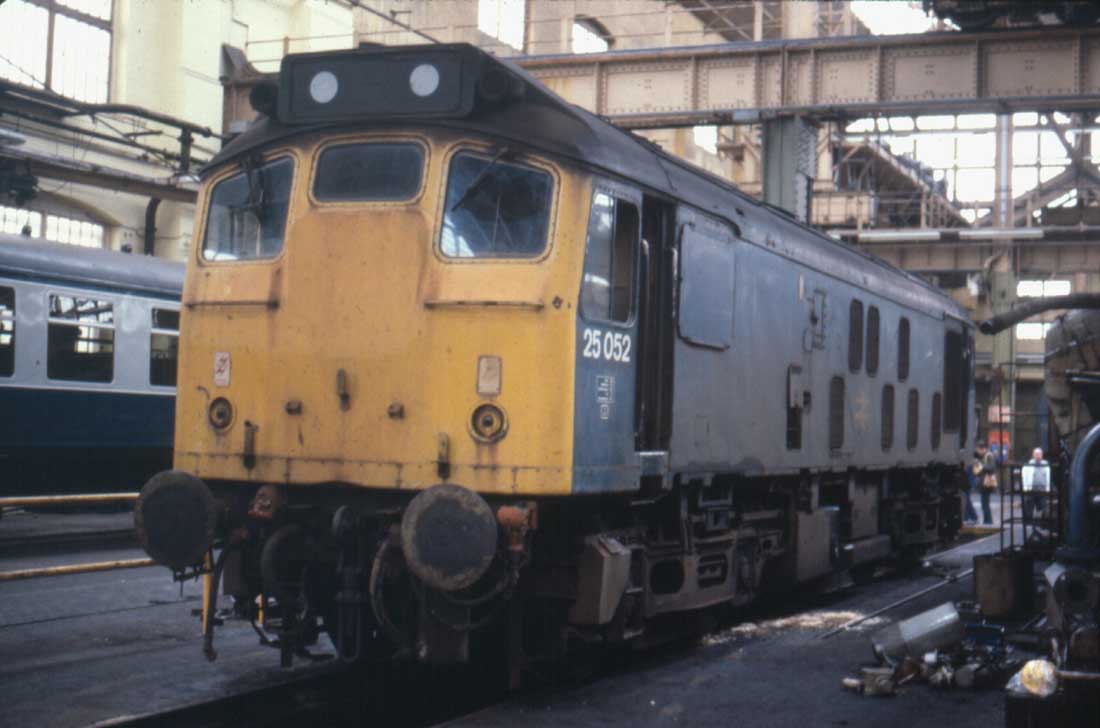 25052 at Swindon Works on October 26th 1980. At this point the locomotive is very much intact, however 25052 would have a very quick demise, within three weeks of this view 25052 would be no more.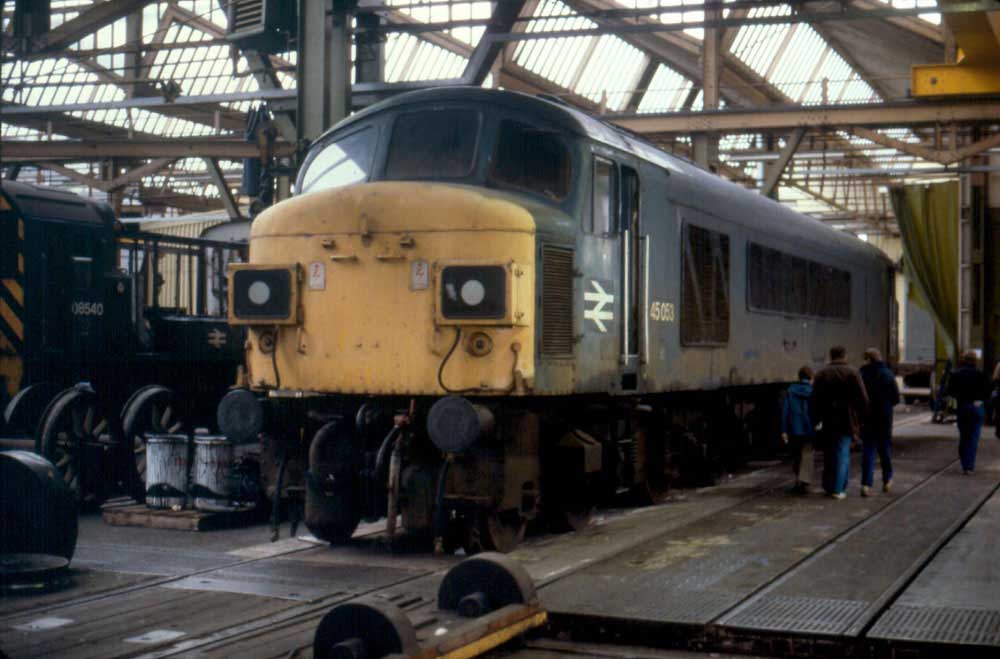 Seen here on October 26th 1980 45053 had been sent to Swindon for repair, these were then authorised for Crewe to handle, but once 45053 reached Crewe the repairs were rescinded and the locomotive was withdrawn for good. Scrapping finally occurred in October 1988, though the headcode boxes were saved for fitting to preserved D100 (45060).
June 6th 1981
June 6th 1981 celebrated the Works Open Day, for the number takers the locomotives to be viewed certainly filled many a page. But the vast majority were just biding their time awaiting component removal and then scrapping of the remains. There was still a proliferation of Class 08's under repair, as well as some private owner shunters, but it was the sea of withdrawn/stored locomotives that probably drew the attention of many of the visitors.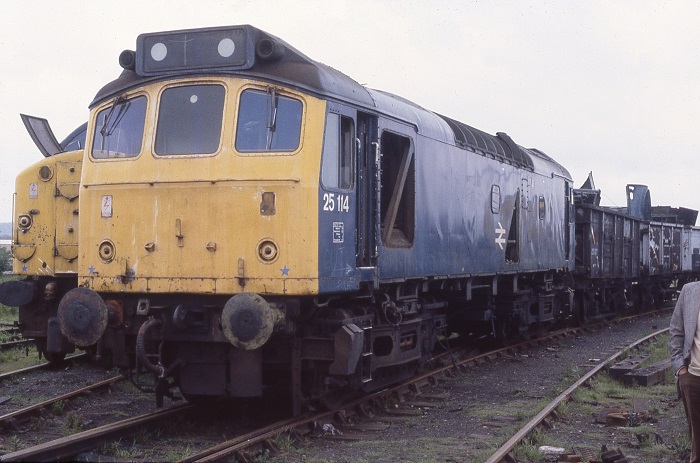 Former Cricklewood based 25114 awaits in the yard on June 6th 1981 for the cutters, the wagons behind the Class 25 are already filled with recogniseable bits of locomotives. This was one of the Class 25s to have the boiler room grille sheeted over, just visible at the far end of the locomotive. 25114's stay at Swindon was brief, withdrawal had come in February 1981, the end would come a month after this view, in July 1981.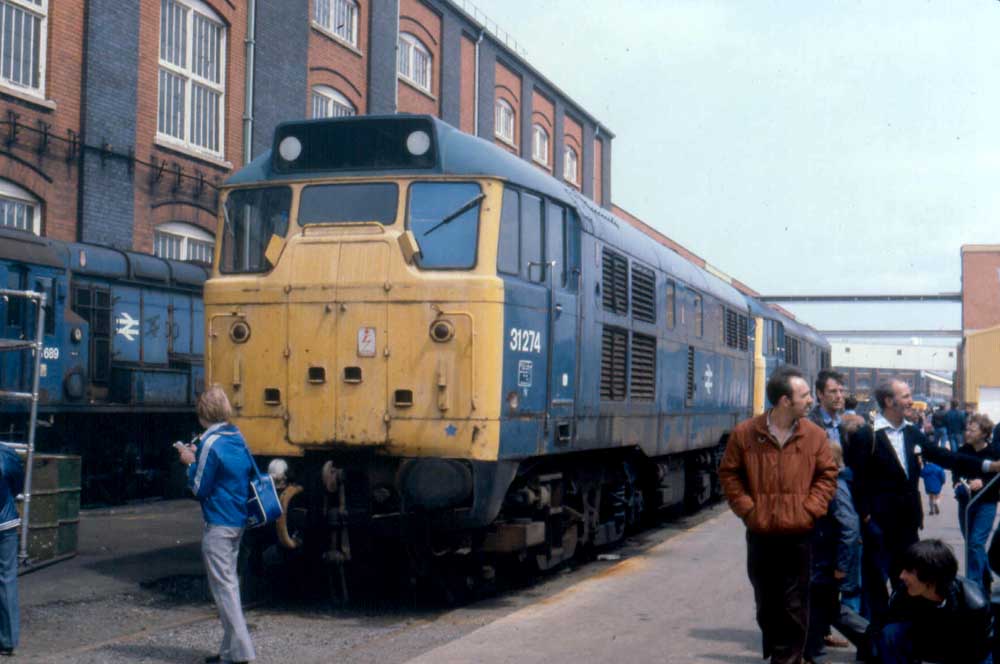 Swindon also received a number of Class 31s for short term storage. These would later be called to Doncaster for refurbishment, such was the case for 31274 seen here at Swindon on June 6th 1981.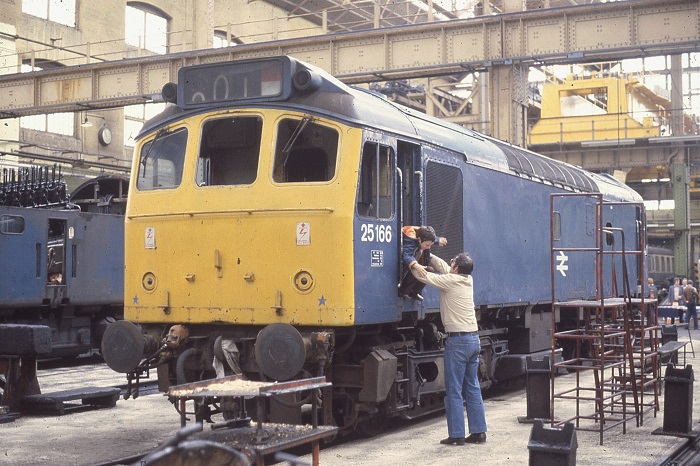 The Swindon Works Open Day on June 6th 1981 provided a great variety for visitors, with many locomotives present for scrapping. Included in the category was 25166 which in this view looks relatively intact. It would not take long however for the workers to begin the first steps in dismantling the locomotive.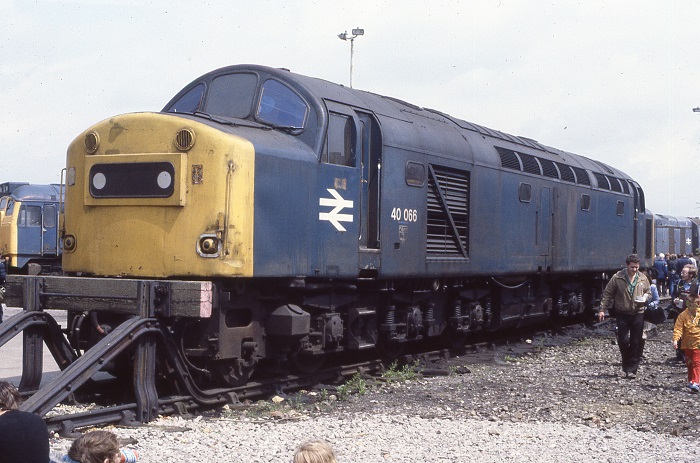 The June 6th 1981 Open Day at Swindon produced fine weather, big crowds and plenty to see at the Workshops. Regretably most of the diesels were there for scrapping including ex Scottish Region 40066. Withdrawn from Haymarket in April 1981 40066 was quickly broken up, and by October 1981 was no more.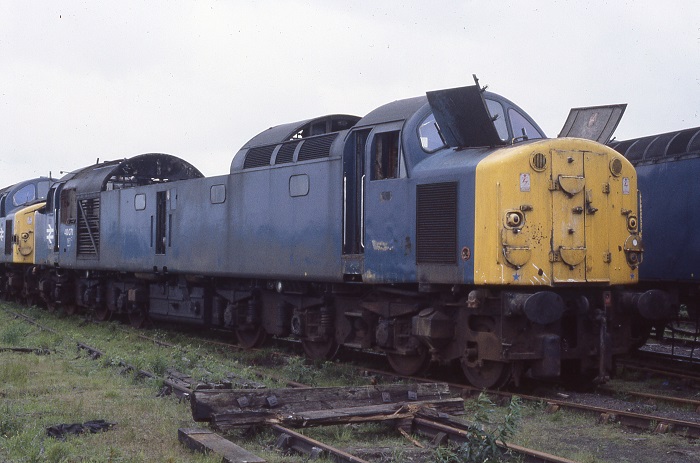 Another Class 40 'on display' on June 6th 1981 was 40071 which had clearly been through the stripping process and was now just waiting for the cutters to finish off the bodyshell & bogies. Withdrawn from Healey Mills in December 1980, 40071 would be no more by October 1981.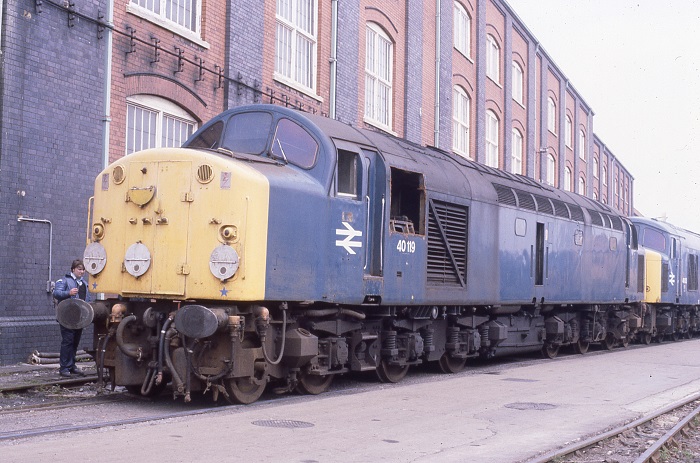 Against the unmistakeable backdrop of brickwork that was Swindon Works 40119 heads a line-up of condemned locomotives, seen here on June 6th 1981. Withdrawn from Longsight in December 1980, 40119 would linger at Swindon until October 1982.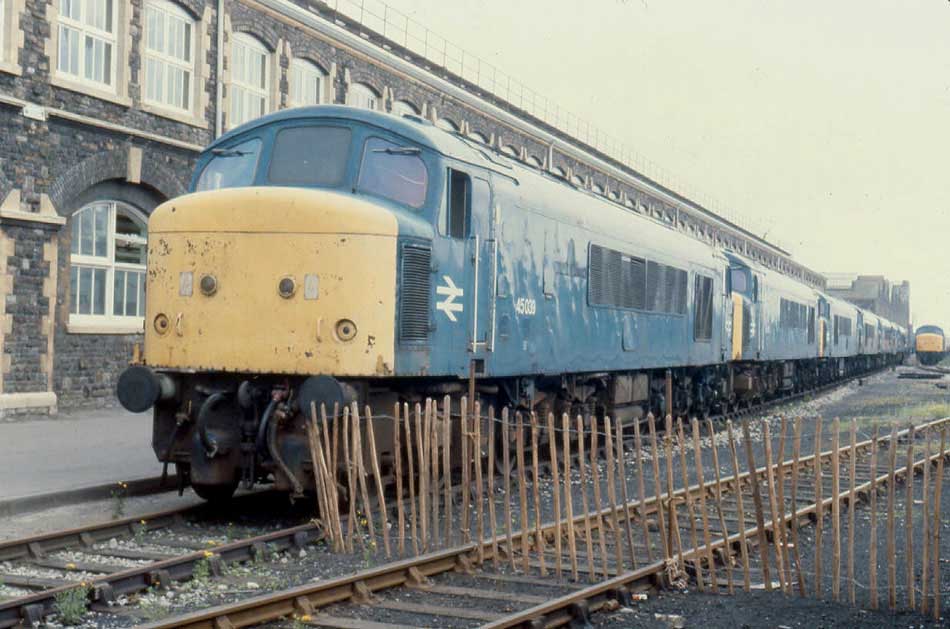 One more view from June 6th 1981, here 45039 The Manchester Regiment heads up a line of withdrawn Class 45's. No irony lost here in that the WR were quick to publicise the considerable weight differential between their new Warship Class Bo-Bo's and the LMR Class 40/44/45/46's - no matter what their respective qualities were many ended their days in scrap wagons leaving Swindon.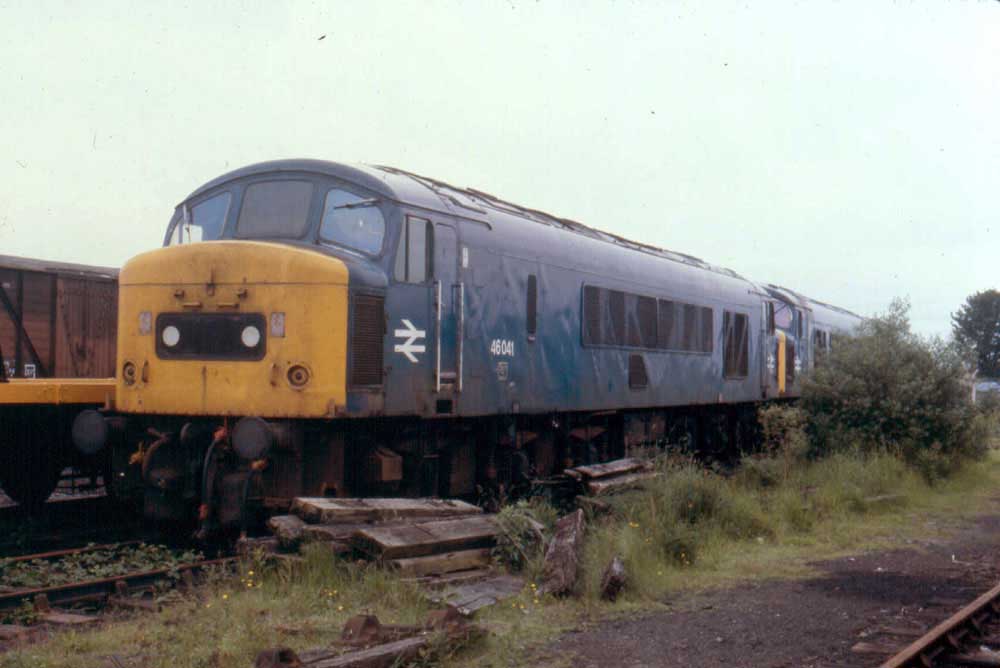 A familiar view from the Works Open Day June 6th, 1981 with 46041 pulled in for storage, looking like its just come off a NE/SW express. By December 1981 46041 would be withdrawn and finally scrapped there by August 1983.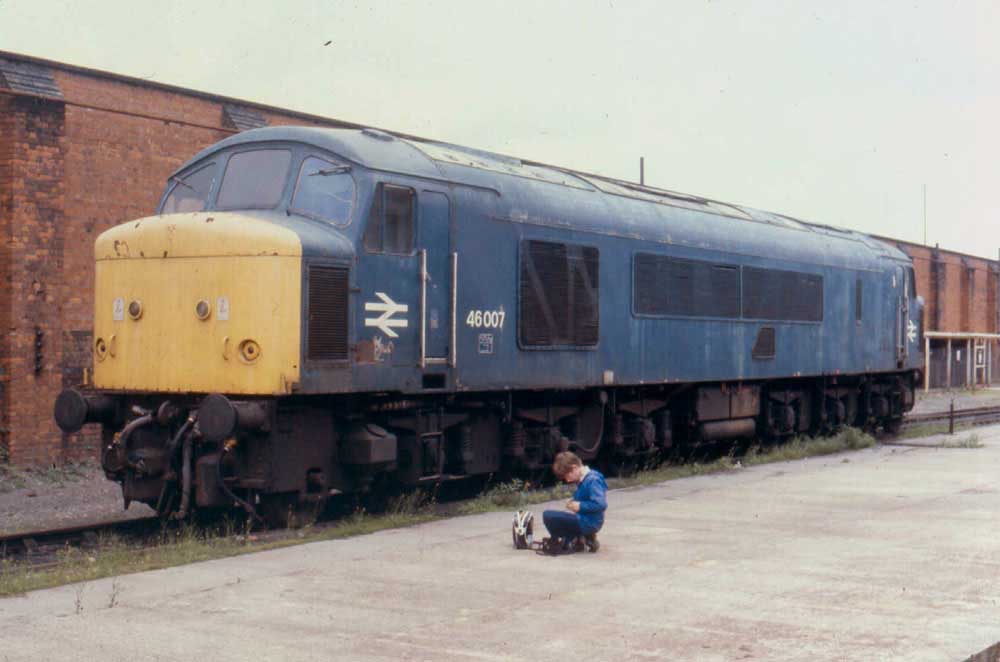 Many of the Class 46's were pulled from service in full working order and after a period of storage at Swindon returned briefly to further service. One such machine was 46007, seen here on June 6th 1981, which was returned to service in November 1981 only to be finally retired three months later. And who is that young enthusiast in front of the locomotive?

Glasgow Works
For your webmaster of all the BREL Workshops Glasgow was the most challenging to visit, mostly because of its distance from Derby and the consequent funds needed to get there. Getting to the Glasgow area was not to difficult if using the inexpensive day excursions from the East Midlands to Edinburgh, but these trips could never be synchronized with trips going around the Workshops.
June 29th 1978
The first visit to Glasgow Works came at the end of a camping tour of much of Scotland. After the delights of visiting the more remoter parts of Scotland to capture the Class 26/27's in action, the navigation of some of the grittier parts of Glasgow to reach the railway workshops provided quite a contrast. Of course on this first visit things didn't start out too well, either we showed up on the wrong day or the permit had been prepared wrongly. Fortunately after a little negotiation the visit went forward after a guide had been found for us!
The Works provided a cross-section of all the smaller classes (Classes 06 - 27) that worked on the Scottish Region. The only Type 4 on the Works was the dismembered remains of 40072 which had just been broken up.
It was not a pretty day, very overcast with rain in the air, so this was typical of many of our works visits except it was the beginning of summer.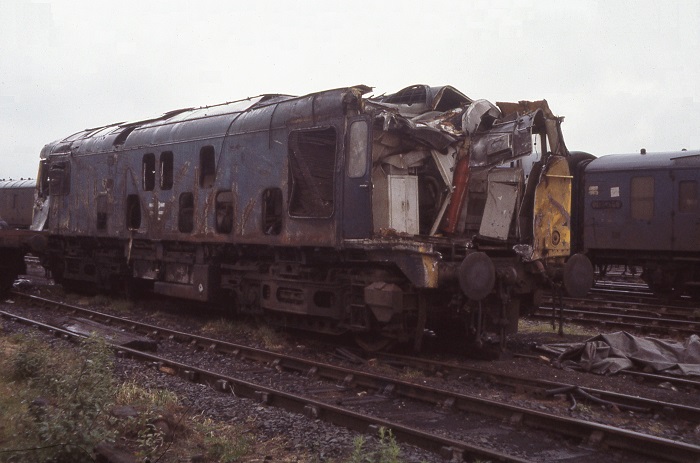 June 29th, 1978 finds a somewhat battered 25018 sitting amongst the weeds in a remote part of Glasgow Works. Whilst working the 7S64 20.10 Carlisle - Falkland Jct freight on November 8th 1976, five wagons and a brake van ran through a red signal opposite Ayr depot, derailing at the catch points. 25018 rolled over onto its side, becoming wedged against 20125 which was leaving the depot.
May 17th 1980
The next visit to Glasgow Works took place on May 17th 1980 as part of a railtour starting at London Euston. It was basically an out and back slog up and down the WCML, with either a day out in Glasgow or an organised visit to the Works & Eastfield, if interested - and many were! 85004 provided the traction in both directions.
One remarkable aspect of the day was the glorious sunny weather. This certainly helped in photographing the contents of Glasgow Works, mostly Classes 08/26/27 with a couple of Class 25's present.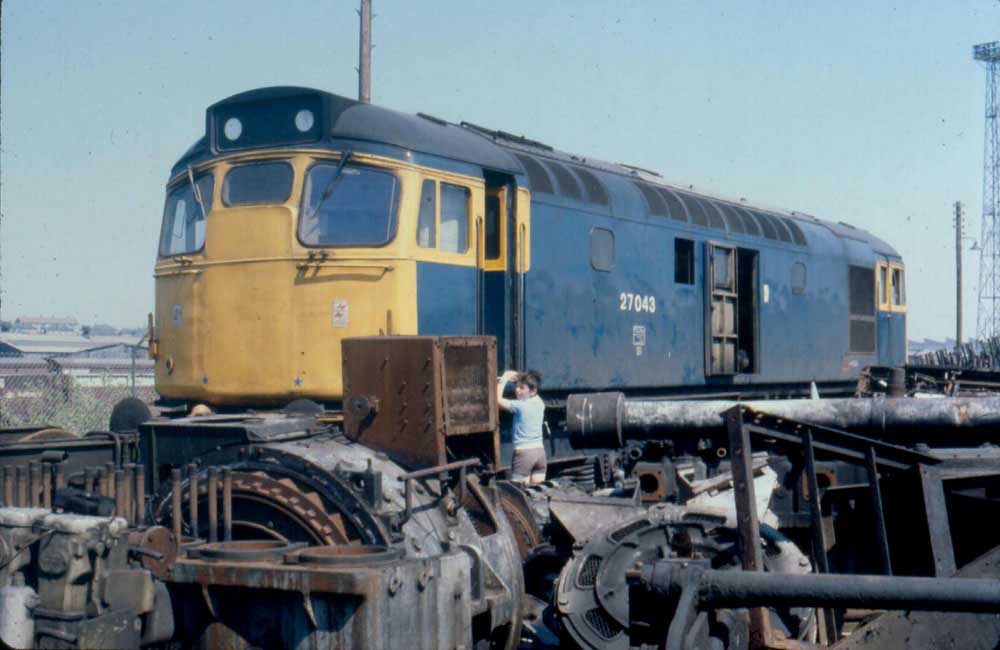 27043 has been withdrawn for about a month in this May 17th 1980 scrapline view. However the Glasgow cutters will not get to this machine. Instead it will have the glorious fate of being dumped in Patterson's Tip, Mount Vernon in the winter of 1985!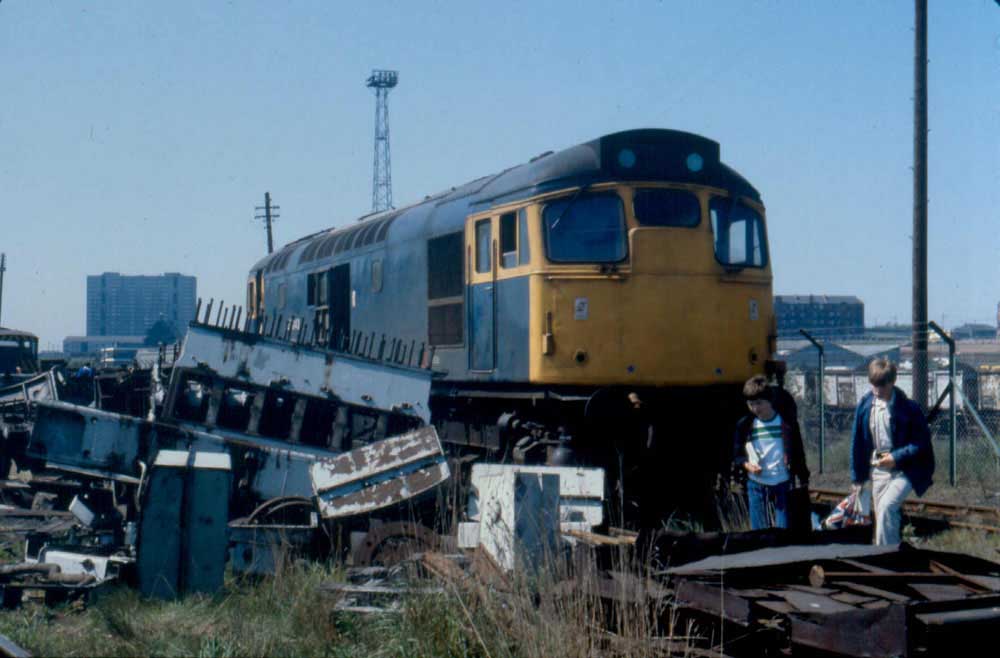 A second view of a seemingly roadworthy 27043 at Glasgow on May 17th 1980. The foreground is filled with parts from engines and generators of locomotives that have long ceased to exist.
October 4th 1980
This was another railtour up the WCML with again either a day in Glasgow or an organised visit to the Works and Eastfield. It looks like the clouds opened up from time to time to provide some sunshine for the photographs.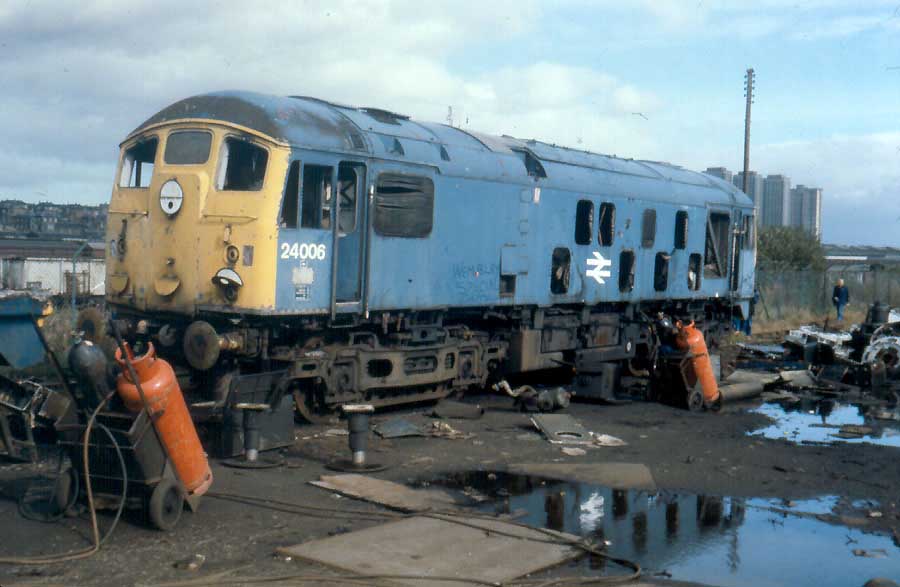 After spending four years rotting at Eastfield 24006 moved during the summer of 1980 to Glasgow Works for scrapping. In this view on October 4th 1980 24006 is next in line for the torch. This was the last of the original twenty built, outliving its nearest neighbour, 24019 by two years.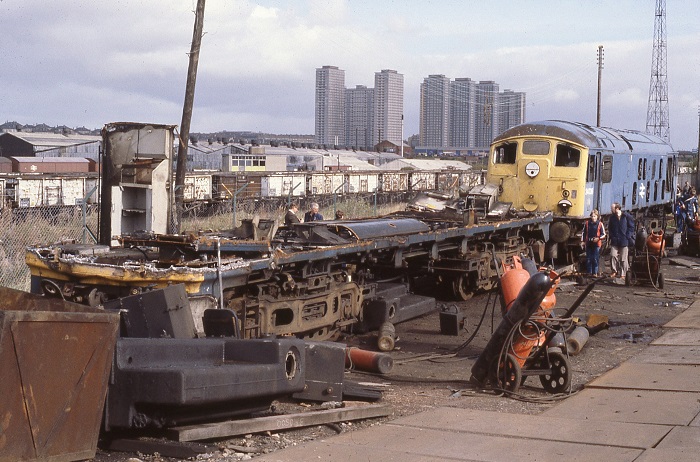 25009 has come to the end of the road in the scrapping area at Glasgow Works, seen on October 4th 1980. Little time now remains for 25009, next in line is 24006 having recently been dragged over from Eastfield depot.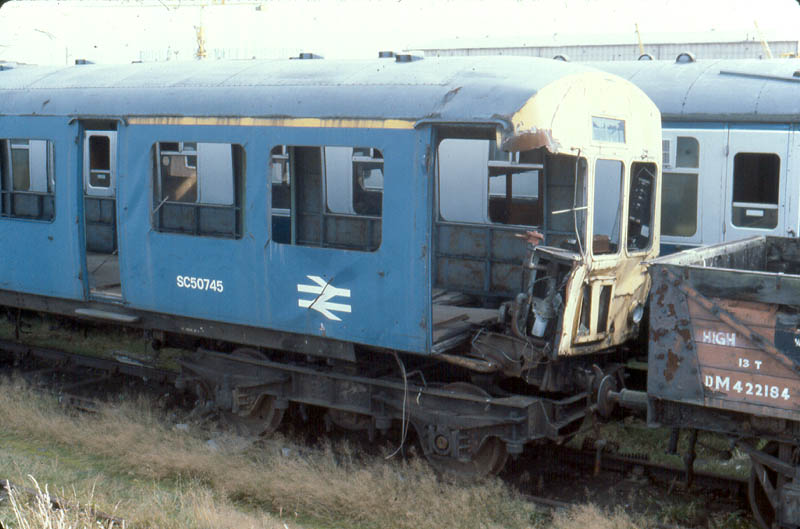 Metro Cammell Class 101 50745 with collision damage stands gutted at Glasgow Works on October 4th 1980. Withdrawn from Dundee in February 1976 50745 would not be broken up until sometime in 1987.
May 16th 1981
Yet another slog up and down the WCML for the standard organised visit to the Works and Eastfield. The good weather that had been with us on the previous two visits to Glasgow did not join us this time. Instead the heavens opened at several times during the day, making for a very soggy trip, especially the walk around the Works yard! The content of the Works was definately reduced when compared to the previous visits.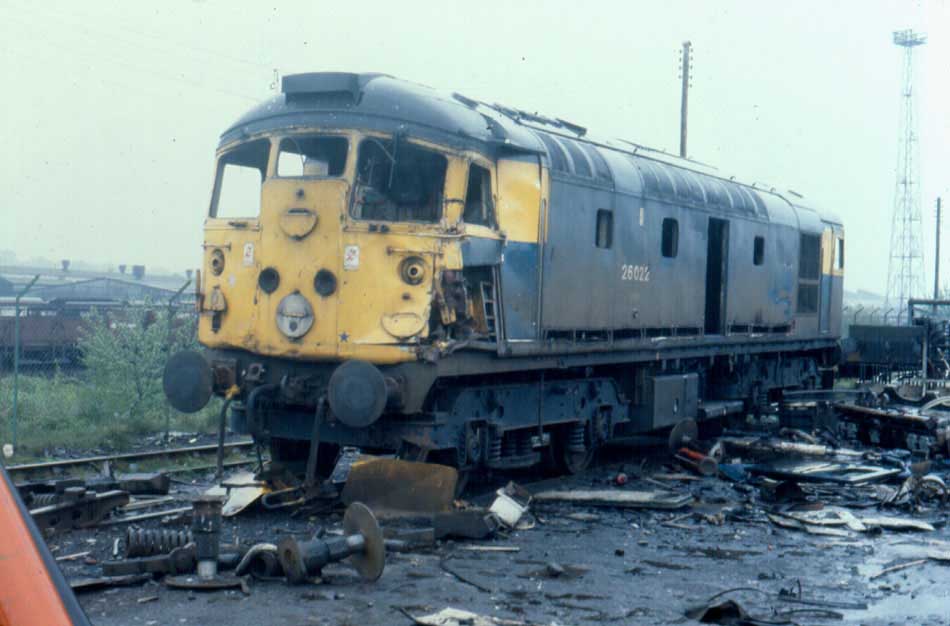 26022 comes to the end of the line, having sustained minor collision damage at some point. A rainy May 16th 1981 provides a gloomy backdrop for a familiar scene.
June 27th 1981
This was my last visit to Glasgow Works, part of a week's tour of Scotland to show my wife part of her heritage. When the trip was planned it was not immediately realised that Glasgow Works were having their Open Day at the same time, but once the dates fell into place the opportunity was taken to attend the Open Day.
With 27202 as a distant backdrop, the foreground reveals a multitude of bits from recently departed Scottish Sulzers, June 27th 1981. Fire damaged 27202 remained on the scrapline until January 1982.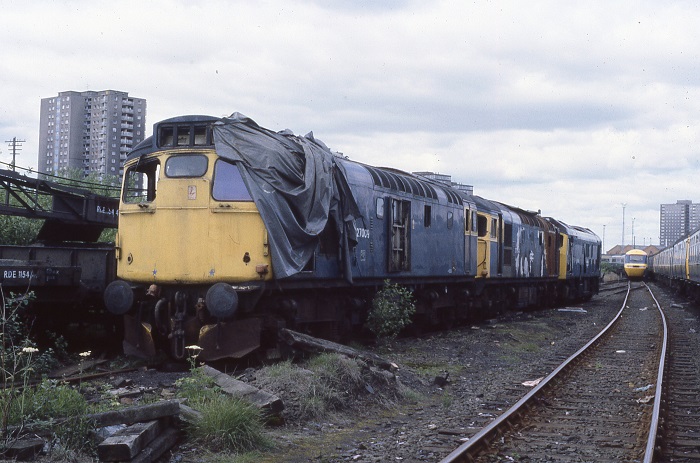 A giant tarpaulin monster attempts to devour 27009 ..... well not quite, maybe I've seen too much Dr Who. But its Glasgow Open Day June 27th 1981 and withdrawn 27009 & 27044 keep company with still operational 25068. Quite a change in scenery from the highland grandeur of the routes these Class 27s once travelled over.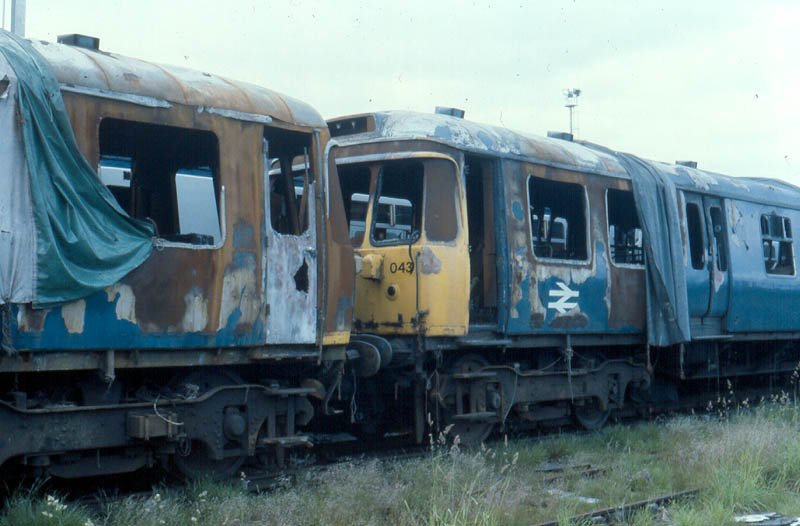 The first of the Class 303's withdrawn were vehicles from sets 033 & 043 during May 1977. Seen here on June 27th 1981 it would be another six years before these vehicles were finally scrapped! (The vehicle on the left is SC61513, set 033, on the right SC75753, set 043).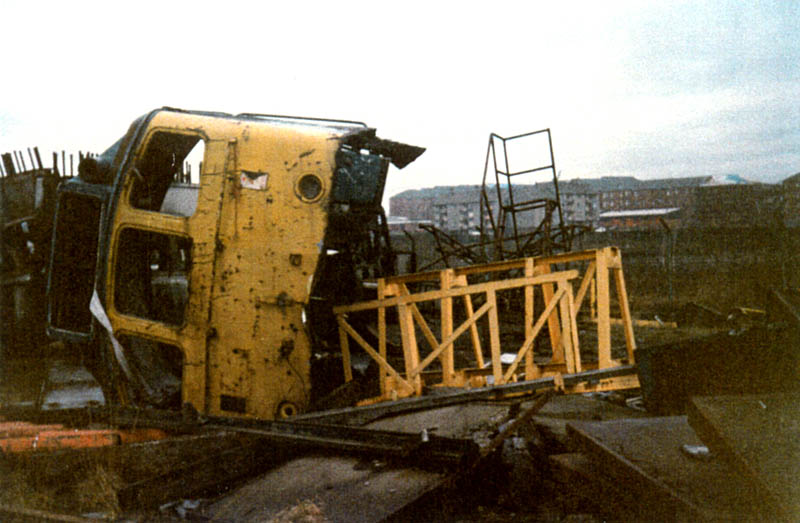 A gloomy & poignant view of how the mighty are fallen. Once shiny and new from Derby Works, now so much rust & decay at Glasgow Works, a cab from 25108. The dull day & the grainy image add to the depressing quality of the view. Although I've received several views of this cab I regret I can't remember the name of this contributor, sorry - back to my notes for more research to correct this.

Doncaster Works
Doncaster Works was easily reachable from Derby by train, even on a Sunday so trips to the Works occurred reasonably early in my spotting days. Regrettably those early visits were made without a camera so the memories can only be found through my notebooks or other peoples views.
May 2nd 1976
The first visit which produced photographs that were useable and that I still have occurred on May 2nd 1976 and appears to have been an organised trip by one of the enthusiast groups. Typically the Works was filled with many Eastern Region allocated locomotives under repair. Also present for scrapping were several Class 24's including 24070 & 24095.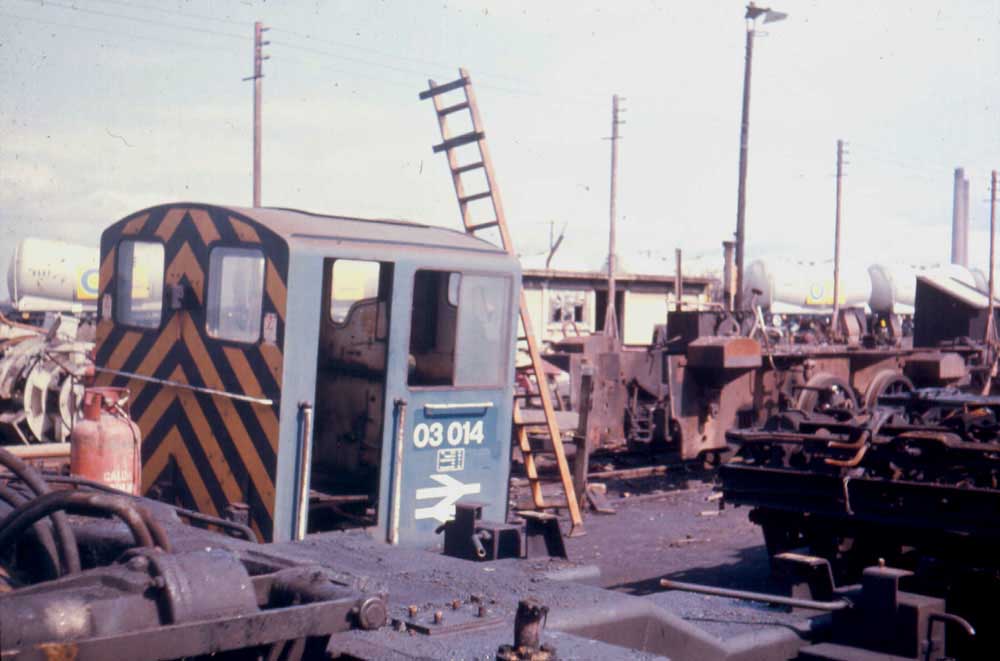 The cab of 03014 remains recogniseable amidst a sea of parts on May 2nd 1976, including the bogies and fuel/water tanks of a Class 24 in the foreground.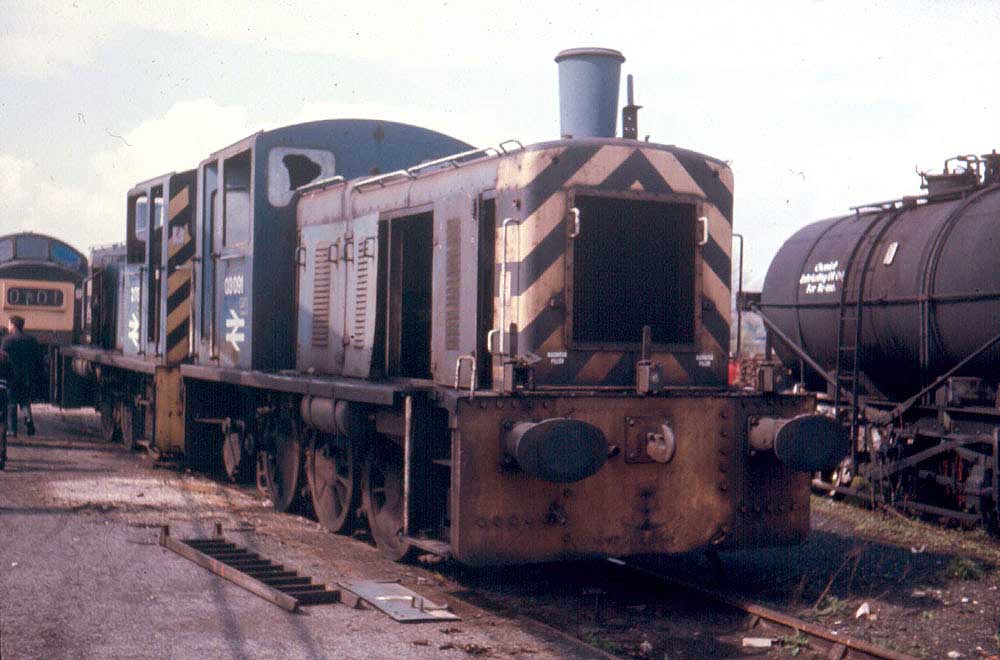 Two more Class 03s were awaiting scrapping on May 2nd 1976 in the shape of 03091 & D2173 whilst in the background 5901 awaits its demise. D2173 had been withdrawn from Hull Botanic Gardens in November 1973! 03091 had been retired almost as long, having been taken out of service during March 1974 from Bradford Hammerton Street, the only depot it was ever allocated to. 03091 was the first TOPS numbered locomotive to be withdrawn. Both these shunters would be broken up during March 1977.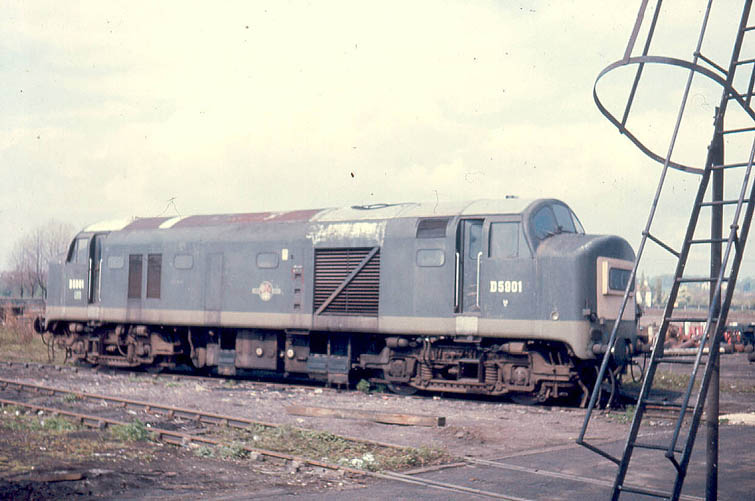 Following the arrival of 24061 at the Derby Research Center, the days were numbered for Baby Deltic 5901. After being taken out of service it was removed to Doncaster for breaking and is seen here on May 2nd 1976.
June 13th 1976
The next visit to Doncaster Works was on June 13th 1976, this one was by train so we had to make the lengthy walk from the station to the Works entrance. The Works contained the regular mix of Eastern Region locomotives and was continuing to recieve withdrawn Class 24's from the Scottish Region.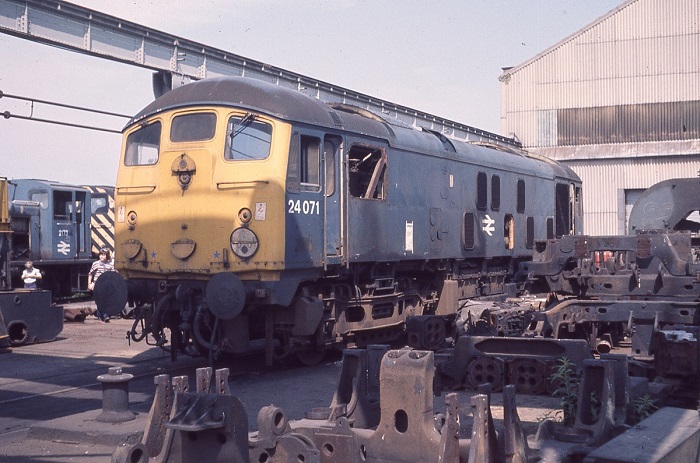 A sunny trip around Doncaster on June 13th finds 24071 being stripped of various components prior to final cutting. The white paper taped to the side of the locomotive indicates the parts which need to be removed and shipped back to the owning Region. The centred headcode discs on the sheeted over gangway doors are the sign of a repair at Glasgow Works.
October 23rd 1976
On October 23rd 1976 a visit was made to both Doncaster depot and the Works, the depot would frequently hold the recently arrived Class 24's from Scotland until they could be transfered to the Works. On this day there were seven Class 24's on the depot: 24010, 24017, 24097/99, 24125/126/127 as well as several Class 31/0's sent up from Stratford for scrapping.
On the Works were more ex-Scottish Class 24's as well as 25015 which had been sent up from Derby for scrapping.
February 20th 1977
This visit saw little change since the one in October 1976, some of the locomotives dumped at the depot had been moved to the Works as well as the arrival of 24110/118/119/129, some cutting up had taken place.
August 7th 1977
The Works was well filled with locomotives under repair on this visit. All the Class 24's seen on the previous visit had been broken up, those awaiting scrapping on this visit were: 24069, 24094, 24104, 24112/113, 24120, 24130. Also on the Works was D5500 undergoing restoration for a place in the National Railway Museum at York. In rejecting the original Ckass 24, D5000 it is recorded that the NRM desired a locomotive built by private industry, which is fair enough, but did that include returning it to its original state with a Mirrlees, Bickerton & Day 12-cyl JVS12T engine?
October 23rd 1977
The visit on October 23rd 1977 found just two Class 24's in the Works: 24009 & 24147, they had spent quite a while stored at Carstairs. 24009 was also one of the last to receive a repair and repaint at Glasgow Works.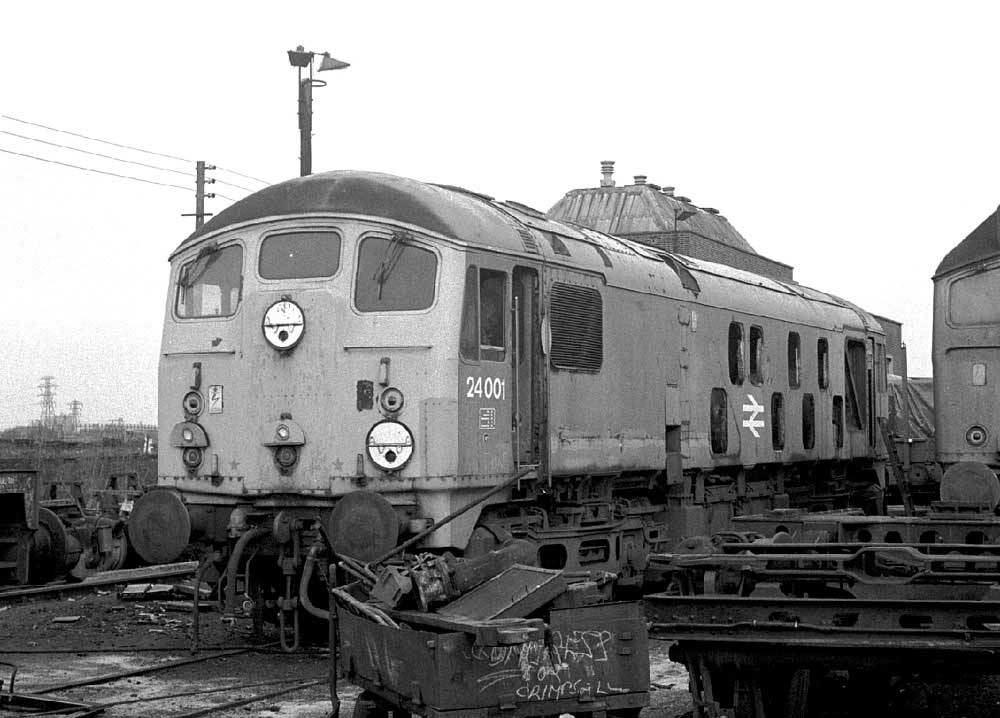 Photograph courtesy Tony Sayer.
This view was taken on November 6th 1977 several days after my October visit, next in line for cutting is 24001 which sits alongside 24147 waiting for the end to come. Of the first twenty Class 24s commissioned by the Modernisation Plan, Doncaster Works cut up the majority with a total of fourteen, Glasgow dealt with four, Derby & Swindon taking one a piece.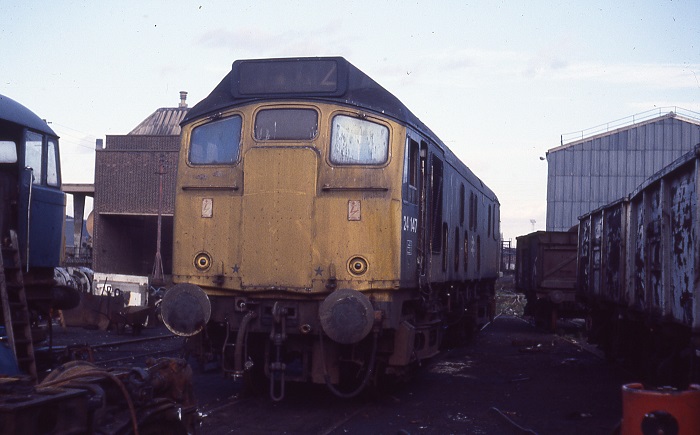 Withdrawn from Haymarket during July 1976 24147 spent over a year in Carstairs shed keeping company with the local pidgeons. Finally removed to Doncaster Works, 24147 is seen here on October 23 1977. The locomotive carries the unusual cab roof headcode housing, similar to the Class 25/1's but without the horn receptacles. Within a month 24147 would be gone.
December 18th 1977
A pre-Christmas visit to the Works, in very gloomy conditions found a further selection of ex-Scottish Class 24's awaiting their fate: 24007, 24014, 24072, 24090, 24108.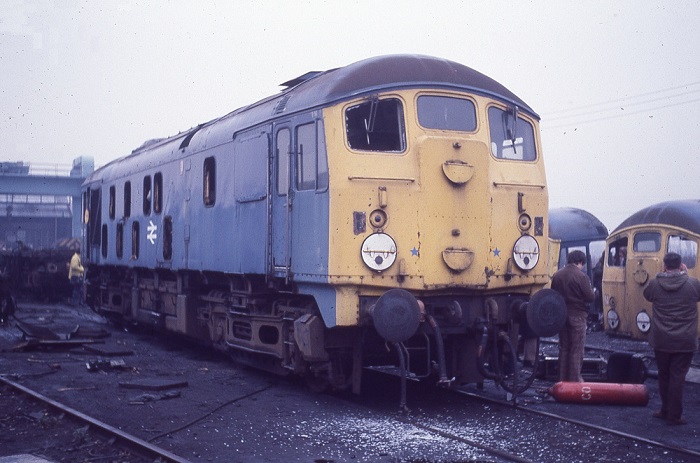 Stored & withdrawn during the great purge of the Class 24 fleet during the summer of 1975 24007 spent over two years in the deadlines at Carlisle Kingmoor. Movement to Doncaster Works occurred during December 1977, (seen here on 18th). Shortly after the New Year 24007 would be no more. The cabs of 24072 sit to the right.
December 10th 1978
Almost a year would pass before we returned to Doncaster Works, by this time all the ex-Scottish Region Class 24's sent to Doncaster had been broken up. The Works infact contained few withdrawn locomotives on this visit, of note was 40051 awaiting scrapping.
May 6th 1979
Similar to the previous visit the cutting activities on this visit were minimal.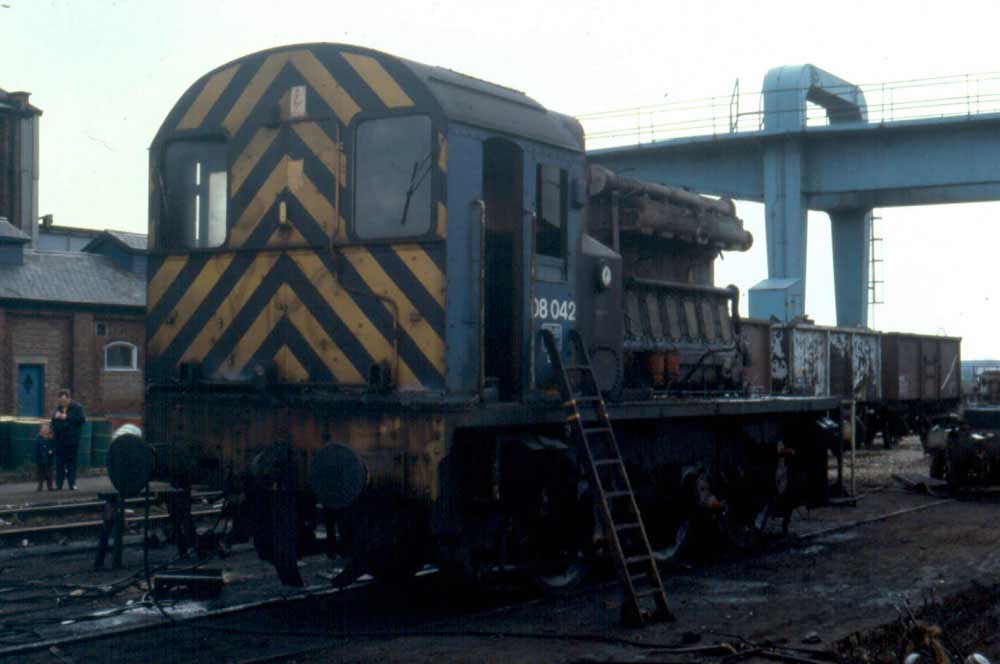 After spending its first twenty years on the LMR 08042 moved to York in July 1974, spending its last five years on the ER. It's seen on May 6th 1979, the end is very near.
August 5th 1979
There was hazy sunshine present for this visit to Doncaster Works. The only Class 24 present on the Works was 24061 which had been received from the Research Center for an engine swap. Another locomotive which had spent a while at Derby was 74010 which had arrived for scrap along with three Class 71's from the Southern Region: 71004/10/11/13.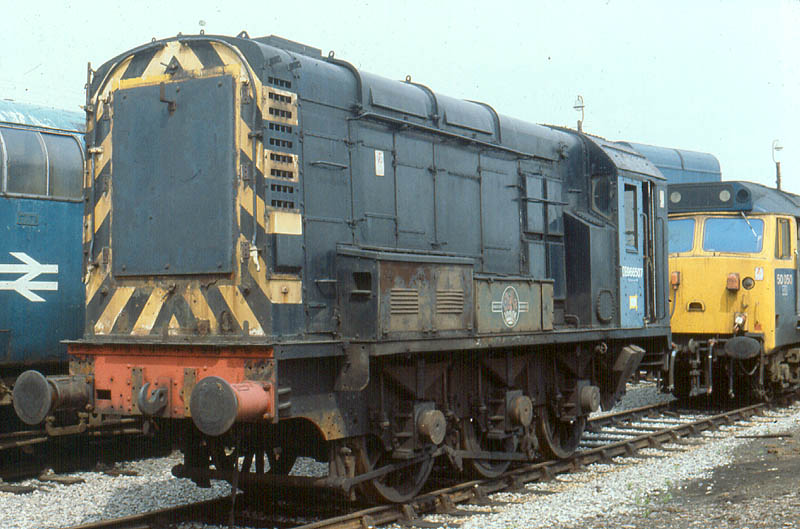 Five early Class 08s were modified for snowplough service, one example seen here is the former D3006, now DB966507. Seen here on August 5th 1979 this machine will be broken up within the month.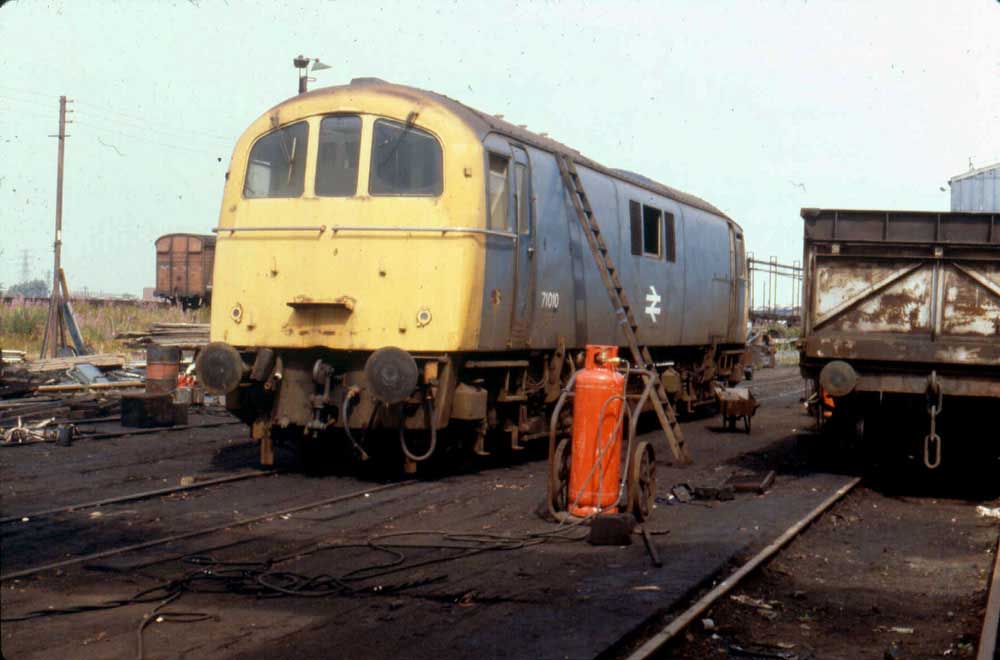 Surprise visitors from the Southern Region including a number of Class 71s for scrapping. Seen here on August 5th 1979 71010 is next in line for cutting.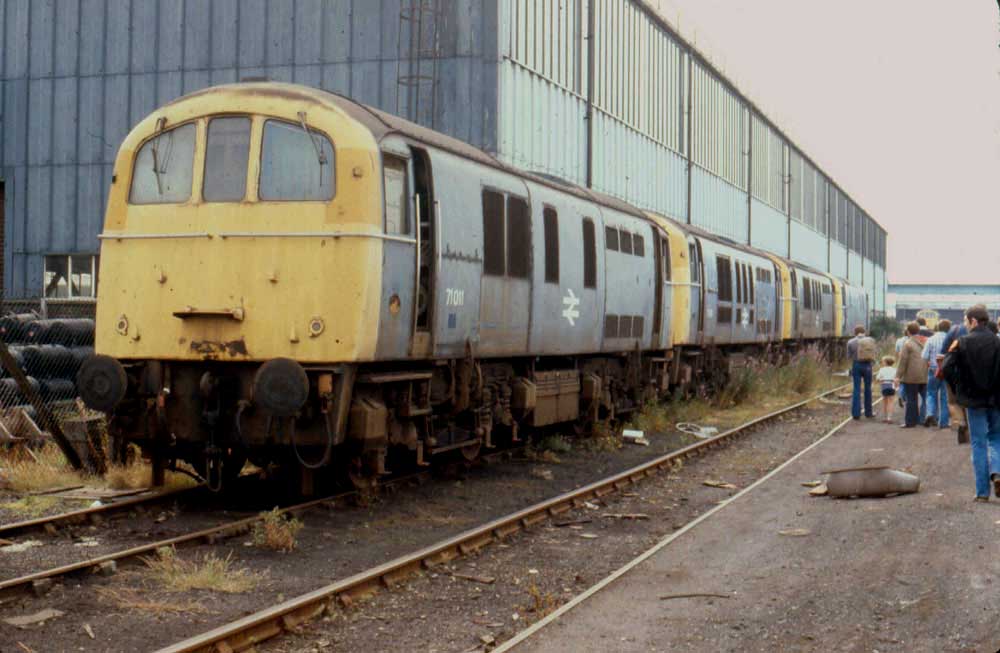 Three Class 71s and 74010 await their turn for disposal. Leading the line up on August 5th 1979 is 71011.
April 12th 1980
Although the scrapyard area was empty the Works contained several locomotives with collision damage.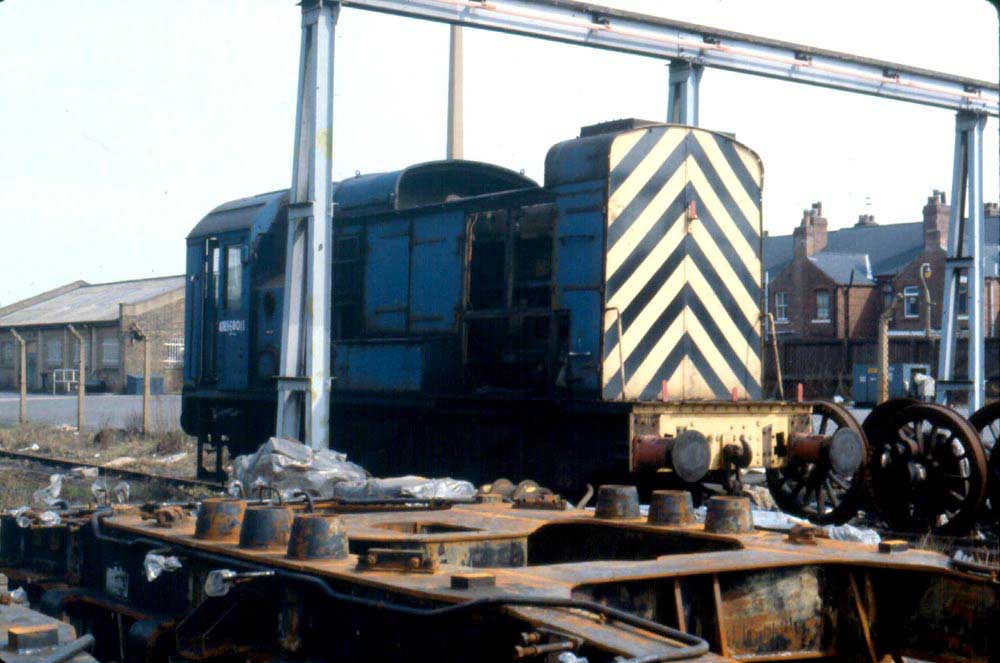 Its the end of the road for Class 08 No. 3186, 08119 & ADB968011 seen here at Doncaster Works on April 12th 1980. It was withdrawn from Gloucester during February 1977, then converted for Departmental use, which appears to have been short lived for it will soon be broken up here.
October 5th 1980
This visit was made as part of a railtour from London Marylebone to Barrow Hill Open Day and a visit to Doncaster Works. Activity in the scrapyard area was limited to several Class 31/0's being scrapped.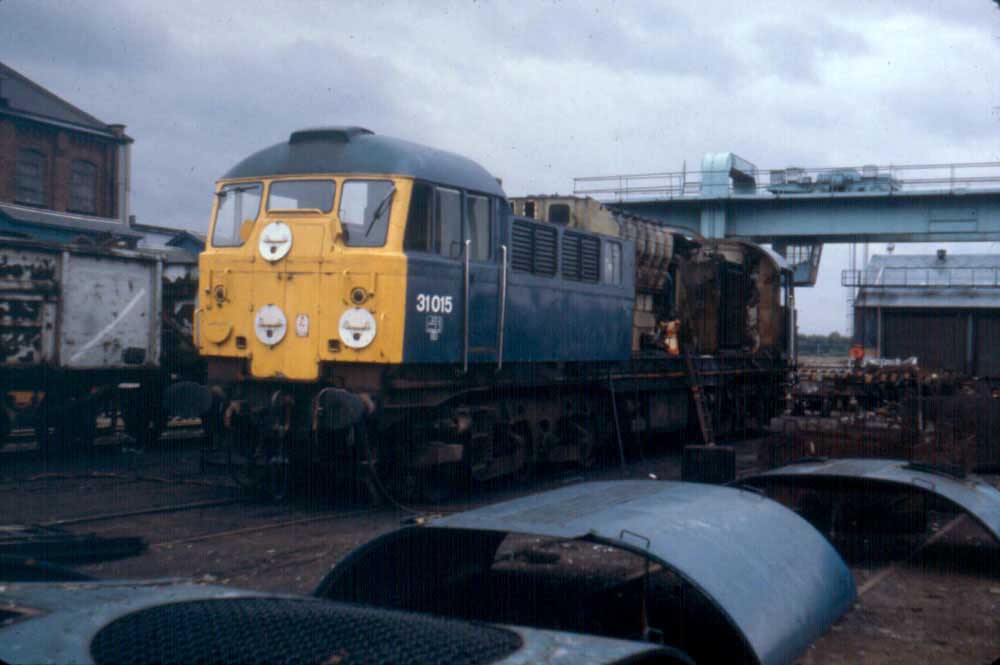 A threatening sky overshadows the demise of 31015, seen here on October 5th 1980.
November 23rd 1980
This visit was part of another railtour from Watford to Manchester and across the Pennines to Sheffield & Doncaster. The general activity at the Works seemed greatly reduced, the only locomotive in the scrapyard area was parts of 40040.
January 18th 1981
This would be my last visit to Doncaster Works and apart from the regular mix of Classes 03/08/31/37/50/56 it was all rather quiet, there being noting in the scrapyard area.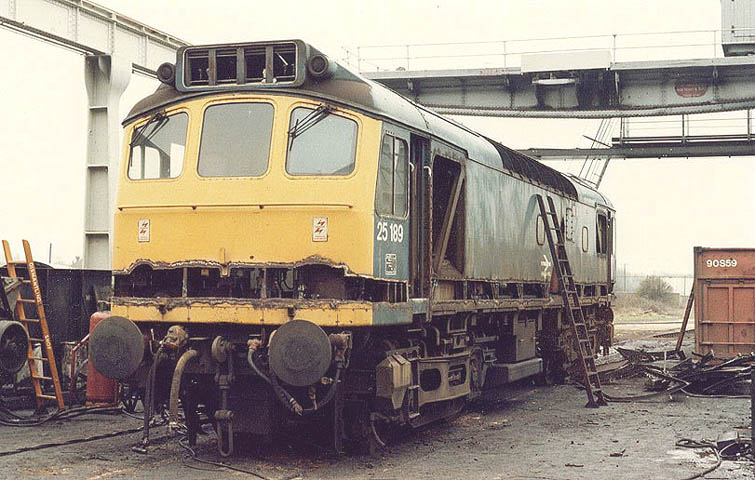 Photograph courtesy Paul Bettany.
The cutters are in the process of getting to grips with 25189, seen here are April 27th 1986.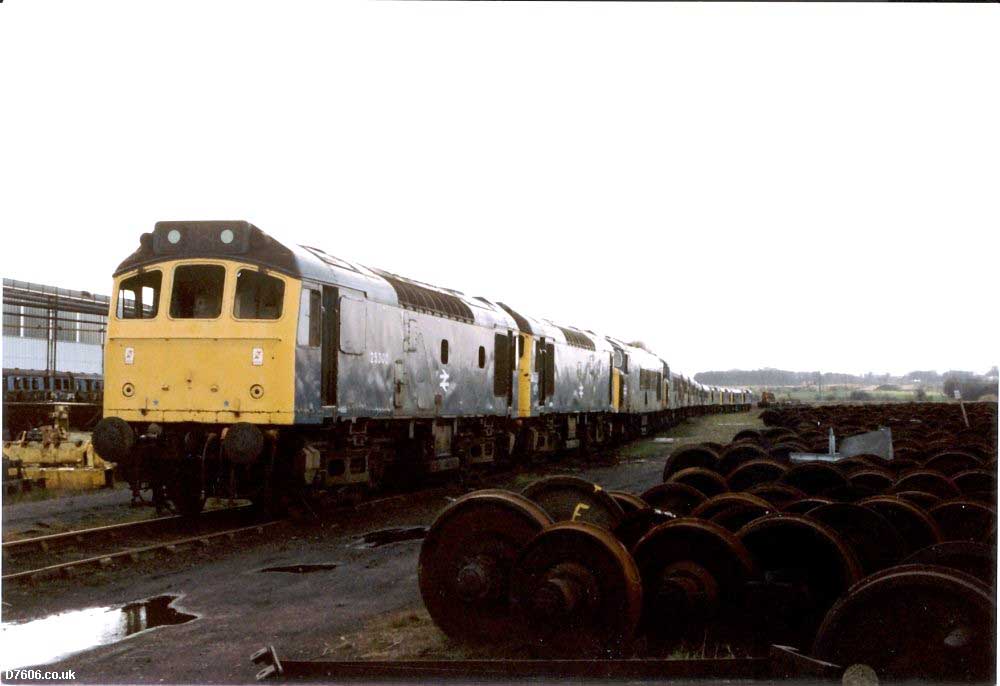 Photograph courtesy Ian Hammond.
A line-up of condemned locomotives at Doncaster on April 20th 1986, led by 25300 & 25302 followed by 45038/19/42/72/56/16/75.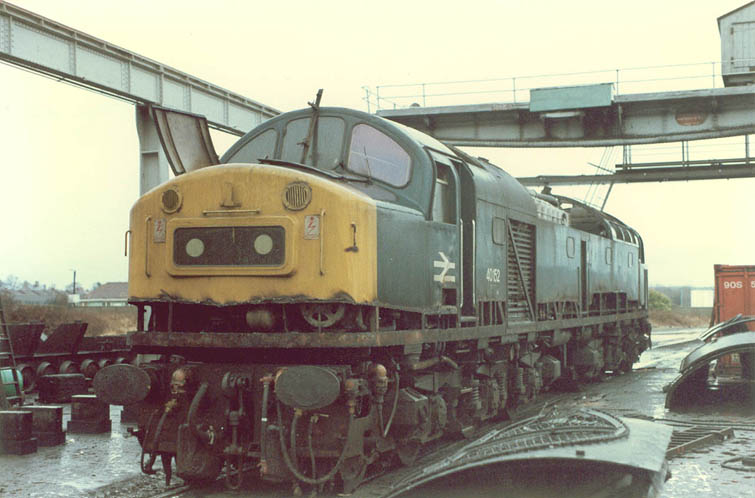 Photograph courtesy Robert Inns.
More gloomy & damp weather greets the visitors on March 10th 1985 as the cutters are well into ending the existance of 40152.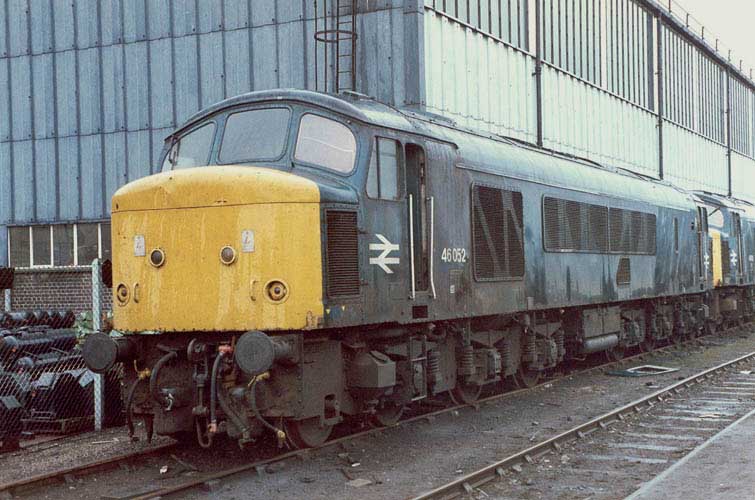 Photograph courtesy Robert Inns.
Looking like another journey could well occur 46052 infact waits for the end at Doncaster on March 10th 1985. Behind 46052 sits 46010 which would live on into preservation.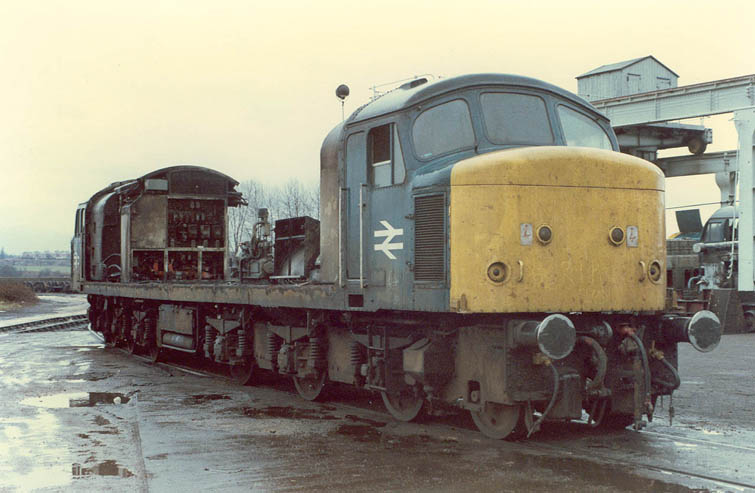 Photograph courtesy Robert Inns.
Across the yard from 40152 sat 46026 'Leicestershire & Derbyshire Yeomanry', a popular Class 46 in their final days. Not much now remains to be done on this damp March 10th 1985.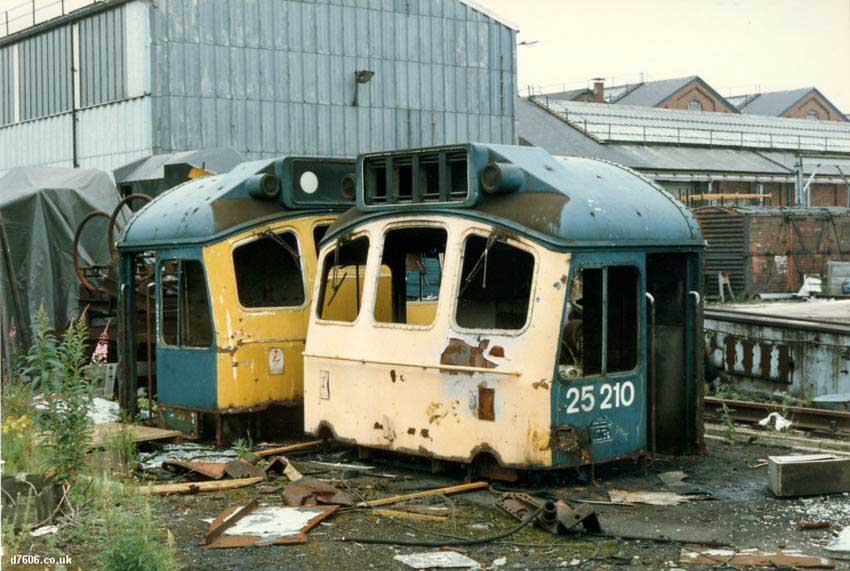 Being a time consuming item to cut up the cabs frequently remained long after the locomotives are gone. At Doncaster Works on May 11th 1986 are the cabs from 25210 & 25237.
Page added September 18th 2001.
Page updated June 1st 2020.