Private Scrapyard Views

I don't know what it is about the attraction that scrapyards provide to many of us. Perhaps it is the unexpected chaos of such places, contrasted against the well oiled machine that the railways normally presented (well most of the time!). Or perhaps it was around the scrapyards that many long forgotten memories were/are invoked, of favourite locomotives remembered from much better times (those rose tinted glasses again!). Or it simply could be that its much more fun to take something apart, especially if cutting torches and sledge hammers are involved.

The page includes views depicting locomotives other than the Classes 24/25.

Sheepbridge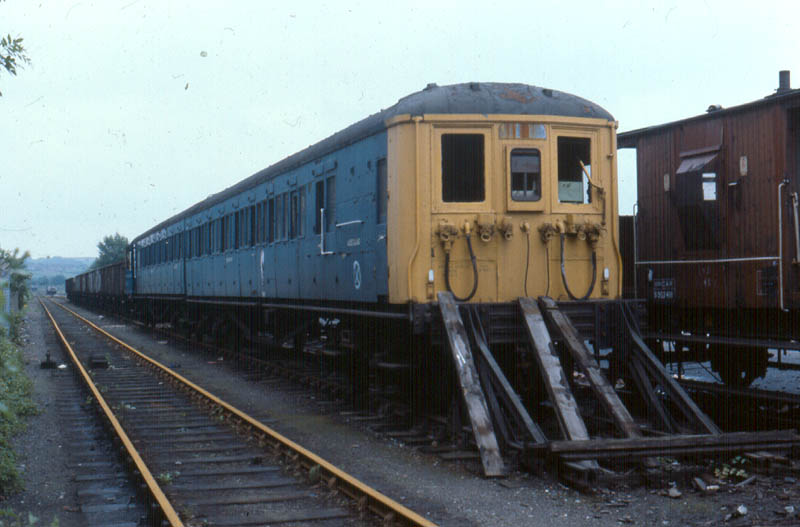 Departmental EMU 012 (DS70090 & DS70091) stands at Sheepbridge, Derbyshire shortly before it was broken up in May 1980. Armitage's yard by this time was quiet but during 1968/69 it received a considerable number of ex-SR emu's for scrapping.
Vic Berry's, Leicester
For a separate page on Vic Berry's scrapyard please click here
T W Ward, Beighton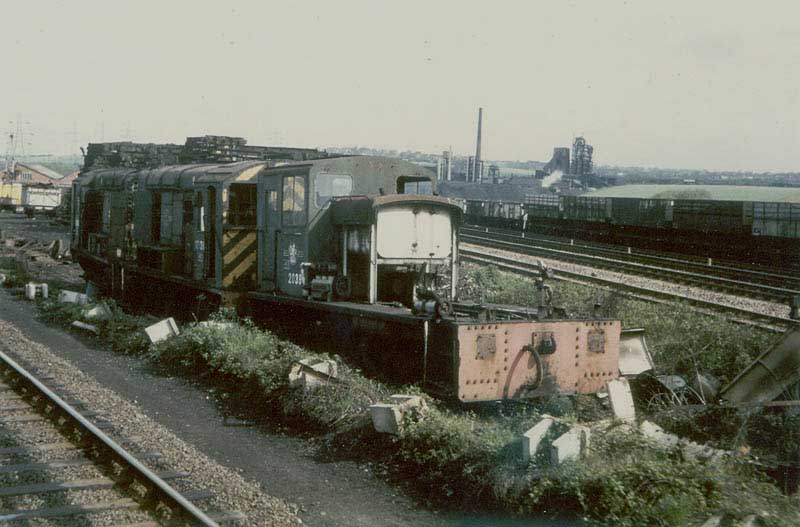 When the direct Derby - Sheffield route was closed through Dore for engineering works the 'Old Road' would be taken through Barrow Hill and Beighton. Present from 1972 to 1977 in the scrapyard at Beighton was D2039, withdrawn from Norwich in February 1972. Keeping it company are two Class 11's (12108 & 12136) and a mountain of former NCB wagon frames.
George Cohen's, Cransley, Kettering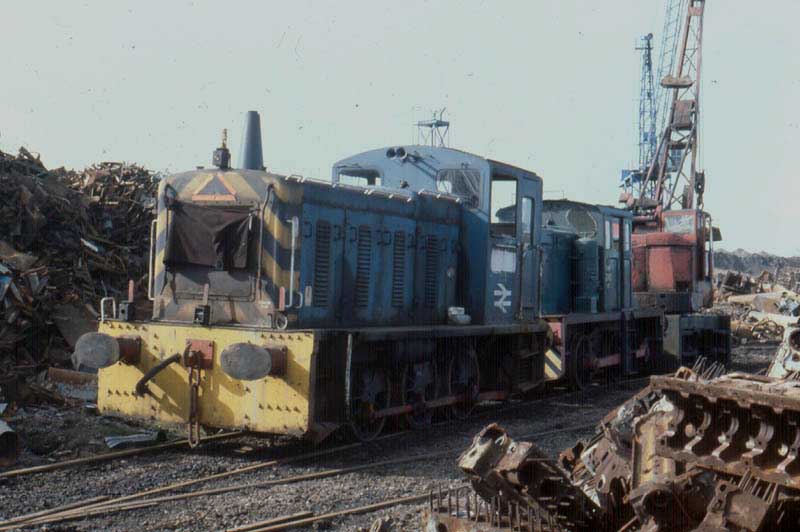 On March 2nd 1980 there was not too much at Cransley's yard. Still intact locomotives included 03018 & ex-Army WD843 (both seen here) and two diesel multiple units - 56310 & 55998.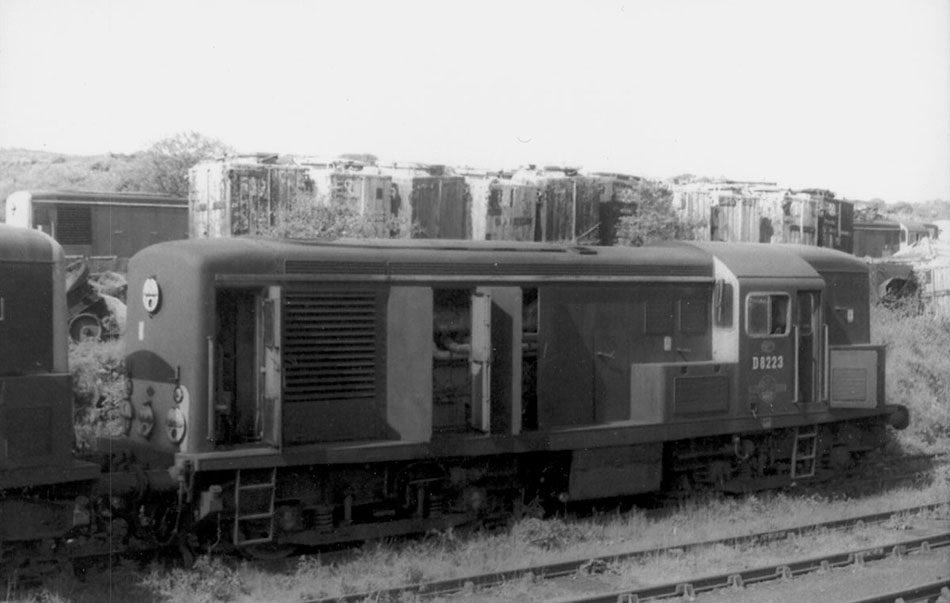 D8223, date unknown. D8223 was withdrawn from Stratford during December 1968 and broken up at Cransley by May 1969. Thirteen BTH Class 15s were broken up at Cransley, all during 1969.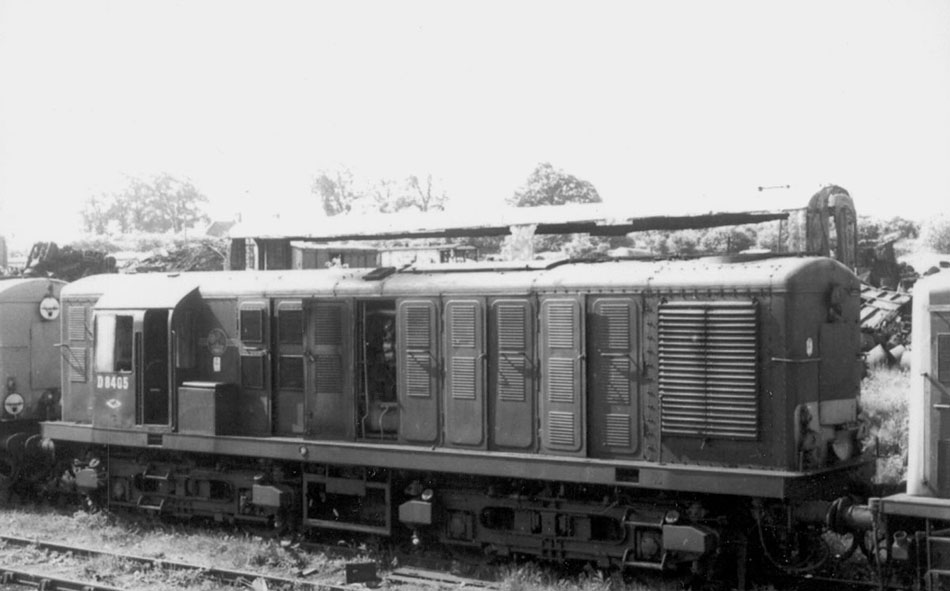 D8405, date unknown. D8405 was withdrawn from Stratford during September 1968 and broken up at Cransley between March & December 1969. Eight of the ten NBL Class 16s were broken up at Cransley, all during 1969.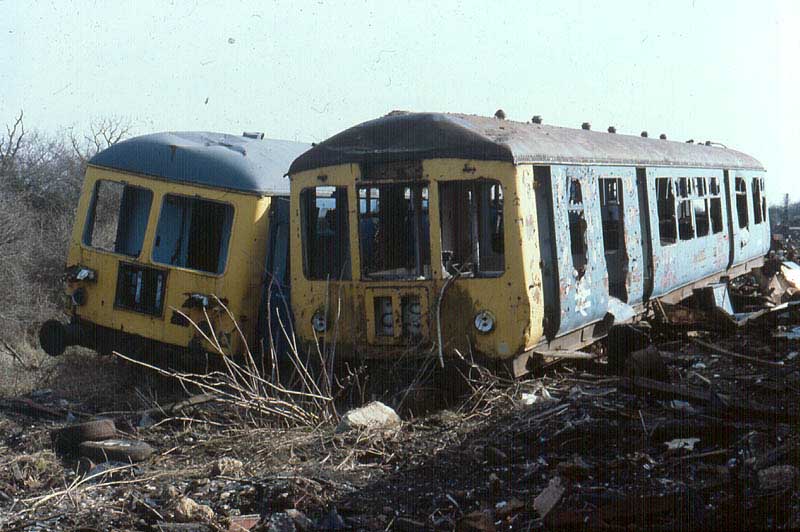 After many years of service over the byways of British Railways routes a couple of grounded diesel multiple units - 56310 & parcels unit 55998 await their fate at Cohens Yard on March 2nd 1980. Both had been withdrawn in 1972 and both would spend at least five years dumped in Cohen's yard.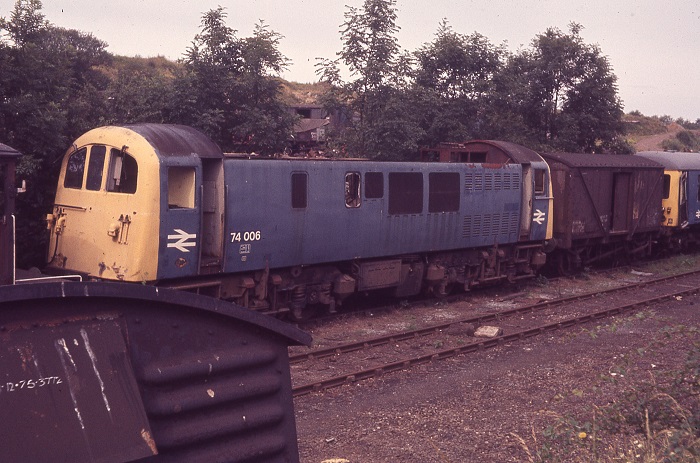 The yards south of Kettering station often contained locomotives/coaches/wagons destined for Cohen's yard, which was not visible from the main line. A visit to the yard on July 7th 1977 found 74006 awaiting scrapping. Withdrawn from Eastleigh in June 1976 due to fire damage 74006 was the only Class 74 broken up here. One Class 24 ended its days here, D5088, as did a number of the WR Class 35 Hymeks.
Booth's, Rotherham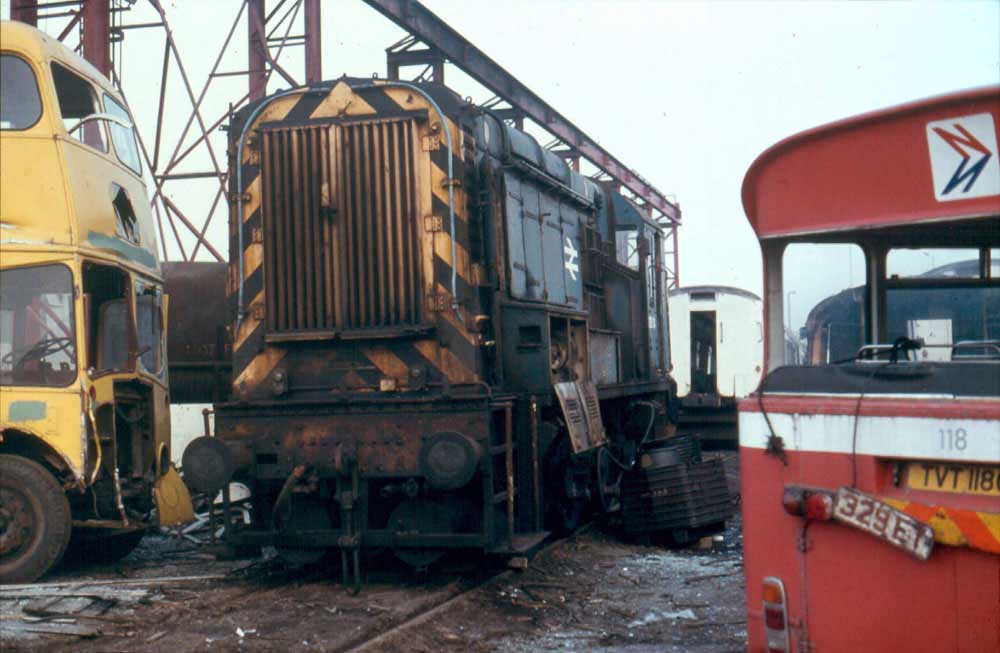 Photograph courtesy A Healey
A familiar locomotive in strange surroundings. A longtime resident of the Derby & Burton area 08014 awaits a gloomy fate at Booth's yard on November 8th 1981.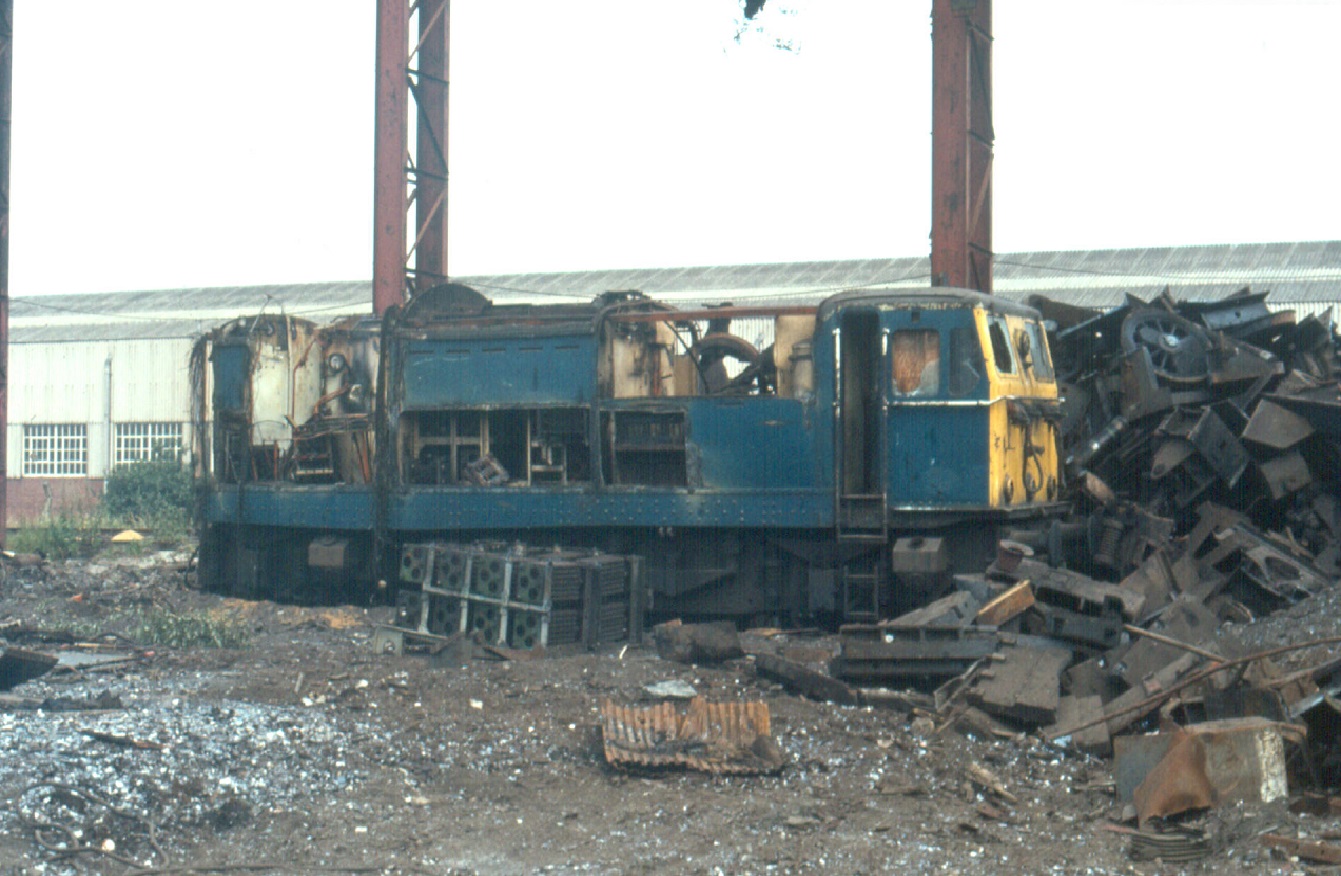 76007 July 16th 1983. 76007 was withdrawn from Reddish during July 1981, this being the last month for any of the Class 76s to remain in service.
Photograph courtesy A Healey.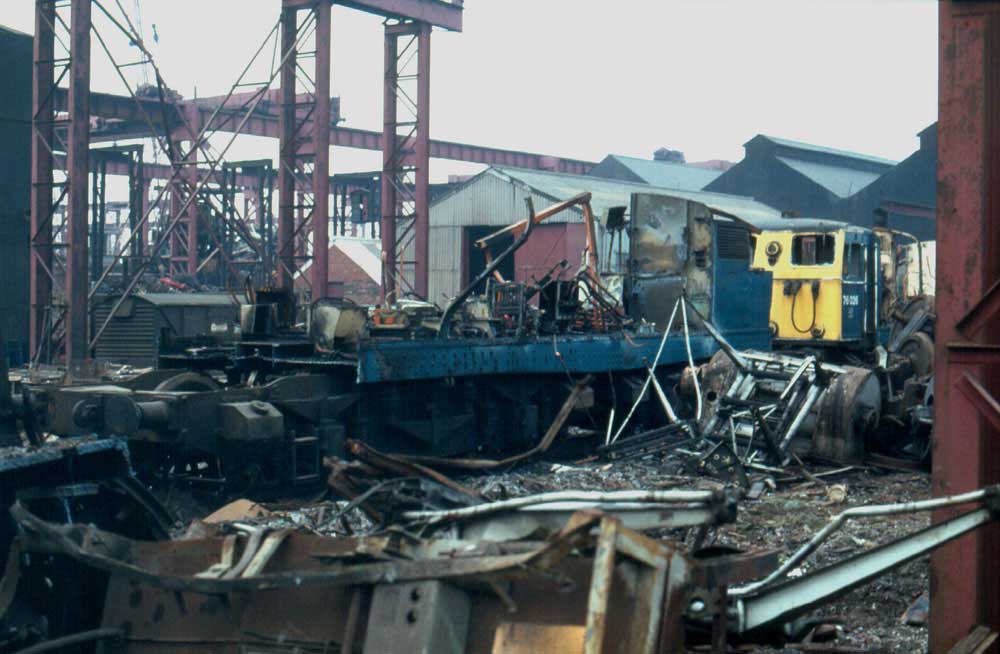 76009 July 16th 1983. 76007 was withdrawn from Reddish during July 1981, this being the last month for any of the Class 76s to remain in service.
Photograph courtesy A Healey.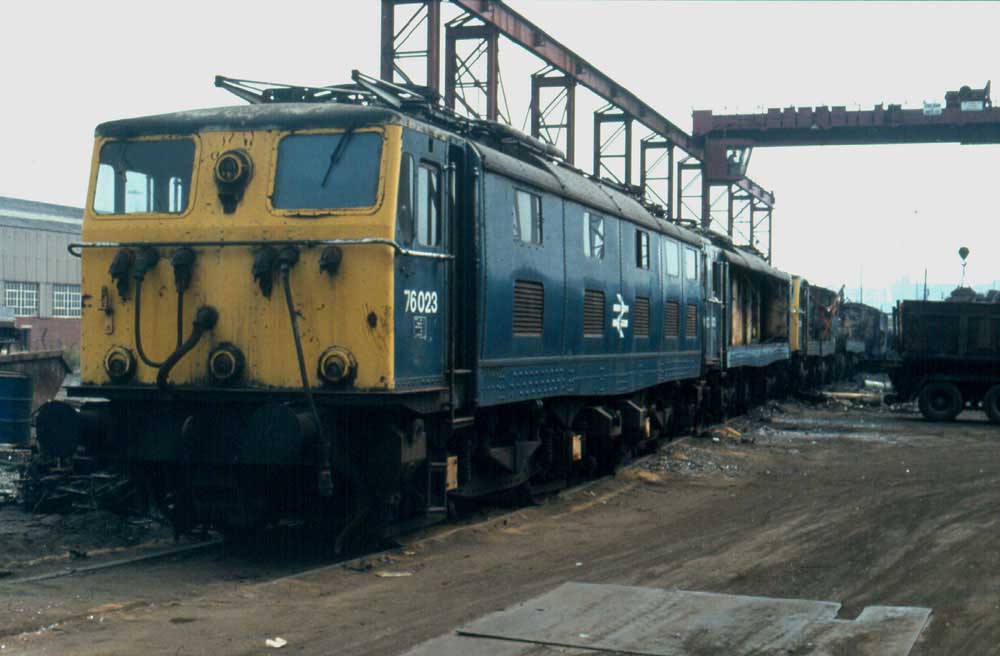 76023 July 16th 1983.
Photograph courtesy A Healey.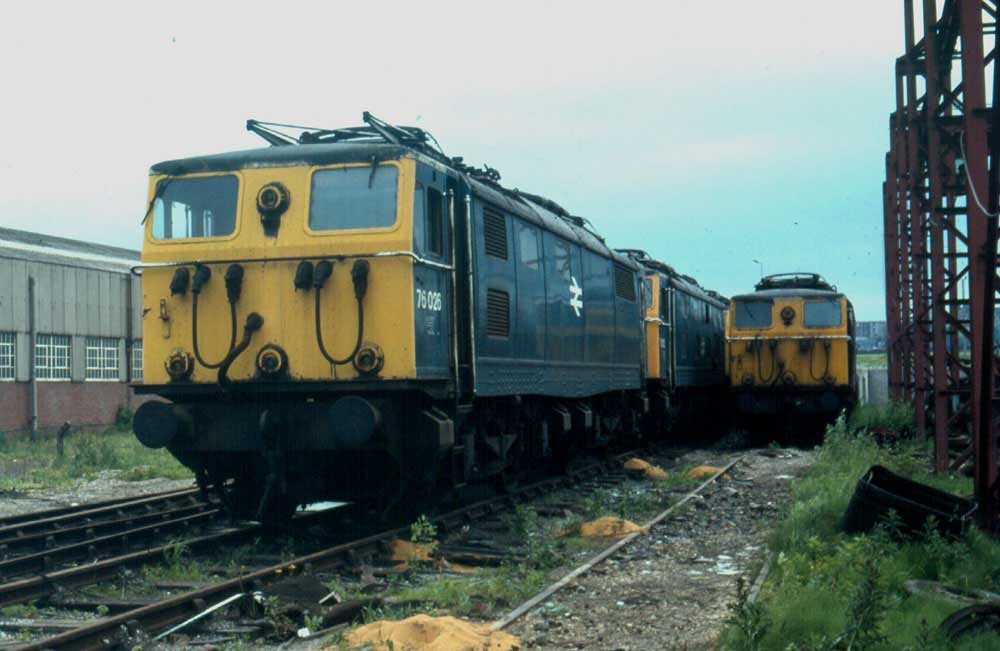 76026 June 29th 1983.
Photograph courtesy A Healey.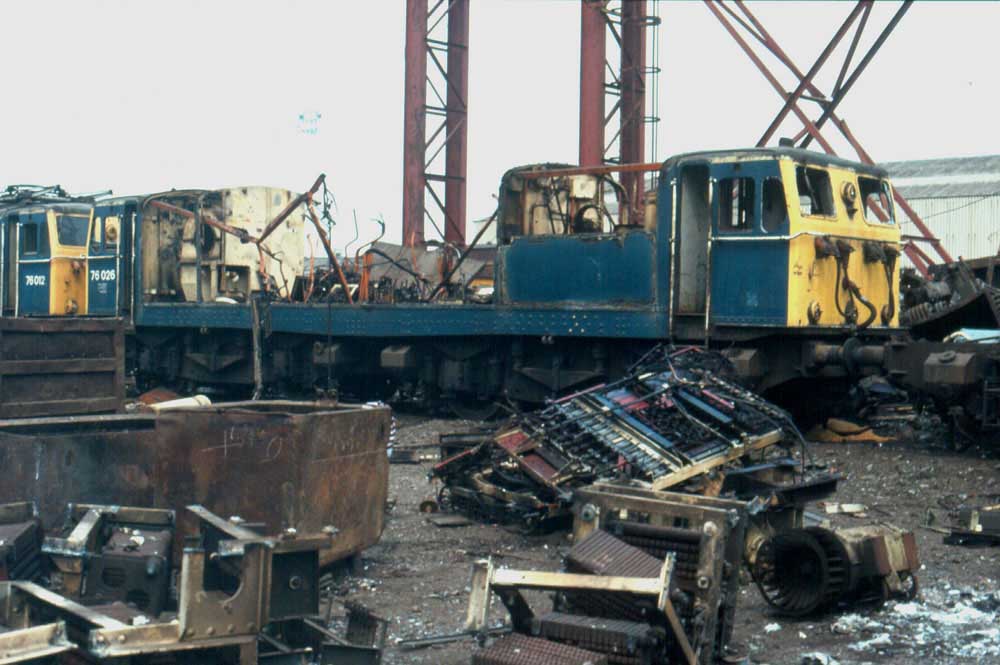 76026 July 16th 1983.
Photograph courtesy A Healey.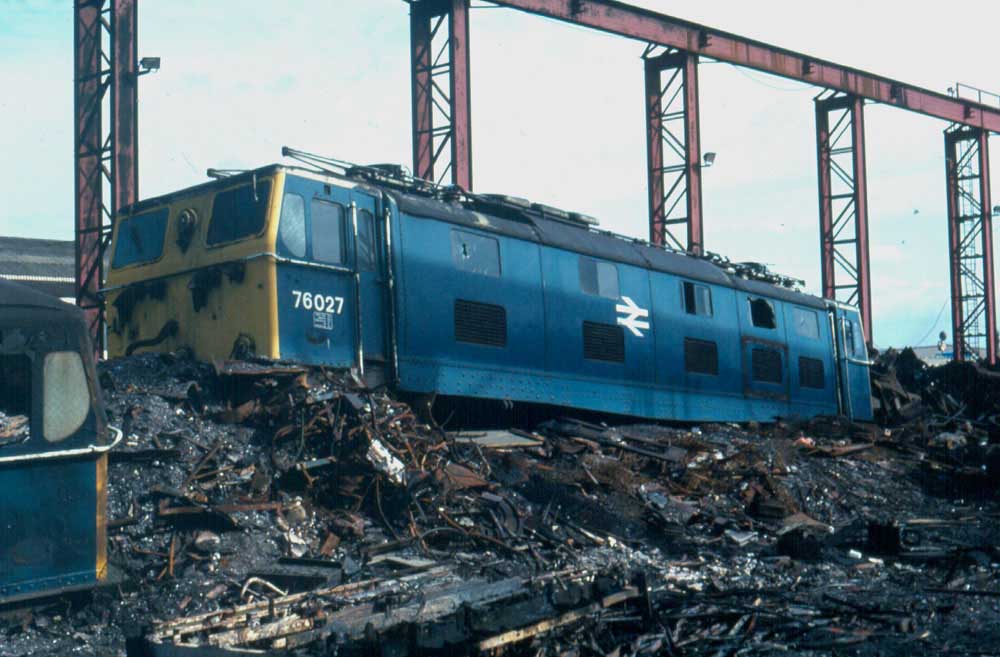 76027 July 16th 1983.
Photograph courtesy A Healey.
A couple of shunters, one industrial & one ex-BR await their fate at the end of a siding on January 18th 1981.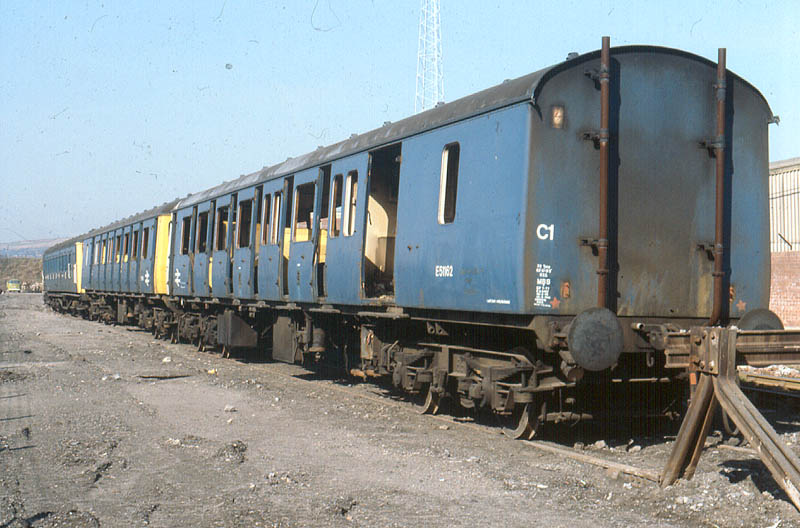 Former Kings Cross suburban DMU's 51162 & 51154 await scrapping, seen here on April 4th 1980. By the end of the month they will be no more.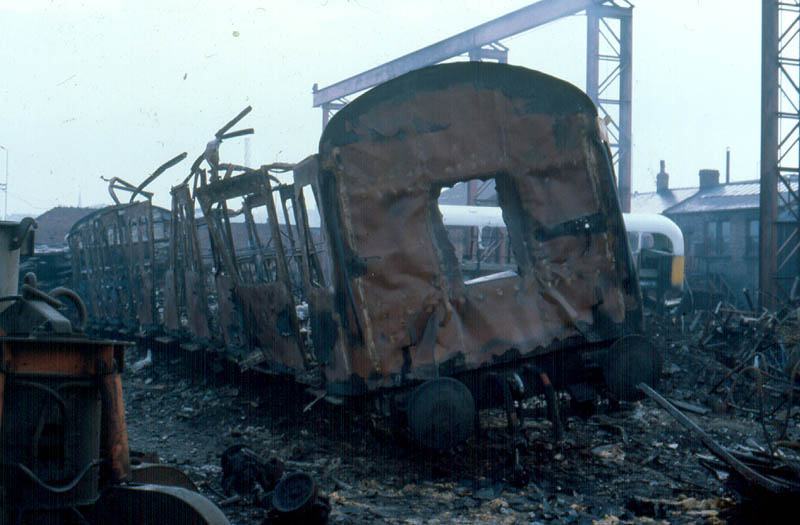 A miserable wet January 18th 1981 finds little recogniseable of BR Derby Works Class 125 DMU 59459. Withdrawn from Finsbury Park in February 1977 just over half of the twenty trailers in this class were broken up here.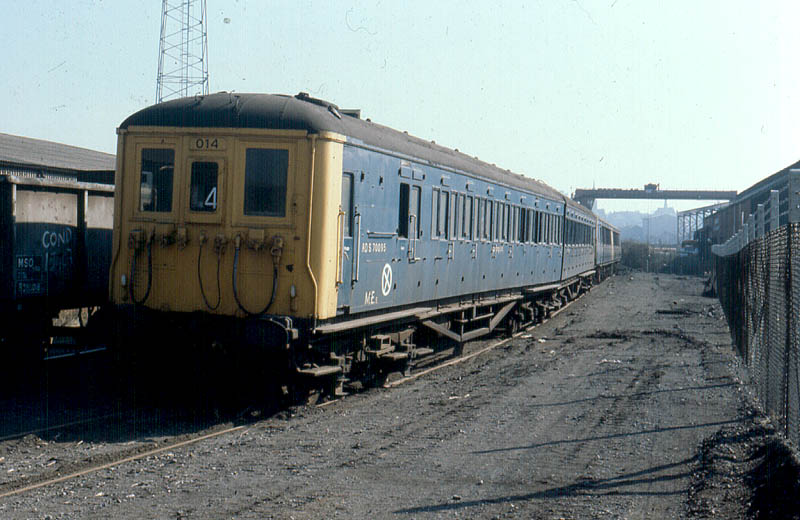 Departmental EMU 014 (lead vehicle ADS 70095) has come to the end of many miles worked during its career, just a few more yards into Booth's Rotherham yard, April 4th 1980.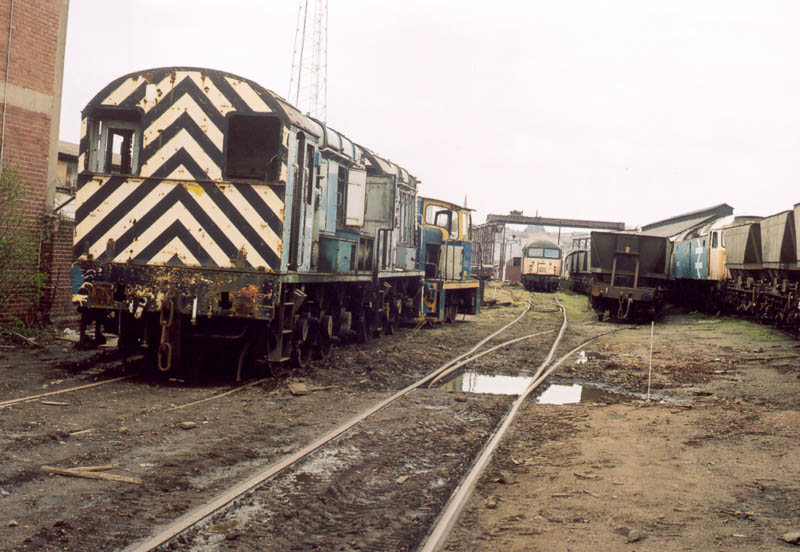 A visit to the UK in April 2004 included an hour or so wandering around the yard. This view shows two Class 08s, one of Booth's industrial shunters, 56003 & 47513 in the background. A big thankyou to the management and staff at Booth Roe for allowing this to be possible.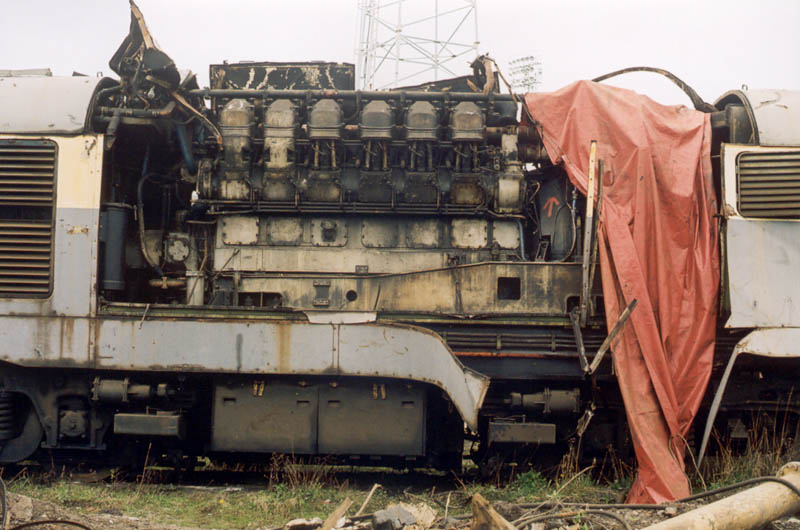 A partially sectioned Class 31 reveals its English Electric 12 cylinder 1,470hp power plant.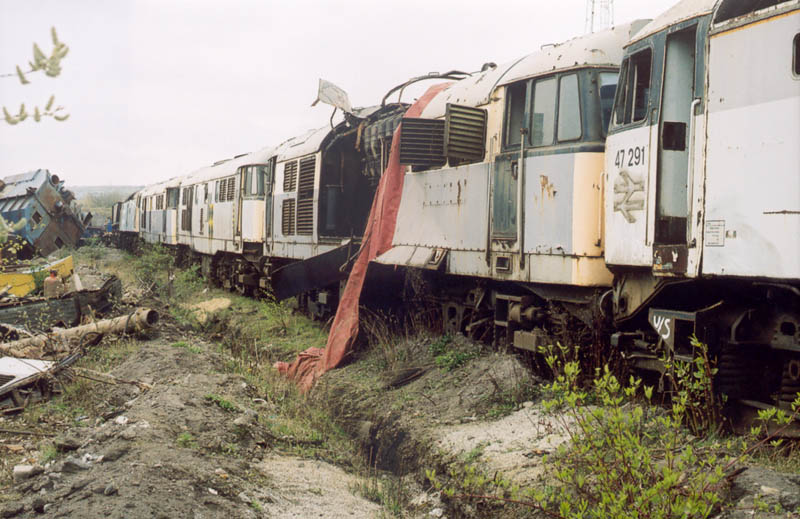 The principal line up this day at Booth's included two Class 47's and three Class 31's, there were several other machines scattered about the yard as well.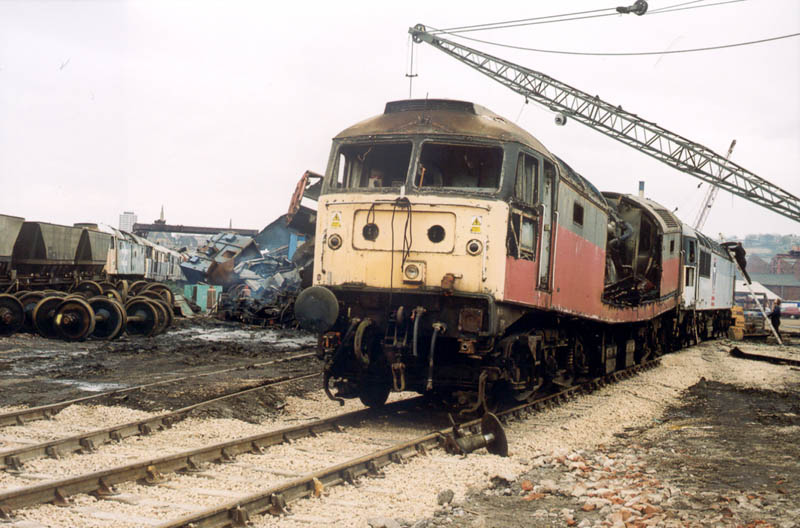 47476 & 56010 receive the attention of the cutters. The men working on 56010 were concerned about the location of any hydraulic systems on the locomotive prior to their cutting into the structure.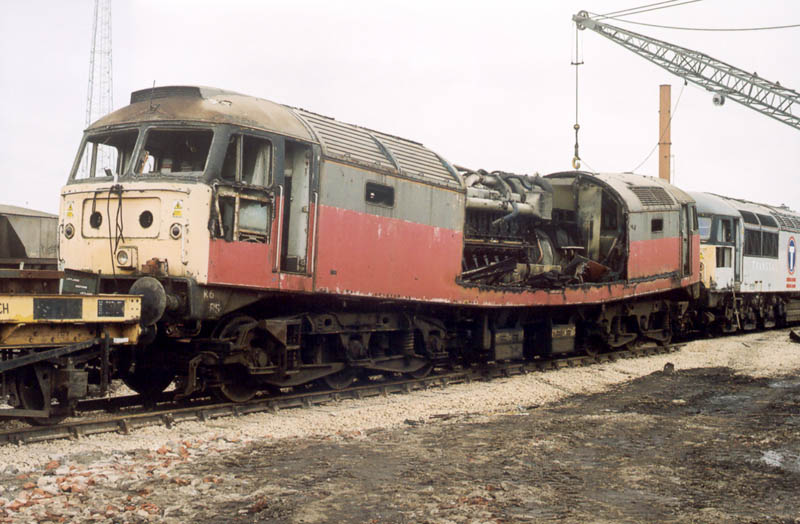 The cutting of the side panels on 47476 has taken away the integrity of the structure, leading to the bending of the body caused by the twenty ton weight of the Sulzer 12LDA28C engine and generator.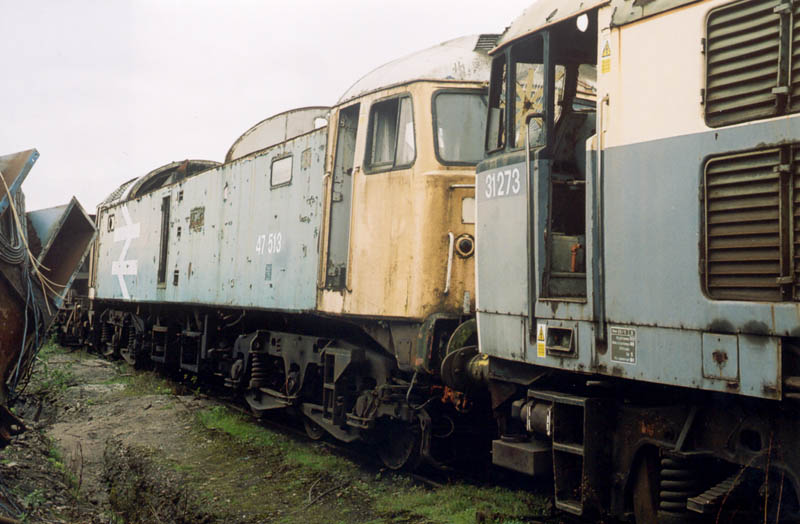 47513 seems to be little more than a shell in this view at the end of the line.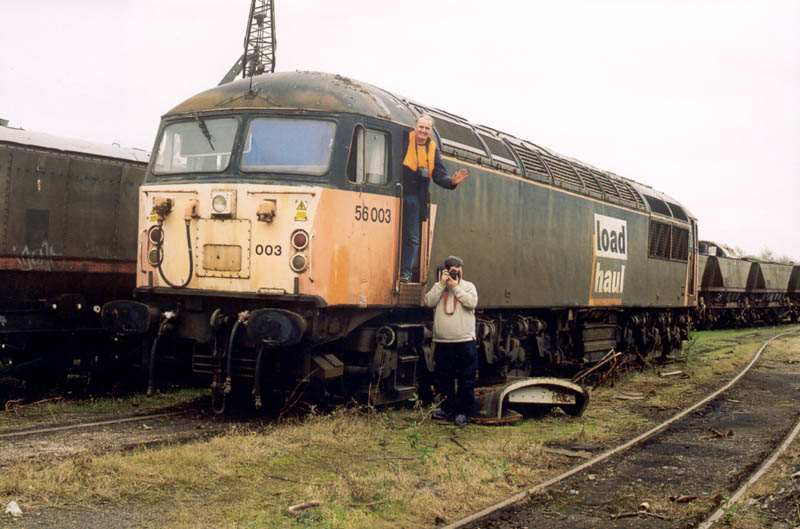 One bright spot in the yard was the presence of 56003 (seen here with two admirers), destined for preservation. Shortly after this view was taken the locomotive was moved into a more secure part of the facility by one of Booth's shunters.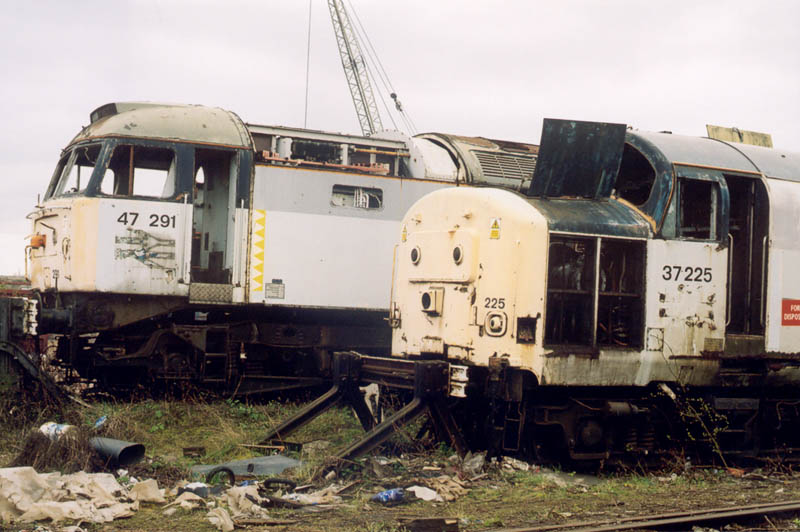 47291 & 37225 sit at the end of the line awaiting their turn for the cutters.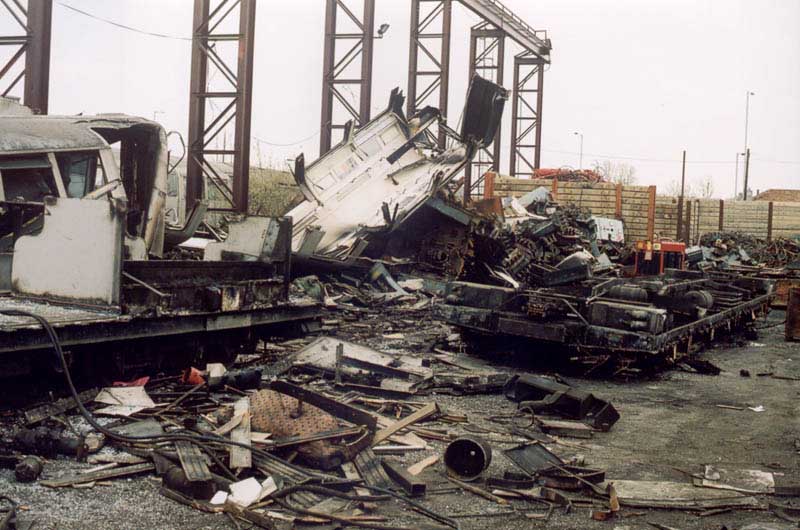 Other views taken at this site featured the scrapping of the Class 76's, now at the same location its the turn of some London Transport underground stock.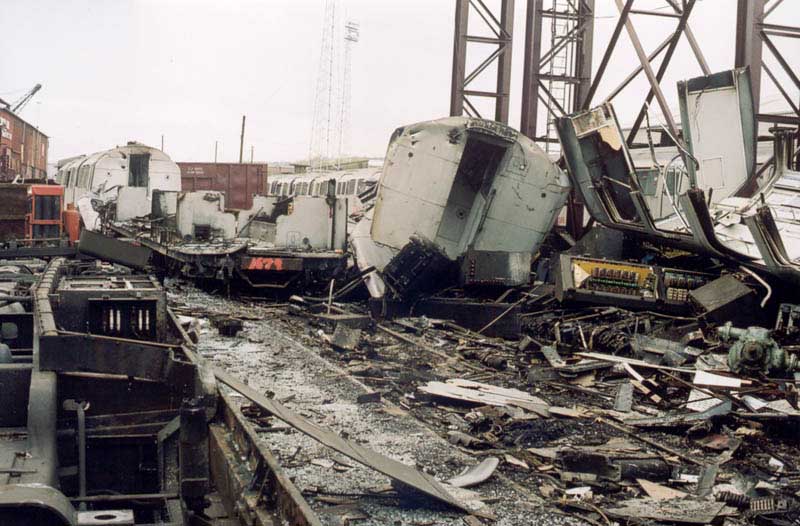 These two views show stock almost complete down to little more than underframes and scattered electrical components.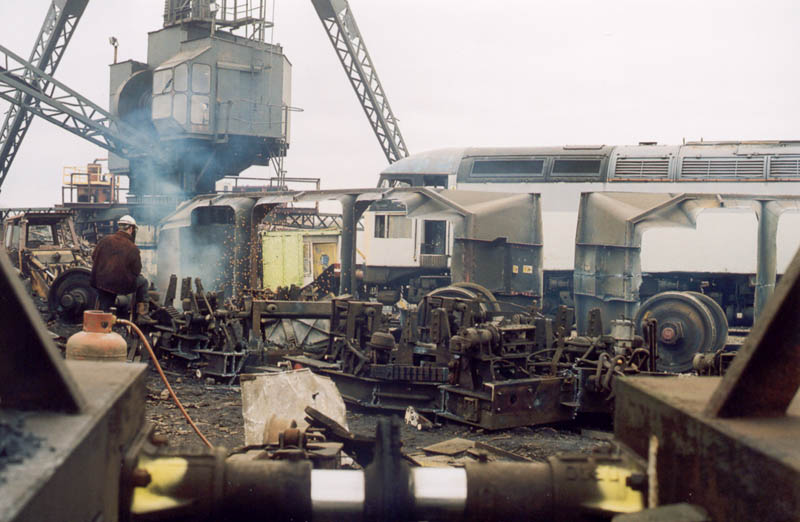 Principal activity in the yard this day was the cutting up of many merry-go-round wagons. In this view, with 56010 as a backdrop the wagon body has been removed from the frame and tipped on its side whilst the cutter sets about reducing the frame to manageable chunks.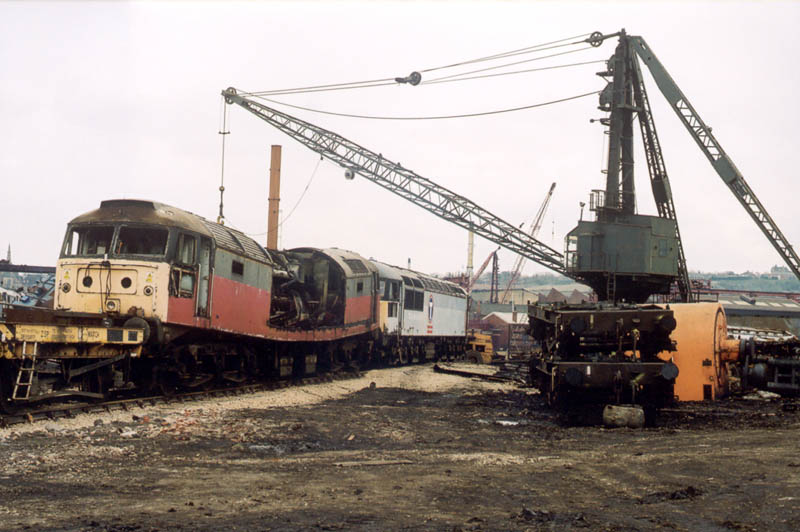 Another view of the area containing 47476 & 56010, with a large crane featuring prominently. Despite heavy rainshowers over the previous few days the majority of the yard was not too muddy.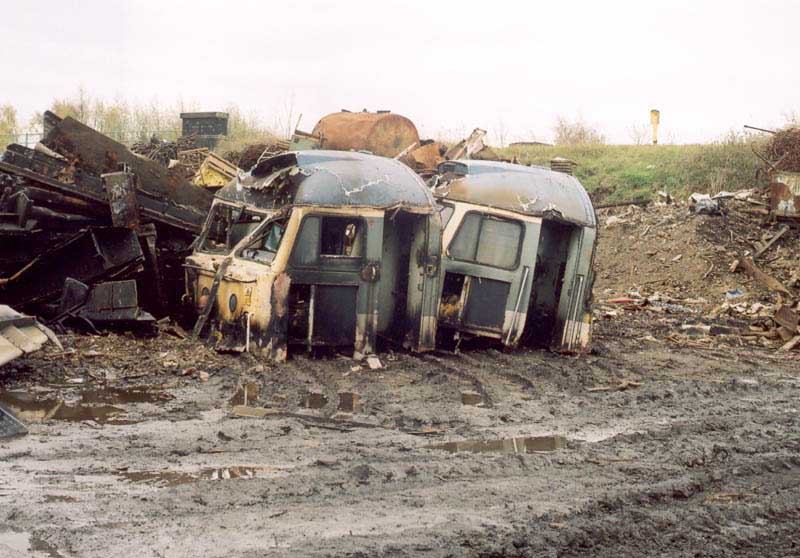 One of the muddier parts of the yard was home to a pair of Class 47 cabs, thought to be from 47310, presumably from the latest casualty to be cut up here.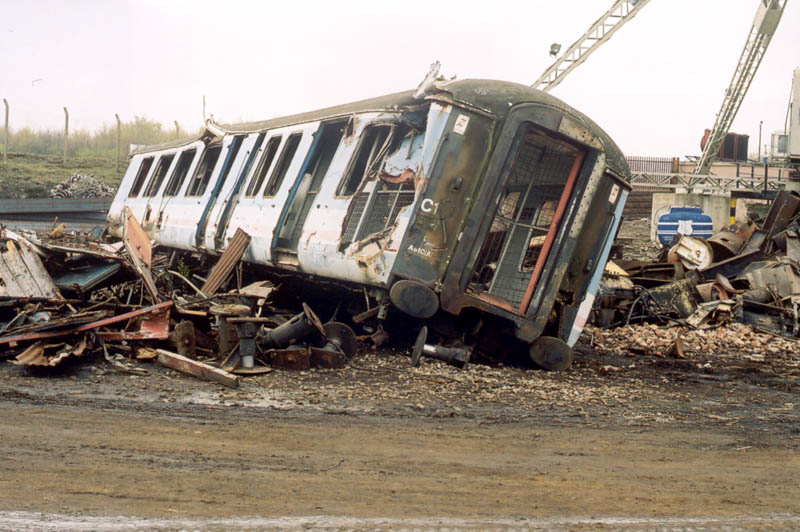 The only ex-passenger coaching stock in the yard was this one vehicle (977935?) awaiting scrapping.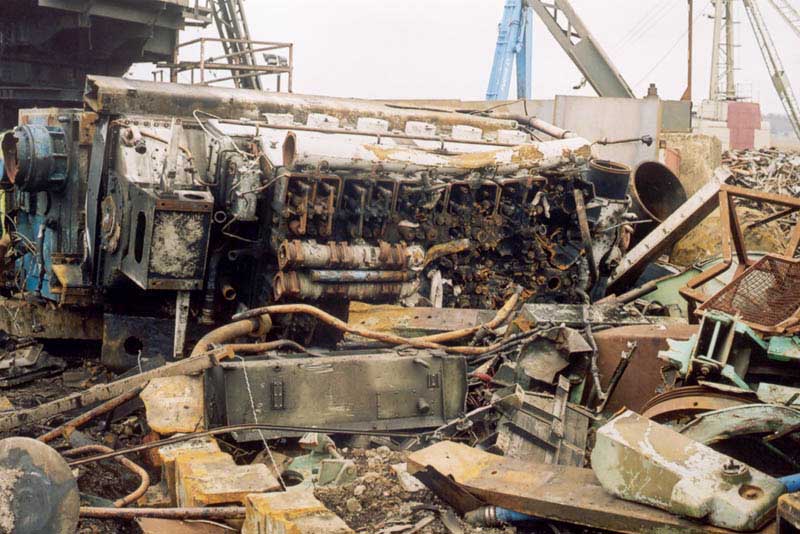 Its the end of the line for a Sulzer 12LDA28C 2,750hp engine, probably removed from recently scrapped 47310. Some forty odd years have passed since this engine was installed in a new Brush Type 4 at either Crewe or Loughborough.In this view the generator and the supporting frame extensions have been cut clean off.
Kilnhurst, South Yorkshire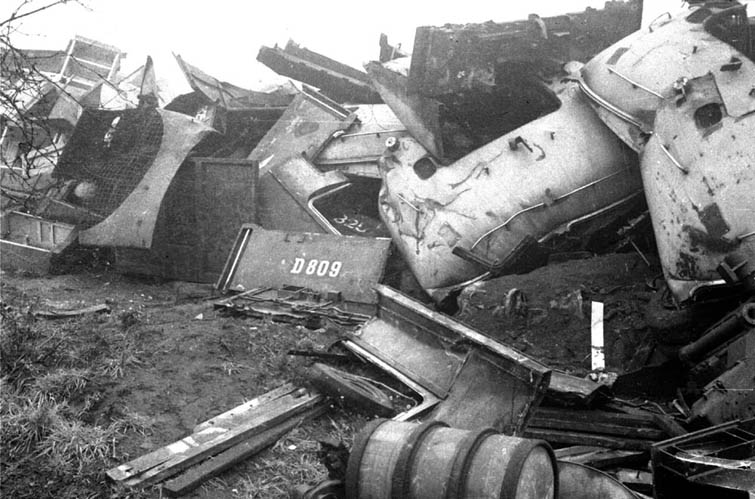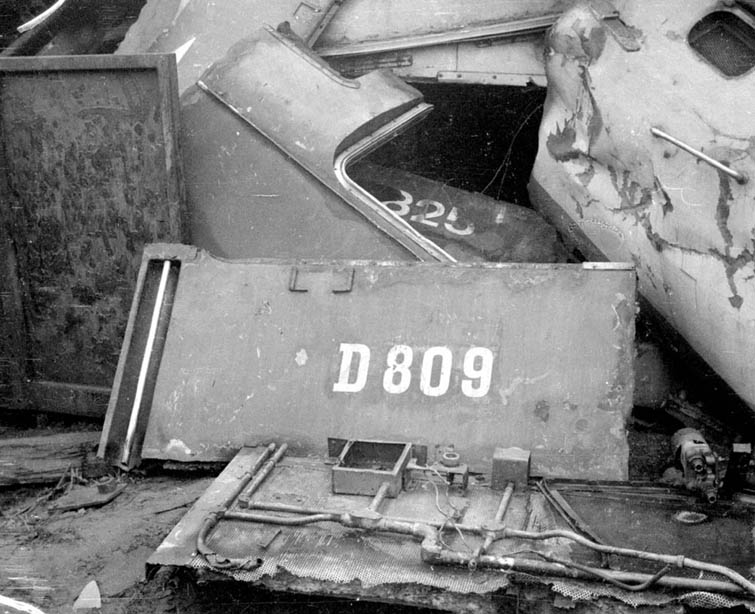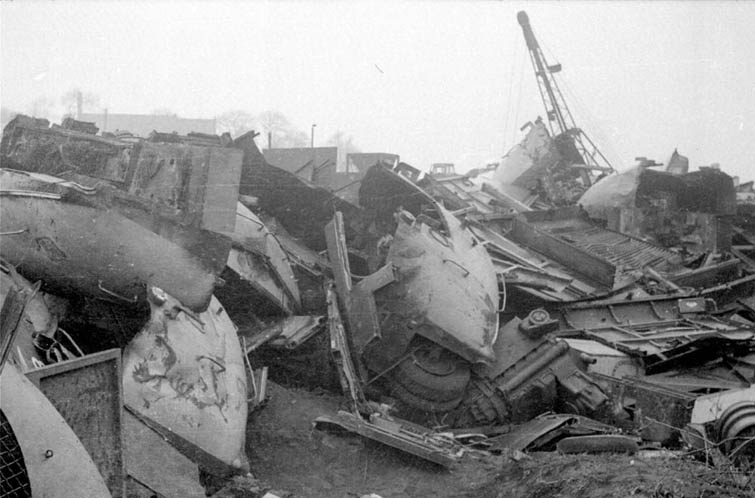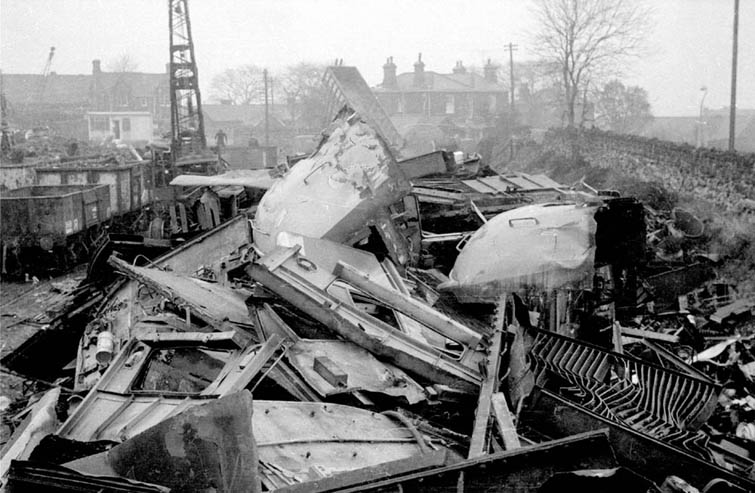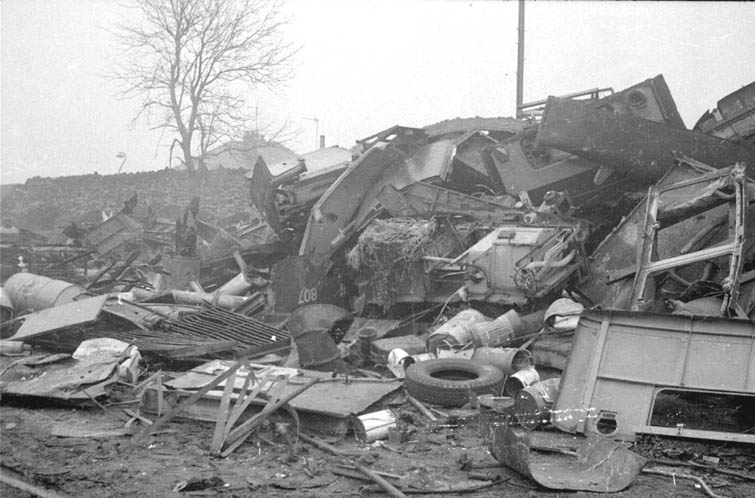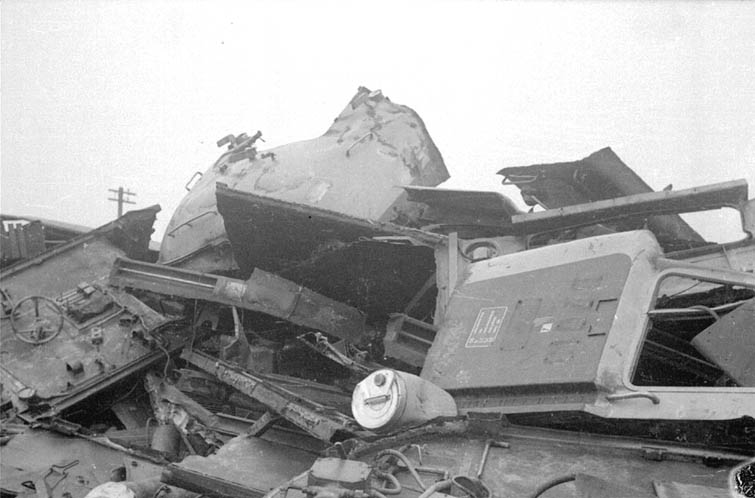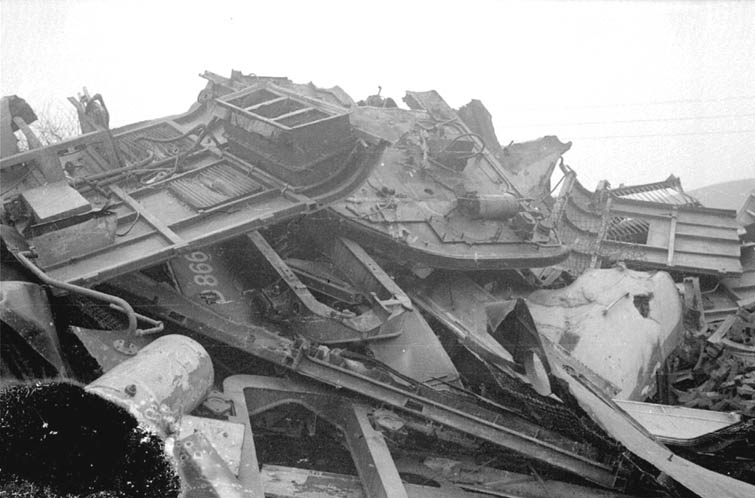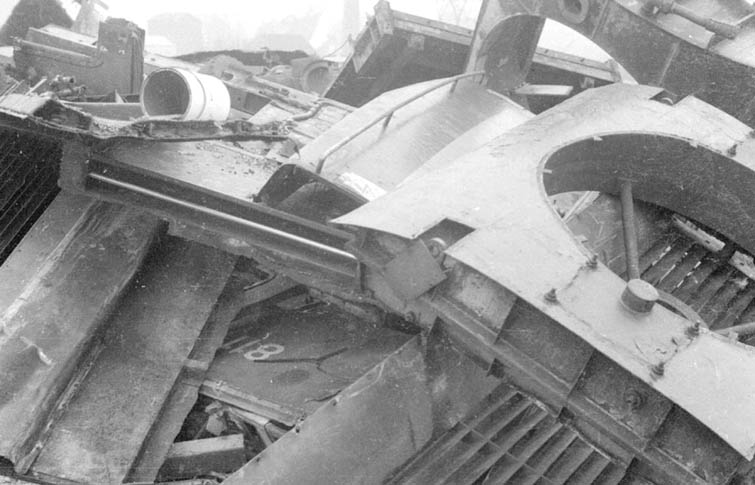 Late in 1972 word got around that a scrapyard at Kilnhurst contained piles of scrap composed of various ex-Western Region diesel hydraulics. The locomotives had not been towed here to be broken up, rather the scrap had come from Swindon for re-processing by a Kilnhurst metal processor. Whilst this has absolutely nothing to do with the Class 24/25's there is a Sulzer connection in that scrap was also received from Glasgow Works, which was rumoured to represent various Claytons and Class 26 D5328!
I would like to thank David Rogers for these most interesting views, of a location which I've never seen published elsewhere.
Page added September 18th 2001.
Page updated May 26th 2005.