Although fitted with the up-rated 1,250hp engine the body shell was almost unchanged from the earlier Class 24 builds. Intended for freight service none of this batch were equipped with boilers, this detail being visible in the lack of a water tank slung under the frame.
During December D5156 & D5157 moved to Gateshead (52A) in exchange for D5112 & D5113.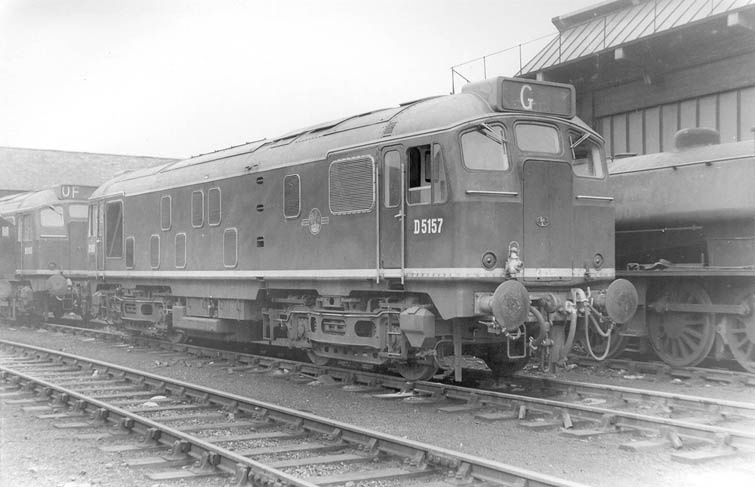 From the collection of Rex Conway
D5157 stands at Thornaby not too long after delivery. It has gained a good coating of dust and a '51L' shed plate on the cab front. In contrast to the first view, this one reveals the other side of the locomotive, with two rows of four air filters, in contrast to the three/four arrangement on the other side. Although this batch of locomotives were not boiler equipped they carried a through steam pipe, the steam pipe fittings being clearly visible on the buffer beam. In later years this connection would be removed.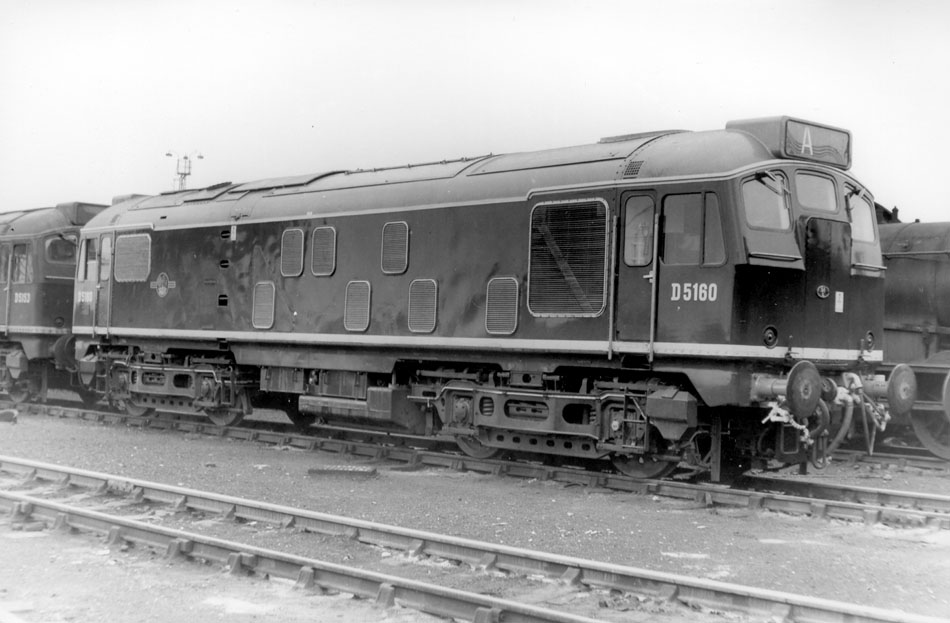 Photograph courtesy Rex Conway collection
Dust has yet to settle on the still shiny paintwork of D5160 at an unknown location, perhaps Thornaby. A shed plate has already been added to the cab front, as has an electrification flash.

1962
By April the last of the batch, D5175 had been delivered. At the same time Thornaby gained two 'new' brake tenders, built at York, for use on the loose coupled coal & mineral trains that abounded on Teeside. These were built to overcome a deficiency in the braking capacity of many of the Modernisation Plan diesels including the Type 2's.
The work that the Type 2s took over at Thornaby was un-glamorous, especially with their lack of passenger workings and all this is reflected in their absence from reporting of the contemporary railway scene. However on August 29th a Teeside - Skipton ammonia tank working was tested with D5377 and brake tender, with a possible future plan to dieselise this turn.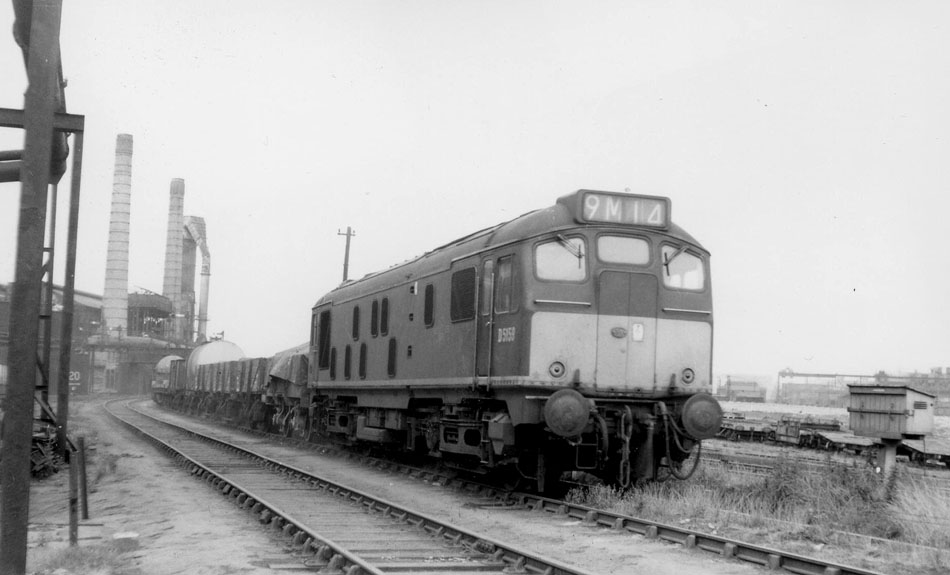 Photograph collection of K Taylor.
D5159 at Cargo Fleet on July 4th 1962 doing the work that they were designed for. Visible is the through steam pipe connection and hose, the 25/0s were not boiler equipped.

1963
On March 4th Thornaby's Type 2's took over the duties of the closing Northallertion (51J) shed. The six remaining steam locomotives were transferred to Darlington (51A).
The full dieselisation of Thornaby was delayed for the summer months as the English Electric Type 4s recently transferred from Gateshead were returned for the duration of the summer timetable.
In the early hours of July 31st D5160 was involved in a fatal accident which revealed troubling issues related to the locomotive and its crew. D5160 & brake tender was in charge of the 1.0am Class 8 freight from Tees Yard to Northallerton, travelling ahead of it was the 1.30am Class 8 freight from Tees Yard to Washwood Heath hauled by a Class 37 and brake tender.
Just north of Rounton Gates signal box the Northallerton bound freight rear ended the Washwood Heath train, impact speed was approxiamately 30mph, the leading train was barely moving having just started to pull away from a signal stop. D5160 had been propelling a 35ton brake tender, which demolished and set fire to the brake van of the leading train. The wagon next to the brake van, a 40ton bolster wagon carrying rolled steel lost its bogies and was thrown upside down across both running lines. The brake tender was demolished in the collision, D5160 rode over it sustaining severe damage to the cab.
The guard of the Washwood Heath train was severely injured in the collision and died shortly after reaching the hospital. The investigation showed the driver of D5160 to be a troubled man. He was approaching retirement age and had been driving diesels for about five months. He had suffered from dizzy spells for about fifteen months prior to the accident, since transferring to diesels his stomach had troubled him, unable to keep down food after he had been driving diesels. Cooking smells also upset him, at the time of the accident the second man was in the rear cab cooking up his breakfast of bacon and eggs on the hotplate. At this time all nightime diesel workings were doubled manned to provide protection for the crews in case of drowsiness brought on by the more comfortable environment found in the diesel cabs. The second man had been in the rear cab for about fifteen minutes and had not monitored any of the signals. Additionally the guard of the train admitted to only a casual observance of the signals on that trip.
The driver could remember nothing of the final moments of the journey, either because of a spell of dizzyness or drowsiness imparing his actions. Equally as disturbing was the operation of the deadman's pedal, which although found to be in proper working order after the collision appeared to have been operational by the action of a downward pressure lower than that prescribed by the manufacturer - if the driver had fallen asleep the weight of his legs would normally have been inadequate to keep the pedal depressed. In the case of the pedal in D5160 it was operating outside of its designed specifications and allowed the locomotive to operate with the driver incapacitated, therefore making the device virtually of no use.
During August D5160 was noted in Darlington Works & Yard presumably for accident repairs.
During October the remaining steam locomotives at Thornaby were placed in store. This however proved to be premature as there were still insufficient diesels to cover all the diagrams. This situation was not helped by the loaning of four Type 2s to West Auckland shed from October 7th. They were to be used on eight of the depot's twenty diagrams. These goods turns included workings to Wear Valley (2), Tow Law, Waterhouse (Esh) and Tyne Yard. All the other turns involved the numerous mineral workings to Teeside. The first week of November found D5158/63/70/72 working these turns.
On October 17th whilst returning from St John's Chapel D5155 collided with a dump truck on Broadwood level crossing. 76045 was used to rescue the train whilst 63343 later brought home the damaged Type 2.

1964
West Auckland shed finally closed on February 1st, its twenty one turns to be taken over by seven Thornaby Type 2's, with the locomotives stabling in Shildon Goods Yard. During those last weeks before closure the proportion of diesels to steam had slowly increased, such that on the final day there were two steam and seven diesel locomotives present. It was left for D5154 to become the last locomotive off shed to take the 2.55pm mineral train from Brancepeth Colliery to Belasis ICI plant, after the job was done D5154 returned to Shildon. On a weekly rotation they returned to Thornaby for maintenance.
During September D5156 & D5157 returned to Thornaby from Gateshead.
By the beginning of March the Thornably steam allocation comprised seventeen locomotives: V2-4; Q6-5; J27-3; WD 2-8-0--3; LMS Class 4 2-6-0 --2. Dieselisation was hoped to be completed with the arrival of at least five Clayton Type 1s, D8588 had arrived on March 20th.
A second attempt to completely dieselise Thornaby occurred on December 13 when 65859 was moved to Darlington (51A), leaving Thornaby with no active steam allocation.

1965
Excursions run from Middlesborough to Scarborough on July 25 & August 1 utilised Thornaby Type 2's. These ran round at York and were the first passenger trains over the Scarborough line since it closed on March 1. These summer extras would be normally the only passengers trains handled by D5151 - D5175.
The allocation for Thornaby as at October 30 was: 237-240/46/73, 399, 1889, 2070/76/77, 2107/53/54, 2306/07/16/17/20/31/38, 3137-51, 3876, 5151-75, 5370-78, 6755-57/59-74/76-80, 8588-91.

1966
During January Thornaby's entire allocation of BRCW Type 2's, D5370 - D5378 was exchanged for D5248 - D5256. The actual transfers were made in batches with D5248 - D5250 moving from Leicester to Thornaby early in January in exchange for D5370 - D5372, the crews changing at Rotherham Masborough.
On February 5 D5158 was noted southbound through Northallerton hauling three scrap steam locomotives (48392, 76040 & a V1).
D5248 - D5255 were all transferred to Leeds Holbeck (55A); in May (D5248 - D5253) and June (D5254 & D5255).
At the end of the summer two of Thornaby's Type 2's were noted carrying two styles of experimental flourescent warning panels on the cab fronts. D5158 carried a green panel whilst D5159 carried a red panel, being so noted on September 6 whilst working ammonia tanks from Haverton Hill.
At the end of the year D5154 & D5155 were transferred to York (50A), whilst their loss was covered by incoming D5176 & D5178.

1967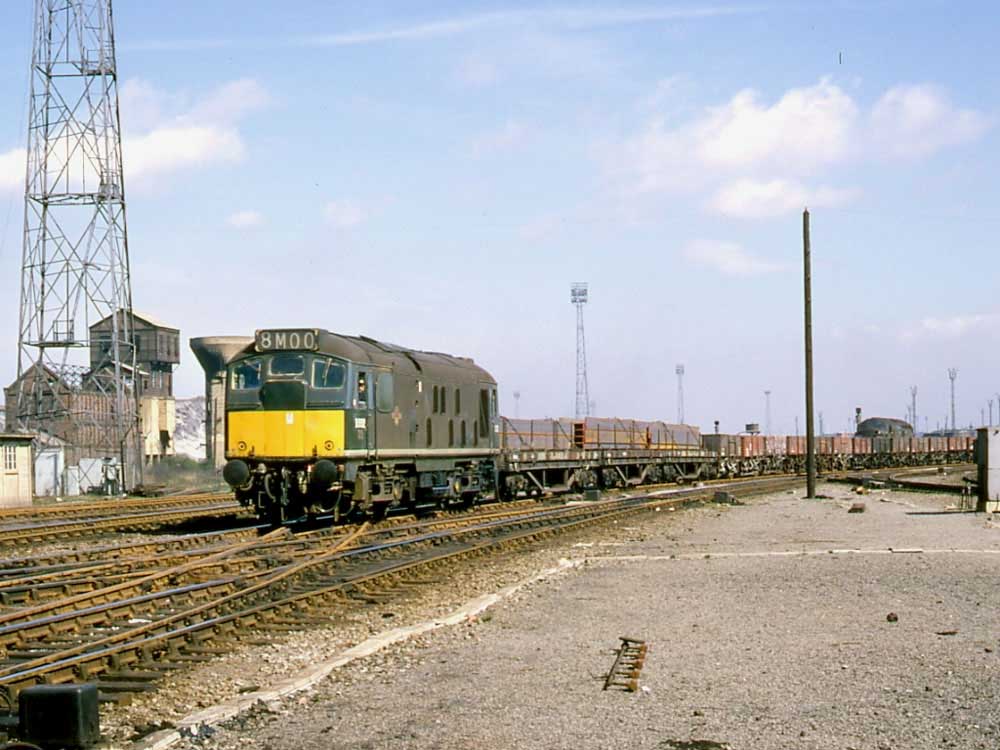 Photograph courtesy Bill Wright.
Steam is not quite gone, the majority of the diesels are still green and freight trains can still produce an awesome variety of wagons. Its April 17th 1967 as D5152 leaves Tees Yard with what appears to be a lengthy train of steel products. Although the cab front and cab sides have been cleaned the remainder of the locomotive is coated in layers of dirt & dust. D5152 would spend just over five years allocated to Thornaby.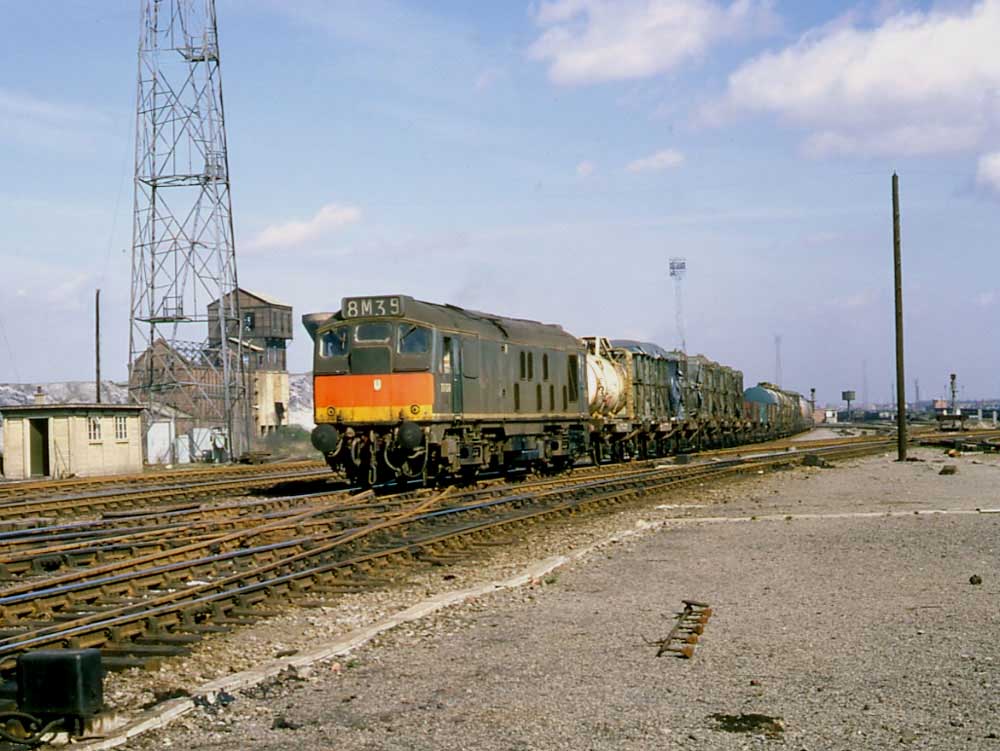 Photograph courtesy Bill Wright 'Barkingbill'
A wonderful view of D5159 leaving Tees Yard on April 17th 1967. The orange flourescent warning panel, only carried on this locomotive is clearly visible. Of equal interest is the fascinating selection of goods wagons being pulled along by D5159, and no doubt filled with many chemical products from the industrial complexes on Teeside.
During June D5166 - D5169 moved to Gateshead (52A). D5168 was noted in July freshly repainted in blue livery.
Further transfers in September found D5151 moving to Gateshead (52A) whilst D5154 & D5155 returned to Thornaby, who then sent D5176 & D5178 back to Leeds Holbeck (55A).
An Open Day at Holbeck on October 30, as a tribute to the few remaining Jubilees found over seventy locomotives on 'display', evenly split between steam and diesel types. Included in the diesels was Thornaby based D5173.
November proved a hectic month as resources were gathered to finally remove the last remnants of steam in the North West. As part of this re-shuffling of resources D5151 - D5156 were loaned to Carlisle Kingmoor (12A), whilst Gateshead returned D5166 - D5169. The latter two of that batch were soon moved elsewhere with D5168 - D5172 going to Leeds Holbeck (55A) late in November.
Thornaby's allocation at year end was: 237-40/73, 2046/57/67/68/70/76-78/93/99, 2107/49/53/54, 2205, 2306/07/16/17/20/31/38, 3137-3150/82, 3672, 3942/43, 5157-5167, 6755-80/85-87, 8310-15.
Of the original twenty five Class 25's sent to Thornaby D5151 - D5156 were now at Springs Branch (8F) and D5168 - D5175 were at Holbeck (55A).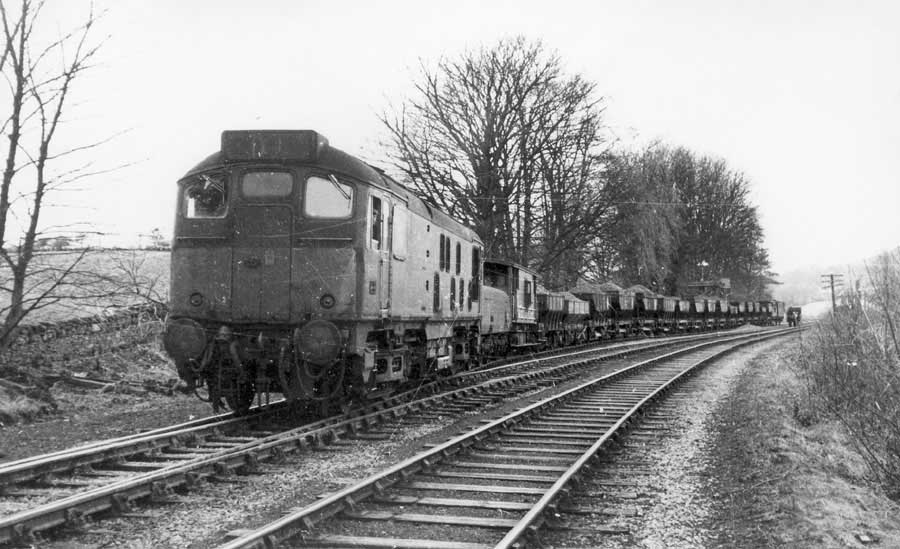 Photograph collection of K Taylor.
A dull winter's day during 1967 finds an unidentified Class 25/0 collecting ballast from Broadwood Frosterley, one of many small quarries on the branch from Bishop Auckland to Wearhead. This particular section of line lost its passenger service back in June 1953.

1968
With the arrival of more Class 37's in October 5166 - 5167 moved to Holbeck (55A).
Thornaby's allocation at year end was: 1101/02, 1758/59/69/70/90/97, 1880/81, 2046/57/61/65/67/68/70/76/77/93/99, 2107/49/53/54/55, 2205/43, 3141/43-45/49, 3242, 3321, 3406, 3503/04, 3672, 3913/42/43, 5157-5165, 6711/12/55-80/85/86, 6820-24/27/29, 8599-8604.
5151 - 5156 were now at the Manchester Division (D09) and 5166 - 5175 were at Holbeck (55A).

1969
Freight haulage was still the order of the day for Thornaby's nine remaining Type 2's, however on April 8th 5158 rescued a failed 6782 working the 11.40am Lincoln - Newcastle at Darlington, taking the train forward to Newcastle.
During May 5165 moved to Holbeck (55A).
At year end 5157 - 5164 remained at Thornaby, 5151 - 5156 were still part of the Manchester Division (D09) and 5165 - 5175 were at Holbeck (55A).

1970
During 1970 a number of the Type 2's returned to Thornaby, 5165 in March and 5166 - 5168 in May. However in November 5167 - 5168 returned to Holbeck (55A).
At year end 5157 - 5166 remained at Thornaby, 5151 - 5156 were still part of the Manchester Division (D09) and 5167 - 5175 were at Holbeck (55A).

1971
5170 - 5171 were loaned by Holbeck to Thornaby from January to March, whilst in July 5157 - 5158 also moved to Holbeck (55A).
During May the first Class 31's (5534 & 5819) arrived at Thornaby for driver training, by August 5159 & 5160 had moved to Holbeck (55A).
The timetable changes in October brought a vast re-organisation to the BR diesel fleet. A major clear out of the remaining Scottish NBL & Clayton types as well as heavy pruning of parts of the WR hydraulic fleet led to over one hundred and twenty withdrawals and a much greater number of transfers between depots. Five of Thornaby's seven remaining Type 2's moved on : 5157 & 5161 to Eastfield (65A) and 5162 - 5164 to Holbeck (55A). for 5161 - 5164 this was their first move away from Thornaby. This left only 5165 & 5166 still remaining at the Teeside depot.
During November 5167, 5170, 5172 returned from Holbeck to Thornaby. As the year closed out the original twenty five Type 2's were now spread across three regions and five depots as follows:
5151 - 5156 : Manchester Division (D09)
5165 - 5167, 5170, 5172 : Thornaby (51L)
5168, 5171 : Gateshead (52A)
5158 - 5160, 5162 - 5164, 5169, 5173 - 5175 : Holbeck (55A)
5157, 5161 : Eastfield (65A)

1972
The eleven year association between the Class 25's and Thornaby came to an end in January when 5165 - 5167, 5170 & 5172 were transferred away to Holbeck (55A), their work at Thornaby taken over by five recently transferred Class 31's.

Finale
The October 1972 timetable changes saw the Class 25/0's split between Tinsley (5151 - 5161) and Eastfield/Haymarket (5162 - 5175). By Feb 1975 all the Scottish examples had moved south to Tinsley, bringing the entire Class together for the last time. Their time together was brief, between August 1975 and February 1976 nineteen returned north to Eastfield to cover the major withdrawals of the Class 24's. Of the six locomotives that remained behind, five were in store at Barrow Hill, the other withdrawn at Derby Works with collision damage.
The remaining locomotives suffered a chequered fate. Some went through Glasgow Works for classified repairs whilst others fell by the wayside, providing valuable spares for the Scottish Type 2 fleet. The hardy survivors lasted until December 1980, after withdrawal making the long journey down to Swindon Works for breaking up. None reached preservation.
The final fate of the original Thornaby allocation (25001 - 25025)
| | | | | | |
| --- | --- | --- | --- | --- | --- |
| Loco: | Last Depot: | Withdrawn: | Stored | Despatched to: | Broken up by: |
| 25001 | Eastfield | Sept 80 | ?? | Swindon Oct 80 | Dec 80 |
Final Journies
25022/24 Barrow Hill - Glasgow Works March 18 1976
25016/17/20 Barrow Hill - Swindon March 10 1976
25015 Derby - Toton - Doncaster Works June 10 1976
25001/13/19/21. ? - Swindon October 10th 1980 (at Durham behind 40006), noted overnight at Thornaby, then 16th 07.20 York-Swindon inc. 31274, led by 25001.
25010/11/23/87 Millerhill? - Swindon February 21, 1981: hauled by 25010.
25002/005 Eastfield - Swindon March 7, 1981
Undated and other views
Views below are either undated views relating to the Class 25's allocated to Thornaby or visitors to the depot in the shape of other depots Classes 25/45/46's. Because of strong traffic flows and the location of Thornaby, it would be host to the Class 25's up until their demise in March 1987 and to August 1988 when the final Class 45's were taken out of service.
Photograph collection of Rex Conway
D5169 with brake tender makes a striking pose, probably at Thornaby not too long after delivery. The last Works attention for 25019 came at Glasgow during the summer of 1978, at which time it received a repaint.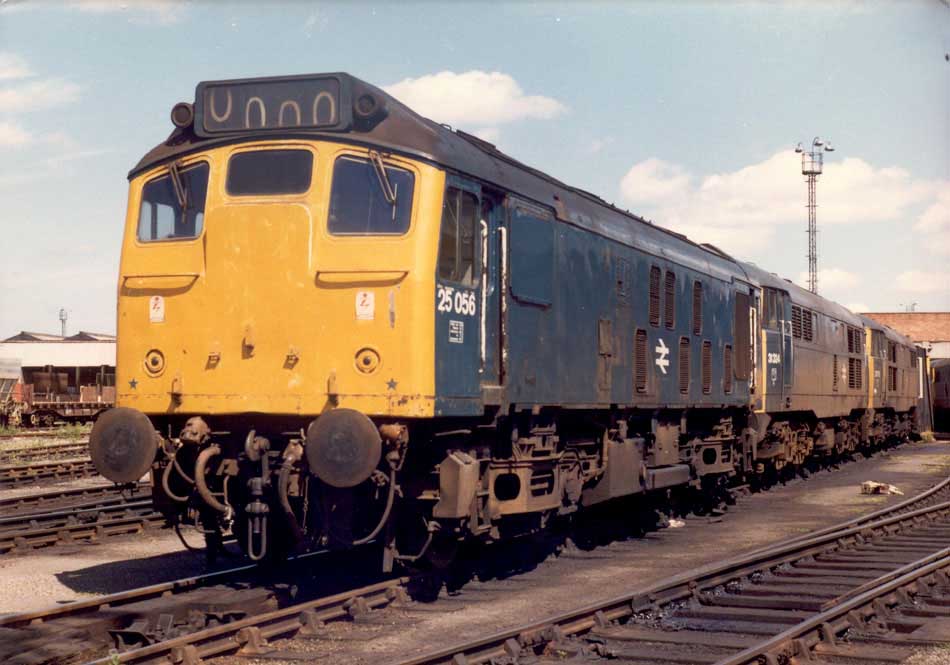 Photograph courtesy Jerry Glover.
25056, 31324 & 31178 catch the sun at Thornaby on June 14th 1981. This was the last full summer of operation for 25056, it would be withdrawn from Kingmoor during August 1982.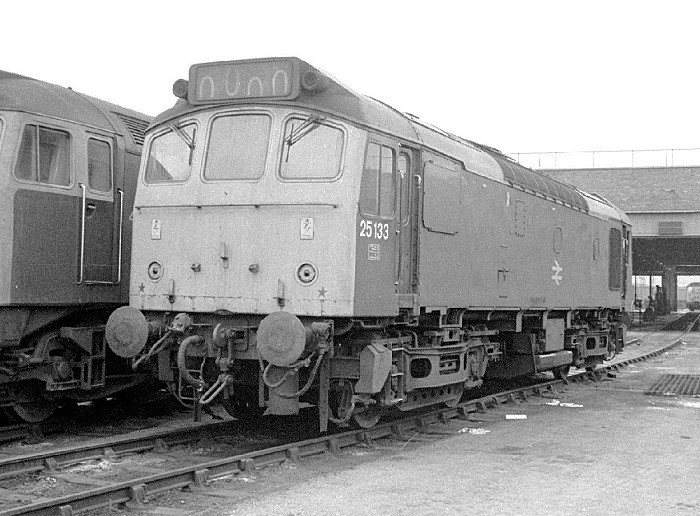 Photograph courtesy Tony Sayer.
On April 22nd 1978 25133 is photographed stabled at Thornaby awaiting its next turn of duty.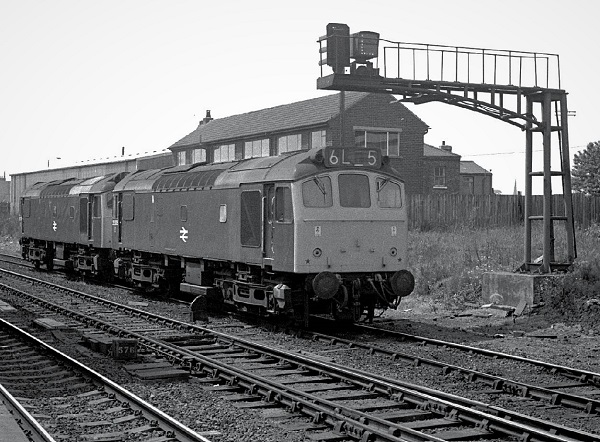 Photograph courtesy Tony Sayer.
A pair of Class 25s led by 25205 pass Thornaby on June 12th 1975.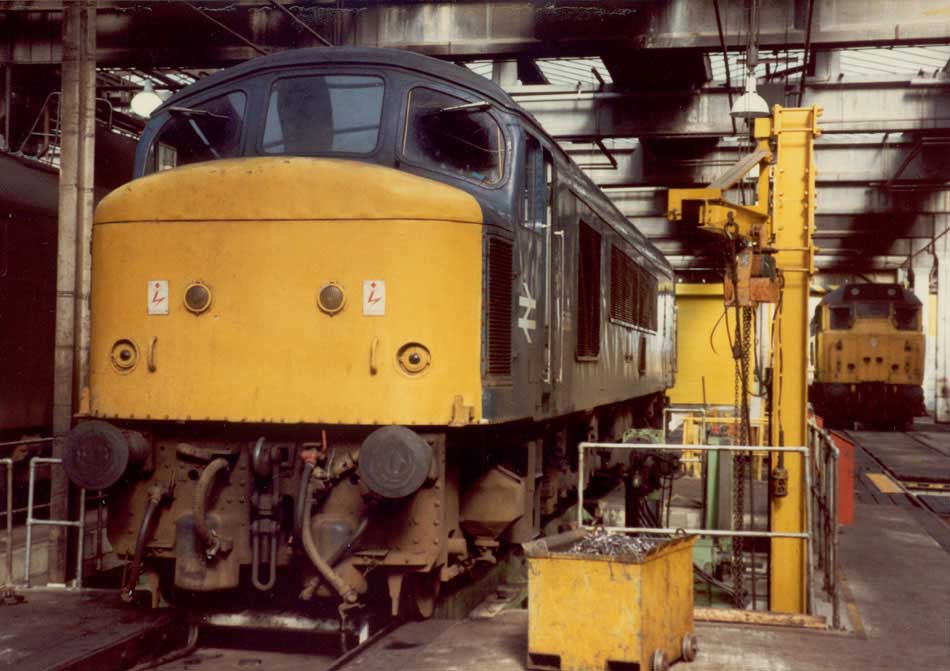 Photograph courtesy Jerry Glover.
45056 & 31320 on August 22nd 1982. Not every depot had a wheel lathe for re-profiling the tyres, Thornaby did have a lathe and consequently received visitors from time to time that required its use.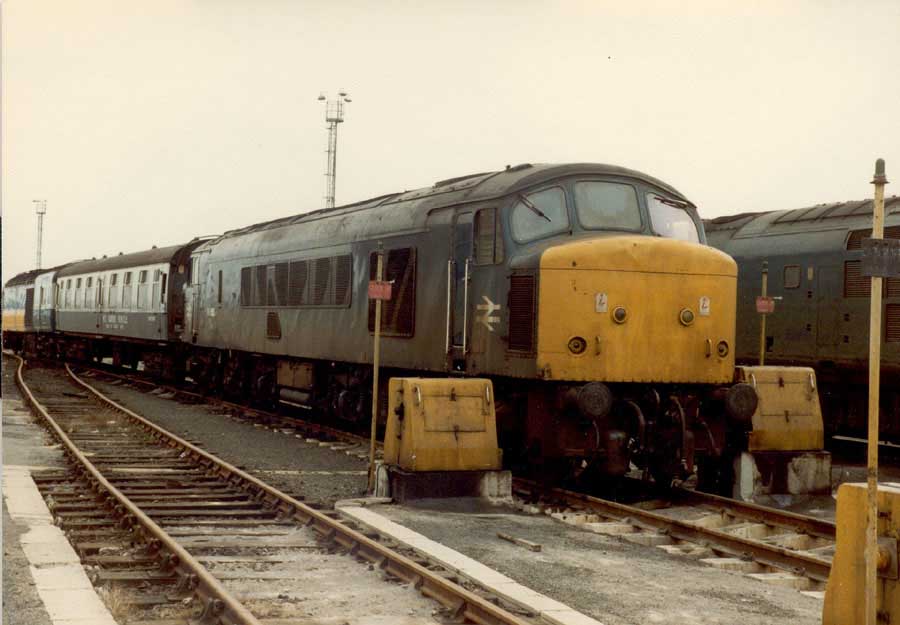 Photograph courtesy Jerry Glover.
46052 with barrier vehicle and HST power car on April 25th 1982. 46052 remained in service almost until the end of the Class 46's, being taken out of service at the end of September 1984.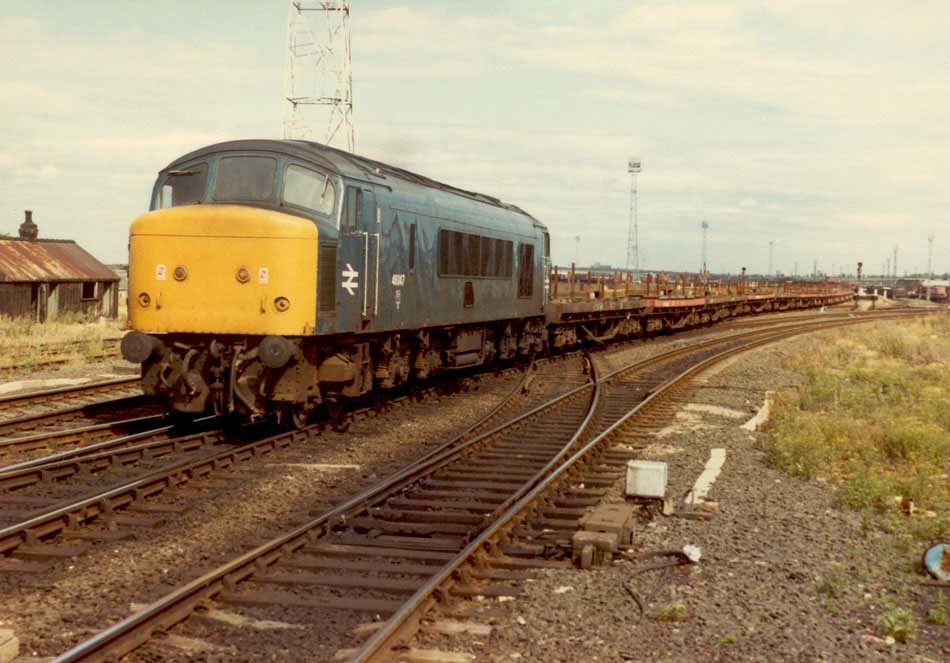 Photograph courtesy Jerry Glover.
A glorious view of 46047 and its train of empty bogie wagons at Thornaby on August 18th 1982. 46047 was another Class 46 to run almost until the end of the Class 46's, being taken out of service at Gloucester early in September 1984.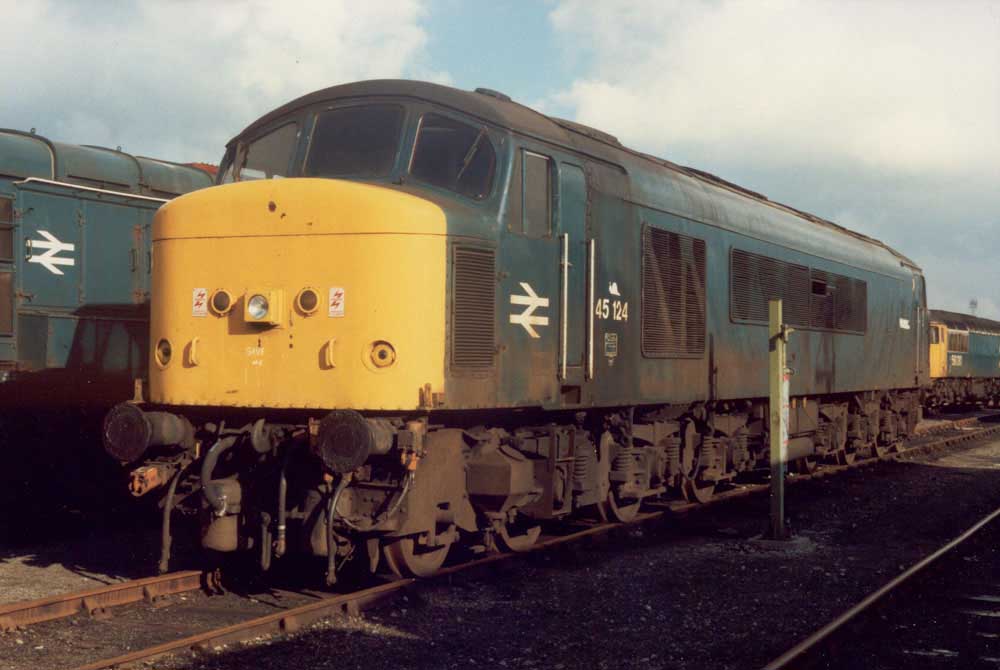 Photograph courtesy Jerry Glover.
45124 in the sun on February 15th 1987. This was the first of the Class 45's to be put through a refurbishment program at Crewe, commencing during 1982. This would carry it through to December 1987 when it suffered a bogie fire at Leicester leading to its withdrawal.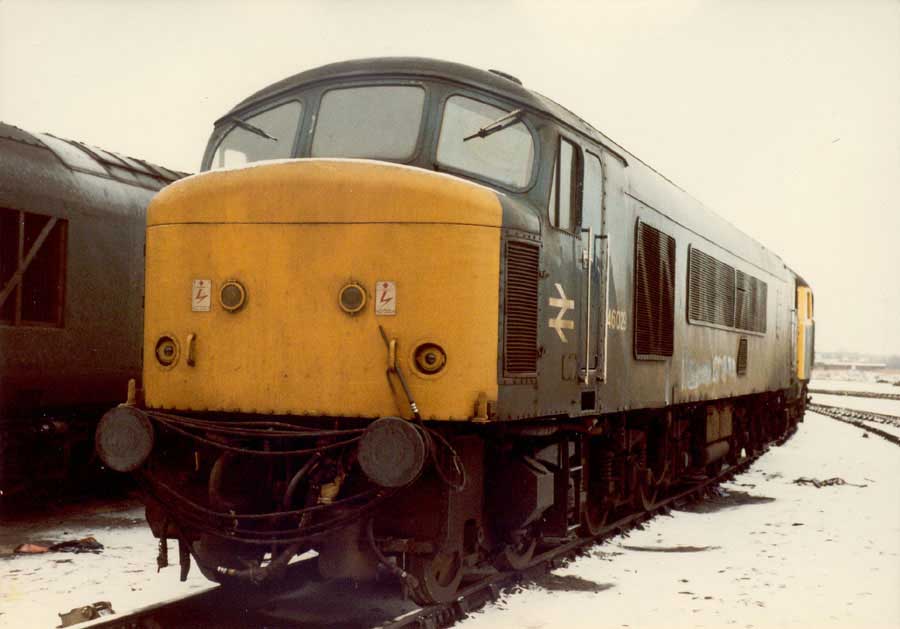 Photograph courtesy Jerry Glover.
46029 basks in wintry weather on December 13th 1981, complete with a steam lance attached to its steam heat connection. 46029 has just over a year left in service, being withdrawn from Gateshead at the end of January 1983.
Page added July 24th 2001.
Last updated December 30th 2019.