25 twilight around Watford
& a selection of withdrawn 25's.'25 twilight around Watford'
From the photographic files of Ian Hammond.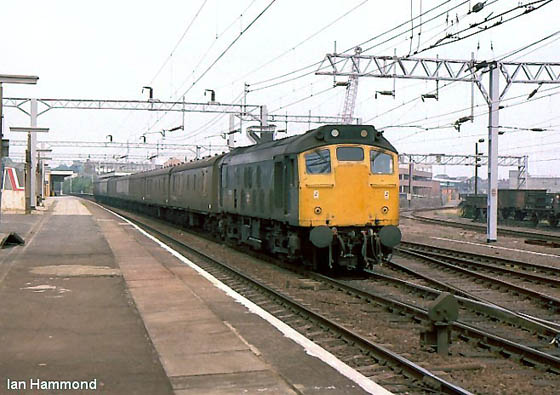 Its a hazy July 5th 1985 and the slumbers of Watford are disturbed by the passing of 25059 hauling the 1A88 Hemel Hempstead - Euston parcels. This would be the last Class 25/1 in service, albeit of an unusual nature dragging three locomotives from Buxton to Crewe. This locomotive was eventually to reach preservation.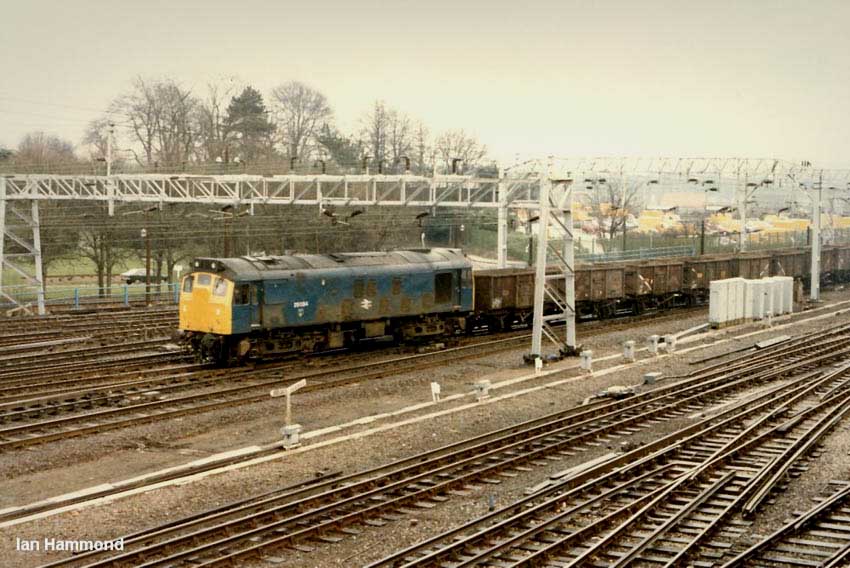 A fine view of 25034 passing Watford with the 8T81 Willesden - Liddlington Tip on a very damp looking April 3rd 1986. This locomotive would not see the year out, being withdrawn from Crewe on December 22nd 1986.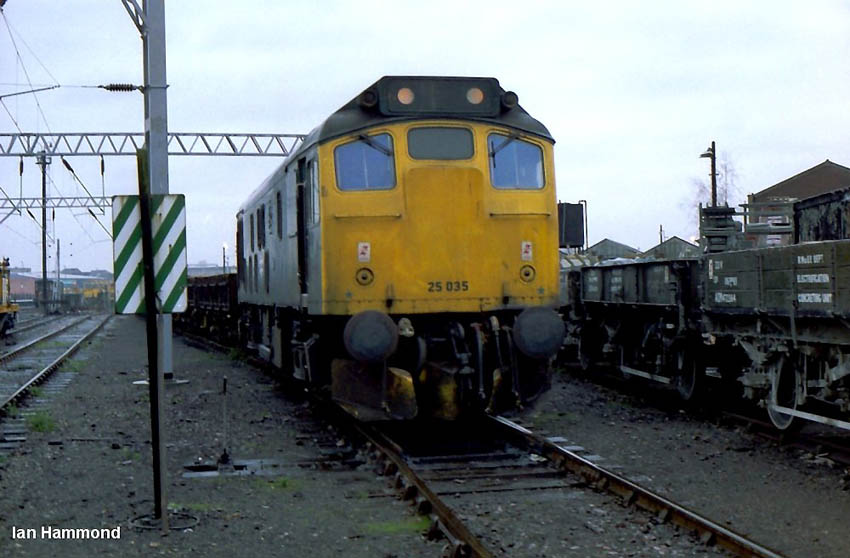 An extremely dull day at Watford Yard sometime during 1986 reveals a rather grimy 25035 carrying out a local duty. Class 25s were regular visitors to the southern end of the WCML right up until their final demise.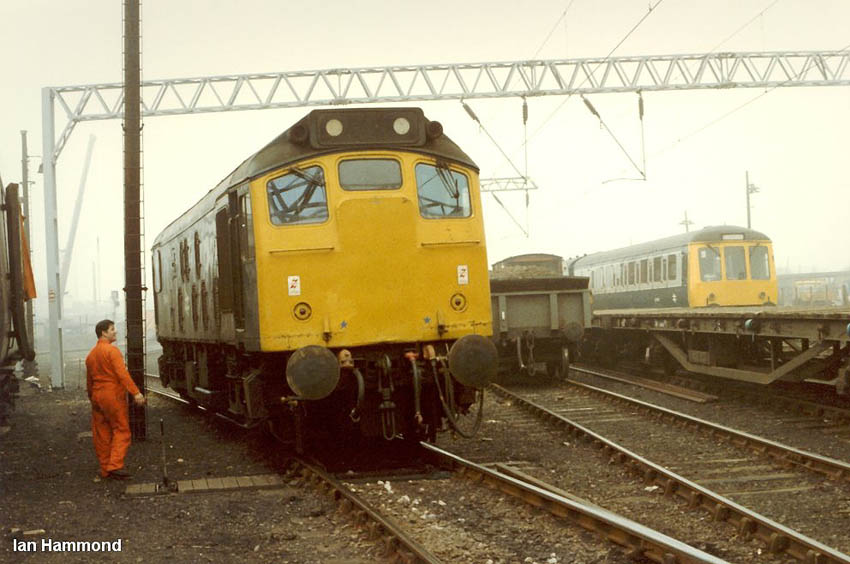 An interesting assortment of vehicles surround 25044 at Watford Yard on a misty May 25th 1985. 25044 ended its days two months later, finally being broken up at Doncaster in July 1986.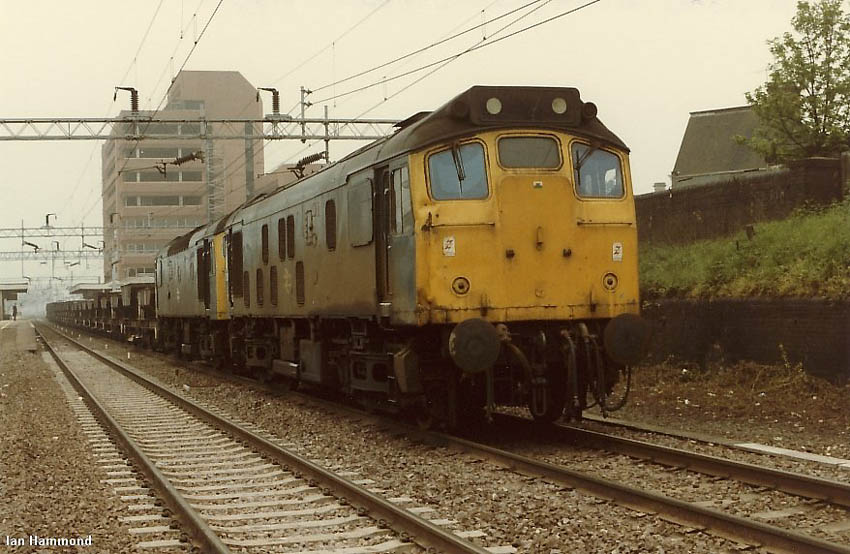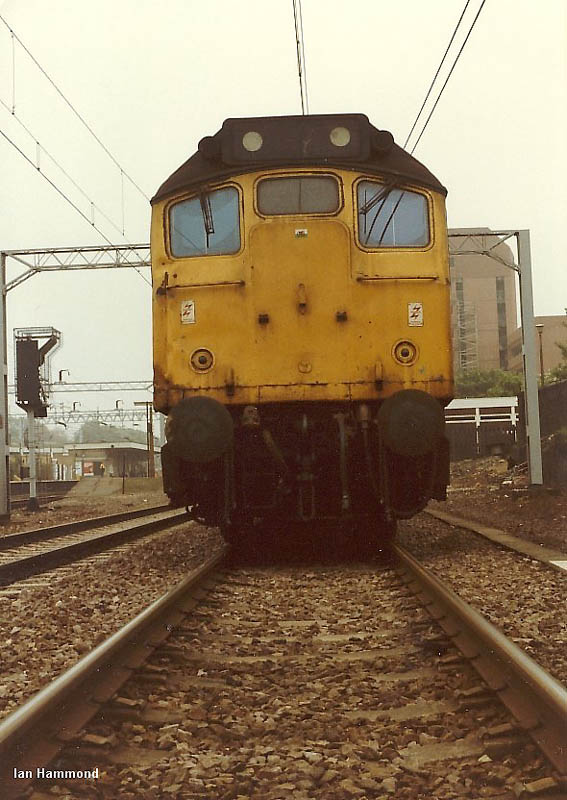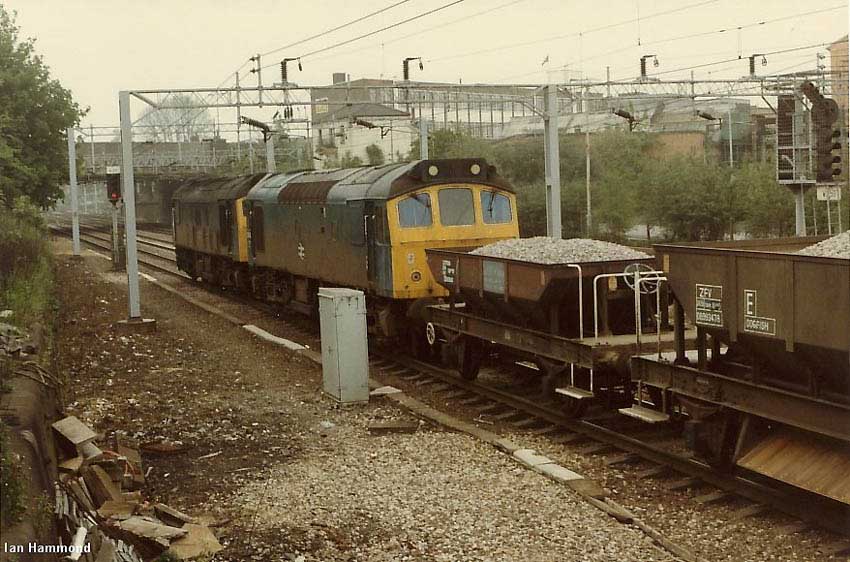 Yet another dull day brings three views of 25057 & 25145 stopped at Watford Jct on the local 8L90 loaded ballast job. 25057 clearly is in need of some cosmetic bodywork attention, though the chances of that happening this late in its working career are virtually nil. 25145 would have the dubious distinction of being the first locomotive withdrawn in 1986, ending its days at Vic Berry's yard, 25057 was more fortunate, being one of those to reach preservation. The running lines in these views were closed due to an engineering possesion, the photographer being part of the staff involved in the possesion.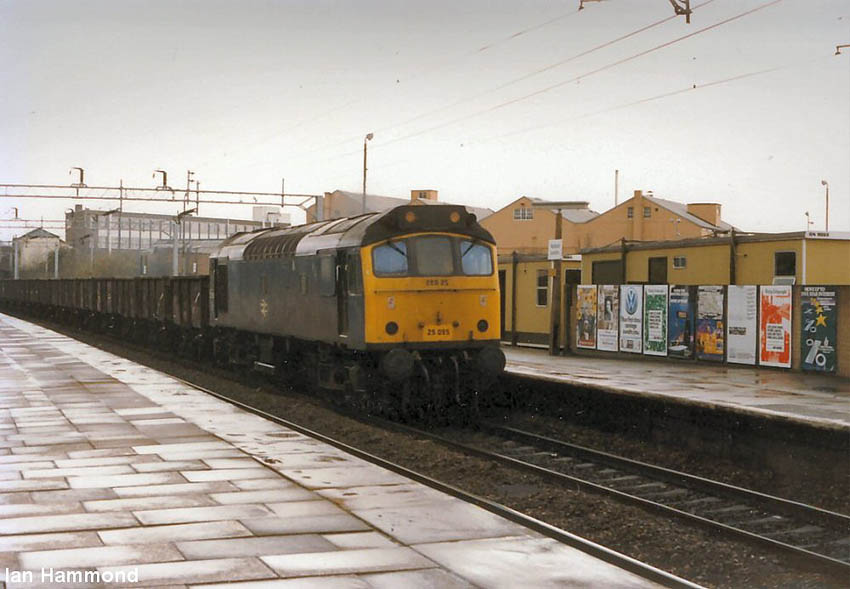 A damp and overcast April 16th 1986 finds the unmistakeable 25095 heading towards Willesden with the 8T81 empties from Liddlington Tip. 25095 ended its days in the stack at Vic Berry's, its unique cab front livery providing no doubt as to which 25 in the stack it was!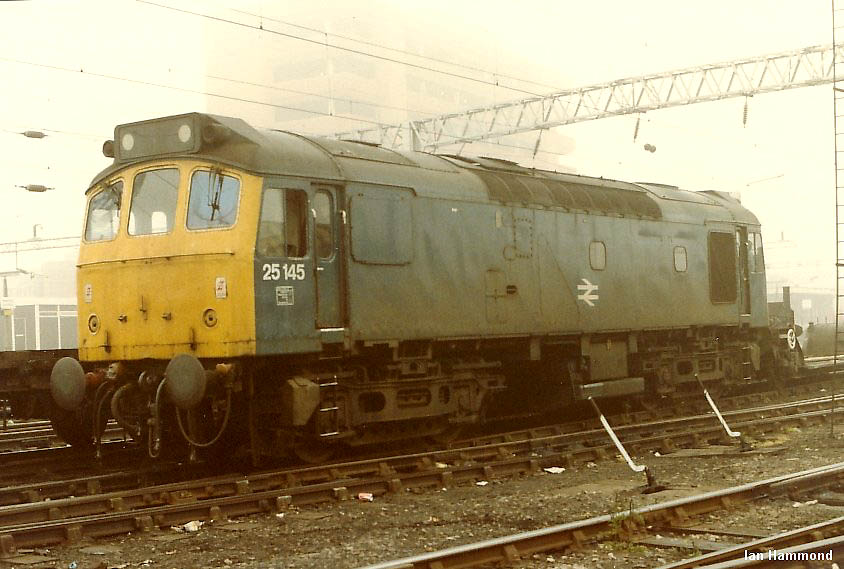 Photograph courtesy Ian Hammond
A fine study of 25145 as it works busily in Watford Yard on a still misty May 25th 1985. 25145 had seven more months of service, its last shed was Carlisle.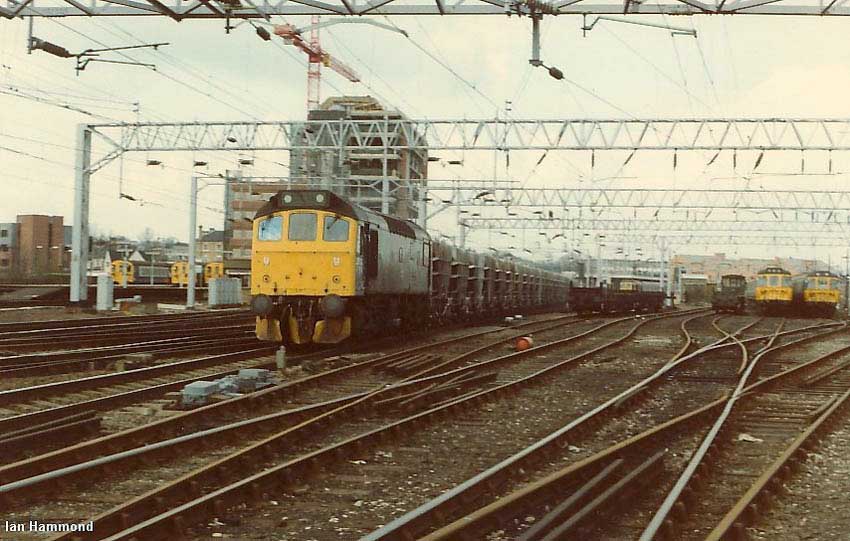 A panoramic view of Watford Jct as 25313 heads south with the 7O77 Tring - Southampton cement. 25313 would survive until the end, being one of the lucky ones to reach preservation.
The 7L69 Willesden - Bletchley freight of March 18th 1985 with 25315 in charge hurries through Watford Junction station, rattling windows & blowing papers about until all that remains is singing CWR and a fading 6LDA28B.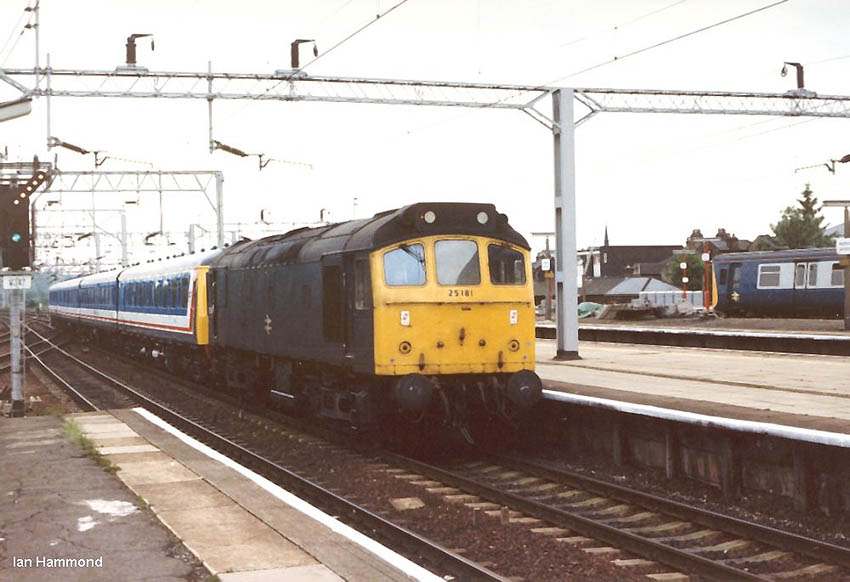 The day of the launch of Network South-East finds 25181 bringing freshly repainted 51659, 59763, 59727 & 51889 through Watford. This locomotive would have the misfortune to fail on a railtour to the south coast and would become the only Class 25 to be broken up at Eastleigh depot.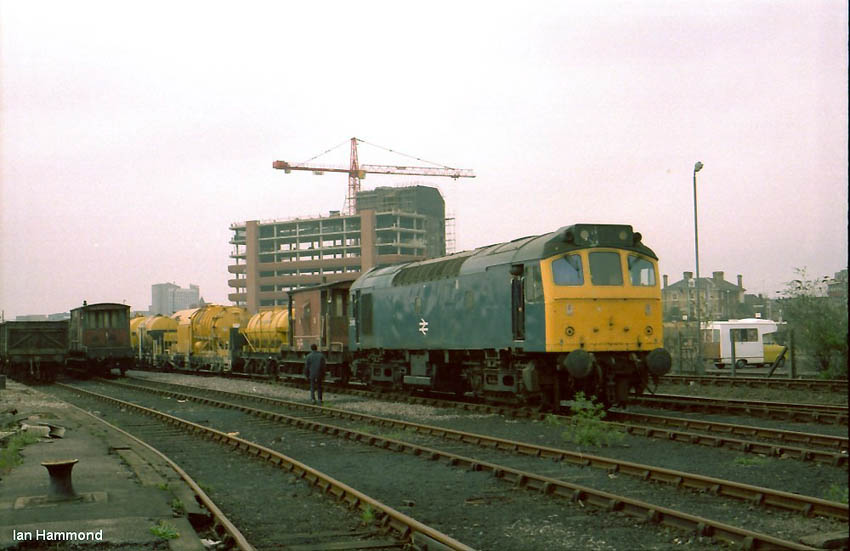 With the new station taking shape in the background 25195 marshals its train on April 21st 1985. Only two months remain for 25195, withdrawn in June it would surrender its power unit to 25205 and its bogies to 25262.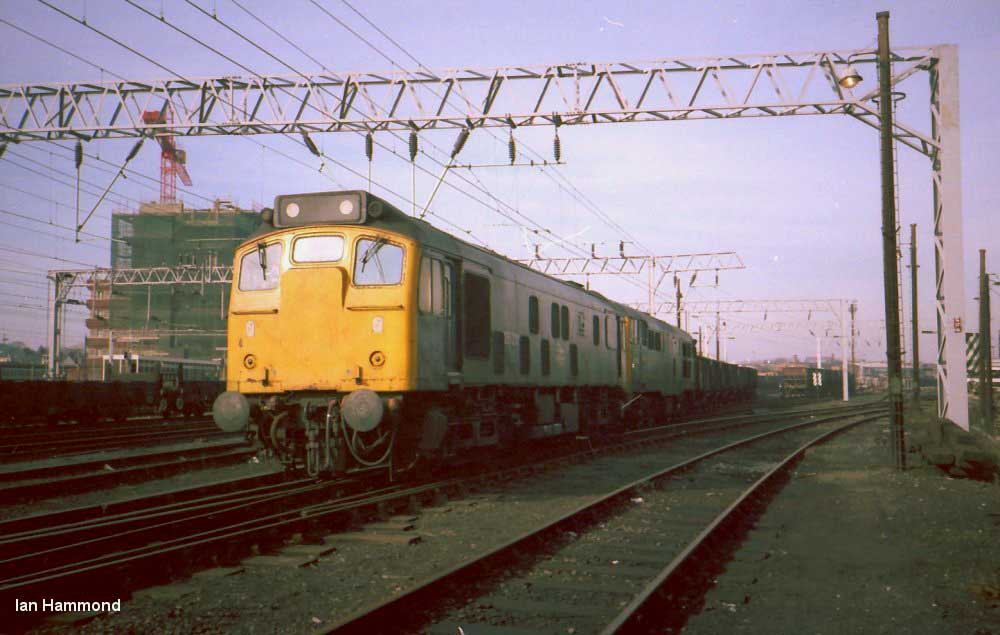 25231 & 31298 wait to leave Watford Yard with the 8L62 local job on February 24th 1985. This type of combination became a common sight as the Class 25s were replaced by the Class 31s.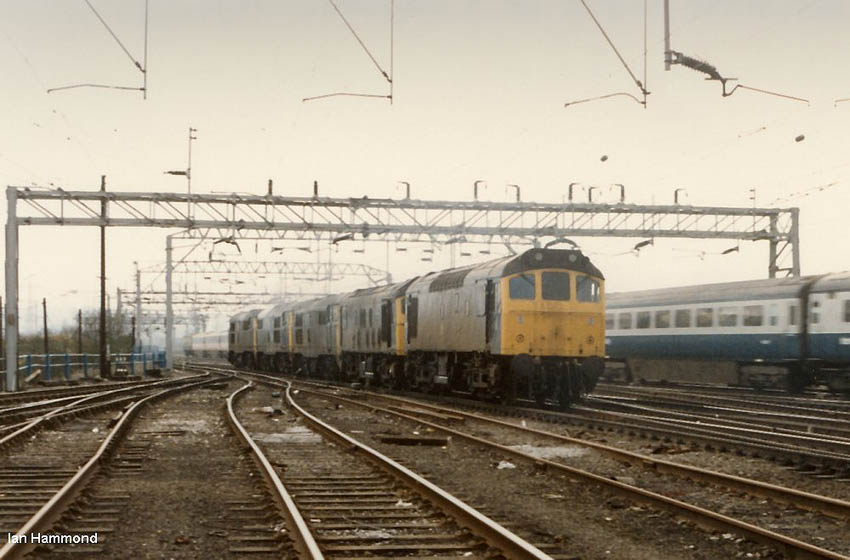 As an express heads towards the capital on April 19th 1986 the 0Z17 Bescot - Willesden with 31326, 31285, 25244 &, 25265 also head south at a more sedate rate, presumably to allow the 31s the opportunity to complete the journey without falling apart.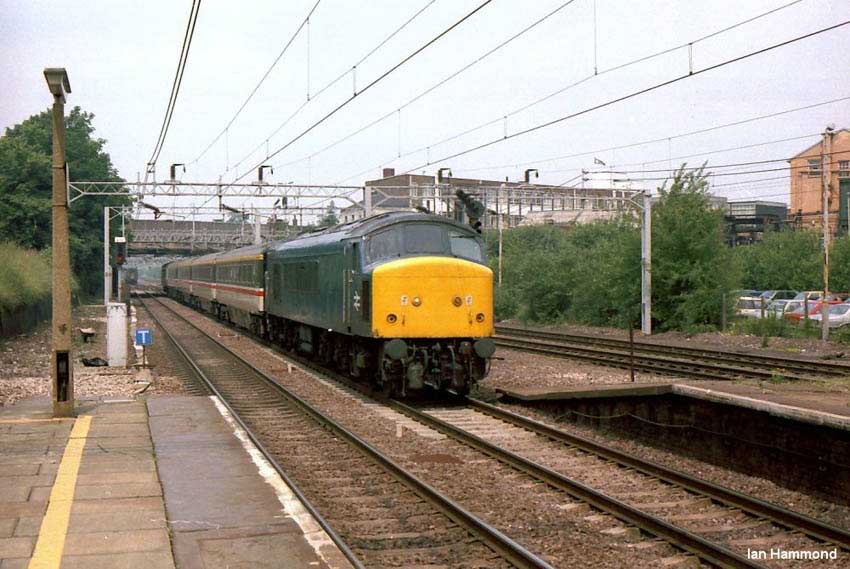 Type 4s normally found at the south end of the WCML would be Class 47's, but here a test train of new MkIII coaches heads south on July 5th 1985 behind 45148. The first ten Peaks were regular visitors to Euston when new, though considerably outnumbered by the many Class 40's used in the early days of the diesels on the WCML.
25323 works the local job T78 on December 14th 1985. Another Class 25 to last into March 1987 25323 was not so fortunate as others featured here - Vic Berry put an end to it in October 1987.
A wonderful sunny May 28th 1985 finds 25324 in Watford Yard ready to work target 78. Christmas Eve 1985 proved to be the end for 25324, being withdrawn at nearby Willesden and remaining there until February 1986.
Bletchley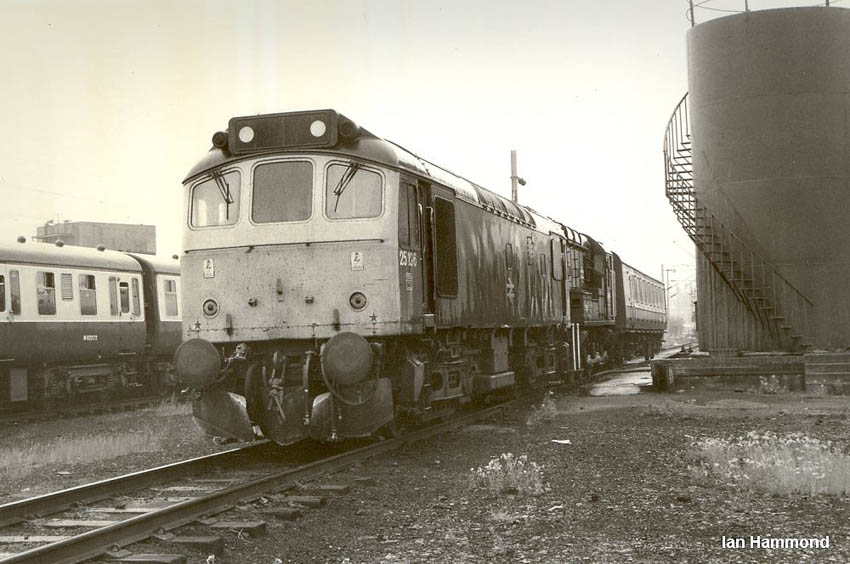 On a miserable wet June 4th 1985 25196 keeps company with 08909 at Bletchley depot, no use for the miniature snowplougs on this day!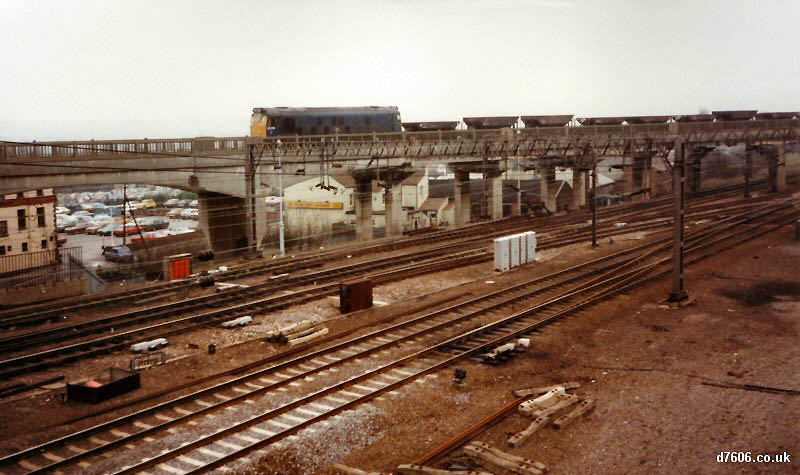 One of the more lasting errors made by BR in the 1960's, is featured here, Bletchley flyover, designed for traffic flows that never materialised. Seen here with 25236 on a freight from Aylesbury, March 28th 1984.
Northampton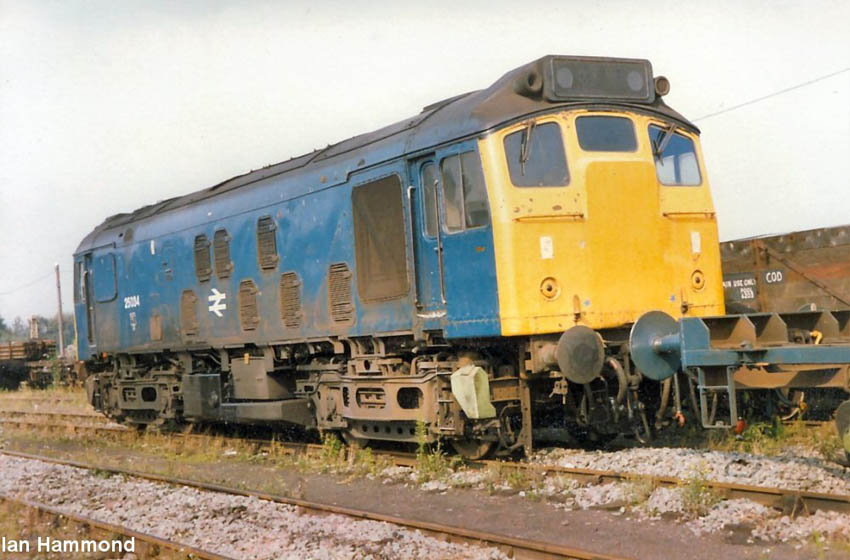 25034 presents a striking pose at Northampton Yard on a sunny day during 1985. It still bears indicators of its time in Scotland, the position of the numbers and location of the blue star coupling codes. The hinged ventilators indicate this machine is dual braked. And what does the fitting of the new sandbox indicate?
Bescot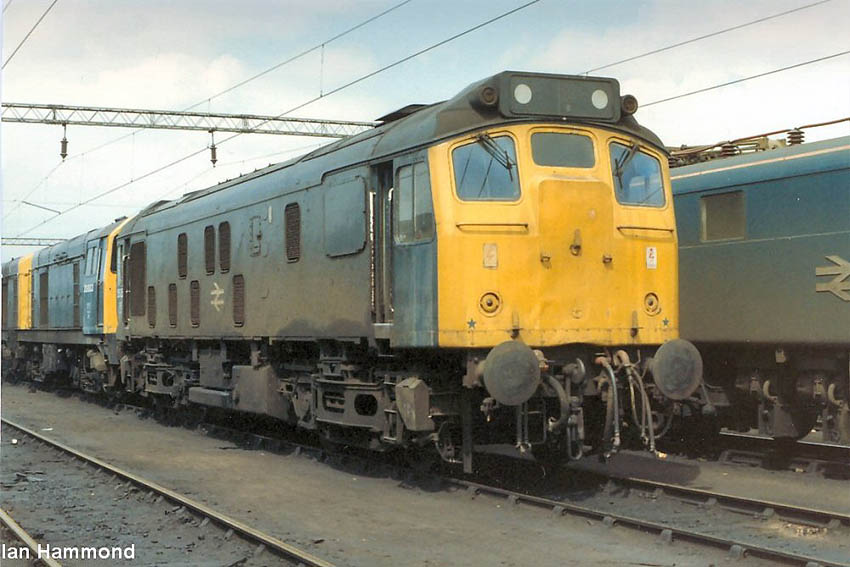 A work stained 25051 keeps company with a variety of locomotives including 20002 at Bescot Holding sidings on May 6th 1985.
Bristol Bath Road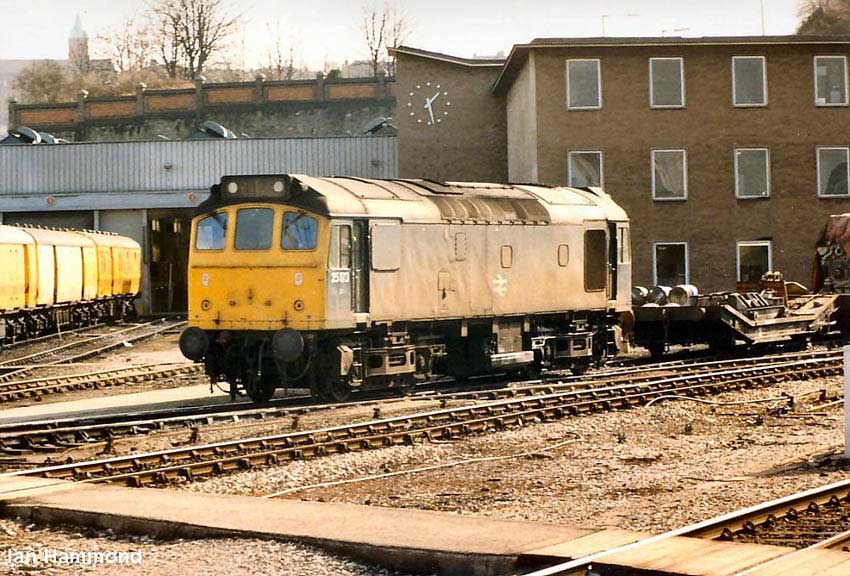 25173 is a little off the beaten track by the time this view is taken of it at Bristol on March 7th 1986.
Withdrawn views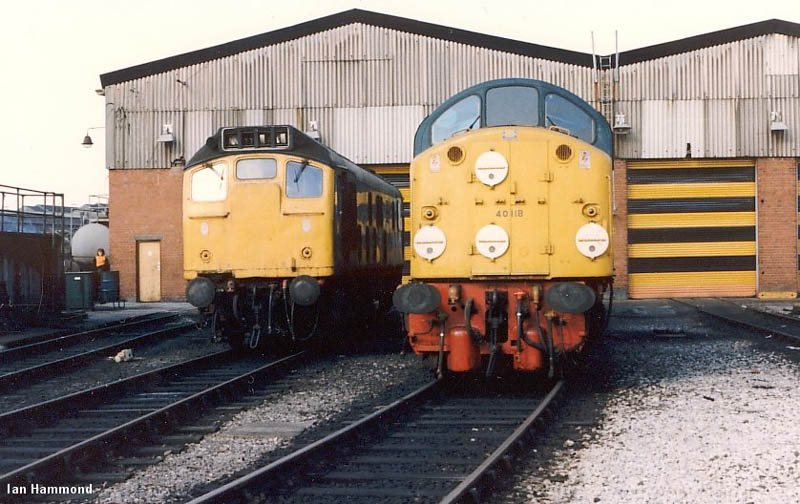 25064 & 40118 keep company at Crewe Depot on February 23rd 1986. 25064 was withdrawn in December 1985, and appears in this view to have already surrendered some parts.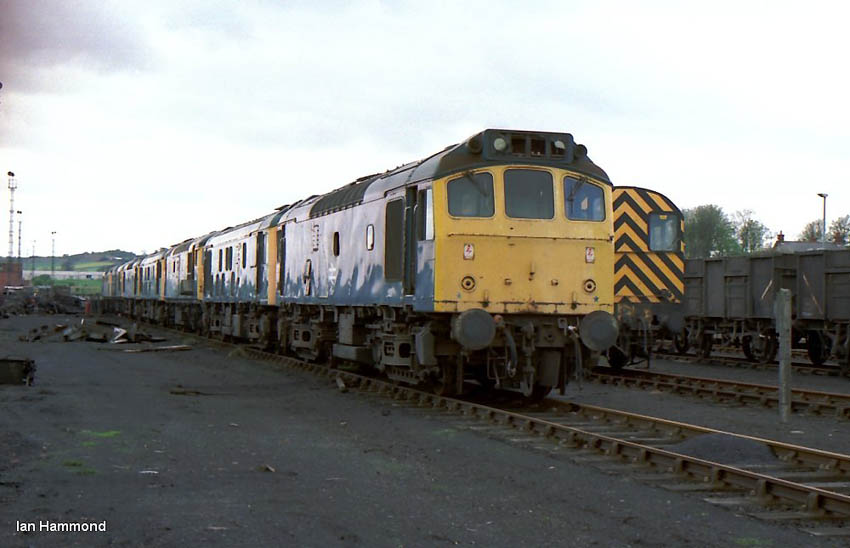 Photograph collection Ian Hammond
25160, 25046, 26013, 25028, 25318 & 27016 at Thornton Junction on May 3rd 1987. All these locomotives would eventually be dragged down to Vic Berry, Leicester for scrapping.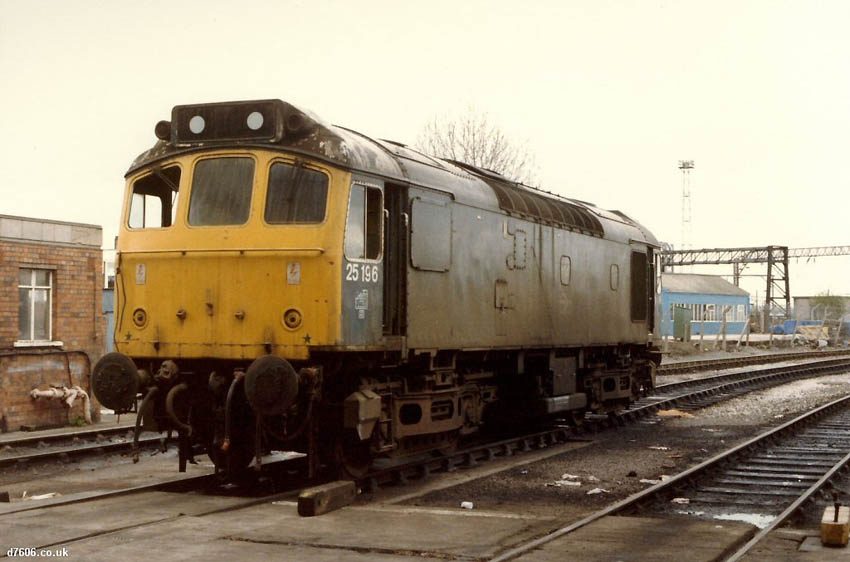 Photograph collection Ian Hammond
Withdrawn 25196 has already begun to surrender parts to keep the ever dwindling fleet of Class 25s operational, seen here at Crewe Depot on May 11th 1986.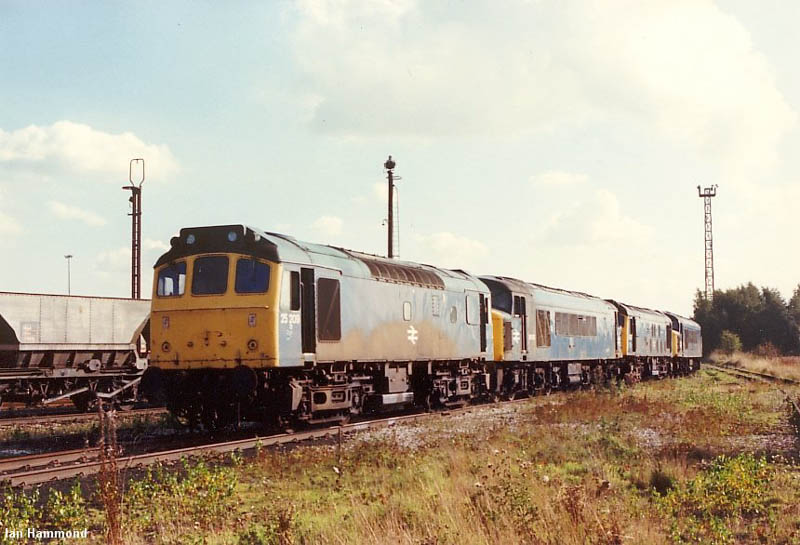 Photograph collection Ian Hammond
Despite its once sizeable fleet of Class 25s Toton did not harbour many withdrawn examples for very long, after spares removal most went quickly on their way to Swindon or Leicester. Seen here is 25209 with 45074, 25032 & 45069 on October 11th 1986.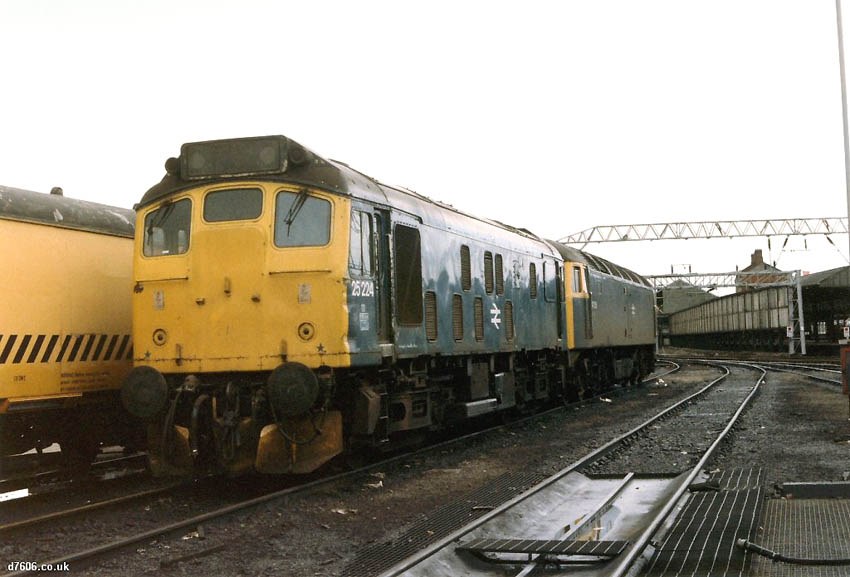 Photograph courtesy Ian Hammond.
May 11th 1986 and 25224 is towed into Crewe Depot by 47547. 25224 was withdrawn three days previously. The dent/scrape marks on the corner of the No.1 cab can be seen.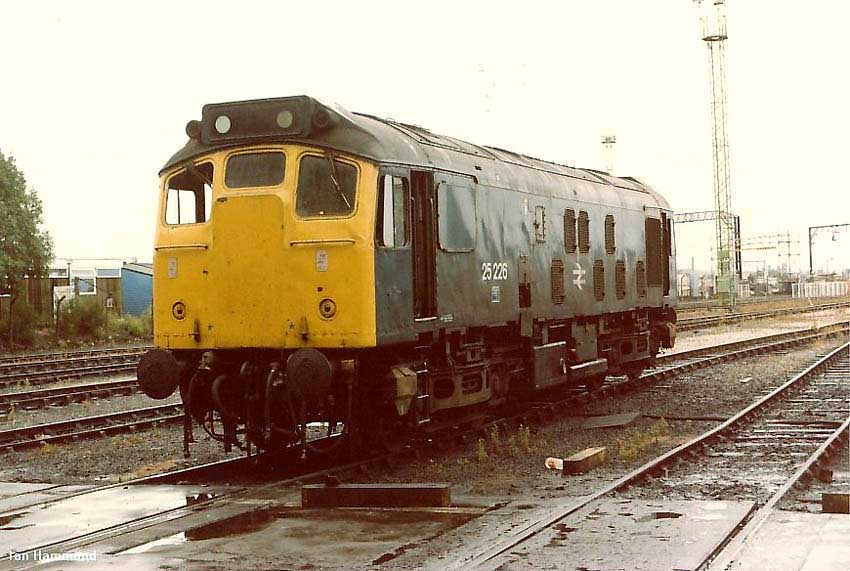 Photograph courtesy Ian Hammond.
Its been many years since 25226 was outshopped new from Darlington, now standing forlorn at Crewe Depot on a damp August 4th 1985. It has a very pronounced droop to the cab, presumably this was the reason for its withdrawl two months earlier.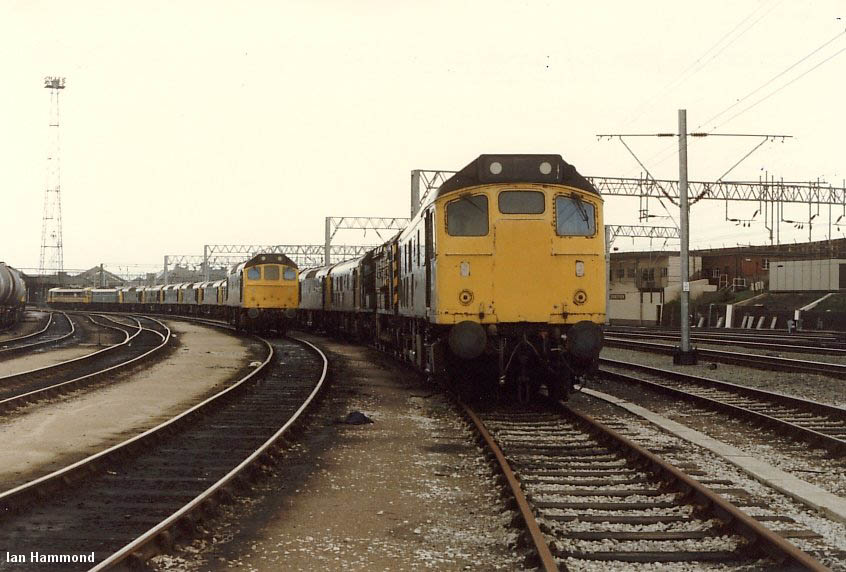 Frequent trips from Derby to Crewe always ended with a scramble to identify the multitude of locomotives stabled on Crewe Depot. A withdrawn 25231 heads a long line of Classes 08 & 25, the rusty rails telling their own story that many of these machines only have one more trip to make.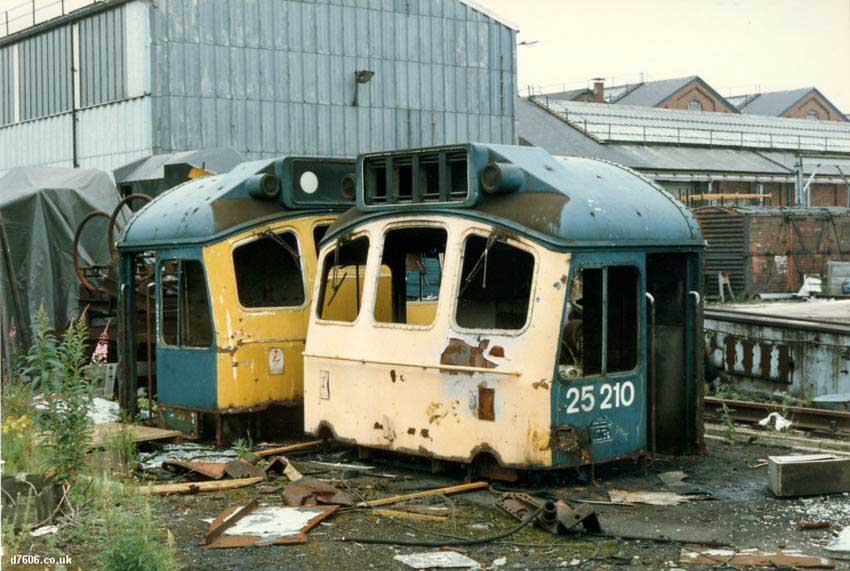 Being a time consuming item to cut up the cabs frequently remained long after the locomotives are gone. At Doncaster Works on May 11th 1986 are the cabs from 25210 & 25237.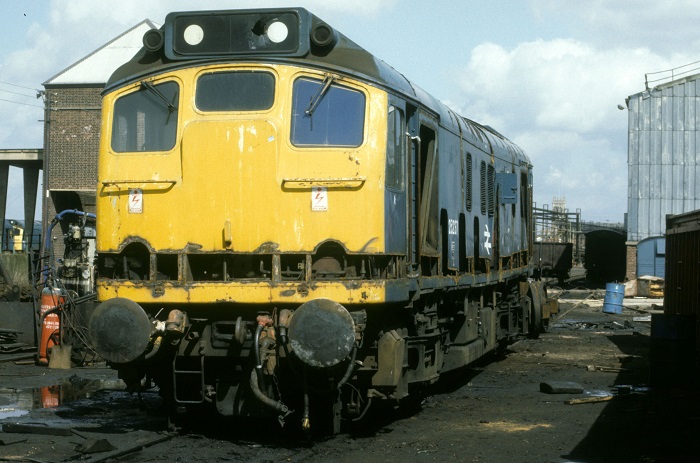 The various BREL workshops all had their own unique way of breaking up locomotives, here 25237 succumbs to the cutters at Doncaster sometime during April 1986.
The following comes from Ian's notes at a time when he was the train recorder at Watford powerbox. It reveals what could happen when the normal electric service was interrupted by a loss of power! Enjoy!
I was working as the box lad (train recorder) at Watford Power Box on the 20th December 1983 when just before my 0600hrs to 1400hrs shift started a southbound Freightliner pulled the overhead wires down at Bourne End just north of Hemel Hempstead. The result meant all trains had to travel via the slow lines from Watford to Tring and had to be diesel hauled! - I spent a busy morning making lots of tea for all the bosses who were about, numerous runs to the butty shop! and loads of time with my head out of the box window wishing I was on "that" train as it passed with a class 25 on the front!
I remember the box supervisor convinced me to go home just after 1500hrs but after a bike ride home in the freezing cold and a quick sandwich I was back again to grab the evening peak, all diesel hauled of course and remember I was brought up in Hertfordshire on electric units and not much else! - I called into the Power Box and the late turn box supervisor promptly ridiculed me in front of our regional inspector saying " this boy has not got a home to go to - I only sent him home 2 hours ago and he's back again !! "
So off I went to ride some trains, however the late turn box lad asked if I could come back so I could help out later and allow him to get home, so I only managed a few trips, how I wished I'd would have stopped out a bit longer. So I returned to the Power Box, still as hectic as ever as all the night freights were being let out of Willesden and the diesels were now coming off most of the southbound passengers trains at Watford as motive power was getting a bit short on the ground.
Here is a log of my day - the first section details passing times of trains at Watford Jct.
(At this time Cricklewood was just about to loose its fleet of Class 25's, the transition to the Class 31's was slower than anticipated so at the time of this article the makeup of the 25/31 locomotives in the London area was about 50/50 - although in this article clearly anything that strayed into the area was going to be used.
0912hrs 25251 + 25287 ON 1A06 bound for Euston (Passenger)
0950hrs 25226 + 310 EMU on 2D60 Special Bletchley to Euston (Passenger)
0957hrs 25185 on 1A83 bound for Euston(Passenger)
1047hrs 25193 on 4O83 (Freightliner) bound for Willesden
1057hrs 25287 + 25251 on 0Z50 en route from Willesden to rescue 4E73 (Freightliner)
1144hrs 25193 0Z40 light loco from Willesden to Bletchley
1215hrs 47298 on 1S69 Euston - Glasgow (Passenger)
1326hrs 25185 on 1L10 (Bullion train) bound from Willesden to Lawley St
1328hrs 25213 + 310091+ 310093 on 2D20 Bletchley - Euston (Passenger)
1332hrs 25226 + 85026 on 6D22 Northbound freight
1337hrs 47321 + 86315 86321 on 6D21 Southbound freight
1411hrs 47200 + 47011 3A64 (Parcels ex Northampton) bound for Euston
1414hrs 25226 on 6P85 southbound freight
1450hrs 47314 + 87014 on 1M05 Glasgow - Euston (Passenger)
1510hrs 31257 + 86XXX on 1S80 Euston - Glasgow (Passenger)
Off Duty - home for some refreshment
1720hrs 25251 + 25287 on 1M20 Glasgow - Euston (25's detached at Watford Jct) (Passenger)
1748hrs 25192 + 310XXX on 1L07 Euston - Milton Keynes (Ian H - hauled to Hemel Hempstead) (Passenger)
On arrival at Hemel Hempstead on the Down Fast Line was 25032 with the Willesden wiring train (attending to the OLE damage)
I Departed Hemel Hempstead on 2L49 Euston to Bletchley service made up of 310052 being hauled by 25258 and passed 25315 on the Bletchley wiring train at Bourne End.
I jumped off at Tring (not sure why ?) and then road the following :
1905hrs 47321 hauled Tring to Leighton Buzzard on 1L08 Euston to Northampton special
1920hrs 47200 + 47011 hauled Leighton Buzzard to Bletchley on 1S83 Euston - Glasgow
Sat in the holding sidings at Bletchley ticking over were 25226 and 25224
1936hrs 47011 hauled Bletchley to Watford Jct on 1M34 Glasgow - Euston
Back at Watford I returned to the Power Box to help my colleague out and observed the following :
2030hrs 25199 + 86230 on 3M07 southbound parcels to Euston
2044hrs 31116 on 7F72 northbound freight
2053hrs 25226 + 87013 on 1M35 Glasgow - Euston (now I was cross as I'd seen 25226 sitting at Bletchley and had come back to Watford with 47011 ! ) (Passenger)
2103hrs 25192 0Z12 light loco from Bletchley to Watford
2117hrs 25311 + 25327 on 4Z89 Northbound freightliner
2120hrs 47007 on 4M70 northbound Freightliner
2120hrs 31257 + 86XXX on 1S09 TPO postal Euston to Glasgow
2125hrs 25287 + 87006 on 5Z72 southbound ECS for Euston
2137hrs 25192 + 87014 on 1P49 Euston - Blackpool (Passenger)
2150hrs 25200 on 1S07 Euston - Fort William Sleeper (Passenger)
That was about it a nice 17 hour day and as I biked home I noted 25213 and 25057 arriving in Watford Yard ! - A day I will never forget

The following is another report of the happenings that occurred on December 20th & 21st 1983 following the dewirement referred to above.
This text is pretty much as delivered to me from Nick Ross, I've not cross checked the two reports for the comparative details of the workings, so if there are any discrepancies don't worry about them, just enjoy the variety of traction that BR had available when such an event happened! And thanks to Nick and Ian for recording the workings!
Christmas comes early, December 20th/21st 1983
To a few of us local bashers Christmas came a few days early with a 36 hour "drag" courtesy of a serious wires down incident in the Bourne End area.
Tuesday December 20th
Before joining the bus to work there was just time to survey the chaos at Leighton station. The 0700 Euston commuters had been waiting a good 40 minutes for a train and were growing restless like penguins do. Eventually an already wedged 8 car Marylebone DMU set arrived and on they plied. One girly penguin was unable to get on so Railman Trevor put her in the second man's seat of the middle DMU and told her "not to touch anything". A container cover on an overnight diesel hauled liners (4E73) had come loose and brought down a long section (several miles) of the DS wires from Hemel to Tring. The Bourne End (nr Hemel) had also been blitzed which meant there was no OLE on any tracks between Hemel and Tring for the morning peak.
I begrudgingly left the chaos and went to work but a quick afternoon holiday booking saw me back around 1400 to join 310068 on a Rugby-Tring additional for a bus forward. We crossed nothing on a strangely empty main line. At Tring we arrived in the rare up bay/loop platform. A few normals joined the waiting bus but I joined the Marylebone set (51658/59750/59731/51663/51666/59753/59654/51609) seen that morning in the opposite platform. In true basher tradition I sat in the front DMU coach and so was totally out of position as 47314 dragging 87014 arrived on an up drag and stopped at a red peg on the UF. The secondman got out and phone in hand gestured for the "seven" to drop it's pan and was away before I could leap over the bridge for it. Our DMU followed the "big duff" crossing over to the UF and tottered along passing several miles of overhead lying between the DS tracks! "Sparkies" were working away but this looked a long job. Wiring train power viewed was 31191 on the Willesden train, 25315 on the Bletchley train and 25032 on the Rugby train. At King's Langley we crossed a stopping Down DMU and this needed a second glance and photo as it was a 4 car rake made up of two withdrawn St Pancras-Bedford DMU's. These must have been dug out in a panic I thought and were unheard of in the Hemel area.
A more regular (at weekends) Tyseley set followed then with a loud warning blast on the horn 31257 dragging another 87 passed us on the Watford curve. That was all that was on the move all the way to Euston. The terminus itself was equally eerie with just a few DMU's/310's and two rakes of Cobbler stock in. Two 47's were parked up on the stabling road where the "roarers" normally parked. Passengers and penguins milled around in the usual confusion that only serious farces bring. My DMU quickly left but then gen was obtained that some commuter trains would run plus a few Euston-Glasgow's. A 1600 Euston-Bletchley was then advised as departing from platform 12. I was pleased at seeing it was a hauled rake with a class 83 having brought in the 10 Mk I's in. The rake very quickly filled and with front coach seats bagged 25213 backed on! A very loud (no banker) attack on Camden Bank followed, some normals in the leading coach requested that the toplight windows be closed as they were unused to Sulzer music! Approaching the first stop, Watford I wondered whether to stay on board as the juice maybe restored but eventually opted to bail in nerd like fashion!
Twenty minutes later the 1615 Euston-Northampton arrived with 25175 dragging 310's 078/093. The packed 310's had just emergency lighting to add to the atmosphere as it was now dark. The 310's guard acknowledged the platform tip, rung his bell, the 310 driver blew his horn, the rat acknowledged and thrashed off into Watford tunnel.! Truly outrageous especially so on your doorstep!
A Hemel bail saw 25251/25287 on an up Glasgow drag ease up to drop off a driver but no way could I leap on. So the Marylebone DMU was joined again returning me South. We crossed 25192 (not confirmed) on another Euston-Northampton Mk 1 turn whilst 47314 was just arriving at Watford on a Euston-Glasgow drag. I flagged off the "duff" and 47321 on the next Euston-Northampton Mk I turn. To me 25's were much rarer than 47's but I was beginning to question my decision when 47011 then appeared on another Northbound drag.
For once patience paid off, 25287 (dud) had been split from the pairing at Euston and was dragging two 310's to Northampton. I flagged this too and as hoped for 25251 returned on a Euston-Rugby Mk I rake twenty long minutes later. I bailed at Hemel to await the next drag but the station staff here told me the bad news that "there were no more trains" and I was put on a bus to Tring.
As I got on 310058 sitting in Tring loop 25226 briefly stopped dragging 87033 on another Glasgow-Euston but this too was flagged as it was getting late. On the US just North of Tring a light 40058 was checked waiting for us to clear….did this drag as well????
The Moves*
068 Rugby-Tring Addit
L.Buzzard-Tring 51658, 59750, 59731, 51663 + 51666, 59753, 59654, 51609 1435 Tring-Euston Addit
Tring-Euston 25213 1600 Euston-Bletchley Addit (load 10) Euston-Watford Jn
25175} 1615 Euston-Northampton Watford Jn-H. Hempstead
078 (d)
093 (d}
2 x 4 Car DMU xxxx Tring-Euston H. Hempstead – Watford Jn
25251 1810 Euston-Rugby Addit Watford Jn – H. Hempstead
Bus xxxx Hemel-Tring Addit H.Hempstead - Tring
058 2035 Tring-Birmingham Tring-L. Buzzard
Other Gen*
25251 & 25287 0740 Northampton-Euston
25226 0825 Bletchley-Euston Addit
3100xx
25185 0810 Northampton-Euston
47298 1150 Euston-Glasgow 1S69
25213 1240 Bletchley-Euston
310091
310093
31257 & 87xxx 1445 Euston-Glasgow
47314 & 87xxx 1645 Euston-Glasgow
25192 1652 Euston-Northampton
25258 1658 Euston-Bletchley
310052
47011 & 86254 Euston-Glasgow Addit
47200 1750 Euston-Glasgow Addit
47321 1700 Euston-Northampton Addit
25287 1750 Euston-Northampton (2x 310)
47011 0720 Glasgow-Euston
47314 & 87014 (d) 0910 Glasgow-Euston
25251 & 25287 1115 Glasgow-Euston
25226 & 87033 xxxx Glasgow-Euston
25192 & 87014 1905 Euston-Blackpool
25200 2100 Euston-Fort William/Stranraer Sleeper
Wednesday December 21st 1983
My flat in Leighton at the time overlooked the WCML and sleep was difficult as it was non stop class 25 thrash as Bletchley men and loco's kept the West Coast moving. The drags continued throughout the night with rats on virtually everything. BY train crews were raking in the overtime, "Bletchley's finest hour".
I got down the station just after 6am and was pleased to be advised the juice was still off in the problem section. The silence was shattered by 25193 and the rare 25109 storming South on a sleeper/night rider service. A 310 arrived from Tring and was taken to M. Keynes. This was my first dud move of the day, as unbeknown to me, the hauled G06 Euston-Birmingham turn was running and called at Leighton. The drag power to Bletchley was 47314, this loco having done more passenger turns in the last 24 hours than in the whole of 83… .Anyway I viewed it heading North l/e at the Keynes apparently returning to it's booked oil train duties from Bedworth to Immingham.
The penguins hovered and we were all rewarded with 25236/25199 dragging 87008 on a Wolves-Euston calling all big shacks. A pathetic 3.19 miles were taken for a Bletchley bail. About 10 minutes later 47340 arrived on a Northampton-Euston Mk 1 turn which I did back to Leighton. Then unfortunately it was off to work. The power remained off till mid morning and even 56041 off the Stoke Gifford-Wolverton stone train was hijacked on Bletchley flyover and "borrowed" for a few drags…Power was restored around 1100 , it then failed again, but all was back to normal by 1300.
The Moves*
094 xxxx Tring-Birmingham Addit L.Buzzard-M.Keynes
25236 & 25199 + 87008 M.Keynes-Bletchley 0700 Wolverhampton-Euston
47340 0740 Northampton-Euston Bletchley-L.Buzzard
Other Gen*
25193 & 25109 2250 Glasgow/Inverness-Euston
47314 0620 Euston-Liverpool (to Bletchley)
* specific train times are not confirmed as an emergency timetable was in operation and kept changing all the time but I wasn't complaining!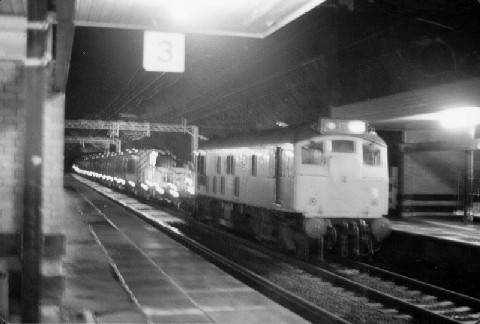 Photograph courtesy Nick Ross
25032 at Hemel Hempstead with the wiring train on that unforgettable day, December 20th 1983. The platform was littered with broken insulator pots from the overnight dewirement. Afraid its a hand held night shot, Nick's comment!
Page added June 20th 2004.
Last update October 8th 2006.