Willesden & Camden
Shed Code 1A, D01 & WN (Willesden) and 1B (Camden)

1959
It was not until August that the first BR/Sulzer Type 2 was officially allocated to the area when D5015 moved from Crewe North (5A) to Camden (1B). Its stay here was brief, by September D5015 had moved to Willesden (1A) and had been joined by D5016. With a view to taking over some of the local Euston workings effective November 2, D5018 & D5019 also moved to Willesden, whilst D5008 arrived at Camden on November 4 for empty coaching stock (ECS) duties alongside D8035 - D8038.

It is possible that Willesden might have received more Class 24's at an earlier date had not the Southern Region asked for the loan of a number of locomotives during 1959.

At year end Willesden held D5015/16/18/19 and Camden had D5008.
Circa late 1959 D5015 rests at Camden in 'as delivered' condition from Derby Works. As with many of the first batch, it has an extra air filter on the top row (five instead of four), but does not have the headboard brackets fitted (found on earlier examples above the marker lights). No electrification 'flashes' are carried.
From the collection of Mike MacDonald.
A typical working for D5016, on one of the local Euston services, seen here at Watford Junction. A yellow warning panel has been added, the single electrification 'flash' is in the standard position. D5015 & 5016 were the first Sulzer Type 2's to be allocated to Camden/Willesden.
Photographer unknown at this time.

1960
Early in January D5008 moved to the Southern Region.
Strengthening of the fleet occurred in April when brand new D5072-5075, 5078/79/83 arrived at Willesden. These had originally been built for the Eastern Region, to work out of March (31B), but instead were forwarded quickly to Willesden. On March 31 D5072 & D8035 were noted working a test train down the WCML, whilst D5077 was used for crew training between Rugby & Crewe during the second week of March. The Type 2's also found service on the Broad Street business trains, used alongside the pioneers 10000/01 & 10201/02/03.
During May D5083 moved to Longsight (9A).
D5079 at Camden July 24th 1960. Modifications visible since the first order include only three air filters on the top row and a slightly smaller fuel tank. No electrification 'flash' is carried, this would be added between now & December 1960.
Photographer unknown at this time.
Further arrivals during the summer months included D5082 (July) and D5076 & D5077 (August).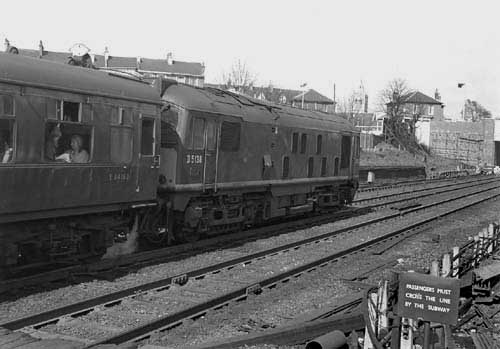 Photograph courtesy Alec Swain/Transport Treasures


Some of the Class 24 workings might be considered 'long distance', here D5138 leaves Watford with the 10.30am Euston - Wolverhampton on April 12th 1963.

With the timetable changes in October new arrivals included D5059, D5061, D5086, D5087 whilst D5079 moved north to Longsight (9A).

D5016 found itself on front-line duty on October 9th when the down 'Royal Scot' experienced serious difficulties with D222. After a slow departure from Euston and attention at Willesden all was still not well, the Type 4 coming off at Watford, replaced by the Type 2. The small machine put up quite a performance, however the glory was brief, Class 5 44712 took over at Bletchley, with 44938 added at Rugby!

More arrivals for Willesden in November included D5060, D5063 - D5065 from March (31B), whilst D5083 came back from Longsight. Camden gained a solitary D5026 from Stratford (30A). Departures were D5060 & D5083 (again!) to Longsight (9A), D5061 to Rugby (2A) and D5074 to Watford (1C). There were enough Type 2's now on hand to substantially take over the Rugby - Euston stopping services. A traffic survey of passenger trains taken early in November at Watford revealed just over 50% were diesel hauled with the Type 2's prominent on the Euston - Rugby/Northampton locals.

The arrival of a number of Type 2ís at Longsight during November saw them working new turns, one such was the 9.35pm Huddersfield Hillhouse - Willesden Class D freight returning north as far as Northampton on the 2.50pm ex Euston, so noted have been D5083, 5134 - 5137/39.

The next four locomotives to arrive at Willesden in late November/early December were D5143 - D5146, and featured the re-designed cabs with the headcode indicators now mounted on the cab roof. These were the only brand new Class 24's that Willesden received direct from the builders. More arrivals in December were D5027 & D5032 from Stratford (30A) and D5133 from Crewe North (5A). One departure was D5087 to Cricklewood (14A).

At year end Willesden held D5015/16/18/19/27/32/59/63-65/72/73/75-78/82/86, D5133/143-146. Camden had only D5026.

1961
The New Year brought D5030 & D5031 to Willesden from Stratford (30A) whilst D5086 moved to Cricklewood (14A). The out & back turns familiar to the Type 2's included some oddities. On Saturday's after working a Euston - Rugby local, the Type 2 then worked the 5.25pm Rugby - Peterborough local, returning on the 8.32pm Peterborough - Northampton. Another wandering Rugby turn, often using Willesden Type 2's involved the 4.44pm Northampton - Birmingham New Street, returning south with the 7.37pm service to Euston. The ratio of diesels on passenger turns through Watford was now up to 60%.
During February D5059 moved to Watford (1C) whilst D5060 returned from Crewe North (5A).
An exchange of Type 2's took place in March with D5024/28/29/33/34 received from Ipswich (32B) & Stratford (30A), Willesden sending D5059/60/63/64 to Finsbury Park (34G). Other arrivals were D5061 from Rugby (2A) and D5083 from Longsight (9A). Camden received D5022 from Ipswich (32B).
Four Willesden Type 2's now stabled overnight at Northampton to take up the morning 7.02, 8.00 & 8.40 services to Euston and the 7.13 to Peterborough. Three stabled at Bletchley to work the morning 5.42 & 7.30 to Euston and the 6.20 Bletchley - Northampton followed by a semi-fast to Euston. Diesel hauled passengers trains through Watford in April now totalled 80%.
New arrivals to Willesden in the spring & summer included D5035 from Stratford (30A)(April); D5020 & D5021 from Stratford (30A)(May) with D5065 & D5072 traded to Finsbury Park (34G); D5079 came back from Carlisle (12A)(June); D5025 from Ipswich (32B)(July) with D5061 traded in exchange to Finsbury Park (34G).The transfer of D5020/21 to Willesden (1A) during May completed the movement of sixteen Type 2ís (D5020 - 5035) between the GE and the LMR. This was made possible by the newly arriving EE Type 3ís and Brush Type 2ís upwards from D5694, and permitted more of the local services out of Euston to be dieselized.
When not required on the summer weekends the Type 2's were frequently employed on extras to the coast, such was the case for D5082 on Whit Sunday (May 21st?) powering a Bletchley - Bognor Regis excursion throughout.
D5146 had been loaned to Foar Oaks (21E) for crew training during May, it was returned to Willesden during July.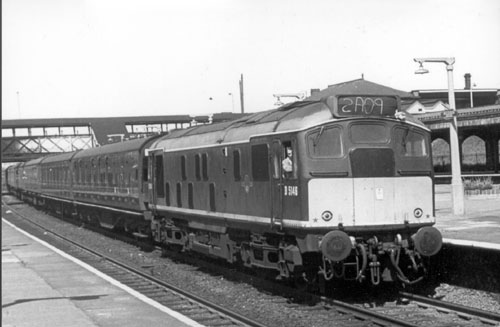 With effect from September 11 Camden lost its allocation of steam locomotives. September 29 proved to be a bad day for incidents on the southern end of the WCML. Included in the tale of woes was the catching fire of D5142 at Carpenders Park about midday whilst working a Camden - Edgeley freight. Much traffic had to be diverted via the slow lines whilst the obstruction was dealt with.

At year end Willesden held D5015/16/18-21/24/25/27-35/73/75/76-79/82/83, D5133/143-146. Camden had D5022/26.

1962
Type 2's transferred to Camden were D5134 (January), D5135 (March) and D5142 (February), all transferred from Longsight (9A). The latter locomotive was clearly undecided as to its home depot for in March it headed north to Derby (17A), returning to Camden in April only to head back to Longsight (9A) by month end!
During March the Southern Region commenced returning to the LMR it's loaned Type 2, the first to reach Willesden was D5003, whilst D5011 & D5017 followed in May. These three did not stay long, by June they had moved north to Rugby (2A). Also sent north, this time to Carlisle (12B) was D5133.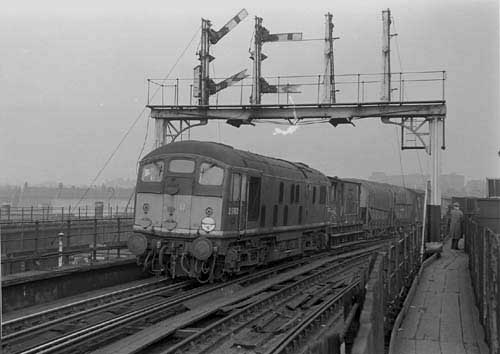 Photograph courtesy Alec Swain/Transport Treasures


When not working the passenger services out of Euston, many of the Class 24's were used on many & varied freight duties, they were also heavily used on the engineering trains required for the WCML electrification. Seen here at Willesden High Level is D5063 with a southbound freight on January 30th 1964.

More ex-SR arrivals were pioneer D5000 (June), D5001 (July to Willesden) and D5008 (July to Camden) whilst D5023 arrived at Willesden from Watford (1C). With the return of the loaned ex-SR Type 2's there were now enough diesels to oust steam from the Birmingham - Rugby locals, additionally Willesden's allocation frequently showed up on the Birmingham - Coventry locals. Elsewhere they handled certain parcels workings out of Marylebone.

Minor changes in October found Camden surrendering D5134 & D5135 to Longsight (9A), who in exchange sent D5140 & D5141 to Willesden! Two more arrivals from the Southern Region were D5004 (October) and D5007 (November), both transferred to Willesden. D5007 was the last of the loaned Type 2's to return, and like most had been through the repair shops at Eastleigh prior to heading north.They were still common visitors south of the Thames, one consistent trip worked was a morning parcels from Willesden to East Croydon.

After several months at Camden D5008 moved to Carlisle (12B) during November, only to return south to Camden in December.

At year end Willesden held D5000/04/07/15/16/18-21/23-25/27-35/73/75/76-79/82/83, D5140/141/143-146. Camden had D5008/22/26.

1963
The New Year opened to one of the 'great' winters of our time. It's effect on the diesels is well documented, and the allocation at Willesden and Camden suffered as much as any others. At one point there were only three Type 2's available for the services out of Euston, with a whole variety of steam locomotives filling in betwen January & March. The principal cause of failure was the locomotive's train heating system, these had already proved un-reliable due to the levels of vibration encountered, with extremely low/freezing temperatures added for a considerable length of time their reliability plummeted further still. The disruption to freight traffic in the London area saw many unusual visitors to the SR on a variety of cross London freights, with a number of Willesdenís Type 2ís reaching Redhill and Three Bridges.
Reallocations in this period were minimal, in January D5008/82/83 moved north to Crewe North (5A), whilst in February D5001 & D5031 arrived at Willesden from Watford (1C).
The Type 2's were now being used widely on the increasing electrification activities. To the north this work had reached Coventry and Nuneaton, whilst at Euston the Euston Hotel closed on May 13 to allow for demolition.
During June D5140 & D5146 visited Margate with a day excursion from Northampton?? Out of Marylebone one of the round trips to Nottingham converted from Type 2 haulage to a four car DMU. The electrification continued its march south, with the Stafford - Tamworth section energised from July 8 and crew training now available at Nuneaton. By September lines in the vicinity of Rugby electric depot had been energised with E3054 brought in for training purposes. Further south Camden shed closed to all steam on September 9th.
In September D5000 & D5001 moved to Crewe North (5A), but returned to Willesden in October.
By the year's end the wiring was complete as far as Rugby. Two late transfers in November were D5009 & D5012 to Willesden from Crewe North (5A). Finally as evidence of the increasing diesel fleet, pioneers 10000, 10201/02/03 were withdrawn from Willesden during December.
At year end Willesden held D5000/01/04/07/09/12/15/16/18-21/23-25/27-35/73/75/76-79, D5140/141/143-146. Camden had D5022/26.

1964
With more electrics and Class 47's available elsewhere the Euston - Rugby locals saw a greater use of cascaded English Electric Type 4's, the displaced Class 24's swiftly commandeered for the many engineering trains required by the electrification work. By March regular electric haulage from the north was reaching as far as Nuneaton, whilst Rugby now had three electric locomotives on hand for crew training in addition to AM4 unit E046.
During May D5146 moved to Longsight (9A). Advancing construction projects found the new electric depot at Willesden taking shape, whilst down the road at Camden all diesels were now stabled in the open, by July the shed buildings had been demolished although the coaling plant was still intact.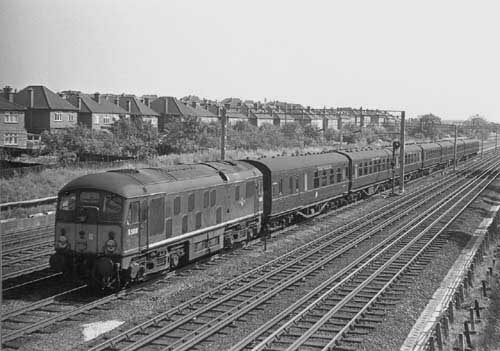 Photograph courtesy Alec Swain/Transport Treasures


Its August 3rd 1964 and a down Northampton service is seen passing South Kenton behind D5018. Being one of the first twenty built this locomotive carries five ventilators on the upper row and is one of those equipped with the Athermos axleboxes.

At the end of August D5091 moved to Willesden. Wiring was now complete north of Denbigh Hall (Bletchley).

The electrification scheme had concentrated on the Crewe - Nuneaton - Rugby 'Trent Valley' route, (the route south to Kilsby was now energised) now during October the Rugby - Coventry line saw the wiring trains arrive in force. By mid November electric working commenced between Nuneaton & Rugby, two weeks later over 75% of the trains were electric hauled. Transfers to Crewe North (5A) in the last months were D5144 & D5145 (November) & D5009 & D5012 (December), whilst D5087/89/90/92/93 moved to Willesden during December.

At year end Willesden held D5000/01/04/07/15/16/18-21/23-25/27-35/73/75/76-79/87/89-93, D5140/141/143. Camden had D5022/26.

1965
With the advancing electrification and the general steam ban south of Crewe the remaining steam allocation at Willesden could generally be found working occasional Northampton 'locals', Euston ECS duties and certain Great Central workings. Class 40's still continued to dominate the passenger workings south of Rugby, with Rugby itself getting an allocation, leading to the station pilots becoming diesel duties. From January 4th freight and passenger workings north of Rugby were almost completely in the hand of the electrics.
Transfers in January were D5000/01/04/07/09/20/21/23 from Willesden to Camden, with D5012 going to Rugby (1F) and D5035/74/81 transferred in to Willesden. Also moved into the London area were seventeen Class 40's. Despite these re-allocations Willesden continued to experience locomotive shortages.
In February D5000/01/04/88 moved to Willesden followed by D5084 in March. Watford shed (1C), which from time to time had a small allocation of Class 24's closed on March 29th.
By April the Rugby - Coventry electrification was almost complete whilst Euston saw the beginnings of the installation of the masts and overhead catenary. Steam was still well in evidence during April, the local allocations being Willesden:67, Bletchley:34 & Rugby:14. Crew training with EMU's commenced between Watford & Tring, whilst diesels now started to stable at Willesden's new electric depot. Arrivals to Willesden in April were D5085/86.
Rugby shed (1F) closed to steam on May 24th, whilst watering facilities were withdrawn at Euston.
At the beginning of July D5143 moved north to Crewe North (5A). Bletchley steam shed (1E) closed on July 5th, the new electric depot opening at the same time. A week later the new power signal box at Willesden opened, causing much disruption to traffic over the weekend. On July 19th the entire line from Northampton to Queens Park went live, with electically hauled freights now permitted as far south as Northampton. During the summer a Willesden Type 2 working involved the 01.40 Marylebone - Leicester newspapers, the locomotive returning light engine.
September 27th proved to be a turning point in the electrification scheme with through electric freight workings established between Rugby and Willesden, via Northampton. On the same date Northampton & Willesden sheds closed to steam.
Re-allocations in October were D5083 & D5143 to Willesden. By early November testing of the electric services had commenced at Euston, with a regular service beginning on a snowy November 22nd. Additionally the Euston - Rugby/Northampton locals were now in the hands of the AM10 EMU's. Coventry drivers were now being trained on the new electric traction.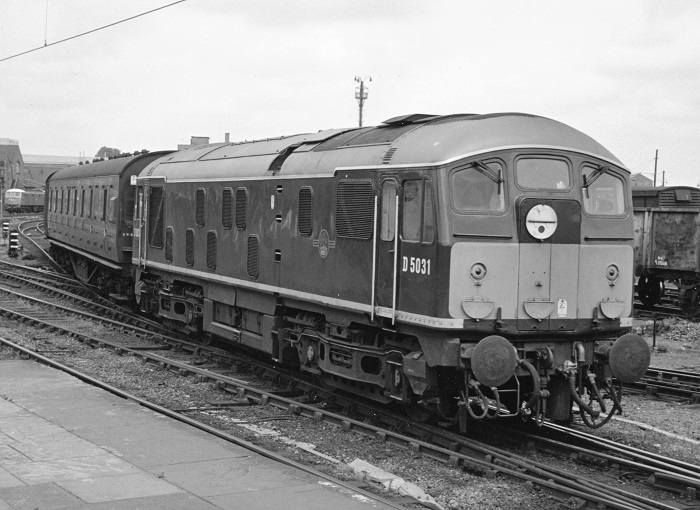 Photograph courtesy Alec Swain/Transport Treasures

Watford maintained a very small allocation of Class 24s during the early 1960s. In this view dated July 3rd 1965 Crewe Works second built Class 24, D5031 shunts coaching stock along side Watford station. The locomotive appears to have been outshopped recently with a strange variant in its paint job, the white band does not continue acroos the cab front!

With the southern end of the WCML now well and truly in the hands of electric traction there began a gradual move north of the diesels. Thirty four Class 40's headed north to Bescot (2F) and Crewe (5A) along with nineteen Class 24's. These moves left Camden without an allocation, the shed closed completely on January 3rd 1966 although diesels still layed over in the yards. Effective December 13 more EMU's replaced the diesels on the Euston - Bletchley - Northampton - Rugby locals.
Reallocations were:
D5007/09/16/18/19/25/32, 5140 to Bletchley (1E),
D5015/20-24/26/29, 5141 to Bescot (2F),
D5083 & 5143 to Crewe (5A).

The reallocations of twenty eight Class 40's and ten Class 24's to Bescot allowed that depot to retire forty steam locomotives.

1966
More Class 24's moved away in January, D5008/17/27 to Rugby (1F) and D5028/30/33/34 to Bletchley (1E). On January 4th the last remaining steam locomotives at Willesden were towed away to Cashmores, Great Bridge, leaving the Western Lines (London Division) with only four steam locomotives on their books, Wolverton Works still retaining its four 'Jinties'. Also dumped at Willesden was 10001. Bletchley's Type 2's were available for freight workings on the Oxford/Cambridge route as well as other local workings. North of Rugby all freights over the Coventry route were now diagrammed for electric haulage.
During April D5014 moved to the London Division (D01), the LMR now using divisonal allocations for its main line fleet. D5013 moved north to Crewe (D05) in May whilst a temporary arrival at Willesden for crew training was D7650. This locomotive was virtually brand new at the time, having only just been received by the Nottingham Division (D16) from Beyer Peacock. This was in anticipation of a batch of the new class 25's arriving from Derby Works by the end of the year. These locomotives were to be dual braked to handle the car sleeper duties between Willesden and Kensington.
On June 6th services ceased on the Rugby - Peterborough line, with Willesden's D5085 in action on this last day. It hauled the last Birmingham - Yarmouth with ten coaches to Peterborough, here D5526 took over. D5085 was then available to handle the final westbound, the 20.12 Peterborough - Rugby, the locomotive on the final eastbound, the 20.52 Rugby - Peterborough remains to be identified.
During the summer (July) ten Type 2's, D5010/11/14/16/17/19/25/27/28/30 moved north to the Birmingham Division (D02) whilst only one Type 2, D5143 came south to the London Division (D01) in August.
On September 3rd, the last day of through workings on the Marylebone - Nottingham Victoria line, there were at least two Class 24's involved in those workings. The 8.15am Nottingham Victoria - Marylebone headed by 44872 got no further than Aylesbury where the Black Five was replaced by D5089. This worked into Marylebone, the return working, the 14.38 to Nottingham Victoria was hauled by D5000! The final working of the day, the 22.50 (SO) Manchester - Marylebone, comprised of three coaches and one parcels vehicle was hauled by D5089 from Woodford No 2 to Marylebone arriving in the early hours of the 4th.
During September more moves north took place with D5013/18 going to the Birmingham Division (D02) whilst D5001/83 came to the London Division (D01). In October D5031/32/33 headed to the Birmingham Divsion. Although steam had been absent from Willesden for a while much of the infrastructure still remained. In trying to dynamite the coaling tower the contractors only partially succeeded in bringing it down. It was left to the crews with the wrecking ball & crane to finally flatten the structure.
Finally in November the first of twelve dual braked class 25's arrived from Derby Works, D7660 - D7671 would be delivered between November 1966 and March 1967. These were the first Class 25's to be delivered from new in the BR corporate blue livery. With their arrival more Class 24's headed north during December, D5073 - D5081 moved to the Stoke Division (D05), whilst Longsight (9A) recieved D5091 in exchange for D5134. Also heading back north to the Nottingham Division (D16) was D7650, its training days at Willesden now finished. Having finally disposed of the coaling plant the contractors then demolished the steam sheds at Willesden, the site being completely cleared to allow work to commence on a new freightliner terminal. Diesels were now stabling at Stonebridge Park.
Willesden's Class 25 fleet at year end comprised D7660 - D7666.

1967
Further encroachment of the electrification plans found the Rugby - Coventry - Wolverhampton local services operating from January 1st with AM4 EMU's.
D5082 & D5083 moved to the Stoke Division (D05) in January.
New arrivals in February were D7502 & D7513 to the London Division (D01). On February 16th front line duty befell D5060 when it was required to assist the 06.45 Holyhead - Euston forward from Tring when E3005 developed problems.
The last of Willesden's new Class 25's, D7669 (received out of order) arrived during March, whilst more Class 24's headed north, D5034/35 to the Birmingham Division (D02), D5085 - D5093 to the Stoke Division (D05) with D5134 going to Longsight (9A). Two of the newest arrivals, D7670 & D7671 moved to the Nottingham Division (D16), replaced by D7656 - D7659.
A Willesden Type 2 was used to assist contractors in the lifting of the Banbury - Verney Jct line, in the third week of March D7502 was used on this duty. Another duty for one of the diminishing Willesden based Class 24's was a parcels working in the Coventry area. The duty began at Leamington with a light engine move to Coventry to work the 03.30am parcels to Leamington. The locomotive then ran light back to Coventry to work the 06.15am parcels to Nuneaton, returning light engine to Leamington. The locomotive would then remain idle from 11am to 7.30pm, though occasionally would run light engine to Hawksbury Lane to take the 16.30pm Mobil Oil train to Coventry, with an electric going forward to Coryton. A return would then be made to Leamington to take up the 7.32pm parcels to Nuneaton, returning at 9.38pm to Leamington. The locomotive would then remain idle until the following early morning, before a light engine move to Coventry to repeat the cycle. For much of March D5059 was in charge of this turn.
April saw the transfer away from Willesden of the final Class 24's still allocated there, D5000 - 5009, 5057 - 5060 & 5084, all being moved to the Stoke Division (D05). Sent to partly replace them were D7560 - 7564 from Toton and D7644 - 7646 from Tinsley.
During July the former site of the Willesden carriage sheds was prepared for the building of a Proler auto re-processing plant, scheduled to open during the autumn. The following month D7502 & 7513 moved to the Soke Division (D05), whilst in in November D7560 moved to Springs Branch (8F).
As the year closed out the London Division (D01) Type 2 fleet consisted of 7561 - 7564, 7644/45/46, 7656 - 7669.

1968
The southern end of the WCML was now pretty much done with the modernisation/electrification plans and the local locomotive fleet stabilised with its plethora of electrics for the majority of the mainline duties and Classes 08/20/25 for the shunting, station pilot and local trip workings. Transfers in and out of the area for the Class 25's would continue for many years to come. Only the highlights are detailed below.
During April 7669 received minor damage in a mishap in the Willesden area.
Effective June 17th the LMR revised its Divisional allocation codes discontinuing the D14, ML & WL codes, placing all the London area Type 2's under the new D01 (London Division) code. This brought to Willesden a block of boiler equipped Type 2's, previously 'allocated' to Cricklewood, these being D5213 - D5225, which were frequently assigned to Royal Train workings emanating from Wolverton.
Following this re-alignment the London Division (D01) was now home to D5194, 5213-5225/41/70/71, 7563/64, 7644-7646, 7656-7669, a total of thirty six Type 2's. These locomotives could be found working out of Cricklewood or Willesden.
By the end of summer 7561 - 7564 had moved on, the first two to the Birmingham Division (D02), the other two to Preston Division (D10).
Two boiler equipped locomotives, 5226 & 5227 arrived in October, their stay was brief, during December they moved on to the Nottingham Division (D16), along with nine other Class 25's from Willesden. The London Division (D01) Class 25 fleet at year end was 5213 - 5224, 5241, 5270 - 5272, 7644 - 7646, 7660 - 7669.

1969
The Duke of Edinburgh's visit to the Yorkshire area on June 26th utilised a four coach train hauled by 'Royal Regulars' 5226 & 5223 (D01).
A trip to deepest Sussex was made by 5214 on July 13th being sent from Cricklewood to Lewes to recover 41 which had failed on the previous day's 19.19 northbound service. The Peak had only reached Southease before expiring, E6031 pushed the train into Lewes, sidelining the Peak, then taking the train to Clapham Jcn where 18 had arrived to take over. That same day (12th) an Open Day held at Cricklewood Diesel Depot featured three preserved steam locomotives: 45428, 5593 & 7029, two LMR electrics E3044 & E3156, Peak 36, HS4000 and two diesels frequently found on Royal Train Workings, 216 & 5223.
Re-allocation activity during the first half of 1969 was negligible. Thirteen Class 25's arrived in July & August, including early members 5183 - 5186 and others 7529 - 7537 & 7643. Some of these transfers covered the loss of English Electric Type 1's 8000 - 8005, which had moved to the Nottingham Division. The Type 1's had been at Willesden since delivery, now the only diesels allocated here were the Class 08 & 25's. All the local freight duties, including the Euston station pilot and parcels workings were in the hands of Class 25's. ECS movements included the Perth car sleeper from Stonebridge Park to Olympia, returning with the 15.15 & 15.22 services from Olympia as far as Willesden.
During November 5186 arrived leaving the year end allocation at Willesden as 5183 - 5186, 5213 - 5223, 7529 - 7539, 7644/45, 7660/61/66 - 69.

1970
With the operating requirements at Willesden pretty much stabilised the transfers of locomotives seemed to operate on the 'one in/one out' principal as detailed following:
February in 5270/71, out 7643 to the Liverpool Division (D08)
May in 7662, out 7535 to the Birmingham Division (D02)
June in 7535, out 7645 to the Birmingham Division (D02)
The Royal Train again received Class 25 haulage on May 9th when 5206 & 5223 (D01) worked the Queen Mother from Selly Oak to Bedale (for Catterick) where the train stabled overnight before returning to Wolverton as ecs the next day.
On August 8th memories were stirred when a pair of Class 24's, 5032 & 5040 reached Willesden on a London bound coal train. They quickly returned north light engines, Class 24's were by now rarely seen south of Rugby. For the Class 25's at Willesden a number of brake tenders were supplied to assist them with the Chelsea Basin - Willesden coal workings.
On the south side of London Hither Green was frequently visited by Willesdenís Class 25ís, the 8M83 14.52 Hither Green - Willesden being regularly used to return the visitors to the LMR, so noted in a short period during October were 7531, 7662/67/69.
Willesden's fleet at year end was 5183 - 5186, 5213 - 5223, 5271, 7529 - 7539, 7660 - 7662, 7666 - 7669.


1971
Re-allocations for 1971 were at a higher level than the previous year, though generally the fleet size at Willesden remained constant.
January in 7606/07/10/21/29/58, out 7538/39, 7666 - 7669 to the Birmingham Division (D02).
February in 7655
March in 7650, out 5271 to the Liverpool Division (D08).
May in 7626, 7663/64, out 7610 to the Birmingham Division (D02) & 7635/36 to the Liverpool Division (D08).
July in 7665/66, out 7621, 7655 to the Birmingham Division (D02).
At the close of the summer timetable a major reorganisation of the locomotive fleet took place, specifically targeting withdrawal of of the remaining NBL & Clayton types on the Scottish Region and certain of the hydraulics on the Western Region. Despite the withdrawal of three percent of the fleet and transfers of ten percent, Willesden was little impacted by all this activity.
October in 7525 - 7528, out 7606/07/26 to the Nottingham Division (D16).
December in 7554/55, out 7534/35 to the Birmingham Division (D02).
Allocation at year end was 5183 - 5186, 5213 - 5223, 7525 - 7533/54/55, 7629/50/58/60-66.

1972
January in 7536
February out 7536 to the Manchester Division (D09).
Activity at the southern end of the WCML during February featured alot of 'foreign' diesel locomotives, the impact of the coal miners strike brought about disruption to the electricity supply, with BR switching to diesel haulage where possible to conserve electricity.
March in 7639, 7674, out 7554 to the Liverpool Division (D08).
April in 7593/96, 7626, out 7532/33 to the Birmingham Division (D02).
With the introduction of the summer timetabled Stirling - Dover motorail (from May 26 to Sept 23) a pair of Willesden's Class 25's were required to bank the train up to North Pole Jct, presumably Control felt the diagrammed southbound Class 33 required assistance at this point.
During the summer further inroads into the Western Region hydraulic fleet took place. This time the reshuffle of locomotives did impact Willesden's fleet with a number of 'long stayers' moving to pastures new, not simply a shuffle within the LMR, but venturing to ER & WR depots.
July in 7586 (ex-ER), out 5213 to Bristol (82A) and 5223 to the Nottingham Division (D16).
August provided more re-allocation activity than normal with 5212, 5293, 7522/23/24/32/33/65/66/67 transferred in, outgoing were 5183/84, 5214 to Leeds Holbeck (55A) and 7626/39 to the Nottingham Division (D16).
September in 5187 & 7570, out 5293 to the Manchester Division (D09) and 7522 to the Preston Division (D09)
October 5185 to Tinsley (41A), 7523 to Manchester Division, 7629 to Birmingham Division (D02), 7650 to Liverpool Division (D08).
November 16th saw 5221 (D01) & 5222 convey a five coach Royal Train with Princess Anne aboard from Euston to Hope. The train returned ecs to Wolverton via the Midland to Market Harborough.
December in 7522, 7633 & 7650.
A new stabling point for Willesden's Class 25's opened next to the signing on point at Stonebridge Park, combining those that had been at the carriage shed and near Brent Yard.
Willesden's Class 25 fleet at year end comprised 5218/19/21, 7522/24 - 33/55/66/67/71/72/86/96, 7600/45/50/60/61/74.

1973
December 1972's recent arrivals 7633 & 7650 headed north to Liverpool Division (D08).
Royal Train duty befell 5218 & 5219 on February 14-16th. The Duke of Edinburgh journeyed from Euston, at 23.00 to Sheffield via Northampton & Leicester. Twenty four hours later he returned to Lamport, near Market Harborough, with the five coach train stabling overnight, before leaving at 7am for Leatherhead via the west London line, Clapham Jcn, Selhurst, West Croydon & Sutton. On return the Class 25's ran through to Dorking, there running round heading back to Wolverton via Sutton, Mitcham Jct & Clapham Jct. Overnight heating was provided by a heater van delivered by 5221.
During March 7571/72, 7600/45 arrived at Willesden whilst 7570 & 7658 headed to the Nottingham Division (D16).
May in 7523 & 7564
June in 7622, out 7522 to Crewe.
Ascot Week saw a number of specials arriving in the hands of Class 47ís, however two from Manchester Piccadilly received Class 25ís between Willesden and Ascot, 7523 & 7530 on June 20th and 7645 & 7662 on June 21st.
A 1973 view of a rather tatty looking D5186 as it deals with some coaches at Kensington Olympia. Not allocated at this time to Willesden, 5186 had probably been borrowed from Cricklewood. As well as still sporting green livery, the nose end doors are also still in place.
Photograph courtesy of John Law.
July in 7534 & 7535.
August in 7592, 7658 & 7659.
September in 7606 & 7607, out 7571/72 & 7586 to Crewe.
October out 7606 & 7607 to Toton.
November out 7567 to Longsight.


1974
January in 7522 & 7665, out 7566 to Eastfield, 7645 to Cricklewood.
February in 7536 & 7537, the latter quickly moved on to Bescot.
March in 25221 & 25222, out 7622 & 25315 to Cricklewood.
April out 7522 to Cardiff May in 25036, 25236/243, 25312/315, out 25205 to Cricklewood
June in 25265, out 25243 to Cricklewood.
On May 5th the electric current between Bletchley & Watford was 'off' for engineering works, eleven Class 47s and Willesden's 25242 & 25311 were used to haul the electric trains through this section of track. The next day 25068 & 25069 were used to take the Queen, on the Royal Train from Scunthorpe to Lowton.
August in 25072, out 25036 to Cricklewood.
October out 25186
On November 6th the empty Royal Train was taken to Kings Lynn by 25069, the locomotive returned south whilst the Royal Train later headed out to Balmoral.
At this time the Class 25's diagrammed for the Fletliner service changed to Longsight allocated locomotives, with them filling in on local turns (principally to Bletchley) whilst in the London area.

1975
January in 25070
March in 25185 & 25190
Towards the end of March a dispute arose involving maintenance and workshop supervisory staff. In the Willesden area this had an immediate impact on the local passenger services and slowly affected the Willesden based Class 25's. Many foreign Class 25's were borrowed from inbound freights for all sorts of work, Tinsley's 25015 ended up as the Euston station pilot on April 9th. Things started to return to normal when the strike finished on April 14th.
May in 25137/184/193, 25302
Willesden still continued to borrow many foreign class 25's throughout April & May.
Willesden's allocation of mainline locomotives were all transferred away during June, including all their Class 25's:
25137 & 25302 went to Toton whilst 25068 - 25072, 25173 - 25185/190/193, 25221/222/236/265, 25309 - 25312/315 all went to Cricklewood.

The fate of the Willesden's original new allocation: 5143 - 5146 & 7660 - 7671
| | | | | | |
| --- | --- | --- | --- | --- | --- |
| Loco: | To Traffic: | Withdrawn: | From: | Despatched to: | Broken up by: |
| 24143 | Nov 60 | Jan 76 | Crewe | Swindon | May 76 |
1979
| | |
| --- | --- |
| | With Christmas only days away 25297 stands in the well lit shed on December 22nd 1979. During June 1975 Willesden lost its allocation of mainline locomotives, with the majority of its Class 25's going over to Cricklewood. |
1980
| | |
| --- | --- |
| | The 'modern' Traction Maintenance Depot bears little resemblence to the sprawling steam shed that once housed Willesden's large fleet of steam locomotives. On March 29th 1980 25243 stands inside the depot receiving some sort of attention. The hinged air filters reveal this is one of the dual-braked fleet. |
1982
Its February 28th 1982 and 25189 stands in the dampness whilst being refuelled at Willesden. Visible through all the electrification clutter is the Proler car crushing/recycling plant, complete with its resident Class 03.

From the collection of Mark Cook.
1984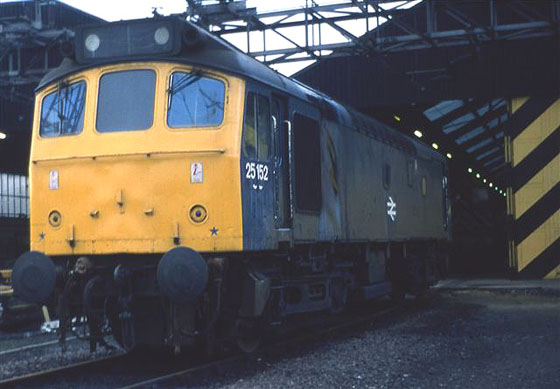 Photograph courtesy Andy Key
Withdrawn 25152 stands in front of the depot building on January 28th 1984. 25152 was a well travelled locomotive on the LMR & WR, spending a brief time at Willesden from February to August 1967. It returned to the London area in March 1983 when it was allocated to Cricklewood, from where it was withdrawn on January 26th 1984. Its time spent at Willesden in a withdrawn state was brief, by February 16th 1984 it was on its way to Swindon, where it was broken up during January 1985.
Page added July 8th 2001
Page updated June 28th 2008