D7599, 7599, 25249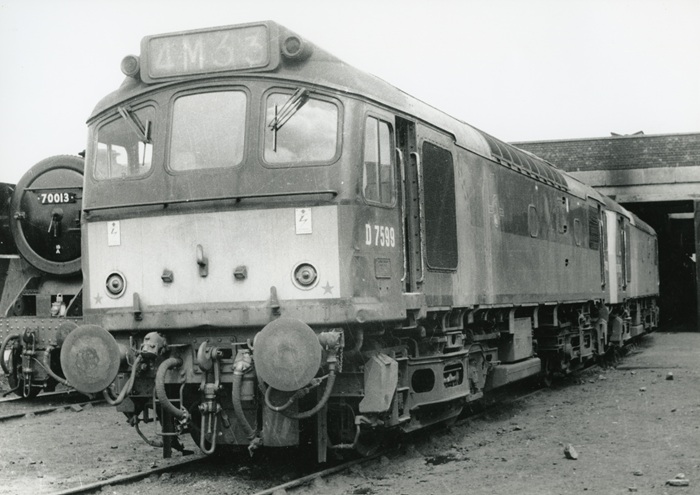 A very work stained 7599 stands at Carnforth, towards the end of the steam era.
D7599/25249 missed its 21st anniversary by just one week. Allocations included Eastern, Scottish & London Midland Region depots, with the vast majority of the time spent on the LMR.
Built: BR Derby Locomotive Works.
Dual brake equipped.
Allocations
D7599 was new to Tinsley (41A) on February 5th 1966. Further transfers were:
October 1966 to Eastfield (65A) on loan.
September 1967 to London Midland (Midland) Lines.
June 1968 to Nottingham Division (D16).
December 1969 to Birmingham Division (D02).
October 1971 to Manchester Division (D09).
March 1972 to Liverpool Division (D08).
November 1972 to Preston Division (D10).
May 1973 to Kingmoor.
July 1973 to Springs Branch.
September 1974 to Kingmoor.
January 1975 to Springs Branch.
October 1975 to Longsight.
August 1977 to Toton.
November 1980 to Springs Branch.
October 1982 to Crewe.
Withdrawn January 29th 1987.
Renumbered February 23rd 1974.
After withdrawal 25249 was stored at Basford Hall until sold to Vic Berry, Leicester and moved to Humberstone Road on June 2nd 1987 and into Vic Berry's yard the next day. It was added to the stack by October 1987 and was scrapped during the last week of March 1989.
Works Visits
Works visits (records incomplete).
Noted Crewe Works October 1969.
Noted Derby Works April 1970.
Noted Derby Works May, July - August 1974 (dual brake equipment fitted).
Noted Derby Works October - December 1979 (General repair).
Highlights
1966
D7599 was constructed at Derby during the winter of 1965/66, part of a batch of thirteen machines (D7598 - 7610) destined for Tinsley (41A), all were released to traffic during February 1966.
In October D7599 moved north to Eastfield (65A), spending eleven months there.
1967
In September the Scottish Region swapped D7598 - 7601/11/12 for D7576 - 79/81/83/84, the latter being boiler equipped, allowing them to replace the ailing NBL types on the Glasgow - Dundee route.
1969
7599 visited Crewe Works for repairs during October and transferred to the Birmingham Division (D02) in December.
1970
Derby Works was host to 7599 during April for repairs.
1971
In October 7599 moved to the Manchester Division (D09).
1972
March saw a move west to the Liverpool Division (D08) for 7599, then it was back to the Manchester Division in October.
1973
Transfers in 1973 sent 7599 to Kingmoor in May, then to Springs Branch in July.
1974
During August 25249 paid a visit to Derby for repairs, once released it was transferred to Kingmoor.
1975
During January 25249 returned again to Springs Branch, then it was off to Longsight in October.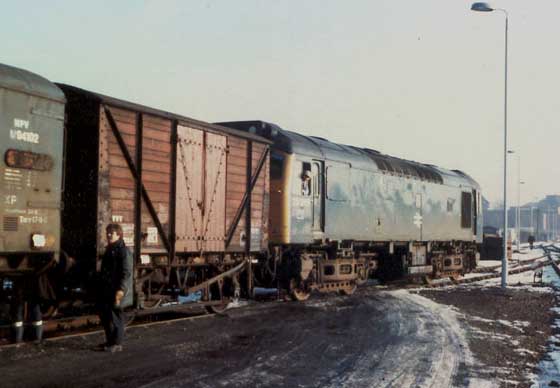 Photograph courtesy Mark Cook.
On a cold winters morning 25249 shunts parcels wagons at Aylesbury, date unknown.
1978
Stone traffic from Mountsorrell to Kennett had recently transitioned to new, air braked high capacity wagons. The second trip on October 4th ran behind 25249 & 25301 with twenty four wagons. Further south the new GLC Freightliner Refuse Terminal at Brent received a trial run on November 8th with 25249 in charge, regular service to Stewartby commenced November 23rd behind 45045.
1979
A general repair for 25249 was carried out at Derby from October to December.
1980
The 11.35 Poole - Newcastle on July 17th was noted at Sheffield behind 25249 & 25279. November found 25249 now transferred back to Springs Branch depot.
1981

25249 keeps company at Springs Branch depot with the brakedown crane and several Class 47's on February 21st 1981.
Photograph courtesy Tony Sayer.
1982
25249 strikes a fine pose at Cockshute on February 6th 1982.
Photograph courtesy Jerry Glover.


Crewe was the new home of 25249 from October.

1983
During March 25249 receieved an 'E' exam at Crewe.

25249 arrived at Ipswich with five tanks from Langport on May 14th, 47242 took the train forward to Parkeston whilst 25249 returned light to March. Despite the increasing numbers of Class 31's available over the WCML the Bank Holiday diversion of the Euston - Aberystwyth services north of Rugby used pairs of Class 25's. The 07.35 used 25117 & 25237, the 10.10 featured 40135, due to be relieved by 25249 & 25306 at Birmingham, but instead working through to Aberystwyth. In the opposite direction 25250 & 25287 took the 10.10 ex Aberystwyth as far as Nuneaton.

1984
In the late evening of January 25th both 25249 & 25257 failed near Roade working a Stanlow - Salfords oil train. Bletchley provided two more Class 25's and a fitter to resolve the problem, with the train finally getting past Bletchley in the early hours of 26th. The Ditton - Broughton Lane BOC tanks continued with its familiar pair of Classes 25 & 40, so noted were 40196 & 25254 (April 28th), 40155 & 25059 (May 5th) & 40001 & 25209 (May 15th) whilst an extra working on April 29th produced 25249 & 25262.

On June 16th 25249 & 25303 worked the 07.44 Shrewsbury - Aberystwyth, returning with the 10.10 to Euston as far as Shrewsbury. 25249 covered the same diagram on June 23rd, this time attached to 25284.

A working once familiar to the Class 25's was seeing a greater use of other classes, the 18.12 Manchester - St Pancras parcels, as far as Derby. Noted during August were 25185 (1st), 25316 (20th) & 25249 (22nd) as were a number of the fast disappearing Class 40's. November 8th saw a number of Class 25's on front line passenger duty. 25199 was noted at Huddersfield in charge of 08.47 Holyhead - Newcastle whilst 25058 assisted failed 45136 on the 15.10 Bangor - Scarborough. On the same day at Leeds 25249 & 31434 were noted arriving on an afternoon service from Lancaster.

1985
Not only were the Class 25's fading fast but some of their long-standing traffic flows were also disappearing. Thus it was left for 25249 to handle the last London Brick Company 'Fletliner' on January 25, the 4F53 12.40 Stewartby - Garston brick train. Traffic formerly sent to Kings Cross, Trafford Park & Garston now moved by road. On February 23rd a shortage of electric locomotives found 25249 & 25303 in charge of the early morning Ditton - North Wembley BOC tanks. On May 4th a diverted early morning Willesden - Coatbridge freightliner was noted through Newcastle behind 25249 & 25259. Two days later the same pair passed through Huddersfield on oil tankers.
Classic traction at Preston on a very wet Sunday October 6th 1985. 25249 has charge of a parcels train whilst much water pours from the guttering of a local dmu.
Photograph courtesy Steve Houlker.


1986
On May 27th strong winds brought the overhead wires down on the WCML, with a number of services being diverted. The 09.50 Paignton - Glasgow traveled via Newcastle with the leg to Carlisle covered by 25249. Noted on June 25th the 16.46 Carlisle - Leeds arrived very late behind 25249 towing 31271 & 47474. The failure of the 08.17 Holyhead - Newcastle at Chester behind 45040 on July 10th was cause for 25249 to take over as far as Manchester, where 47110 substituted. The following day 25249 was noted in charge of a block tank working on the Cumbrian coast line.
A surprise working following damage on the WCML was 25249 working the Carlisle - Newcastle leg of a Paignton - Glasgow working diverted to the ECML, May 27th 1986.

Thanks to Paul Fuller for this fine shot of this most unusual working.
Class 25 No. 25249 crosses a small stream at Meathop near Grange-over-Sands on the evening of July 11th 1986 en route to Whitehaven. As steam on British Railways ended its days in North West England in 1967/68 so the Class 25's would find their final duties carried out in the same area some twenty years later.
Photograph courtesy John Broughton.
From the same vantage point, 25249 is captured heading west towards Grange-over-Sands.

And such was the versatility of these machines that on the previous day 25249 had come to the rescue of failed 45040 working the 08.17 Holyhead - Newcastle at Chester, the Class 25 assisting as far as Manchester, where big sister 47110 substituted.
Photograph courtesy John Broughton


Four Type 2's were used on the last Class 25 hauled railtour, Hertfordshire Railtours 'Mersey Ratcatcher' (1Z30) of September 28, 1986. The tour started in Euston behind 25313 & 25249 running as far as Birmingham International where 86237 took over for the trip to Birmingham New Street. This odd move was created due to construction at New Street closing the west end of the station making run rounds difficult. 25313 & 25249 came back on the train heading off to Leicester, Derby, and over the Hope Valley line to Manchester and Liverpool Lime Street. Here 25904 & 25910 made the short run down to Crewe, via Chester, where the original pair took up the final run to Euston via the Trent Valley line, completing a day of 490 miles of 25 haulage.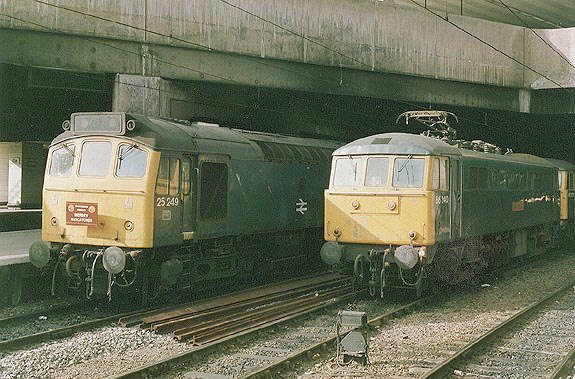 Photograph courtesy Paul Bettany
25249 (& 25313 out of sight) stand at Birmingham New Street awaiting the right away with the last Class 25 railtour, September 28th 1986. Engineering work at New Street prevented the Type 2's from running around their train here, hence they had been removed at Birmingham International with 86237 working the short hop to New Street, with the 25's following and regaining the train here.
From the publicity about the final railtour, a map of the route.

Thanks to Mark Bennett for this fine piece of memorabilia.


1987
For 25249 Christmas 1986 and the New Year were spent at Crewe Diesel Depot. The locomotive had been out of traffic since the evening of December 16th awaiting a 'C' exam and exhaust system repairs. It was not until January 15th that 25249 was finally back out on the road, being noted at Workington on the evening of January 16th.

On January 24 & 25th 25249 was active in the Warrington area, including jobs to Over & Wharton and Deanside. On the evening of 27th the locomotive was at Derby Etches Park scheduled for the 1M38 to Crewe. After arrival at Crewe Depot investigation was made into a reported 'low power' problem. However repairs were not forthcoming with the locomotive taken out of service on January 28th.

Movement to Vic Berry's, Leicester with 25199, 25244 & 25906 took place on June 3rd, with the end coming for 25249 by the end of the month.

(With thanks to Neil Cannon for making available the TOPS reports for 1987).

00/00
No flk

Page added May 6th 2000
Last updated April 9th 2014.