D7665, 7665, 25315
and 25910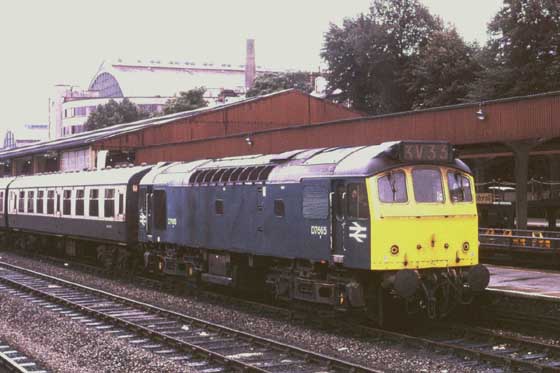 Photograph courtesy Tom Sutch.
D7665 at Kensington Olympia sometime during 1968.
1966
Laid down in the summer of 1966 at Derby Works as part of order No. 11001 D7665 was part of the order transferred from Beyer Peacock. D7665 was delivered from Derby during December to the London Division (D01).
D7665 was train air brake fitted and delivered in blue livery with full yellow ends.
1968
Visitors to Southend during June were D5223 (3rd) on an excursion from Bedford and D7665 (16th) with an excursion from Northampton.
During December D7662 - 7665 were transferred to the Birmingham Division (D02).
1970
7665 was noted under repair at Derby during June.
1971
7665 returned to the London Division (D01) during July.
1973
In May 7665 was transferred to Cricklewood.
It was a trip to the seaside (well almost) on August 4th when 5272 & 7665 worked the 08.30 Walsall - Yarmouth as far as Norwich, returning from there with the 14.30 return leg.
1974
In January 7665 moved to Willesden, then to Cricklewood in March and then back to Willesden in May.
Renumbered to 25315 during March.
1975
During June 25315 moved to Cricklewood.
1977
25315 was noted at Derby Works during January & February, This was the last classified repairs for 25315.
During the first week of June Cricklewood based 25315 was having adventures in the West Country leading the empty coaching stock of the 15.45 Lympstone Commando - Birmingham down the Exmouth branch, train locomotive 46004 was attached to the rear.
1978
25315 & 25270 had a couple of busy days in the middle of August, on 19th working the 09.19 Manchester Piccadiily - Yarmouth as far as Lincoln, and coming back with the 09.19 ex Yarmouth. Two days later the same pair worked a round trip Leicester - Skegness.
1979
25315 was back at Derby Works during August & September with power unit (N1) repairs.
1981
January 19th found 25315 in trouble on the northbound Fletliner, suffering a seized traction motor at Wellingborough. Assistance arrived in the shape of 47149, replacing the defective 25 and sister 25326.
During the first week of August 25315 was active in the Exeter area, on 3rd being noted on a Barnstaple service.
25315 was transferred to Toton during November, the same month it was noted at Derby Works for N6 repairs. On December 13th it was noted on the 02.25 Euston - Bletchley forward from Watford Junction.
1982
25315 moved to Springs Branch during June.
25315 assisted three services between Watford Junction & Willesden on August 22nd due to engineering work requiring the power to be turned off.
On September 3rd 25315 made very heavy weather of the eleven coach 07.36 Northampton – Euston, the slow line was taken at Ledburn to allow the Class 86 powered 07.46 ex Northampton to pass!!
1983

The 13.15 Stranraer Harbour - Glasgow Central featured 25315 & 26040 for the first leg of the journey to Ayr on January 19th.
On May 3rd 25315 handled an extra Holyhead – Pengam freightliner.
25315 keeps company with 25249 and 25210 at Birkenhead on May 30th 1983.
Photograph courtesy Jerry Glover
The 10.10 Euston - Shrewsbury utilised 25315 & 25259 forward from Birmingham New Street on June 18th.
During July 25315 was transferred to Crewe. At month end it was noted assisting an electric service between Bletchley & Rugby, the power was off for engineering work.
On August 9th the 07.34 Manchester Victoria - Liverpool was hauled by 25315.
A gloriously fine and sunny August 13th 1983 finds 25315 basking in the sun at Chester.
Photograph courtesy Jerry Glover
25315 at Gatewen Colliery on August 19th 1983 under interesting cicumstances. The coal wagon has sustained some bodywork damage and the Class 25 has minor damage to the cab front at the bufferbeam level.
Photograph collection of webmaster.
During the week before Christmas 25315 was noted on December 20th hauling an unadvertised Euston - Hemel Hempstead service, again power was off due to overhead line damage.
1984
A phenomenon involving the Class 25's was their popularity with a dedicated enthusiast following, one such group, the Midlands based 'Rat Roadshow' were usually found in various states of dereliction on many Class 25 hauled excursions and scheduled service trains. As evidence of their dedication to the cause an un-official headboard was frequently carried by the locomotive, one occasion being May 26th, when 25315/037 worked the 07.44 Shrewsbury - Aberystwyth and coming back with the 10.10 to Euston as far as Wolverhampton. 25315 would appear twice more this year on the Cambrian services - the following week (June 2nd) with 25265 and on June 9th with 25288, in both cases covering the same diagram as operated on May 26th.
July 19th's 14.00 Scarborough - Liverpool became a failure at Patricroft, here 25315 was added to 47567 for the run to Liverpool.
Christmas Eve travellers in North Wales had the delights of 25315 on an afternoon Llandudno Town - Scarborough service, the Type 2 replaced at Manchester Victoria by a Class 47.
1985
On February 2nd the 07.45 Cardiff - Manchester was worked by 25315 to Crewe, possibly the result of the failure of 33014. 25315 returned to Cardiff with the 12.30 ex Manchester Piccadilly.
February 18th's 17.25 Liverpool - Euston utilised 25315 & 25287 to Crewe via Chester, with a Class 86/2 taking over the train at Crewe.
A charter from Stranraer Harbour to Dover on March 7th was worked by 25315 & 27206 to Ayr where 20048 & 20137 took over.
25315 & 25286 covered the last leg of a relief Exeter - Edinburgh from Carstairs on August 5th.
A dmu failure on September 10th found 25315 covering the 07.47 Carlisle - Newcastle throughout whilst a similar event on September 29th ?? found 25315 on the 06.16 Barrow - Manchester Victoria service. Three days later on October 2nd 25315 worked three passenger services between Preston & Liverpool.
25315 was transferred to Kingmoor in November and renumbered 25910.
25315 Cardiff February 3rd 1985
Photograph courtesy Tony Sayer
25315 7L69 Willesden - Bletchley March 18th 1985 at Watford.
Photograph courtesy Ian Hammond
1986
On September 28th 25910 & 25904 hauled 'The Mersey Ratcatcher' from Liverpool to Crewe via Chester.
Although in the final years the Type 2's were all allocated to the LMR they remained very active in the Scottish Region, made possible by the use of Carlisle drivers with their route knowledge north of the border. Here 25910 & 25903 keep company with 26015 at Motherwell on August 16th 1986.
Photograph courtesy Ian Hammond
25910 at Warrington - August 24th 1986. In renumbering the locomotive the number has been placed lower down the cabside than other examples.
Photograph courtesy Tony Sayer
1987
25910 (ex 25315) became one of the last remaining Class 25's in service, the following notes are from the TOPS reports for 25910 during its last three months.
The final days of 1986 and the first days of 1987 were spent in the Warrington area. On January 2nd 25910 was noted at Chester for inspection and repair having been involved in a fatality, no other details of this are recorded. On January 8th & 11th it was noted in the Llandudno Junction area. On the afternoon of 11th 25910 joined up with 25902 to work a job to Ellesmere Port. This pair would remain together at least until January, working jobs in the Llandudno Jct, Crewe & Warrington areas.
By January 23rd 25910 had been joined to 25912 working jobs to Deanside, Winsford, Over & Wharton and Garston to name but a few - how long this pair remained together is not known. By month end 25910 was running up the miles in the Warrington area.
For much of February 25910 was recorded working in the Llandudno Jct area, though by 24th it was stopped at Crewe with a compressor fault, repairs were expected to be completed by February 25th. 25910 came to the rescue of 47540 at Colwyn Bay on February 17th after the latter failed on a Holyhead – Stratford freightliner, both were replaced at Rhyl by 47140.
By March 3rd 25910 had reached Carlisle, with an 'A' & 'B' exam being carried out here. By March 6th 25910 was noted on the 6S81 Tyne Yard - Mossend. The next day it was back at Carlisle and then on to Warrington on the 9L63.
By lunchtime on March 18th 25910 had reached Crewe where it was taken out of service. On the morning on June 24th it was moved down to Basford Hall for storage. On July 16th 1987 25042, 25058, 25285 & 25910 moved as the 9L37 10.50 Basford Hall - Leicester Humberstone Road, this batch of locomotives were tripped to Berry's Yard on July 24th as the 9T16. By the third week of September 1987 25910 had been disposed of.
Basford Hall July 11th 1987 - 25910 awaits its final movement to the scrapper.
Photograph courtesy ??
With thanks to Neil Cannon for making available the TOPS reports for 1987.
And to Alan Baylis for many of the Class 25 passenger workings,
Page added August 5th 2006.
Last updated February 5th 2012.