D7664, 7664, 25314
97252 - ETHEL 3
Photograph courtesy Danny Preston, collection Neil Johnson.
A fine portrait of 25314, atWarrington Arpley on November 7th 1981.
For a larger view of the picture click here.
The sixteen year four month career of D7664/25314 was spent allocated to a few London Midland Region depots.
Allocations
D7664 was new to the London Division (D01) on November 23rd 1966. Further transfers were:
December 1968 to Birmingham Division (D02)
July 1971 to London Division (D01)
May 1973 to Cricklewood
Withdrawn March 20th 1983.
Renumbered into TOPS March 16th 1974.
Renumbered to 97252 'Ethel 3' July 1983
After withdrawal 25314 was stored at Crewe. It was taken to Derby Locomotive Works on June 23rd 1983 for attention prior to becoming 97252.
Works Visits
Works visits (records incomplete).
Noted Derby Works March & April 1977.
Noted Derby Works August & September 1979
Noted Derby Works April 1982
Noted Derby Works June & July 1983 (Ethel conversion)
Highlights
1966
Laid down in the summer of 1966 at Derby Works as part of order No. 11001 D7664 was part of the order transferred from Beyer Peacock. D7664 was delivered from Derby during December to the London Division (D01).
D7664 was delivered with train air brakes and in blue livery with full yellow ends.
1968
During December D7662 - 7665 were transferred to the Birmingham Division (D02).
1971
7664 to moved to the London Division (D01) during May.
1972
One of my earliest recorded Class 25 haulages occurred on July 29th when 7663 & 7664 were used between Derby & Leicester (on the Yarmouth service?).
1973
During May 7664 moved to Cricklewood, this was its last transfer whilst in revenue earning service as a powered locomotive.
1975
On April 4th two northbound services from St Pancras were Class 25 hauled, 25314 took the 17.13 to Leicester and 25285 & 25037 the 17.26 to Derby.
1977
25314 was at Derby Works during March & April for repair. On a very damp April 6th 25314 went out on test assisting 45119 on a London service (to Leicester presumably).
25314 & 25266 were noted on the last day of July assisting a southbound WCML service between Bletchley & Willesden.
1979
25314 was back at Derby Works during August & September with NC repairs.
1981
May 16th saw a veritable feast of Class 25's in passenger service in the Birmingham area including 25033 & 25314 taking over from 46023 on a Skipton - Bridgnorth special, the Class 25's working as far as Bridgnorth.
A week later on May 23rd 25314 & 25253 worked a round trip over the Cambrian lines, out from Wolverhampton to Aberystwyth and then back to Wolverhampton.
On August 15th 25314 worked the 07.35 Nottingham - Llandudno Town and 13.26 return.
1982
On February 27th 21.24 Bristol Temple Meads - Glasgow Central took banking assistance from 25314 for its ascent of the Lickey Incline.
On March 14th the 15.02 Manchester – Bristol parcels failed at Shrewsbury behind 25314, nearby 25318 & 25319 on a Cranmore – Ellesmere Port tank train took the parcels forward to Hereford. Here 25318 continued south, still with 25314 attached, whilst 25319 returned north to continue on with the tank train.
25314 receives attention at Derby Works on April 24th 1982.
Photograph courtesy Tony Sayer
September 5th found 25314 at the southern end of the WCML assisting one southbound service between Watford Junction & Willesden because the power was off for engineering work. During 1982/83 25314 was one of a small pool of locomotives maintained at Bletchley specifically to handle the Fletton sidings - Wembley brick trains. Bletchley handled the A & B exams and tried to keep them on locals turns in between the brick workings and the Tring cement jobs.
1983

25314 was withdrawn on March 20th and stored at Crewe.
June 23rd found Crewe depot sending withdrawn 25314/319 & 40007/019 eastwards, the Class 25's to Derby and the Class 40's to Doncaster. The Class 25's had been out of service for about three months and were received at Derby for generator and bogie work prior to their moving to Aberdeen to join ADB 97250 as generator vehicles. 25314 would become ADB 97252 and allocated to Eastfield during July 1983. Unfortunately 25319 would not leave Derby as intended, eventually being scrapped at Swindon in December 1985.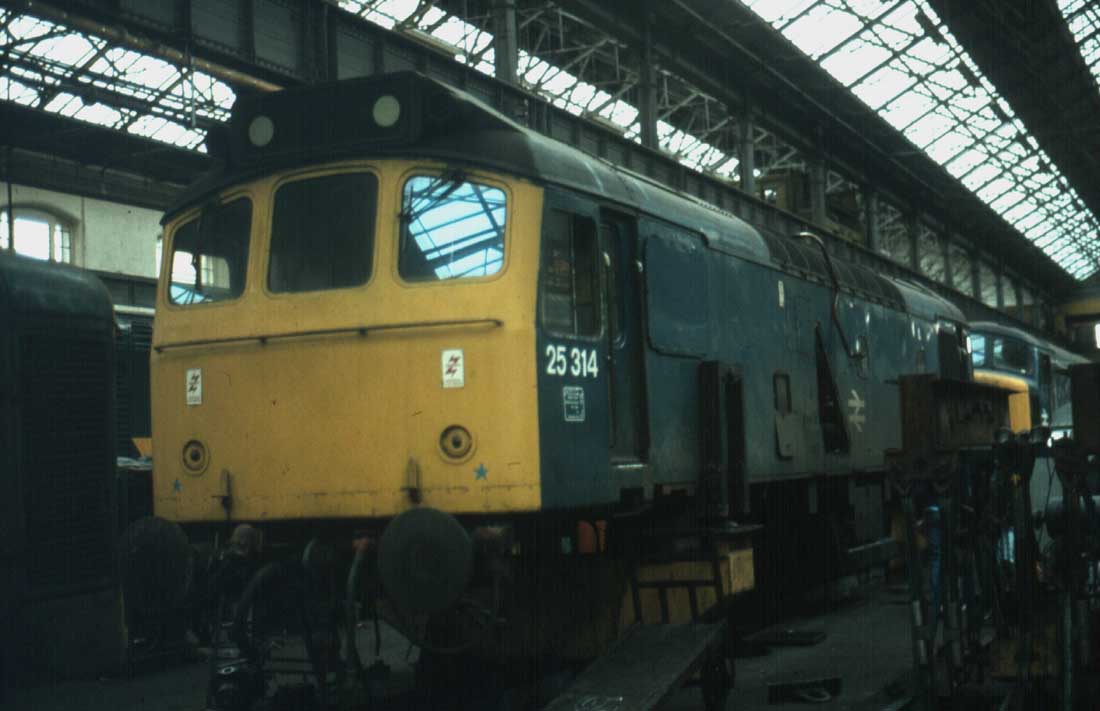 Photograph collection of webmaster
25314 receives attention sat Derby Works sometime during June/July 1983 prior to its movement to Aberdeen.
By the end of September 25314 had reached Aberdeen Ferryhill, with work already underway on its conversion to ETHEL 3.
1986
97252 was noted at Carlise Kingmoor during October for a generator exchange - after this it was forwarded on to Willesden on October 23rd.
1987
97252 received Inter-City livery sometime during 1987.
1988

97252 at Willesden during November 1988.
Photograph courtesy Ian Hammond
1992

A bright and sunny February 25th 1992 finds all three Ethels dumped at Inverness, no longer with a purpose and waiting a tow to a scrapper - in this case MC Metals, Glasgow.
Photograph courtesy Mike Cooper
1994
97252 (25314) was moved by road to MC Metals and broken up during August 1994. Prior to scrapping its power unit was rescued for use in preserved 25244.
Undated Views

Aylesbury, the 1970's.
Photograph courtesy Mark Cook.
And to Alan Baylis for many of the Class 25 passenger workings.
Page added August 5th 2006
Last updated September 1st 2015