D5061, 5061, 24061
& RDB968007
One of the four preserved Class 24's



Photographer not known at this time.

D5061 is seen here in pretty much 'as delivered' condition with its roof mounted water filler cover still intact, though it has gained an electrification flash, therefore probably its early 1960 in this view. Although the photograph came with no information the location is Ely North Junction, just visible is Ely cathedral to the left of the signal gantry. This view was previously thought to be the junction at Westerfield. For a large scan of this view (85Kb) click here.

This distant signal post on the extreme left was removed when the junction signal outside the box was renewed as a colourlight. This created a rather interesting signal as it was cleared to green by the up starter or the down March starter, basically cleared to green by signals in completely opposite directions...

Built Crewe Works (from batch 5030 - 5065).
Shortened fuel tank, full size water tank.

The fifteen year seven month career of 5061/24061 saw allocations to Eastern Region, London Midland Region & Scottish Region depots.

Allocations

The frames for D5061 were laid down at Crewe Works during October 1959, D5061 was new to March (31B) on January 15th 1960. Further transfers were:

October 1960 to Willesden (1A) on loan.
November 1960 to Rugby (2A).
March 1961 to Willesden (1A).
July 1961 to Finsbury Park (34G).
August 1966 to Haymarket (64B) on loan, made permanent September 1966.
January 1968 to Longsight (9A) on loan.
June 1968 to Manchester Division (D09).
September 1968 to Stoke Division (D05).
May 1973 to Crewe.
August 10th 1975 - withdrawn.

Renumbered March 5th 1974.

After withdrawal 24061 was stored at Crewe until November 1975 when it moved to Derby (noted Derby Works at least by November 14th 1975). It was transferred to Departmental stock and allocated the number RDB968007 during July 1976.

Works Visits

Works visits (records incomplete).

Noted Derby Works April - June 1961.
Noted Stratford Works March 1962.
Noted Doncaster Works June 1963.
Noted Derby Works August & September 1968 (collision).
Noted Derby Works August 1974.

Highlights

1960
The frames for D5061 were laid down at Crewe in the autumn of 1959, with D5061 ready for traffic in January, being allocated to March (31B) as part of the East Anglian dieselisation program. By November D5059-61/63-65 had moved across to the LMR shed at Willesden (1A). During December D5061 moved north to Rugby (2A).

1961
The stay for D5061 in the Rugby area was brief, it returned to Willesden (1A) during March, but very quickly moved on to Finsbury Park (34G) the same month. At Finsbury Park the work included numerous duties over the Great Northern lines, no doubt to cover the loss of the North British & BRCW Type 2's recently moved Scotland.

A Works visit took D5061 to Derby from April to June.

1962
A visit to Stratford took place during March, possibly to have stop-cock equipment fitted for working over the Met's Widened lines.

1963
D5061 was at Doncaster Works during July for repairs.

1966
After five years working in the London area D5061 headed north to Haymarket (64B) during August. D5061 was used on the empty coaching stock duties around Edinburgh and on locals to Carlisle, Hawick & Carstairs. This move allowed the Claytons to transfer across the Firth of Forth to assist in replacing steam in the Thornton/Dunfermline/Dundee area.

1967
On August 13th D5063 & D5061 were in charge of an Edinburgh - Aberdeen service throughout.

1968
After some eighteen months working the Scottish lines D5061 returned south as part of the final campaign to finish steam working in the north west, initially to Longsight (9A) during February. Later this became the Manchester Division (D09) when the LMR Divisonal allocations were adopted in June.

On the eastern side of the country the Easter holidays brought many extras including D5061 + D5276 noted on April 11th on a Manchester - Newcastle express.

A visit to Derby Works took place for 5061 during August & September for collision damage repairs. Following its releaase from the Works 5061 was transferred to the Stoke Division (D05) joining a large fleet of Class 24's recently arrived from the southern end of the LMR.

1970
Visitors to Derby included 5061 for repair during the summer.



Photograph courtesy G R Hounsell

The above view shows 5061 under repair at Derby, August 29th 1970, which coincidentally was the Works Open Day and 5061 was being used to show visitors how the power unit was removed/replaced in the locomotive. After repair the locomotive returned to the Stoke Division to spend the next five years working out of Crewe.

1973
5061 was allocated to Crewe when the LMR Divisional allocations were discontinued during May.

1974
Renumbering of 5061 took place in March.

24061 was present at Derby during August.

1975
Along with a great many others 24061 fell victim to the mass withdrawals of the Class 24 fleet during the summer of 1975, with 24061 being withdrawn in August.

24061 was stored at Crewe, however the sudden abandonment of many serviceable Class 24's allowed the Research Department at Derby to take a look at replacing their two venerable machines, the Baby Deltic 5901 and the MetroVick 5705, with something a little more reliable. Their choice was 24061, which from an external viewpoint looked a little the worse for wear, and was one of those examples that had not had its gangway doors sheeted over. Presumably its internal workings were in better condition. By October 24061 was noted at Derby Works.

1976
24061 was renumbered RDB968007 during July.

1978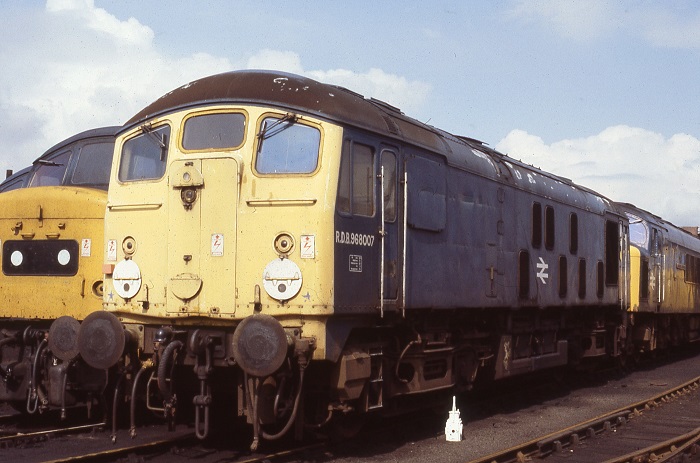 RDB968007 stands at Derby Works, August 5th, 1978.
1979
On July 2nd 24063 departed Crewe for the final time, as the 9Z50 09.00 Crewe - Tinsley freight, adding RDB968007 (24061) & 74010 at Derby. The cavalcade reached Doncaster Works on July 4th allowing for an engine swap between the two Class 24's. By the end of the month 24063 had been reduced to scrap, the last of this class to be broken up here.



Exactly one year after the previous picture, August 5th, 1979, RDB968007 has reached Doncaster Works, not to be scrapped but to have the power unit transferred in from accident damaged 24063.


After its return from Doncaster Works the Class 24 was renumbered 97201 and named 'Experiment' and was given a new livery.

1980

Sitting in the morning sun at Etches Park on October 29th 1980 97201 glistens with its shiny paintwork, giving no doubt that this is a Research Dept locomotive.
Photograph courtesy Adrian Healey.
1984
RDB97201 (24061) hauled a Derby - Carlisle (via York, Berwick & Edinburgh) test train on February 12/13th.
Shortly after mid-day on a very gloomy March 13th 1984 97201 heads through Watford with a working from Carlisle, eventually destined for Derby. Almost 25 years previously these machines were new and travelling the same route on commuter workings!
Photograph courtesy Ian Hammond.
1985
An Open Day at Cardiff Canton on July 6th produced a considerable variety of exhibits including 25322 and 97201 (ex 24061), the latter being used for cab rides. 25322 had arrived dead behind 47290 working the Garston - Severn Tunnel Junction car carriers. Another Open Day for 97201 was at a very warm Coalville Open Day on September 1st.
1986
On January 31st 97201 & 97403 handled a test train from Derby to Bristol.
On March 19th 97201 & 97403 (with 97201 leading) were noted on the WCML at Low Gill with three test coaches.
June 1st saw the well attended Coalville Open Day featuring many exhibits including 25912 'Tamworth Castle' and 97201.
On July 4th 97201 was present at the MRT 'Diesel Spectacular' at Butterley. Time had now run out for this machine, it had recently lost its nameplates, it lacked train air brakes and the almost complete rundown of the Class 25 fleet saw it withdrawn during July. Tragically it was replaced by a piece of junk, 31298, transferred from Immingham and renumbered 97203.
1987
When 25244 left Vic Berry's September 23rd, destined for the Swanage Railway it was assisted on the journey by being hauled by 97201 (with 97403 & D4) en route to the Basingstoke Railshow (26th & 27th).
97201 was definately a favourite on the Open Day circuit, it is seen here at Coalville Open Day on May 31st 1987.
Photograph courtesy Stephen Houlker.
1988 - 1991
During November 1988 97201 was sent to Vic Berry's, Leicester for a cost estimate with regard to the removal of asbestos. The locomotive was put up for tender, bids were placed but it was not until June 1989 that the process moved to the next stage with a deposit placed to allow commencement of the asbestos removal. Again the locomotive drifted off into obscurity, with Vic Berry eventually contacting BR for storage charges! Shortly afterwards Vic Berry's business went into receivership followed by more delays and worries for its intended owner, Dave Edleston. Fortunately the identified issues between Vic Berry and BR were quickly resolved allowing for the locomotive to leave Vic Berry's yard by road on July 19th 1991, just in time to allow for its display at the Midland Railway Center 'Diesel Spectacular' on July 20th/21st 1991. Despite its extended stay at Leicester there was still life left in the locomotive's batteries when they were tested at Butterley.
Undated Views
An undated dull & damp day finds both of the Research locomotives together with a short train of Research stock.
Photograph courtesy Chris Ward.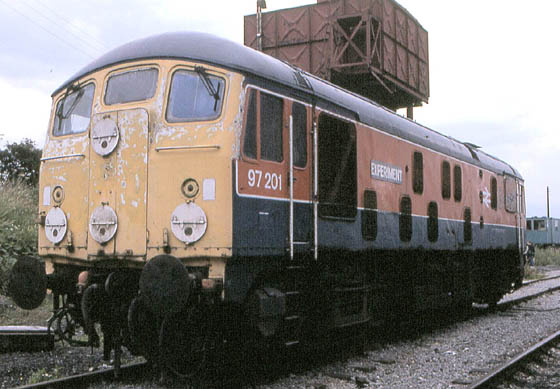 Photograph courtesy Graham Turner
Now preserved 97201 stands at Butterley during August 1991, some thirty one years after emerging new from Crewe, and now displaying a livery certainly far removed from it original Brunswick green and grey.
Page added April 17th 2000
Last updated July 1st 2015