BRCW Type 3
Class 33
Part 2: 1978 - 2012 and beyond ??

1978
February: the lengthy spell of cold, snowy, icy weather which occurred during the middle of February led to great demand for Class 33's to assist many electric services, particularly those on the Waterloo - Bournemouth route and the early morning electric workings which were most susceptible to frost & ice build up on the conductor rails.
March 11th: an East Croydon - Abergavenny charter was worked throughout by 33037. The stock went forward to Hereford for servicing prior to the return journey. The next day 33050 worked a Folkestone West - Abergavenny troop special throughout. A similar movement was worked by 33046 on March 19th.
On March 24th a Brighton - Cardiff football special was worked by 33064 & 33052. The next day an East Croydon - Plymouth excursion was powered by 33064 & 33057.
April 4th: a Fawley - Colwick train of empty oil tanks was worked throughout by 33009, the Class 33 quickly returned light engine to Birmingham New Street to work the 17.21 New Street - Poole.
April: as in previous years a number of long distance excursions and specials from the Southern Region to Devon & Cornwall used Class 33s throughout with the trains worked over the Western Region mainline. Destinations included Buckfastleigh, Plymouth & Exeter. Additionally on April 8th 33108 was noted approaching Norwich with what may have been a Merrymaker from the Southern Region.
May 6th: the Flower Parade at Spalding saw many excursions arriving, three came from Southern Region cities, with two worked throughout by a Class 33 - 33034 from Brighton and 33035 from Dover Priory.
Fielding a consist that only the Southern Region could put together is this Worthing - Paignton charter with ex-works 33105, a 4TC, a MkI restaurant/buffet vehicle, 2 x 4TC and 33110 at the rear passing Exminster on a gloriously sunny May 28th 1978.
Photograph courtesy of Peter Lovell.
Derby Day at Ascot on June 7th saw the four coach Royal Train worked from Victoria to Tattenham Corner by 73123. The empty stock was returned to Willesden by 33033. On June 10th a fuel tank at Reedham Sidings (between Purley & Coulsdon North) became derailed, 33003 was sent with the Wimbledon Park crane, but the jib was facing the wrong way. The Stewarts Lane crane then arrived with 33048 followed a short while later by the Eastleigh crane with 33113. On June 12th 73123 and a six coach Royal Train vehicles were used to convey The President & Madame Ceausescu of Romania from Gatwick Airport to Victoria. Later in the day 33056 would take the empty stock from Stewarts Lane to Willesden. On June 17th a Brighton - Kings Lynn excursion was worked throughout by 33039. Two Class 33 powered excursions from the Southern Region visited Great Yarmouth on the same day (17th), with 33011 from Wokingham and 33058 & 33048 from Brighton. A week later on June 25th the 'Devon Quarryman' railtour from Paddington to Meldon Quarry utilised the push-pull combination of 33119, 4TCs 420, 418 & 433 and 33103.
For the summer season the Saturdays only Brighton - Exeter and return ran with a twelve coach set and a pair of Class 33s, instead of the normal weekday eight coach set. The additional four coaches were borrowed from a weekday Oxted set, being collected from Clapham Junction.
On July 1st 33016 worked a Three Bridges - Norwich roundtrip private charter throughout. As with many excursions/charters starting from th London area of the Southern Region, the stock generally had to be worked from and returned to Clapham Junction. The High Speed Recording Coach visited the South Western Division between July 10th & 12th, the Central Division on July 13th & 17th and the Kent and London area during July 18th - 20th making several runs using 33210 (18th), 33064 (19th) & 33037 (20th). On July 29th a relief Portsmouth - Wolverhampton was worked throughout by 33025, the empty coaching stock then returned to Clapham Junction.
On August 5th 33008 worked a relief Portsmouth - Wolverhampton throughout, the empty coaching stock then returned to Clapham Junction. On August 16th 74010 began its journey from Eastleigh to Derby behind 33019 as far as Clapham Junction. Two days later early on August 18th 74010 and now joined by 4PEP 4002 continued the journey to Derby with 33009 working the train to Brent Junction. Elsewhere on August 8th & 9th 74001/4/7/8/9 were making their final journey from Eastleigh to Long Marston for scrapping. On August 19th a train of exhibition Inter City stock worked from Salisbury to Crewe with 33033 throughout.
On the evening of September 6th the Royal Train comprised of four vehicles, with HRH The Prince of Wales on board ran from Weymouth to Penrith, with a Class 33 working the train as far as Willesden.
Due to the failure of a preceding freightliner on October 12th the 6M52 01.30 Fawley - Drakelow tank train was worked throughout by 33003 using the Southern Region driver and London Midland conductors. The locomotive returned light engine.
A delightful October 15th 1978 finds 33003 passing through the remains of Seaton Junction with an unidentified passenger service.
Photograph courtesy of Peter Lovell.
The LCGB Solent Railtour from Liverpool to Southampton on October 28th was worked by 33031 & 33112 from Havant - Cosham - Fareham - Eastleigh - Chandlers Ford - Romsey (reverse) - Southampton. The other Southern Region portions of this railtour were handled by pairs of Class 73s.
The winter timetable saw the late afternoon round trip Exeter - Barnstaple passenger working diagrammed for the Class 33 which arrived in the area on a Salisbury - Meldon Quarry empties.
On November 4th the Rovex Exhibition Train comprised of eight vehicles was taken from Salisbury Fisherton Yard to Bromley North hauled by 33112. During the evening of the next day (5th) 33057 took the train to Harlow Hill. On November 23rd a Poole - Swansea charter was worked throughtout by 33011.
A Royal Train working on December 14th/15th carrying HRH The Prince of Wales from Salisbury to Rhyl was worked by 33028 with four coaches as far as Willesden, West London Junction. The empty stock had left Wolverton behind 86019 to Mitre Bridge, where 33028 took over for the run to Salisbury. On December 22nd the arrival of a military special at Birmingham New Street from Wool was of considerable interest with 33023 & 33029 in charge, however events became more interesting when the locomotives derailed in the station.
Class 33 allocations as at December 31st 1978:
Eastleigh: 33001 - 33032, 33101 - 33119
Hither Green: 33033 - 33040/33042 - 33065, 33201 - 33212
Withdrawn: D6502, D6576, 33041

1979
The bad weather which prevailed for lengthy parts of January & February caused much disruption with the resulting unusual workings reported across much of the country. An early example was the use of 33002 working throughout on a Southampton - Crewe relief on January 2nd. In the south west on New Year's Day the mid afternoon Exeter - Barnstaple utilised 33008 and coaches after the diagrammed diesel multiple unit had failed earlier in the day with various cold related mechanical and heating problems. The next day Exeter depot held twelve unserviceable diesel locomotives including 33009 & 33114.
On the Southern Region the heavy snow and freezing weather from January 23rd led to a high demand for the Class 33s & 73s to assist the electric services, particularly the early morning services. After the snow had been dealt with the continued icing of conductor rails during the following days saw the strategic placement of the Class 33s across all areas of the Southern to provide quick assistance if the need arose.
Two troop specials on February 2nd from Ludgershall via Basingstoke & Reading West Junction to Pembroke were worked by 33007 & 33014. Both trains contained twelve Warflats, one with two coaches the other with three.
The Class 31/4s on the Bristol - Portsmouth service continued to have reliability issues, giving the Eastleigh allocated Class 33s ample opportunities to fill in when required. The Class 33s were busy elsewhere too, February 21st found 33108 working the 08.35 Poole - Liverpool as far as Birmingham, returning with the 14.38 to Paddington and then the 17.53 to Westbury, On February 22nd 33114 worked the aforementions turns. As the year wore on the Class 33s, as in recent years would be very frequent visitors to the Birmingham area on a variety of passenger & freight services. In most cases if the Class 33 didn't have a booked working home they would quickly return light engine.
Between February 19th & 22nd the Wavin Plastics Exhibition train travelled around the Southern Region. 33055 brought the train from Marylebone to Maidstone West. It then continued to Brighton, Fratton and Southampton, hauled by a variety of Class 33s, before heading to Bristol via Salisbury behind 33028. The following day (23rd) a collision between two passenger trains at Hampton Court Junction saw 33030 in attendance with the Eastleigh rerailing train and 33028 was used to remove the undamaged 4SUB coaches of the Hampton Court - Waterloo service to Thames Ditton, whilst 33009 took the undamaged stock of the Alton - Waterloo train to Wimbledon Park.
On March 1st the Southern Region General Manager's saloon No.TDB 975025 was worked from Dover Marine to Redhill by 33057, from Redhill to Clapham Junction via Reading 33108 was utilised, followed by the short trip to Stewarts Lane to stable the saloon.
March 10th: The 20.40 Birmingham - Paddington was worked by 50020 & 33009, with the Class 33 provided for train heating purposes.
The afternoon Fawley - Langley oil tanks occasionally produced a Class 33/73 combination, so noted on March 26th were 73131 & 33002 and on April 24th 73131 & 33047. Similar combinations would continue into July.
The six vehicle Great Rail Club exhibition train was hauled from Salisbury to Marylebone on April 5th by 33115. On April 21st 4EPB 5358, minus its shoegear, was hauled from Selhurst to Stratford by 33057, the 4EPB spent seven days testing on the Eastern Region.
During May a new Brighton - Bristol service was diagrammed for Class 33s. Its first outing on May 19th failed to reach Bristol due to a series of operating issues, none of which were attributable to the train engine, 33049. The service was turned round at Westbury. On May 6th a railtour from London commemorating the withdrawal of the Tadpole unit started out with 1203 & 1206 for a lengthy tour over Central & South Eastern Division routes. Unfortunately 1206 became defective at East Croydon. 33038 was added for the run to Brighton, Eastbourne & Hastings. Here the units were taken to St Leonards where 1206 was replaced by 1204 for the remainder of the tour. On May 21st late in the afternoon 33051 arrived at Colchester with an eleven coach charter from Dover, the locomotive and empty stock then returned to Dover. The pairing of Classes 33 & 73 on the Fawley - Langley oil train continued during May.
Derby Day on June 6th saw the five coach Royal Train worked from Victoria to Tattenham Corner by 73142, 33055 was the standby locomotive at Purley, whilst 33053 took the empty stock to Willesden. During a time of shortages of electric traction on the WCML a Liverpool - Ascot excursion on June 20th was worked by 47470 as far as Clapham Junction where it failed and was rescued by two Class 73s. The return journey was worked by an ailing 33104 from Ascot to Coventry, where 86211 took over. On June 26th 33025 hauled Royal Saloon 2903, BCK 21268 & FK 13400 from Willesden to Windsor & Eton Riverside and then to Southampton Western Docks for clearances tests for 2903. 33025 then returned the Royal Saloon to Willesden and the other two coaches to Clapham.
July 7th: the 05.55(SO) Weymouth - Birmingham arrived at its destination with 33111 pushing 4-TC sets 420 & 425, returning on the 11.05 to Weymouth. On July 16th 33109 hauled the seven vehicle Lever Brothers Exhibition Train from Salisbury to Marylebone. Class 33s were frequently noted at Swindon bringing electric multiple unit stock to the Works for overhaul, so noted on July 21st was 33113 with two coaches from 4CEP 7102.
July: badly damaged 33036 was finally withdrawn from operating stock. For the remainder of the fleet almost twenty years of service had taken its toll. In recognition of this a heavy general & refurbishment programme was established for 1979 - 1982 with seven planned for 1979 and twenty for each of the following three years. Systemwide 39 locomotives had been out of service for more than three months, of these only one Class 33 was represented, collision damaged 33115 which had been out of service at Slade Green since February 25th. It would not re-enter service until July 1980. Slade Green and Selhurst were responsible for unclassified and collision repairs that were not handled by Eastleigh.
A safety pamphlet issued by the Southern Region circa 1980 showed a variety of rolling stock damaged in recent collisions. Included in the images was this view of what is believed to be 33115 (see note above).
33030 departs Exeter St Davids, crossing the River Exe with a mixed rake of coaches on July 27th 1979 forming the 19.37 to Paignton, utilising the stock off the 15.00 from Waterloo. The side by side wrought iron bridges dated from 1896 and were replaced during October 1997 with steel/reinforced concrete structures.
Photograph courtesy of Peter Lovell.
A nearly ex-works 33054 and sister 33053 pass Seaton Junction on August 18th 1979 with the 13.58 Exeter St Davids - Brighton. At one time Seaton Junction boasted four through lines, but by 1979 these are down to just one.
Photograph courtesy of Peter Lovell.
More stock movements between Southern depots and Swindon Works saw 33005 move 4CEPs 7130/7142 & 7210 from Strawberry Hill.
On August 15th the Southern Region General Manager's saloon TDB 975025 was hauled by 33118 from Waterloo - Portsmouth - Southampton - Havant - Chichester - Horsham - Epsom - Micham Junction - Clapham Junction. A week later on June 23rd 33109 hauled the same saloon visited Havant - West Worthing - Beeding Sidings - Brighton - Eastbourne. On August 26th excursions to the Western Region included 33051 working a Ramsgate - Weston Super Mare and 33005 on a Liss - Swansea troop special as far as Cardiff, later returning to Clapham with the empty coaching stock. The next day (27th) 33045 worked a Dover Priory - Barry Island mystery tour throughout.
On September 5th immaculately turned out 33027 & 33056 worked Earl Mountbatten's eight coach funeral train from Waterloo to Romsey following the funeral service held at Westminster Abbey. Some of the stock had recently been used to bring the Queen back from Balmoral to London, a Class 33 then being sent to Euston to bring the stock to Waterloo. On September 26th a slow journey for 33027 occurred as Class 9F 92203 was towed from Marchwood to Cranmore which included several reversals, with speeds varying between 5mph & 25mph.
The three vehicle Derby Research Center Tribometer train was moved from Derby to Ashford on November 1st, with 45072 taking the train to Brent, then 33057 to Ashford. Commencing November 5th one round trip Exeter - Waterloo turn was booked for Class 50s for crew training pending their introduction on these services in the 1980 timetable. On November 6th a Blackwater - Okehampton troop special was worked throughout by 33016, the return was worked by 33104 on November 9th. On November 8th a Wool - Birmingham special was worked by 33006 & 33114, the locomotives returned the empty stock to Clapham Junction.
The Westbury - Aldermaston & Totton - Westbury stone workings occasionally featured pairs of Class 33s when the diagrammed Class 47's were not available during November & December. During October & November double headed Class 33s worked a Tonbridge - Westbury and return stone train. Whilst laying over they frequently covered turns to Fareham, Merehead and Aldermaston. In the New Year the Class 33s would gain a working from Woking to Tytherington Quarry.
On December 21st a Brighton - Wolverhampton football special, which included the manager and team was worked throughout by 33055. The Class 33 was serviced at Saltley.
Class 33 allocations as at December 31st 1979:
Eastleigh: 33001 - 33033, 33101 - 33119
Hither Green: 33034/35/37 - 33040/33042 - 33065, 33201 - 33212
Withdrawn: D6502, D6576, 33036, 33041

1980
During January Class 33's began crew training from Bristol pending conversion of the Bristol - Portsmouth service from Class 31/4 to Class 33 haulage starting May.
January 14th: an Eastleigh - Wrenthorpe car train was worked as far as Treeton Junction by 33002, where the train was stabled and the Class 33 returned light, presumably with a Banbury crew who have route knowledge to Tinsley.
April 11th: 33008 was named 'Eastleigh' at Eastleigh station. The day following its naming, 33008 worked a Clapham - Plymouth special.
May 15th: 33052 was named 'Ashford' at Ashford station.
May: When the Class 50s were bumped off the Paddington - Bristol services following the arrival of the HSTs, the Class 50s in turn bumped the Class 33's off the Waterloo - Exeter services commencing May 12th. They did however continue to work the Waterloo - Salisbury services with one or two 4-TC sets. Some of these workings did extend to Gillingham or Yeovil Junction.
With the Class 33s freed from the Waterloo - Exeter services they were used to replace the Class 31s on the Portsmouth - Bristol/Cardiff passenger services. They also acquired the Weymouth - Bristol/Weston-super-Mare services. Five locomotives were required to maintain the diagrams, which included nightime round trips from Bristol to Westbury & Bristol to Eastleigh.
The increased length of the morning Northfleet - Greaves cement train required a pair of Class 33s to Banbury. The train was normally tripped from here to Greaves by a Class 25, but from time to time Class 33's would handle this job. If the Class 33's were detached at Banbury they continued north on a Banbury - Coventry - Aston - Handsworth working which returned later that night to Northfleet.
September 2nd: at a ceremony at Waterloo station 33027 was named 'Earl Mountbatten of Burma' and 33056 'The Burma Star', the latter was on display at Selhurst Open Day on September 21st.
The end of the summer timetable saw the Brighton - Exeter rostered for Class 47s, however in practice a single Class 33 was often turned out, with the consequent late running occurring. Although the Waterloo - Exeter service was booked for Western region nine coach Mark II sets, it was not unusual to find the sets reduced to six coaches and the use of a Southern Region Mark I set was reported several times in early November. And the Class 33's were frequently reported as assisting or filling in for ailing Class 50's.
Class 33 allocations as at December 31st 1980:
Eastleigh: 33001 - 33033, 33101 - 33119
Hither Green: 33034/35/37 - 33040/33042 - 33065, 33201 - 33212
Withdrawn: D6502, D6576, 33036, 33041

1981
The planned 1981 overhaul programme for the Class 33's included Eastleigh Works completing 15 general and 13 intermediate repairs whilst St Leonards would carry out thirty nine light repairs. Meanwhile the refurbishment of the CEP units saw a weekly working between Strawberry Hill & Swindon taking an unrefurbished set to Works and returning with a refurbished set, with Class 33s generally handling the turns.
The New Year brought a new diagram for the Class 33's, handling the weekday 15.30 Bristol - Cardiff and 17.20 return, 20.30 Bristol - Weymouth and 06.00 return the next morning. The Saturday diagram was more intensive, starting/ending at Weymouth and including an afternoon Bristol - Salisbury round trip. Also during January 33024 & 33112 were loaned to Cardiff for crew training, as was 33031 to Crewe, for the planned takeover of the Crewe - Cardiff working by the Class 33's in May. The locomotives were diagrammed within the Portsmouth - Cardiff - Bristol services. When a Class 33 was available at Cardiff the training utilised the 09.23 Cardiff - Hereford and 11.15 return.
January 20th: 33059 became derailed at London Bridge Low Level. The Stewarts Lane breakdown crane became derailed whilst being prepared at the depot, leading to the Hither Green crane being sent out late in the evening of the 20th. This led some evening peak services being to be cancelled or to start at East Croydon.
May 14th: although Class 33's were no strangers to Exeter, the arrival of 33112, a 2-HAP, an inspection saloon & 73103 working as a special from Salisbury certainly was unusual.
With the arrival of the summer timetable the Crewe - Cardiff passenger services transitioned from Class 25 to Class 33 haulage between May 31st & June 4th. A strike on the Southern Region and the continued van traffic caused the gradual changeover. The Class 33's would later be diagrammed for passenger services to Manchester and over the North Wales main line to Llandudno, Bangor & occasionally Holyhead. Although these new duties led to the Class 33's running many miles over Western or London Midland metals, they remained allocated to Southern Region depots. In addition the expected take over of the Portsmouth - Bristol - Cardiff trains was not quite complete. These workings involved three-day Eastleigh-based cyclical diagrams which included workings to/from Weymouth, Stoke on Trent (parcels from Crewe), Gloucester (parcels from Cardiff). One turn involved a Hither Green locomotive which worked into the area on the 08.20 Brighton - Cardiff.
On an overcast July 2nd 1981 33204 & 33043 cross the GWML at Acton Wells with the 22.05 Tyne Yard - Ridham Dock coal train. This scene is now considerably altered, this line is now electrified with overhead line equipment, whilst the Richmond - Broad Street service, semaphore signals and third rail have been confined to history. Both the Class 33's have also gone, 33043 at MC Metals, Glasgow & 33204 cut at the Mid Hants Railway by Raxstar.
Photograph courtesy of Peter Lovell.
July 11th: an Open Day at Stratford depot included 33056 The Burma Star as one of the exhibits.
August 6th: 33025 was named 'Sultan' by Captain Austin Lockyer of HMS Sultan at a ceremony at Portsmouth Harbour station. The crest for 33025 was presented by the Royal Navy.
September 5th: a Clapham Junction - Ruabon ramblers special was worked throughout by 33008 running via Oxford, Coventry & Shrewsbury. The train was serviced at Chester.
October 10th: 33056 The Burma Star sustained collision damage at Earlswood, whilst shunting a ballast train the locomotive hit some bogie wagons. A short while later the damaged area had been sheeted over and the nameplates removed.
December: Eastleigh outshopped 33012 with a modified livery: grey roof, red buffer beams, black cab window surrounds and wrap round yellow cab trim. The 'Lone Ranger' livery lasted until August 1981, when 33012 returned to standard livery.

1982
The planned 1982 Classified repair schedule for Eastleigh Works included 14 General & 14 Intermediate Repairs for the Class 33's, including a General for accident damaged 33056.
During the first week of January 33032 was sent to Landore for crew training in order to allow the end of the four remaining steam heated workings in West Wales. The ASLEF dispute cut short the training, it not being resumed until February 20th when 33049 arrived. During March 33011 was at Landore for further crew training.
March: At this time three pairs of Class 33's were based at Westbury to handle the stone traffic to Chislehurst, Allington, Angerstein, Crawley, Ardingly, Salfords Whatley Quarry and West Drayton. The expected arrival of at least eight Class 56's would no doubt takeover some of these workings.
April 10th: The 20.35 Charing Cross - Hastings with unit 1035 was assisted throughout by 33209, which had been sent up from Hither Green after it was noted the unit 1035 had insufficient fuel to make the journey.
April 25th: 33027 Earl Mountbatten of Burma was one of the locomotive on display at Plymouth Laira Open Day.
May 3rd: a Bletchley - Folkestone Harbour excursion hauled by 33051 came into heavy contact with the buffers at Folkestone East. Emergency services were called to assist the injured. An electric unit eventually took the remaining passengers to Folkestone Harbour, Willesden sent down a set of coaches for the return leg and 33051 was sent to Slade Green for repair.
May 17th: 33033 was the first of the Class to reach Landore to take up the West Wales passenger duties. It worked the 12.00 Swansea - Fishguard and 14.00 return, 17.15 Swansea - Milford Haven and 19.32 The next to arrive was 33012 taking up the 13.05 Swansea - Milford Haven and 15.27 return, 18.05 Swansea - Carmarthen and 19.05 return empty coaching stock working. Ten class 33's were to be based at Landore, until all arrived Class 37's & 47's would fill in. The Class 33's also took over a number of services between Swansea & Cardiff including those via the Vale of Glamorgan & Barry. Six three-day diagrams from Eastleigh allowed the locomotives to remain allocated here.
Although Birmingham New Street was no stranger to the Class 33's, it gained a booked working for them during 1982. They were diagrammed for the 1E22 12.46FO Portsmouth - Leeds as far as Birmingham, utilising a Banbury crew. The locomotive returned light to Banbury, being stabled until needed at Birmingham on Sunday afternoon to take forward the 1O92 15.18SuO Leeds - Portsmouth. Early in 1983 the Class 33 on Saturdays would return on the Holyhead - Southampton freightliner. The locomotive side of this diagram underwent several changes until finally Class 47's took over the diagram in May 1984.
The opening of a new oil pipeline between Fawley & Salfords took away a Class 33 diagram.
June 13th: 33008 reached Llandudno Junction working a special from Crewe to Blaenau in celebration of the Festiniog Railway's reopening of the narrow gauge line to Blaenau. The following week 33003 worked a similar special.
During the summer 33101 received white cab window surrounds. Similar treatment would be given to 33105, 33107 & 33119 during 1983. The revised paint scheme was shortlived, being removed when repainting was required, 33105 was the last to keep its modified cab livery.
October 1st: the last day of the locomotive hauled Clapham Junction - Kensington Olympia saw 33205 working the morning service with two coaches. However problems with the availability of the replacement multiple units saw several locomotive & 4TC replacements. Also coming with the winter timetable was the use of Class 33's on the morning 'commuter' service between Swindon & Bristol. The service reverted to an HST (Paddington - Bristol) in the summer 1983 but failures and poor timekeeping drew heavy complaints. An interim service provided briefly by a local diesel multiple unit resulted before the Class 33's returned on an amended Cardiff - Swindon diagram!
When the Western Region took control of the lines west of Salisbury in 1963 the Southern Region retained control of Meldon Quarry as this was the main source of ballast for the Southern Region. As a result Class 33s handled Meldon traffic until privatisation. After the Exeter - Salisbury line was singled in 1967 these trains ran via the Penzance-Paddington mainline and reached the Southern either via the Westbury - Salisbury line, or if the destination was on the South East division via Kensington Olympia. For the duration of the the 1982/83 timetable some of these trains were routed again over the former SR direct route to Salisbury via Exeter Central. This was surprising given the difficulties with timekeeping over a single line route with passing loops. By then the Class 50s had been introduced and the timings accelerated, so pathing in heavy ballast trains with wagons restricted to 40mph was a bold move even if theoretically possible. The workings only lasted for a year and then reverted to the WR mainline via Taunton.
On September 21st 1982 33017 storms out of Exeter Central and approaches St James Park Halt with a heavily laden 11:30 Meldon - Salisbury. Just visible under the bridge in the far distance is the front of the Class 45 or 46 that has banked the train up from Exeter St Davids.
Photograph courtesy of Peter Lovell.

1983
January: a number of Class 33 hauled route learning specials from the Southern Region were noted in the Stratford area. Class 33's were also noted operating over the WCML as far as Wolverton, being used in the transfer of new multiple units from Wolverton Works to Strawberry Hill.
33061 approaches Feniton (formerly Sidmouth Junction) on March 7th 1983 with the 08:26 Woking - Meldon Quarry empties. The wide trackbed gives an indication that this was formerly a double track section.
Photograph courtesy of Peter Lovell.
April 16th: an unidentified Class 33 reached Holyhead, returning east the next day on an early morning special.
May 20th: the first through Brighton - Penzance service utilised eight coaches hauled by 33102. Between July 2nd & September 3rd this service was strengthened to twelve coaches and two Class 33's as far as Exeter where the extra locomotive and four coaches were added to the balancing eastbound service.
August 18th: 33057 was noted at Arundel hauling four 4-SUB and one 2-EPB emu sets (a total of eighteen coaches) en-route to scrapping in South Wales.
London Bridge still maintained a few locomotive hauled workings on the East Grinstead & Uckfield routes. From East Grinstead were the 07.25 & 08.27, with only one locomotive hauled working returning at 17.34 from London Bridge. The Uckfield route maintained only the 17.20 from London Bridge, at Uckfield this then formed a late evening service to East Croydon, the next morning this stock would form the 07.27 to East Grinstead.
September 24th: included in the display at Norwich Crown Point Open Day was 33027.
The 08.40 Salisbury - Waterloo approaces Woking on October 22nd 1983 with 33108 bringing up the rear.
Photograph courtesy of Peter Lovell.
November 10th: 33119 with three coaches of TC stock and High Speed Recording coach DB999550 worked from Andover to Eastleigh via Exeter, Salisbury & Bristol.

1984
The 1984 Classified Repair workload for Eastleigh called for 28 Class 33's to handled. St. Leonards continued light repairs to the Class 33's whilst Slade Green handled locomotives requiring collision damage repairs.
February 10th: two late afternoon Cardiff - Paddington reliefs were run, the first ran with 33061 throughout, later returning with the empty coaching stock.
February 18th: the Wales v France rugby match brought sixteen extras into Cardiff, 33045 brought the first of three extras in from Swansea, then handled the first of three extras from Newport.
March: the impending introduction of the London Victoria - Gatwick Airport 'Gatwick Express' was marked by a nationwide roving train promotion. On March 12th 33113 and new Gatwick units 8201, 8306 (actually six refurbished and Inter-City livered Mk 2D/E coaches) and coach S21273 ran from Stewarts Lane to Chester where the train stabled overnight. The next day a round trip was made to Manchester Victoria. Early on March 14th the train left Chester for Sheffield, later noted at Leeds, the next day it was on display at Newcastle and stabled overnight at Heaton. By March 17th 33113 was back on the Southern Region working the 12.20 Exeter - Waterloo.
When the VSOE was created in the 1980's it was almost exclusively worked by Class 33's. On March 21st 1984 33046 has just come off the West London line onto the GWML and passes Wormwood Scrubs with the 09.05 Victoria - Stoke on Trent Charter. The area in front of the train was later developed as part of the now closed Eurostar depot. As a result the line from North Pole Junction to West London Junction was closed. Now when the VSOE travels from Victoria to the GWML it is necessary to continue up the West London line to Mitre Bridge Junction, then Willesden South West sidings, where it briefly joins the North London line before diverging at Acton Wells Junction and reaching the GWML at Acton Mainline.
Photograph courtesy Peter Lovell.
May: the start of the summer timetable saw the Fridays only 16.10 Plymouth - Paddington diagrammed for a Class 33, from Paddington the stock ran empty to Cardiff. In West Wales there was a reduction to the number of regular Class 33 diagrams. The new timetable also saw the locomotive hauled services out of London Bridge reduced to one, the 17.50 to East Grinstead. The last locomotive hauled 17.20 to Uckfield ran on May 11th with 33107. The 07.26 East Croydon - East Grinstead & 08.26 East Grinstead - Londonm Bridge remained diesel hauled.
The 16.03 Crewe - Cardiff passes through Church Stretton on May 9th 1984 with 33002 in charge.
Photograph courtesy Peter Lovell.
The 10.10 Bristol - Portsmouth with 33035 & 33063 passes through Southampton on June 30th 1984.
Photograph courtesy Peter Lovell.
September: the influx of Class 56's at Westbury for the stone workings saw the diagrams operated by the Class 33's reduced to two. Drivers from Hither Green & Tonbridge were also being trained on the Class 56's, three inter-regional freight diagrams had recently converted to Class 56 haulage. In the Cardiff area Class 37's, released from coal & other workings became more frequent replacements on Class 33's diagrams, particularly on the Cardiff - Bristol workings.
November: with Eastleigh & Brighton drivers recently trained on the Class 56's, the early morning Westbury - Ardingly and return converted from pairs of Class 33's to a Class 56.

1985
January 26th: the 03.30 Bournemouth - Woking staff train ran into a small chalk fall in the deep cutting north of Micheldever. 33104 was sent from Basingstoke to assist, but in approaching the stranded train collided with the leading 4-VEP, injuring a number of staff and causing damage to both vehicles. The line remained blocked until late afternoon. 33104 would not be repaired, it was retired during December 1985 and broken up at Slade Green the same month.
On March 14th 33207 & 33206 worked a special utilising the VSOE stock for the Cheltenham Gold Cup.
The Class 33 fleet totals at March 31st were:
Class 33/0: 63
Class 33/1: 19
Class 33/2: 12
April 19th: a special VSOE working over the Central Wales line was hauled by 33005 & 33034, most likely the first time a Class 33 has worked over the route. On May 11th 33028 & 33057 worked a northbound excursion over the route.
After gaining a number of passenger diagrams in the early 1980's by 1985 the Class 33's started to lose a number of passenger workings. First to go were the West Wales and West of England diagrams. On the Cardiff - Crewe only three diagrams were specifically for Class 33's, Class 47's usually covered the others, whilst some had reverted to diesel multiple units. However during May a regular working on the North Wales route was established, the 11.15 Crewe - Bangor & 14.17 return, being an extension of the 05.48 Cardiff - Crewe. During the Crewe diversions this working started from Stafford, adding more WCML mileage for the Class. In addition the revised diagrams also took the Class 33's on passenger workings to Manchester and to Liverpool on early morning parcels workings.
33011 & 33204 turn off the Great Western mainline at West Ealing and on to the Greenford loop on April 26th 1985 with a trainload of Marcon aggregates.
Photograph courtesy of Peter Lovell.
May: the use of the two character headcodes for freight or engineer workings on the Southern Region was discontinued.
May 17th: 33008 & 33208 worked the 13.05 Fishguard - Paddington throughout.
May 18th: on display at Westbury Open Day amongst many exhibits was 33025, although there were no longer any diagrams from Westbury for the stone trains.
June 1st: 33020 was on display at the Reading GW150 Open Day.
June 6th: interesting visitors through Chesterfield included 33054 & 33106 on a northbound freightliner working, whilst the next day the 12.46FO Portsmouth Harbour - Leeds was worked by 33046 throughout. It returned with the 21.00 Bradford - Weymouth at least as far as Birmingham New Street, the diagram called for the locomotive take the Leeds - Portsmouth forward from New Street. By Sunday 9th it had returned to Birmingham and worked the 08.25 Manchester Piccadilly - Bristol forward.
For the summer Saturday Brighton - Penzance workings, double headed Class 33's were again the order of the day.
July 6th: 33008 was in attendance at the Cardiff Canton & Cathays Open Day.
September 1st: an Open Day held at Mantle Lane , Coalville was the destination for the Penzance - Matlock 'Coalville Slug' charter hauled by 33033 & 33052. The charter went on to Matlock behind 58018, the Class 33's remained on display until sent to Leicester to take over the return leg of the charter. The charter had departed from Penzance at 02.50am behind 50003, which worked as far Plymouth where the Class 33's took over.
September 7th: 33008 was in attendance at the Plymouth Laira Open Day.
September 21st: 33008 & 33032 were in attendance at the Swansea Landore Open Day.
September 22nd: 33027 was in attendance at the Stewarts Lane Open Day.
October: a regular diagram for pairs of Class 33's at Westbury commenced, starting with a morning Westbury - Merehead, then Merehead - Eastleigh, Eastleigh - Westbury, and finally a round trip to West Drayton (except Fridays).
October: 10th ex-works 37415 on test from Crewe Works assisted 33057 on a diagrammed service.
November: Following the closure of Hither Green depot 33040/42-65, 33201-212 were transferred to Stewarts Lane.
December: After five and a half years without any withdrawals the Class 33 fleet was reduced by one following the withdrawal of 33104, and at the same time 33054 was placed in store (unserviceable) at Eastleigh Works. 33054 & 3314 had gone to Chandlers Ford to assist an ailing 56048 working a stone train. In buffing up to the Class 56 33054 sustained damage due to overly hard contact. On December 21st 33024 suffered damage to the No.1 cab at Cardiff station after being hit by coaching stock. The damage would lead to its withdrawal during February 1986

1986
January 10th: 33038 worked the 12.05 Liverpool Street - Kings Lynn and 16.00 return passenger diagram. It then worked the 19.35 Liverpool Street - Cambridge and 21.50 return. The recent closure of Hither Green had resulted in the nearby Stratford depot receiving Class 33's for repair, including the aforementioned 33038.
January 16th: 33115 worked the 06.25 Poole - Manchester throughout, a working that might be considered mundane for 1986 but a decade earlier would have drawn a crowd of enthusiasts.
January 18th: the 'Wirral Withershins' railtour from Waterloo to Birkenhead Docks was hauled by 33051 & 33062.
January: another Class 33 placed in to unserviceable storage was 33024, initially at Cardiff. To cover the recent losses 33040/42/43 were transferred from Stewarts Lane to Eastleigh. 33024 had been set to work the 18.15 Cardiff - Manchester on December 22nd, but when entering Cardiff station it ran into the rear of the 18.10 Cardiff - Portsmouth causing severe cab damage to 33024. By the end of January it had reached Eastleigh.
January 28th: the Government announced plans for the electrification of the Bournemouth - Weymouth line, including provision for 120 new coaches. January 1988 was the scheduled completion date for this project.
January: poor availability of the Uckfield line multiple units saw Class 33's with hauled stock substituting on the 07.11 Uckfield - London Bridge during late January/early February. The availability of the multiple units improved during March & April
February: the three stored Class 33's - 33014/24/54 were all retired during February. By the middle of February 33024 was at Eastleigh Works whilst 33014 & 33054 were at Eastleigh depot. The sectorisation of British Rail saw the Provincial sector favour passenger services worked by multiple units rather than locomotives with hauled stock. Thus the versatile Class 33's lost a large portion of the diagrams. The Trainload and Civil Engineerings sectors put a handful of Class 33's through major Works repairs, but gradually those with high engine hours or collision damage would fall by the wayside.
The Class 33 fleet totals at March 31st were:
Class 33/0: 60 (withdrawn in previous 12 months: 33014, 33024, 33054)
Class 33/1: 18 (withdrawn in previous 12 months: 33104)
Class 33/2: 12
The 11.14 Brighton - Penzance arrives at Exeter on April 4th 1986 behind 33027 'Earl Mountbatten of Burma'.
Photograph courtesy of Peter Lovell.
April 5th/6th: In celebration of the 100th anniversary of the Mersey Railway linking Liverpool & the Wirral an Open Day was held at Birkenhead North depot, included in the exhibits were 33026.
April 16th: Class 37/Class 33 combinations were not an everyday occurrence, but on this day the 11.15 Crewe - Bangor hauled by 33048 was joined by 37431 on a running-in turn from Crewe Works.
During 1986 33008 Eastleigh was repainted into green livery. It took several attempts to get everything right, only the nameplates gave away this was the 1980's and not the 1960's. 33008 had been repainted green in recognition of it being the last Class 33 to recieve a classified overhaul under the BR organisation.
May: the redeployment of the Class 33's workings within the Western Region saw them removed from the passenger workings west of Swansea. Diesel multiple units, HST's & Class 47's were generally the benefactors of the services vacated by the Class 33's. However on the North Wales mainline a couple of turns now took Class 33's all the way to Holyhead and one to Llandudno.
May: with electrification of the Oxted Line almost complete, the use of hauled stock with Class 33's covering for the diagrammed diesel multiple units drew to a close at the beginning of May. The last scheduled hauled working occurred on May 9th with 33201 doing the honours.
May 19th: 33106 reaching Derby hauling 4-REP power car No. 3008 for delivery to the Research Department. On its return south brief assistance was provided to a Class 31 at Wellingborough.
May 21st: a Royal Train conveyed HRH The Prince of Wales from Scotland to Lydd, 33027 handled the haulage over Southern metals.
June 7th: an Open Day held at Chart Leacon to celebrate 25 years of the depot saw 33027 as one of the prime exhibits.
On June 7th 1986 33057 passes by the Freightliner terminal at Millbrook with a 10.35 Waterloo - Bournemouth ten coach charter.
Photograph courtesy of Peter Lovell.
Another view from June 7th 1986 shows 33064 approaching Eastleigh station with a Bournemouth - Clapham Junction parcels.
Photograph courtesy of Peter Lovell.
Celebrity 33008 is seen at Prestatyn on June 10th 1986 working the 1V06 Bangor - Cardiff service. The train crew appear to be in conversation with the smiling enthusiast on the platform, perhaps about the green Class 33 working this service.
Photograph courtesy of John Powell.
July 27th: unexpected railtour duty fell upon 33011 when 25181 (working with 25191) suffered bad wheelflats between Ludgershall & Andover. The Class 33 replaced the Class 25 on those parts of the railtour which should have had the two Class 25's.
Although the Class 33's were very familiar on the coast lines stretching from Kent to Cornwall, their use on the North Wales lines brought them even more seaside vistas. Here 33005 heads a Crewe - Llandudno relief during August 1986 alongside the Conwy estuary with the impressive Conwy castle just visible in the background.
Photograph courtesy of John Powell.
September: the end of the summer timetable saw Class 47's taking over the diagrams previously worked by Class 33's to Holyhead & Llandudno. The Class 33's also lost their diagrams to Class 47's on the Crewe - Cardiff services, the last reported working was 33006 on September 28th working the 14.05 Cardiff - Crewe & 18.58 return. They were retained for one return Bristol - Swansea passenger working and seven return Bristol - Cardiff passenger workings.
33107 seen under repair at Eastleigh Works on October 12th 1986, the day of the annual Open Day. 33107 had about three years of service remaining, being withdrawn during July 1989 and scrapped at MC Metals, Glasgow during May 1991.
Photograph courtesy of Robert Inns.
Although the Crewe - Cardiff services were now diagrammed for Class 47/4's it was a surprise to find 33063 on the early morning Crewe - Cardiff on November 4th.
33202 & 33207 and the FO Pullman set worked a Clapham Junction - Carlisle charter on November 8th, travelling outbound over the Settle & Carlisle.

1987
The middle of January (11th - 16th) saw much of the country hit by cold, snowy weather, the Southern Region Divisions being hit particularly hard by the effects of the wintry weather. The combination of heavy snow, high winds and severe icing worked to bring much of the third rail services to a halt.
On 11th two 4-CAP's failed near Sittingbourne in deteriorating conditions, 33052 was sent from Faversham to clear the failure.
On 14th the Class 33 hauled 06.25 Newhaven Marine - Manchester Piccadilly took three and a half hours to reach Gatwick, where the service was terminated.
Ten foot drifts eventually blocked the Uckfield line, with services being suspended on 14th. 33033 and snowploughs cleared the line on 15th, following which an attempt was made to provide a service which eventually led to the stranding of two DEMU's at Edenbridge. A further DEMU was sent to rescue the trapped unit but this became derailed and required rescue by a Class 33 with the Stewarts Lane breakdown crane on January 16th. Further use of Class 33's with snowploughs and continuous operation of the DEMU's kept the line clear of snow in time for the 19th's commuter services.
By the 14th with many lines blocked an hourly locomotive assisted service was attempted between Ashford, Tonbridge & Charing Cross, reversing at Cannon Street in order to keep the locomotive at the front for the southbound run. These services ran with two four-car electric multiple units and locomotives from Classes 33, 47, 56 & 73. On January 16th a similar type of service was organised on the Victoria, Dartford, Gravesend, Faversham route, being extended on 17th to Ramsgate. Locomotive supported workings also operated over the Sittingbourne - Sheerness & Faversham - Dover routes. On January 17th a Victoria - Ramsgate working was noted at Faversham with 33059 and 4-CEP 1563 & 4-CAP 3311. By noon on the 18th conditions had improved sufficiently to allow gradual removal of the locomotives. Class 33's noted on these and similar workings included 33008/09/13/16/27/44/48/59, 33202/207
Assistance with snow clearing came in the shape of the Aberdeen based Beilhack Snow Blower (ADB968500), which was noted on January 17th/18th in use on the worst affected lines hauled by 33048 & 33058.
On the Western Region 33034 assisted January 14th's 19.00 Paddington - Plymouth HST forward from Exeter.
On March 24th at Frome North Junction the 06.55 Yeovil Pen Mill - Cardiff with 33032 collided head on with 47202 in charge of the 07.08 Westbury - Whatley Quarry stone empties. Both locomotives were seriously damaged, the driver of 47202 being trapped in the wreckage until cut free by rescuers. Both locomotives were condemned shortly afterwards.
On March 31st the allocation of the Class 33 fleet was as follows:
Eastleigh: 33001 - 33006/33008 - 33013/33015 - 33023/33025 - 33031/33033/33034/33035/33037 - 33040/33042/33043 & 33101/33102/33103/33105 - 33119
Stewarts Lane: 33044 - 33053/33055 - 33065 & 33210 - 33212
33207 in charge of the 12.10 Portsmouth - Cardiff at Severn Tunnel Junction on April 23rd 1987.
Photograph courtesy of Peter Lovell.
The Saturday's only 05.50 Exeter - Hove & return 11.12 Brighton - Paignton continued to be diagrammed for the same pair of Class 33's.
During May a provisional allocation of locomotives by Sector was issued, for the Class 33's the breakdown was as follows:
Network SouthEast (NSE): 33/0 = 3; 33/1 = 9
Provincial Services: 33/0 = 17
Parcels: 33/0 = 5; 33/1 = 1; 33/2 = 1
Railfreight: 33/0 = 13; 33/1 = 2; 33/2 = 9
Departmental: 33/0 = 21; 33/1 = 6; 33/2 = 2
Coalville's annual Open Day on May 31st was visited by a St Pancras - Butterley special hauled by 33027 & 33056. The Class 33's were replaced at Coalville by D200/40122, picking up the return working at Leicester.
June: 33005 (fire damage) & 33061 were condemned.
June 24th: 33055 & 33062 surprisingly worked the 06.25 Poole - Manchester Piccadilly forward from Basingstoke to its destination. After refuelling at Longsight the locomotives ran light to Liverpool Lime Street to work the 16.15 Liverpool - Poole as far as ??
July 23rd: 33010, RDB975984 & two brake vans were conducting clearance tests over the Barnham - Brighton route in preparation of the introduction of Sprinter units.
The Weymouth portion of the 10.32 ex-Waterloo stands at Weymouth on July 28th 1987 in charge of 33110. The photograph indicates the 3rd rail electrification of the Bournemouth - Weymouth line is well underway and the use of the Class 33/1s & 4TC stock on the passenger services west of Bournemouth is drawing to a close.
Photograph courtesy of John Lovell.
August: 33003 & 33210 were condemned.
August 15th: the twice weekly Snailwell - Sheerness scraptrain, normally a Class 58 working was handled by 33008 & 33116, taking the empties to Snailwell, laying over Cambridge and returning the loaded train to Sheerness.
August 18th: 33201 hauled thirteen redundant Hastings Line DEMU's to Mayer Newman Ltd, Snailwell for scrapping.
September: 33043, 33044 & 33212 were condemned (33043 scrapped by MC Metals Glasgow during May 1991; 33044 scrapped by Vic Berry, Leicester during October 1990).
September 26th & 27th: the Basingstoke Railshow, which featured a remarkable line up of visiting locomotives, other rolling stock and exhibits included 33027 and a breakdown train.
October 17th: 33112 was named Templecombe at its namesake station in celebration of the 50th anniversary of the station's reopening.

1988
33017 was withdrawn during January 1988 (broken up at Vic Berry, Leicester during November 1990).
A fine study of 33035 at Hither Green on January 18th 1988. Despite the scruffy and dented appeareance 33035 still has a further eight years in service, and once retired would reach preservation.
Photograph courtesy of Michael Kaye.
A sorry sight at Eastleigh depot on January 18th 1988 showing withdrawn 33003 & 33210. Both locomotives would eventually be broken up by Vic Berry, with 33003 in-situ at Eastleigh whilst 33210 would be taken to Leicester for cutting.
Photograph courtesy of Michael Kaye.
Another view of withdrawn 33003 & 33210 at Eastleigh depot on January 18th 1988.

. Looking out from the cab of 33210 is Holbeck celebrity Michael 'Danny' Kaye, whose memories of time at Holbeck & elsewhere are featured in other sections of the website.
Photograph courtesy of Michael Kaye.
In early 1988 33203/205/206 gained Railfreight livery, they were attached to Railfreight Distribution to handle the Dover trainferry shunting duties.
On February 25th 33114 was noted in ex-works condition in Eastleigh Works yard, reportedly the last Class 33 to receive a Classified repair at Eastleigh Works. It was outshopped in blue & yellow livery.
33010 was withdrawn on April 18th (broken up at Eastleigh during the first week of March 1989) and 33206 was withdrawn on April 18th (broken up at Eastleigh by the first week of March 1989).
During May Class 155 diesel multiple units replaced the Class 33s on the Portsmouth - Cardiff services.
The electrification of the Bournemouth - Weymouth line ended the Class 33/1 powered push-pull workings.
The construction of the Channel Tunnel required vast amounts of materials to be delivered to the UK site, leading to a pool of locomotives being established to handle the freight trains thus generated. With much of the movements being internal to the Southern Region, Class 33s from the Construction subsector handled much of the traffic. During May 33050 & 33051 received the Railfreight triple grey livery with Construction markings, between October 1988 & August 1989 Eastleigh Works would so treat 33021/33/42/53/56/63/64, 33202/204/207. Workings handled included Isle of Grain - Shakespeare Cliff (concrete tunnel lining segments), Grain - Sevington & Ashford (stone), Snowdon Colliery - Sevington (minestone), Shakespeare Cliff - Sevington (spoil) and steel shipments. As the tunnel material requirements decreased these Class 33s could be found working elsewhere on the Southern Region, particularly on engineers trains.
June 5th: 33050 attended the Coalville Open Day carrying Railfreight triple-grey livery with Construction sub-sector decals.
During the summer C.E.M. overhauls were approved for further Class 33s, by the middle of September the first of this batch, 33033 was outshopped from Eastleigh Works.
The SEG 'Coupled Compton' railtour on September 3rd utilised three Class 33s, one from each subgroup; 33209, 33051 & 33112. The railtour started at Clapham Junction and visited Sidcup, Grain, Gravesend, Faversham, Margate, Canterbury West, Ashford, Tonbridge, Redhill, Hove, Eastleigh and back to Clapham Junction. The use of a triple headed Class 33 restricted the route availability of the railtour.
On October 22nd 33207 & 33211 worked the roundtrip 'Crompton Cornish Farewell' railtour from Waterloo to Penzance and return. The route was Waterloo - Basingstoke - Salisbury - Westbury - Fairwood Junction - Castle Cary - Taunton - Exeter St Davids - Plymouth - Penzance and returned via Penzance - Exeter St Davids - Exeter Central - Honiton - Yeovil Junction - Salisbury - Waterloo.

1989
33053 at London Bridge on January 28th 1989. 33053 would remain in service until October 1996 and eventually reach preservation.
Photograph courtesy Robert Inns.
May: The use of Class 33s on the Waterloo - Salisbury service ended on May 13th, 33116 was one of the Class handling services on the last day.
On May 21st 33021 & 33022 worked the Lecister - St Pancras leg of a railtour.
June: 33201 was the first of the Class to be repainted into the BR Departmental grey livery, 33008 would also acquire this livery, which would later be much improved by the addition of yellow to the upper body.
July: 33050 was received by Stratford Diesel Repair Shops for the repair of collision damage, particularly to the No.1 end cab.
October: 33115 was modified for current collection trials in advance of the introduction of the Eurostars. The locomotive was fitted with non-powered bogies and third rail collection shoes and renumbered 83301. It acquired Inter City (BR Main Line) livery and during the trials was semi-permanently coupled to 73205.
33034 was withdrawn during 1989 having sustained collision damage. Its power unit was transferred to 33038, after which 33034 was stored at MoD Ludgershall. It would later reach preservation and because of its condition become a long term restoration project.
Withdrawals during 1989 were:
33011 March 23rd 1989
33013 March 14th 1989
33015 July 28th 1989
33016 October 4th 1989
33022 December 24th 1989
33031 February 6th 1989
33035 October 20th 1989
33039 May 18th 1989
33055 December 24th 1989
33057 March 21st 1989 (later reinstated March 23rd 1989)
33107 May 16th 1989
33110 September 11th 1989 (later reinstated September 28th 1989)
33115 May 10th 1989 (to Departmental stock)
33119 October 26th 1989

1990
The remaining members of the class as at March 1st were:
33002/04/06/08/09/12/19-21/23/25-27/29/30/33/35/40/42/46-48/50-53/56/58/60/63-65
33101-103/106/108-111/113/114/116-118
33201-208/211
The locomotive allocations were split between Eastleigh & Slade Green.
September: by 29th 33005/44 & 33210 had reached Vic Berry, Leicester for scrapping, by the third week of October all had been scrapped.
In an attempt to boost morale of the staff at Eastleigh depot and reinforce the commitment to the depot following a period of uncertainty, a staff naming competition was created to provide suitable names for members of the Class 33 fleet allocated to Eastleigh. The chosen names had an aeronautical theme, linked to the nearby Supermarine history. The chosen names were: Griffon, Merlin, R J Mitchell, Seafire, Seagull, Sea King, Sealion, Spitfire, Supermarine & Walrus.
November: Withdrawn 33011/15/17 made their final journey from Eastleigh to Vic Berry's, Leicester between November 2nd - 5th with other assorted condemned stock, 33030 worked the train from Eastleigh to Cricklewood (?), with 47201 taking the train forwad to Leicester.

1991
Heavy snowfalls across the country during the second week of February saw the railways responding to the challenges in many ways. On the Southern Region several diesels assisted electric multiple units over lines which rarely see diesels . On February 10th a mixed bag of electric stock was hauled by 33023 operating an emergency service between Victoria & Faversham.
March 23rd: the 09.45 Plymouth - Waterloo via Southampton & Sheldon Bridge was worked by 33102, the Class 33 had arrived at Plymouth the previous day with the empty coaching stock of the 19.15 Waterloo - Exeter. 33102 was one of two Class 33s taken over by Network South East for services out of Waterloo. The day before (March 22nd) 33102 & 50007 were noted working the eight coach 07.12 Newton Abbot - Exeter.
May 15th: 33050 & 33051 powered the last Channel Tunnel segment train between Grain & Shakespeare Cliff.
June: 33058 was withdrawn (scrapped at CF Booth, Rotherham during June 1994).
July 6th: the 16.22 Exeter - Waterloo was noted near Crewkerne powered by 33026, 33114 & 33030, no doubt the leading two locomotives were part of a return balancing move.
33043 made its last journey on April 26th 1991 on the back of a low-loader destined for MC Metals, Glasgow. Similarly on May 31st 33013 was noted on an Allelys lowloader traversing the northern section of the M6 headed for MC Metals, Glasgow.
October 21st: the first use of 33102 and rail scrubbing vehicle ADB 977695 (formerly newspaper van 94001) was noted in the Eastleigh area. Other vehicles in the consist were Research vehicles Lab 11 & Lab 23 with their support vans and two vehicles from 4TC No.8012. The scrubbing gear could be controlled from either the Class 33 or the 4TC driving cab.
November: withdrawn 33212 was used in crane training at Eastleigh depot during late November.
On December 2nd whilst working the 6V96 09.38 Tonbridge - Meldon Quarry ballast empties 33009 slipped to a stand at Sampford Courtney. The locomotive was detached from the train in order to seek help from Meldon (?), but on returning to its train very heavy contact was made with the first hopper. Considerable damage was done to the No.1 end cab front, buffer beam and to the wagon. The Meldon Quarry shunter, 08945 dragged the Class 33 away from the scene whilst 37142 attended with the Laira breakdown crane. On January 12th 1992 37141 removed the locomotive from Meldon Quarry en-route to Eastleigh Works, where the locomotive would be withdrawn from during March 1992.
December 14th: the 14.25 Southampton - Salisbury was worked by 33114 and one Mk2 BFK due to the use of the rostered Class 155 elsewhere.

1992
March 21st: a railtour from Basingstoke to Cornwall saw 33050 & 33063 visit Falmouth Docks & Newquay amongst other locations.
May: 33114 was the first Class 33 to receive the NSE livery, having been repainted at Selhurst, in September 33035 became the only other Class 33 to acquire this livery. On June 6th 33114 and a NSE liveried 4-VEP was employed on the Ashford - Hastings route as part of the celebrations commemorating 150 years of railway history for the town of Ashford.
June: 33102 & two (?) 4TCs worked a Poole - Cambridge charter throughout on June 27th.
August 29th: a shortage of Class 158s saw 33026 and three coaches work the 10.20 Portsmouth - Cardiff from Southampton, returning with the 14.30 Cardiff - Portsmouth.
A glorious September 3rd 1992 finds Civil Engineers liveried 33118 & 33002 at Cowley Bridge Junction in charge of the 11.20 Meldon Quarry - Tonbridge ballast working. 33118's working days are almost over, by March 1993 it would be retired, but would not be scrapped for a further four years. 33002 would survive until September 1996 and eventually reach preservation.
Photograph courtesy Peter Lowell.
Freshly outshopped Network SouthEast liveried 33035 at Eastleigh on September 27th 1992.
Photograph courtesy Robert Inns.
December: whilst working a train on the Grain branch on 21st 33047 'Spitfire' was pushed through the catch points and into the sand drag approaching Hoo Junction. The rear cab was damaged by the leading wagon. 33047 was taken to Eastleigh for evaluation but was condemned on February 21st 1993, despite a CEM repair less than 18 months previously.

1993
33101 withdrawn during May (cut up at Eastleigh by MRJ Phillips during February 1997).
July 3rd: a charter from Bedford to the Mid Hants Railway was worked by 33109, which en-route was named Captain Bill Smith, RNR at Kensington Olympia station. By this time there were only two Class 33/1's in service, 33109 & 33116.
July 10th: the final locomotive hauled passenger services over the Waterloo - Exeter operated this day. 47715 hauled the last locomotive hauled service - the 13.46 Exeter St David's - Waterloo, a relief ran ahead of this service powered by 33116 and 2 x 4TC units.

1994
During January the 'Spitfire' nameplates were transferred from 33047 to 33035. Three Class 33s were reinstated to cover for the loss of recently overhauled Type 5s to Trainload Freight.
February 7th: 33207 assisted in the movement of three withdrawn 4-CAP units from storage to Gwent Demolition at Margam.
In the early hours of April 9th 4-VEP No.3513 rolled away from Dormans and collided violently with 33064 on the down line at Lingfield station. The crew jumped clear but the No.1 cab sustained considerable damage eventually leading to the withdrawal of the locomotive.
On July 16th damaged 33064 was moved from East Grinstead to Stewarts Lane by Allelys low loader, for stripping and scrapping.
The construction of the 'Heathrow Express' rail link utilised several Class 60s, which required the use of several Class 33s to cover a number of workings. On October 12th 33008. 33065 & 33035 (each in a different livery) worked the heavy 10.55 Hoo - West Drayton ballast train.
The restricted use 33048 & 33052 were returned to sparkling blue & yellow livery during November (?) by Stewarts Lane apprentices after the locomotives were selected for the Pathfinder Tours 'Southern Serpent' railtour on December 11th.

1995
March 2nd: 33035, still in Network SouthEast livery, worked the weekly Sellafield - Dungeness Power Station nuclear flask forward from Willesden, and returning to Willesden with a set of three nuclear flask wagons.
March 31st - April 2nd: The Hertfordshire Railtours 'Skirl of the Bagpipes' railtour took 33109 'Captain Bill Smith RNR' & 33116 'Hertfordshire Railtours' and ten coaches all the way from London to Inverness. At Aviemore the Strathspey Railway placed Class 26 No.26002 and Class 27 No.5394 (27106) alongside the station. Did such a meeting ever occur in regular service for the three BRCW Classes? The weather over the Highlands proved to be cloudy and damp this day. The railtour commenced at London Victoria shortly after 6pm on March 31st, joining the WCML at Willesden West London Junction. A run up the WCML then followed, midnight occurred whilst standing at Carlisle, reaching Aviemore virtually on time shortly after 7am on the Saturday morning. Here a roundtrip to Boat of Garten took place with a one hour layover (breakfast break?) at Boat of Garten. Inverness was reached shortly after 10am, about 25 minutes ahead of schedule. After a two hour break the railtour departed south at 12.26pm, six minutes late. Mossend was reached on time at 4pm, Carlisle at 5.36pm, from here time was gained, 11 minutes ahead at Crewe, but then held here until right time, 7.52pm. London Euston was the return destination for the railtour, with a total mileage completed of 1,153 miles (including five miles worked by D5394 between Boat of Garden & Aviemore).
April 13th: 33109 & 33116 were still together, and again in Scotland. They had taken a set of coaches from Derby to Ayr. Following this they worked four 4-TC trailer coaches between Dumfries & Kilmarnock in connection with the filming of the Mission Impossible movie.

1996
On January 2nd 47831 failed before the departure of the 09.20 Brighton - Glasgow, 33057 was commandeered to work the train, getting as far as Birmingham New Street before a replacement locomotive took over.
March 16th: 33109 & 33116 made a second foray north of the border with the 'Skirl o' the Bagpipes 2', from Kings Cross to Aberdeen, the route taking the railtour across both the Forth & Tay bridges.
On May 7th 33116 propelled a single coach special from Liverpool Street to Cambridge.
During 1996 EWS offered for tender 49 locomotives, included in this group were a number of Class 33's at the following locations:
Old Oak Common: 33064:
Eastleigh: 33021/35, 33101/108/118, 33206
Stewarts Lane: 33020/42/50, 33113, 33211.
Some of these Class 33's had been out of use for at least three years, those that were not acquired for further use were scrapped in-situ by MR J Phillips between January & July 1997.
On September 4th 33025 & 33202 worked a rake of empty ballast wagons from Eastleigh to Toton, quickly returning south light engines.

1997
February: Seventeen Class 33's, all previously in store, were retired on February 17th (33002/08/12/23/29/48/52/53/57/63/65, 33103/109/117, 33204/207/208). Of eighteen Class 33's put up for sale by EWS at this time, seventeen were acquired for preservation.
Eight Class 33s remained in traffic, all allocated to Stewarts Lane. (33019/25/26/30/46/51, 33116 & 33202).
February 8th: an AIA Charters railtour visited the Morecambe area behind 31405 & 33202.
April 26th: 33051 & 33030 worked the 'Classic Crompton' railtour from Waterloo to Exeter. It was billed as the final Class 33 departure from Waterloo, the departure taking place in pouring rain.
May 14th: 33019 & 33026 were diagrammed to work the 7E24 Angerstein Wharf (Hoo) - Kings Cross stone, at Crayford Spur the train came to a standstill with 33051 & 33116 summonsed from Hither Green to provide rear-end assistance. These infrastructure stone workings also ran to Luton, Park Royal, Battersea & Paddington. These workings could load up to 2,000 tons and although not lengthy trips, they were frequently of a stop/start nature, and certainly gave the Class 33's a solid workout.
May 31st: 33116 featured at the Newport Rail Gala.
June: route learning to Wigston Junction (Leicester), from Hither Green witnessed 73117 (11th), 33030 (24th & 30th), 33202 (27th).
June 3rd: 33025 was used for route learning on the Hamworthy branch. Four days earlier 33025 had been at Cardiff Canton for wheel turning.
June 14th: the 'Whitby Jet' railtour from Kings Cross to Whitby was hauled by 33030 & 33116, bringing a pair of Class 33's to Whitby for the first time.
33051 had been stopped with main generator problems but was given repairs leading to its return to service late in June.
September 9th: 33019 & 37047 were noted on the Purley - Cliffe stone working.
September 13th: 33030 & 33051 work the 'farewell' Class 33 railtour, which like many such labelled events didn't quite signal the actual passenger finale of the Class 33's. Whilst railtour operators could now no longer specify locomotives for passenger charters, the vagaries of scheduled passenger services would allow the remaining Class 33's to run up a few more passenger miles. Twelve days after the farewell railtour 33116 took the 07.17 Manchester - Brighton forward from Redhill, returning with the 14.20 Brighton - Mancester as far as Reading.
September 29th: the late evening found the eight remaining Class 33s as follows:
33019 en-route Eastleigh - Barnes
33025 & 33116 at Redhill, unassigned
33026 & 33202 en-route Cliffe - Purley
33030 out of traffic at Old Oak Common
33046 at Westbury, unassigned
33051 at Redhill, unassigned.
October 1st: a most unusual working took place for 33019 & 33046 when the booked Class 37 was unavailable for the 13.15 Merehead - Minehead sea defence stone train and 20.00 return empties. The Class 33's worked throughout including operating over the West Somerset Railway. On the same date a special Hither Green - Leicester freight with 27 MEA wagons was worked by 33051, it returned light engine behind 58012.
October30th: on arrival at Leicester on a crew training trip, 33046 promptly derailed itself. After rerailing it spent at least a week at Leicester depot awaiting a crew to take it home.
November 13th: a page out of history was revisited when 33116 worked the 06.58 Westbury - Weymouth, 08.39 Weymouth - Bristol & the 11.30 Bristol - Cardiff. All this was made possible when 37416 failed the night before with 33116 taking the locomotive and stock back to Westbury.
The year was almost over when on December 30th 33051 & 33116 worked the 09.00 Poole - York as far as Reading.

1998
Given the chance the remaining Class 33s could still handle long distance turns, most likely occurring when the diagrammed power was not available. The 14.02 Fawley - Washwood Heath bitumen tanks and the next day's 01.43 return working were occasionally covered by pairs of Class 33s, workings reported included 33051/33202 (Jan 1st), 33025/33202 (Feb 2nd & 26th) & 33019/33116 (Feb 12th & 19th).
The eight surviving Class 33s soldiered on into 1998. The first to be stopped was 33046 at the end of January, being officially stored unserviceable on March 29th. During April 33051 was the next to be stopped, in this case with multiple faults. Repairs were not forthcoming in light of the bleak future for the class. May & June passed without incident, but on July 24th whilst working the four bogie tankers forming the 10.28 6Y27 Quidhampton (Salisbury) - Eastleigh china clay slurry 33026 suffered a flashover, subsequently being stopped and placed on decision.
On July 24th 33025 & 37154 worked the nine wagon 6Y94 09.36 Purley - Cliffe aggregate empties.
July 30th saw 33202 in charge of the 06.40 Poole - Liverpool as far as Reading.
Further trouble arrived on August 5th when 33025 & 33116 were involved in a shunting accident at Purley, like 33026 both were stopped and placed on decision. On August 25th 33025/26/51 & 33116 were placed in the EWS stored pool ENXX.
Although the remaining Class 33s were operating on a minimal maintenance budget, the approaching EWS/Rail Toton depot open weekend event saw 33030 moved to Allerton on August 14th for repainting into the EWS colours of red & gold. 33030 then ran light to Toton for the weekend event on August 29th/30th.
On August 11th 33202 worked the 6Z10 12.21 Hoo Junction - Llanwern MEA empties to Didcot, returning with 58013 on the 6O72 Wolverhampton Steel Terminal - Hoo Junction freight.
August: 33116 was withdrawn during August.
Looking resplendent in its new coat of paint 33030 draws the attention of many visitors at the Toton 'Open Day' on August 30th 1998. This was the only Class 33 to be painted in the EWS colours. After its few moments of glory 33030 returned to more mundane duties being noted on September 25th with the evening Hoo Junction - Wembley 'Enterprise' service.
Photograph collection of webmaster (JG).
The 6Y59 21.32 Cliffe - Purley aggregates was worked by 33202 & 37194 on September 15th. The following day (16th) the same pair worked the 6Y94 09.36 Purley - Cliffe followed by the 6Y59 and the next day's (17th) 6Y94. Also on September 17th 33019 worked the 7O62 06.29 Willesden Yard - Dungeness nuclear flask train, returning with the 7M95 12.50 Dungeness - Bescot as far as Willesden. Later in the day 33019 joined 33202 to work the evening's 6Y59, the next day's (21st) 6Y94, then the evening's 6Y59 and the 22nd's 6Y94.
After its appearance at the Toton open weekend 33030 quickly returned to more mundane duties, on September 21st it was noted on the 6M67 17.20 Enterprise to Wembley and would handle this duty on 22nd & 23rd.
During September 33025 moved under its own power to Ipswich for repair assessment, including the fixing of some collision damage. The costs were accepted by EWS and 33025 returned to the EWDS pool. For the other Purley victim, 33116 the future was not so rosy, it remained at Old Oak Common out of use.
33030 visited the Dungeness branch on October 15th to pick up the empty nuclear flasks, returning as far as Willesden with the 12.50 Dungeness - Bescot. On October 19th 33030 & 33202 worked the 7M08 03.00 Hither Green - Luton, the 7O80 11.25 Luton - Angerstein Wharf and the 7E24 20.30 Angerstein Wharf - Kings Cross. The next day (20th) the same pair worked the 7O71 03.31 Kings Cross - Angerstein, the 7V54 08.52 Angerstein - Paddington and the 7O77 14.15 return before ending the day with the 18.47 Angerstein - Hither Green. On October 21st 33025 and 24 empty MEAs formed the 6Z70 11.00 Hither Green - Hoo Junction freight. Later that day 33025 joined 37675 to work the 6Y59 21.36 Cliffe - Purley and the next morning's (22nd) 6Y94 09.36 Purfleet - Cliffe aggregate empties. The same pair worked October 23rd's 7Y49 07.46 Grain - Crawley and the return 6Y37 19.57 Crawley - Hither Green. On October 29th a Southampton - Barking Freightliner suffered a locomotive failure, 33019 took the train to its destination and handled the heavily loaded return working.
On November 5th 33030 worked the Willesden - Dungeness service, whilst 33025 worked stone empties from Eastleigh to Southampton Western Docks. On November 10th 33030 & 33202 worked the morning Purfleet - Cliffe aggregate empties.
The arrival of large numbers of General Motors built Class 66s from the USA was to be a death knell for many classes of locomotives, including Classes 31/33/37/47 & 73. Although EWS had stated that no locomotives would be withdrawn until the Class 66 fleet had at least 75 locomotives operating satisfactorily in the United Kingdom, after delivery of about thirty Class 66s, withdrawals were announced in the middle of November for at least thirteen locomotives with a short life expectancy or requiring expensive repairs. Additionally the EWS spares recovery facility at the former Springs Branch depot began operation during November with 37107 being the first to be dismantled.
On December 24th the four remaining active EWS Class 33s: 33019, 33025, 33030 & 33202 were withdrawn. 33030 & 33202 were turned off at Hoo Junction on December 29th and then taken to Hither Green for storage.

1999
On January 4th the last four EWS Class 33s 33019, 33025, 33030 & 33202 ran light from Hither Green via Lewisham, Denmark Hill, Willesden High Level & Finsbury Park to Immingham for storage, powered by 33030. They were to have been placed in covered storage, but with the increasing number of Class 66s arriving, the covered storage space was to be occupied by recently redundant EWS Class 56s.
Class 33s stored or withdrawn as at May 5th:
Eastleigh T&RSMD: 33026/46/51.
Immingham TMD: 33019/25/30, 33202.
Old Oak Common: 33116, 33205.
Stratford SD: 33038.
During July the four stored Class 33s at Immingham (33019/25/30, 33202) were examined with the prospect of at least two being resurrected for (rumoured) potential use in the Fort William and Aberdeen areas. The requirments included locomotives fitted with dual braking equipment and capable of heavy shunting, trip and infrastructure workings. These requirements ruled out Class 08/09 shunters and the fitting of dual driving controls and good visibility gave the Class 33s the edge over the Class 37s.
Following on from the above EWS transferred during September two Class 33s to Aberdeen for local trip workings: 33025 in Civil Engineer's Dutch livery & 33030 in EWS maroon/yellow.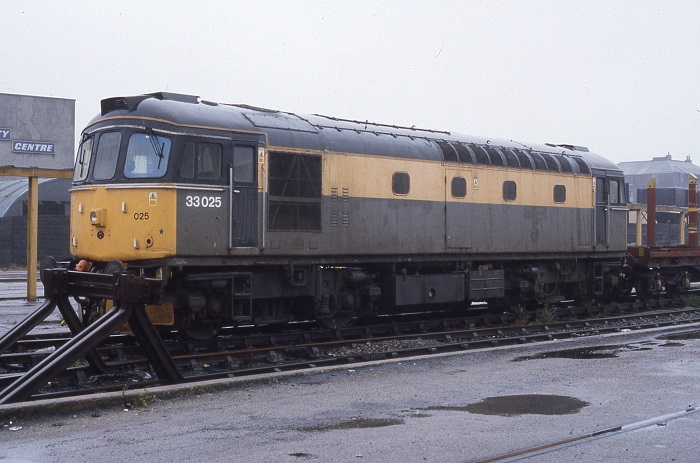 Photograph courtesy Adrian Healey.
33025 at Aberdeen Guild Street on a damp & overcast September 12th 2000.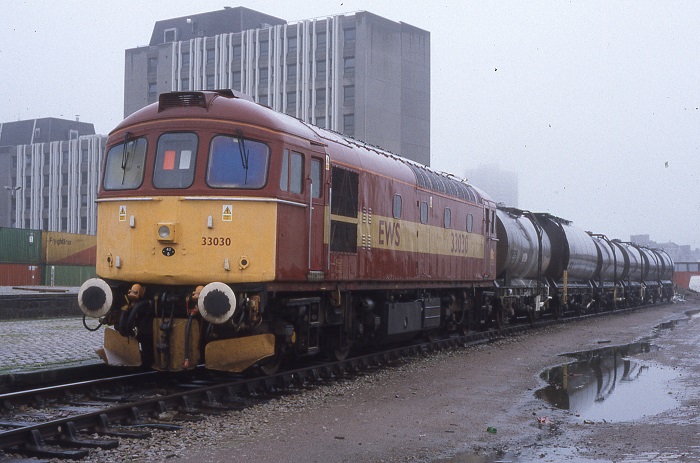 Photograph courtesy John Glynn.
33030 at Aberdeen Guild Street waiting for its next turn of duty on September 12th 2000.

2000
February 22nd: a Mossend - Aberdeen service hauled by 66143 included 33030 returning from repair at Motherwell. Likewise on February 23rd 33025 completed a similar move but using a Class 66 hauled down 'Enterprise' turn.
On February 29th 33026/46/51 were moved from Eastleigh to Old Oak Common, rumoured for possible use on the WCML track renewal project.
On May 20th 33109 & D6593 worked an Alton - Chester charter.
On August 18th/19th 47306 hauled 33202 & 37308 (ex 37274) from Old Oak Common to Eastleigh.

2001
By the end of January the outlook for the two EWS Class 33s was bleak. Both were stopped at Motherwell, 33025 for ongoing repairs (stopped since November 24th 2000) and 33030 with fire damage, which occurred at Kennethmont whilst it was working the 6A11 Huntly - Aberdeen trip on January 16th. The fire required the attendance of the local fire brigade, with a Class 66 being used to drag the Class 33 to Aberdeen. At Eastleigh T&RSMD 33202 was inspected for possible use in Scotland as the Law Junction shunting pilot.
During January 33208 (D6593) was on hire to South West Trains, being stabled at Woking on January 21st.
Sold to Direct Rail Services were 33002, 33008, 33023, 33029, 33053, 33057, 33203, 33205 & 33207. Of these 33002, 33008, 33053 & 33057 were moved from Barrow Hill to Longtown for storage during the last two weeks of February.
On April 7th 33021 worked the 'Marshes Marauder' railtour from Crewe to Dungeness. On April 20th 33207 was noted freshly painted in blue at Fragonset, Derby, but without decals. On April 28th D6593 (33208) worked an Alton - Shrewsbury - Wrexham - Chester railtour.
May: 33207 completed its repair by Fragonset Railway, Derby for Direct Rail Services, including a repaint into DRS's purple & yellow livery. 33207 had been acquired by DRS from Harry Needle. On May 25th 20903 & 20906 were used to take 33207 to Carlisle, where it would be reinstated into the XHSD pool.
Other Class 33s in store and available for a similar treatment were:
33023, 33029 at Kingmoor
33002, 33008, 33053, 33057, 33203 Longtown
33205 Old Oak Common
During June EWS Railway Ltd put up by tender 107 locomotives for sale, this included 33026 & 33051.
June: 33207 tested between Carlisle & Tebay on June 12th with 37609 as the load. With components for the Sulzer 8LDA28 engines becoming scarce DRS engineers visited Sweden to review the Cummins QSK45 engine and ABB industrial alternator. Also considered was the Ruston 6RK215 engine. 33029 would be the testbed for any re-engining.
June: After being in a withdrawn state for about 14 years, most of it at Stratford, the stripped remains of 33038 were delivered by road to HNRC, Kingsbury on June 22nd, by the 27th the locomotive had been broken up.

2003
On November 16th 33021 & 33202 worked a train of fifteen YGB wagons from Toton to West Hampstead. Following this the Class 33s were utilised for weekend engineering work.

2004
Storage location during February: 33021 Ludgershall/Hither Green.

2012
2012 marks the 50th anniversary of the delivery of the final members of the Class. Thirty examples, nearly a third of the original class still remain, with 26 in preservation and four with charter operator West Coast Railway Company (WCRC).
The 26 in preservation include members of all three sub-classes, and are spread over 15 locations. Eighteen are classified as operational with the remainder under repair or restoration and one as a spares donor. Only one of the preserved locomotives (33012) is certified to run on the national network, although this is unlikely in the near future.
Mainline certified 33012, owned by the 71A Group and based on the Swanage Railway has not had a good year. On May 9th it set off light engine for Kidderminster via Barrow Hill to collect locomotives for the Swanage Railways' Diesel Gala. At Trent Junction it set off a hot axlebox indicator and after some fitters attention was able to limp to Nemesis Rail's depot at Burton on Trent. Nemesis provided their own Class 47 No. 47375 to complete the journey, but this failed the following day south of Kidderminster.
33012 remained at Burton until June when it was conveyed south by road, eventually reaching Eastleigh in July. Initially it was thought that new bearings were required and these were obtained. When the contractors stripped the bogie down it was discovered that the axle bearing journals were damaged, caused by a poor workshop overhaul when under BR ownership. To bring the locomotive up to the standards now required for mainline certification will require new axles estimated at £40,000.
The WCRC fleet comprises of 33025, 33029, 33207 and 33030. The latter is not mainline certified and is treated as a spares donor. All four locomotives were obtained from Direct Rail Services (DRS) in September 2005 in exchange for two Class 37s.
The year started quietly for the WCRC mainline trio, but by August 33207 was noted at York supporting the summer steam hauled 'Scarborough Spa Express' season, while on August 29th 33025/029 headed up the WCML with a one coach ECS to Southall. There was some hope that they would take over the remaining Southall – Bristol ECS moves, but these remained Class 47 hauled.
On October 10th 33207 headed south with a two coach Carnforth – Southall ECS move. The GWS steam railmotor had spent the late summer and autumn at the Bodmin and Wenford Railway and for two Sundays in November worked on the Liskeard – Looe branch. As it was not mainline certified it needed to be hauled from Bodmin Parkway to Liskeard each weekend. On Friday November 9th & 16th 33207 was despatched from Southall to Bodmin Parkway to handle the working, returning to Southall on the November 12th & 19th. The November 21st saw 33207 on the mainline again hauling two coaches on a Southall – Eastleigh ECS before continuing to Yeovil Junction and returning to Southall. Further work was scheduled over the November 25/26th taking two VSOE coaches From Stewarts Lane to Norwood Junction and return for tyre turning. However a TOPS report for 07:15 on the November 26th reported 33207 at Southall.

2016
On April 2nd & 9th 33207 was used to work coaching stock from Southall to Euston, returning later each weekend with the stock to Southall.
During May 33207 was employed on empty stock workings between Southall & Kings Cross, being so noted on four occasions including May 10th & 14th.
During July 33207 continued to handle empty coaching stock moves between Southall and various London termimi. On July 9th a special running from London Victoria to Weymouth utilised Jubilee 4-6-0 No.45699 'Galatea' and 33207. Five days later (July 14th) saw a similar working take 46115 'Scots Guardsman' from London Victoria to Swanage, tailed by 33207. Prior to the return trip 33207 suffered an AWS fault, so was unable to complete the journey.
33207 continued on into August with 45699 'Galatea' working Victoria - Weymouth charter roundtrips on August 10th, 17th & 24th. In each case on the return leg 33207 led the train to Southampton, where it reversed with 45699 now leading via Romsey & Andover.

2017
During August 33012 & 33025 were used on the Swanage - Wareham passenger shuttles.
On August 2nd 33207 worked a Weymouth - Waterloo charter to Southampton were A4 60009 'Union of South Africa' became the train engine. On August 6th 33207 worked a Bristol - Par to Taunton where 46100 'Royal Scot' took over. On the return leg 33207 returned the special from Exeter to Bristol after the coal supply on 46100 was found to be inadequate. On August 27th 33207 worked empty coaching stock from Southall to Kings Cross, then tailed 47746 as far as York on a special to Scarborough. Later that day 33207 & 37669 worked a York - Carnforth empty stock working.
The Swanage - Wareham shuttle ended on September 3rd with 33012 & 33025 working some of the shuttles. On September 4th 33025 & 37518 hauled the London Transport liveried 4-TC set to West Ruislip, 33025 then returned to Carnforth. On September 7th 33025 & 33207 worked the 1Z21 Carnforth - Scraborough to York Holgate where Jubilee 45699 took over. The Class 33s returned the service to Carnforth. On September 15th 47245 & 33207 top-n-tailed the York - Whitby leg of a railtour from London. 33207 returned to Southall on September 23rd whilst tailing 57314 on a York - Victoria special.
A diesel gala on the Isle of Wight Steam Railway from September 29th to October 1st included Class 33/2 No.33202. The locomotive had arrived from an event at the Epping Ongar Railway, travelling on September 28th by road haulage and using the 19.00 Portsmouth - Fishbourne ferry, operated by the MV St Clare to reach the Isle of Wight. 33202 returned to the mainland on October 3rd. This was the first visit of a mainline diesel locomotive to the Isle of Wight.
On October 5th 33207 accompanied Black 5 No.45212 on a West Brompton - Swanage charter, running via Mitcham Junction, Leatherhead, Guildford, Havant, Fareham & Southampton and returning via the same route.
The coaches used by Belmond for its Northern Belle business were sold to West Coast Railways during the last quarter of 2017. On December 4th Mk2f Restaurant First Opens Nos 1207 & 1221 were moved from Eastleigh to Carnforth by 33207 & 47245. On December 4th Mk2e First Open No.3232 was moved from Locomotive Services, Crewe to Southall, sandwiched between 57601 & 33207.
At the end of 2017 33029 & 33030 remained in storage at Carnforth.


A BRCW builders plate from 33031 (DEL 115) sold at auction for £420 during January 2012 (plate had corner damage).
A BRCW builders plate from 33031 (DEL 115) sold at auction for £350 during May 2013 (plate had corner damage).
A BRCW builders plate from 33044 (DEL 154) sold at Great Central Railwayana Auctions for £520 during October 2013.
A BRCW builders plate from 33101 (DEL 103) sold at Great Central Railwayana Auctions for £240 during October 2013.
A BRCW builders plate from 6576 (DEL 180) sold at Great Central Railwayana Auctions for £270 during July 2014.
A BRCW builders plate from 33030 (DEL 140) sold at Great Central Railwayana Auctions for £600 during October 2014.
A BRCW builders plate from 33010 (DEL 102) sold at auction for £500 during January 2015.
A BRCW builders plate from 33206 (DEL 136) sold at auction for £550 during May 2015.
A BRCW builders plate from 33101 (DEL 103) sold at auction for £600 during September 2015.
A BRCW builders plate from 33058 (DEL 181) sold at Great Central Railwayana Auctions for £700 during September 2016.
A BRCW builders plate from 33046 (DEL 156) sold at Stafford Auctions for £390 during September 2016.
A BRCW builders plate from 33112 (DEL 121) sold at Stafford Auctions for £700 during September 2016.
A BRCW builders plate from 33059 (DEL 182) sold at Stafford Auctions for £410 during January 2017.
A BRCW builders plate from 33052 (DEL 174) sold at Great Central Railwayana Auctions for £340 during March 2017.
A BRCW builders plate from 33116 (DEL 127) sold at Great Central Railwayana Auctions for £480 during June 2017.
A BRCW builders plate from 33017 (DEL 118) sold at Great Central Railwayana Auctions for £300 during December 2017.
A BRCW builders plate from 33059 (DEL 182) sold at Stafford Auctions for £250 during January 2018.
A BRCW builders plate from 33043 (DEL 153) sold at Great Central Railwayana Auctions for £320 during March 2018.

Details
Rated Output: 1,550bhp at 750rpm
Bmep at rated output: 151lb/sq in
Designed Specific Fuel Consumption: 0.371lb/bhp-hr
Cycle: Four Stroke
Cylinders 8, bore 280mm (11.02in), stroke 360mm (14.17in)
Combustion chamber: Open Type
Pistons: Forged aluminium, oil cooled
Mean Piston Speed: 1,770ft/min at 750rpm
Maximum cylinder pressure: 1,250lb/sq in
Cylinder Liners: Alloy cast iron
Compression Ratio: 12.7:1
Turbocharger: One LAG 37-17
Weight of Engine: 12.25 tones
Main Generator: CG391-B1 1012kW, 1760A, 575V at 750rpm
Auxiliary Generator: CAG193A1 57kW, 518A, 110V at 450rpm
Train Heating Generator: CG.392A1 250kW 800V 313A between 550rpm - 750rpm
Traction Motor: C.171 C2 440A, 580V 305hp TM Gear Ratio:62/17
Maximum Tractive Effort: 45,000lb
Continuous Tractive Effort: 26,000lb at 17.5mph
Maximum Service Speed: 85mph (originally 80mph)
Preserved Class 33s: 33012, 33018, 33034, 33035, 33048, 33052, 33056, 33063, 33065, 33102, 33108, 33109, 33110, 33111, 33116, 33117, 33201, 33208 (total of 18).

Push Pull Conversions:
D6580 (33119)
D6521 (33108) September 1966 (Blue livery in November) was this the 2nd PP loco?
D6520 (33107) March 1967, 3rd PP conversion
D6516 (33104) May 1967
D6517 (33105) by June 1967
D6519 (33106) by June 1967
D6527 (33110) by June 1967
D6532 (33114) by June 1967
D6535 (33116) by June 1967
D6536 (33117) by June 1967
D6511 (33101) by late June 1967
D6538 (33118) by late June 1967
D6529 (33112) by July 1967
D6533 (33115) by August 1967
D6513 (33102) September 1967
D6531 (33113) September 1967
D6514 (33103) October 1967
D6525 (33109) October 1967
D6528 (33111) last conversion November 1967
Blue livery;
D6516 (33104) May 1967 noted in blue Eastleigh Works
D6513 (33102) September 1967 noted in blue Eastleigh Works
D6531 (33113) September 1967 noted in blue Eastleigh Works
November 1967 green livery full yellow ends: D6503, D6506, D6550, D6570
January 1968 green livery full yellow ends: D6501, D6568
February 1968 green with full yellow ends: D6560, D6561, D6563, D6573, D6576
March 1968 green with full yellow ends: D6510, D6564, D6567
March 1968 green with small yellow panels: D6591
March 1968 green no yellow ends: D6583
April 1968 green with full yellow ends: D6553, D6571, D6584
April 1968 green no yellow ends: D6585
May 1968 green with full yellow ends: D6518, D6559, D6562, D6575
May 1968 green no yellow ends: D6509
June 1968 green with full yellow ends: D6512?, D6566, D6572
June 1968 green with no yellow ends: D6507, D6509, D6544
September 1968 green with full yellow ends: D6596
August 1969 noted green with full yellow ends 6560, 6567
February 1971 still believed to be green: 6549, 6566, 6584
March 1971 noted in blue: 6566 (reported as last to acquire blue livery)
Livery changes
Approximate dates of when the Class 33s acquired blue livery.
6500: 05/69
6501: 06/69
6502: 00/00
6503: 07/68
6504: 10/68
6505: 08/70
6506: 03/68
6507: 08/68
6508: 08/68
6509: 08/70
6510: 08/70
6511: 06/67
6512: 12/68
6513: 09/67
6514: 11/67
6515: 08/68
6516: 05/67
6517: 06/67
6518: 06/69
6519: 06/67
6520: 03/67
6521: 11/66
6522: 04/68
6523: 05/69
6524: 04/68
6525: 10/67
6526: 03/69
6527: 06/67
6528: 11/67
6529: 07/67
6530: 06/69
6531: 09/67
6532: 06/67
6533: 08/67
6534: 05/68
6535: 06/67
6536: 06/67
6537: 06/69
6538: 06/67
6539: 10/70
6540: 06/69
6541: 03/69
6542: 09/68
6543: 09/69
6544: 05/69
6545: 06/69
6546: 06/69
6547: 03/69
6548: 08/68
6549: 00/00
6550: 07/69
6551: 12/69
6552: 06/69
6553: 09/70
6554: 03/70
6555: 05/68
6556: 07/70
6557: 01/70
6558: 08/68
6559: 02/71
6560: 00/00
6561: 03/69
6562: 09/70
6563: 02/70
6564: 02/70
6565: 12/68
6566: 00/00
6567: 07/70
6568: 07/70
6569: 08/68
6570: 07/70
6571: 07/70
6572: 02/69
6573: 01/70
6574: 05/69
6575: 02/69
6576: 00/00
6577: 09/69
6578: 12/68
6579: 06/68
6580: 00/00
6581: 08/70
6582: 06/69
6583: 03/69
6584: 02/70
6585: 12/68
6586: 03/69
6587: 08/68
6588: 06/69
6589: 09/68
6590: 06/68
6591: 07/69
6592: 11/69
6593: 07/70
6594: 05/69
6595: 02/70
6596: 07/70
6597: 02/69
0000: 00/00

Headcodes
At the request of the Southern Region the Class 33's were built with the two digit blinds located in the center cab window, sparing the locomotives the clutter of the four discs and lights carried by other locomotives or the cab roof mounted four position indicator boxes as applied to the later BRCW Type 2's (Class 27's).
Headcodes as used by the Class 33's as identified in the views on the two pages:
11: Brighton - Exeter via Southampton & Salisbury
62: Waterloo - Basingstoke - Exeter
77: London Bridge - East Grinstead

Resources
Sulzer Types 2 & 3, ATH Taylor, Ian Allan BR Locomotive 2, publ 1984 ISBN 0711013403
Rail No. 307 (June 18th - July 1st 1997)
Period magazines: Railway Magazine, Trains Illustrated, Railway Observer, LCGB Journal, SLS Journal
Page added July 29th 2012.
Last updated May 26th 2018.
The Class 33s: 1959 - 1977
Return to Picture menu
Return to Home page