D5013, 5013, 24013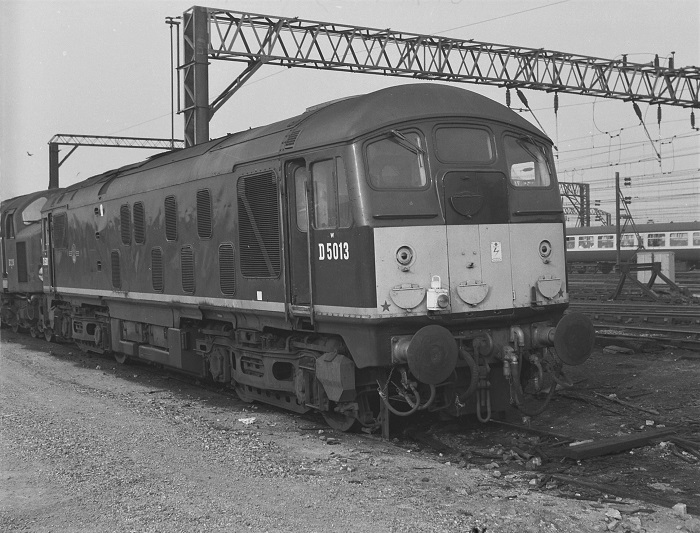 Photograph collection of webmaster.
D5013 at Crewe on September 25th 1966.
The sixteen year five month year career of D5013/24013 included allocations to the London Midland Region, Southern Region and and Scottish Region.
Built Derby Locomotive Works.
Delivered with Athermos axleboxes (D5010 - D5019).
Full size fuel & water tanks, (shortened water tank fitted later).
Air filters: five upper and four lower on non-BIS side, four upper and four lower on BIS side.
Time between last Classified repair and withdrawal: ?? months.
Time between withdrawal & scrapping: 28 months.
Allocations
The frames for D5013 were laid down during the first quarter of 1959 at Derby Works. D5013 was new to Crewe South (5B) on April 18th 1959. Further transfers were:
April 1959 to Derby (17A) on loan.
April 23rd 1959 to Hither Green (73C) on loan.
June 1962 to Rugby (2A).
June 1962 to Hither Green (73C) on loan.
July 1962 to Rugby (2A), later (1F).
April 1966 to London Division (D01).
April 1966 to Stoke Division (D05) on loan, made permanent July 1966.
September 1966 to Birmingham Division (D02).
May 1967 to to Stoke Division (D05).
April 1969 to store.
October 1969 - reinstated to Holbeck (55A).
October 1971 to Polmadie (66A).
March 1972 to Eastfield (65A).
July 7th 1975 stored serviceable.
October 5th 1975 - withdrawn.
Renumbered November 1973.
After withdrawal 24013 was stored at Carlisle from July 1975 until December 29th 1977 when it moved to Doncaster Works, where it was broken up by February 1978.
Movement: 24013, 24105/109/111 07.00 Carlisle - Doncaster 9Z14 December 29th 1977.
Works Visits
Works visits (records incomplete).
Noted Eastleigh Works April 1962.
Noted Derby Works July & July 1963.
Noted Derby Works May & June 1964.
Noted Derby Works January & October 1965.
Noted Darlington Works January 1966.
Noted Derby Works March & April 1966.
Noted Derby Works April 1968.
Noted Derby Works October & November 1969.
Noted Derby Works September 1972.
Noted Glasgow Works August 1974.
Highlights
1959
November 14th found D5013 working a Margate - Kettering football special throughout, whilst D5010 took another football special from Ashford to Brentford.
1961
A football match between Dartford & Bristol on November 25th saw two eleven coach specials run. The second one ran with D5013 & D6573 as far as Kensington where Modified Hall 4-6-0 No.6960 took over. More interestingly the first ran with D5009 & D6523 throughout, making the journey via Clapham Junction, Salisbury, Westbury and Bath.
1965
Condition date uncertain: green livery with small yellow warning panels, curved upper corners, warning panel partially covers frame level stripe, full size fuel & water tanks, Athermos axleboxes, two-rung bogie mounted footsteps, steam style shed plate on cab front, ridged sandboxes.
1969
By April two more Class 24ís had been stored: 5013 & 5016.
Condition August (when in store): green livery, small yellow warning panels, squared upper corners; full size fuel tank shortened water tank, valencing mostly in place, Athermos axleboxes, three-rung bogie mounted footsteps.
1971
Front line duty came the way of 5013 on October 1st in rescuing the 1E91 07.45 Liverpool - Newcastle after the diagrammed locomotive failed.
1973
Amongst a series of failures on May 17th was the loss of 5357/98 scheduled to work the 1V54 Stirling - Newton Abbot motorail service. Grangemouth quickly provided 5013 & 5096 to work the service to Carlisle, however being without working boilers it was possibly a chilly journey.
1974
On May 4th Grand Scottish Tour No.19 utilised 24013 & 24066 from Edinburgh via Cumbernauld to Fort William, where 27037 & 27044 worked the roundtrip to Mallaig. 27037 proved temperamental on the outward leg, but responded to attention from the train crew. The return trip utilised 27006 & 27007 since the Class 24s had taken up an overnight Liverpool - Mallaig charter on its return leg to Oban.
Condition July: blue/yellow livery, gangway doors sheeted over, full size fuel tank shortened water tank, blanking plates fitted, hand/footholds plated over, ridged sandboxes, two-rung bogie mounted footsteps.
1975
24013 was withdrawn on October 5th 1975.
A builders plate from 24013 sold at Great Central Railwayana Auctions for £220 during December 2015.
flk 0716
Page added July 8th 2016.
Last updated October 26th 2020.
Back to 24012
Forward to 24014