D5012, 5012, 24012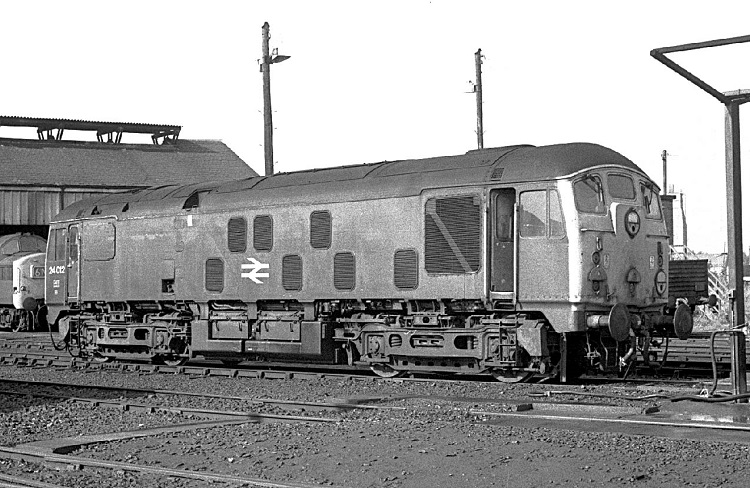 Photograph courtesy Tony Sayer
24012 at Grangemouth shed on September 27th 1974.
The sixteen year three month career of D5012/24012 saw allocation to London Midland, Southern & Scottish depots.
Built Derby Locomotive Works.
Delivered with Athermos axleboxes (D5010 - D5019).
Full size fuel & water tanks (retained until withdrawn).
Four upper and four lower air filters on non-BIS side, three upper and four lower on BIS side (standard arrangement).
Additional headcode disc brackets fitted (for use with SR six disc headcodes).
Headcode discs centered on cab front (Glasgow modification).
Roof modification (above generator/brake cubicle): no raised panels.
Time between last Classified repair and withdrawal: ?? months.
Time between withdrawal & scrapping: 6 months.
Allocations
The frames for D5012 were laid down during the winter of 1958 at Derby Works. D5012 was new to Crewe South (5B) on April 11th 1959. Further transfers were:
April 1959 to Derby (17A) on loan.
April 20th 1959 to Hither Green (73C) on loan.
May 1962 to Crewe South (5B).
May 1962 to Crewe North (5A).
November 1963 to Willesden (1A).
December 1964 to Crewe North (5A).
January 1965 to Rugby (1F).
March 1966 to Bescot (2F).
April 1966 to Birmingham Division (D02).
May 1967 to Stoke Division (D05).
January 1969, stored (at Chester & Willesden).
October 28th 1969, reinstated to Stoke Division (D05).
October 1971 to Polmadie (66A).
March 1972 to Eastfield (65A).
July 7th 1975, stored serviceable.
August 16th 1975 - withdrawn.
Renumbered May 3rd 1974.
24012 was stored at Cadder Yard from July 1975 to October 1975. It was moved to Glasgow Works and remained there until January 23rd 1976 when it moved to Doncaster Works. It was scrapped there during February 1976.
Movement: 24003/12/18/96 Glasgow Works – Doncaster (via ECML) Dec 23, 1975 (or Jan 23 1976).
Works Visits
Works visits (records incomplete).
Noted Eastleigh Works February 1962.
Noted Derby Works March & June 1963.
Noted Derby Works December 1963.
Noted Doncaster Works January 1964.
Noted Glasgow Works May & June 1965 (full repaint).
Noted Darlington Works January 1966.
Noted Derby Works March 1966.
Noted Derby Works November 1969 & January 1970.
Noted Derby Works October 1970.
Noted Glasgow Works November 1971.
Highlights
Delivered new with Athermos axleboxes, full size fuel & water tanks, two rung bogie footsteps.
1959
Late in April D5012 was one of the LMR Type 2s loaned to the Southern Region. Whilst on the Southern Region headcode disc brackets fitted for use with SR six disc headcodes were fitted to the cab fronts, some of the workings the Class 24s would handle were named trains.
May brought further adventures for the loaned Southern Region Type 2s, being frequently used on freights on the Kent Coast line. So noted on May 5th was D5012 working the 6.14am Faversham - Dover Priory, the 8.17am return, followed by a round trip to Whitstable, before becoming the Faversham station pilot for the remainder of the day.
On June 3rd D5012 was noted at St Mary Cray with a mixed freight.
1961
D5012 was noted at Hither Green on February 18th (additional lamp brackets not yet fitted).
1962
Shortly before its return to the LMR, D5012 visited Eastleigh Locomotive Works during February for a repair.
D5012 worked the 16.45 Liverpool - Birmingham on November 27th.
1963
On August 2nd D5012 was noted north of Birmingham on a lengthy (11+coaches) passenger service. It is presumed that the Type 2 was deputising for an English Electric Type 4 on a Birmingham - Glasgow service. At this time D5012 was a familiar sight in the area working the six coach Birmingham - Manchester services. The locomotive carried the small yellow warning panel with curved upper corners, it appears the yellow did not go right to edge of the cabside.
1964
On November 28th D5012 worked the 15.00 Euston - Northampton.
1965
Heavy maintenance for the Scottish Region Type 2s had originally been split between Inverurie and St Rollox, the recent modernisation of latter led to a greater influx of the BR Type 2s, not only the Inverness allocated machines, but also those from Gateshead and various London Midland depots, early June found D5012, 5107/5119 & 5129 under repair at St Rollox.
On July 31st D5012 worked an afternoon Rugby - Ipswich to March and returned from March with the 1M66 Yarmouth - Birmingham New Street.
1968
On December 8th 5012 was stabled at Cockshute (fitted with SKF axleboxes).
1969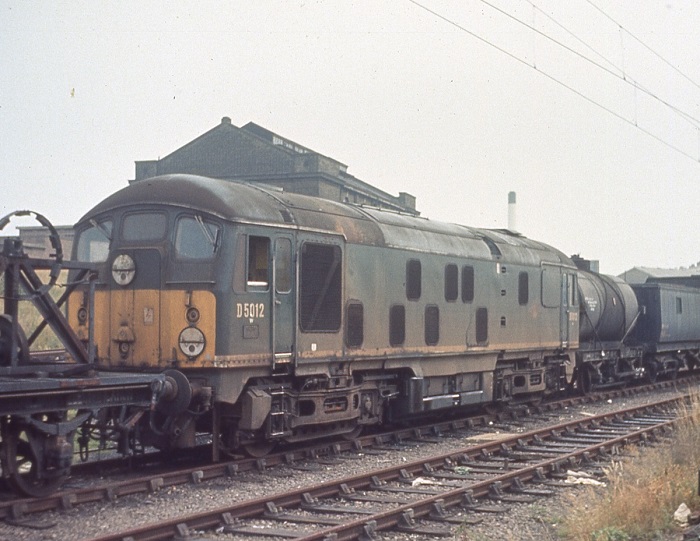 Photograph courtesy Grahame Wareham.
Class 24 No.5012 in store at Willesden during August 1969. At some point a bogie change has taken place, these bogies are equipped with SKF axleboxes and three rung bogie mounted footsteps.
After being reinstated to service 5012 was sent to Derby Locomotives Works late in 1969 for an overhaul. On arrival at Derby the locomotive was in a very work-stained condition, having retained green livery with small yellow warning panels. The axleboxes were now of the SKF type with three rung footsteps on the bogies.
1971
On March 13th 5012 & 5073 were southbound at Crewe with hoppers.
Condition March: plain green livery with full yellow ends, gangway doors present, blanking plates fitted, hand & footholds plated over, headcode disc brackets fitted (for use with SR six disc headcodes - No.1 cab only?), SKF axleboxes.
During November 5012 visited Glasgow Works for a repair, presumably this is wheen it received blue & yellow livery. The gangway doors were also sheeted over and the headcode discs centered on the cab front. The headcode disc brackets fitted (for use with SR six disc headcodes) were removed from the No.2 end, but retained at the No.1 end.
1973
On the evening of May 27th 5012 was stabled at Polmadie.
1976
On January 23rd the first batch of withdrawn Class 24s from Scotland headed south, with 24003/12/18/96 comprising a St Rollox – Doncaster special. By February 1st 24012 was on site at Doncaster Works, possibly the first Class 24 to visit the Works since the mid 1960's when various Eastern & London Midland examples were overhauled here. During February the first Class 24s of the recent withdrawals had been cut up, 24042 at Swindon and 24012 at Doncaster.
Upon arrival at Doncaster Works for scrapping the locomotive carried bogies fitted with SKF axleboxes and three-rung footsteps. The Southern Region headcode disc brackets fitted (for use with SR six disc headcodes) were still fitted to the No.1 cab. The locomotive still retained its full size fuel & water tanks.
flk 0322.
Page added May 10th 2016.
Last updated March 10th 2022.
Back to 24011
Forward to 24013