D5017, 5017, 24017

The sixteen year four month year career of D5017/24017 included allocations to the London Midland Region, Southern Region and Scottish Region.

Built Derby Locomotive Works.
Delivered with Athermos axleboxes (D5010 - D5019).
Full size fuel & water tanks (retained until withdrawn).
Air filters: five upper and four lower on non-BIS side, four upper and four lower on BIS side.
Additional headcode disc brackets fitted (for use with SR six disc headcodes).
Headcode discs centered on cab front (Glasgow modification).
Roof modification (above generator/brake cubicle): no raised panels.
Time between last Classified repair and withdrawal: ?? months.
Time between withdrawal & scrapping: 15 months.

Allocations

The frames for D5017 were laid down during the spring of 1959 at Derby Works. D5017 was new to Crewe South (5B) on June 6th 1959. Further transfers were:

June 1959 to Derby (17A) on loan.
July 1959 to Hither Green (73C) on loan.
May 1962 to Crewe South (5B).
May 1962 to Willesden (1A).
June 1962 to Crewe South (5B).
June 1962 to Rugby (2A).
January 1963 to Crewe North (5A).
September 1965 to Willesden (1A).
January 1966 to Rugby (1F).
April 1966 to London Division (D01).
July 1966 to Birmingham Division (D02).
May 1967 to to Stoke Division (D05).
January 1969 to store (at Chester).
July 1969 - reinstated to Stoke Division (D05).
October 1971 to Polmadie (66A).
March 1972 to Eastfield (65A).
July 7th 1975 stored serviceable.
October 5th 1975 - withdrawn.

Renumbered April 17th 1974.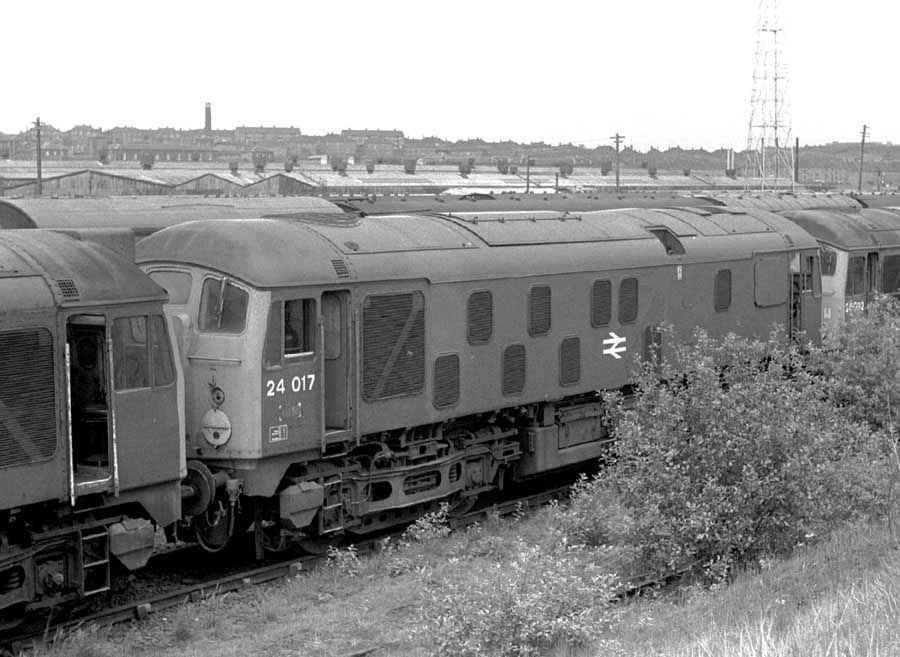 Photograph courtesy Tony Sayer
24017, with 24002 to the right gathers dust at Glasgow Works on June 5th 1976. The following month it was on its last trip, to Doncaster for breaking. This is one of the early Class 24s to have five ventilators in the upper row in the bodyside which does not have the battery isolating switch. The axleboxes are now the SKF type, and the bogie mounted footsteps are three-rung.
After withdrawal 24017 was stored at Carlisle from July 1975 until March 16th 1976 when it moved to Glasgow Works. On July 15th 1976 it moved to Doncaster shed, then Doncaster Works, where it was broken up by January 1977.
Movement: (1) 24017/97 Carlisle – Glasgow Works March 16th 1976.
Movement: (2) 24010/17/97 Glasgow Works – Doncaster July 15th 1976 (behind 20017 at Darlington).
Works Visits
Works visits (records incomplete).
Noted Eastleigh Works September 1961.
Noted Derby Works July & August 1962.
Noted Derby Works January & September 1963.
Noted Derby Works August - October 1964.
Noted Darlington Works September 1965.
Noted Derby Works June 1967.
Noted Derby Works August 1969.
Noted Glasgow Works November 1971.
Glasgow early 1975?? noted reasonably ex-works March 1975.
Highlights
1959
Delivered new from Derby during June to Crewe South (5B) D5017 was quickly loaned to Derby (17A) then transferred to Hither Green (73C) to replace D5008 which had returned to the LMR, this locomotive had been selected as the BR/Sulzer Type 2 to be used in the BTC tests.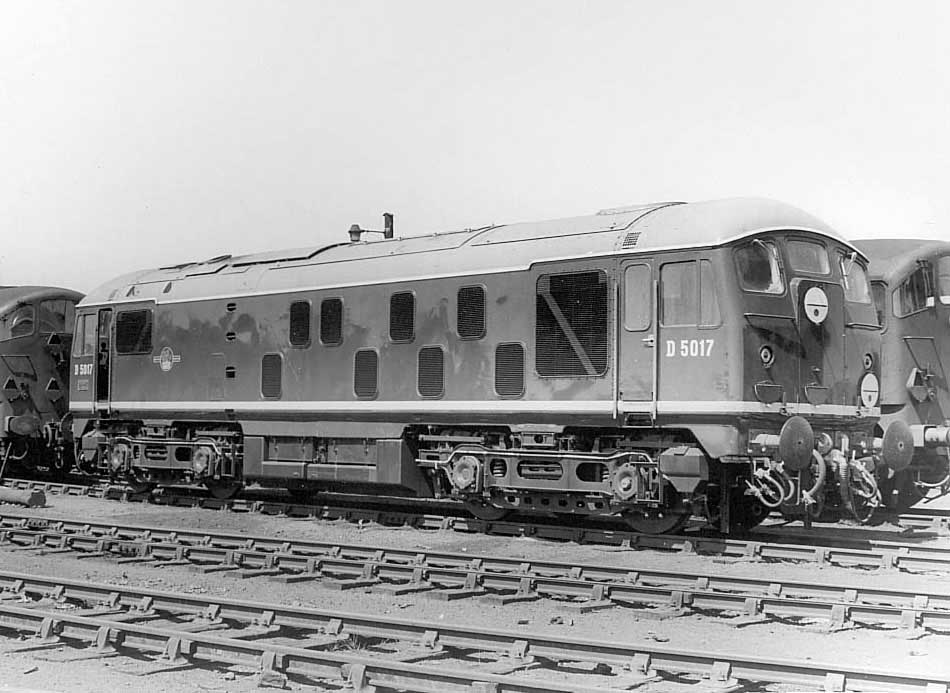 Photograph collection of Rex Conway
A fine view of ex-works D5017, possibly at Derby shortly after delivery, presumably about June 1959. This locomotive is fitted with Athermos axleboxes. Also visible on the roofline is the original location of the circular engine exhaust port.
D5010 & D5017 were noted at Kensington Olympia with the 12.27 Margate - Leicester on August 8th.
1961
At about 8.45pm on June 13th D5017 was noted at Charing Cross with an Up express.
Condition July: green livery with frame level stripe, full size fuel & water tanks, two-rung bogie mounted footsteps, cantrail level water filler cover removed, Athermos axleboxes, ventilators BIS side 4/4.
On July 13th D5017 was noted at Maidstone East with an Ashford service.
D5017 was noted at Eastleigh Works during September.
A somewhat strange innovation implemented by Eastleigh Works was the use of ex-works diesels on the Southampton - Waterloo boat trains, a risky venture as the out-shopped locomotives ran alone. D5017 was tested on November 3rd's 10.35pm Old Dock- Waterloo, though time was lost on this trip.
1962
During May D5017 returned from the Southern Region, allocated to Crewe South (5B), then Willesden (1A), then back to Crewe South (5B) before calling Rugby (2A) home for seven months. It visited Derby Works during July and August.
1963
During January D5017 was transferred to Crewe North (5A), whilst visiting Derby Works during January and September.
1964
On June 16th the 08.20 Liverpool - Birmingham New Street was worked forward from Stafford by D5017 & D5133 as diagrammed.
On August 8th D5017 worked a lunchtime Glasgow Central - Lockerbie passenger service.
D5017 was present at Derby Works from August to October.
1965
D5017 moved down to Willesden(1A) in September.
Ex-works D5017 was a surprising performer on the midday Dundee - Glasgow service on December 23rd, presumably outshopped recently from Darlington.
1966
D5017 moved to Rugby during January, then became part of the London Division (D01) allocation during April and the Birmingham Division (D02) allocation during July.
1967
After just under a year in the Birmingham area D5017 joined in the mass movement of the LMR machines to the Stoke Division (D05).
1969
5017 was put to store from January to July at Chester. A shortage of locomotives on the Eastern Region and the loss of four Type 2s in a runaway accident at Chester gave those of ther early batch another, including 5017, lease on life, with 5017 being re-instated back to the Stoke Division (D05).
1971
In October the Scottish Region Polmadie depot (66A) became home for 5015/16/17 and many of their sisters, being used to retire the few remaining NBL & Clayton locomotives from the fleet. Glasgow Works was visited by 5017 in November.
1972
During the first quarter Polmadie depot closed so 5015/16/17 and many others migrated across Glasgow to Eastfield during March.
1973
Condition May: blue and yellow livery.
On the evening of May 27th 5017 was stabled at Motherwell.
On September 2nd 5017 was noted at Kilwinning on a permanent way train.
1974
On June 16th 24017 was stabled at Eastfield.
1975
Active service ended during July 1975, when like a great many other Class 24s 24017 was put to store, with final withdrawal occurring in October.
flk 0322
Page added July 4th 2016.
Last updated March 9th 2022.
Back to 24016
Forward to 24018